14 Things that are awesome about a Disney Cruise
(This post may contain affiliate links. Read my full disclosure.)
A Disney Cruise is a special and unique level of Disney magic that will spoil you for other cruise lines. To date, I've been on two Disney Cruises and we've just booked our third. I think cruise vacations are awesome no matter who you sail with but Disney is always gone to be top of the heap for me and I'm excited to tell you about 14 things that are awesome about a Disney Cruise (even though there are probably many, many more.)
14 things that are awesome about a Disney Cruise
Disclaimer: We are a participant in the Amazon Services LLC Associates Program, an affiliate advertising program designed to provide a means for us to earn fees by linking to Amazon.com and affiliated sites. This post may also contain affiliate links to other sites where I will be paid a commission by the seller if you make a purchase.
I've been on two Disney cruises are part of the Disney Social Media Moms Celebration, which is an invite-only conference for bloggers and social media influencers. I paid a fee for the conference and my travel to Orlando. This post is not sponsored by Disney and everything is my honest opinion.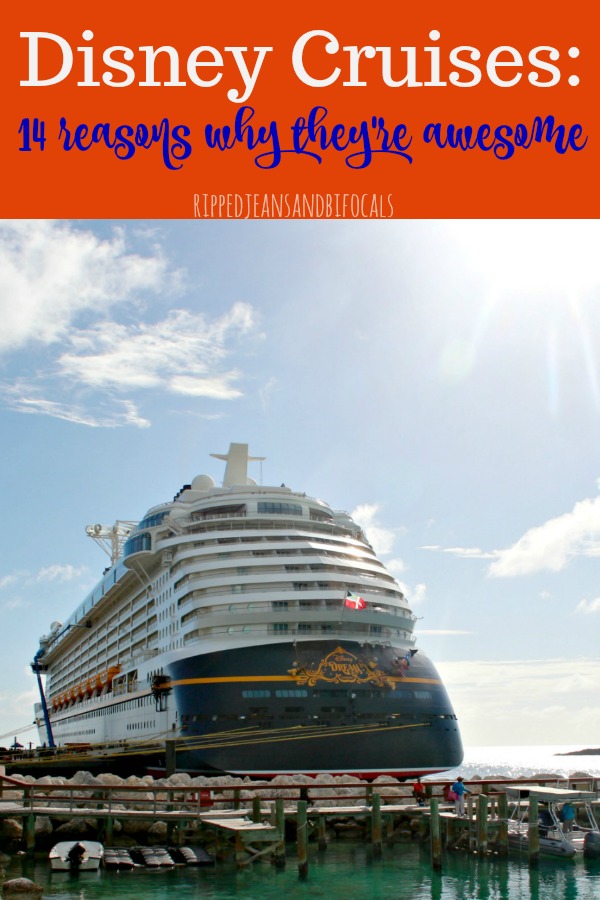 [Tweet "14 things that are awesome about a Disney Cruise #DisneySMMC @Disney"]
Disney truly takes cruising to the next level. I've enjoyed our non-Disney cruises immensely but I'm pretty sure the Disney Cruise Line has completely spoiled us, in a good way. Here are 14 things that are awesome about a Disney Cruise:
1. The Welcome aboard
If you've ever been on a cruise, you know the feeling of "following the herd" when you board the ship. A Disney cruise is different. Maybe we were just lucky that everything went smoothly and seemed un-rushed but I think that's just Disney's way of doing things.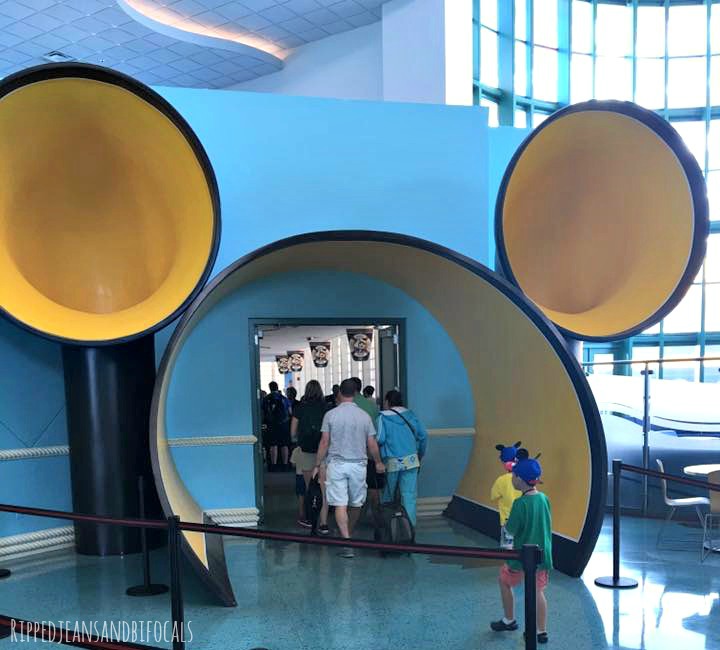 When we stepped on board the ship, the Cast Member inside asked us our family's last name. "Robbins" we said without questioning why. I mean…it seemed like a simple enough question.
"Please welcome aboard the Robbins Family."
This was shouted into a microphone and all the crew standing nearby clapped and cheered as we crossed the threshold.
I almost cried.
This immediately set the tone for the entire trip and also? Now I know what it feels like to be visiting royalty.
The sail away party is an awesome, high-energy dance party that really gets you pumped about your vacation…if you're not already there. There's music. There are pom poms.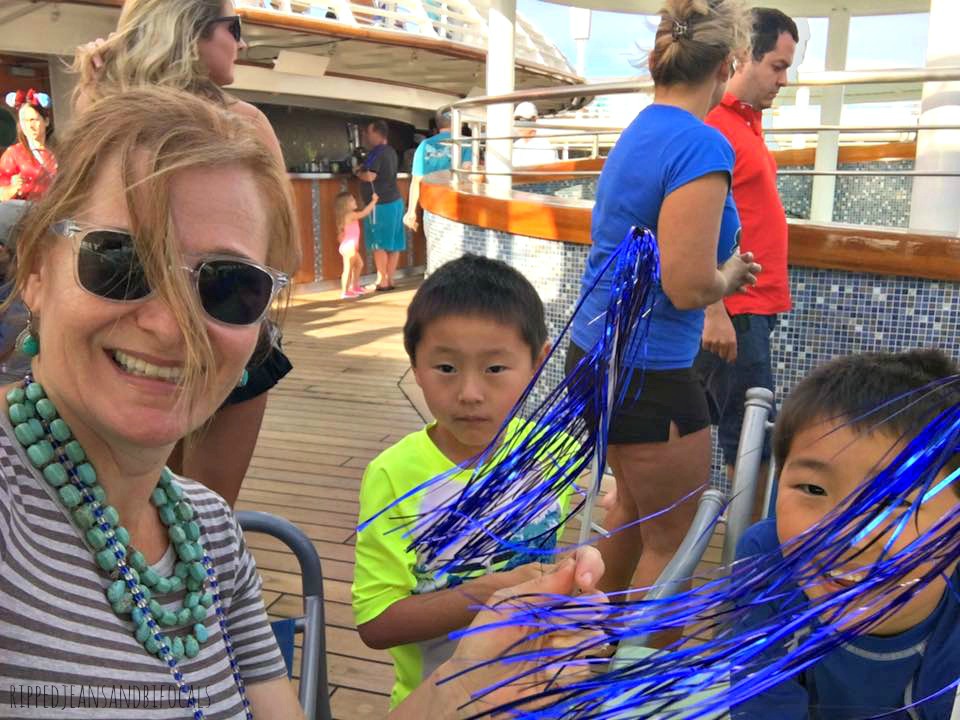 There are waiters walking around with fun and colorful drinks, both alcoholic and non-alcoholic. Just know that if you take the drink you will be asked for your Key to the World Card (AKA your stateroom key) and you will be charged. But go ahead and treat yoself. You're on vacation!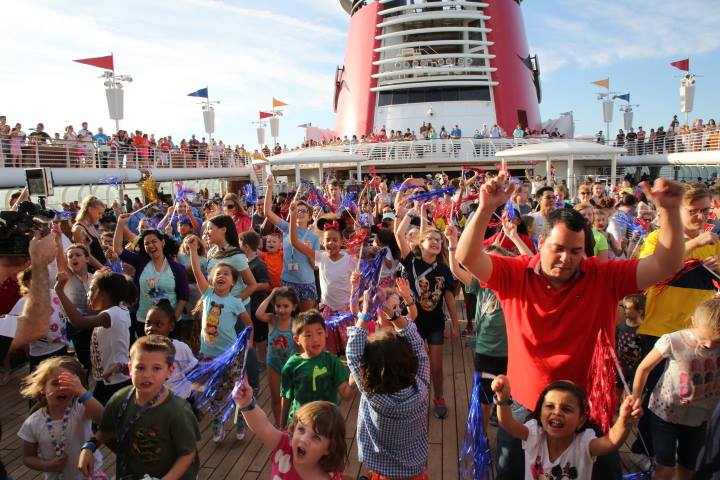 2. Castaway Cay
Castaway Cay (pronounced key) is Disney's private island in the Bahamas. It is seriously the most stunning place on earth and I've been to a lot of places. Castaway Cay has everything you'd want from an island experience: there are adventure sports like parasailing, snorkeling and scuba diving. There are glass bottom boat rides and sting ray experiences. There are two beautiful beaches – one is adults only, aptly named Serenity Bay. There are bikes to rent if you want to explore the island on wheels.
There is food. Cookies and Cookies Too (in the adults-only area) serves up a deliciously simple BBQ lunch buffet from 11:30-2:00, which is included in the cost of your cruise.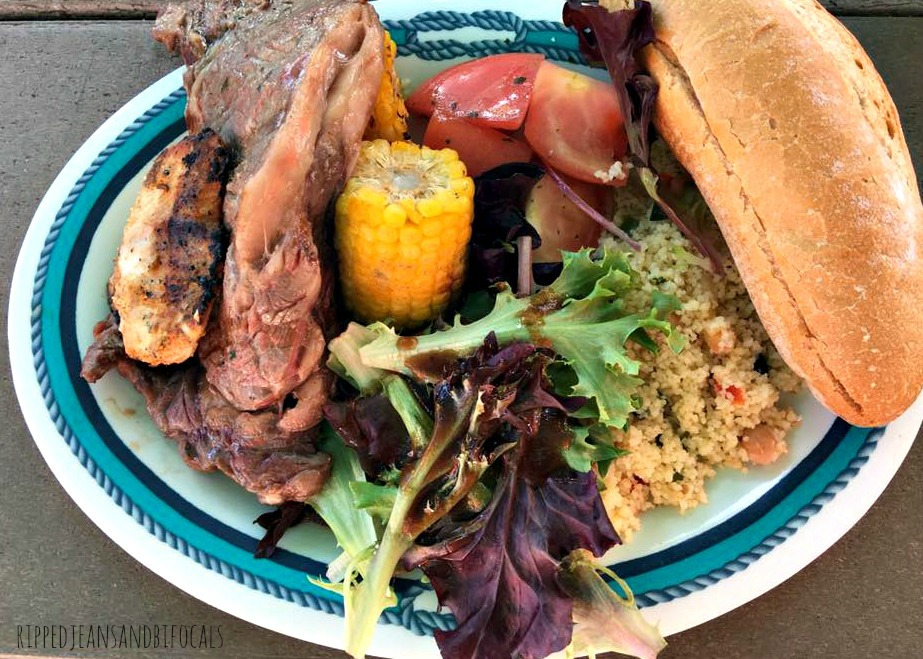 We live near the Texas Gulf Coast and we go there every July. While we love our Texas beaches, they're really not that pretty and it was a super big treat to wade in the crystal clear turquoise water where you could see all the way to the bottom.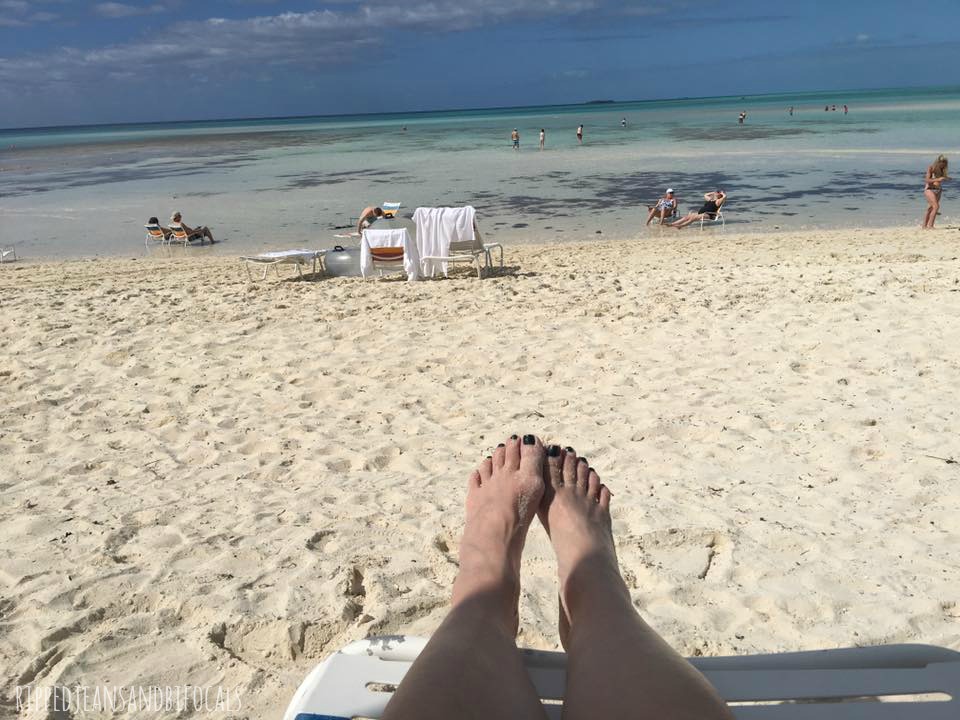 I've been scoping out different Disney Cruises (totally serious about wanting to go again as soon as we can swing it) and I've learned there are a couple of cruises that include TWO stops at Castaway Cay. Yes, please!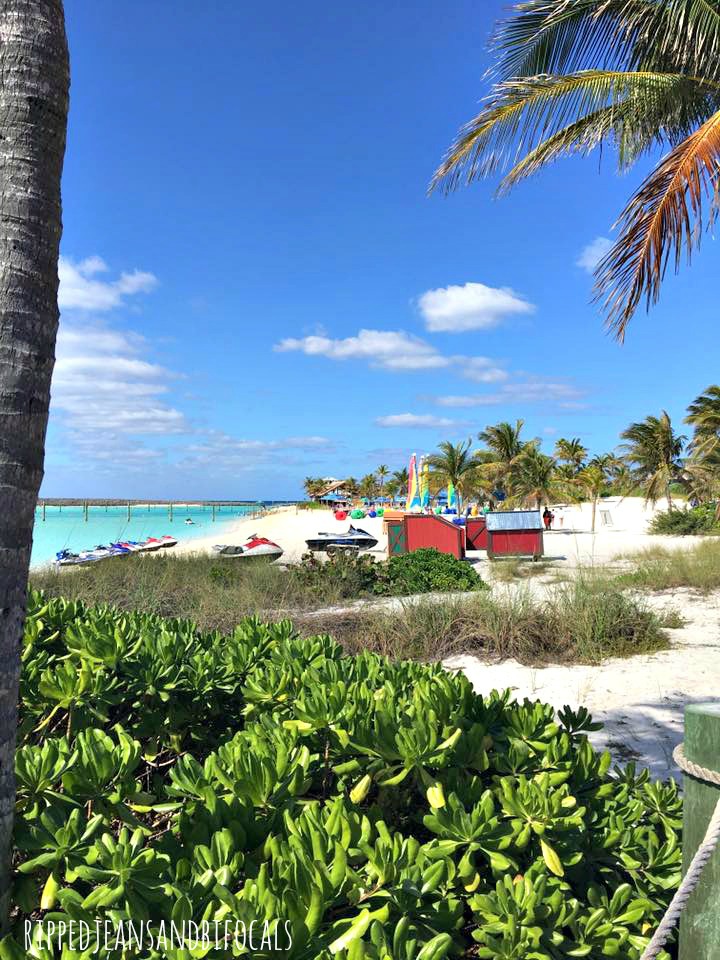 3. Wonderful photo ops
I know…when you have beautiful scenery and cute kids, the photo ops just sort of take care of themselves but we got some really fun pictures on our Disney Cruise: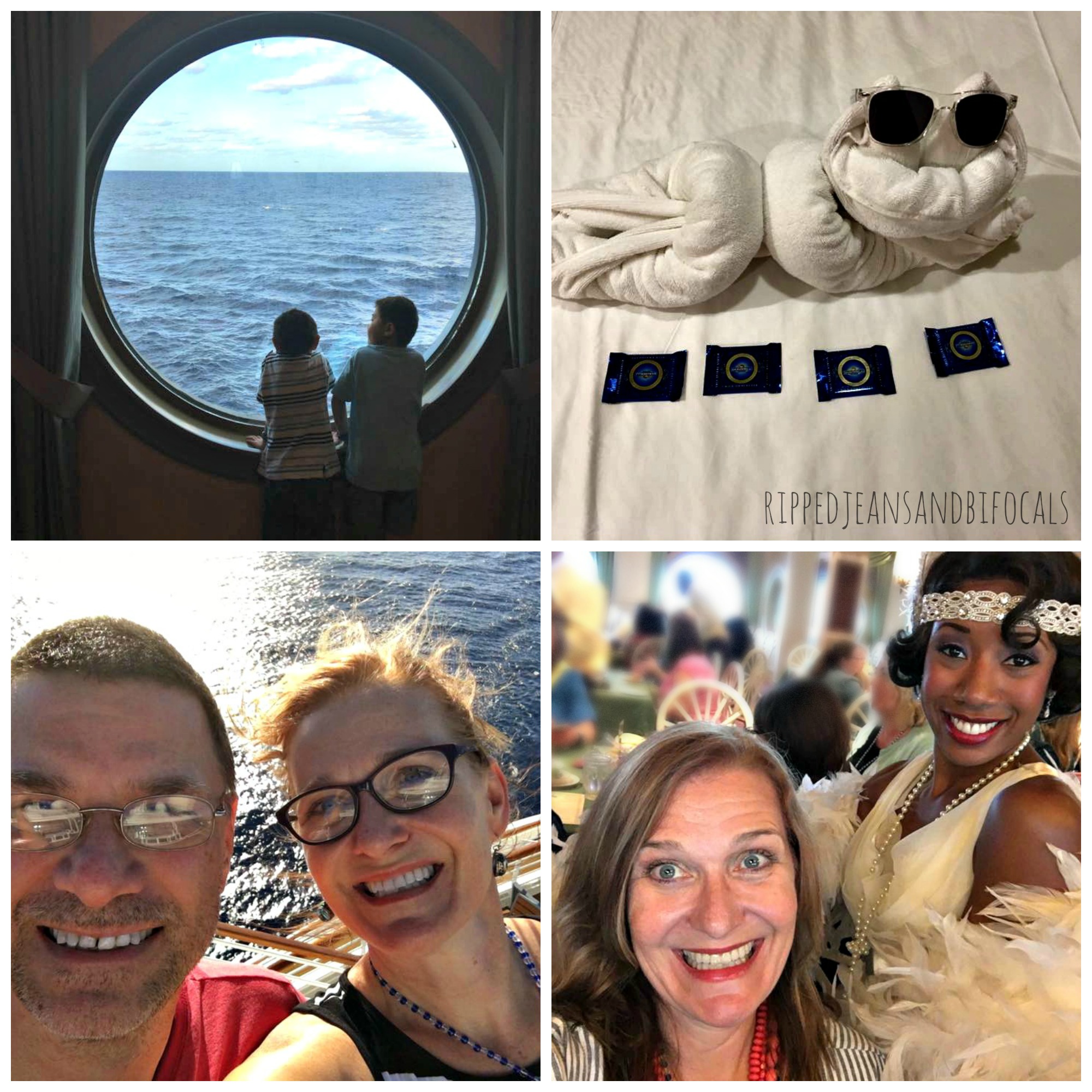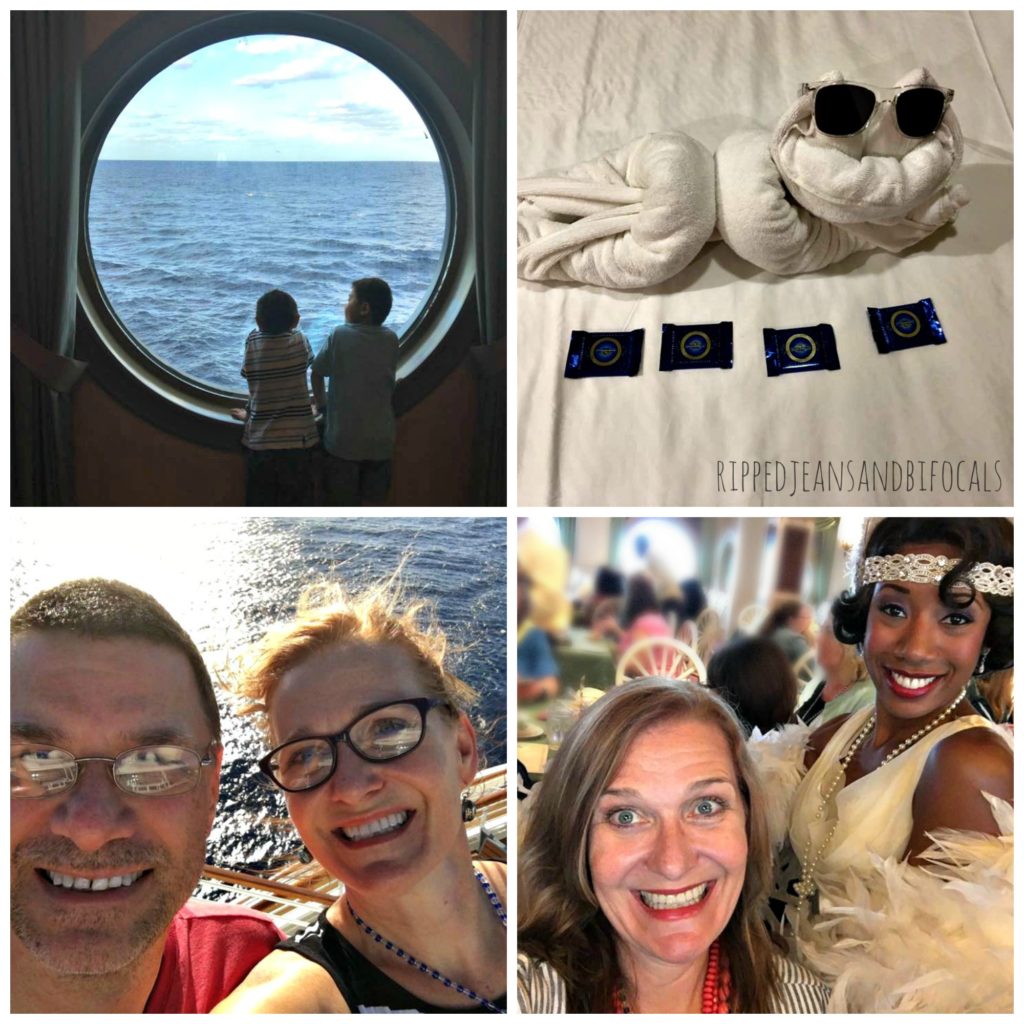 4. Disney Music
There is Disney music everywhere. It's very subtle and very tasteful and made me super nostalgic. I think the most fun Disney music moment for me was when I was lying in my lounge chair at Serenity Bay (Castaway Cay's adults-only beach) and realized that the guitarist was playing "Kiss the Girl" from the Little Mermaid, which is one of my favorites.
5. Artwork
There are Disney prints in all of the staterooms and common areas. There's also Disney-themed art available for purchase on board, but my absolute favorite was the Animator's Palate, which is one of three restaurants on The Wonder.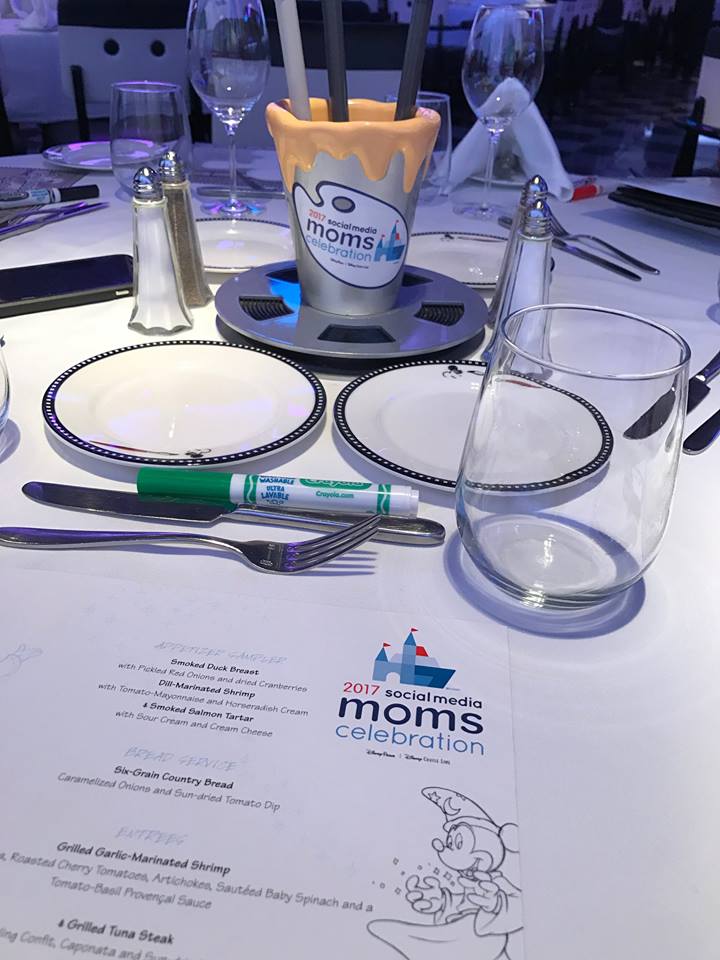 The walls are decorated with the beginning stages of Disney animation and there are all kinds of fun surprises with the decorations on the walls. You might even get a chance to have your artwork become a part of the show! I ate lunch at the Animator's Palate as soon as I came on board and it gave me a new appreciation for the talent that goes into making the films we all know and love and it was fun to see that artwork so prominently displayed on our cruise.
6. Food
The food on the Disney Wonder was simply amazing. The number on the scale the day after I came home (eek!) confirms this but you know what? I don't regret a single splurge. There are three restaurants and a casual dining buffet. There's also Palo, an 18+ elegant dining experience that isn't included in the cost of your cruise. We didn't make it to Palo's but I did get to sample one of their dishes and it was delicious. I only heard good things about Palos and we'll definitely check it out next time. Yes, I said next time because there will be one.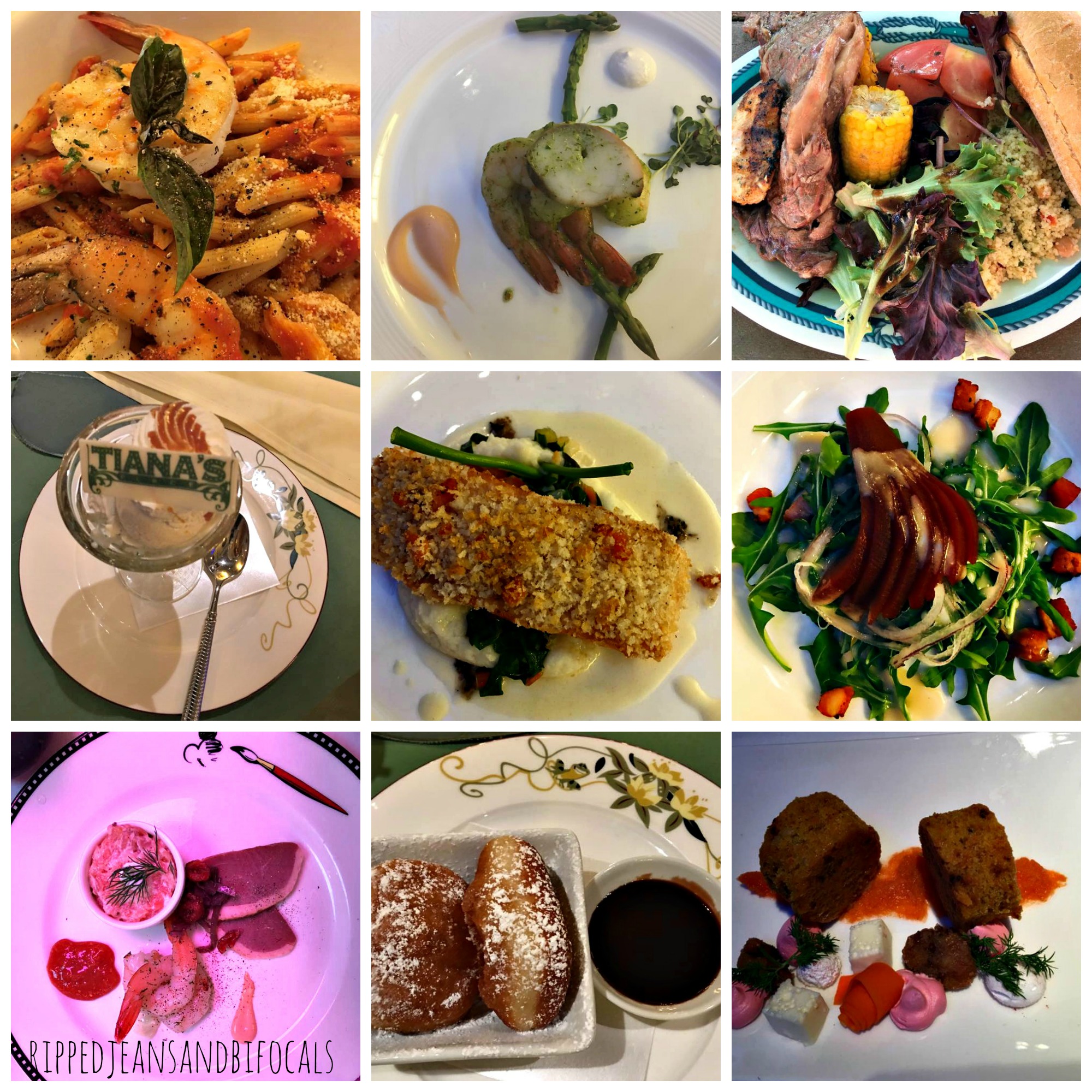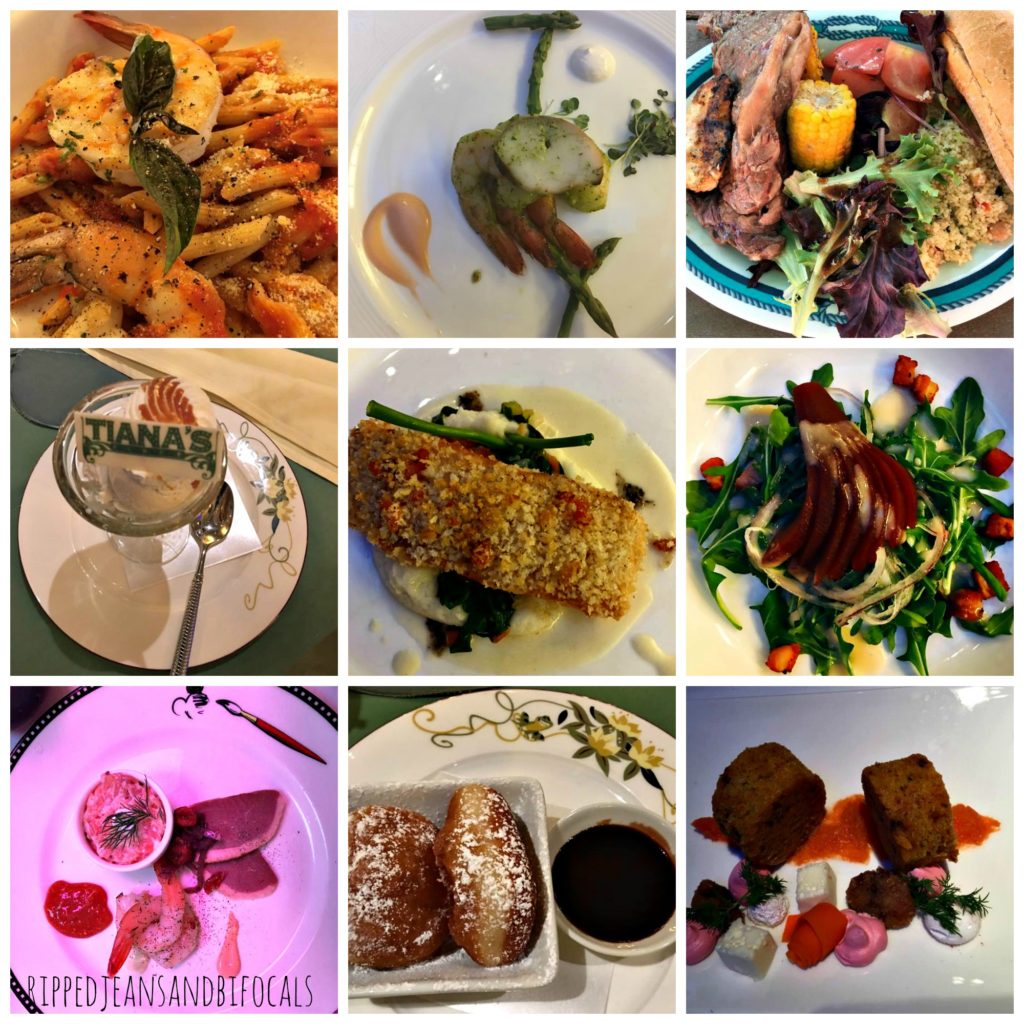 You'll rotate among the different restaurants during your cruise and your wait staff will follow you from place to place – how cool is that? Since I spent a lot of time eating and taking pictures of my food during my cruise, I'm wrote an entire post about the Disney Social Media Moms Celebration…it tells you EVERYTHING you'll want to know about the food on board.
7. Kids Activities
There are endless options for your small humans on a Disney Cruise.
The It's a Small World Nursery is for kiddos ages six months through three years. Since our kids are older, I don't have firsthand experience with this service but you can check out the specifics here.
For ages three to 12, there's the Oceaneer Lab and the Oceaneer Club. The Oceaneer Lab offers fun through imaginative themed activities and games. Kids can take part in self-guided or group activities. The Oceaneer Club was simply amazing. When our kids weren't in kids club, they were begging to go to kids club. When we picked them up, the first question out of their mouth was "when can we come back?"
We got a chance to go to the Oceaneer Club's open house on our last day of sailing and it was easy to see why they liked it so much. We watched this video before we left and it really got the kids pumped about the entire experience:
If you're the type that suffers mom guilt for "dumping" your kids while you go have fun, you will feel good about letting your littles enjoy the kid's activities on a Disney cruise. When you go to pick your kids up to take them to dinner and their face falls when they see you, that's when you KNOW they're having a great time.
One of the COOLEST things about the Oceaneer Club is that it moves to Castaway Cay when the ship stops at that port. They have an awesome sand play area, playground and splash pad.
If you have tweens (11-14) check out Edge and for the 14 and up, there's Vibe. We were seriously impressed the Oceaneer Club. I completely understand why my kids loved it so much. If you want an up-to-date run down of the youth activities on all four of the DCL ships, go here.
8. Disney Character Meets
I mean…duh, right? The Navigator (either the app or the newsletter version) tell you when and where the characters will be available for meet and greets. The Disney characters are wearing nautical garb on board – except for Pirate Night where they're dressed like…wait for it…pirates. If you happen to catch the characters on Castaway Cay they'll be in their swimwear. So cute!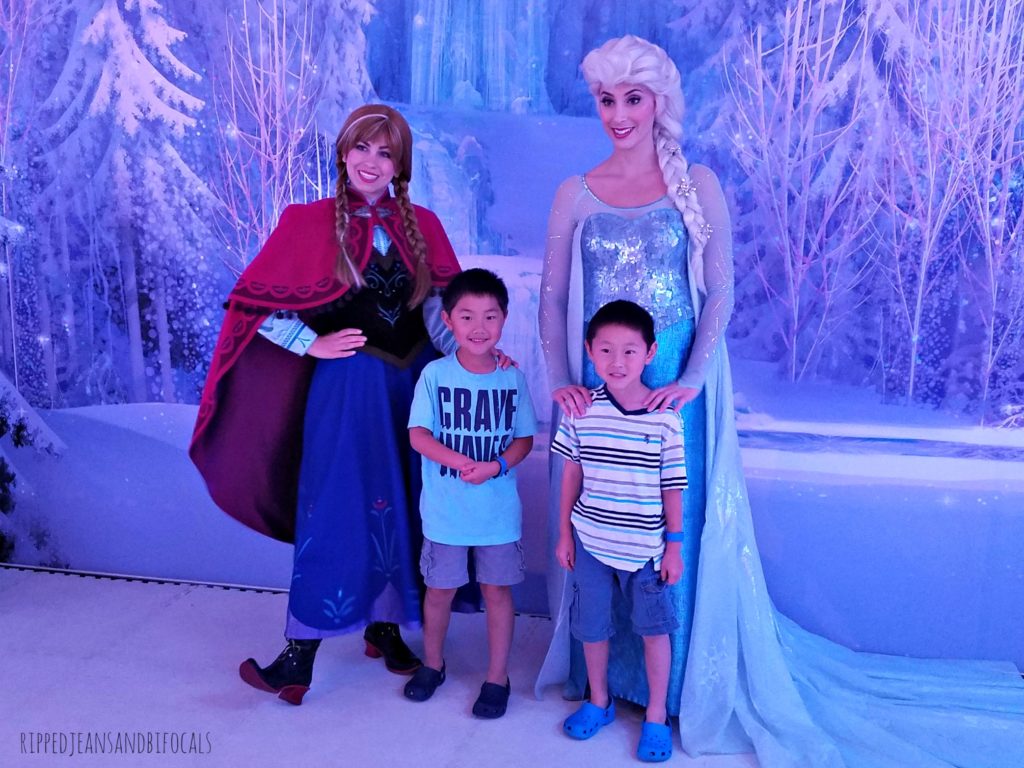 Our sailing offered the opportunity to meet Mickey, Minnie, Donald, Daisy, Goofy, Pluto and Captain Hook. Meet and greets with Elsa and Anna from Frozen and the Disney Princesses must be reserved…there is no charge but you must book your spot in advance. I recommend reserving before you sail. We also got to meet Tiana and Louie the Alligator from The Princess and the Frog in the restaurant Tiana's Place. They don't sign autographs in the restaurant but they do offer photo opportunities and Tiana will stop and chat with you while you're dining. She wears her flapper costume in the restaurant and her princess dress at the princess meet and greet.
9. Adults-only Areas
If you think a Disney Cruise is just for kids, think again. There's an entire adults-only pool area plus an after-hours adults-only area with three different bars. Our favorite was the Cadillac Bar.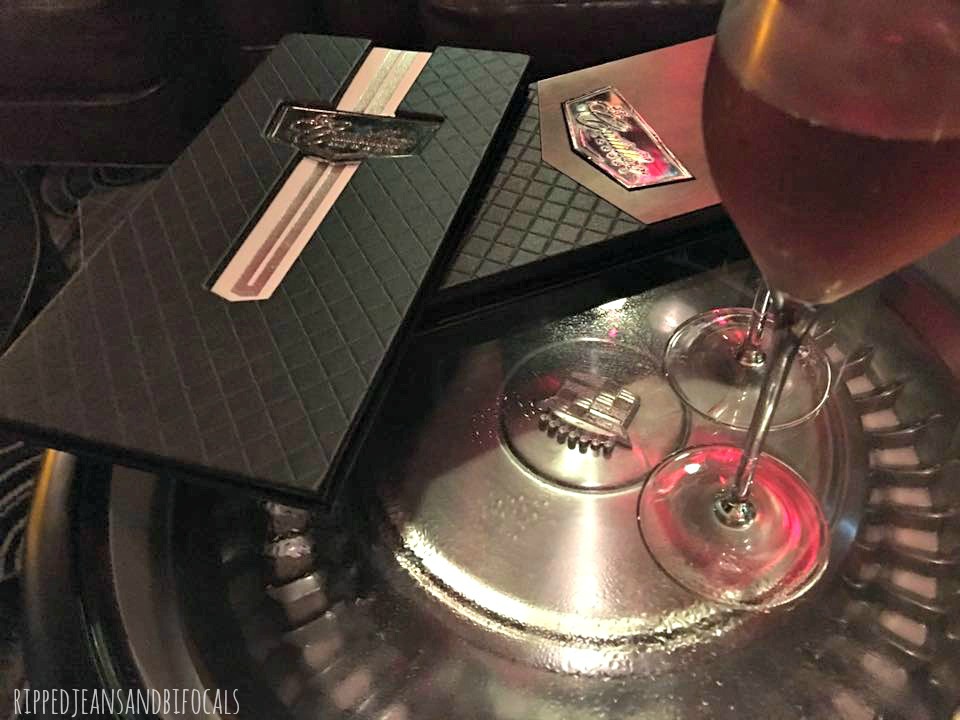 They had a sommalier's choice wine special where we got to tell our server our wine preferences and then allowed them to select for us. Selections are typically bottles of higher end wines the bar needs to finish off so the glass is sold at a discount. We had fun talking to our server – who was from Norway – and learning about our "mystery selections."
10. The chance to party like a pirate
Our sailing's Pirate Party was the second night. The festivities started on deck at 10 p.m. with music, characters and dancing but many people were in their pirate gear for dinner. It's fun to see how creative people get with their costumes. Also, decorating your door on a Disney cruise is totally a thing and it's part of the fun.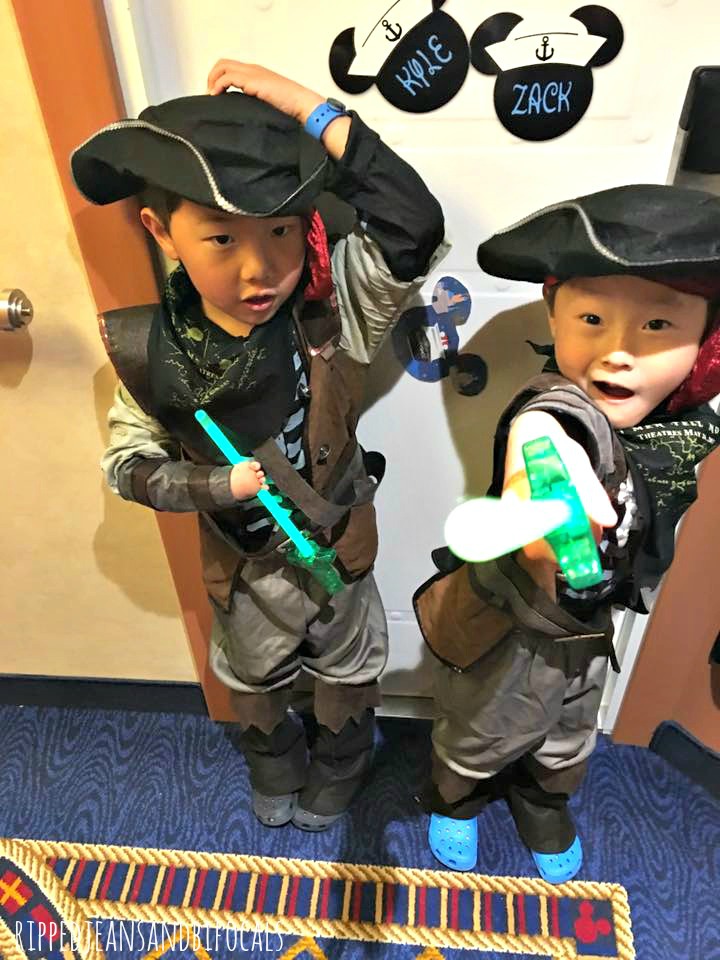 The best part of the pirate night was the fireworks at sea. They were awesome. Disney is the only cruise line that does fireworks at sea and they did not disappoint.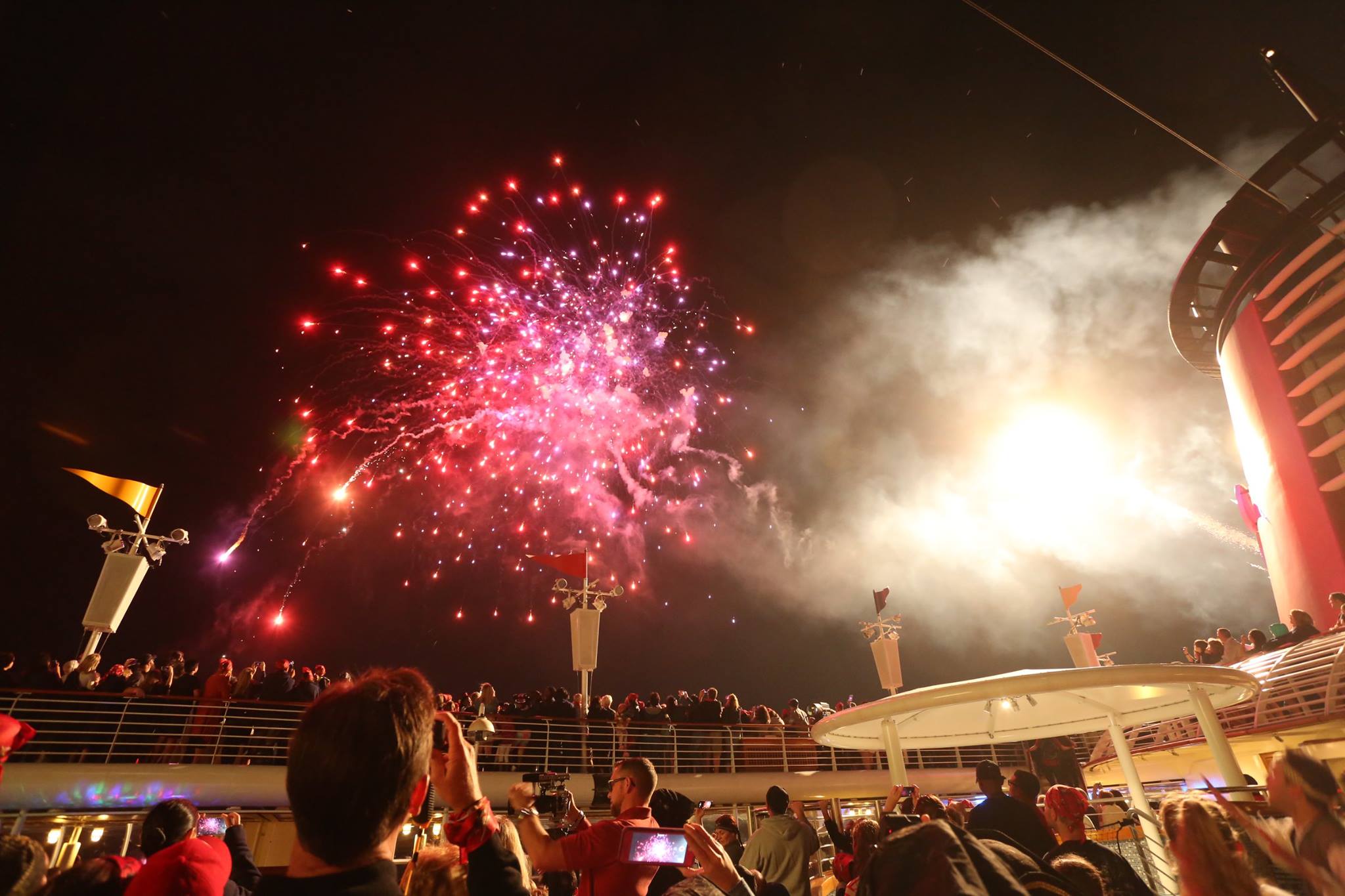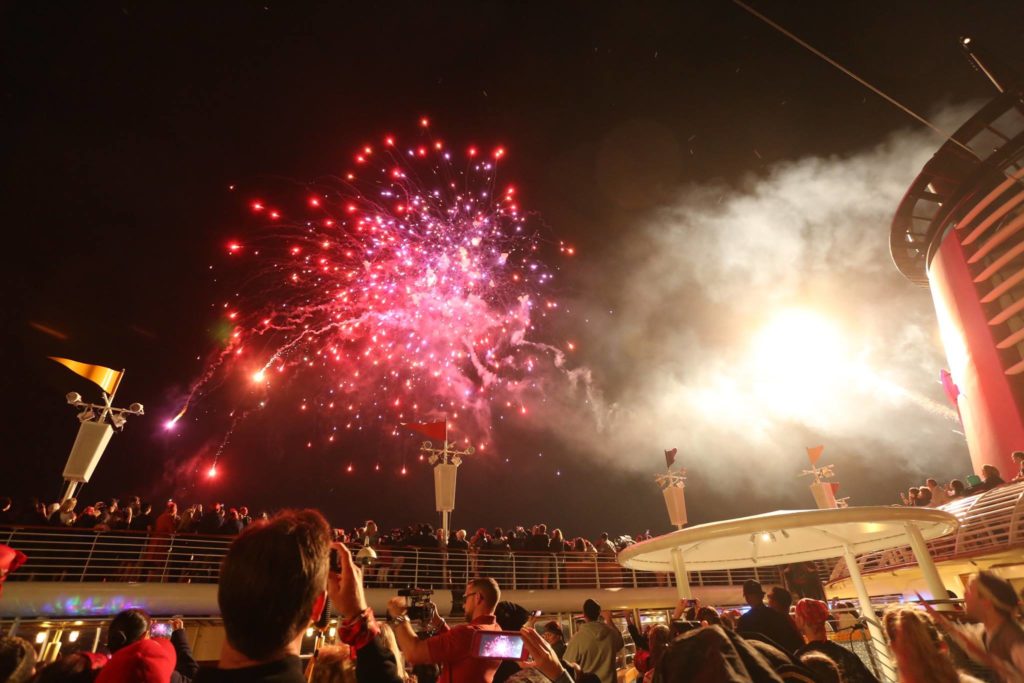 11. Fish Extenders
Fish extenders is an on board gift exchange. It's not an official DCL activity but a walk through the hallways will tell you it's a tradition that's alive and well with passengers. The hook outside of each stateroom is shaped like a fish. If you're participating, you'll hang something on your fish to hold small gifts from other passengers. If you're crafty you can make your own or you can do what I did and order from Etsy. There are no rules for what your fish extender has to look like – I saw quite a few ordinary shopping bags.
You'll sign up with a fish extender group prior to sailing. Groups are limited to ten cabins. You'll typically fill out a spreadsheet with a little bit of information about who is staying in your stateroom (names, ages, favorite Disney character, allergies, etc) and then you'll buy or make gifts for your fellow travelers. It's sort of like a secret Santa at sea.
It was a lot of fun but a lot of work to get the gifts together. It was also a lot of extra stuff to carry on and off the ship and we were so busy during the cruise that we didn't take time to fully scope out all of our loot until we got home. I was touched by the thoughtfulness of the gifts and wowed by the creativity but I'm not sure if I'd raise my hand to do the fish extender thing on our next Disney Cruise. Whether you do it or not, it's fun to check out all the cool and creative things other people do to make their cabin stand out.
12. Shows
There are three shows on the Disney Wonder: The Golden Mickeys, Disney Dreams – An Enchanted Classic, and Frozen – A Musical Spectacular. Disney really crams in the entertainment on a three-night cruise, so there's a show every night. If you take a longer cruise, you'll still get the three shows but you can move at a less frenzied pace and check out some other entertainment. We didn't see the Disney Dreams show but we did catch The Golden Mickeys and Frozen, which were Broadway quality.
We also had the chance to see Beauty and the Beast on the Disney Dream. As usual, we were completely wowed. If you sail on the Disney Magic, you'll get the chance to see Tangled: The Musical, which is Disney Cruise Line's newest musical shows. No photography is allowed during the shows.
13. All that's included
All of your food and entertainment are included – even sodas. You can order a second or even a third dessert in the restaurants (ask me how I know) and if you don't find exactly what you're looking for on the menu, just ask and your servers will find a way to make it work. Fireworks at sea. As much ice cream as you can eat. Twice daily turn-down service in your stateroom. The beaches and amenities on Castaway Cay. Wake up calls from Mickey himself. Room service. Let me tell you, there just aren't words enough to describe the cool factor of ordering warm cookies and milk every night before bed.
Other than a select number of dining experiences and some of the extra activities on Castaway Cay (snorkeling, scuba, etc) there all of the fun was included in the price of the cruise.
14. Because it's really just that magical
The relaxing fun of a cruise combined with the magic of Disney is something I can't properly put into words. No matter how old you are, there's just something about a Disney experience that puts a smile on your face and makes everything just that much extra-special.
Thanks for reading! If you want to get my free e-booklet about how to plan a cruise when you have kids, enter your info below: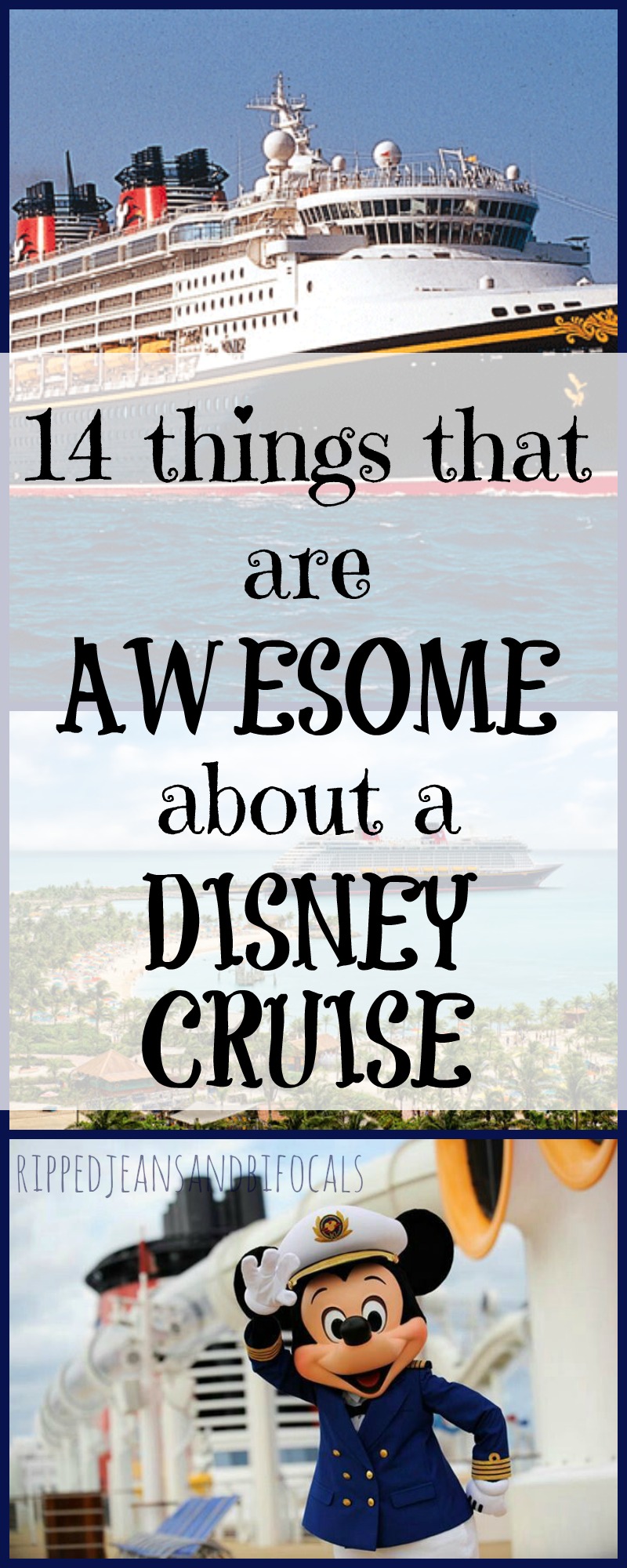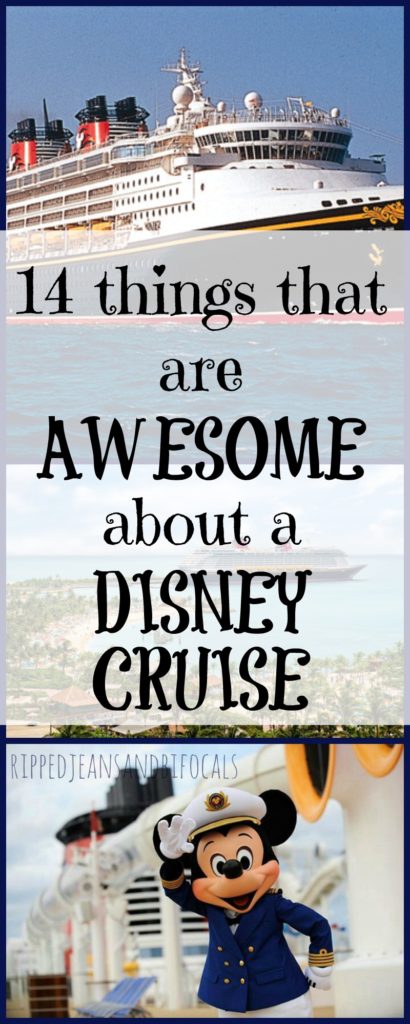 You might also like:
Here are a few more posts you might enjoy!