Tips for visiting Magnolia Table (Best. Breakfast. EVAH.)
(This post may contain affiliate links. Read my full disclosure.)
I love breakfast. I love all food but breakfast is my very favorite. Brunch is a close second. If you've ever dreamed of having breakfast, lunch, or brunch at the Magnolia Table in Waco Texas, I have some tips to help you out. I know Waco Texas is an increasingly popular destination these days and all things Magnolia are high on everyone's Waco bucket list. If you've got visiting Magnolia Table on your list of things to do in Waco, here are some tips for visiting Magnolia Table…AKA the Best. Breakfast.Ever.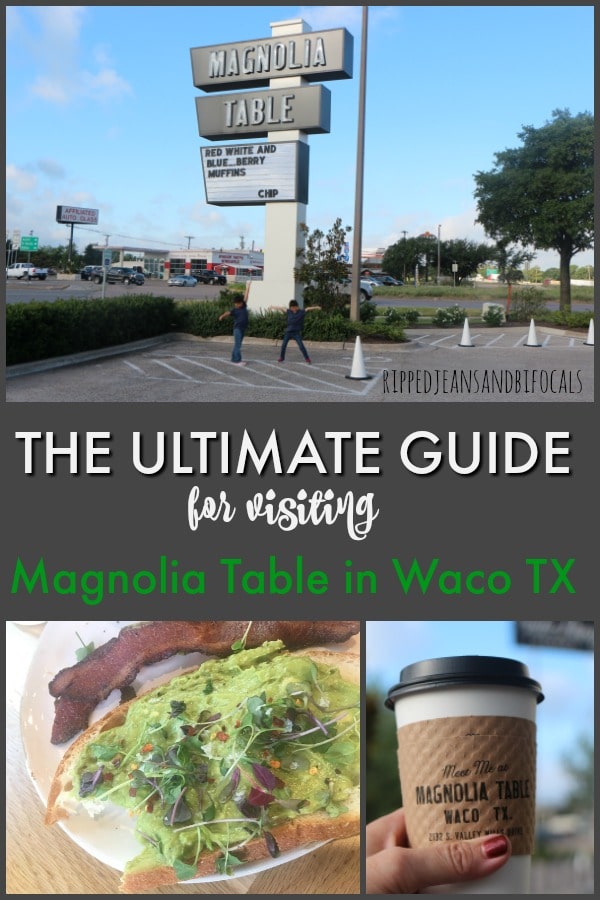 Tips for Visiting Magnolia Table – Best. Breakfast. EVAH.
1. Don't miss visiting Magnolia Table
If you think visiting Magnolia Table is a touristy thing to do…well, it kind of is. But the food is freaking delicious and the service gets an A+. If you've come to Waco with a love of all things Chip and Joanna, you need to eat here and don't let the wait scare you off. And even if you've come to Waco for another reason, you still need to eat here because the food is amazing. I feel comfortable calling it one of the top five breakfasts I've ever eaten and…well, I've eaten a lot of breakfasts.
Seriously. Don't not go. It's so crazy delish.
Related post: Things to do in Waco with kids besides Magnolia
2. Arrive early
The Magnolia Table is open from 6:00 a.m. until 3:00 p.m. Monday through Saturday. To get seated with minimal wait, I recommend arriving on a weekday before 7:30 a.m.
My kids and I arrived at 7:22 a.m. on a Thursday and we were seated right away. However, the place was about a third of the way full and our waitress told us it was a "slow morning." We were served promptly and attentively, however, if we'd have waited another hour or gone on a Saturday, we'd have probably waited longer.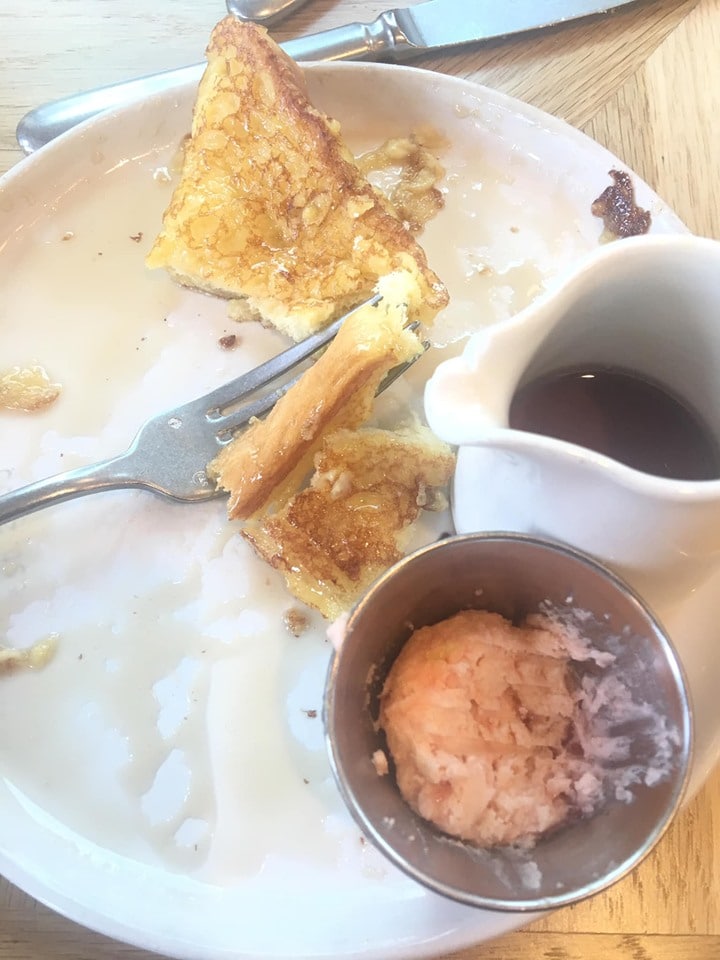 We were in and out in about an hour. We lingered a little bit and stopped to take some pictures, as most people visiting Magnolia table do.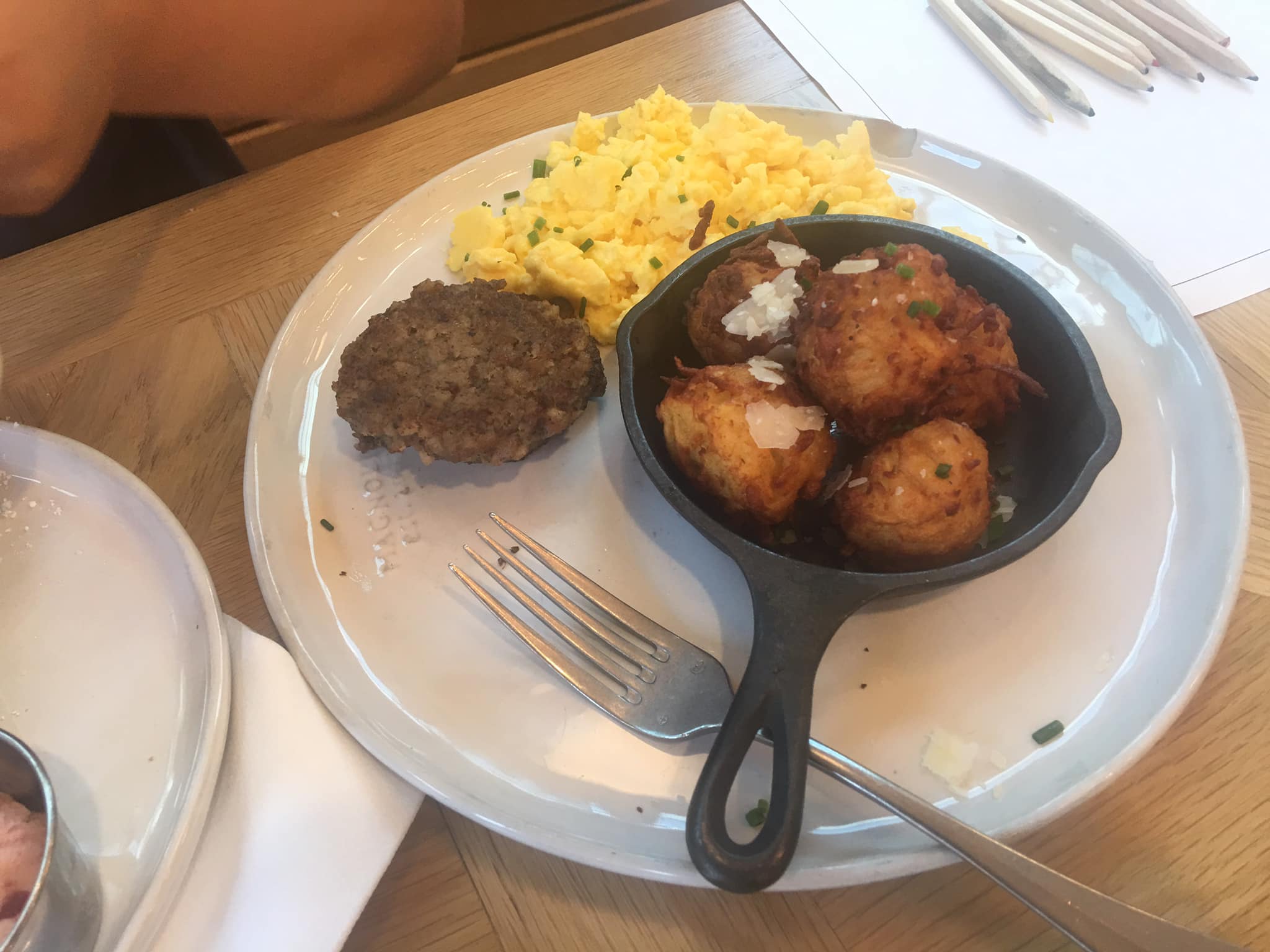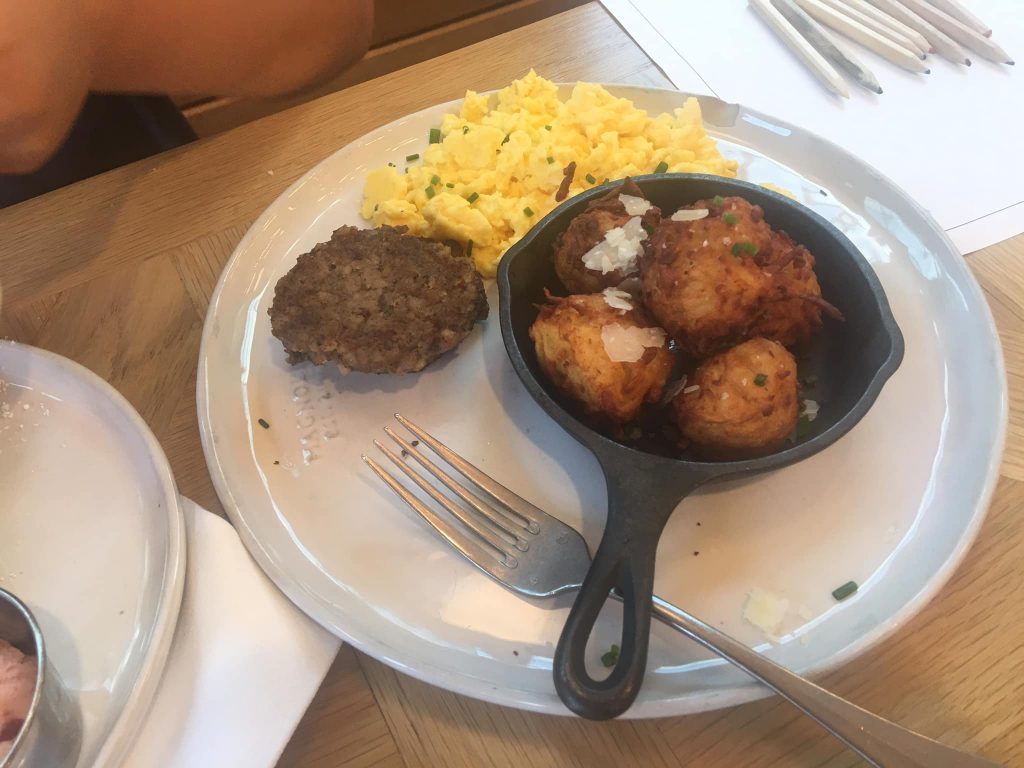 This breakfast is worth getting up for, though.
3. What to order
It's hard to decide what to eat when visiting Magnolia Table – everything looks amazing and we struggled with the decision. We ordered The Kind Breakfast, which is two scrambled eggs, wheat berry toast, a sliced avocado, heirloom tomatoes (possibly from Jo's garden) and some simply dressed greens; the French Toast Breakfast, which includes two slices of classic french toast with strawberry butter, two eggs, cooked to order, house made tater tots, and your choice of sausage or thick cut peppered bacon; and avocado toast. Do you remember when Chip and Jo first bought the diner and he didn't think people liked avocado toast (Oh, Chip) and he put up the "honk if you life avocado toast" sign on the outside marquis.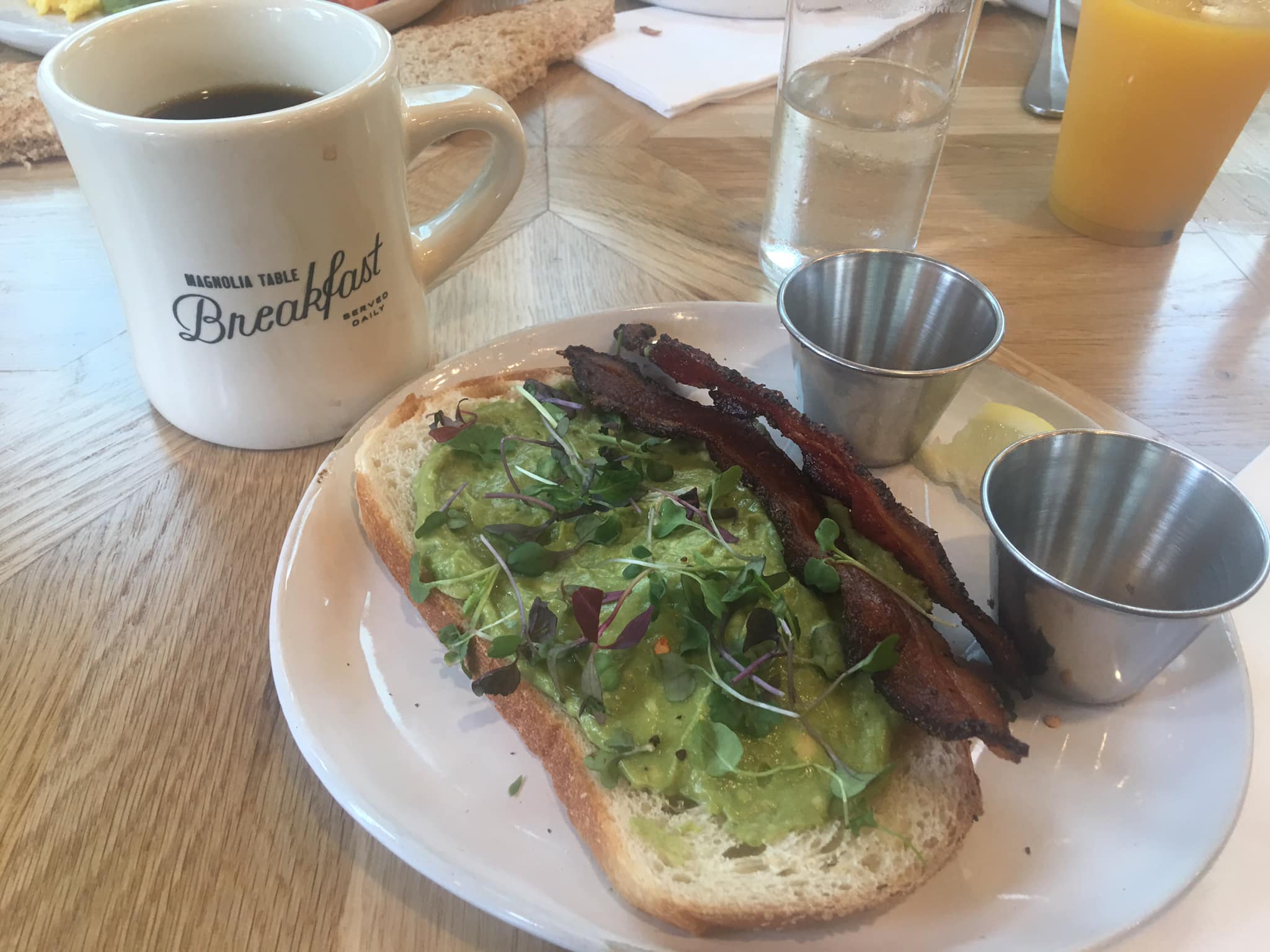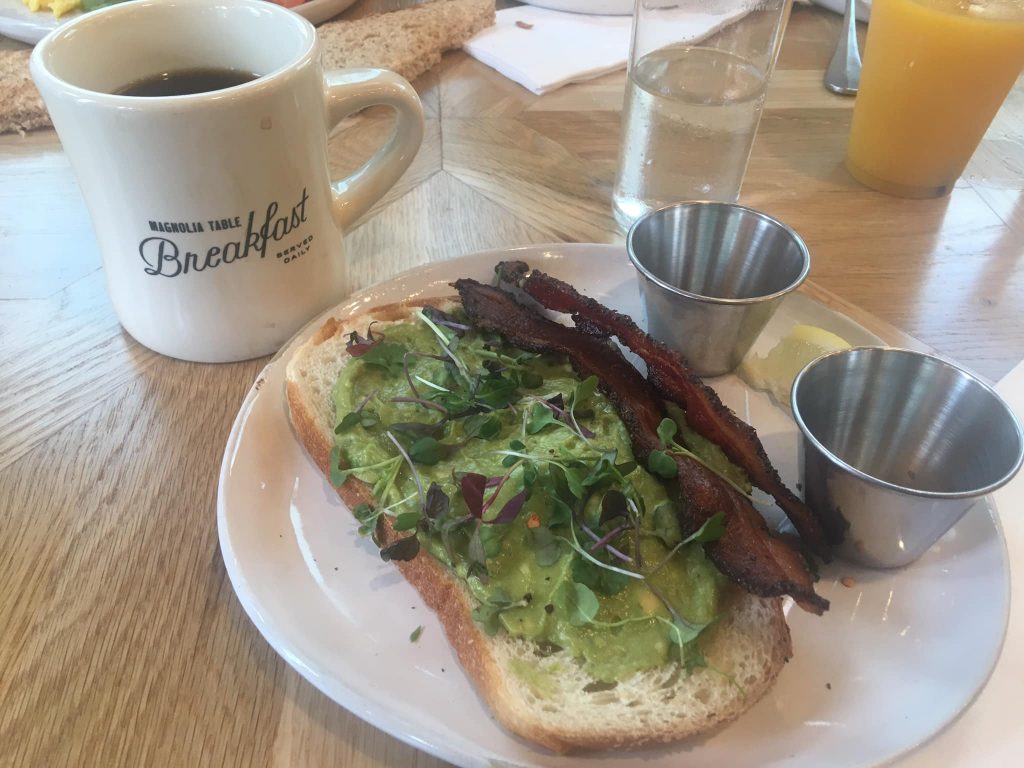 Thankfully, people honked and thankfully, Chip was able to admit his mistake because Magnolia Table serves some kick-A avocado toast.
The entire menu looked amazing and I'm sorry I couldn't sit there and eat all day. I will say that the French toast with strawberry butter was crazy good and this is from someone who doesn't love sweet stuff for breakfast.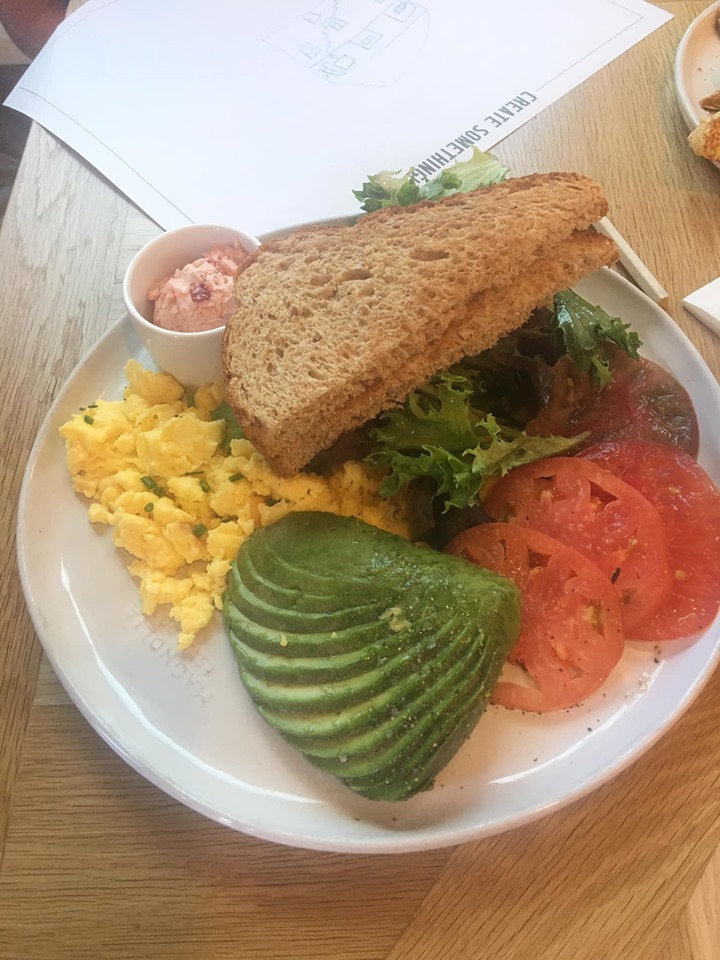 From someone who tries to perfect thick cut peppered bacon every weekend, I have to tell you, the Magnolia Table has it right. So. Good.
Related post: Pictures of Waco that will make you want to go to Central Texas right now
4. Take some time for pictures
There are some fun photo opps outside. If you visit early in the morning, the light is prettier for pictures outside by the signs. Obviously, you'll want to take pictures of your food…and if you look around, you'll see everyone else doing it, too.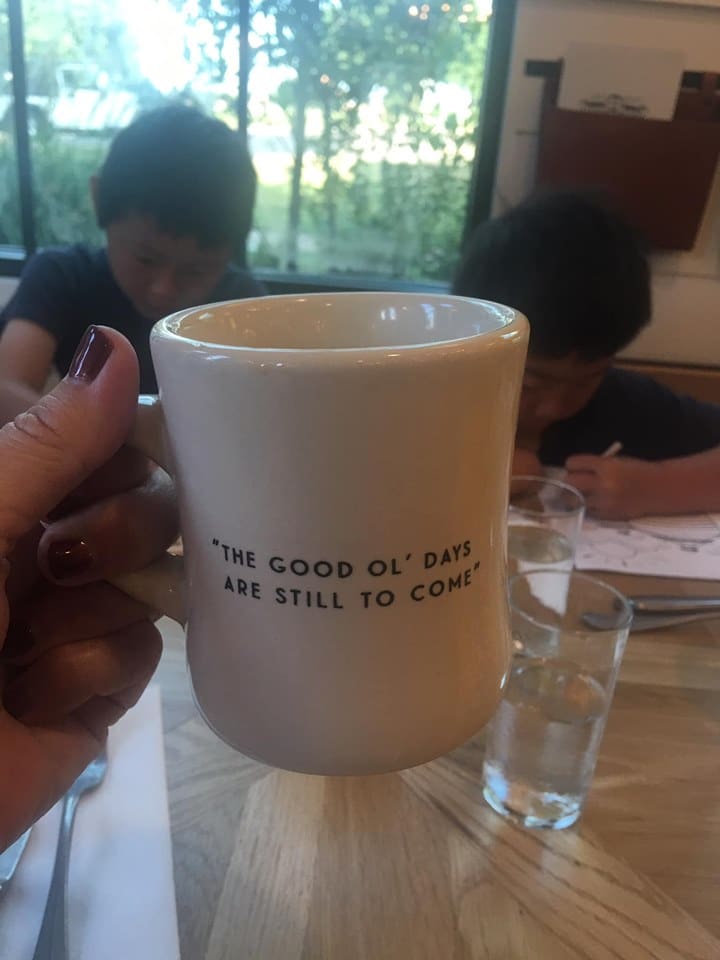 5. More about visiting Magnolia Table
Magnolia Table is a breakfast and lunch restaurant in Waco Texas. It's open from 6:00 a.m to 3:00 Monday through Saturday. Their kitchen closes at 3:00 p.m. so based on current wait times, the wait list will close before 3:00.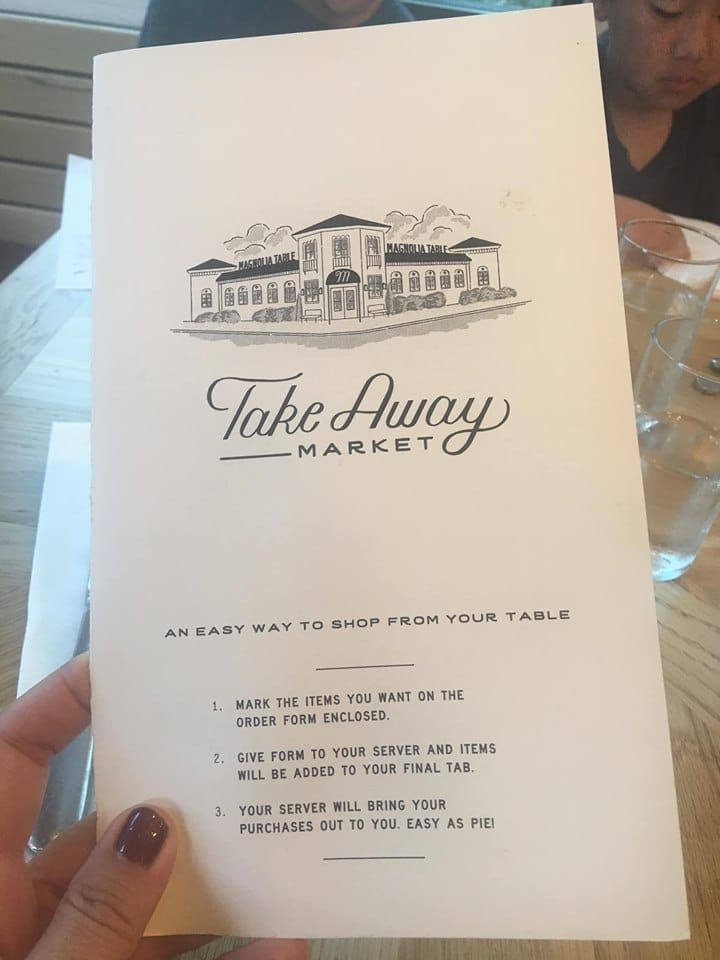 Much of the produce is grown in Joanna Gaines' garden. How cool is that?
The Magnolia Table experience is one to be savored…this isn't the place to grab a quick bite to eat. It's seriously one of the best breakfasts I've had in a while. They do have a kids menu and their choices include items that I think would fit into most dietary requirements…although there are not a ton of gluten free and vegan options (but there are some.)
More about Magnolia Table here.