The Best Luggage for Cruises
(This post may contain affiliate links. Read my full disclosure.)
If you're going on a cruise for the first time, you're probably wondering what and how to pack. As a newbie cruiser, the most important thing to keep in mind is that staterooms on cruise ships are tiny. Like tiny as in a quarter of the size of a standard hotel room tiny. Cruise ship staterooms are configured to use the alloted space smartly but there is only so much space to work with. I'm sharing some of my 'best luggage for cruises' in the hopes that it will help you prepare for your dream vacation.
If you're a family of four and everyone brings a huge suitcase, you're going to trip over each other. Granted, you probably won't be spending a ton of time in your cabin but you still want to be comfortable.
Disclaimer: We are a participant in the Amazon Services LLC Associates Program, an affiliate advertising program designed to provide a means for us to earn fees by linking to Amazon.com and affiliated sites. This post may also contain affiliate links to other sites where I will be paid a commission by the seller if you make a purchase.
[Tweet "The best luggage for cruises"]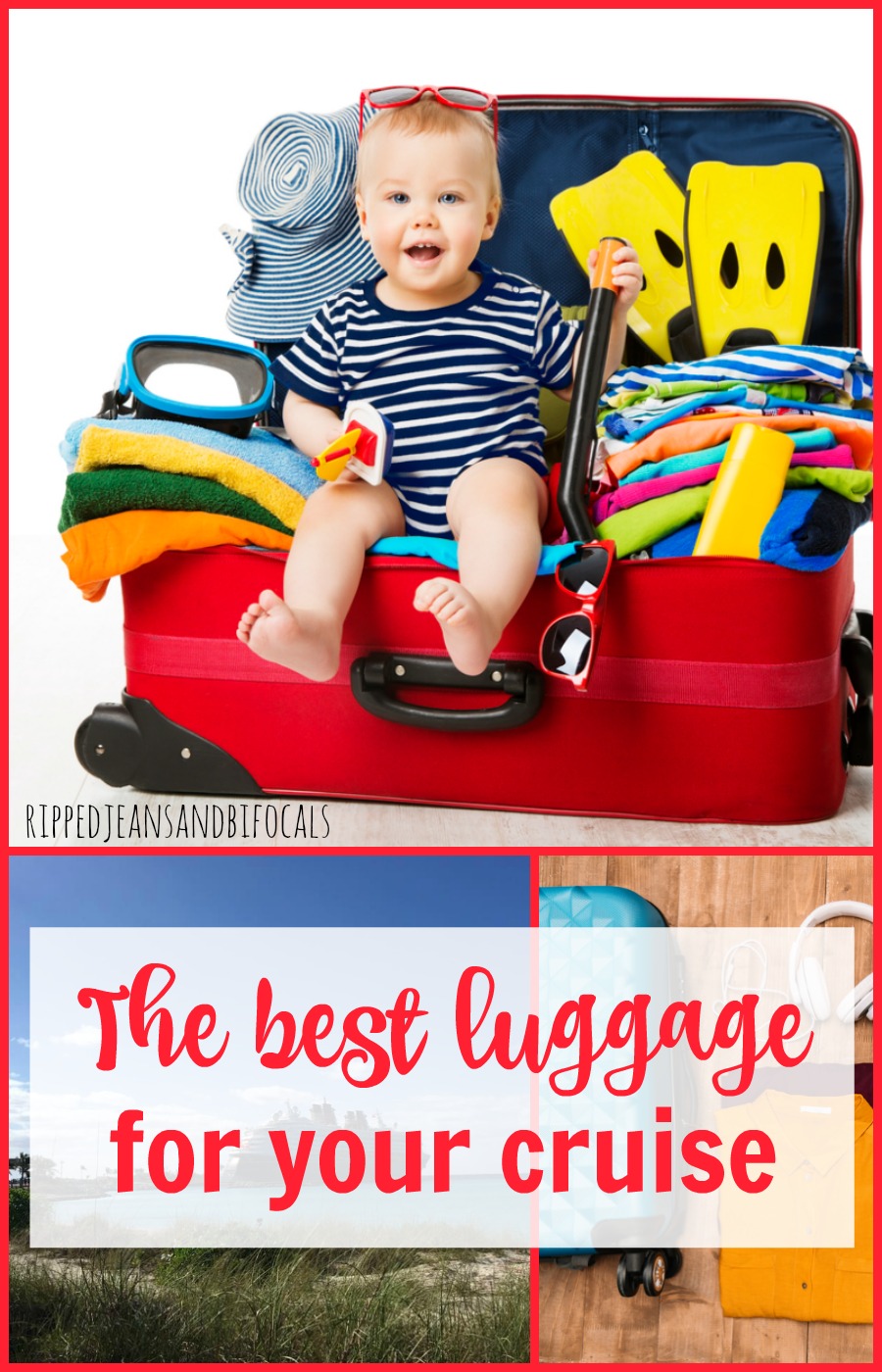 The Best Luggage for Cruises
1. American Tourister Star Wars two piece set – 21″ and 28″ hard side
These are so fun and you'll always know it's your luggage coming off the baggage carousel. We have one of these bags and get a lot of compliments on it. American Tourister is a good brand and is designed to take a beating. If you're lucky enough to do a Disney Cruise with a Star Wars Day at Sea, you pretty much have to have these. These sets come with other charactrers and, if you're just looking for a smaller bag, there are a ton of characters available in the 21″ size.
These bags are sturdy and roomy – but not so big they won't easily fit under the bed in your stateroom.
2. Travel Pro Crew 10 Expandable Spinner Suiter 21″
This is a no-nonsense expandable bag designed specifically for frequent travelers. It comes with a lifetime warranty.
3. Samsonite Midnight Soft Spinner 25″
I don't just like this one because it's purple and it does come in other colors if purple isn't your thing. I like the fact that it's a good size but not so bulky you'd have trouble storing a couple of these under the bed in your stateroom or even in the storage closet.
4. Samsonite Omni Hardside 3 piece (20, 24, 28″ spinner)
The 28 inch bag is pushing the limit of what I'd personally take on a cruise. It will fit, no doubt about that, but with a family of four in a tiny cabin, I try to make sure we really work on economizing space as much as possible.
If you're a family of 4 and are using this set for all of your belongings then you're probably good. I love the spinner wheels – they are so easy to manuever during embarkation and debarkation, plus trekking through the airport.
5. Ricardo Beverly Hills Del Mar 21″
I just got this bag and I haven't traveled with it yet. I love all the pockets, the lining and the exterior tie down strap that will potentially allow me to slap my carry-on bag on and go.
6. Titan Limit 21″ Ubreakable Carry-on Suitcase
I swear I'm not showing you this bag just because it's hot pink. But OMG, isn't it cute? This is the perfect cruise suitcase for a little girl or for a lady who is good at streamlined packing. It comes in other colors, too.
7. Kenneth Cole Reaction Lincoln Square 24″ Expandable
Since I've included so many hard-sided pieces, I wanted to include one more soft-sided suitcases. I prefer the hard-sided suitcases. We switched a year ago and haven't looked back but if you're looking for something softer, this has great reviews and is a nice, medium size.
8. And because I can't not include this one…
9. Other Stuff:
While not luggage per se, you might find these things helpful when packing for your cruise!
Minnie Mouse Luggage Tags
If you like Star Wars check out the other options. So fun!
Luggage tags for PRINCESS, CARNIVAL, COSTA, HOLLAND AMERICA, P&O, and NORWEGIAN
Luggage tags for Royal Caribbean & Celebrity
Set of 9 Suitcase bag tag labels (business card size)
Cruise ship themed luggage tags
These are inexpensive and cute – Perfect for a stocking stuffer or as a gift for someone who is going on a cruise
Set of four packing cubes with laundry bag
I love packing cubes. It helps me keep my things organized and it prevents me from overpacking. If your older kids are packing independently, giving them a couple of these and telling them "All your stuff has to fit in here" is very effective.
There's not a ton of room in your cabin's bathroom. Pack a toiletry case that hangs from the hook on the bathroom door.

I hope you've enjoyed my list of the best luggage for cruises.
You might also like to read:
14 Things that are awesome about a Disney Cruise
The Ultimate Disney Cruise Packing List
Why you should use a Disney Vacation Planner
10 Tips to help you get the most out of Castaway Cay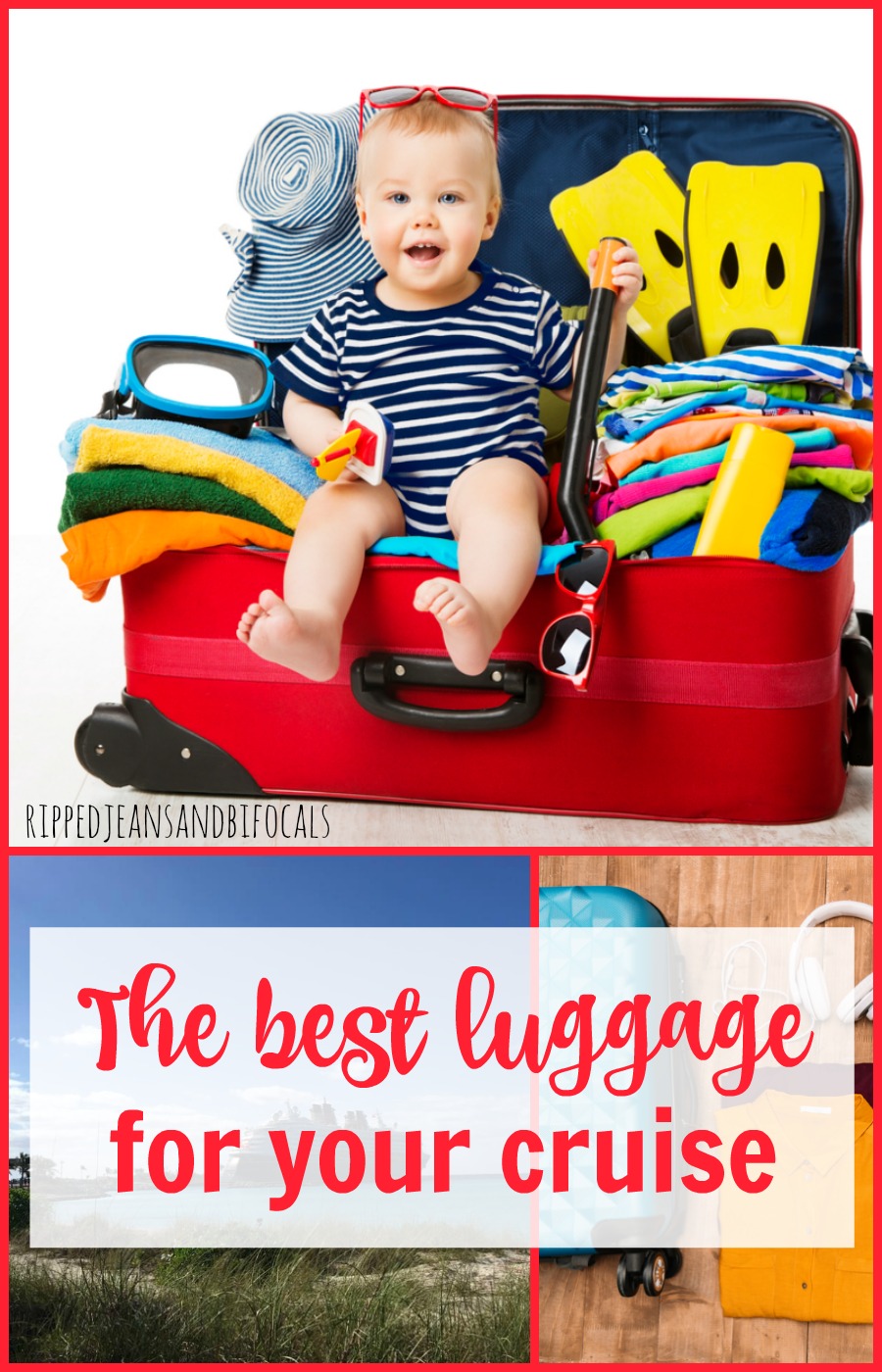 Get your free e-booklet guide to planning a cruise with kids!