Walt Disney World Do Overs
(This post may contain affiliate links. Read my full disclosure.)
Disney is the most magical place on earth. No trip I've ever taken has ever been long enough and I'm always planning some sort of Disney adventure…my husband calls it "scheming" and he's probably not wrong about that! But as happy and magical as Disney is, there have been elements of each of my trips that haven't gone according to plan. I always leave Disney wanting more Disney but I also come away with a list of "I'd sure do that different next time." I'm talking Disney World do overs today. If you're planning a Disney trip, make note of these 'shoulda coulda wouldas". And, I want to stress that I've never had a bad Disney experience, not even close, but I think talking about these Disney World do overs show how we can improve and be smarter and make fewer Disney World mistakes next time.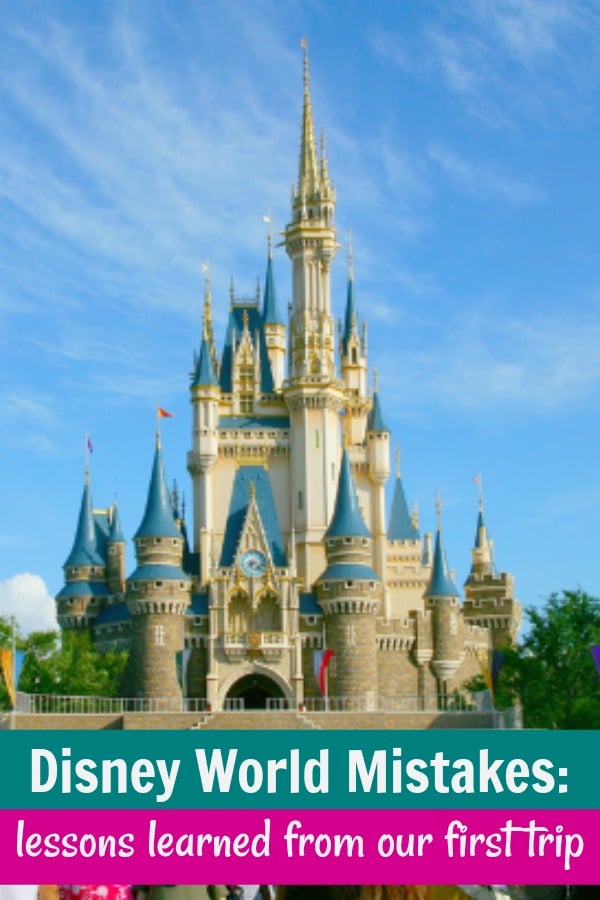 This list of Disney World Do-Overs is geared toward the first time visitor who is more likely to make Disney World mistakes when planning…or failing to plan. If you visit often and get to learn the ins and outs, your mileage may vary but I hope you'll still find some great tips!
Thinking of booking your own Walt Disney World or Disneyland California vacation?
Check out my partner, Get Away Today for the best deals and white glove service.
Disney World Do Overs
1. I would have waited to tell the kids about our trip and I would have done a big, goofy reveal
If you're planning your first trip to Disney World, consider revealing your travel plans to your family with a bang. I told our kids about three months in advance of our most recent trip, which isn't a very long time in terms of Disney vacation planning. Nevertheless, three months is a long time in six-year-old land and the "What day do we leave to see Mickey" questions got old for me. Really (really really really) old.
If I had a do over, I might have done a scavenger hunt or a puzzle to reveal our plans. Some people film reactions as they reveal the destination in the car on the way to the airport. You can get really creative with a Disney reveal but I told my kids in the most nonchalant way possible (I don't know what I was thinking) and immediately wished I'd have told them with a little more panache. Here are some cute and clever ideas to get your started.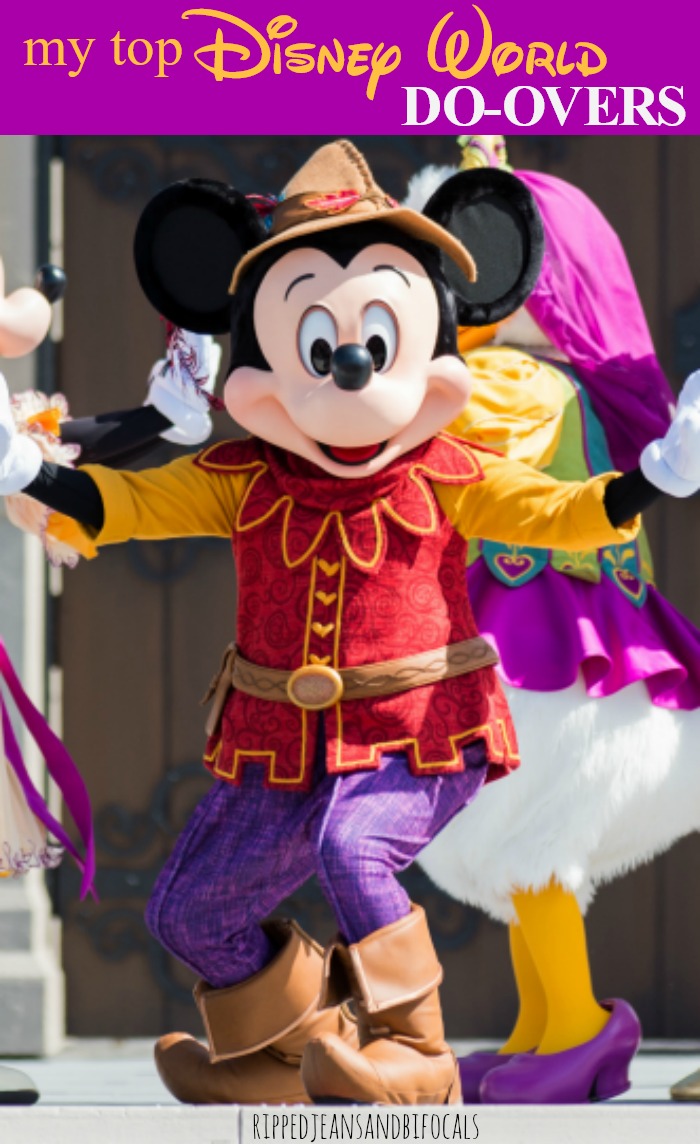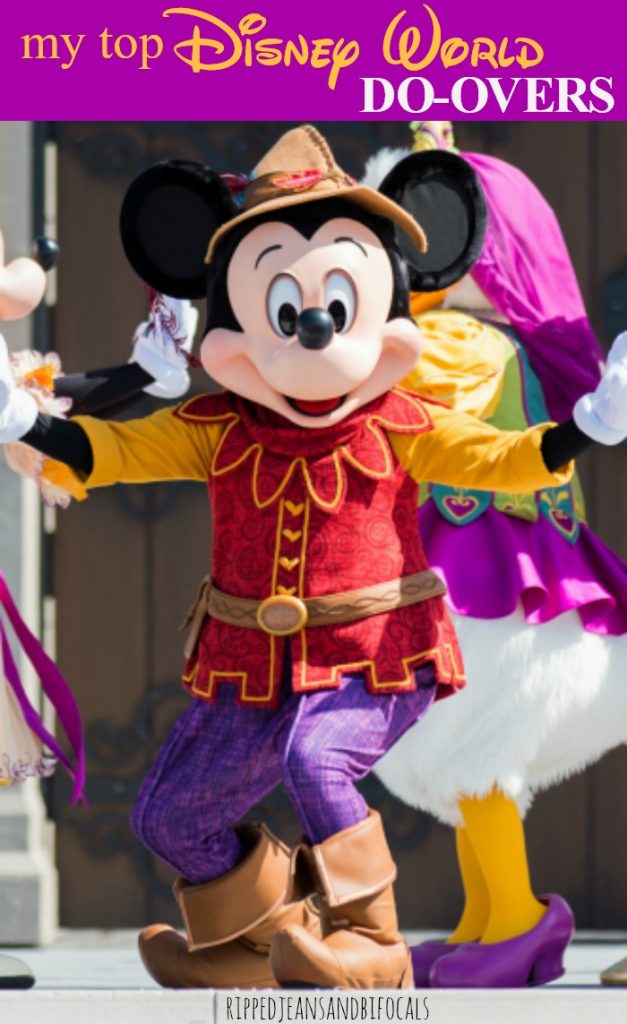 2. One of the biggest Disney World mistakes: Going in the summer
Central Florida in the summer time equals hot, muggy and buggy, which is not too much different from the San Antonio weather my family is used to. In addition to the uncomfortable heat, the Disney parks are crowded during summer because that's the time of year when most families plan vacations.
I think the best time to visit Walt Disney World is January and February. It's still warm enough to wear shorts and sometimes, enjoy the pools at the resort. This is also one of the least crowded times. This is before the spring break rush and after the Christmas rush.
Visiting in January or February might take some extra coordination because your kids are probably in school during January and February but the weather and lack of crowds make it worth it.
[Tweet "Disney World Do-Overs"]
3. I'd have spent more time on the My Disney Experience App and on the website before the trip
I cannot say enough good things about the My Disney Experience App. We downloaded this free app prior to our first Disney vacation as a family and it allowed us to link our park tickets to our hotel reservations and much more.
Prior to our trip, I was focused on getting there way more than I was focused on what we'd do once we got there. I didn't spend that much time poking around in the app, which was a huge Disney World mistake. The app not only allows you to book Fast Passes and dining but it helps you navigate your way around the park, provides menu information and descriptions of attractions you might not be familiar with.
It was a useful lesson to learn, though, because I was breezing around My Disney Experience like a pro before and during my next trip and things went so much more smoothly.
4. Disney World Do Over: I'd have done more research on restaurants and the Disney Dining Plan
Think about when and what you're going to want to eat and how much you want to spend. Do a little digging and find out how much food costs in the parks. If you don't budget for food while you're in the parks, you're going to get a bit of a shock because eating in the park or at the Disney resorts is not cheap.
You can bring snacks into the parks with you. There are definitely ways to save money versus splurge so taking time to consider what you want ahead of time will save you some headaches…and maybe some family quibbles because someone is hangry.
Quick service meals and snacks are great options. You can scope out menus and locations in advance, so you don't waste time making an unnecessary trek across the park to get to somewhere with food your kids like to eat. The Disney website, the My Disney Experience App and your been there done that friends (including your certified Disney vacation planner!) are all great resources.
If sit-down dining is your thing, you'll need reservations, which you can make 180 days in advance if you have a resort reservation. You can occasionally have luck with just walking in but you'll probably experience at least a small wait. I've found restaurants near the park entrance to be less crowded at lunch time, since most people (especially families with children) enter the park early and work their way to the back and by lunch time they're…well, in the back of the park. Last year, we walked right in to Tony's Town Square Restaurant at the Magic Kingdom at noon. We had no reservation and only waited about 10 minutes for a table. Obviously, that's not a great example of planning but it's a win in that it taught me the attractions near the park entrance are less crowded at mid-day.
If you plan to eat at least two meals a day in the parks, the Disney Dining Plan might be the way to go. I do not have first-hand experience with the Disney Dining plan…I've looked in to it on subsequent trips and it (for us) seems like too much food. However, I didn't have a clue about what the Disney Dining Plan was and didn't take the time to research whether it was a fit for my family.
Related post: How much does Disney World really cost? Check out this handy cost calculator
5. Make sure you're really going to use the annual passes
This is a tip from my Florida resident friends who have a way better shot at making 10 visits per year than I do…but even if you live near the park, really take stock of how often you'll visit in a year before you drop the money.
If you're planning to visit Disney World for more than 10 days in a year, an annual pass probably makes sense. Be prepared to drop upwards of $500 per pass, so really take a look at your family's schedule to make sure you're going to visit Walt Disney World enough times to recoup your investment. There are all kinds of options for purchasing an annual pass – there are special rates for Florida residents and Disney Vacation Club members and there are also some perks and discounts that annual pass holders enjoy.
6. One of the biggest Disney World Do Overs: I'd have gotten to the park as early as possible
If you're staying at one of the Disney properties, you'll want to get up to speed on the Extra Magic Hours, which are times the parks are open early or late for resort guests. Regardless of where you're staying you'll want to be in line to get into the park well before opening time. Keep in mind you won't be the only one with this idea and you'll have to factor in time for security checks. The parks are less crowded during the early part of the day (although they are still crowded, especially during peak times.)
The Magic Kingdom will allow guests on to Main Street U.S.A. an hour before the park opens. All of the lands are roped off but you can look around, take pictures and shop. The show at the Cinderella Castle just before opening is a great way to kick off the day.
You can apply a couple of different strategies if you go go to the park early: You can head to the ride you want to ride the most just after opening or the ones you know will have long lines (such as The Seven Dwarfs Mine Train or Space Mountain) OR you can head toward the back the park and work your way to the front, because most people do the opposite. If you're visiting early in the morning, I recommend the former.
7. I'd have booked my FastPass+ early…like really early
The night before you visit the parks is NOT the time to book your FastPass+. This is a rookie mistake and I learned this the hard way. FastPass+ can be booked up to 30 days in advance or up to 60 days in advance if you have a reservation at one of the Walt Disney World resorts.
You can use three (free!) Fast Passes each day of your visit. Book as early as you can for the attractions you really don't want to miss. One of the perks to using a Disney Vacation planner is that they'll not only book your Fast Passes for you but they'll explain how the system works if you're not familiar. And yes, your Disney Vacation planner will be the one who is up at 6:00 a.m. Florida time exactly 60-days out from your trip to book your Fast Passes.
The Fast Pass system is actually pretty simple but it can be a little daunting for a first-timer. You can also ask your hotel concierge (if you're staying on property) to book your FastPass+ for you but this means you've left it to the last minute and popular attractions are probably going to be a no-go.
Related: Ultimate Disney Cruise Packing List for Families
8. I'd have made character dining reservations early…like really early
Yep, you are seeing a trend with the "do things early" business. Booking your character dining reservations is something you need to do as soon as you start planning your trip. You can (and should) book your character dining 180 days out. It forces you to plan early, yes, but with a vacation at Walt Disney World, planning early is your friend.
Some character dining experiences will sell out faster than others, so take some time and figure out what the best one is for your family. They are pricey, and while the food is very good, it's probably not going to meet your threshold of "$150 for a family of four good."
We found the experience to be totally worth it, though, because character dining eliminates the need to stand in line to see your favorite characters and it gives you more than a 30-second meet and greet with them. We did Akershus Royal Banquet Hall at Epcot and got to hobnob with Belle, Cinderella, Ariel, Sleeping Beauty and Snow White. Each princess stopped by our table and took plenty of time to chat with our boys, signs autographs and pose for pictures. It was really magical.
If you want to get your first choice in character dining, book early. While we had a blast at Akershus, it was not our first or even second choice because I decided character dining was something we needed to do at the last minute.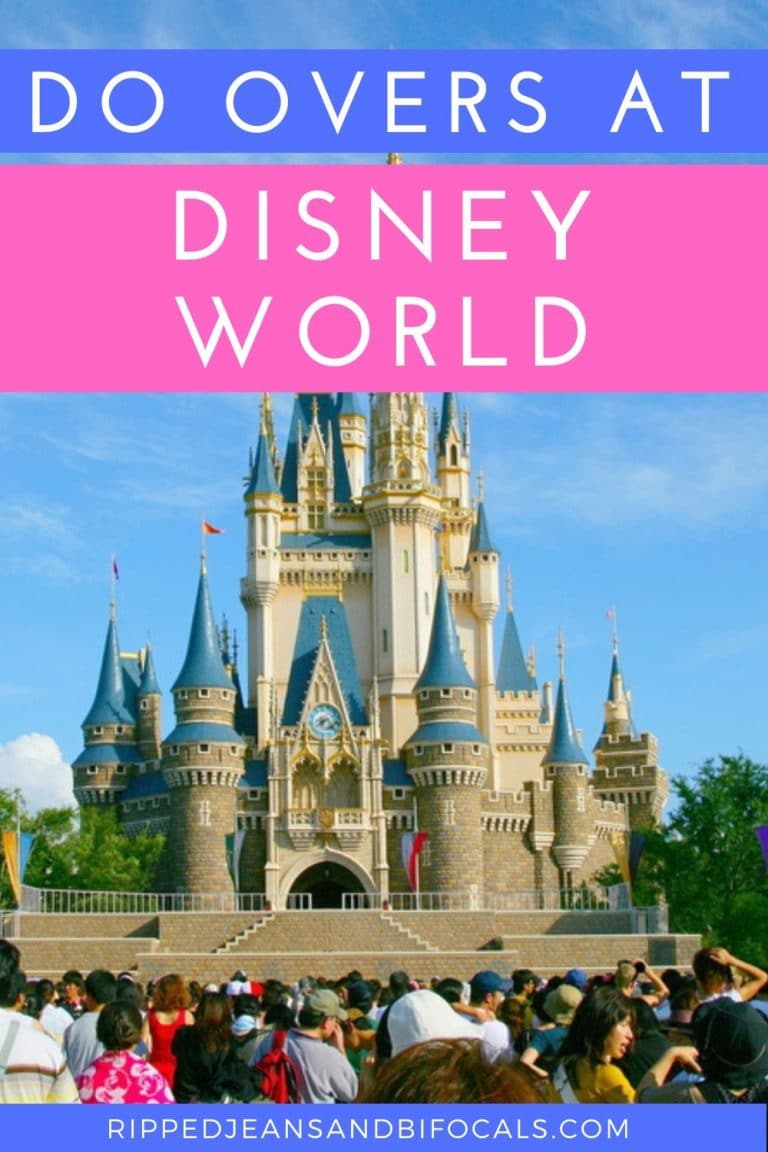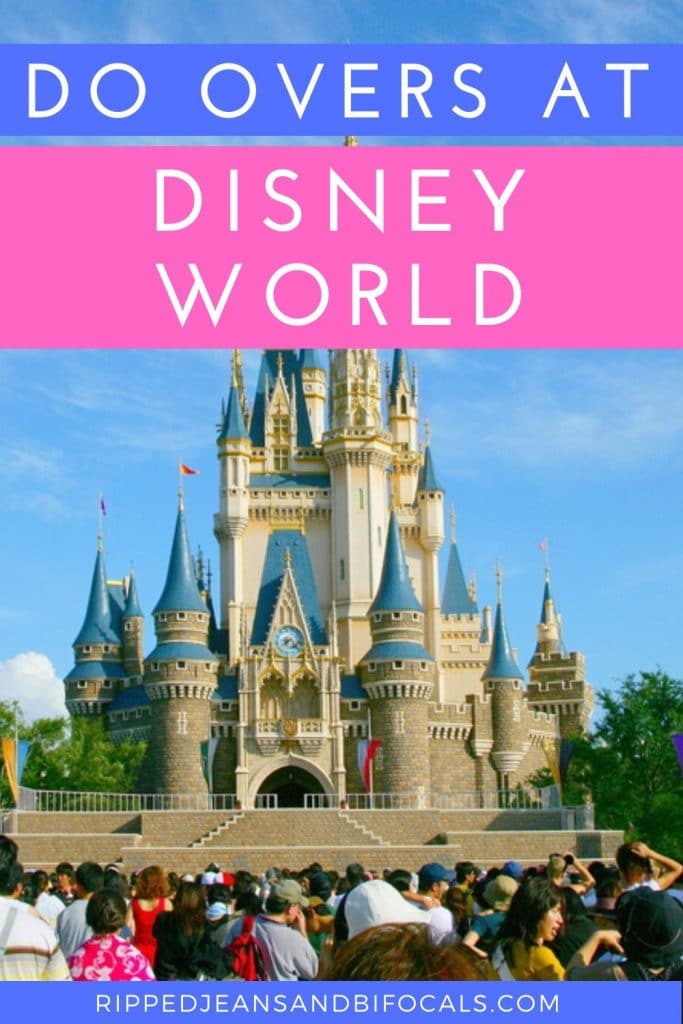 9. I'd have taken more time to explore the resort – AKA schedule a pool day
If you're staying on the Disney property (and there are tons of reasons to do so, too numerous to mention here) there are all kinds of magical touches in the common areas. The more expensive the resort, the more magical your experience is, but even the value resorts are fun to experience.
On our first family trip to Walt Disney World, we stayed at Port Orleans Riverside, which is a moderate level Disney resort. It was such a whirlwind trip that we literally just used the resort as a crash pad and took no time to soak up the atmosphere, check out the shops or play in the pool (which looked amazing.)
A Disney vacation is a splurge for most people. The budget-conscious might balk at scheduling extra days to hang out at the pool (especially if your family has access to pools at home) but having a chillaxed day between busy hardcore exploring the park days will help you get more enjoyment out of your vacation.
10. I'd have bought more pins
Disney pin trading and pin collecting is awesome and I'm having so much fun with it. I haven't really reached the trading threshold because I'm still at the "I love all my pins and I don't want to part with them" phase. On my last trip to Disney, I forgot my pin lanyard all together and left it in my suitcase when I went into the parks. And, on top of that, I didn't buy the pin I wanted when I had the chance. I saw pins available at a kiosk when I bought water and thought to myself "oh, I'll get that later" and then later never came.
If you book your Disney travel with Instant Impressions, you will get a free lanyard and exclusive pins for all vacation packages that include children. This is a great way to introduce pin trading to your kids.
11. I'd have done more research
One of biggest Disney World mistakes in advance of my first trip was not doing enough research. Arriving at the park with a "we'll just go with the flow" plan is not going to get you the most bang for your buck and although you'll still have a lovely time, you are not going to get the most enjoyment and the most value if you don't plan things in advance.
Planning a Disney trip should definitely involve lists and notes because there is literally just so much to see and do. Disney World is a popular destination and you're going to find crowds and lines. For a lot of things, lack of an advance reservation may mean getting turned away or a really long wait time.
Research and planning aren't going to remove the magic from your experience. Don't arrive clueless. There are so many resources out there and so many people who want to give you their Disney tips. This is definitely fun research and it will get you even more excited about your trip, if that's possible.
I also found this book really helpful. I've read a lot of blogs and done a lot of crowd sourcing as I've prepared for all of my Disney trips but I like having something I can hold in my hand, too.
There are probably going to be "I wish I would have's" in almost any situation you find yourself in, but learning from someone else's experience is always a good thing. Do you have a Disney World do over or a Disney World lessons learned based on your Disney World mistakes? Put it in the comments!
You Might Also Like:
Seven reasons to use a Disney Vacation Planner
14 things that are awesome about a Disney Cruise
Six reasons to do Disney without kids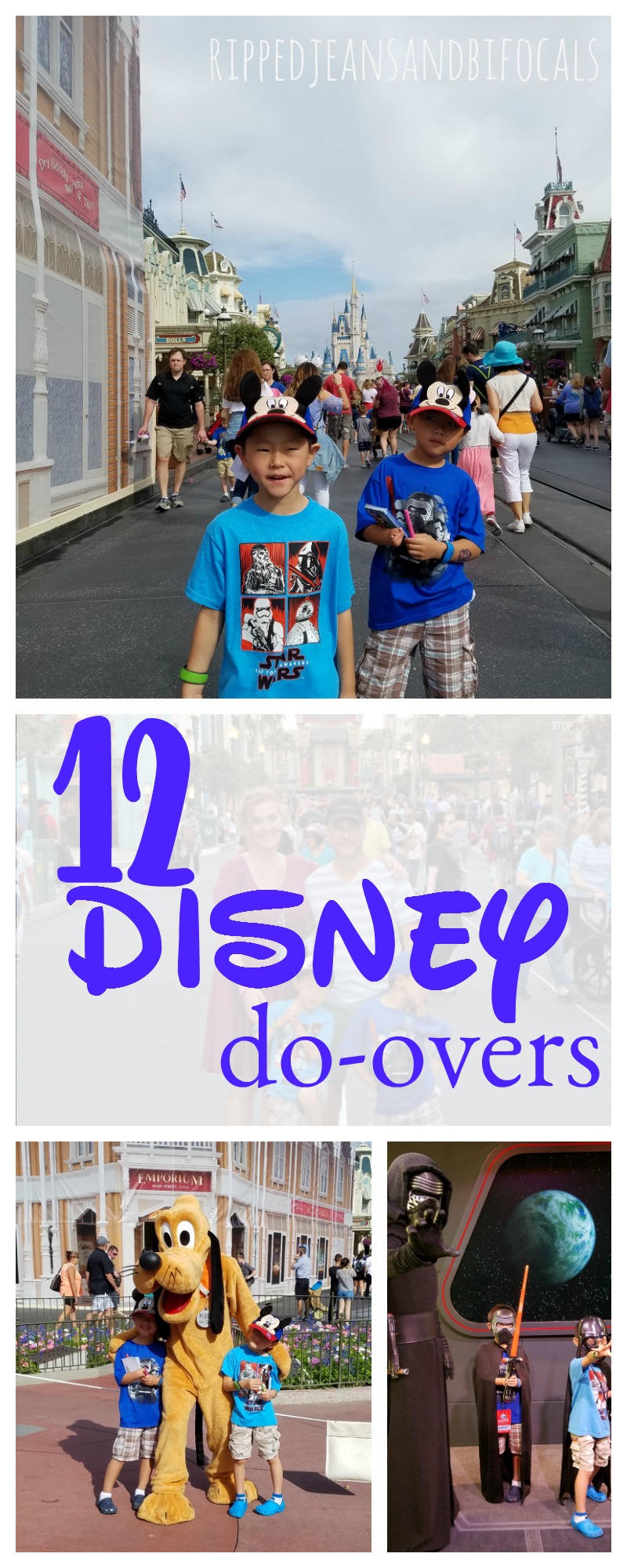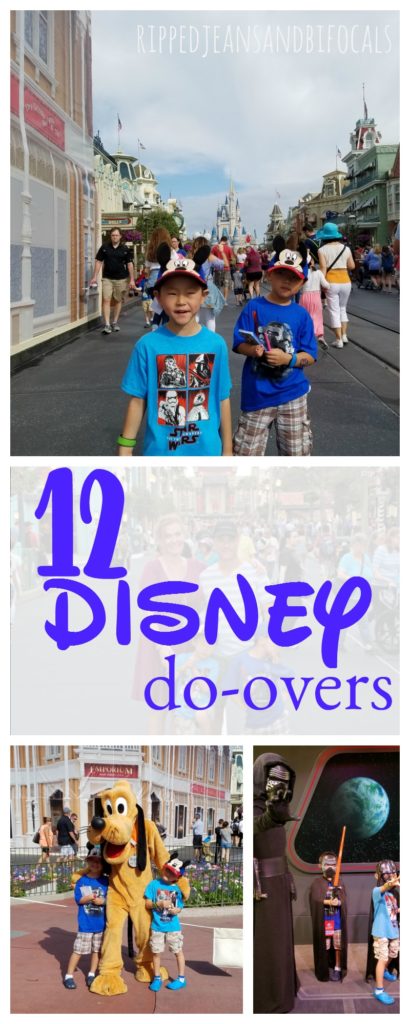 Thinking of booking your own Walt Disney World or Disneyland California vacation?
Check out my partner, Get Away Today for the best deals and white glove service.