A trip to Walt Disney World isn't a bargain event. There's just no getting around that. If you're going to visit Walt Disney World, you're going to spend money. I'm not suggesting you can't save money or spend less or economize. Of course you can. Today, we're talking about the difference between Value, Moderate and Deluxe Resorts at Disney World.
There are lots of things that can impact how much you spend on your Disney vacation, such as the time of year you go and where you stay. I think a Disney vacation is an investment in your family's memories, but the price tag to enjoy Disney with your family definitely isn't one size fits all.
The Difference Between Value, Moderate, and Deluxe Resorts at Disney World
Where you stay is one of the biggest cost variables when you're planning your trip to the happiest place on earth. And, it really is the happiest place on earth.
I'm not here to convince you to stay on the Disney property. There are definitely pros and cons to that and that is a whole other conversation. I'm here to break down the differences between levels of resort hotels at  Walt Disney World to help you and your family plan the best vacation you possibly can.
It's good to go into vacation planning mode loaded with all the information, but an Authorized Disney Vacation planner who can answer your questions and relieve a lot of your stress.
Walt Disney World Resort Hotels are divided into three categories: Value, Moderate, and Deluxe.
1. Value Resorts
Not surprisingly, you'll find Value Resorts at the lowest price point, generally less than $125 per night. For more specific pricing, ask your Disney Vacation Planner or do a little internet research.
The rooms are smaller and the only transportation will be by bus (some of the Moderate and Deluxe Resorts will have other transportation options.)
If bold, bright, larger than life iconic statues are for you, one of the Value Resorts may work for you. The Moderate and Deluxe Resorts will have a more well-defined and consistent theme throughout the resort hotel, which adds to the general ambiance and Disney experience.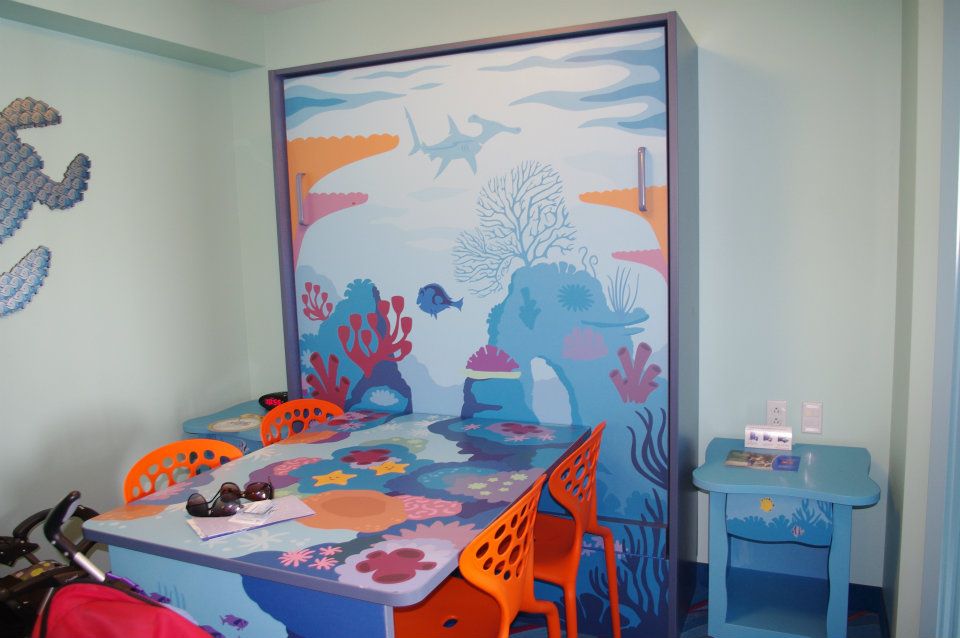 (NOTE: Art of Animation with their movie themed suites are the most Disney theming you will find anywhere on property.)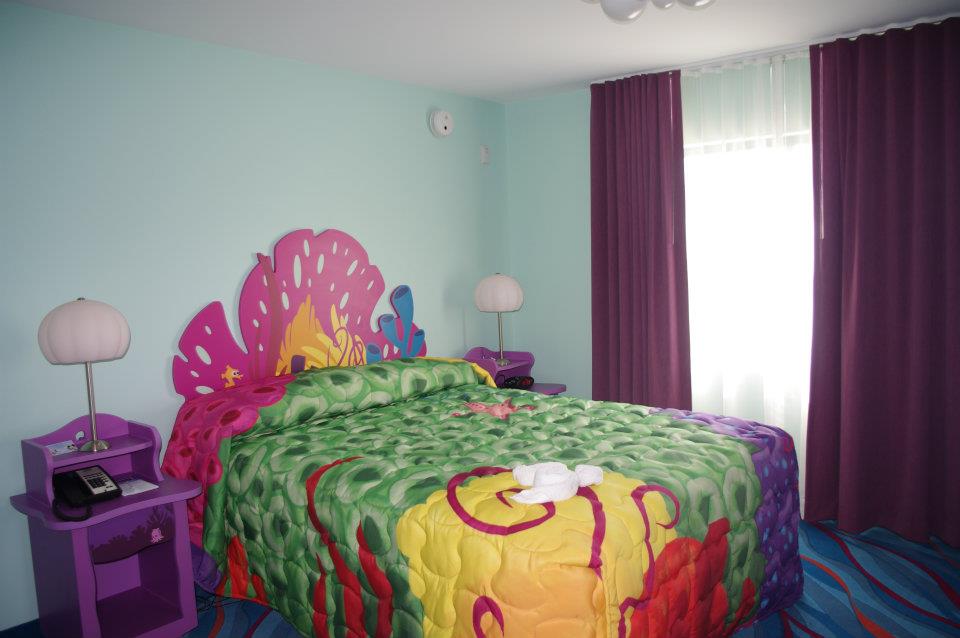 For example, the Port Orleans Riverside, where we stayed this past February (a great time to visit Disney World, by the way!) is designed to reflect the antebellum south along the Mississippi River. The theme is constant throughout your stay and your experience with the cast members and it's really magical.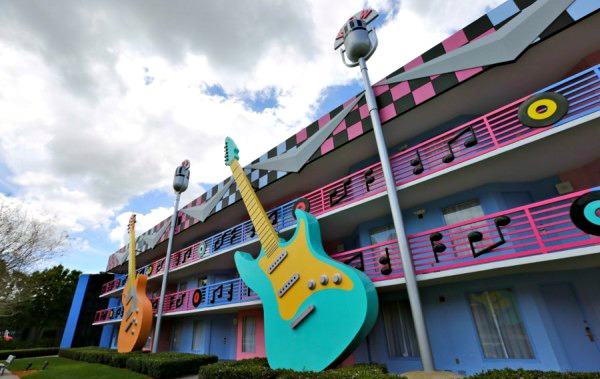 But back to the Value Resorts.
As far as amenities go, your Value Resorts will have a quick service/food court eatery and a pool. The pools, shops and restaurants will be pretty basic – everything will be comfortable, clean, and…well, magical, because it's still Disney, but if you're looking for those intricate, special touches in your resort hotel environment, you might feel a Value Resort is lacking some of the Disney magic you're expecting.
A Value Resort won't have an onsite bar (although you will find poolside bars) and the selection of activities at the resort is going to be much less than what you'll find at a Moderate or Deluxe. Bell services are not available at the Value Resorts, although they do offer luggage service. This means you can't get someone to come to your room and help with your luggage on demand but someone does come to each building at a specific time.
Two other differences between Value and other levels are that the rooms have a maximum of four people and one child under three. Suites are the exception to this rule. The Value Resorts will offer double beds versus queen-sized beds, although queen-sized beds are in the in the current Pop Century refurbishment.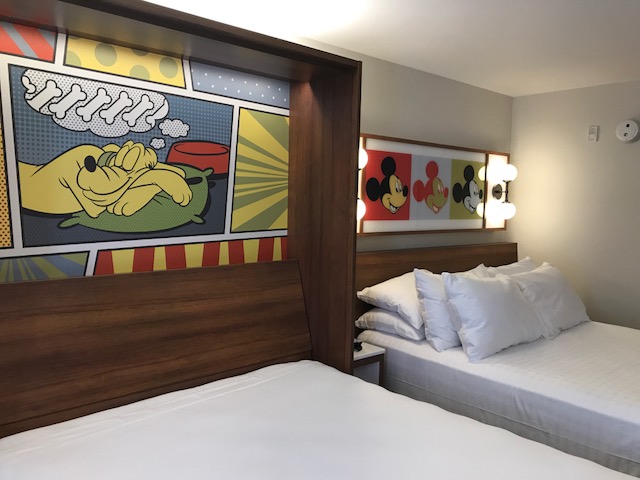 Why stay at a Value Resort?
If you're really watching how you spend and don't care as much about resort amenities, a value resort might be for you. If you're planning a short vacation and plan to maximize your time in the park, what's offered at your resort hotel might be less important. The prices difference between Value and Moderate might add up to what you'd spend on a character dining experience or an extra day in the parks.
Also? The subtle and fun-to-discover themeing at the Moderate and Deluxe Level are replaced with giant-sized sculptures of beloved Disney characters at the Value Resorts. You'll also find many non-Disney themed sculptures, such as Rubix Cube, musical instruments, and sports equipment. Never underestimate the magic of those larger-than-life sculptures when experienced through the eyes of your children. They will also make fun photo opps.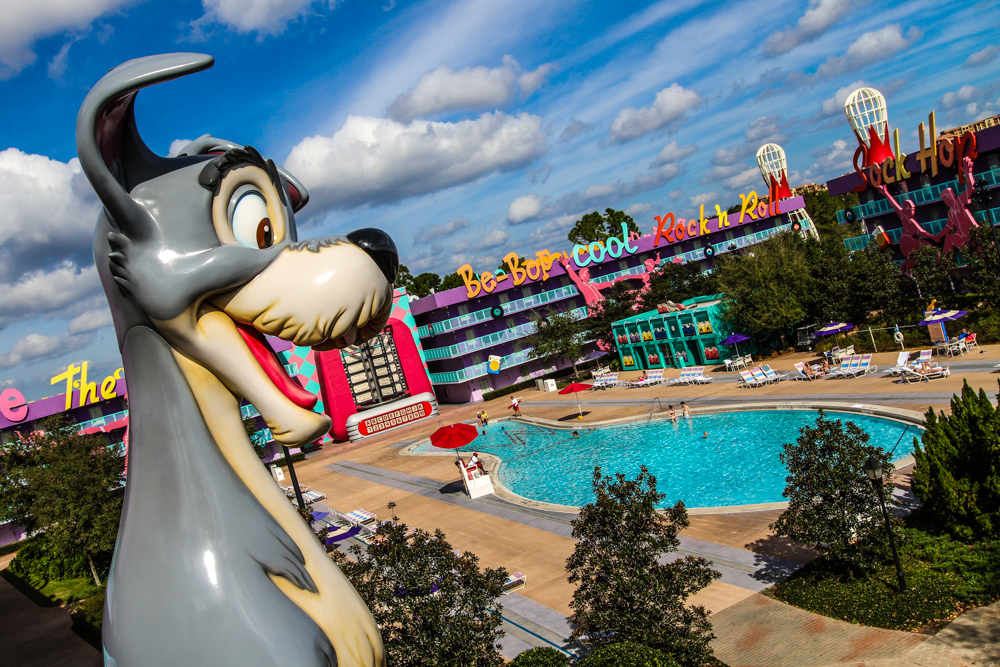 Value Resorts Include: Pop Century, All-Star Movies, All-Star Sports, All-Star Music and Art of Animation*.
*Art of Animation is the most expensive of all the Value resorts. Art of Animation is newer and there are some special touches with regard to theme and a higher-rated pool than the other Value Resorts.
2. Moderate Resorts
As you'd expect, moderate resorts are at the middle-of-the-road price point. Expect to pay between $166 and $250. The Cabins at Fort Wilderness will be higher, at an average of $339, but that's a larger accommodation that sleeps more people.
You'll find more extensive themeing at a moderate resort, so if you like to look for all the little details or enjoy a back story, you might find the price increase to be worth it. You'll also enjoy larger rooms, more comfortable beds and better quality sheets as well as sit-down meal service* as well as bars or lounges. The pools will be nicer (although the pools a Value Resorts are still nice) and will include things like slides and water features.
*Port Orleans French Quarter does not have a dedicated sit-down restaurant. French Quarter and Riverside "share" a restaurant, although I think it's a bit of a hike.
If you're planning on a longer stay, you might want to consider a Moderate over a Value. If you're staying longer, you're likely to be doing the parks at a less frenzied pace, which means more downtime at your resort hotel. If you're going to be spending more time at your hotel, it makes sense to want more amenities.
Some (although not all) rooms in the Moderate Resorts have dividers between the main sleeping area and the bathroom. Also, Moderate Resorts will typically include in-room coffee makers, while Value Resorts will not, with the exception of the newly renovated Pop Century rooms as well as the Art of Animation Suites. That might seem like a small touch, but anyone who has had to interact with me before I've had coffee understands why this is a feature that's important to my family!
Why stay at a Moderate Resort? 
If amenities are important to you, your stay is longer and you're planning to have down time at your resort. Moderate Resorts pack in more Disney magic and pixie dust without jumping up to the splurge price point of a Deluxe Resort.
Also, Caribbean Beach and Port Orleans Riverside have rooms that can accommodate a family of five, making this the best value for a larger family. Port Orleans Riverside also features the incredibly themed Royal Guest Rooms while Caribbean Beach boasts the Pirate theme rooms.
There is a little bit of a trade off, typically you will find the time to the parks to be a little longer than the value resorts.  The Value Resorts are smaller and everyone uses the same bus stop. The Moderate Resorts are more spread out so you will find four to six bus stops per resort. You might even want to take the interior shuttle to the lobby or food court! We stayed on the back side of Port Orleans Riverside and it was a hike from the lobby to our room. This walk was a fun way to experience the atmosphere of the resort and there was a bus stop closer to our room for when we went to the parks.
Moderate Resorts Include: Caribbean Beach Resort, Port Orleans (note that Port Orleans Riverside and French Quarter are two separate resort hotels), Coronado Springs and the Cabins at Fort Wilderness.
3. Deluxe Resorts
As you'd expect, the Deluxe Resorts are at the higher end of the price point. Deluxe Resort rooms will run between $324.00 on up to over $1,000 per night, depending on the room and the view. Pretty spendy for sure!
Deluxe Resorts are so fun to explore. Their themeing is fantastic and something to see, even if you don't opt to stay in one.
A Deluxe Resort will have sit-down and quick service dining as well as signature (AKA upscale dining.) Even if you don't stay in a Deluxe Resort, there are so many fun dining options that you might want to plan to visit a Deluxe Resort and have one of your meals. Resort hopping is totally a thing, and totally amazing during the holidays.
Deluxe Resorts will have larger and more luxuriously appointed rooms, more on-site amenities and activities, such as gyms and spas. All Deluxe Resorts except Animal Kingdom Lodge will have at least one non-bus mode of transportation to get to at least one park. Valet parking is also available.
Staying in a Deluxe resort may be easier if you use a stroller. You can push the stroller onto the monorail or walk right into Epcot. This is much easier than folding a stroller or carrying your sleeping child.
Regardless of where you stay, don't miss the opportunity to ride the monorail, which is a fun, free activity. My kids loved it and it gives you a chance to get a look at the entire Walt Disney World Resort property. It's pretty amazing.
Why stay in a Deluxe Resort? 
Obviously, having a larger budget is at the top of the list but a stay at a Disney Deluxe Resort is for the travelers who are really looking to splurge. If you're celebrating a special occasion, a stay in a Deluxe resort is only going to make it more special. The splurge comes with better and more spacious rooms, better access to transportation to the parks and more dining choices. A Disney Deluxe Resort will also have Club Level options offer perks such as private dining areas, free food and alcoholic beverages.
Deluxe Resorts Include: Animal Kingdom Lodge, Polynesian Village, Grand Floridian, Beach Club, Contemporary, Wilderness Resort, Yacht Club and Boardwalk.
4. Deluxe Villas
If you're looking for the ultimate in ameneities and space, a Deluxe Villa might be for you. Deluxe Villas are not just for Disney Vacation Club members, although staying in a Deluxe Villa will give you a taste of what Disney Vacation Club membership might be like.
If you want amenties such as a kitchen, laundry facilities and living room space, along with all of the other perks of staying on property, definitely look into staying at a Deluxe Villa. You also find amenities such as playgrounds, barbeque grills, spas and community rooms, where you can check out free DVDs and games to keep your family entertained during down time.
If you're going on a multi-family vacation, look into a Deluxe Villa. If you want to hang out and visit with friends and family outside the parks in a comfortable and relaxed setting (AKA not pile into someone's hotel room) this may be your best bet.
All Walt Disney World Resort Hotels are magical and no matter what you choose, you will have an awesome and memorable vacation. How can you not? It's Disney!
One final thing is worth a mention: Disney makes it easy for your to split your time between different Walt Disney World resort hotels. If you want to spend four nights in a Value Resort and one in a Deluxe, you can not only do that but Disney will take care of moving your luggage for you. If you have your heart set on the Grand Floridian and a week's stay is beyond your reach, maybe you can find a way to stay for a night.
If you're planning a trip to Walt Disney World, it's important to understand the difference between Value, Moderate, and Deluxe Resorts since this is going to account for so much of your trip budget. Happy travel planning!
You might also like to read:
7 Reasons to use a Disney Vacation Planner
The Ultimate Disney Cruise Packing List
14 Things that are awesome about a Disney Cruise