Dining on the Disney Wonder
(This post may contain affiliate links. Read my full disclosure.)
One of the perks of going on a Disney Cruise is all the food you get to eat. Duh, right? My family and I have sailed on the Disney Wonder twice and although there is much to love about this ship besides eating, eating ranks right up at the top of my "things that make me happy about this ship" list. Here's everything you want to know about dining on the Disney Wonder.
Am I an expert? Yes! With two sailings (and lots of delicious Disney Cruise Line food under my belt) I have tried just about everything on the ship and I'm excited to tell you about the food on the Disney Wonder.
Want to take a deeper dive into Disney Cruising? Read all my Disney Cruise posts here.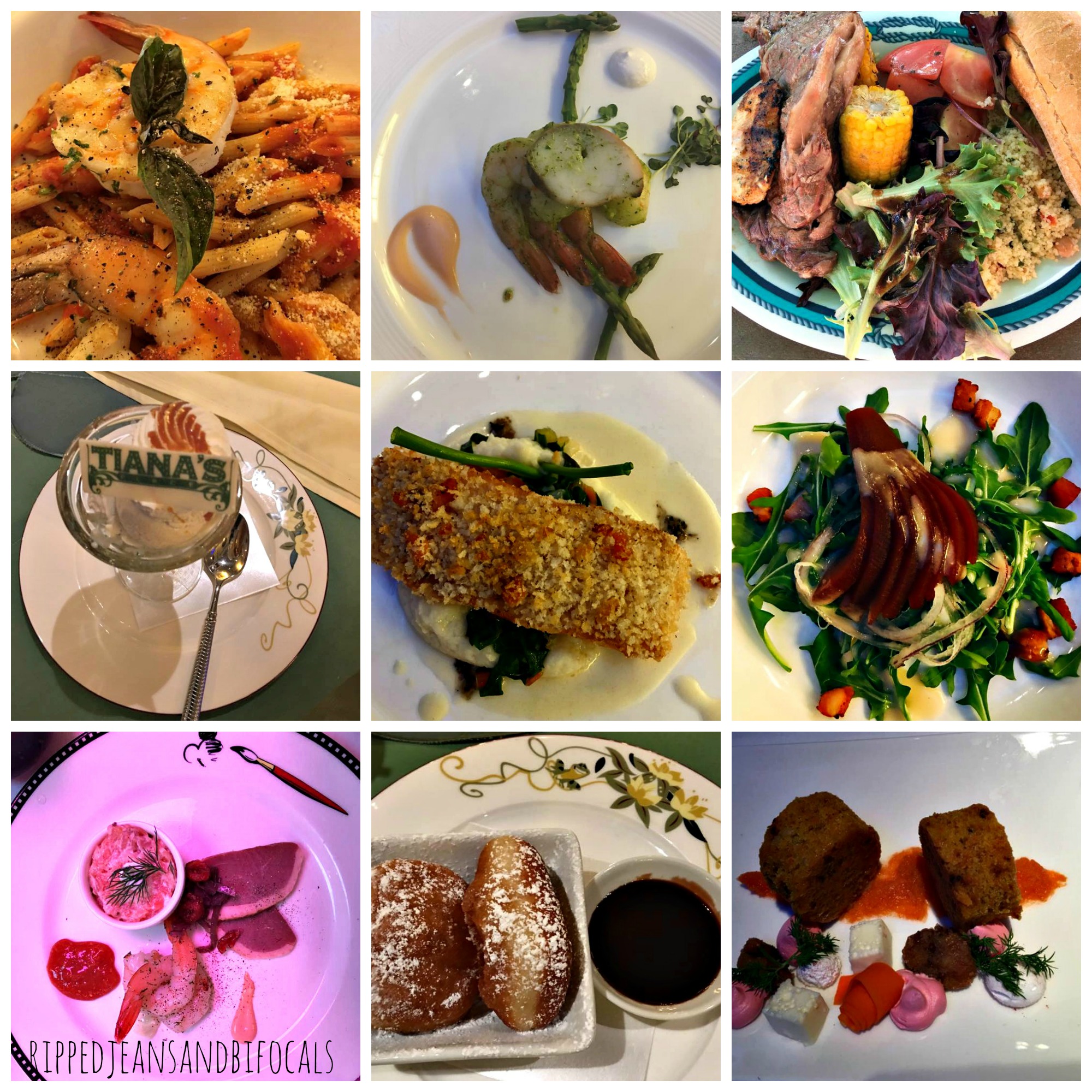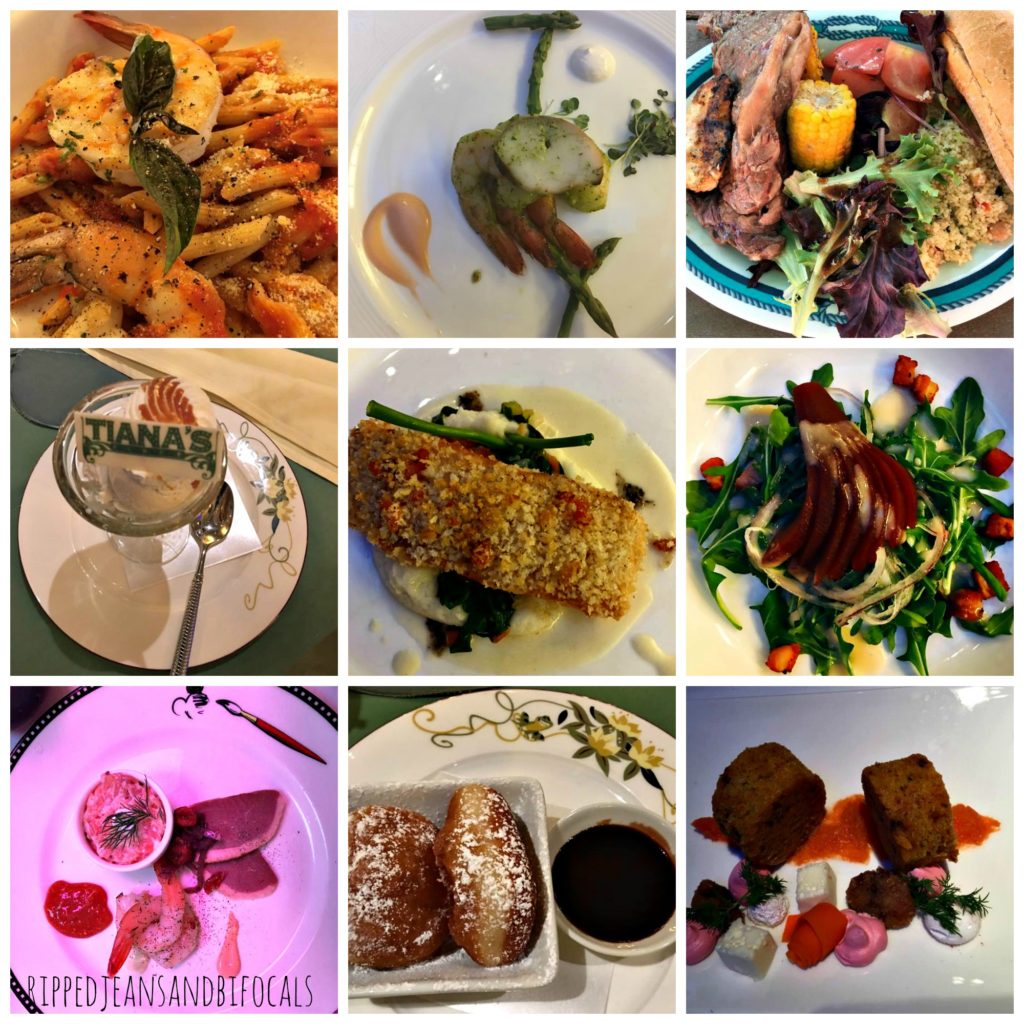 We are a participant in the Amazon Services LLC Associates Program, an affiliate advertising program designed to provide a means for us to earn fees by linking to Amazon.com and affiliated sites.
Deliciously prepared, gourmet food available morning, noon and night included in the cost of your cruise is one of the reasons that sway people in the direction of a cruise vacation…although to be honest, we don't need much swaying.
Of course, eating isn't the only element of cruising I find attractive but fine dining, attentive servers and endless options for munching are all big draws for this foodie.
A little bit about the Disney Wonder
The Disney Wonder has been in service since 1999 and was re-imagined in 2016. We sailed in early 2017 and in early 2020, just before the world shut down.
The Wonder is one of Disney's smaller ships with room for 2400 passengers in 857 staterooms. We've sailed to the Bahamas and the Western Caribbean on the Disney Wonder. We haven't done a Disney Cruise to Alaska yet, but if you are interested in doing that, the Wonder will probably be your ship.
For a more extensive review of the Disney Wonder, you can read my full review here.
Included or Not Included?
One of the questions people have most often about dining on the Disney Wonder is what's included in the price of your cruise. The good news is most of it is!
I have divided this guide to dining on the Disney Wonder into two sections so you can easily tell the difference between what's included and what's not included.
Related: The Ultimate Disney Cruise Packing List for Families
Food that is included in your cruise on the Disney Wonder
1. Cabana's
Cabana's is a casual dining buffet on Deck 9 serving breakfast, lunch, and dinner. Cabana's is very popular on embarkation day and this is where a lot of people head as soon as they board the ship.
Cabana's has an astounding variety of food. For lunch and dinner you'll find carving stations, crab claws, peel and eat shrimp, grilled meats, fish, salads, vegetables, sandwiches…just about anything you could think of. They also have fresh fruit and an array of desserts.
Cabana's breakfast is my favorite. They have absolutely every type of breakfast food you can imagine. I like getting up early and eating breakfast out on deck before everyone is up and out of their staterooms.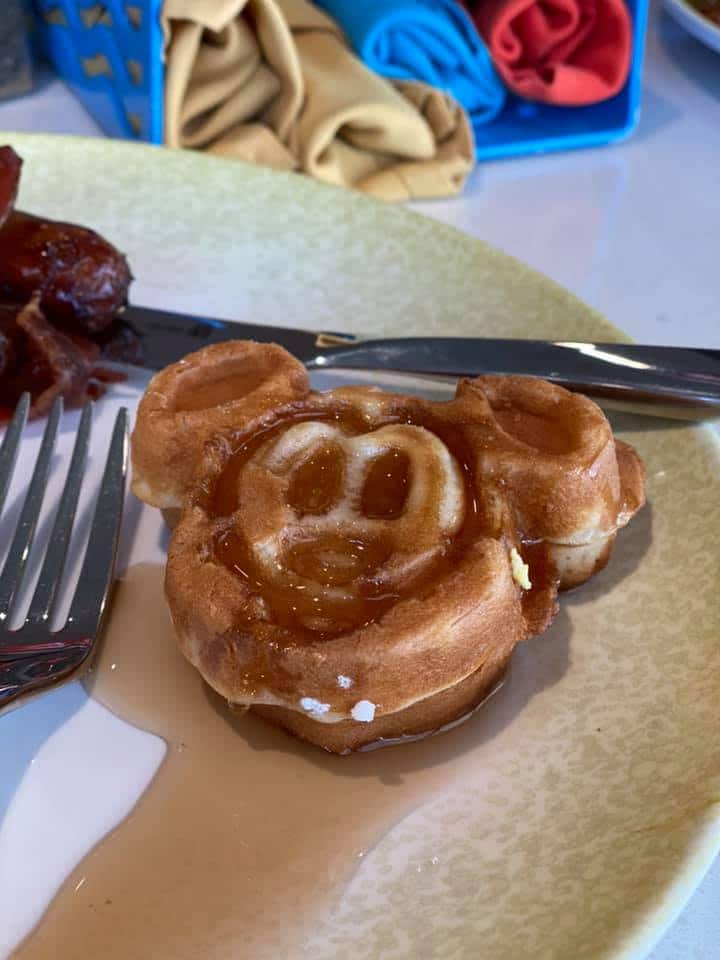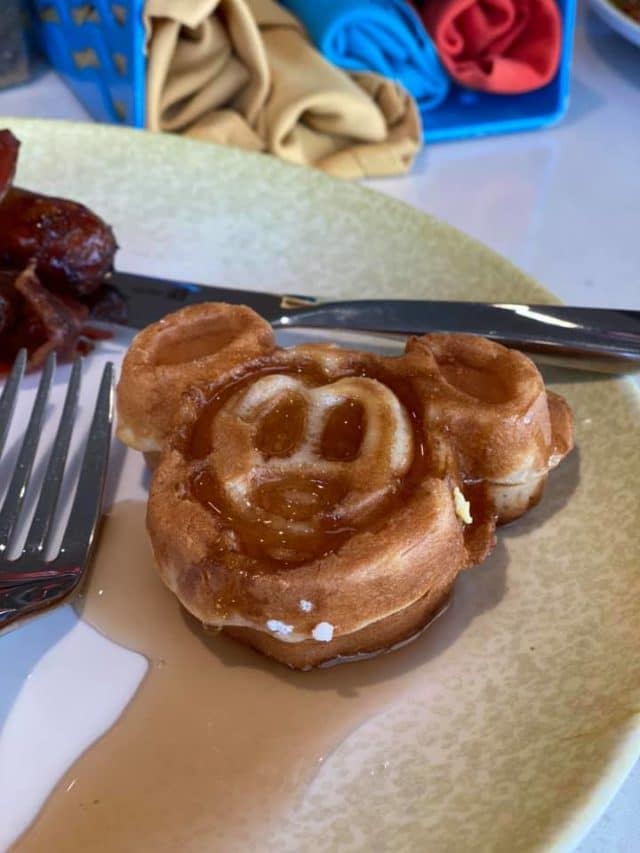 The self-serve drink station serves coffee, tea, water, and lemonade as well as juices at breakfast time. If you'd like a soda, they're outside Cabana's on the deck.
Cabana's on the Disney Wonder has plenty of seating but it does get crowded. You can also take your food out on deck, if you fancy eating outside.
If you want a more casual option than the dining rooms (I'll talk about those in a minute) then Cabana's is a great choice.
2. Rotational Dining on the Disney Wonder
There are three dining rooms on the Disney Wonder: Animator's Palette, Tritons and Tiana's Place.
Disney Cruise Line has rotational dining. You'll be assigned a serving team and you'll rotate through all three dining rooms, with your servers. I love how they have this set up and your servers will quickly get to know you and your preferences. Your rotation will be on your Key to the World Card (AKA your stateroom key.) After the first night, your servers will remind you where you'll be dining.
You'll be given a menu that will offer choice of appetizer, soup/salad, and main course. A separate menu will be brought out for dessert. All of the food on the dining room menus is included but there will be some specialty drinks and cocktails on your menu that aren't included in the price of your cruise.
Your menu will have a couple of choices for vegetarian items – I'm not a vegetarian but I will sometimes order these – as well as a few lighter fare options. The lighter fare options will usually be more plain foods (grilled steak, chicken, salmon, or a salad) with less emphasis on the sauces.
When you're dining on the Disney Wonder, you can order more than one thing per category. If you want three appetizers in lieu of an entree, you can have that. You can also have three appetizers and an entree. If you are having trouble deciding, order both.
Assigned rotational dining is only at dinner and you will be assigned an specific dinner time, known as first or second seating. First seating is around 6:00 p.m. and second seating is around 8:00 p.m. I recommend second seating, even with kids. I think it adds so much more space in your daily schedule and you can do more things. As long as everyone in your group can last until at least 10:00 p.m., I think second seating is really the way to go. It's less crowded, too.
Disney Cruise Line has what's known as Dine and Play. If you've got kids that are enrolled in the Oceaneer Club, the team will come to the dining rooms about 30 minutes after second seating dinner service begins and sign your kids out. This lets the adults enjoy their meal at a more relaxed pace and have some kid-free time in a great restaurant. Make sure you let your server know that the kids will be leaving to go to kids activities and they'll expedite their dinners. It's such an awesome service.
If you're on a longer cruise, you'll rotate through each dining room twice. Don't worry – the menus and the dinner entertainment will be different the second night.
The dress code in the main dining rooms is cruise casual, unless it is a dedicated formal night.
Animator's Palette
The Animator's Palette located on Deck 4 was my favorite of the three restaurants, although they were all outstanding. The menu is creative and Asian-inspired. The walls are decorated with drawings of early stages of animation art – some with notes from the artist. It really gives new appreciation for the work and talent that goes in to making the movies we all love so much.
There are "living pictures" on the walls that do cool things. There are a few different entertainment options. My favorite one involves the guest's drawings coming to life on screen as animations. It's incredibly clever.
One of my favorite starters is the black truffle pasta pursiettes. I think pursiette is a fancy way of saying tortellini but these are a must-have.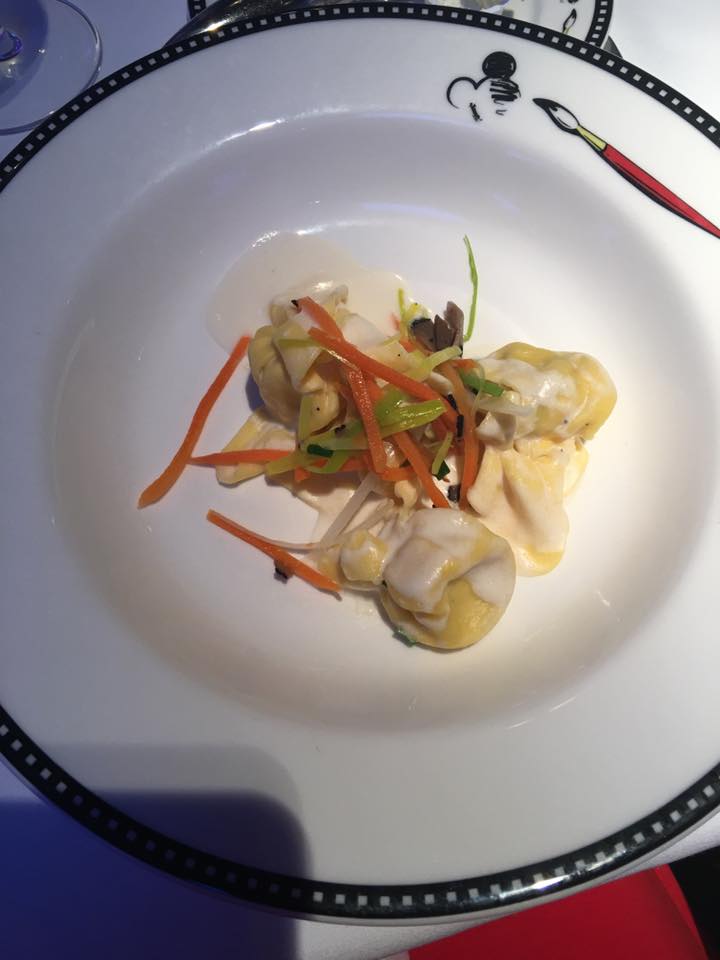 I also really like the butternut squash soup. Remember, you can order more than or starter if more than one thing looks good to you.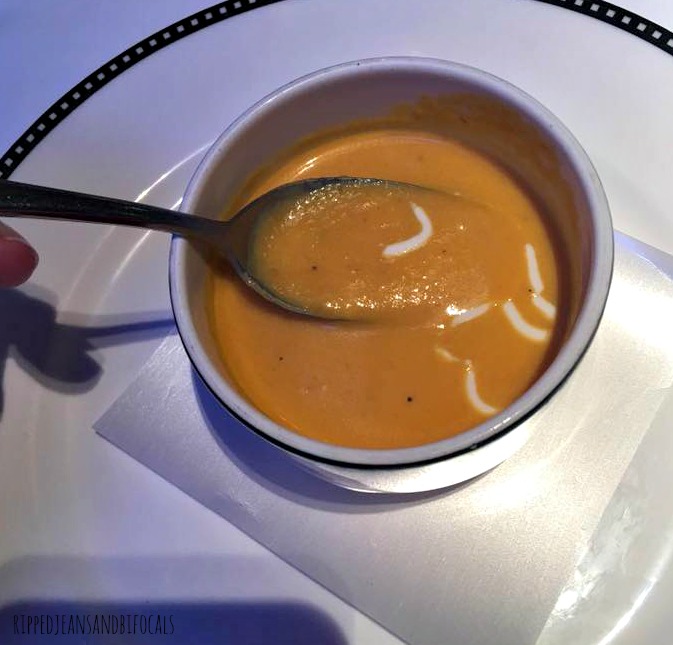 One of my favorite entrees is the grilled tuna steak with fingerling potatoes, caponata and sun-dried tomato pesto.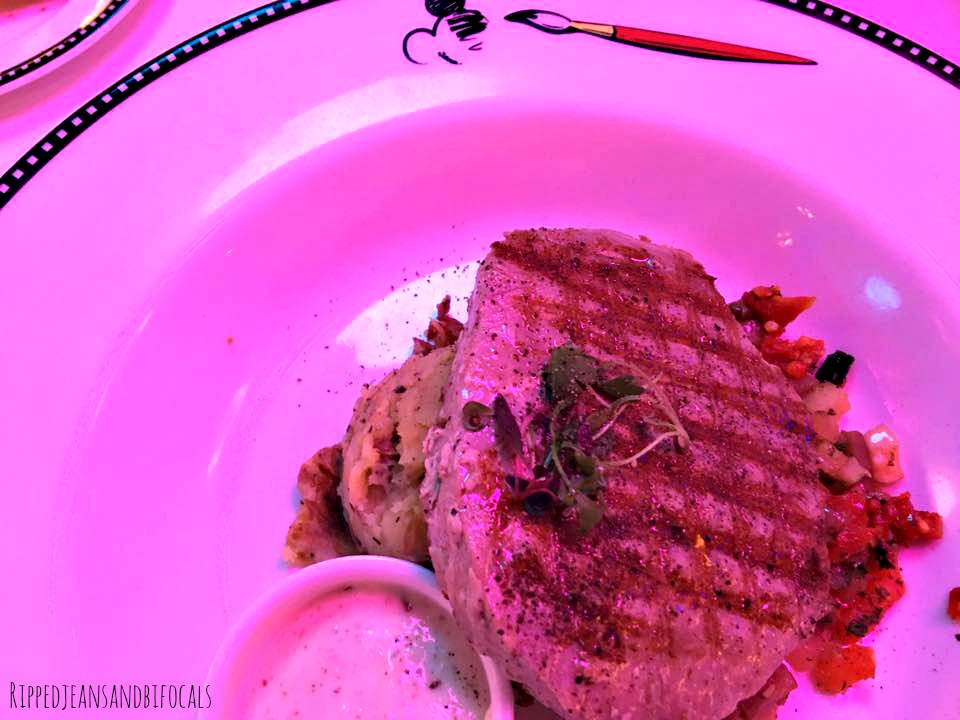 This is probably my favorite meal at the Animator's Palette: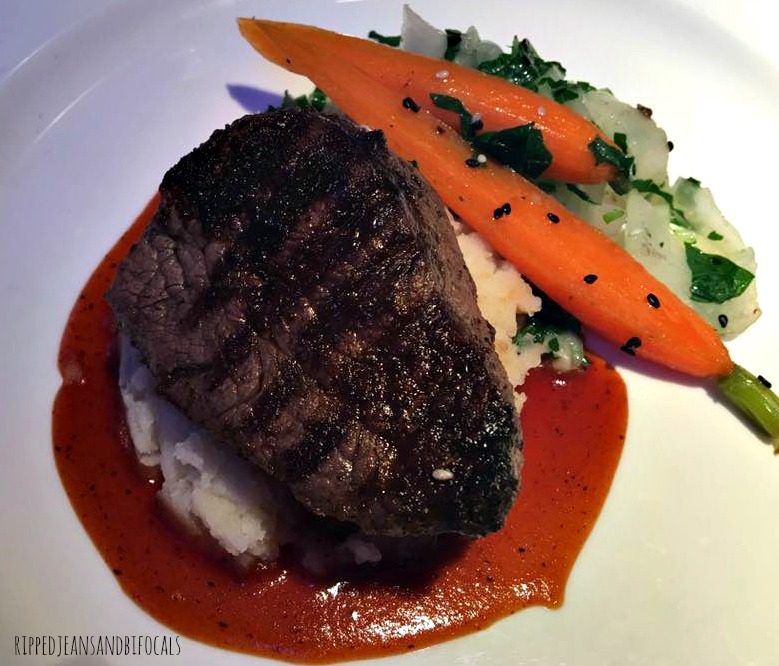 Also, if anyone ever asks you if you want wasabi mashed potatoes, tell them yes.
There's a "no sugar added" section on the desert menus – although the decadent desserts are hard to resist. I'm more of a savory person, so I'll tend to fill up on appetizers and bread services versus splurge on dessert. This is one of the no sugar added desserts – a deconstructed carrot cake.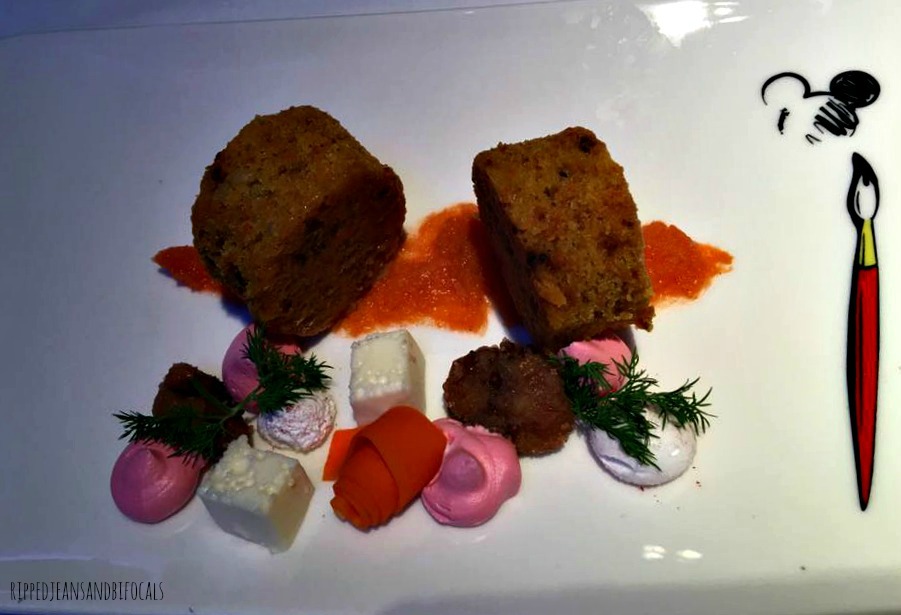 Each dining room will have a kid's menu. There was decent variety on the kid's menus in all three restaurants – standard kid fare, such as macaroni and cheese, chicken nuggets, meatloaf, etc. Kids can also order off the adult menu if they want to and I'm sure if an adult wants to order off the kid's menu, that can happen.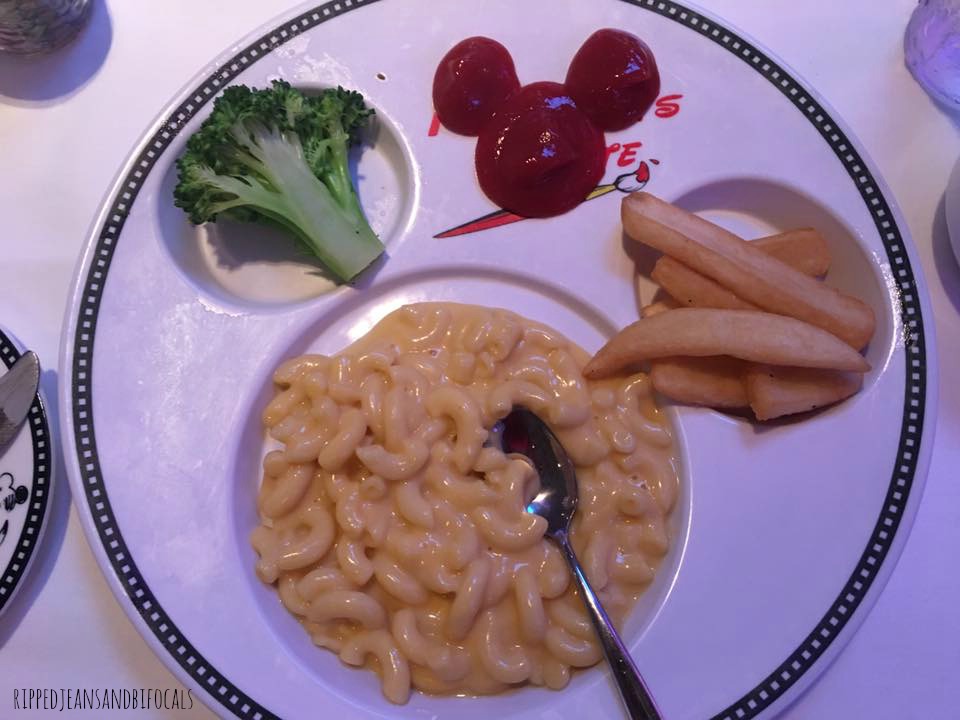 Also? Your servers will cut your kid's meat and make cute "Mickey" patterns with the ketchup. I am not kidding. It might set the bar way high for anything that requires ketchup once you get home.
Triton's
Triton's restaurant located on Deck 3 has an "under the sea" feel and is inspired by the movie "The Little Mermaid." The menu is French inspired and the food was very good. For me, the atmosphere was the most elegant out of all three main dining rooms.
The entrance to Triton's is right outside the atrium where most of the character meet and greets (AKA huge photo opportunity) happen, so if you time it right, you can get in line for a character meet and walk right into the restaurant.
Tritons also offers a sit-down breakfast and lunch, if you don't want to do the buffet.
This is my favorite appetizer: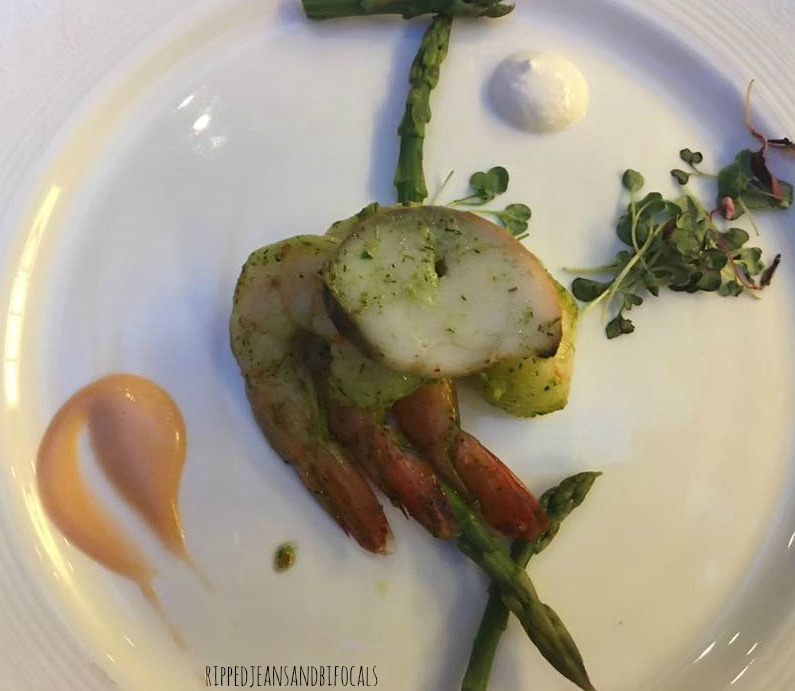 This red wine Bosc pear salad was one of my favorite things I ate on the ship which is weird because I don't love pears. I'm not sure what inspired me to try this because it's not what I'd usually eat. The delicate pear paired so deliciously with the arugula.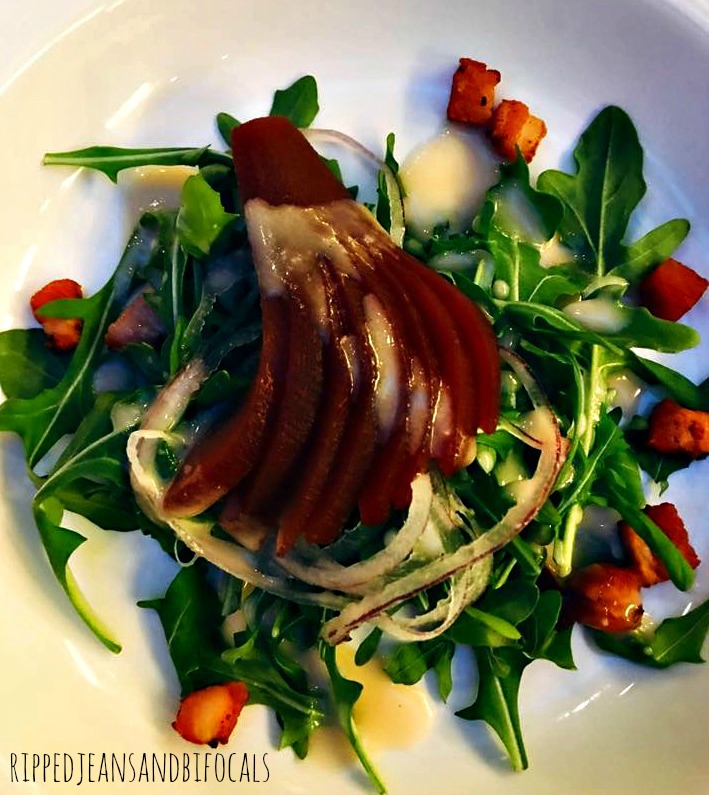 This is oven baked salmon Royale with horseradish crust accompanied by sautéed swiss chard, cauliflower puree and white wine Burre Blanc. It's hard to make a salmon I don't love but the cauli puree was especially yum. I'm also going to admit to not having a clue as to what "Burre Blanc" means but I know I like it!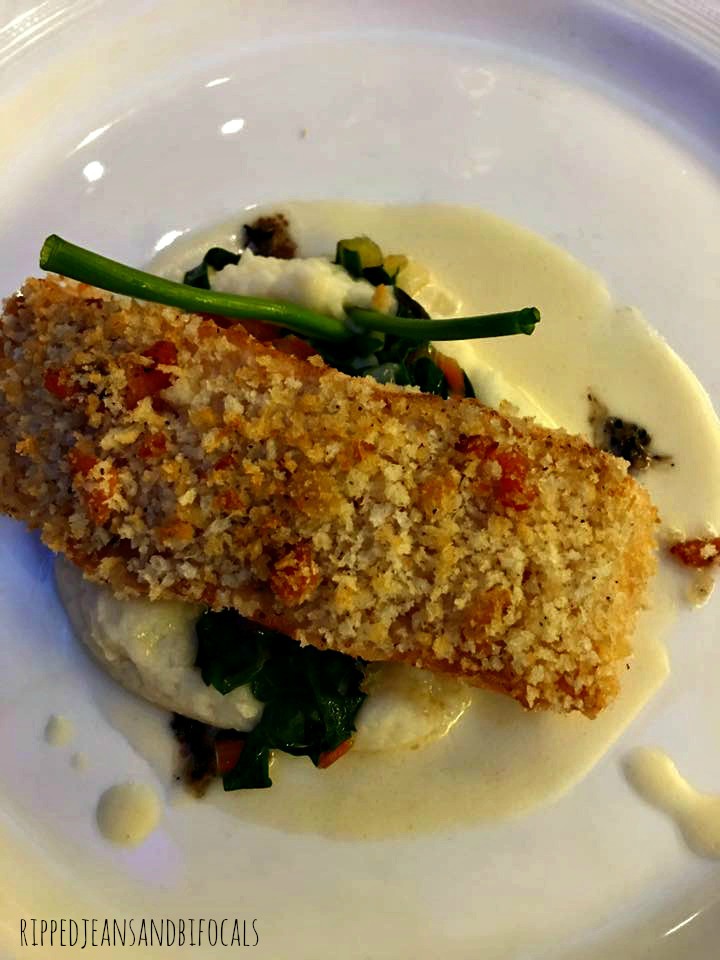 This is the Chateaubriande with crushed new potatoes, green beans and Bernaise sauce on the side.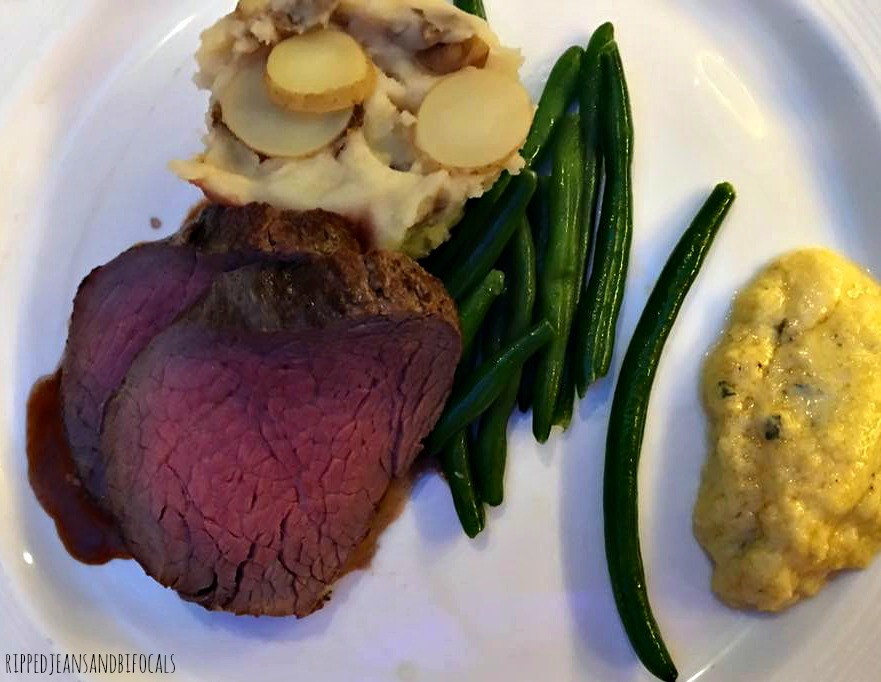 This is the Chocolate Opera Gallate with ganache. It's such an elegant little dessert.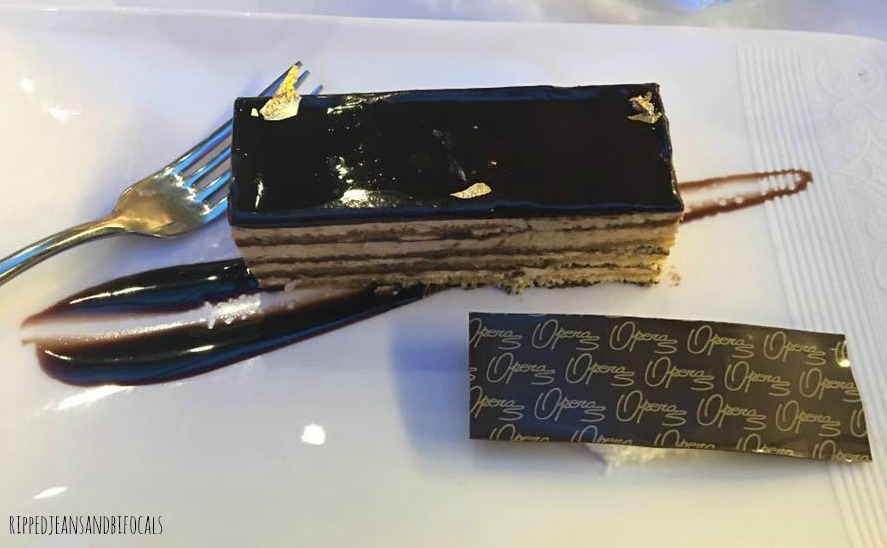 Tiana's Place
Tiana's Place is the newest restaurant on the Wonder and located on Deck 3. It's inspired by the movie The Princess and the Frog and Tiana herself walks around the dining room and visits with all the passengers. She'll happily pose for pictures but doesn't sign autographs in the dining room. If you want Tiana's autograph, you have to reserve the Princess character meet and greet. She's wearing her flapper costume in Tiana's Place but her princess outfit during the character meet, so that's really fun.
Tiana's place is one of the most popular when it comes to dining on the Disney Wonder, especially with younger Disney fans who just might be into princesses.
Entertainment at Tiana's place includes a live jazz band – they are amazing – and dancing. There's a small dance floor and the wait staff does a New Orleans style procession through the dining room near the end of the seating, complete with Louis the trumpet playing alligator.
The menu at Tiana's Place is creole and cajun inspired and it is fantastic.
The shrimp and grits appetizer is delicious. I'm definitely a shrimp and grits gal. If it's on any menu there is a 100 percent chance I'm ordering it. This one didn't disappoint.
The wedge salad was also really good.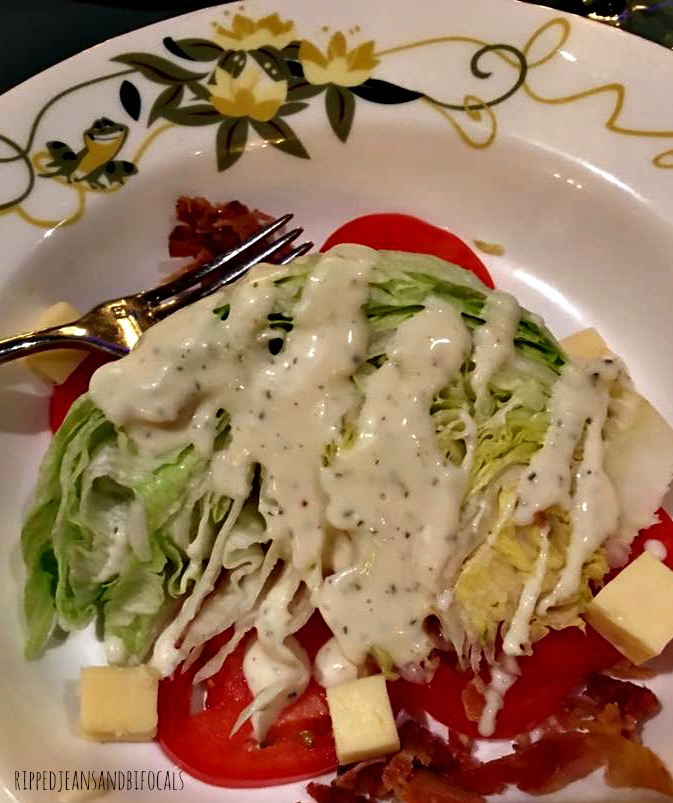 This is the Cajun sea bass served on a bed of shrimp jambalaya. This dish was unique and interesting. The fish was very delicate and the jambalaya which contained nice-sized shrimp was pleasantly spicy.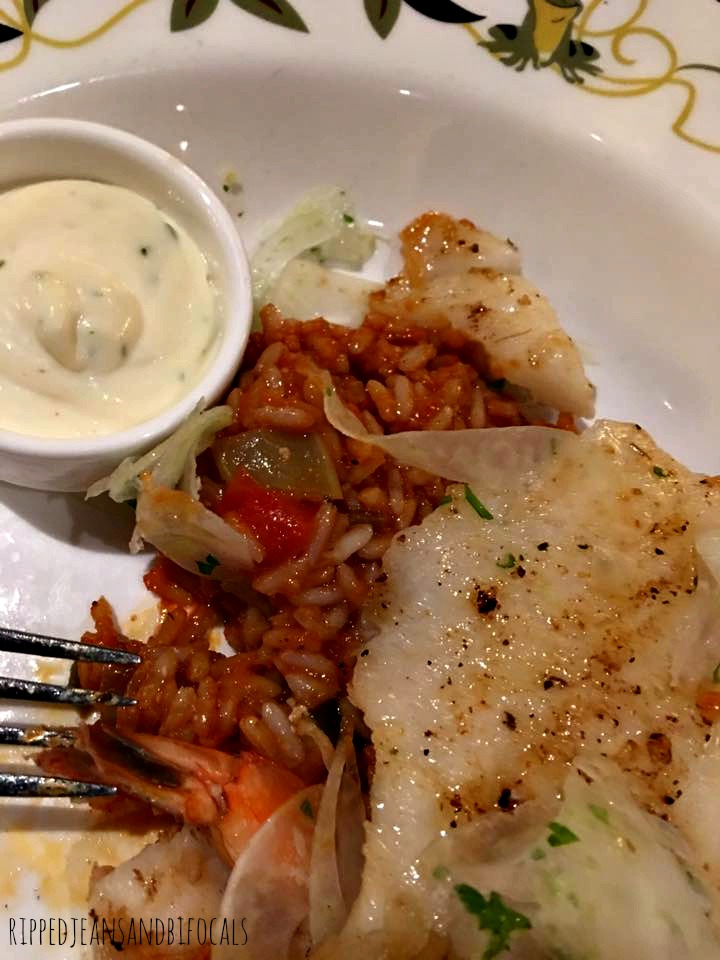 Prime rib.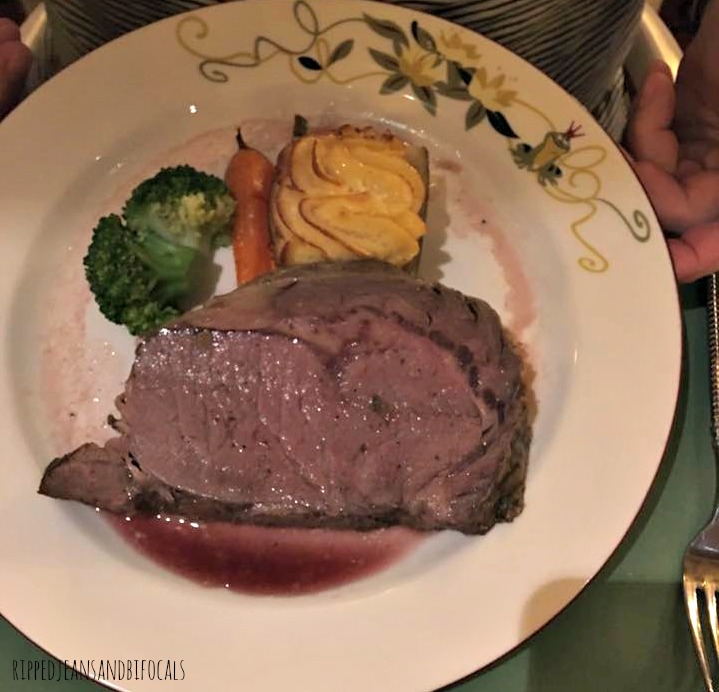 And, it wouldn't be a trip to New Orleans without the Beignets. These were served with chocolate espresso dipping sauce. And, is this Princess and the Frog inspired China not the cutest?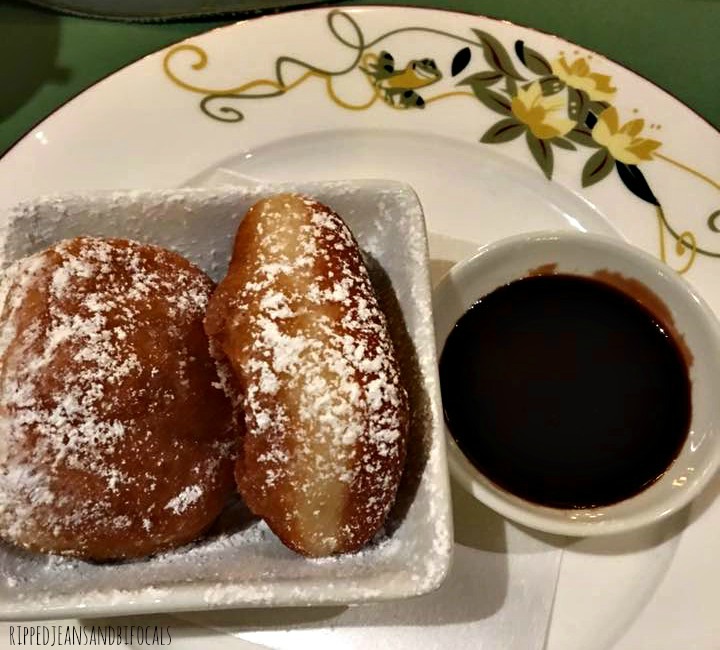 There are lots of other desserts to choose from, including this Bananas Foster ice cream sundae. You will usually see an option for some type of sundae on each dessert menu.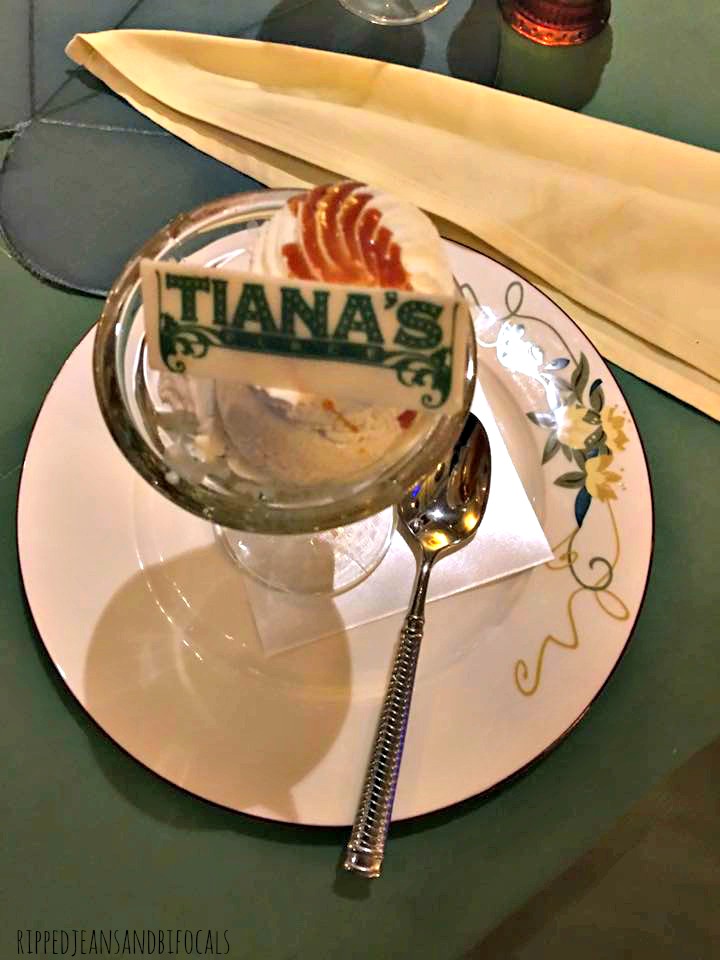 Eye Scream
This Mike Wizowski inspired self-service ice cream bar in on the pool deck. All you can eat ice cream 24/7? Yes, please!
You'll always find chocolate and vanilla (and the machine will give you the option to do a twist cone) and the other flavors will rotate daily. I like grabbing a cup from cabanas (or bring my own larger cup from home) and make an ice cream float.
Daisy's DeLites
Daisy's is on Deck 9 and offers lite lunch bites, such as salads and sandwiches. This is one of my favorite places to grab lunch on the Disney Wonder. Everything is fresh and (mostly) healthy. It might make you feel better about all those trips to the buffet at Cabana's!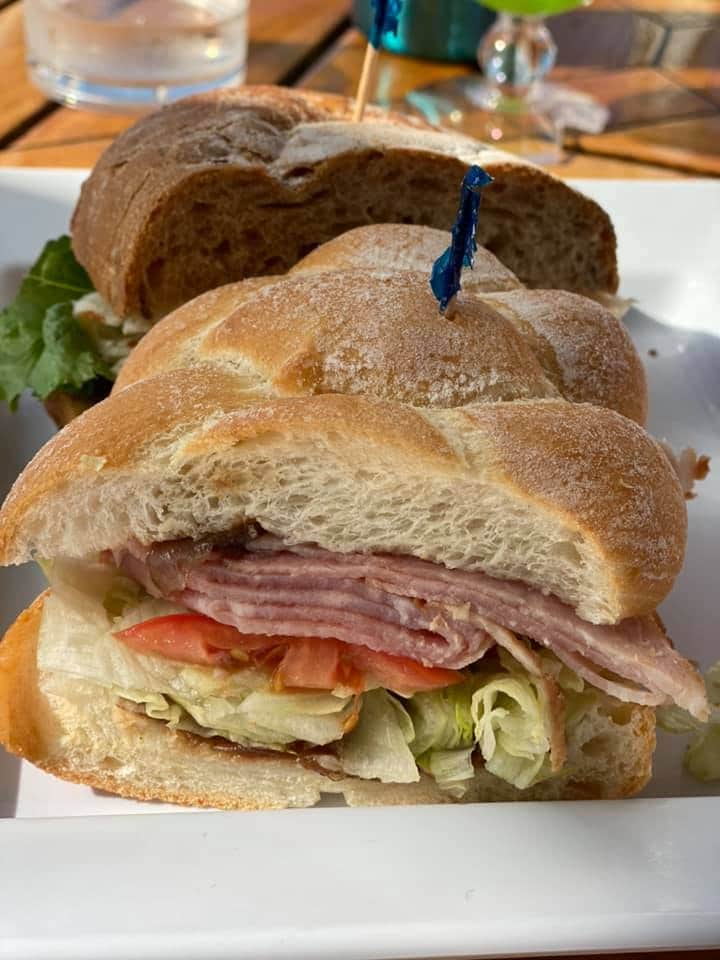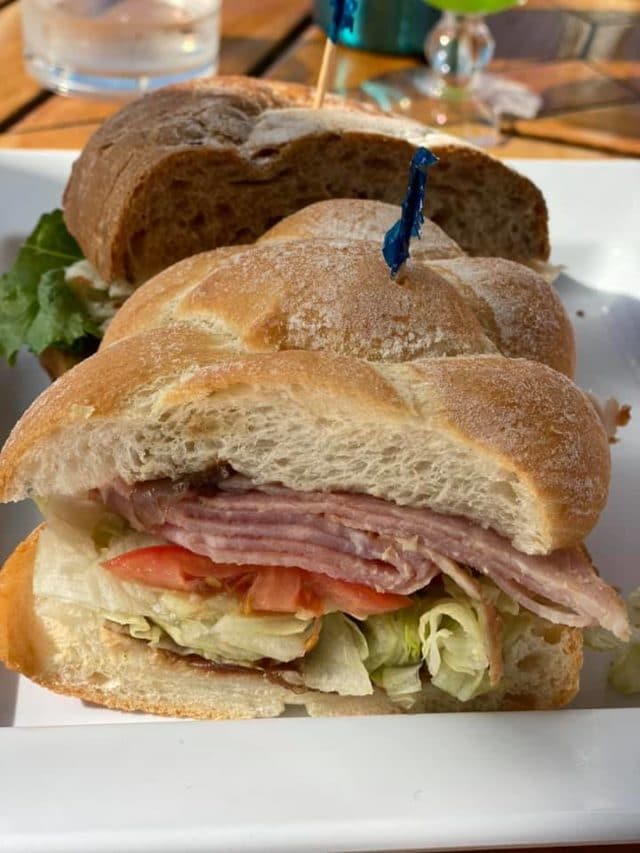 Pinocchio's Pizzeria
If you want pizza, Pinocchio's Pizzeria is on Deck 9 and open from 11 to 6 and again from 9:30 to midnight. If you want to grab a slice and catch a late-night movie on deck, here you go.
When we're talking about food on the Disney Wonder, this is one of our favorites. We love the Margherita pizza. On our most recent cruise, we stopped her every night on our way back from the Oceaneer Club to get our boys. For the next several months, every time we'd get pizza, my husband would say "Well, it's no Pinocchio's!"
I'll admit that Palo (see below for details and photos) has an edge on Pinocchio's but it's a pretty narrow margin.
Pete's Boiler Bites
Pete's Boiler Bites is located on Deck 9 near the water slide and serves up burgers, hot dogs, tacos, fries, and other sandwiches, to include a veggie burger.
Pete's Boiler Bites will usually be open from 11 until 10 pm, so pretty much all day. You are always going to be able to find food on the Disney Wonder. Everything might not be open all the time but you will definitely always be able to get something.
Rose and Crown Pub
My husband and I love this adorable English-style pub. The Rose and Crown has a nice evening food buffet that usually out around the time of second seating. I've seen heavy finger foods such as hot dogs, chicken wings and a variety of cheeses and olives. If you're interested in eating here, double check with the bartender or wait staff on what time the food will be brought out.
The Rose and Crown is in the adults only area of the ship. Kids are allowed in before 7:00 but the pub grub is usually later than that.
Soda
Most cruise lines charge for sodas but Disney Cruise Line does not. We paid $5 a day per person for soda packages on another cruise line, which is fairly standard.
You can have as much as you want from the soda fountains up on deck or in the dining room. If you order soda from a bar or room service you will be charged.
Cove Café
I'm listing the Cove Café under both included and not included, because it is both. The Cove Café is located in the adults only section on deck. They've got a bar plus a menu of specialty coffee drinks and teas not included in the price of your cruise. However, there is food there – usually pastry but sometimes antipasto – that is included.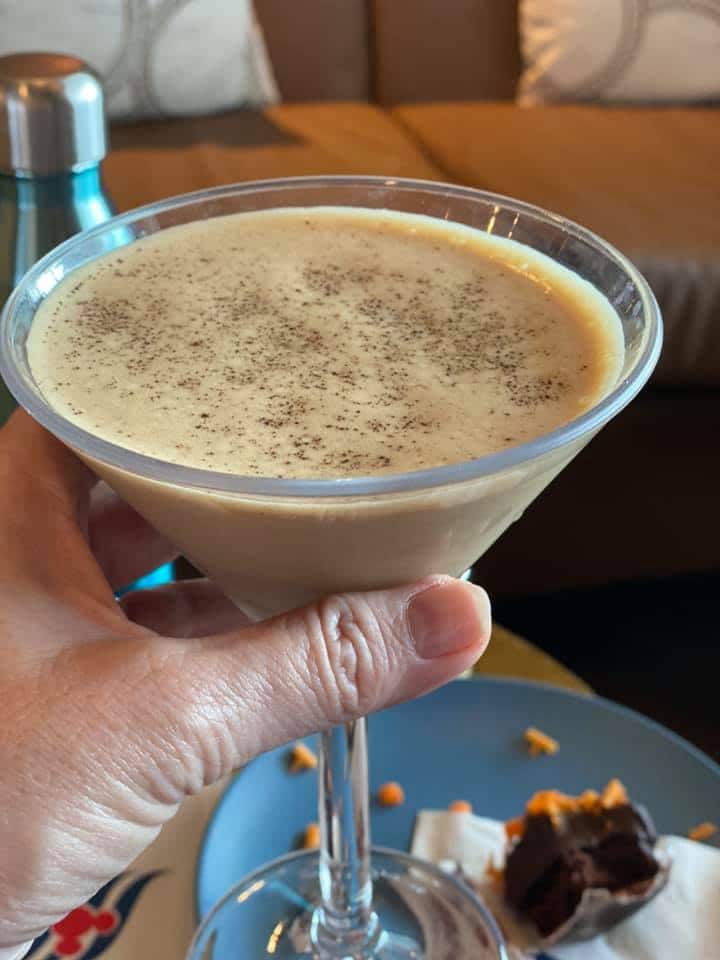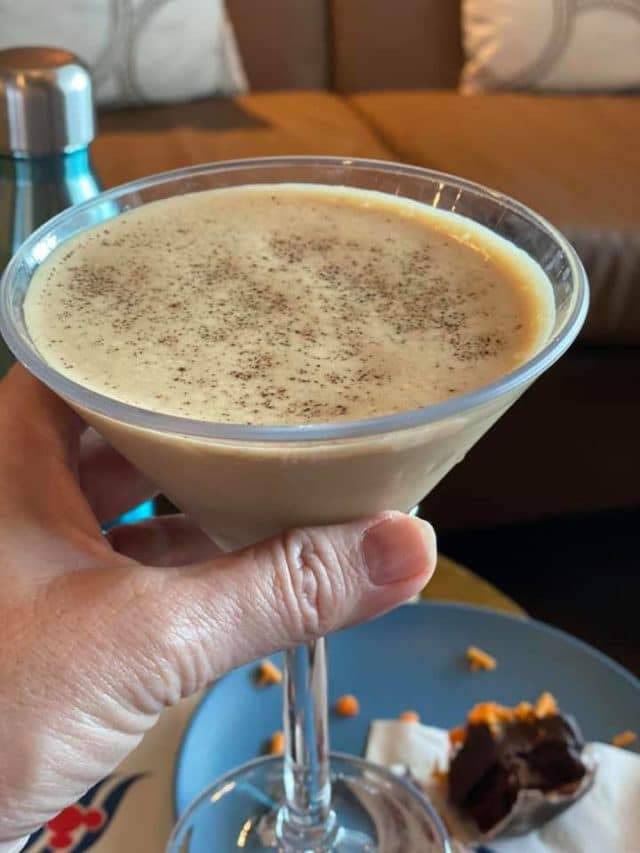 Room Service
Yes, room service is included in the cost of your cruise and that is something you won't find with most other cruise lines. There's a variety of hot and cold sandwich options, pizza, burgers, salads and desserts.
We think it's really fun to order cookies and milk before bedtime or a Mickey Bar. This is one of my favorite things about dining on the Disney Wonder. Note: the Mickey Bars won't be on the menu but they'll have them.
If you'd like continental breakfast – including coffee or tea – brought to your room you can order it the night before. You'll find little selection slips in one of your drawers. Just check off what you'd like to have brought and what time you'd like it. Note that this isn't available on debarkation (the day you leave the cruise) day.
The room service breakfast offerings are fairly limited and you'll find more options up on deck.
Cookies BBQ
If your cruise includes a stop at Castaway Cay (pronounced Key), Disney's private island in the Bahamas, lunch on the island is included. That's almost unheard of on a cruise line. Usually you pay for everything in port but not this one.
On Castaway Cay you will find Cookies BBQ, a deliciously simple barbeque buffet includes hamburgers and hot dogs, chicken, ribs, grilled Mahi Mahi and all the fixings– salads, fruits, and yummy deserts. Cookies Too is near Serenity Bay (Castaway Cay's adults-only beach) and includes grilled Ribeye steaks.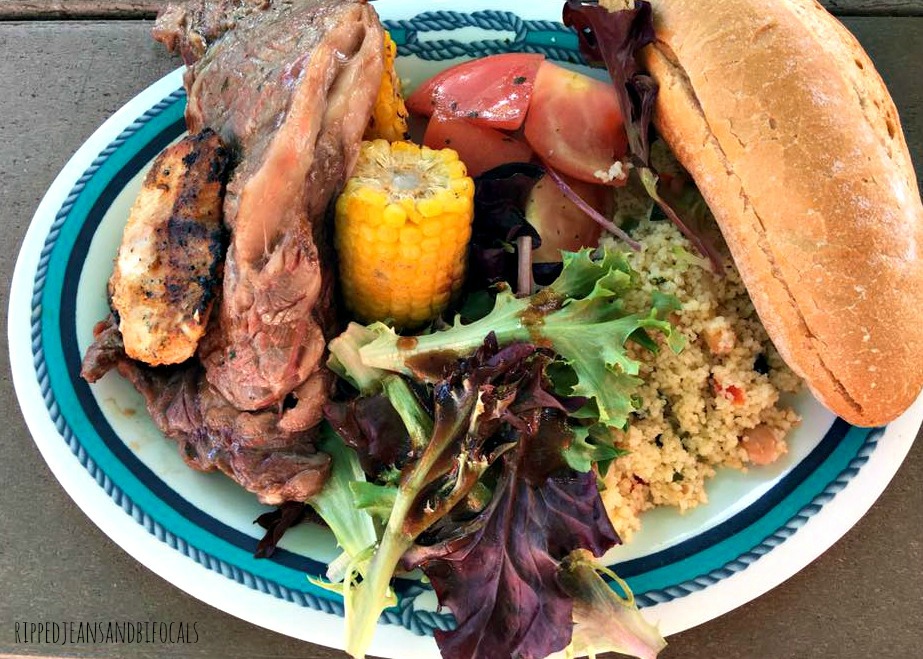 There's also soft serve ice cream and soda available, same as on board.
Dining on the Disney Wonder: What is not included in the price of your cruise
While most dining on the Disney Wonder is included in your cruise cost, here are some things that are not included.
1. Gratuities for your dining room servers
No gratuities are included. For convenience, we like to prepay the gratuity. Gratuities are presented at dinner the last night or in the morning before disembarkation, if you're eating breakfast in the dining room.
2. Sully's Sips
Sully's Sips on Deck 9 sells smoothies and specialty coffee drinks for a small extra fee. The prices are not listed on the menu, so be aware that there's an extra charge.
Cabana's often has smoothies on the breakfast buffet that are included in the cost of your cruise. The main dining rooms usually have smoothie style drinks in souvenir cups marketing towards kids that are an extra charge as well.
Related: How to get ready for your first Disney Cruise
4. Alcohol
As with most cruise lines, alcohol isn't included in the price of your cruise.
Disney does not offer alcohol packages, which is a common add-on on other cruise lines. You can buy a wine package in the dining room and you may be able to purchase beer packages at the Signals bar up on deck.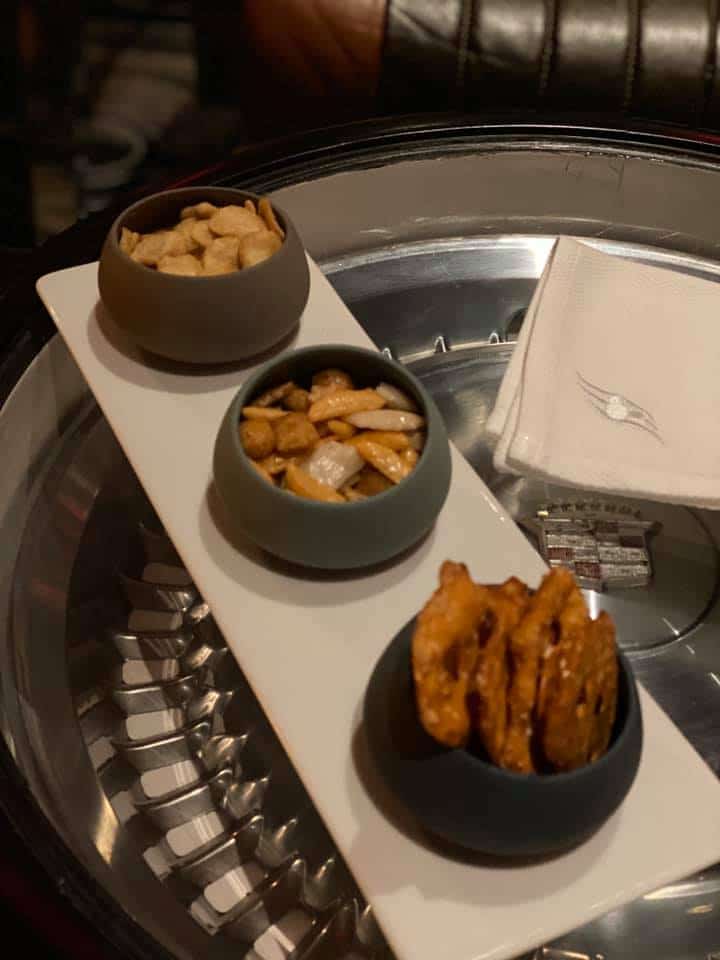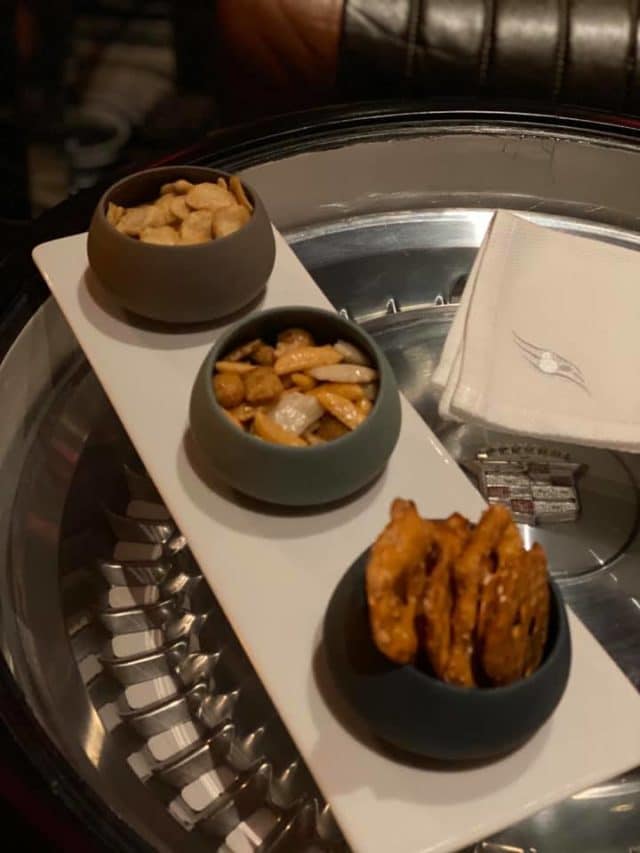 Waiters will be walking around on deck at the Sail Away party with trays of colorful drinks. Those are not free and if you accept one, you'll be asked for your Key to the World card so the charge can be applied to your stateroom.
The alcohol isn't ridiculously expensive on a Disney Cruise. It's in the ballpark with what you'd expect to pay in most restaurants or entertainment venues. You can also ask for the "drink of the day" which will be one of the specialty drinks from Signals at a discounted price – usually $5 or $6.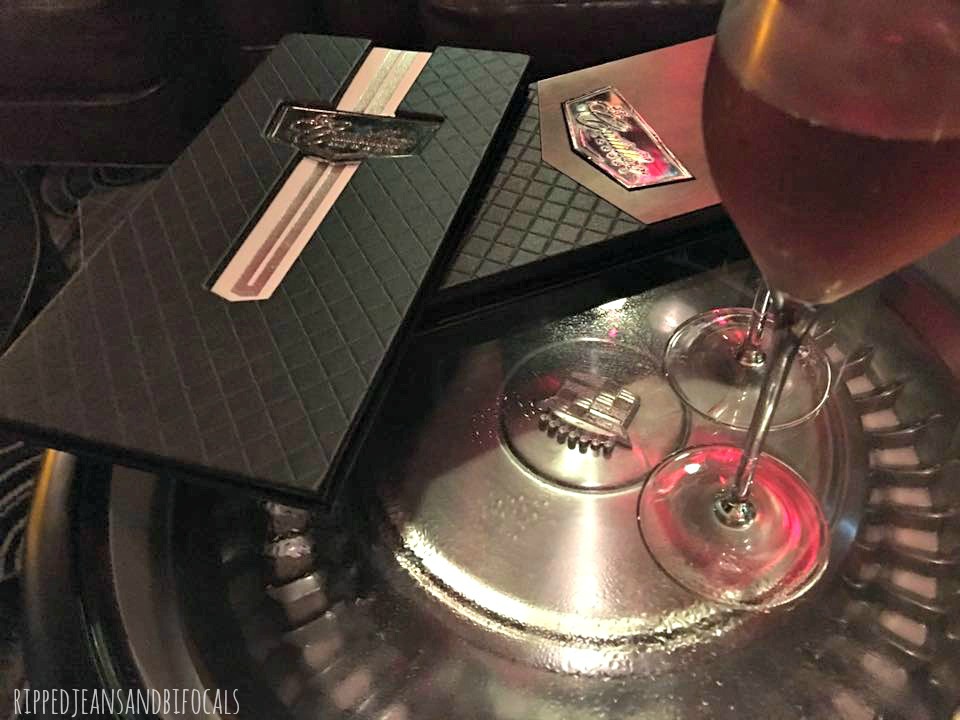 5. Palo
Palo on Deck 9 is the Disney Cruise Line's signature dining experience. Palo offers brunch and dinner for guests 18+ with reservations. There is also a less relaxed dress code than in the main dining rooms.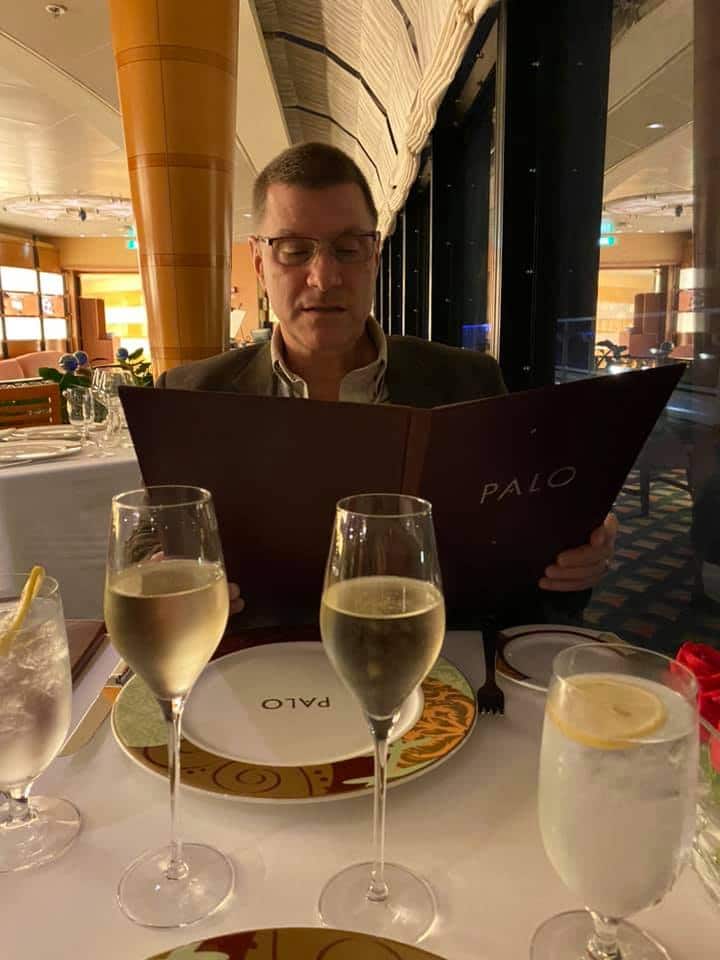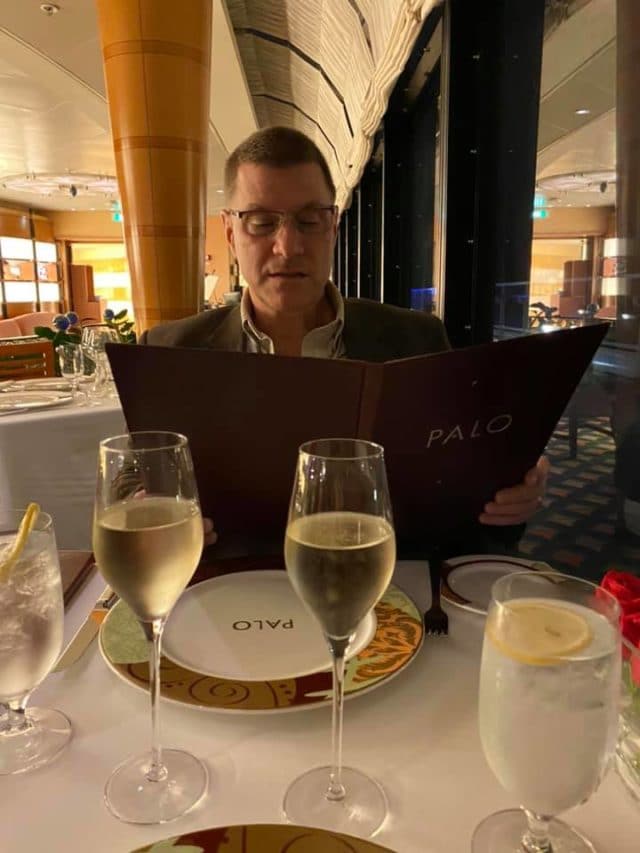 Palo is Italian inspired and has a variety of delicious dishes. Their dinner includes five courses: appetizer, salad, pasta, main, and dessert.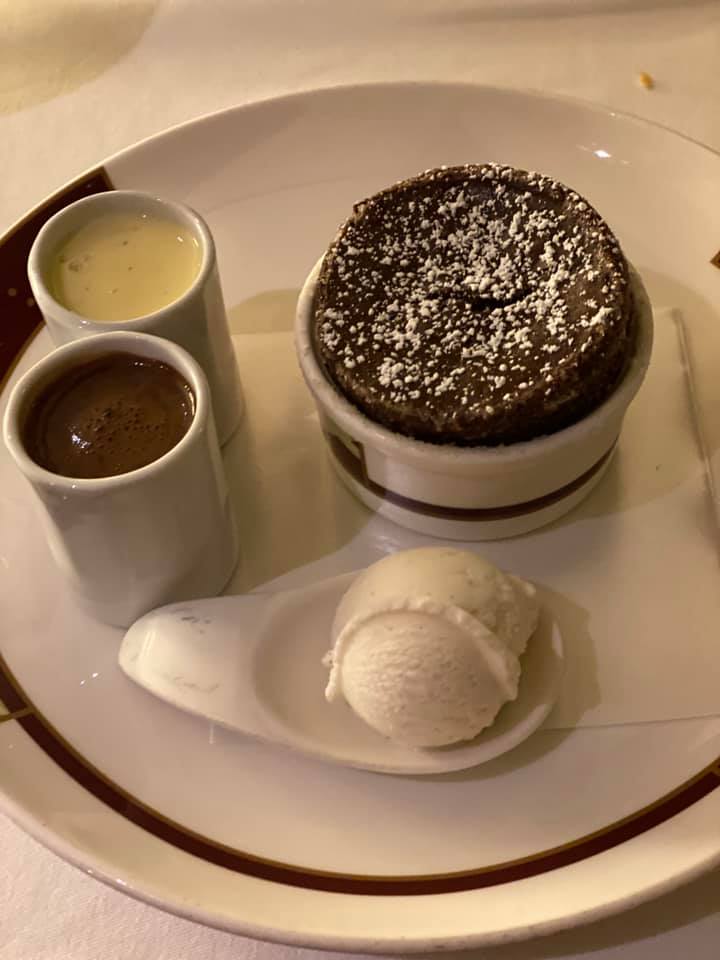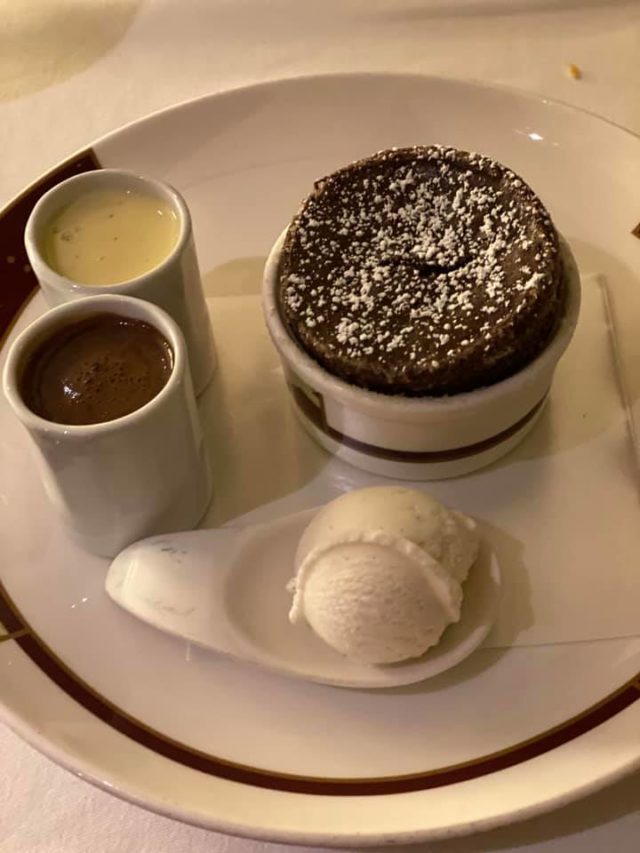 Palo brunch is part order of the menu and part buffet. The buffet will have lots of cheeses, antipasto, breads, appetizers, fruits, desserts and more.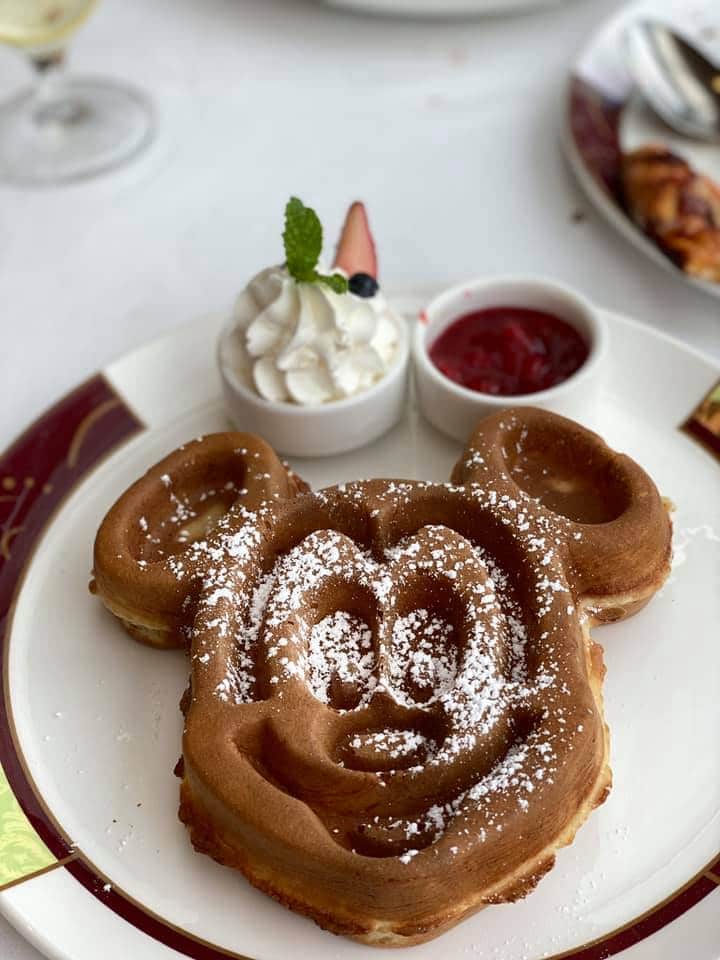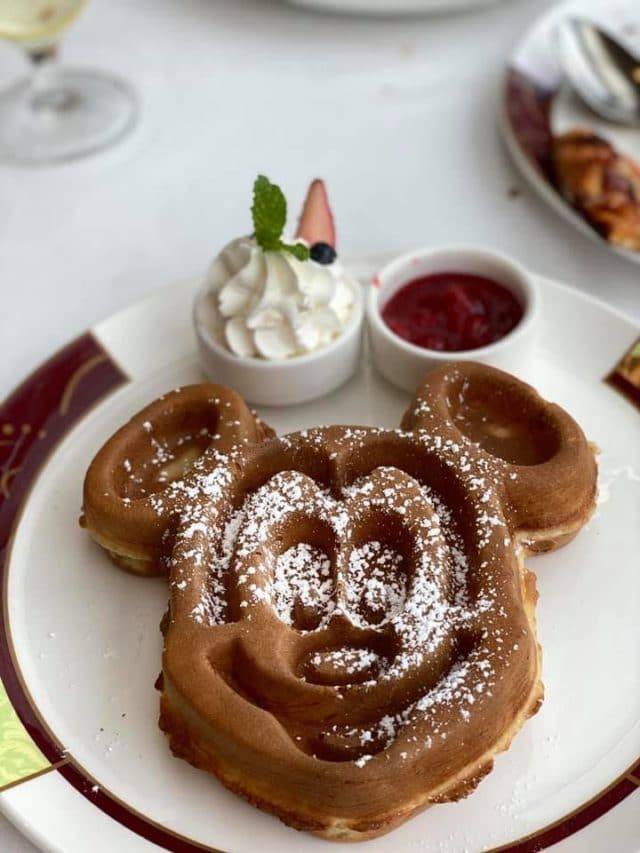 The Palo brunch menu has a great variety: pasta, pizza, fish, steak, soups, as well as more breakfasty selections, such as benedicts, waffles, and other egg dishes. A welcome drink – a glass or sparkling wine or a mimosa – is included.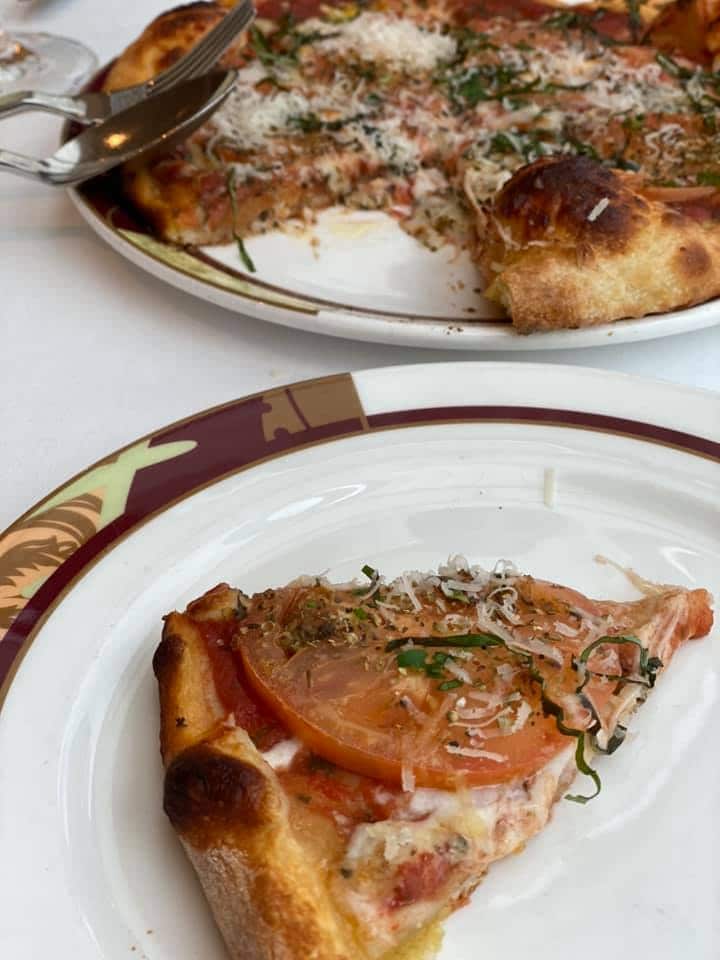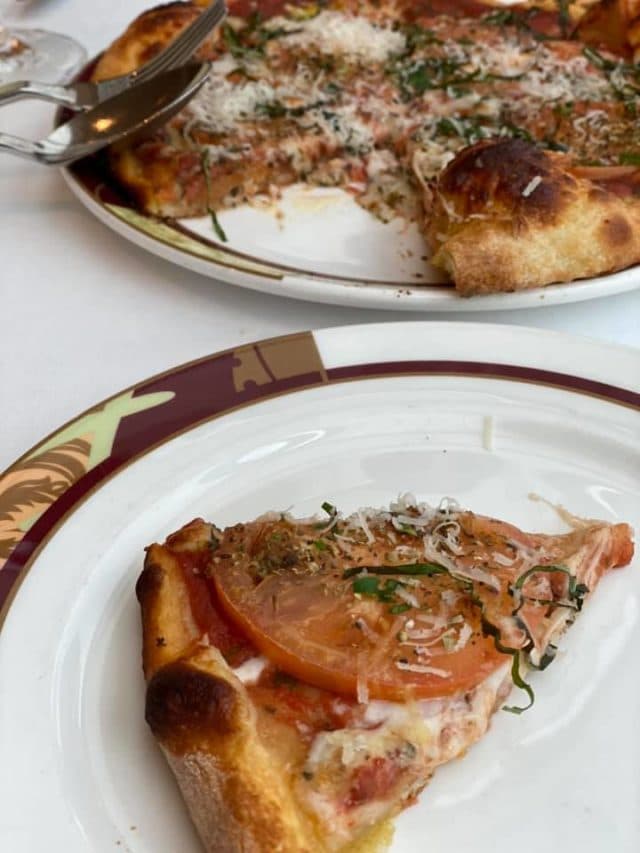 I've been asked about Palo brunch versus Palo dinner a lot and while it is hard to compare, if you're going to do one or the other, I recommend brunch. It's truly an experience and you'll be treated to ocean views for your entire seating. It is a LOT of food, though. I recommend eating lightly (or as lightly as you can on a Disney Cruise!) the night before and for dinner on the day of your brunch.
6. Preludes
If you want to catch a show at the Walt Disney Theater or a movie at the Buena Vista Theater, you can absolutely make popcorn and other snacks a par of your experience.
Preludes, the movie theater concessions, are not included in the price of your cruise. Lots of families bring their own movie theater candy on board with them. You can buy it at most grocery or drug stores for a fraction of what it sells for on board and it's easy to put in your luggage.
7. Cove Café
I'm listing the Cove Café under both included and not included, because it is both. The Cove Café is located in the adults only section on deck. They've got a bar plus a menu of specialty coffee drinks which are not included in the price of your cruise. However, there is food there – usually pastry but sometimes antipasto – that is included.
Dining on the Disney Wonder with Dietary Restrictions
If you are dining on the Disney Wonder with dietary restrictions, talk to your server the first night in the dining room.
My family does not have restrictions but I do know they have a gluten free bread service available as well as several vegetarian options on the regular menus in the main dining room and in Palo. We met a fully vegan family on one of our cruises and they reported the dining room servers were able to accommodate them easily.
Food allergies are a different story. If you are concerned about safety or food restrictions in general, discuss with your travel agent or call Disney Cruise Line in advance of your sailing to get more information on how your food restrictions will be handled. If you are lucky enough to sail in one of the Concierge Suites, you can talk to your concierge team 125 days out from your sailing.
You might also like:
Is Be Our Guest in the Magic Kingdom worth the price?