One of the perks of going on a cruise is all the food you get to eat. Duh, right? My family and I just returned from a three-night cruise on the Disney Wonder and you'll be hearing more about our Disney experience in the coming weeks but for today, I want to narrow down to our experience with Dining on the Disney Wonder.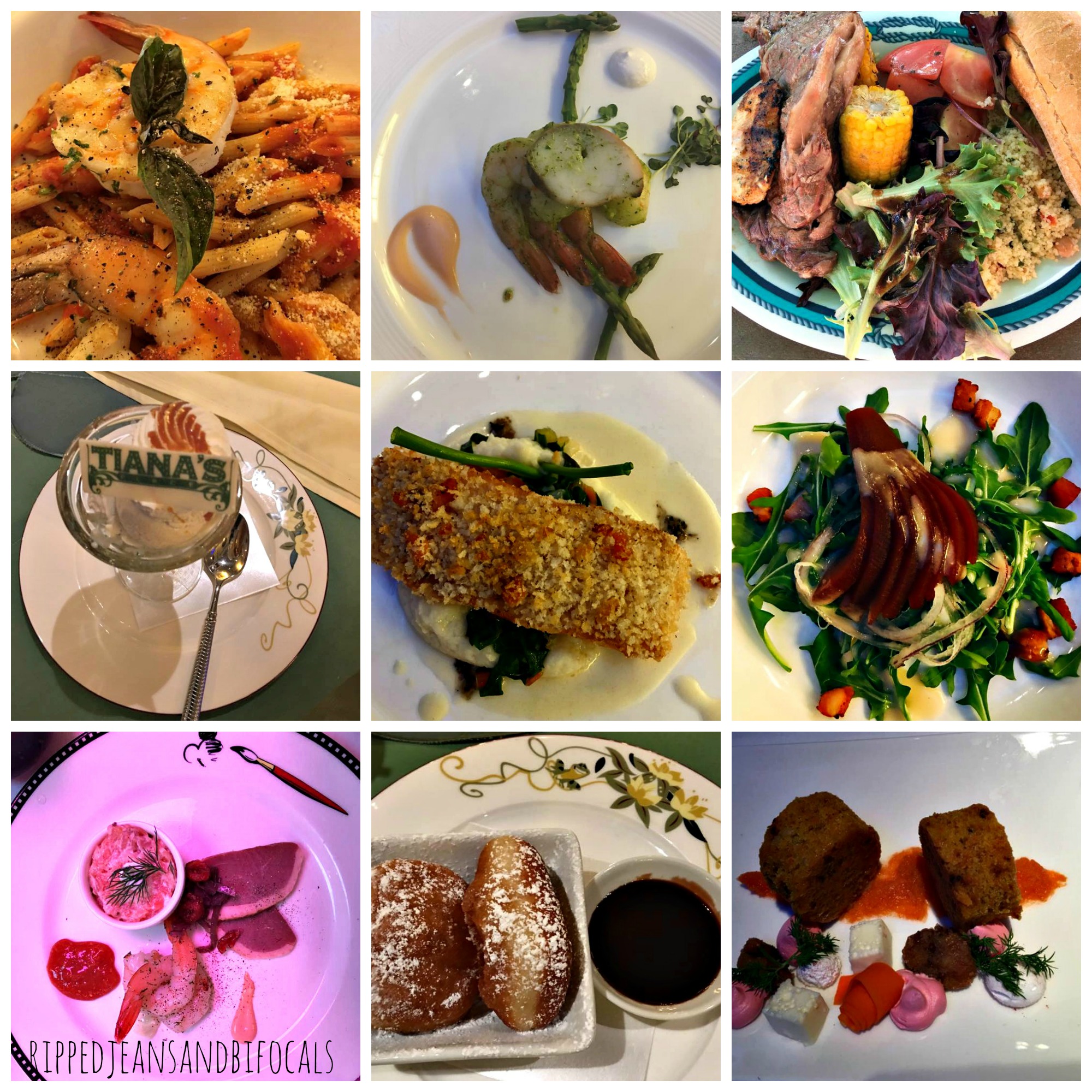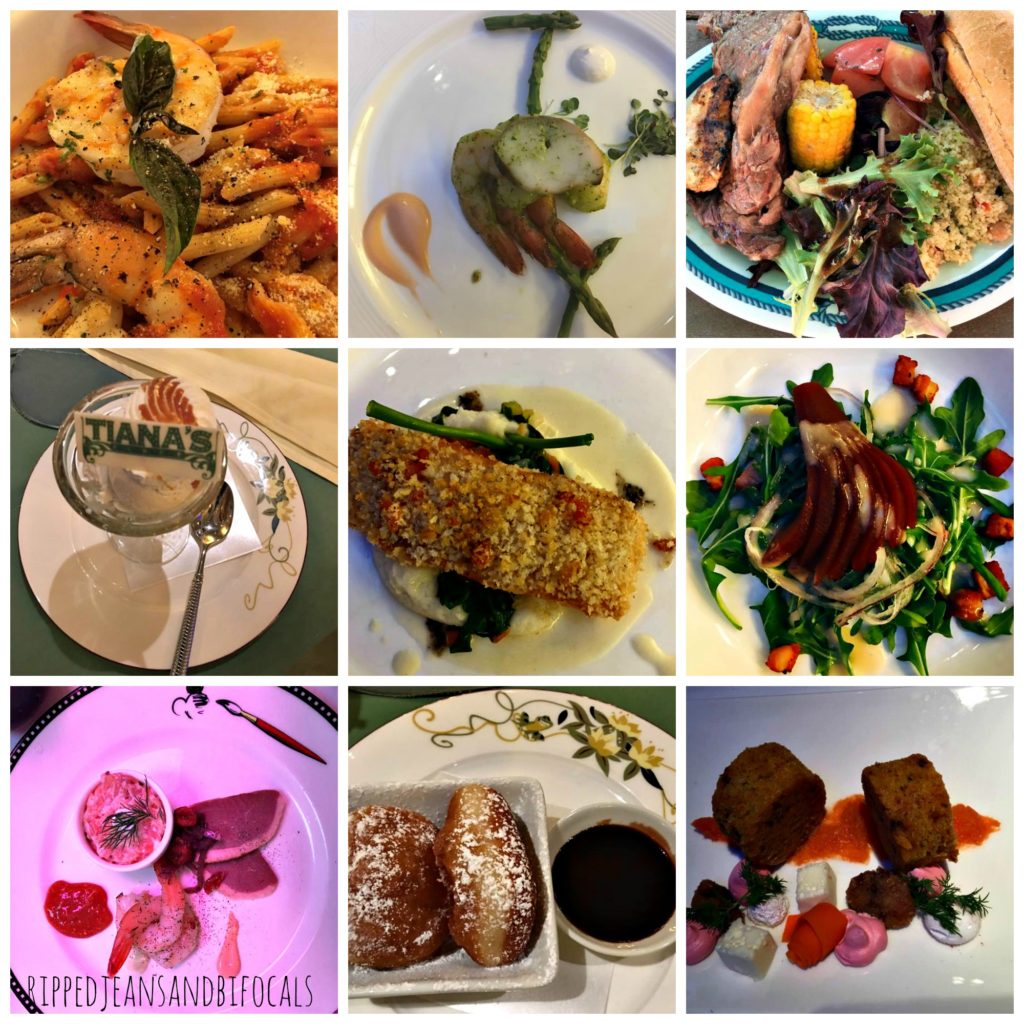 If you have interest in our Disney Experience, please subscribe to the blog. I send out one email per month with a recap of all my blog posts and some special goodies just for subscribers.
Deliciously prepared, gourmet food available morning, noon and night included in the cost of your cruise is one of the reasons that sway people in the direction of a cruise vacation…although to be honest, we don't need much swaying to get into cruise planning mode.
Of course, competitive eating isn't the only element of cruising I find attractive but fine dining, attentive servers and endless options for munching are one of the big draws for this foodie.
Some housekeeping: My family's three-night cruise on the Disney Wonder was part of the Disney Social Media Mom's Celebration, which is an invite-only conference for bloggers and social media influencers. This year's conference was "land and sea" so after two whirlwind days at Disney World, we boarded the ship for some family fun, networking, and learning.
And eating.
I did pay a fee for the conference and my travel to Orlando but the trip came with a ton of perks and discounts. I'm not being compensated to write this post and all opinions are mine alone. I'm sharing this solely in the interest of helping other families plan their vacation travel. And spreading a little love and pixie dust, of course.
I didn't sample all the food they had to offer on the Wonder…not that I didn't make a good effort, but it was, after all, only three nights. I do think I've captured the essence of what's available to satisfy your appetite while on board and hopefully, I'll get you pumped about planning your own cruise!
This post is divided into two sections – Included and Not Included. Most of your food is included in the cost of your cruise but there are a few things you will pay extra for, so I've separated them out.
Included
Cabanas
Cabanas is a casual dining buffet on Deck 9 serving breakfast, lunch, and dinner. I didn't get the opportunity to eat at Cabanas during this cruise (unless you count mac n' cheese I snagged from my son's lunch plate and that was pretty darn good) but my husband and kids did and loved it. They have a great variety and generous hours. Want to forgo the restaurants and eat in a more relaxed atmosphere? Check out Cabanas.
Room Service
Yes, room service is included in the cost of your cruise, although some items cost extra. If you want to order continental breakfast in your room, check the desk drawer for a form you can fill out and put on your door before you go to bed. There is almost nothing as awesome as someone delivering a tray of pastries and hot coffee to your room in the morning.
Order a Mickey Ice Cream Bar from Room Service – they might not be on the menu, but if they're available, they're free.
Cookies and Cookies Too
If your cruise includes a stop at Castaway Cay (pronounced Key), Disney's private island in the Bahamas, lunch on the island is included. A deliciously simple barbeque buffet includes hamburgers and hot dogs, chicken, ribs, grilled Mahi Mahi and all the fixins – salads, fruits, and yummy deserts. Cookies Too is near Serenity Bay (Castaway Cay's adults-only beach) and includes grilled Ribeye steak.
My picks: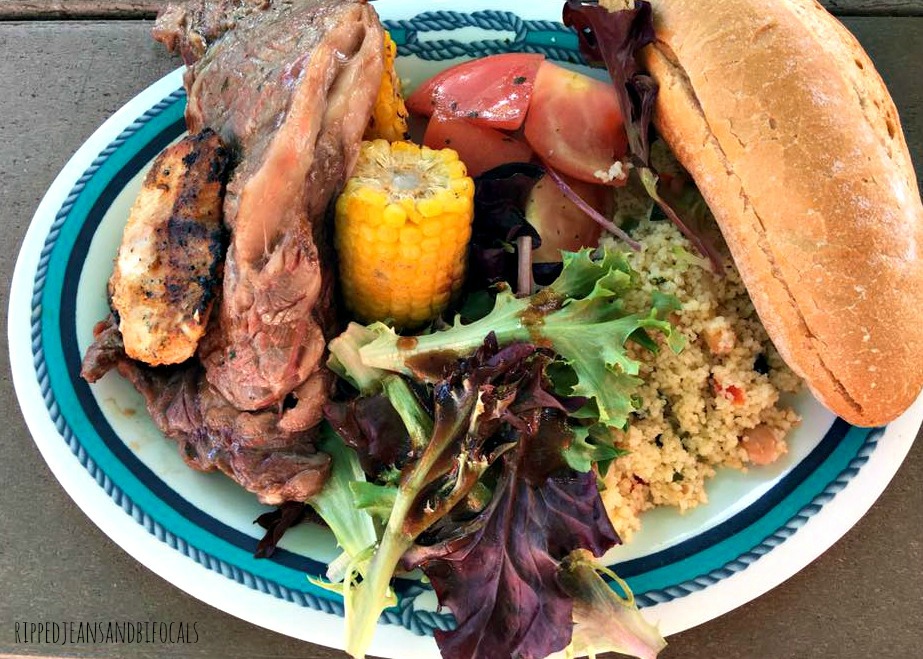 It was all good but my faves were the couscous and Tabbouleh salad and the banana bread.
The Animator's Palate
The Animator's Palate located on Deck 4 was my favorite of the three restaurants…although they were all outstanding. The walls are decorated with drawings of early stages of animation art – some with notes from the artist. It really gives new appreciation for the work and talent that goes in to making the movies we all love so much.
There are "living pictures" on the walls that do cool things. There are a few different entertainment options involving the pictures and I'm going to just leave it at that. If you go on a seven-night cruise, you'll have more entertainment options but because I was lucky enough to get to attend a special influencer lunch in addition to dinner with my family I got to see more than what the average three-night cruise passenger would see. The entertainment in the Animator's Palace is truly first-rate and everyone in your family will love it.
My picks:
Appetizers trio
This was part of our special influencer menu that allowed us to sample small bites of different appetizers: smoked duck breast, dill-marinated shrimp, and smoked salmon tartare: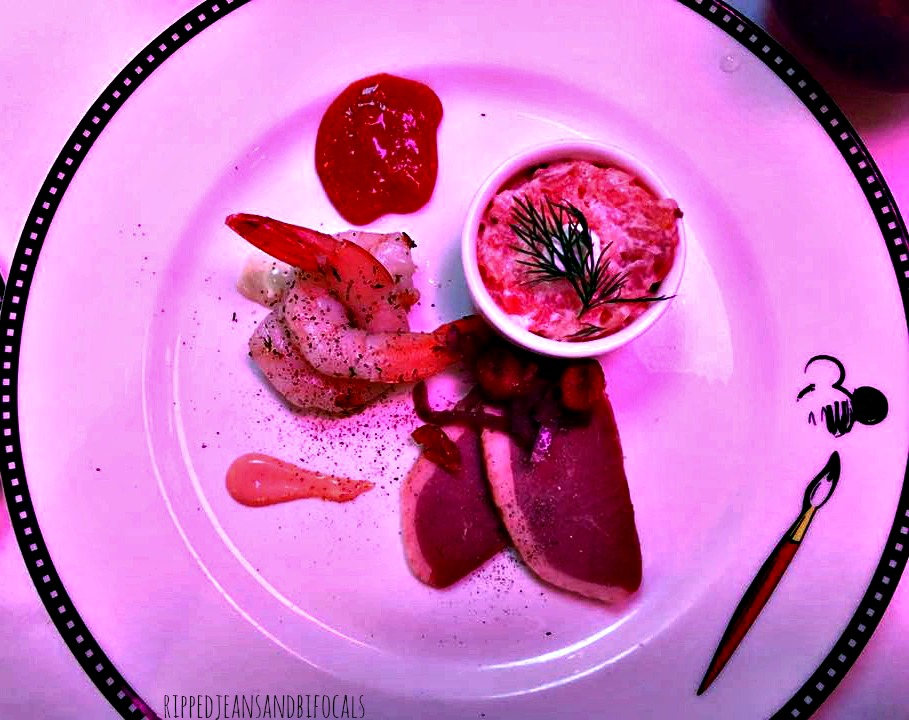 I loved the shrimp. I was not as much of a fan of the duck or salmon but that had more to do with personal preference versus how they were prepared and presented.
Grilled tuna steak with fingerling, caponata and sun-dried tomato pesto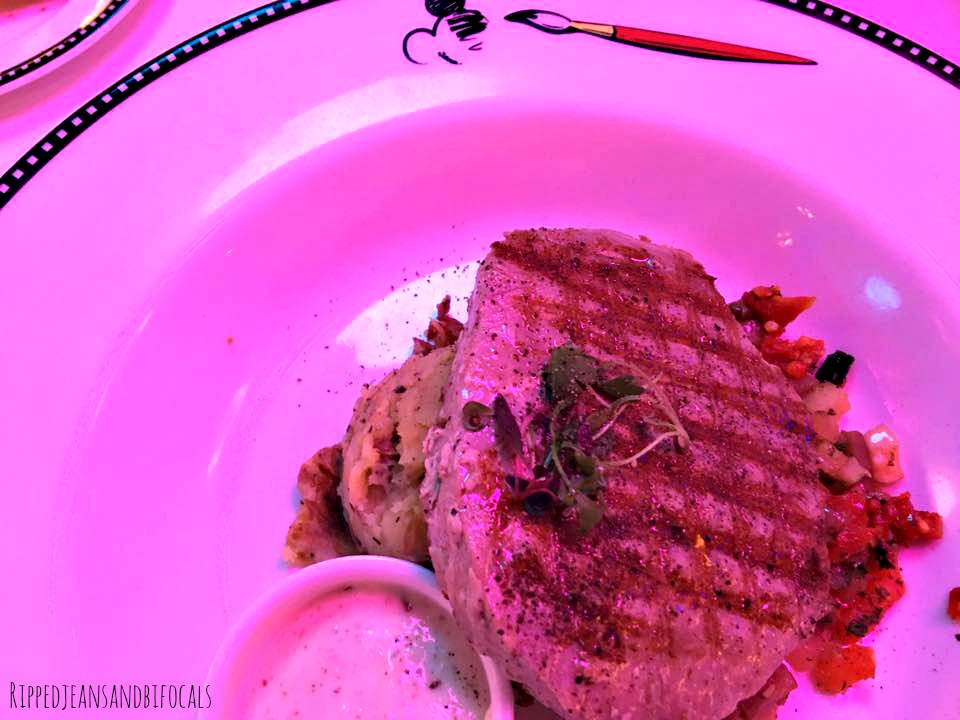 Our server recommended ordering the tuna rare to medium rare. I really have a hard time with uncooked fish and I asked for the tuna to be cooked on the medium side of medium rare. It was exceptionally tender and slightly pink. I ate the whole thing, man. It was YUM.
Black truffle pasta pursiettes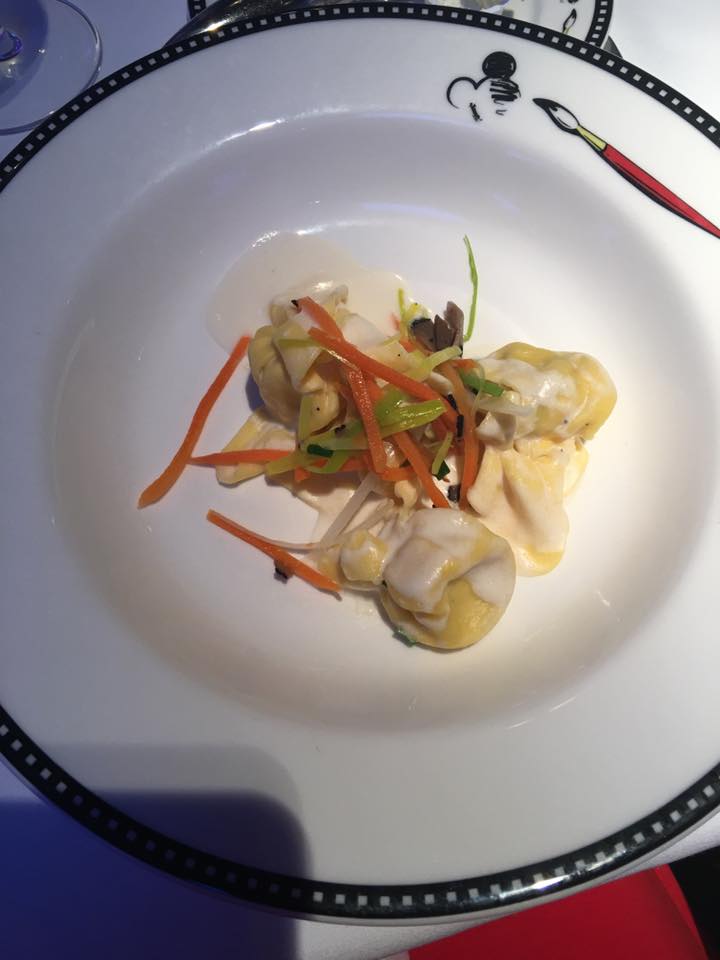 Okay, maybe I just ordered this because "pursiettes" sounded fancy but OMG. If it wouldn't have been considered impolite to lick the plate, I would have.
Creamy butternut squash soup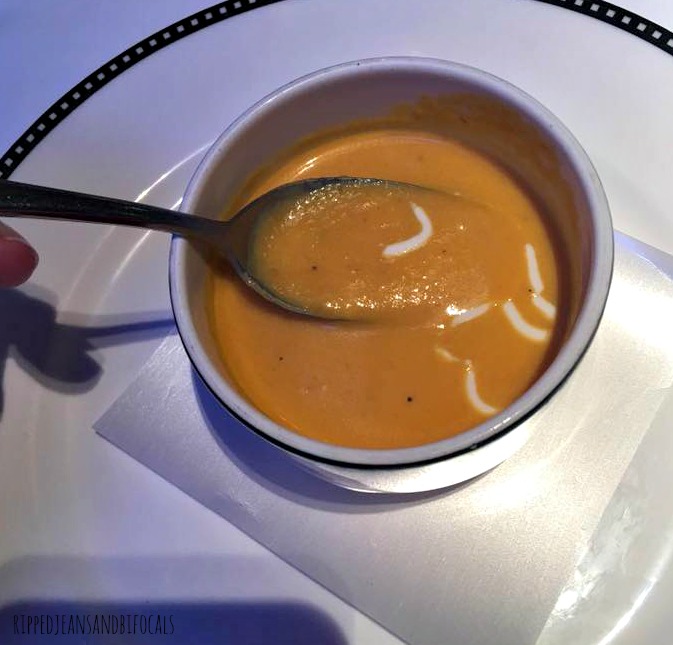 Grilled ginger teriyaki beef tenderloin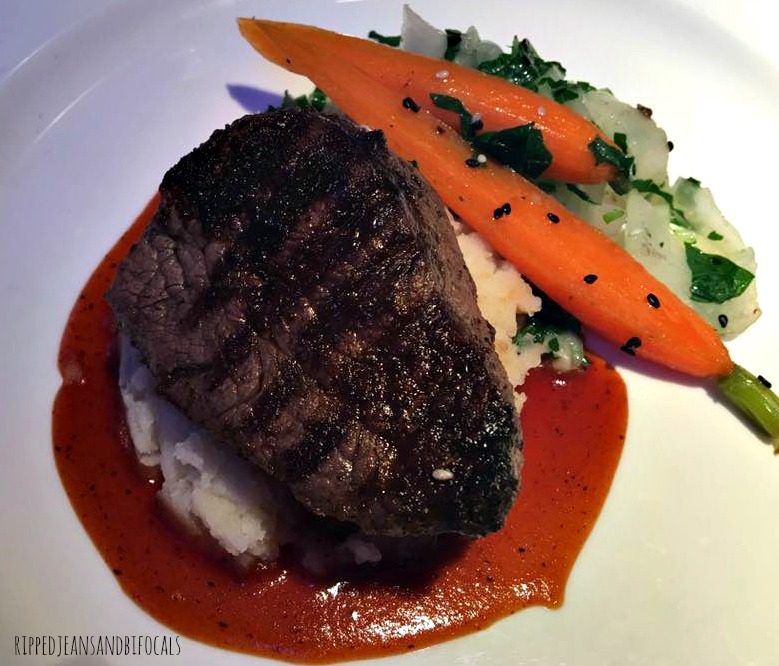 Just a hint…if anyone ever offers you wasabi mashed potatoes, your answer is "hell yes."
I was really tempted to order the black bean chipotle cakes off the vegetarian menu at this point…my eating excesses were starting to make me feel a little guilty…but the ginger beef teriyaki spoke to me.
I swear it said Jill. Like literally spoke my name.
My husband enjoyed the lemon thyme chicken breast, sliced Serrano ham with Manchego cheese and olive tapenade as an appetizer, baked potato and cheddar cheese soup, and the cookies and cream sundae for desert.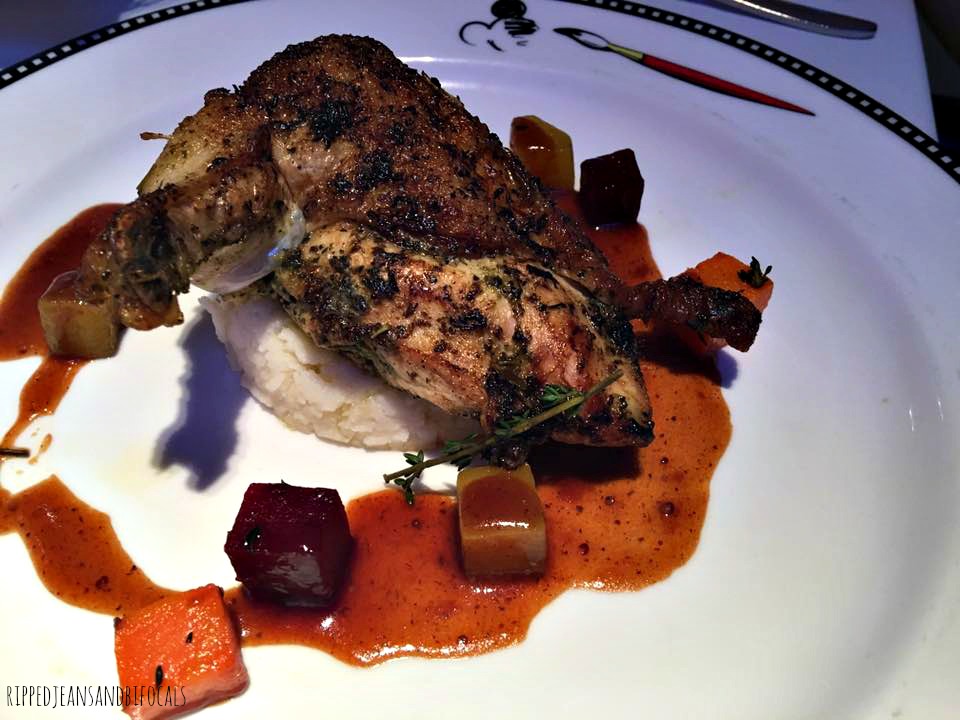 I tried one of the "no sugar added" deserts on our last night at the Animator's Palate – a deconstructed carrot cake. It was very trendy and tasty…and I was honestly so stuffed by this point that I only had a few bites. There were a few more decadent items that I coulda shoulda tried that I'm still kicking myself about.
Two words: Next and Time. Because oh yes there will be one.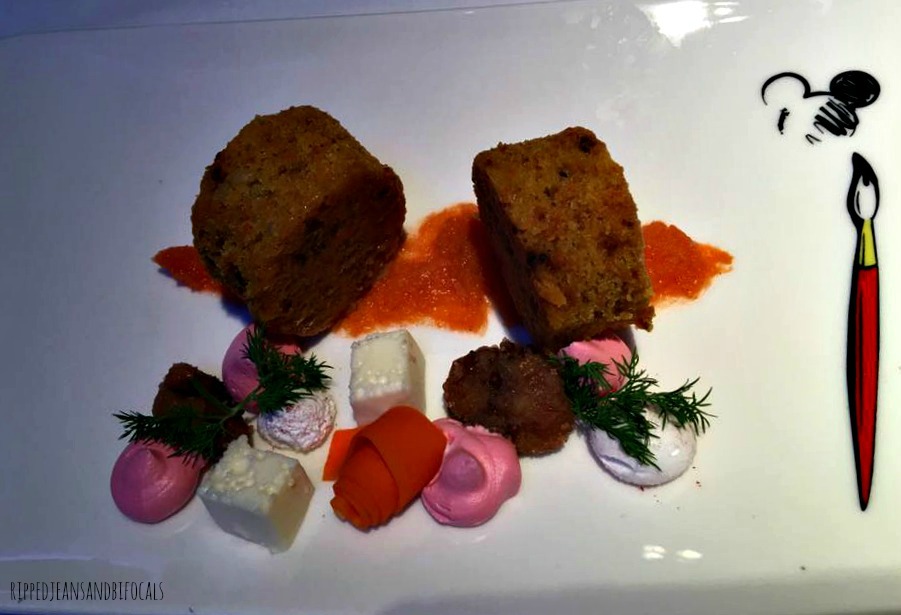 Desert Trio
These were small bites of deserts that I got to experience at our special influencer lunch that allowed us to sample the menu more fully. Celebration Cake, Chocolate Decadence, and Cappuccino Mousse. All delicious.
Kids eats:
There was decent variety on the kid's menus in all three restaurants – standard kid fare, such as macaroni and cheese, chicken nuggets, meatloaf, etc. Kids can also order off the adult menu if they want to.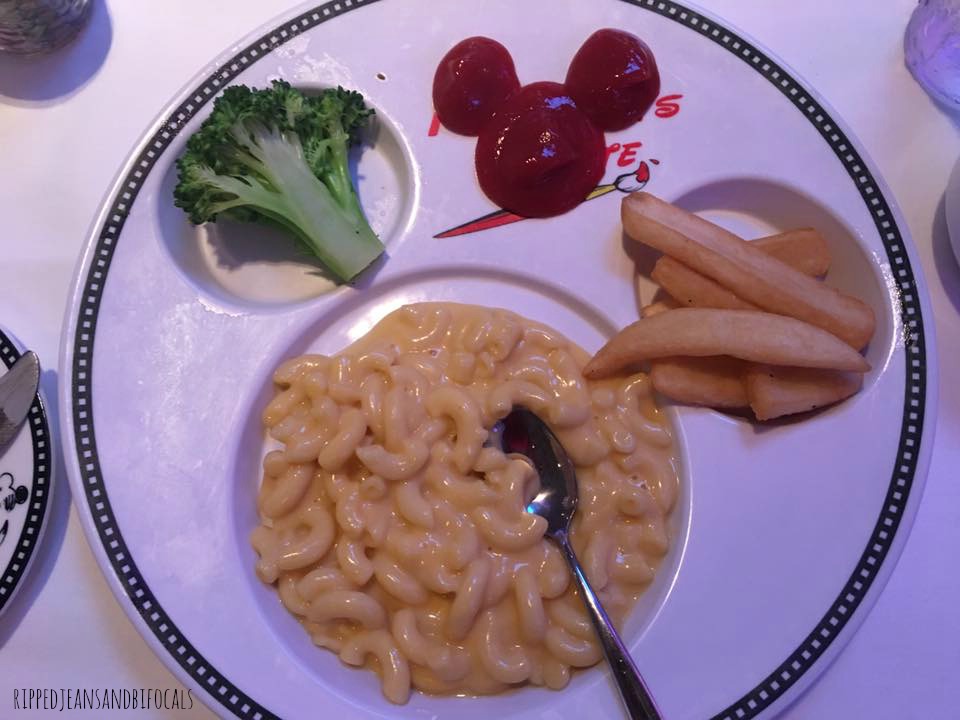 Also? Your servers will cut your kid's meat and make cute "Mickey" patterns with the ketchup. I am not sure I'm up to ever serving anything that requires ketchup at my house again because the bar is set THAT high.
Your servers are very accommodating and willing to make your experience what you want it to be, so if you don't see exactly what you want, just ask.
Tritons
Triton's restaurant located on Deck 3 has an "under the sea" feel and is inspired by the movie "The Little Mermaid." The menu is French inspired and the food was very good. For me, the atmosphere seemed the most "elegant" out of all three of the on-board restaurants.
The entrance to Triton's is right outside the atrium where most of the character meet and greets (AKA huge photo opportunity) happen, so if you time it right, you can get in line for a character meet and walk right into the restaurant.
Tritons also offers a sit-down breakfast and lunch, in case the more casual options don't do it for you.
My picks:
Iced lobster and jumbo shrimp with green asparagus, horseradish cream and dill dressing: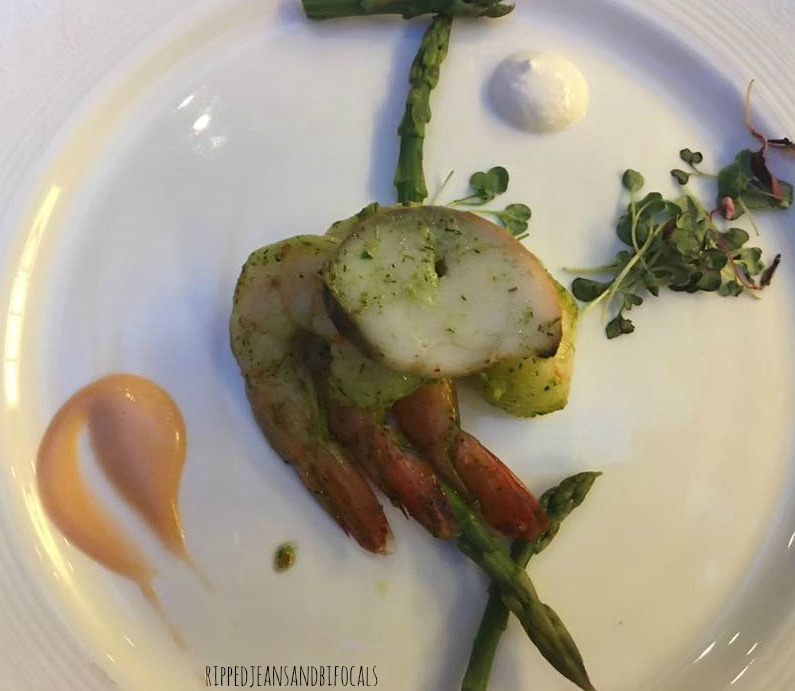 Ah-mazing.
Oven baked salmon Royale with horseradish crust accompanied by sautéed swiss chard, cauliflower puree and white wine Burre Blanc.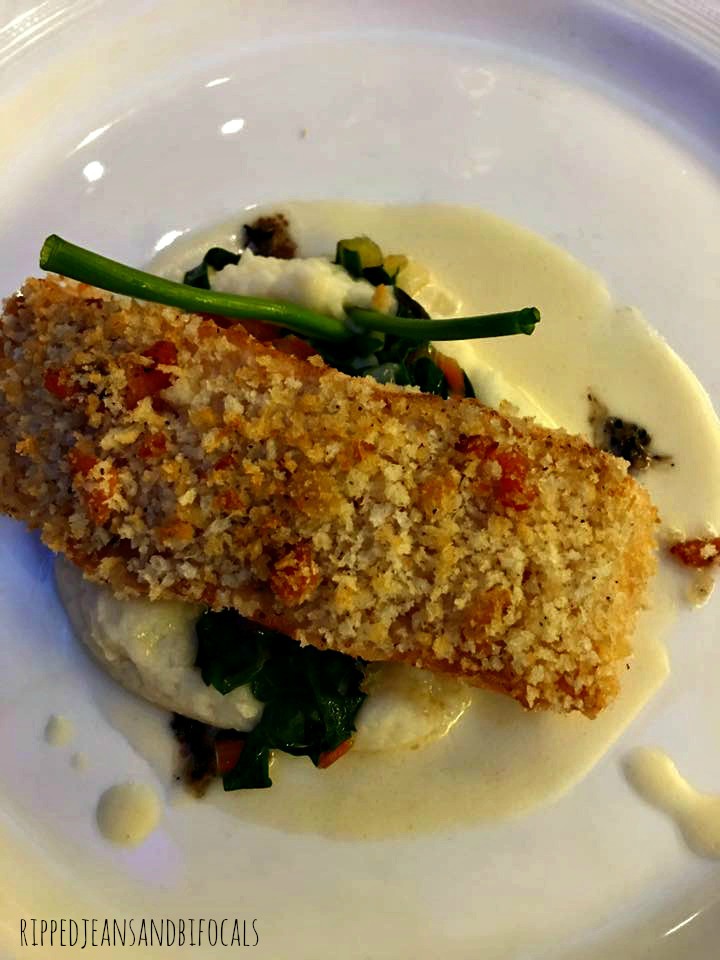 It's hard to make a salmon I don't love but the cauli puree was especially yum. I'm also going to admit to not having a clue as to what "Burre Blanc" means.
Red wine bosc pear salad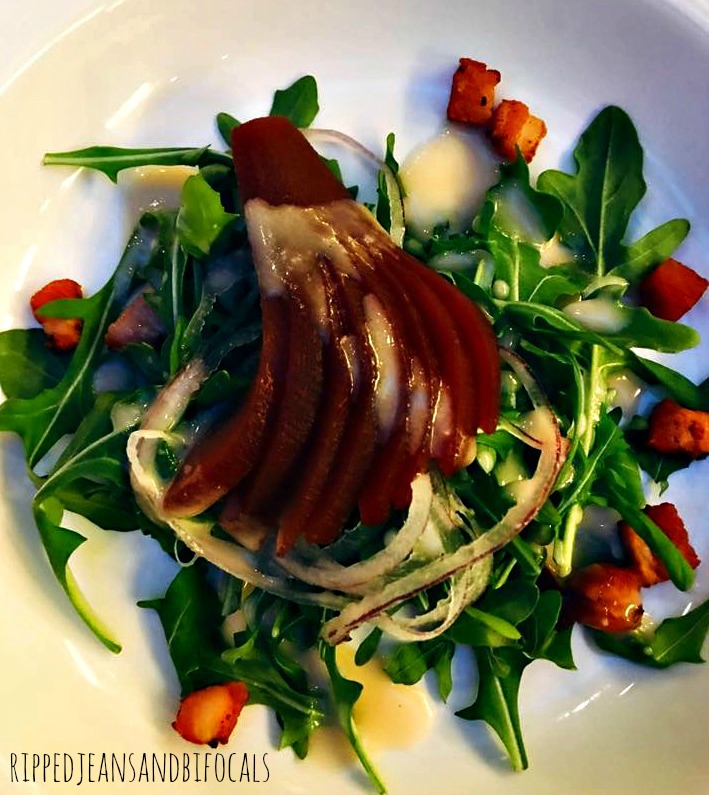 This was one of my favorite things I ate on the ship which is weird because I don't love pears. I had to choose between this salad or two soups (leek and potato soup and French onion both of which I dearly love) but for some weird reason, I chose the pear salad instead. The delicate pear paired so deliciously with the arugula. I'm sure if I'd have asked our servers, I could have had both the soup and salad.
Chocolate Opera Gallate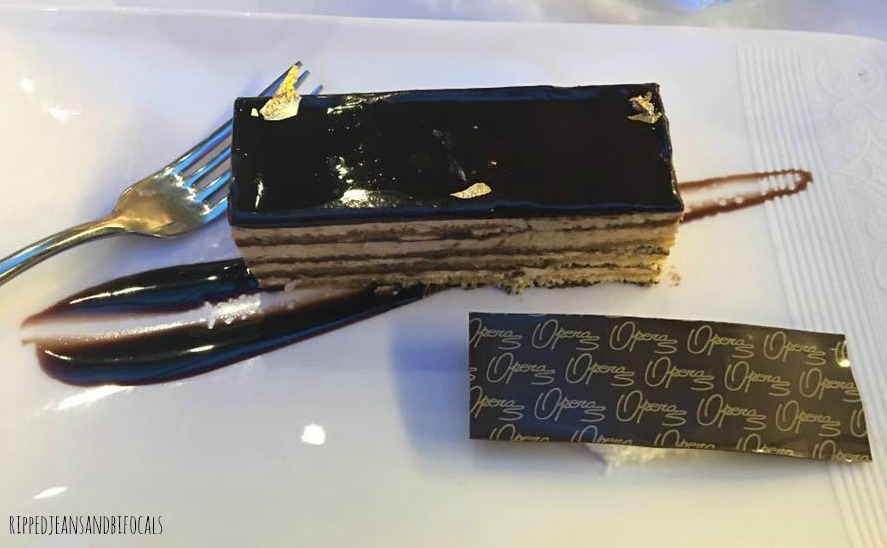 This one had me at "ganache." So. Good.
My husband's picks were the Chateau Briande and the strawberry shortcake sundae. If desert is involved for him, he always picks any sort of ice cream sundae looking concoction. Me? I like the fancy stuff.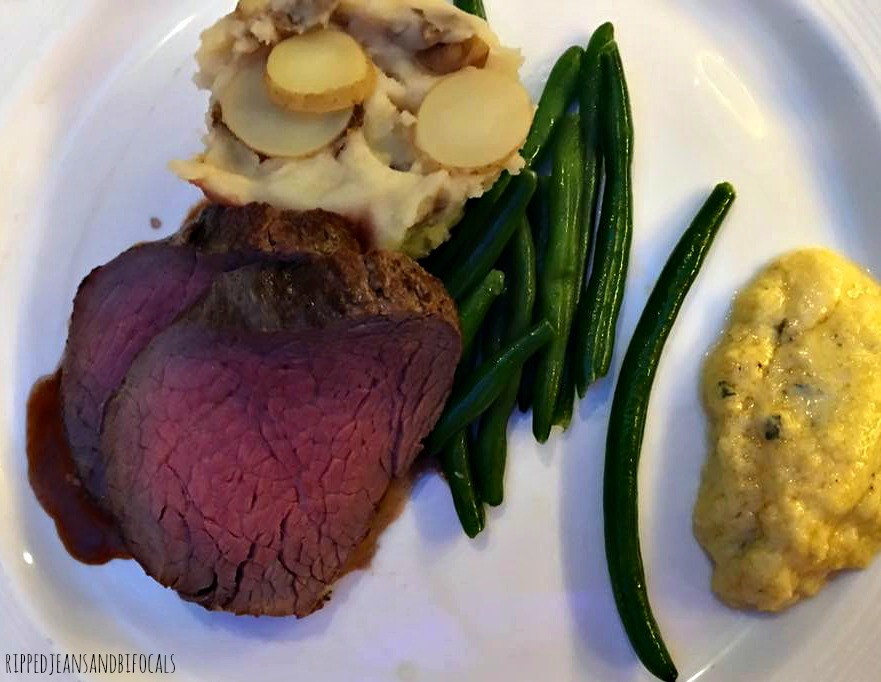 Tiana's Place
Tiana's place is the newest restaurant on the Wonder and located on Deck 3. It's based on the movie The Princess and the Frog and Tiana herself walks around the dining room and visits with all the passengers. She'll happily pose for pictures but doesn't sign autographs in the dining room. If you want Tiana's autograph, you have to reserve the Princess character meet and greet. She's wearing her flapper costume in Tiana's Place but her princess outfit during the character meet, so that's really fun.
Note: the Princess character meet and greet can be reserved before you set sail, same as the Elsa and Anna meet. There's no charge but you must book your time in advance. Worth it.
Entertainment at Tiana's place includes a live jazz band – they are amazing – and dancing. There's a small dance floor and the wait staff does a "Nawlins" style procession through the dining room near the end of the seating – which I missed because both of my kids decided they had to poop. Hashtag momlife. I caught the tail end and it looked spectacular. Sigh. Next time.
The menu is creole inspired, obviously, and it's fantastic.
My picks:
The shrimp and grits appetizer is delicious. This would have been another plate-licker if I didn't have good manners. Also, as I was writing this post, I realized I didn't take a picture of of my shrimp and grits, most likely because I was too busy inhaling it.
Wedge salad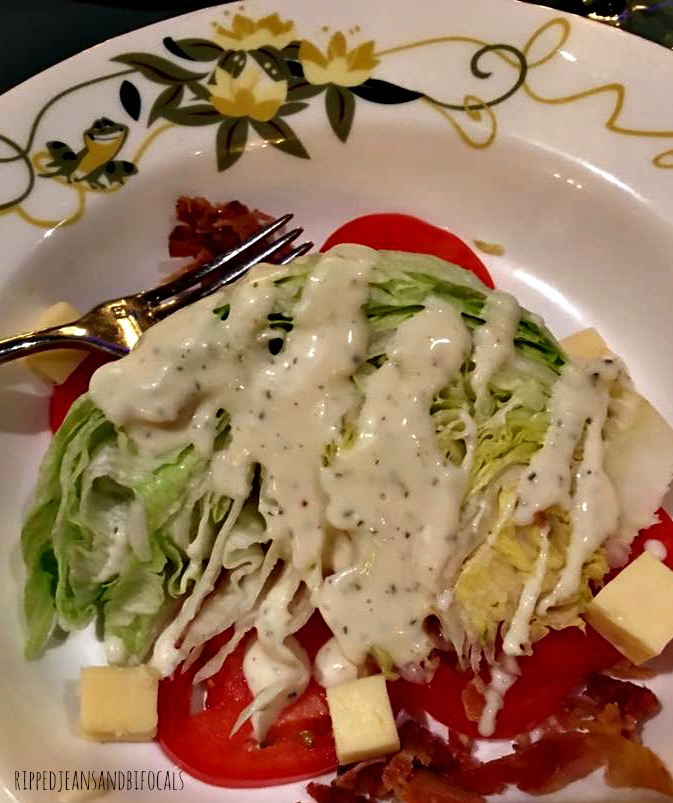 These are so easy and chic…I don't know why I don't serve them at home.
Cajun sea bass served on a bed of shrimp jambalaya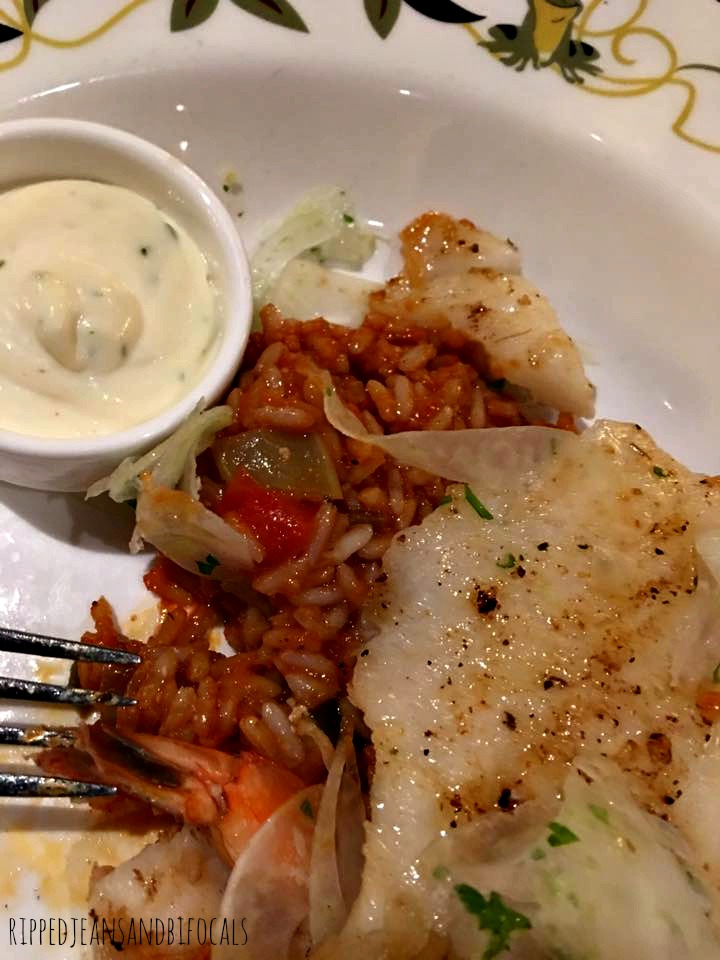 I thought dish was unique and interesting. The fish was very delicate and the jambalaya which contained nice-sized shrimp was pleasantly spicy.
Beignets
I had them with chocolate espresso dipping sauce and during my lunch the following day at Tiana's my friends had them with a vanilla cream sauce. They were really yummy and the perfect end to a creole-themed meal.
My husband enjoyed the prime rib and the bananas foster. I was too busy snarfing my own food to ask for a bite (shocking) but he reported they were very good.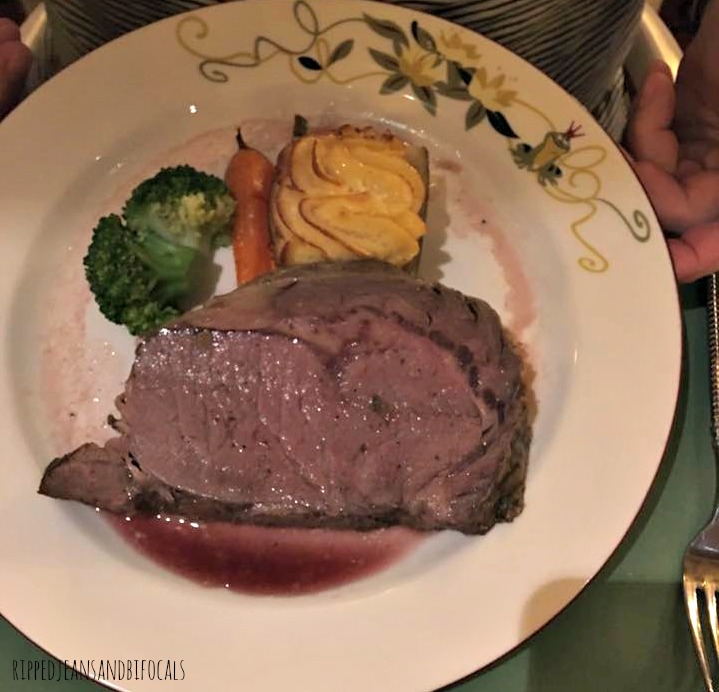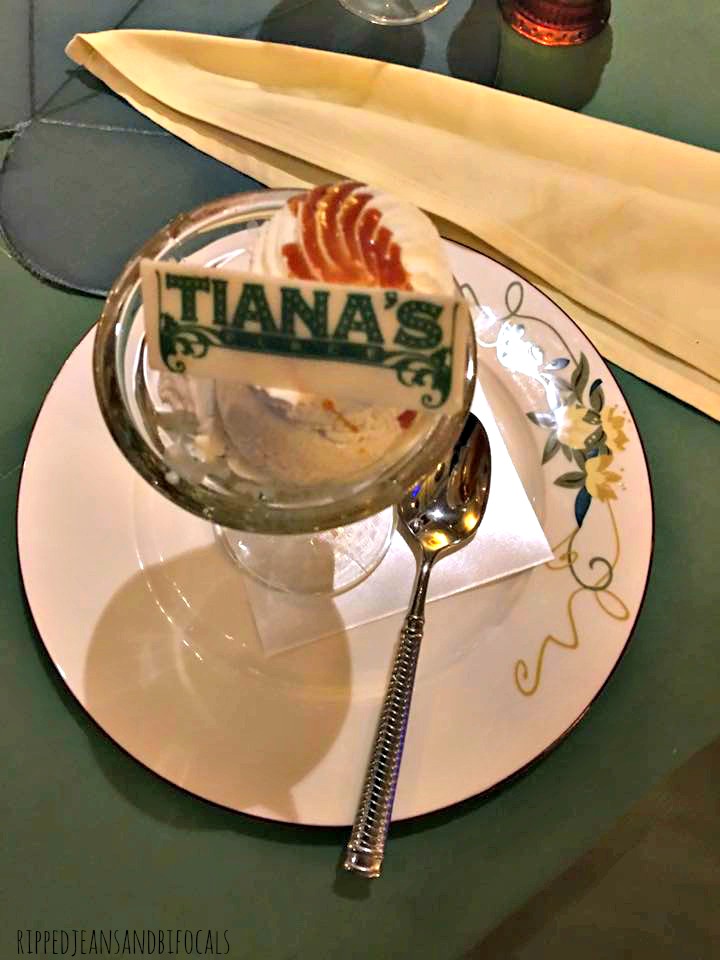 A word about assigned dining:
You will rotate through the three restaurants and your dining room assignments will be printed on your Key to the World Card (AKA your room key.) You may also get a ticket in your stateroom that gives your dining assignments. The coolest thing about this setup is that your servers travel with you from dining room to dining room. They get to know your family and they seem to have a lot of fun explaining the different themes and menus of the different restaurants. Your servers also have a lot of great information about the after-dinner entertainment options.
The dress code for the restaurants on the Disney Wonder is "cruise casual" although longer cruises may have a formal night. My husband and kids wore shorts and tee shirts to dinner each night I wore casual dresses and sandals. We made an effort to look nice but since we had busy days and early dining, there wasn't much time to "dress" for dinner.
Soda
Most cruise lines charge for sodas but Disney does not. We paid five bucks a day per person for soda packages on a Carnival cruise so it was nice to have unlimited fizzy drinks for no charge on the Disney Wonder.
Eye Scream Treats
Eye Scream Treats (Mike Wizowski inspired) is the Disney Wonder's self-service ice cream bar. All you can eat ice cream? Yes, please!
Daisy's De Lites
Daisy's is on Deck 9 and offers lite lunch bites, such as salads and sandwiches. We didn't try but had a peek at the offerings and it looked very fresh and good.
Pinocchio's Pizzeria
If you want pizza, Pinocchio's is on Deck 9 and open from 11 to 6 and again from 9:30 to midnight. If you want to grab a slice and catch a late-night movie on deck, well…that sounds about perfect to me. We didn't try Pinocchio's but it looked (and smelled) amazing.
Pete's Boiler Bites
Pete's is located on Deck 9 near the water slide and serves up burgers and chicken nuggets.
Rose and Crown Pub
We went in this adorable English-style pub after dinner one evening while our kids hung out in the Oceaneer Club. We were stuffed to the gills but I did have to check out the bar food offerings – hot dogs, chicken wings and a variety of olives. We also hung out in the Cadillac Bar (which was our favorite) and didn't notice any munchies set up but I'm sure if we'd have asked, we'd have received. A Disney Cruise is just like that.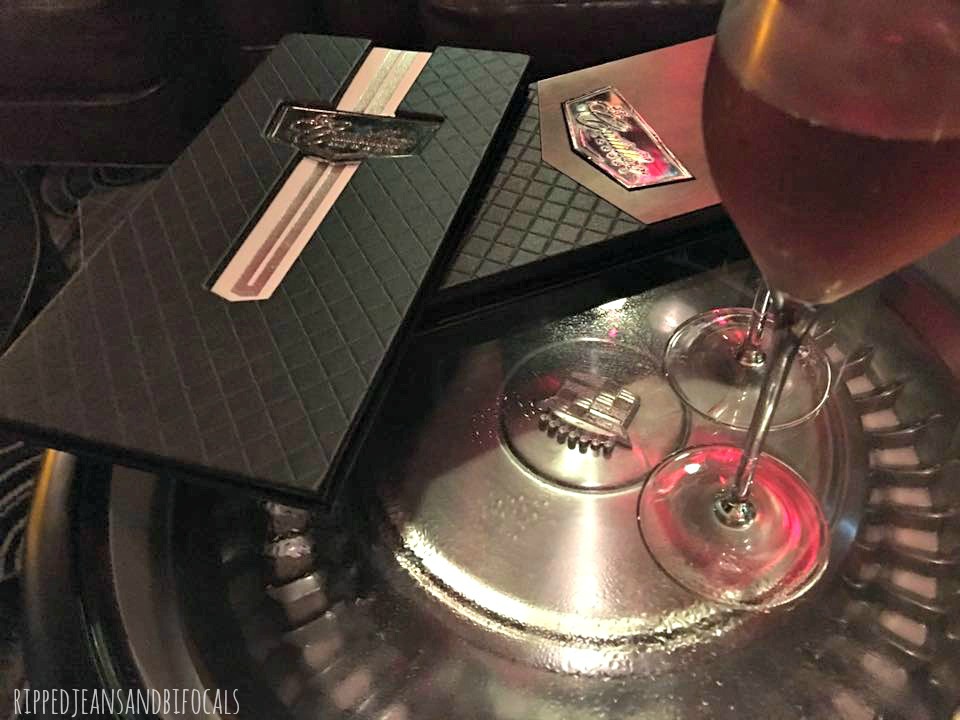 Not Included
Palo
Palo on Deck 9 is the Disney Wonder's elegant dining experience for 18+. There is an extra charge for dinner or brunch at Palo and reservations are necessary. There is a bit more of a dress code and the cost of your meal is not included in your cruise costs. We didn't make reservations because the cruise was so short and we wanted to experience all the included restaurants with our kids. On longer cruises, you'll be assigned to each of the three restaurants more than once so there are more windows of opportunity to enjoy the adults ambiance.
Even though I didn't get to dine at Palo, I did get to sample one of their pasta dishes at a special influencer lunch at Tiana's Place. The special menu was a compilation of dishes from the different restaurants so naturally, I had to try the entry from Palo since I knew I wouldn't be going this time out.
I had a delicious penne pasta with tomato sauce and ginormous shrimp. Yum yum yum!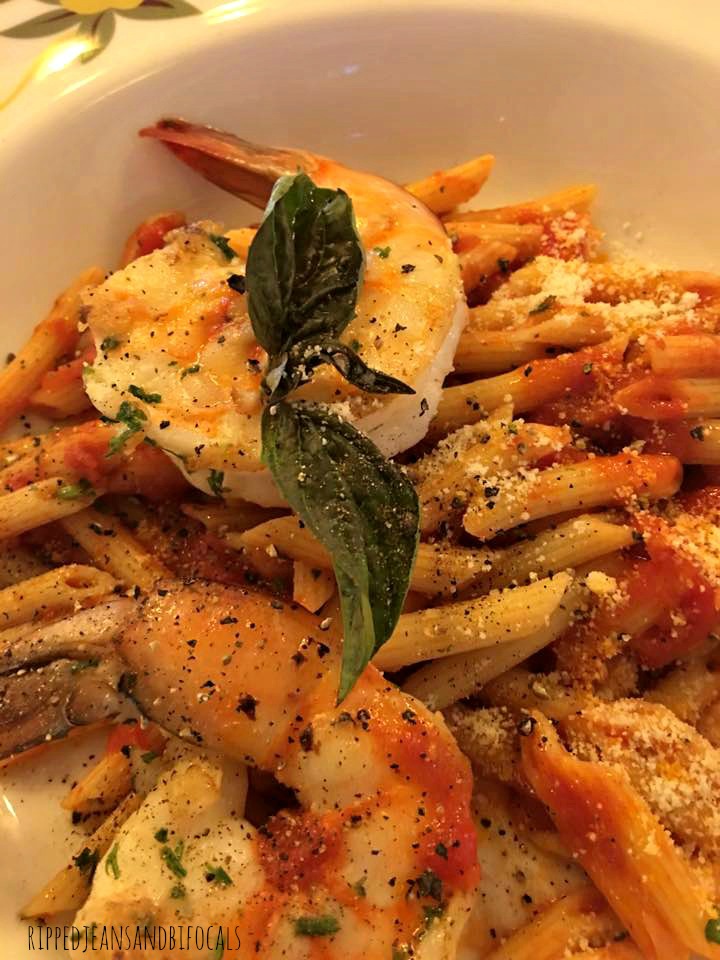 Sully's Sips
Sully's Sips on Deck 9 sells smoothies and specialty coffee drinks for a small extra fee. Our boys enjoyed a delicious strawberry banana smoothie. The prices are reasonable and the portion was generous.
Alcohol and specialty drinks
Disney Cruise Line does not offer an alcohol package but we found the adult beverages to be reasonably priced. If you order a drink from one of the bars (or accept a drink from a tray at the Sail Away Party) the server will ask for your Key to the World Card and charge it accordingly. You can ask your dinner server about wine packages on your first night. If you like wine with dinner, you can pre-purchase bottles at a discount. The wine is "cruise ship expensive" but you'll save a few bucks if you buy the packages. If you don't finish the wine with your dinner, you can have it brought to your stateroom or saved for a future meal.
Our servers in the dining room offered information about kid's specialty drinks tableside – usually some kind of smoothie in a souvenir cup.
Coffee and tea are free but if you want a cappuccino or any type of specialty coffee drink, there will be a nominal charge.
There is also a charge for bottled water (both on the ship and in Castaway Cay.) You can purchase beer packages and bottled water packages on the ship and on Castaway Cay (look for the table as soon as you disembark) and some come with a souvenir cooler.
Concessions
There are popcorn and other munchies sold at the counter as you make your way into the Walt Disney Theater for the amazing shows. These items are not included in the cost of your cruise.
A bit about special diets/restrictions…
My family can eat anything and everything – and we do. Sigh. But, every server meeting us for the first time asked about food allergies or restrictions. I talked to some of my fellow cruisers who had various dietary restrictions and they had rave reviews about how accommodating Disney Cruise Line is. They appreciate advance notice and it's easy to make contact before sailing, but if you can't eat dairy, wheat, nuts or whatever, the chefs go out of their way to make you something delicious. Each dinner menu had vegetarian options. I didn't order any but I almost did. I know…almost doesn't count and if we'd been on a longer cruise, I probably would have because I enjoy a meatless meal here and there. I heard from some vegan passengers in my Disney Social Media Moms group and they were very happy with the food that was available.
I have only good things to say about our dining experiences on the Disney Wonder. I won't mention the six extra pounds my scale had the nerve to display when I got home or the sad fact that no one brings me warm cookies and milk before bed at night. I should look into that.
If you enjoyed reading this post, please give me a vote on Top Mommy Blogs my clicking the button below. It's super easy and helps my site A TON.