Castaway Cay (pronounced key) is Disney's private island in the Bahamas. Castaway Cay is a stop on many Disney cruises and let me tell you, it is not to be missed!
Disney. Private Island. Bahamas. Cruise.
All of the above things point to the fact that Castaway Cay is a pretty sweet place to hang out. If you are Disney cruising to the Caribbean, chances are you'll stop by Castaway Cay for a day. Some of the longer Caribbean Cruises include two stops at this beautiful island…but only Disney cruises. You won't see Royal Caribbean, Carnival or anyone else, no siree!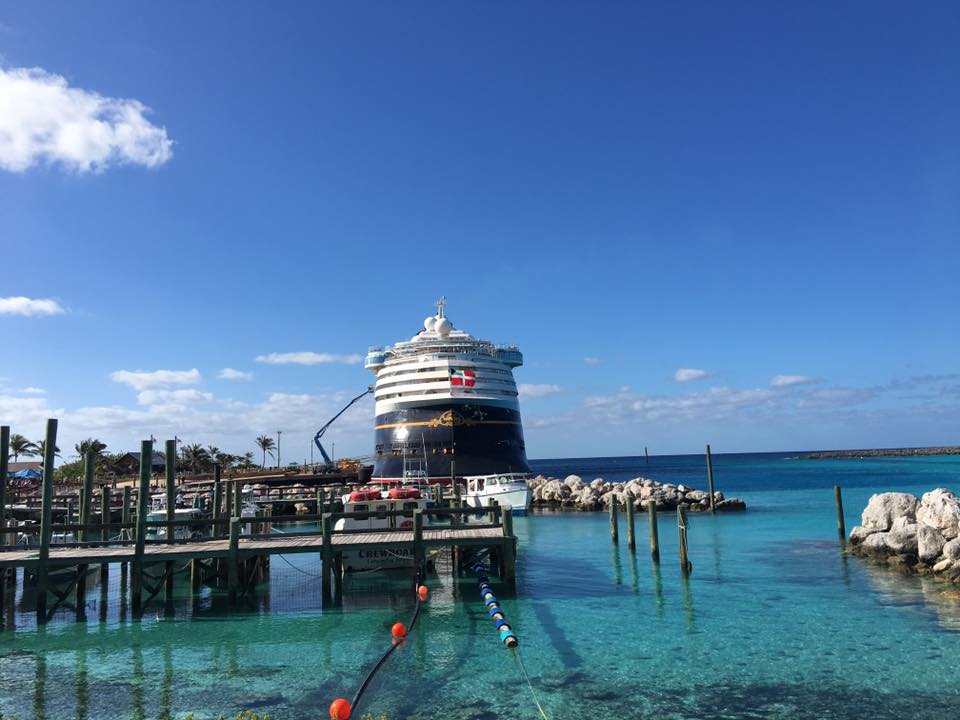 How to get the most out of Castaway Cay
Seriously. I've been to Castaway Cay and we've been scoping out the Disney Cruise Line's 2018 schedule HARD. There are a couple of cruises that include TWO stops at Castaway Cay and I'm not gonna lie….those are at the top of my travel bucket list.
I had the opportunity to take a cruise on the Disney Wonder as part of the 2017 Disney Social Media Moms Celebration. I did pay a fee for the conference and my travel to Orlando but the trip came with a ton of perks and discounts. I'm not being compensated to write this post and all opinions are mine alone. I'm sharing this solely in the interest of helping other families plan their vacation travel. And spreading a little love and pixie dust, of course.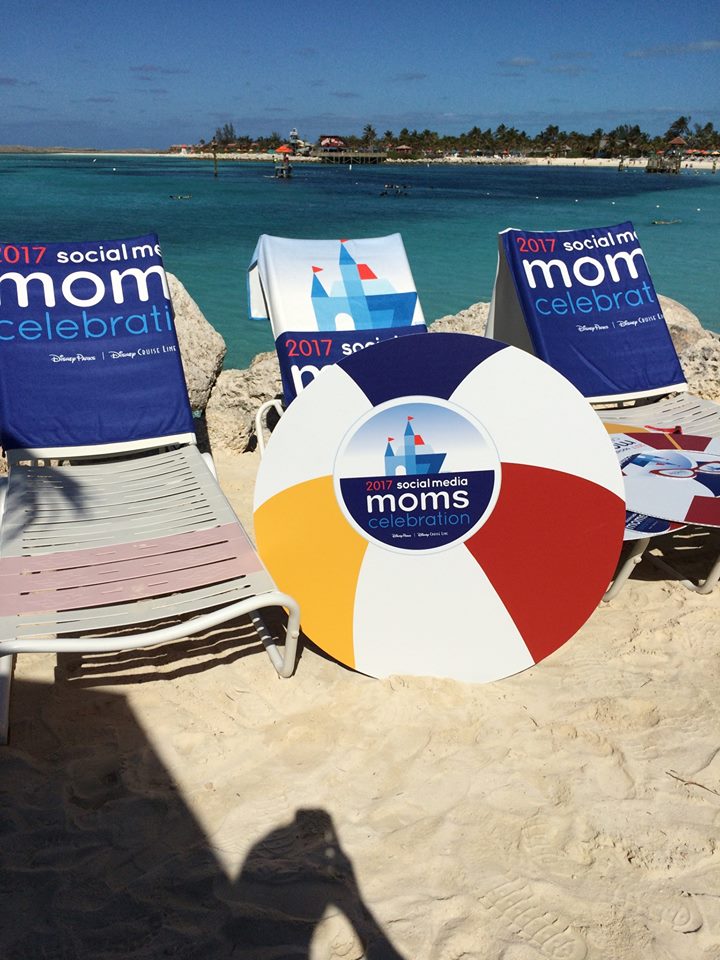 Here are my top 10 tips on how to get the most out of Castaway Cay:
Don't think about not getting off the ship
If you're an experienced cruiser, you know that the ship's amenities are wonderfully uncrowded when the ship is at port. You have your pick of deck chairs, spa appointments, and the lines are nonexistent.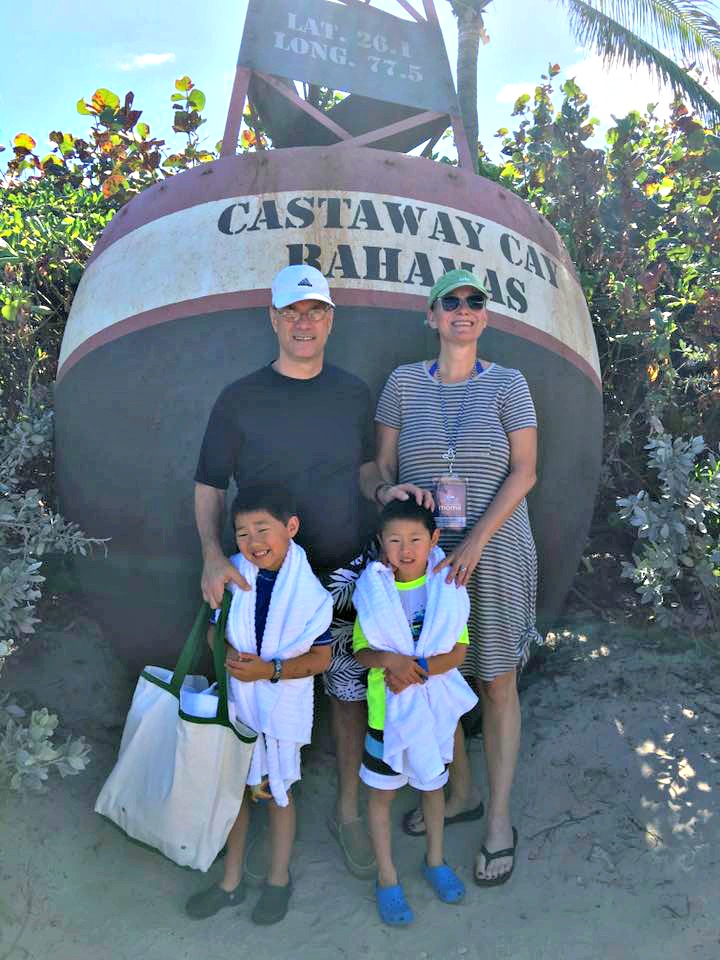 Get off the ship. Don't miss Castaway Cay. You might just have to trust me on this one. When we were in the planning phase of our Disney cruise, I mentioned to one of my Disney Cruise veteran friends that we "might just stay on the boat" while at Castaway Cay and the look of horror on his face was epic. Now that I've experienced the magic myself, I completely get it.
Get off the ship.
Don't forget your Key to the World Card 
Your Key to the World Card (AKA your room key) is your key (see what I did there?) to re-boarding the ship. You will also need your Key to the World Card to charge any purchases you make on the island. Food and most non-alcoholic drinks are free but there are charges for most everything else.
Book your excursions beforehand
There are so many cool things to do on Castaway Cay. If you want to sit in a beach chair and zone out all day, that's cool…that's pretty much what I did and I have zero regrets about that.
But, if you'd like to be more active, you have your pick of options. Check them out here and then book before you sail.
Oceaneer Club
Disney's Oceaneer Club is the (super awesome) on board kids club. My kids absolutely loved all aspects of the Oceaneer Club and I can't say enough good things about it.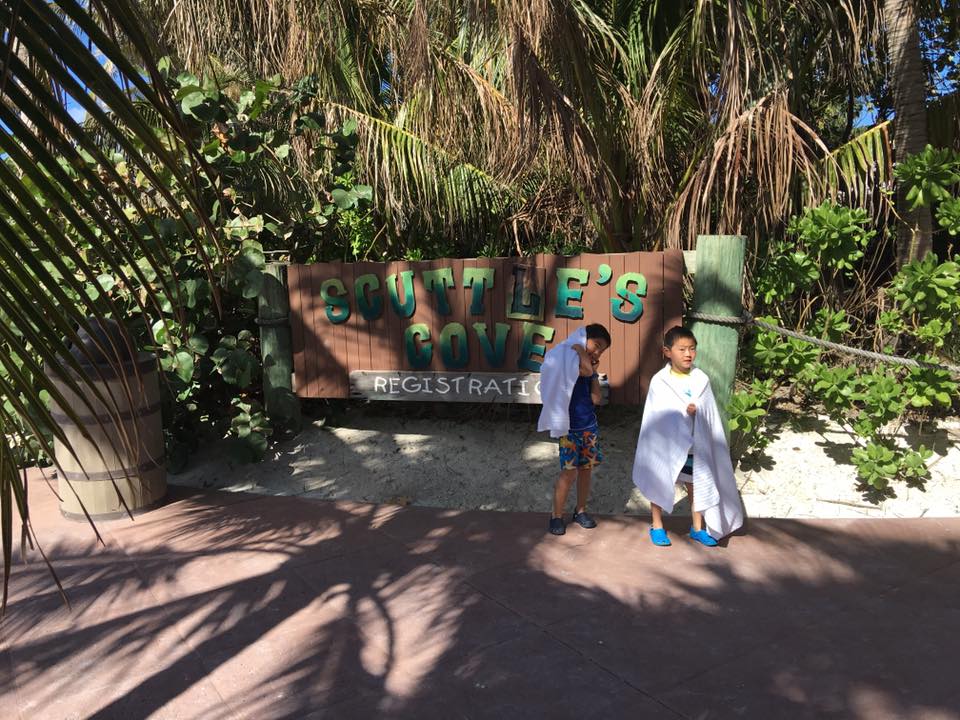 If you want to know more about it, you can check out my comprehensive post on Disney Cruises  for more info. When the ship drops anchor at Castaway Cay, the Oceaneer Club moves to Scuttles Cove on the island. The wonderful staff keeps your small humans busy and entertained and, if they're there during lunchtime, they'll make sure they get fed. There is plenty of sand (a LOT of sand) and a water play area.
Getting Around
Castaway Cay is about 3 miles long and 2 miles wide. There's a free tram that runs around the island.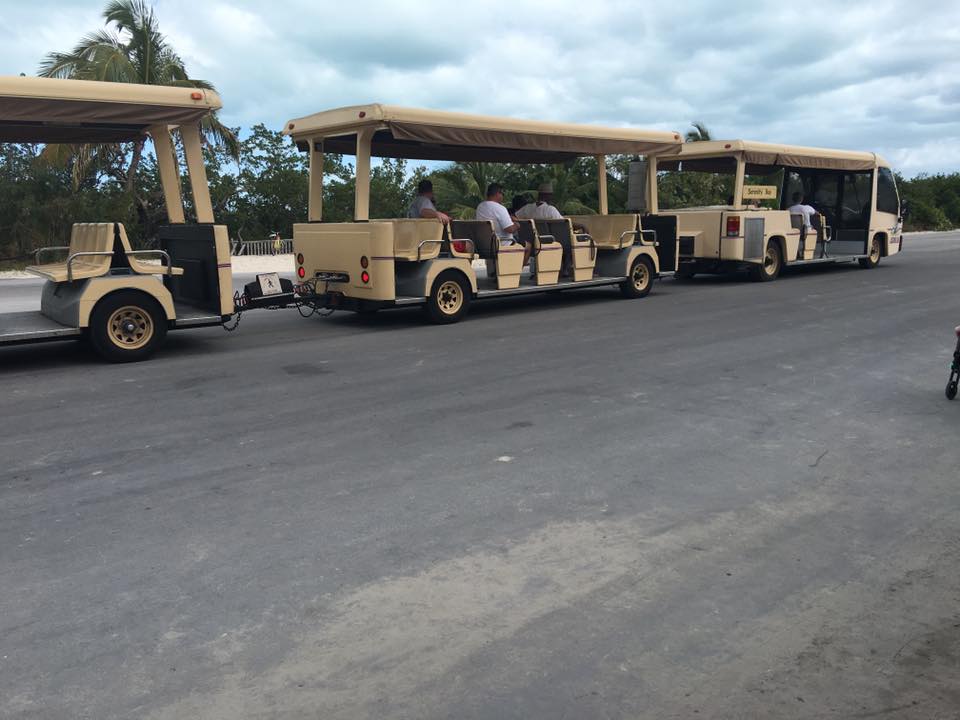 The stops are clearly marked and the wait times for a ride are short. You can walk or rent a bike around the island as well but we found the tram was the way to ride in style and comfort. Take the opportunity to talk to other guests…we learned a ton about Disney Cruises and Run Disney by chatting with people while waiting for the tram on Castaway Cay. Winning.
Photo Ops
The magic of posing for pictures with your favorite Disney characters doesn't get old. I remember the first time I got my picture taken with Minnie Mouse at the Magic Kingdom as if it were yesterday…and trust me, friends, it was way longer than yesterday.
Your favorite Disney characters are in nautical attire on board the Disney cruise ships – except for pirate night when they're wearing…wait for it…pirate garb. If you're visiting the Disney Parks before or after your cruise then you'll get tons of amazing photos with your favorite Disney friends, but the pictures on board a Disney cruise are just extra special. Mickey, Minnie and your other favorites will be in bathing suits on Castaway Cay which makes for some really fun pictures.
Check your Navigator for meet and greet times and plan accordingly because there will be lines.
Eat Early!
Food and non-alcoholic beverages on Castaway Cay are included in the price of your cruise. Check out Cookies or Cookies Too, or the food-service option near Serenity Bay, the adults only beach.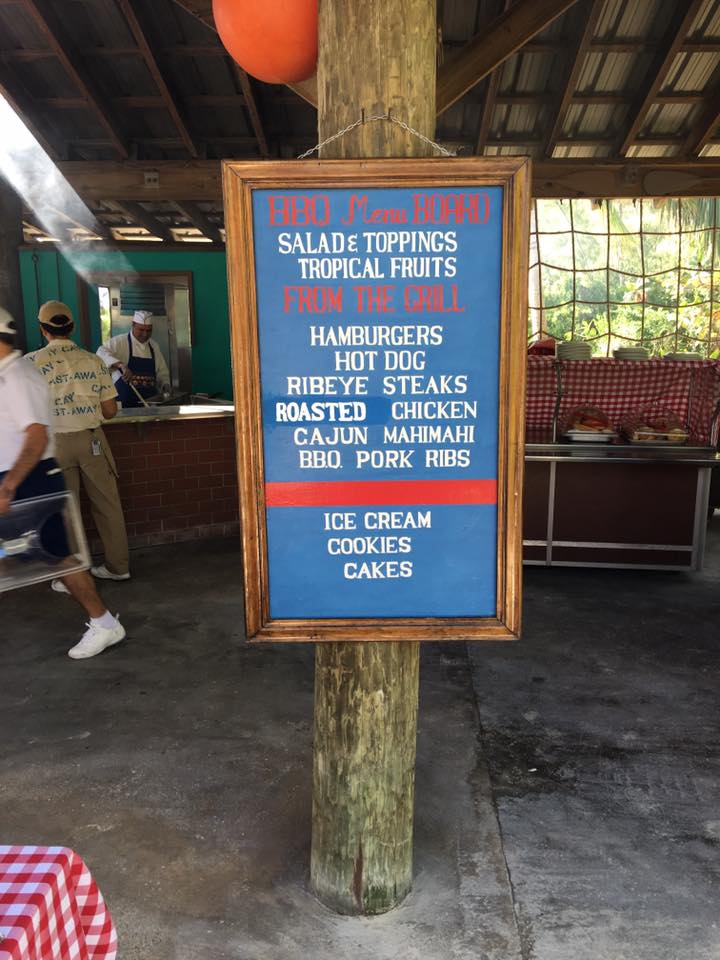 The restaurants close around 2 p.m. so when you see people start lining up for lunch, follow the herd. We ate at Serenity Bay, the adults only beach since my kids were in the Oceaneer Club on the island. We heard a rumor that they were serving grilled ribeye and guess what? They were, and it was delicious!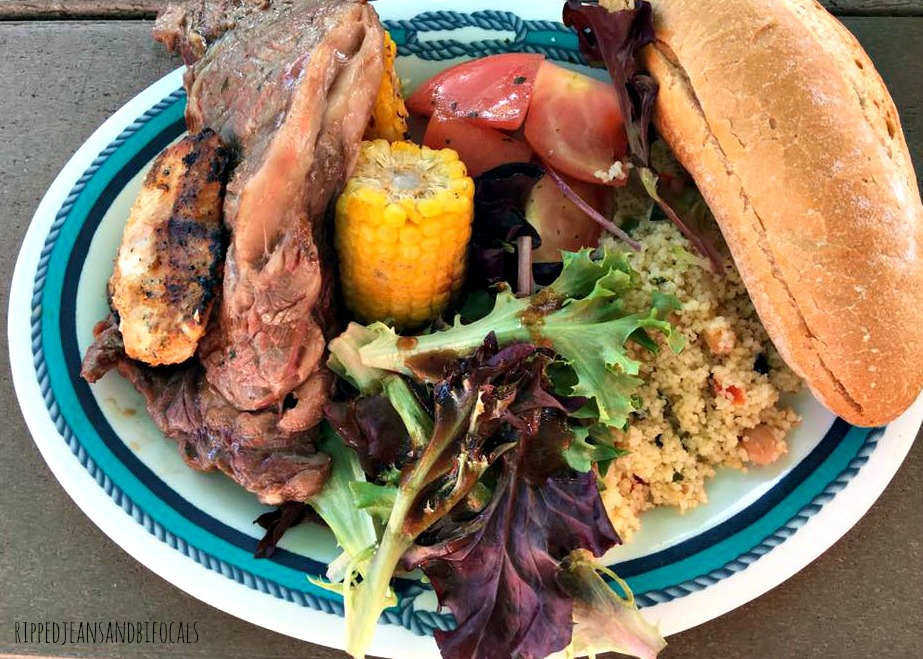 There are still dining options on board the ship if you'd rather but the food on Castaway Cay was very good and I don't recommend skipping.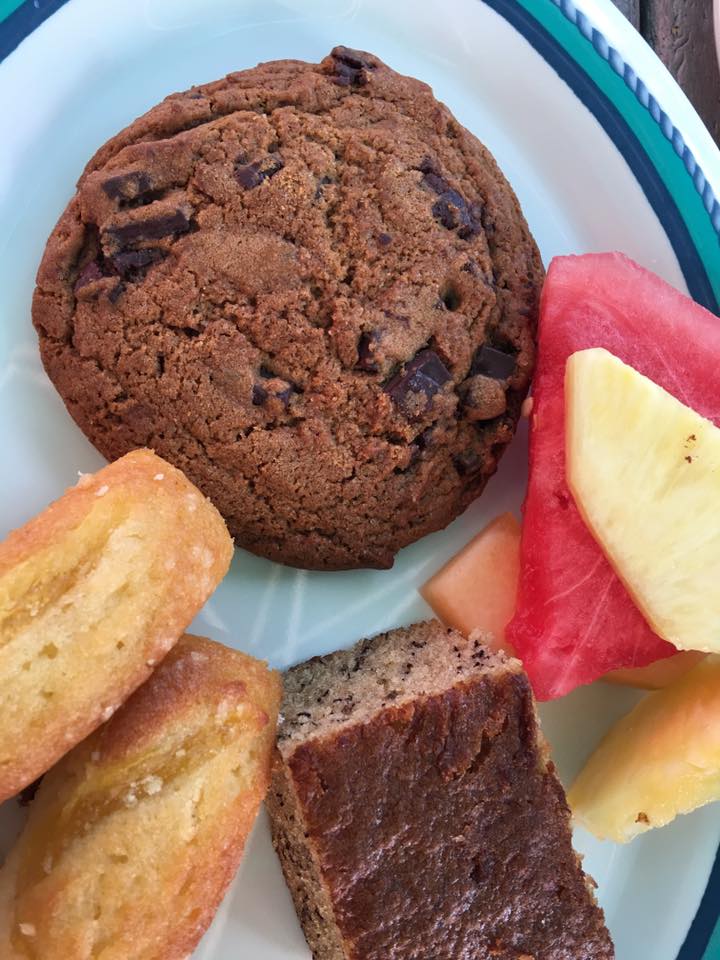 Serenity Bay
Serenity Bay is the adults-only beach on Castaway Cay. It. Is. Heaven.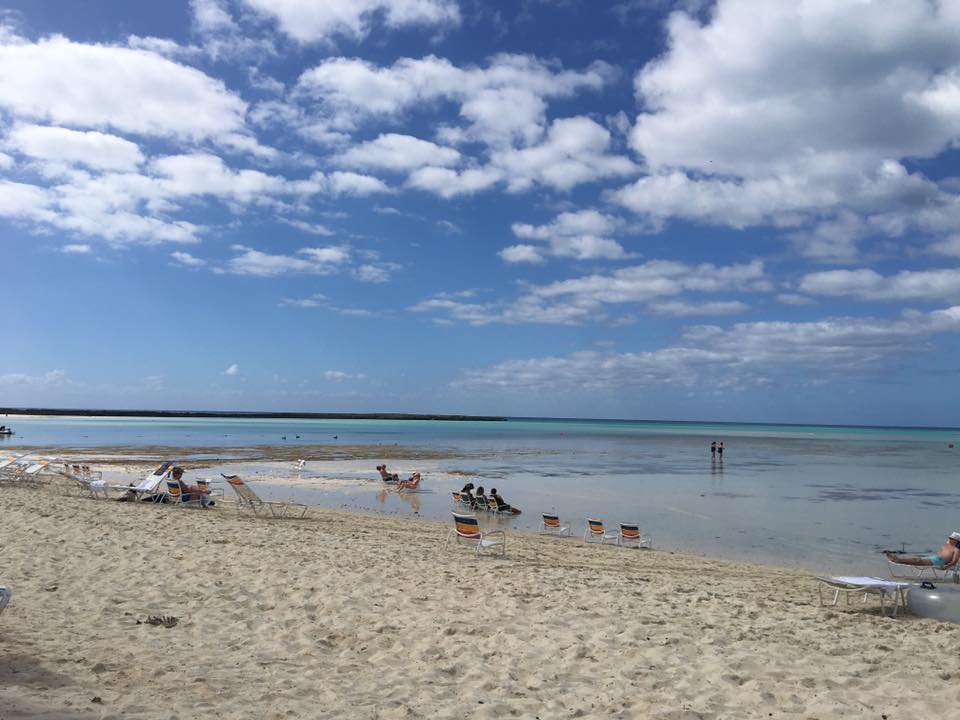 There is a lovely family beach as well but our kids stayed in Scuttles Cove for most of the time we were on the island while my husband and I unplugged. Zero guilt, zero regrets. We had a ton of family time on this trip and taking a few hours just to be "us" was seriously the best part.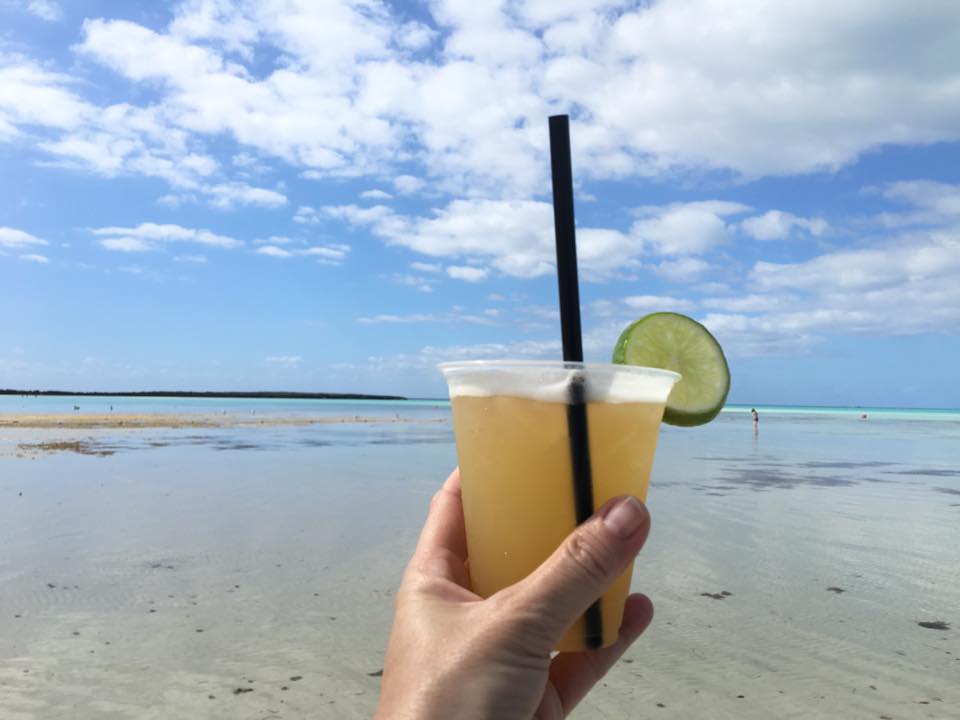 Souvineers
There are some really fun Disney souvineer options on Castaway Cay. The Castaway Cay merch is only available on the island, and, if you're a pin collector, then you'll want to get the exclusive pins that are only sold on the island.
Do the 5K
Check your Navigator for info on how to register (which is basically just showing up at a designated time) and other details. Don't worry if you're not a hardcore runner. There were plenty of people walking and even strolling. Costumes are optional but you'll see lots of people in Disney-inspired running attire. The event is free and open to passengers 10 and up. You get a bib and a "medal" at the end which is actually made of rubber. I still display it with the rest of my race hardware, though.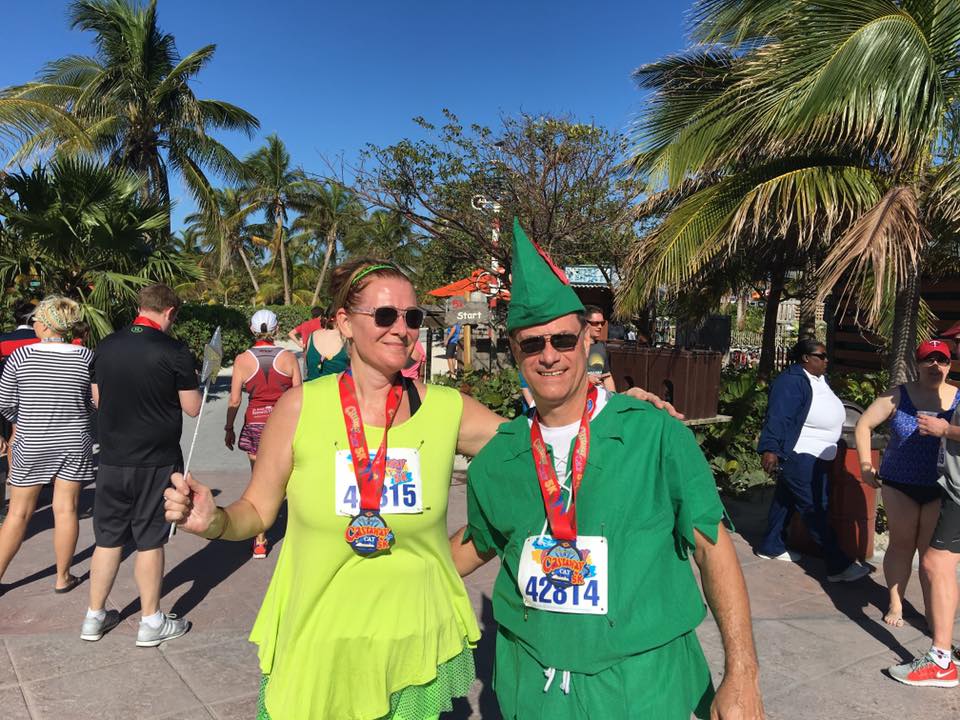 If you want additional memorabilia you can purchase Castaway Cay 5K tee shirts and such on the island. There is clock timing, water and the halfway point and there is lots to look at and lots of photo opps along the way if you want to stop.
One advantage to running the Castaway Cay 5K is that you're the first people off the ship. One thing I didn't realize is that we could have walked our kids off with us and checked them into the Oceaneer Club/Scuttles Cove before we started the race. We had a friend from our travel group watch the boys in our cabin while we ran and then high-tailed it back on to the ship to get our kids to take them off the ship. Had we known, we could have planned a little better but it was all good.
I have a little bit of FOMO about the things we didn't do but there is no possible way you can do it all in one day. At the time, a d0-nothing, adults-only beach day was exactly what needed to happen for me. Besides, I have a ton to look forward to for next time. And oh yes, there will be a next time. Believe it.
The pictures in no way do this place justice. If you're tantalized by the lovely white sand and crystal clear blue water, it's a thousand times better in person.
Thanks for reading!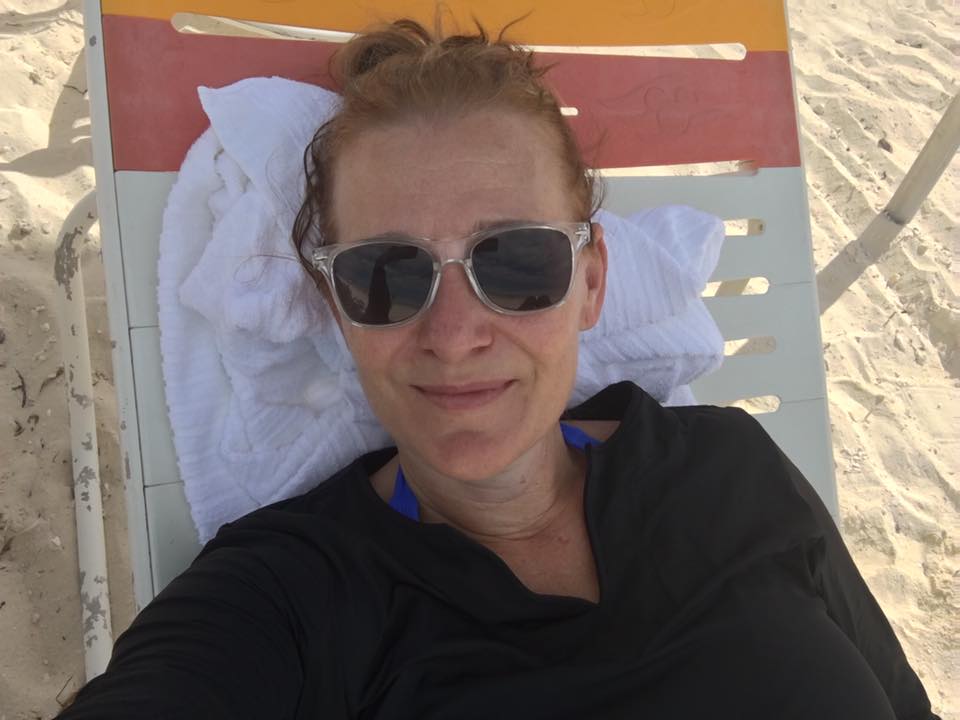 More Disney Cruise Tips:
How to pack for a Disney Cruise
10 Tips to help you get the most out of Castaway Cay
14 Things that Are Awesome About a Disney Cruise
(Visited 18,074 times, 13,641 visits today)