11 Tips to help you get the most out of Castaway Cay
(This post may contain affiliate links. Read my full disclosure.)
Castaway Cay (pronounced key) is Disney's private island in the Bahamas. Castaway Cay is a stop on most Disney Cruises leaving from Port Canaveral and Miami and let me tell you, it's as pretty close to a little slice of heaven as you're going to get on this earth. It's the place on this earth that I'm the happiest.
Disney. Private Island. Bahamas. Cruise. All of the above things point to the fact that Castaway Cay is a pretty sweet place to hang out. Some Disney Cruises include two stops at Castaway Cay – how awesome would that be?
11 Tips to help you get the most out of Castaway Cay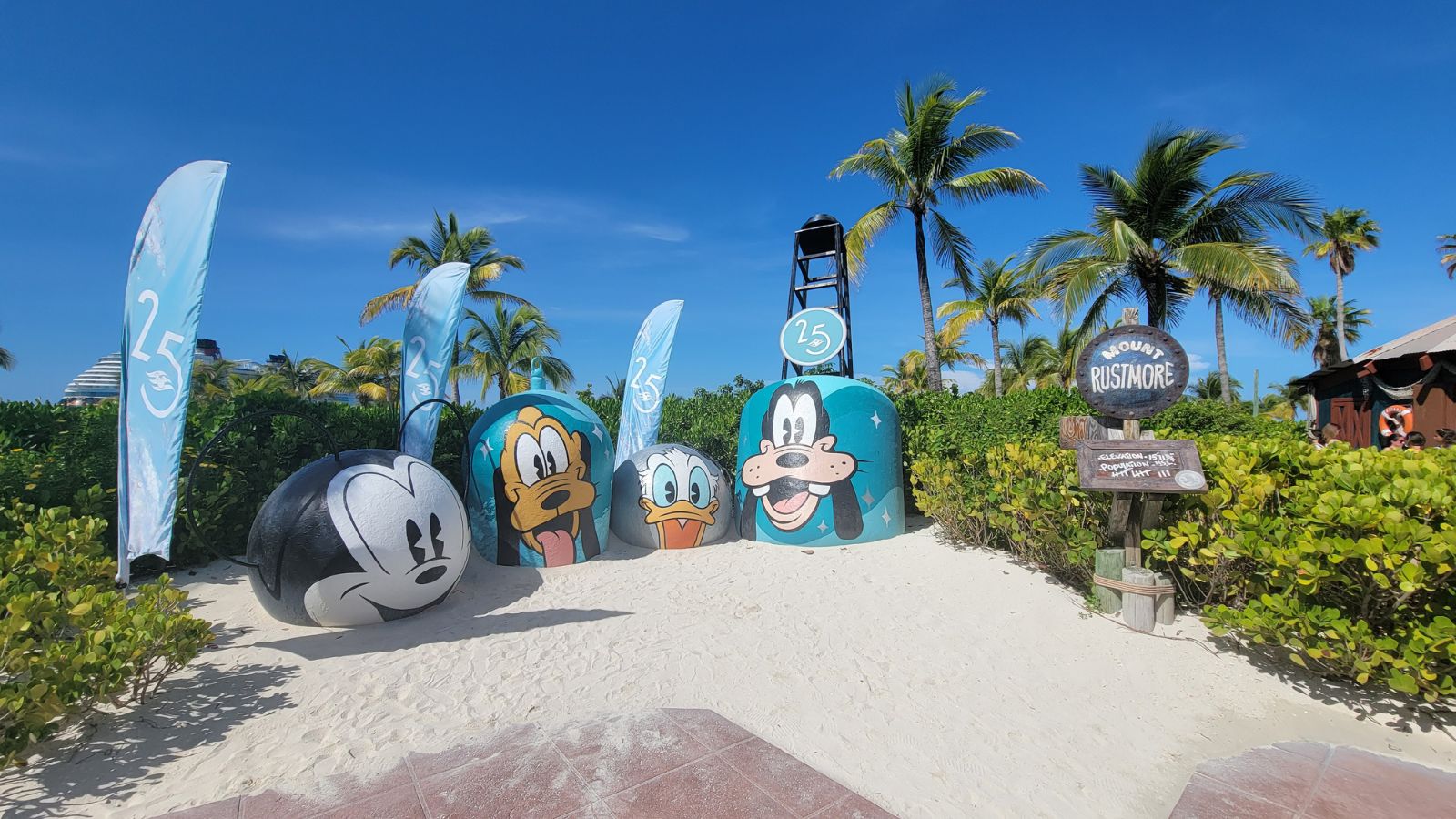 Whether you have one day on Castaway Cay or two, you'll want to make the absolute most of your time there. It will go by all too quickly, as most enjoyable things do. These tips will help you get the most juice out of the squeeze.
If you're an experienced cruiser, you know that the ship's amenities are wonderfully uncrowded when the ship is at port. You have your pick of deck chairs and spa appointments, and the lines are nonexistent.
Get off the ship. Don't miss Castaway Cay. You'll find beautiful, uncrowded beaches with just the perfect amount of Disney theming.
2. Know what you need to take off the ship with you
Your Key to the World Card, also known as your room key card, is required to re-board the ship. You can use it on Castaway Cay to charge purchases you make on the island to your stateroom. Food, soft drinks, and soft-serve ice cream are included in the cost of your cruise but you'll pay extra for alcohol, certain non-alcoholic specialty drinks, souvenirs, and equipment such as floats and snorkel gear. Adults also need to take a form of identification. This will be covered in the announcements that are broadcast on the ship's public address before you disembark.
Other than that, you'll need whatever you'd normally take to enjoy a day at the beach: sunscreen, sunglasses, hats, and sand toys. If you forget any of the above, they're available in the gift shops on the ship and on Castaway Cay. Beach towels are provided on Castaway Cay so no need to bring your own or take the bath towels from your stateroom.
If you have younger kids who enjoy playing with sand toys, I recommend you pack a couple of things in your luggage and take your own. They sell sand toys on the island but they are more expensive so grab a few fun things from Amazon before your trip and save some money.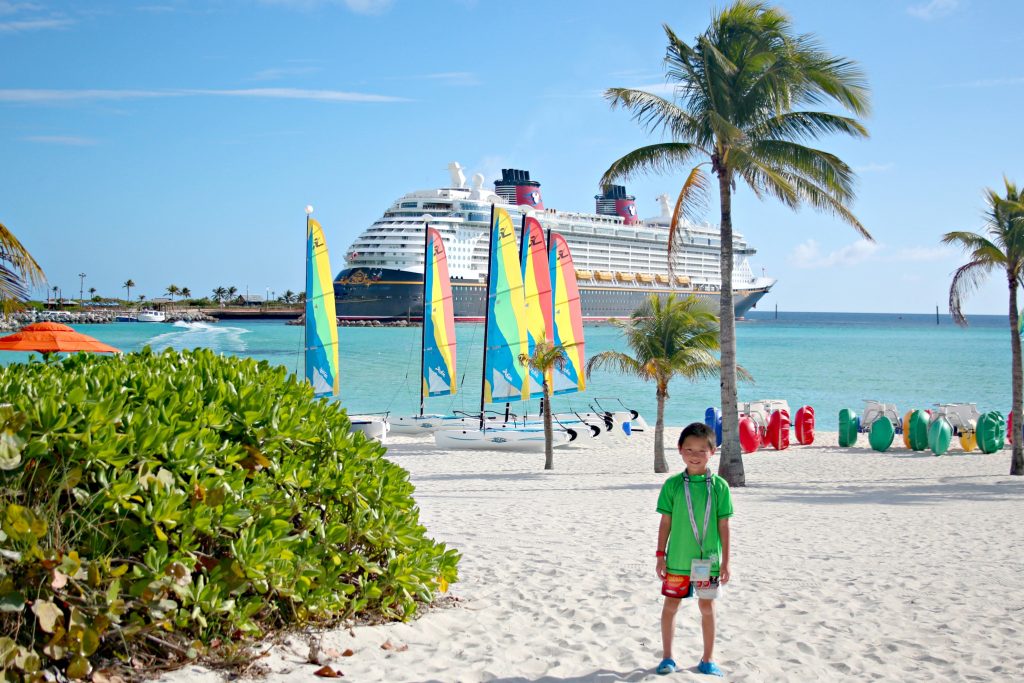 3. Activities and port adventures
There are so many cool things to do on Castaway Cay. If you want to sit in a beach chair and zone out all day, there's no prettier place to do it.
But, if you'd like to be more active, you have your pick of options. You can rent paddleboards, bikes, jet skis, and other equipment or book a tour or experience. You can also book a beach massage on Castaway Cay, although I prefer getting my massages on board the ship, where there is air conditioning.
Disney Cruise Line Booking Window
There's a booking window for when you can sign up for on-board activities and port excursions so if there's something you have your heart set on doing, make sure you sign up as soon as your window opens.
First-time cruisers – 75 days
Castaway Club Silver – 90 days
Castaway Club Gold – 105 days
Castaway Club Platinum/Concierge – 120 days
Castaway Club Pearl – 123 days
My husband and I enjoy snorkeling but we bring our masks and fins with us. Snorkelers on Castaway Cay are required to wear a safety vest, which you can borrow free of charge at the same place you rent masks and fins. If you don't have snorkeling gear, the prices are pretty reasonable.
4. Youth activities move to the island
Disney's Oceaneer Club is the onboard club for kids 3-12. My kids loved all aspects of the Oceaneer Club and I can't say enough good things about it.
If you want to know more about it, you can check out my comprehensive post on Disney Cruises for more info. When the ship drops anchor at Castaway Cay, the Oceaneer Club moves to Scuttles Cove on the island. There's a splash pad in Scuttles Cove, although you'll probably want to pull your kids out to enjoy swimming in the ocean and the fantastic water slides.
Edge, the tween club, and Vibe, the teen club, currently have two-hour meetups on Castaway Cay. Check your navigator (Disney Cruise Line app) for times. Kids attending Edge and Vibe don't need to be signed in and out and can come and go as they wish, so if you have expectations of meeting up at a particular time/place on the island, make sure you communicate that to your older kids.
5. Getting Around Castaway Cay
Castaway Cay is about three miles long and two miles wide. There's a free tram that runs around the island. You can also rent a bike.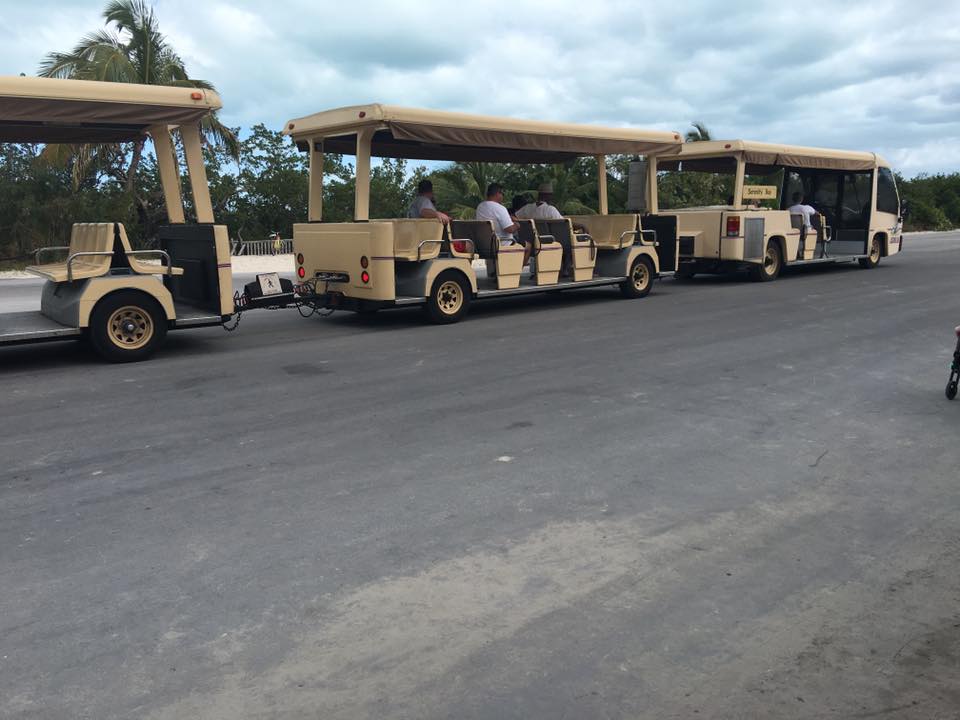 There's also a walking path that runs from where the ship is docked to the family beach area. It's a 10-15 minute walk with lots of photo opportunities. I don't recommend walking all the way to the adult beach, Serenity Bay, although you can if you want to walk off some of that cruise food.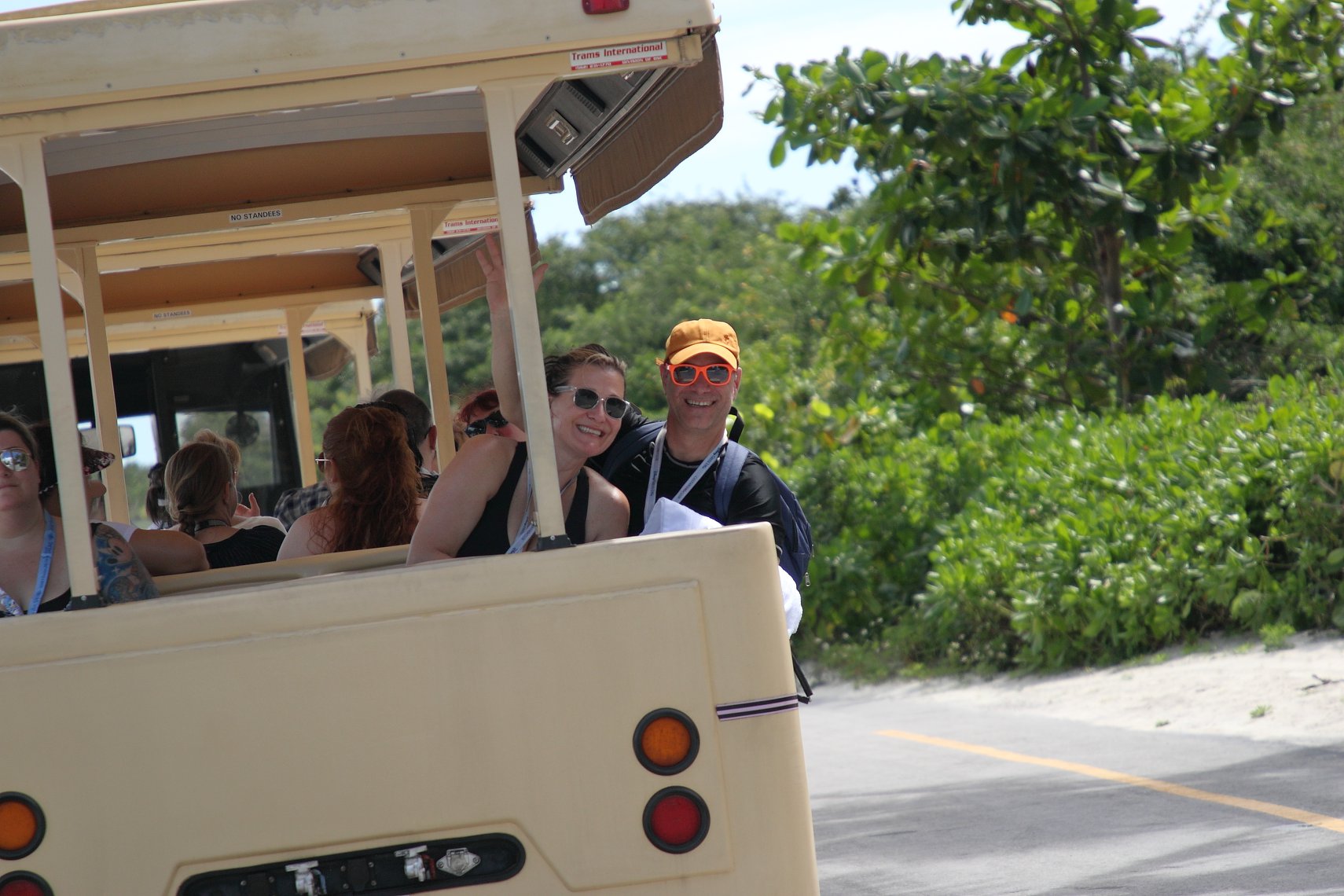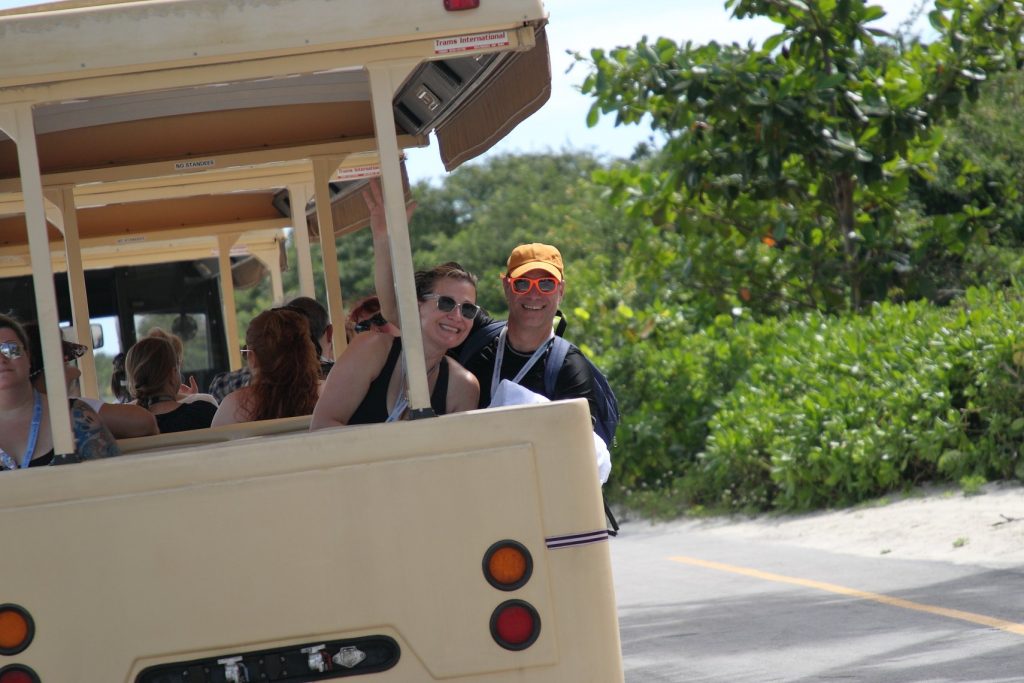 6. Photo Ops
The magic of posing for pictures with your favorite Disney characters doesn't get old. Your favorite Disney visits Castaway Cay in their swimwear, which makes for some fun pictures you won't get any place besides Castaway Cay. Even if you don't meet characters, there are still plenty of places to snap memorable pictures.
7. Eat Early
Food, soft drinks, and unlimited soft-serve ice cream on Castaway Cay are included in the price of your cruise. There are three places to grab lunch, which is served buffet style: Cookies, Cookies Too, and Serenity Bay BBQ.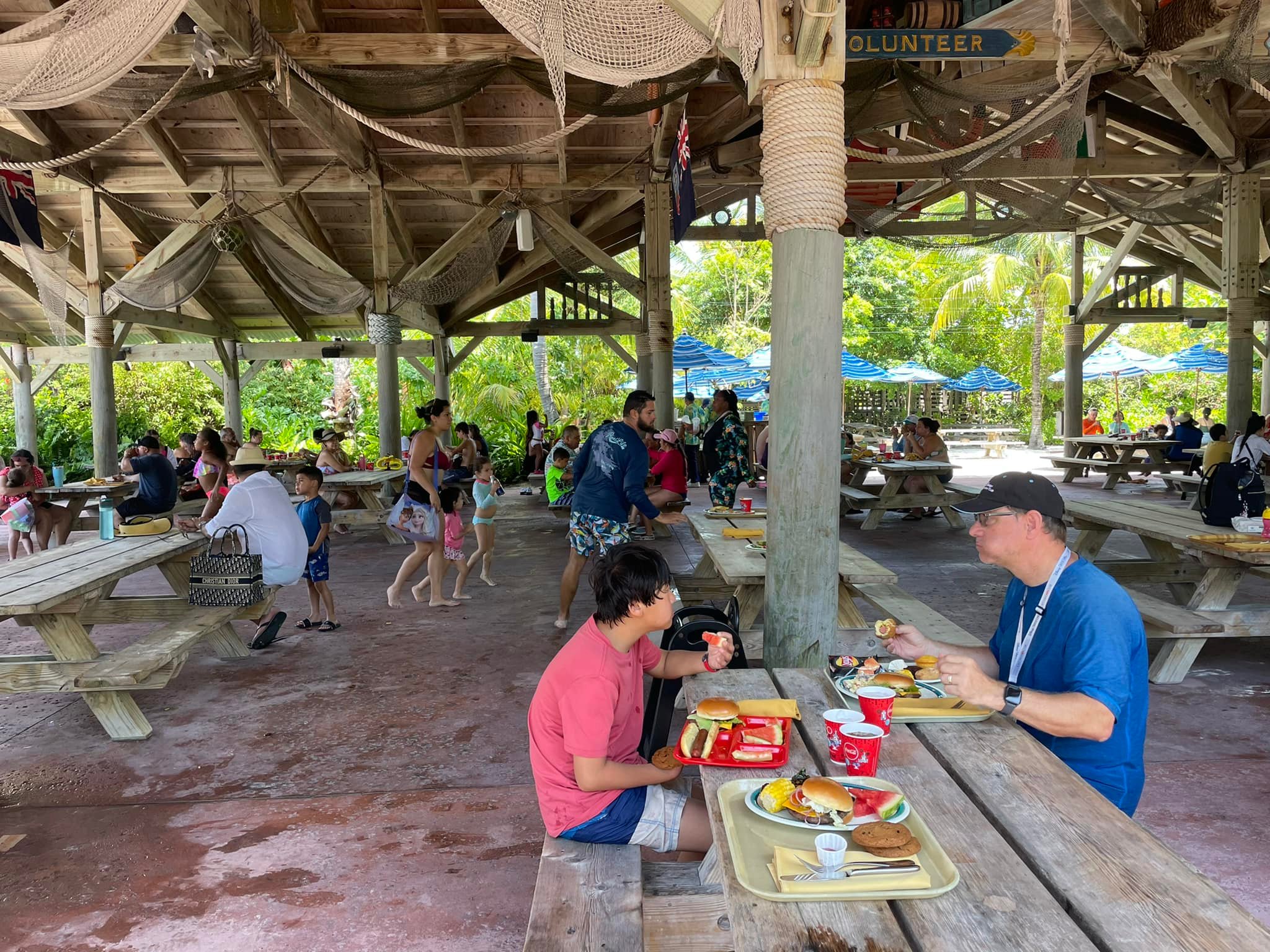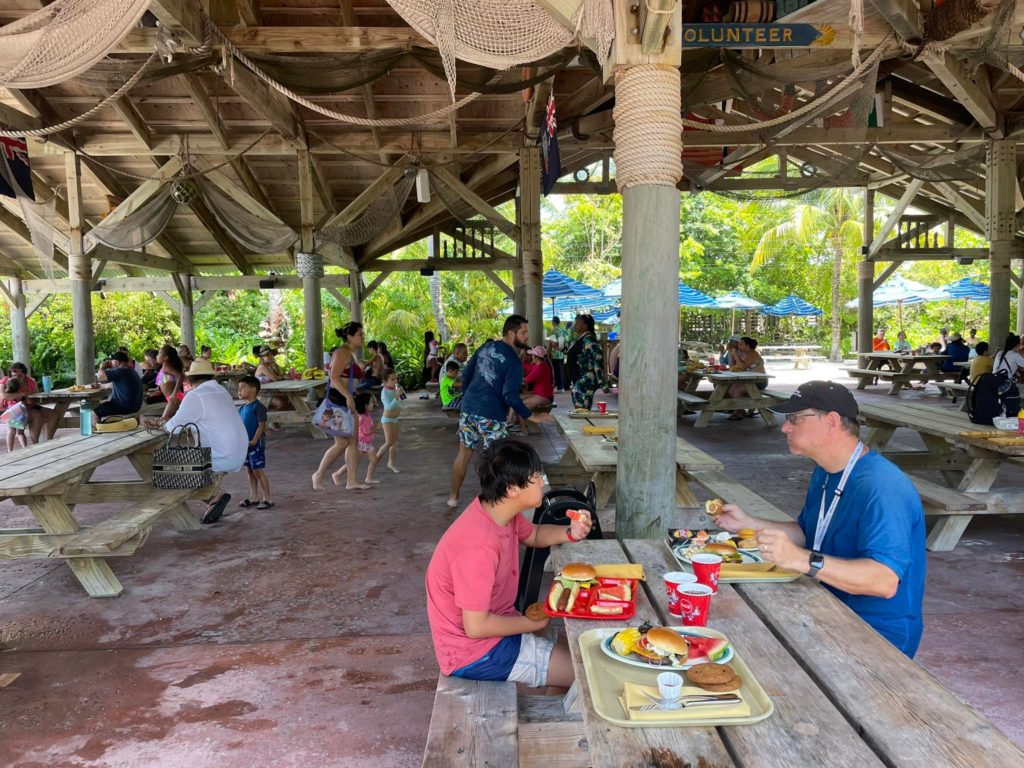 The restaurants start serving lunch around 11:30 and close around 2 p.m. so when you see people start lining up for lunch, follow the herd. Fare includes burgers, dogs, chicken, ribs, and some sort of fish, usually grilled salmon or mahi mahi. Sides include a variety of salads, fresh fruit, chips, and desserts.
Serenity Bay BBQ, located on the adult-only beach, usually has grilled ribeye steaks, in addition to the food mentioned above. Food is available on board the ship as well.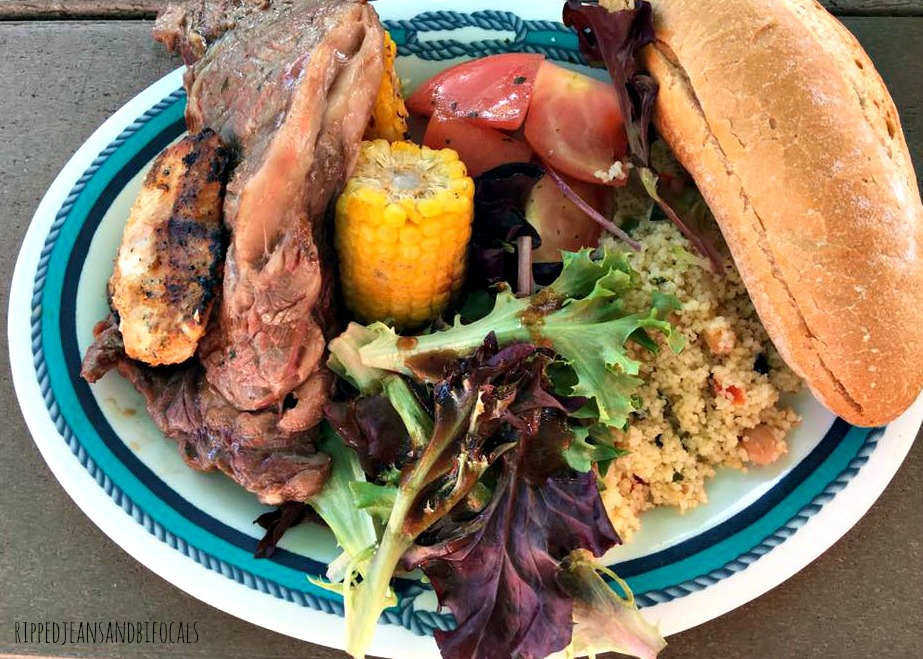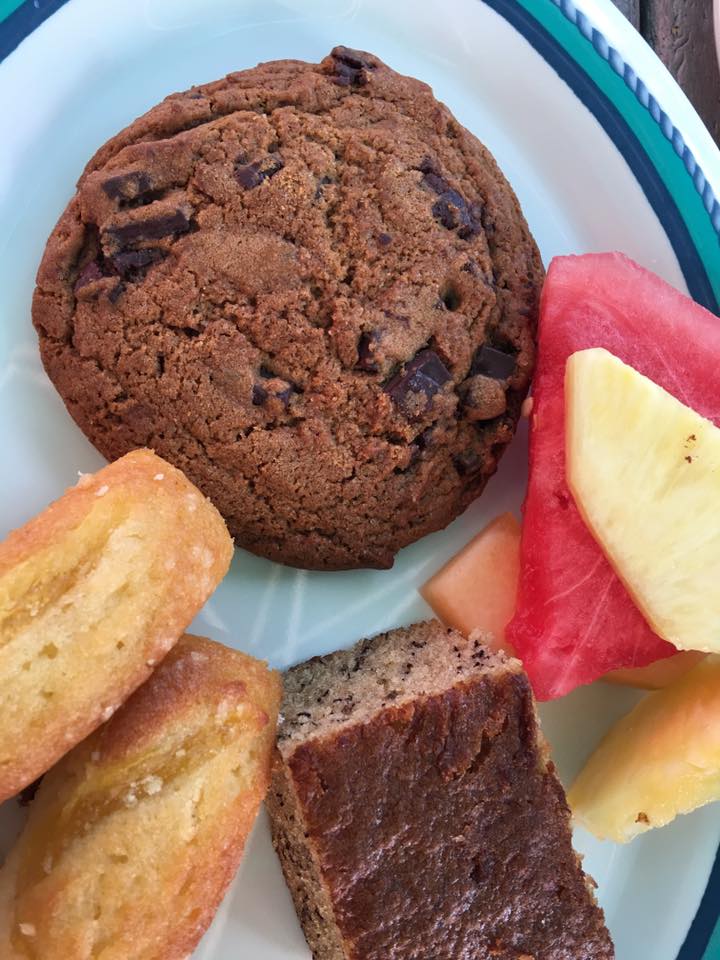 8. Serenity Bay has earned its name
Serenity Bay is the adults-only beach on Castaway Cay and it's aptly named. It's delightful and I recommend checking it out if you're able to.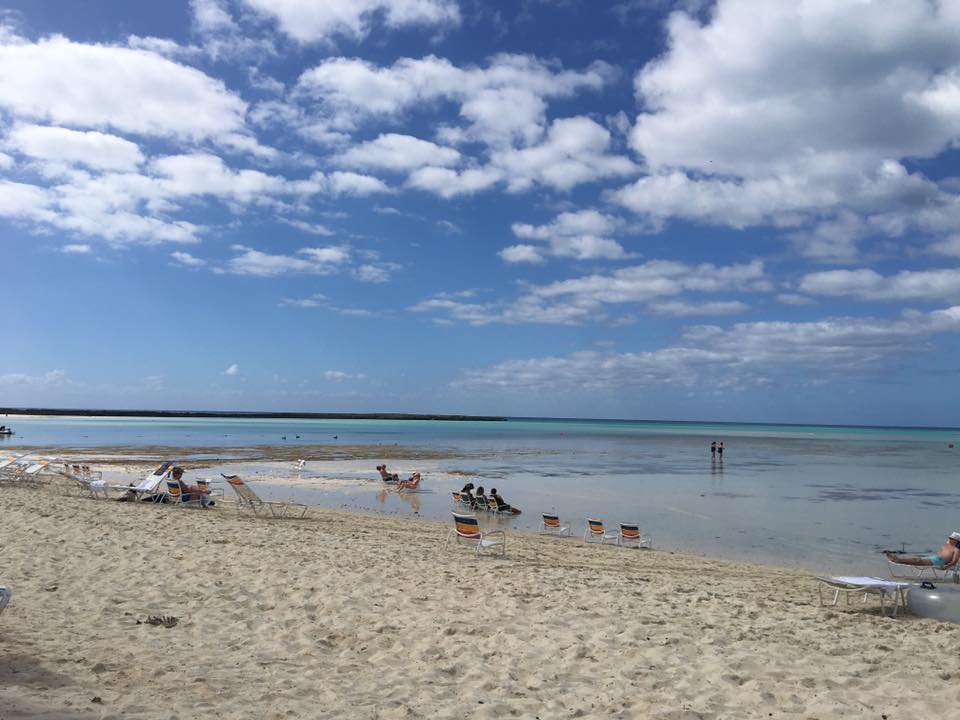 The family beaches are great but there's an element of tranquility on Serenity Bay that's pretty awesome if you've got older kids who can fend for themselves for a bit or younger kids who are happy in Scuttles Cove.
It's essentially the same beach but the water is less stirred up and it's blissfully quiet. There are also hammocks.
Cabana Rental on Castaway Cay
There are cabanas available for rent on both Serenity Bay and the Family Beaches. They're notoriously difficult to book because there are not very many and they are in high demand. Refer to the activity booking window above to see when you can book.
Disney Cruise Pro Tip: If a cabana or any activity, either on board or on Castaway Cay, is fully booked before your cruise, check with Guest Services once you're on the ship. I've also heard other cruisers walk off the chip and check for availability once they're actually on the island and get lucky. You never know when someone will decide to cancel.
9. Shopping on Castaway Cay
I'm not a souvenir person but I encourage you to take a peek in the shops on Castaway Cay. The Castaway Cay merchandise is only available on the island, and, if you're a pin collector, then you'll want to get the exclusive pins that are only sold on the island. Castaway Cay pins can often be used as leverage for hardcore pin trading for something you really want.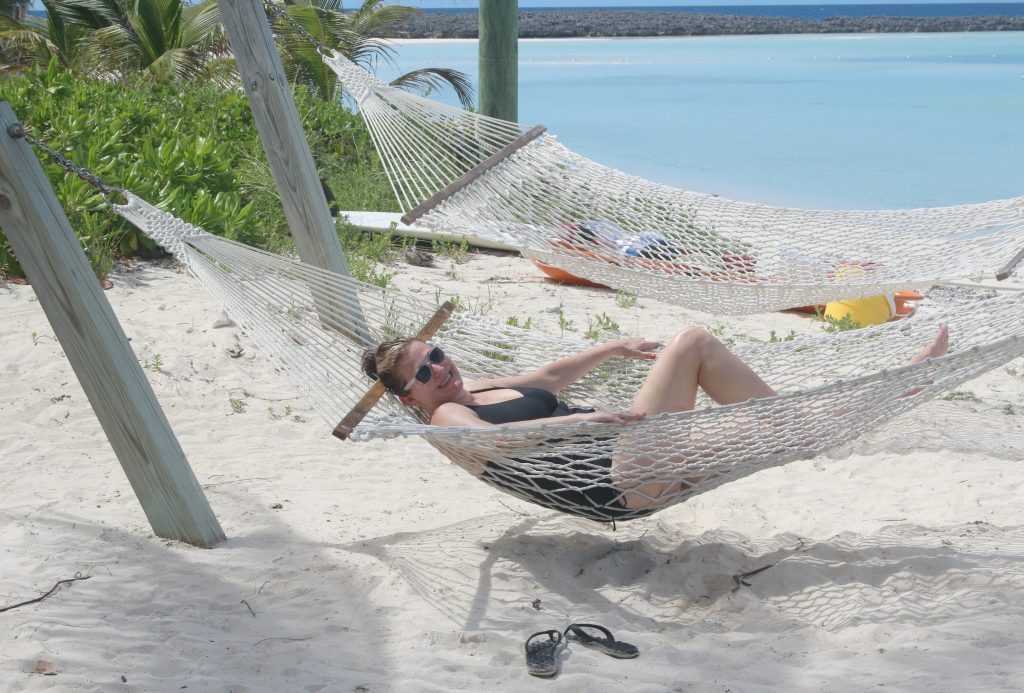 10. Drinking on Castaway Cay
Four bars on Castaway Cay serve a variety of tropical drinks and beer in aluminum bottles. You can also purchase beer packages on the ship, which may be a decent deal. We bought the beer package, which included 6 aluminum bottles of beer and an insulated bag for $56.
This worked out to be cheaper than buying beers on the island and we liked the cooler.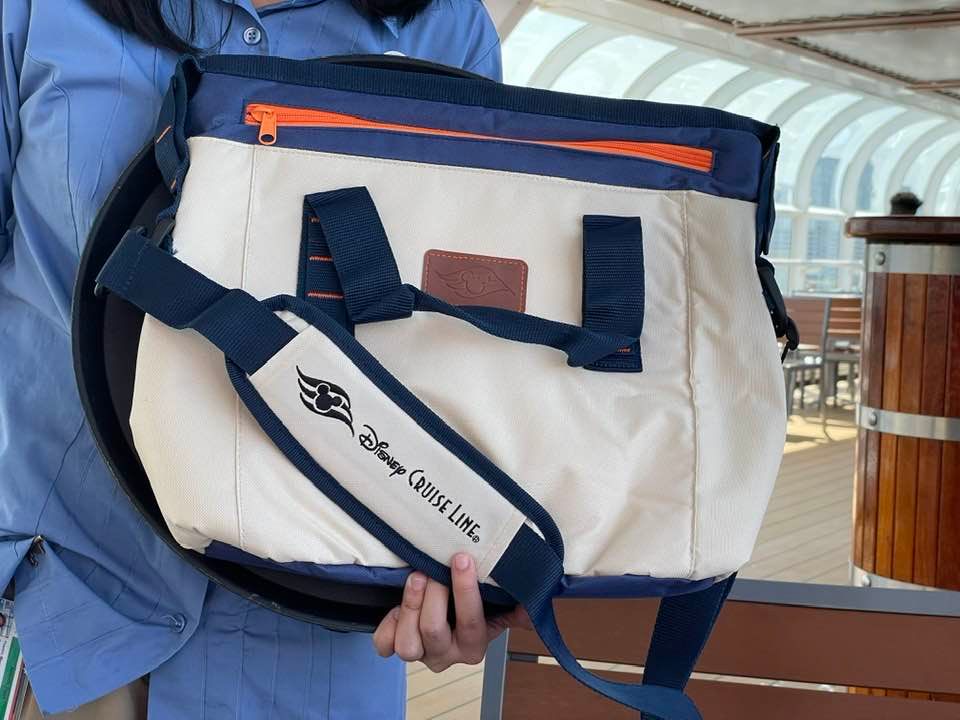 11. Do the Castaway Cay 5K – it's free!
The pre-2020 Castaway Cay 5K race was organized much like any other road race. There was a designated start time and a clock timer. The race was popular, with many passengers opting to run in Disney-themed costumes. The finisher's medal, which is actually made out of rubber, was handed out as the runners and walkers crossed the finish line. There was also a water stop at the turnaround (halfway) point.
The race is currently self-paced. Crew on the ground at Castaway Cay can give runners and walkers info on the route and the race can be done at any time instead of first thing in the morning. Retrieve your medal at the bike rental stand – you're on your honor. No one is going to verify that you put in the miles and you are on your own to keep track of your run time and stay hydrated.
Related reading: Review of the Disney Wonder
Enjoy your day at Castaway Cay
The pictures in no way do this place justice. If you're tantalized by the lovely white sand and crystal-clear blue water, it's a thousand times better in person.
More Disney Cruise Tips:
How to pack for a Disney Cruise
14 Things That Are Awesome About a Disney Cruise