Should you have a car at Disney?
(This post may contain affiliate links. Read my full disclosure.)
Should you have a car at Disney? Until recently, I had zero experience driving at Walt Disney World AKA the most magical place on earth. We drove the Mazda CX-9 on our most recent Disney trip and the experience has completely changed the way I will look at future trips. This post answers questions about driving at Disney World and the Mazda CX-9.
Should you have a car at Disney?
We live in the San Antonio area, so our Disney trips always start with an airplane ride. It's a 16+ hour drive for us. With stops, it would be a two day trip for us. Each way. So, we fly.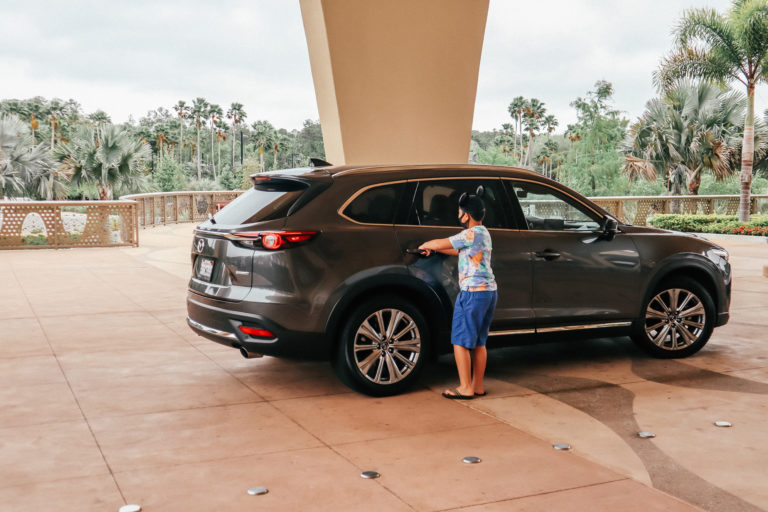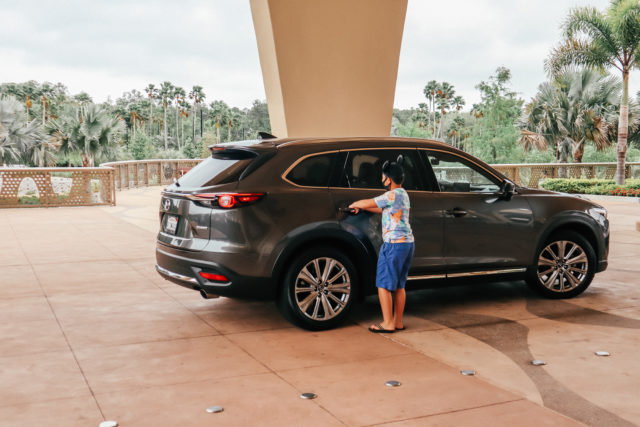 Changes to Disney Transportation:
Earlier this year, Disney announced they'd be getting rid of the Magical Express entirely in 2022. For the remainder of 2021, the buses will run but Disney no longer provides us with that magical baggage handling service.
I was seriously irked by this. I know part of what makes Disney special and unique is their ability to change and evolve. Maybe that was all well and good until they got rid of something I really like. You can read more about this change and others here.
I am mostly past this now. Mostly.
Thinking of booking your own Walt Disney World or Disneyland California vacation?
Check out my partner, Get Away Today for the best deals and white glove service.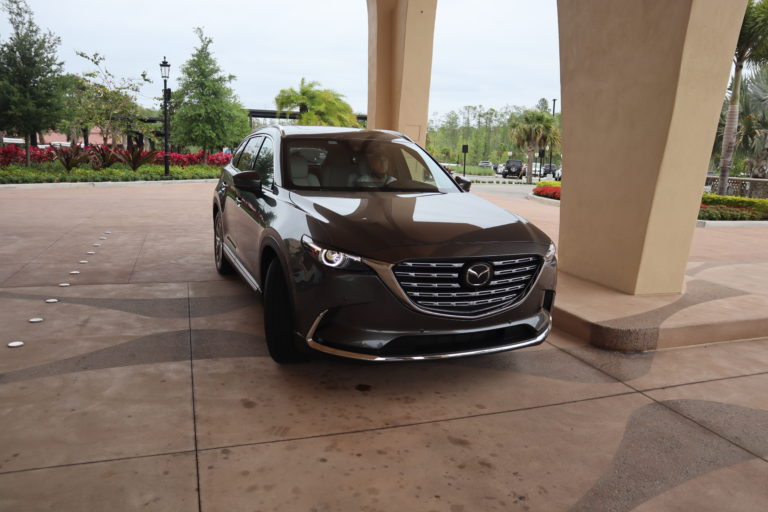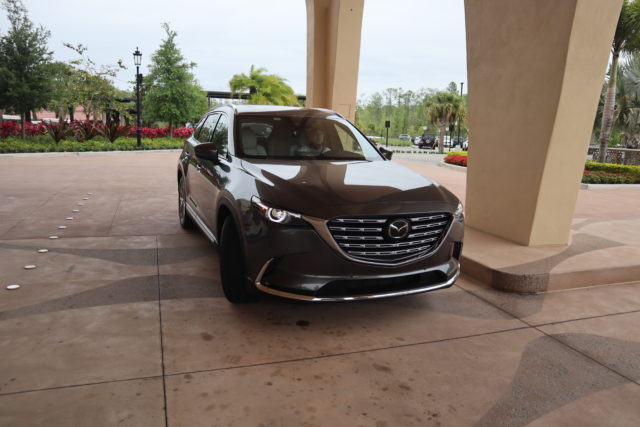 But. After January 1, 2022, we are without a ride from the airport and vice versa. Lyft, Uber and private shuttles all work, as does car rental but the Disney's Magical Express was one thing all those things are not.
FREE.
I swear, I'm mostly past this. Moving on.
Related: The Ultimate Disney Parks Packing List
Opportunity to drive a 2021 Mazda CX-9 in Orlando
I'm so excited that our trip to Walt Disney World and Tampa Bay offered us the opportunity to do something we don't usually do in Florida – drive at Walt Disney World!
The Mazda CX-9 is a crossover with a third row that has a luxe look and feel. It's similar in size and features to what I drive every day at home – the Hyundai Santa Fe. The Mazda CX-9 had nearly the same amount of room but felt more high end with the luxury touches and upgraded trim.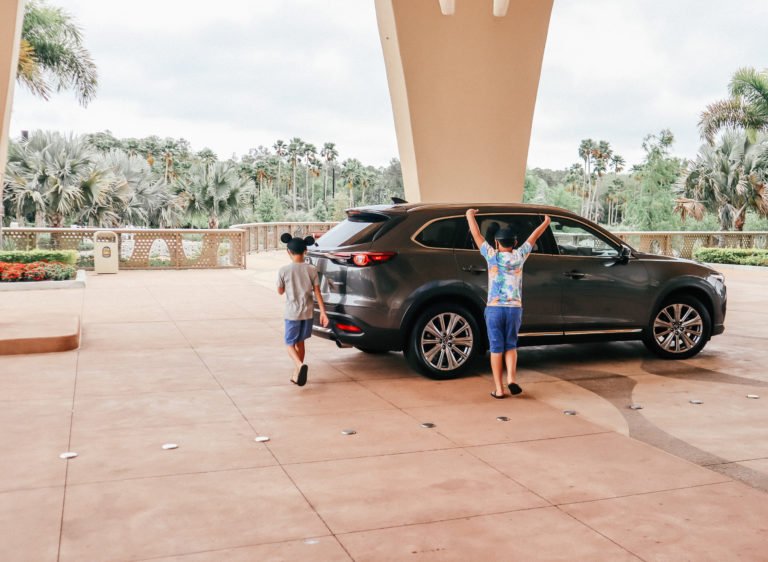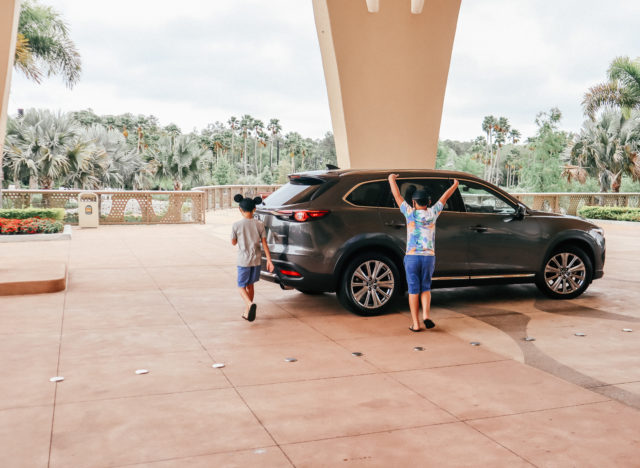 Driving at Disney World is much less daunting than I'd imagined it to be and thanks to Mazda, we were able to do it in style!
My experience driving at Walt Disney World
I've honestly never paid attention to the traffic or the roads on the way to Walt Disney World Resort from Orlando International Airport. But, finding your way isn't a problem. We used Apple Car Play to navigate our route. The Mazda CX-9 model we drove had a built in navigation system but we prefer to use Apple Car Play because it is what we're used to during our every day driving.
Depending on what Disney resort hotel you're staying at and time of day, the drive from the airport is about 40 minutes. When you get near Walt Disney World, just follow the purple signs. If the signs say one thing and the your navigation says something else, follow the purple signs. Ask me how I know this.
When we arrived at our resort hotel, we were directed where to park for check in. It couldn't have been any easier.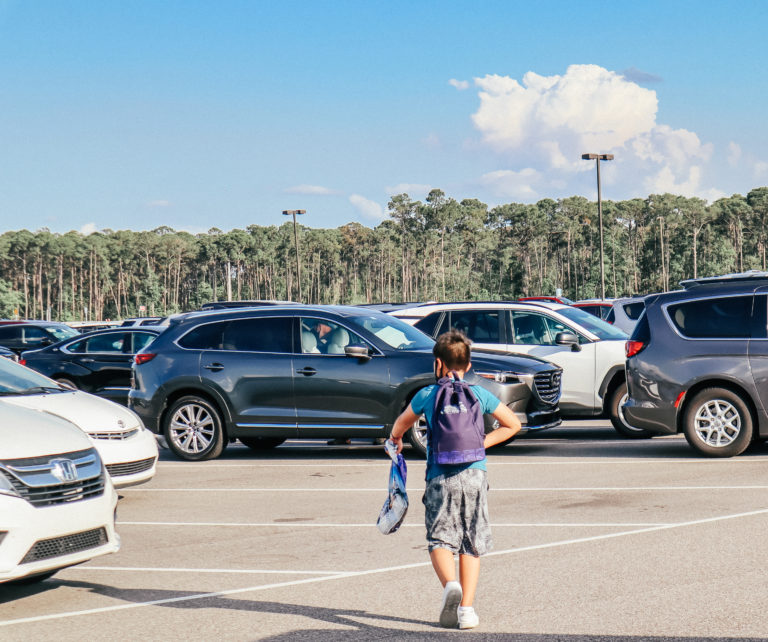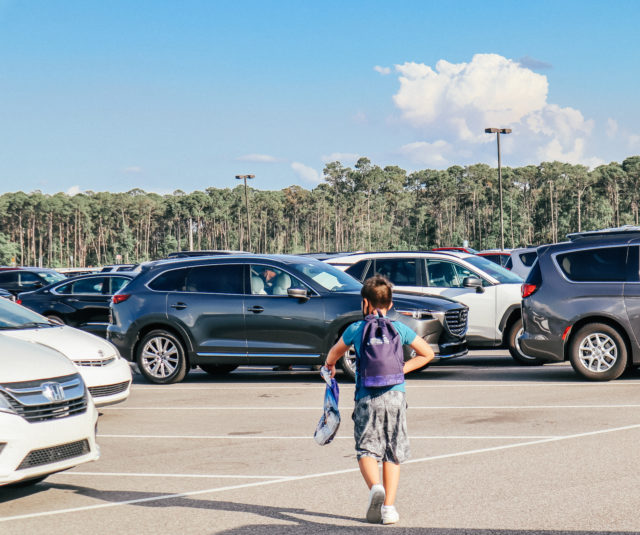 Getting to and from the parks was pretty easy – again, follow the purple signs – but there was a learning curve getting to Disney's Hollywood Studios. We accidentally drove into the back lot area AND in a bus only entrance before getting where we were supposed to be. It was a little confusing but it all worked out. In hindsight, it would have helped to look at a map versus just plugging the name of the park in to the navigation.
When you drive through the park's gate, you'll verify that you're a registered resort guest (in which case, you've already paid for your parking since you parked at the resort) or pay for your parking. From there, you'll be directed by a Cast Member on where to park. Easy peasy.
Currently, (as of Apr 2021) there are no trams running from the parking lot to the entrance so if you don't park up close, you'll have to walk. There is preferred parking available (closer) for an additional cost.
That's it! It was incredibly easy and I loved being on our own timetable. The buses are great but right now, they're running at a reduced capacity to maintain social distancing and it was nice to be able to go when we were ready to go without standing in a line.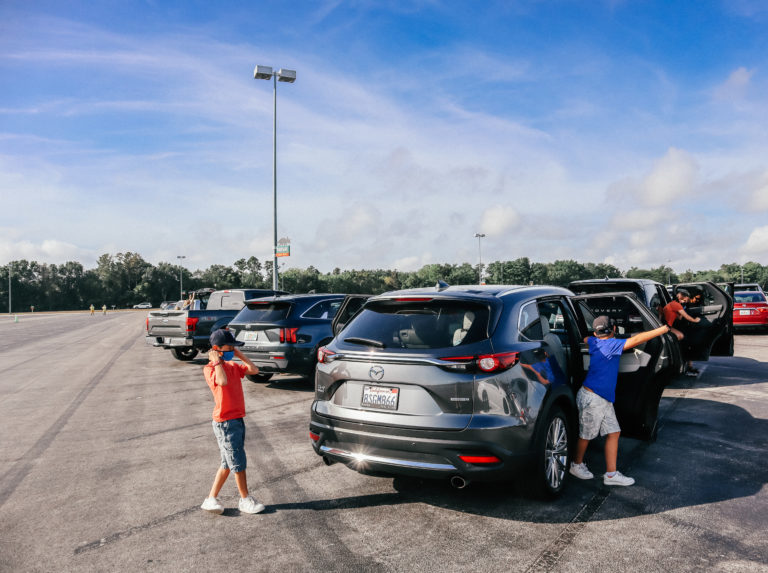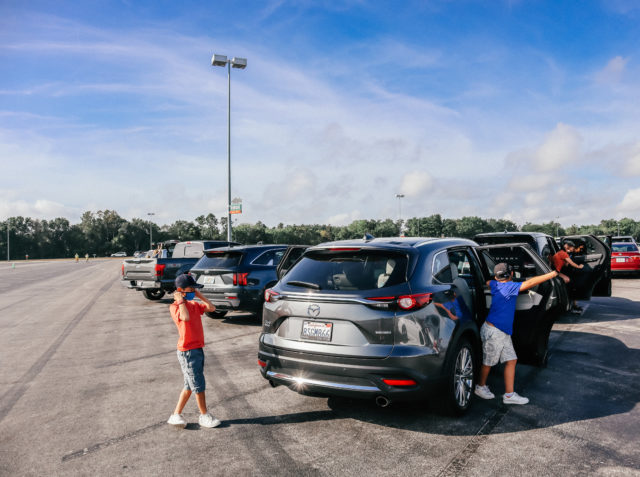 Reasons you might want to have a car at Walt Disney World
1. Staying off the Disney property?
If you're staying at a non-Disney resort, you're on your own to get to the hotel from the airport. Once Magical Express fully goes away, none of the Orlando area hotels will be providing transportation to and from the airport.
In general, the further from the parks you stay the cheaper rooms you can find. However, that means you're probably on your own to get to and from the parks each day. Make sure you factor in parking fees, time, and gas.
2. Extending your time in Florida
If you're checking out another Florida destination on your Disney trip (on this trip, we went to Tampa Bay) then you'll definitely want to have a car. Aside from Walt Disney World, the Orlando area has Universal Orlando Resort, LEGOLAND Florida, SeaWorld and more.
You can also take extended day trips outside the Orlando area, such as The Kennedy Space Center in Port Canaveral or Busch Gardens in Tampa Bay. These two destinations are about an hour and a half from Orlando and you can easily use Orlando as a hub to check out these attractions.
3. Flying into an airport other than MCO?
Most people are going to fly into Orlando International Airport, MCO, but an increasing number of flights are going in to Orlando Sanford International Airport. If you're really scoping out the best airfare or seeing other things in Florida outside of Walt Disney World, check flights into Melbourne or Daytona Beach.
If you are renting a car, make sure you crunch the numbers first. Alternate airports may have higher car rental rates than MCO so make sure the savings in airfare isn't costing you more in car rental.
You can also rent a car at Disney World. Alamo and National rent cars at Disney World. The Car Care Center is near Magic Kingdom.
4. Super Quick Trip?
I think there's never enough time at Disney World. Although I believe the ideal trip length is five to seven days, but that's not always possible. Park to park transportation is available but when you don't have a lot of time, you might not want to spend it waiting on a bus. Having your own car puts you on your own time table. Our trip was medium length (four nights at Walt Disney World) and I feel having our own transportation with the Mazda CX-9 really helped us have fun in the parks longer.
You still have to deal with traffic and parking and then walking to the entrance but you can generally get from place to place faster if you've got your own wheels.
If you're spending a full week at Disney, waiting in line for a bus might be no biggie but for families who are trying to squeeze as much magic as they can into a couple of days, having your own car, like the Mazda CX-9, may be what works best for your family.
Driving the Mazda CX-9 at Disney World? It was a win for us. It's comfortable – even though our park to park and resort to park trips were short – and it had plenty of room for our luggage. Plus it has cooling seats which is a must for Florida driving. Read more about the Mazda CX-9 in the next section.
The 2021 CX-9 – An awesome third row SUV with a luxury feel
The basics:
Cost: There are five different trim levels available on the 2021 Mazda CX-9. Sport, Touring, Carbon Edition, Grand Touring and Signature. Sport starts at $34, 160 and Signature starts at $46, 805. Pictured here is the Signature AWD in Machine Gray Metallic Parchment. This particular fully loaded model is priced at $48,200. You can compare the different trim packages here.
Fuel Economy: Up to 20 MPG in the city and 26 on the highway. Expect to average about 23 MPG depending on what kind of driving you usually do.
Safety Features: Standard safety features (the upgraded trim levels will have additional features) include advanced front air bags with seat belt-use, passenger-weight sensors, front side-impact air bags and side-impact air curtains with rollover protection, 3-point seat belts for all seating positions, anti-lock brake system with electronic brakeforce distribution and brake assist, rearview camera, blind spot monitoring, lane-keep assist child safety rear door locks and more. Check out the Mazda website for full specs and to build your own model. It's super fun to see all the options.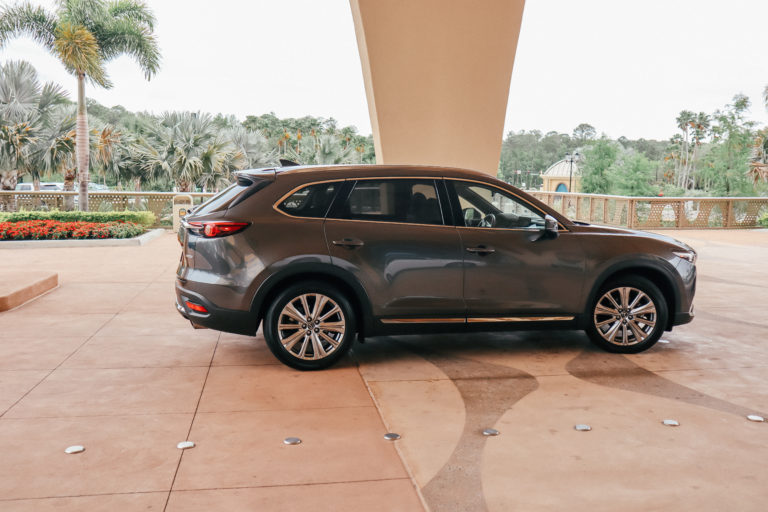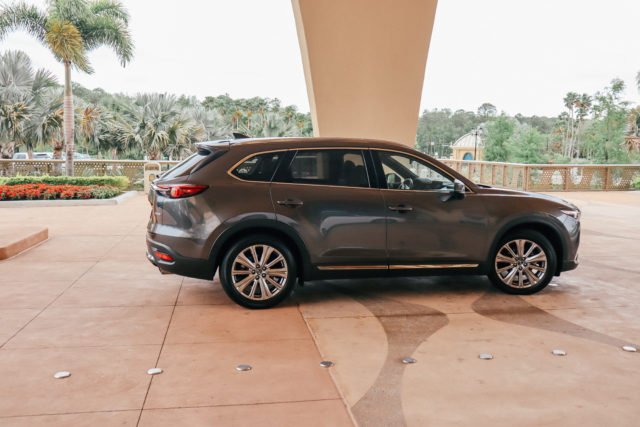 Who is this car for?
While I think any crossover with a third row screams "family car" this sleek looking ride will appeal to anyone who needs some extra room, although the appearance of the Mazda CX-9 is so posh, maybe it just whispers it.
The second row captain's chairs are super roomy. Granted, my kids just graduated out of booster seats (which they are SO happy about) but there's ample legroom for adults in the second row if you need to transport other adults. I think the third row is a little small for most adults. Climbing into the third row is a little bit of a squeeze but it works in a pinch. This would be fine for transporting extra kids.
If you have more than three kids, I wouldn't recommend this as an everyday car but it's great for a two kid family. We were super comfortable during our week driving the CX-9 and would consider buying this model in the future.
I really liked the ease of configuring the third row and the rear cargo space. We didn't – and generally won't – use the third row but I like being able to change up the rear space easily. We had five suitcases – which is a LOT for us – plus four backpacks – and we had plenty of room.
Questions?
Let me know if you have additional questions about driving at Walt Disney World or the Mazda CX-9. I hated to leave both!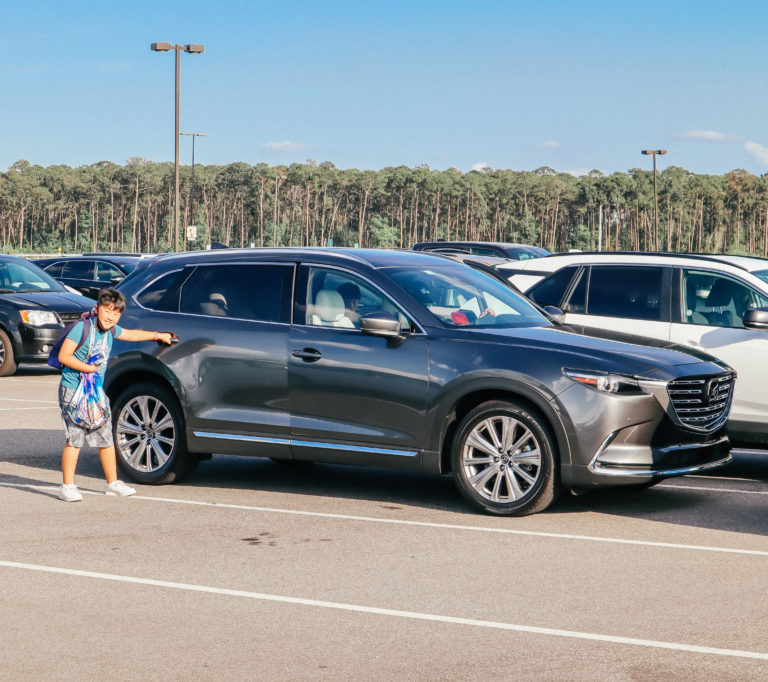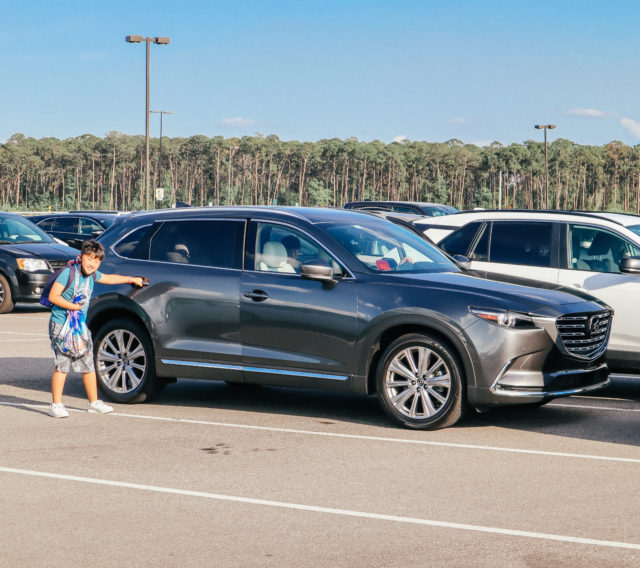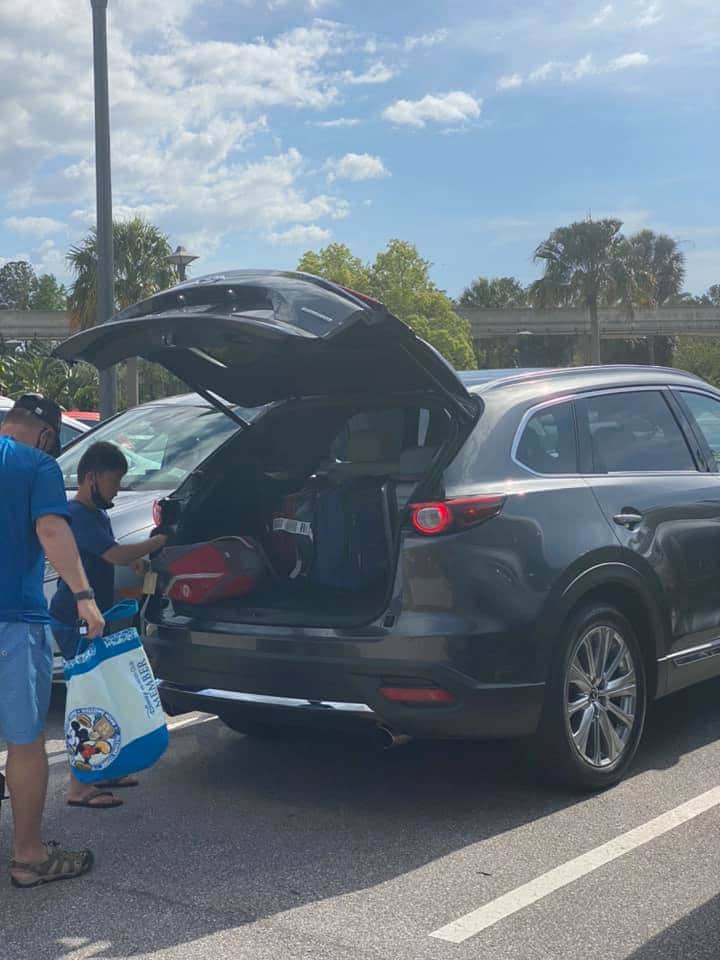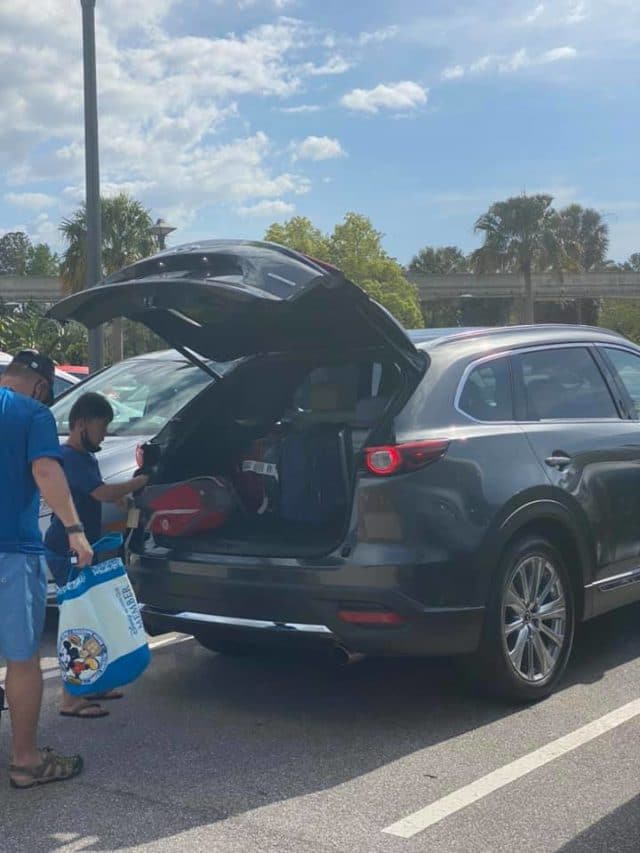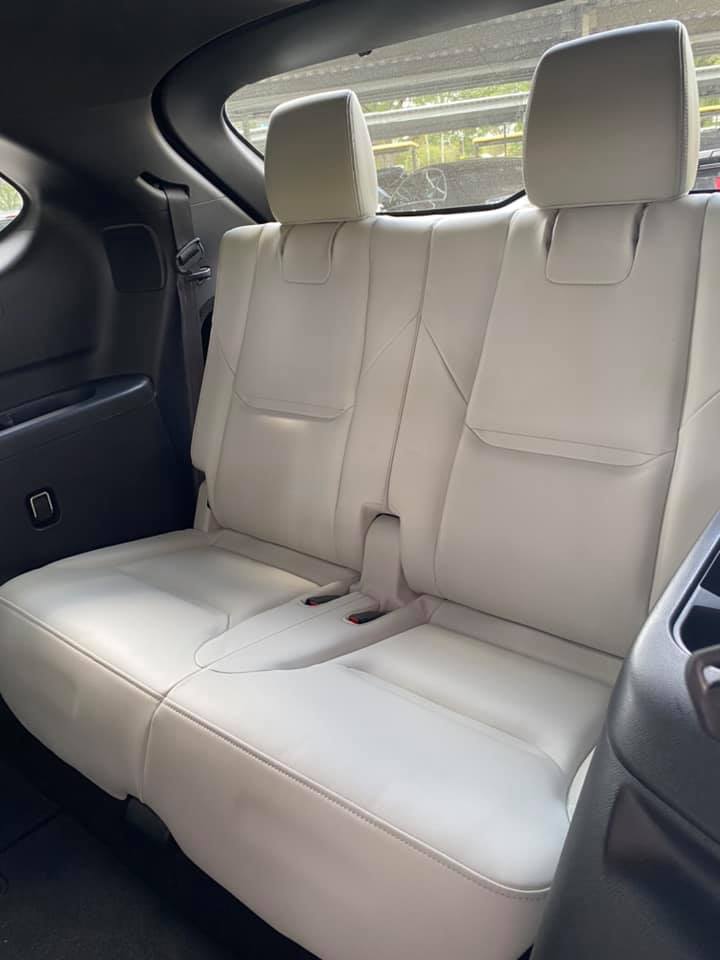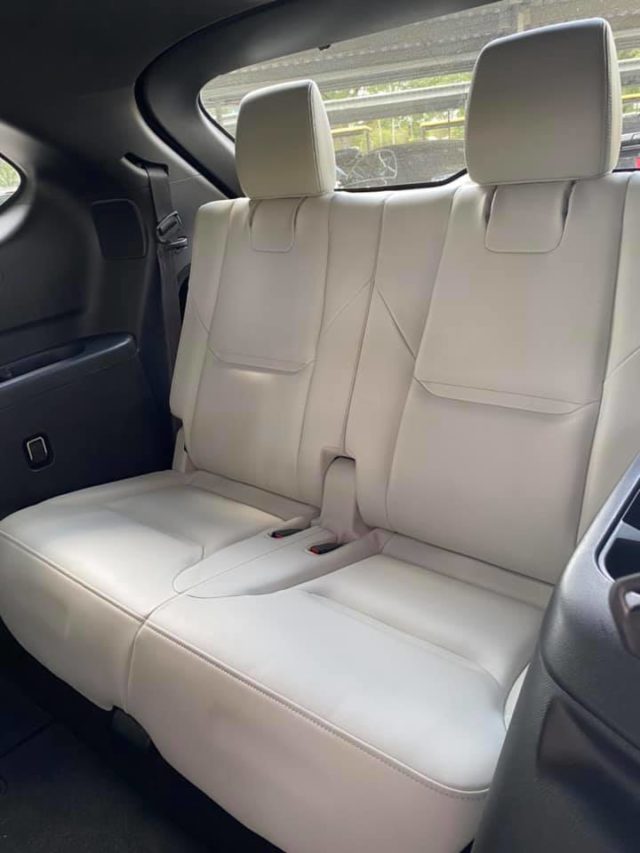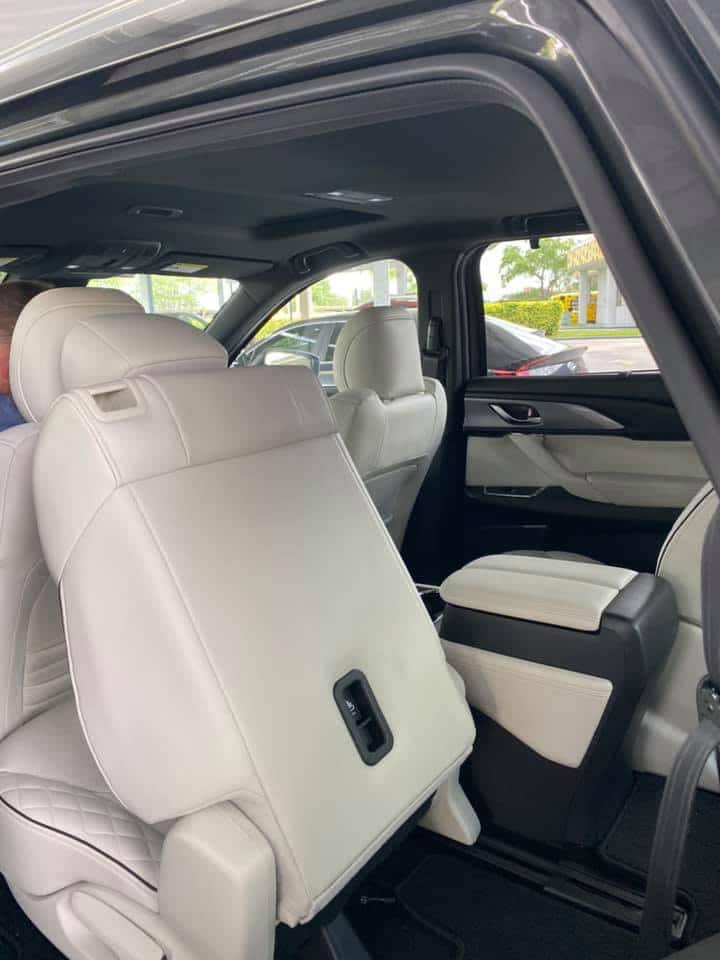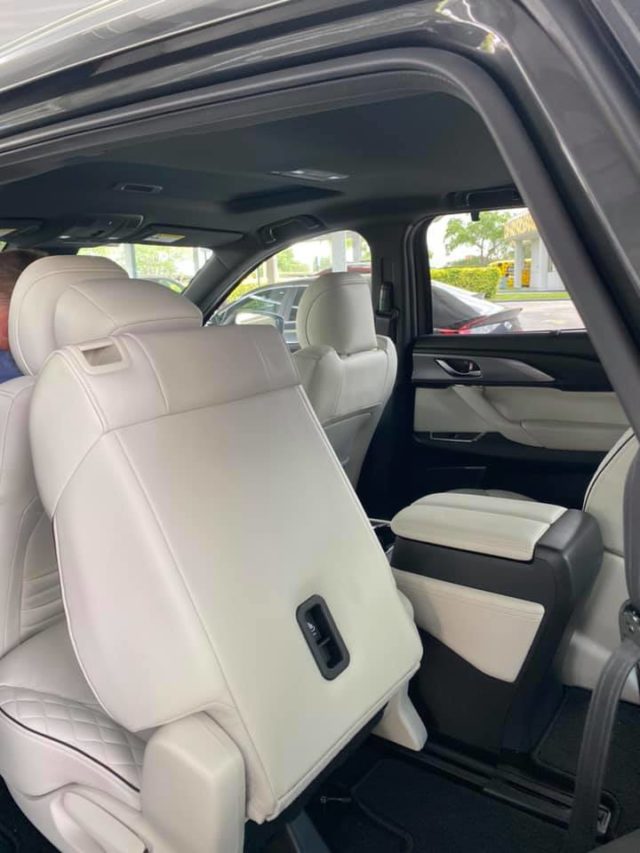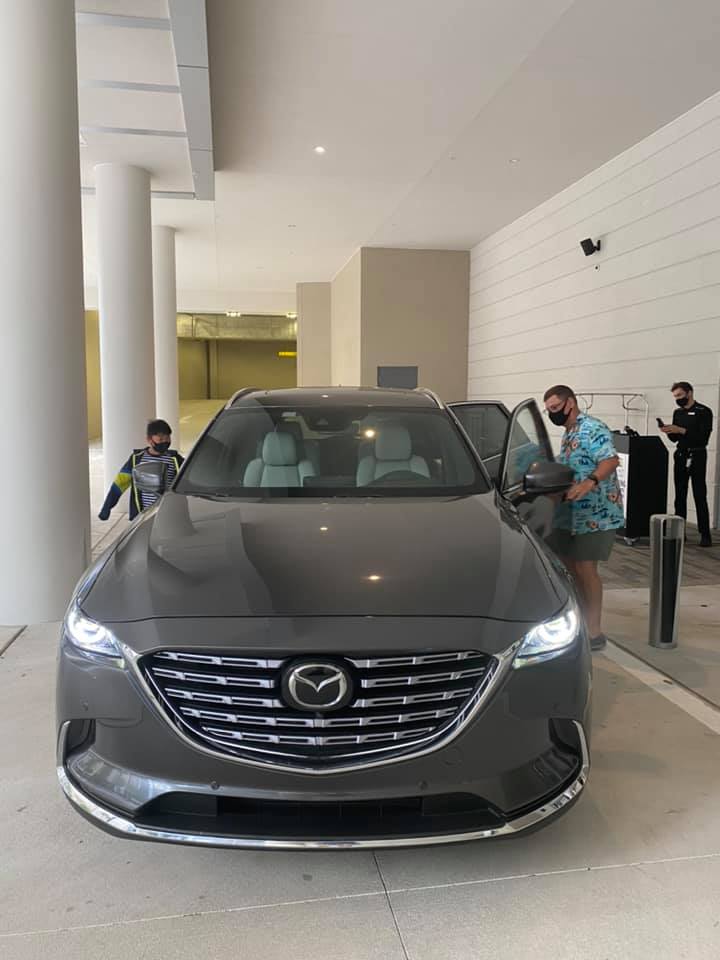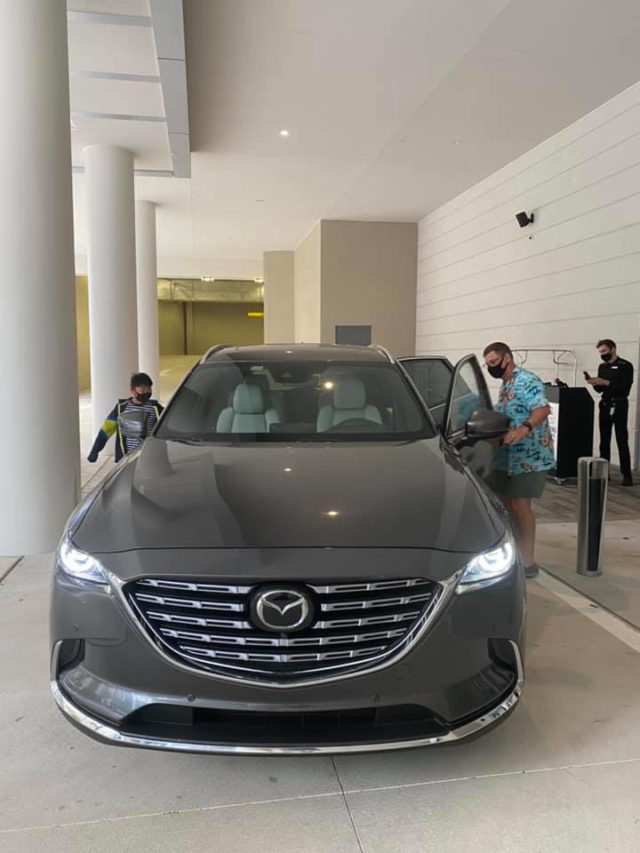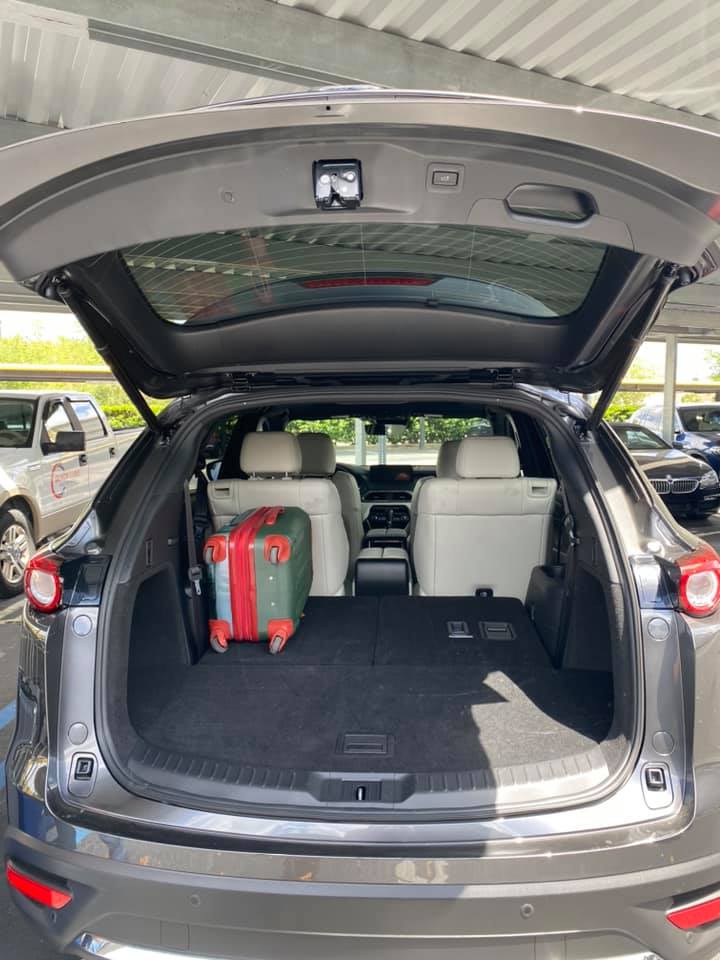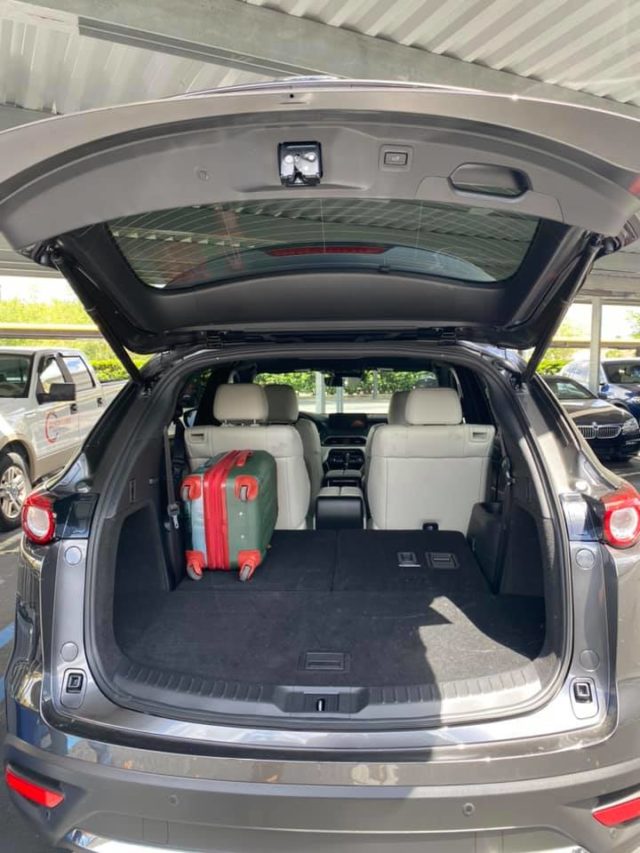 More Disney Planning Articles:
Six Reasons to use a Disney Vacation Planner
Six reasons to do Disney without kids
More Florida Travel Ideas:
Hammack Beach Resort (near St. Augustine)
Southwest Airlines flies direct to Bradenton/Sarasota from these four cities