(This post may contain affiliate links. Read my full disclosure.)
If you're looking for a good, easy meal to enjoy when the temperatures dip, this is your new favorite. You can even enjoy it in warmer weather, since its made in a crock pot/slow cooker and it doesn't heat up your house.
For those of you who are shivering, I've got something that will warm you up. It doesn't have to be cold outside for you to enjoy this chili, though. We had it last week…I love using my crock pot in the warmer months (which let's be real, here in south Texas, that's pretty much all the months.)
Kick Ass Crockpot Chili
Easy and delicious chili in your crock pot or slow cooker
1 pound ground beef (I usually use the 80/20 because I like the way the fat makes the chili taste)
1 pound round steak, cut into thin strips
1 Carol Shelby's Chili Kit (I do not use the masa because this is thick chili. )
1 15 oz can Pinto Beans (Do not drain)
1 15 oz can Red Kidney Beans (Do not drain)
1 14 oz can Stewed Tomatoes
1 14 oz can Diced Tomatoes (Use the varieties with green chilies or other seasonings for extra kick)
1 small can Tomato paste
1/2 cup Onion, finely diced (I often sub a cup of frozen fajita veggies for the onions and green peppers. )
1/2 cup Green peppers, finely diced
Optional garnishes – Jalapeno, cheese, sour cream
Brown meat, place in bottom of crock pot

Cook onions and peppers in the same pan you cooked the meat in, no need to clean the pan. Cook until translucent, about three minutes. Add to meat mixture in crock pot.

Add beans and liquid. Do not drain. You can substitute any type of canned beans or chickpeas.

Add all tomato products

Add chili seasoning kit and stir. There is an extra packet of red pepper with Carol Shelby's chili kit, which I usually leave out. This is a very thick chili so you shouldn't need the masa to thicken it up.

Stir mixture well, cover and cook on low for eight hours until done.

*Note: I have made this chili without browning the meat or the veggies. Cooking on high for eight hours WILL cook the meat all the way though but I like the extra flavor and appearance that you get from browning first. You can also cook for four hours on high for a faster chili but this hearty chili is best if you give it the extra time for the flavors to blend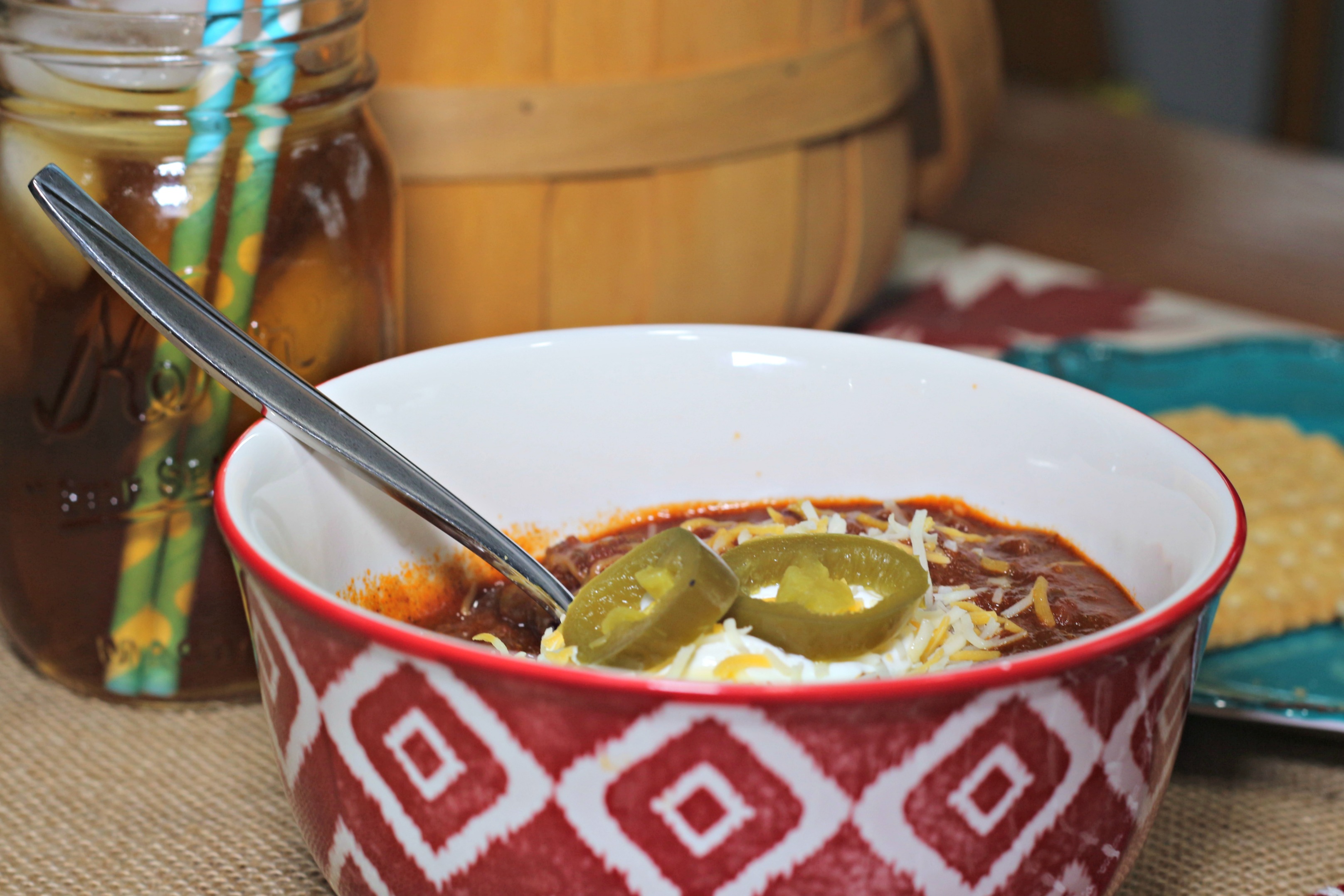 [Tweet "How to make kick-ass chili in your crockpot"]
I wish I could take full credit for this recipe, but my husband gets the all the high fives for this one. This was one of his go-to recipes before I came along and since it's one our family my favorites, we have it at least a couple times a month.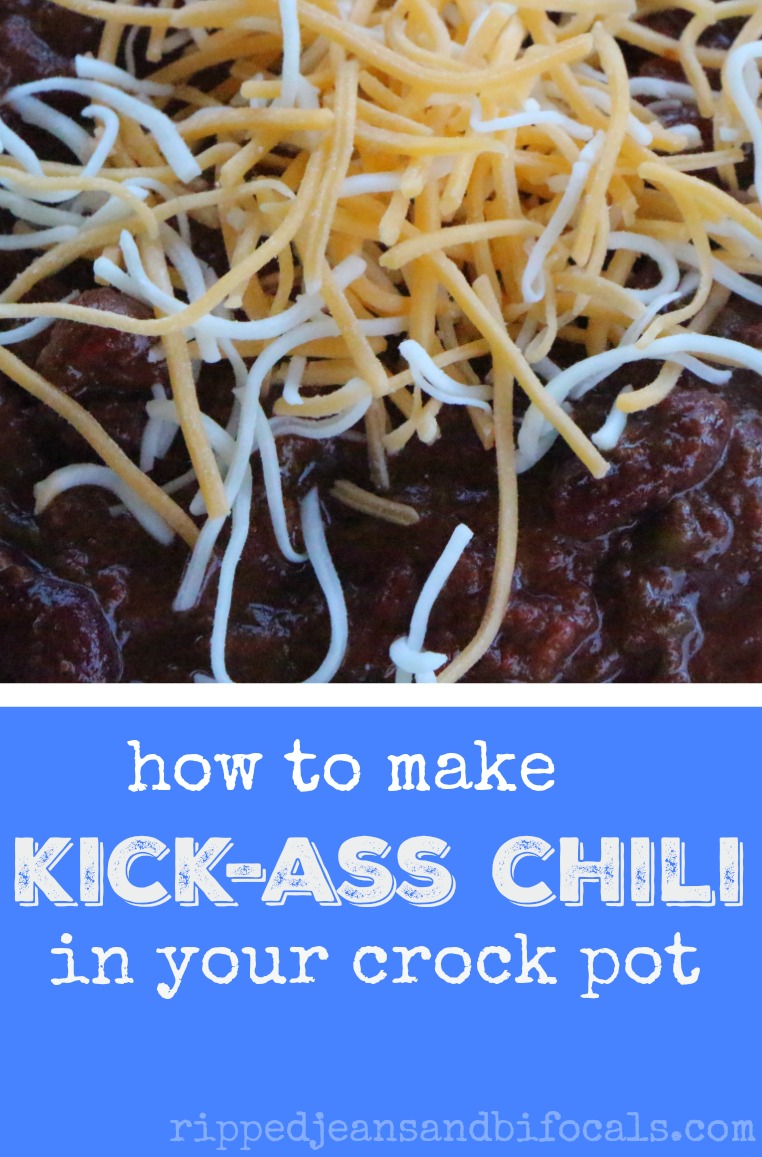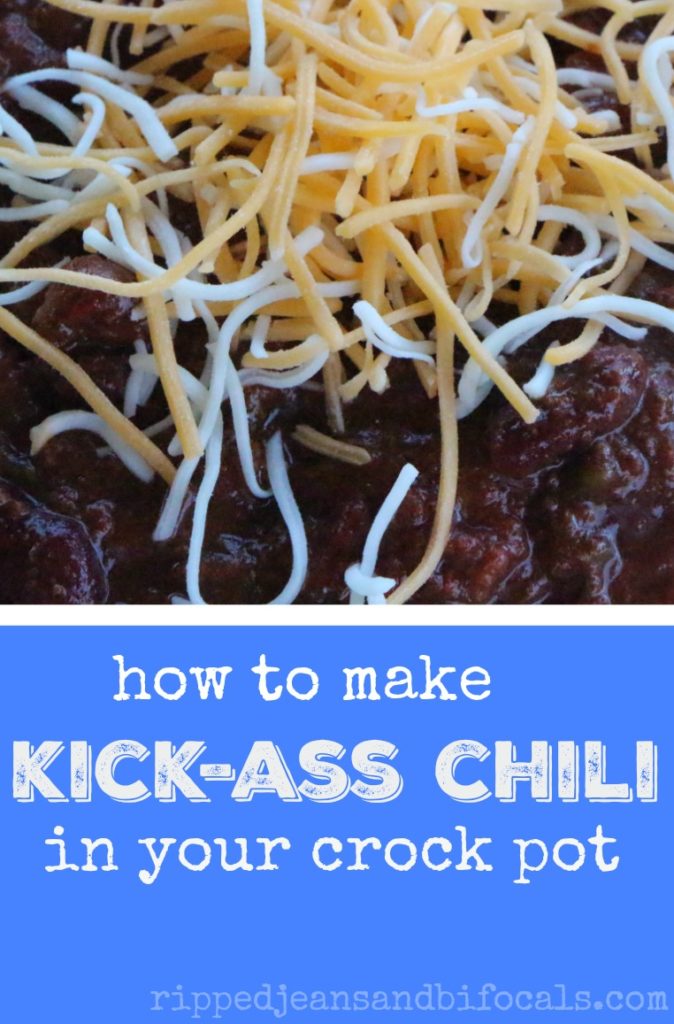 We used to make this with an entire jar of pickled jalapenos added but since we've got little kids now, they're just not able to handle that much heat…and to tell the truth, I'm not sure I can handle that much heat anymore. If you want to turn things up a few notches, you can add the jalapenos back in. If I'm really feeling daring, I'll add a few on as a topping now and then but most of the time, the spices from the Chili Kit are enough for me. I'm turning into quite the wuss as I get older.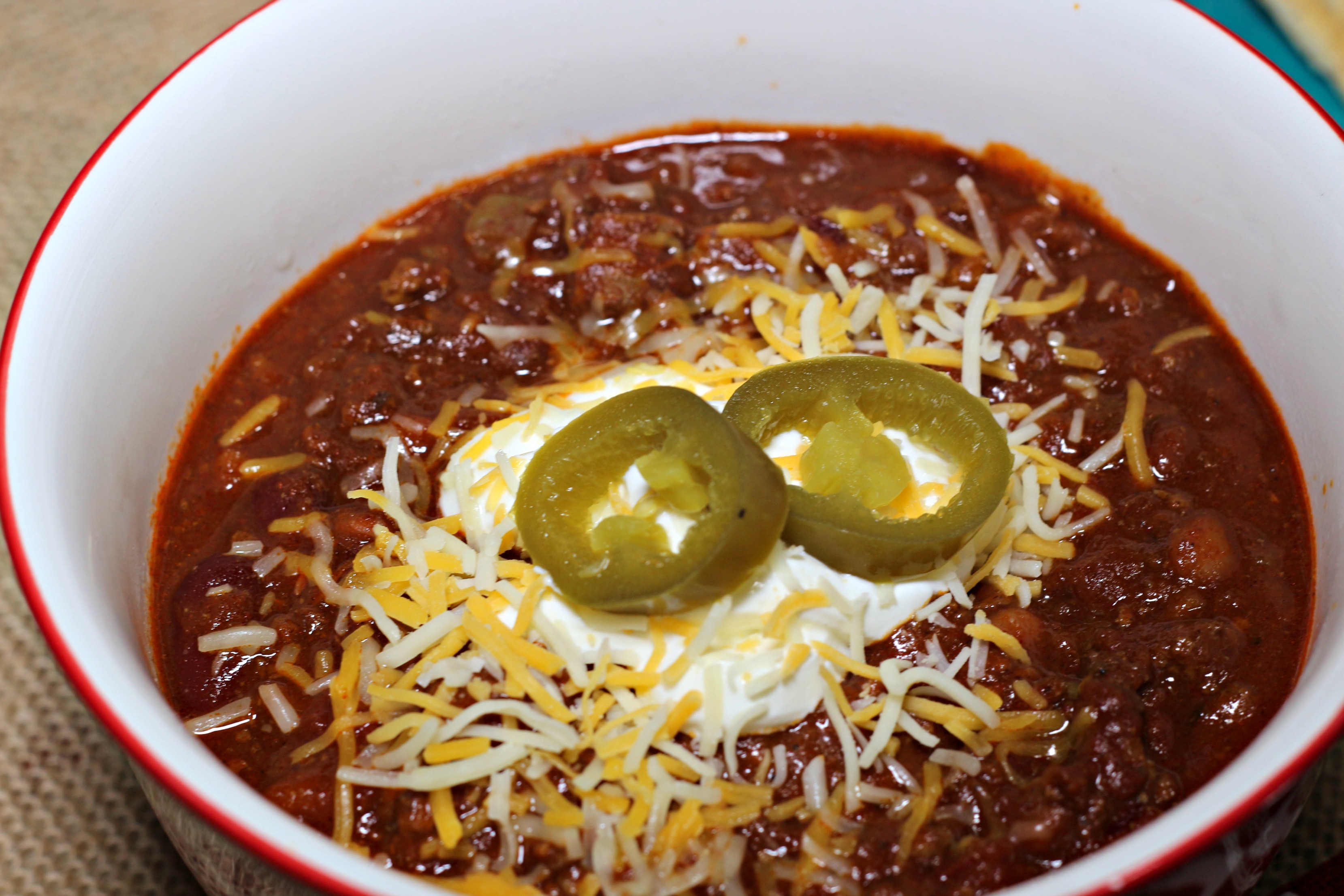 [amd-yrecipe-recipe:12]
There are a lot of great chili recipes out there and being from Texas, I've been to a chili cook-off or two in my time and seriously, this is one of the the better ones out there. And, I'm not just saying that because I'm biased. Try for yourself and let me know what you think!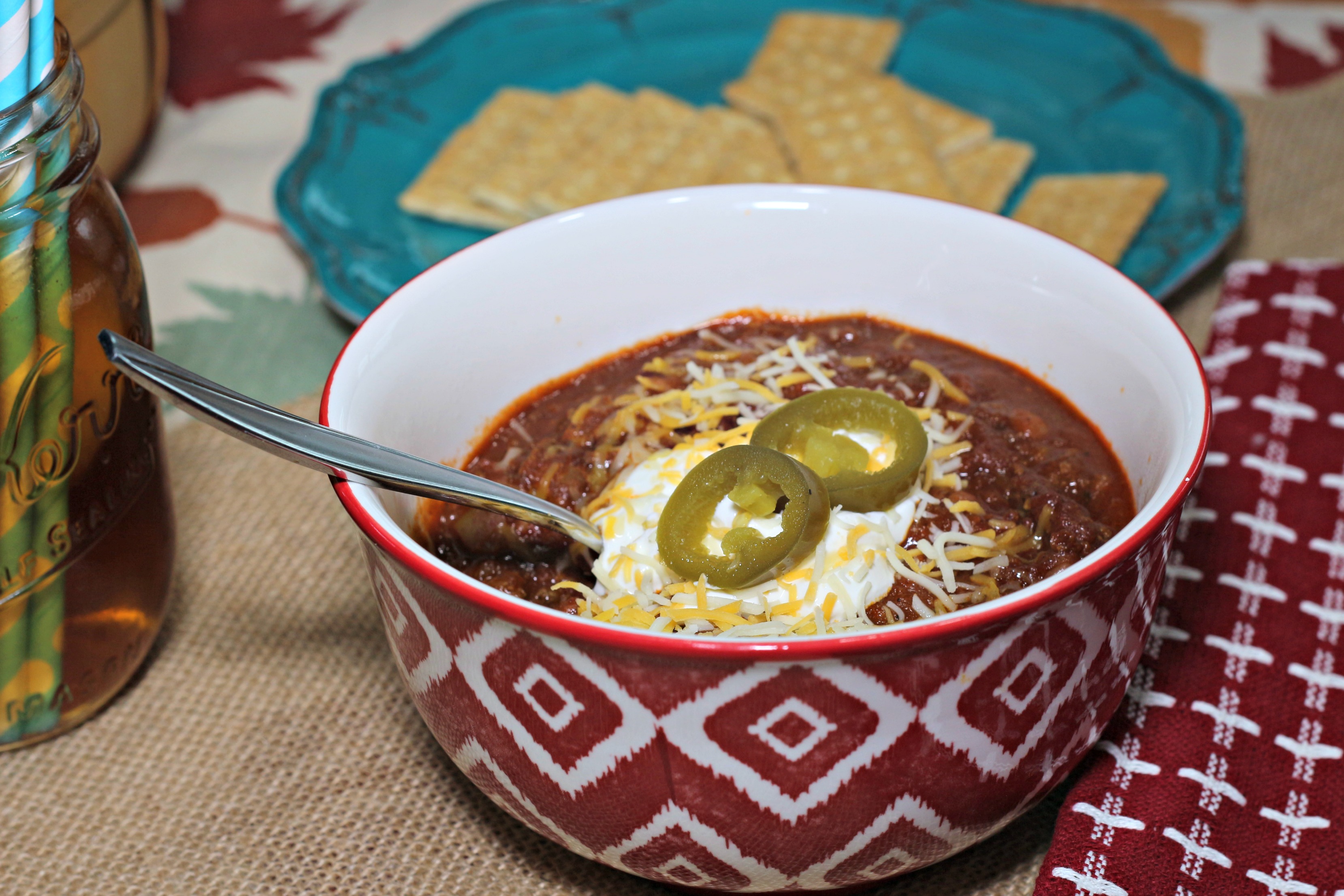 One of the things I like best about chili is versatility. You can serve it with crackers, over rice or noodles, or with a pan of cornbread (my favorite.) You can also serve it over Fritos or tortilla chips with lots of cheese and onions (my kids' favorite – AKA Frito Pie.)
Wash it down with a glass of ice tea or a cold beer. If you are pairing wine with your chili (which there is absolutely nothing wrong with) you can get away with something on the sweeter side, even if you're not normally a fan of sweet wines. Try a Riesling. It might sound weird to pair a sweet German wine with chili, but it works.
Y'all know me. I think everything pairs well with wine. Mostly because it does.
Saying my husband wooed me with his mad chili-making skills is probably a little bit of a stretch but it sure is nice to have a man who knows his way around a crock pot. I just have to say "Honey, doesn't chili sound so good tonight?" and it usually has a great result.
Now, if I could just train him to stop throwing his socks on the floor beside the freaking clothes hamper. Yes, really.
I guess you can't have everything. Sigh.
Try it – I hope you enjoy!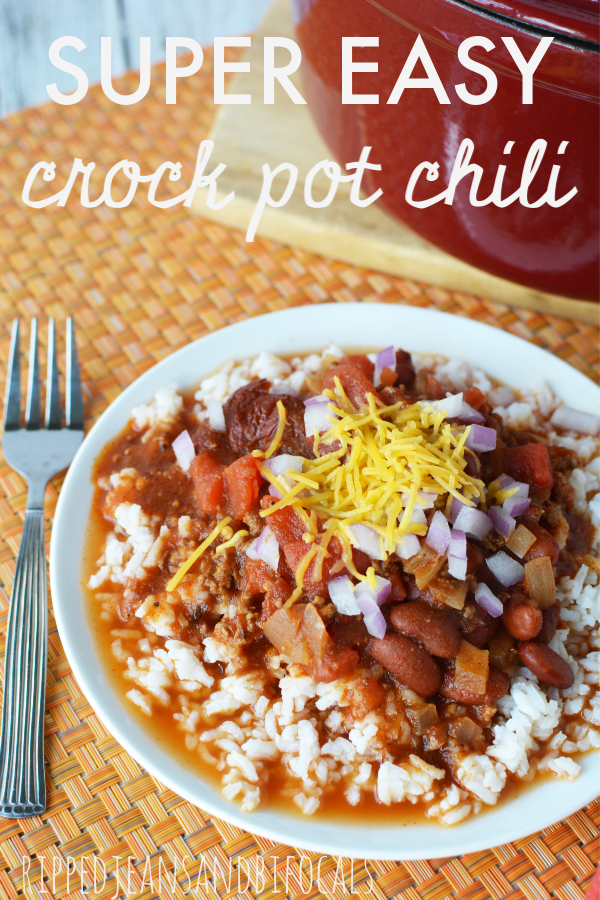 I think you'll also like: