I know most of the world is experiencing that thing known as winter right now. I won't go on about how it's warm and sunny here in San Antonio but it seems weird that I was out and about in a skirt and flip flops when my friends in the North East were shoveling snow…lots and lots of snow.
Disclaimer: We are a participant in the Amazon Services LLC Associates Program, an affiliate advertising program designed to provide a means for us to earn fees by linking to Amazon.com and affiliated sites.
For those of you who are shivering, I've got something that will warm you up. It doesn't have to be cold outside for you to enjoy this chili, though. We had it last week…I love using my crockpot in the warmer months (which let's be real, here in south Texas, that's pretty much all the months.)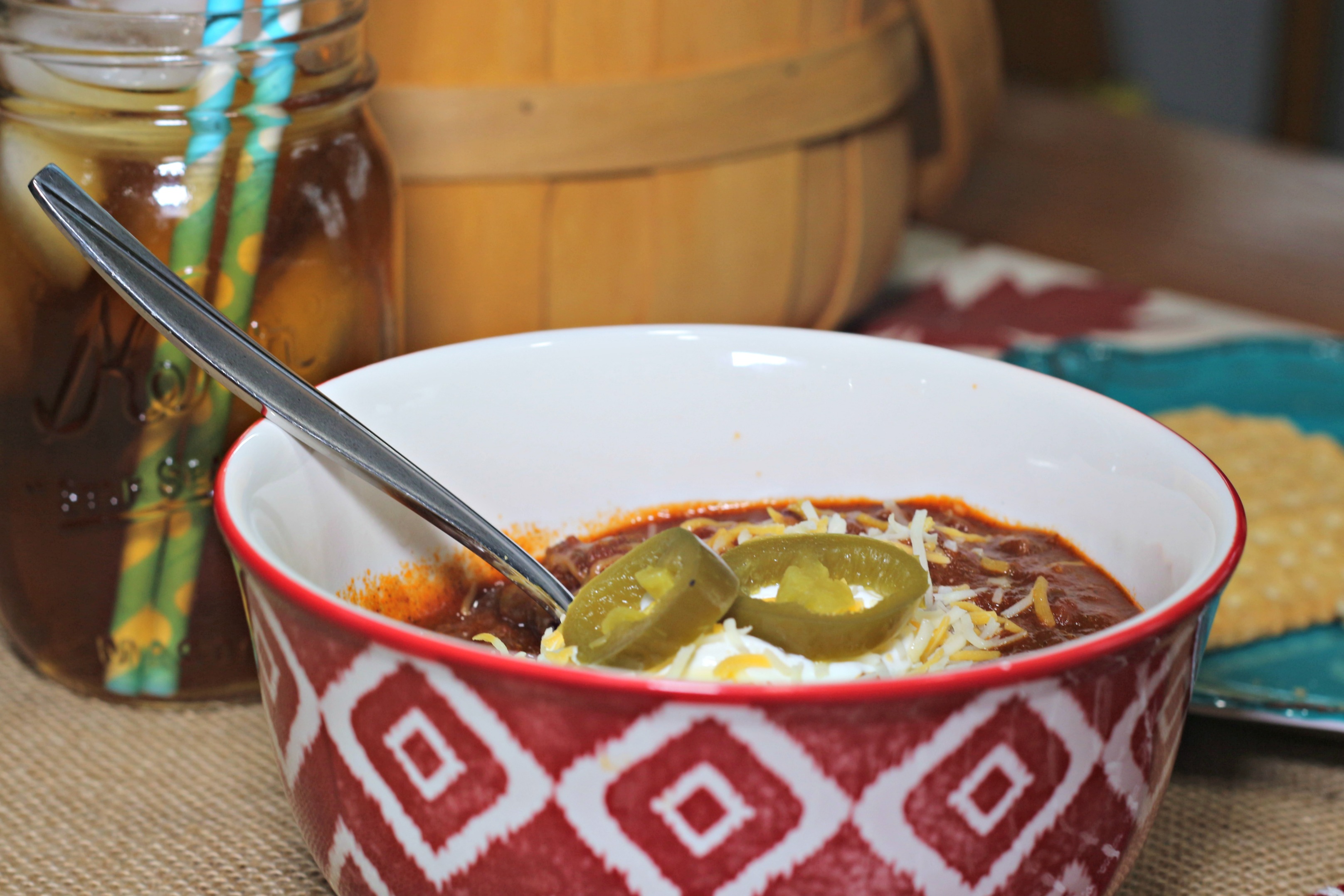 I wish I could take full credit for this recipe, but my husband gets the all the high fives for this one. This was one of his go-to recipes before I came along and since it's one our family my favorites, we have it at least a couple times a month.
We used to make this with an entire jar of pickled jalepenos added but since we've got little kids now, they're just not able to handle that much heat…and to tell the truth, I'm not sure I can handle that much heat anymore. If you want to turn things up a few notches, you can add the jalapenos back in. If I'm really feeling daring, I'll add a few on as a topping now and then but most of the time, the spices from the Chili Kit are enough for me. I'm turning into quite the wuss as I get older.
I buy all of our meats from Zaycon Fresh. I know that sounds like a super futuristic name but it's really just how I save money on meats fresh from the farm and eliminate the middle man. Plus, I stock up my freezer a few times a year and it makes meal planning easier. You can use my affiliate link HERE to check out the service and I'll get a small commission from Zaycon Fresh if you sign up. I really like the service a lot.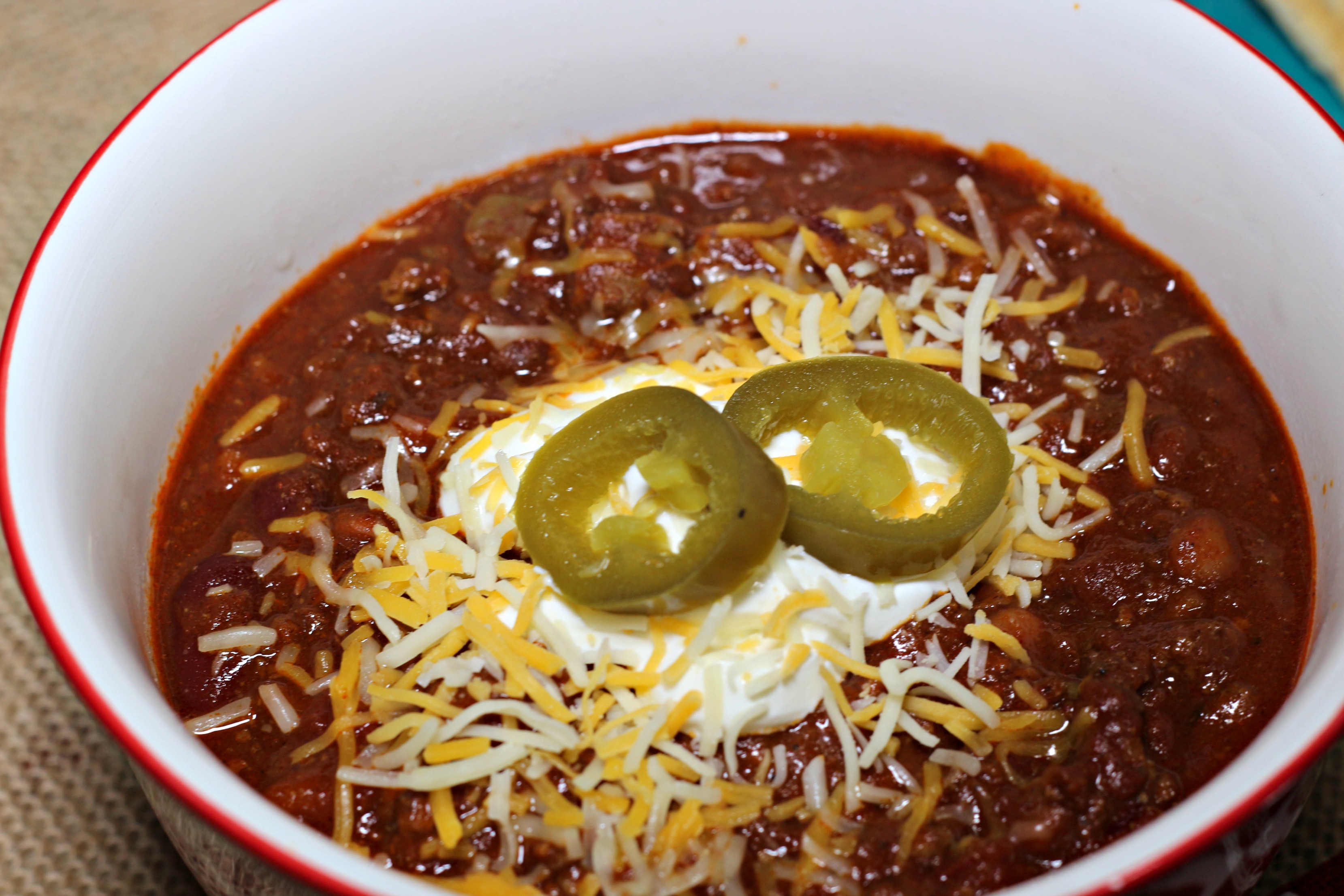 Ingredients
1 pound lean ground beef
1 pound beef stir fry meat cut into quarter-inch pieces (it's time consuming but worth it)
1 can red kidney beans (undrained)
1 can pinto beans (undrained)
1 boxed chili kit (we like Carol Shelby's or Wick Fowler's. We leave out the red pepper and the masa flour...with all the meat and beans, we don't normally need to thicken our chili.)
1 16 oz bag of frozen pepper strips (I usually use the food processor to chop these into smaller pieces but you can skip this step if you don't mind a chunkier chili)
1 16 oz can tomato sauce
1 16 oz can diced tomatoes*
1 16 oz can stewed tomatoes*
1 8 oz can tomato paste
*there are some fun varieties of diced and stewed tomatoes available in the canned goods section (i.e. Italian, Cajun, etc.) You can add some extra flavor to your chili by using these.
Instructions
This is so easy, y'all - put the ingredients into the crock pot in the order given and cook on low for 10 hours. I know some people like to brown their meat first, but it's not necessary...I never do.
Top with your favorite toppings - I like cheddar cheese and a dollop of sour cream and, if I'm feeling super adventurous, I'll add a couple of Jalapeno slices.
That's it!
https://rippedjeansandbifocals.com/kick-ass-crock-pot-chili/
There are a lot of great chili recipes out there and being from Texas, I've been to a chili cook-off or two in my time and seriously, this is one of the the better ones out there. And, I'm not just saying that because I'm biased. Try for yourself and let me know what you think!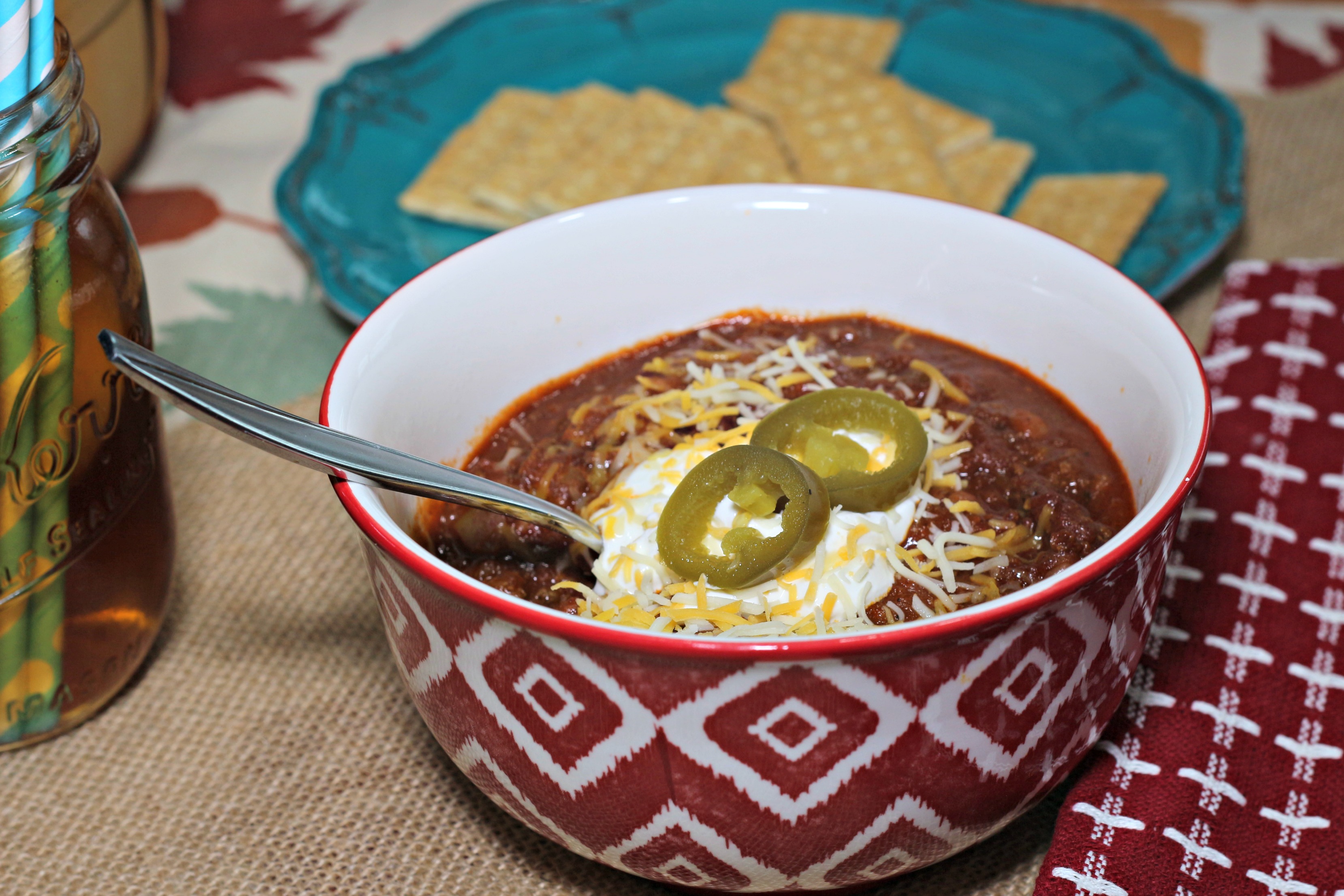 One of the things I like best about chili is versatility. You can serve it with crackers, over rice or noodles, or with a pan of cornbread (my favorite.) You can also serve it over fritos or tortilla chips with lots of cheese and onions (my kids' favorite – AKA Frito Pie.)
Wash it down with a glass of ice tea or a cold beer. If you are pairing wine with your chili (which there is absolutely nothing wrong with) you can get away with something on the sweeter side, even if you're not normally a fan of sweet wines. Try a Riesling. It might sound weird to pair a sweet german wine with chili, but it works.
Y'all know me. I think everything pairs well with wine. Mostly because it does.
Saying my husband wooed me with his mad chili-making skills is probably a little bit of a stretch but it sure is nice to have a man who knows his way around a crock pot. I just have to say "honey, doesn't chili sound so good tonight?" and it usually has a great result.
As far as crock pots go, THIS is the one I use. However, THIS is the one I want. The "why" is a no-brainer. I know the pretty flowers aren't going to make it function better…but I still really want it!
Now, if I could just train him to stop throwing his socks on the floor beside the freaking clothes hamper. Yes, really.
I guess you can't have everything.
Try it – I hope you enjoy!
Thank you for reading!
(Visited 2,315 times, 1,119 visits today)