Disney All Star Movies Resort Review
(This post may contain affiliate links. Read my full disclosure.)
My family and I recently spent one night at Disney's All Star Movies Resort. All Star Movies is a value level resort – we paid $122 for our night's stay – and I'm excited for the opportunity to bring you this Disney All Star Movies Resort review.
There are three levels of Walt Disney World Resort hotels: Value, Moderate, and Deluxe. I've broken down the differences between the three levels here.
You might also like: Disney Genie – Is it worth the price?
This post contains affiliate links.
All Star Resorts Basics
Disney has three All Star resorts: All Star Movies, All Star Music and All Star Sports. All Star Movies is the only one currently open. Music and Sports are currently being renovated and are expected to be very similar to Disney All Star Movies Resort when they reopen.
The All Star resorts have gotten a bad rap in the past. They opened in the 90's and were in dire need of a refurb, which All Star Movies recently received. The All Star resorts have bright, colorful, larger-than-life Disney theming, outside corridor rooms (no interior hallways here) and a central building with food court style dining and a gift shop.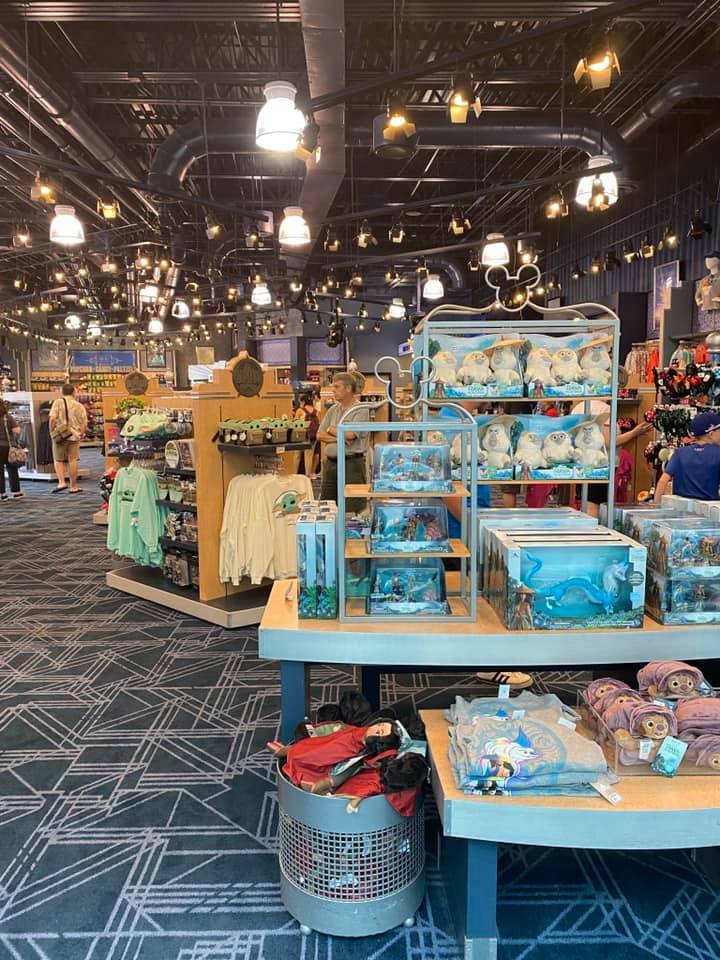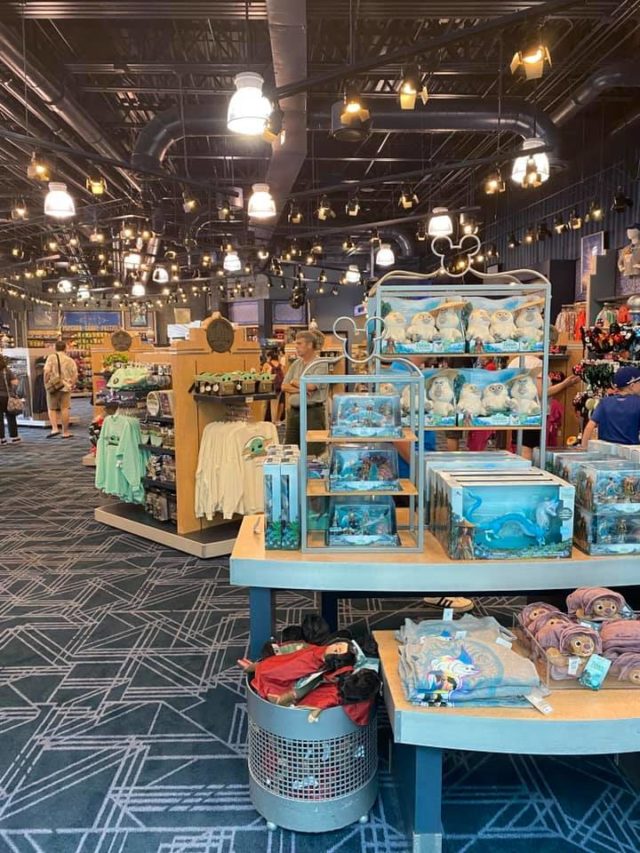 The All Star Resorts also have centrally located pools and poolside bars/quick service food options.
The only resort to park transportation will be the Disney buses. The resorts are all fairly sprawling so depending on where your room is located, you might have a little bit of a trek to get to the buses. The arrival of the Skyliner that services some of the other Walt Disney World Resort hotels should result in lighter lines for the Disney buses going to the parks. A previous complaint about the All Star Resorts was super long lines and not enough buses so hopefully, that has been remedied. We did not use the resort to park transportation during our stay so I cannot speak to that personally.
You might also like: Should you have a car at Walt Disney World?
All Star Movies Resort Theming
The buildings are themed around 101 Dalmations, Toy Story, The Mighty Ducks, Herbie the Love Bug, and Fantasia. There are larger-than-life statues outside the buildings that are true to the movie theme and make great photo backdrops. Your kids will definitely know they're at Disney.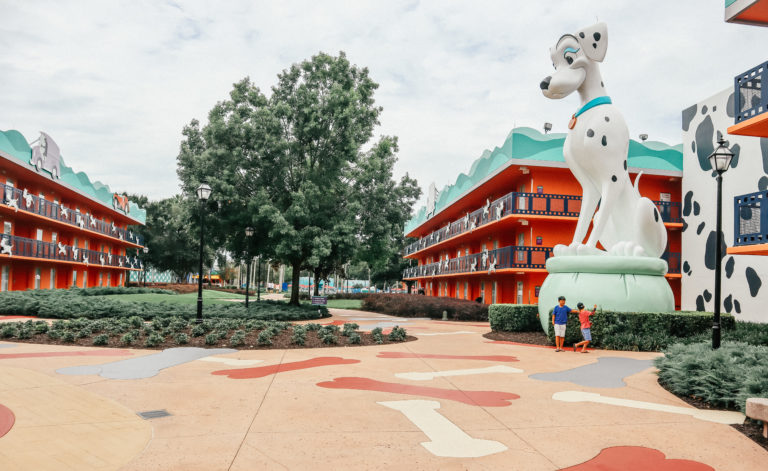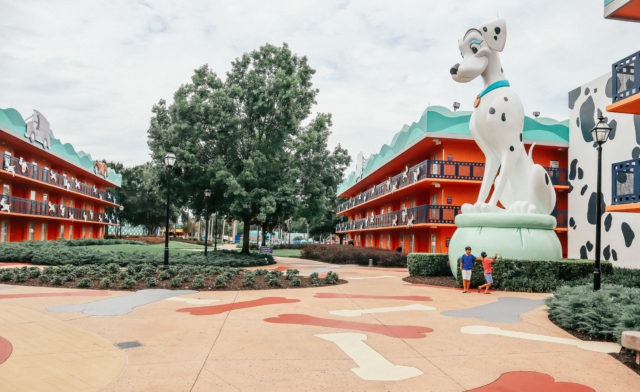 Really young Disney fans might be most excited about Toy Story since that's what might be most familiar to them. The lobby and pools have a general "At the movies" theme.
You might also like: Character's Corner Vacation Home in Kissimmee
All Star Movies Rooms
We stayed in a standard room in the Herbie the Love Bug building. We had about a five minute walk from our room to the lobby.
As I mentioned, the rooms have recently been refurbished, so everything is clean and new and bright. The rooms are smaller – you are at the lower end of the Disney price point here and that's reflected in the amount of space you have – but the available space is designed for efficiency.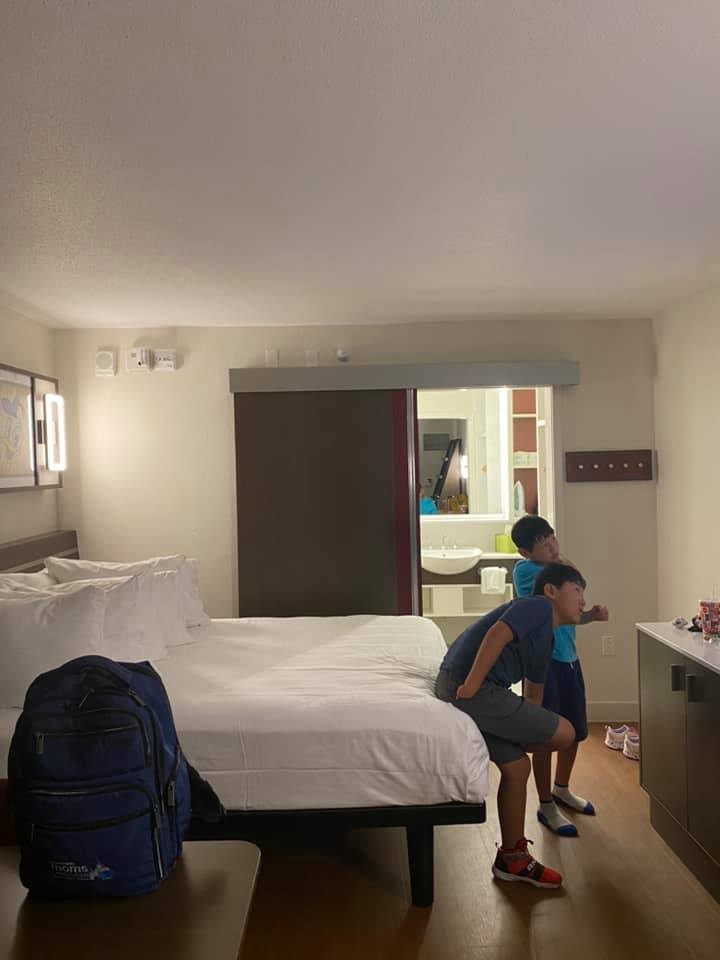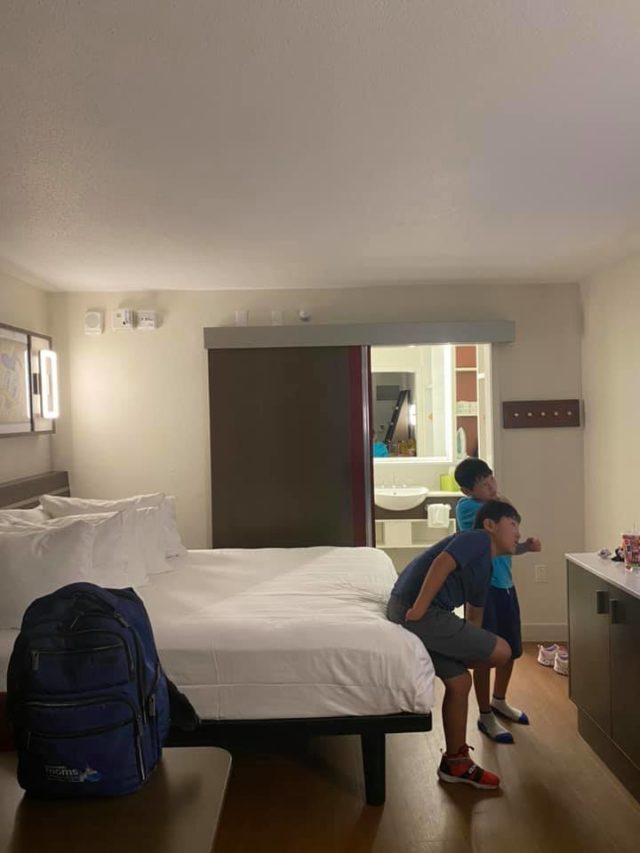 There's a queen bed and a double murphy bed. When the murphy bed is up, you'll have a table and two chairs.
The murphy bed folds down easily for sleeping but you probably won't want to leave it down otherwise – it's hard to walk about the room if both beds are down.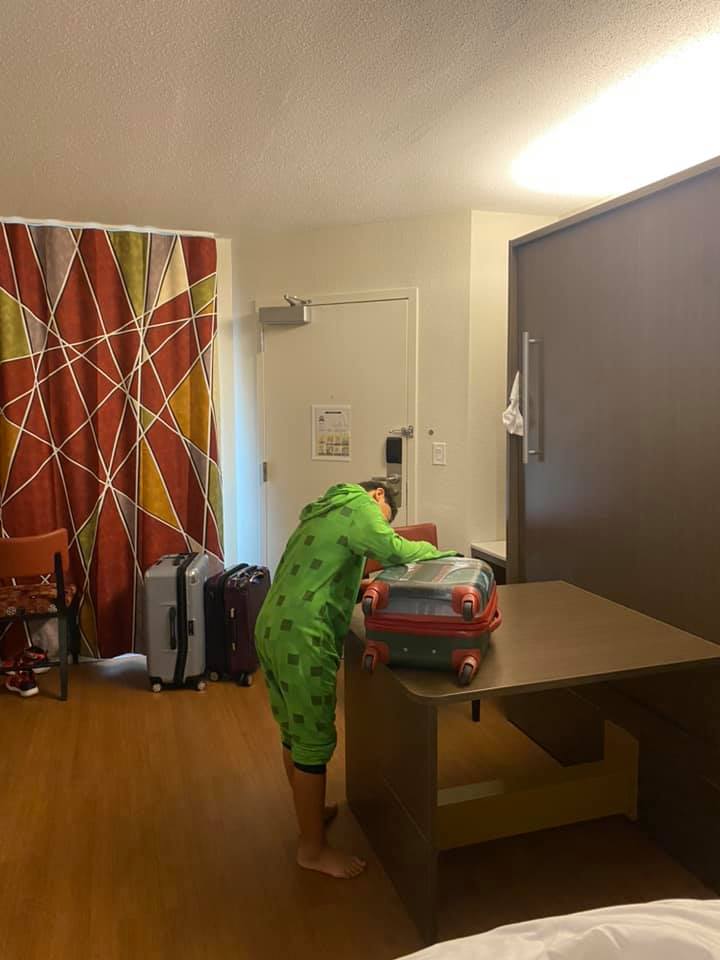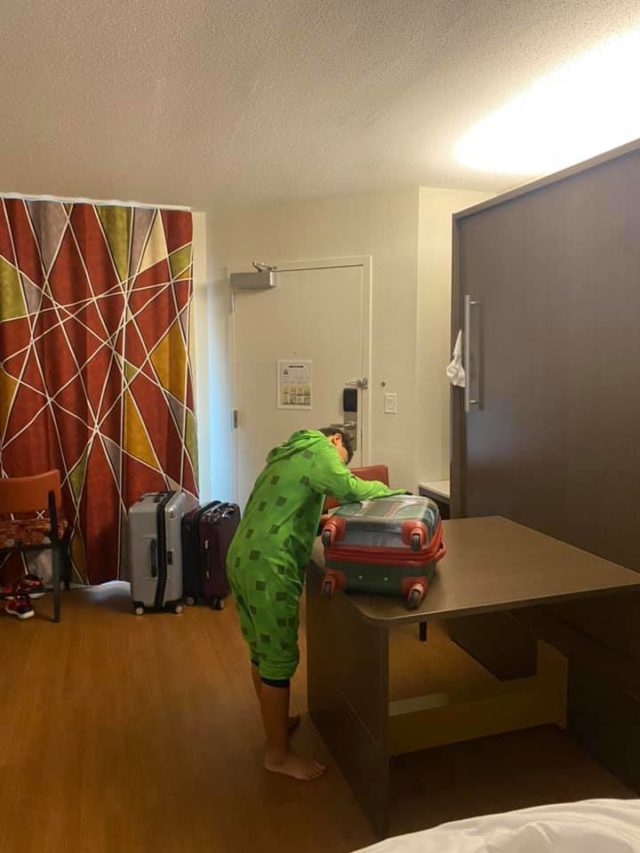 There's a bathroom that closes off via sliding door. The toilet is separate from the tub. The room is stocked with Disney H2O products. The shampoo, conditioner, and body wash are in eco-friendly dispenser.
There's a decent amount of storage as well as places to charge your devices.
Our room had a glass front fridge and a coffee maker on a little bar area where you can store food/assemble sandwiches/pack snacks, etc.
We stayed here in 2009 and the most notable and appreciated upgrades from my perspective are the queen bed versus a double (the murphy bed is still a double) and the addition of an in-room coffee maker.
Overall, the rooms are very clean and modern. The Disney theming is really cute – albeit a little generic – but your kids will absolutely get that they're in "Mickey's house." It's really fun.
Pools at Disney All Star Movies Resort
All Star Movies Resort has two pools. The main pool, the Fantasia Pool, and the Mighty Ducks Pool, which is considered a quiet pool.
Quiet pool doesn't mean adults only but rather not where the action is. The Fantasia Pool is centrally located and this is where the organized pool/resort activities are held. Both pools have life jackets and lockers.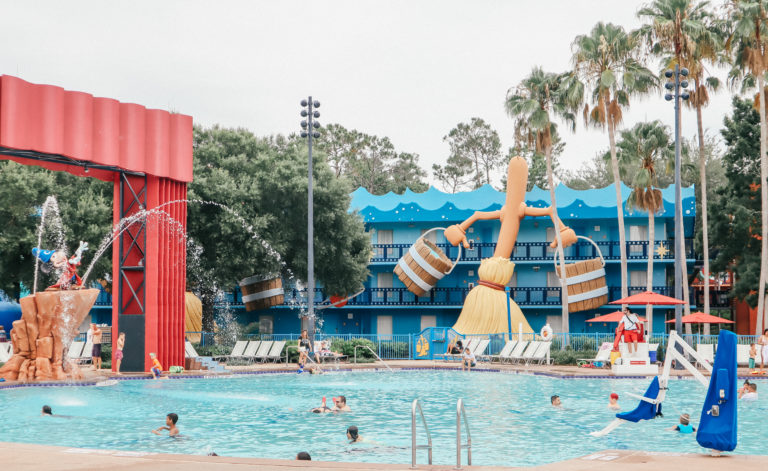 What you won't find at the pools at Disney's All Star Movies Resort is a slide or a hot tub. If you are looking for these amenities you will have to bump up to a moderate.
We enjoyed the Fantasia Pool as a family and although my kids noticed the lack of slide, they didn't dwell on it. The pool has really fun, bright, bold theming that screams "You are at Disney World!"
You might also like: Disney Vacation Club 101
All Star Movies Resort Dining
You will not find table service at All Star Movies or any of the other Value Resorts. You've got the World Premiere Food Court that serves American style breakfast, lunch, and dinner. You'll also find a variety of snacks and drinks, to include specialty coffee drinks and cocktails.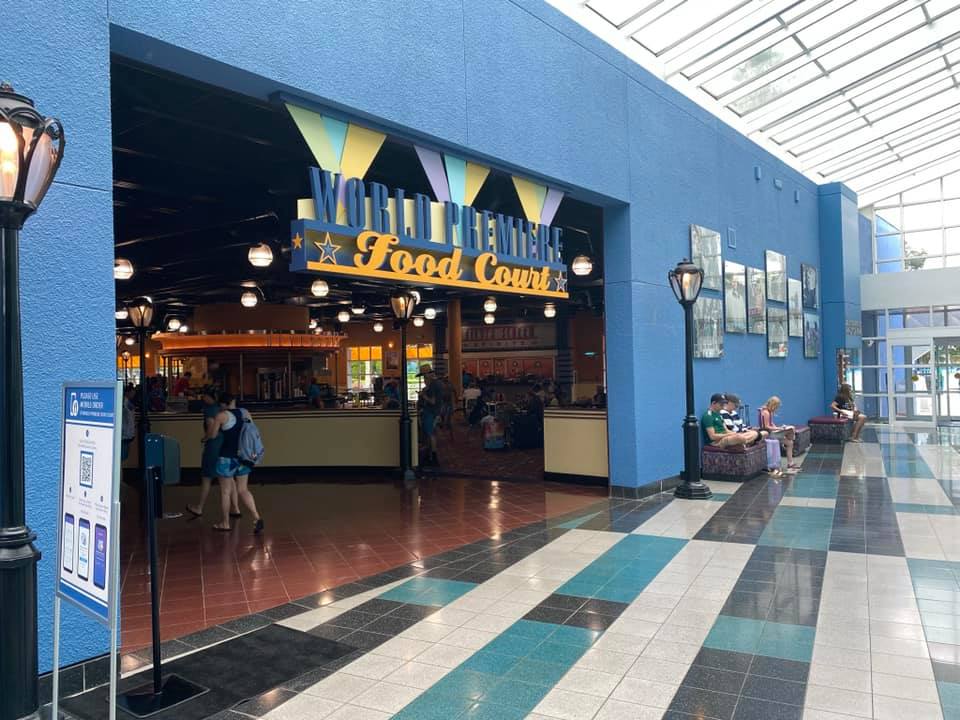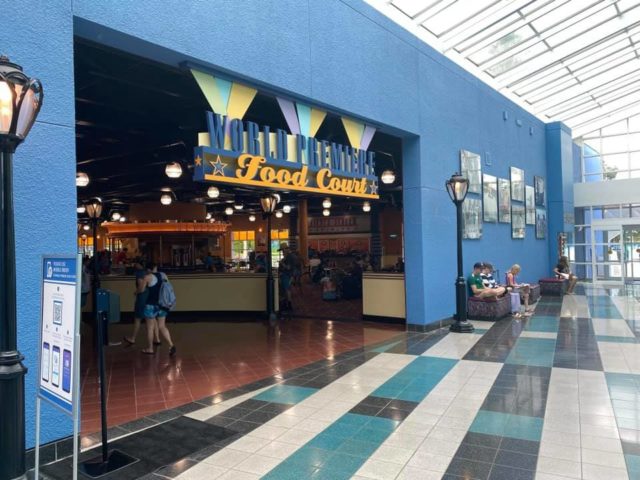 We had a quick dinner/snack and breakfast the next morning and the food was good. You'll find typical theme park/quick service prices. A slice of pizza was $8.49 and a Mickey Waffle with Bacon was $9.99. There was a decent variety on both the breakfast and the lunch/dinner menus. There are some healthier options, such as a salmon plate and a variety of fresh salads, as well as traditional food court fare, such as burgers and chicken strips.
The breakfast menu at World Premiere Food Court is pretty standard Disney breakfast fare. They offer several plant based options (I had the plant based Mickey waffle and it was delish.)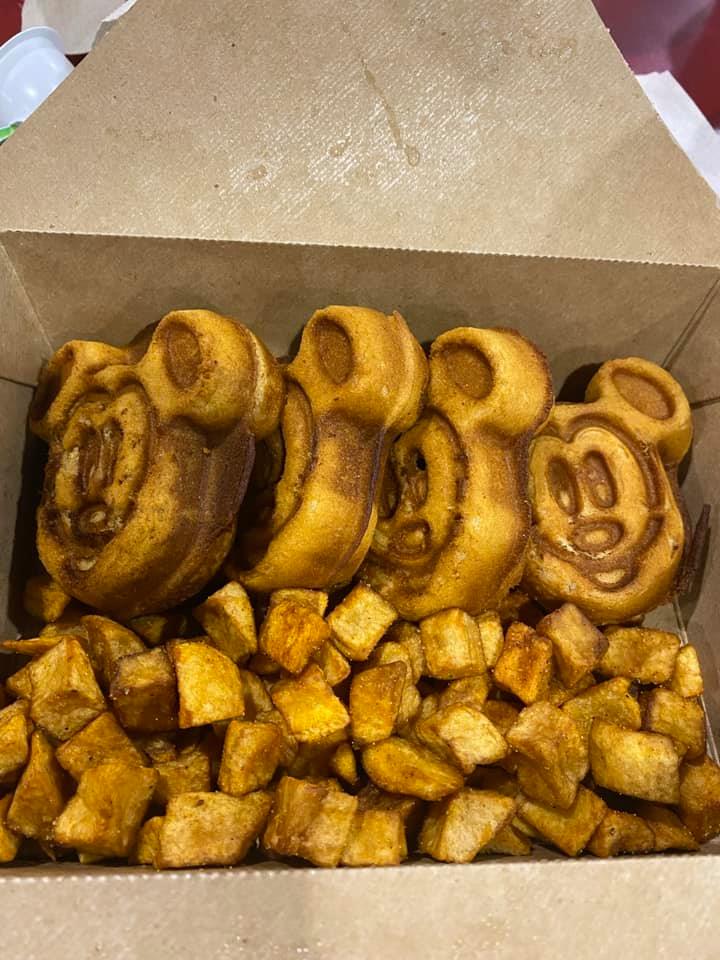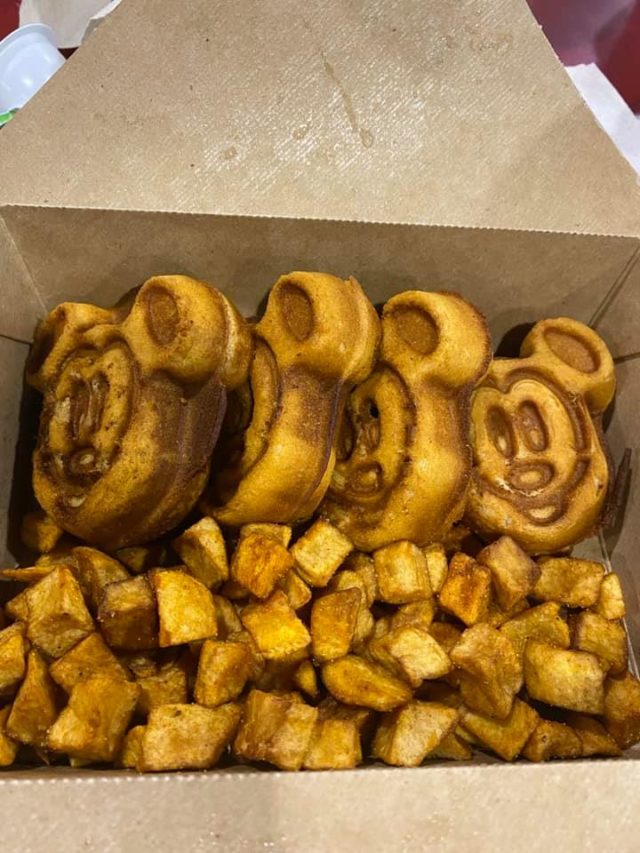 If you're bringing your own food, drinks, and snacks, you've got your little fridge in your room and some storage for nonperishables. Your room does not have a microwave so you're not able to heat up food in your room.
Who is this resort for?
The Disney All Star Movies resort is for theme park visitors on a budget who are planning to spend most of their time in the parks. You won't find hotel rooms on the Disney property priced any lower.
The resort is nice and will meet your basic needs. You'll have dining and snacks available when you're hungry and a pool to cool off in at the end of the day.
If you want a more spacious room or more resort amenities, like table service dining or a pool with a slide, you'll need to bump up a resort category. For families of four or smaller, these rooms are functional and comfortable.
If you're on a tight budget or want to save your splurges for character dining or merchandise in the parks, Disney All Star Movies resort is a great choice.
USE A DISNEY VACATION PLANNER!
A Disney Vacation Planner can help you break it down, tell you about available specials and recommend what's right for your family based on your needs and budget.
I recommend Get Away Today for Walt Disney World and Disneyland California bookings.