Disney is always changing things up at the Disney Parks. There have been lots of changes rolled out over the past 18 months and superfans have been eagerly awaiting the news of when FastPass will return. We have our answer with the new Disney Genie Service. It might not be the answer we want but it's an answer.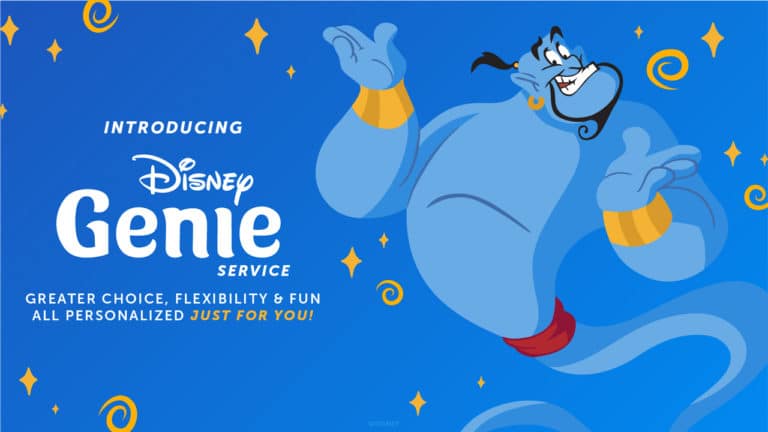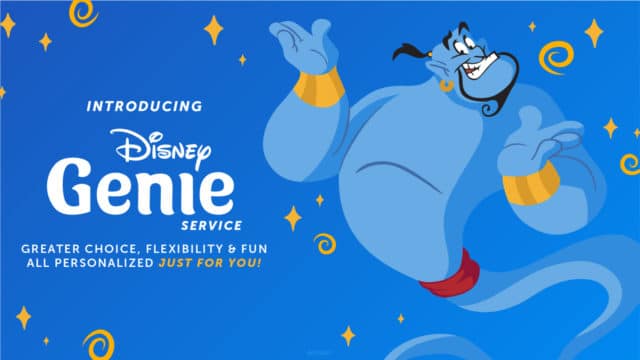 The new Disney Genie Service – What is it and is it worth it?
My family and I are Disney Vacation Club members and visit Disney at least once a year. To date, we have no personal experience with Disney Genie but we've been following this news closely and trying to plan how we'll approach this on our next trip.
You might also like: Disney World changes for 2021 – UPDATED!
UPDATE 10/11/2021: Disney Genie will launch 10/19/2021 at Walt Disney World. Guests will be able to see this option in their My Disney Experience App. We are scheduled to be in the parks for Spring Break 2022, unless I can sneak another trip in before that, so I'll let you know what I think once we've used it.
FastPass+ and MaxPass are no more
Prior to the pandemic shutdown of the Disney Parks Worldwide, Walt Disney World had FastPass+ and Disneyland in California had MaxPass. I've used MaxPass once so I'm less fluent in that but I considered myself a master manipulator of FastPass+ and how to work it to my advantage. I've done two trips to Walt Disney World in 2021 and preparing for a third. I have dearly missed FastPass+ and have been wondering about the what/how/when of replacing it.
Now that Disney has rolled out some news on their new Disney Genie Service, I can share the details with you and let you know what I think about it.
You might also like: Is Be Our Guest worth the price?
How much will Disney Genie Service Cost?
Yep, you read that correctly. FastPass+ was totally free but Disney Genie Service is not free…well, technically it is but stay with me. I hate to say I saw this coming, but I did.
Disney Genie is free. It will be available in the My Disney Experience app for Disney World and in the Disneyland app. Disney Genie will display estimated future wait times for attractions and make suggestions on how to plan your day based on that. The data in the app will update in real time with the goal being to help guests spend less time waiting in line.
So far so good, right?
But wait. That's not all. Meet Disney Genie+
Disney Genie+ service will cost $15 per ticket per day at Walt Disney World and $20 per day at Disneyland. Resort. At Disneyland, the cost is $20 per ticket per day, the same price as MaxPass.
Since we're a "Disney World Family" and are used to having the FastPass+ as a free service, this would cost my family of four an extra $60 per park day. On a typical visit, we do anywhere between one and three days in the Disney Parks, so this would cost my family, at most, an extra $180 to access the "Lightning Lane" which is what the FastPass lanes on the attractions will now be called.
Your mileage will vary based on your family size and how many park days you plan to do but this gives you a general idea.
What's included with the Disney Genie+ per day charge?
Lightning Lane access for shorter ride wait times at most rides
Disney parks-themed audio experiences and photos to capture memories
Augmented reality lenses (Disney World)
Unlimited Disney PhotoPass downloads (Disneyland)
For our family, the big draw would be the access to the Lightning Lanes. The augmented reality and photo features would be fun but let's be real: we're talking about paying for shorter wait times when we're in the park riding rides.
There will be a top tier upcharge to ride super popular attractions, such as the Seven Dwarves Mine Train and the soon to be open Remy's Ratatouille Adventures. No info yet on what that pricing will look like.
How does it all work?
Disney Genie hasn't rolled out yet and Disney hasn't given a start date other than to say "this fall." Since Walt Disney World is celebrating is 50th anniversary with their Most Magical Celebration, my guess is that the roll out will align with that. Since I haven't had personal experience with using Disney Genie, everything is guesswork and going off what the Disney Parks Blog tells us.
When you buy the Disney Genie+ service, you will be able to access the app to choose the next available time to arrive at the ride or attraction of your choice. You will enter the ride via the Lightning Lane. The idea is that your wait time will be reduced.
When you're done with that ride you can access the app to choose another available arrival time. Selections are made the day you're in the park and not in advance. Gone are the days where you're up at exactly 6:00 a.m. Central Florida time 60 days before your visit to try and book your three FastPasses. We'll see if that's a good thing or not.
Disney has not released the full list of rides that are going to have Lightning Lanes. I want to assume it will be the same ones that used to have FastPass lanes but Disney has a way of surprising us, especially over this last year.
Is Disney Genie+ worth it?
Since no one to date has used it, we don't know if that $15/$20 per ticket per day will substantially reduce wait time. If Disney Genie+ proves to be popular with park guests, the Lighting Lanes will have more people in them. If a lot of people use it, the Lighting Lanes might be about as long as the standby lines. If the response to what's essentially a paid FastPass program is lukewarm, the guests who do fork over the cash for the service might find the price is worth it if/when they enjoy substantially reduced wait times.
It all remains to be seen.
In general, I'm a big "You get what you pay for" kind of traveler. If you pay for upgrades or premium services you are generally going to have a better experience. I'm curious to see what people think after this all rolls out.
Will my family use the Disney Genie Service?
As someone who likes to stay in the know on all things Disney World, I'm sure my family will give Disney Genie+ a try at least once. I write about a lot of Disney things here on the blog and I can see us trying this with the intent to pass along our experiences to you. Whether that extra $180 or so is going to be a regular part of our Disney World budgeting, I can't say yet.
That said, I have some pretty strong feelings about the fact that Disney is charging guests for FastPasses. I understand the need for change. I also understand that Disney is a business and that businesses – no matter how magical – want to make money.
I completely understood when Disney reduced some of the guest experiences when they reopened after their pandemic shutdown. They were operating with a new playbook and I saw the things they took away (Extra Magic Hours, Character Dining, fireworks and nighttime spectaculars, and of course, FastPasses) as an effort to keep guests safe while giving them some sort of normalcy in a time where magic and wonder were needed more than ever.
In the past few months, Disney has announced the termination of Disney's Magical Express, which was long touted as a perk of staying on property, the news that extended hours would apply only to guests staying in a certain tier of Walt Disney World Resort hotels and now a service that has been traditionally free is going to be a substantial upcharge.
While I'll probably pay it, the fact that Disney is giving off major nickel and dimey vibes is making me unhappy. Too much change too soon – especially when that change is lightening the pockets of a loyal fanbase – is usually not going to be embraced. Part of me is hoping that they're taking the bandaid approach and are just ripping it off all at once to get it over with. Part of me is wondering when the other slipper will drop and what previously free thing they're going to charge me for next.
Disney has made a big inclusiveness push lately and sent a strong message that Disney is for everyone. Disney was already expensive and they're slowly whittling away at the perks, thereby sending the message that Disney is for everyone that can afford it.