Disney Genie Service – Is it worth it?
(This post may contain affiliate links. Read my full disclosure.)
Disney is always changing things up at the Disney Parks. There have been lots of changes rolled out over the past 2+ years. The new Disney Genie Service is one of those changes. Is it worth it? I used Disney Genie last week (March 2022) and I'm sharing my perspective.
This post was originally published in August 2021 and has been updated.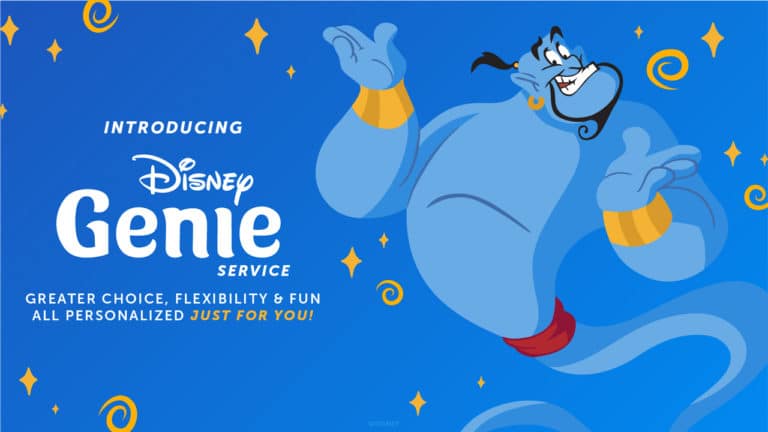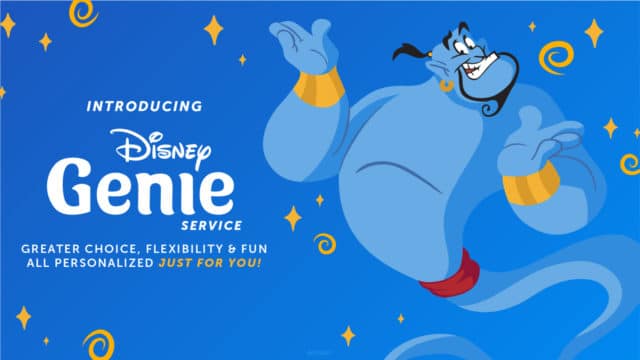 The new Disney Genie Service and Disney genie+ – What is it and is it worth it?
My family and I are Disney Vacation Club members and visit Disney at least once a year. Disney Genie launched in October 2021 and we used it for the first time on our spring break trip in March 2022. Based on our experience, we won't buy it again unless Disney makes substantial changes. Read on for an overview of the program and how it worked (and didn't work) for us.
You might also like: Disney World changes for 2021 – UPDATED!
FastPass+ and MaxPass are no more
If you haven't been to Disney World or Disneyland in a while, FastPass+ and MaxPass are history. Disney is always changing and if you were used to the old systems, this one is a big change.
I considered myself a FastPass+ expert. I only used MaxPass at Disneyland once. Disney Genie service is completely different than both of those systems.
Please note: I have no firsthand experience using Disney Genie at Disneyland, only at Disney World.
You might also like: Is Be Our Guest worth the price?
How much does Disney Genie Service Cost?
Yep, you read that correctly. FastPass+ was totally free but Disney Genie Service is not free…well, technically it is but stay with me.
Disney Genie is free. It's available in the My Disney Experience app for Disney World and in the Disneyland app.
Disney Genie displays estimated future wait times for attractions and make suggestions on how to plan your day based on that. It also makes suggestions based on data you input. The data in the app will update in real time with the goal being to help guests spend less time waiting in line.
So far so good, right?
But wait. That's not all. Meet Disney Genie+
Disney Genie+ service will cost $15 per ticket per day at Walt Disney World and $20 per day at Disneyland.
Disney Genie+ runs my family of four $60 per park day. On our most recent trip we did two park days so we paid an extra $120, plus tax, to use Disney Genie+ for those two days.
Disney Genie+ gives guests access to the Lighting Lanes, which is the new name for FastPass. All the old FastPass lanes are now labeled Lighting Lanes.
You might have heartburn about paying for a service that was completely free, not to mention easy to use, a short time ago. I get that.
What's included with the Disney Genie+ per day charge?
Lightning Lane access for shorter ride wait times at most rides
Disney parks-themed audio experiences and photos to capture memories
Augmented reality lenses (Disney World)
Unlimited Disney PhotoPass downloads (Disneyland)
On our recent visit, I didn't see any of the augmented reality lenses or audio experiences. I didn't look for them but they weren't evident in Disney Genie+. I was focused on trying to navigate ride wait times and enjoy my family and let's be real: people are paying to shorten their wait times, not fun photo overlays and such.
Disney World needs to align with Disneyland and include PhotoPass downloads with Disney Genie+. Disney Memory Maker – unlimited photo downloads – is currently $199 ($169 if purchased 3 days in advance of your trip) so Disneyland visitors are getting quite the price break on photo downloads.
Individual Lightning Lanes
This should probably be called Disney Genie++
There's an upcharge to use the Lightning Lanes for popular attractions, such as the Seven Dwarfs Mine Train and others. To be clear, this is paying a one time fee to ride one ride. The standby lines are still available if you want to wait; the fees are all about getting into those Lightning Lanes. Even if you pay for Disney Genie+ you can't reserve Lightning Lanes for certain rides without an extra fee.
Here's the current list of attractions you can buy Individual Lighting Lane passes for:
Magic Kingdom: Seven Dwarfs Mine Train
EPCOT: Remy's Ratatouille Adventure
Hollywood Studios: Star Wars: Rise of the Resistance
Animal Kingdom: Avatar Flight of Passage
Initially, Disney listed Space Mountain, Mickey and Minnie's Runaway Railway and Frozen Ever After as being eligible for Individual Lightning Lane, but according to Disney's website, they won't appear on the Individual Lightning Lane list from 2/25/2022 through 8/27/2022 and will appear as regular Lighting Lane selections.
Individual Lightning Lanes are booked directly in the app. The prices vary and are not published. From what we saw and heard, the Individual Lightning Lanes run from $9 to $15, per person per ride. We looked at buying individual Lightning Lanes for Remy's Ratatouille Adventure for $9 per person and ultimately decided not to. Another guest we spoke with reported seeing $15 per person for Individual Lightning Lanes for Star Wars: Rise of the Resistance. $15 per person per ride seems to be the top price. I haven't heard of anyone being charged more.
Is your head spinning yet?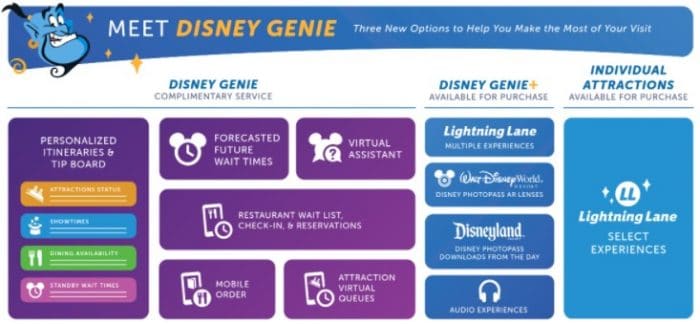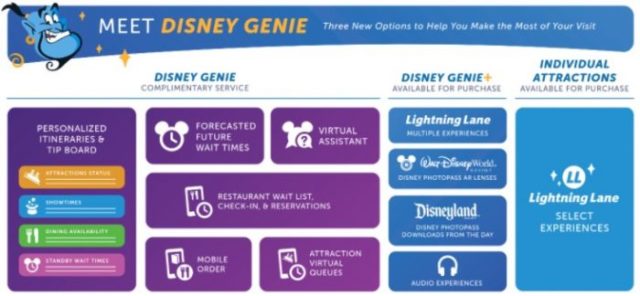 How does it all work?
Not very well.
We purchased two days of Genie+ for our most recent trip. I spoke to Disney Cast Member at my resort hotel regarding the specifics of using Genie+ and making the most of our investment. Even though I thought I understood how everything worked, a kind young lady at Animal Kingdom Lodge offered to step me through the process. I intend this to be a reference (and maybe a little bit of a cautionary tale) and I hope it helps you but if you're not feeling confident about the app, try to find a Cast Member before you plan to go to the parks and use it.
Here are the basics:
You have to get up early, even if you're not planning to go to the parks until later. You'll need to be logged in to your My Disney Experience app before 7:00 a.m. I recommend giving yourself an extra 10-15 minutes to make sure you don't have issues logging into your app.
After you log into the My Disney Experience App, go directly to the Tip Board and make sure its populated to the park you have reservations for.
You can only reserve one Lightning Lane at a time so have an idea in advance what you want to reserve.
The attractions are listed in alphabetical order.
At 7:00 a.m., move quickly. There are lots of other people doing exactly what you're doing and, in my opinion, Disney has oversold this option and doesn't have enough servers to handle the demand.
Make your selections quickly and go through all the prompts to confirm. Quickly.
Once you've confirmed, check the "My Plans" tab. Take a screen shot – more on why in a moment.
Proceed with your morning plans.
How it's supposed to work
When you've checked in for your Lightning Lane at the park using your Magic Band or App, you're supposed to be able to immediately select another Lighting Lane. There's some confusion on how all this works, which is one of the reasons I say this process is clunky. I had a Disney Cast Member tell me I should be able to reserve a Lightning Lane every two hours, which I didn't find to be true.
We were able to check in 5 minutes before our ride window, so my experience says you can show up a little early but not much.
The 120 minute rule
According to Disney Food Blog, a trusted source of all things Disney parks, it's possible to have two Lightning Lanes booked in Disney Genie+.
"For example, say you book at 5PM Peter Pan's Flight Lightning Lane at 10AM. You would then get a 120-minute cool-down. So, at 12PM, two hours after making your selection, you can make another Lightning Lane choice while keeping the Peter Pan's Flight Lightning Lane. This would mean you have two active Lightning Lanes in your itinerary at once!"
Read the full write up on Disney Food Blog here.
Once you've completed your ride for the attraction you'd reserved a Lightning Lane for you can access the app to choose another available arrival time. Selections are made while you're in the park and not in advance.
It sounds complicated because it is
This system is far from intuitive. I've found most of of Disney's tech interfaces to be pretty easy to navigate. This one is super cumbersome. One of my Disney loving friends referred to the 7:00 a.m. logging in as a "Battle Royale." This is not wrong.
My experience with Disney Genie+
We purchased Disney Genie+ for both of our park days – Monday at Magic Kingdom and Tuesday at Hollywood Studios. Both days, I had a strategy. I woke up before 7:00 a.m. and logged into the app.
Our first day – Magic Kingdom
I thought Disney Genie+ was okay the first day. I wasn't raving about it but I had no huge complaints. We had a full day and it definitely eliminated our time in line but we didn't get to use Genie+ on the rides we really wanted to ride.
I reserved Peter Pan's Flight with a ride time of 10:30 a.m. We don't usually ride this because the line is always insanely long and it had been awhile – so long that my kids didn't really remember it – so I reserved that.
Upon entering the park at 8:30 we made a beeline for Seven Dwarfs Mine Train and waited an hour.
We did standby lines for: Haunted Mansion, Splash Mountain, The Many Adventures of Winnie the Pooh, Swiss Family Robinson Treehouse, and Carousel of Progress.
In addition to Peter Pan's Flight, we got Lightning Lanes for: Pirates of the Caribbean, Monsters Inc. Laugh Floor, Buzz Lightyear Space Ranger Spin
Everything went fairly smoothly. We would have liked to have used our Disney Genie+ to go on rides that typically have a longer wait time, such as Space Mountain and Big Thunder Mountain Railroad. This is the reason we purchased it in the first place. However, Lightning Lanes for these historically popular rides weren't available until the evening and we'd planned to leave the park at 5:00 p.m. to be able to relax at our resort and make our dinner reservation. If we'd have planned a longer day in the park, I think we'd have been able to take better advantage of what we paid for.
Our second day – Hollywood Studios + park hopping to EPCOT
This is where the wheels fell off.
I woke up early again and made a Lightning Lane selection for Slinky Dog Dash. The first available time was 12:15, which told me lots of people were using the app. I confirmed it showed up in my plans and my husband saw it in his plans since our reservations were linked – this is important – and we went on with our day.
Since our first Lightning Lane was not until after noon and we could access the park at 8:00 a.m. we decided to brave the long line for Rise of the Resistance. After we completed that ride, I checked my app to confirm my plans and saw that our Slinky Dog Dash ride time had shifted to 6:00 p.m. We had planned to park hop to EPCOT after 2:00 p.m. since we paid for the Park Hopper ticket option. We also had dinner plans at EPCOT.
I cancelled the Lightning Lane for Slinky Dog Dash and made another reservation for Alien Swirling Saucers, which was the only ride showing a Lightning Lane available at all.
We decided to send our kids on the Millennium Falcon ride alone and my husband and I got in line for guest services, which are located throughout the park under the blue umbrellas. After a 20-minute wait to speak with someone, I was told by a Cast Member that the app can move ride times around if the park is busy and that everything was subject to change. I asked to speak to someone else and I waited about 10 additional minutes for a supervisor to make his way over.
The supervisor told me the first Cast Member was incorrect in saying the app can move ride times around after they're confirmed but they can shift until you've gone through all of the confirmation screens to place the Lightning Lane into your plans. If you see a ride availability time for 10:00 a.m. it can move to 2:00 p.m. or even become unavailable if you aren't quick with your fingers in completing your reservations. We were asked if we'd taken screenshots of our plans and our answer was "Of course not – why would we?" The Cast Member backtracked and said that wasn't something guests should be expected to do and that he'd only asked because he didn't see in his system that we'd had a Lightning Lane for 12:15 at all. He showed me his screen that only reflected the 6:00 p.m. Lightning Lane.
He ended up restoring our Lightning Lane and giving us an additional one for our time. He did what was in his power to remedy our situation and make up for the time we'd stood in line to deal with a problem we shouldn't have had to deal with.
We left Hollywood Studios for EPCOT a little bit after 2:00 p.m. During the rest of our time at Hollywood Studios, there were no Lightning Lanes available at all.
Making Lightning Lane reservations when you're park hopping
We were told by two Cast Members that we couldn't make Lighting Lane reservations to a second park until after 2:00 p.m. which makes sense if you understand how park hopper tickets work. Our plan was to buy an Individual Lightning Lane to Remy's Ratatouille Adventure and checked the apps for availability beginning right at 2:00 p.m.
We were unsuccessful. I was surprised Disney was going to miss an opportunity to separate me from my money but there are apparently limits on how many of these pay to play passes Disney will sell, which is a good thing for the people who do get to purchase them.
We ended up getting in line for the Remy ride since it's new and we all wanted to ride it. It was really cute, by the way, but not worth the nearly three hours we stood in line. While we were standing in line, we kept checking Disney Genie to see if an Individual Lightning Lane would pop up. We were in line with folks who were doing the same thing and we saw a few snag the Individual Lightning Lanes and leave the lines to return later for a much shorter wait.
My husband tried to purchase one and wasn't quick enough. We saw another become available and opted not to try because we'd already been in line for 90-minutes and we thought we were close to getting on the ride. The idea of standing in line for that long and then paying a fee to get out of line just didn't sit well. Spoiler alert: we were not close to getting on the ride.
There were no other Lightning Lanes available in Genie+ for EPCOT for the rest of the day. We stayed until closing and rode a few things with shortish standby lines and made the best of it. Our kids had fun, even though the whole day left me feeling pretty disgruntled. I tried not to show it.
Is Disney Genie+ worth it?
I think it would be worth it if it worked as advertised. Even though I don't like the idea of paying extra for something that used to be included in the ticket price, the price is low in comparison to what the tickets cost. We paid $1200 for four two-day park hopper tickets and $120 for Disney Genie+ seemed a drop in the bucket. Of course, that's what Disney wants you to think.
I'd initially thought Lightning Lanes would be as long as the standby lines if everyone got Genie+, which is not the case. It does not appear Disney limits the number of guests that can purchase Genie+ but it does limit the number of guests that can get into those Lightning Lanes. While this does make wait times much shorter for the lucky few, guests who experience what I experienced at Hollywood Studios and EPCOT don't get their moneys worth. While we didn't encounter anyone who'd had their ride bumped forward six hours, we did talk to a lot of families who were seeing the same lack of availability we were and paying for Disney Genie+ and not being able to access any Lightning Lanes at all.
In general, I'm a big "you get what you pay for" kind of traveler. If you pay for upgrades or premium services you are generally going to have a better experience. I didn't find that to be the case here. I think Disney has Genie+ priced too low – I know, I can't believe I said that, either – and that low price point is attracting a lot of buyers.
From what I observed, Disney Cast Members managing the queues do not have it down when it comes to balancing Lightning Lane and standby lines. One Cast Member shared with us that the Lightning Lane always moves first and that there's no pause to reduce the backlog in the standby line. If anyone at all is in the Lightning Lane, they'll move and the standby line will be allowed to grow and grow. There appears to be no "Wow, this line is impeding foot traffic – let's hold up the Lightning Lane for five minutes and let some of the standby line move."
I hope this improves. While I can understand that someone who paid $15 to be in a fast line shouldn't wait, there needs to be some better balance.
Will my family use the Disney Genie Service Again?
I don't think so. I was a really unhappy customer after my Hollywood Studios/EPCOT day and my experience at Magic Kingdom was good but not great.
Part of me wants to be understanding and say "this is a learning curve" and that these employees have been dealing with a lot over the past two years. The other part of me thinks that this system has been in place for five months and that they should already have it figured it out.
Having to get up early to get in an online cage match for a few available tickets and still not being able to get into the Lightning Lanes for our preferred rides has caused me to rethink how we're going to plan future visits. I think we'd have a better time if we slept in a little and accepted that standing in line for the popular rides is part of the deal. We've downloaded a couple of games we can play as a family that will hopefully make the time pass in a fun way next time we wait in a long line. My kids are getting older so we can divide and conquer a little more or sit a ride out and grab a beer while our kids wait in line.
I'm hoping Disney takes customer feedback on this one and improves this system. I know we're not the only unhappy campers.
Other takeaways
I don't think Disney Genie+ is compatible with the Park Hopper ticket option. I also don't think it meshes well with having any other firm plans, such as dining reservations. If you're going to use Genie+ I think you'll be happier staying in one park and squeezing all the juice out of what you paid for.
If you plan to buy Genie+ I recommend you go with the single park ticket option. You won't have as much flexibility to be spontaneous but I believe you'll spend less and be happier with your purchase.
We visited during Spring Break, which we won't ever do again. We went for Spring Break in 2021 but it not as many people were traveling and Disney was placing more restrictive limits on park capacity. Our 2021 and 2022 experiences were night and day and we absolutely learned our lesson about booking our stay during this busy time.
Over the past two years, Disney has announced a lot of changes, to include the termination of Disney's Magical Express, which was long touted as a perk of staying on property and various changes, some temporary, due to the pandemic.
While I've accepted that the free FastPasses have probably gone away forever and that a visit will automatically incur extra transportation costs, the fact that Disney is giving off major nickel and dimey vibes still makes me unhappy. I wonder what's next. Disney's public, consistent, and often controversial message of inclusiveness that Disney is for everyone is shadowed by some of these money grab initiatives. Their marketing might say Disney is for everyone but the truth is that Disney is for everyone that can afford it.
If the Disney Genie service worked as advertised, I'd probably accept it as an added cost of going to the parks but my experience was negative enough that I'll opt to keep my $120 and use it on something else. And, let's be real…Disney is probably still going to get that money but at least it will be for something that makes me happy, like Mickey Bars and popcorn.