Character's Corner Vacation Home in Orlando
(This post may contain affiliate links. Read my full disclosure.)
If you're planning a Disney World vacation and you've got a large group, a vacation home just might be the way to go. Character's Corner Vacation Home in Orlando has tons of room and tons of Disney magic.
About Character's Corner Vacation Home in Orlando
Character's Corner is located in Kissimmee, which is two miles from Walt Disney World. It's also conveniently located near many shopping and dining options. You'll definitely have more choices for things you'll be able to easily get to than you would if you stayed on property (AKA at a Walt Disney World Resort hotel.)
Located in a gated subdivision, Formosa Gardens Estates, Character's Corner has six bedrooms, four bathrooms, a full kitchen, two living areas, a game room, and a spacious yard with a Mickey Mouse shaped pool.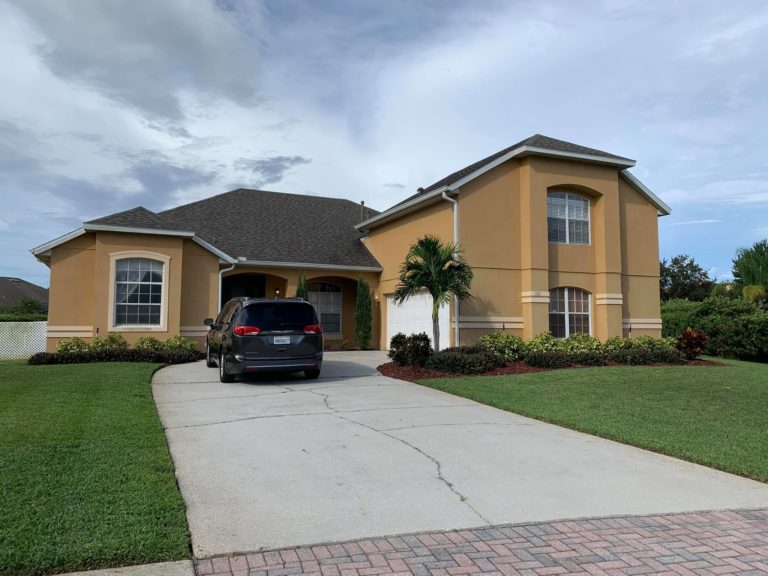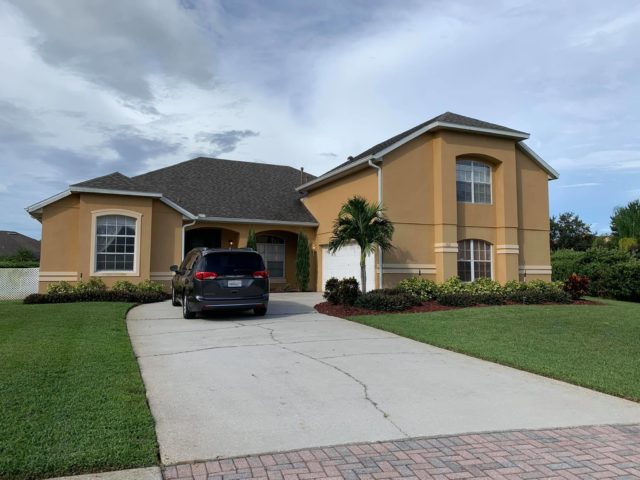 I was hosted at Character's Corner in connection with the We Grow Retreat. This post contains affiliate links.
How to rent Character's Corner Vacation Home
Character's Corner Vacation home is listed with Vrbo and Airbnb. The owner also maintains a Facebook page which offers other options for contacting and booking.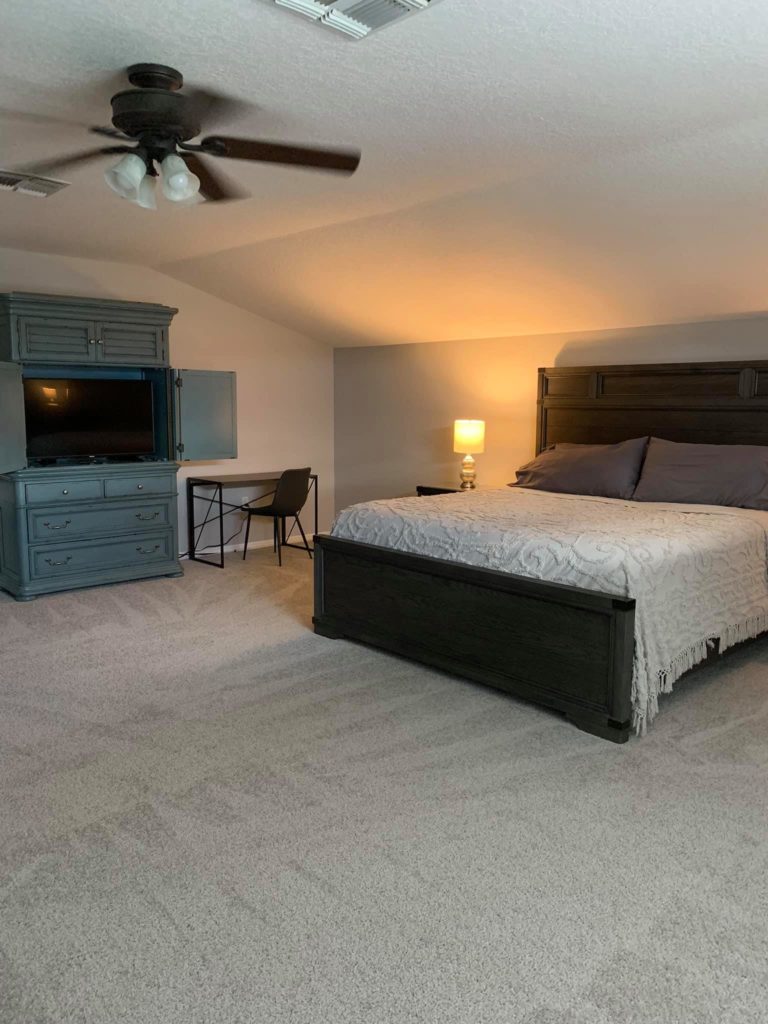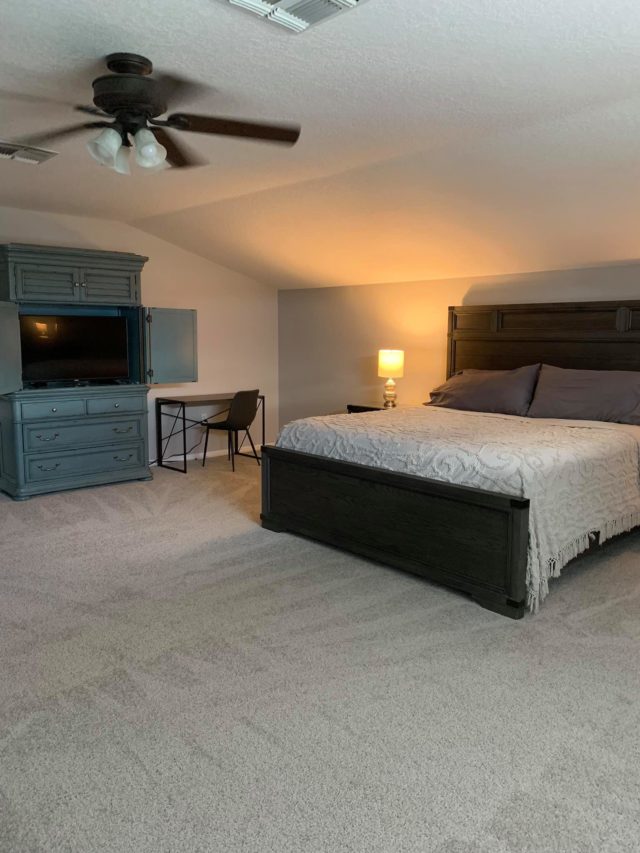 Vrbo lists Character's Corner as $388 per night. A standard room at a Disney Deluxe Resort can easily run $400-$500 per night so when you stack the price of Character's Corner against that and consider the extra space, you are clearly winning.
Perfect for a Multi Family or Multi Gen Trip
If you're visiting the Orlando area with grandparents, extended family or another family, Character's Corner is set up perfectly for that. The common areas offer plenty of opportunities to gather and relax and the six bedrooms are placed to give everyone their own space and privacy.
I stayed at Character's Corner for a retreat with five other women (we were originally supposed to be a slightly larger group) and we had more than enough room.
Let's talk about the sleeping space at Character's Corner Vacation Home
Character's Corner offers two master suites, one downstairs and one over the garage. The upstairs suite has a queen bed plus two twin beds while the downstairs as a king bed.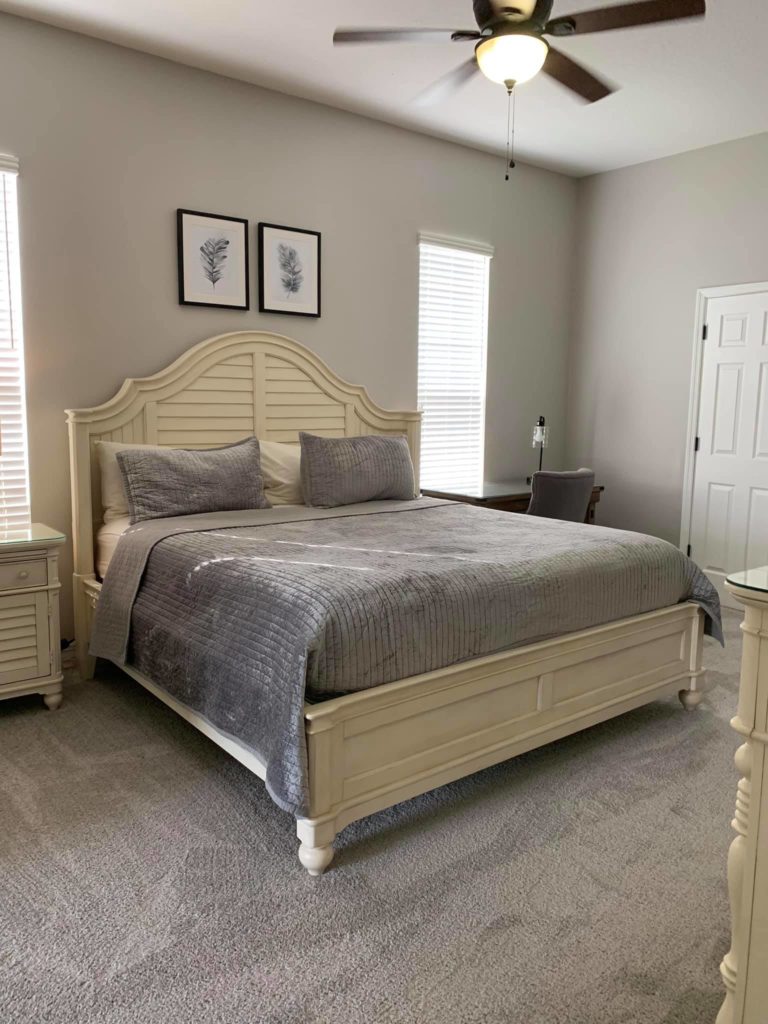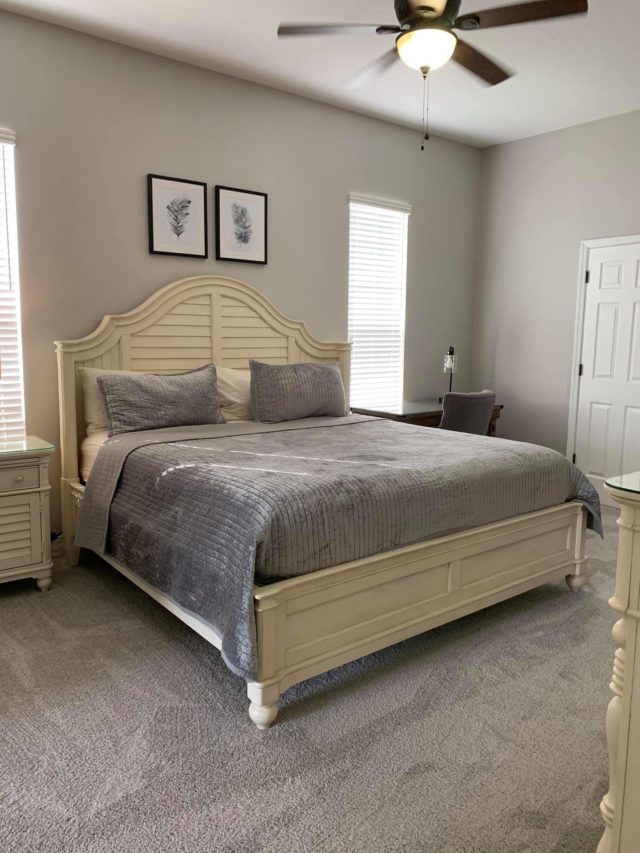 There are two Disney-themed bedrooms set up with two twin beds each. These bedrooms share a hallway bath. You can sleep under the sea or in a galaxy far, far away. The hall bath is decorated to compliment the Finding Nemo room.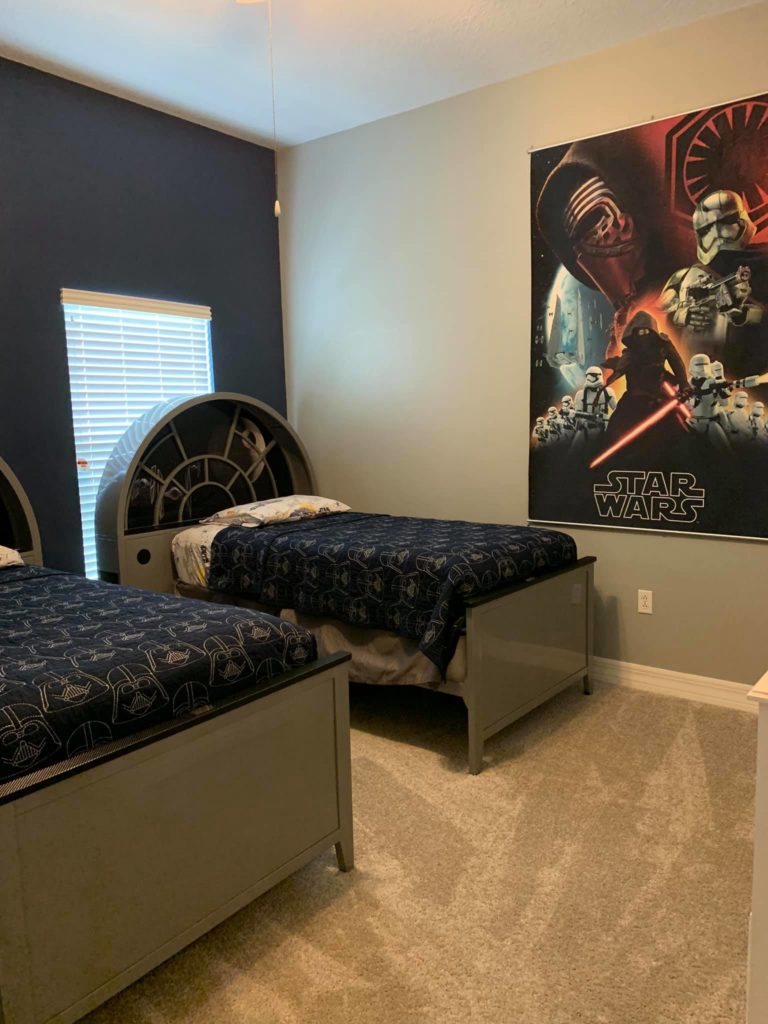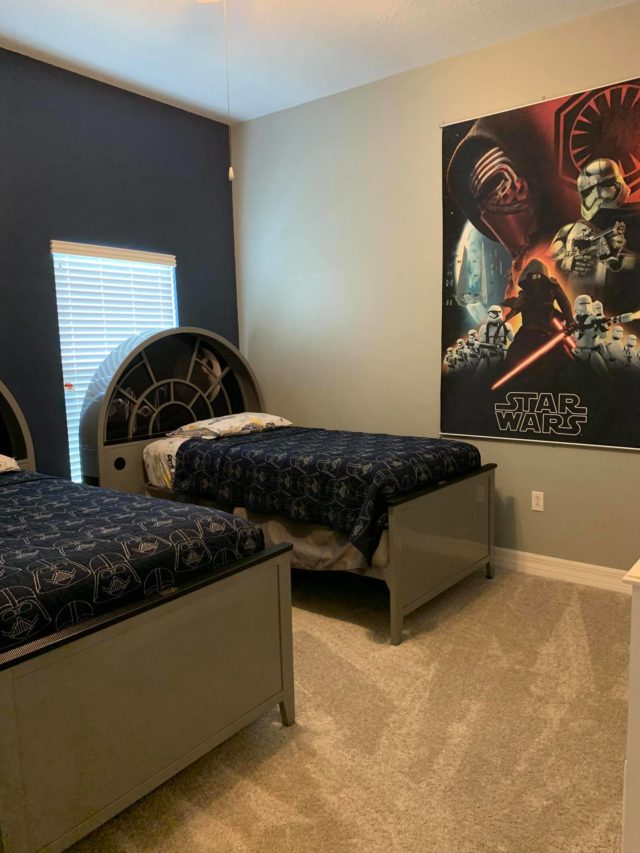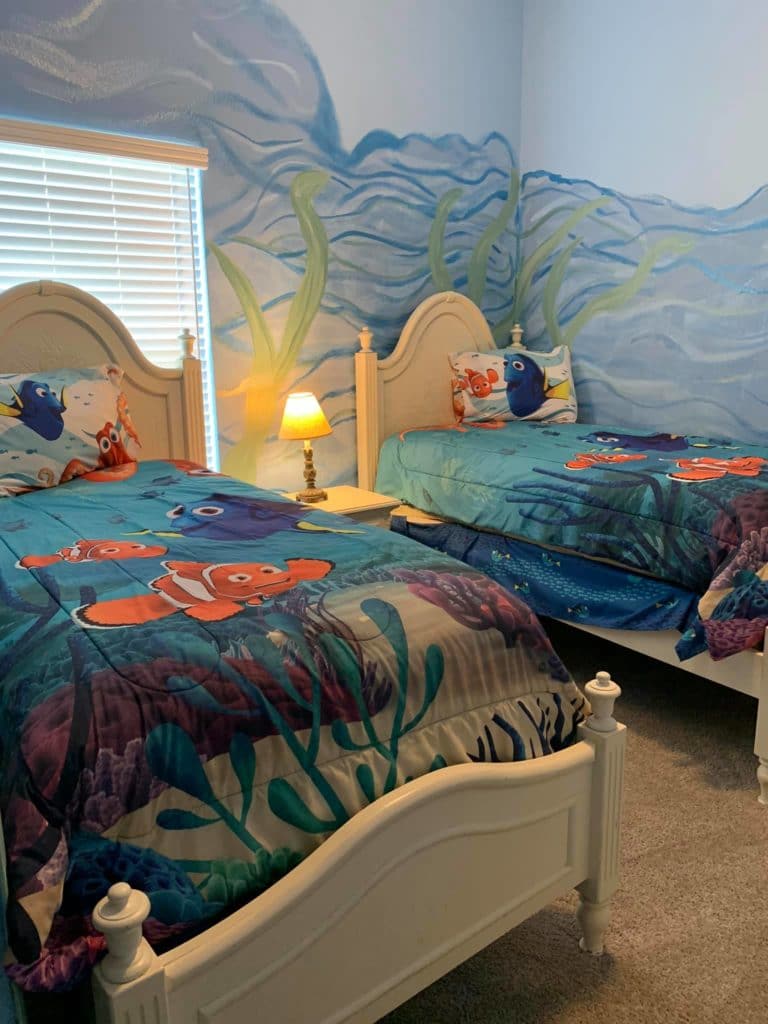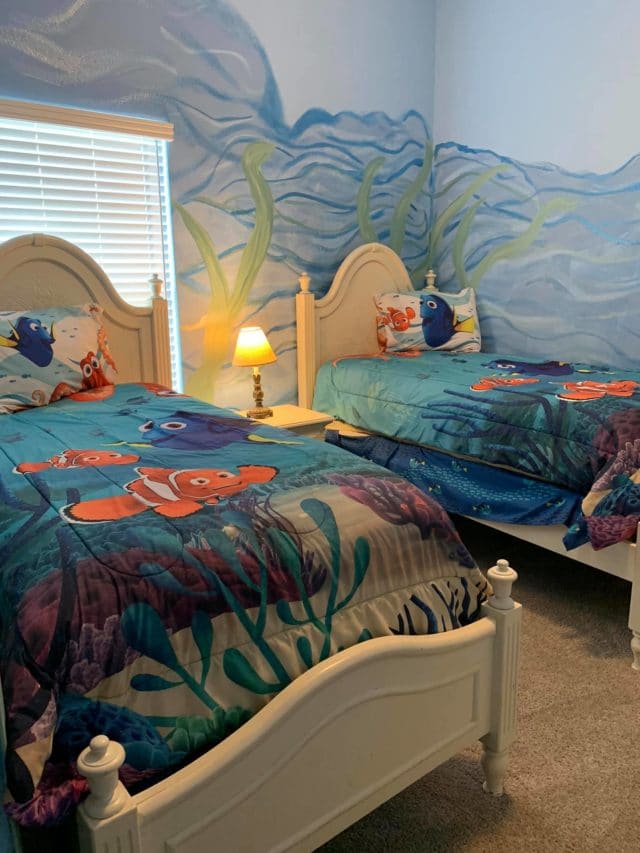 The princess bedroom can be accessed through the downstairs master or through the living room.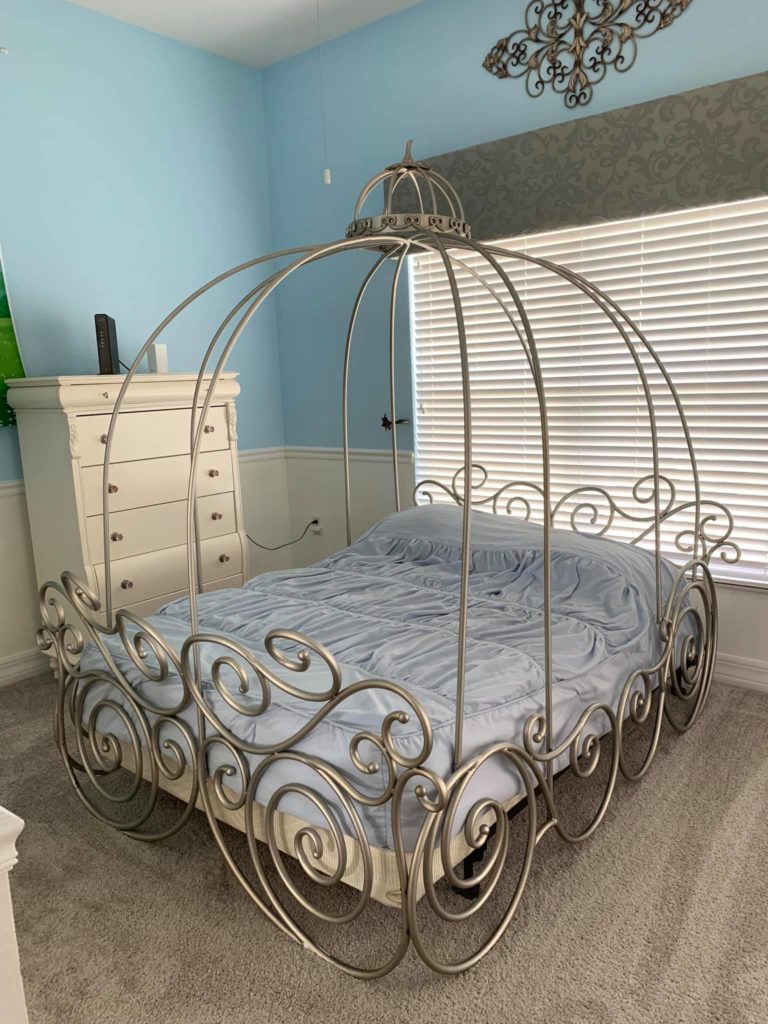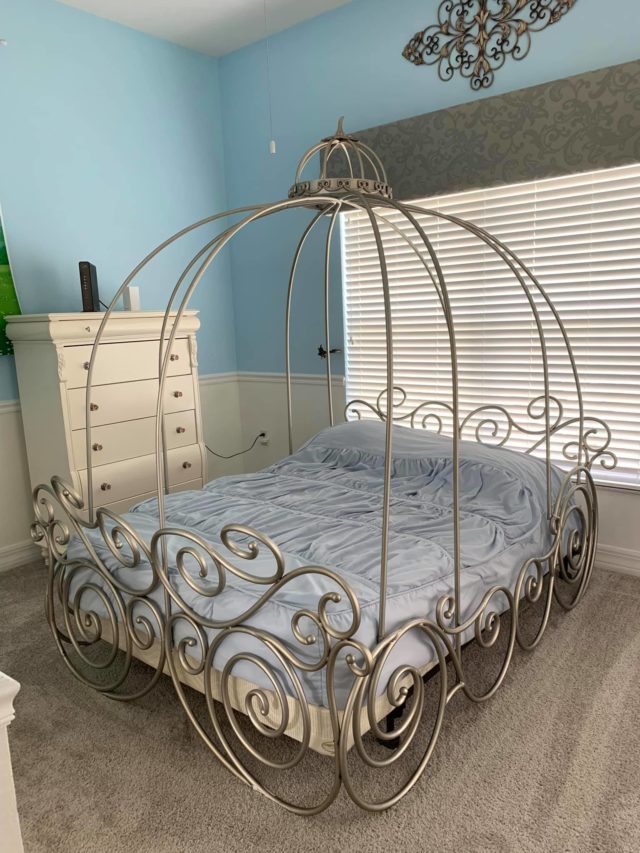 There's an additional suite of rooms on the opposite side of the house from the downstairs master, which is where I stayed. It has a full size bed and a bath next door. Not fully en suite but pretty close.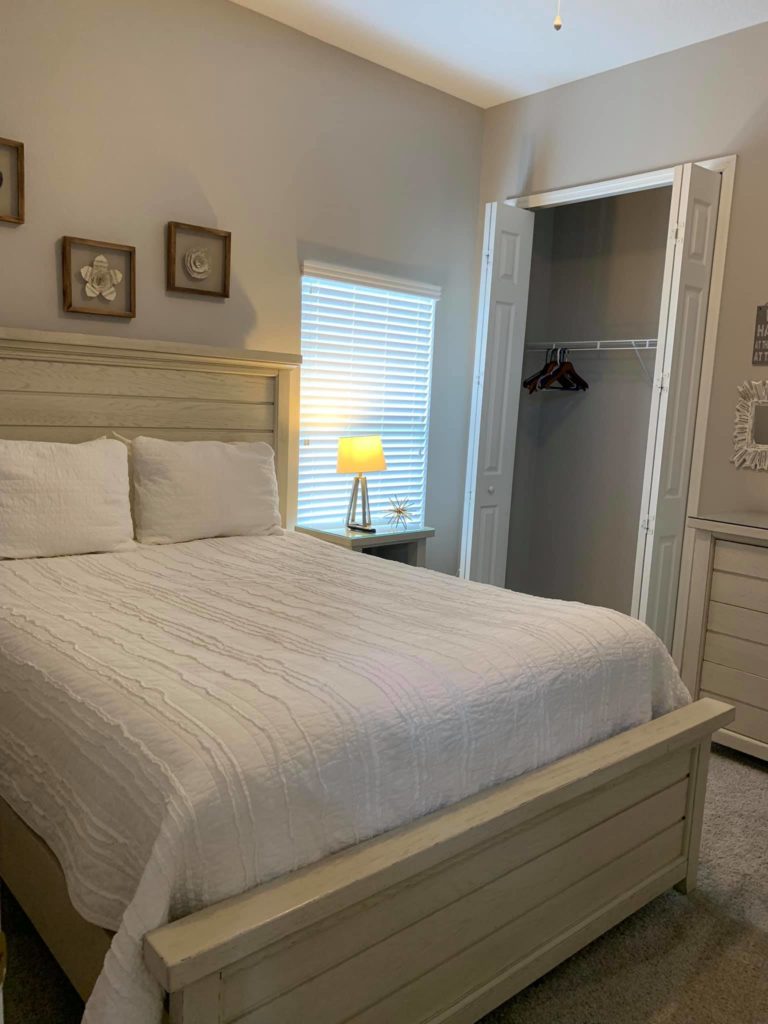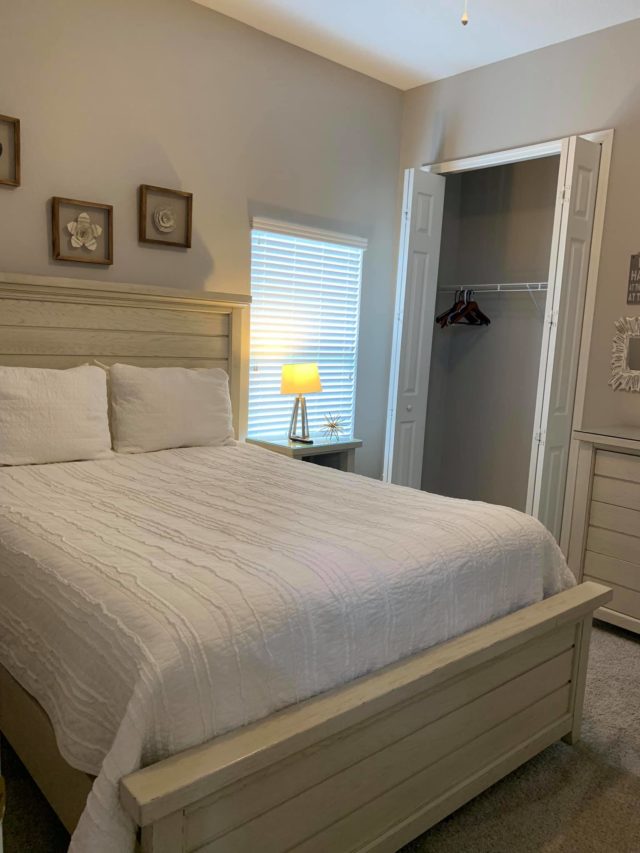 You're mileage will vary depending on how many people you've got but in general, it's pretty easy to give at least two sets of adults a pretty private space in Character's Corner vacation home.
Common Areas
The kitchen is fully equipped with a full size fridge and all the amenities you need. I'm sure you could probably cook anything you wanted here.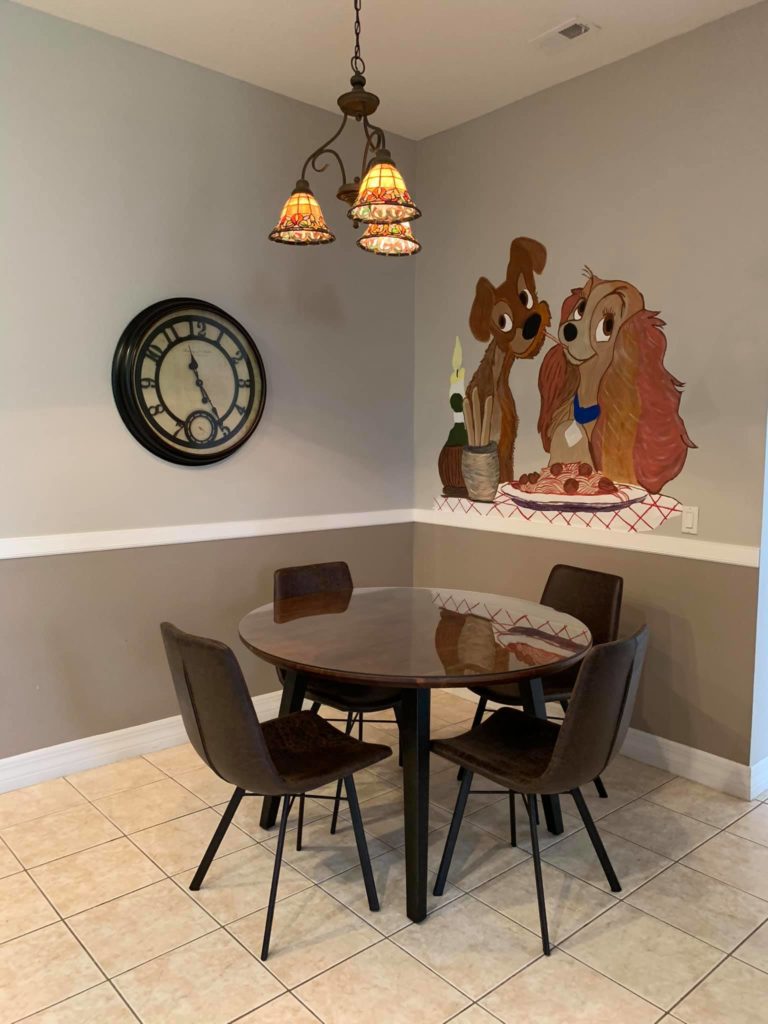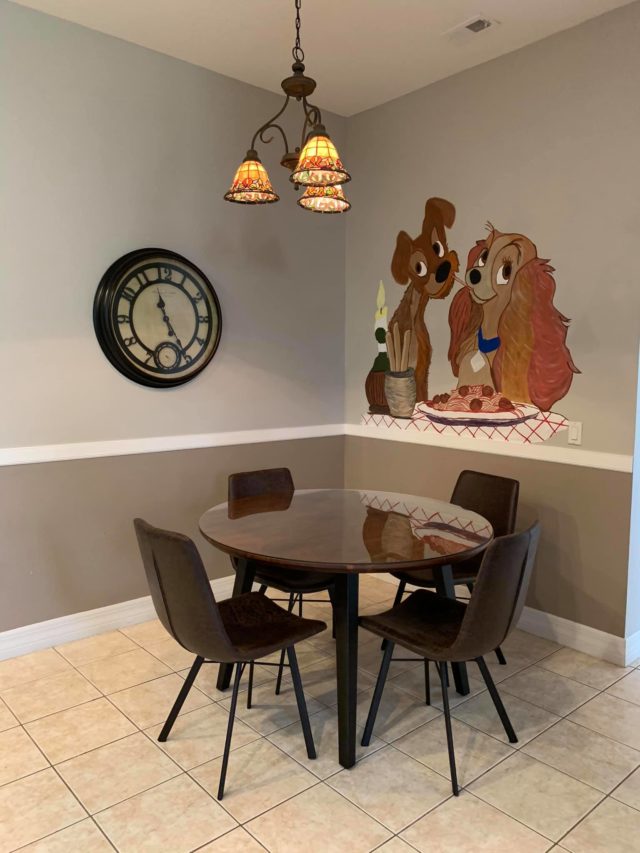 There's a cute breakfast nook just off the kitchen and a larger dining room. The covered outdoor patio also has a dining table.
There are two living areas with one being slightly more upscale than the other, although both are pretty comfortable/casual.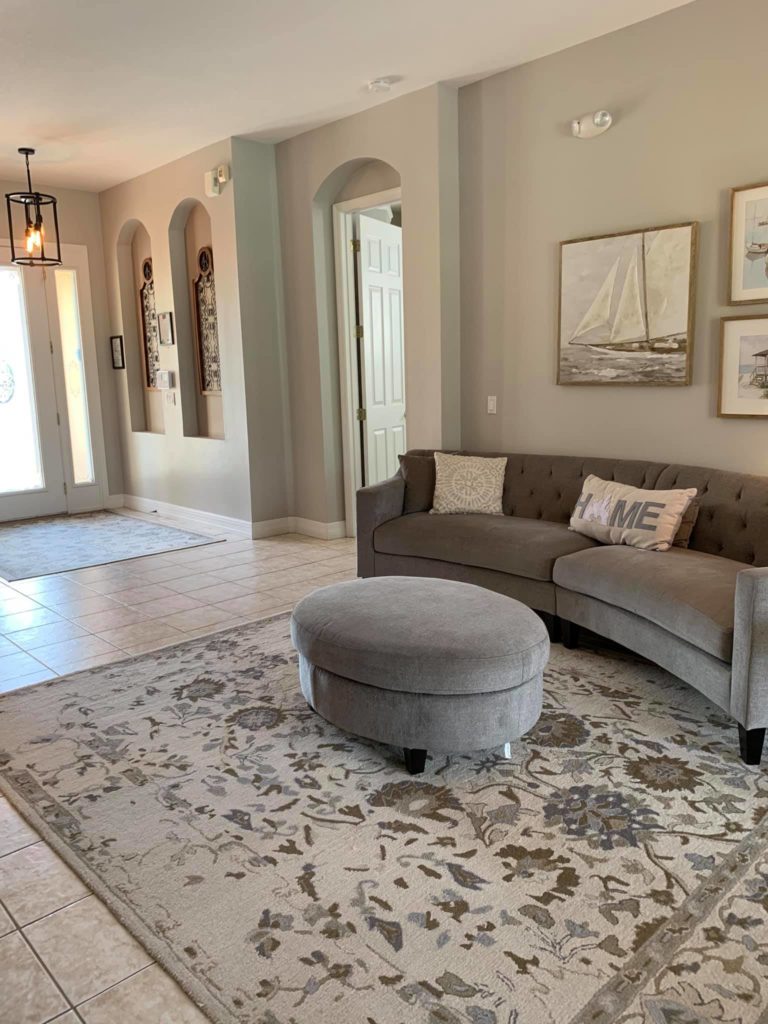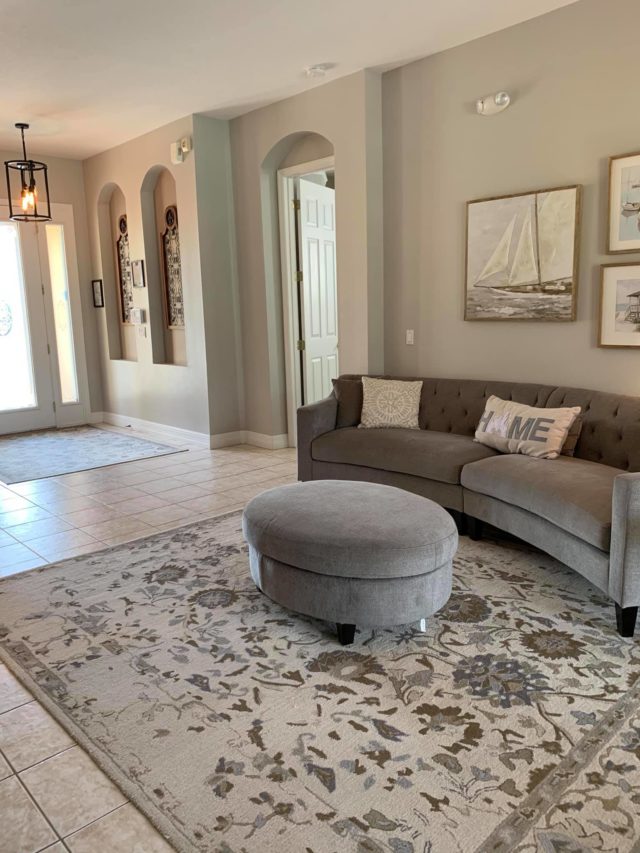 The garage has been remodeled into a media/game room. There's a foosball table, seven stadium seats and a wall-mounted smart TV. This is the ultimate teen hangout or movie night spot. You can also use this space for meetings/presentations.
The best outdoor space is the pool. The "Mickey ears" you see in the pictures is actually a small wading pool. You can see the attached hot tub as well. There are plenty of loungers/places to sit.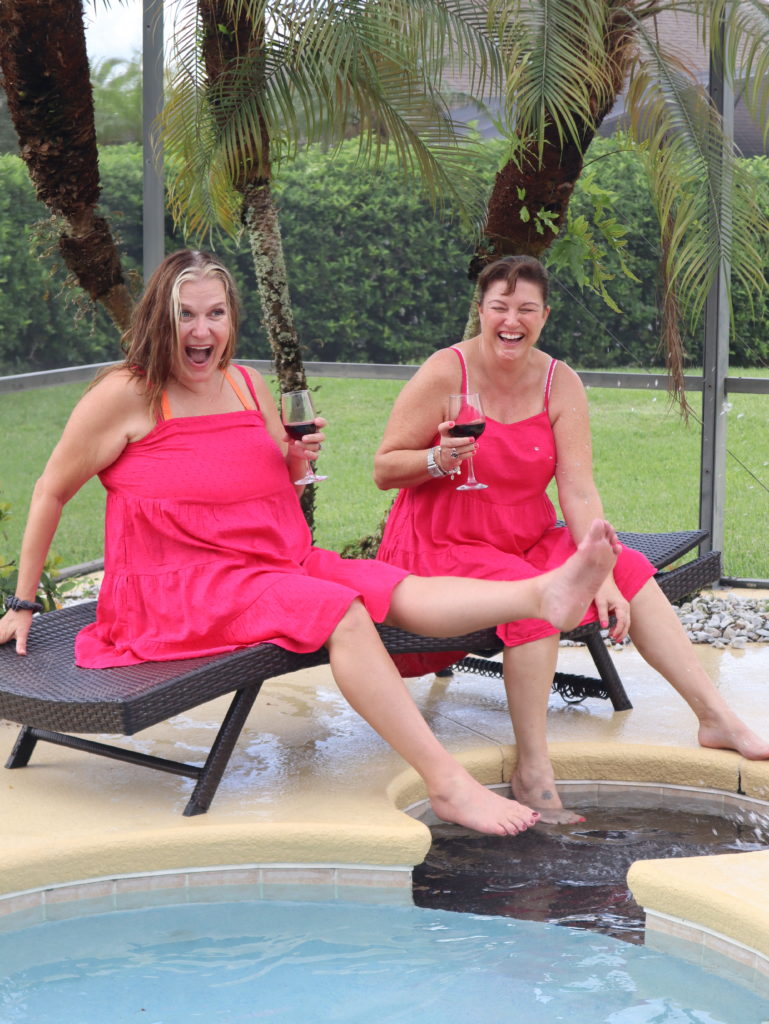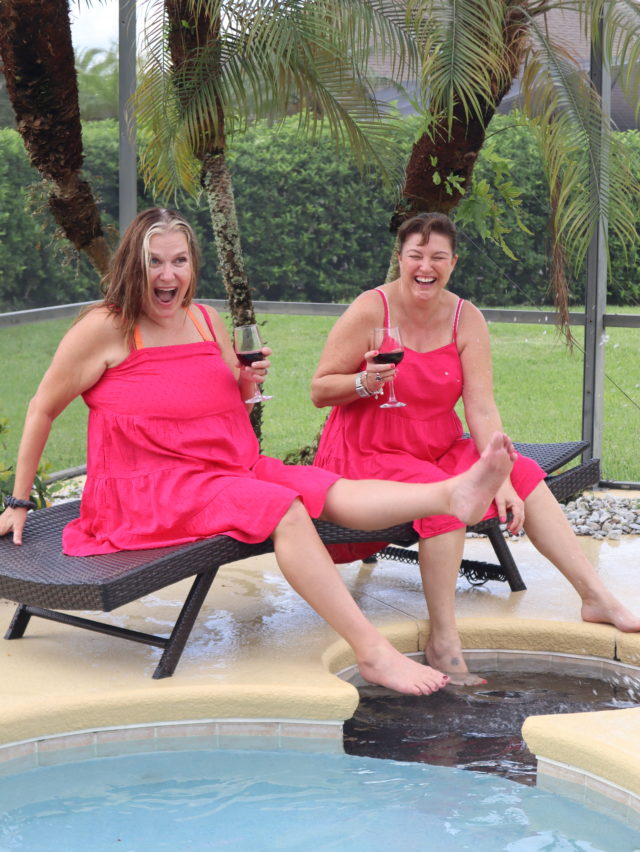 The pool is enclosed so you don't have to worry about any wildlife getting into this space. You'll find some yard space outside the pool – perfect for tossing a frisbee or playing catch.
Other features:
Full-size washer and dryer
Smart TVs throughout the hosue
Fast, secure WiFi
Gated community
Security alarms on the exterior doors for peace of mind with small children around the pool
Baby items (i.e. pack n' play/highchair)
I enjoyed staying at Character's Corner and would stay again. If this property piques your interest, grab it when you see it available. As you can imagine, it stays booked up pretty far in advance.