Socially Distant Vacation Ideas in Gulf Shores Alabama
(This post may contain affiliate links. Read my full disclosure.)
If you are looking for socially distant vacation ideas and you're dreaming of beautiful white sand beaches and turquoise water, I have two words for you: Gulf Shores. The beaches in Gulf Shores Alabama are my favorite beaches in the US. Even though I live a couple of hours from the Texas Gulf Coast and it's a quick trip to see the shoreline, I secretly (or, I guess not so secretly) love Alabama beaches best. It is what it is. #SorryNotSorry, Texas. I still love you. Socially distant vacation ideas in Gulf Shores Alabama is coming you way, along with tips on how to safely enjoy your beach time during these weird, new times.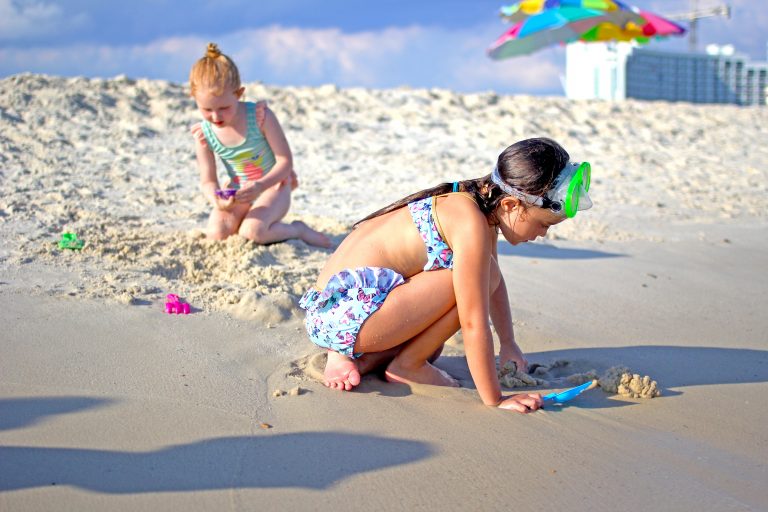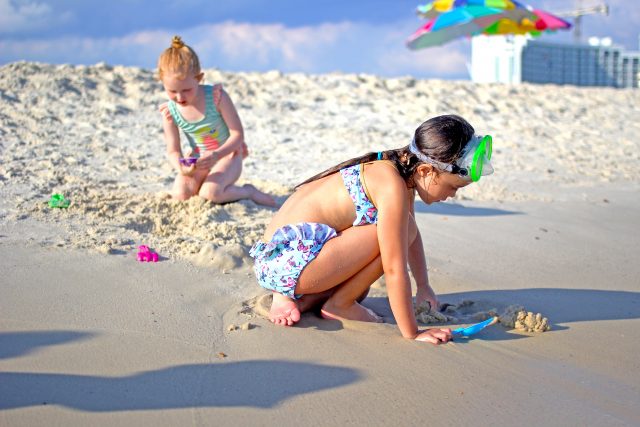 Socially Distant Vacation Ideas in Gulf Shores Alabama – Important Things to Know
The Gulf Shores/Orange Beach area has long been a favorite vacation spot for southern families. These pristine beaches are about 600 miles from Charlotte, 350 miles from Atlanta, and 470 miles from Nashville. This is a manageable one day drive from many Southern state destinations. For us, the drive is 715 miles from San Antonio, which is a little harder to do in a day but certainly not impossible. We are not long-haul road trippers, by the way, so a 10-12 hour driving day may not be a big deal for you.
Three Things to know about visiting Gulf Shores Alabama right now:
If you're looking for vacation ideas in Gulf Shores Alabama or trying to make the decision about whether travel is right for you right now, here are some things to consider:
1. The beaches are ready when you feel comfortable traveling or venturing out. Please make sure you're complying with any stay-at-home orders or restrictions imposed by your home state.
2. Face coverings encouraged in public spaces.
3. Most lodging partners have enhanced their cleaning protocols for your safety. One of the things I love best about Gulf Shores is how family-centered it is. You'll find lots of condos where you can spread out and even cook your own meals. Most area grocery stores offer curbside or delivery and services like Shipt and InstaCart are available here. Or, you can support a local business and let The Beach Moms shop for you. These ladies are the cutest and they offer other services as well.
Related: Planning an Alabama beach trip? Read this first!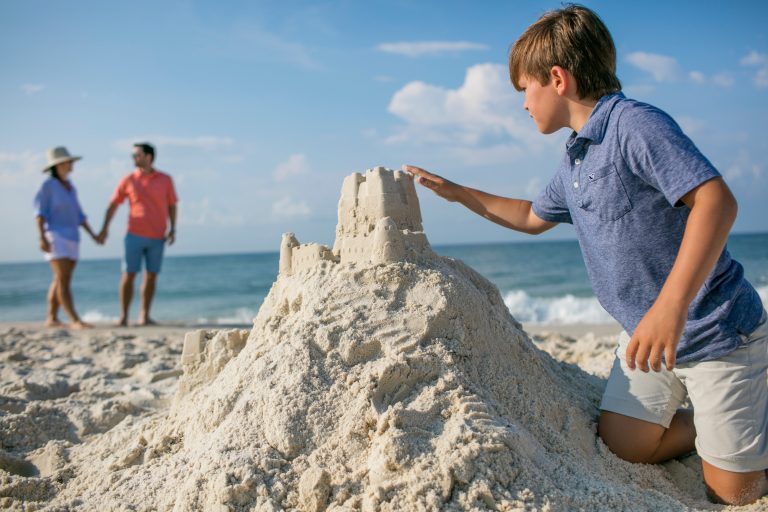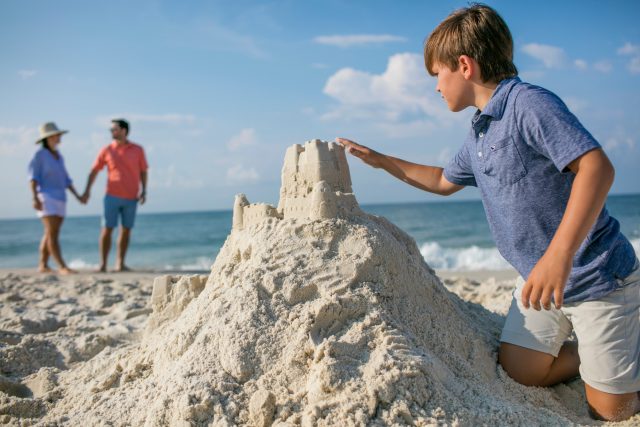 Ideas for Socially Distant Fun in Gulf Shores:
Here are 18 great vacation ideas in Gulf Shores Alabama. You'll find something on this list you love and you'll be able to maintain social distance while doing these things.
1. Soak up the sun, sand and surf on Alabama's 32 miles of white-sand beaches.
2. Hike or bike the Hugh S. Branyon Backcountry Trails or hike the Bon Secour National Wildlife Refuge.
3. Try an exciting watersport, including kayaking, standup paddleboarding, cat boating and boat or jet
ski rentals.
4. Private glass blowing lesson at The Hot Shop at Coastal Arts Center. I did this on my visit last year and it was a lot of fun. You can read more about that trip here.
5. Hunt sand crabs at night. Be sure to use a red filter on your flashlight so nesting sea turtles are
not distracted. And, make sure to add that flashlight to your beach packing list!
6. Fish the pier at Orange Beach Waterfront Park or Little Lagoon Pass Park in Gulf Shores.
7. Play a round of golf on one of the Alabama Gulf Coast's championship courses.
8. Picnic at Lake Shelby in Gulf State Park. Kayaks and paddleboard rentals are also available at Lake Shelby.
9. Up your sandcastle-building skills with a private lesson for your family with Sand Castle University. This is a must-do and was honestly one of the best parts of our trip to Gulf Shores last year. You can read more about Sandcastle University here.
10. Visit Historic Fort Morgan, then take the Mobile Bay Ferry to Fort Gaines Historic Site.
11. Visit the City of Foley Depot Museum and Model Train Exhibit or the Orange Beach Indian & Sea Museum.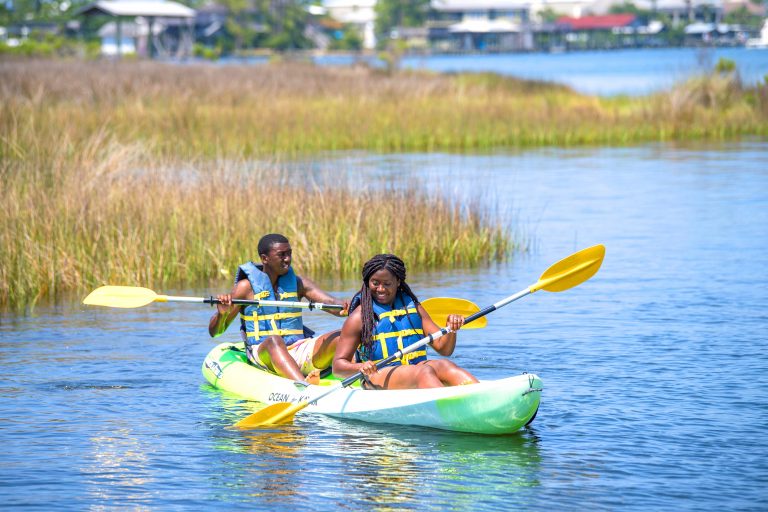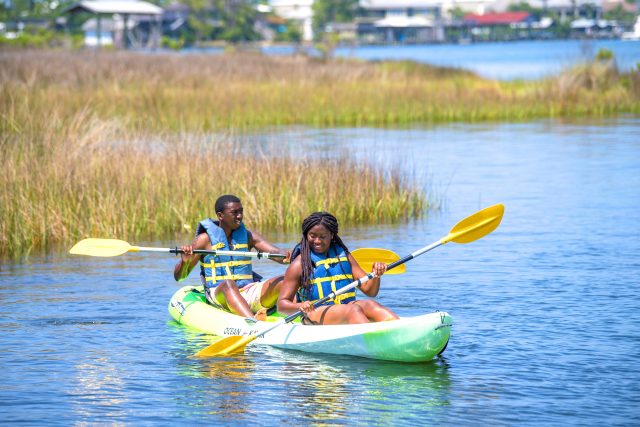 12. Challenge the family to miniature golf.
13. Experience the SPECTRA Light and Sound Show at The Wharf
14. Enjoy a dolphin cruise, a sailing excursion or hop aboard a new boating attraction in Orange Beach with Crusin' Tikis, a motorized tiki bar accommodating six guests. The Gulf Coast Ducks are also now in Orange Beach and social distancing is in place aboard the duckboats.
15. Visit the new location of the Alabama Gulf Coast Zoo, the first new zoo built from the ground up in the U.S. in 20 years.
16. Ride the trails with Coastal Segway Adventures.
17. Visit Alligator Alley in nearby Summerdale.
18. Go horseback riding at Oak Hollow Farm in nearby Fairhope
For more info on any of these activities check out the Gulf Shores Orange Beach Tourism website or my Alabama Archives Page. Hopefully, you've got some great vacation ideas in Gulf Shores Alabama and that you're at a great jumping off point for planning your own adventure.
Want to go a little further east? Check out what I've got to say about Destin Florida.