Best places to take Instagram Photos in Decatur Texas
Decatur Texas is located about an hour outside of the Dallas Forth Worth Metro area. It's a great place to sight-see, eat, shop, relax, and have a great time. But what about the best places to tale Instagram photos in Decatur Texas? If you're all about "The 'Gram" then I have the 25 most picture-perfect spots for you in Decatur Texas Texas.
Before we dig into the best places to Instagram in Decatur Texas (or take family pictures or any kind of pictures) I have to do a couple of disclaimers. First, I took all the pictures you see here in the span of three days. In other words, I might have missed your favorite picture taking spot, and if I have, please let me know so I can add to my list. Second, I am a "forgiveness versus permission" person, meaning that I don't usually ask "Can I take a picture here?" I'm a mom with a good camera and two cute kids and I try to be as unobtrusive as possible when getting my shot, not get in anyone's way and not get caught climbing on anything I'm not supposed to be on. If I'm taking a picture inside a business or of a business, I try to buy something whenever possible.
If you're a professional photographer, plan to photograph in what might be private property, or get in people's way, I recommend you ask about photo permits…or at least ask in advance about taking pictures.
I hope you find some fun spots to discover and I hope this motivates you to visit Decatur Texas. And, don't forget to find ME on Instagram and tag all of your Decatur Photos #DayTripDecaturTX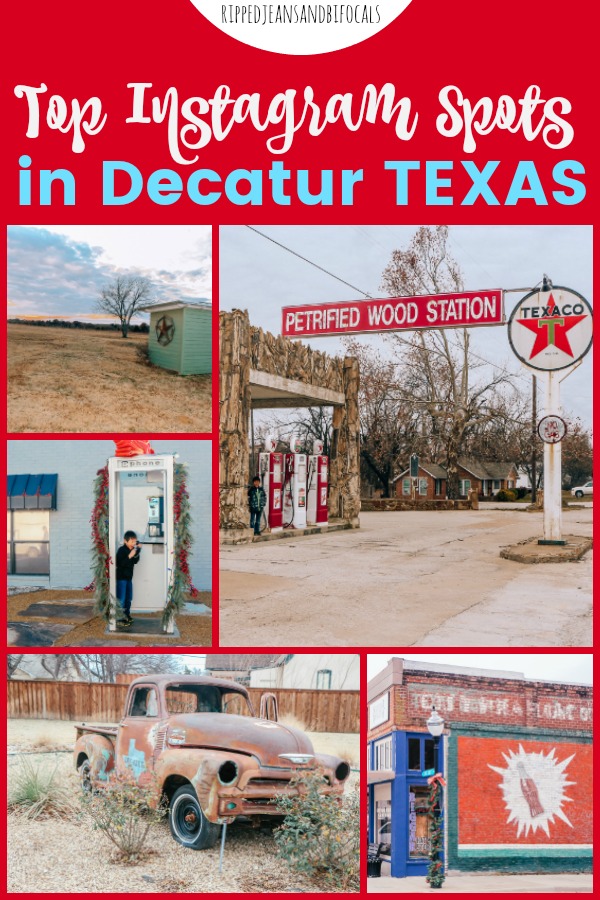 Disclaimer: We are a participant in the Amazon Services LLC Associates Program, an affiliate advertising program designed to provide a means for us to earn fees by linking to Amazon.com and affiliated sites. This post may also contain affiliate links to other sites where I will be paid a commission by the seller if you make a purchase. Thank you!
The best places to take Instagram photos in Decatur Texas
1. Trinity Street
Trinity Street, right off the main square is just plain adorable. There are lots of storefronts that display original brick and lots of colorful murals. There's all kinds of great picture-taking spots…just let your eyes wander until you find what you think makes the perfect backdrop.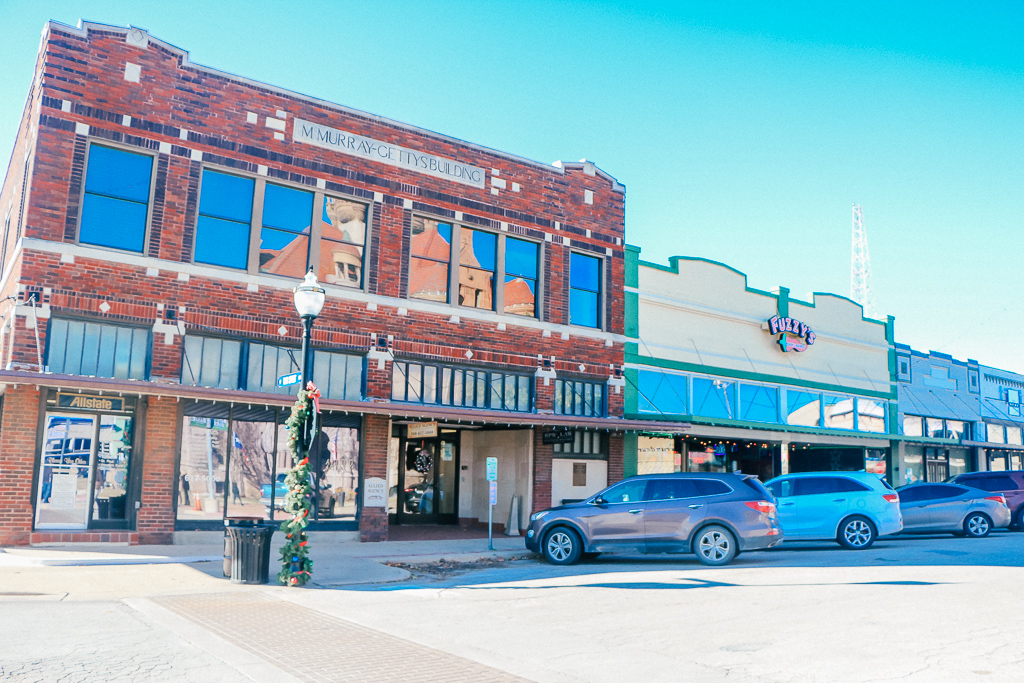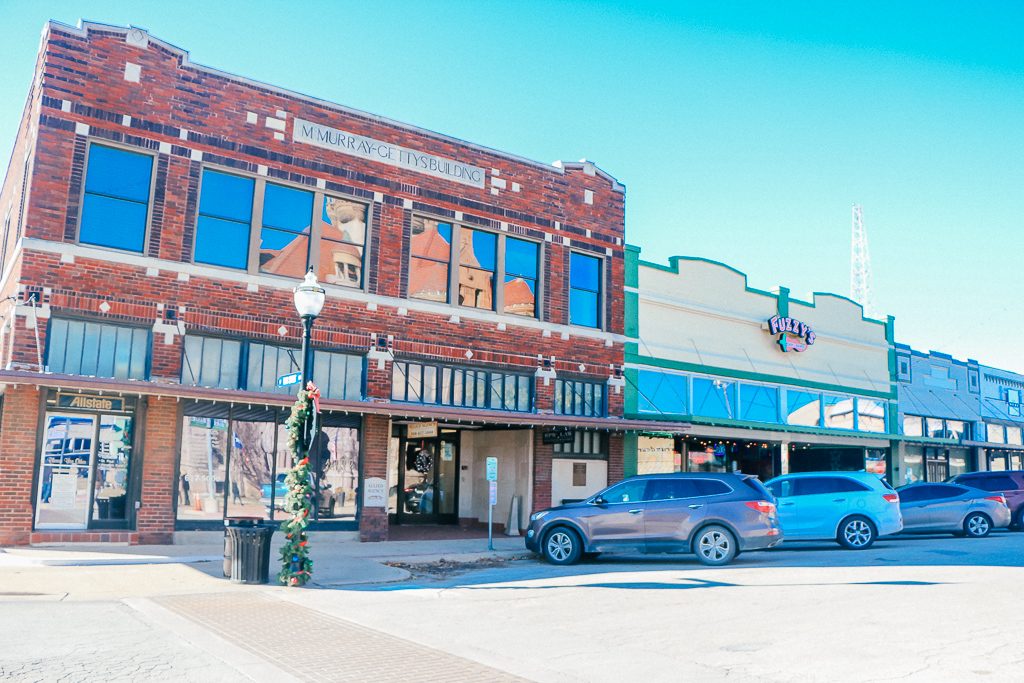 There are lots of "Insta worthy" shots inside Trinity Street Coffee bar and you should stop in here for a coffee, drink, or light bite even if you're not interested in taking pictures. It's a fun place to people watch.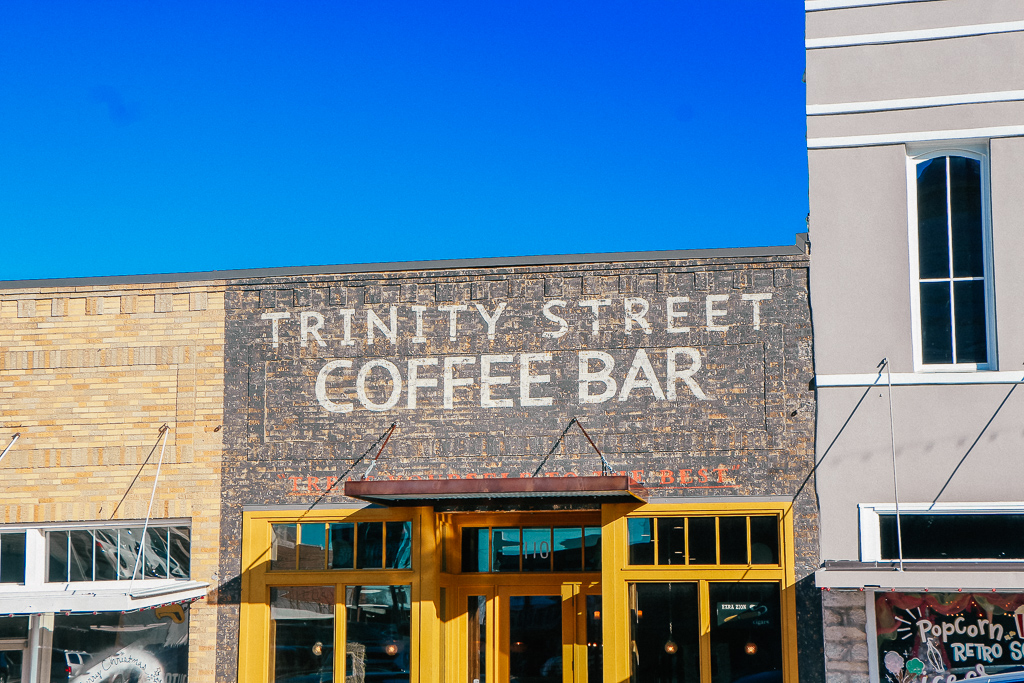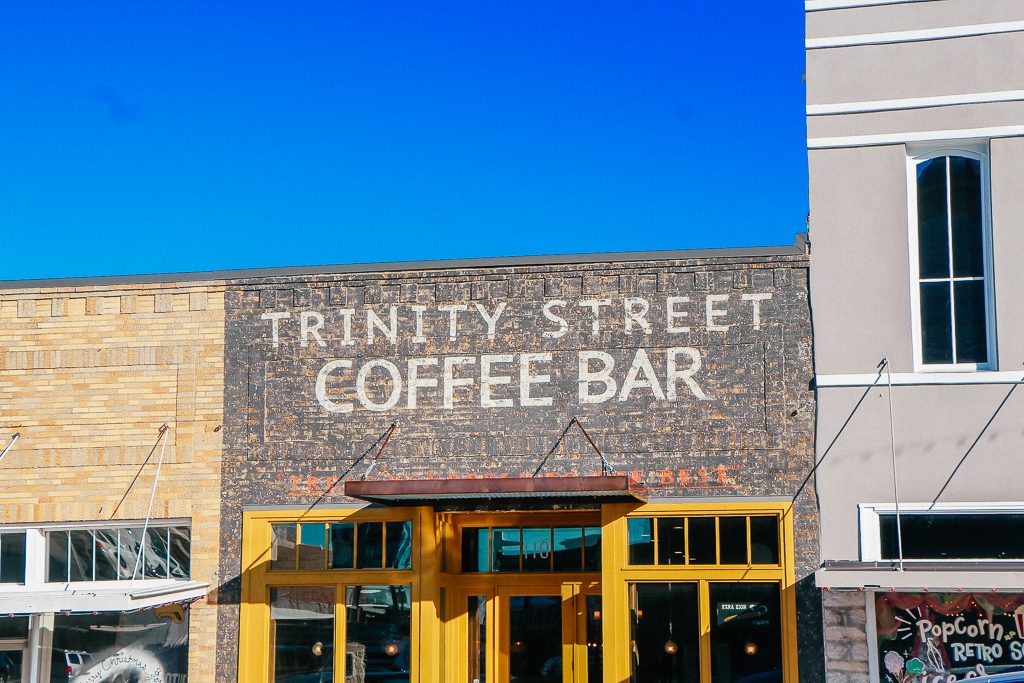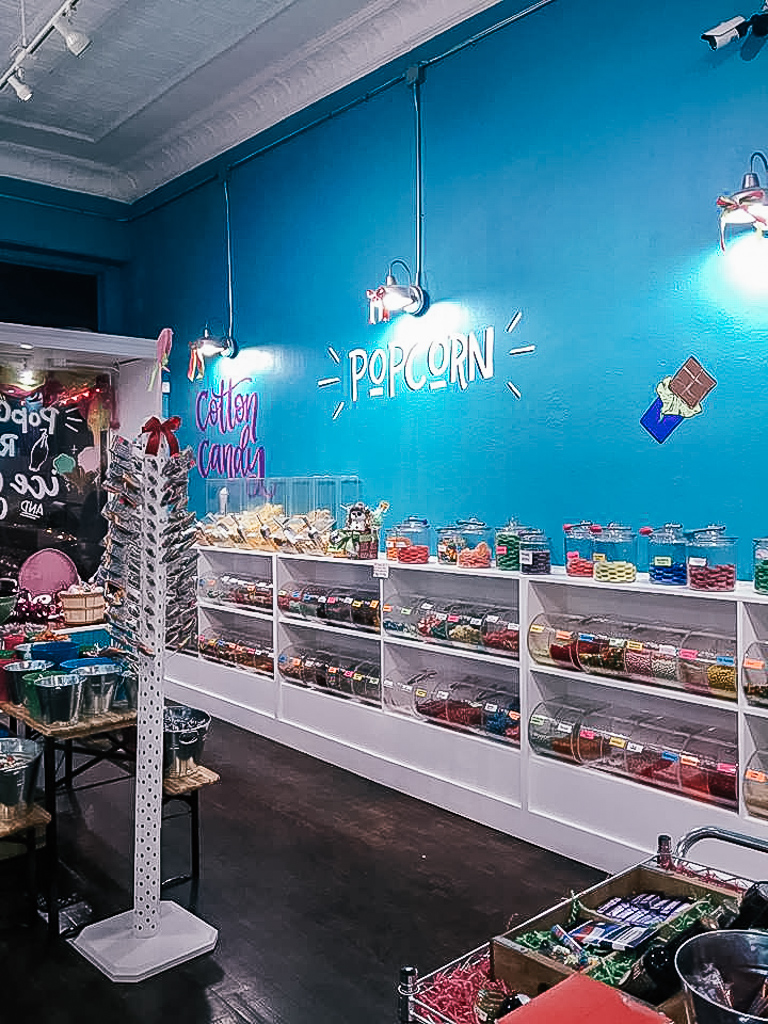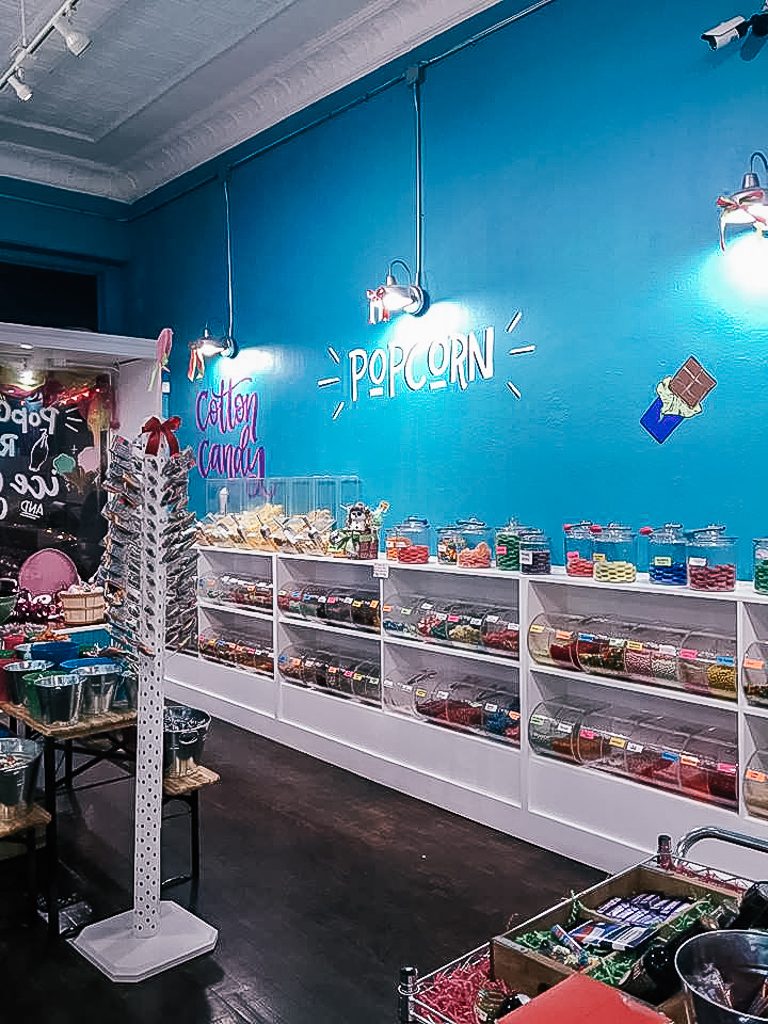 2. The Whistle Stop Cafe
The iconic Whistle Stop Cafe is a great place to grab breakfast or lunch on weekdays but even if you don't make it in for a meal, it's a fun place to take pictures. Actually, if you go during non-business hours you can get a better picture because the cars won't be out front. This is a tiny venue with good food and it gets crowded at lunch time.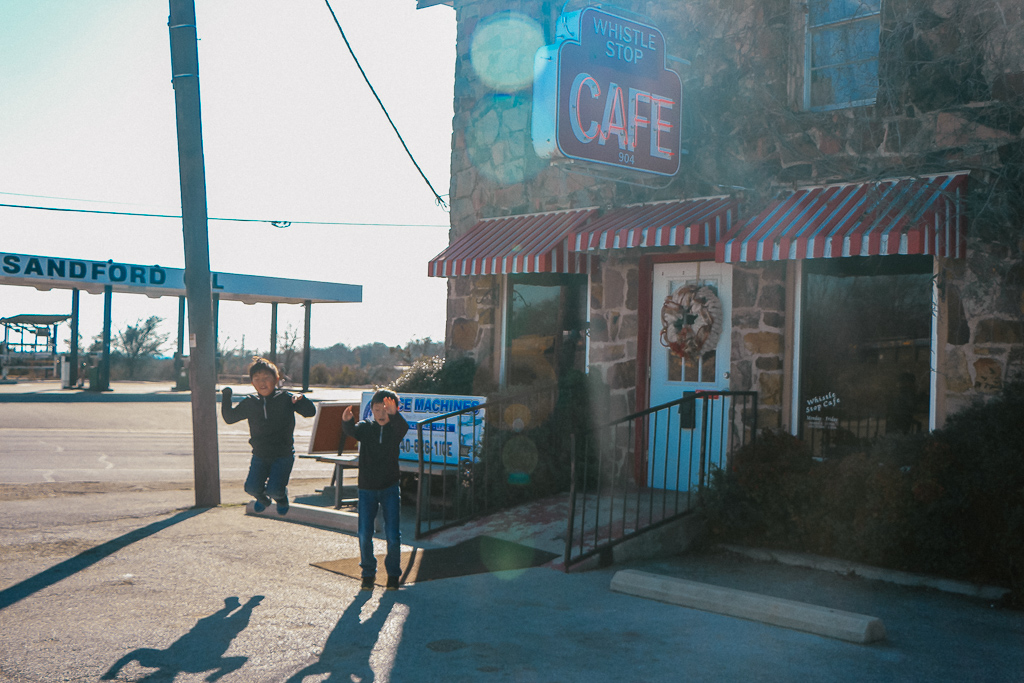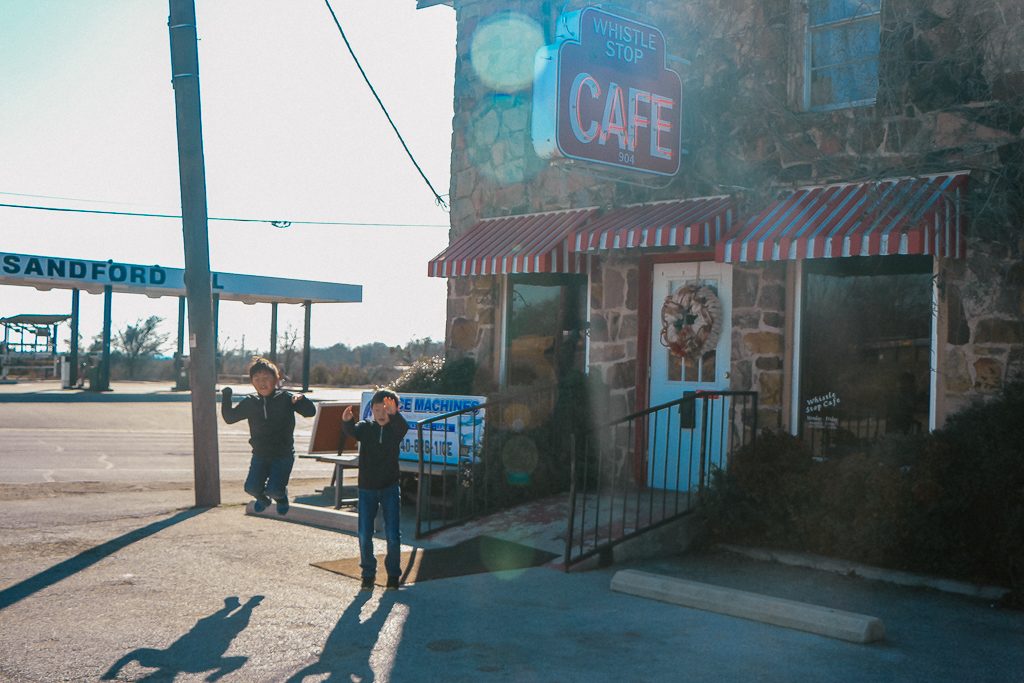 The only thing I don't love is this bench with the sign out front…kind of spoils the effect but I get that everyone's gotta advertise. Yay for ice machines, I guess.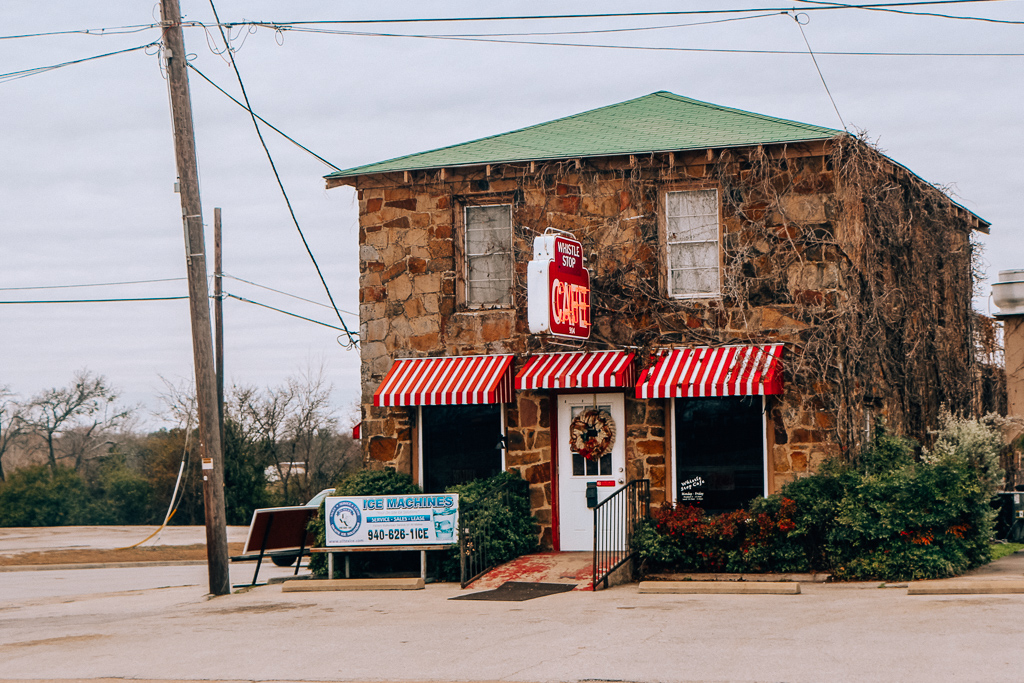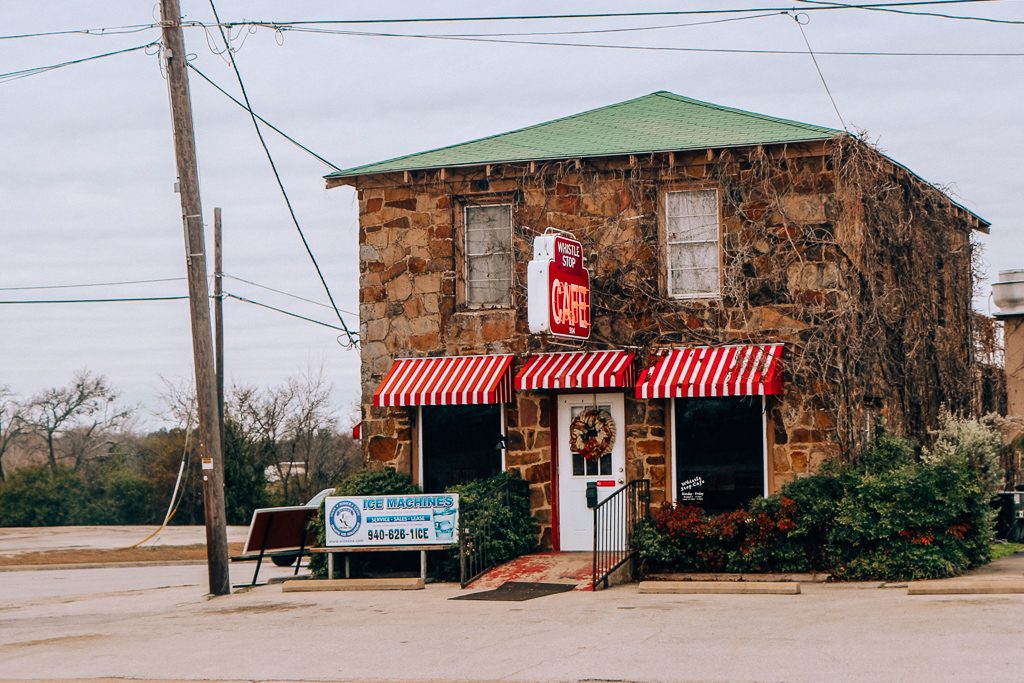 3. The Petrified Wood Gas Station
The Petrified Wood Gas Station is right next to the Whistle Stop Cafe. It's not a functional gas station but it's got these fun, retro Texaco pumps that make a great picture-taking spot in Decatur Texas.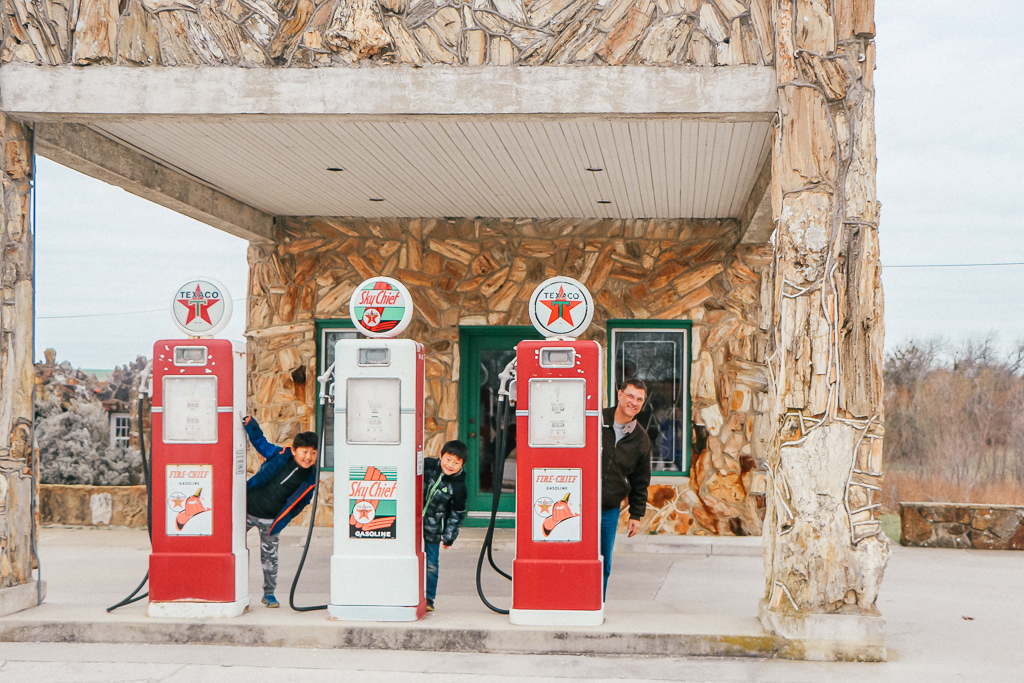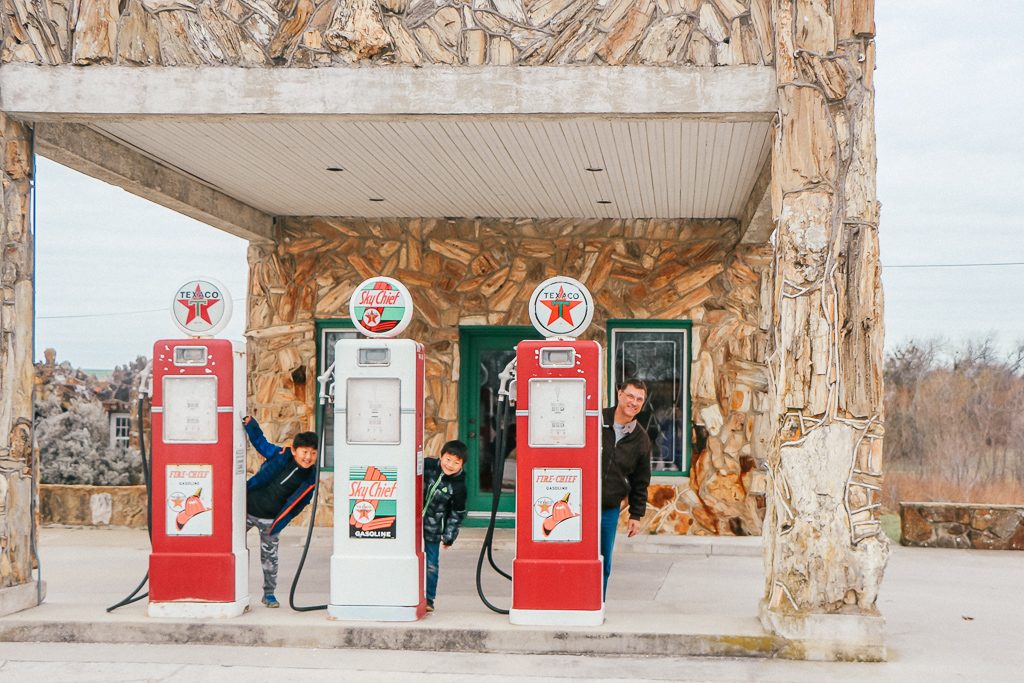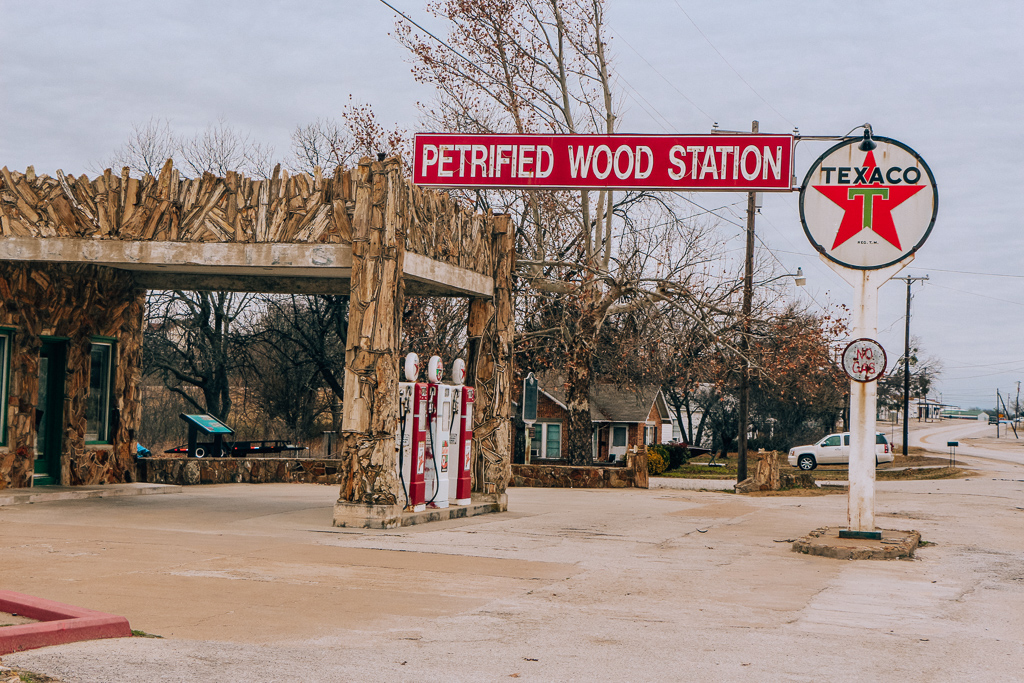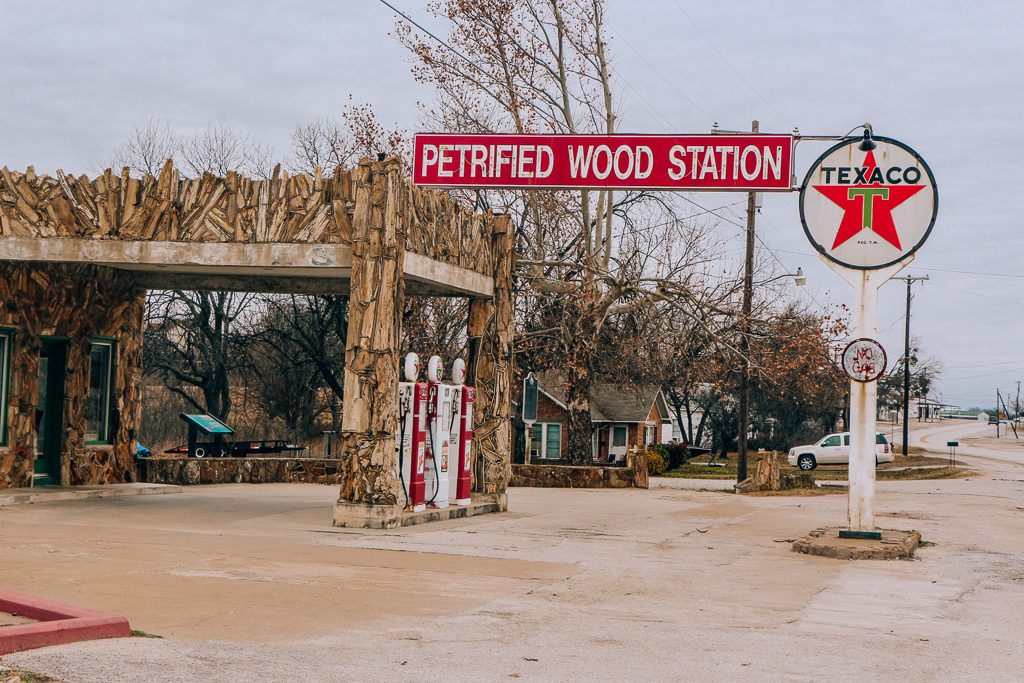 4. The Pink Lady
The Pink Lady is the nickname for the elegant Victorian pink granite structure that serves as the seat of Wise County. There are interesting pictures to be had from all angles.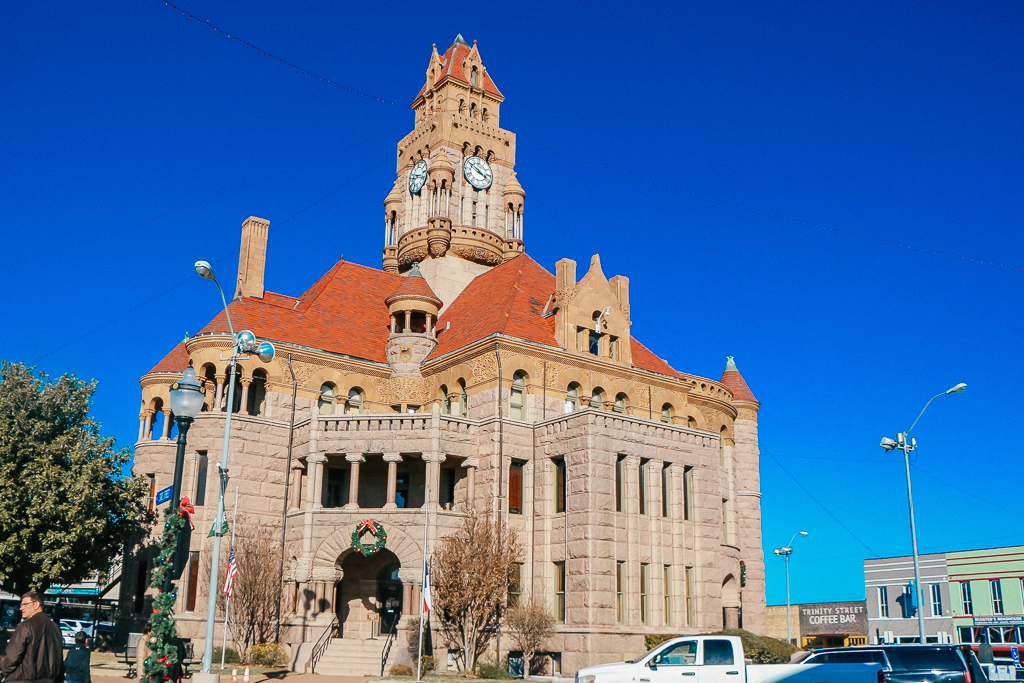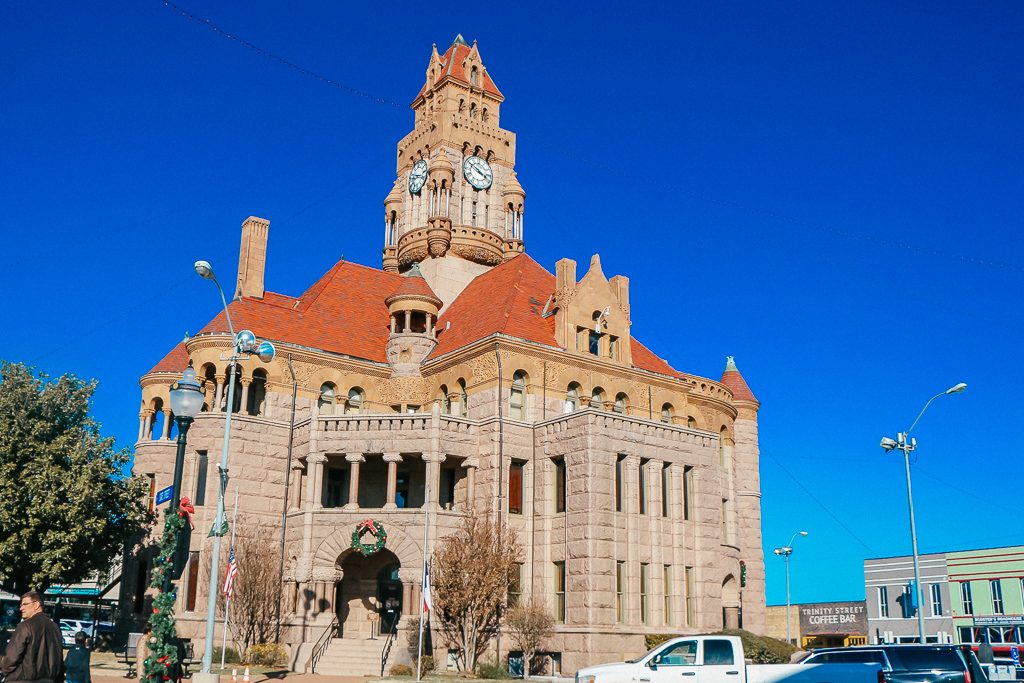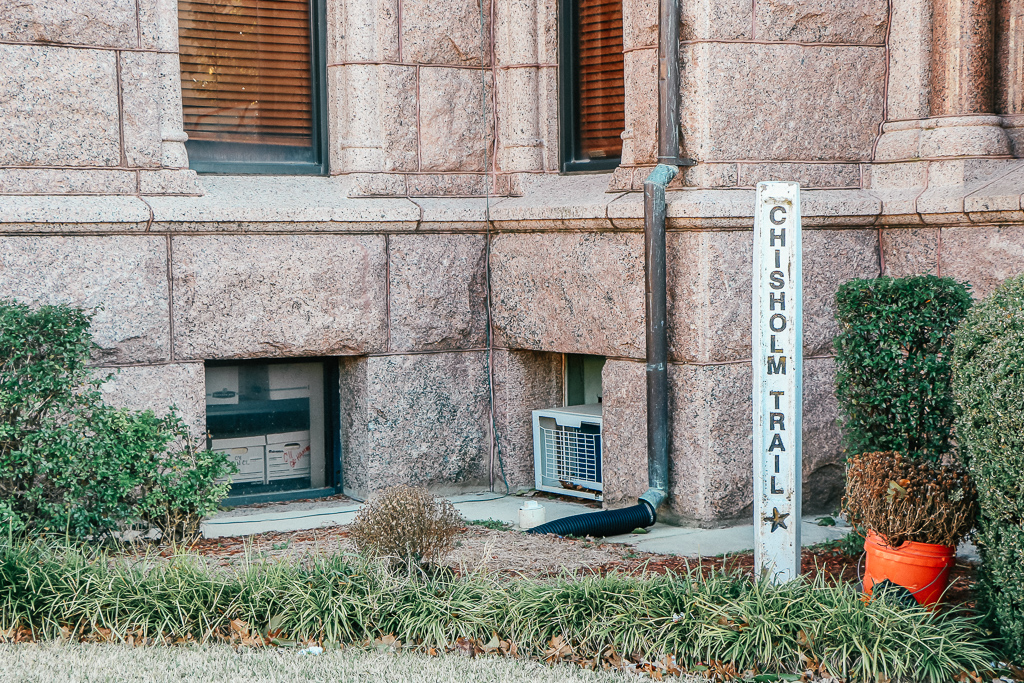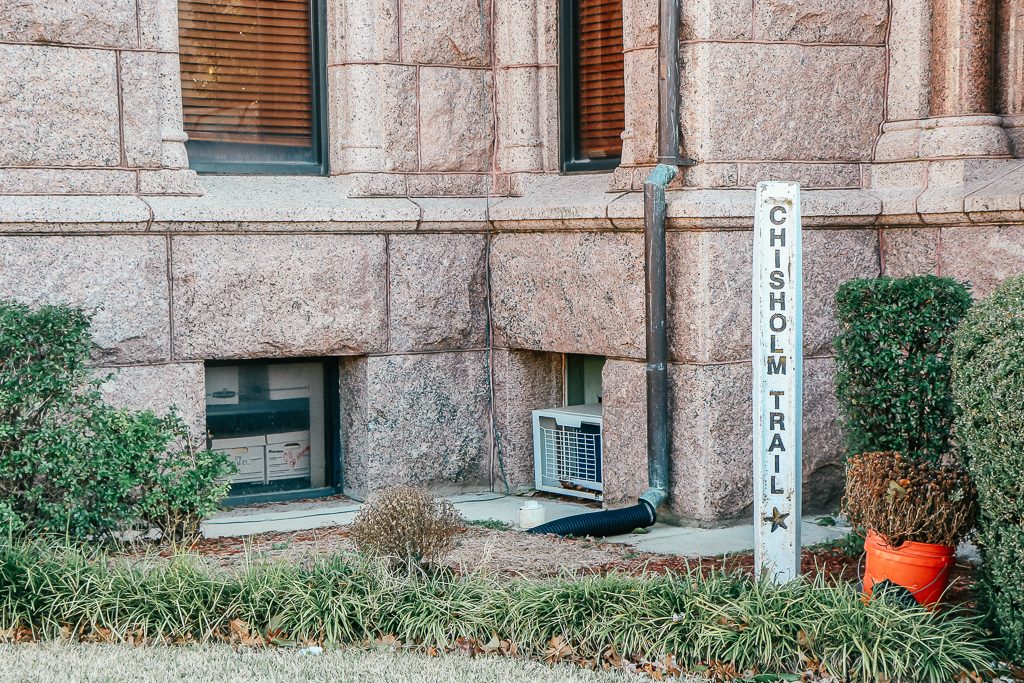 5. The T-Rex Mural (because obviously)
The mural of the T-Rex wearing a saddle and a cowboy had is on a side street just off the square. My best advice is to ask one of the locals to direct you. It's not in an area you'd probably pass by organically but not really out of the way, either.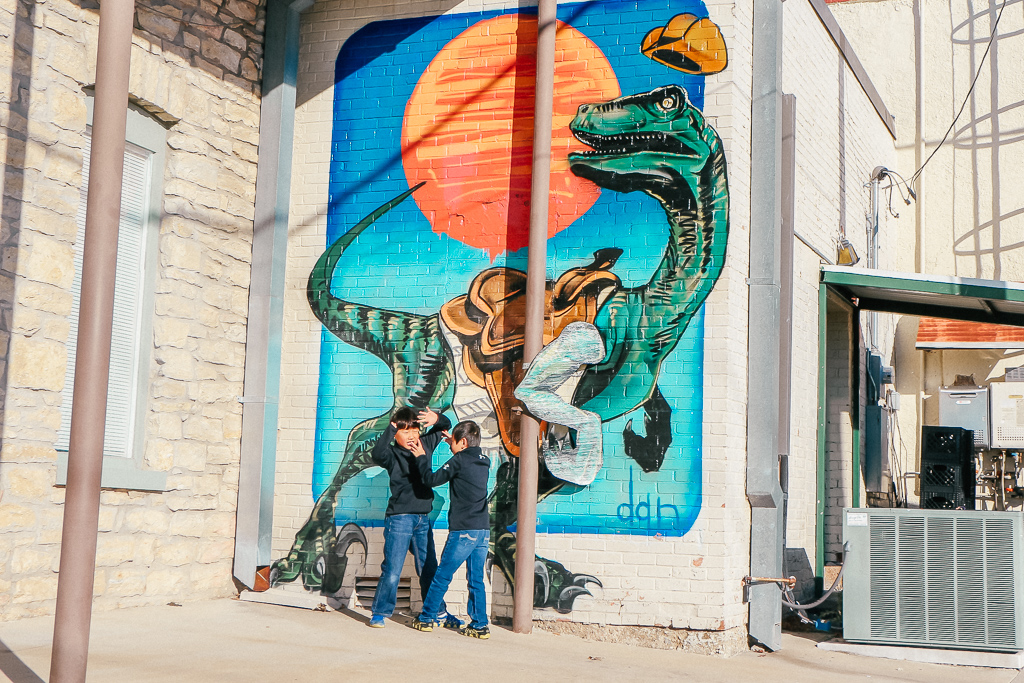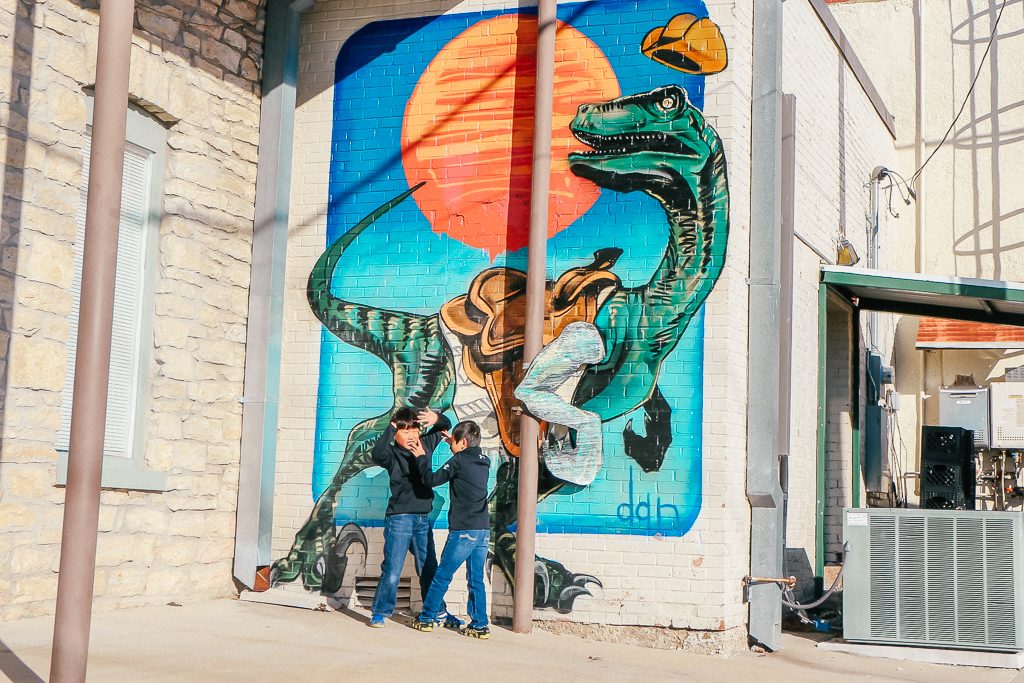 6. The old-fashioned phone booth
And by old-fashioned I mean circa…I don't know, 1998, maybe? My kids had no idea what this was and couldn't get their head wrapped around the explanation of why these things used to be necessary.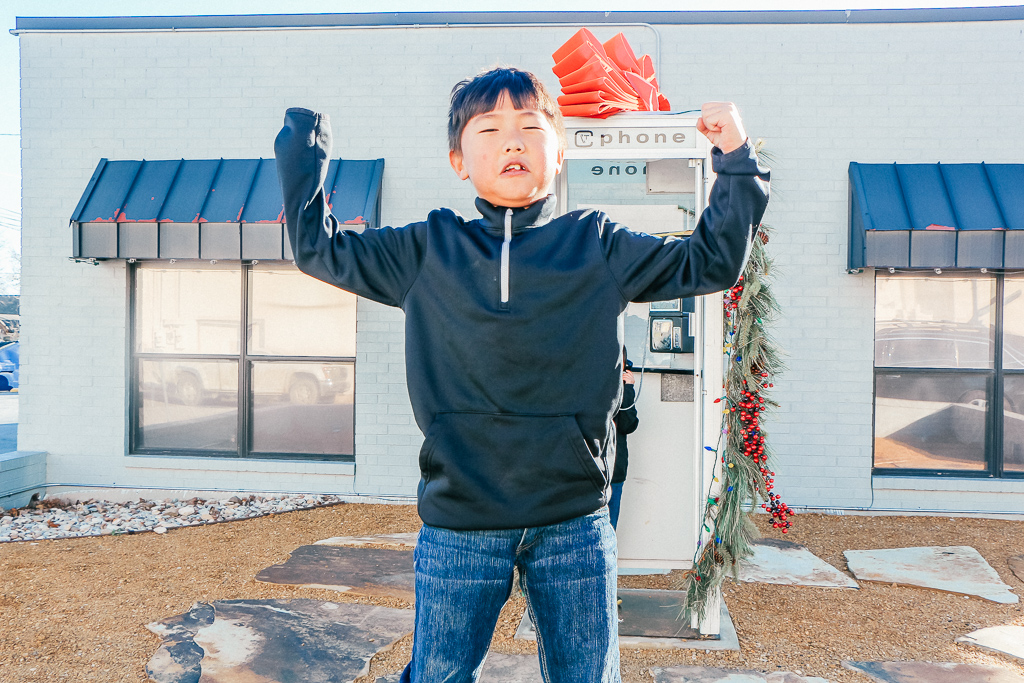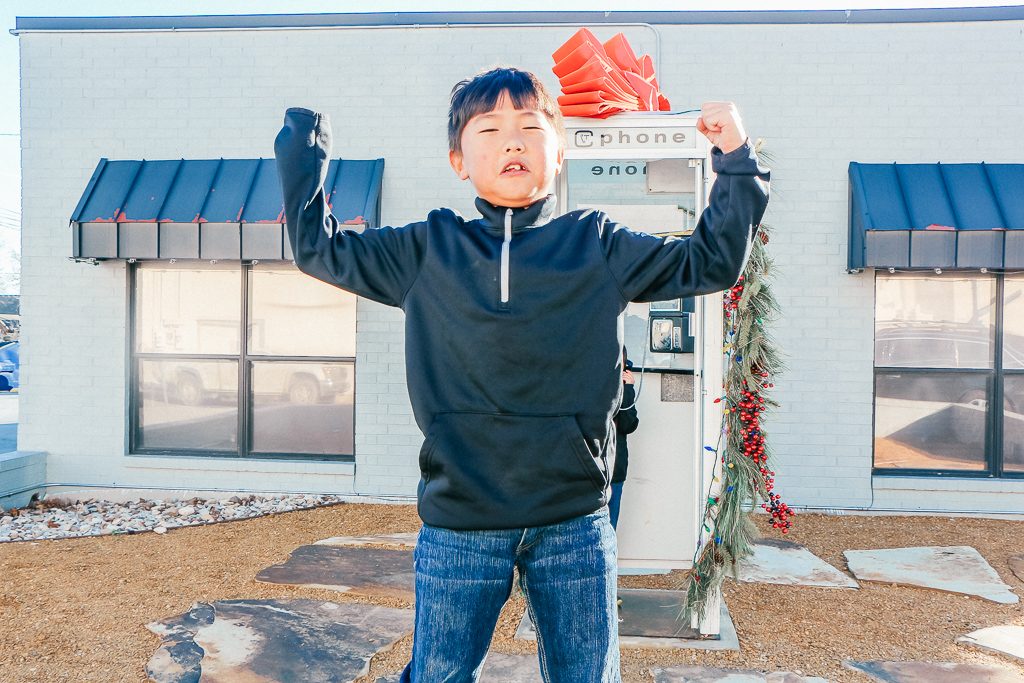 Located just off the town square, this art installation changes decor with the season…obviously, we visited near Christmastime.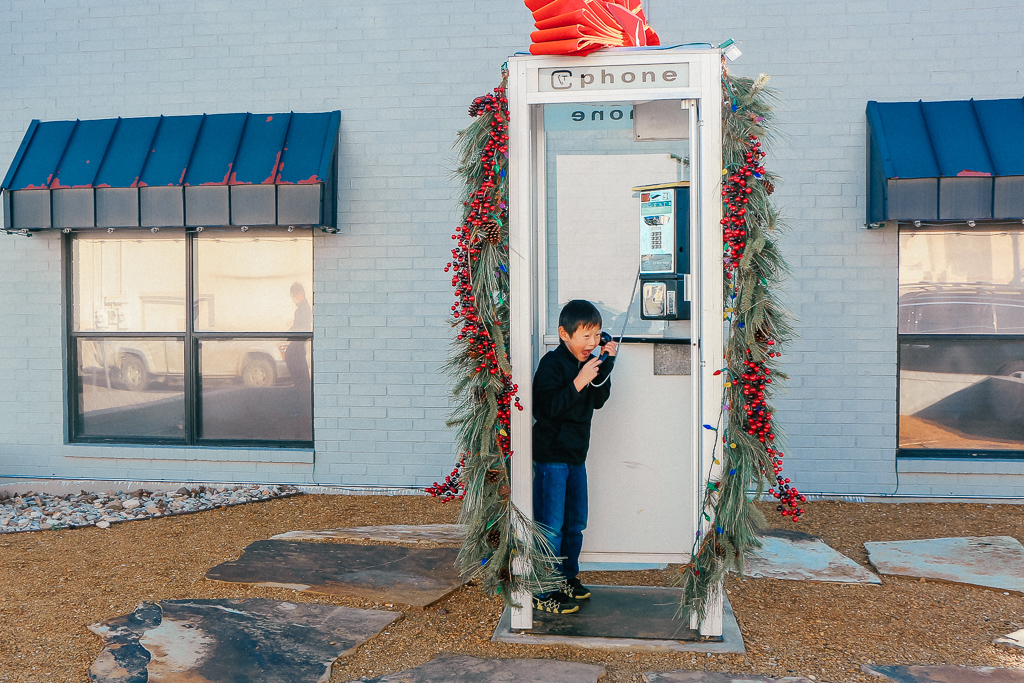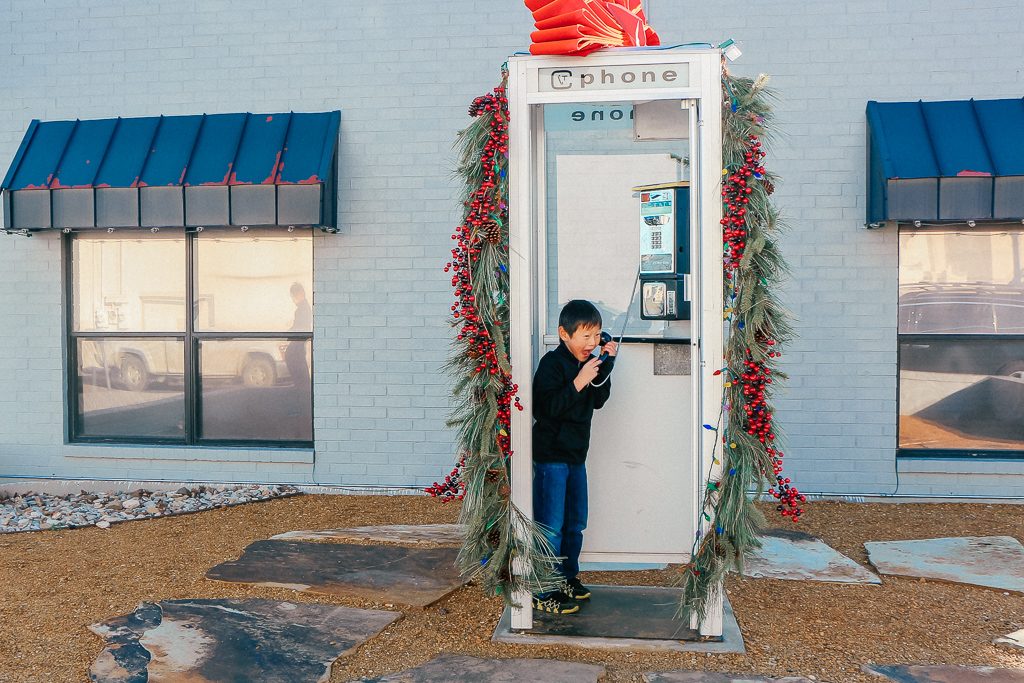 This is also located just off the town square. You could have endless fun taking picture in this one.
7. Other random, fun, street art
I'd have completely missed this one if someone hadn't pointed it out to me. This is at sidewalk level, so the average passer-by probably misses this. This town is full of little surprises like this.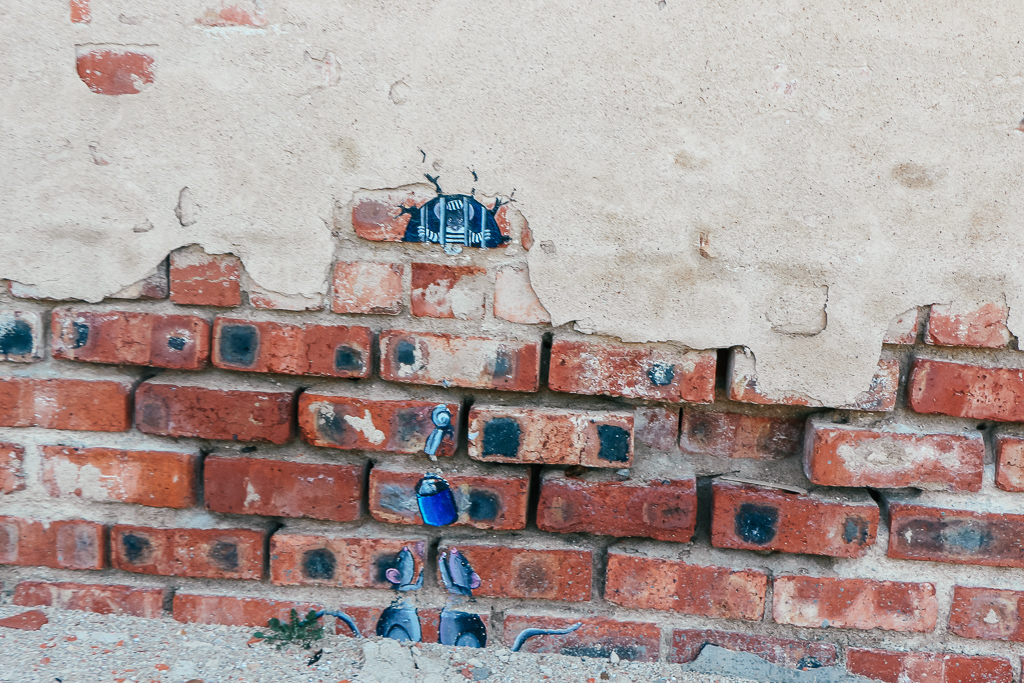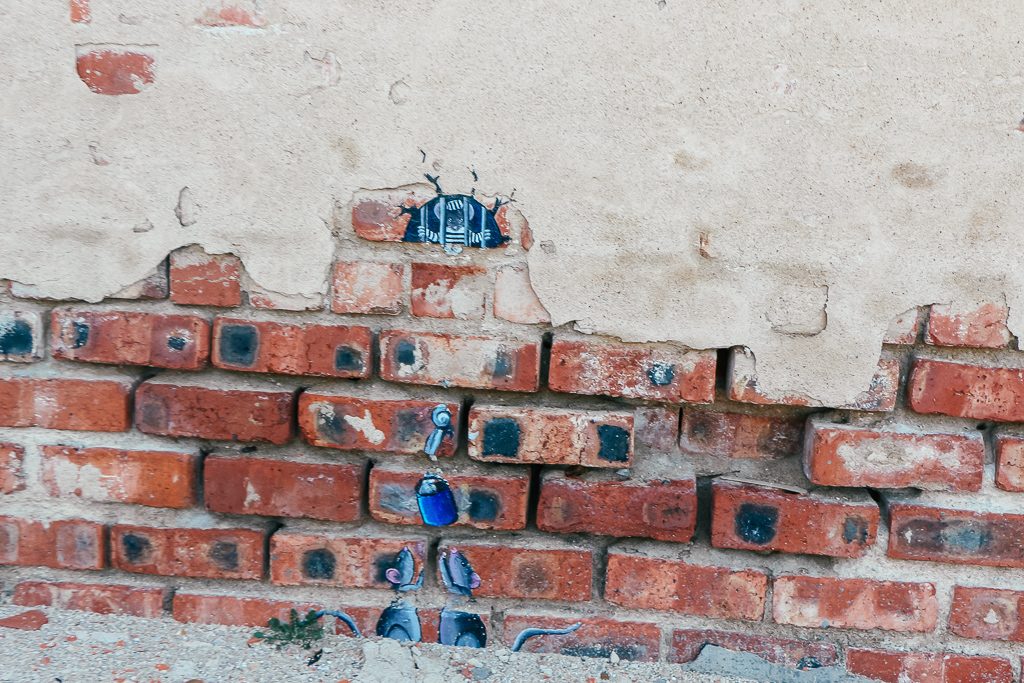 The detail in this painting is so neat and so colorful. This is located adjacent to the Greeting from Decatur mural, which sits right behind Trinity Street. And speaking of…
8. The Greetings from Decatur Mural…
…because if you don't get a picture in front of this, were you really even here?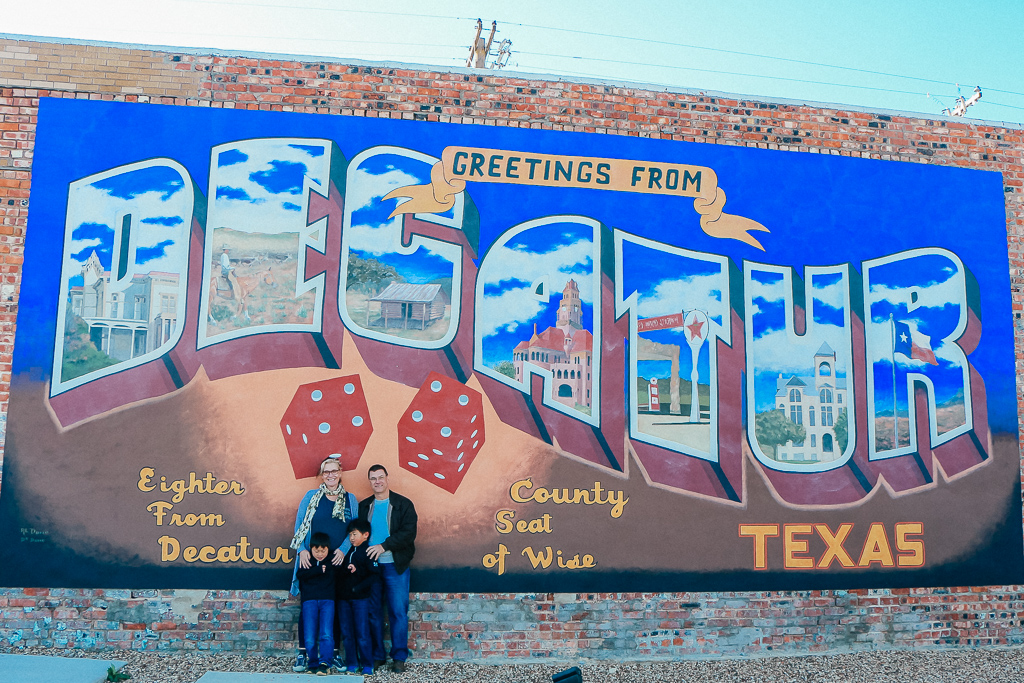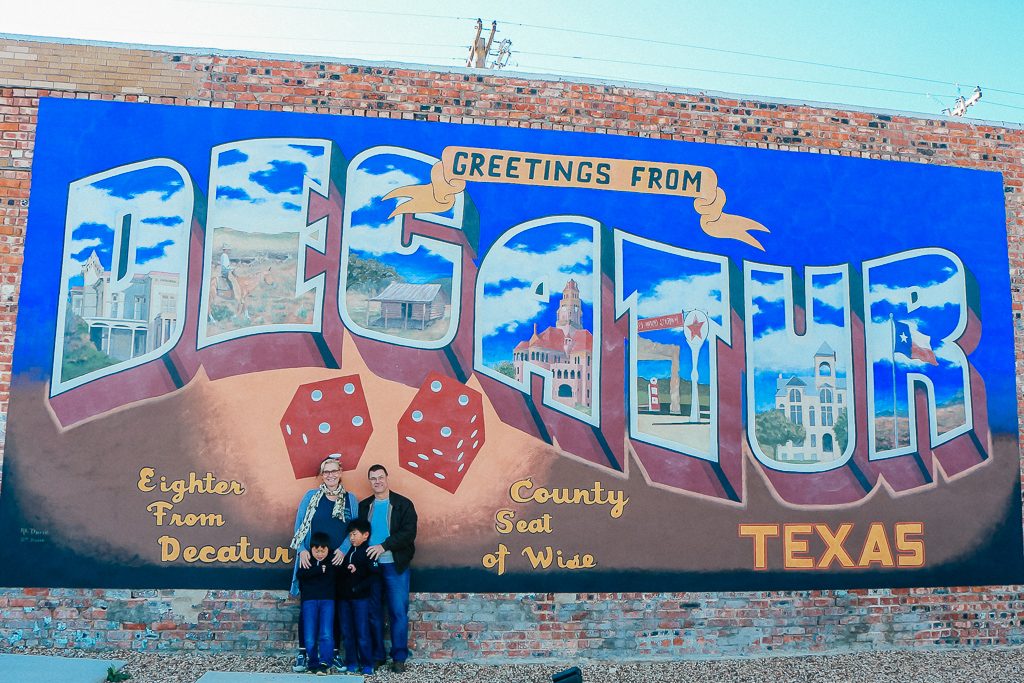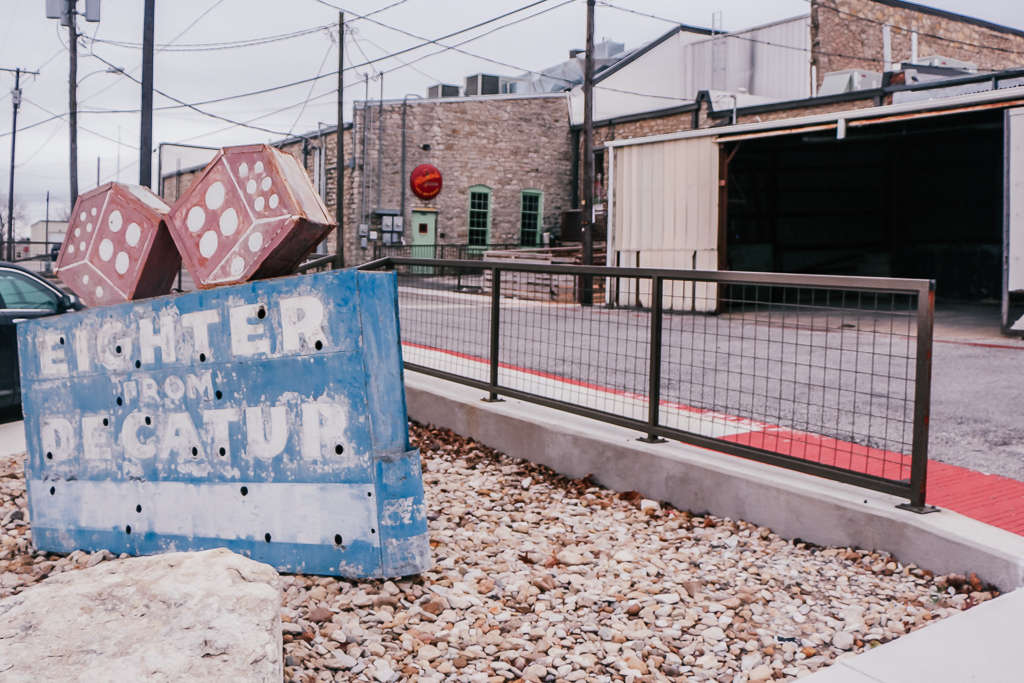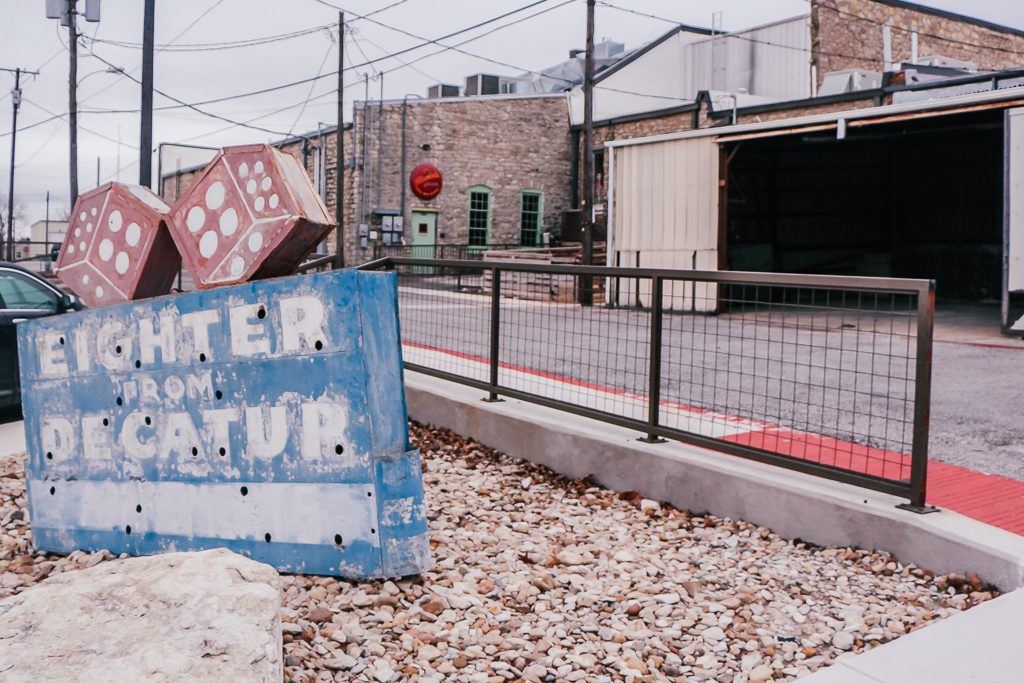 9. Other murals
Here are a couple of other murals we found in the downtown area…there may be more of these that we just didn't discover during our short visit.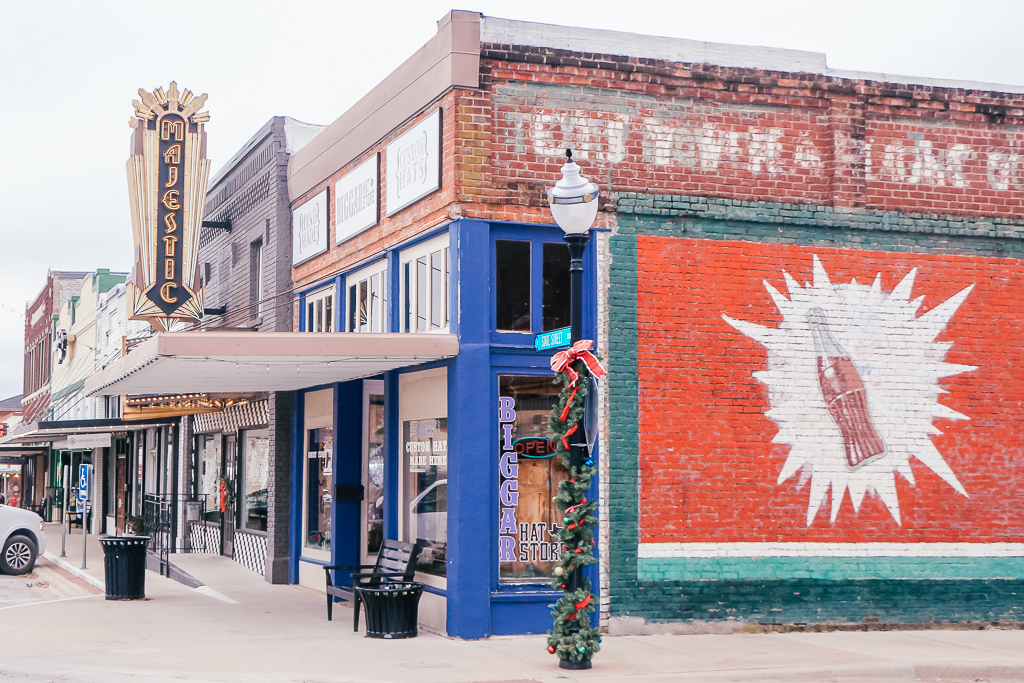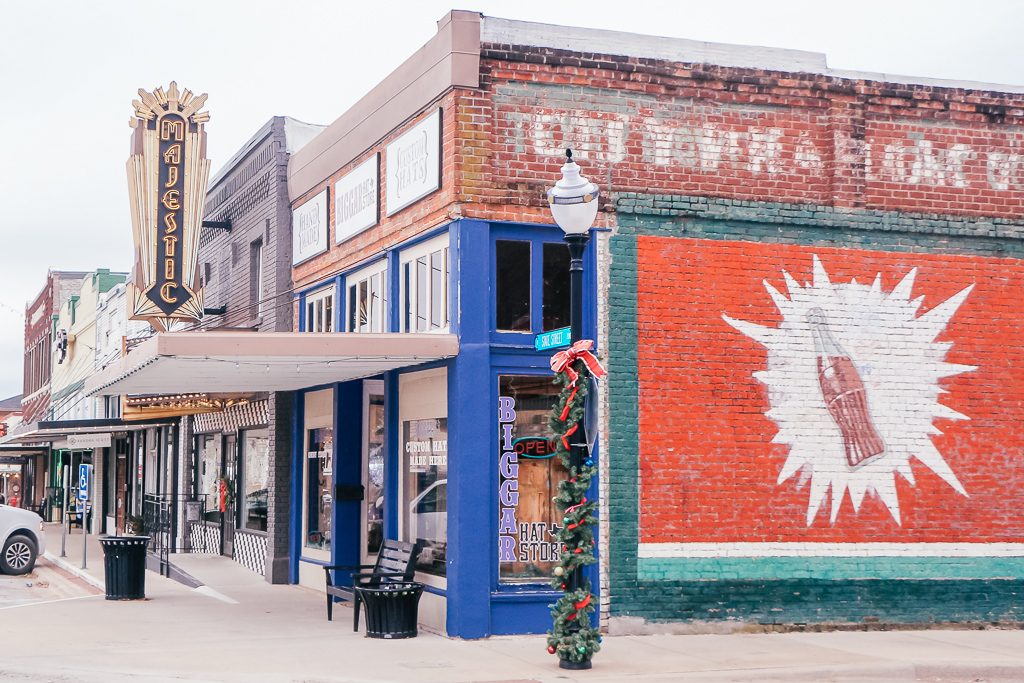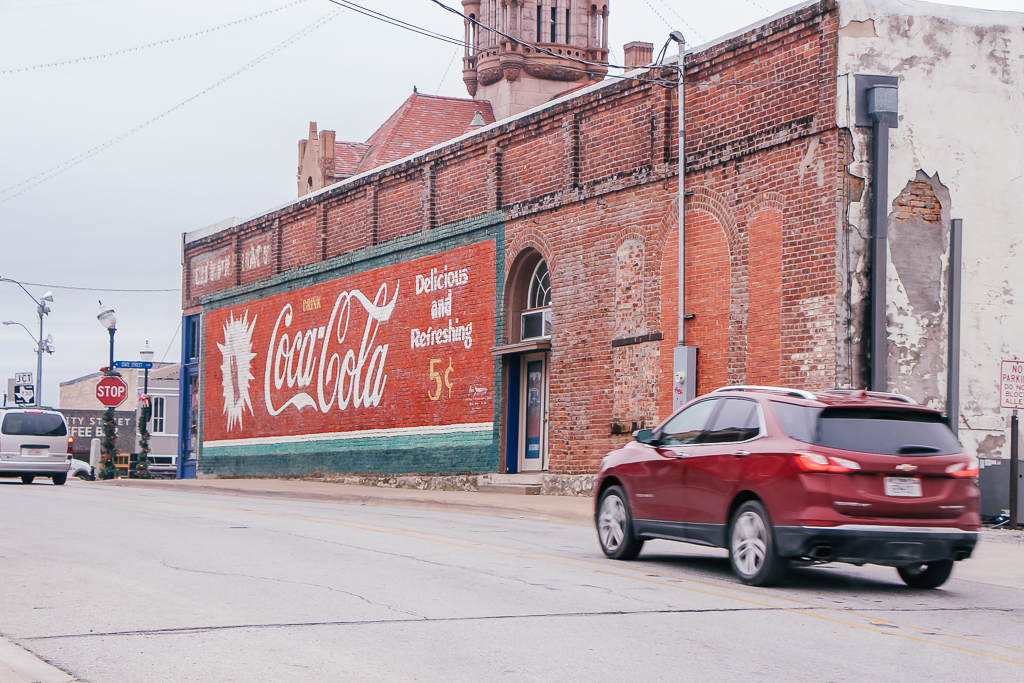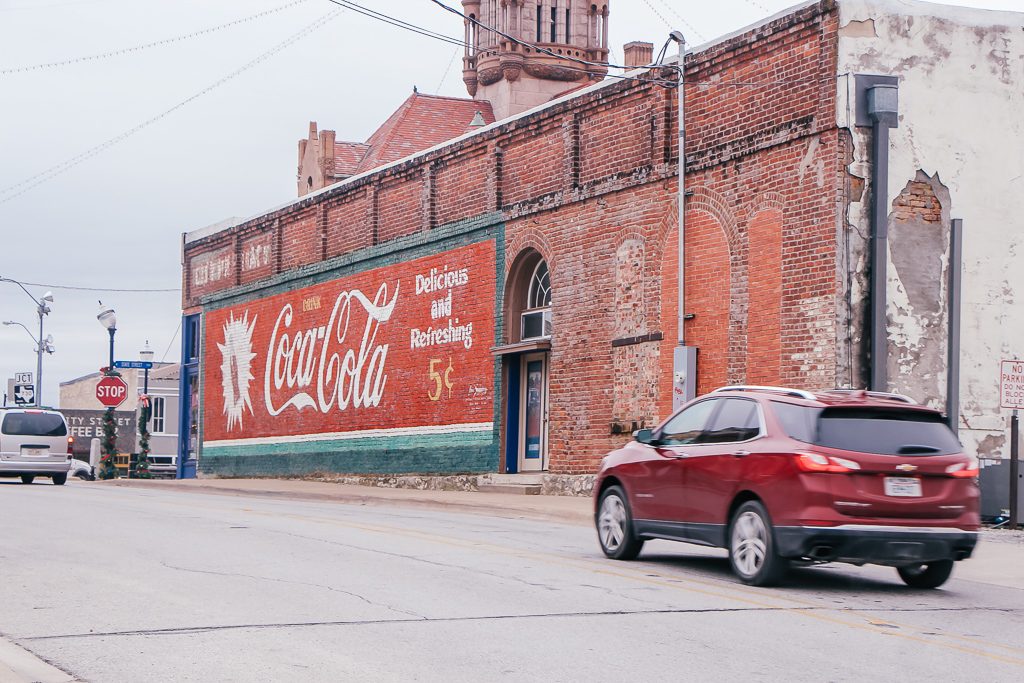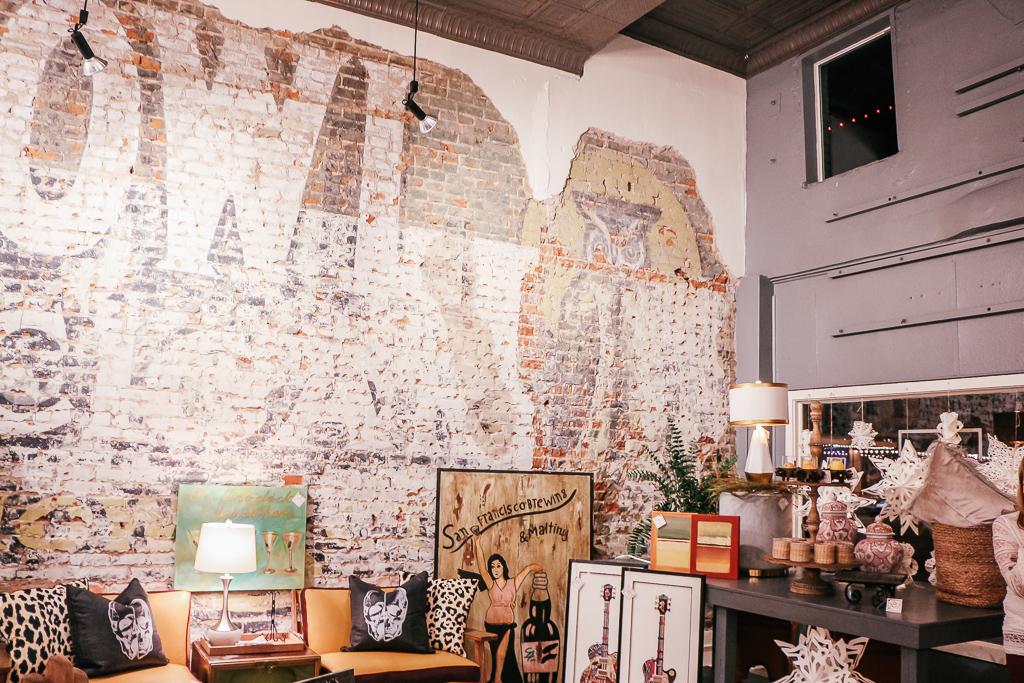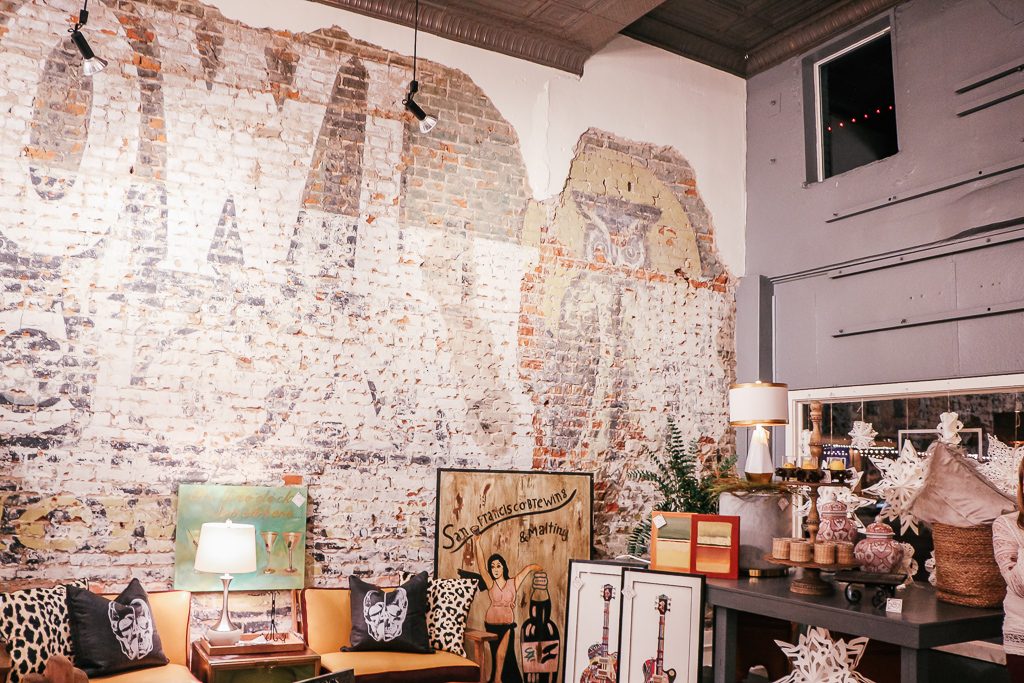 10. Rusted Red Painted Truck
You'll find this fun picture taking spot on Walnut Street, about three blocks from downtown, just up the street from the little Farmer's Market. The other side of the truck is completed dilapidated but the picture from this side worked out great.
This is in a residential area, so if you're sneaking in for your picture early in the morning, like we were, try not to be too loud (which is not easy for my kids.)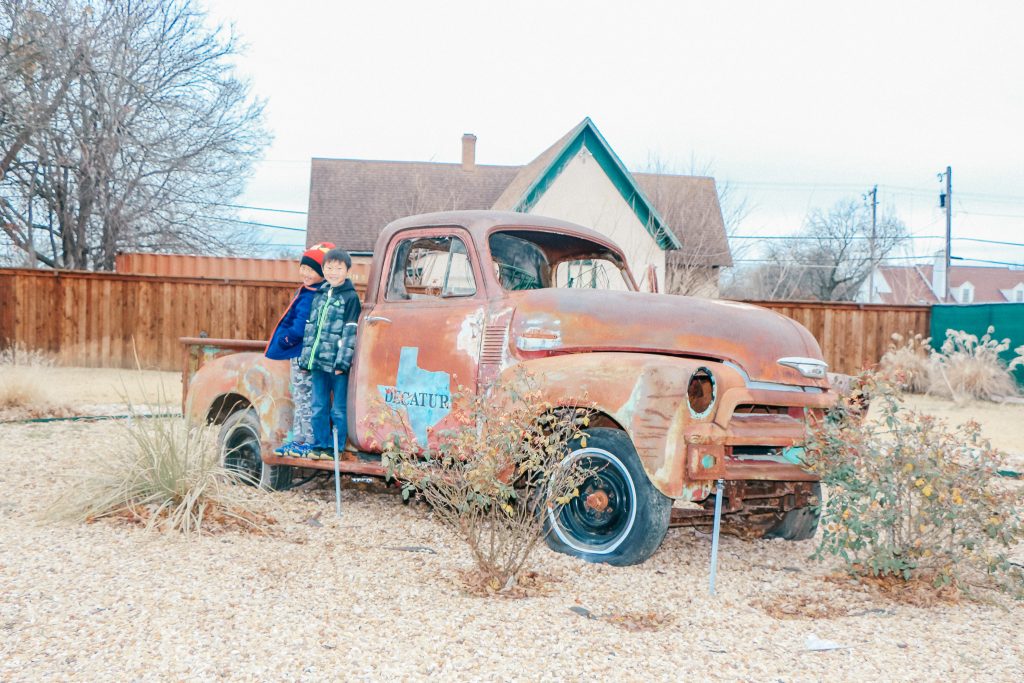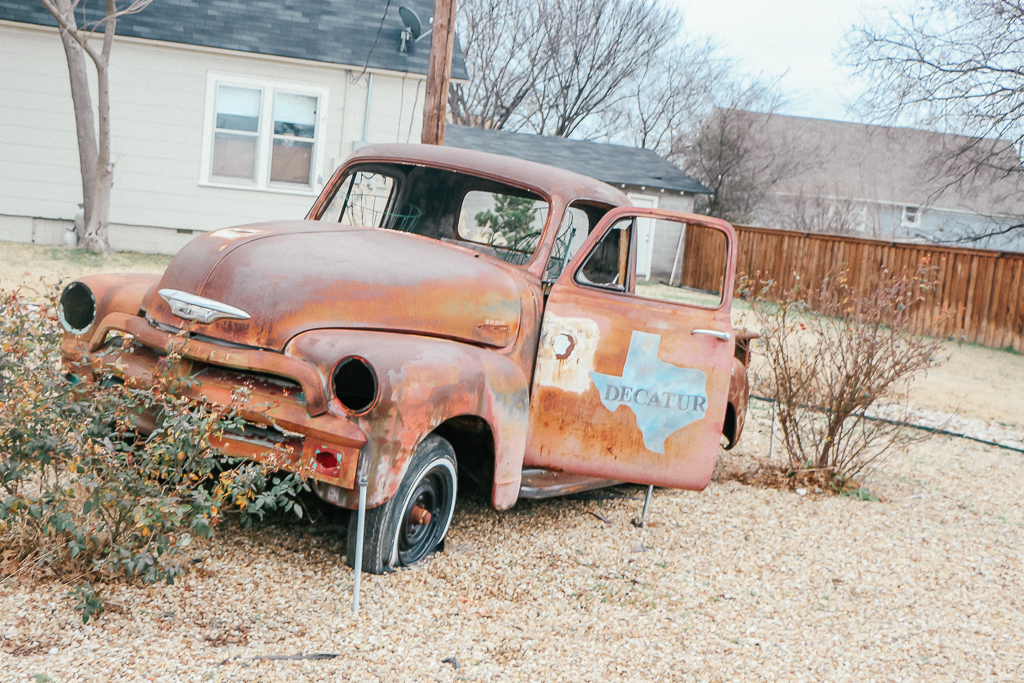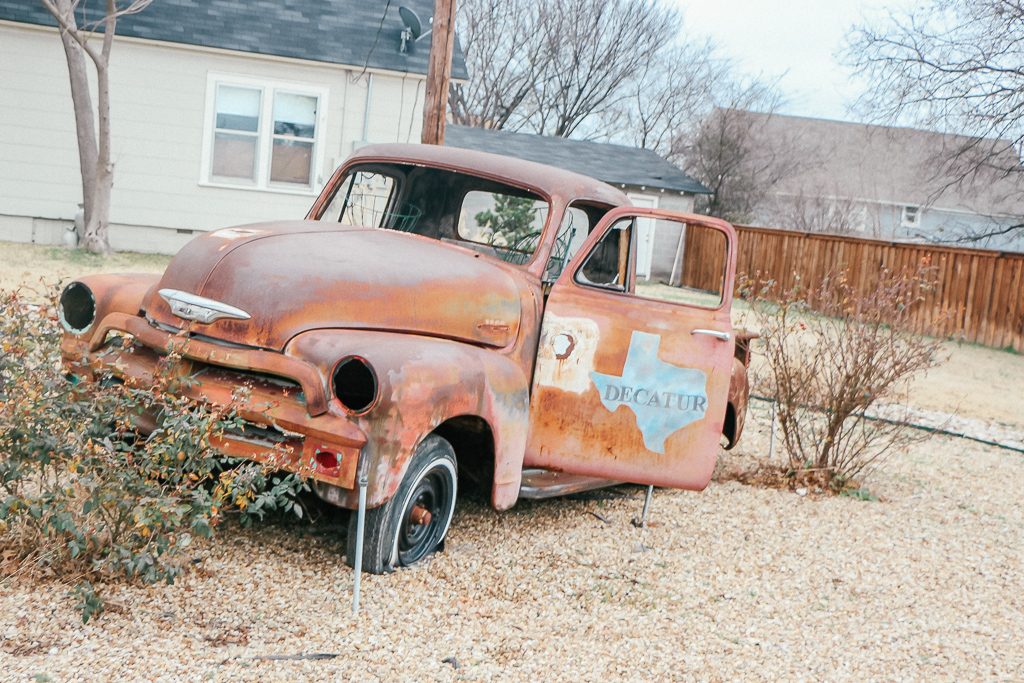 11.Decatur Fresh Produce Market
Located on Walnut Street, this wasn't open when we visited but we did spot some fun picture taking spaces.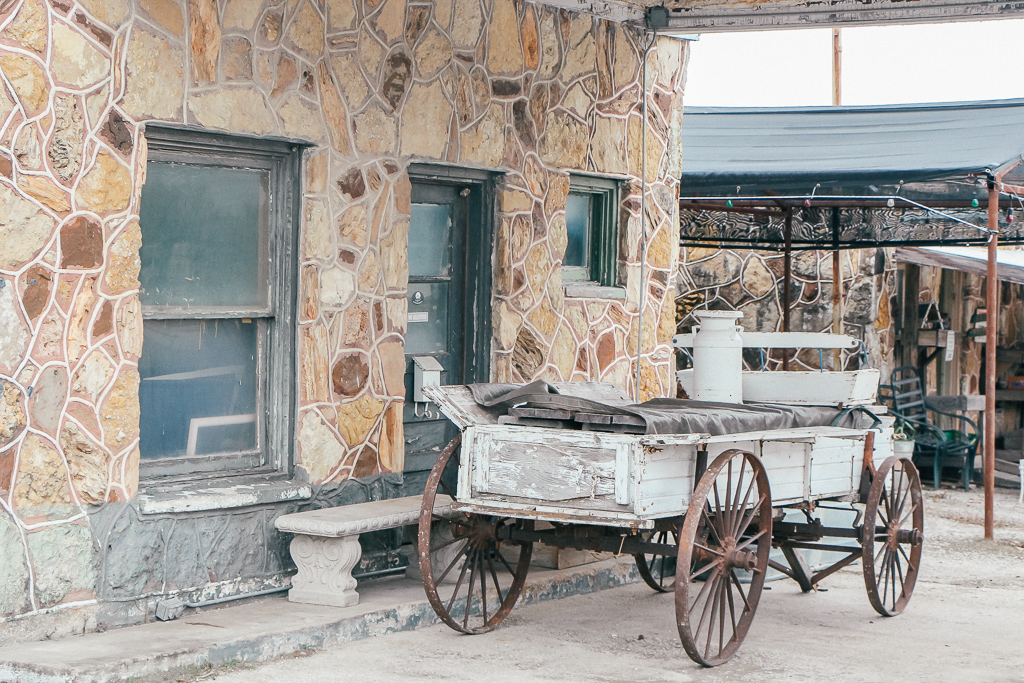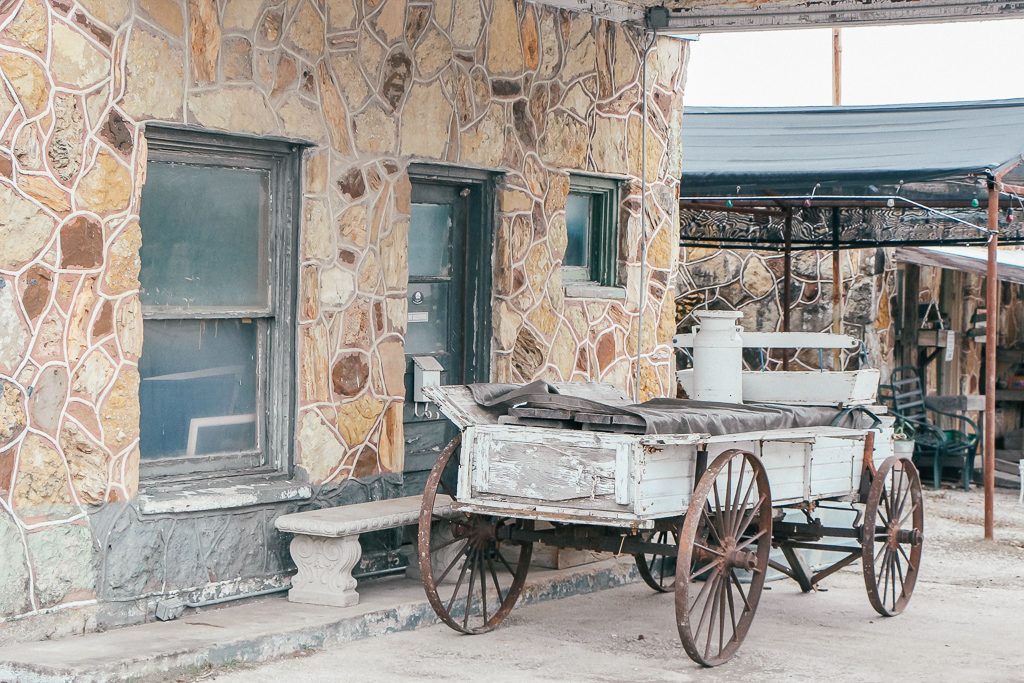 12. The old Majestic Theater Sign
This is no longer a theater but it's a fun section of street (right on the town square) to explore. There's a store called 287 below the marquee that sells housewares, art, and gifts you should check out. Just to the right of the sign you can see Biggar Hat Store, which sells handmade, high-end cowboy hats.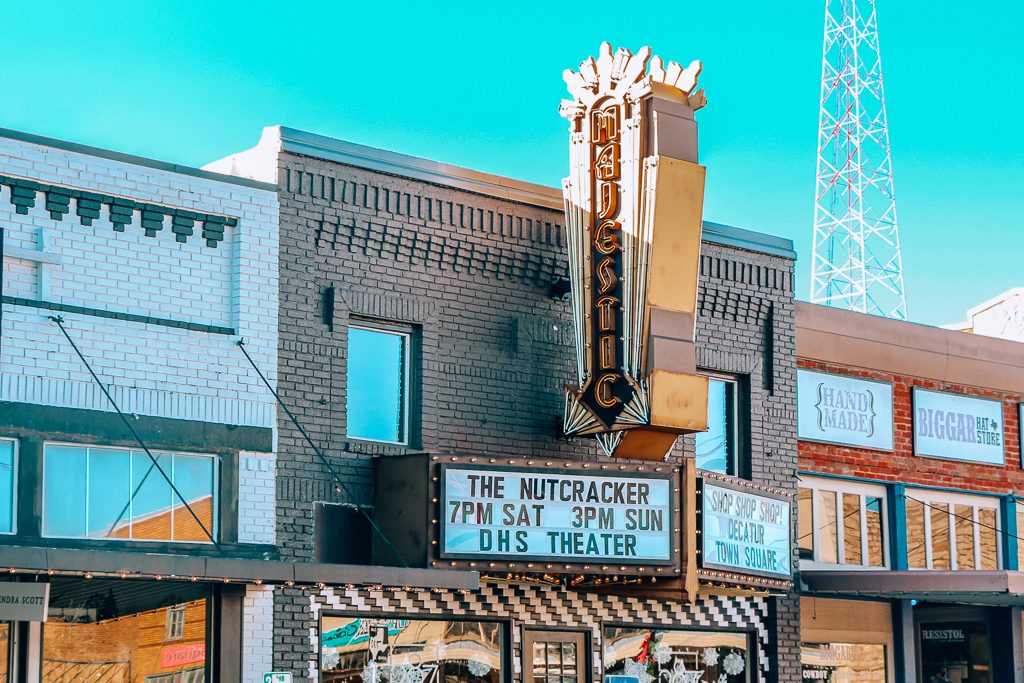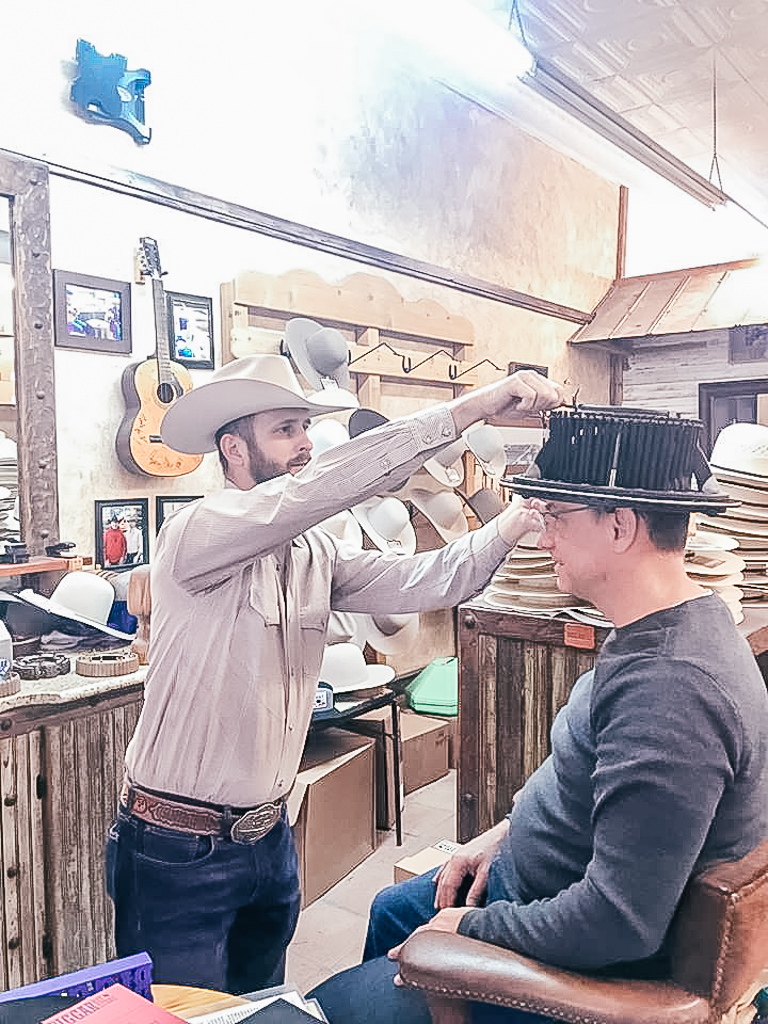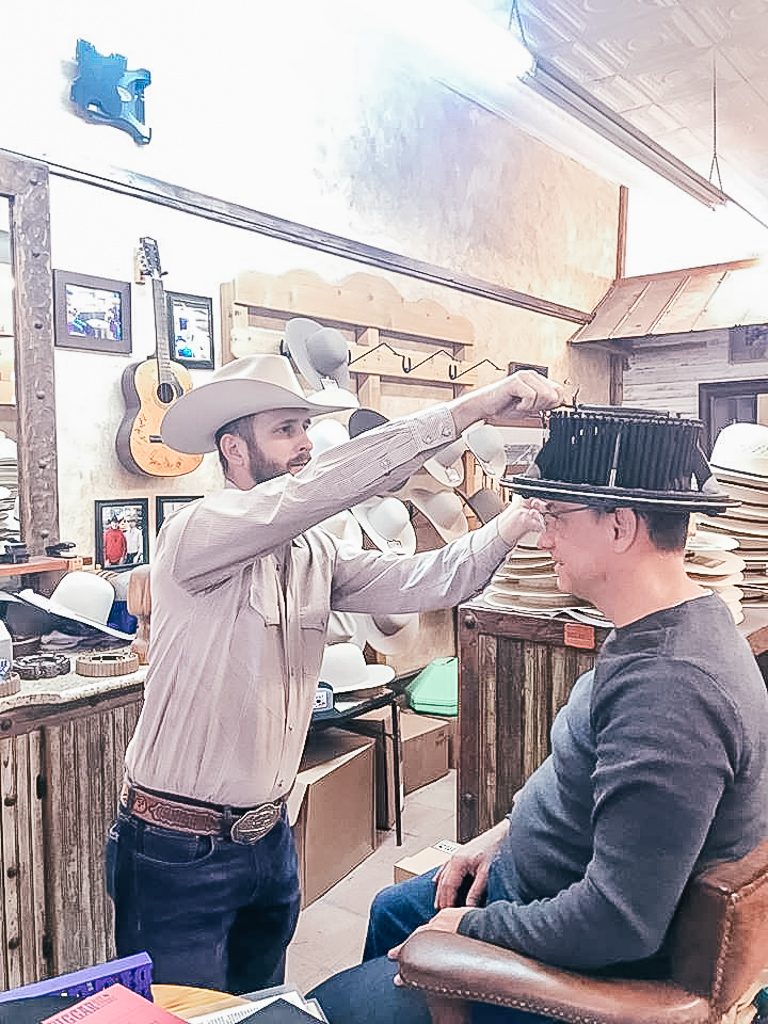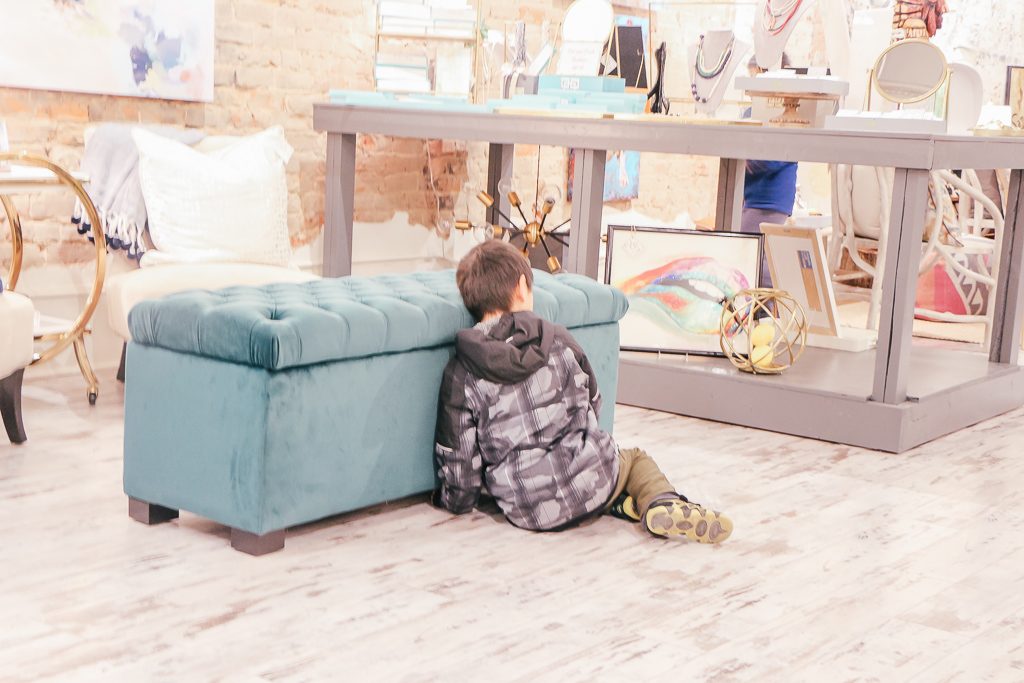 13. The DIY Studio Decatur
Now, this isn't a picture-taking spot, exactly but it is a fun activity that can provide the backdrop for lots of pictures and so much more. If you want to know more about the DIY Studio Decatur, you can check out this post I wrote on my family's experience there.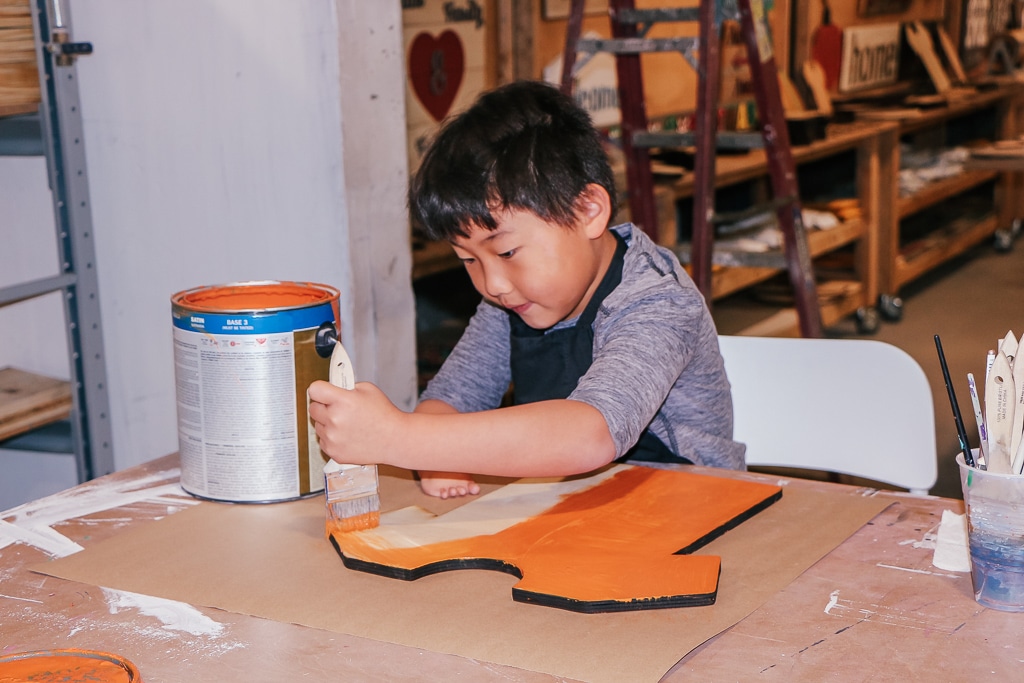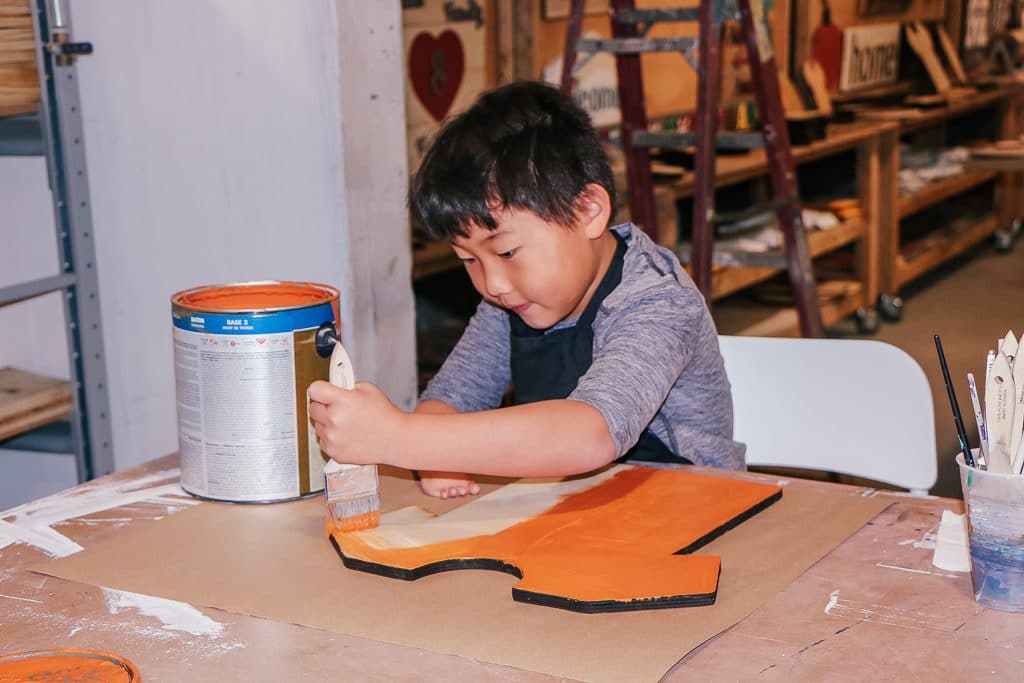 If you've got the famous Magnolia Market on your bucket list, the parent company of the DIY Studio Decatur makes many of the items you'll find for sale at Magnolia. And, if you're planning a trip to Waco, read this first.
The building and the grounds were also really fun to photograph: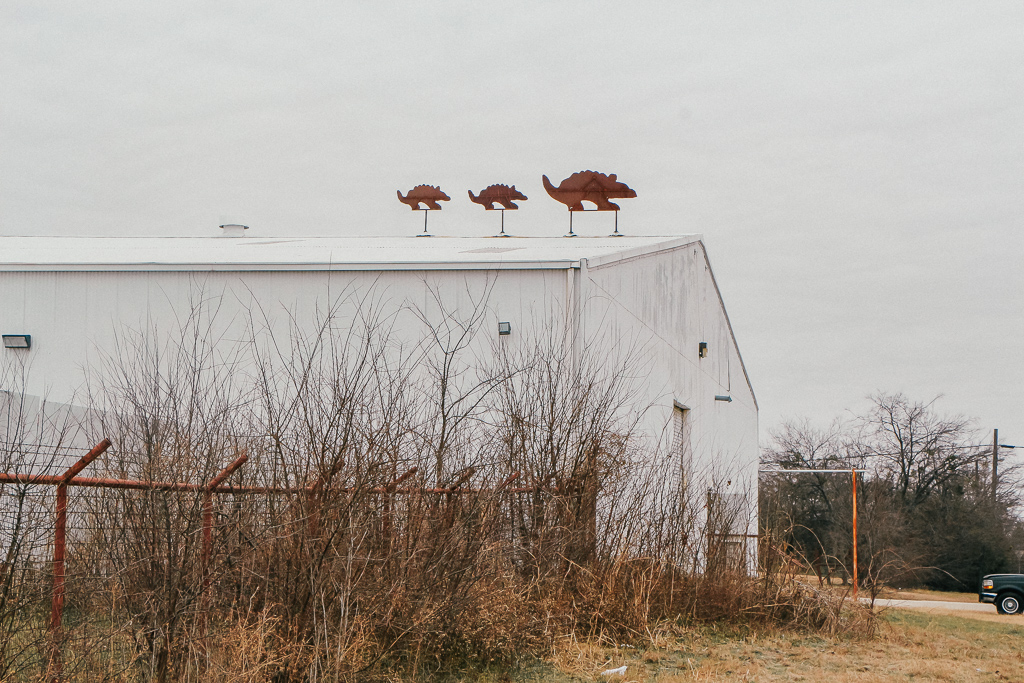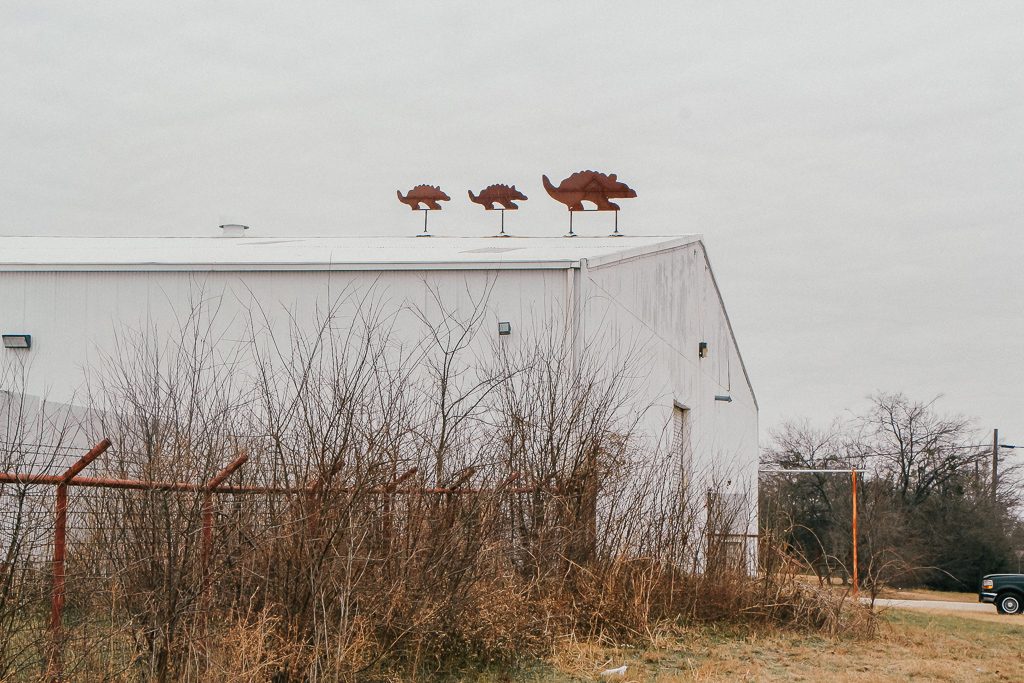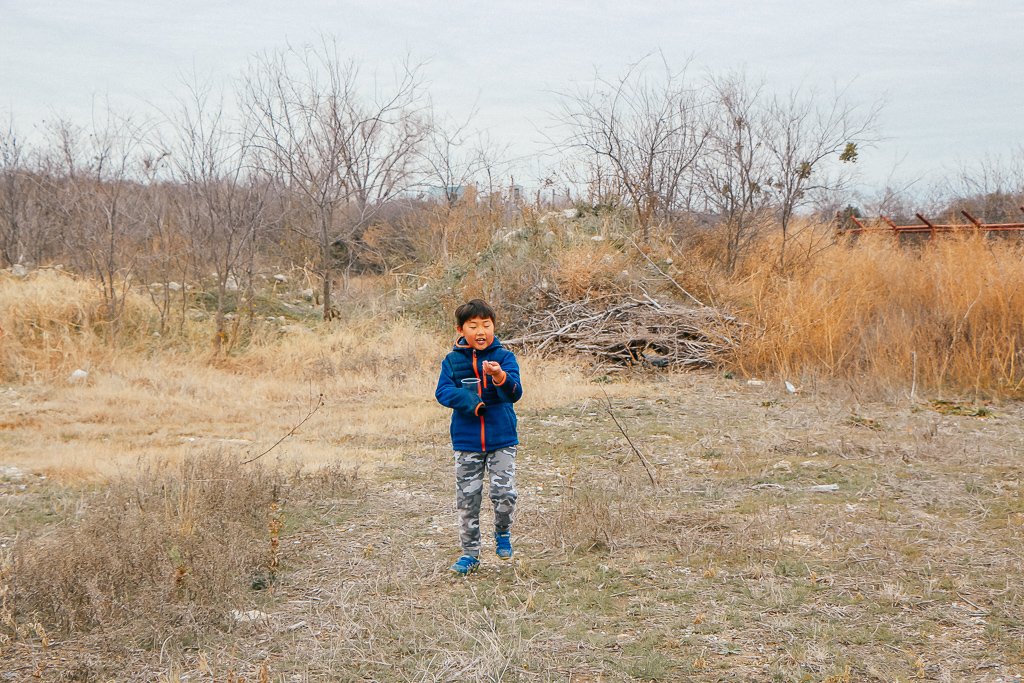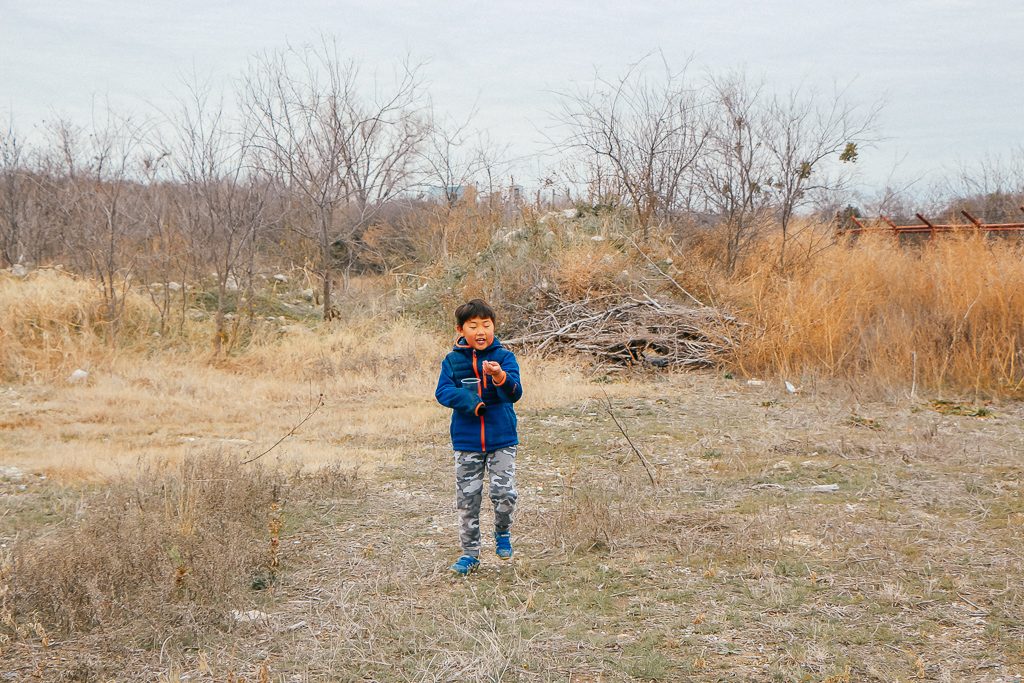 14. Marker Cellars Winery
This is technically outside Decatur – about a 20-minute drive to Alvord – but if you want a beautiful backdrop for pictures and a good glass of wine, this isn't to be missed.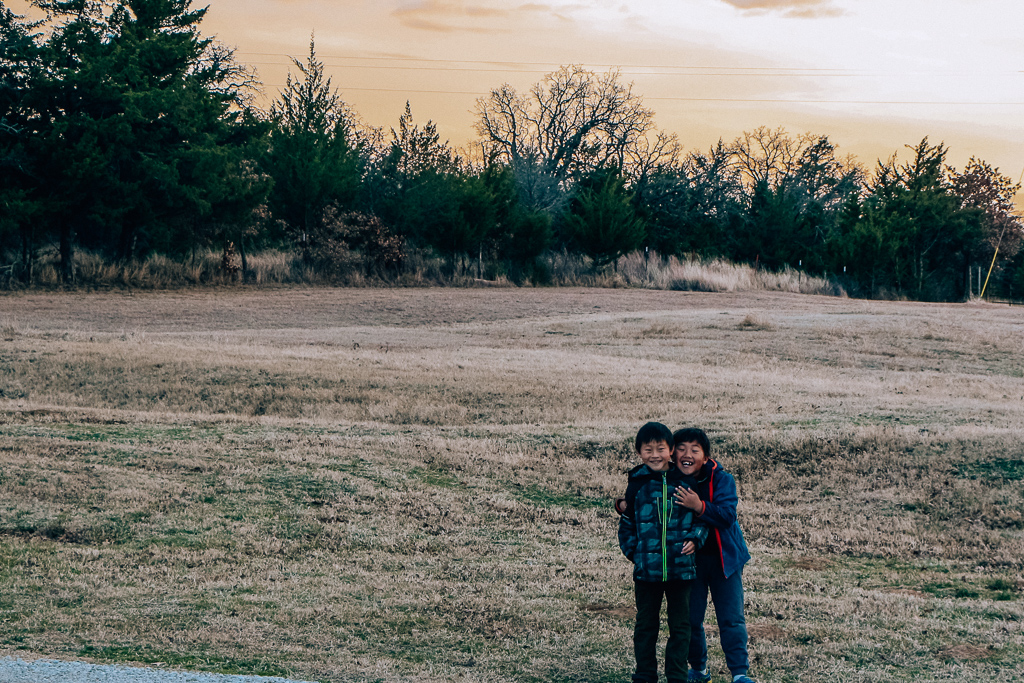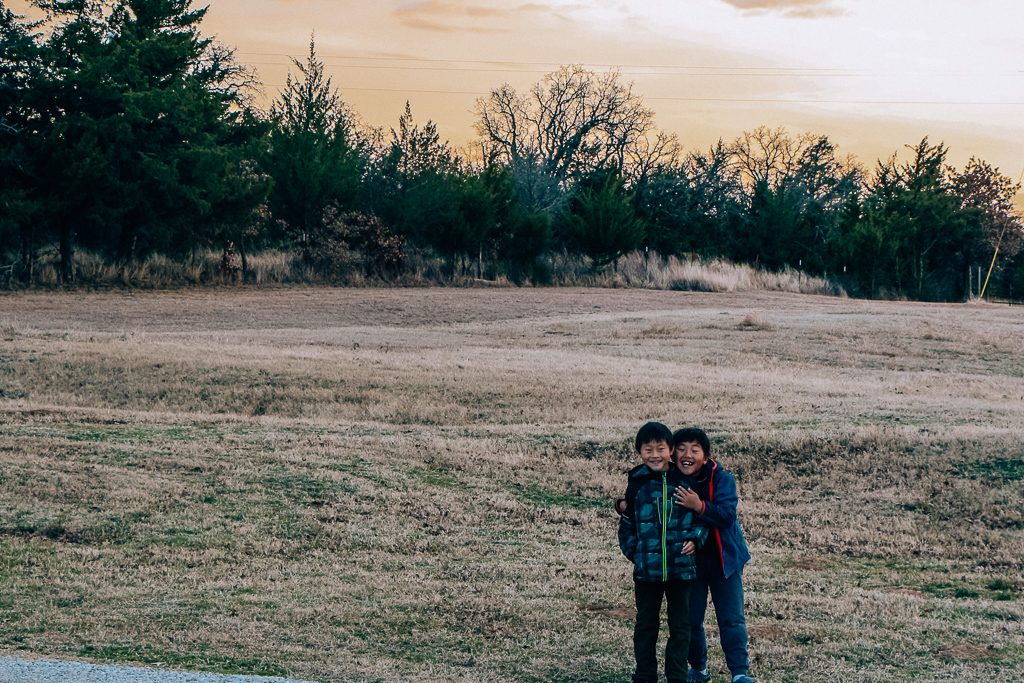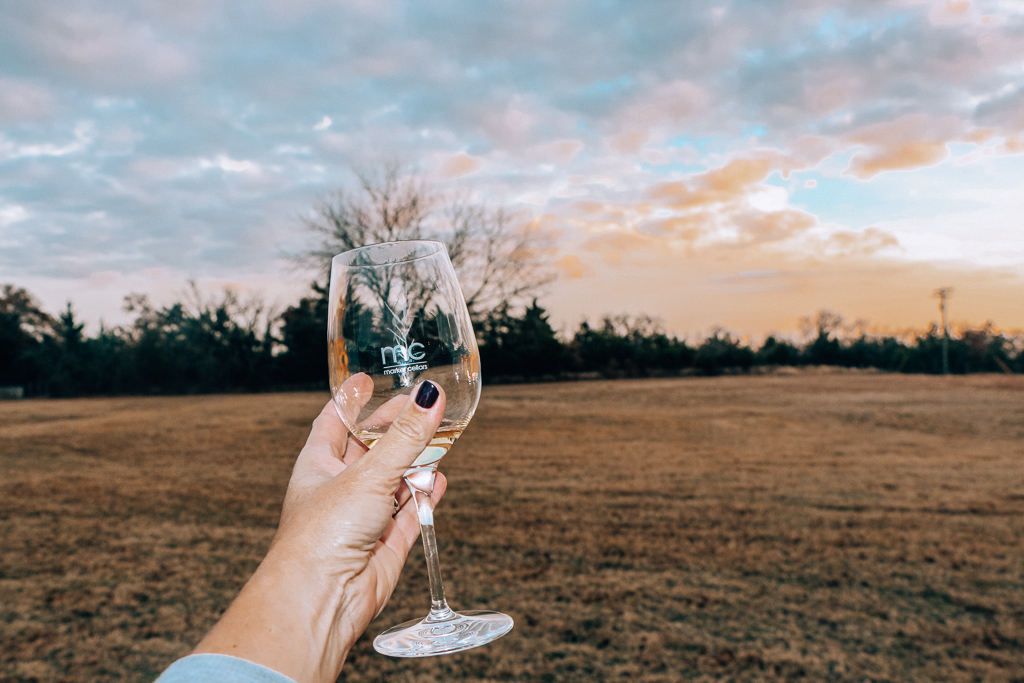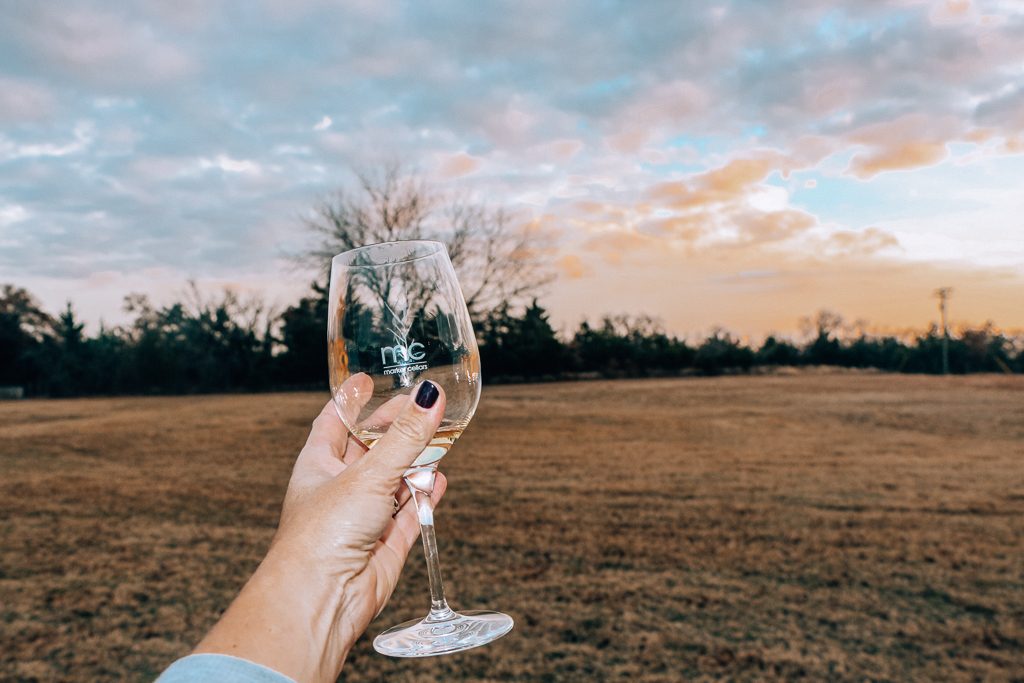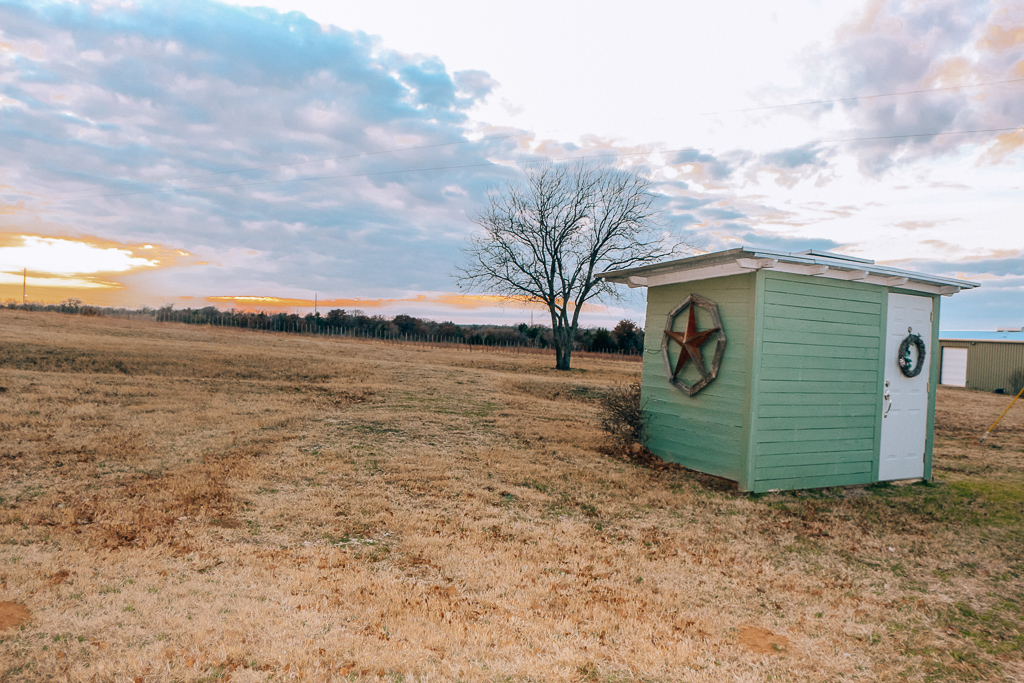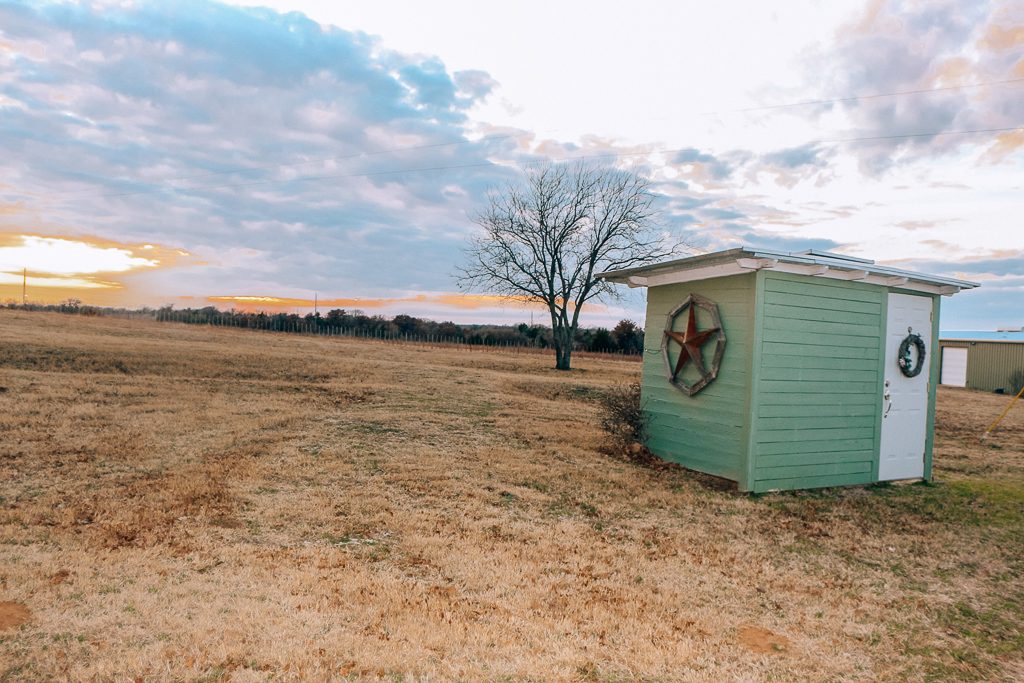 15. Nearby Bridgeport
Bridgeport is a short drive from Decatur and it has a really cute downtown area that looks like it's being developed. We only spent a short time in Bridgeport but we managed to find a few prime picture taking spots: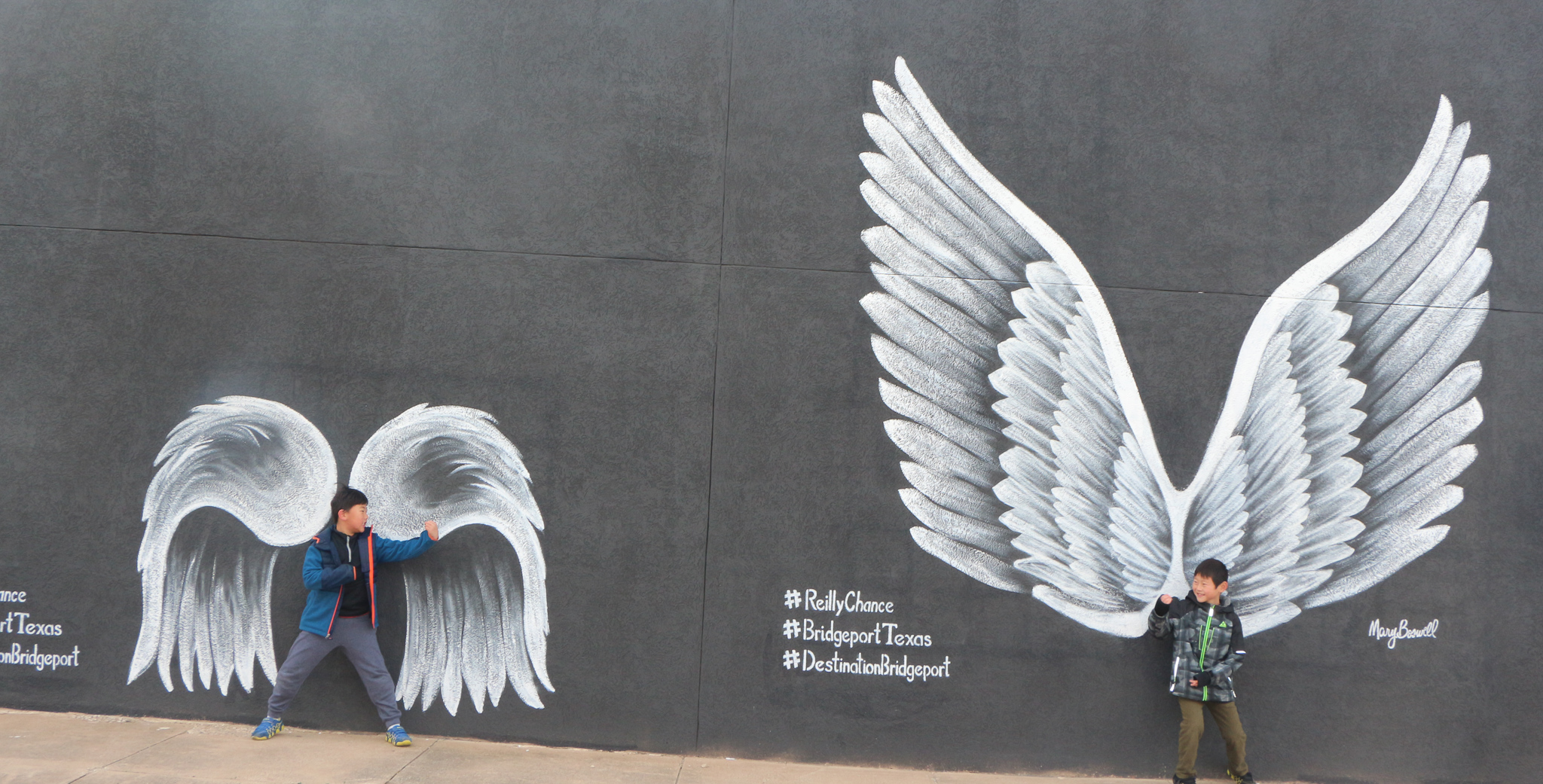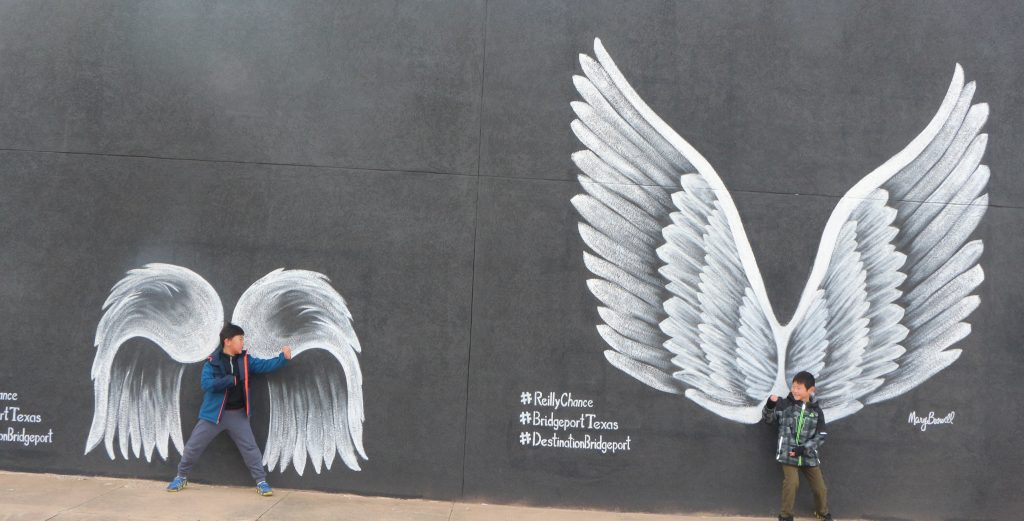 Angel wings are a thing wherever you go, it seems. This is my kids' rendition of "look angelic." So close, right?
If you're a fan of the HGTV Show Texas Flip n' Move then you might like this one – and even if you're not, this was such a cute spot for a picture, right?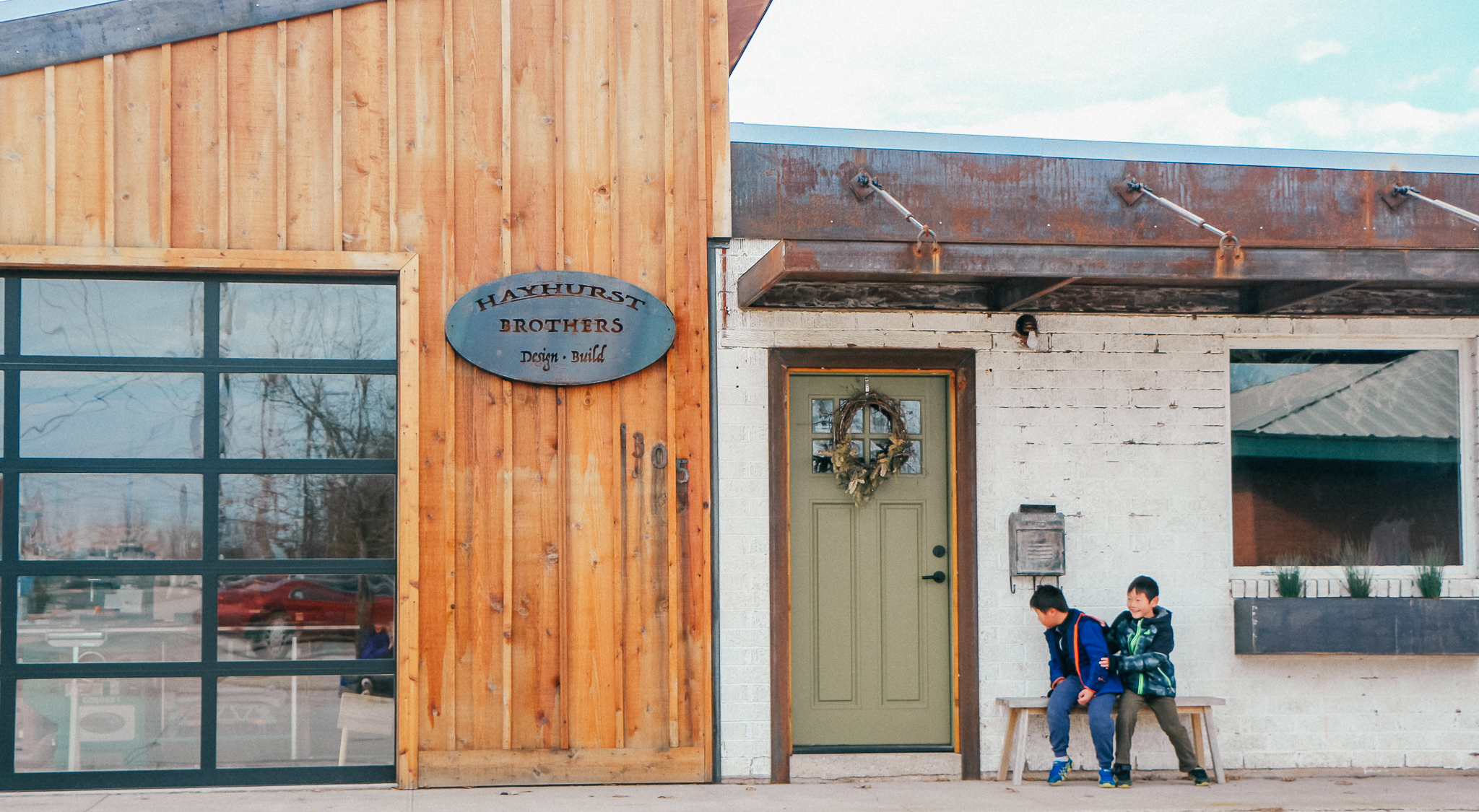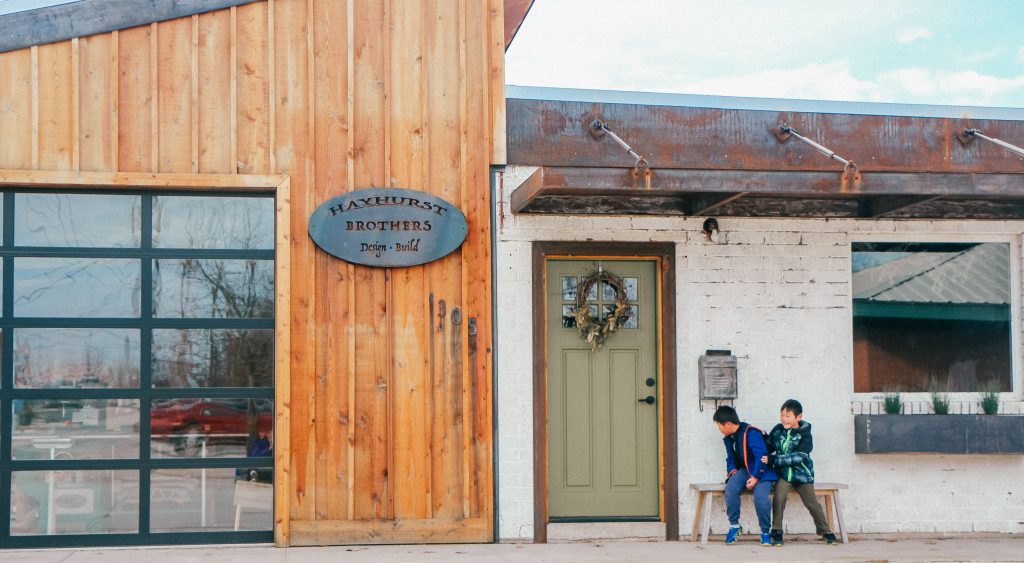 The Hayhurst Brothers are designers/builders that are sometimes featured on Texas Flip n Move. They weren't in when we stopped by.
Bridgeport is also home to the Center for Animal Research and Education. In short, it's a Tiger Sanctuary and I was really surprised to find it in this neck of the woods. It offers lots of photo spots if you sign up for the tour, which lasts about 90 minutes. It's also very educational.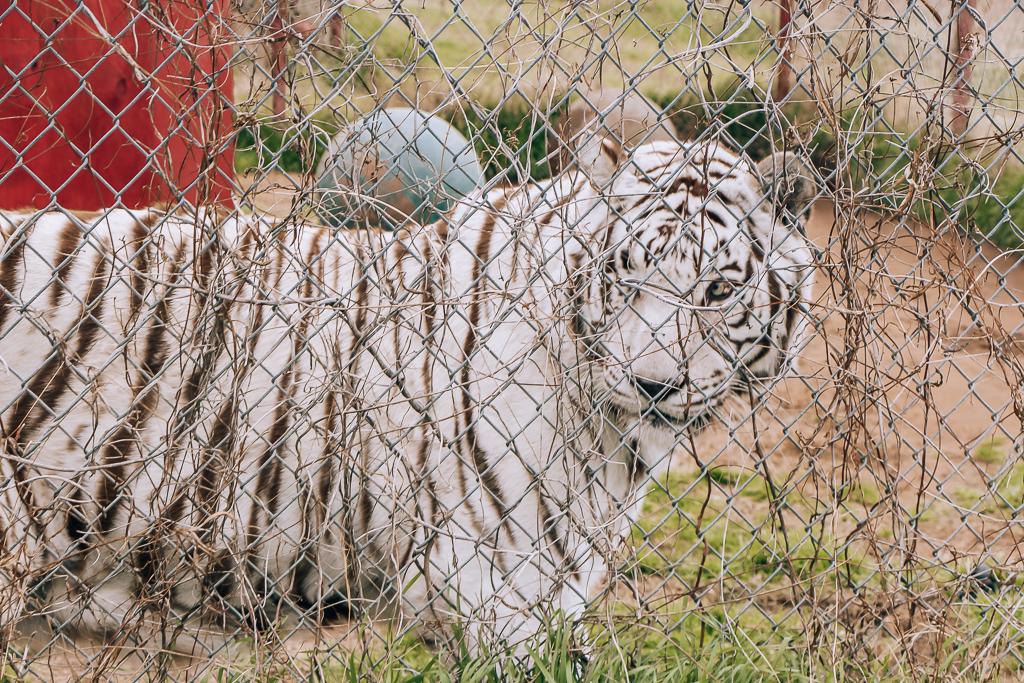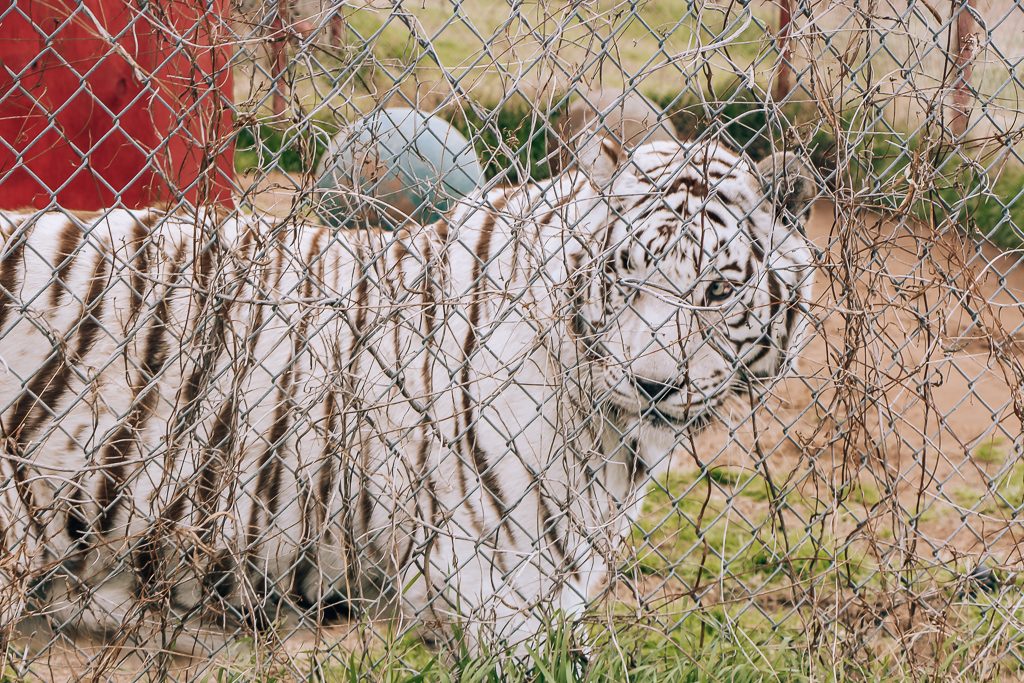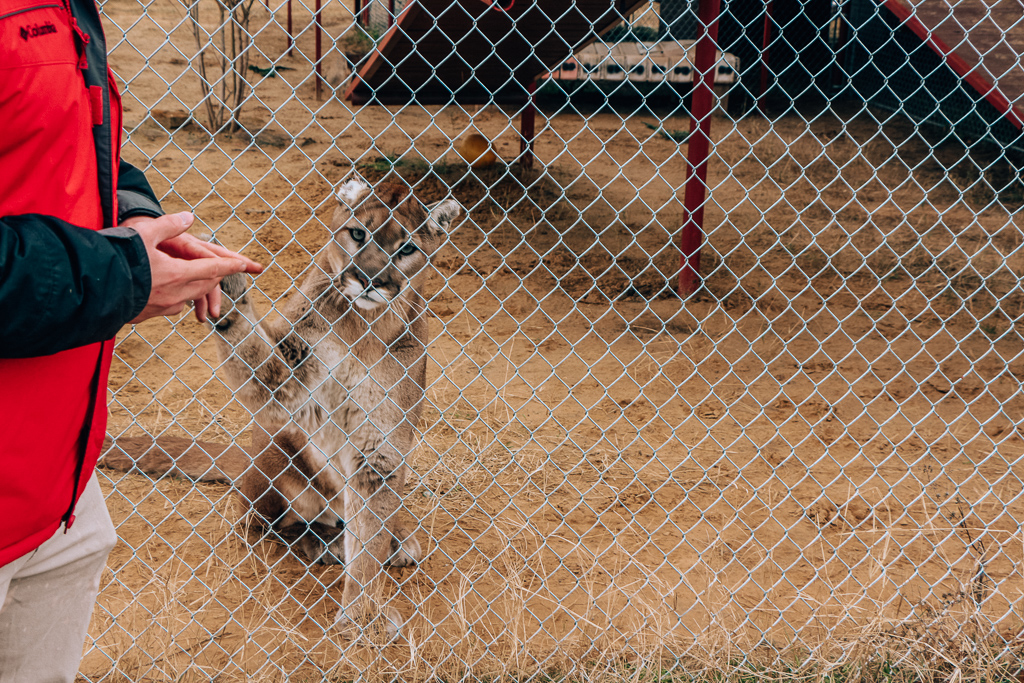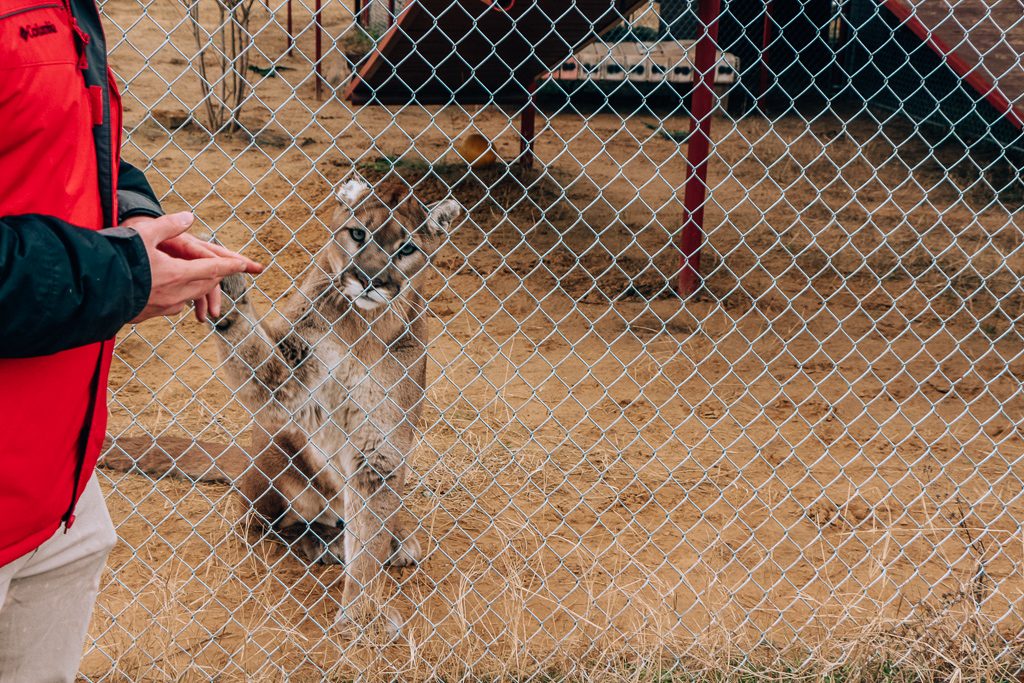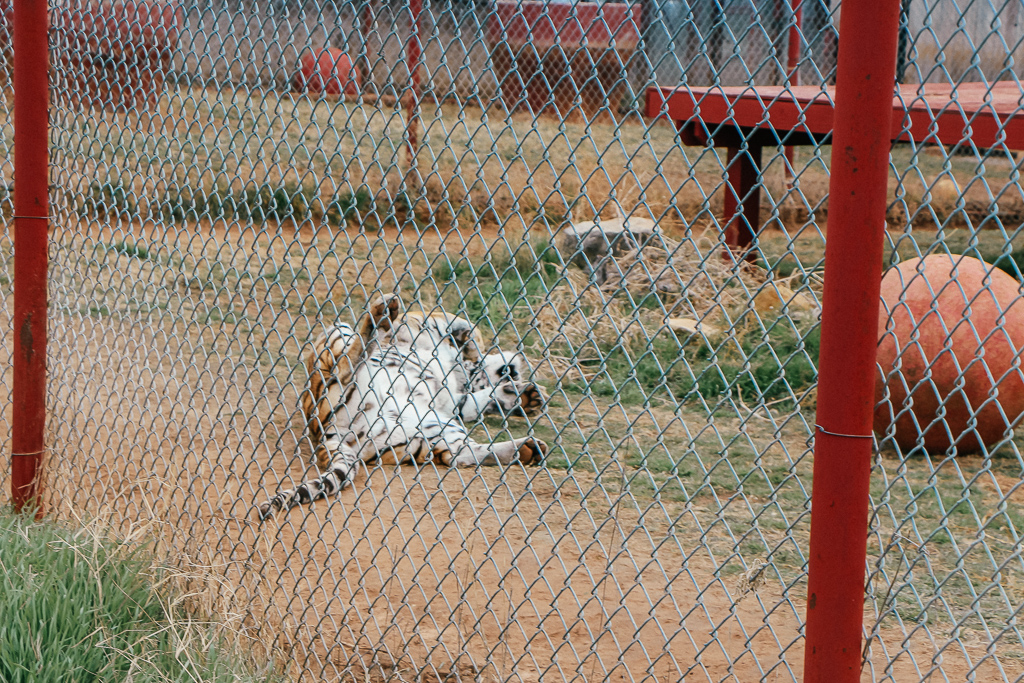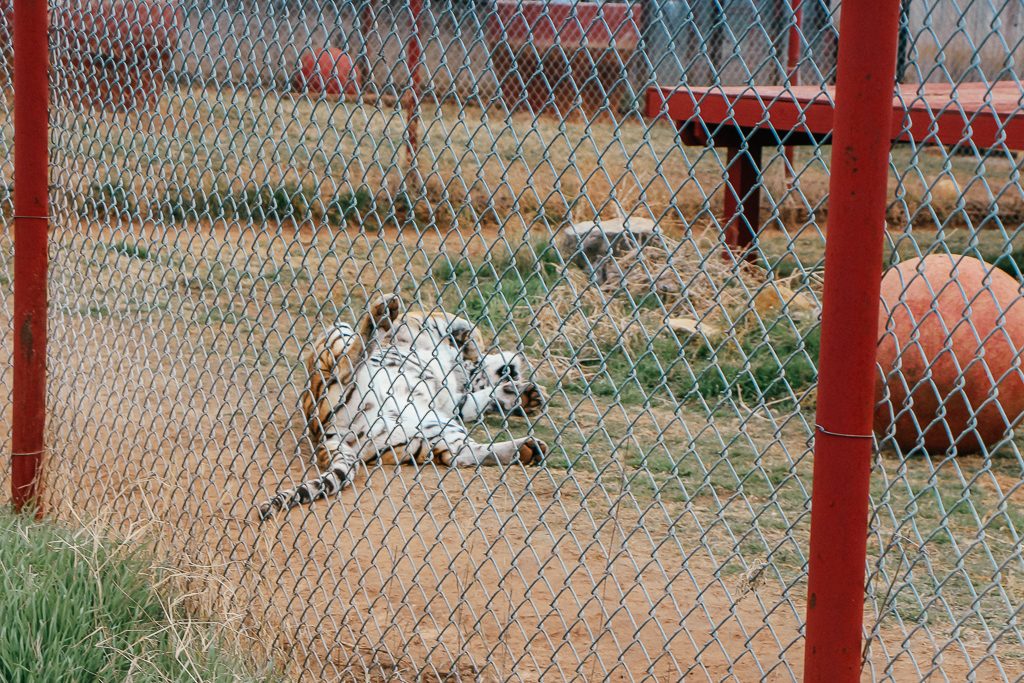 About my photography
I am an amateur (ish) photographer. I like to say I dabble just because I like taking pictures of my kids but I have done a few photography jobs here and there. My first love is wandering and writing about wandering but photography is right there at the top of the list…because you gotta capture it all, right?
Here's a little bit about my equipment used here:
I used a Canon Rebel T6 which is not the newest thing out there (and not my newest camera but what I took to Decatur Texas with me.) Here's a bundle on Amazon that has a good compliment of lenses and other stuff:
You can tell from the price that it's not the fanciest, latest and greatest that's out there but I just started using the Canon EOS M50 Mirrorless like this one:
and I have to say…I like my trusty Rebel a lot better.
I edit with Adobe Lightroom and I use presets from Aggie Lal. You can check out her selection here.
You might also like: