An uncommon dining choice: Todd English's bluezoo at Disney World
(This post may contain affiliate links. Read my full disclosure.)
If you're looking for an exceptional and different fine dining experience on your next trip to Walt Disney World, I've got a recommendation for you: Todd English's bluezoo at Disney World.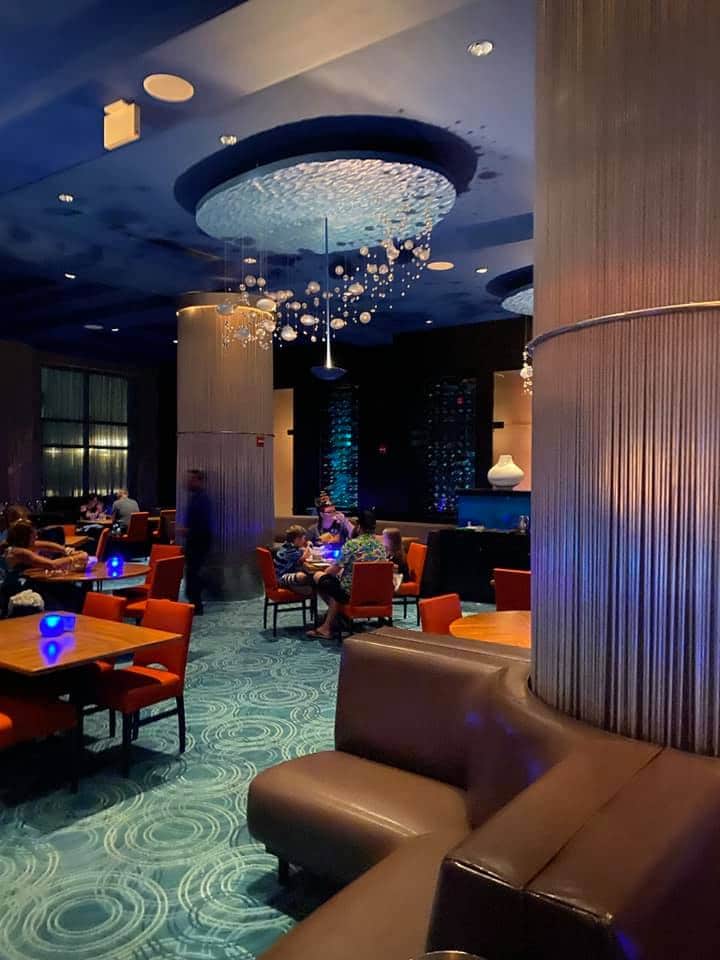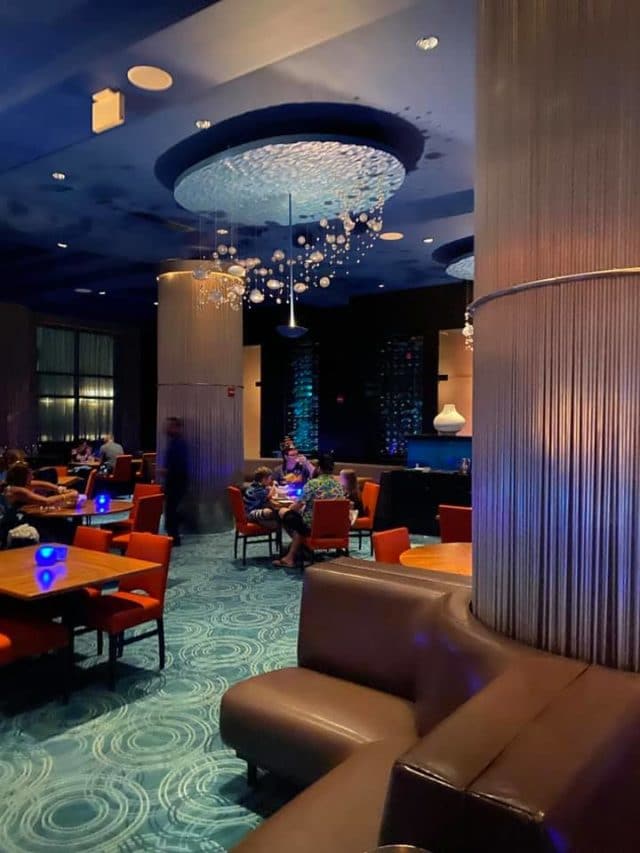 An uncommon Disney dining choice: Todd English's bluezoo at Disney World
I had never heard of celebrity chef Todd English or the bluezoo restaurant at Disney's Dolphin Hotel until we were prepping for our most recent trip to the most magical place on earth.
I was searching (OK stalking) the My Disney Experience app looking for dining reservations, which is something I do starting 60 days prior to any Disney trip. bluezoo popped up with availability and I was curious.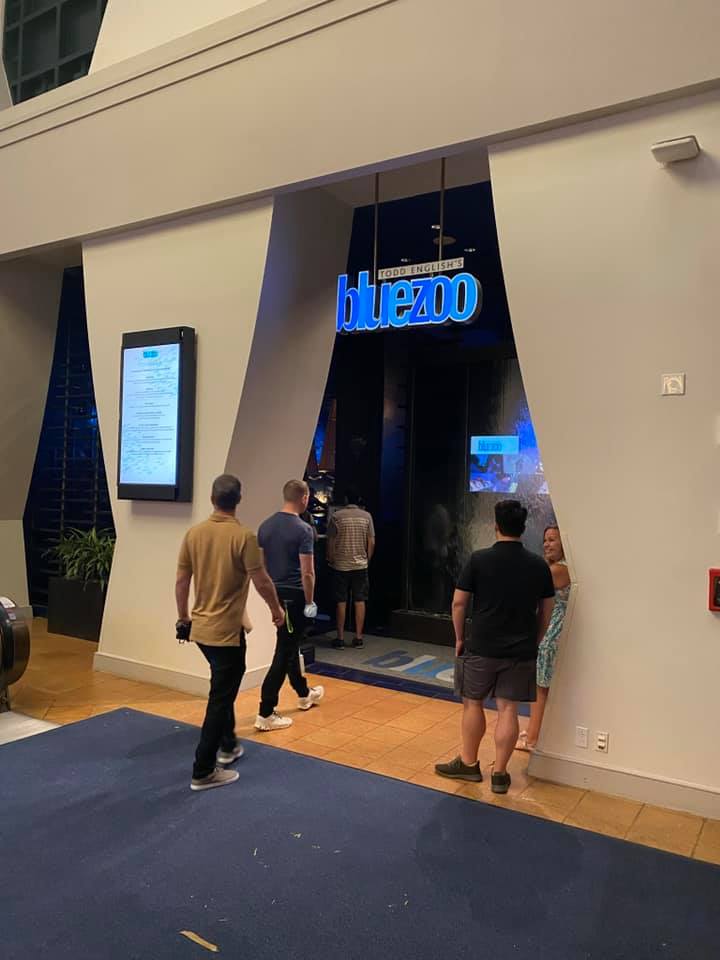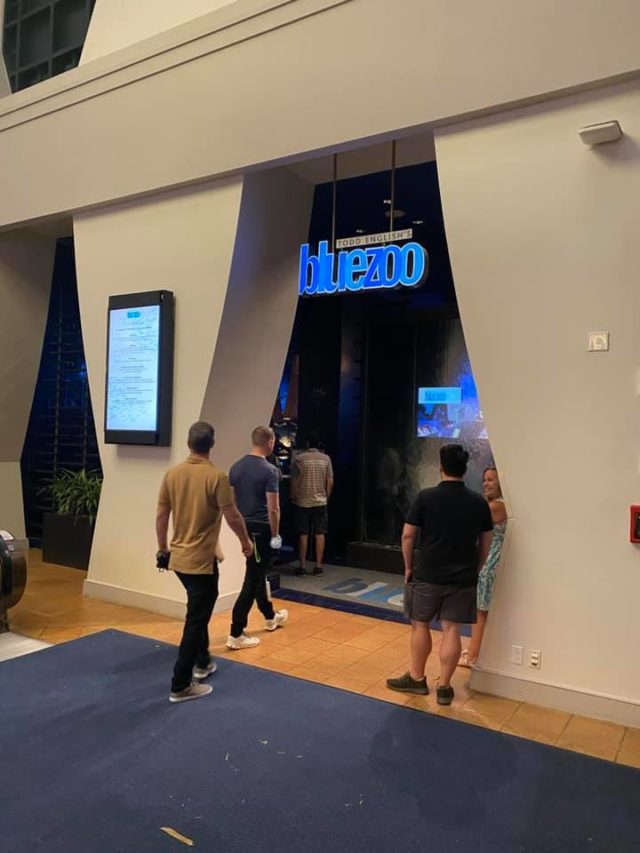 By the way, 60 days is the current window where you can reserve advance dining at Walt Disney World. It used to be 180 days, which I dearly miss, but it is 60 for now. If I'm trying to get a coveted dining reservation, such as Be Our Guest or Chef Mickey, I refresh the app whenever I have a free moment. Or, if I'm awake, at midnight Orlando time when everything refreshes for the day. Yes, I'm that person.
As I said, I'd never heard of bluezoo (the random non-capitalization is driving my inner grammar nerd nuts but the all lower case is correct) until I saw it as a dining option.
You might also like: The Ultimate in Disney Signature Dining – California Grill
bluezoo is located in Disney's Swan and Dolphin on Disney's BoardWalk
Disney's Swan and Dolphin Hotels are in the EPCOT area, where we were staying, and I was looking at dining that was easy to get to. By the way, the Swan and Dolphin are not really Disney hotels but they are kind of.
They've got most of the benefits of staying on property, such as resort transportation, and other things such as ability to book FastPass+ and extended hours, when those things fully return to Walt Disney World. The Swan and Dolphin are right on Disney BoardWalk but they are actually managed by Marriott.
We have never stayed at either property, although we did explore the inside of the Dolphin before dinner and it looks really nice. If you have Marriott/Bonvoy points, this is definitely something you should look into. I've heard good things and our little foray into the lobby at the Dolphin has got me wanting to plan a stay.
bluezoo is sophisticated, upscale dining
The atmosphere and the menu at bluezoo are sophisticated, although I did find the food to be very approachable. More about that in a minute.
The decor is designed to make you feel like you're under the see. Lots of dim blue light and glass. It was very pretty and it felt upscale without being stuffy. The decor style borders on trendy and modern. The lighting is very subdued and it's a great date night choice, which is what we did.
While there is no dress code, other than no swimwear, most of the people eating at bluezoo were dressed a notch above what we'd typically see for dinner at Walt Disney World. My husband wore shorts with a button down shirt and I had on a casual dress and sandals and that felt about right. If we'd have decided to kick it up a notch and get a little more dressed up, I wouldn't have felt out of place at all.
Is bluezoo kid friendly?
since bluezoo at Disney World is a restaurant on the Walt Disney World property, I wouldn't call it not kid friendly. With very few exceptions, most restaurants on property are going to welcome children.
That said, after reviewing the menu, we opted to eat here sans kids. We did see a few kids at the restaurant, although not as many as other places on property. I don't want to discourage you from taking your kids here or tell you I don't think they're welcome but for the price you'll pay for your food at bluezoo, I think there are other choices at Walt Disney World that most kids would like better.
You might also like: Is Be Our Guest Worth the Price?
Reservations and payment at bluezoo
While you can make and modify reservations at bluezoo in the My Disney Experience app, you won't be able to use your MagicBands for payment. bluezoo at Disney World isn't an official Disney restaurant but it was nice to have it in the app and viewable in the My Plans section of My Disney Experience.
My husband and I paid about $140 for dinner, plus tip. We shared an appetizer and a bottle of wine (our wine was on the very lowest end of the price point) and two entrees.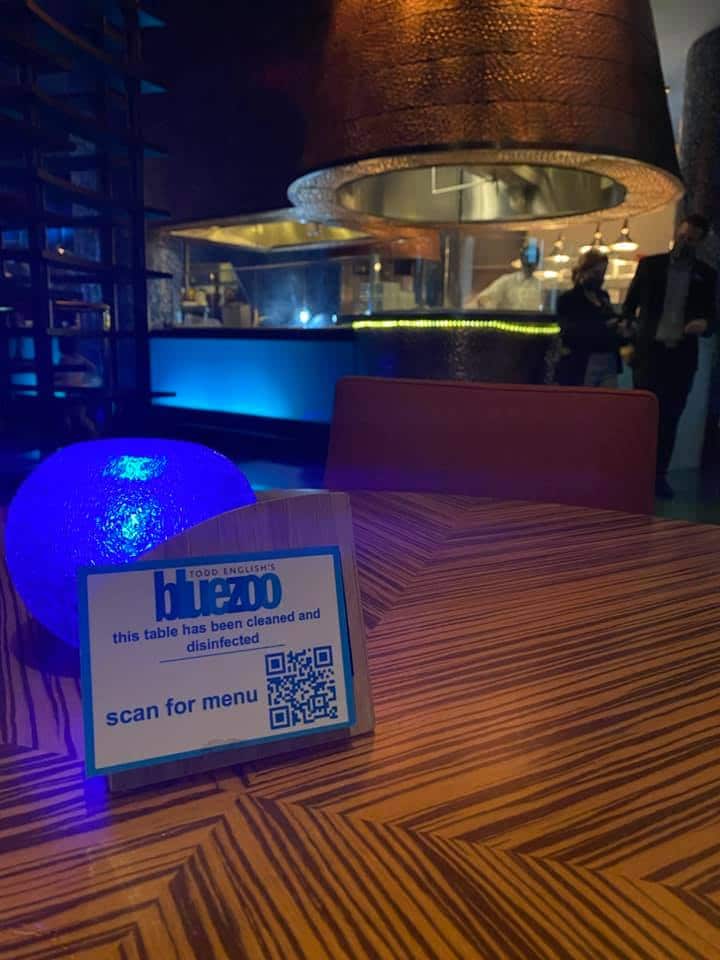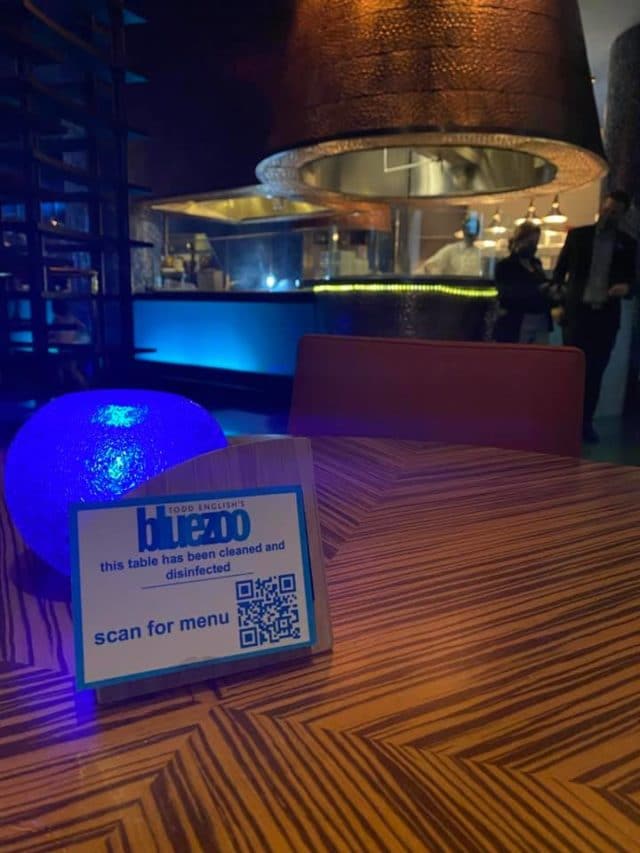 Entrees run an average of $35. There are a couple of less expensive options, such as a burger and a vegetarian option. Kids entrees are pretty reasonably priced at $10-$12.
bluezoo is only open for dinner.
You might also like: Review of Gran Destino Tower at Disney's Coronado Springs
What we ate at Todd English's bluezoo
First, I want to talk about the bread service. I do love a good bread service and this one at bluezoo at Disney World knocked it out of the park. I TRY not to eat much bread but a bread service like this will quickly smash my resolve.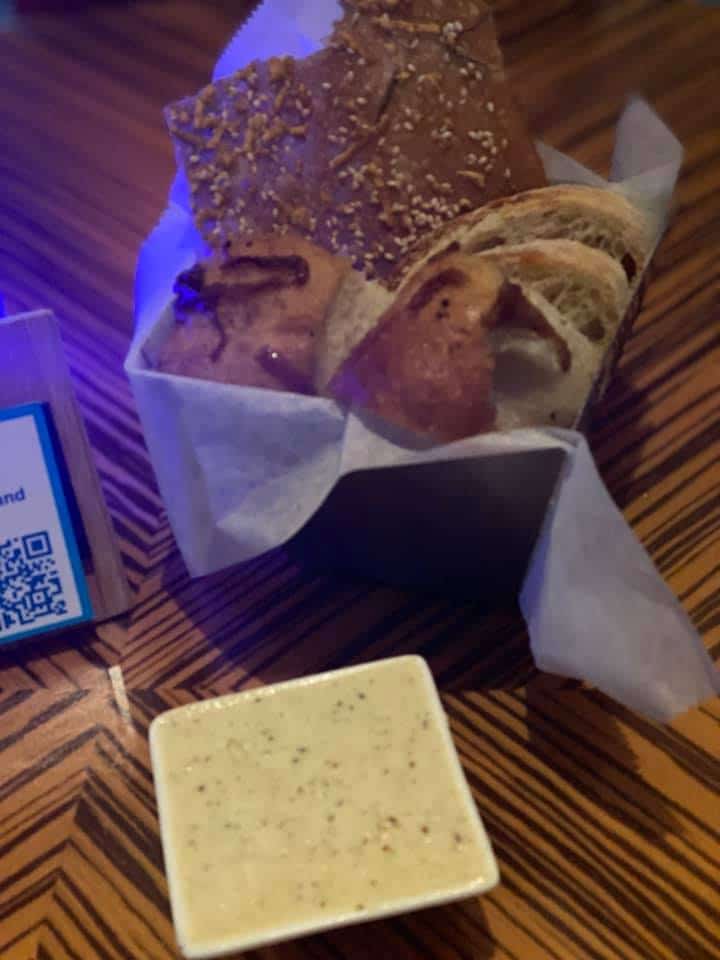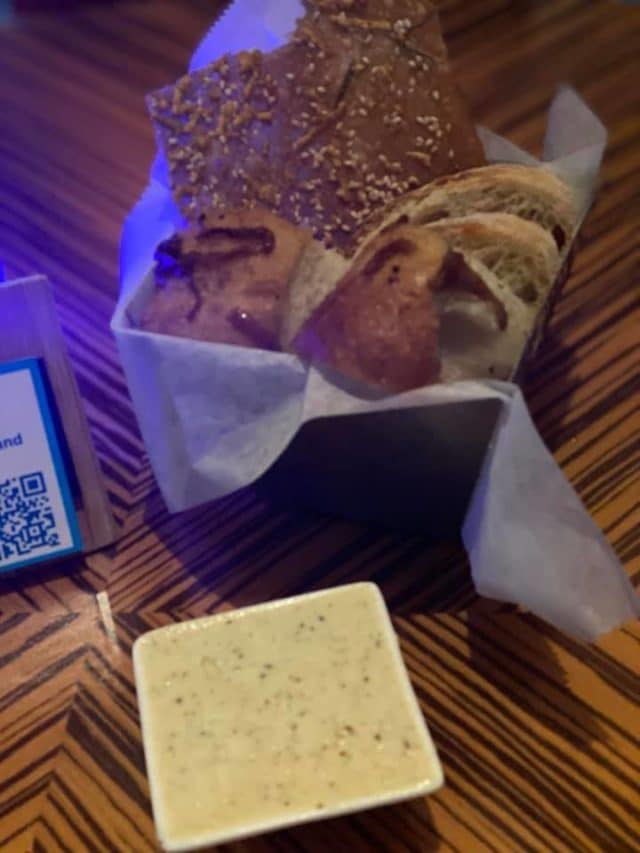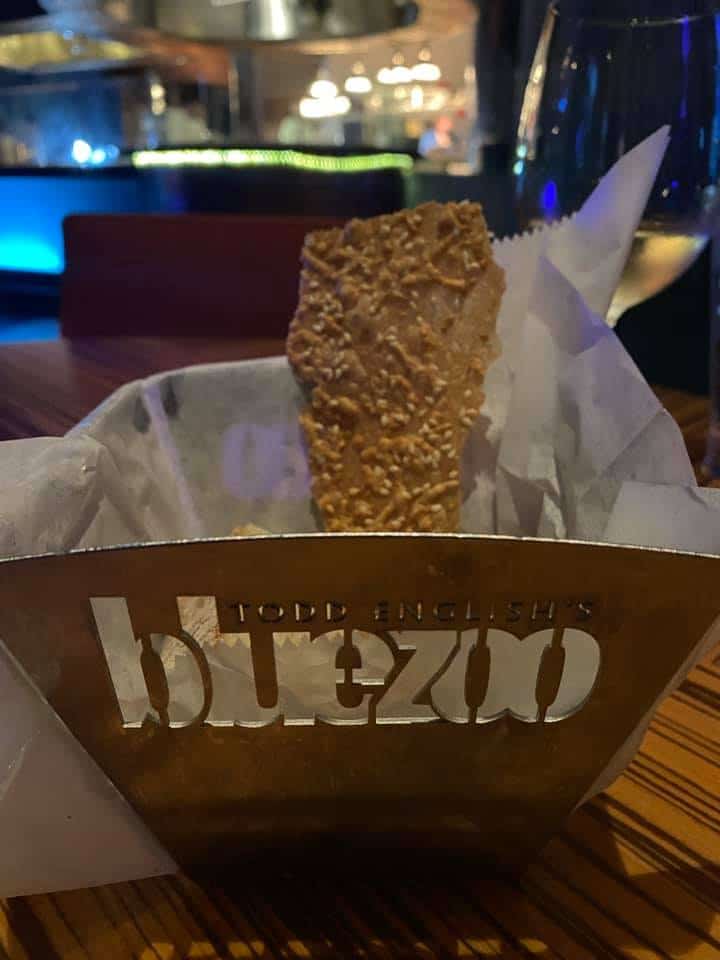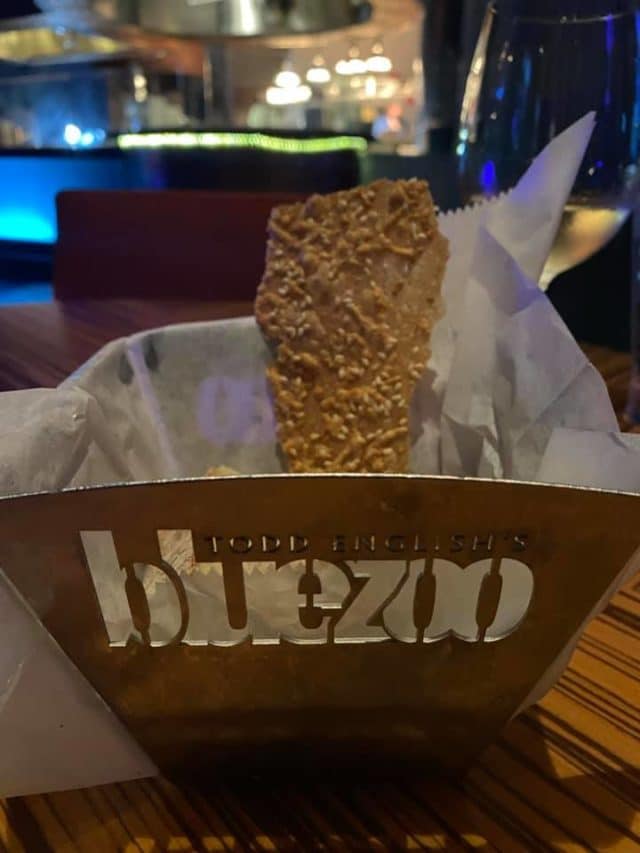 We shared the crab nachos which were outstanding. There was lots of good quality crab on them…not like some dishes where you have to struggle to find the crab meat.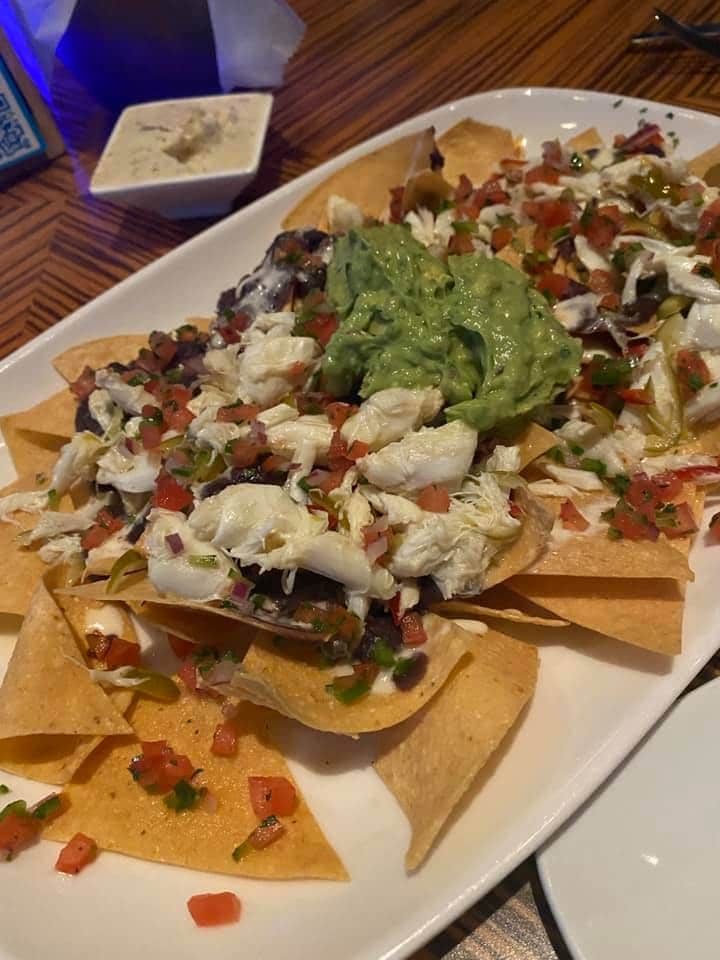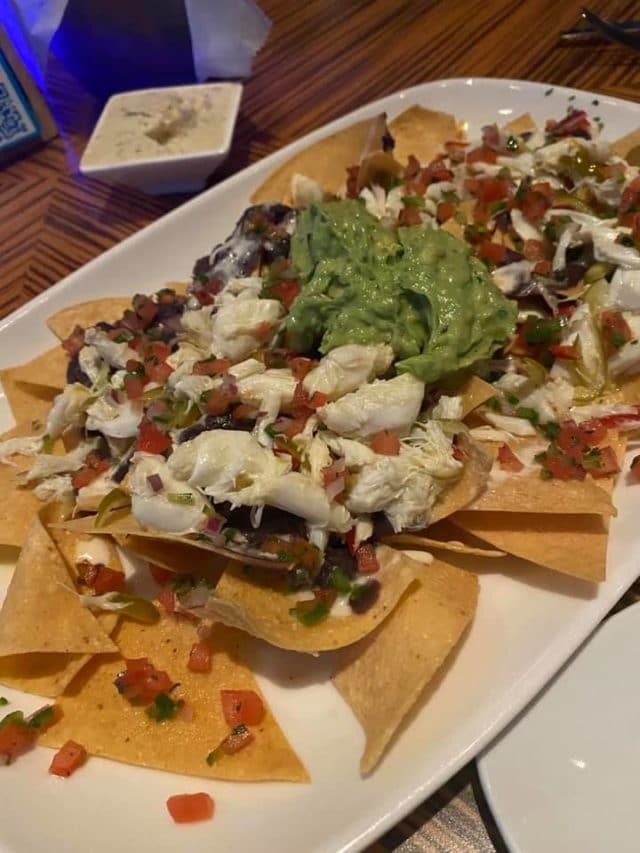 I had the Simply Fish, which is the market catch/catch of the day with warm crabmeat Dijon sauce. It came with risotto and vegetables. It wasn't a huge portion but I would call it the perfect portion. Any more than this and I'd have been uncomfortably full (hello bread basket and delicious crab nachos.)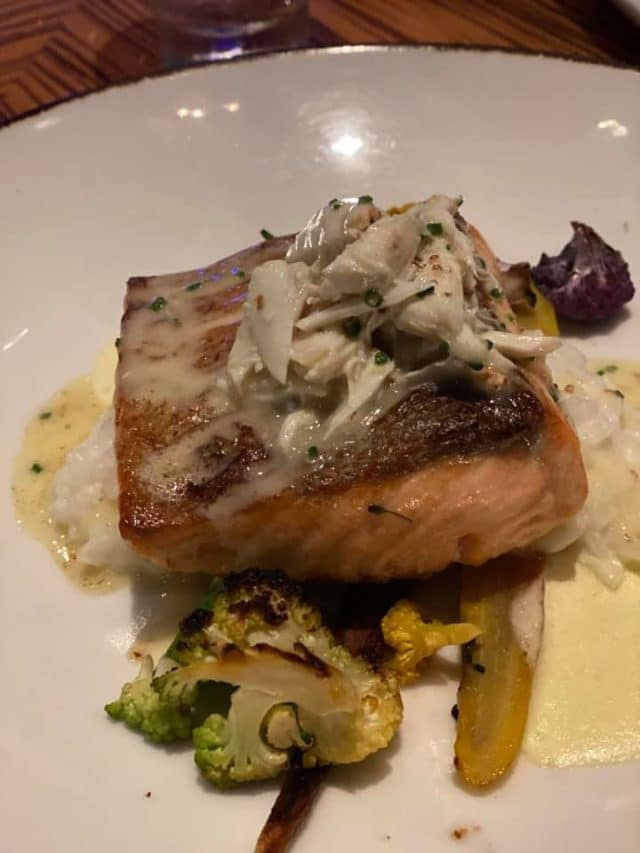 My husband had the Cappalletti Pasta (lobster and ricotta stuffed shells) and although I though his portion size looked great, he said he'd have liked a larger portion, so you might want to keep that in mind if you've got a larger appetite.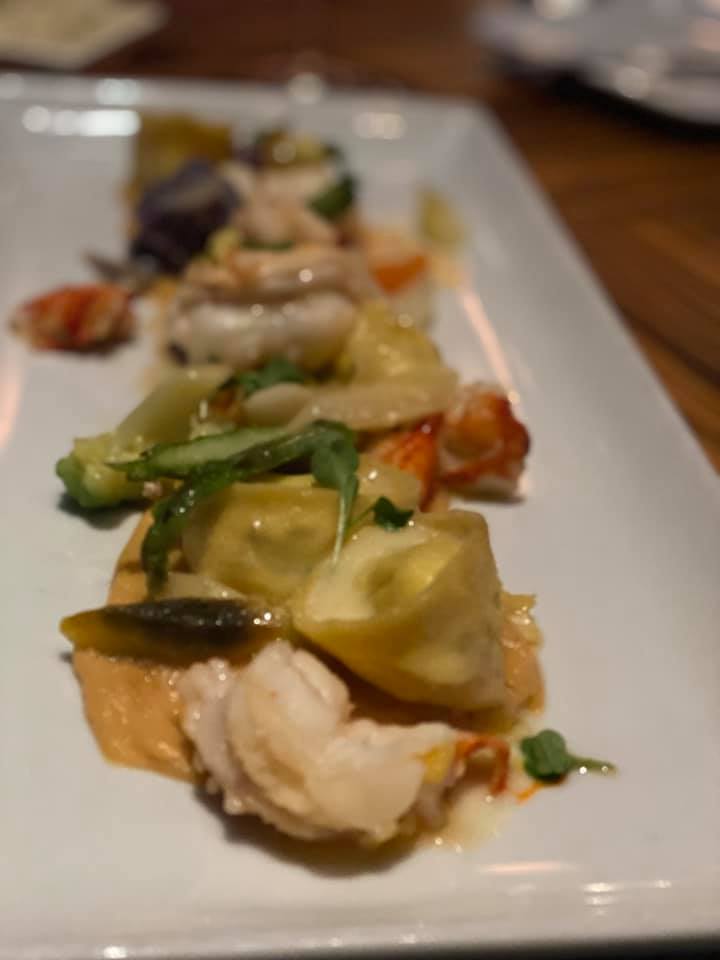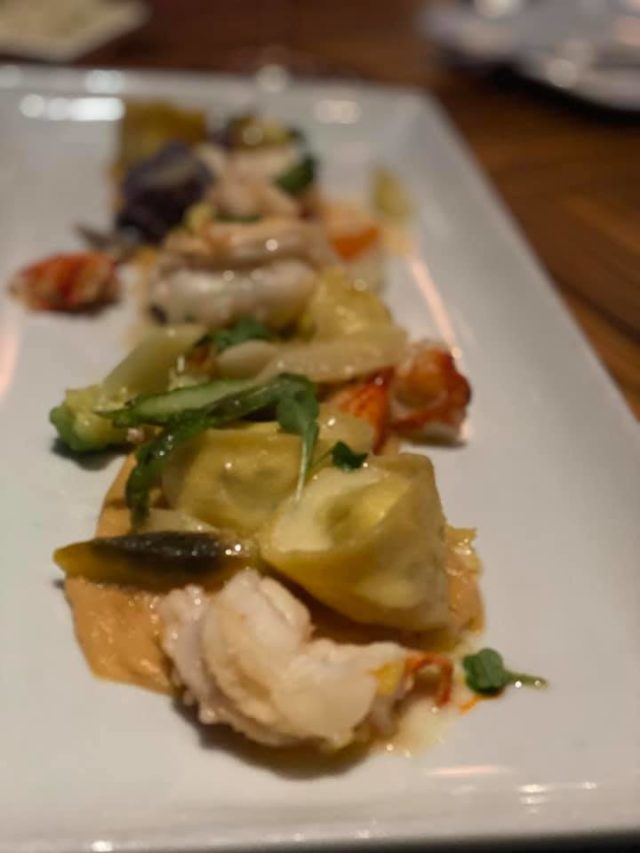 We did not eat dessert at bluezoo and I totally wish we would have. They've got a few great options listed on the website and on the dessert menu we were handed – there were some differences between the two.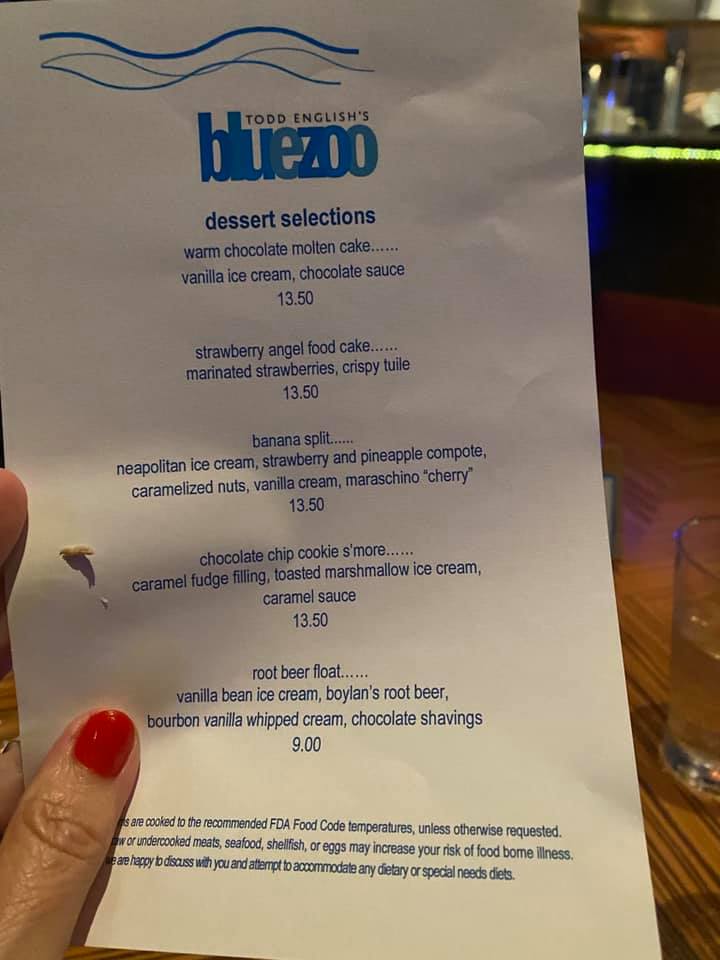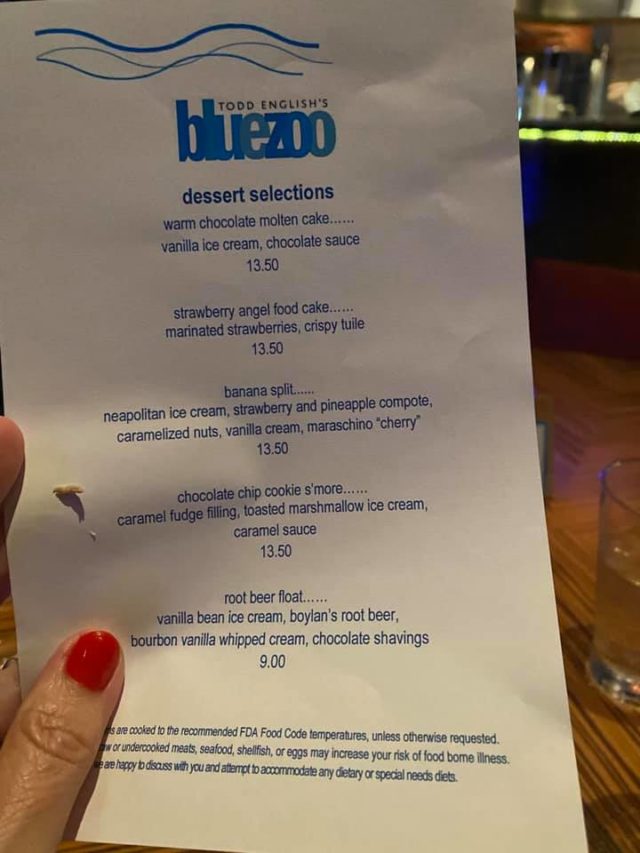 You can review the current bluezoo menu online here.
Would I eat at bluezoo at Disney World again?
Yes. If we stayed at Disney's Swan and Dolphin Hotel or another of the EPCOT area resorts, I would make it a point to eat here again, absolutely. I like to plan our meals around where we're going to be as much as possible. The great food combined with the ability to walk over from our villa had tremendous appeal.
I loved the ambiance of bluezoo at Disney World so much that I'll forgive the disregard for appropriate capital letters. Ahem.
I am also a big seafood person so there's lots on the menu for me to love. It was a really elegant meal that managed to be elegant without being stuffy or overly formal.
It was nice to find that "date night vibe" while we were on vacation with our kids. Since our Deluxe Villa at the Disney Vacation Club was just a few steps away from bluezoo, it was easy to get the kids a pizza and have a fabulous couple of hours without the kids. Not even a little sorry about how much we enjoyed it.
You might also enjoy reading:
Should you have a car at Disney World?
Best theme park military discounts
My list of Walt Disney World do overs