Review of the California Grill 50th Anniversary Celebration Dinner
(This post may contain affiliate links. Read my full disclosure.)
If you are looking for a true splurge at Walt Disney World, book a dinner reservation at California Grill. Here's a review of the California Grill 50th Anniversary Celebration dinner. I'm not sure how long this fixed price menu will last but I'm confident lots of the offerings will be available next time this signature restaurant changes up the menu.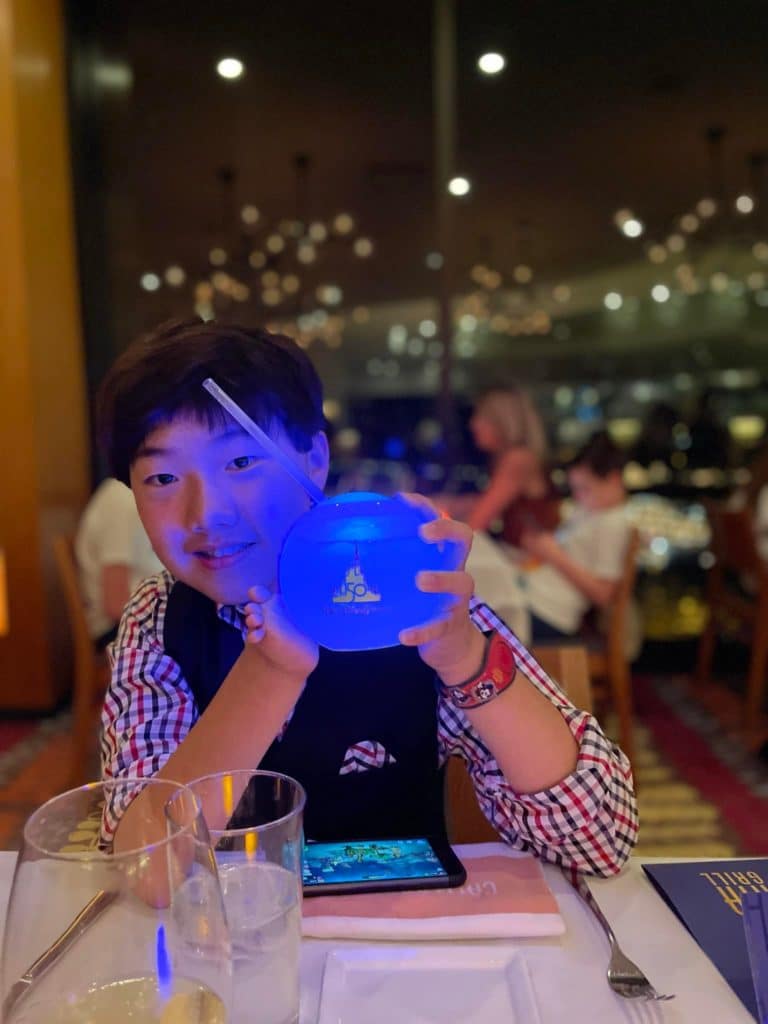 Review of the California Grill 50th Anniversary Celebration Dinner
The California Grill is one of Disney's signature dining experiences. Expect signature dining to be elevated both in terms of cuisine and price, to include sommelier assistance, and to have an specific dress code. The California Grill is located atop Disney's Contemporary Resort and is accessed by its own private elevator. One of the hallmarks of eating at California Grill is the private fireworks viewing deck where guests can watch the nightly fireworks at Magic Kingdom. The music is piped in to the restaurant and the deck and is, in my opinion, the best way to watch fireworks at Disney World.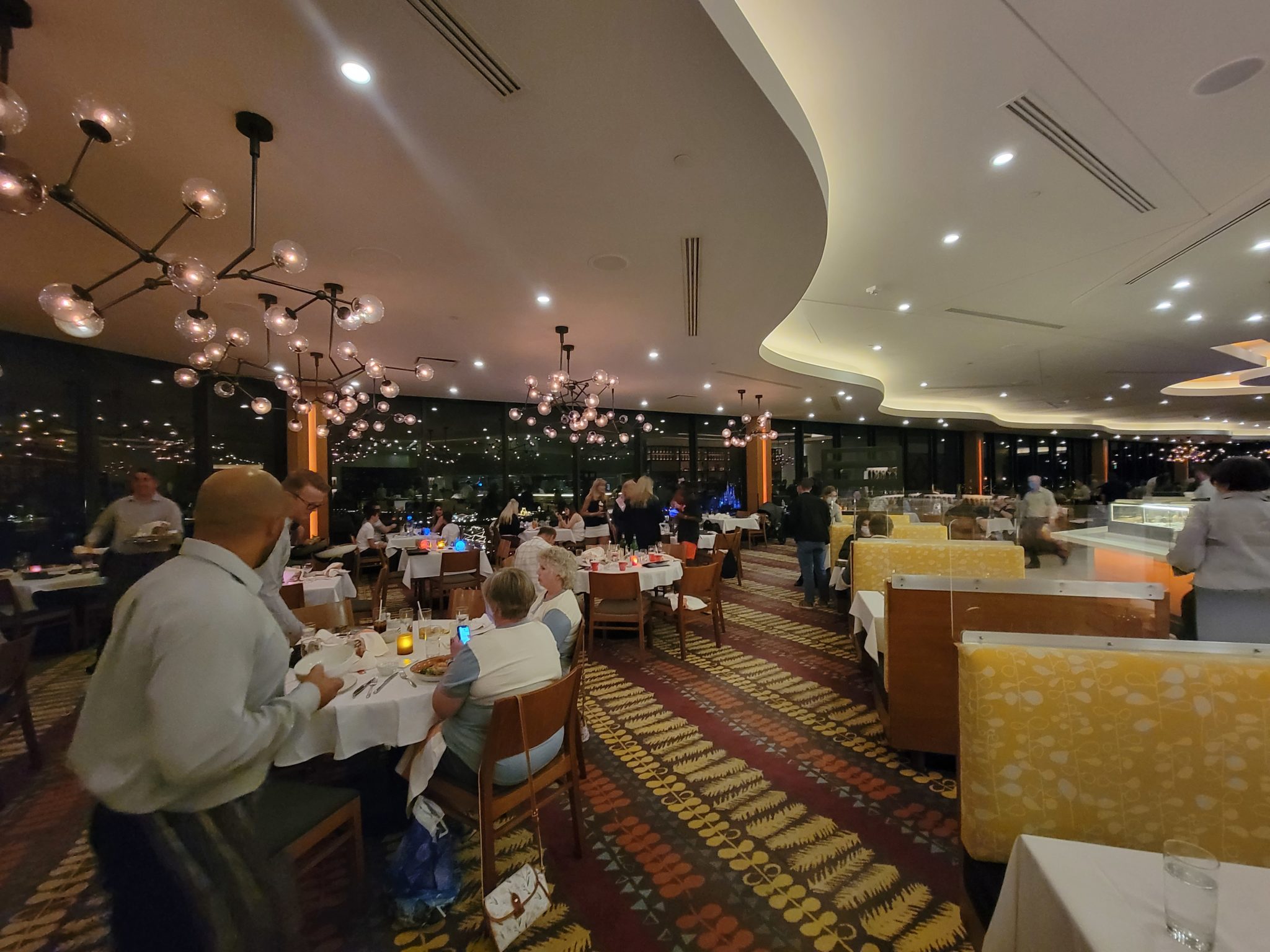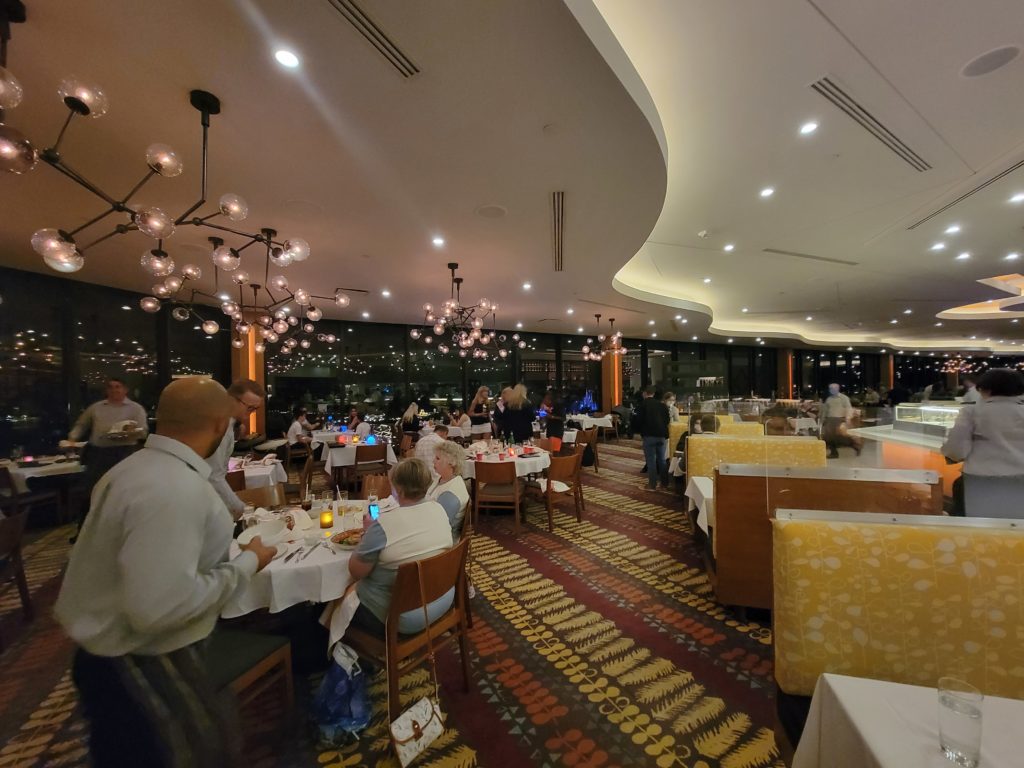 You might also like: Is Be Our Guest worth the steep price?
Three Course Fixed Price Menu
The California Grill 50th Anniversary Celebration Dinner is $89 for adults and $39 per child. Obviously, this is going to be a major chunk of the Disney budget for most families so I recommend reviewing the menu to make sure you like what's offered before you book your reservation.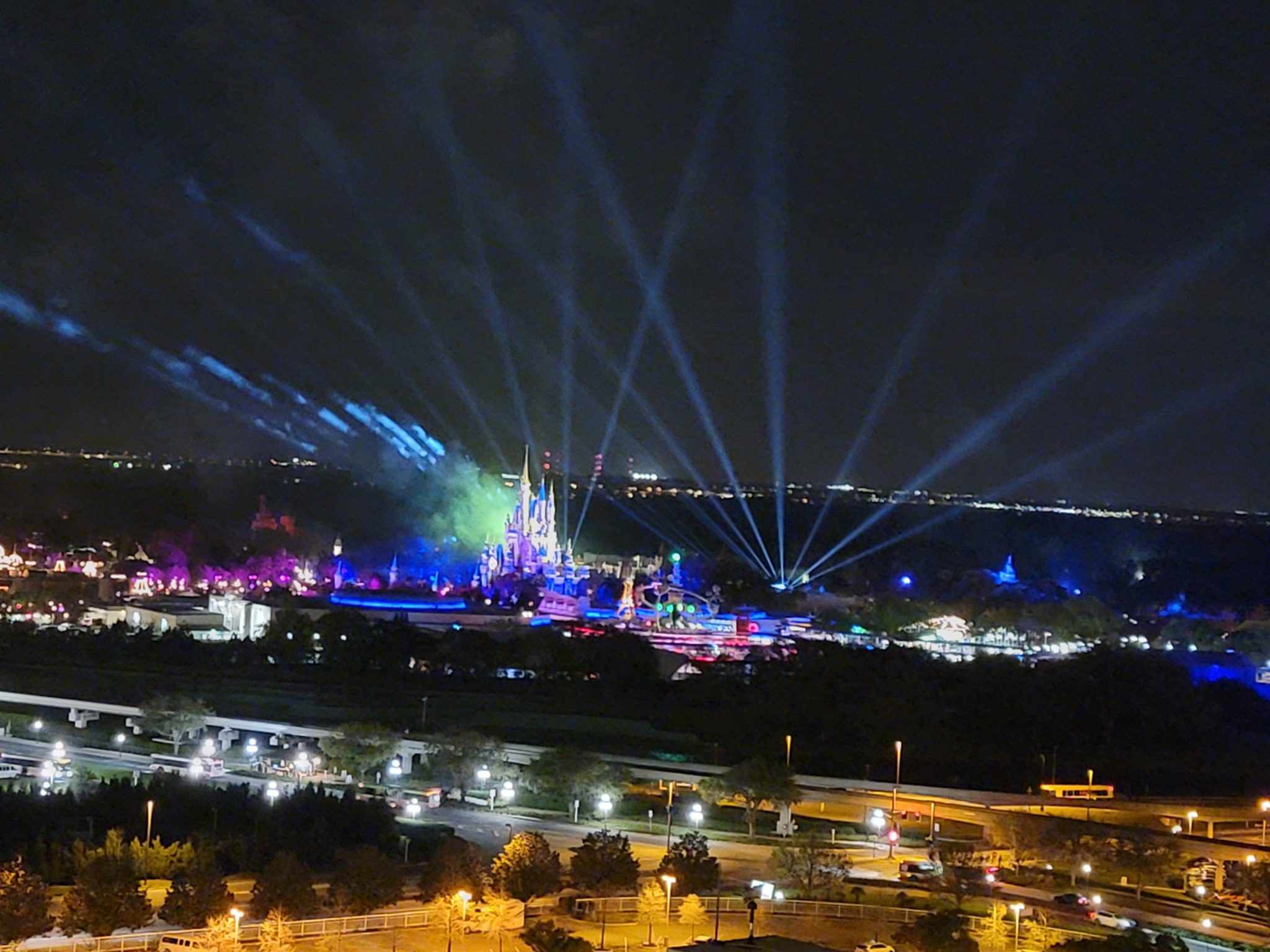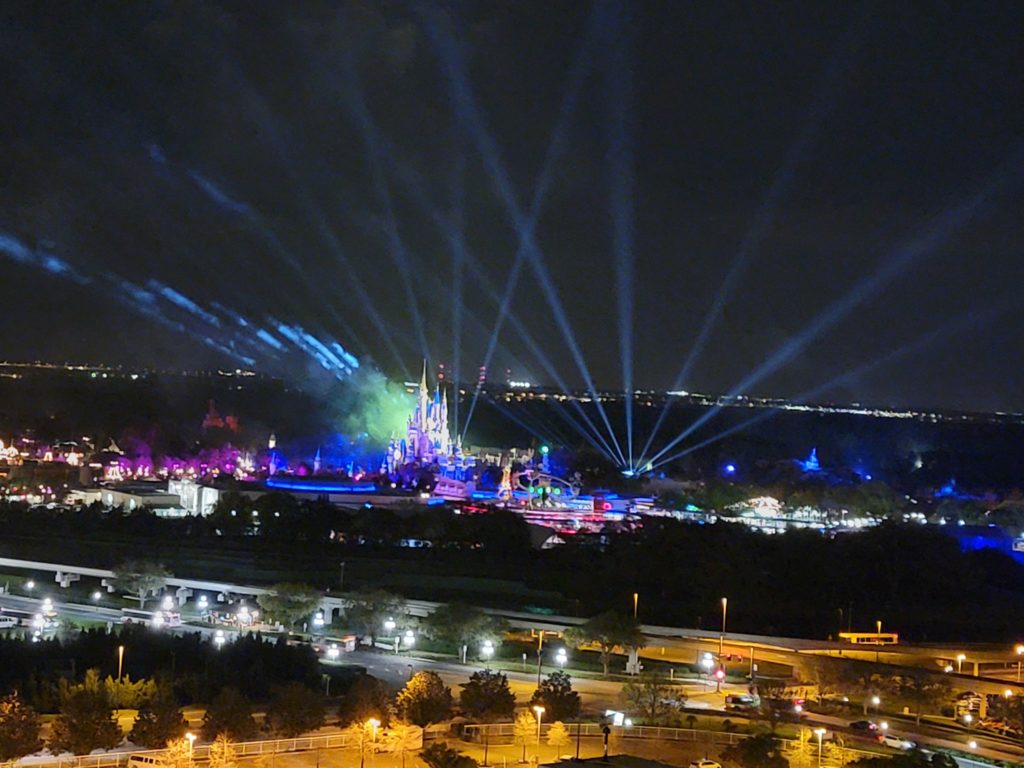 There are no options to order anything but the fixed priced menu so if you make a booking hoping there's a way to go cheap, there isn't.
You might also like: An uncommon dining choice: Todd English's blue zoo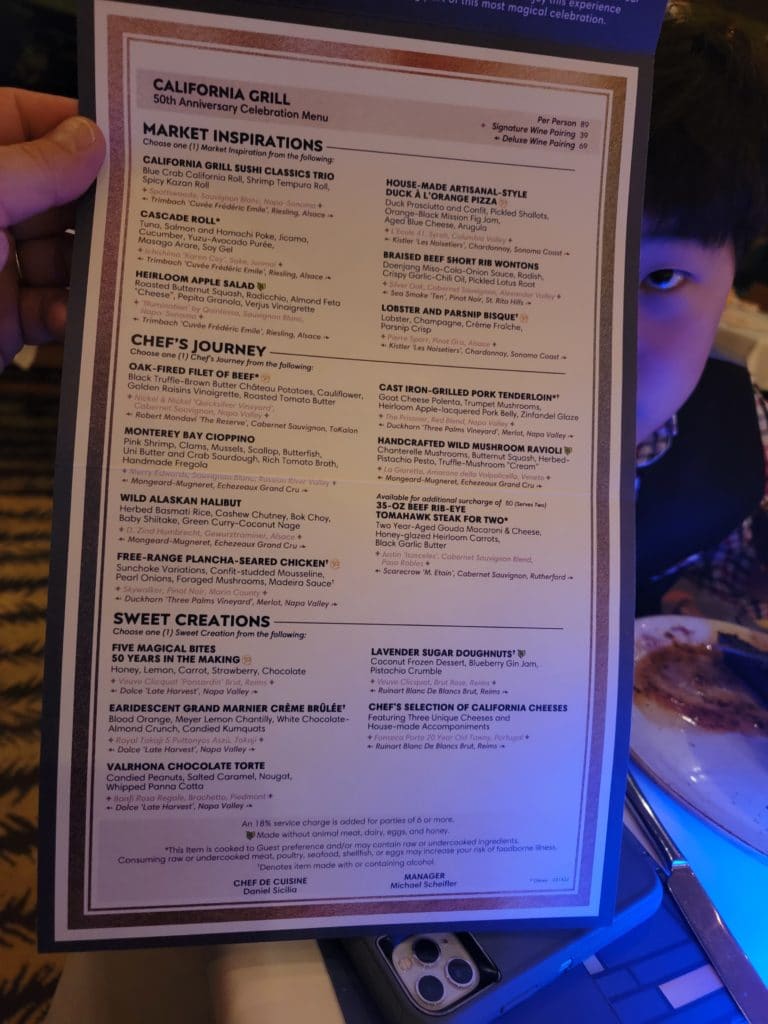 The California Grill 50th Anniversary Celebration Dinner is linked here. I'll give a rundown on what we ate and how we liked it.
The menu is divided into three sections: Market Inspirations, Chef's Journey and Sweet Creations. Diners will choose one item from each section.
Bread service
Our meal began with a lovely bread service. We had house made focaccia with a zesty dipping sauce of tomato, olive oil, and spices.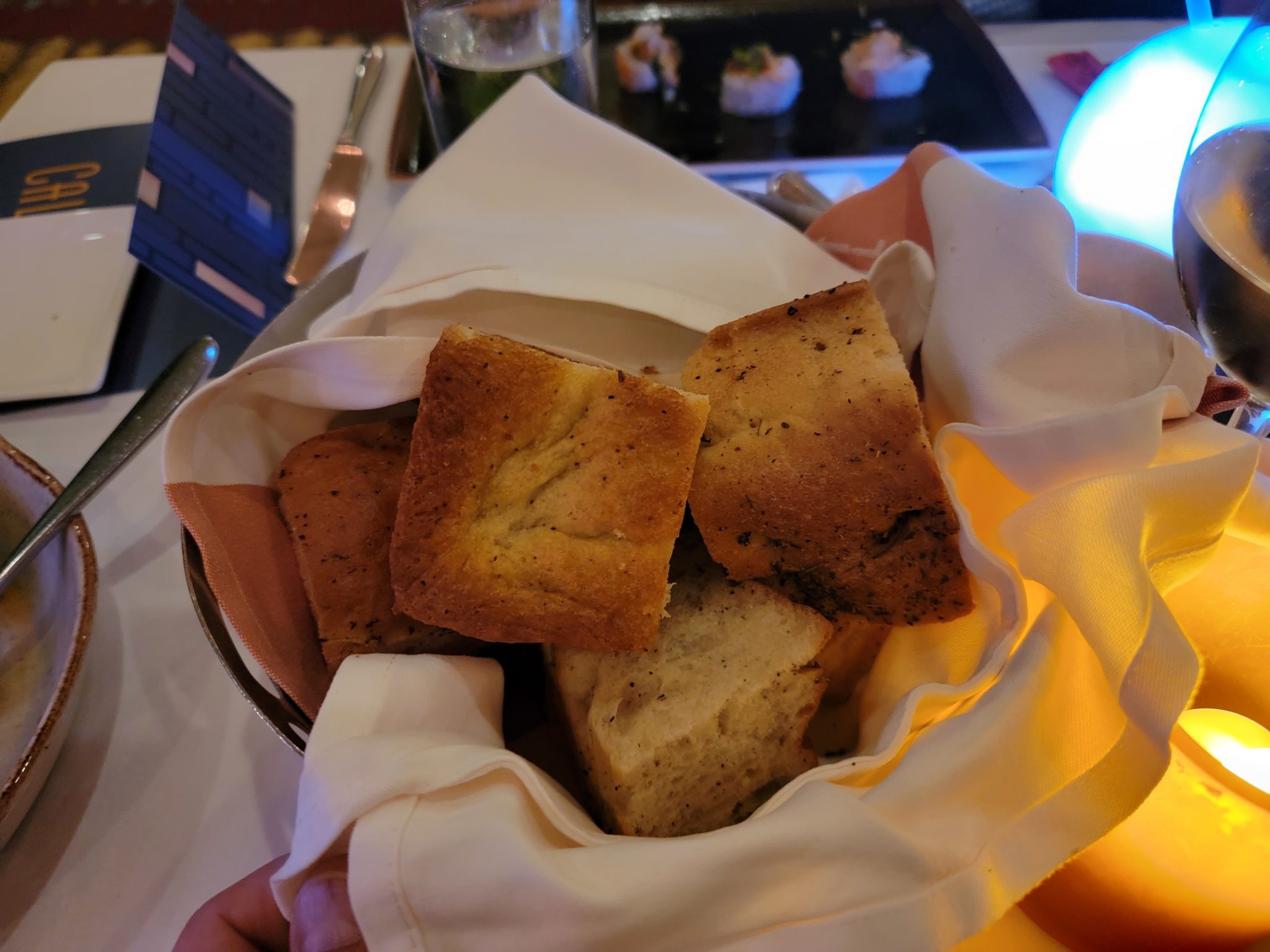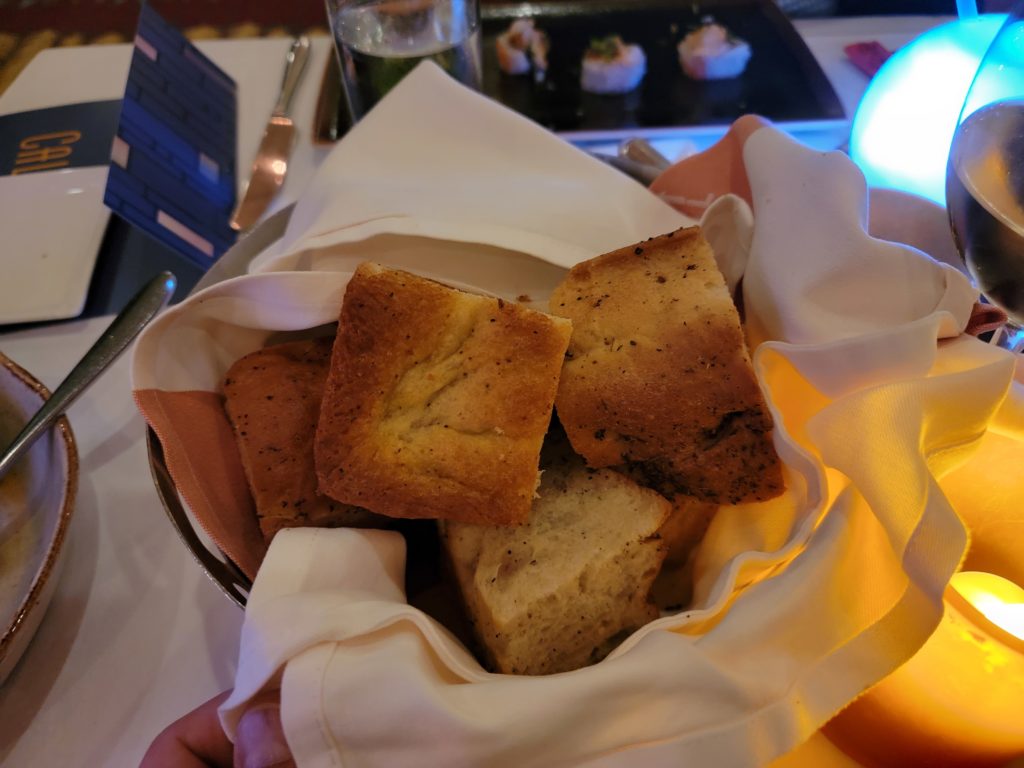 Market Inspirations
My son and I both had the sushi trio. This was plated to perfection and absolutely delicious. This appetizer contains three varieties of sushi: Blue Crab California Roll, Shrimp Tempura Roll and Spicy Kazan Roll. The Spicy Kazan has quite a bit of zip to it so if you don't love spicy foods, this one might pack too much heat for you.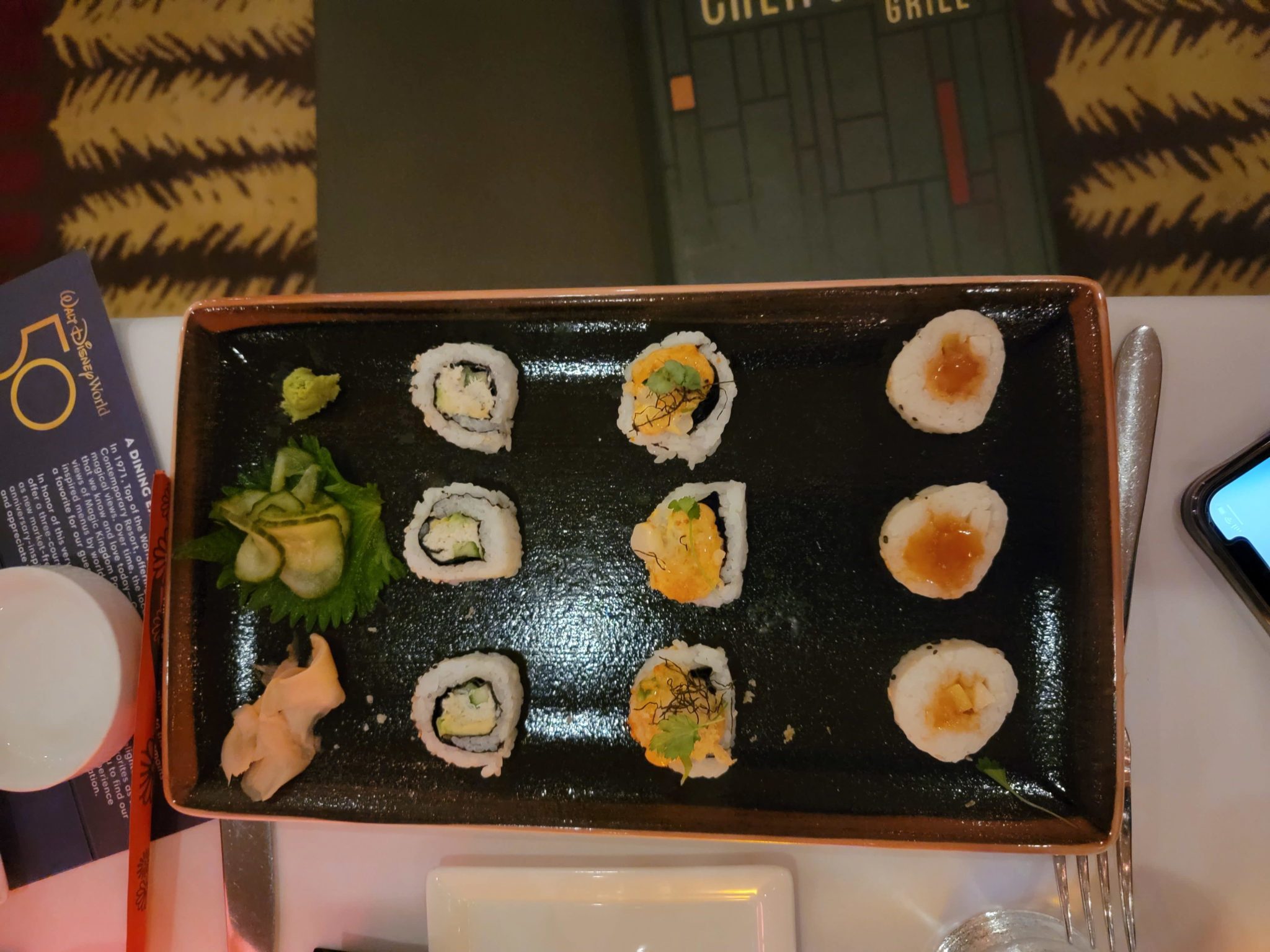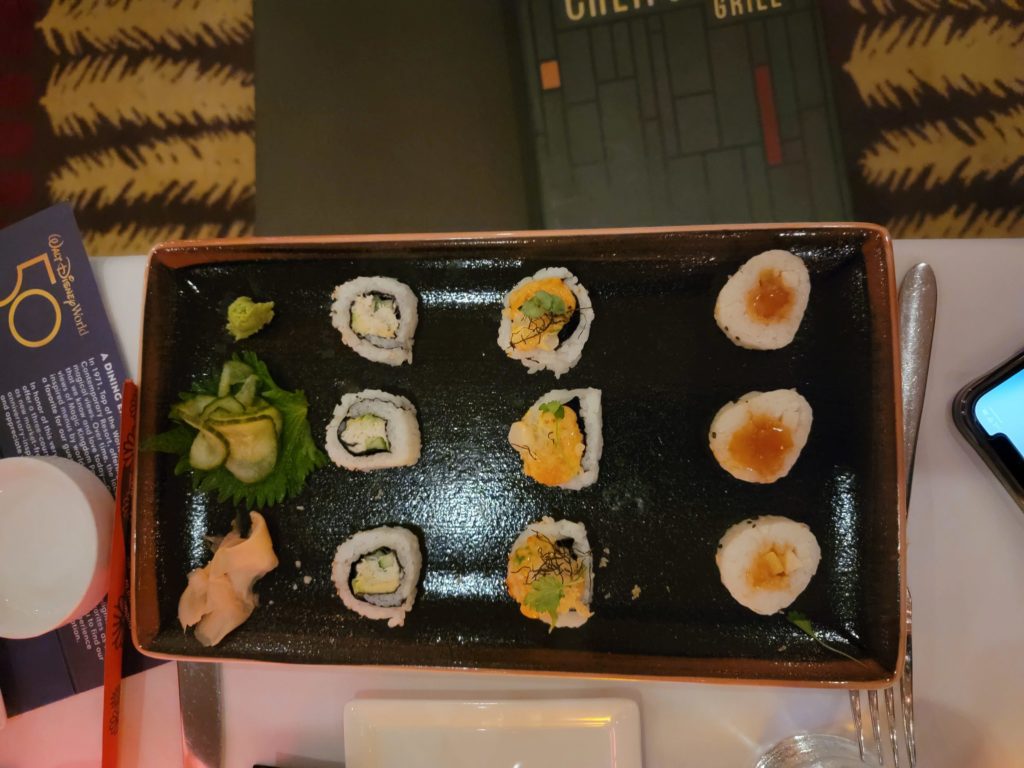 Kyle and I did some swapping so I got his Spicy Kazan rolls, which ended up being my favorite.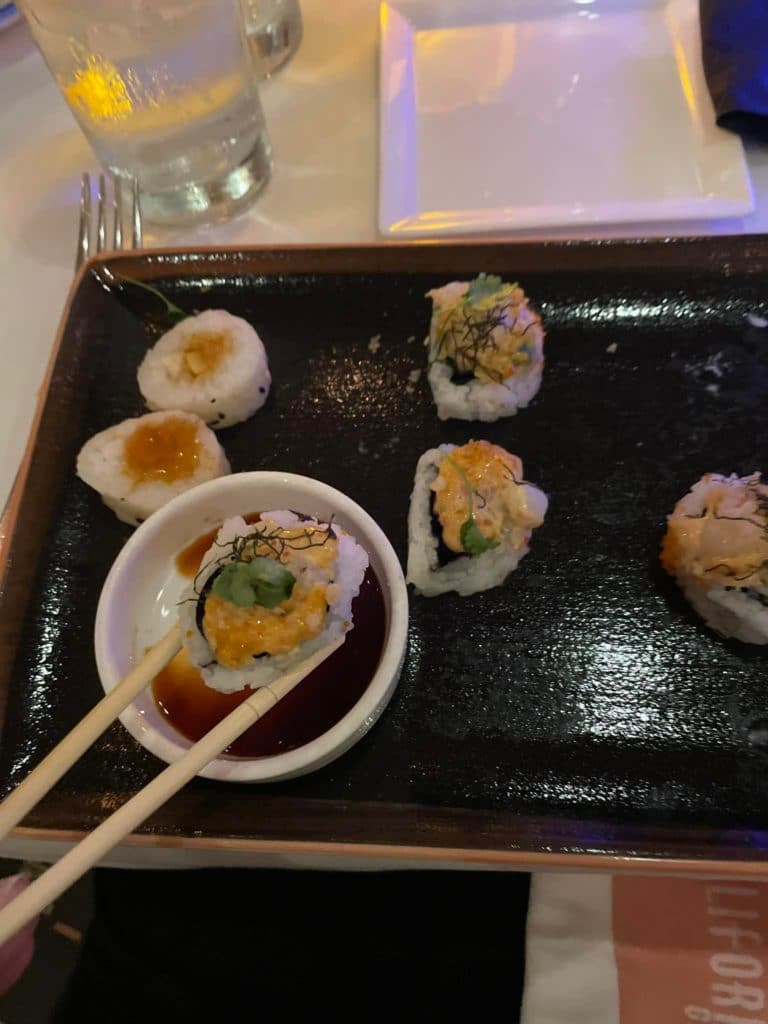 I'm not a sushi connoisseur so I can't give you a deep dive on the quality of this sushi or compare it to anything else. I rarely order it and I know what I like when its on my plate. I'd absolutely order this again.
My husband had the Duck A L'Orange pizza. The flavors of the duck combined with the pickled shallots and fig jam complimented the blue cheese. My husband likes blue cheese but sometimes finds it overpowering and he reported the chefs had achieved the perfect balance with this hearty appetizer.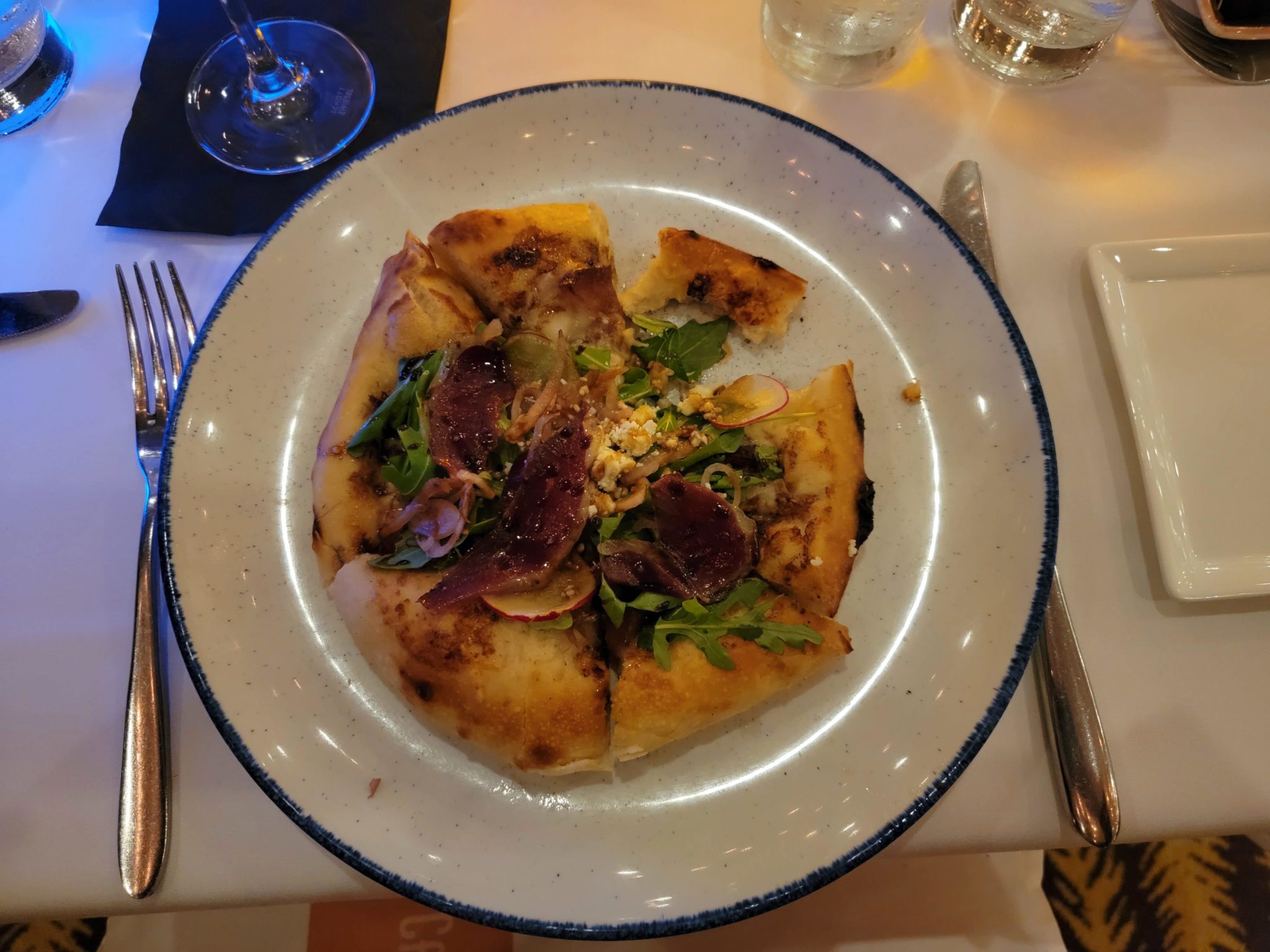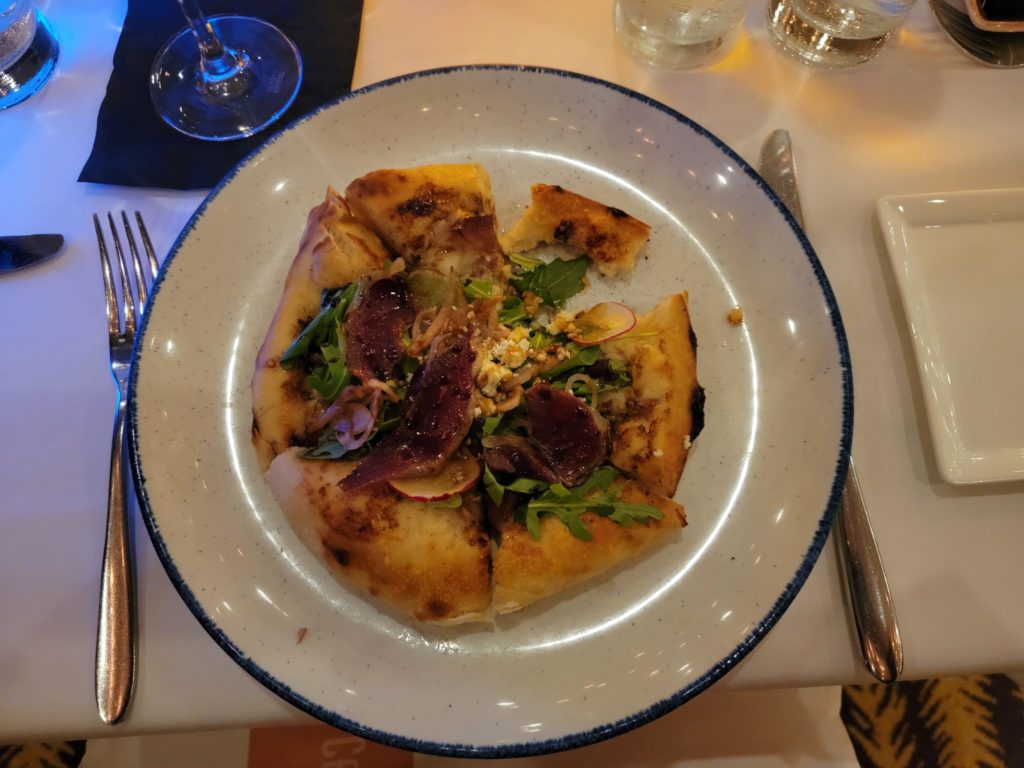 My youngest had the braised beef short rib wontons. I didn't get any culinary descriptions on the wontons but it disappeared in less than two minutes, so there's that.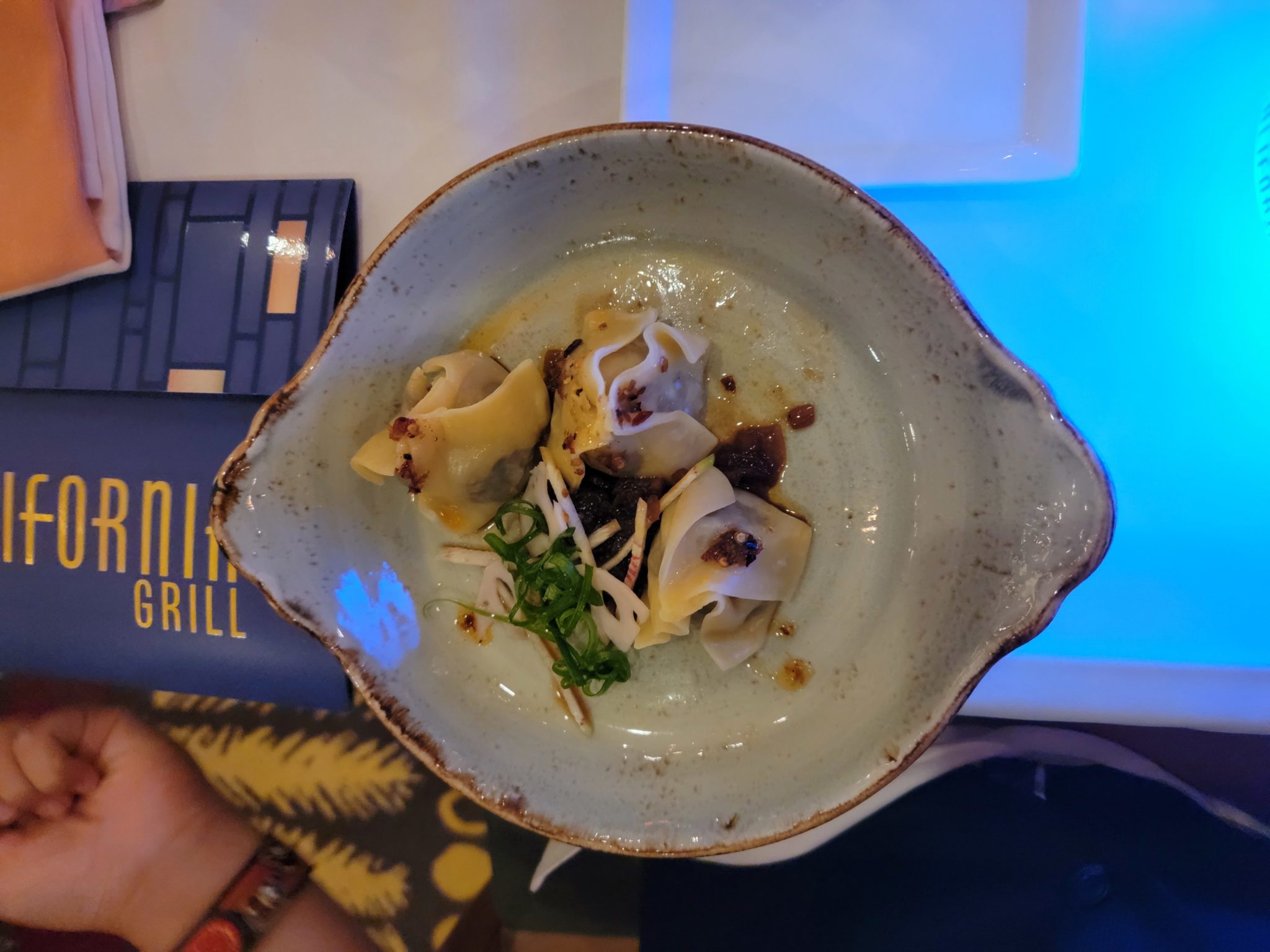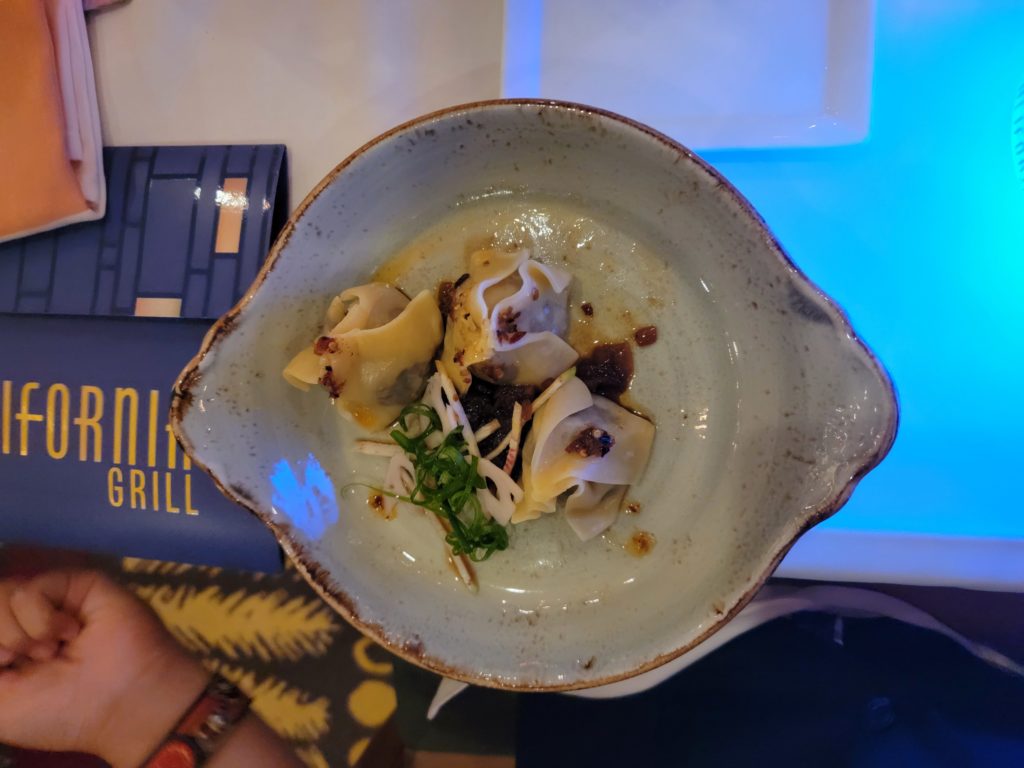 According to the menu, these braised beef wontons were prepared with Doenjang Miso-Cola-Onion sauce, crispy garlic chili oil and pickled lotus root. I'm not sure what all that means and I'm sure Zack – who tends to be quite picky – didn't either. He knows he likes dumplings so we took a chance and ordered these for him and he didn't question the ingredients too much.
Chef's Journey
For my main course, I had the oak fired filet of beef with black truffle brown butter, chateau potatoes, golden raisins vinaigrette, cauliflower and roasted tomato butter.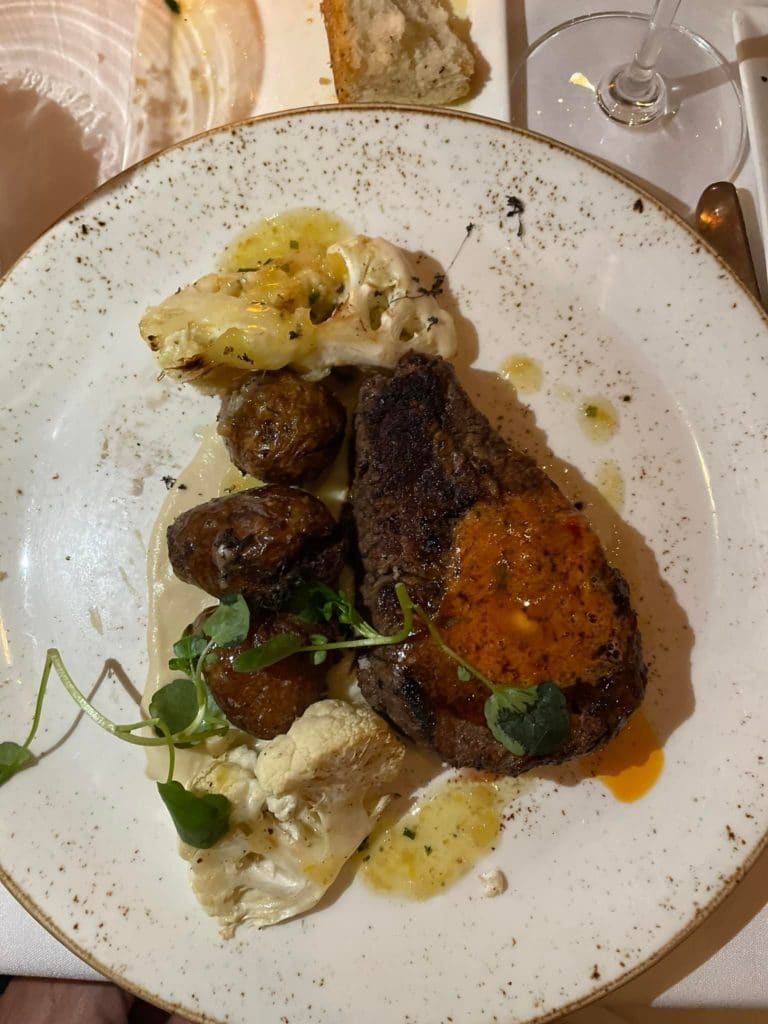 While this dish did not disappoint one bit, my main motivation for ordering it was to get my money's worth. What I really wanted was the vegetarian option, which was a squash and mushroom ravioli. Since I was paying $89 (plus tax and tip) for my meal, I went with what would have been the most expensive if the items would have been priced individually.
I was honestly in the mood for a lighter, plant based meal and I love seeing what chefs at restaurants of this caliber do with vegetarian meals. I did enjoy my steak very much but I have the tiniest bit of regret for about being practical with my choice of entrees.
If you're a steak lover, the menu does have an upcharge option: a 35 ounce beef ribeye tomahawk steak for two. The surcharge was an extra $80 and we decided not to make our dinner bill any more painful than it was already going to be.
My husband had the cast iron grilled pork tenderloin with goat cheese polenta, trumpet mushrooms, and black mission figs with a zinfandel glaze. The chef recommended the pork cooked medium rare, which my husband went with.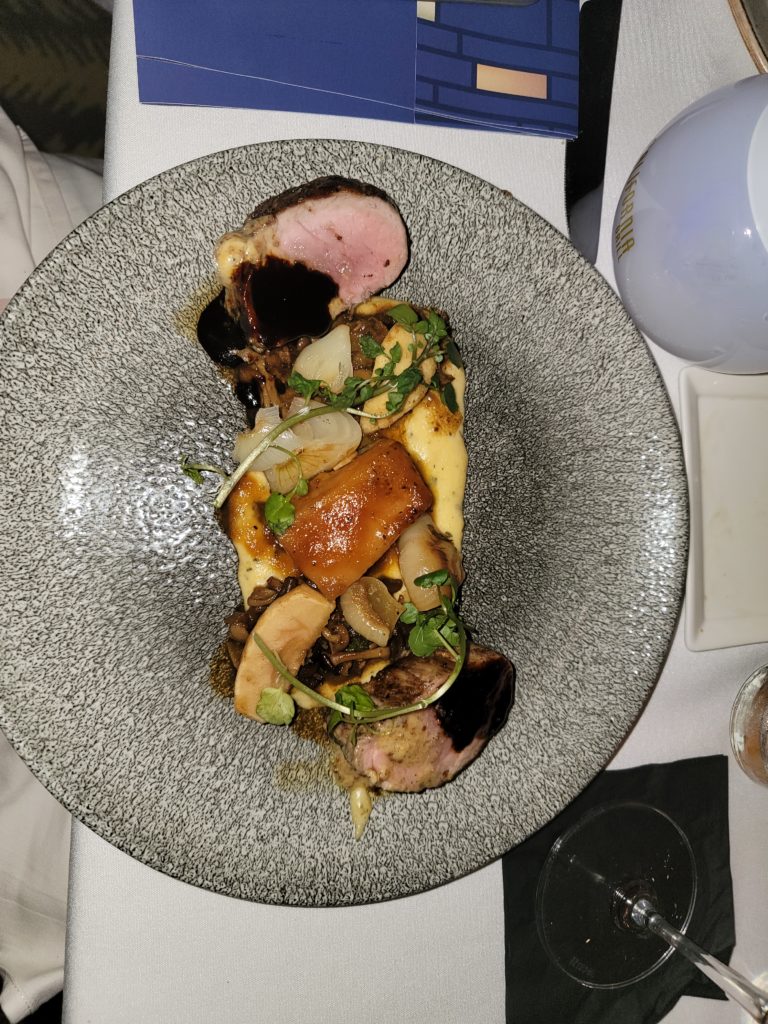 He was very happy with his choice and the presentation was really lovely. This seems like such a hearty and comforting mix of flavors, which I'd love to try and duplicate at home next time I do a pork roast.
My true seafood lover, Kyle, ordered the Monterrey Bay Cioppino, which was a mixed plate of various seafood delights. I was super proud of my adventurous little eater, since about half of what was on his plate was new to him.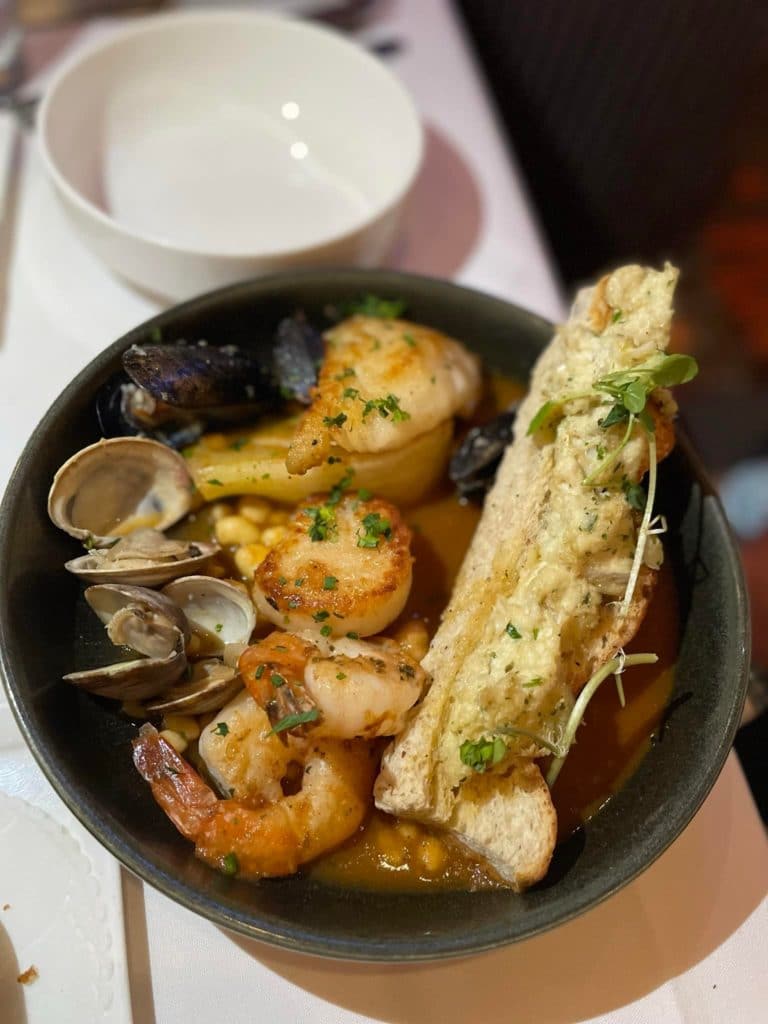 He liked everything but the scallops, which I was happy to take off his hands.
Our youngest son is somewhat of a picky eater. He's almost 12, which means at Disney World, he's too old for the kid's menu. Although sometimes we get away with still ordering off the kids menu, his appetite is normally too hearty for kid's portions. Our server, Topher, helped us out and Zack ordered a plain steak, macaroni and cheese off the kid's menu, and green beans.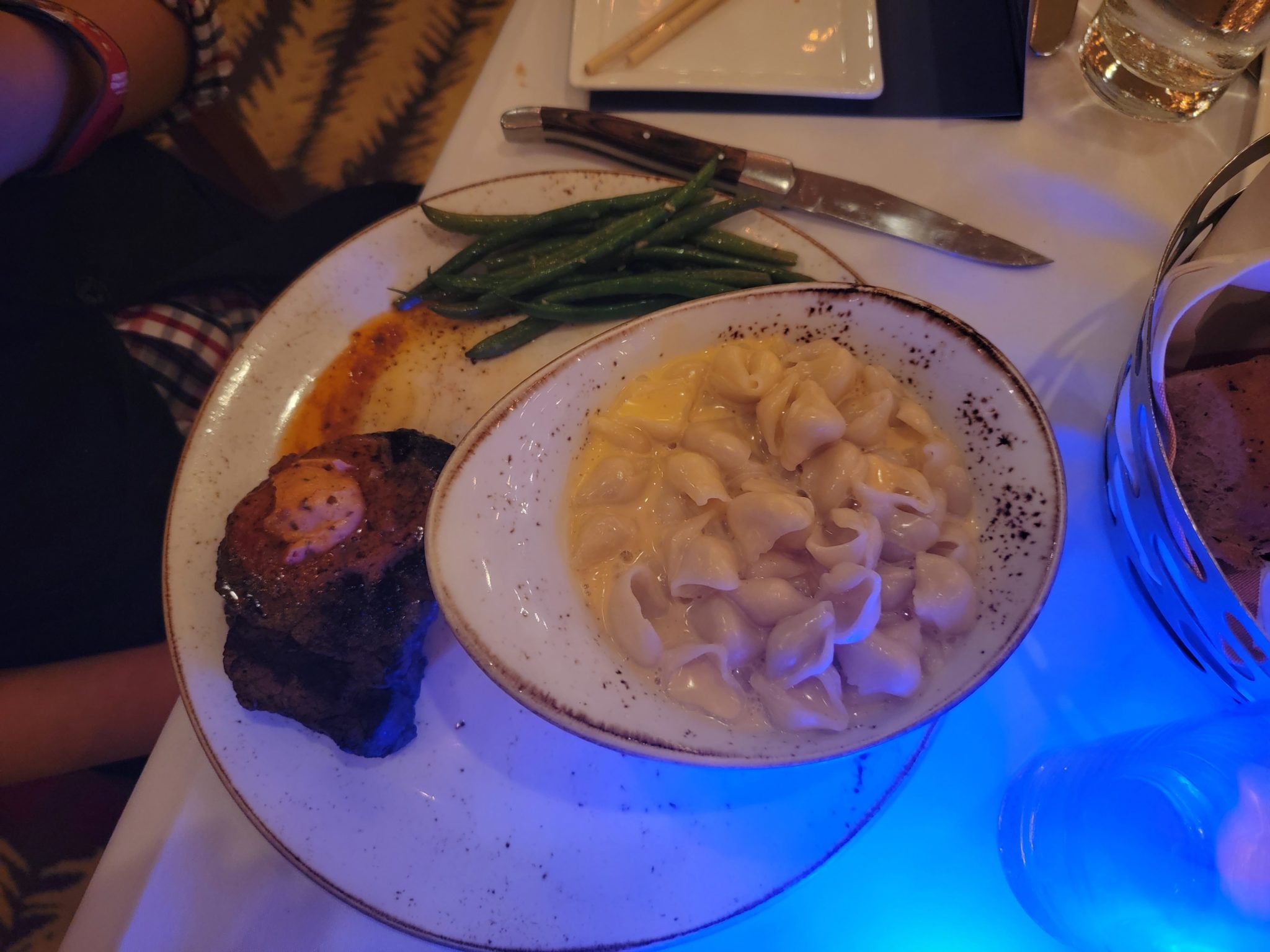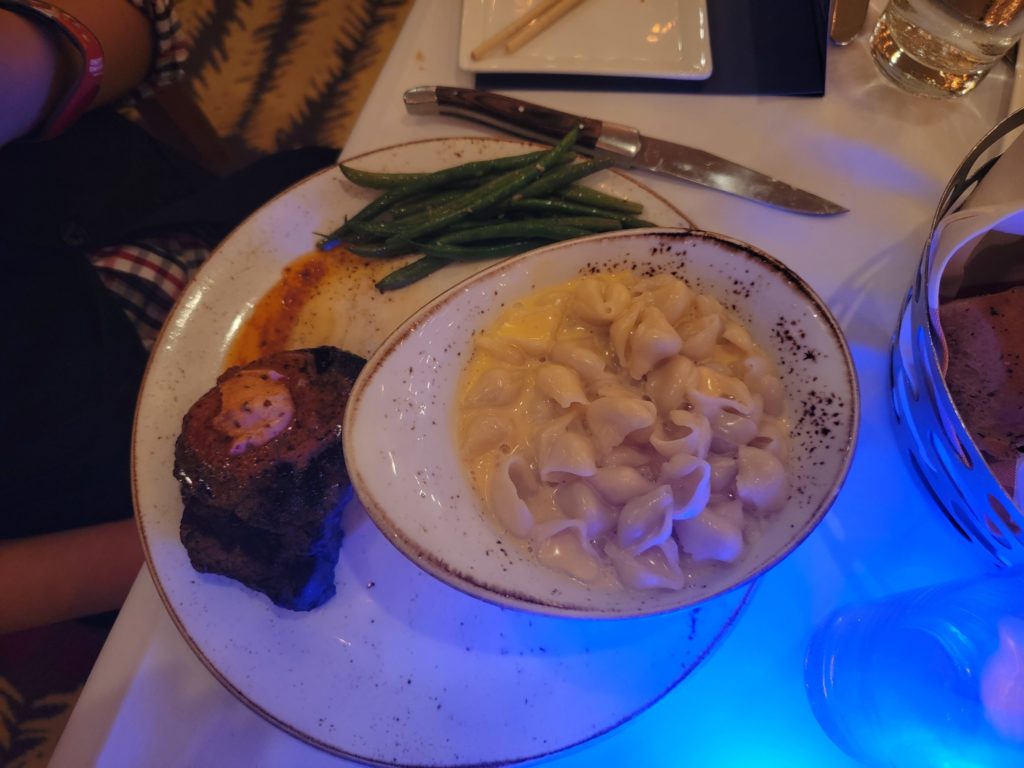 Everyone was happy. I tried not to think about the elevated price of what was a very basic meal. He ate everything and we all left happy.
Sweet Creations
I had the Five Magical Bites, which was five mini desserts, one from each decade of past California Grill dessert menus. There was also a bonus, of sorts: The 50th Anniversary emblem was edible chocolate and fixed to the plate by a raspberry mousse.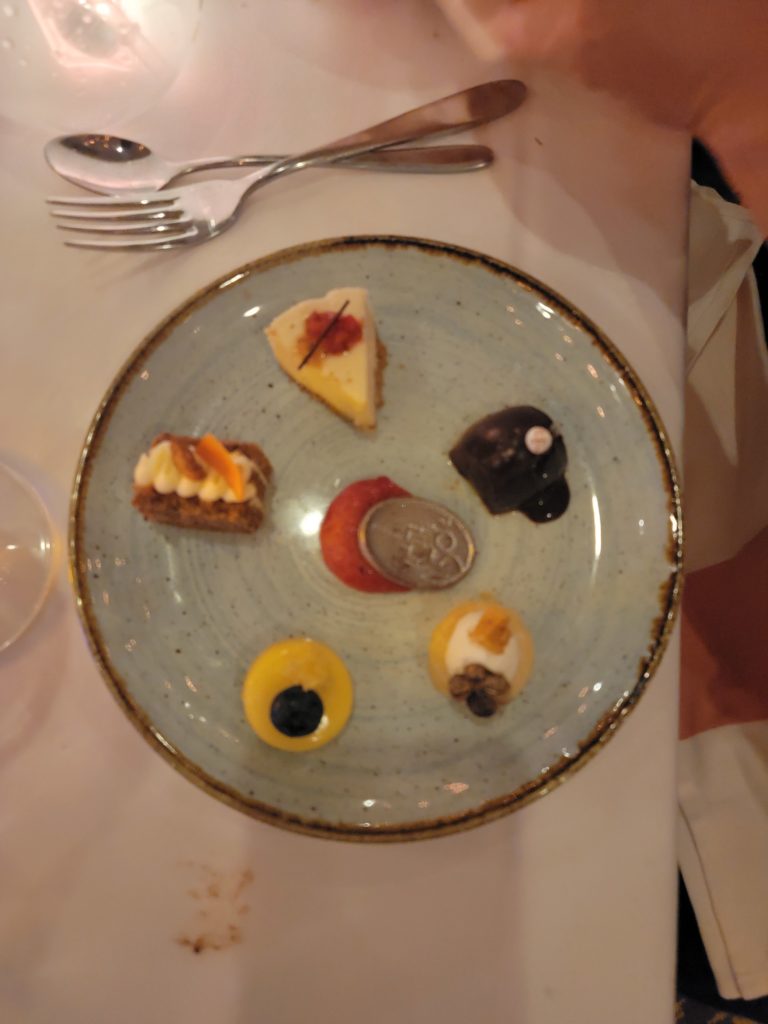 The presentation was very elegant and I enjoyed all of these sweet bites, although nothing truly wowed me. My favorite was probably the lemon mousse although I did appreciate the little details, such as the chocolate bee on the honey cake.
My husband went in a different direction than he usually does and ordered the artisanal cheese plate. He reported the cheeses all being on the strong side.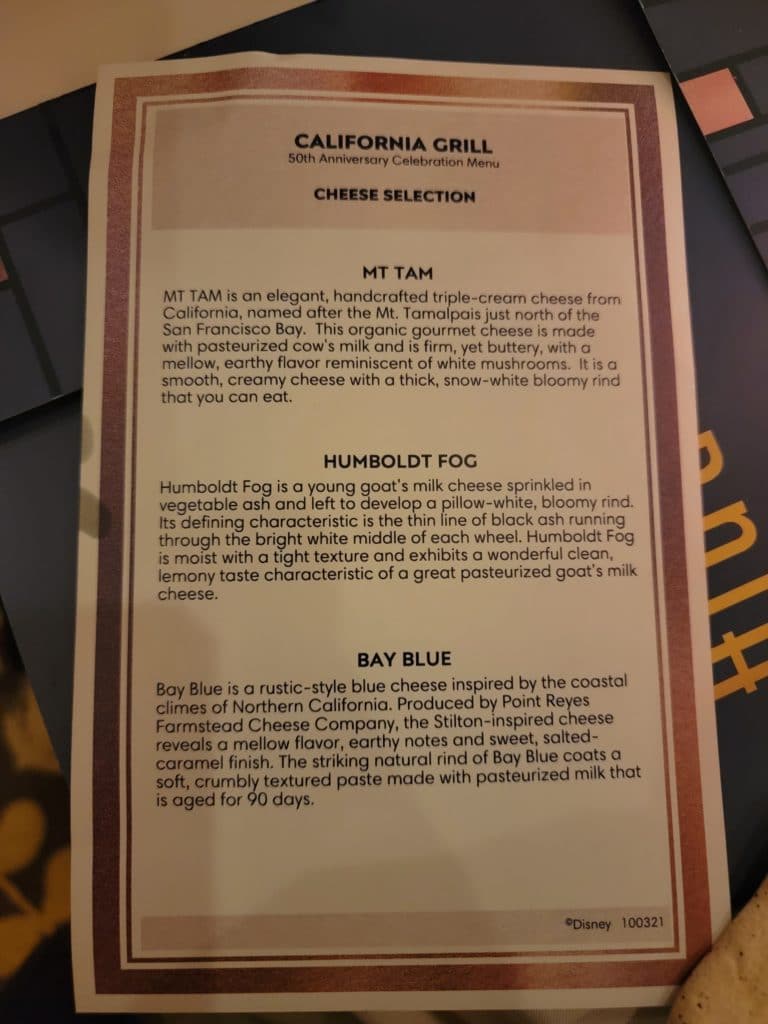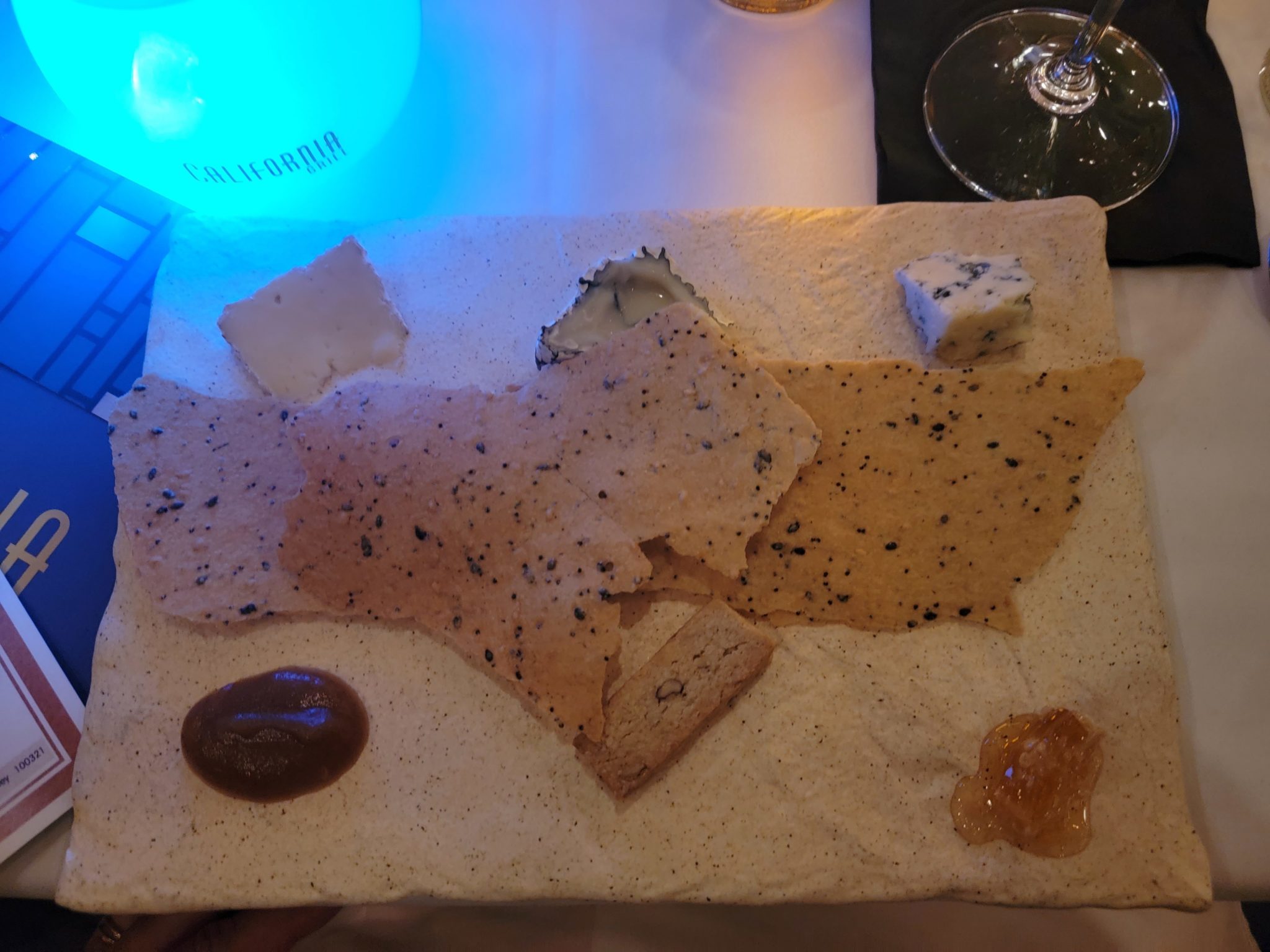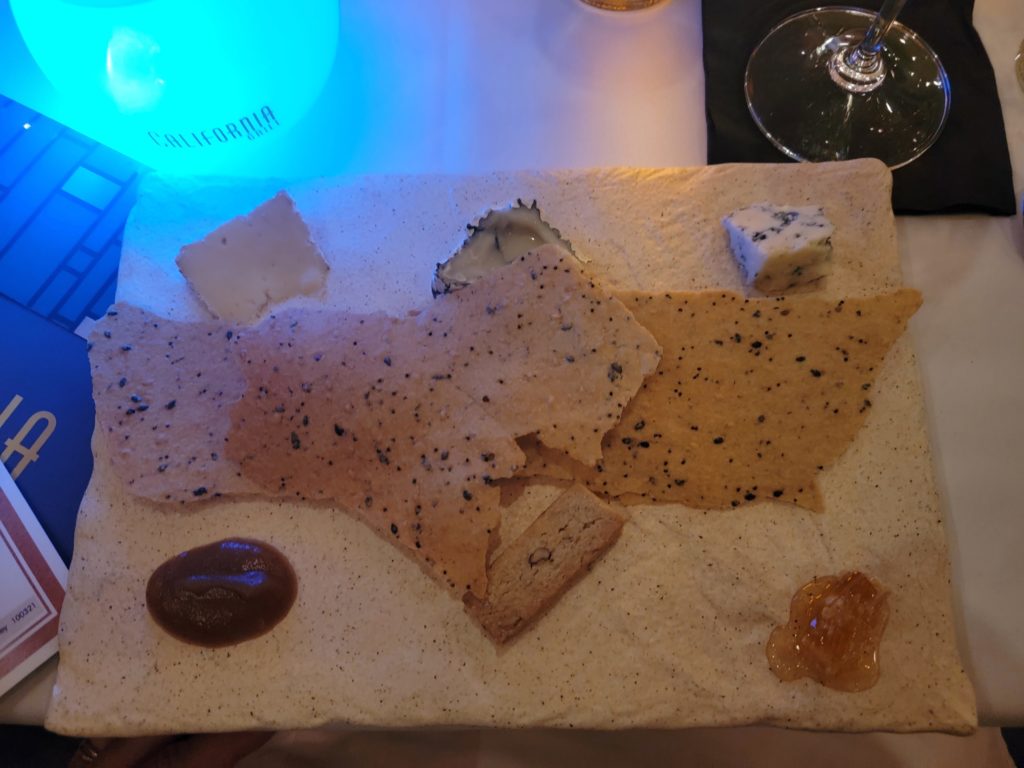 My kids both had the creme brulee and, since we were celebrating a birthday, we got an extra piece of delicious vanilla birthday cake with vanilla buttercream.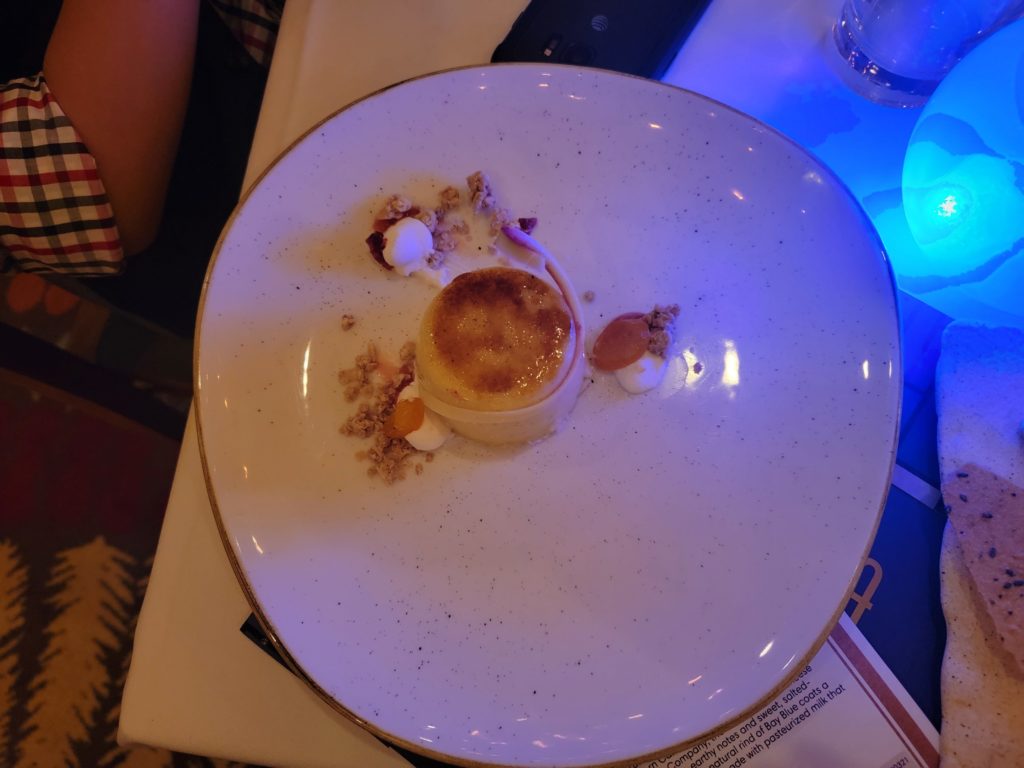 If you'll check out the photo I snapped of our menu above, you'll see it mentions a Grand Marnier Creme Brulee. The menu online doesn't show that so I'm not sure if its a newish addition to the dessert menu or something they're only offering for a limited time.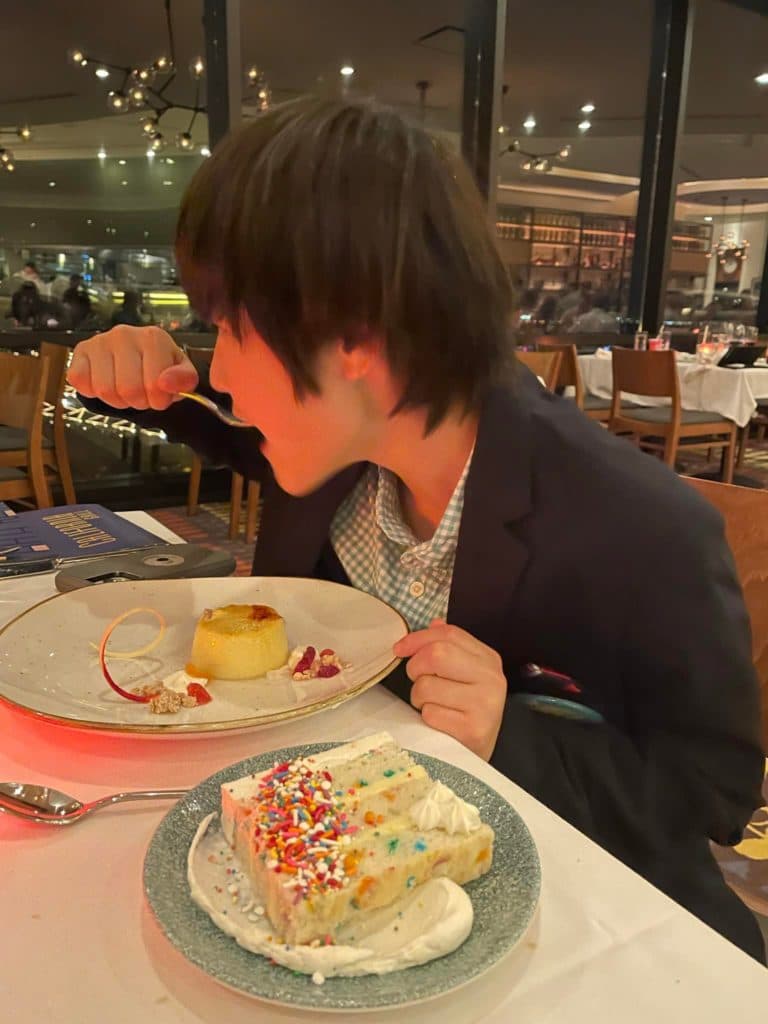 Is the it worth the price?
It depends on how you spend your money when you travel to Walt Disney World. We go often and appreciate the different dining experiences. We spend little, if any, money on souvenirs and merchandise, so this was our big splurge for the trip.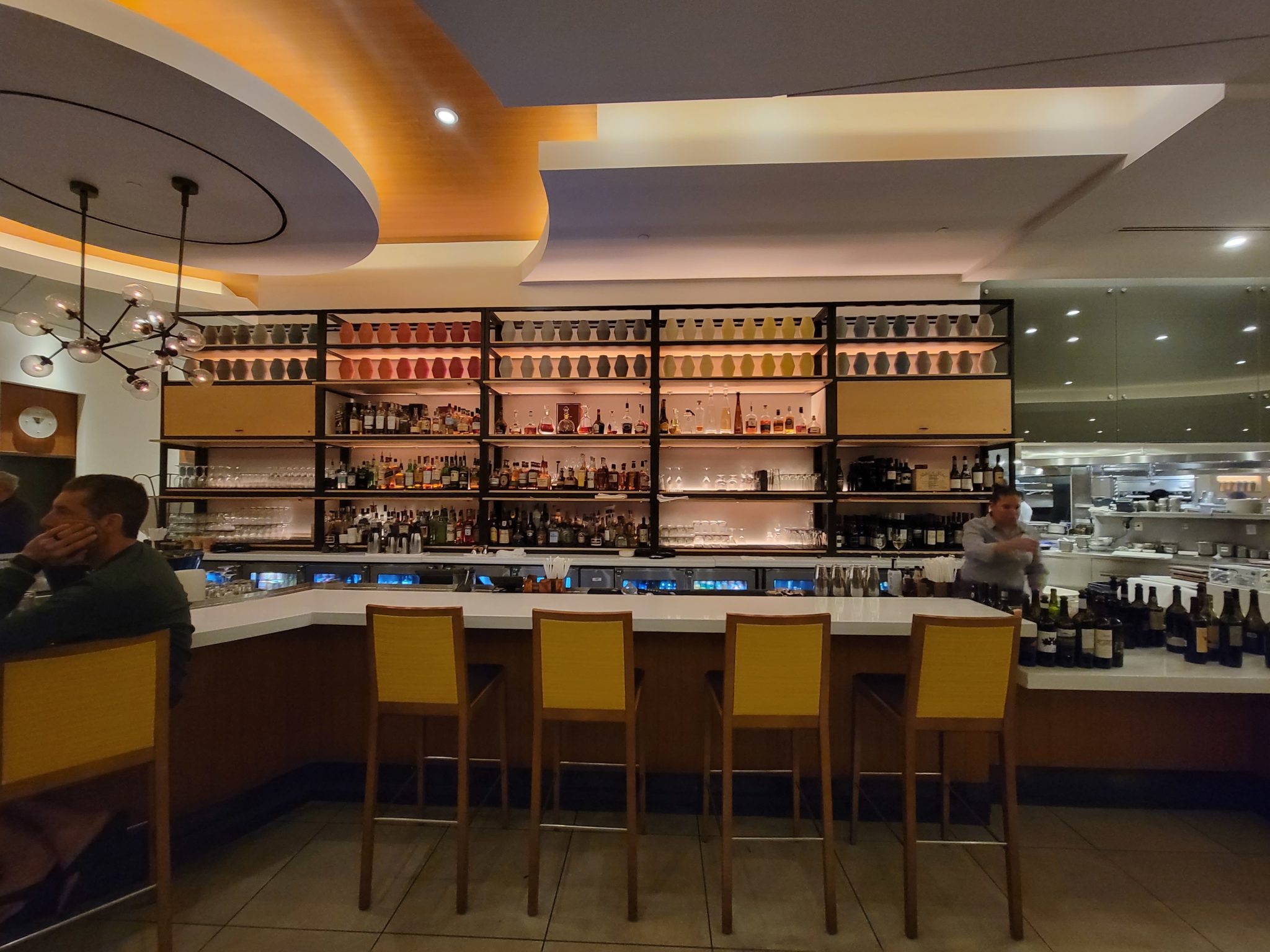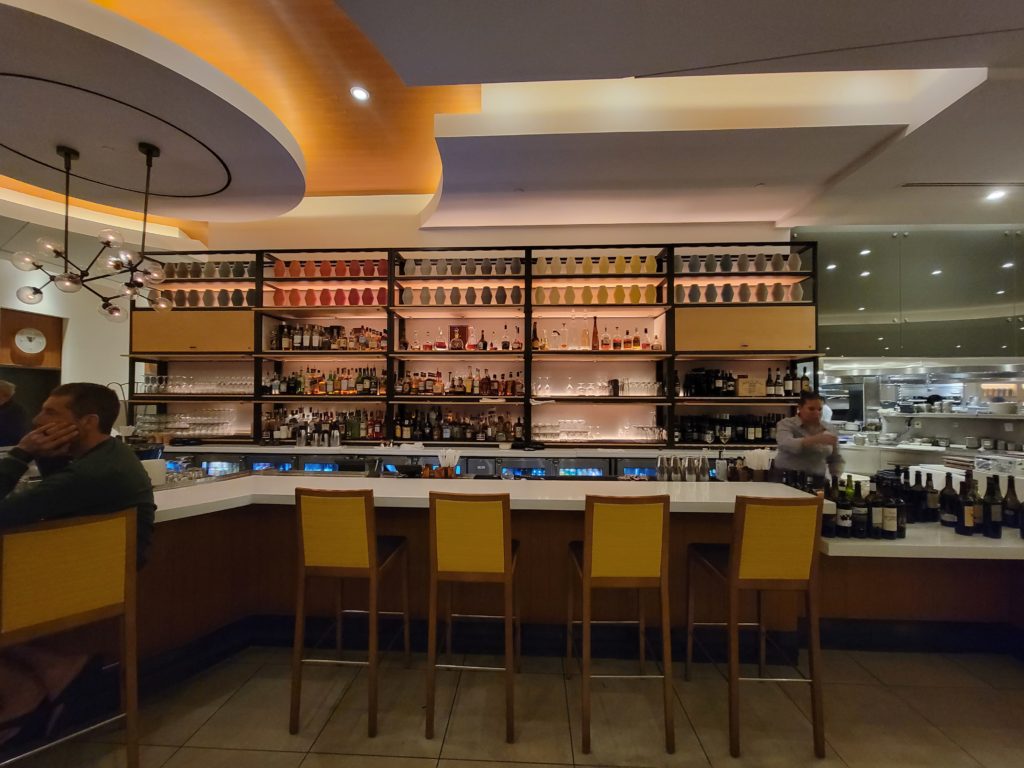 It was definitely a superior meal in a beautiful setting. We loved the private fireworks viewing and our food and service were excellent. That said, almost $400 is a LOT to spend on dinner for a family of four. I'm not saying we'll never repeat the experience but the price definitely puts it in to the bucket list category.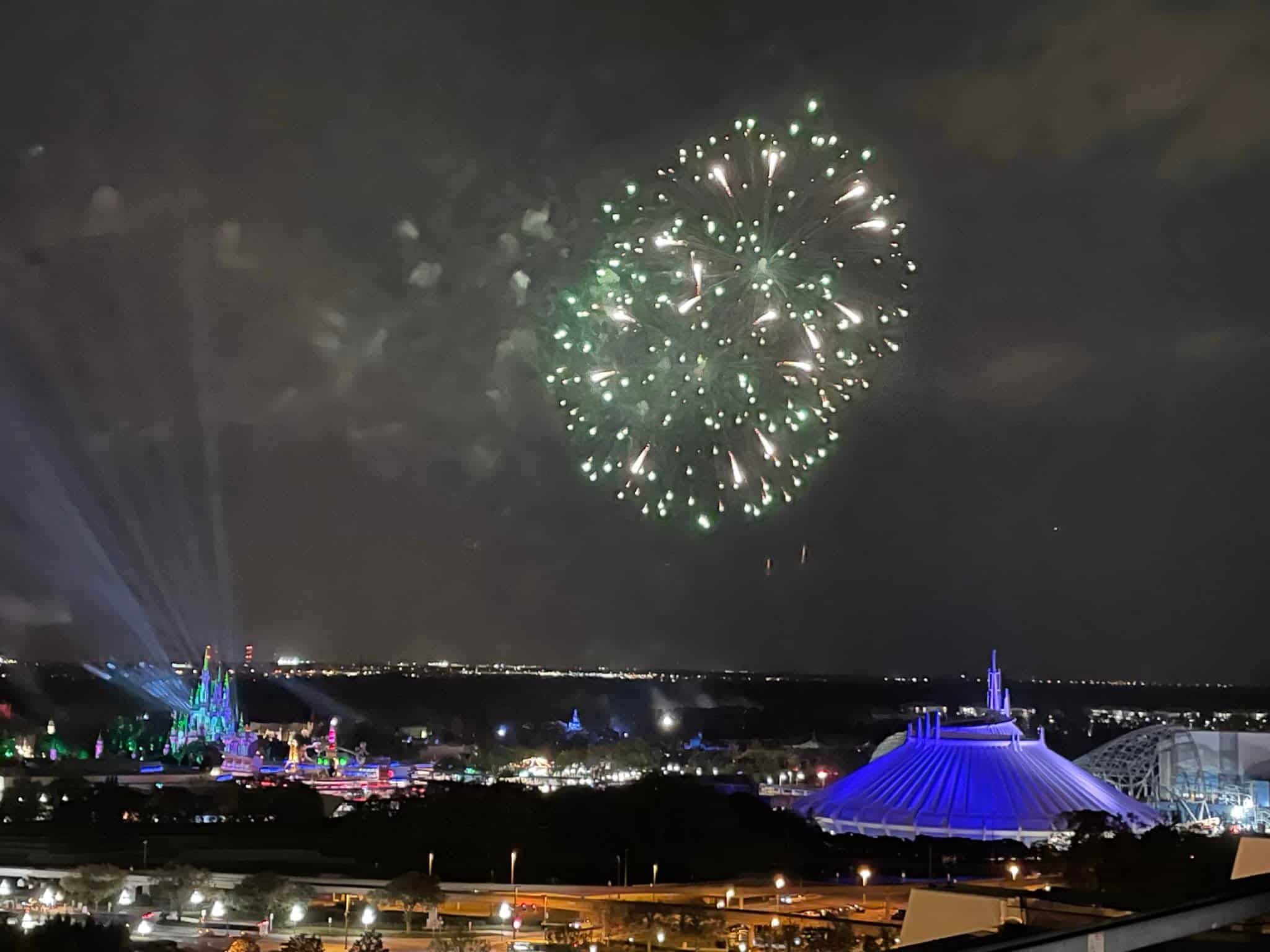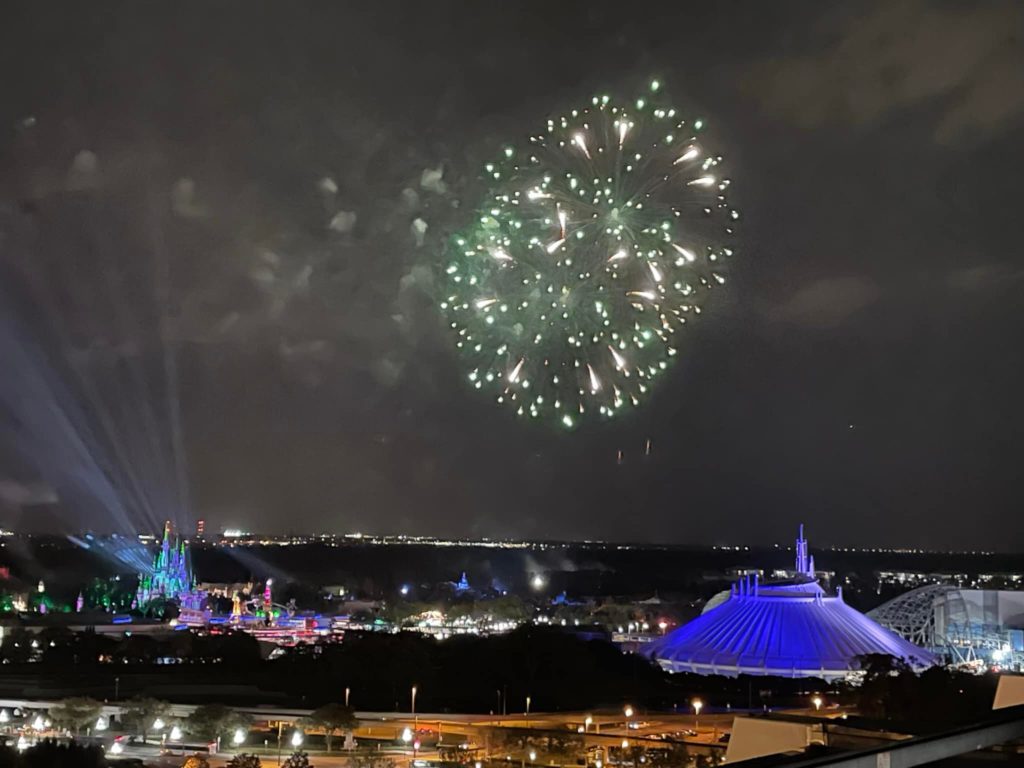 I think you also have to be a little bit of a foodie to completely appreciate the California Grill 50th Anniversary Celebration dinner. If you're a family of who likes plain meat and potatoes or chicken nuggets and basic macaroni and cheese, you might not find the ambience of this restaurant worth the high price tag.
Other things to consider before booking dinner at California Grill
Reservations
Reservations are hard to get. Advance dining reservations at Disney World can be booked 60 days out so you'll want to begin scouting for reservations right at the 60 day mark. If you want to eat at California Grill and you see an open reservation in the My Disney Experience app, grab it. We ended up taking a 9:05 dinner reservation, which is much later than we usually eat dinner, because it was there. That was the one and only time I saw a reservation open at California Grill and I checked for nearly two months for an earlier table.
Dress Code
The minimum standards for dress code for California Grill is as follows:
Men must wear khakis, slacks or dress shorts and collared shirts. Jeans may be worn if in good condition. Sport coats are optional.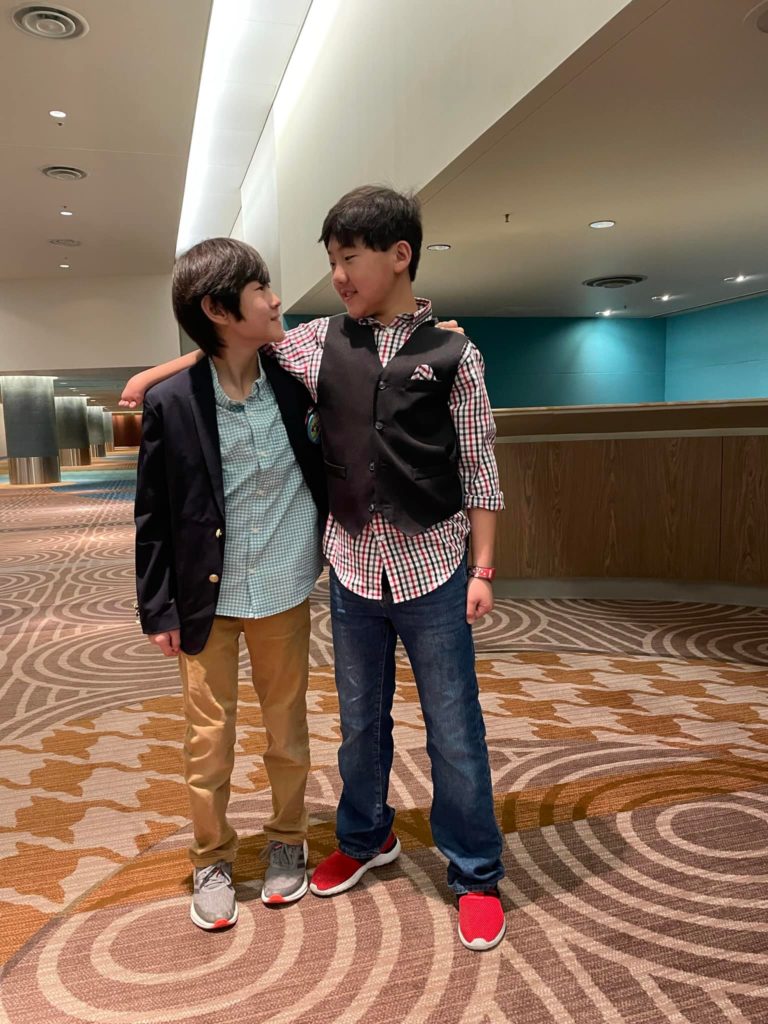 Women must wear capri pants, skirts, dresses or dress shorts. Jeans may be worn if in good condition.
Not permitted: tank tops, flip-flops, swimsuits, swimsuit cover-ups, hats for gentlemen, cut-offs, torn clothing, and t-shirts with offensive language and/or graphics.
We found the dress code a bit more lax than this. About half of the diners were dressed up and about half were wearing things that were in violation of the dress code listed above.
Fireworks viewing
If you dine early, you can show your receipt to access the fireworks viewing later in the evening. The fireworks begin at around 9:00 p.m.
If you're dining later, your server can time the arrival of your food around the fireworks show. Although we had a 9:05 reservation, we showed up at about 8:30 hoping we could get an earlier seating and that worked for us. We told our server, Topher, we'd be out on the deck viewing the fireworks and he timed it so our appetizer was served immediately after the show ended.
Bottom line: this is impeccable food and service in a magical setting. For this price point, I'd expect nothing less.