Exploring Colonial Williamsburg in a day – What you need to know
(This post may contain affiliate links. Read my full disclosure.)
Whether you consider yourself an American History buff or not, chances are you'll enjoy exploring Colonial Williamsburg. Although I can easily see why people want to spend days or even a full week in this neck of the woods, we only had a day and a half. Here's what you need to know for a quick trip and the tools to plan a longer one if you have time.
Exploring Colonial Williamsburg in a day – What you need to know
My husband and I had business in Virginia and had time to schedule a little bit of leisure time to explore Colonial Williamsburg. It was just the two of us and I can definitely see revisiting this location with our kids in the future and spending more time.
I'm definitely not an authority on visiting Colonial Williamsburg but we had a wonderful visit so I'm passing on what we did and learned on to you.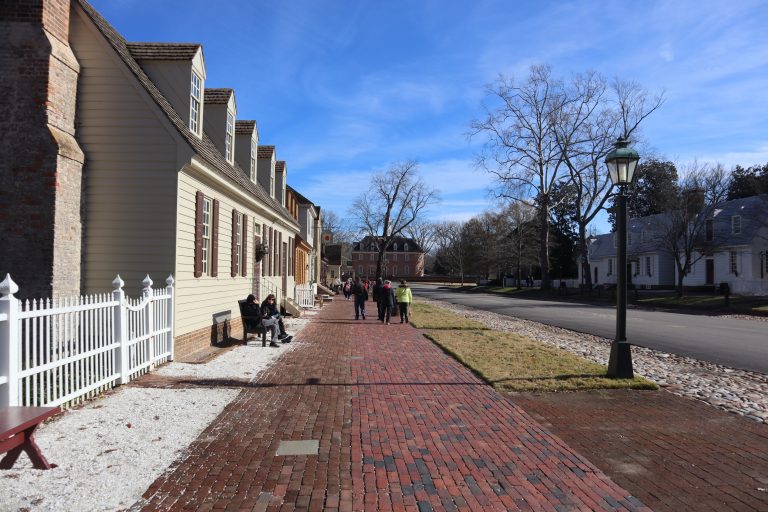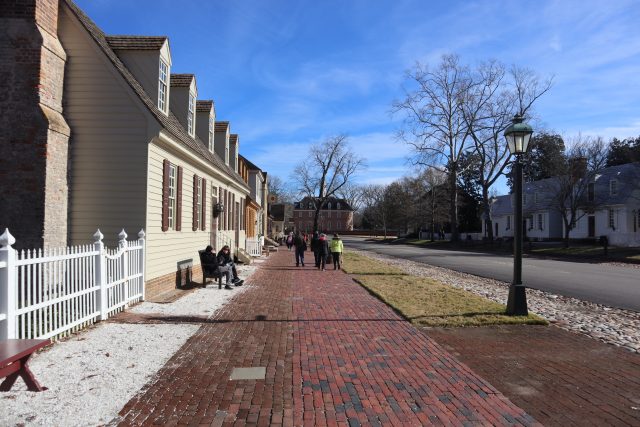 Disclaimer: We are a participant in the Amazon Services LLC Associates Program, an affiliate advertising program designed to provide a means for us to earn fees by linking to Amazon.com and affiliated sites.
How to get to Colonial Williamsburg
We flew from San Antonio to Richmond International airport and rented a car. From there, it was an easy 45-minute drive. Colonial Williamsburg is about 115 miles from Washington D.C., so a possible day trip from the capitol.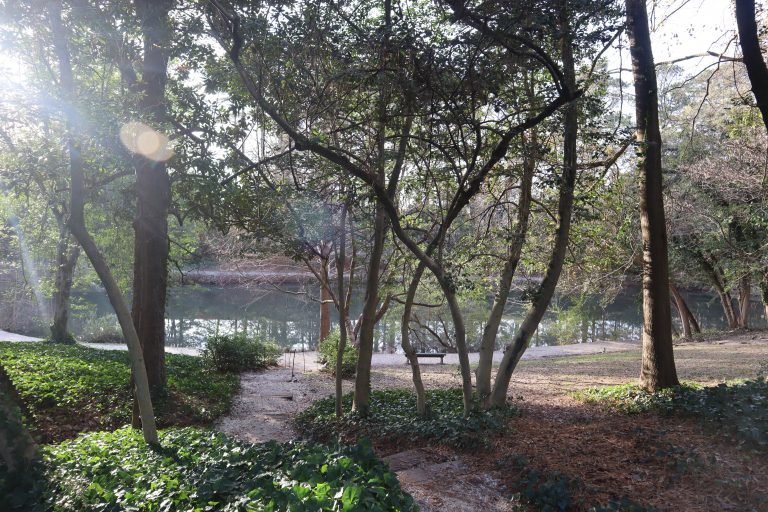 Need airport parking? Check out what The Parking Spot has to offer.
Where to Stay
We stayed at The Historic Powhatan Resort by Diamond Resorts, which is a short drive from all the attractions you'll want to visit. We have a time share with Diamond, so that's where we opted to stay.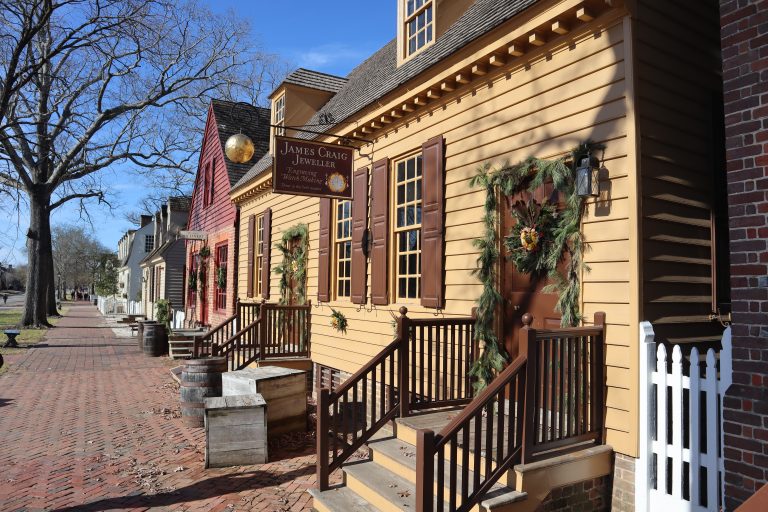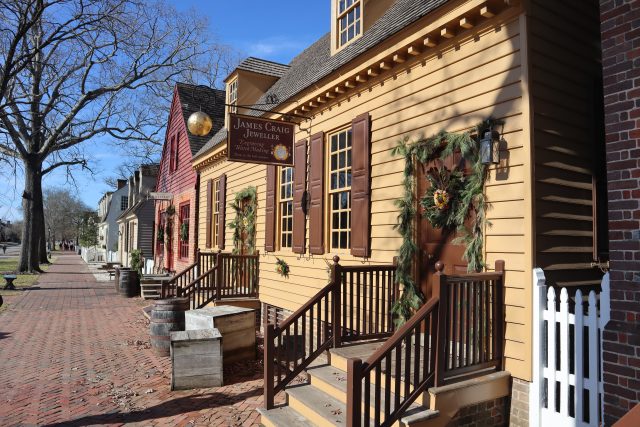 The Williamsburg Inn is within walking distance to all the attractions in Colonial Williamsburg and it looked really nice from the outside. There are some fantastic options for lodging – including renting a colonial home – on the Vrbo site. We have always had a fantastic experience with Vrbo and it's nice to have the extra room to spread out as we did in our condo at the Powhatan.
What else do you need to know to have a great stay in Colonial Williamsburg?
Here are six essential tips for a great visit.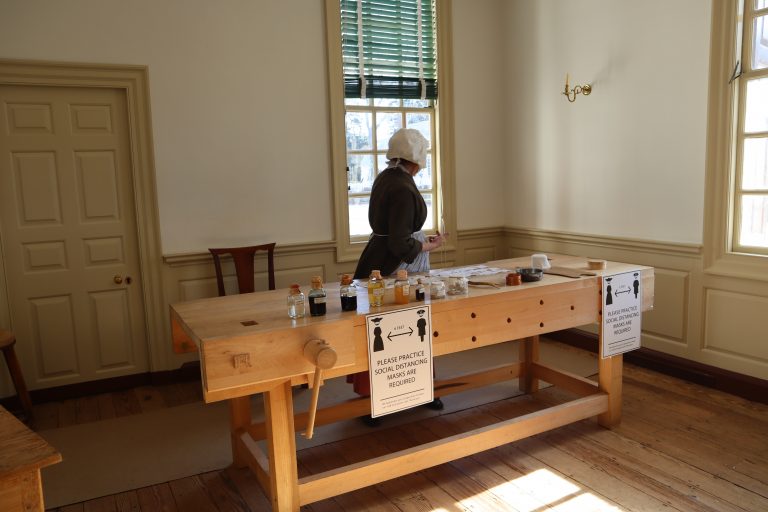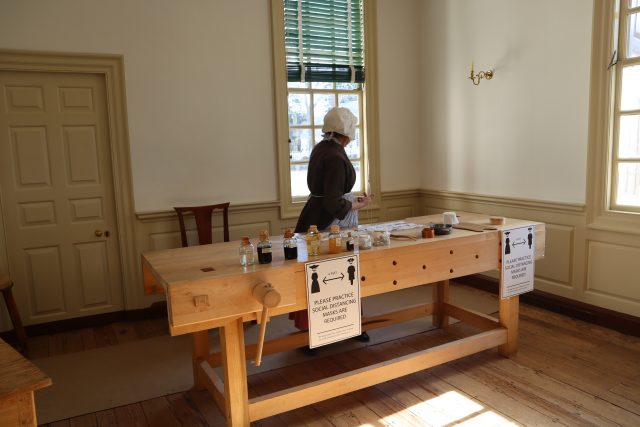 Brush up on your history
I had two semesters of American History in college – which was exactly a long time ago – and the colonial period and the American Revolution was only a small part of those classes. Did I also mention college was a long time ago?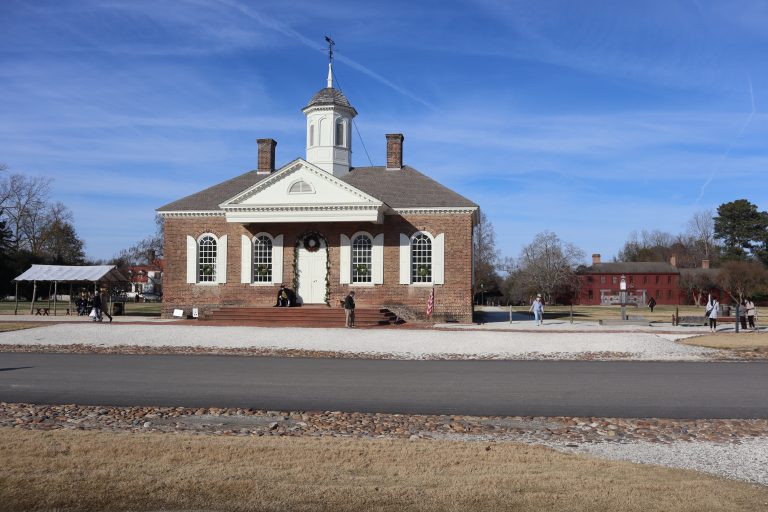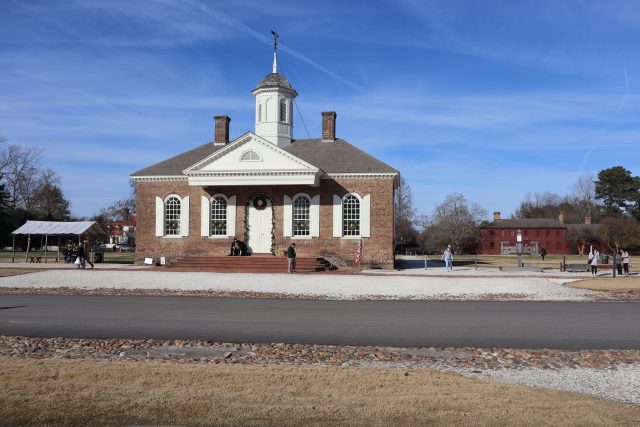 Although there's not a test, your experience will be more meaningful if you know your basics.
Download the Colonial Williamsburg app
The Colonial Williamsburg app is free to download. You can purchase tickets, track characters, and download maps. We visited during the pandemic and everything was operating at a limited capacity so the app helped us to see what was open.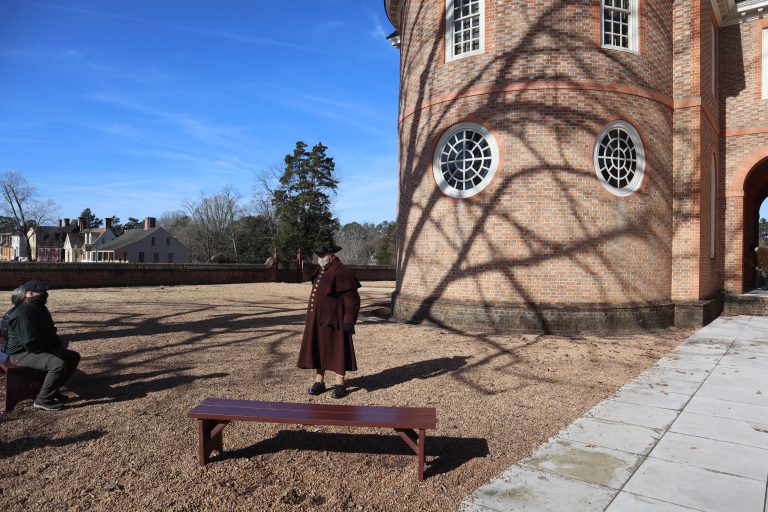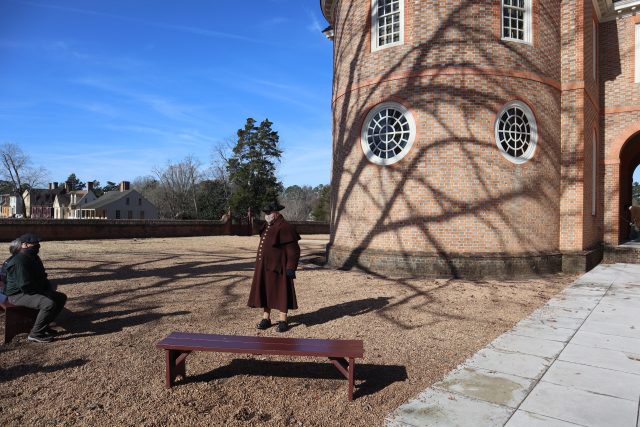 Buy your tickets online
Buying online or through the app saves time. You can also buy tickets at the visitor's center, which should be your first stop.
You can explore the streets of Colonial Williamsburg without a ticket. Enjoy the atmosphere and visit the shops all you want but you'll need a pass to enter any of the buildings that offer guided tours or attend any presentations. If your time is very short, you may want to skip the tours, shows and presentations but if you have at least one full day to explore, I recommend buying the passes.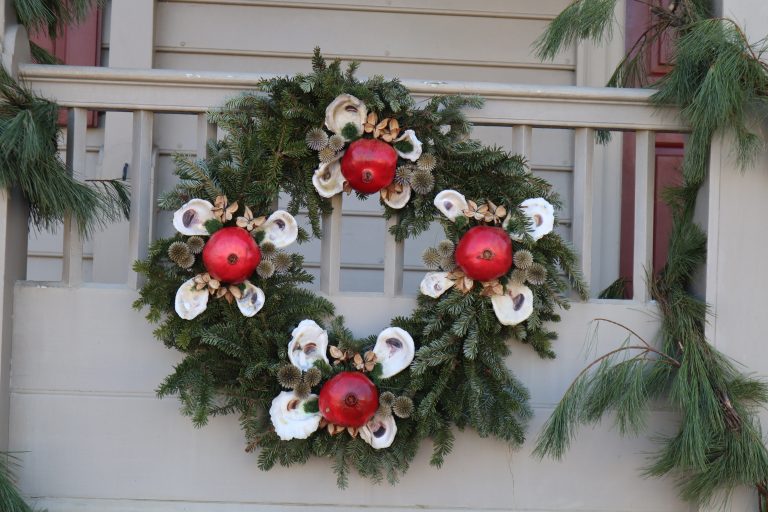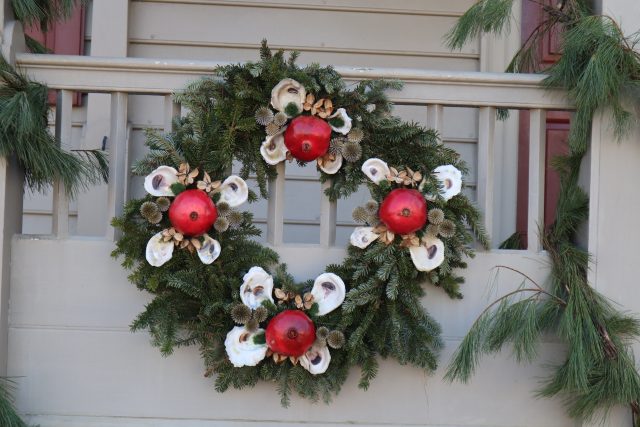 If you have a little longer, consider the Historic Triangle Limited Ticket that allows you entry into attractions in Jamestown and Yorktown.
Scope out hours of operation ahead of time
When we visited, most of the eateries were open Wednesday through Sunday. Our big sightseeing day was on a Tuesday. We ended up going back on Wednesday evening before our flight home to have dinner at The King's Arms.
Make Dining Reservations
There are several places to eat in Colonial Williamsburg. I recommend reservations if you want to guarantee your spot or if you need to eat at a particular time.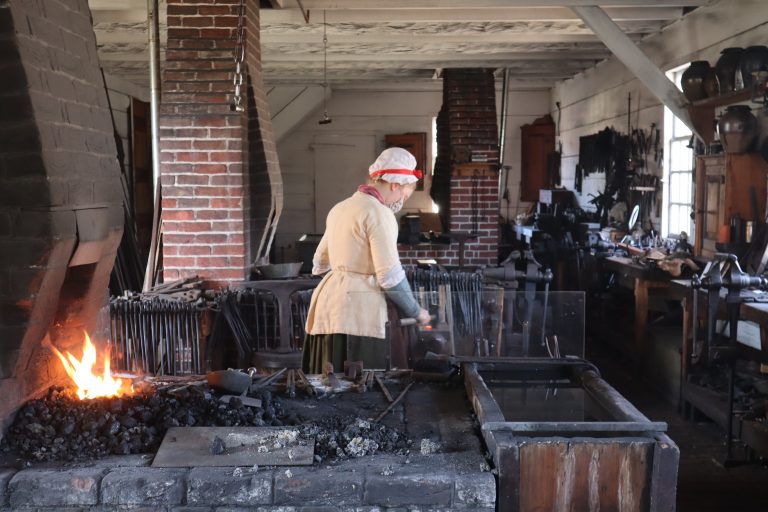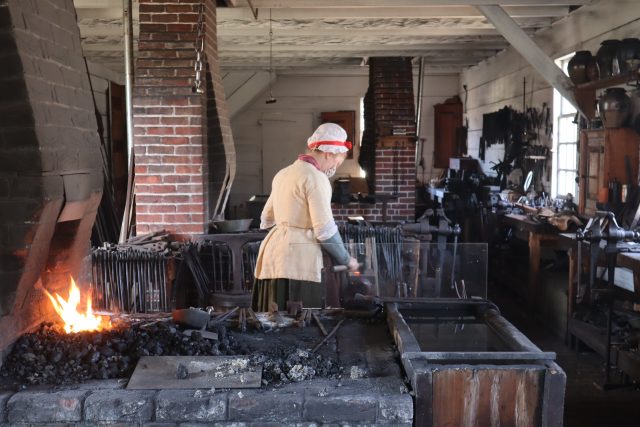 We ate dinner at The King's Arms and I highly recommend. They have a set menu for dinner that includes a soup, prime rib with potatoes and veggies,
Dress appropriately
It was sunny and in the mid-forties when we visited. We were in and out of different buildings (great for warming up on a cold day) but expect to spend a lot of time outdoors. The coatigan in the picture below – as well as the jeans – are from Stitch Fix. The hat is from Walmart.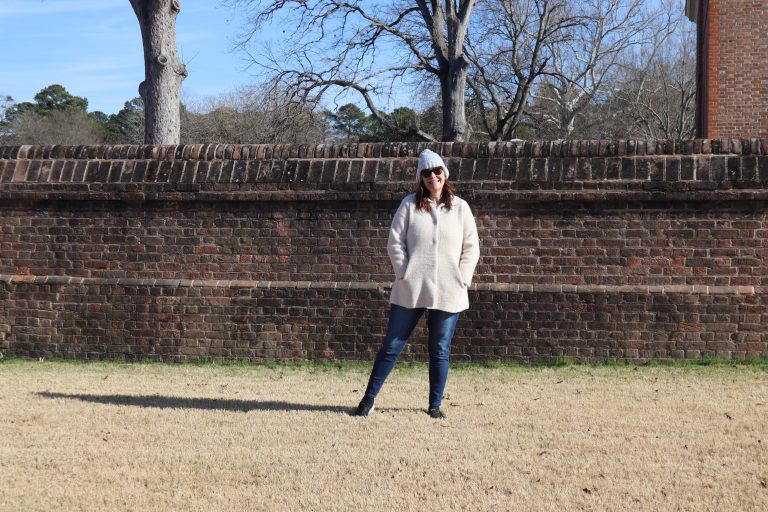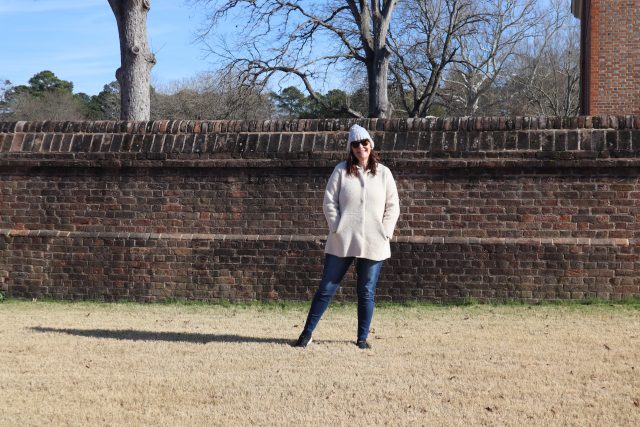 You'll also want comfortable walking shoes. My slip-on's below are my Skecher's travel shoes and I absolutely love them. That said, if it would have been any colder or wetter, I would have wanted something more waterproof.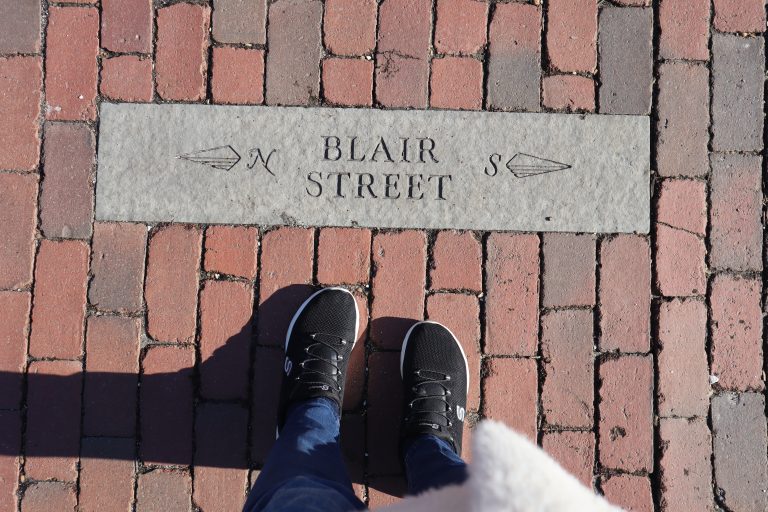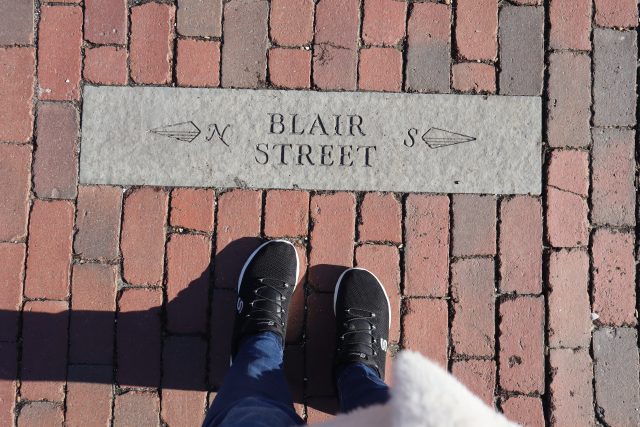 If you want to venture into colonial-era fashion, there are definitely shops that can outfit you authentically.
Pandemic-Era Visit
Colonial Williamsburg is open, although some adjustments have been made. Not everything is open. Attractions that are open have a flag displayed out front. Face coverings are required to enter buildings. Social distancing markers are present and most of the costumed players are wearing them. Certain characters are exempt from face coverings but I wasn't able to work out who did and didn't have to mask up. Lafayette was not masked up, although every time we saw him, he was at a safe distance away from guests.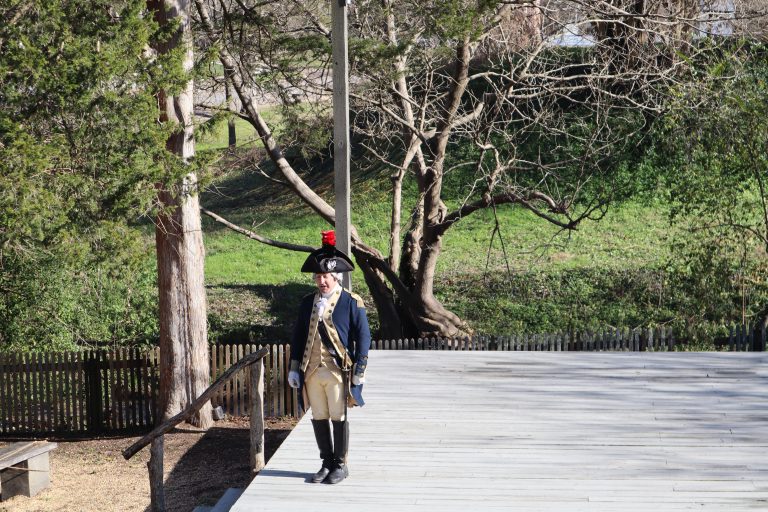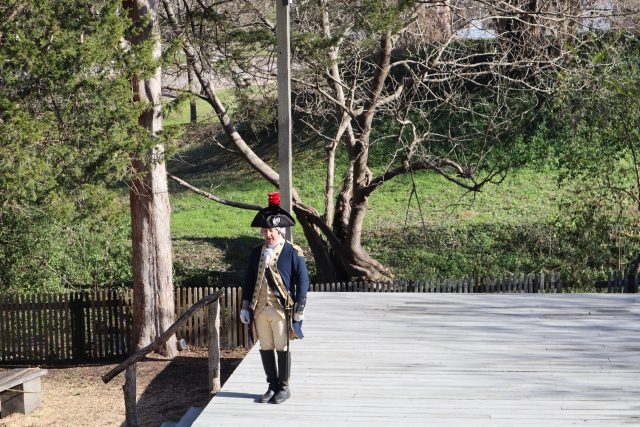 I would estimate about 1/4 of the attractions were open. We spent about seven hours and saw most of what we could see. The crowds were low but the streets were definitely not empty. I can definitely see why people would need multiple days to see everything in Colonial Williamsburg.