Is Be Our Guest Restaurant Worth The Price?
(This post may contain affiliate links. Read my full disclosure.)
There are a lot of reasons why I love Disney table service dining. The opportunity to take a seated, air conditioned break during (or after) a busy park day, exceptional theming and fantastic food. On our most recent trip to Walt Disney World, we had dinner at Be Our Guest inside The Magic Kingdom. One of the questions you might ask about this magical dining experience is "Is Be Our Guest Restaurant worth the price?" I'm going to answer that for you plus give you my best tips on how to have the best experience.
Is Be Our Guest Worth Restaurant The Price? A review of dinner at The Beast's Castle
Dining at Walt Disney World is expensive. There are ways to cut costs and save money but generally speaking, you're not going to find table service dining to be cheap. Your budget for food is definitely something you have to plan for in advance or you'll be surprised at the amount you spend to eat.
Be Our Guest is near the top end of the price spectrum when it comes to Disney restaurants so here's my take on whether Be Our Guest is worth the price.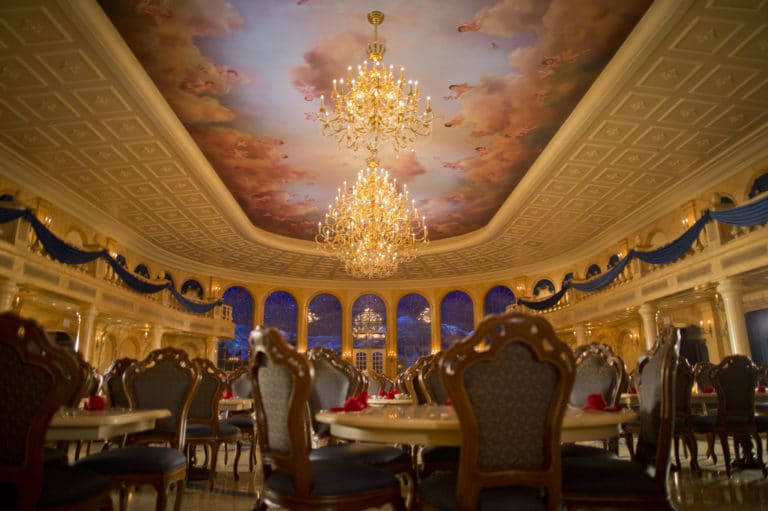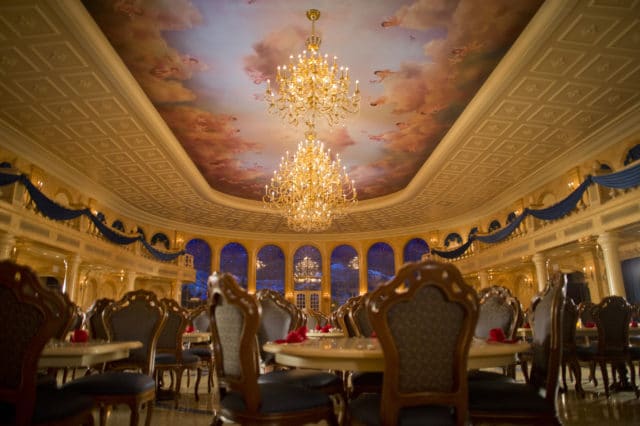 What is Be Our Guest, Exactly?
Be Our Guest Restaurant is a specialty dining experience in the Magic Kingdom, specifically in Fantasyland. It's easy to spot The Beast's Castle once you enter Fantasyland. If you've been to Walt Disney World before, you're probably familiar with this landmark.
Be Our Guest serves lunch and dinner from a fixed price menu. The inside of the restaurant has three parts and is designed to look like The Beast's Castle. If you're a fan of the movie, you'll really enjoy the theming and the details here.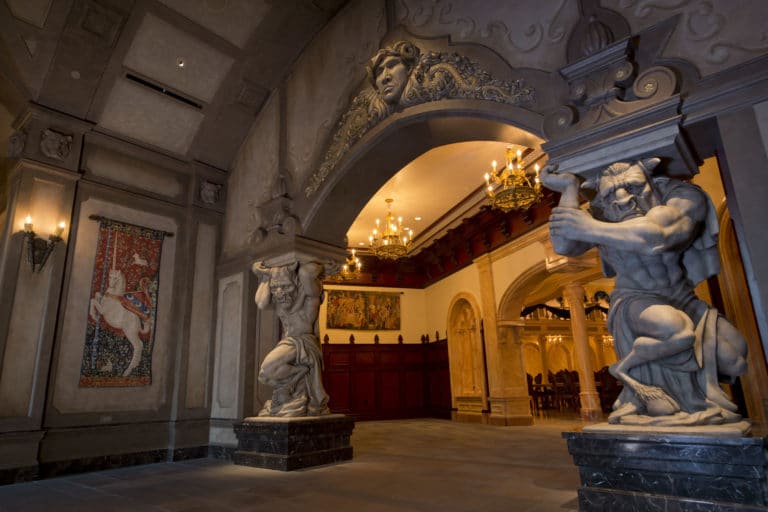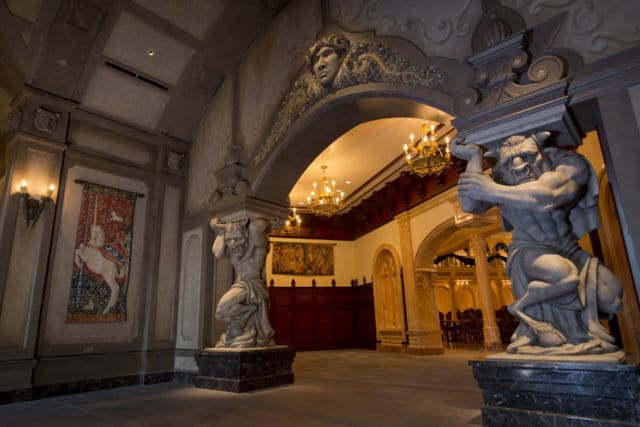 My recent visit to Walt Disney World was in partnership with Visit Florida and TravelingMom. I was provided with complimentary park admission and other amenities. All opinions are my own and all photos taken by me unless otherwise indicated.
The menu has a French flair but you'll probably find the foods pretty familiar and comfortable. While not technically considered character dining, The Beast did make an appearance when we ate there in March 2021 and I've heard consistent reports of him being regularly present. He is quite entertaining and eager to welcome you to his castle. There will be an announcement on the loudspeaker prior to The Beast entering the hall so you have a chance to get your cameras ready but don't expect him to stop and visit with every table.
You need a park ticket and currently, a park reservation to eat at Be Our Guest. I strongly recommend reservations, although these can sometimes be hard to get. As with all Disney table service dining, don't be afraid to walk up and try to be seated if you do not have a reservation. I've frequently gotten lucky doing this. Don't pin all your hopes on eating at Be Our Guest if you haven't secured a reservation. Work with expectation management for your kids and hope for the best.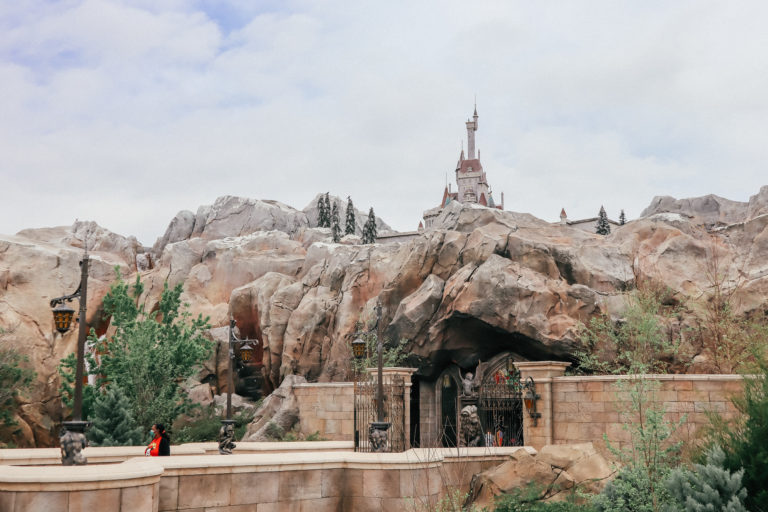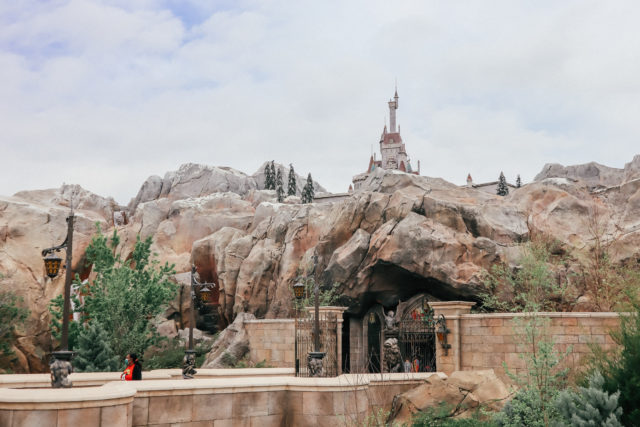 Three Connected Dining Areas
Be Our Guest has three connected dining areas. The Grand Ballroom, where you enter the castle, is the largest. Off to either side you'll find the West Wing and the Enchanted Gallery. The West Wing is home to the enchanted rose. The Enchanted Gallery has a larger-than-life music box of The Beast and Belle dancing. You are allowed to get up and walk around so you can see everything there is to see.
If you prefer one location over the other, you can make your request when you check in. We sat in The Grand Ballroom, which is the largest area. I felt like we were in the center of the action and I liked that. The West Wing is really cool but it is quite dark. If pictures are important to you, this might not be the best place to sit. I will probably ask to sit in the Enchanted Gallery next time. It's more intimate and the moving music box is really cool to watch.
How Much Does it Cost to Eat at Be Our Guest restaurant?
Adults are $62 and kids ages 3-9 are $37. Drinks are not included. Nonalcoholic premium drinks in a souvenir cup can be as much as $19. Wines by the glass range from $10 to $24.
So…pretty pricey. Our family of four easily spent over $200 so it was definitely a splurge for us. Disney Vacation Club members and annual pass holders can get a discount so make sure you let your server know if either of those applies.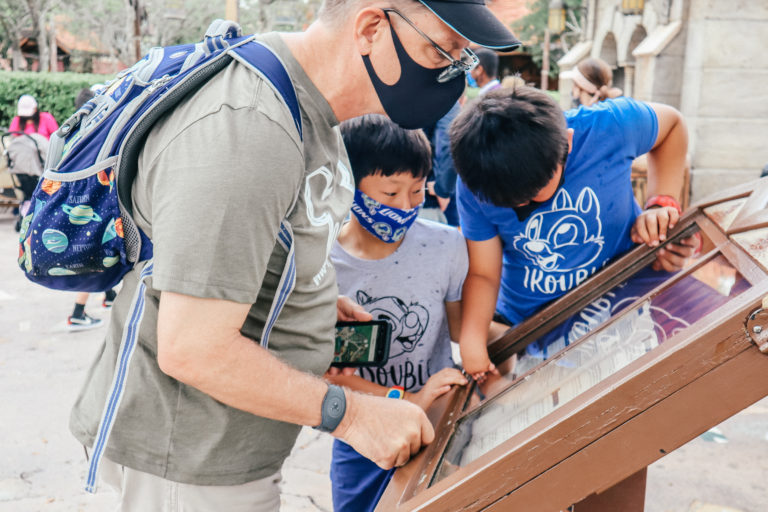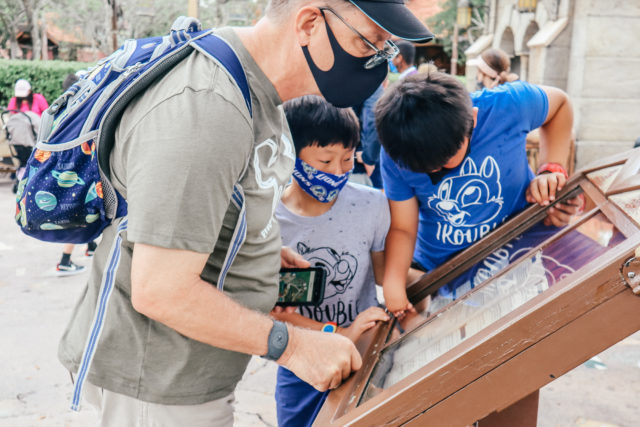 My money-saving tip is to eat here for an early dinner. We ate at 3:30 p.m. and skipped lunch. I recommend you arrive good and hungry. At these prices, you don't want to leave food on the table.
You might also like: Unique dining at Todd English's bluezoo
Be Our Guest Restaurant Menu
The food is solidly in the "good" camp and the portion sizes are pretty hearty. Dropping that amount of money on a meal and leaving hungry would definitely not thrill me and that is not what happened here. This is obviously not the place you want to go when you're a just little hungry.
There are four choices for adult appetizers: Two soups (French Onion and Lobster Bisque) as well as a green salad or a cheese plate. Our table did a combo of the soups and both varieties were very good.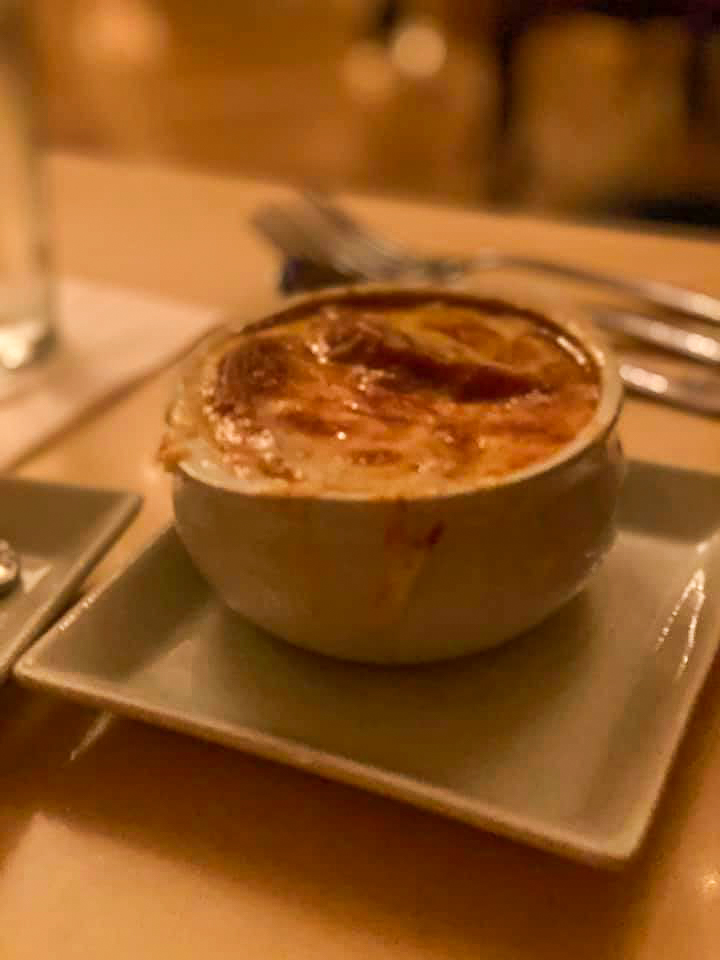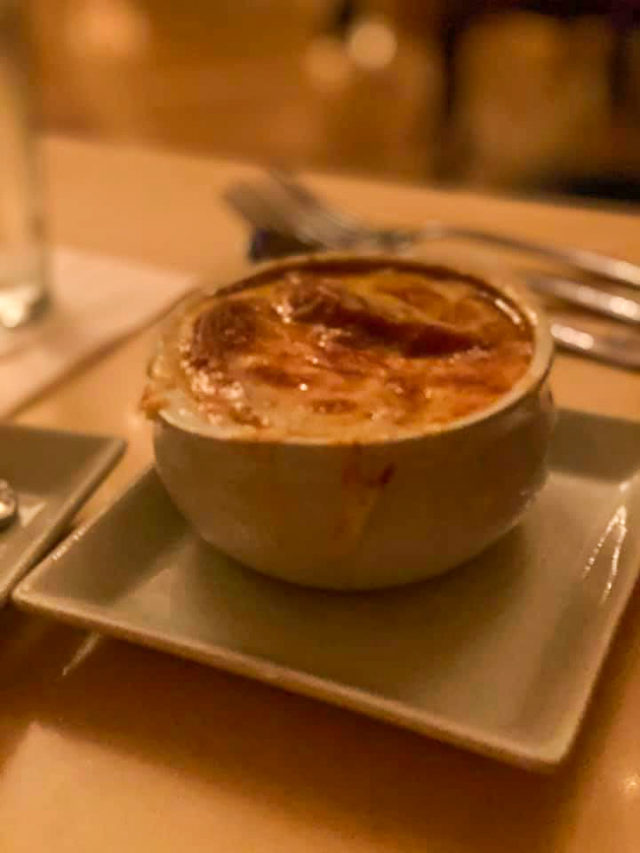 My husband and I chose the steak as our main and my son Kyle chose the pork. My other son ate off the kid's menu. Everything was really delicious. To be perfectly frank, I'd have probably chosen the scallops or the chicken if the menu hadn't have been a $62 fixed price. I felt like I really needed to get the bang for my buck so I ordered what I thought was the most expensive. I don't eat steak very often but this was a great splurge and a nice cut of beef.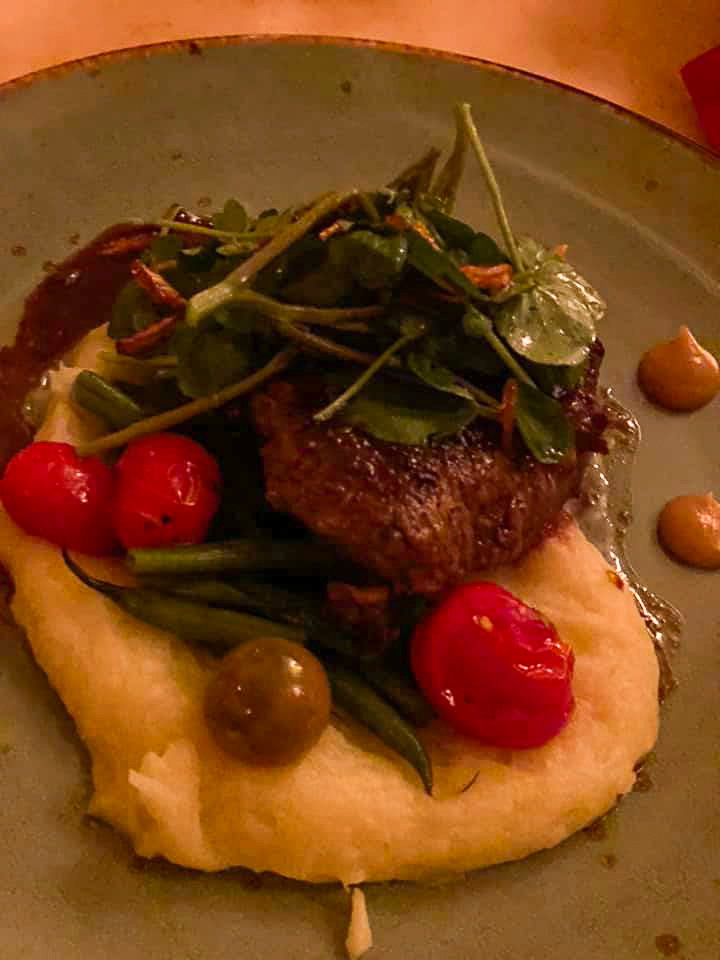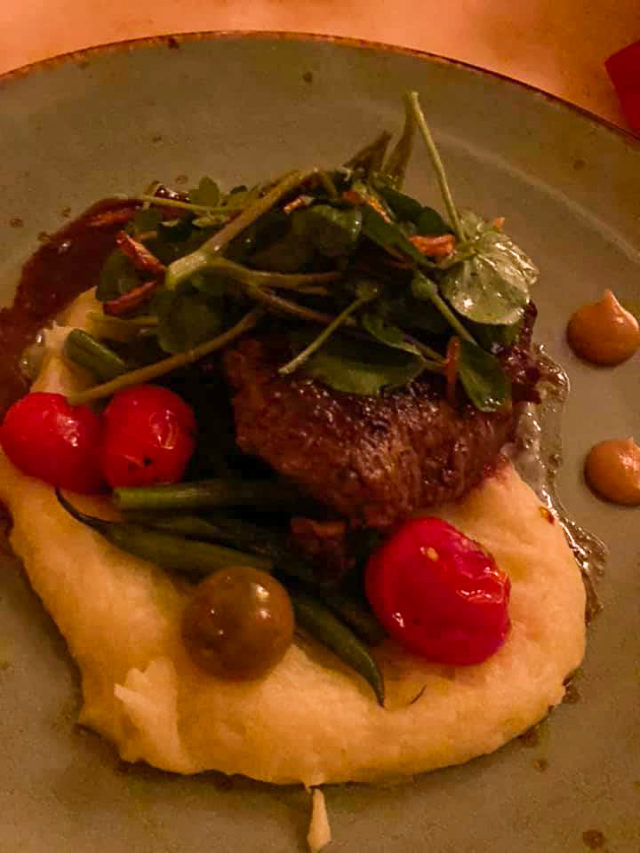 You can review the full menu here. Lunch and dinner are the exact same. If there's a difference between the menus, I can't make it out.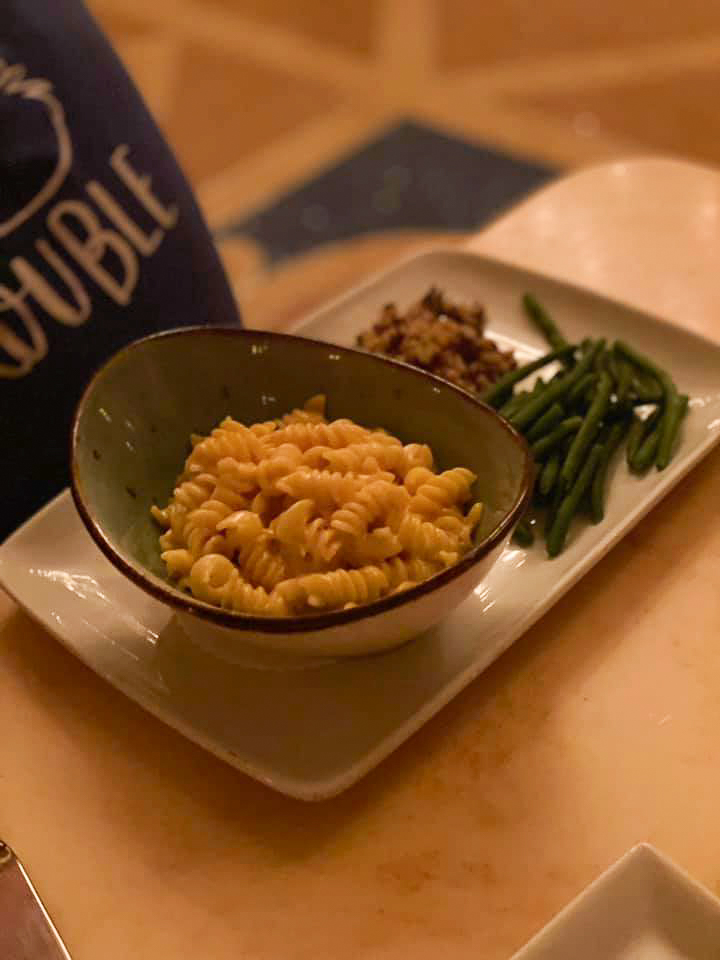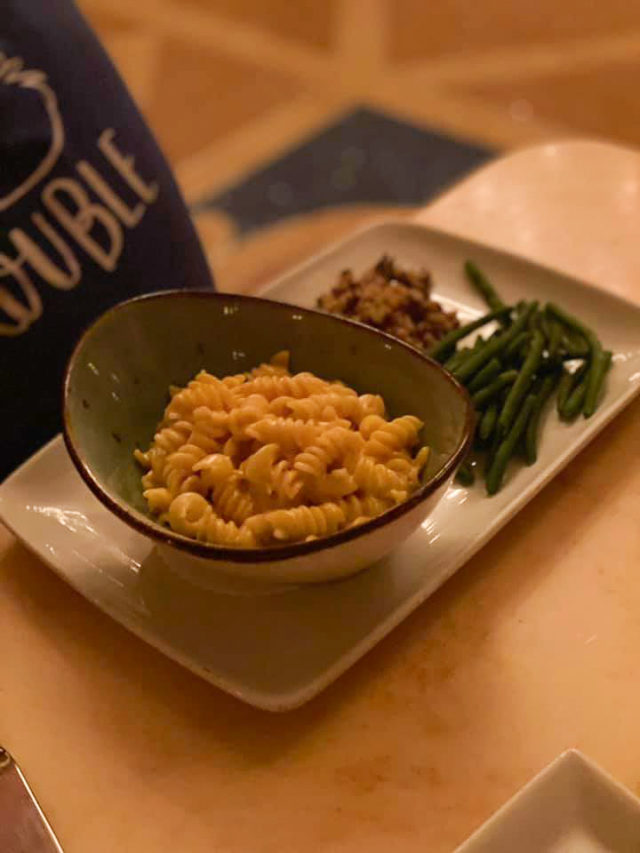 The desserts were the clear star of the show here. You're served a trio of small desserts that allow you to savor a few different kinds of flavors.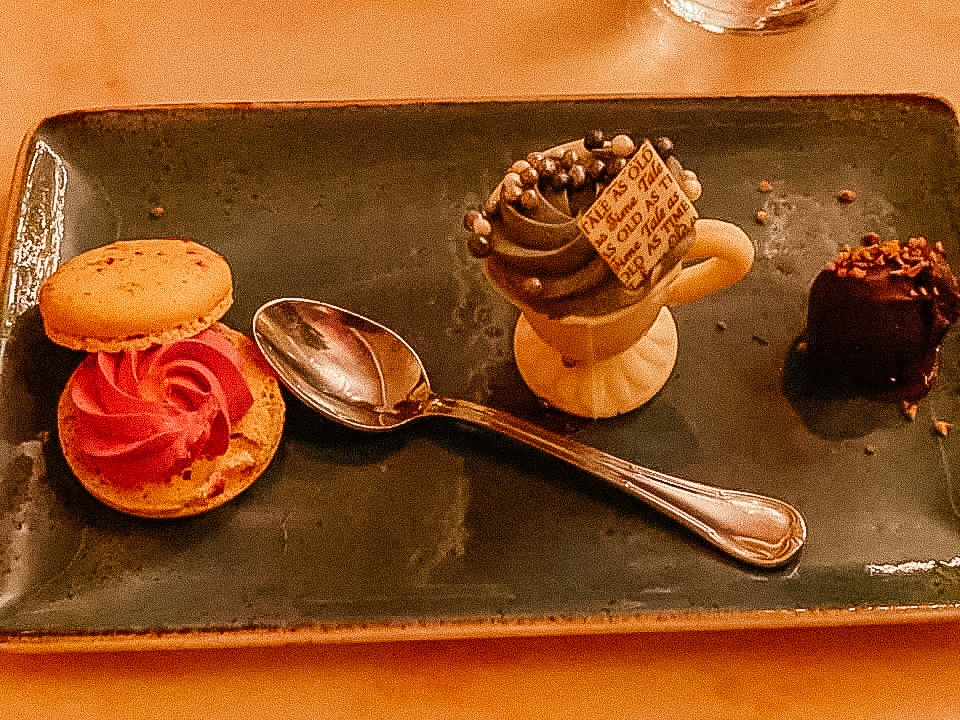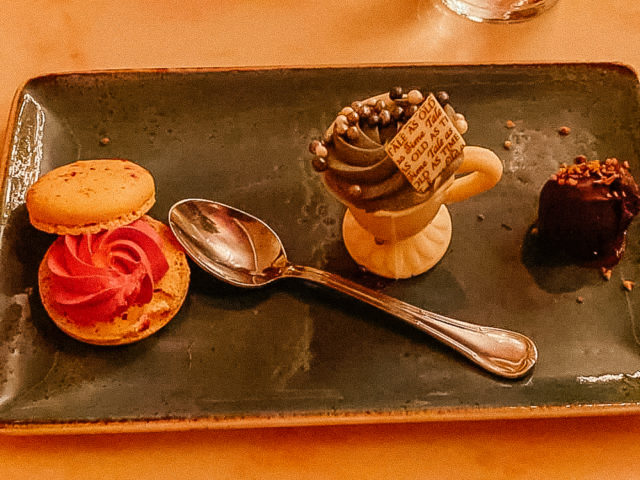 We had a lovely lemon jam macaron, a dark chocolate truffle and the grey stuff in a white chocolate "Chip" cup. They were all delicious but the macaron was the clear winner for me. The grey stuff is creamy mouse, in case you didn't know. You can also get a grey stuff cupcake at Gaston's Tavern.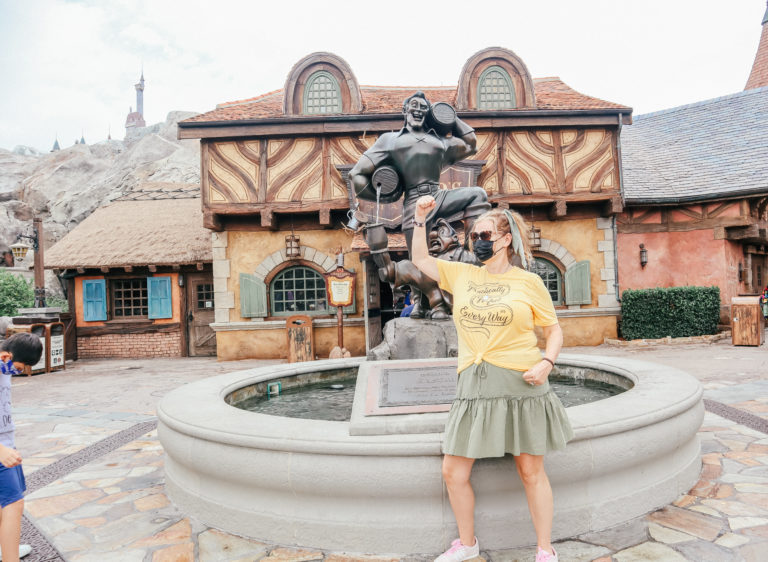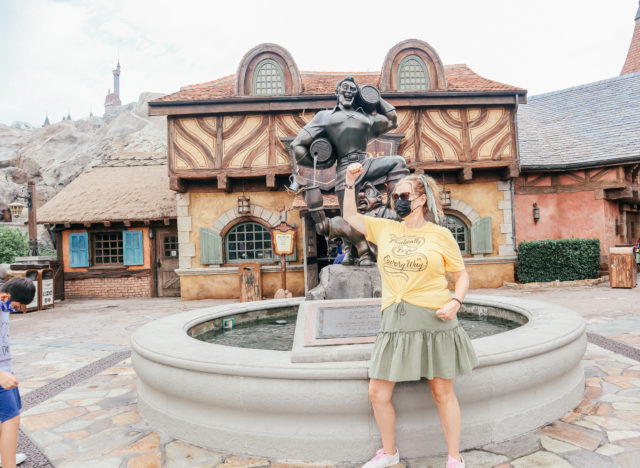 So what's the bottom line? Is Be Our Guest Restaurant worth the price?
I thought it was worth it but you might not. The food was good. I didn't feel like it was the finest of fine dining but this was a well-prepared, beautifully served meal with quality ingredients. The service was on par with what I expect from Disney table service dining – always A+.
The castle atmosphere is really cool. If you're a big Beauty and the Beast fan or if you've seen the movie recently, it's fun to walk around and see all the little touches. The theming is outstanding and it was a real treat to see The Beast and get to wave at him. As I mentioned, he doesn't visit the tables but he will pause very briefly for pictures. If you're lucky you can snag a selfie. He's a very good and gracious host and not grumpy at all. You can definitely see Belle's gentle influence at work…although you do not see Belle or any other character.
The acoustics of the room weren't great. It's a large hall with a high ceiling, so it's pretty noisy. There's definitely "Restaurant that caters to kids" vibe, even though the food leans more toward the fine dining level. We were able to enjoy conversation at our table but it was not a quiet or romantic atmosphere at all. It's dark and intimate, as you'd imagine the Beast's Castle would be. I lightened up the food pictures above quite a bit.
There are also a lot of little girls dressed up like Belle with parents snapping photos. I mean…as far as photo opportunities, it doesn't get much more themed than this. If you're an adult who is into Disney bounding, this is definitely the place to bring your Belle bounds.
We typically splurge on meals at Walt Disney World. I think it is really fun to immerse yourself in the theming but I also like having an extended break where we can relax and enjoy the air conditioning. Going full throttle attraction to attraction open to close is not really our family's thing so having that respite in the middle of a hot, busy day is really nice.
If you recognize what you'll spend as a true splurge, I think the experience is worth the money you shell out. Unless you have an unlimited Disney budget (and if you do, let's get to know each other better so we can align our vacations) you're going to have to decide what splurges are going to happen, whether it's dining or merchandise. This was one of our two big splurges of the trip and we all walked out of The Beast's Castle full, happy, and glad we snagged the reservation.
For us, spending $200 on a luxury meal so we could say we ate dinner at the Beast's Castle was on par with how we spend and allocate money while on vacation at Disney. We are much more likely to drop money on signature dining than we do on souvenirs. For some, just getting to the parks and buying park tickets are going to be the big splurges. Every family and every budget is different so it's hard to give you a hard "yes" or "no" when answering the question "Is Be Our Guest restaurant worth it?"
If you're a true Beauty and the Beast fan and don't want to spend the money on a meal at Be Our Guest, spend some time in the Gaston's Tavern area, snap some pictures in front of the fountain and check out some of the quick service goodies inside. I've mentioned The Grey Stuff Cupcake. You may also like LeFou's Brew, which is a frozen apple slushie that is pretty awesome on a hot day.
Going somewhere? Check out these great travel deals on Kayak.com