Fun below ground and on the surface, too: Natural Bridge Caverns
(This post may contain affiliate links. Read my full disclosure.)
If you are in San Antonio or Austin and are looking for something fun to do, check out Natural Bridge Caverns. Located in New Braunfels, Natural Bridge Caverns has fun things to do both below and above the surface!
Fun below ground and on the surface, too: Natural Bridge Caverns
Natural Bridge Caverns San Antonio (although not technically in San Antonio) is one of the area's most popular activities for families. I've been here as a child and with my kids and have loved seeing how this attraction has expanded over the years. It remains one of my favorites and I hope it becomes one of your favorites, too.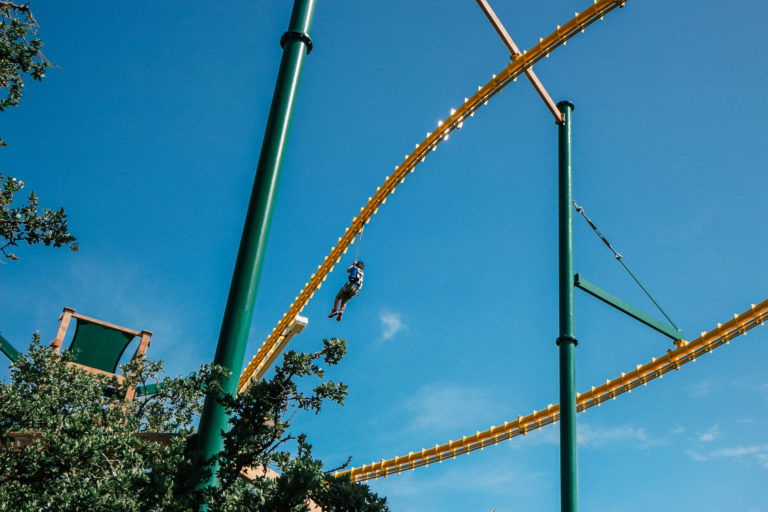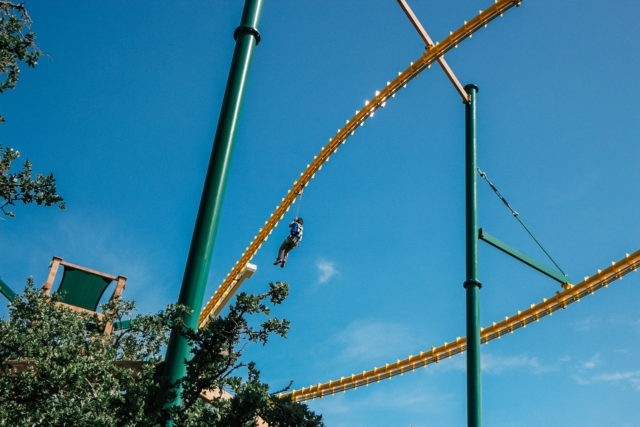 My kids and I were hosted for the day by Natural Bridge Caverns. This post may contain affiliate links, which means I may earn a commission if you make a purchase or booking through my site. All opinions my own.
Whether you're a San Antonio local, day tripping from Austin or visiting the area from out of state, put Natural Bridge Caverns on your list of things to do. Here's everything you need to know to plan your day.
Cavern Backstory
Natural Bridge Caverns was discovered in 1960 by four college student who were convinced there were large underground passages located under the 60 foot limestone bridge, which you'll see at the entrance to the cavern when you take the Discovery Tour.
On their initial exploration, the students discovered over two miles of vast caverns and reported their findings to the land owner. The landowners decided to develop the first half mile, which is is what you'll see on the popular Discovery Tour. You'll enter the caverns right under the natural bridge.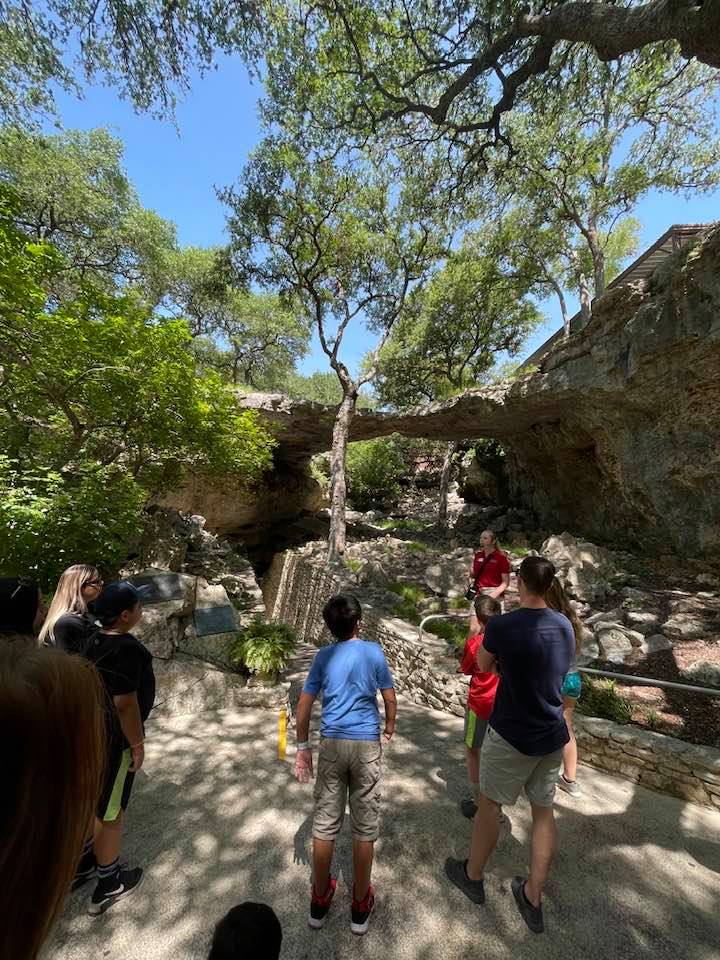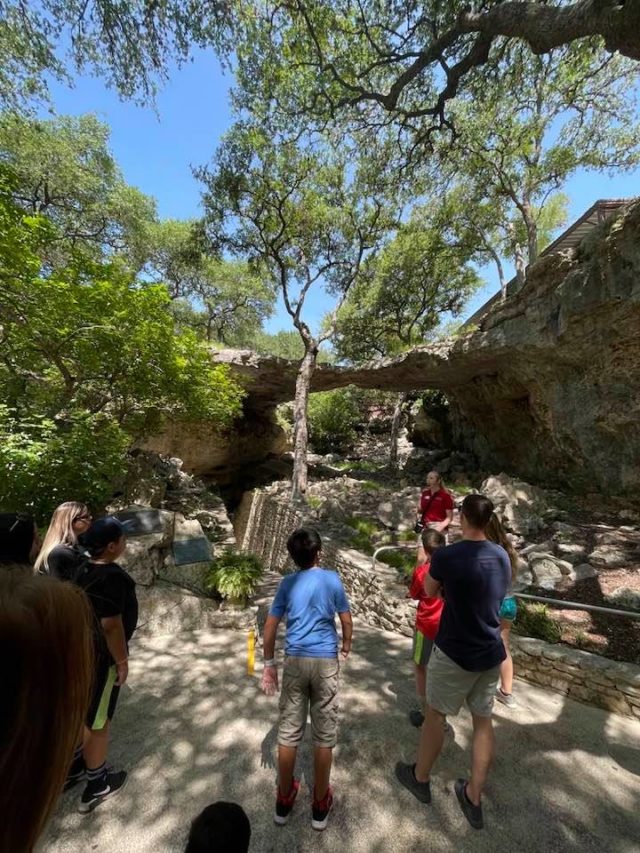 The caverns were formed by an underground river that dissolved the layers of limestone. Over time, the flow of the water moved deeper within the earth and formed the larger underground passages and rooms. I have zero background in geology, so I'm sure there's a more sciency way to describe the formation of the caverns. If you take the Discovery Tour, which I highly recommend, you'll have a guide who can explain it and answer whatever questions you have about how Natural Bridge Caverns came to be what it is today.
Below Ground at Natural Bridge – Cavern Tours
Natural Bridge Caverns San Antonio offers several options for cavern tours. We did the Discovery Tour on our most recent visit, which is the most popular. We've done the Hidden Passages tour in the past. Both are great ways to explore different parts of Natural Bridge Caverns.
The Discovery Tour covers 3/4 of a mile. There are some stairs and some steep inclines/declines and some stairs. This tour lasts about an hour.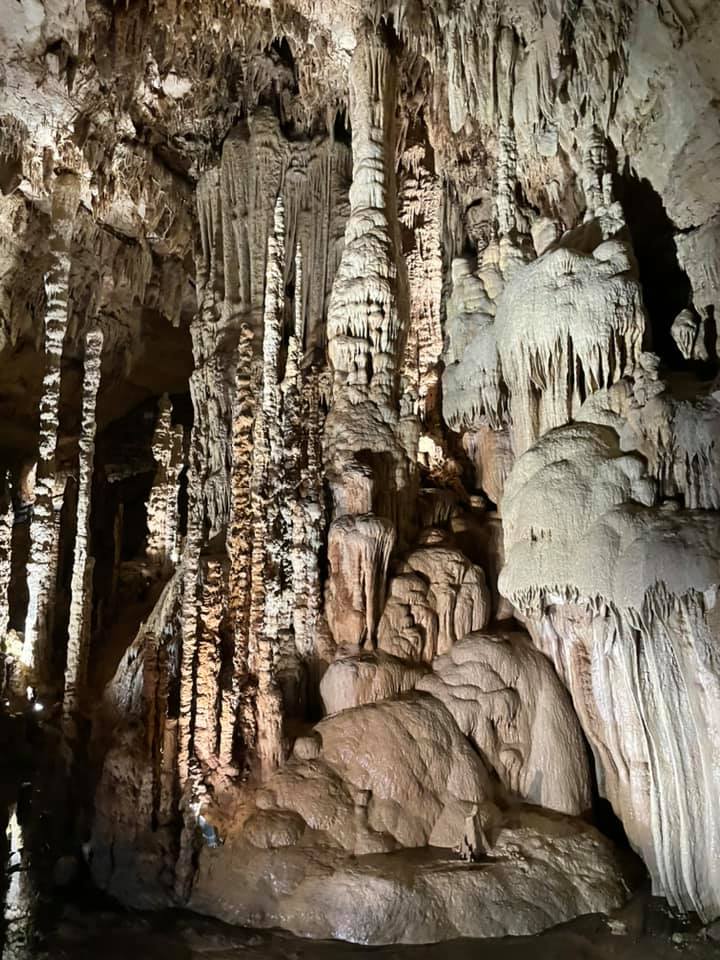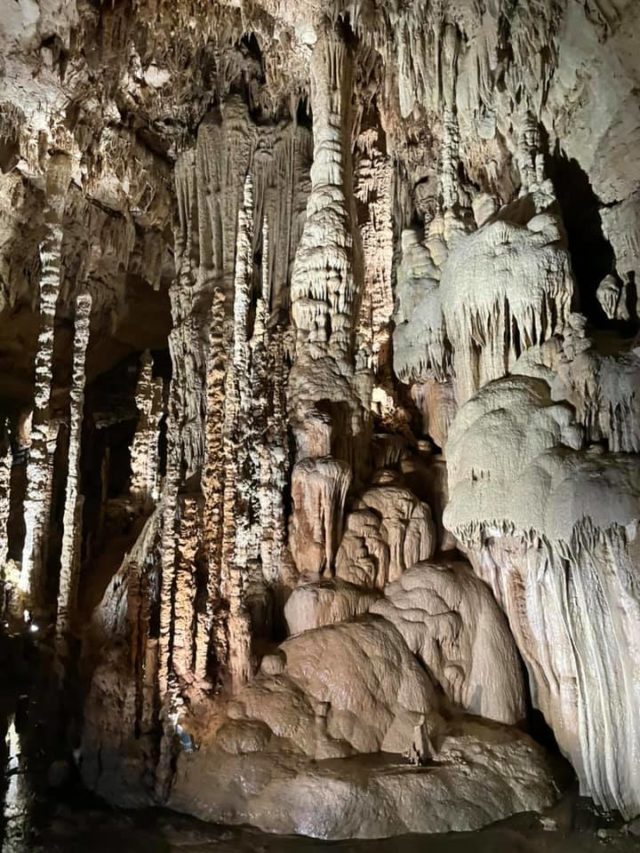 The Hidden Passages Tour covers 1/3 of a mile. It lists "stairs" on the website but I also remember inclines and declines from my most recent Hidden Passages Tour (which has been a few years.) This tour also lasts about an hour.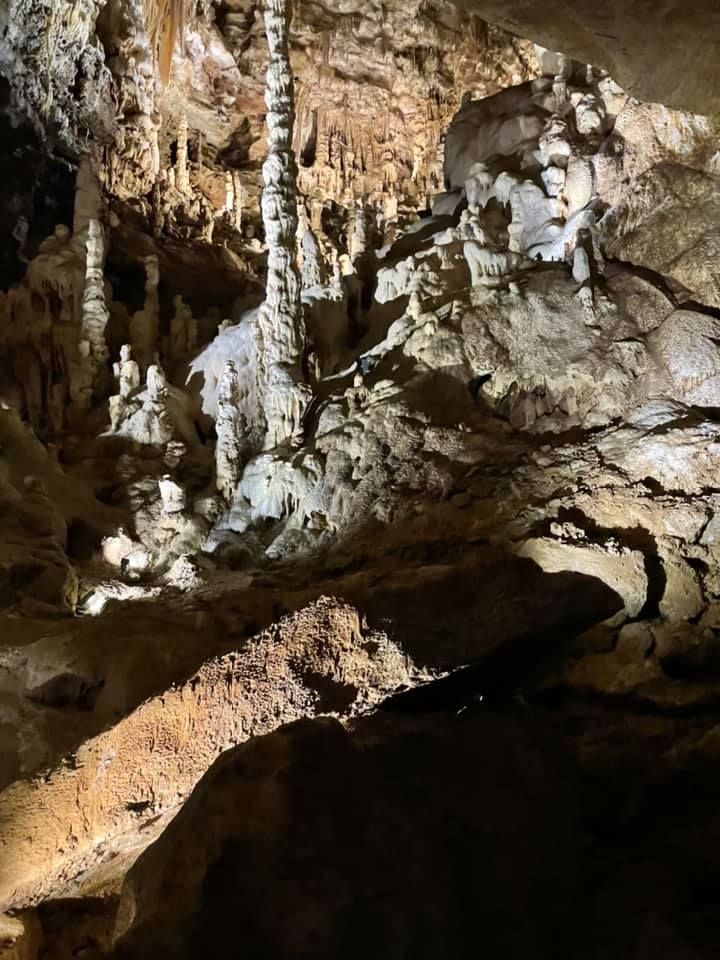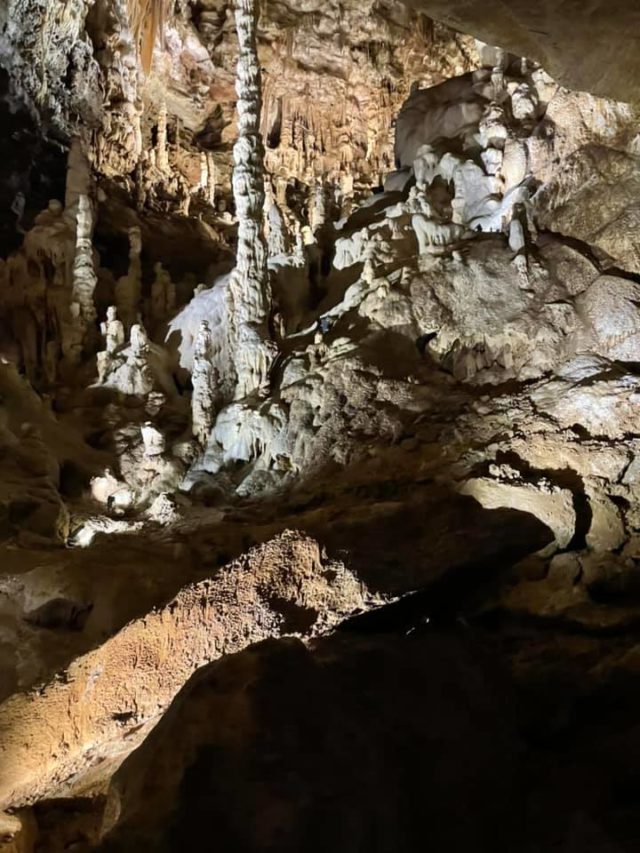 The caverns maintain a year round temperature of 70 degrees with 99% humidity.
If you can't decide which tour to do, you can buy a Combo Tour and get both experiences. There are also other specialty tours listed on the Natural Bridge Caverns website, such as a bat experience and an off trail tour.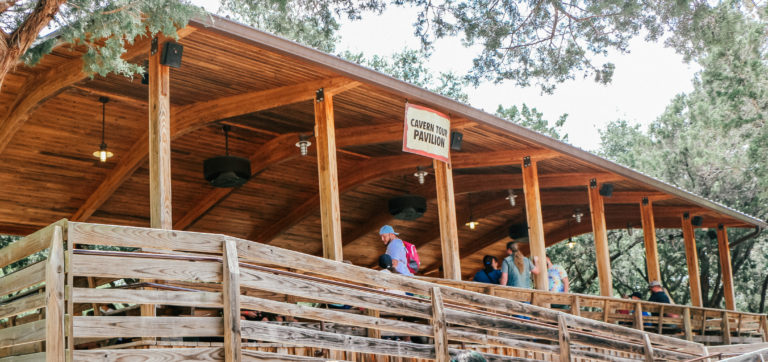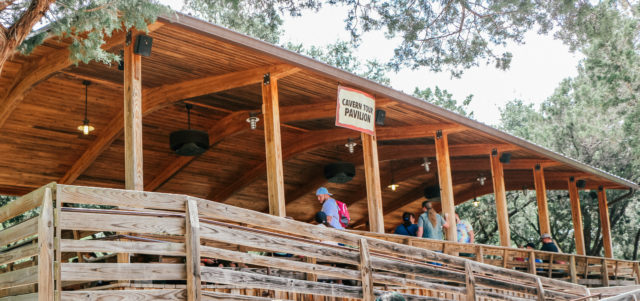 Our recent experience – Discovery Tour
The Discovery Tour isn't listed as strenuous or challenging, however, if you are not used to walking or can't handle stairs, you might find it to be so. We had a few people on our tour that seemed to be struggling and lagged behind the group.
I strongly recommend sturdy, rubber soled shoes, not sandals or flip flops. In addition to the stairs and inclines, the humidity in the caverns makes the path and handrails pretty wet.
Strollers are not prohibited on this tour (they are not allowed on the Hidden Passages Tour because of the steps) but they are not recommended. There is stroller parking available. I don't recall anyone on our recent tour with a stroller but I did overhear a small child ask their parent to carry them. This is not a tour where I would have wanted to carry a child so if you don't want to do that, I recommend having a chat on the surface about everyone needing to walk on their own…that's just me, though.
Flash photography is allowed and encouraged! The portion of the caverns we explored on the Discovery Tour is so dark that your photos wouldn't be much good without a flash. Tripods and monopods are not recommended and selfie sticks are prohibited.
On the Surface – Fun things to do at Natural Bridge Caverns
Although I don't recommend skipping the cavern tours, we had the most fun above ground. There are lots of things to do so if you haven't been in a while, like us, you'll find a ton to explore and do.
Let the weather be your guide for how you plan your surface fun. If you visit during the summer, as we did, you'll probably want to do the bulk of your surface activity earlier in the day.
If you visit during winter, or what passes for winter in this part of Texas, you can probably get away with doing your cavern tour first, if you'd rather.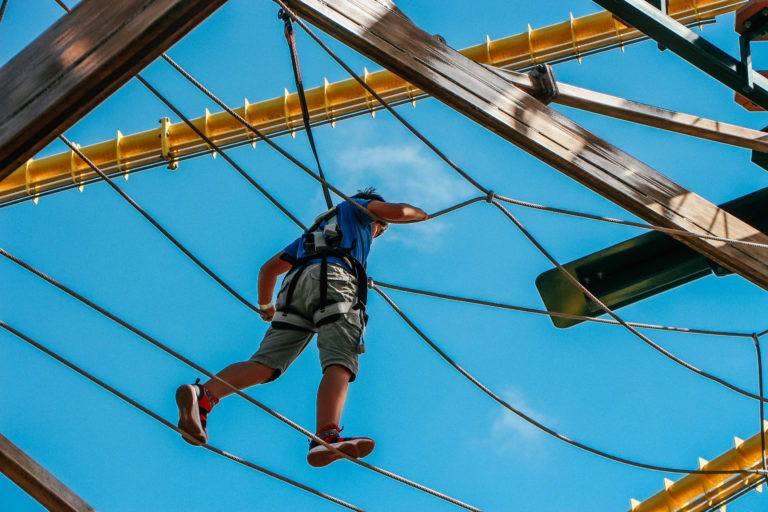 Navigate the Twisted Trails Zip Rails and Ropes Course
This one won the day for Zack. If you buy this as an add-on or stand alone activity, be aware that there is a time limit. Zack would have stayed up here until sundown if we'd have let him.
While this one is definitely an activity for adventure seekers, there are multiple levels. You can stay low if that's comfortable for you or get really daring and go all the way to the top.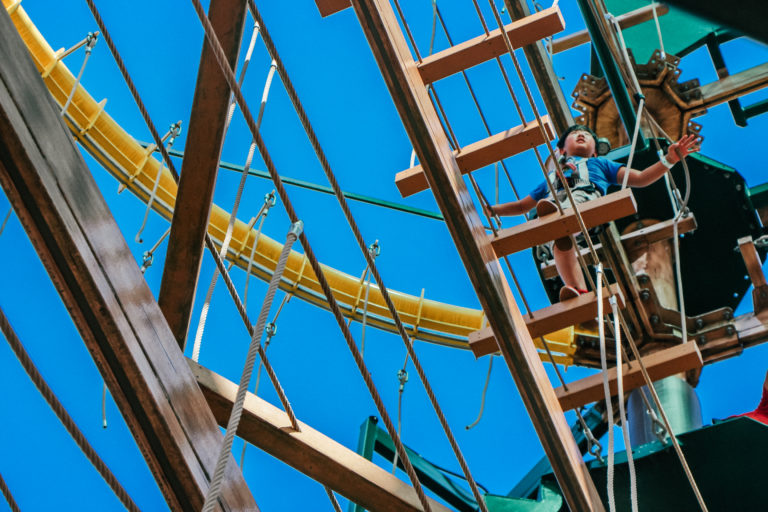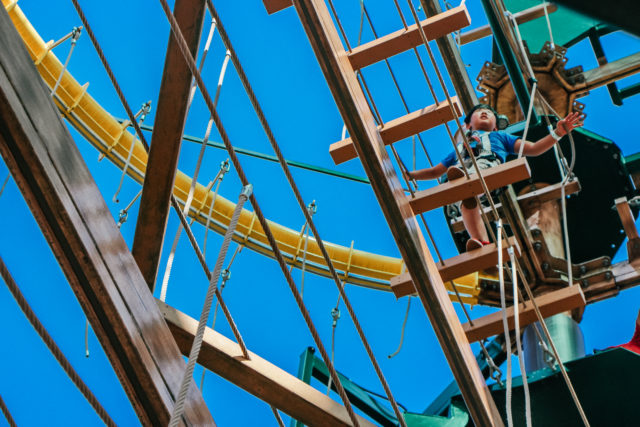 Height/weight requirements: 48″ or 42″ with a paid chaperone. Max weight is 300 pounds.
There's also a climbing add on. This can be purchased as a stand-alone activity, too. If your kids are too small for Twisted Trails, there's also Twisted Tykes, which is a lower level adventure course.
Get Lost in the Maze
There are four clues to find within this 5,000 square foot open air maze. Getting in and out of the maze isn't that difficult but finding the four corners is a little more challenging. There's an observation deck so you can watch people navigate their way through the maze and shout encouragement.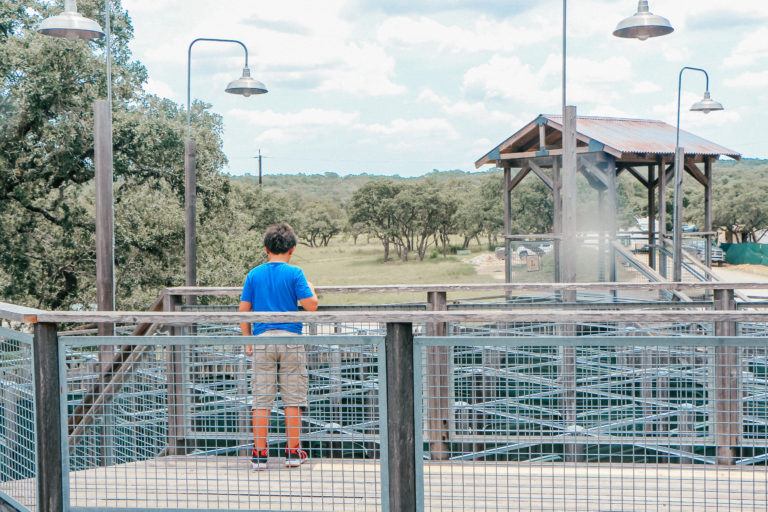 If you do the maze as a family or group, I recommend making a fun challenge out of it. See who can get the clues and get out the fastest!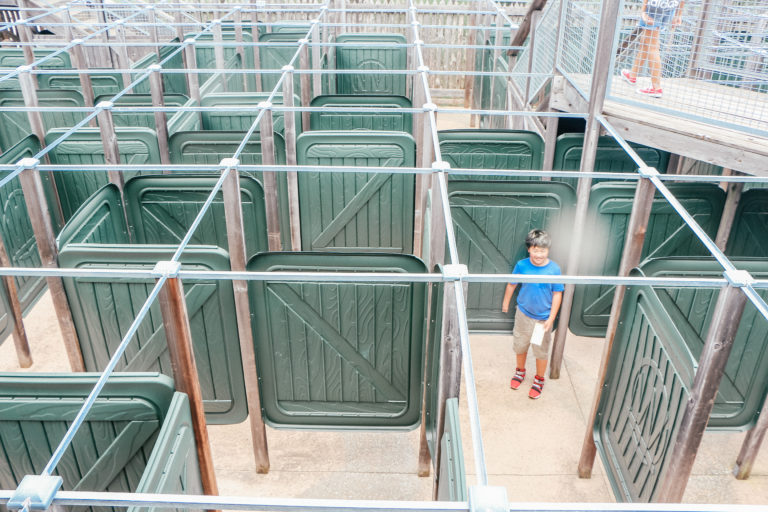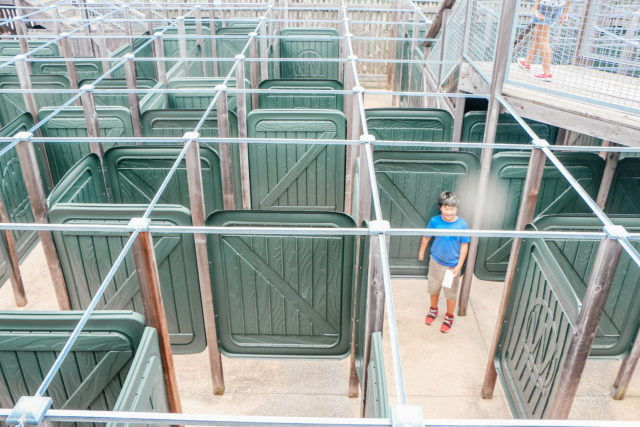 Mine for Gems
If you have younger kids in your group, I highly recommend gem mining. This is also a great hot day activity since the area where the gem mining happens is under a shaded overhang.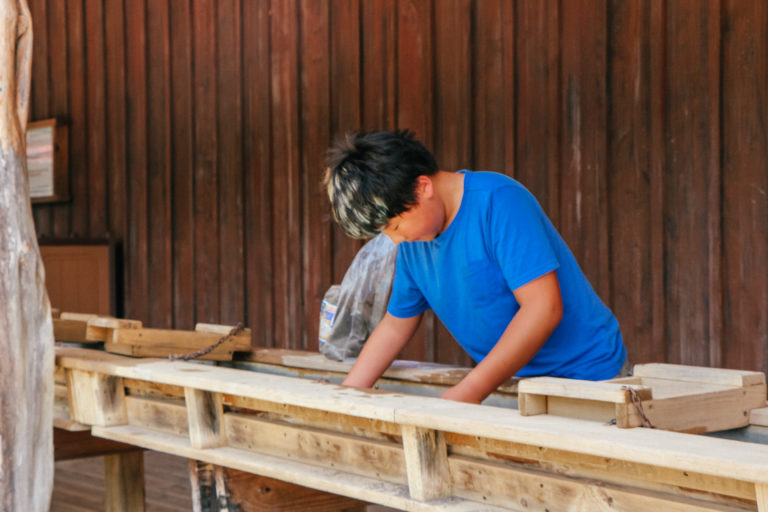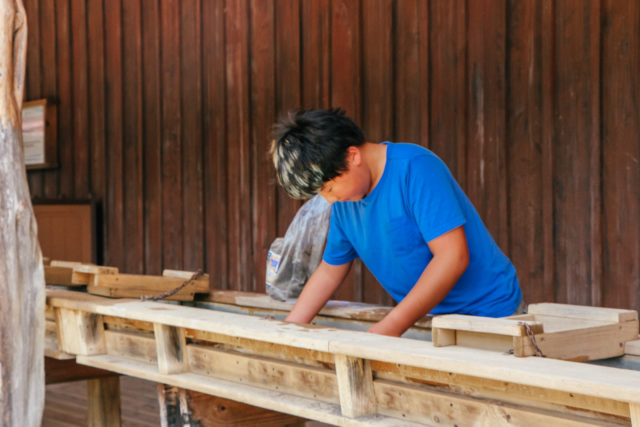 You'll visit Discovery Village Trading Post to select and pay for your bag of treasures. You'll have a combination of gems and fossils mixed with rough (sand) and many options to select from. The gem bags run from $7.99 to $24.99.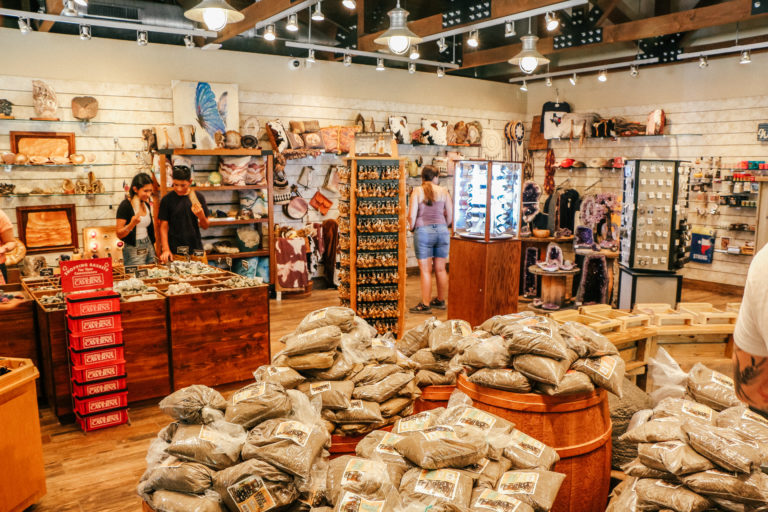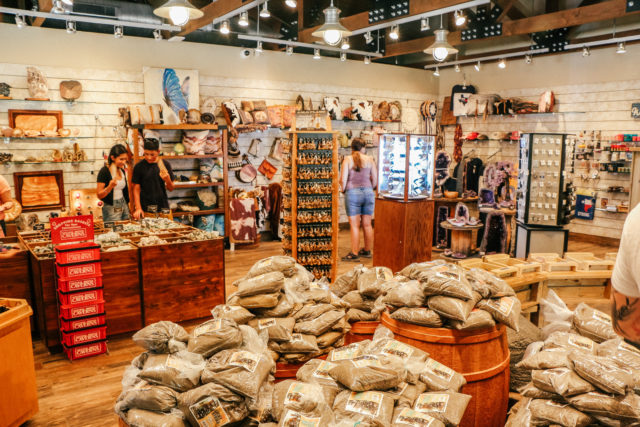 When you purchase your bag, you'll be given a plastic bag as well as a card that helps you identify the different treasures you can find. You'll take your gear outside and find a spot. You'll pour your rough into a little mesh frame and run it through the sluice (running water) until you find your treasures.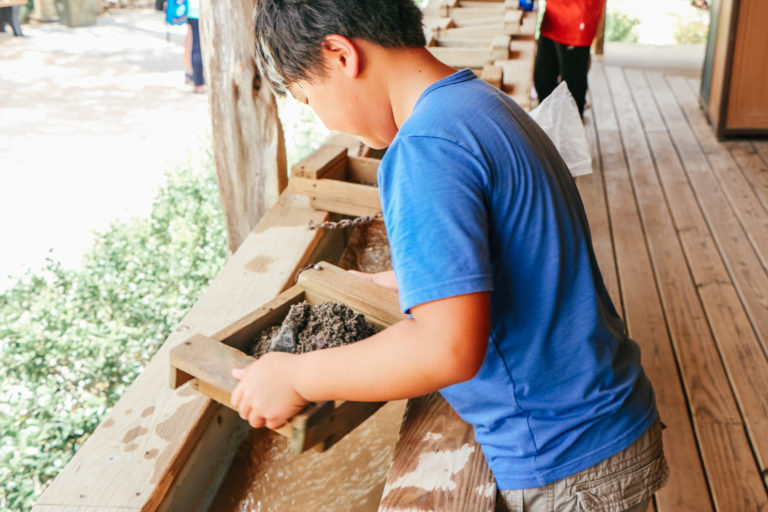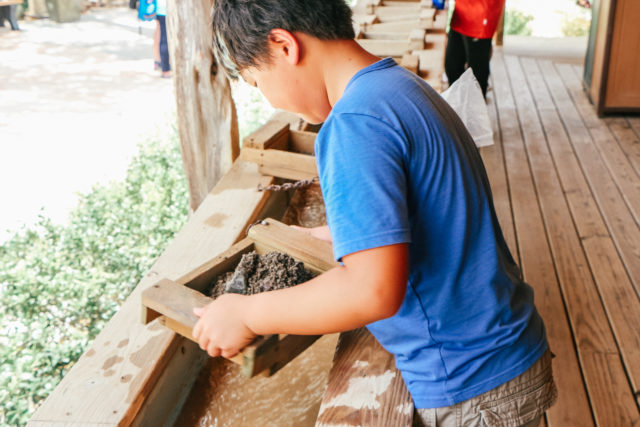 This is a really fun activity but it's also a very quick activity – it doesn't take long to separate your gems or fossils from the rough.
Eat and Shop
If you're seeking souvenirs or unique gifts, you definitely have options at Natural Bridge Caverns. There's a gift shop inside the main building where you purchase tickets, as well as the Discovery Village Trading Post I mentioned above.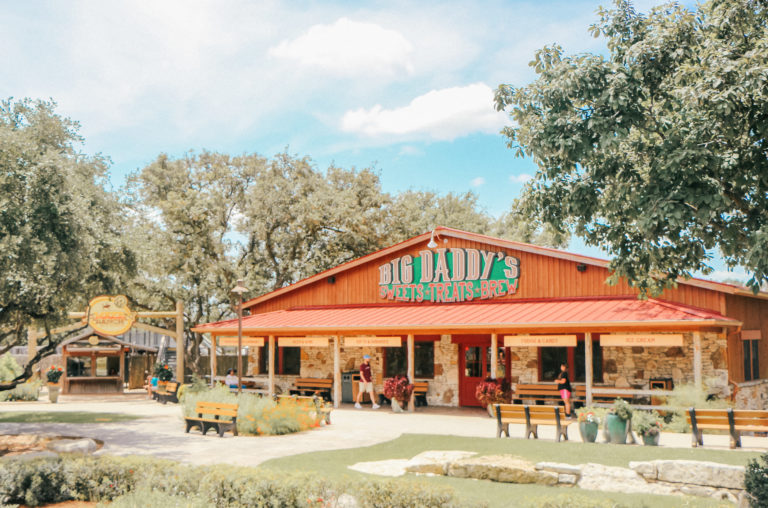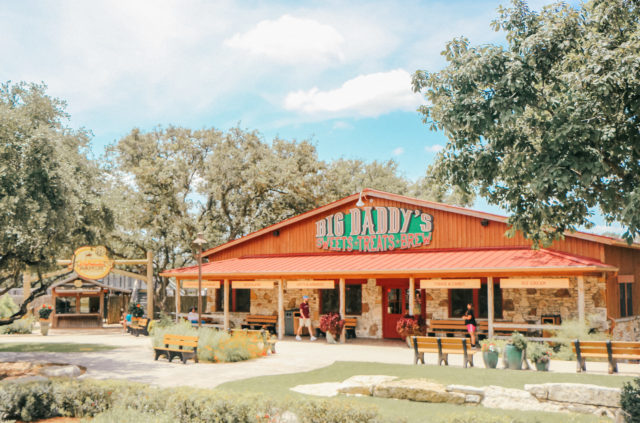 If you're looking for food and beverage options, there's the Cavern Cafe inside the visitors center and Big Daddy's Sweets Treats and Brew. There might also be kiosks outside serving various snacks and drinks, including beer and wine. Whether you're looking for a hot meal or just a treat to tide you over, you'll have lots of options.
Advice for a GREAT day at Natural Bridge Caverns
This is one of San Antonio's most popular attractions. If you're doing any type of travel or activities with kids, I firmly believe planning is your friend. Here are my recommendations for getting the most out of your day.
Plan ahead and buy tickets online
You can buy at the entrance but buying online will save you money and you'll have a better handle on what you're spending before you set out. I also suggest checking out Groupon for deals. We've consistently seen savings there. Be sure to price out Groupon against buying online and see what lands you the best deal.
Ticket prices will vary based on what day you go but an average price is about $30 for an adult ticket for the Discovery Tour or the Hidden Passages Tour and about $20 for a child's ticket for those same tours. Combo tours will run about $45 for an adult and $27 for a child.
If you want to partake of the surface attractions, you can add those on to your purchase. This is less expensive than buying stand alone tickets for everything, so decide what you want to do in advance of your visit.
Dress Comfortably
A day at Natural Bridge is an active day so make sure you're dressed appropriately. I recommend loose, comfy athletic shorts or plants, a comfortable shirt (moisture wicking is a bonus because it is very humid down in the caverns year round) and sturdy shoes with some traction. Tennis shoes are fine – no need to break out your hiking boots, although those would also work.
If you're visiting during colder weather, I recommend layers. Even if it's cold enough to wear a coat outdoors (we don't have that many cold days but it does happen) the humidity of the caverns will feel like about 80 degrees.
If you're planning on doing the Twisted Trails or Twisted Tykes, don't wear a skirt or dress, unless you wear shorts or leggings underneath.
Make a day of it
We arrived at Natural Bridge Caverns San Antonio at about 10 a.m. and left at about 3 p.m. We did the Discovery Tour, all of the surface activities and had one snack break and two drink breaks. I recommend the lemonade at Big Daddy's – it's the real deal. If we'd have done the Combo Tour, we'd have been there about an hour longer, so definitely a full day with kids.
Check out the Natural Bridge Caverns website for more information and booking.
Questions about health and safety protocols at Natural Bridge Caverns? Check out this page for current info.
Looking for more things to do with kids in New Braunfels? Check out this list. You can easily do any of these things on a day trip from San Antonio or Austin.