What's on my pantry stock list
(This post may contain affiliate links. Read my full disclosure.)
If you want to make sure your pantry is stocked with enough basics to feed a family of four for a month, I'm going to allow you a virtual peek into my shelves. Although I didn't build up my pantry stock with the intention of needing to rely on it for meals, the things I've got on hand have allowed me to plan more than a month of meals for my family of two adults and two kids. I thought it would help someone out to share what's on my pantry stock list, so here we are.
What's on my pantry stock list – I planned a month's worth of meals based on what I had on hand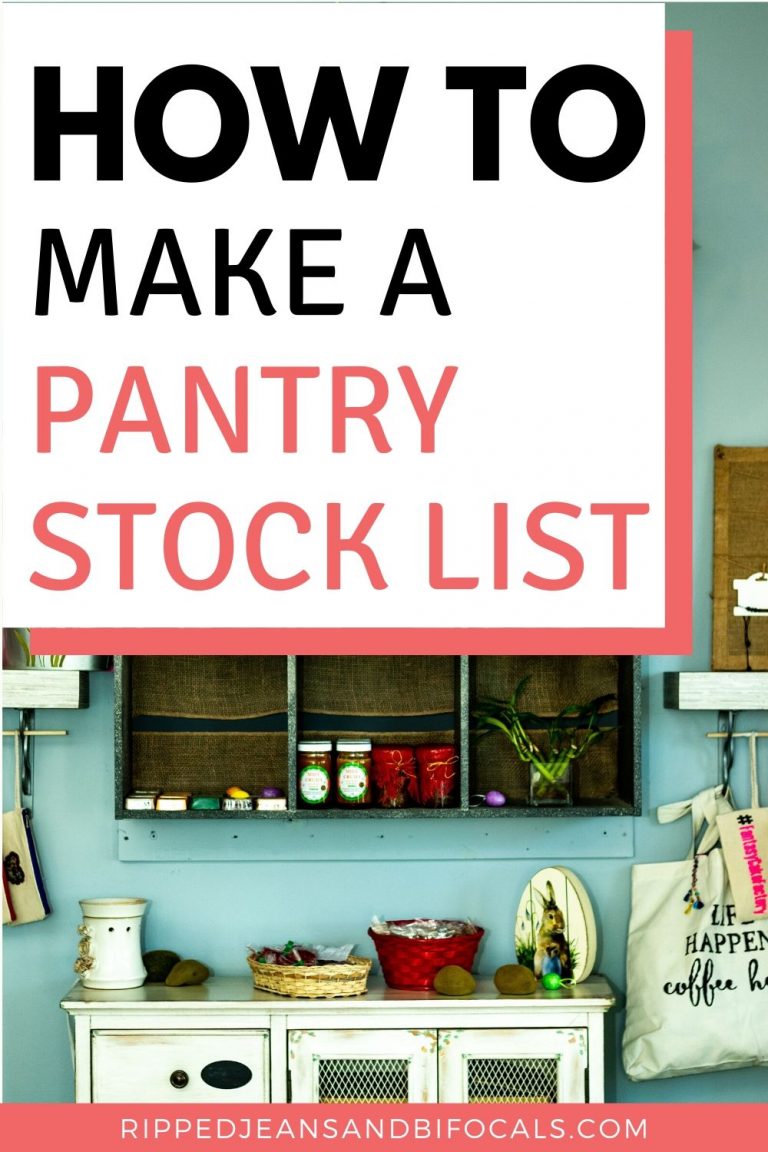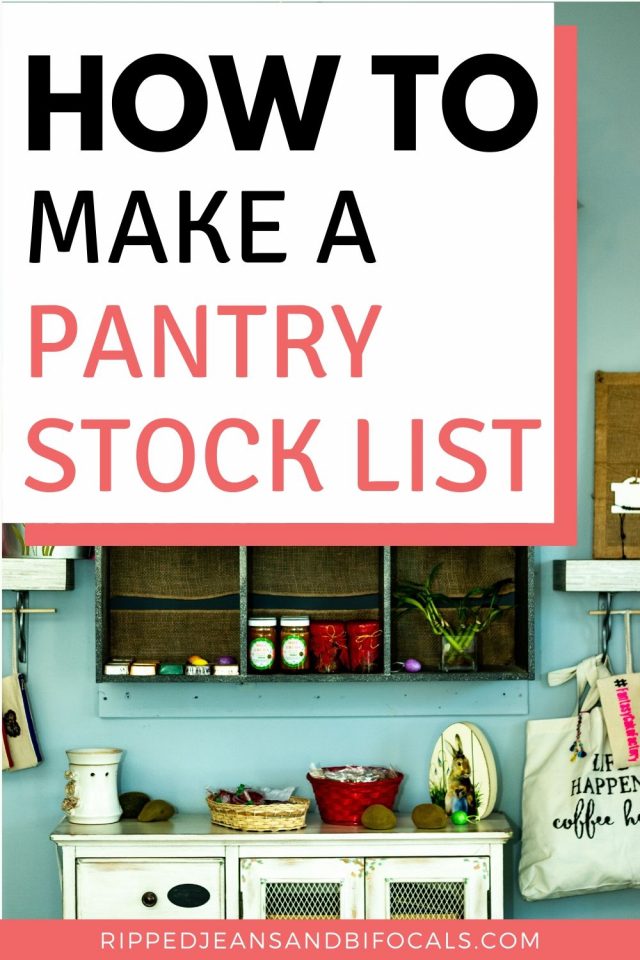 I am not a consistent meal planner and I'm HORRIBLE about going to the grocery store and to Costco without a good list.
Me: "Oooh, canned tuna is on sale? AWESOME. Ima buy 32 of them."
Do I ask myself if I need canned tuna or think about how many cans of tuna I already have at home. I don't. But, that offers a little bit of an explanation as to why I came to have so much pantry stock and how I established this pantry stock list as a base line for how much I really need to have on hand for a "just in case" situation.
As it turns out, having a well-stocked pantry made things easier on me during a time when I wasn't able to grocery shop as normal. You can use this pantry stock list to help you organize your pantry, shop sales, or meal plan based on what you've got.
Note: This doesn't include every single spice/seasoning I have in my pantry. I keep a pretty-well stocked spice rack but I haven't listed them all out here.
Want ideas for delicious, easy meals to make from pantry stock? Check out my list of over 50 meal ideas.
Tomato-based pantry stock
Tomato Sauce – 12 cans (you could get away with less but I buy it by the case)
Chopped/diced/crushed tomatoes (such as Rotel) – 8 cans
Spaghetti Sauce – 2 45 oz jars
Think spaghetti, chili, Sloppy Joe's, Chicken Parmesan, Swiss Steak, homemade soups and stews and more. There are lots of pantry meals you can make with a tomato base.
Canned Beans – The star of my pantry stock list
Cannellini Beans – 2 cans
Chick Peas/Garbanzo Beans – 6 cans
Black Beans – 8 cans
Ranch Style Beans – 2 cans
Baked Beans – 2 cans
Kidney Beans – 2 cans
Beans are an awesome source of protein if you're trying to stretch your budget or you're dealing with unavailability of meat. Combine beans with ground meat to stretch tacos, add to soups and chili or top a piece of toast with baked beans – try it!
My "Soups to make when it's cold outside" post has lots of ideas for meals using pantry stock.
We liked combining drained cannellini (other small white beans would work, too) beans with olive oil, a touch of balsamic vinegar and crunchy fresh veggies, such as red onion, peppers, and broccoli, for a high-protein salad.
You can also add bacon or chopped sausage to beans for a low meat meal or mash drained chick peas with tahini, olive oil, and salt to make hummus. You have so many options when it comes to pantry meals using beans.
Dry Beans
Navy Beans – 1 bag
Pinto Beans – 1 bag
I love good old beans and ham with cornbread. Anything you can do with canned beans, you can do with dry beans or legumes…the prep time is an extra step but you'll save money. Plus, I think they taste better than canned.
I didn't put lentils on my list but I recommend that you do. They are very tasty and easy to prepare and there are a ton of recipes out there that use lentils.
Canned Veggies/Fruit
Canned Corn – 6 cans
Canned Green Beans – 6 cans
Apple Pie Filling – 2 cans
Mushrooms – 4 cans
Note: We don't usually keep a lot of canned fruits on hand. The apple pie filling is a great topping for ice cream or oatmeal. I also like to dump this into a crock pot or Instant Pot with pork.
Seasonings/Condiments
French's Fried Onions – 1 can
BBQ Sauce – 1 bottle
Picante Sauce/Salsa – 1 jar
Olive Oil – 2 gallons (this is what I had on hand. I use a TON of olive oil so you might not need as much)
Pancake Syrup – 1 36 oz container
Taco Seasoning – 10 packages (I use this A LOT)
Balsamic Vinegar
Peanut Butter – 2 18 oz jars
Peanut Butter Powder (for smoothies)
Nutella – 1 26 oz jar
Minced garlic – I like this as an alternative to fresh garlic. I use garlic powder sometimes, too, but I prefer this)
Parmesan Cheese Blend
Chili Seasoning Kit – 2
Almond Milk
Powdered milk
Chocolate Vegan Protein Powder (for smoothies)
V-8
Most sauce-based condiments can be used as a marinade, glaze or dipping sauce. My kids love peanut butter and Nutella on tortillas or Ritz crackers instead of a regular sandwich.
Taco seasoning can be used for more than tacos – sprinkle it on fresh or frozen chicken or fish or add it to a sour cream, cream cheese or mayo based dip for some extra zest. Ditto for Parmesan cheese blend.
About the Chili seasoning kit – you can easily make chili with individual spices but we make chili about once a month all year around and we like the convenience of pre-measured kits.
We prefer to buy the dairy case almond and coconut milks but having a couple of containers of non-perishable milks will do in a pinch. We don't really like the taste of plain powdered milk or shelf almond milk but it works well enough for cooking and smoothies
Canned Meat
Canned Tuna – 6 5 oz cans
Canned Chili – 6 15 oz cans (we usually make chili from scratch but this was left over from a camping trip)
Chicken Broth – 12 cans – you might not need this much but I use often so I buy by the case.
My kids like plain old tuna salad sandwiches or tuna melts but there are a lot of salad and casserole options with any canned meat. Canned chili is great on its own with cornbread or grilled cheese sandwiches. You can also add other leftover meat or beans to stretch meals further.
You can also sub (or add) beef or vegetable broth). Lots of great pantry meals are broth based.
Related post: Check out this cheesy, taco penne ziti from This Ole Mom
Grains
Brown Rice – 10 pound bag, about half full
Basmati Rice – 10 pound bag, about half full
Old-Fashioned Oats – 42 oz jar
Pancake Mix – 1 box (I recommend more)
Taco Shells – 1 box (I recommend more)
Cornbread Mix 2 boxes
We LOVE the overnight oats from Minimalist Baker. We sometimes keep those little packets of instant oatmeal on hand, too, but since we've gotten into the habit of making overnight oats, we haven't been buying them. Regular oats are a lot cheaper and better for you, too.
Rice can be used as a side dish, in stir fry, soup, and stew. You can also pour chili, stew or curry over the top of a bed of rice. You can also make fried rice using canned vegetables which is one of our favorite pantry meals.
Ingredients for this easy enchilada skillet dinner might already be in your pantry.
Pasta/Noodles
Spaghetti – 2 packages
Elbow Macaroni – 1 package
Bow Tie Pasta – 1 package
Ramen Noodles – 12 packages
Boxed Macaroni and Cheese Dinner – 4 boxes
You can do almost anything with some type of noodle. My kids are big pasta eaters and it always pays to stock up as much as possible on the basics or pasta you eat often.
We were very low on noodles when we went into our month-long pantry stock menu building challenge. I wish I'd have had more of these items but it did force me to get creative and use other things I might not have used when creating my pantry meals.
Soups
Cream of _____ – 4 cans
Chunky Soup – 8 cans
Cooks at any level can do a lot of things with a can of cream of something soup. Tuna casserole, smothered pork chops, you name it! And, green bean casserole isn't just for special occasions. It's actually a relatively cheap dish to make and it feels like a treat. At least I think so.
Chunky soups (we buy the grocery store brand) or any hearty meal soups like Progresso are great for lunches or even dinners served with salads, sandwiches or bread.
At our house, a 18-19 oz can of soup feeds one person as a complete meal and two people with other things, such as sandwiches or salad.
Snacks/Misc.
Velveeta
Microwave Popcorn
Tortilla Chips
Lentil Chips
Ritz Crackers
Kind Bars
Nuts
This isn't an all-inclusive list of our snacks but it hits most of what we've got on hand. Velveeta – judge me for loving processed cheese food if you want – is a great way to top casseroles or eggs. It also makes a killer grilled cheese sandwich or nachos. We also like mixing it with chopped broccoli and spreading it over chicken breasts before baking.
Healthy chips and sturdy crackers can be served with soups, dips or topped with cheese, lunch meat or peanut butter for a new twist on sandwiches.
My current snack obsession is lentil chips with hummus. You can also use crush chips and crackers to top casseroles, soups, and chili.
A couple of notes about what isn't included on my pantry stock list and why:
Dessert Mixes
I didn't include boxed cake mixes or brownie mixes because we didn't have these things on hand but these are things that typically go on sale at good prices, so I'd recommend grabbing a few.
Most Condiments
We have the standard "fridge door" condiments that most families probably have: jelly, ketchup, mustard, pickles, salad dressing. We don't eat a lot of these things, so we didn't have them in the pantry. If you use them often, it doesn't hurt to have a spare if you can get these at stock-up prices. If this isn't something you typically use, they might be worth having because they can make ingredients for pantry meals. We made homemade Sloppy Joe sauce and it was largely ketchup, Worcestershire sauce, and mustard.
Most dry ingredients
I'm not really a baker so I didn't have surplus flour and sugar beyond what is in my counter canisters. There's a lot you can do with these ingredients when you combine them with fresh ingredients like butter and eggs – hello homemade bread and cookies – so consider stocking these items, too.
More canned meats
Other than tuna, soup, and chili, we don't eat canned meats often. Consider canned chicken and turkey as well as canned beef stew if you want to get through a longer period.
Tortillas
I usually buy fresh tortillas from a bakery – so delish – and they don't have a lot of preservatives in them so they don't keep long. However, you can buy "bread aisle" tortillas that have more preservatives in them so they last longer. These technically aren't pantry stock but you can do a lot with tortillas, so having a couple of packs on hand is a good idea.
I hope you've found the items on my pantry stock list helpful. It wasn't perfect for us but I was honest and this gives me a good baseline for how much I need to keep on hand in the future for a month of pantry meals based (mostly) on what's already in my pantry.