Easy Enchilada Skillet Dinner
(This post may contain affiliate links. Read my full disclosure.)
Being a San Antonio girl, I'm a lover of anything Tex-Mex. My idea of a perfect Friday night is dinner at my favorite Mexican restaurant and letting someone else do the cooking and the dishes. I can whip up a mean batch of enchiladas, though, although that's kind of a special occasion meal for us.
My enchilada recipe
isn't difficult but it is time consuming and a little tedious, although my family loves it. For weeknight meals, I've come up with a shortcut meal that has the flavor of enchiladas and the ease of a one-pot meal. Plus, it's meatless, although it wouldn't be hard to make a few tweaks and add shredded chicken or ground beef if you want to. I love a good meatless meal now and then.
This easy enchilada skillet dinner is a snap to make. You open a few cans, you add some seasonings and you've got dinner.
You can can vary the length of heat with your canned enchilada sauce. I use the mild because one of my kids doesn't like really spicy spicy food but if you do, you can use the spicier enchilada sauce or add some salsa as a topping. And, I've got cilantro in my ingredients list as a condiment but if you don't like it, leave it off. I know some people think cilantro has a soapy taste which is so strange to me. I love it and it tastes nothing like soap. I hope you enjoy this easy enchilada skillet dinner. It's a good solution for "OMG what am I going to make for dinner tonight" because most of the ingredients are easily kept on hand. If you want to take some extra shortcuts, you can use frozen onions and bell peppers – I always keep some of those in the freezer because they're so easy.
 [Tweet "Easy, meatless enchilada skillet dinner"]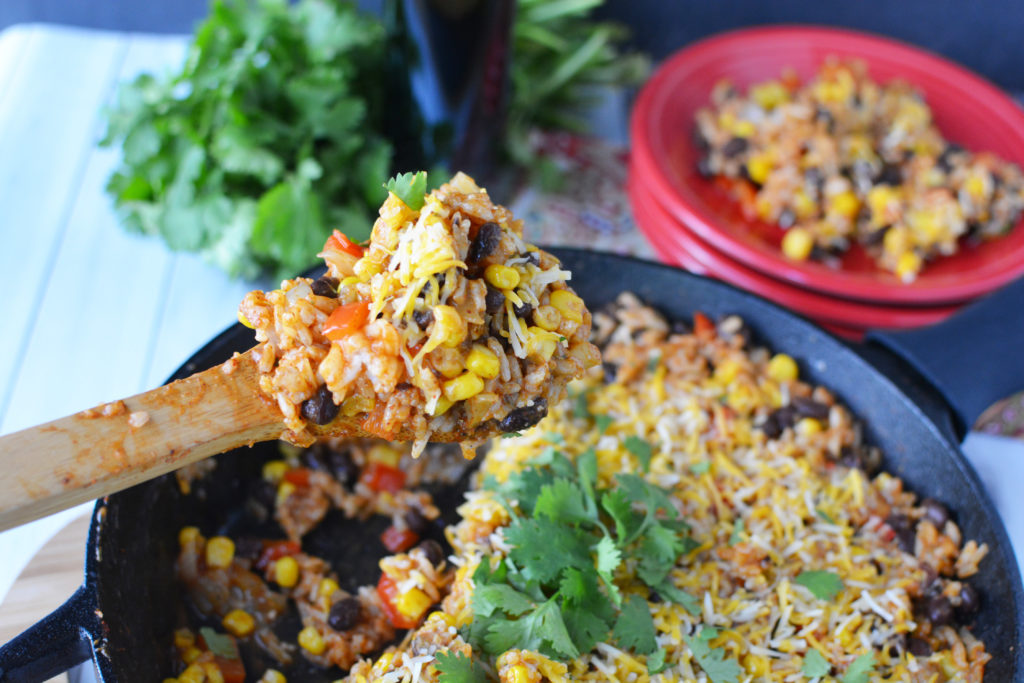 Easy enchilada skillet dinner
Ingredients:
1 cup white rice
2 teaspoons minced garlic
1 small white onion, diced
1 red bell pepper, diced
2 tablespoons olive oil
1 can corn, drained
1 can black beans, rinsed and drained
1 container, 10 oz, enchilada sauce
1 teaspoon oregano
1 teaspoon cumin
1 teaspoon chili powder
1/2 teaspoon salt
1/2 teaspoon black pepper
1/2 cup shredded cheese
fresh cilantro, optional for garnish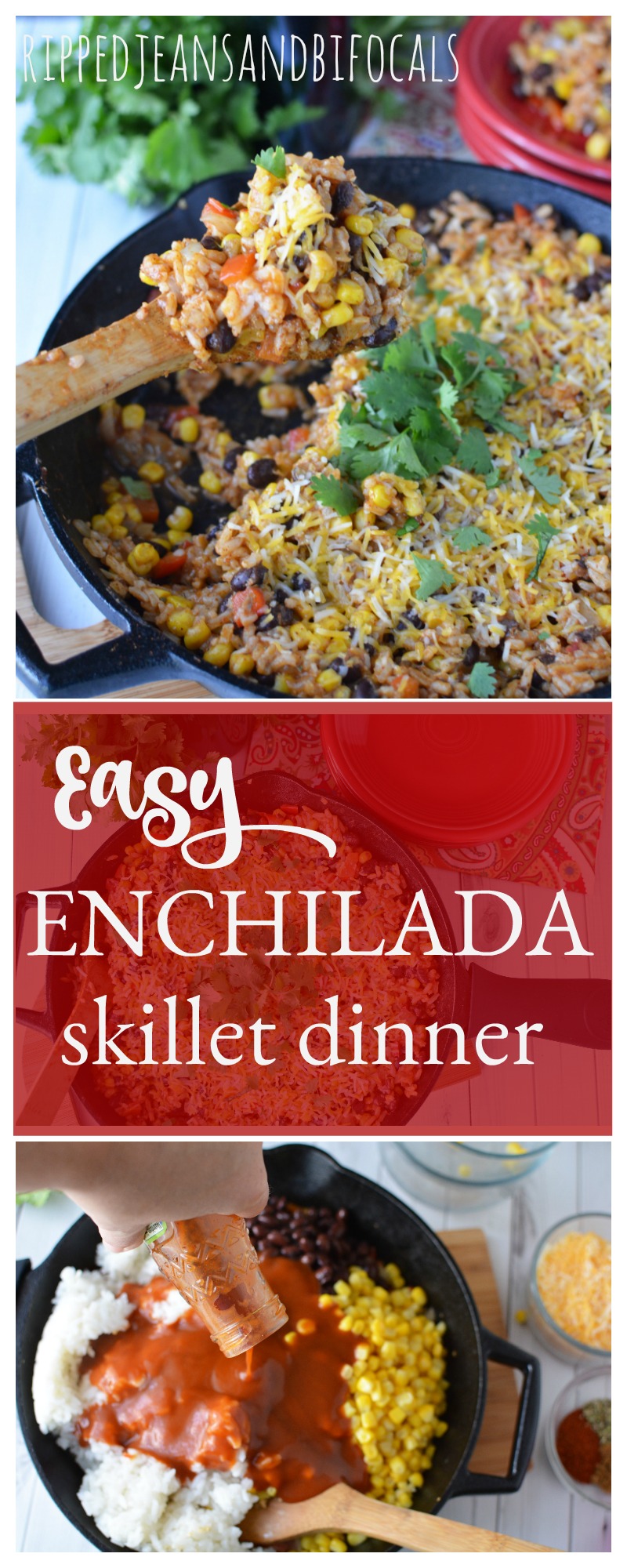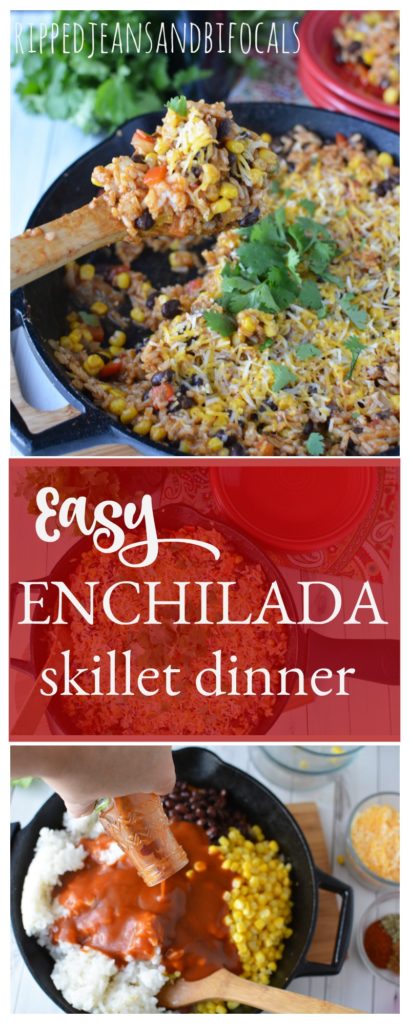 Directions:
Cook white rice according to package directions and set aside.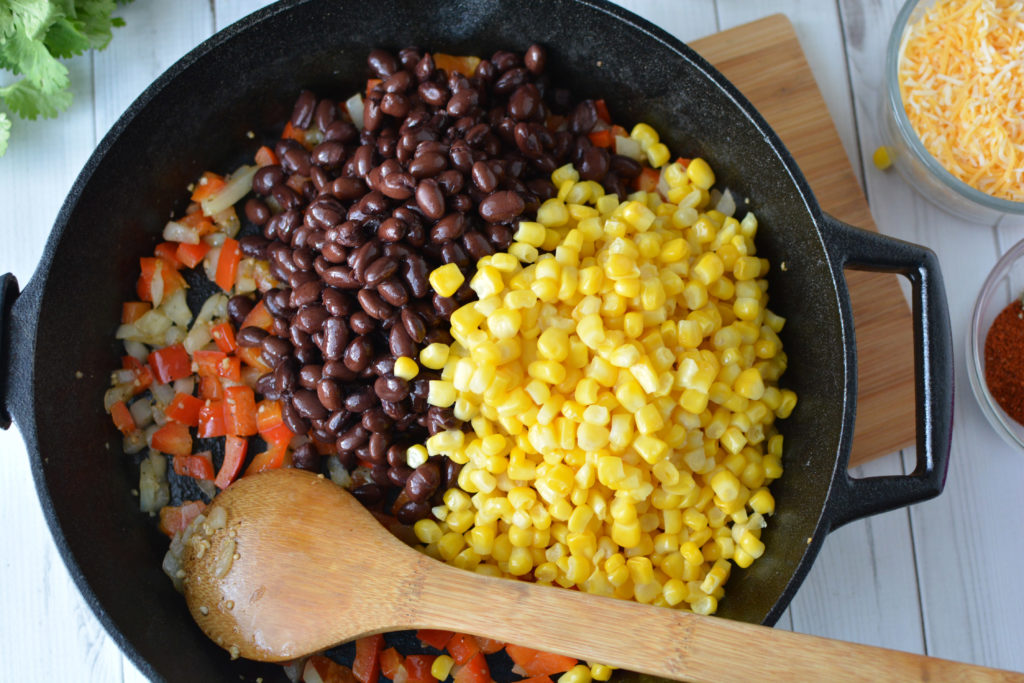 In a large skillet, combine garlic, onion, pepper and olive oil. Heat on medium heat until onions are soft and tender, about 5 minutes. Stir frequently.
Add corn, beans, rice and enchilada sauce and mix well. Stir in oregano, cumin, chili powder, salt and pepper and mix well. Return to stove top and heat on medium heat, stirring constantly until warmed through.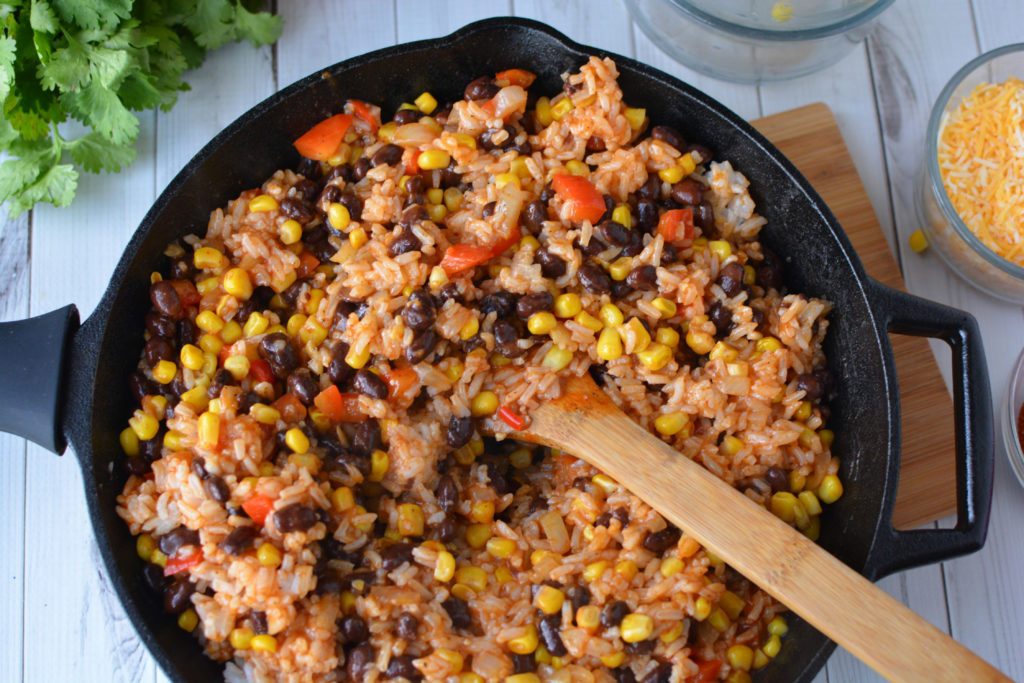 Top with cheese and cilantro before serving. I have also served this with cheese on the side. I'm trying to limit my dairy and I don't use cheese as freely as I once did. It's just as good without the cheese – although part of  me says everything really is better with cheese on top – but serving it on the side gives my family the option to enjoy it with the cheese on top.