Outside the Lunchbox: Easy School Lunch Ideas & School Snack Ideas
There have been many (many, many, many) days where I've tossed Lunchables and juice boxes into my kids' lunchboxes and called it good. And some days, that is good, or at least good enough. Honestly? I'm all or nothing when it comes to school lunches. It's either hastily thrown together stuff or I whip out the cookie cutters and make sandwiches shaped like stars. There's no in between. Since my kids are back in school after being out for a long time, I'm trying to be consistently better about making them healthy lunches without setting the bar to be overly ambitious. I've put together this list of easy school lunch ideas and easy school snack ideas to help you out.
And, if you resort to a Lunchable or an unimaginative baloney and cheese sandwich once in awhile? You're doing OK. You really are.
Outside the Lunchbox: Easy School Lunch Ideas & School Snack Ideas
This list of easy school lunch ideas and easy school snack ideas will help inspire you when you want to pack something fun and different but don't have a lot of time. Pin or bookmark to refer to later.
Disclaimer: We are a participant in the Amazon Services LLC Associates Program, an affiliate advertising program designed to provide a means for us to earn fees by linking to Amazon.com and affiliated sites. This post may also contain affiliate links to other sites where I will be paid a commission by the seller if you make a purchase.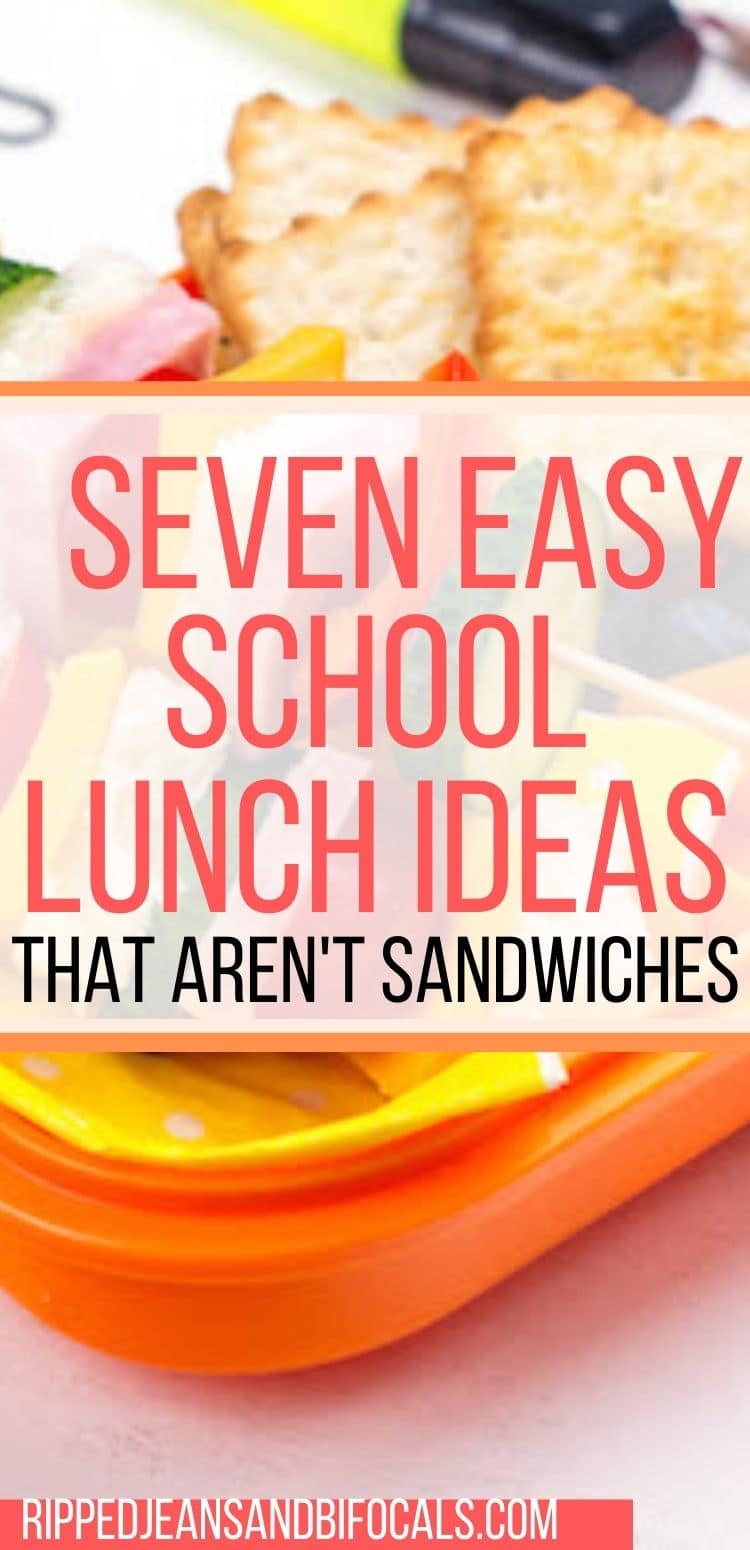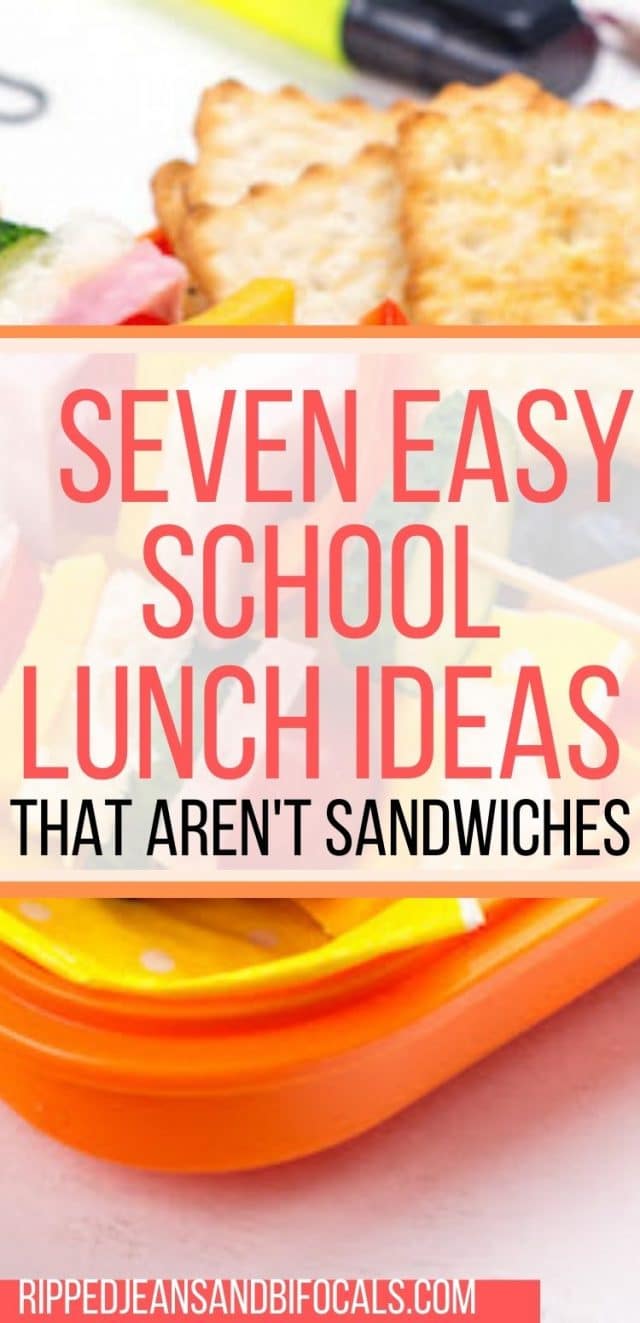 1. Not a sandwich, not exactly a Bento Box
My kids love when I put an assortment of goodies into a small container. I guess maybe that technically is a Bento Box but for me, Bento Box brings up an image of "I'm making fruit sculptures at 5 a.m. and REALLY overdoing it" so I just call this a non-sandwich lunch.
My kids love hard boiled eggs, so I'll make a batch in my Instant Pot on Sunday night so I'll have them available for lunches (as well as snacks and salads for me and my husband at home) during the week. Add some sliced or cubes meat and some cubed cheese or string cheese and a side of slice fruit and voila! You've got a nutritious and balanced lunch that's not a sandwich, although I sometimes add a couple of small wedges of pita bread or some crackers.
2. Sandwich Kabobs
Kabobs are one of the best easy school lunch ideas that really make it look like you tried hard. Seriously, you'll see these and think they look fancy (which is kind of the idea) but I SWEAR they're simple and barely any more effort than slapping a sandwich together.
This fun lunch idea is easy to prep and has almost endless variations so something is sure to appeal to even the pickiest of eaters. Try making a 'pepperoni pizza' with mozzarella, pepperoni, tomatoes, and bread, or a 'turkey club' with turkey, bacon, avocado, cheese, tomatoes, and your choice of toasted bread slices. And, if you're gluten free or trying to focus on feeding your family less carbs, leave off the bread or add less of it.
You can use disposable bamboo skewers or you can get these really cute reusable ones.
3. Trail Mix
Trail mix makes a great snack but you can also pack it as a main dish in your child's lunch if you can include nuts, which are full of protein. You can buy prepared trail mix but it's easy (and a lot cheaper!) to make your own. It's also an easy thing to have your kids make since it doesn't involve any cooking and it's pretty fail proof. I mean…if someone adds too many raisins in, that isn't the end of the world, right?
If you need inspiration for trail mix recipes, check out all the options on Pinterest. There's a ton of ideas there. We like to mix almonds, banana chips, craisins, and mini chocolate chips but there's literally thousands of combinations and this is a great opportunity to help your kids balance healthier ingredients like nuts and fruit with treats, like M&Ms.
Hint: If you're looking for an inexpensive way to spruce up a plain lunchbox, bento box or even a pencil box, check out this decal.
4. Healthy Chips
My kids love chips and yes, I sometimes include small bags of chips in their school lunches or for their snack. But, I think we can all agree that chips aren't particularly healthy. That's OK sometimes but making a healthier alternative isn't actually that difficult. It does take a little extra time but some of the recipes on this list of healthy chips from Delish are totally worth the effort.
5. Energy Bites
Energy bites are a great way to keep kids full between meals due to their combo of protein, healthy carbohydrates, and healthy fats. You can think of them as bite-sized, less messy versions of a granola bar that don't require any baking and can be easily customized. I also like to think of them as "good for you" cookies. In fact, I sometimes refer to them as cookies.
These no bake energy bites from Gimme Some Oven are awesome for on the go snacks when you want to keep your child's hunger staved off and their energy high, like after school before sports practice. These are very portable and can be gobbled up on the go. These are also a great addition to a lunchbox for an uber picky kid when you're worried about getting enough protein in them. One of my kids would be happy to eat apples, grapes, and Goldfish Crackers for lunch. That's not terribly unhealthy but it's not enough protein to fuel him. A couple of these easy energy bites do the trick. There are lots of options on Pinterest and it's easy to substitute in different ingredients based on your taste and what you have on hand.
Level up your lunch packing skills. Check out these fun lunchbox printables.
6. Hummus
If your kids like hummus, this is one of the BEST easy school lunch ideas I know. Hummus is great with little wedges of pita bread, cut up veggies, pretzels, crackers or rice cakes. My kids like to eat it with their finger and pop it straight into their mouths, and while that doesn't win me any points for teaching great table manners (I swear I try!) it is nutritious and easy to pack.
These BPA free reusable cups are awesome for hummus, pudding, salads, etc.
You can buy individually packaged cups of hummus at Costco or just about any grocery store, although it's so much cheaper to buy a larger container and put it into a a small, airtight container in your child's lunchbox. If you're really ambitious you can make your own hummus versus buying it pre-made. It's one of those things that I think it worth the effort.
7. Leftovers – Super Easy School Lunch Ideas
My kids love hot food left over from dinner in their lunches. We typically do pizza, soft tacos, and chicken nuggets but if you have an insulated thermos bowl, you can do noodles, stew, macaroni and cheese…really the possibilities are endless here.
This works pretty well for us right now because my kids have really early lunchtimes at school. One of their teachers jokingly calls it brunch and she's not wrong. I can heat their food and pack it in an insulated bag or wrap it in foil and it usually stays warm enough for them to eat at lunchtime without complaining (too much.) If you're really ambitious in the morning, you can make a grilled cheese while the pan is still warm from your bacon and eggs. This isn't something I do often on a weekday but when I do, my kids think it's a big deal.
This is the thermos we have. It is the absolute best for keeping hot foods hot and cold foods cold but it is pricey so make sure your kid isn't prone to being careless with their lunch stuff before you send it. We've purchased cheaper ones like this really cute one here but my kids complain that it doesn't keep their soup hot when they eat lunch at a later time. If your child has an earlier lunch or will eat lukewarm food, you can get away with something cheaper.
Love these easy school lunch ideas and want more back to school hacks? No problem. Get my ultimate guide for parents for back to school 2020.