Easy Meals from pantry stock
(This post may contain affiliate links. Read my full disclosure.)
If you're looking for ideas on how to make easy meals from pantry stock, you've just hit the jackpot. I've curated a collection of over ++ easy recipes using simple food items you probably already have on hand. And, doesn't "curated" make me sound sort of uppity and fancy? I'm neither and neither are these recipes – but they are good and most of them are very simple and cheap. Check out these easy meals from pantry stock the will give you lots of ideas on how to meal plan and stretch your food budget.
50+ Easy meals from pantry stock
It helps if you have a well-stocked pantry to start out with. Check out my "what's in my pantry" list for an idea of what I think it ideal to start with. I used what I had on hand to plan a month's worth of meals for my family of four. Read all the way to the bottom to see what I wish I'd have done differently now that I'm actually dependent on my pantry stock to make meals for my family.
I've teamed up with some of the best bloggers out there to bring you lots of simple and delish recipe ideas. Have a favorite you don't see here? Let me know and I'd be happy to add it.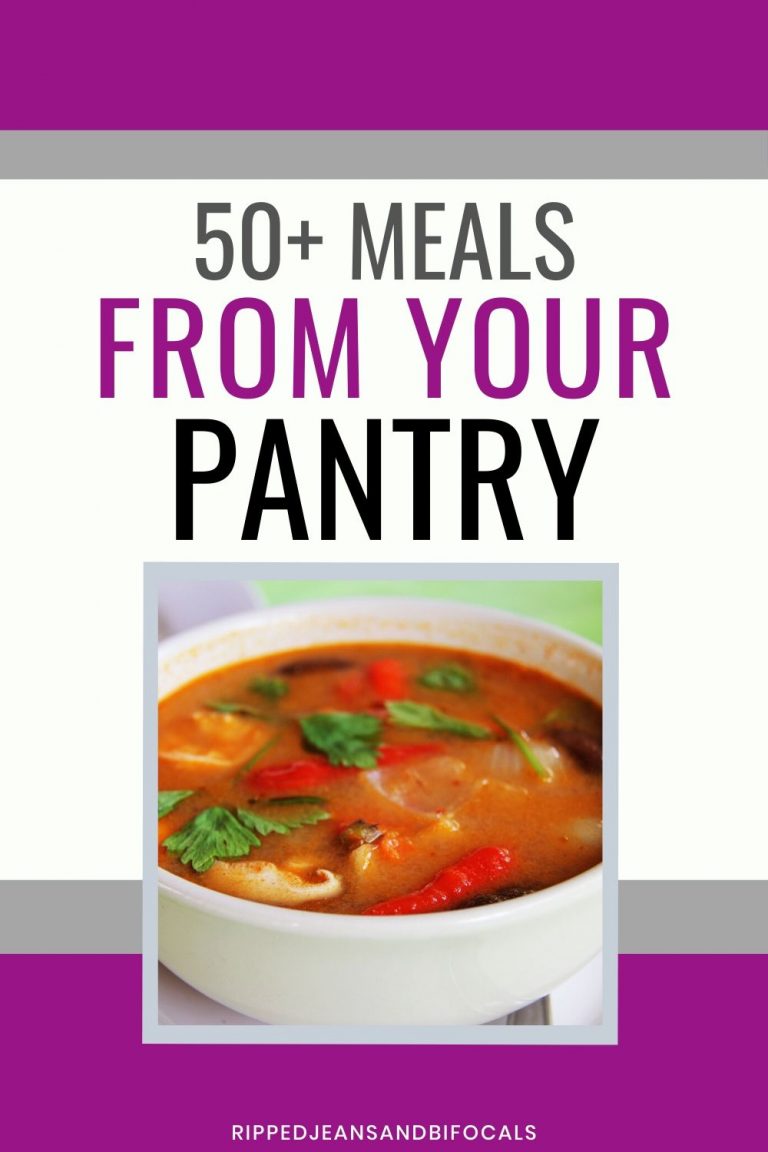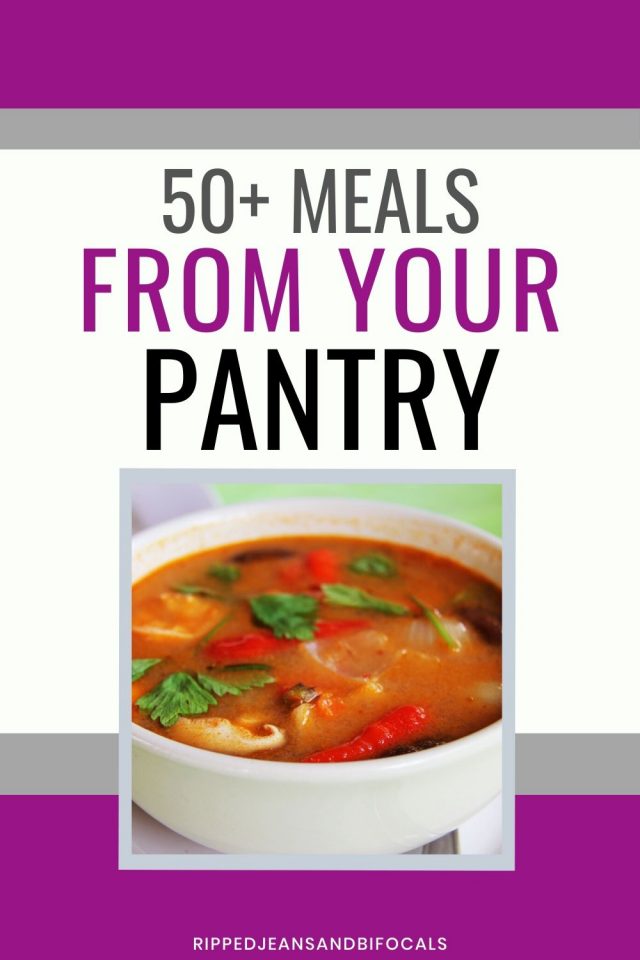 How to use this list
I've categorized these but some of the dishes overlap. If you're looking for vegetarian recipes, don't skip the bean and lentil sections.
If the title of a recipe looks good to you, click the link. Most of the recipes will open in a new window. The recipes in bold are my own creations and the recipes not in bold are from other websites. If you like the look of the recipe and want to save it for later, the best way to do that is to pin it to Pinterest.
If you don't have some sort of family recipe board, now is a great time to create one. If you save a lot of recipes to Pinterest, I suggest making a board called "easy meals from pantry stock" or something like that to keep all of these types of recipes in one place.
Easy meals from pantry stock: Casseroles
Casseroles are a great way to feed your family and stretch your proteins to make more meals.
Easy enchilada skillet|Ripped Jeans and Bifocals
Crock pot Moroccan chicken with Apricots and Chick Peas|Our Little Family Adventure
Cheesy Taco Penne Ziti|This Ole Mom
Chicken Pasta Salad|This Ole Mom
Easy Instant Pot Spaghetti|Life Family Fun
Chicken and rice casserole|Crayons and Cravings
One pan Spanish chicken and rice|Thrifty Frugal Mom
Instant Pot Goulash|Blackberry Babe
Easy Instant Pot taco pasta|Three Little Ferns
Chicken noodle casserole|Three Kids and a Coupon
Cornbread chili casserole|Dancing Through the Rain
Easy vegan chili|Allergy Yummy
Chalupas – an easy large family meal|Little Earthlings
Tomato beef stew|The Tiptoe Fairy
Creamy pasta with spinach and chick peas|Go Health Ever After
Easy meals made from pantry stock containing tuna
Tuna is cheap and easy to stock up on. If you're having trouble finding fresh meat or can't afford it, tuna is a great source of protein.
Tuna Tomato Pasta|Honestly and Truly
Easy Asian tuna vermicelli noodle salad|Fearless Dining
Rainbow chard curried tuna salad|Fearless Dining
Best Mediterranean tuna salad|Keto Cooking Wins
Easy tuna casserole|Food Meanderings
Best tuna casserole recipe ever|The Mama Maven
3 ingredient tuna recipe|The Mama Maven
Easy meals from pantry stock: soups and stews
Kick-Ass crock pot chili|Ripped Jeans and Bifocals
White bean and barley soup|Sustain my Cooking Habit
5 can chicken enchilada soup|Bloggers Share
Crock pot chicken stew with tomatoes|Two Healthy Kitchens
Quick and Easy Taco Soup|Really Are You Serious?
Instant Pot tortilla soup|Cardamom and Coconut
Old-fashioned goulash|Dancing through the Rain
Easy meals from pantry stock with rice
Rice is a great pantry staple. We typically keep a large bag of brown rice and another of basmati rice on hand.
Lemon rice recipe with brown rice|Go Healthy Ever After
Coconut Rice|Ruffles and Rain Boots
Cajun brown rice and beans|A Hedgehog in the Kitchen
5-Minute easy rice and beans|Two Healthy Kitchens
Easy meals from pantry stock with beans
Beans are cheap and a great source of protein. If you don't eat meat, don't have meat or need to stretch a recipe, beans are a great way to go. I always keep a couple of bags of dry beans on hand but canned beans are a lot easier.
Slow cooker beans and ham|Life Family Fun
Cuban black beans|Panning the Globe
Slow cooker baked beans|Savory with Soul
Kidney bean curry|Little Sunny Kitchen
Old fashioned bean salad|Spend with pennies
Ham and bean crock pot soup|Savory with Soul
Mung bean humms|Mind Body and Spirit
Slow cooker black beans|Call me PMC
You might also like: The ultimate list of easy weeknight meals
Vegetarian Dishes
Pantry dishes are a great way to eat vegetarian.
Black bean and rice open face tacos|A Mummy Too
Vegan air fryer lentil sliders|Any Reason Vegans
Easy vegetarian lasagna|The Curious Frugal
Vegetarian taco soup|Freezer Meals 101
Creamy coconut vegan korma|Little Sunny Kitchen
Vegan chili chickpea burritos|Plants Dish
Pimento cheese grits|Call me PMC
Hearty sweet potato corn chowder|Flavor and Flavor
Heart vegan sweet potato and corn chowder|Flavor and Savor
Pumpkin and black bean soup|Ripped Jeans and Bifocals
Easy meals from pantry stock with lentils
Lentils are so versatile and easy to keep on the shelf. There are lots of recipes out there. Here are just a few.
Lentil curry with spinach|Go Happily Ever After
Vegan lentil ragu|Vegan on Board
Crock pot madras lentils|Peas and Crayons
Coconut lentil curry|Clean Eating Kitchen
One pot vegan green lentil dal|Healthy and Healthy Mamas
For basic info on cooking lentils, check out The Forked Spoon's article on how to cool lentils
Baked goods
If you have the urge to whip up bread or cookies from scratch, here are a few things to tempt you.
Toffee graham cracker cookies|Ripped Jeans and Bifocals
Gluten free chocolate chip cookies|Ripped Jeans and Bifocals
Easy homemade white bread|Sustain my Cooking Habits
Bread machine Hawaiian Rolls|Sumptuous Spoonful
Baked oatmeal|Ripped Jeans and Bifocals
Dried fruit oatmeal bake|Any Reason Vegans
Best bread machine recipe|Crave the Good
You might also like: Meals to make when it's cold outside. These warm and comforting dishes are great for cold weather but can be enjoyed year round.