Envy apple and blueberry baked oatmeal
(This post may contain affiliate links. Read my full disclosure.)
I love oatmeal. I love old-fashioned oatmeal you make on top of the stove. I love steel cut oats in my crock pot. I even love those little packets of flavored instant oatmeal. But I'm afraid I've been spoiled for life because I've discovered the oatmeal of all oatmeals in this Envy Apple and blueberry baked oatmeal recipe. It requires a little bit of prep and intention but it's ridiculously easy. You can make this for company – I think it is a truly wow-worthy breakfast or brunch dish – but it's simple enough for a weekday as well.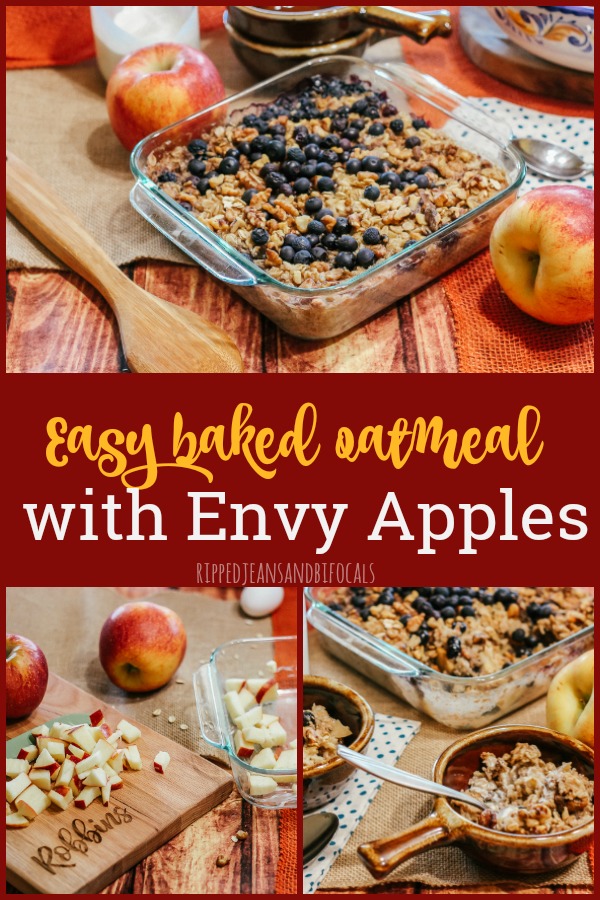 This post is sponsored by Envy Apples. All opinions are mine.
Envy apple and blueberry baked oatmeal
A little bit about these ingredients: there's quite a bit of room for substitution here. You can use almond milk, soy milk, or regular cow's milk. I use coconut milk because I like the flavor and because I'm not a huge milk drinker. Your results should not vary substantially with substituting the milk.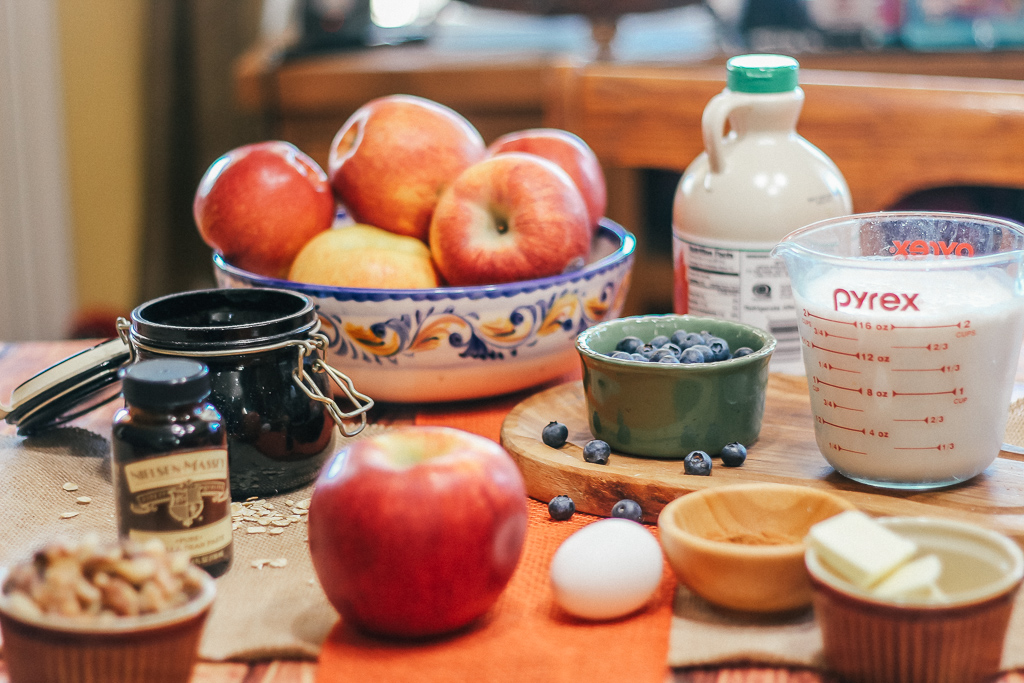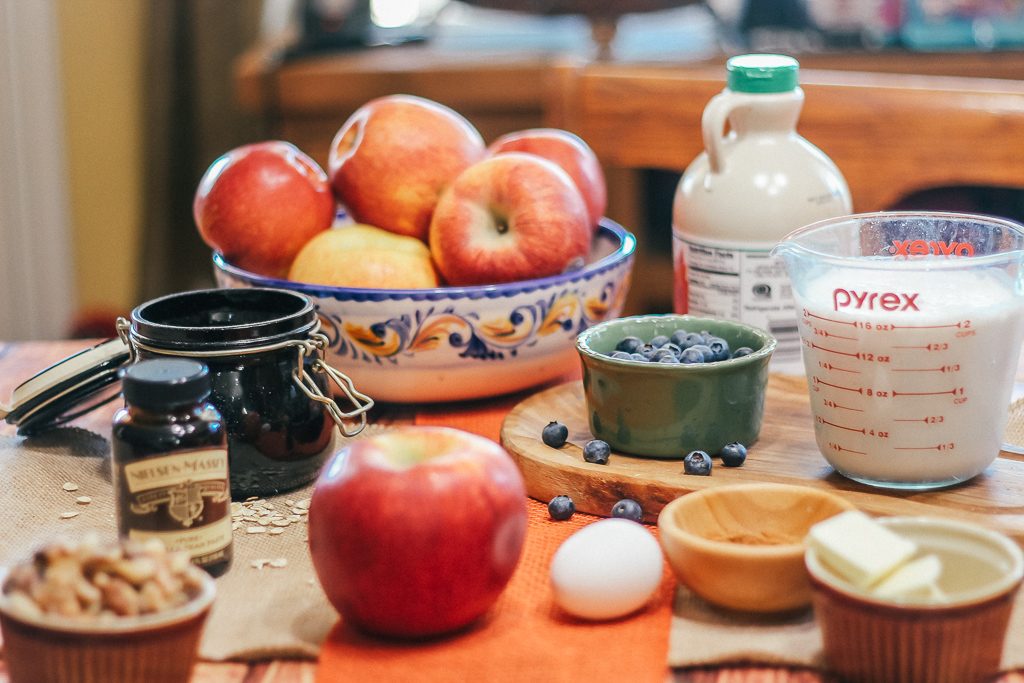 I like the combination of blueberries and walnuts…however, you could substitute raspberries and pecans or any other endless nut/berry combo. If you don't eat nuts, you can easily leave them out.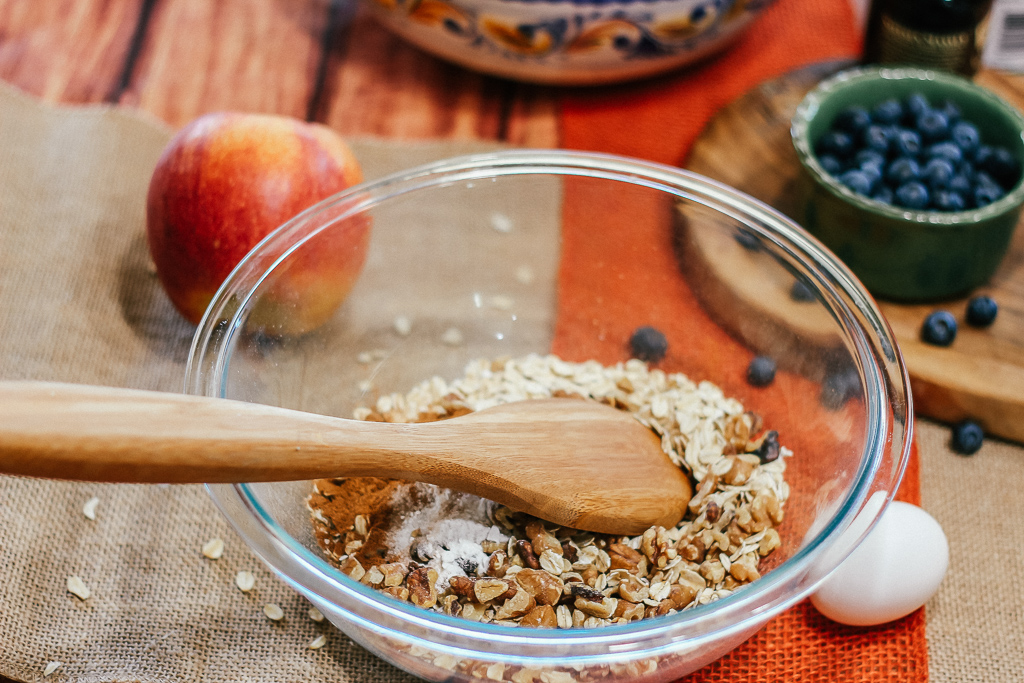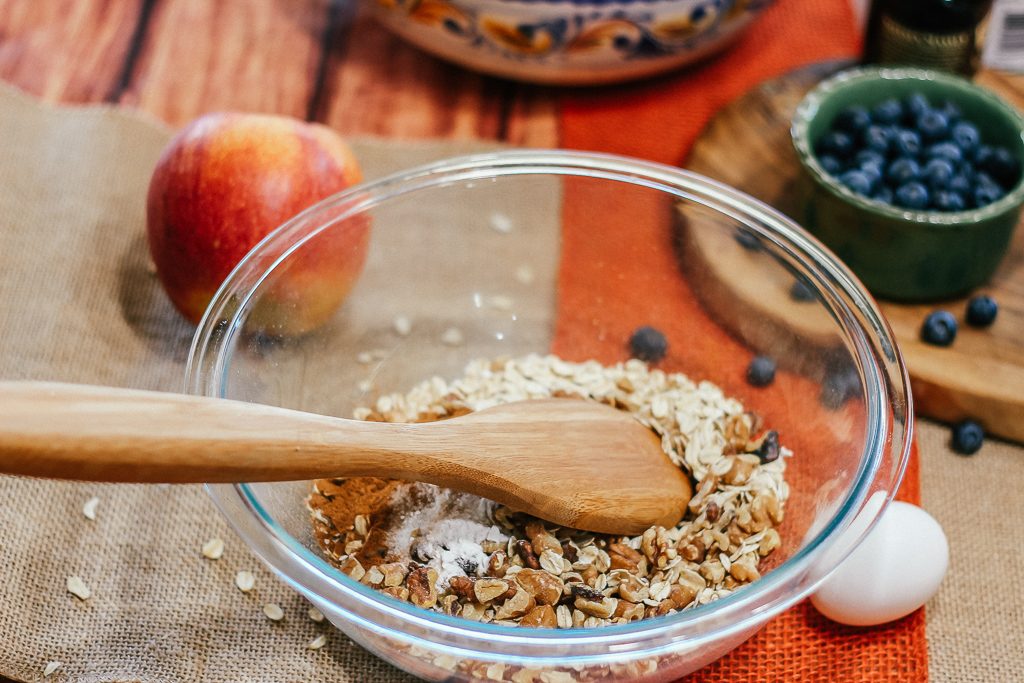 If you don't have vanilla bean paste on hand, I recommend you buy some. I'll warn you, it is expensive…a jar is going to run you about $20. However, it will last you a long time and the difference in taste is absolutely 100 percent worth the splurge. If you want to substitute regular vanilla or vanilla extract, just use an equal amount – 1 teaspoon.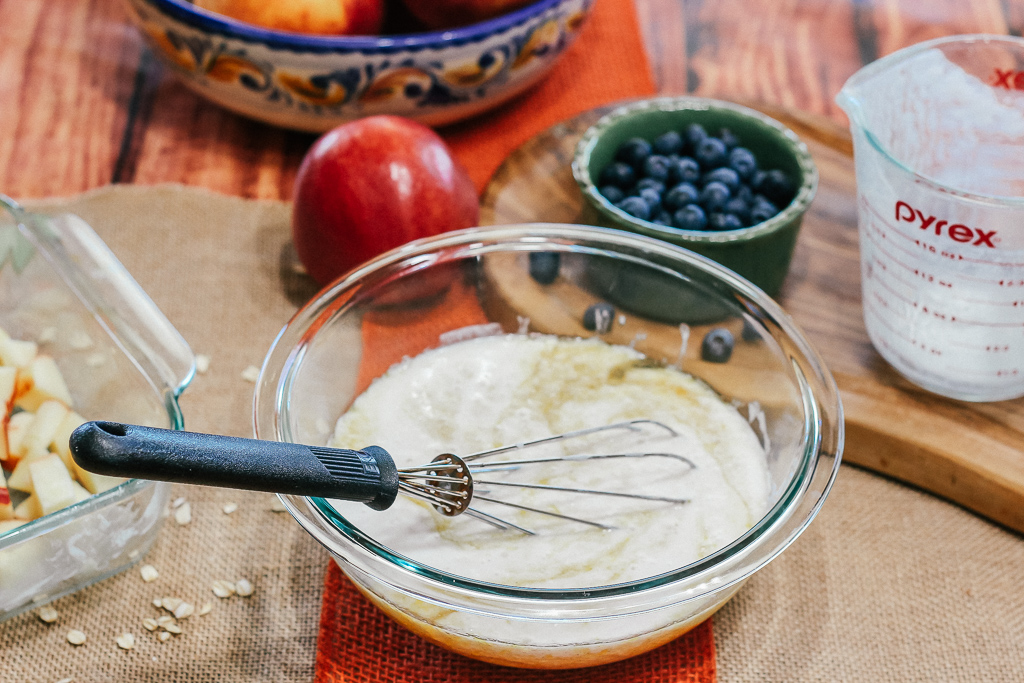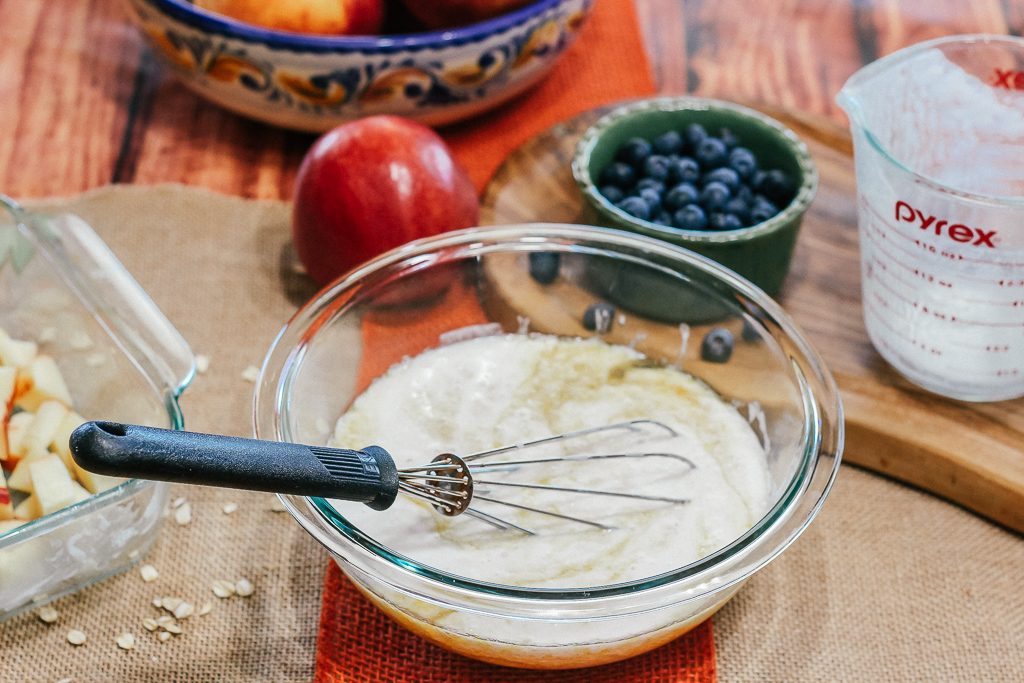 This might seem like a lot of steps but it's really, really easy. My best advice is to read the entire recipe (I know I'm not the only one who dives into making something without thoroughly reading the directions) at the end of this post before diving in.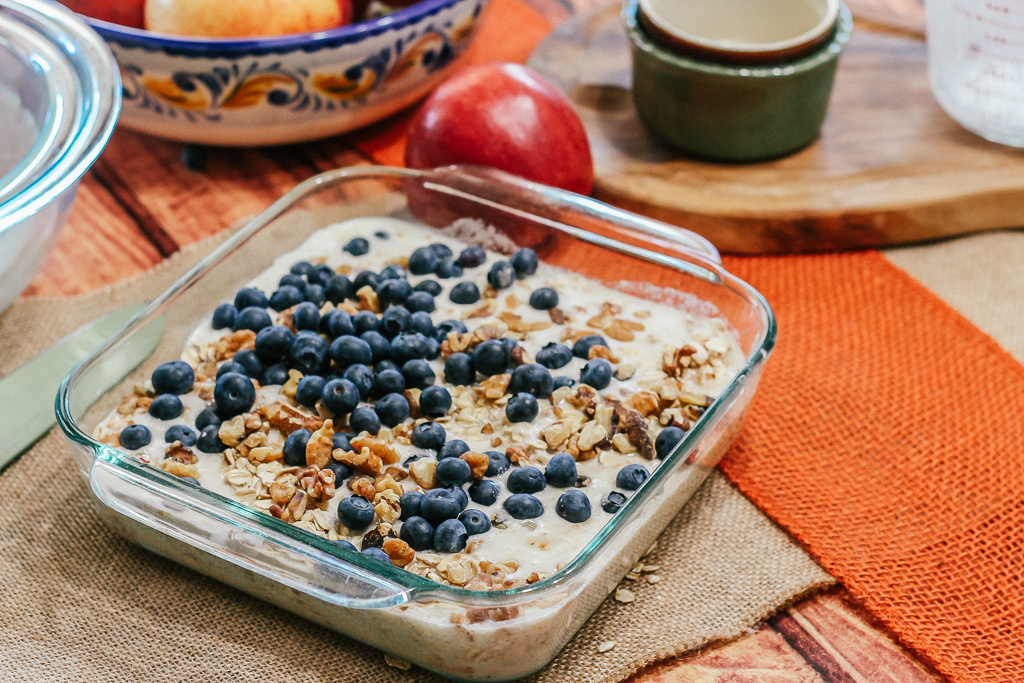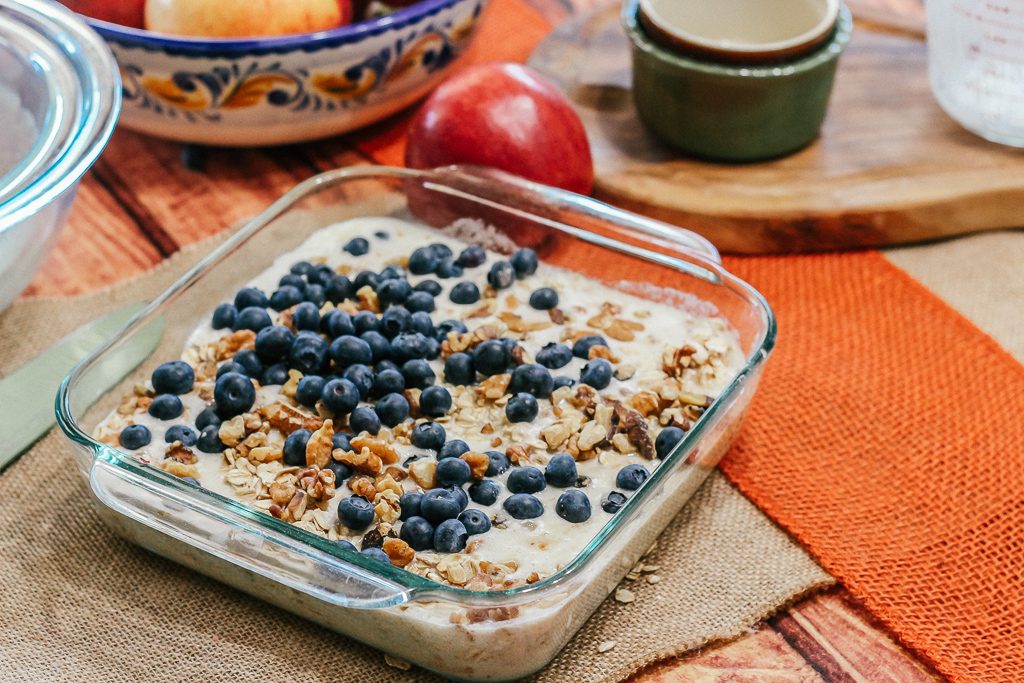 More about Envy Apples:
Envy apples are part of a growing trend of premium apples.  People are demanding better tasting apples, and Envy is one of the hottest apples on the market. You can get them at your local grocery store…we got ours at HEB Central Market but any HEB (or probably wherever you shop) will have them, too.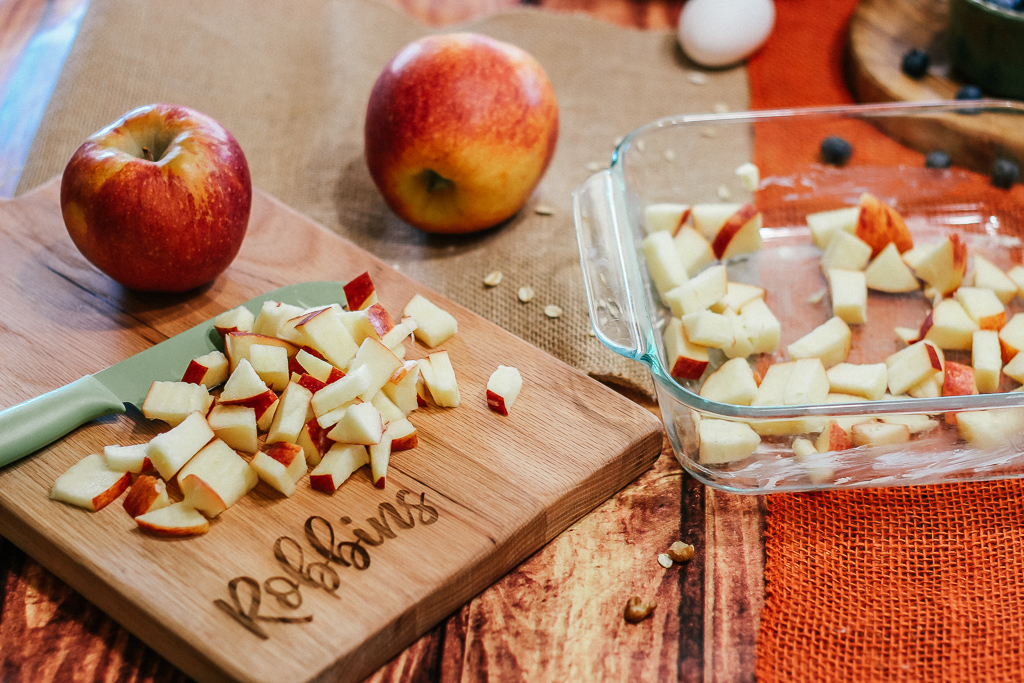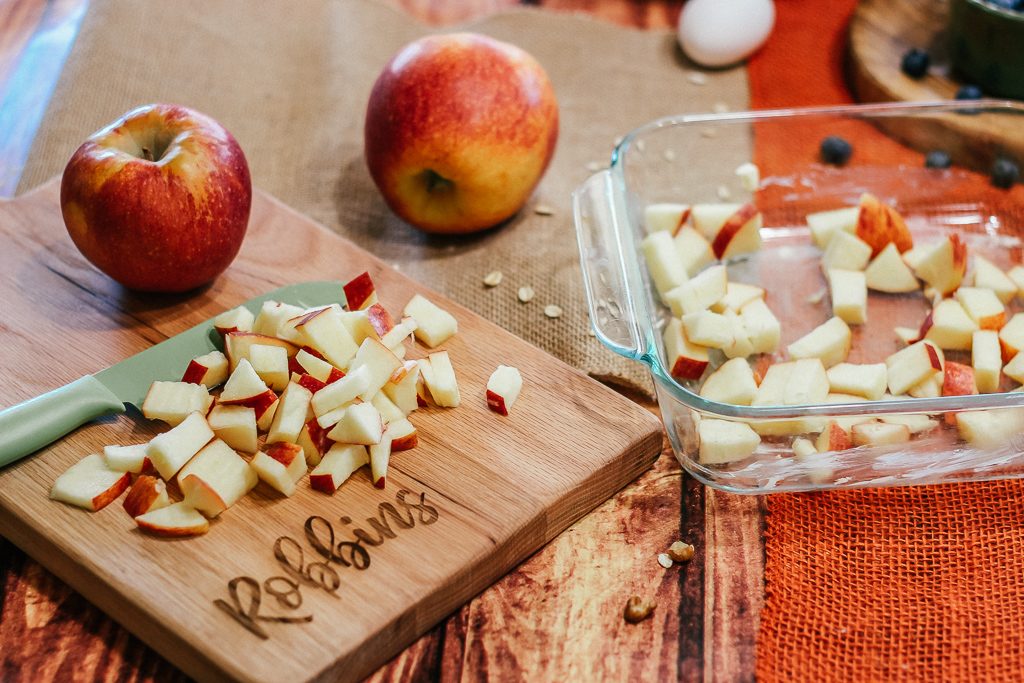 An Envy apple is a cross between Braeburn and Royal Gala and have a naturally higher citric acid content which prevents the 'browning' enzyme from activating. This means they are VERY slow to brown, which makes them ideal for kid's lunches, picnics, salads, charcuterie boards and party platters – they will look great for hours! My kids love sliced apples in their lunches but by the time their lunch rolls around, the apples have brown spots and my kids end up tossing them out.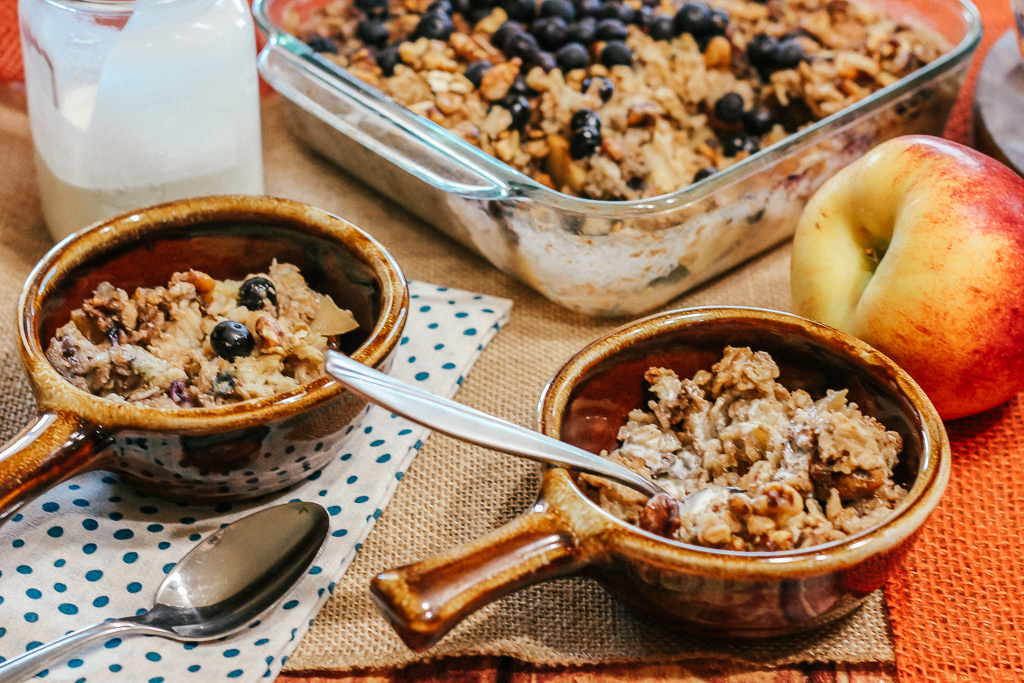 My husband and I learned about Envy Apples through attending a cooking class at Central Market. If you're not familiar, you can check out their cooking school site here, but as a foodie, I thought it was a ton of fun and I'll definitely return for more classes.
They are actually not classes but demos where you watch and learn and eat. There was even wine.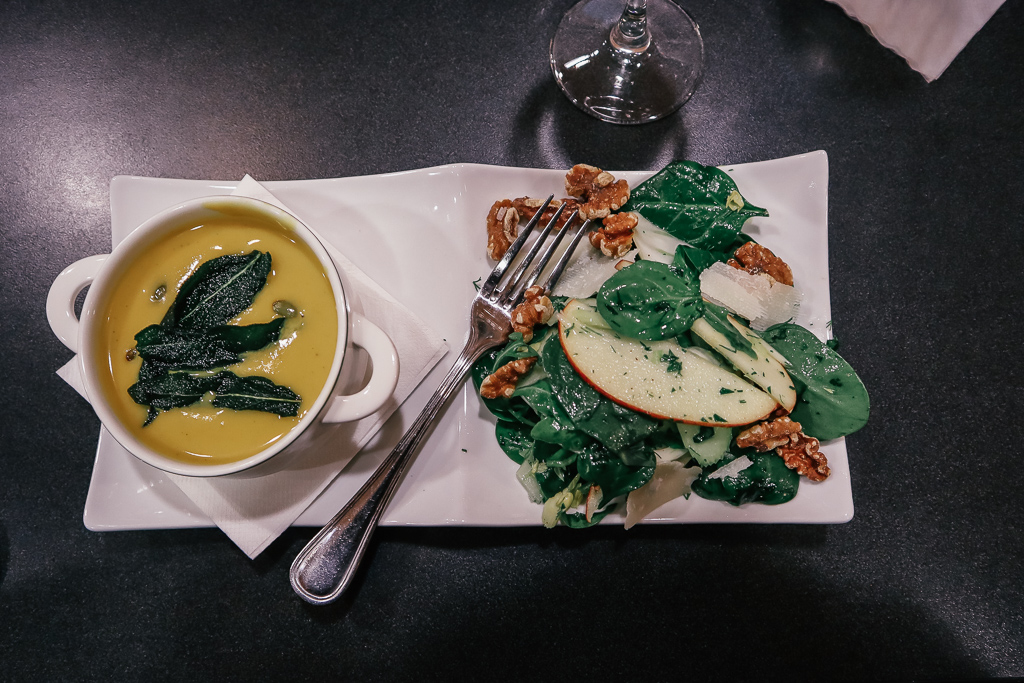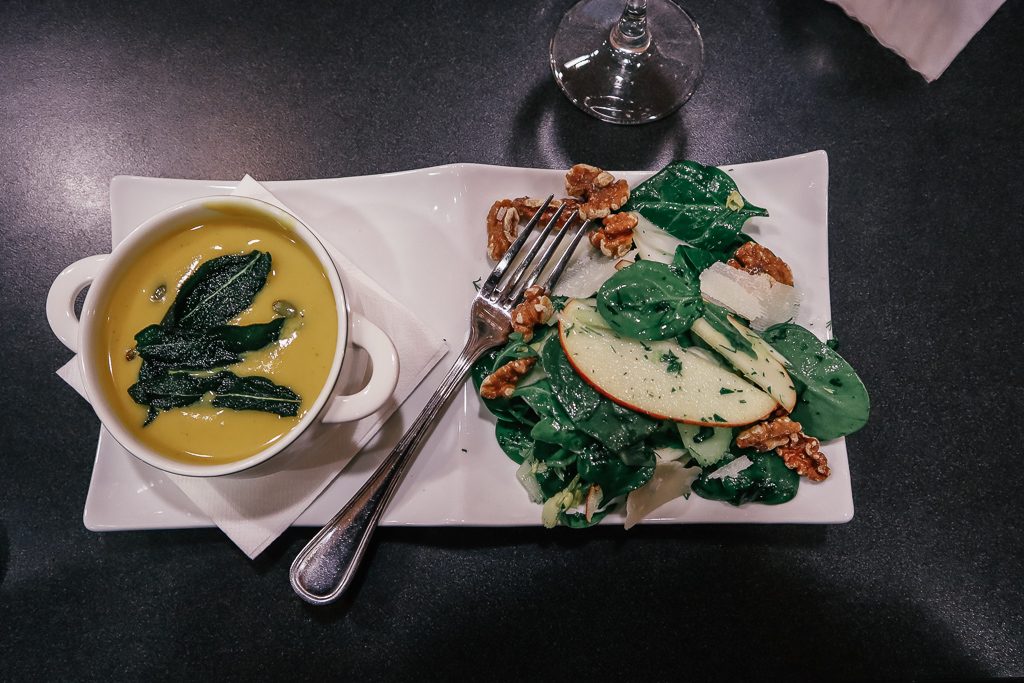 And, while I usually prefer to learn by doing, I did pick up a lot of knowledge during this two hour class. I learned to pair some flavors I hadn't thought to put together before and I also learned some basic kitchen techniques that have already come in handy. Plus, it was a lot of fun. The chefs weren't stuffy or pretentious and they gave us a great night out. Plus, there was wine, did I mention that part?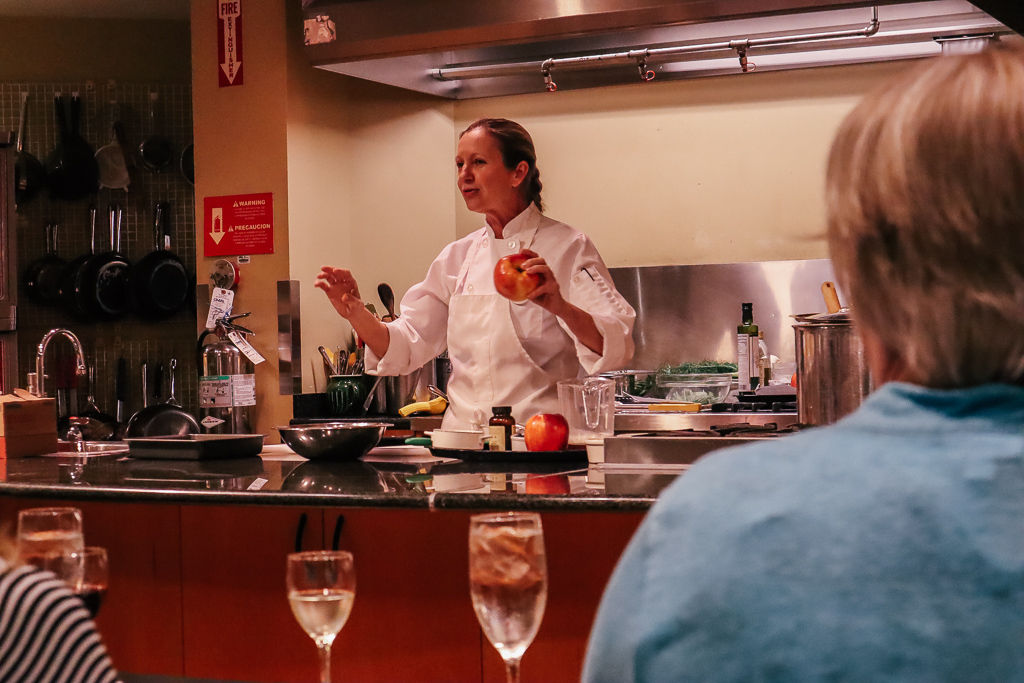 But, do they pass the taste test?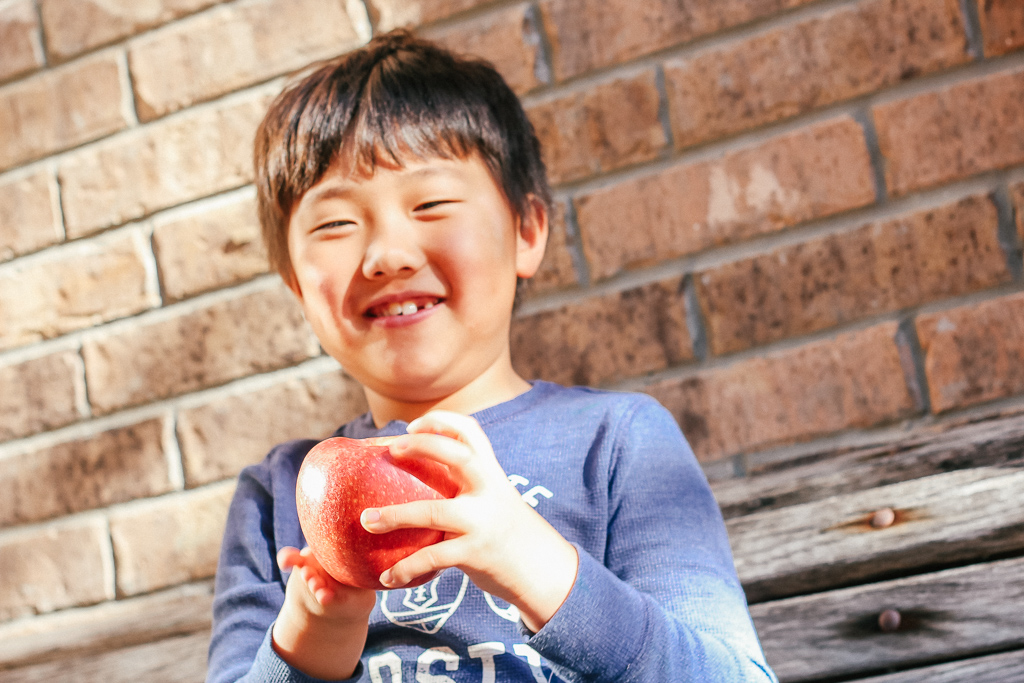 To learn more about Envy Apples, go here.
To learn more about cooking classes at Central Market, go here.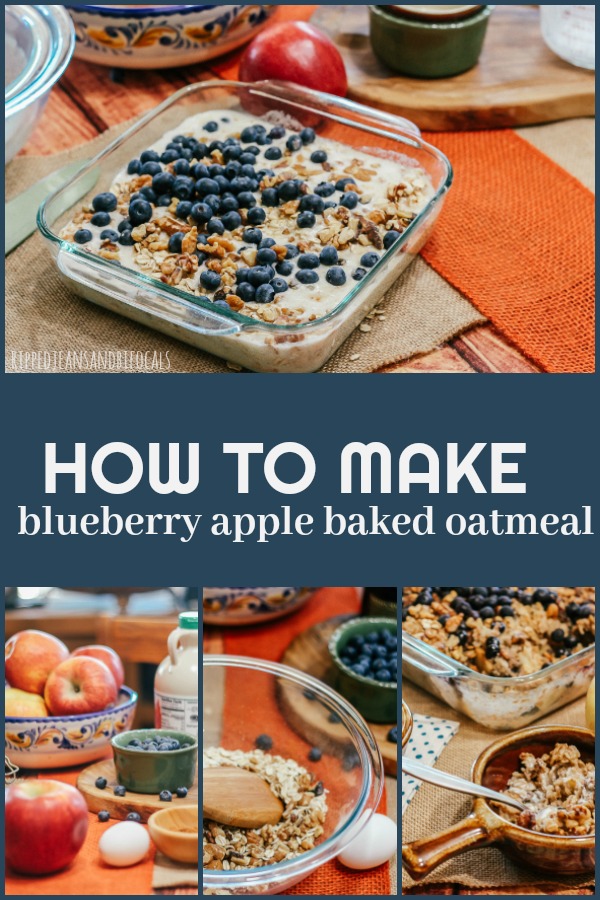 Envy Apple and Blueberry Baked Oatmeal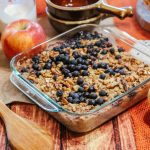 2 cups rolled oats
1 cup walnuts, chopped
1 tsp baking powder
1 1/2 tsp cinnamon
1/2 tsp fine grain salt
1/3 cup maple syrup
2 cups coconut milk
1 egg, large
1 1/2 tbsp unsalted butter (+ slightly more to butter the pan)
1 tsp vanilla bean paste
1 Envy Apple, large, washed & roughly chopped
6 oz fresh blueberries
Preheat oven to 375 F

Butter the inside of a square 8″ baking dish

In a bowl, combine the oats, half the walnuts, baking powder, cinnamon and salt. In another bowl, whisk together the maple syrup, milk, egg, butter, and vanilla.

Spread the chopped apple pieces over the bottom of the buttered pan. Top with the oat mixture and drizzle the liquid mixture over the oats. Scatter the walnuts and berries over the oats.

Bake for 35-45 minutes, until the top is golden and the oats are set.