Yes, my kids are real brothers. Really.
(This post may contain affiliate links. Read my full disclosure.)
Yes, my kids are real brothers. Two out of three kids are adopted. At least that's how it works in our family. We didn't plan it that way… that's just how it worked out.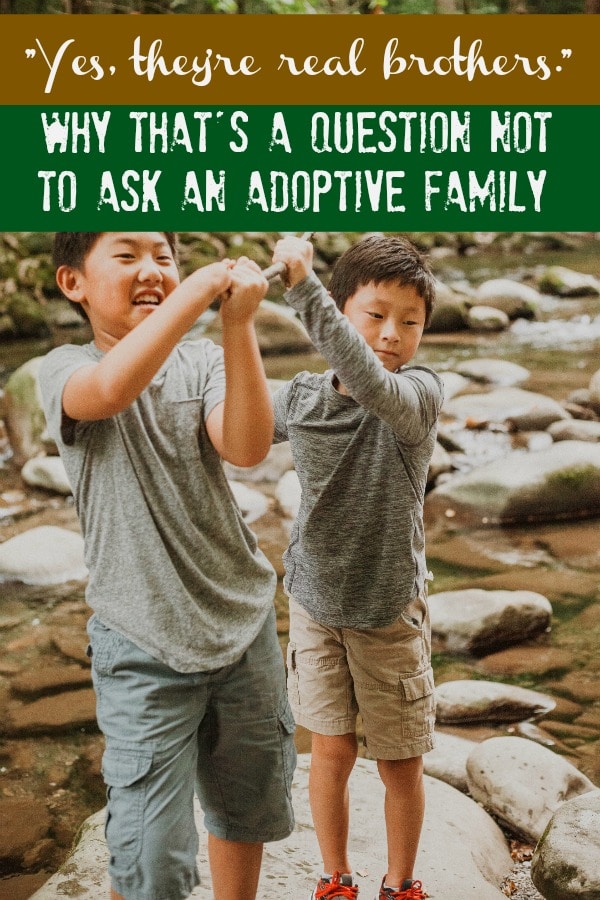 Yes my kids are real brothers. Really they are.
People are curious when it comes to adoption, I get that. We're naturally curious about families that look different or are put together a little bit differently. I've made my peace with the curiosity although I don't do very well with the old biddy asking me personal questions in the frozen food aisle (because shit always goes down in the frozen aisle, who knows why, really?).
My family has learned to handle staring, assumptions, stereotypes and prejudice. We adopted our boys because we wanted to be parents. However we have had to make an uneasy peace with our new role as the poster family for adoption.
Related post: The great big list of adoption gifts
I have heard it all but yes, my kids are real brothers:
"Why China and not an American kid?"
"Bless you, you're such a saint."
"How much did your adoption cost?"
Oh, and if you're that person who asked "how much did they cost" like my kids are some sort of good deal at the Farmer's Market… best to take cover. You were warned.
That said there is one word that raises my blood pressure and causes my inner crazy person to skyrocket to the surface: REAL.
"Are they real brothers?"
"What happened to their real parents?"
I know when people say "real brothers" they mean biological. It's still annoying AF. Here are the basics:
I try not to get wrapped around semantics but that's hard.
No, my boys are not biologically related, and we have no idea what happened to their biological parents or why they chose not to parent these children. That knowledge isn't part of our adoption story, and even if it were, we wouldn't be sharing.
[Tweet "My kids aren't biologically related. But yes, they are REAL brothers. #adoption"]
But, think about what it means for my kids to hear you ask if they're "real brothers." At the grocery store. At sporting events. At any place where we're just trying to blend in versus stand out. Stop and consider what they might think when people ask casual questions about their place in our family.
Related post: Not a birthday: Celebrating adoption day
My kids share a room. They share toys. They share parental attention. Sometimes, they share punishment, AKA they both get blamed for the same thing that I can't quite determine who is really responsible for. They are real brothers.
I comfort my children when they're scared. I sit up all night and worry when they're sick. I laugh at them and with them. They piss me off, make me feel old and keep me young. I am their real mother.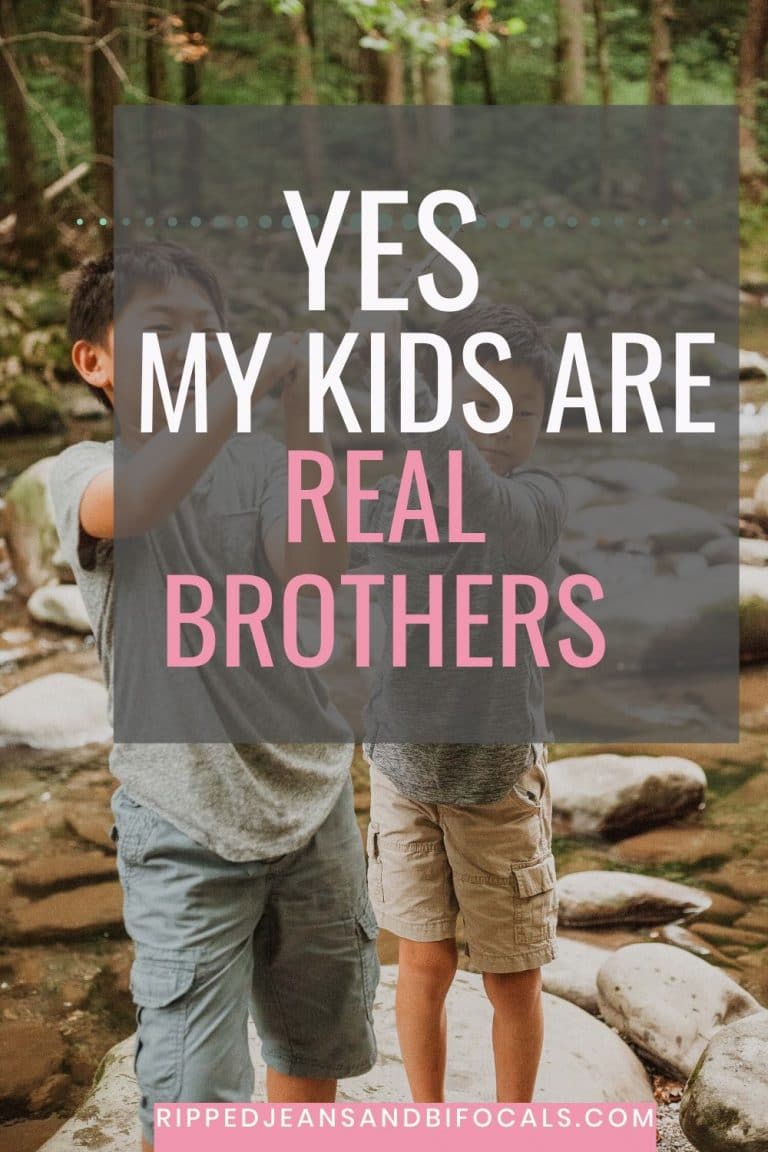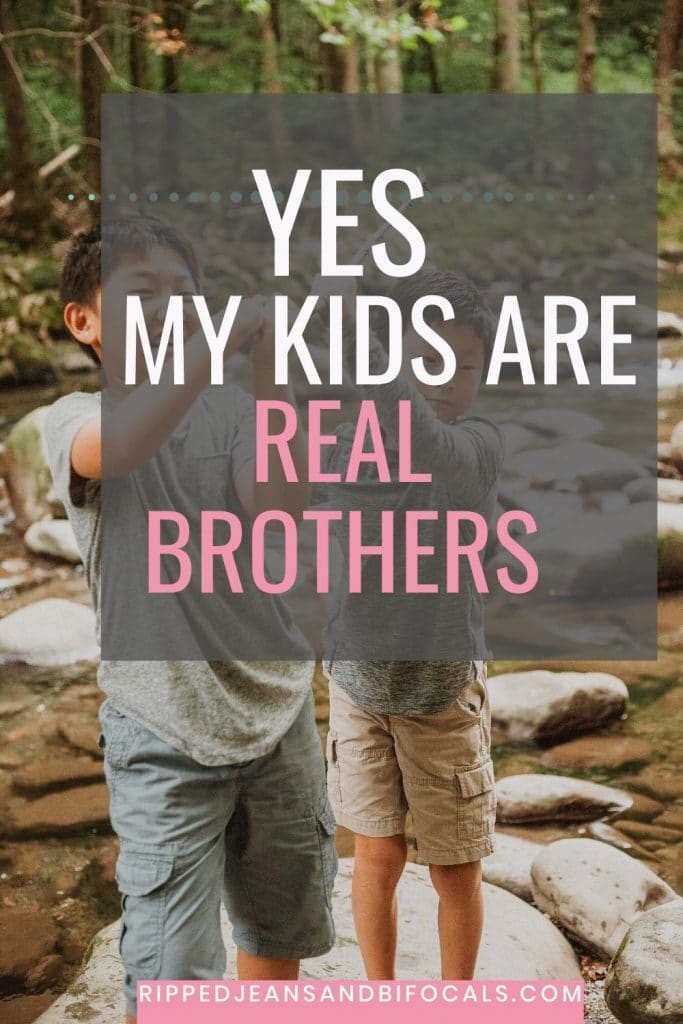 You might think your questions are innocent…but consider how they're received.
You might think your questions are innocent. You probably don't think at all. Maybe you thought my kids were cute and I accidentally smiled at you and opened the door for conversation and the "real brothers" question was the first thing that popped in to your head.
I get being curious but I wish you'd get where your questions lead our family.
My children love each other fiercely. Sometimes, this love is shown by teasing, punching, hair-pulling and messing with the other kid's stuff, but the love is there.
I don't love my adopted kids less or more than my kid that came in to this world via my own hoo-ha. You don't need to be connected by DNA to love, people. And while I "know what you mean" when someone asks if my sons are real brothers, it's something I wish people wouldn't say because the after-effects can hurt my children.
My kids are usually standing right next to me and hear the questions people ask. Not a week goes by where we don't get asked a question about real brothers and real parents. Constantly having my family's authenticity questioned, even in a benign and well-meaning way, wears on me and opens the door to questions at home that I'd rather let happen organically. I hate that our adoption talks are usually sparked by something said by a stranger.
Related post: What I learned about adoption during our first month home
My kids are real brothers and we are a real family.
And, the "you're a saint" comment never ceases to make me laugh. I'm anything but that and you only need to spend five minutes with me to figure that out.
[Tweet ""Would you ask it about a boob job" is a good frame of reference for nosy adoption questions"]
I'll end with a tip: use a boob job as a good frame of reference for nosy adoption questions, or any nosy questions: if you wouldn't walk up to me and ask me if my breasts were were real, then maybe you shouldn't ask a similarly inappropriate question about my kids. I think that's pretty good advice.
You're welcome.
You might also like:
Adoption Christmas ornaments you'll love