The Dark Side has cookies – Recap of the 2019 Star Wars Rival Run Weekend
(This post may contain affiliate links. Read my full disclosure.)
I ran the Star Wars Rival Run challenge at Walt Disney World Resort going on three weeks ago and I'm giving you my recap of the race weekend here. This was my second Star Wars runDisney event – I ran the half marathon in 2018 – and I found the race to be well-organized and consistent for two consecutive years. If you're reading this looking for info on the 2020 Star Wars Challenge (or any other runDisney event), I hope you'll find this helpful.
The Star Wars Rival Run Weekend took place at Walt Disney World 4-7 April 2019. It was slightly later in 2018 and will be in mid-April again in 2020 – 16-19, to be exact. Last year, the event was called The Dark Side Race Weekend. There was a Light Side Race Weekend scheduled at Disneyland in 2018 but it was cancelled. At this time, there are no more runDisney events planned on the west coast but here's hoping that changes.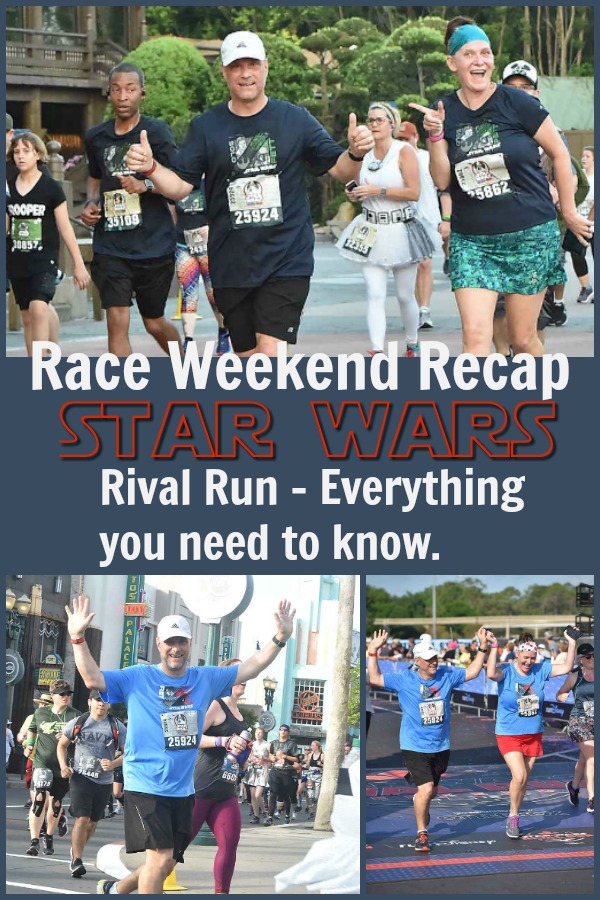 This post is based on my own personal experience with runDisney events and from reading the runDisney webiste. Like with any Disney entity, things change without warning but the page does a great job at keeping us up to date and I find them to be pretty transparent.
Recap of the 2019 Star Wars Rival Run Weekend
What is the Rival Run Challenge?
Any runDisney race with "challenge" in the title is going to mean more than one race. With the exception of Walt Disney World Marathon Weekend, most of these will be a two-race series: a 10K on Saturday morning and a half marathon on Sunday morning. You'll get a finisher's medal for each race, plus a third medal for completing the challenge. 2019's challenge was called the Rival Run Challenge, which allowed runners to choose the Dark Side or the Light Side. Both camps were represented on the course and encouraged runners to choose wisely.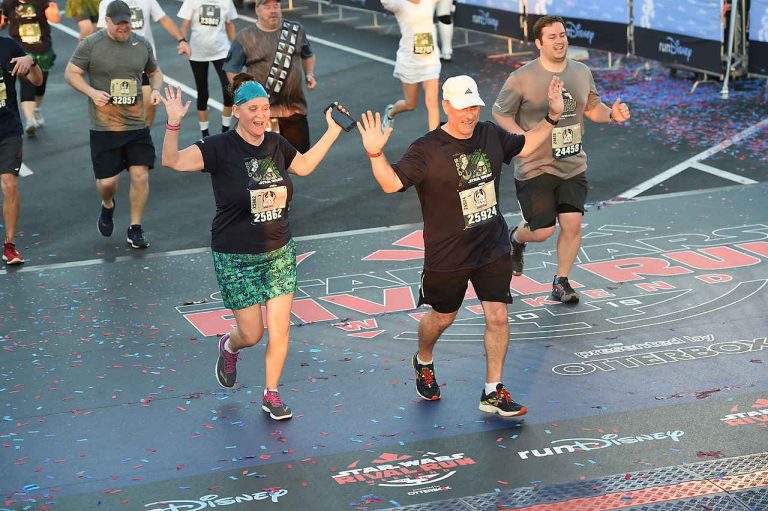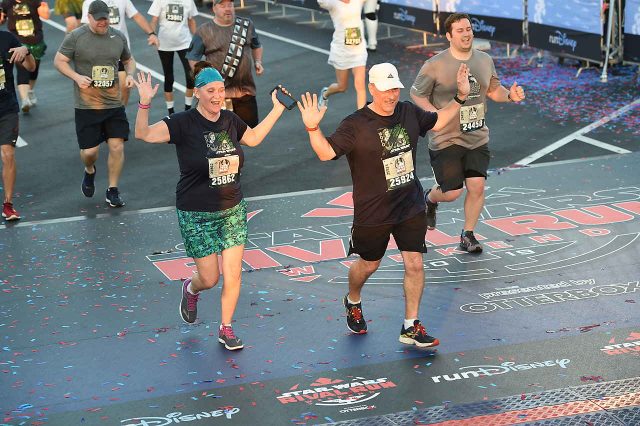 The dark side has cookies. I'm kind of partial to the villains and cookies, so that was an easy decision.
Just to be fair an give a nod to both sides, one of the light side fellows that was speaking to runners on behalf of the resistance used "you can grow a beard in the resistance" as a selling point. Hmm. Cookies versus facial hair. I think we all know where I stand but you do you.
There's also a 5K race on Friday which is not part of any challenge, although a lot of runners do all three races and walk away with four medals from race weekend. runDisney bling is pretty sweet and some people (although not me) think getting up at 3:00 a.m. for three days in a row is worth the hardware.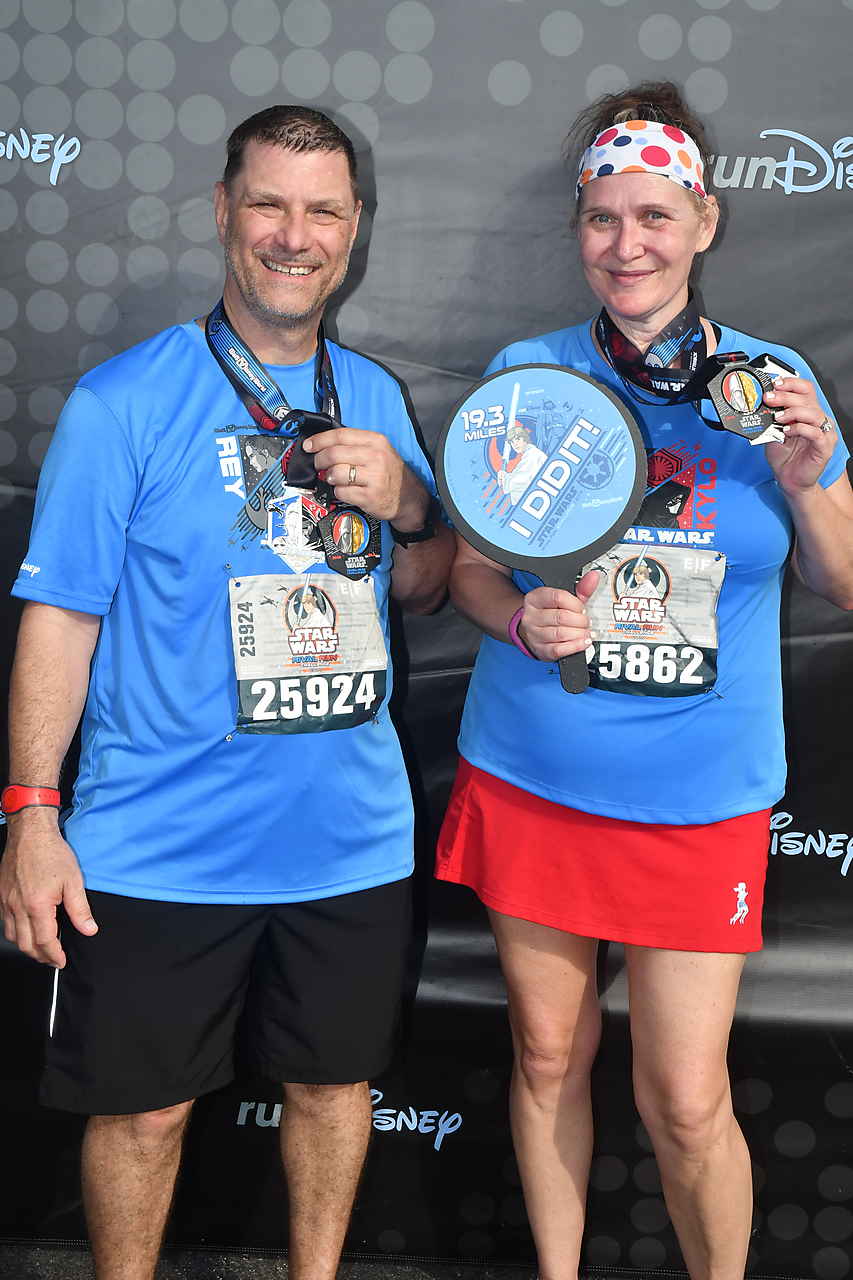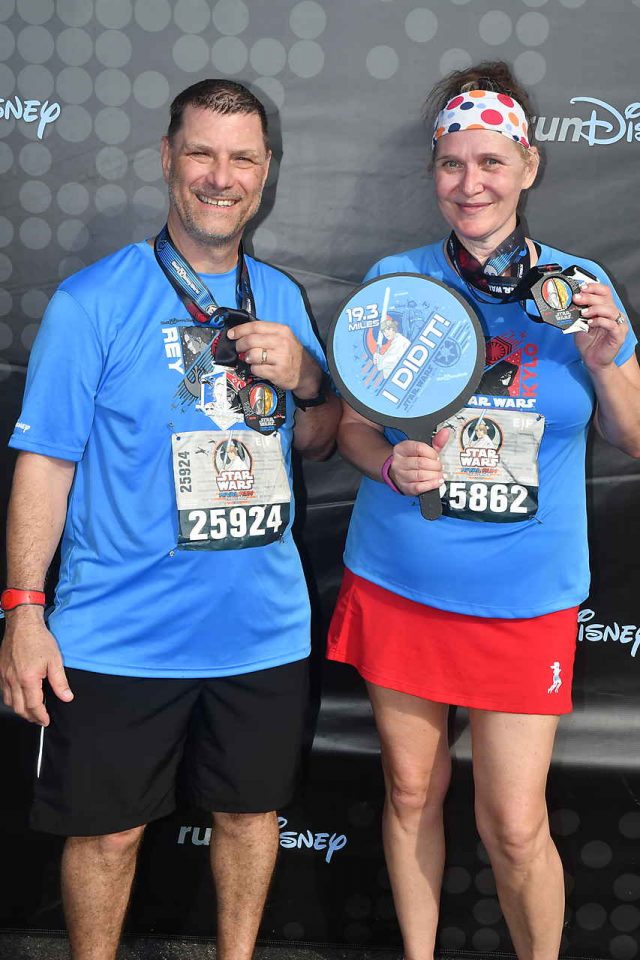 How do you sign up?
The sign-ups for the 2020 Star Wars themed run aren't open yet but if you're interested in running any runDisney event, follow them across all social media channels and subscribe to email updates. My best advice is to know in advance what race or races you want to sign up for, when sign-ups open and register on the first day they're open. These races sell out quickly and if you wait, you're probably not going to get what you want.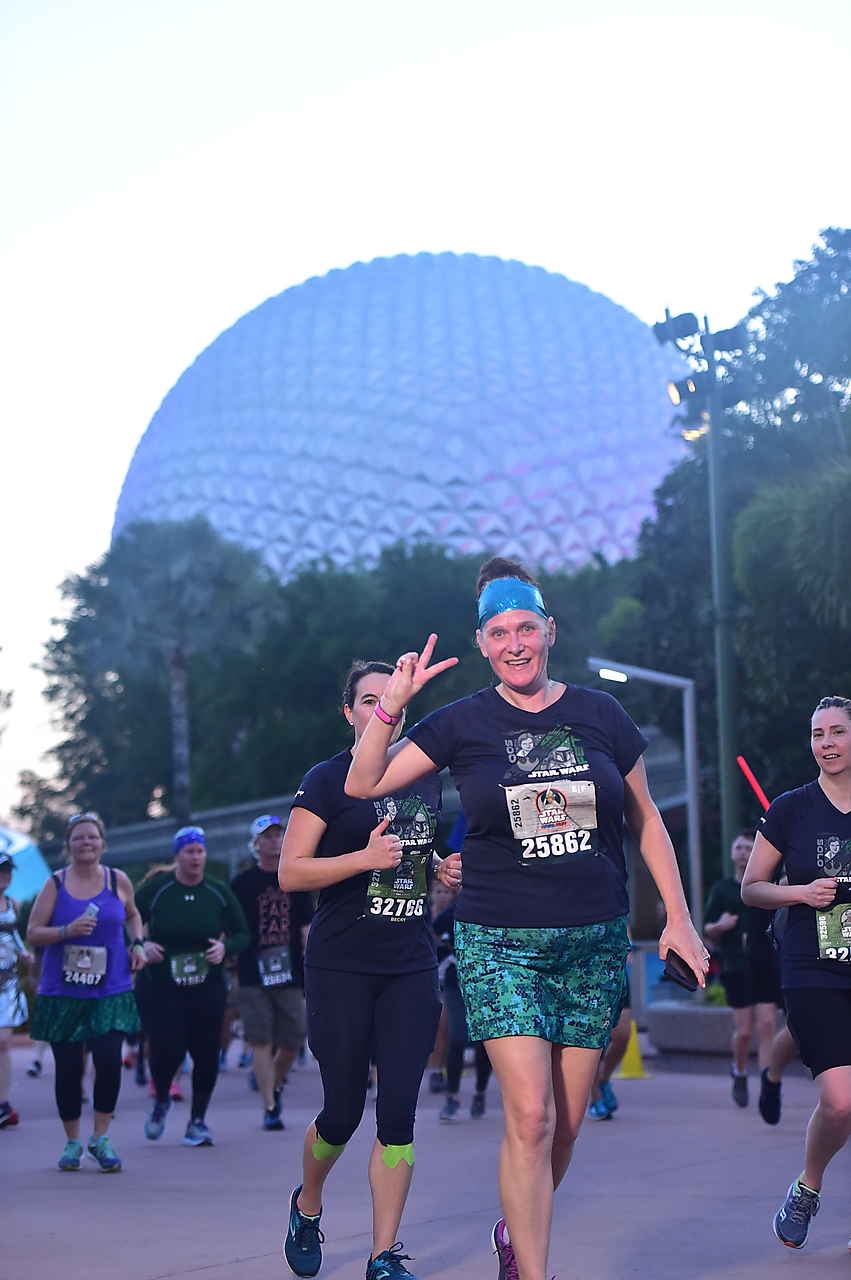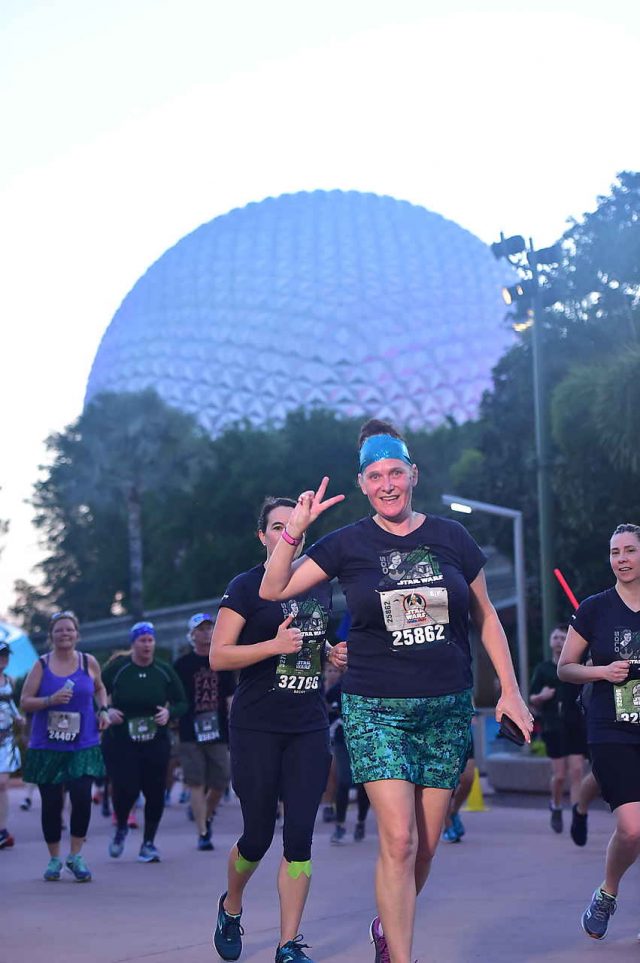 You can sometimes purchase race bibs for sold out races or for races that aren't on sale yet through travel agents. The typical requirement is purchasing a resort stay through that travel agent. I've purchased bibs through a travel agency one time and I don't recommend it. Likely, we just chose a bad travel agent or had an isolated bad experience but the lack of communication with our travel agent is what prompted us to write those dates when bibs go on sale down and plan to be at a computer with our credit card as soon as registration is open.
And also? 2020 is the 5th anniversary of the Star Wars run AND Star Wars Galaxy's Edge will be open at Walt Disney World so it's bound to be extra popular.
The challenge races are usually the last race to sell out, so if you want in, consider running the back-to-back races. It's a little crazy, but we've done two of them and they're fun.
Recap of the expo for the Rival Run weekend
This was my third time attending the race expo at Disney's ESPN Wide World of Sports Complex. I found my experience to be pretty consistent each time.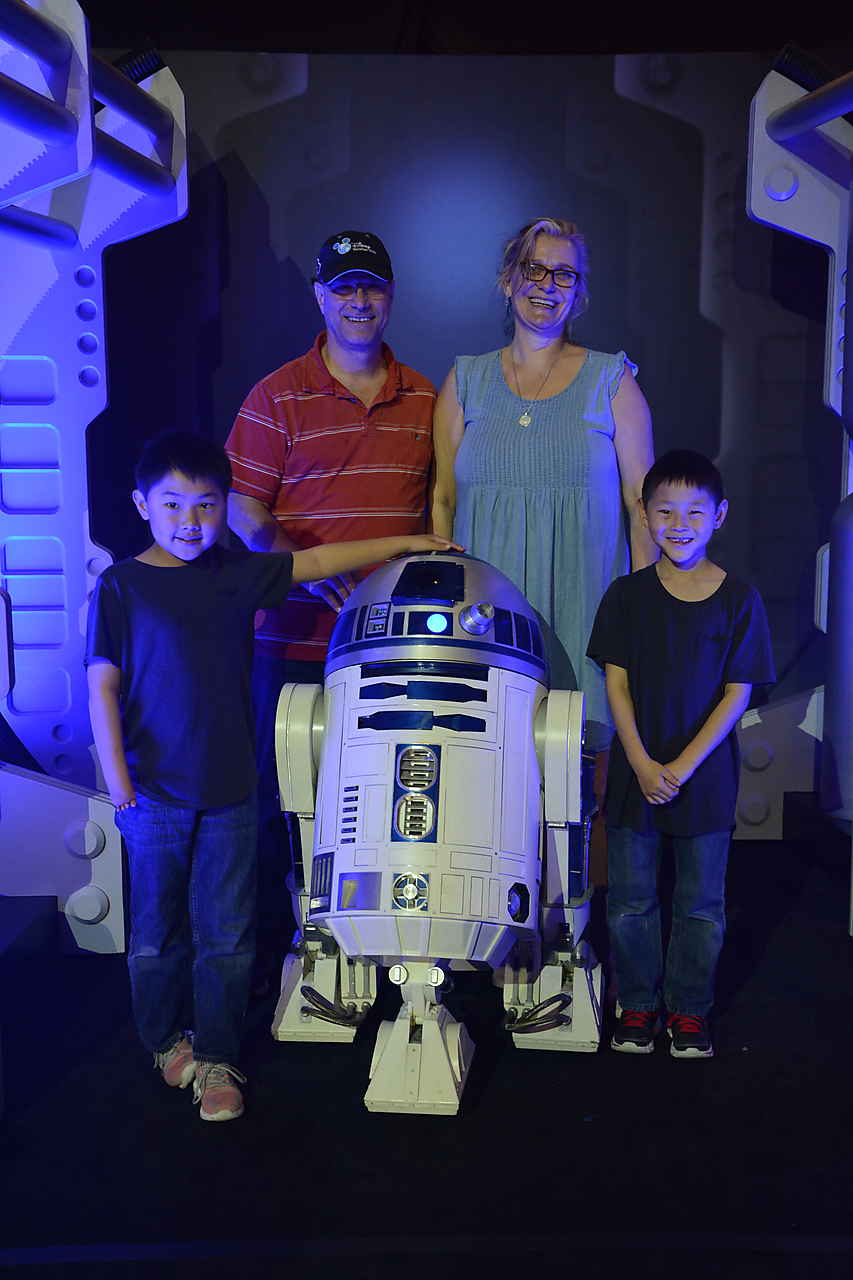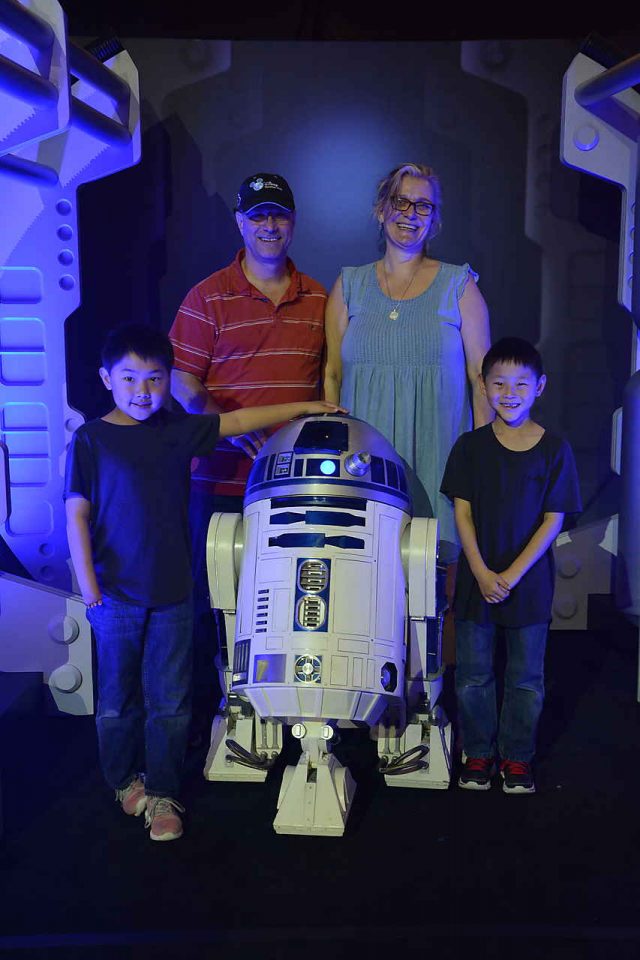 There is free bus transportation available from all the Walt Disney World Resort Hotels. There will also be a sign in the lobby that gives a summary of race weekend transportation. The buses to the expo aren't your typical Disney buses but contracted buses, usually through Mears. Their pickup point will typically be someplace different than where the buses from the resorts to the parks pickup and drop off. Signs should direct you but if you need help, just ask a cast member.
Your first stop at the expo will be the field house to pick up your race bib. I've found this to be a very organized process each time. If you have any sort of administrative issue, Runner Relations will be in this area as well. We've had hiccups with two registrations on two different occasions for two different reasons and we've found Runner Relations to be helpful and professional.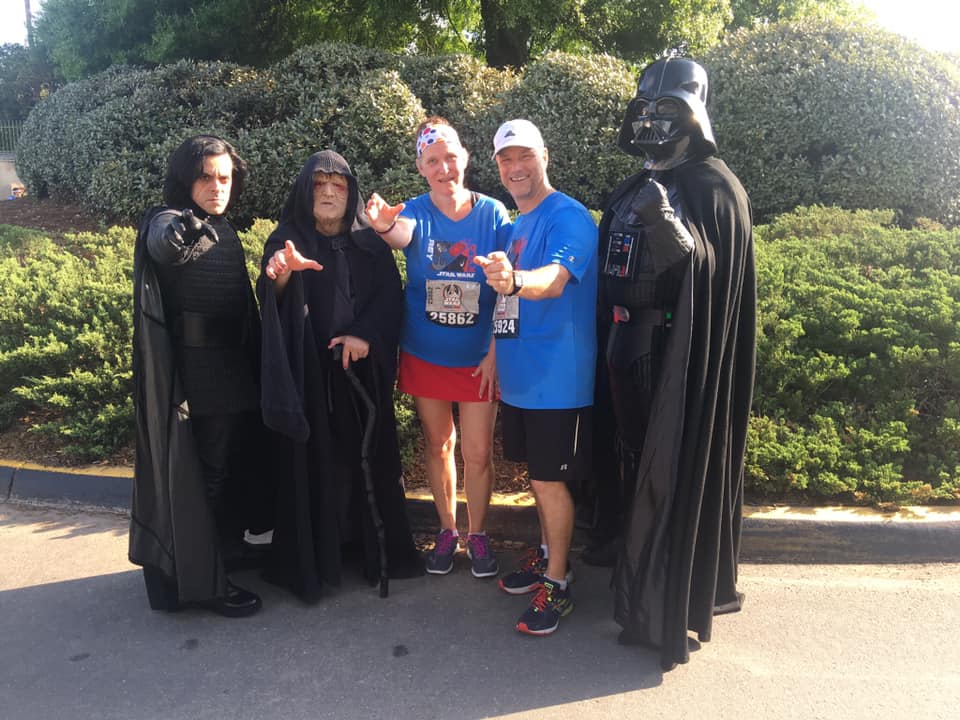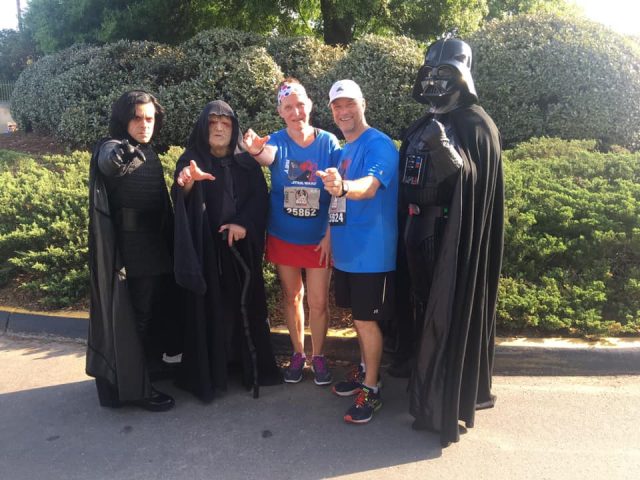 You'll produce your signed waiver (you can print online before you leave home or print on sight) and your photo ID and you'll be given your bib and some safety pins. After that, you'll proceed to The Visa Center, which is on the other side of the ESPN Sports Complex. You'll walk through photo opp areas, vendors and places to eat.
The Visa Center houses the expo where you can buy all kind of fun merchandise. You'll find runDisney merchandise as well as things runners like, such as race gear, nutrition, pain relief, water bottles and more. The commemorative runDisney stuff that is specific to your race is really fun but there's also a full array of different runDisney merchandise.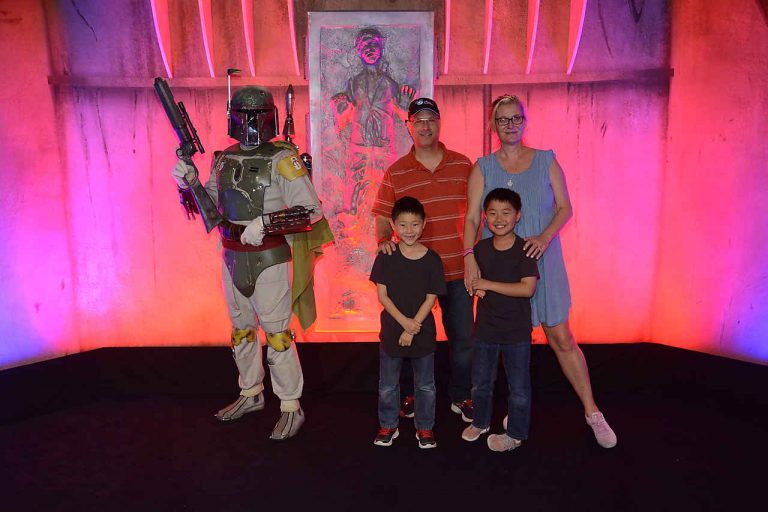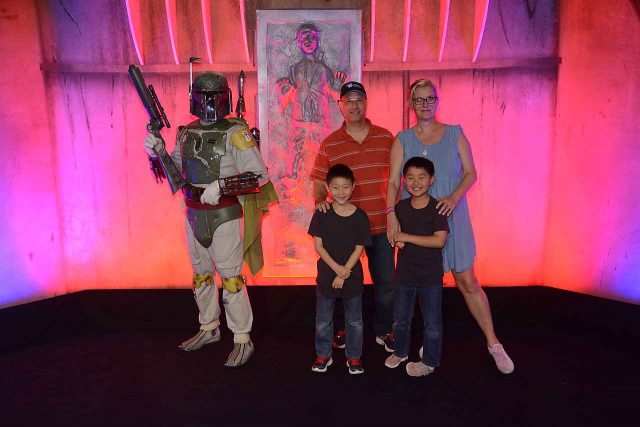 There's also a deejay, a bar, photo opps and character meets. There's a lot going on. Before you get sucked in to all the excitement, make sure you go pick up your race shirt and bag first so you don't forget it.
Since we participated in the challenge, we got three different tee shirts. This year's shirts were short-sleeved technical tees. The women's cut has a v-neck and the men's has a crew neck, which is pretty typical for runDisney shirts. I love these shirts because they're nice and long. I'm 5'10 and my shirts are a women's large, to give you a frame of reference. It's fitted but not tight.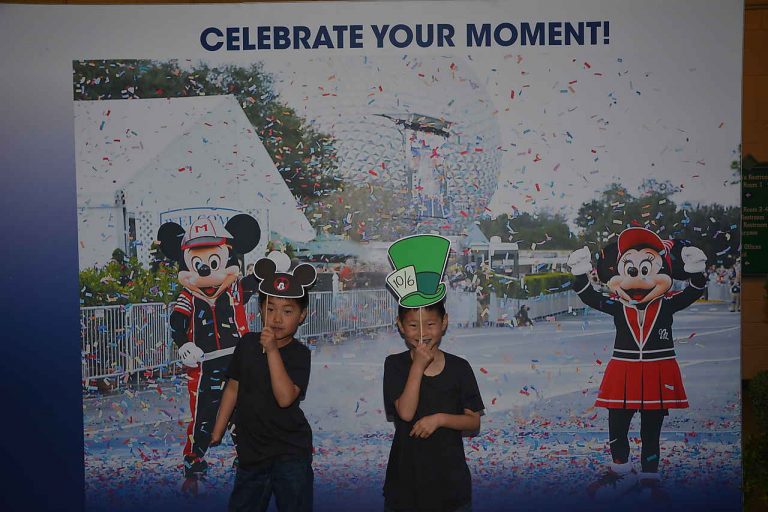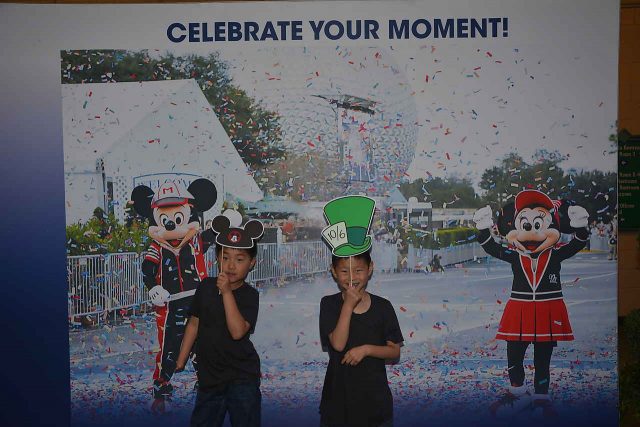 The photo opps at this year's expo were Boba Fet and R2D2. There were also Storm Troopers patrolling outside who were happy to pose for brief photos before telling you to "Move along, citizen." We were at the expo in the early afternoon on Thursday, which I think is about the perfect time to go. You miss the mad rush that happens just after the expo opens on Thursday morning but you're there ahead of the Orlando locals who are still at work or in school. The crowds were very light during the time we visited and we had zero problems with runDisney merchandise being in stock.
This was our first time visiting the expo on a Thursday and I think we'll keep to that day in the future, if we're able to.
We did order pins ahead of time to make sure we got them. We tried to get event-specific pins at the expo when we did Wine and Dine in November (we visited the expo mid-afternoon on Friday) and they were sold out of everything we wanted.
We spent a total of about two and a half hours at the expo, which included about 30 minutes standing in line to speak to someone at Runner Relations and another collective half hour standing in line for character photo opps. We are not big "buy stuff at the expo" people but it's always fun to look to see what's new in running gear and take advantage of the photo opps that the sponsors have. We had no issues with transportation and had very short waits on the busses we took to the expo area.
Recap of the Races for Rival Run Weekend
For those of you who have never taken part in a runDisney event, they start very early. Like insanely early. The race will start at 5:30 but the buses can drop you off as early as 3:30. Your resort hotel will have bus times and recommended departure times listed. There's lots of entertainment at the start line (although I don't find very much entertaining at that hour of the morning) as well as exclusive character meets. Who the characters at the starting line are going to be is always a mystery, although it is fun to guess.
The pre-race character meets included Ewoks, Darth Vader, Jaba the Hut, BB-8, and the Tuscan Raiders (AKA the "Erk Erk Guys." If that made you smile, you can thank my son, Zack.) All characters that were out at the 10K were out the next day before the half, which has been our experience with past challenges. If you don't get a chance to meet all the characters you want to meet before the race, they are available at the finish line as well.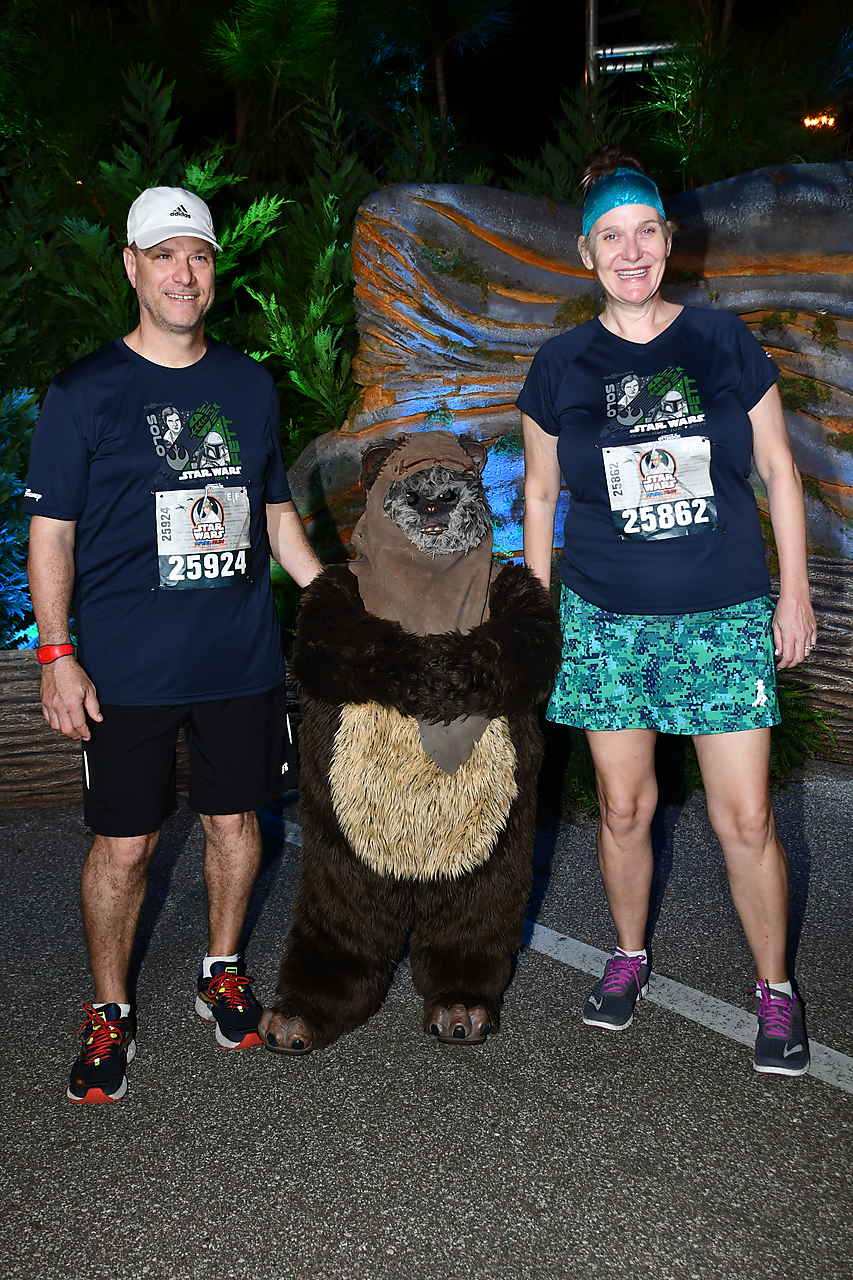 We stood in line for about 20 minutes each (closer to 30 minutes to meet the Ewoks) for the character meets. There were Disney Photopass photographers available at the starting line…we didn't do any character photos at the finish line…we were in our typical post-race "Get me out of here so I can take off these stinky running clothes and hit the pool" mode. There's always food, drinks and fun at the finish line but we've never lingered after a runDisney race.
I was really excited to see the Ewok at the start line this year. They were at mile two or so of the half marathon last year. The line was hella long and I wasn't ready to stop.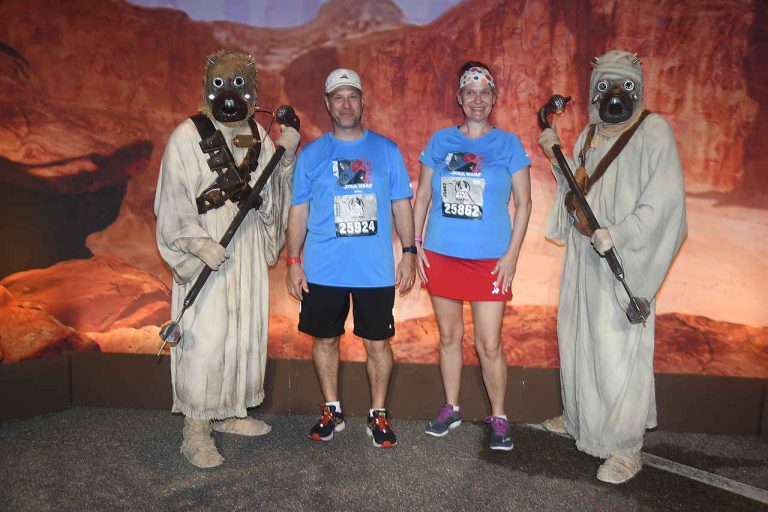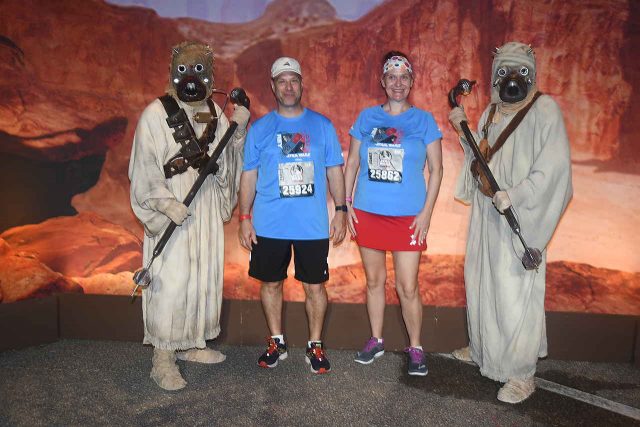 The 10K and half marathon courses were the same one's we're used to. Characters out on the course included Ewoks (they are always really popular), Asoka Tanu, Darth Vader, Darth Maul, Jawas, various droids, Storm Troopers, Sand Troopers, and probably many more. We don't do a ton of character stops, so my pictures of character stops along the course are pretty sparse. I know the character stops are a big draw for a lot of runDisney participants, and I'm not knocking that at all…it's just not something my husband and I do when we're running together, especially if we've got photos with that character before.
We did see a lot more Storm Troopers on the course this year. They were patrolling the edges of the road and made more opportunities for photo opps and potentially less lines or shorter lines. We also saw Rey on the course but she was located about a half mile from the start, which I thought really sucked. It takes me about 2-3 miles to get my stride, pace and breathing where I'm comfortable and stopping to stand in a line when I'm barely out of the corral is not my idea of a good time.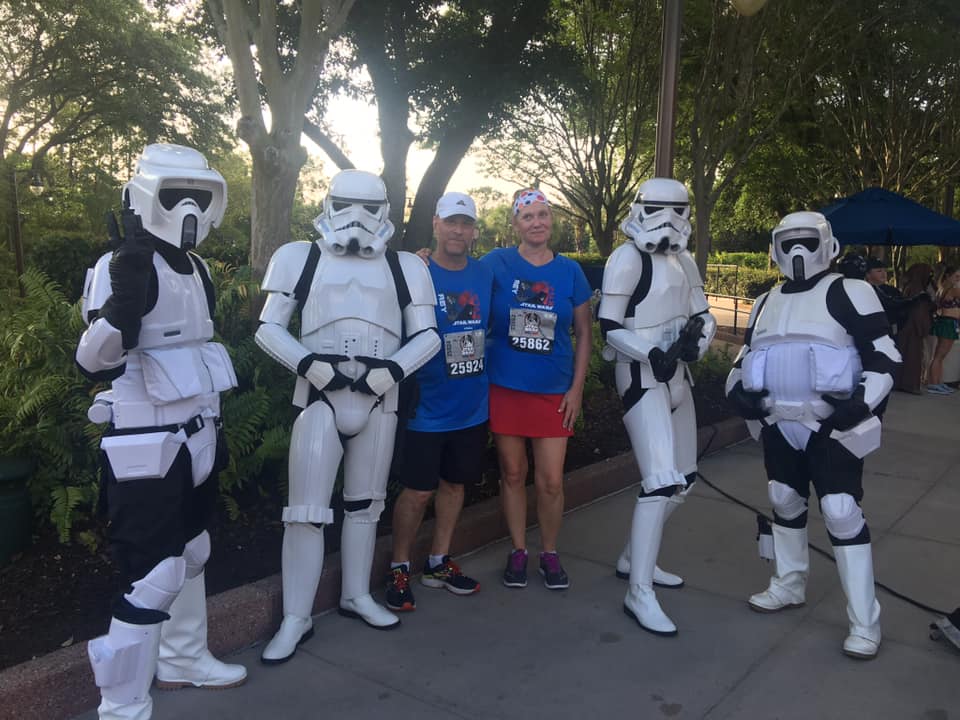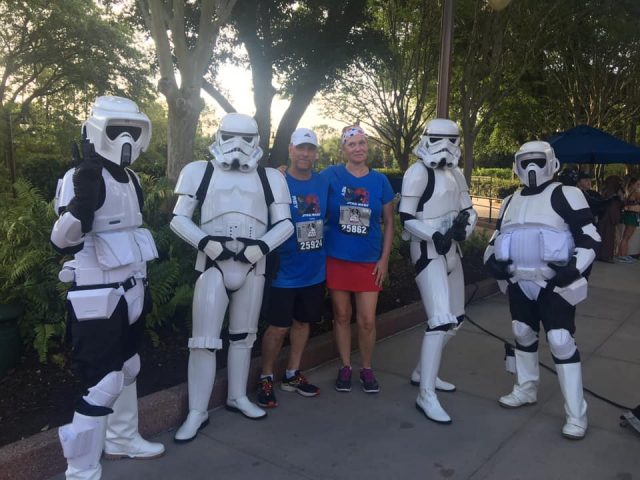 A lot of the characters out on the race course are from the 501st Legion, which is a cosplay group that inspires an interest in Star Wars through costuming. My point in mentioning this is that many of the characters you will see out on the course are not Disney cast members in character costumes, but volunteers from outside organizations. Typically, the characters you see outside the parks are 501st and the ones inside the parks are Disney cast members. There is clear signage to designate when the characters don't officially represent Disney or Lucas Films but you know what? Their costumes and authenticity of being "in character" are freaking fantastic and the fact that someone who isn't employed by Disney is going to put on a Star Wars costume before the sun comes up and pose for pictures with sweaty strangers is pretty cool in my book.
As usual, the half marathon got bottlenecked on the sidewalk area that hugs the lake between the exit of Disney's Hollywood Studios and entering Disney's BoardWalk. I don't know what other path could be taken to get from one point to another and stay within the mileage requirements but this is not a space that's conducive to a large group of runners and walkers who are moving at different paces. This is the part of the race where I always feel like I'm "damned if I do and damned if I don't." If I walk, I've got impatient speedsters behind me. If I run, everyone in front of me is walking. Fortunately, it's a short area and I know what to expect, so I just try to exercise my patience until I get through to the BoardWalk and can spread out more.
The hydration stations were manned perfectly as always. Powerade is always first, water is always second. They offered Sport Beans at about mile 9 (I think) which is pretty standard issue, so if you need them before that, bring your own. These are so much easier for me to get down than Gu. I noticed three medical stations along the course – there might have been more, but I noticed three. One is pretty soon after the start for those right out of the gate injuries or issues, one is around mile 8 and there's another closer to the end. There's also medical at the finish line with ice bags.
The medical stations along the half marathon course offer Biofreeze, Tylenol, and petroleum jelly, as well as people who are trained to handle whatever problems you might be having.
We saw the sweep bus a couple of times along the route but we were pretty far ahead of the balloon ladies. For those who don't know, the balloon ladies are the last ones to start the race and they keep the minimum 16-minute per mile pace that is required to finish without being bussed to the finish line. If the balloon ladies get in front of you, you're in danger of being swept. I've never seen the balloon ladies, personally. I've heard everything from "they're delightful, helpful and encouraging" to "they're barking monsters who demoralize slower runners." I'm not sure where the truth lies but I don't plan on getting near the balloon ladies on the race course anytime soon to find out.
My husband and I were in Corral F, which was close to the back of the pack but we ran the first five miles without stopping, so we were able get ahead of some of the folks we started with…although I did see two people who were standing next to us at the start in the finisher's chute at the same time as us.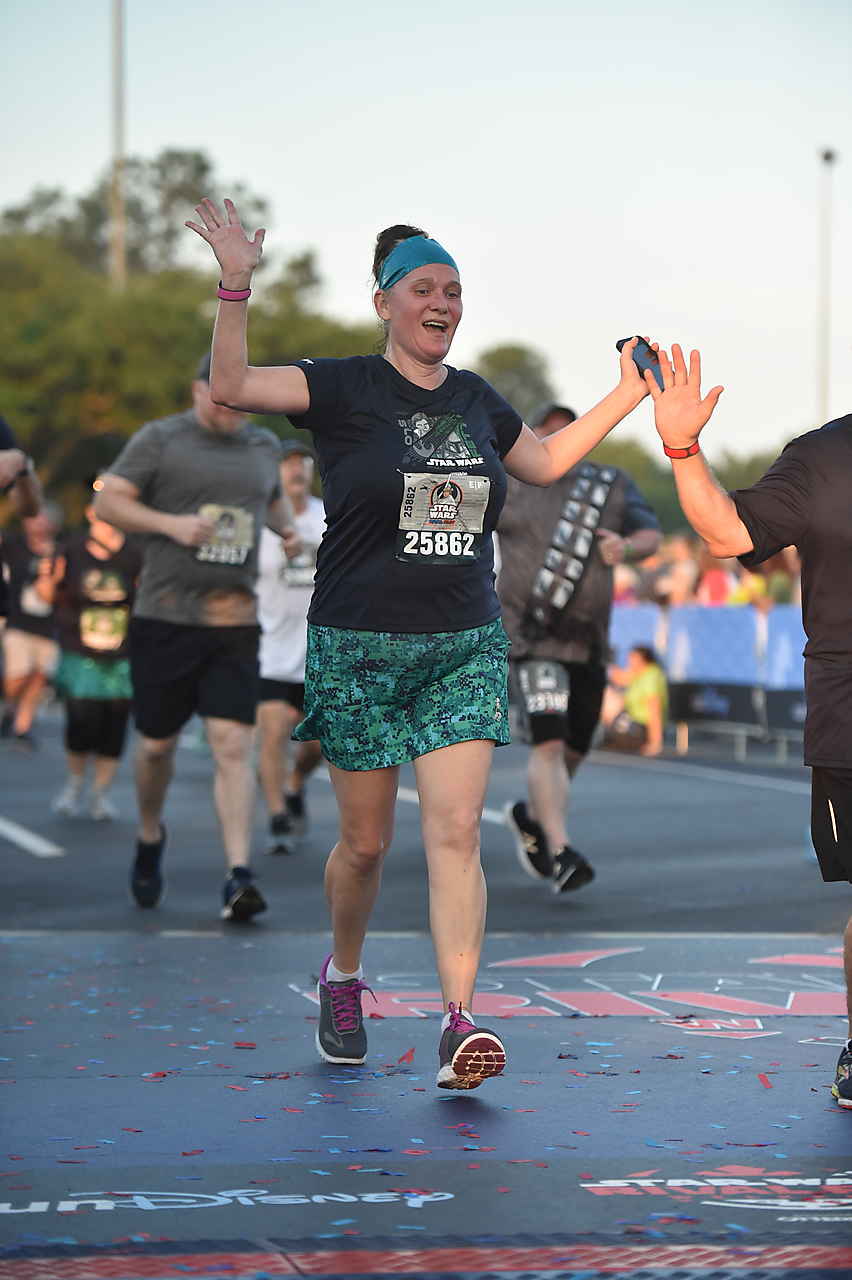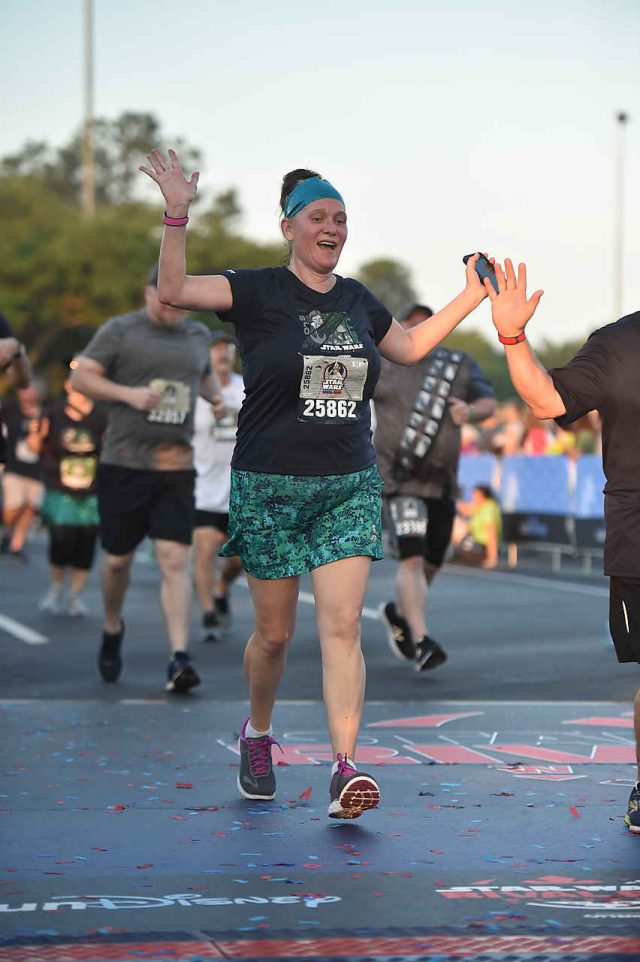 Corral placement is a super sore subject with me at runDisney races and I could do a whole separate ranty post on that and the travel agent we used…but today isn't that day for that.
Other thoughts on my "training" and overall performance
It was a good challenge for us and I counted it as a running success. My time for the 10K was 1:23 and my time for the half was 3:30, which go down as some of my slower times EVERRR. However, the times align with the training runs we put in…as in pretty much "what training?" We did the entire 10K at a slow run with zero character stops. I knew there would be more walking during the half…I ran/walked the first eight and then walked most of the last four. I had some ankle and breathing issues at about mile eight and I knew walking would be the route to finishing without tears. Plus, the heat and humidity on Sunday was much more of a factor that it was on Saturday. I've half-assed my training before (yep, not proud of that, but I have) and gutted it through the last few miles and wanted to pretty much die in the road.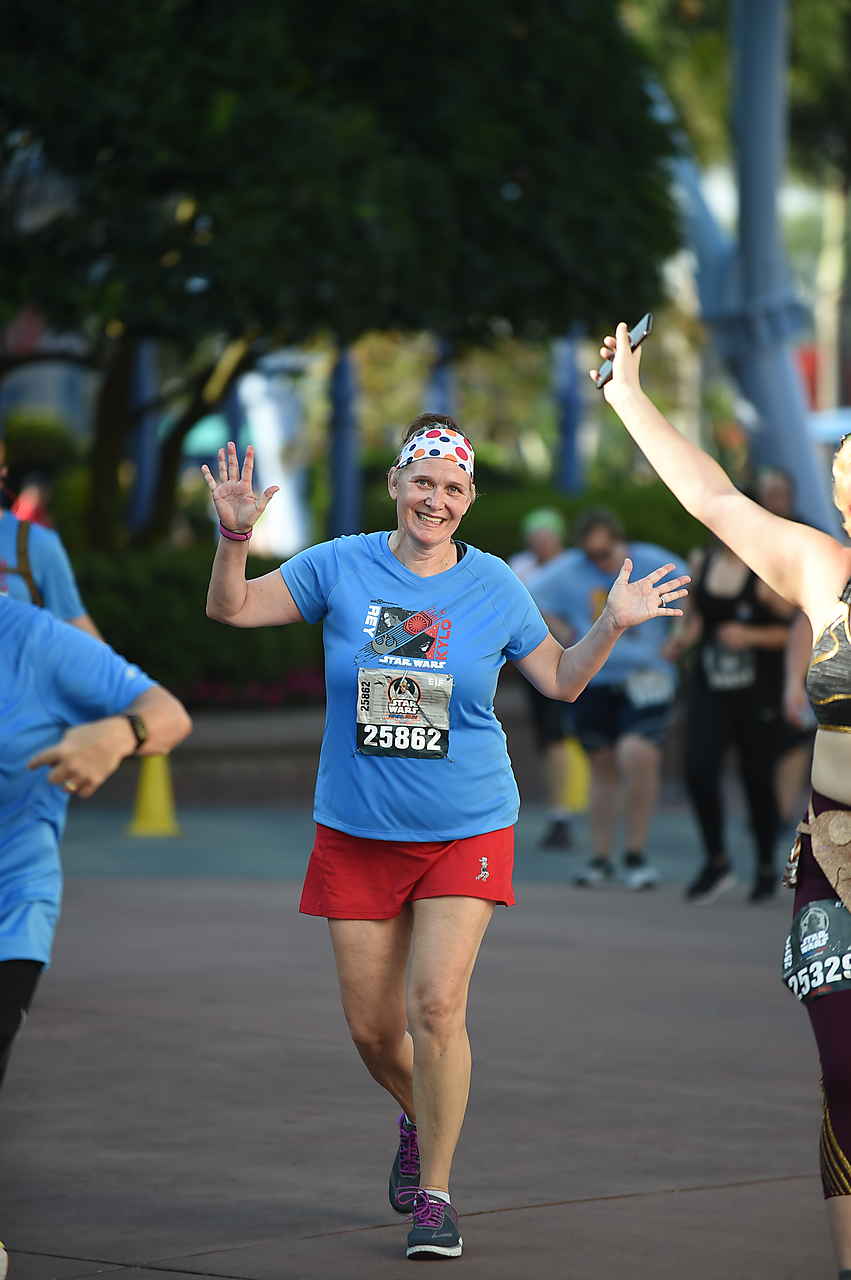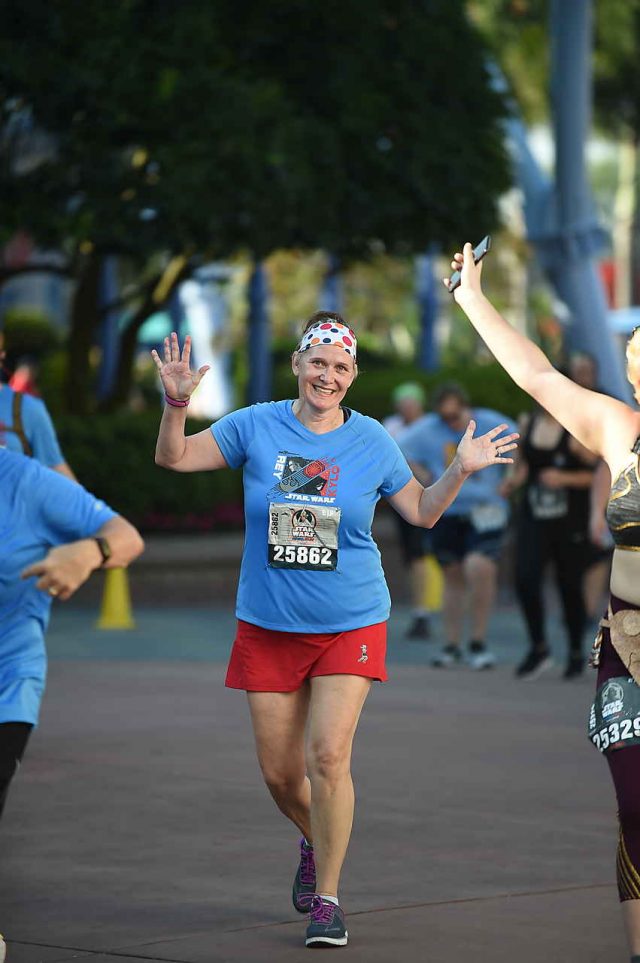 There are lots of people out there who don't think running 19.3 miles in two days (not to mention getting up in the middle of the night to do it) sounds like a good time. Struggling with those last couple of miles through Epcot while trying not to cry because your calves are cramping is not a good time. Catching the eye of that cute, fresh family in their matching Disney shirts purchased on Etsy (their clean matching Disney shirts) who are just starting their day and smiling and waving at you and telling you "great job" and "way to go" and trying not to let on that you hate every single thing at that particular moment, including Epcot and matching Disney shirts but most especially the person whose "bright effing idea" it was to do this in the first place is not something that goes in the books as "my shining moment in running". Hint: that person with the bright effing idea is always me.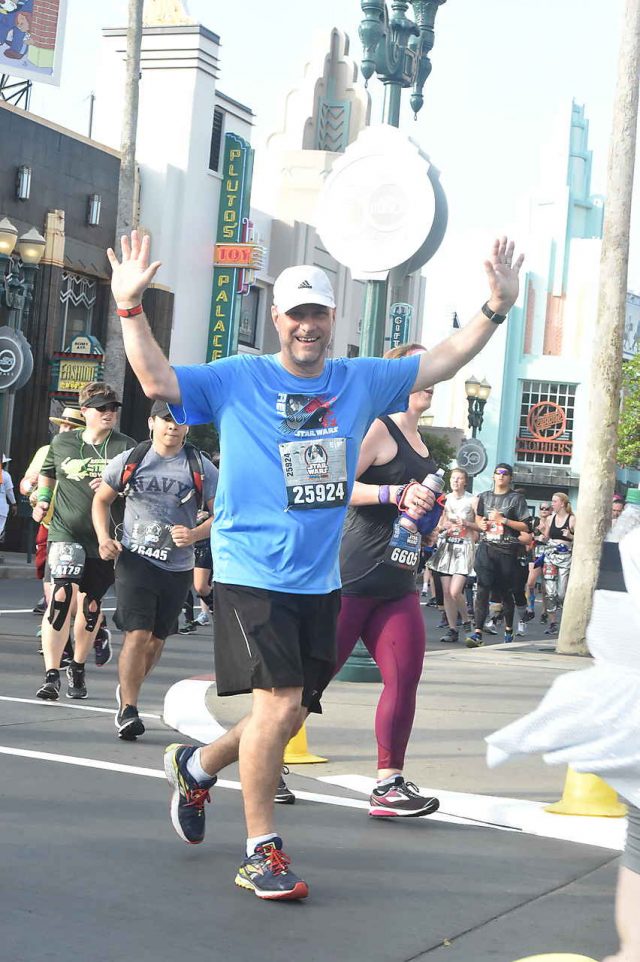 I avoided that end of course "I hate everyone and everything" by taking walk breaks early in the half and walking more than I usually walk. I think my legs would have been OK to finish running but my ankle and my body temperature were saying "nope" that morning and I chose to be smart and listen to them.
Post race stuff
We got the standard issue runDisney snack box at the end, which is a banana and a small rectangular blue box containing pretzels, some sort of chia bar and the holy grail of post-run snacks – mini tortilla chips and a cup of "cheese." I'm pretty sure this "cheese" is not really cheese and I probably don't even want to know what's really in it. I do know that if runDisney stops putting this stuff in the post-run snack boxes, I might stop showing up.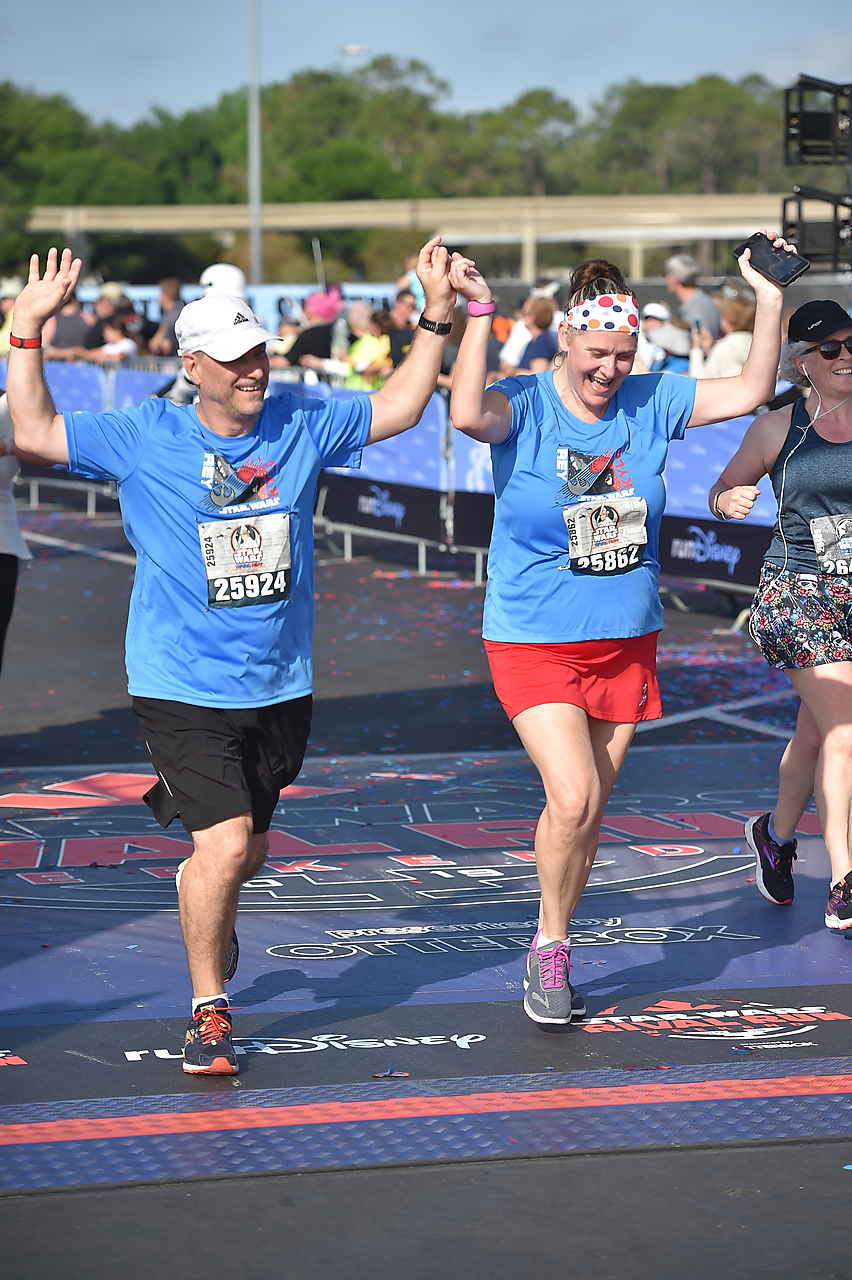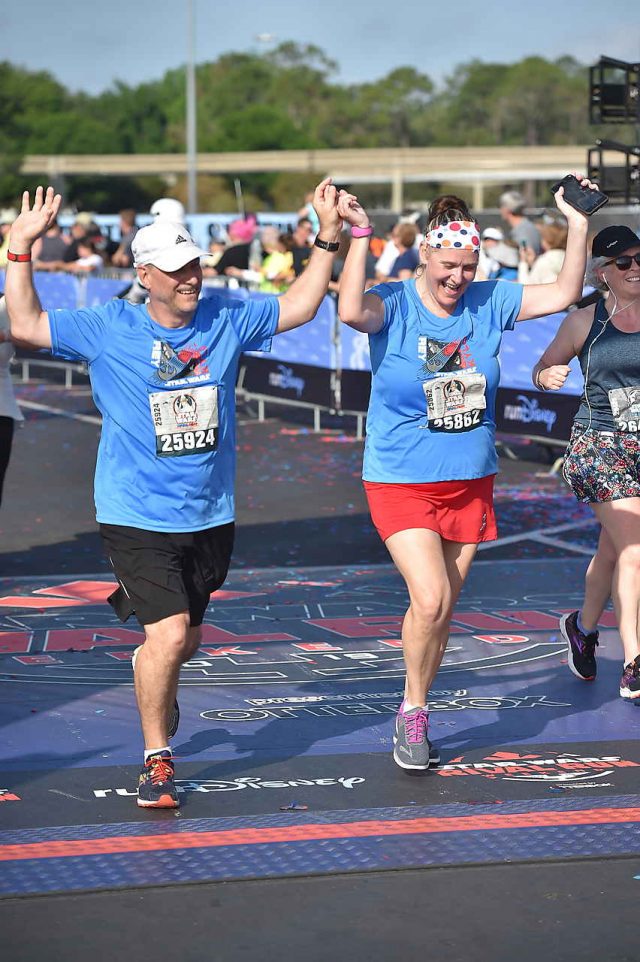 runDisney also hands out bottled water and bottled Powerade in the finisher's chute after you cross the finish line. I did what I normally do – I guzzle a Powerade (because I don't like it but I know I need the electrolytes) and eat my banana while we're in line to get finisher pictures. Then, I eat the "cheese" and chips either in line for the bus or on the bus with zero regard for polite manners.
After the race, it's shower, a more substantial meal, a nap, and then beers at the pool. I don't drink beer that often but it's kind of a thing with me after an endurance event. I tell myself it's recovery fuel and I don't think that's entirely wrong. Carbs and salt, man.
We enjoy runDisney enough to where we're talking about two more races over the next 12 months, so I guess it can't be all bad. We might even do a few non runDisney events in between to establish a better time and to condition myself for that push to the end of my half that always gives me problems.
I hope you enjoyed reading this. If you have runDisney questions, leave them in the comments or contact me directly and I'll get you an answer.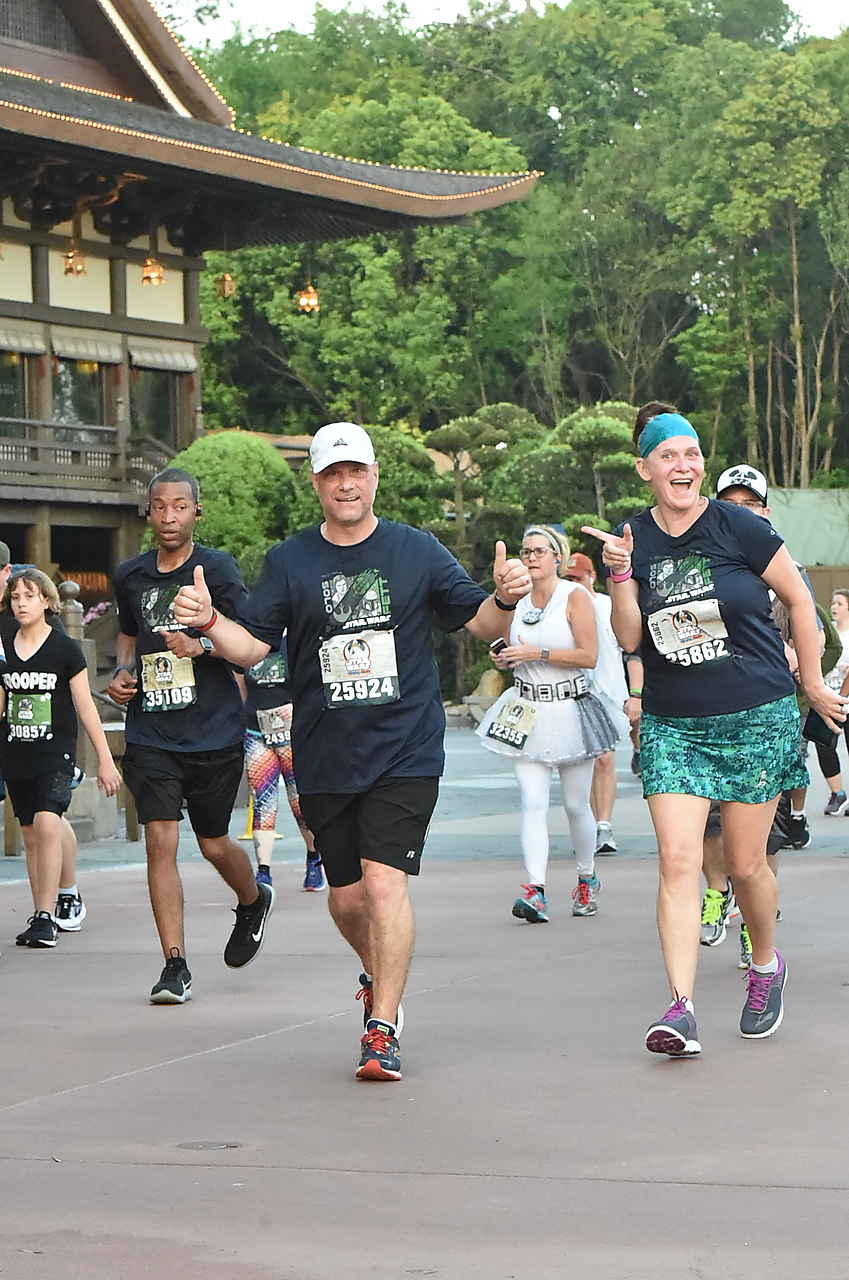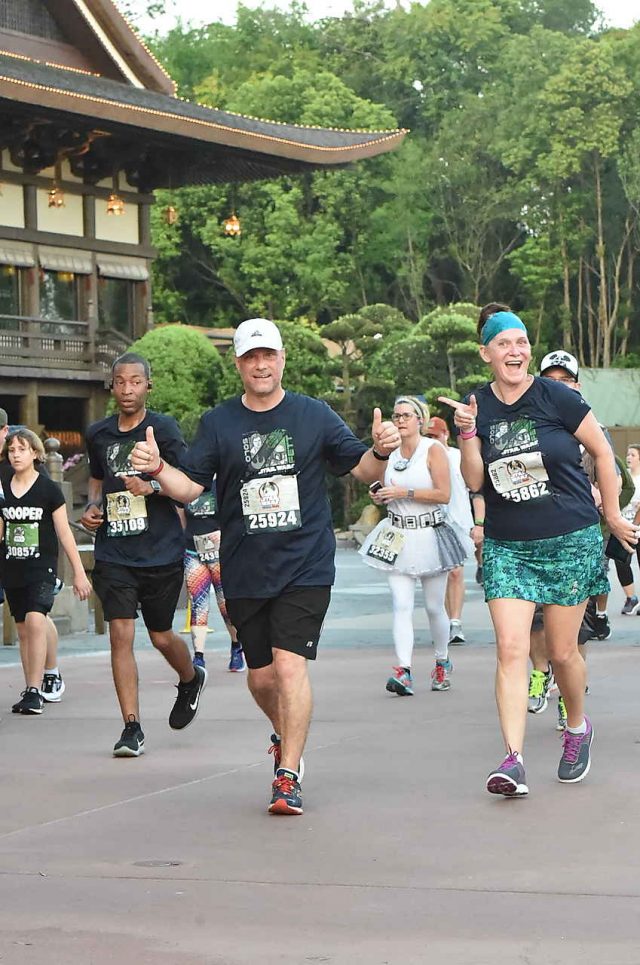 You might also like:
Disney Wine and Dine Half Marathon Weekend – Your Questions Answered