Six Reasons to do Disney without kids
Disney is the happiest place on earth. It's a land of pixie dusted perfection where you see a child with an expression of absolute wonderment around every corner. We eagerly plan our kids' first trips to Disney and dread the day when they tell you they're too old or too cool for Disney. But, have you ever considered doing Disney without kids?
Six Reasons to do Disney without kids
Everything about a trip to Disney is centered around our kids, right? Planning the trip, how you'll get there, where you'll lay your head, which park you'll visit in which order, and how long you'll stay at each, which character dining experiences you'll sign up for and so on. We all know that Disney isn't your average vacation and that your research and planning will be rewarded when your family vacation goes off without a hitch.
At least you hope so.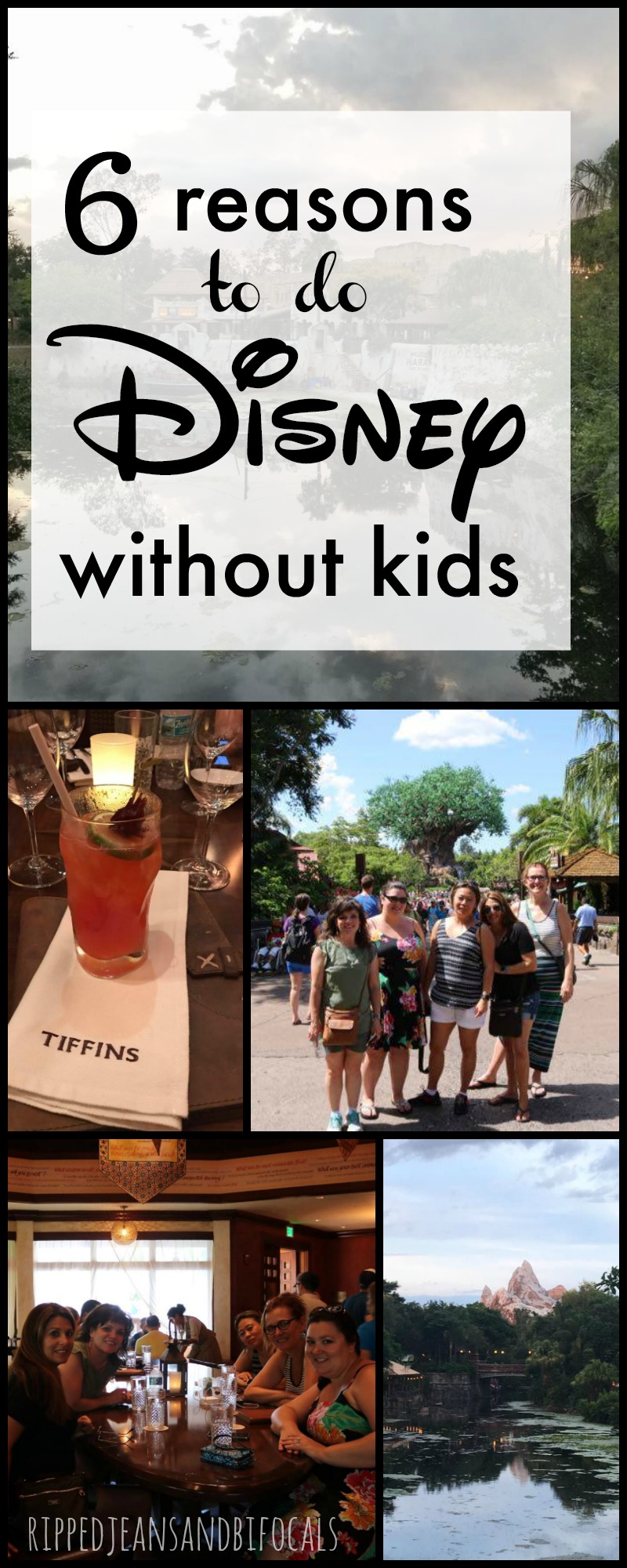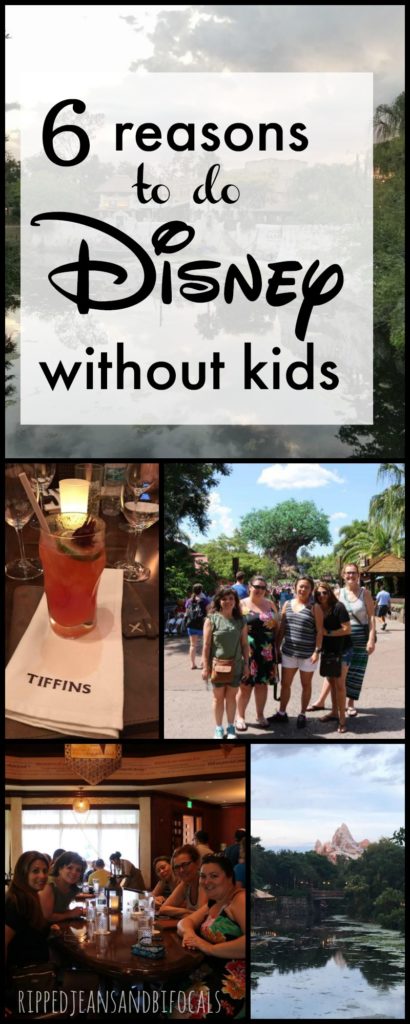 But let me tell you a secret: Disney can be the happiest place on earth when you don't have your kids in tow. It's true!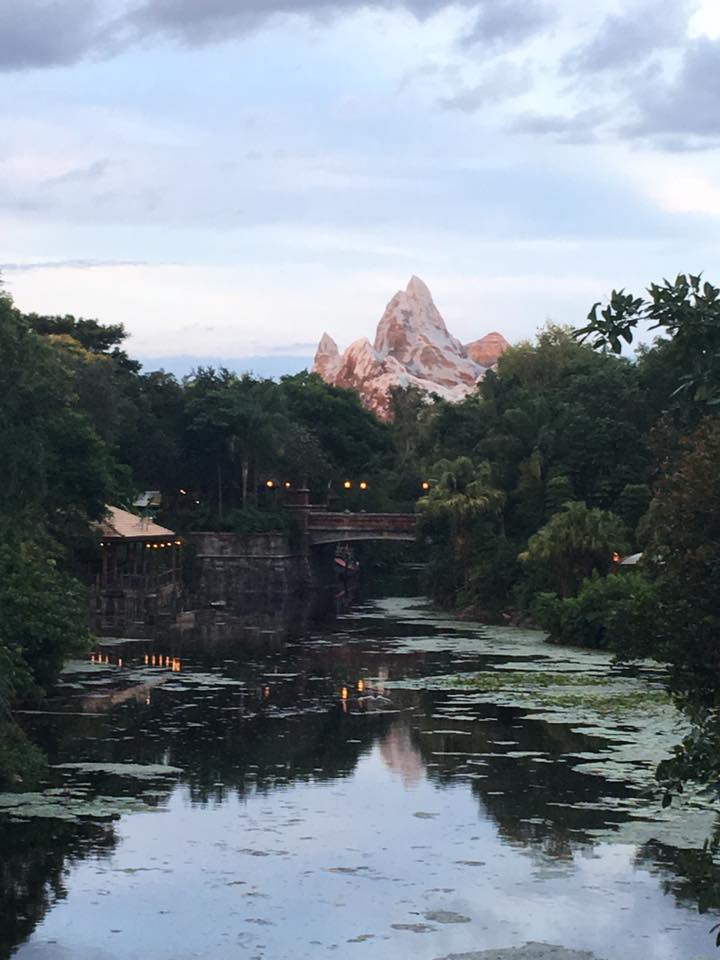 Let me tell you another secret: I went to Disney World on my honeymoon. Disney World is actually one of the world's most popular honeymoon destinations and I'm absolutely unashamed to call refer to it as "my Disneymoon."
I recently traveled to Orlando for a blog conference and found myself with a day to kill and in the company of four of my awesome girlfriends. Naturally, we chose to hang out at Disney's Animal Kingdom all afternoon and evening and we had an absolute blast. My kids have no idea that I went to Disney without them and getting the opportunity to do an adult's only Disney trip probably won't present itself any time soon.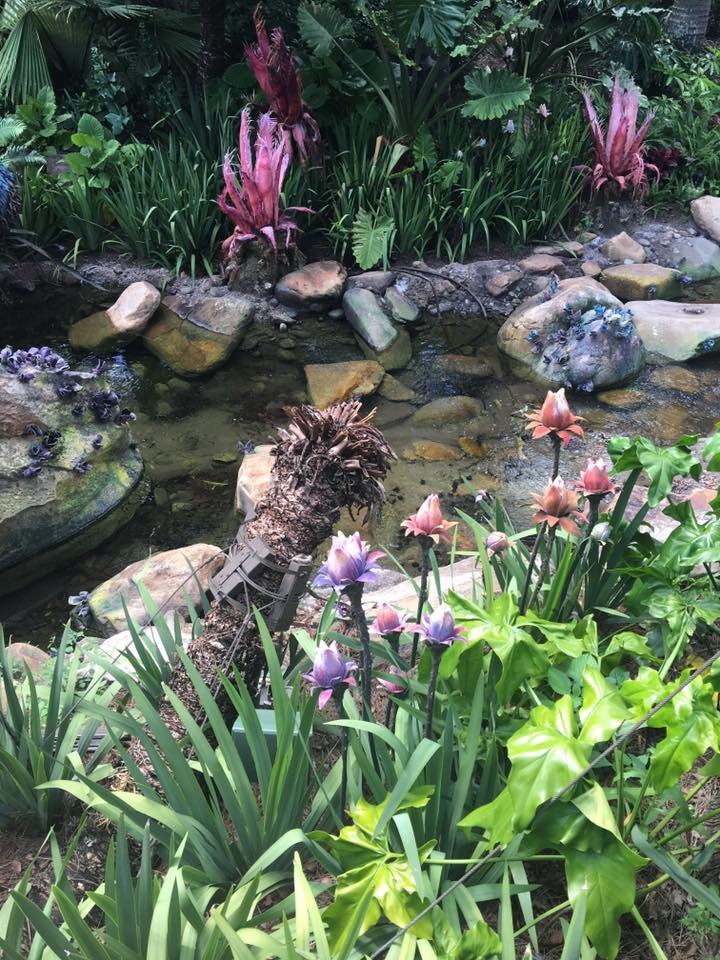 But.
If you get the chance to do Disney (or really, any major theme park) without kids, here are a few reasons why it's awesome:
You don't have to carry around a giant backpack of gear
When you take your kids to Disney, you have to tote water bottles, snacks, sunscreen, a gallon of hand sanitizers, wet wipes, the mouse ears your kid is too tired to wear, autograph books, pens, rain ponchos for everyone, the glow sticks you brought from home because you're too cheap to pay the sky-high prices for the light-up trinkets they sell in the park at dusk, a gazillion plastic baggies, extra clothes in case someone gets wet on the water rides and cries about it and all the portable chargers.
When you go to Disney without kids, you can get by with a small crossbody bag or some cargo shorts. Throw in a stick of sunscreen, your debit card and your favorite sunnies and you're good to go. Exploring Disney when you're not a human pack mule is something every mom should experience at least once.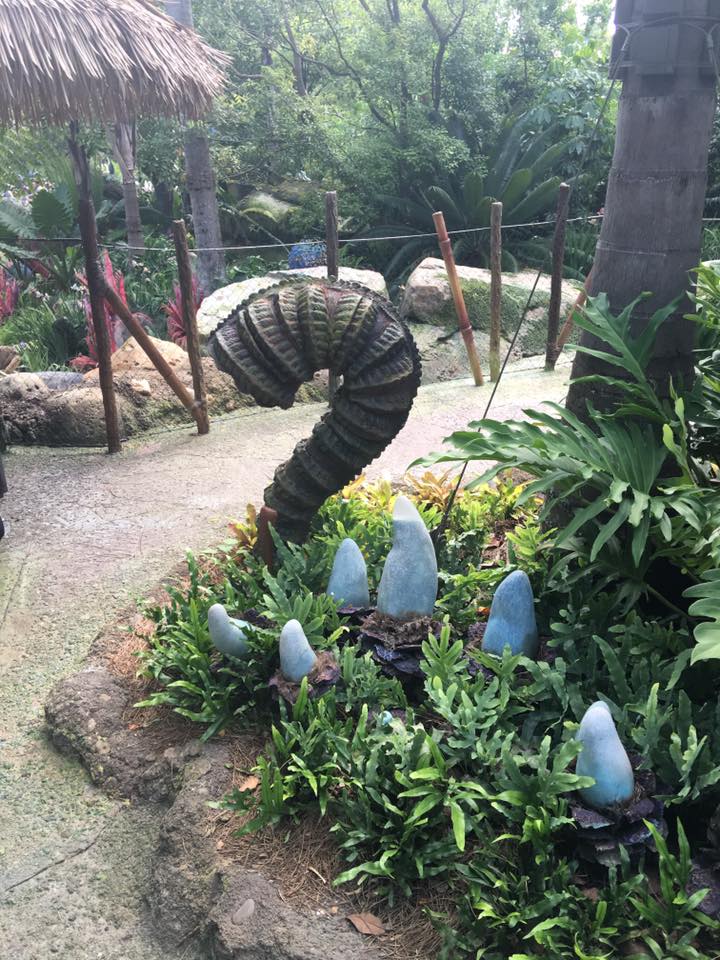 You can eat real food…
…AKA something besides chicken nuggets. Disney has some world-class dining experiences, which, frankly might be wasted on small humans who refuse to eat anything but chicken nuggets, grapes, and Cool Ranch Doritos. My friends and I ate at Tiffin's. It's a very cool, travel-themed restaurant with lots of things to look at and very friendly, attentive servers. I mean, duh…it's Disney.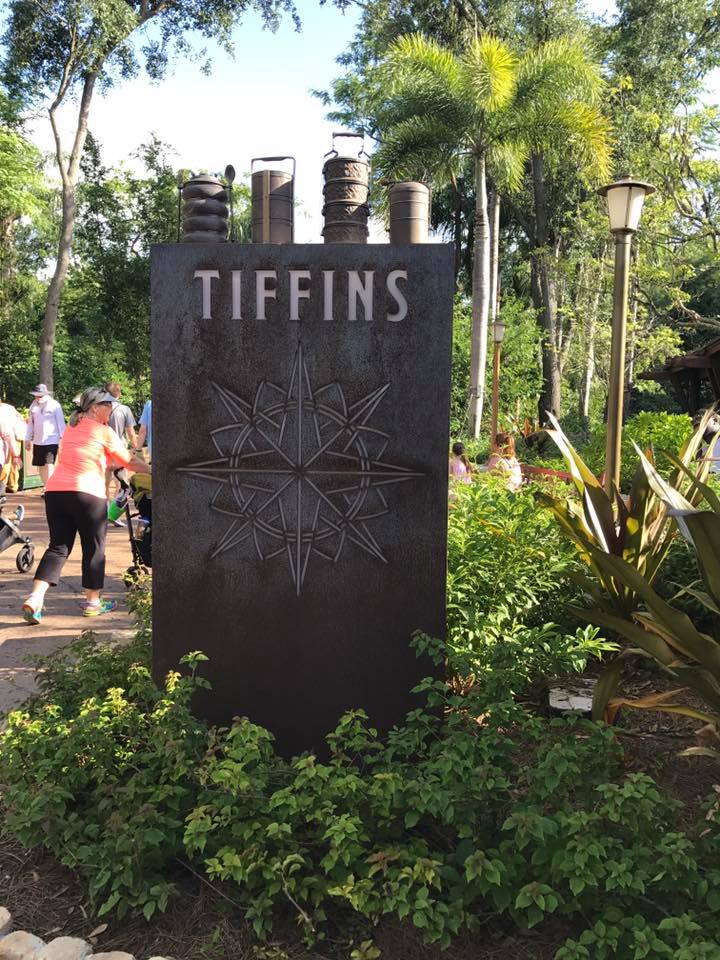 It was a very trendy, sit down meal experience which I totally enjoyed and my kids would have hated. I'm not saying Tiffin's isn't kid-friendly or that your kids wouldn't like it but Disney dining for my family means the quick service meals or character dining. This was a whole new level of magic.
Succulent chicken with sweet potato puree and an amazing salad? Yes! Sipping a tall, refreshing cocktail with an edible flower? You bet! Do either of those things go with a short person I'm related to is crying about his juice box? All the nopes in Nopeville.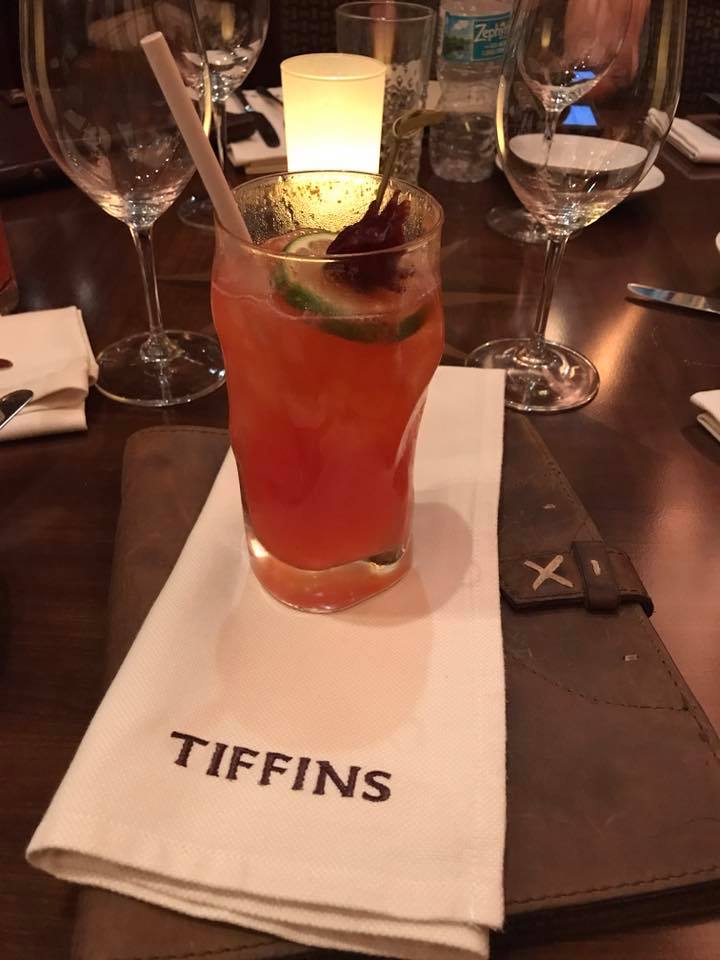 Cocktails
Need I say more? Yes, you can imbibe when you're visiting Disney with your kids. You might feel you need to…no judgement from me on that one. But. Disney without kids offers you a guilt-free cocktail. Or two. Grown-up Disney drinking is a different situation than having someone give you the side-eye because you're drinking some wine during your Yak & Yeti lunch with your kids.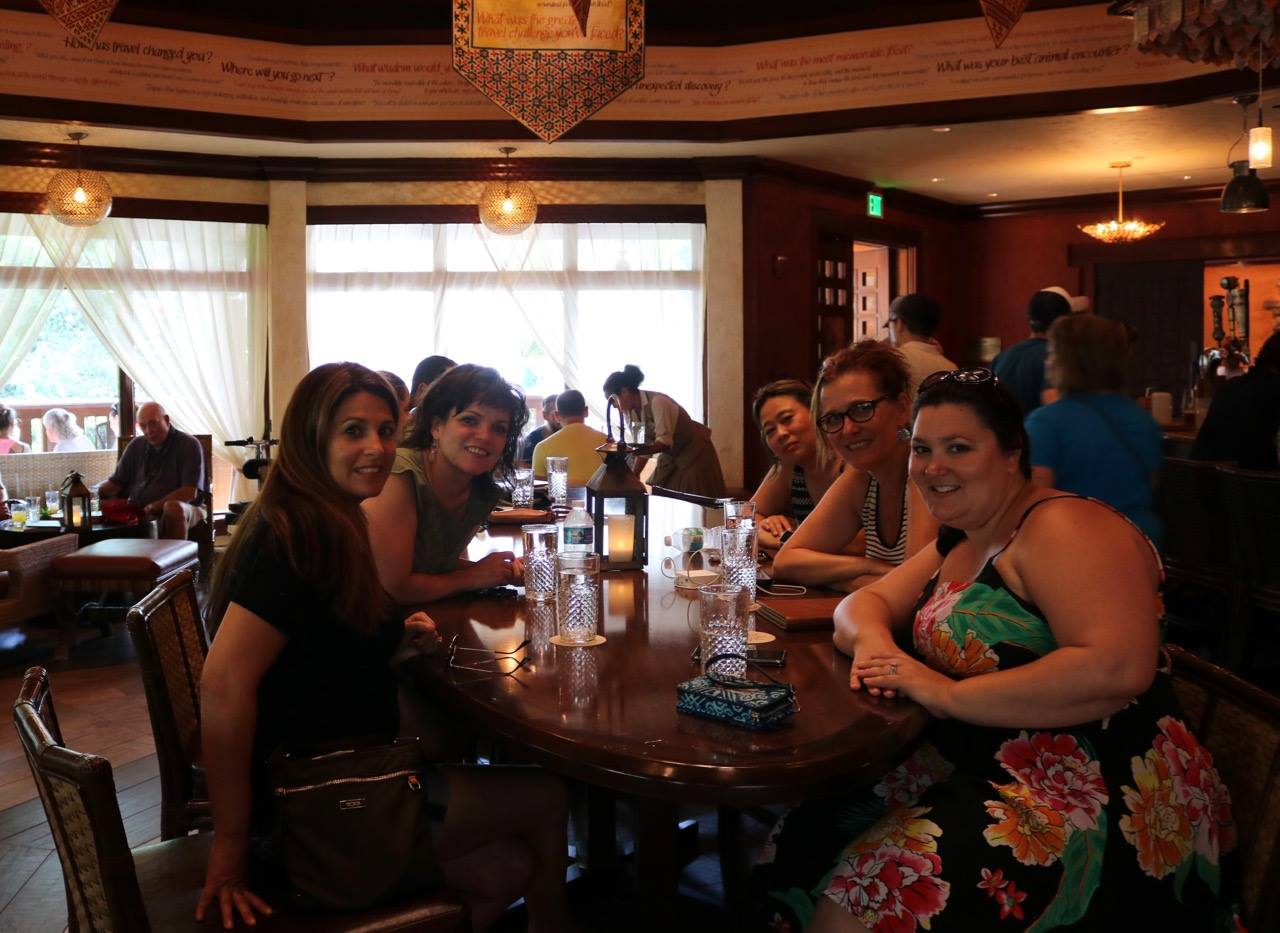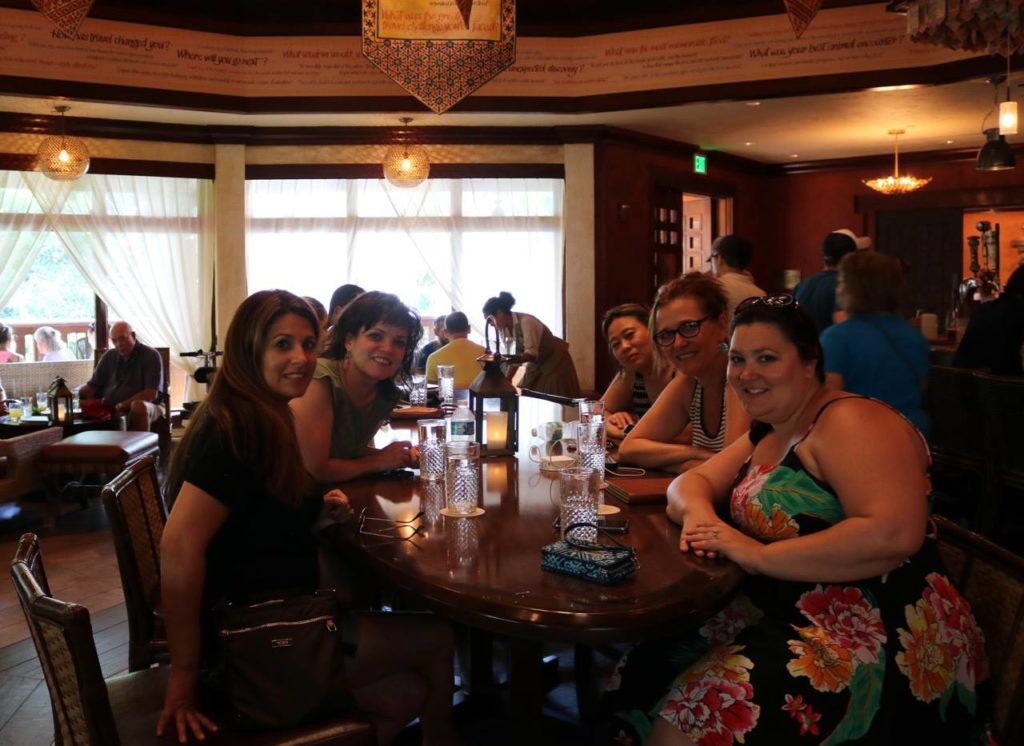 The new Satu'li Canteen in Pandora: The World of Avatar has some fun adult beverages. I didn't get to try them on this last visit, but I always like to leave something to look forward to for next time.
You can take advantage of the naptime wall
Most families with young kids go to the park early, leave for a snooze or pool break during the afternoon and return in the early evening to check out the fireworks and parades. And, if you're visiting Disney with younger kids, that is exactly what you should do.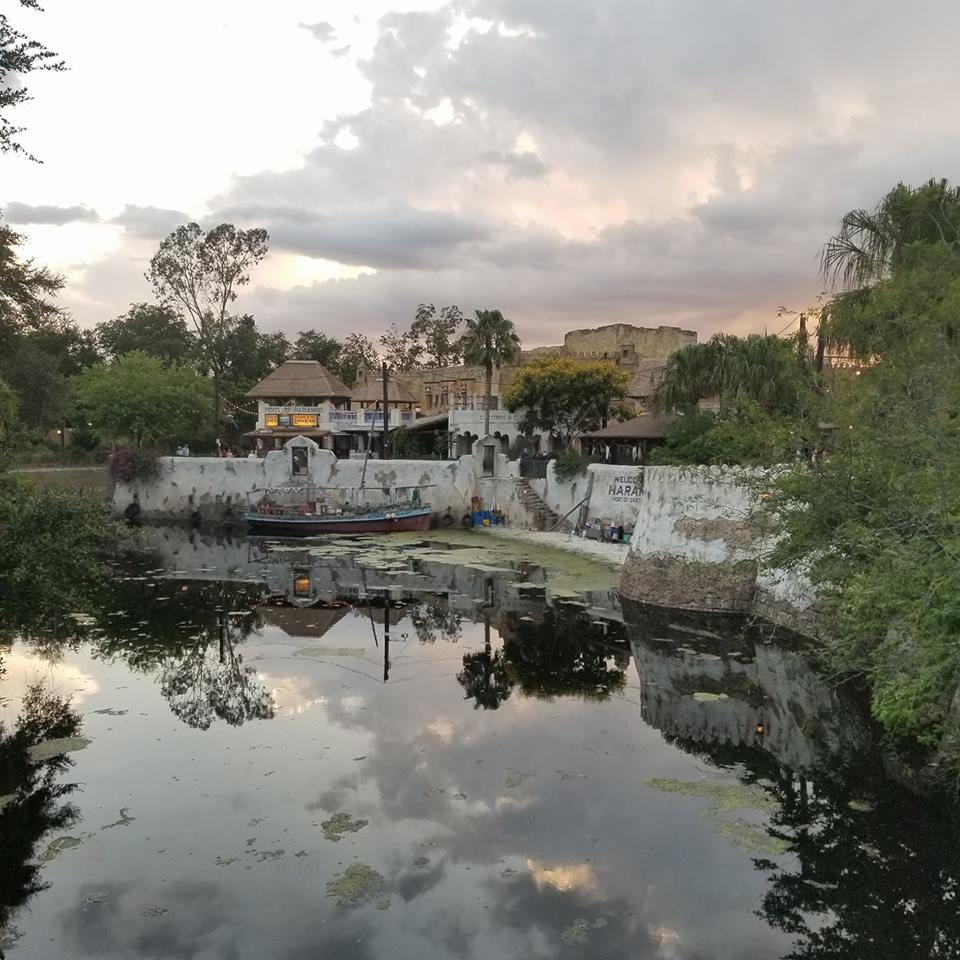 If you're visiting Disney without kids, the best time to go is at about 2 p.m. when the hardcore rope droppers (AKA the folks who line up to get in the park immediately after it opens) are leaving. They're leaving because their kids are melting down, because they're tired and hangry or because they're out of snacks and wet wipes.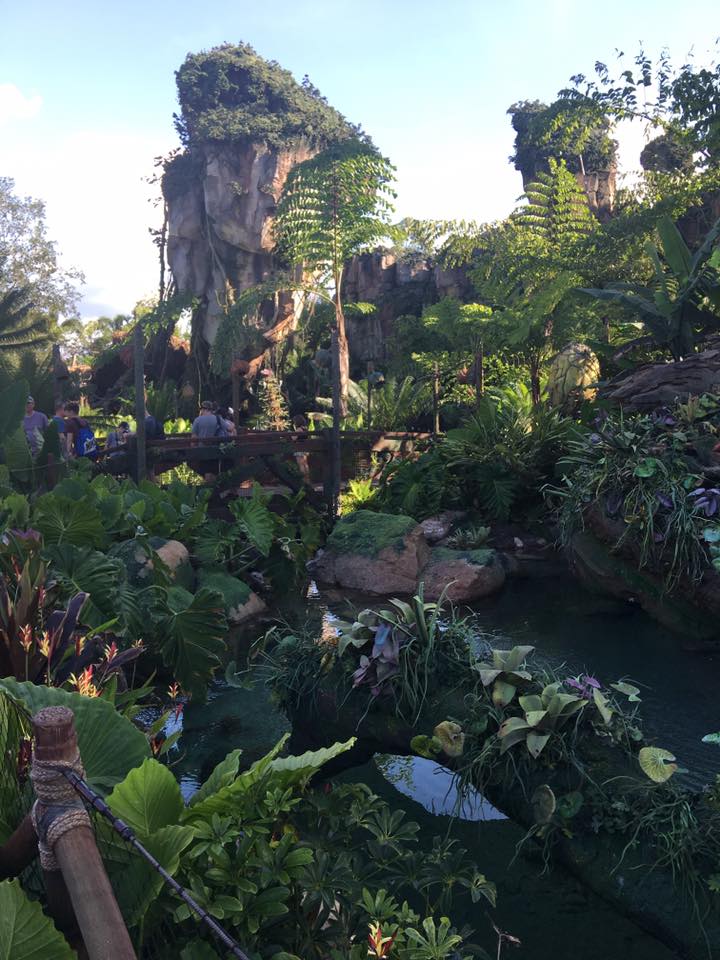 No matter. They're out, you're in. Enter the park at 2 p.m. and head for the ride with the longest line, which is currently Avatar Flight of Passage. Since that's Animal Kingdom's newest ride (see also the coolest ride ever) the line will be long no matter what, but we had good luck around 2:30 p.m. and others have reported the same. With no kids whining about the wait time or telling you they need to pee when you're smack in the middle of the line, the wait is bearable. Plus, waiting in line while you're having adult conversation can't compare to waiting in line with people who ask you "how much longer" every 43 seconds.
No ride bargaining or ride drama
You don't have to deal with the conflict of one kid wanting to ride thrill rides and one kid crying that you'll ruin his life if you force him to ride Space Mountain.
You don't have to deal with the disappointment of a child who is just a smidge too short for the roller coaster she desperately wants to ride.
You don't have to deal with shuffling, child swapping and splitting up your group in the name of family unity. Visiting Disney without kids takes away all the ride drama and leaves you more time to enjoy yourself.
Look, no kids!
You won't have to hold anyone else's stuff or eat chicken nuggets unless you want to. No one will expect you to figure out where to dispose of their trash. You probably won't have the urge to wipe your companion's nose with the hem of your shirt or tell them to "just try to go to the potty." And, it's a safe bet that no one will whine because you're not buying them souvenirs. When you go to Disney with other adults, they generally bring their own money and can wipe their own behinds. Winning.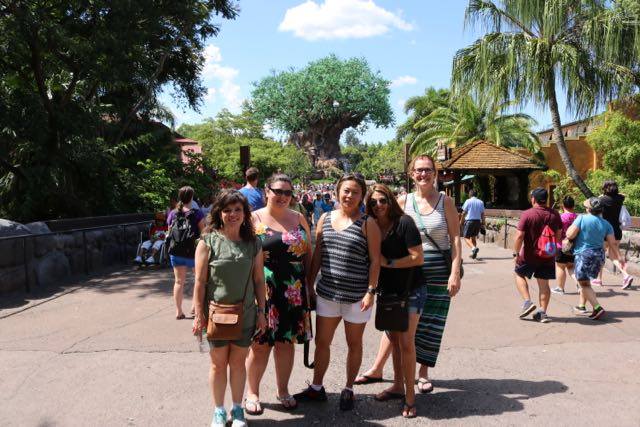 I'm currently planning my next Disney adventure with my kids. We'll have a great time. I might sigh a little wistfully when we're in a long line and my kid asks me for the umpteenth time "how much longer." But, I'll happily eat chicken nuggets, referee family disputes over rides and ask everyone if they've remembered to wash their hands – because after all, it's Disney!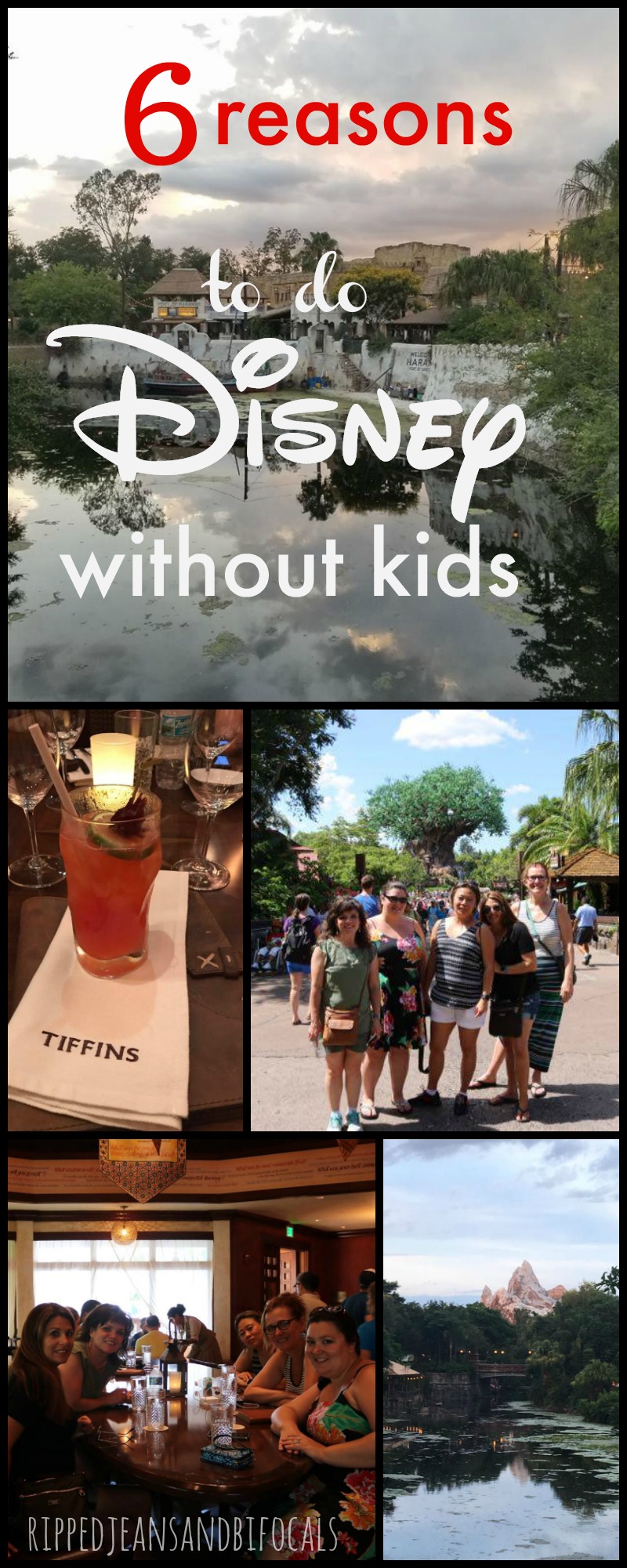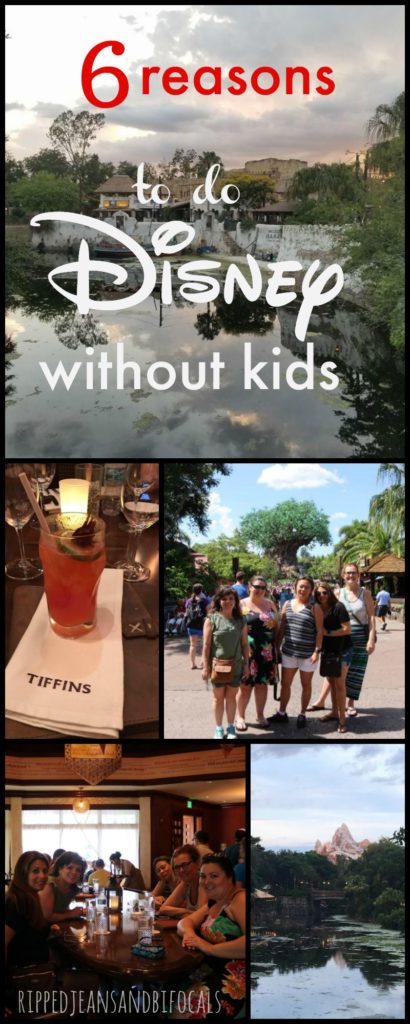 I received a complimentary media ticket to Walt Disney World. All opinions are my own. 
If you'd like to check out the blogs of the ladies I enjoyed my kid-free day at Disney with, here they are:
You might also like: