5 Reasons to check out Alabama Beaches
(This post may contain affiliate links. Read my full disclosure.)
Did you know winter is the perfect time to plan you spring break? It's true! I always recommend planning vacations at least one season ahead. That's not to say last-minute deals aren't out there but to get the best prices and the most choices, planning spring break just after Christmas is where it's at. If Spring Break screams "beach" to you then you need to know about Alabama beaches.
This post was sponsored by Gulf Shores/Orange Beach Tourism. All opinions are mine.
If you're looking for the "college kids gone wild" version of spring break at the beach, stop reading right now. Alabama beaches are perfect for families. If you're looking to party it up MTV style, I'm probably not going to describe the beach vacation you're looking for but if you're looking to take advantage of your kids' time off from school, Alabama beaches are perfect for a family spring break trip. Wanna know why? Read on.
June 2020 Update: Alabama beaches are open. If you're comfortable traveling, here are some things you need to know about summer travel to Gulf Shores.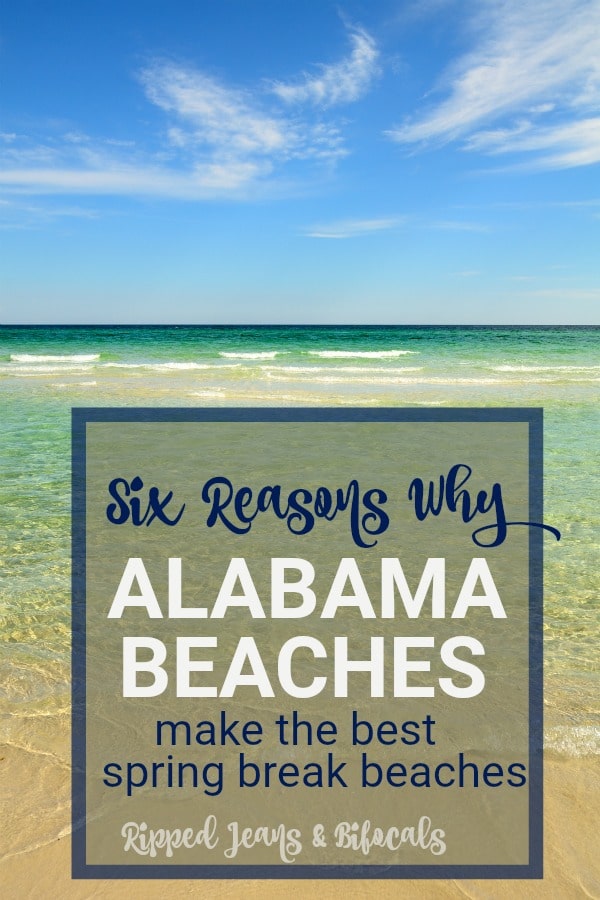 5 Reasons to check out Alabama Beaches for Spring Break
1. Alabama Beaches are Family Friendly Beaches
You won't find scenes from "Girls Gone Wild" or a beer pong tournament on Alabama beaches during spring break – or any other time. The Gulf Shores/Orange Beach community caters to family vacationers and not large groups of college kids looking to kick up their heels. The tourism industry wants to attract families looking to enjoy time together at the beach, not college students who are fighting for their right to party.
And, if you think I'm an old sour puss, I'm really not. I was young once and wanted to kick up my heels, too. I'll even go so far to say that I might have been part of a group of beach goers that present day mom me wouldn't want to sit next to on the beach. And, if you're taking your kids to the beach, you probably don't want to sit next to someone having a keg party blasting their music. No matter how wild and rowdy you were in your youth.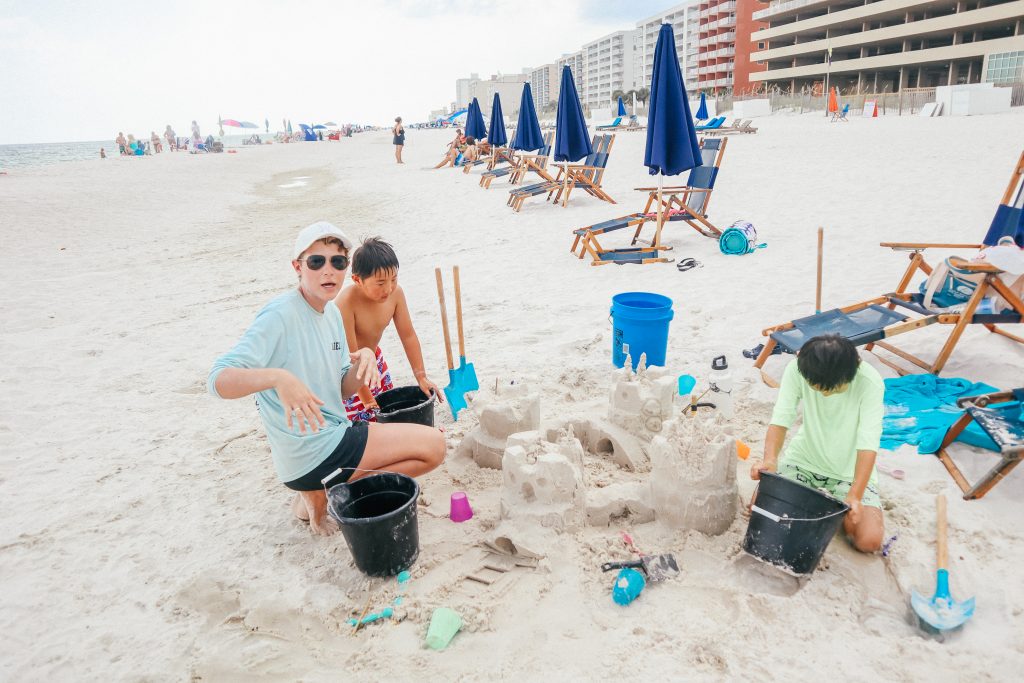 Related post: Unlock your inner child in with Sand Castle University
Gulf Shores/Orange beach is heavy on condos and vacation rentals and short on hotel rooms, making it more attractive to families and less attractive to college students looking to establish party central. Besides, during March and select days in April, alcoholic beverages are banned from the beach, which doesn't put Gulf Shores/Orange Beach at the top of the list for college spring breakers.
The community likes it that way, and if you take your family to Alabama Beaches during spring break, you'll like it that way, too.
2. Alabama Beaches Are Easy to Get To
Gulf Shores/Orange Beach is easy to access from the Southern and Southeast U.S. and is a popular vacation spot for southerners. When I visited in August 2019, I met people from all across Alabama, Tennessee and the Carolinas. What I loved about visiting with the tourists to Gulf Shores is that the same family groups come here year after year.
If you're coming from another part of the country like I am – I live in Texas and it's about a 10 hour drive – it's pretty easy to fly in. The Mobile Airport is about an hour away and the Pensacola Airport is a little less than an hour. There's also a small regional airport. Various shuttles and car rental options are available from the airports.
3. Alabama Beaches are BEAUTIFUL
I grew up in San Antonio, which is about three hours away from the Texas Gulf Coast. The beaches of my childhood are Port Aransas and South Padre Island. For the longest time, I though our Texas beaches were what all beaches were supposed to look like. I don't mean to knock Texas and I actually enjoy living here…but our beaches aren't very pretty.
They'll get you your beach fix, if that's what you're looking for but in my opinion, the white sands and turquoise waters of Gulf Shores/Orange Beach are worth the extra distance. When my kids and I were on a Dolphin Cruise with Cetacean Cruises Dolphin and Nature Sunset Cruise, we met a couple from our hometown. True story! When I asked if they ever went to Port Aransas or South Padre Island (our nearby beaches) they shook their head and said "The beaches here in Alabama are just better."
It's true. Sorry, Texas. Don't make me leave.
If you've ever been to the Caribbean or looked at a vacation brochure or website, you know what I mean when I talk about those stunning turquoise waters. This beautiful scenery is super easy to access and you don't need a passport or an international flight to enjoy them.
4. So many activity choices
So. Much. To. Do.
If you want to spend an entire week laying on the beach and watching the waves, no one's going to get mad at you. If you get tired of the beach and want to explore the area, you have loads of choices.
In addition to traditional water activities, such as fishing excursions, dolphin watching, and parasailing, there's a zoo, an arts center, and more. There's a TON of dining and shopping options. No matter what your taste in food or activities is, there's something here for you. The Gulf Shores/Orange Beach tourism site has all the info you'll need to plan the best visit. You can do as much or as little as you want and the vibe is very "go with the flow" and laid back.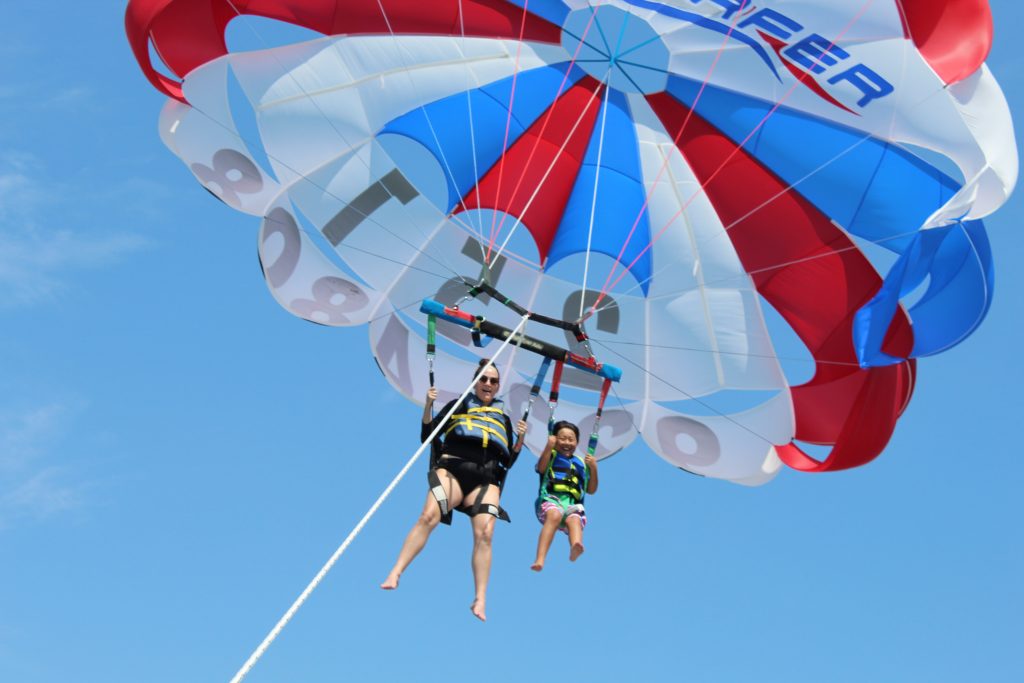 However, if you're planning to visit That said, if you're visiting during the busy spring break season and want to do activities that require reservations, such as parasailing, you may want to book in advance.
Also, the selection of restaurants can be overwhelming, so I recommend checking out what's available and making a wish list before you go. I did not have a single bad meal while I was there but I particularly recommend The Hangout and Lucy Buffett's Lulu's. These are great, family friendly places with delicious food and drinks and things for the kids to do.
5. You can easily afford to rent a condo
As I mentioned earlier, Gulf Shores/Orange Beach is very condo/vacation home heavy. Renting a condo versus renting a hotel room really takes your family vacation up a notch. I know what you're thinking: that it will take your credit card balance up a notch, too. Not so. If you think you can't afford it, you might be wrong.
You'll have to do your own legwork on the Gulf Shores/Orange Beach tourism site – they have links to lots of condo rental agents – and plug in the specific location, size and amenities you need. Your mileage will vary and there are a lot of different options available but you can easily get a two-bedroom for $125 a night or less. I've priced trips for a family of four during various points in the year and this is a good average price.
The condo we stayed in had two spacious bedrooms, two bathrooms, a full kitchen and living area, smart TVs, WiFi, a full-size washer and dryer and a balcony with an ocean view and breakfast area. Oh, did I mention this was beachfront property? As in walk out to the beach from the property? Yep.
It wasn't fancy – it was comfortable with little touches of luxury but it was the type of place you didn't feel uncomfortable about tracking sand inside. It was the perfect place to have a vacation. The beach was right there and when we weren't at the beach, it was a comfy place to relax. We played games, I cooked, I even got some work done at the spacious dining room table which I staked out for office space. I know, I know…working while you're on vacation probably isn't going to win you cool points with your family. I am a travel writer, though, so I hope I get a pass!
Spring break and the beach are ideal partners. It's a great reminder that winter is over and a fun way to get outside. If a spring break family beach vacation is in the cards for you this year, do yourself a favor and check out Alabama's Beaches. They have the absolute best of everything.
Traveling with a teen or tween? Check out Karen's tips for exploring Alabama's beaches.