If you're planning a visit to the Texas Wine Country – specifically the 290 Wine trail – I've got all the info to help you plan the best Fredericksburg winery trip. Like any successful trip, planning is everything. If you're a wine lover and you need tips for Fredericksburg TX, I'm your girl.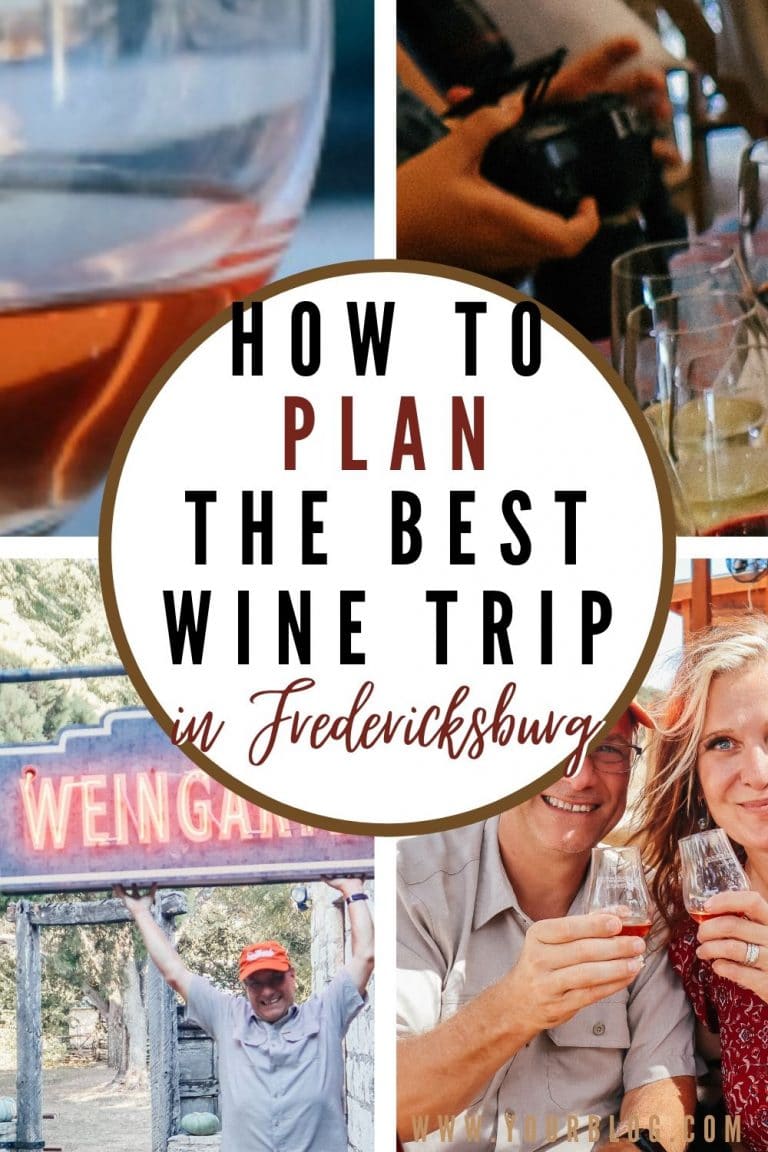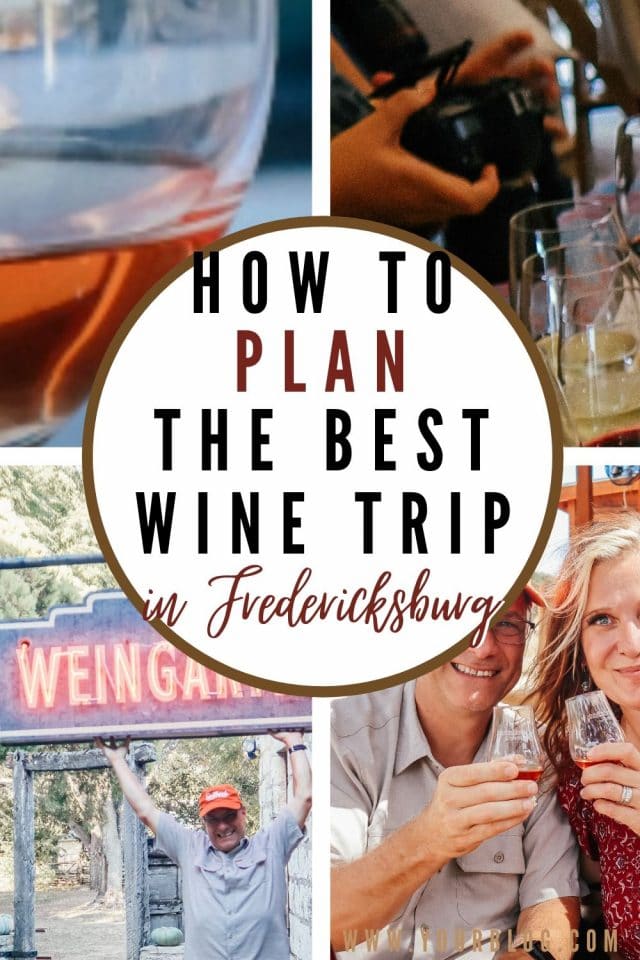 Tips for Fredericksburg TX – Plan the best Fredericksburg Winery Trip
Fredericksburg Texas and the surrounding area (Hye, Stonewall, and Johnson City) is one of my favorite Texas getaways. Fredericksburg is a wine lover's paradise – although there are plenty of family friendly activities to be found there as well – and it's a quick and easy trip from both San Antonio and Austin. I want to help you plan your very best winery trip so I'm pulling out all my best tips for Fredericksburg TX.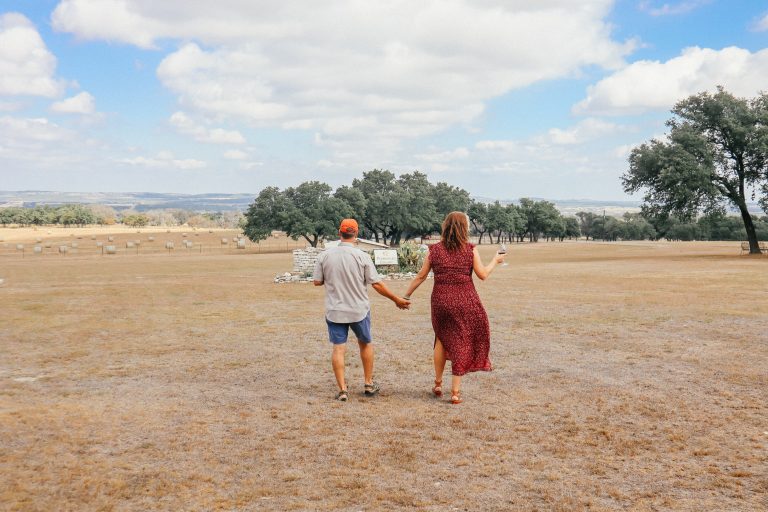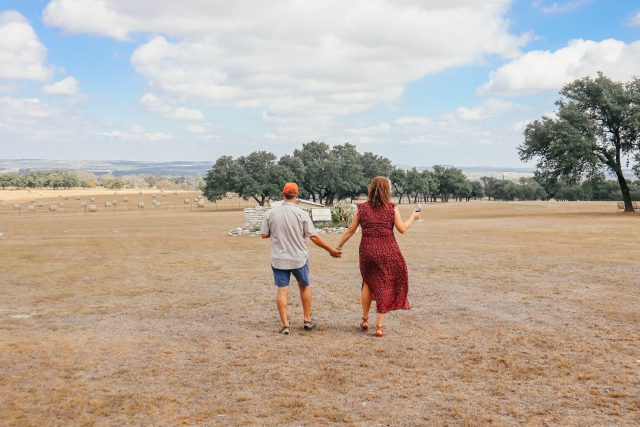 1. Consider a weekday visit, if you can
Weekdays are generally a lot less busy. Saturdays tend to be more popular with bachelorette parties. Sundays may be a little more sedate but most wine clubs close one Sunday a quarter for their wine club events. Don't worry, there are a lot of wineries and they don't all close for their club Sundays on the same day. One of my best tips for Fredericksburg TX is to call or check online before you plan your visit to make sure your choice wineries are going to be open.
2. Educate yourself on what a tasting includes/how much it costs
A wine tasting in Fredericksburg TX will run you anywhere between $10 and $25 and will include 4-8 tasting portions. There's a lot of variation and the tasting pour…well, that depends on who is pouring. Some tastings will include a complimentary half glass or glass of wine so you can more fully enjoy your favorite.
You'll typically be offered a discount on your tasting if you purchase a certain number of bottles of wine. If you buy in to the winery's wine club, your tasting will typically be free. Your mileage will vary so if you're on a tight budget, do your homework and add up the costs of tastings.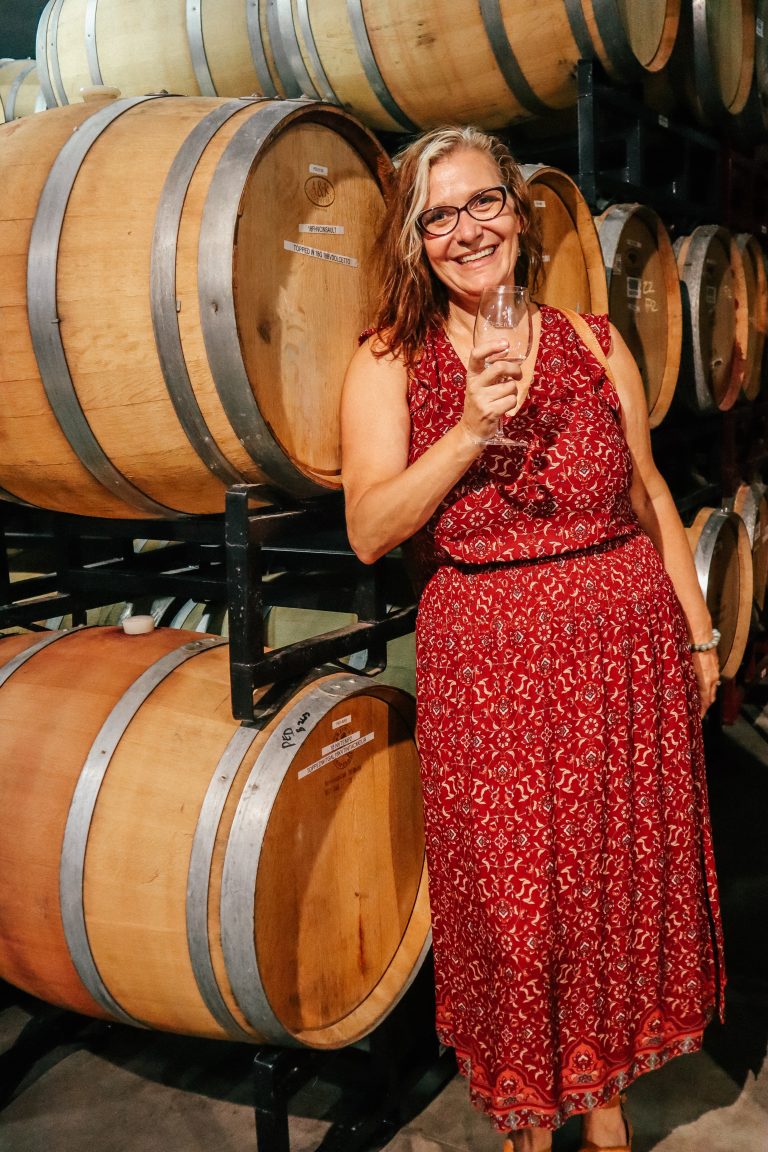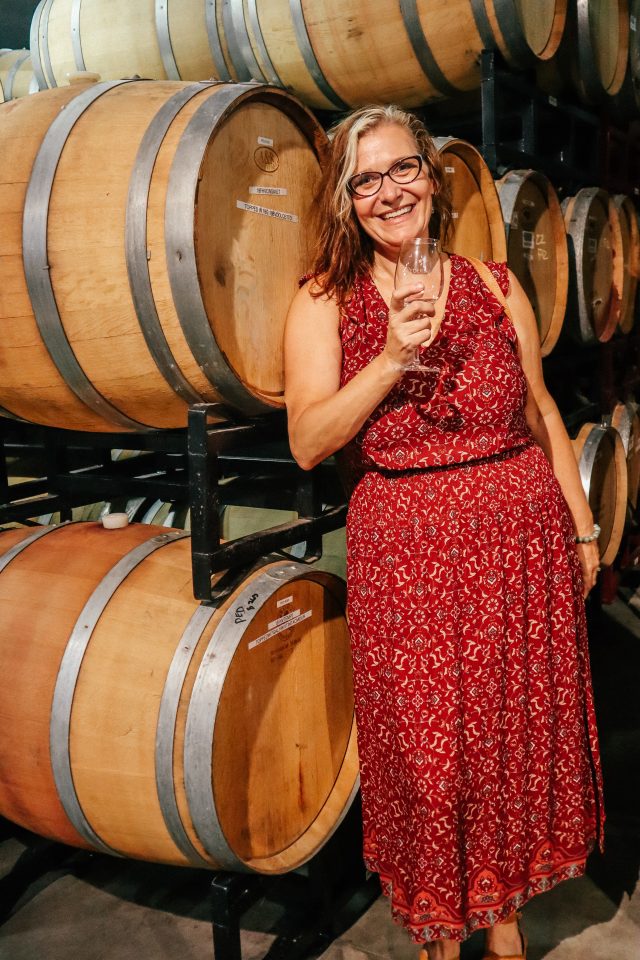 3. Be careful with wine clubs
Wine lowers your inhibitions. We all know that, right? Whoever pours your tasting will try to sell you on a wine club membership in some way. It usually won't be a hard sell and you probably won't have a hard time saying "No thank you" but if you're in a comfy, buzzy placed where you love the wine you're drinking, the logical choice might be "join the wine club."
Wine club memberships require you to commit to buying a certain number of bottles a year for a discounted price. There are usually levels of membership so you can control how many bottles you're buying. Most wine clubs operate on a quarterly basis so you'll be obliged to buy bottles of wine every three months. Not always a bad thing and buying a wine club supports a small business.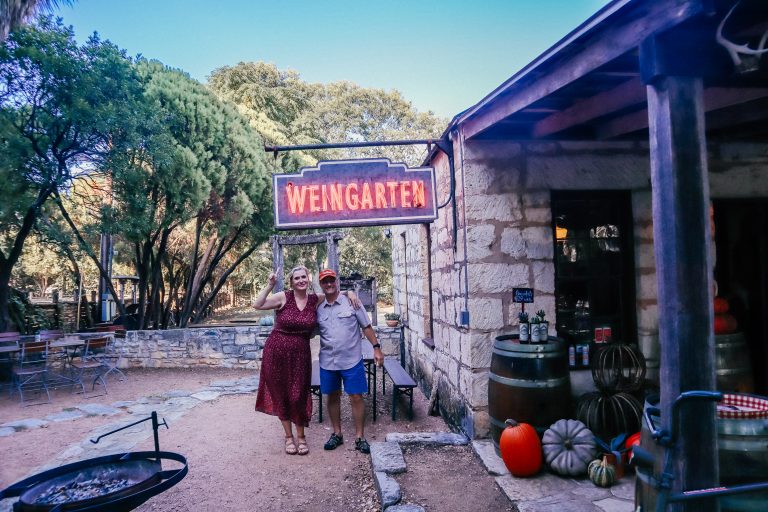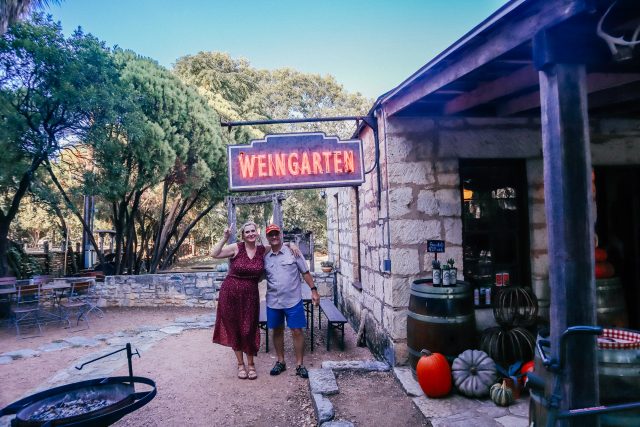 Wine club members typically get free tastings or free glasses on return visits and admission to invite-only wine club events. How fun these events are will vary from winery to winery but they'll usually include at least one free glass of wine, snacks, entertainment and extra discounts.
Related: How to have an epic couple's trip in Fredericksburg TX
If you live close enough to return to the winery at least a couple of times a year and you think you'll drink that much wine at home, this might be a good deal for you. If you're an out of towner who is not likely to return to the winery, the wine club may not be a great deal. Unless you can pick up your wine in person, you'll pay extra shipping and you'll probably have to be home to sign for an alcohol delivery.
A wine club might sound like a good deal in the moment but take a second to read the fine print. Some wine clubs require a certain number of months of commitment when signing up and you're fessing up your credit card number when you sign up.
Wine clubs in general can be a great deal but just don't get caught up in the buzzy "I LOVE THIS WINERY" feeling and commit yourself to spending that doesn't work for you.
4. Fredericksburg Texas wineries: For the best time, consider staying overnight in Fredericksburg TX
While you can do a Fredericksburg winery trip as a day drip with a sober driver, you'll have a much better experience if you stay overnight. An overnight stay will give you the chance to explore more wineries, explore more of Fredericksburg and the surrounding area and to do other activities in the area.
Our favorite place we've stayed in downtown Fredericksburg was the Hampton Inn. Hampton Inns are pretty similar across the board and like many other Hampton Inns, this one offers a pool, outside seating, inside corridor rooms and free breakfast. There's not a lot of local flavor but it's conveniently located on main street. It's an easy walk to the wine shuttle pickup point and to shopping and dining in downtown Fredericksburg.
We have also stayed in the Super 8 Motel in downtown Fredericksburg. I'm a little bit of a hotel snob and I wouldn't usually stay in a budget accommodation like this one. We stayed during a peak time when there were a lot of events going on in the area and we took what we could get. The room was basic, although comfortable enough, and it included free breakfast. It was outside corridor, which I don't love but Fredericksburg is pretty safe. It was close enough to walk to things in town and it was clean and comfortable enough.
We've also stayed at Stonewall Motor Lodge, which is a 1960's style motel that's been upgraded and remodeled. It's got a cute, quirky and retro vibe and it's a fun place to stay if you're going wine tasting in Fredericksburg with a group. Read my full review of the Stonewall Motor Lodge here.
5. Decide what wineries you'll visit ahead of time
There are lots of wineries in and around Fredericksburg and on the 290 Wine Trail and new ones are popping up all the time. Do a little research and make a list of what wineries appeal to you.
Check hours (some wineries are closed Mondays and Tuesdays) and get a feel for what kinds of wine the different wineries serve. Some of the Fredericksburg TX area wineries are heavy on the reds (the growing conditions are similar to Spain and there are some awesome Tempranillo grapes) and some have more balanced menus with a selection of both reds and whites. Some wineries – like Fat Ass Ranch and Winery, and yes that's a real place – feature delicious wine slushies.
6. Tips for Fredericksburg TX: Decide how many wineries you'll visit each day
In general, I recommend four wineries a day, maybe five if you have an extended, booze-free lunch. I know that doesn't sound like a lot but it can add up to a lot of alcohol. If have a tasting – usually equal to a full glass of wine – and a half glass of wine at each location, that's six glasses of wine – almost two regular size bottles, depending on the pour – in a relatively short time.
For most people, that's a lot of alcohol. You also might be tempted to buy a bottle and share it with your friends and enjoy the ambiance of the wineries. Nothing wrong with that.
I recommend picking three wineries that you really want to see and keeping two for your B List. I think it's better to really savor a few wineries and have a great time than trying to power through and see as many as possible. If you do that, you'll just be loopy, not remember it very well and have a headache the next day. No one likes that.
7. Have a Sober Driver
It would be great if you could do a wine crawl on foot but Fredericksburg isn't necessarily the place for that. The wineries in Fredericksburg, Stonewall and Hye aren't super far apart but they're definitely not within walking distance. You need a car to get from one winery to another and you'll need a sober driver.
If you have a member of your party that can refrain from drinking, awesome. By the way, you owe that person big time. If you don't have someone who is willing to take one for the team, you have options.
Take a shuttle or hire a private driver. You can check with the Fredericksburg Convention and Visitor's Bureau for recommendations. Many shuttles and wine tours leave from downtown Fredericksburg near the visitor's center.
I recommend hiring a private driver. Most shuttles will group your party with wine tasters. This is a fun way to meet new people but you'll relinquish some control. Group shuttles usually take a predetermined route. You won't get to pick the wineries you visit and you don't have control over when you leave. The price is a splurge but if you can swing the cost, it will definitely enhance your experience.
Two shuttle services I have personal experience with are Stagecoach Shuttle Service and Cottonwood Wine Tours. I recommend either of these services.
8. Tips for Fredericksburg TX – The surrounding area can be kid friendly
Enchanted Rock State Natural Area, the Science Mill in Johnson City, Wildseed Farms and more. Even though wine is king in Fredericksburg, there's a lot in this area for kids to do.
Also, many wineries in and around Fredericksburg are family-friendly. Call or read reviews before you visit a winery with kids. Generally, a winery with a robust outdoor area is considered kid-friendly (and also pet friendly) provided your kids are old enough to entertain themselves outdoors. Tasting rooms are generally not kid-friendly, although some may offer some seating.
Check out this post on things to do with kids in and around Fredericksburg for more ideas.
9. Tips for the best Fredericksburg Texas Winery Trip – Just have fun…but plan
Fredericksburg TX is a pretty flexible place where you're always going to find fun. That said, the stores, restaurants and bars in town – as well as the wineries – close down relatively early.
Make a plan for the evenings where there's not a lot open and have an idea of what kind of wineries appeal to you. If you only like dry whites, a visit to Messina Hof might not be your jam but whatever your wine taste, there is something in Fredericksburg that will delight you.
Related: Wineries in Hye Texas – My Top Picks