The best places to Instagram in San Angelo Texas – The 25 Most Picture Perfect Spots
(This post may contain affiliate links. Read my full disclosure.)
San Angelo is a gem of a small town in West Texas. Known as "An Oasis in West Texas," San Angelo is located along the heart of the Concho River in the heart of ranching country. It's a great place to discover western frontier heritage, cultural attractions, and, of course food. But what about the best places to Instagram in San Angelo? If you're all about "The 'Gram" then I have the 25 most picture-perfect spots for you in San Angelo Texas.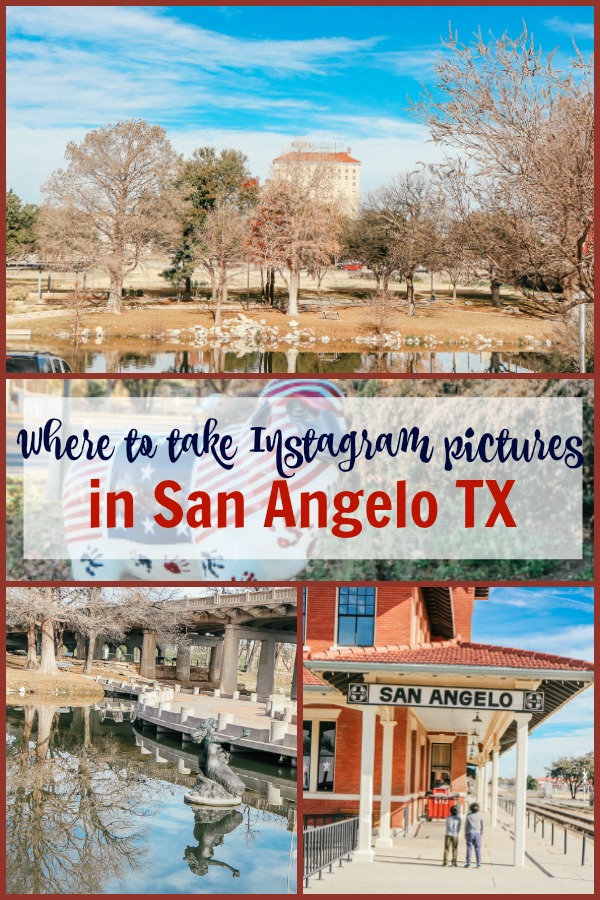 I was hosted by Discover San Angelo. All opinions and decisions of what pictures/locations to include are my own.
Disclaimer: We are a participant in the Amazon Services LLC Associates Program, an affiliate advertising program designed to provide a means for us to earn fees by linking to Amazon.com and affiliated sites. This post may also contain affiliate links to other sites where I will be paid a commission by the seller if you make a purchase. Thank you!
The best places to Instagram in San Angelo Texas: The 25 Most Picture-Perfect Spots
Before we dig into the best places to Instagram in San Angelo Texas (or take family pictures or any kind of pictures) I have to do a couple of disclaimers. First, I took 90 percent of the pictures you see here in the span of two-and-a-half days. In other words, I might have missed your favorite picture taking spot, and if I have, please let me know so I can add to my list. Second, I am a "forgiveness versus permission" person, meaning that I don't usually ask "Can I take a picture here?" I'm a mom with a good camera and two cute kids and I try to be as unobtrusive as possible when getting my shot, not get in anyone's way and not get caught climbing on anything I'm not supposed to be on. If I'm taking a picture inside a business or of a business, I try to buy something whenever possible.
If you're a professional photographer, plan to photograph in what might be private property, or get in people's way, I recommend you ask about photo permits…or at least ask in advance about taking pictures.
Here are my favorite fun spots to take Instagram-worthy pictures in San Angelo Texas. I hope you find a new favorite on this list. And, don't forget to find ME on Instagram and tag all of your San Angelo photos #SanAngeLOVE
1. Tacos Locos
Tacos Locos is located on South Chadbourne Street. It caught my eye when I was driving by because of the colorful tires out front. I also love a good hole in the wall and a good taco, and this looked like it could deliver.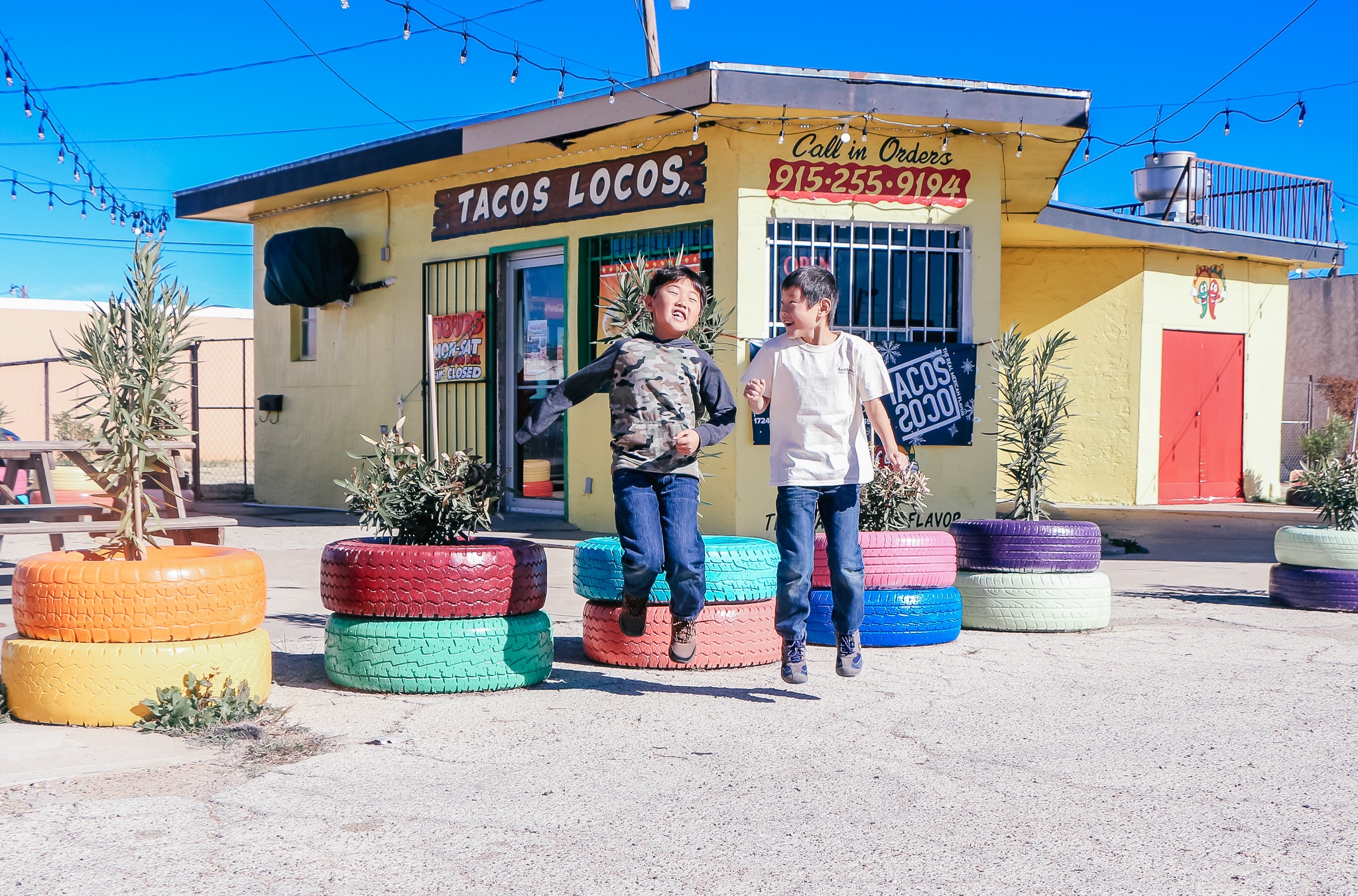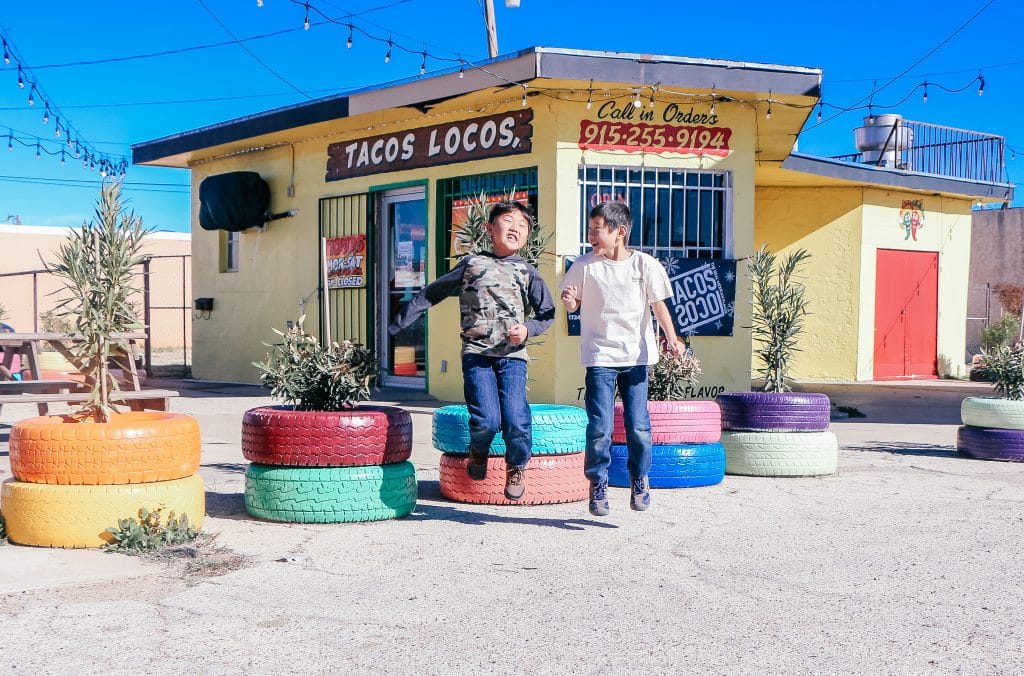 The place is tiny – five or six indoor tables and a few spaces outdoors – with a walk-up window and a small but respectable menu with all the standard Mexican favorites. We had the pastor tacos and the chips with guacamole…this was more of a snack stop for us so we didn't eat a ton. The guac and the sauces both pack some heat, so be ready for that. We went in at about 11:15 and by the time we left, the place was full, so Taco Loco is popular with the locals, and for good reason.
2. San Angelo State Park
San Angelo State Park is home to a herd of bison and a herd of Texas longhorn. We got to go out into the pasture with one of the rangers and watch the herds being fed. It was one of the most incredible experiences we had last year and it definitely goes down as a highlight of 2018 for my family.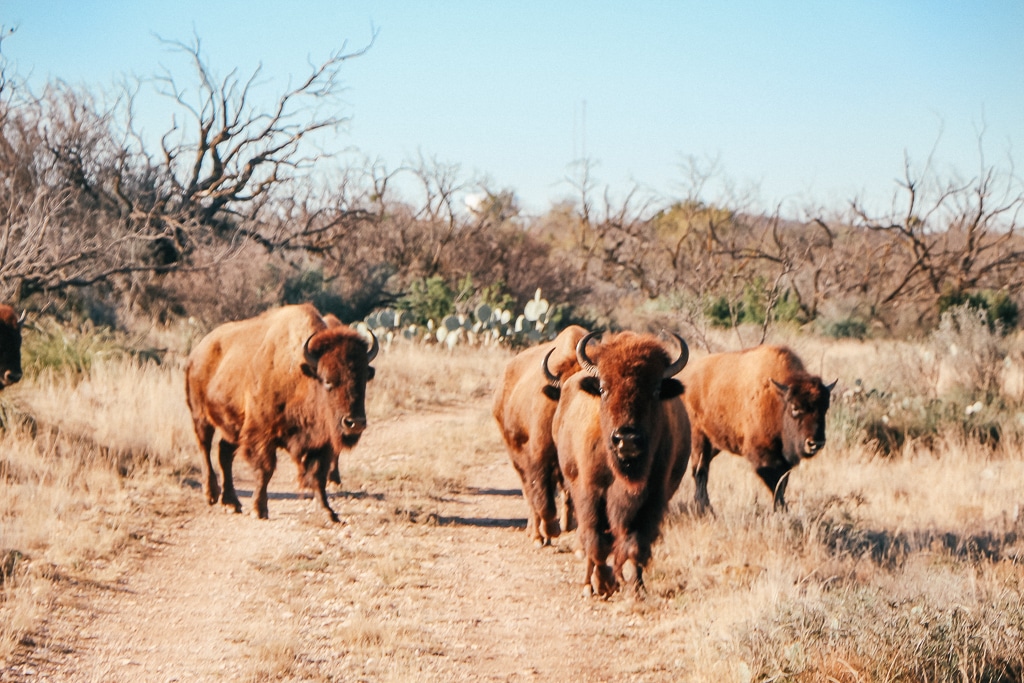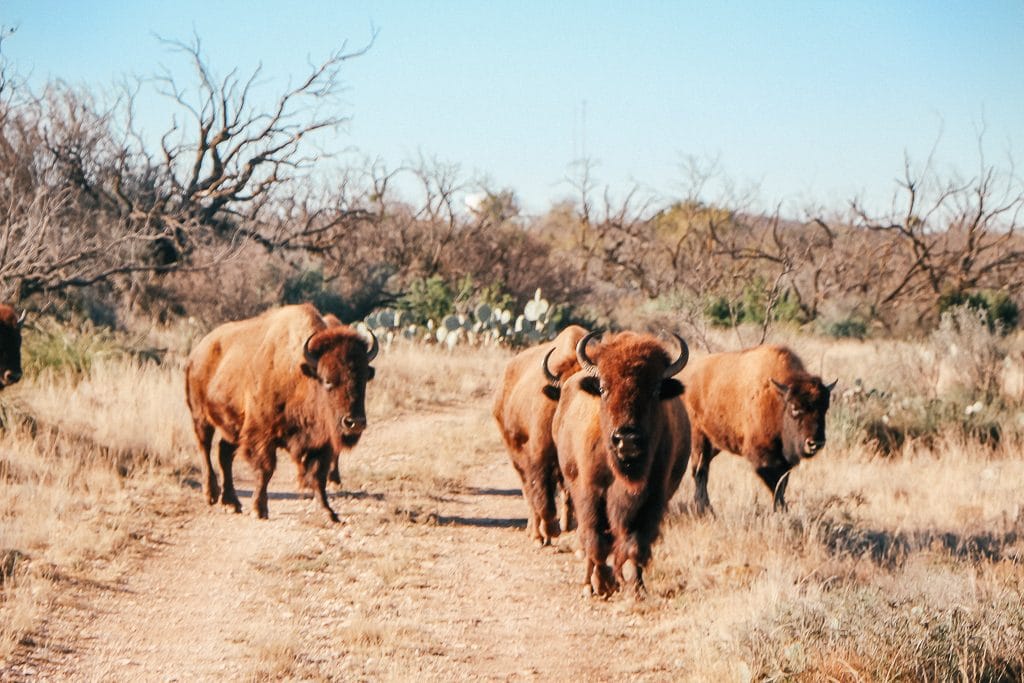 3. The San Angelo Sheep
What's up with all the sheep statues in San Angelo? The sheep give a nod to the city's history as a wool manufacturing hub and they're decorated by local artists. I kind of want one, don't you?
According to this website, there are 48 sheep in San Angelo. Not all are available for viewing – some are not yet placed yet or may be privately owned/displayed. Most of the sheep are located in or around the downtown area…although there are a few outliers that will surprise you. We found 14 of them.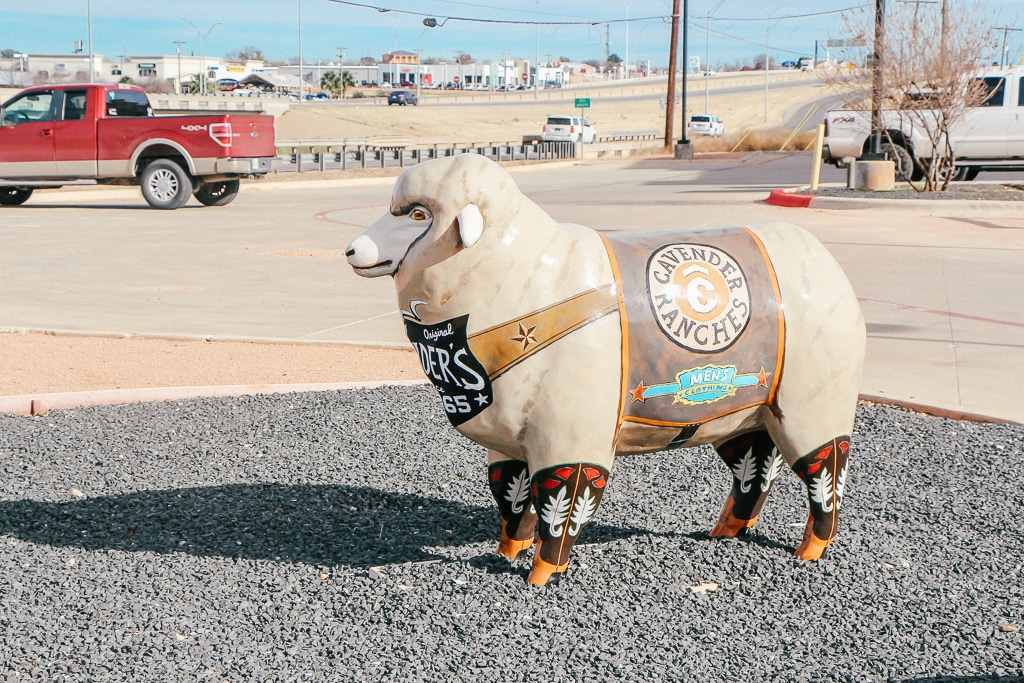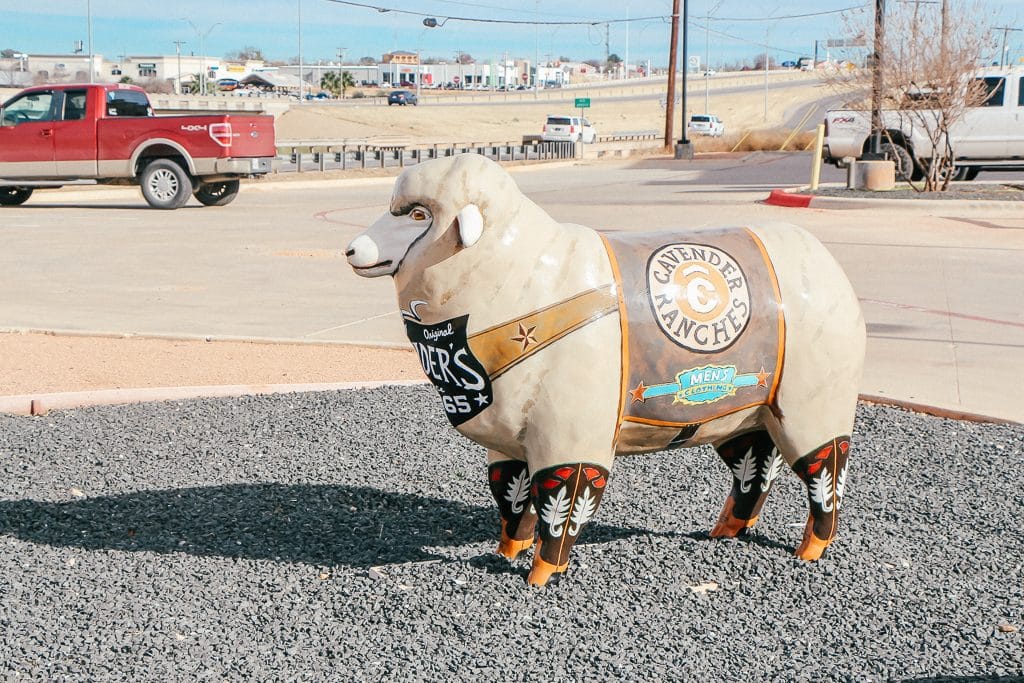 Have fun sheep spotting!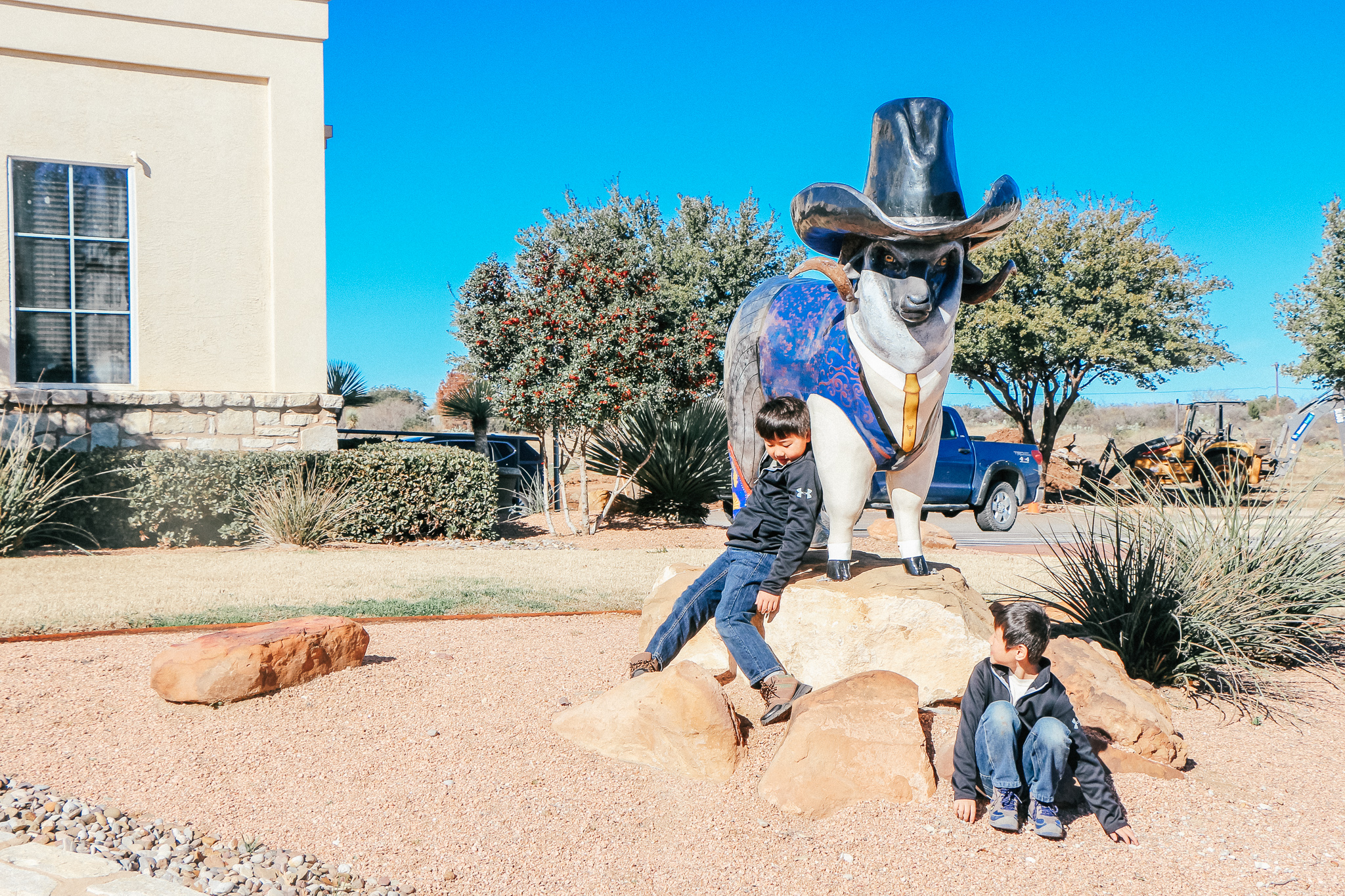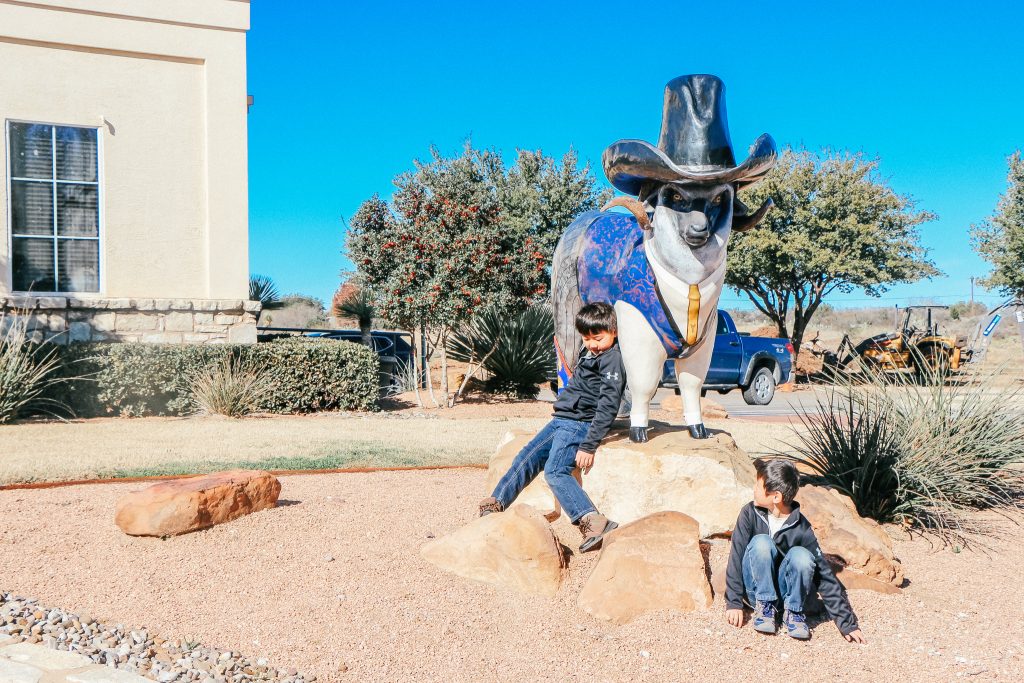 4. Murals
The downtown area is full of themed murals that make awesome backdrops for pictures. The only catch is that you need to get downtown early enough (or stay late enough) to get your pictures without cars. They're still fun to take pictures of and with but the cars kind of spoil the effect.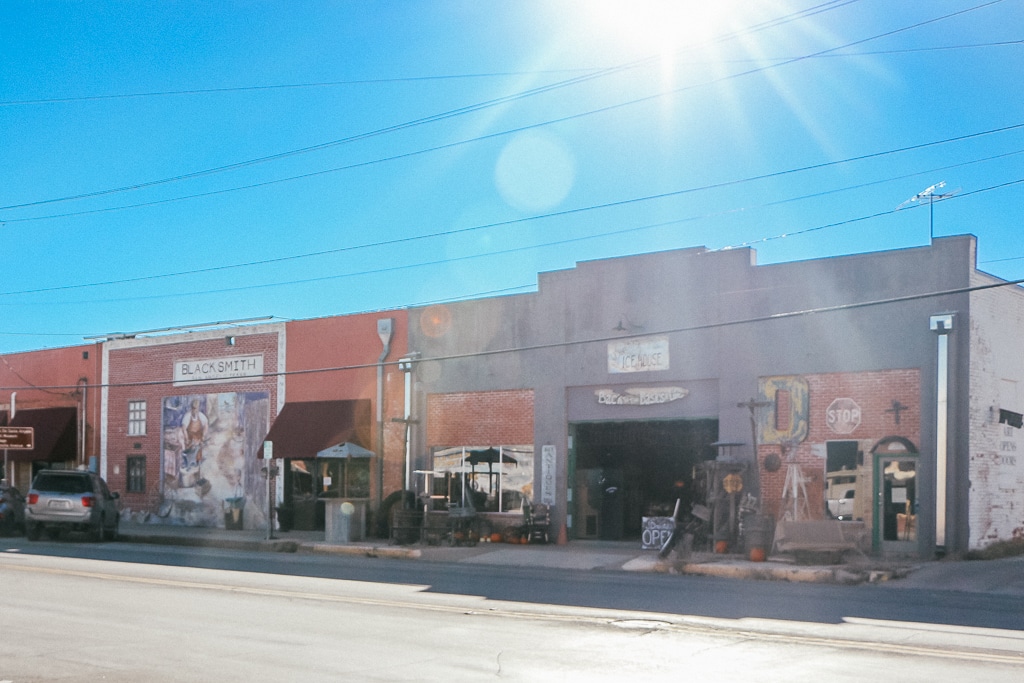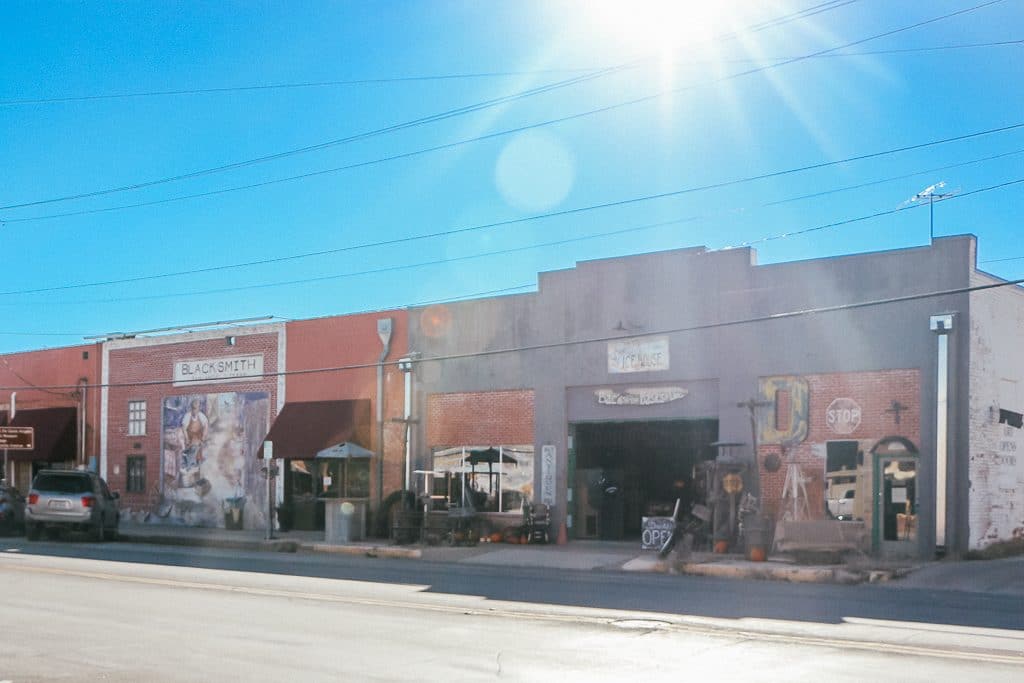 More about the murals here.
5. Street Art
San Angelo is full of street art which I think needs to be distinguished from the murals…but they are just as fun as the murals. There's a bunch of painted walls in the general area of Tacos Locos. This one…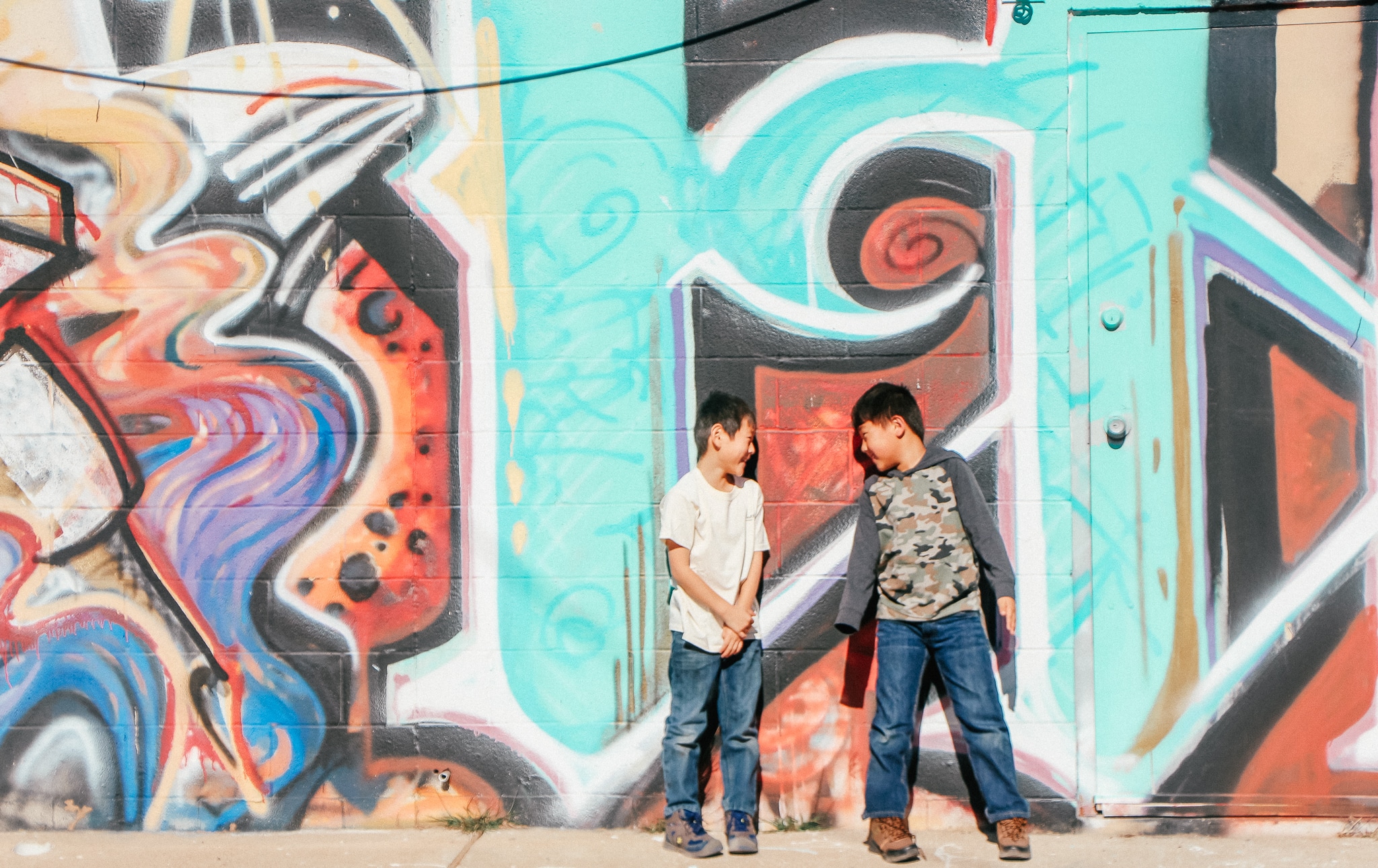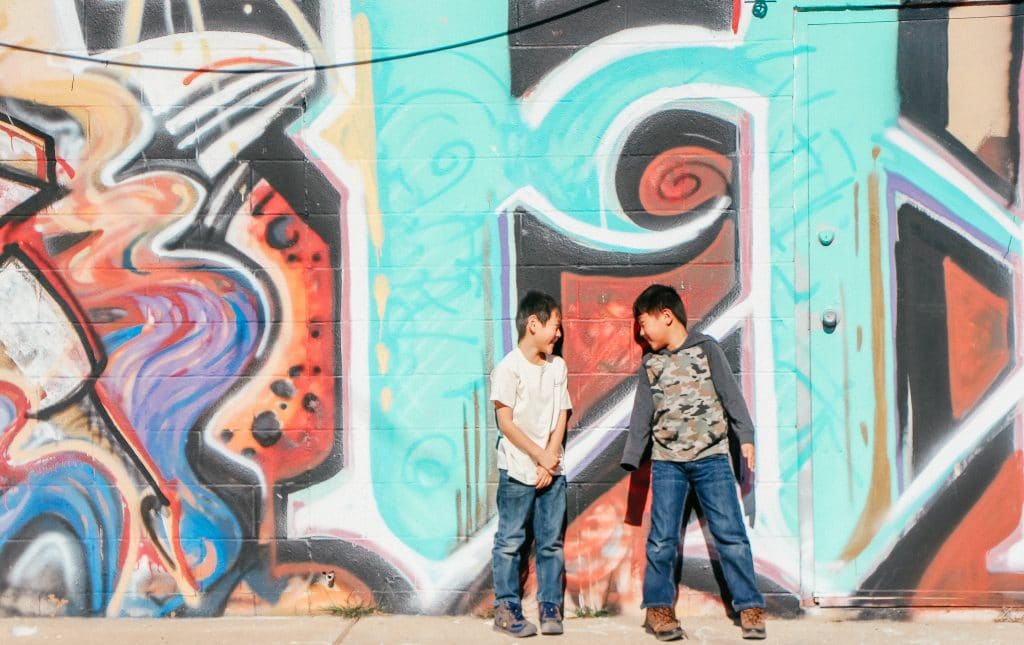 …is actually the front of a tattoo place, although the script is so fancy it took me a minute to figure out what it said. I zoomed, and you can't see the "tattoo" but this made an adorable backdrop for our photos, which is a fun way to look at things a little differently. It might seem weird to pose your eight-year-old boys in front of a tattoo place (I might have gotten some looks while I was getting this picture) but cropping can make a difference, right?
6. Angel Wings
These should probably be lumped in with the street art or murals but I kept them on their own because angel wings are a thing wherever you go, right? San Angelo is no exception. These are located on San Angelo's main drag, West Concho Street right next to one of the larger murals. They're easy to spot.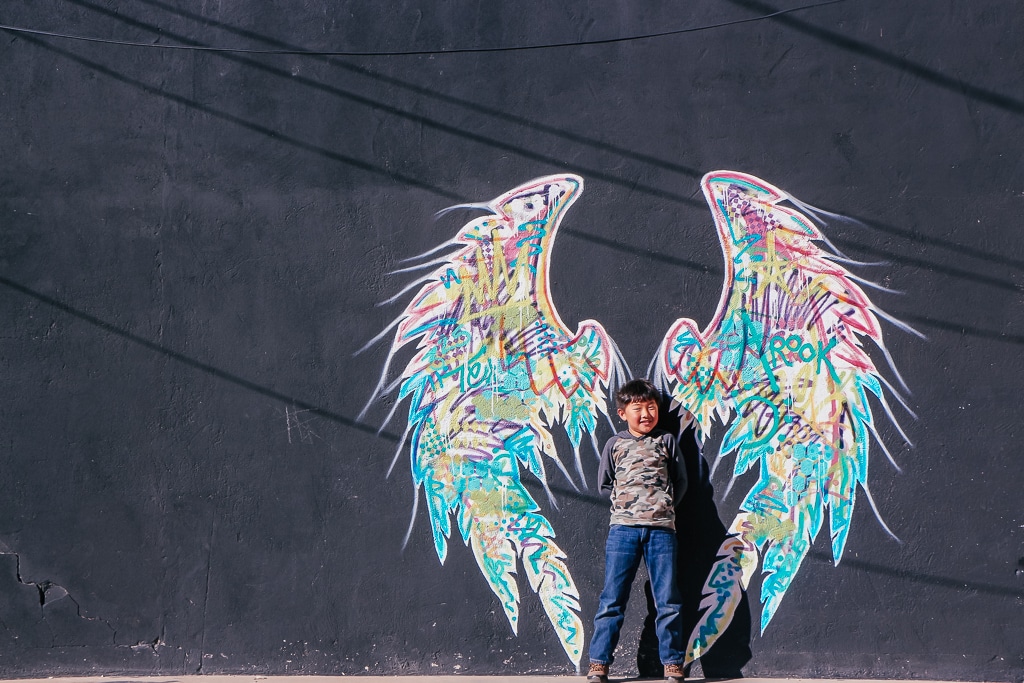 7. Goodfellow Air Force Base
San Angelo is a military town and that is evident all through the community. You'll find one of the San Angelo sheep out front as well as a static aircraft display. You can get a picture here without base access (park at the visitor's center) but per the Security Forces member on duty at the front gate, do not take any pictures of the Goodfellow Air Force Base signage.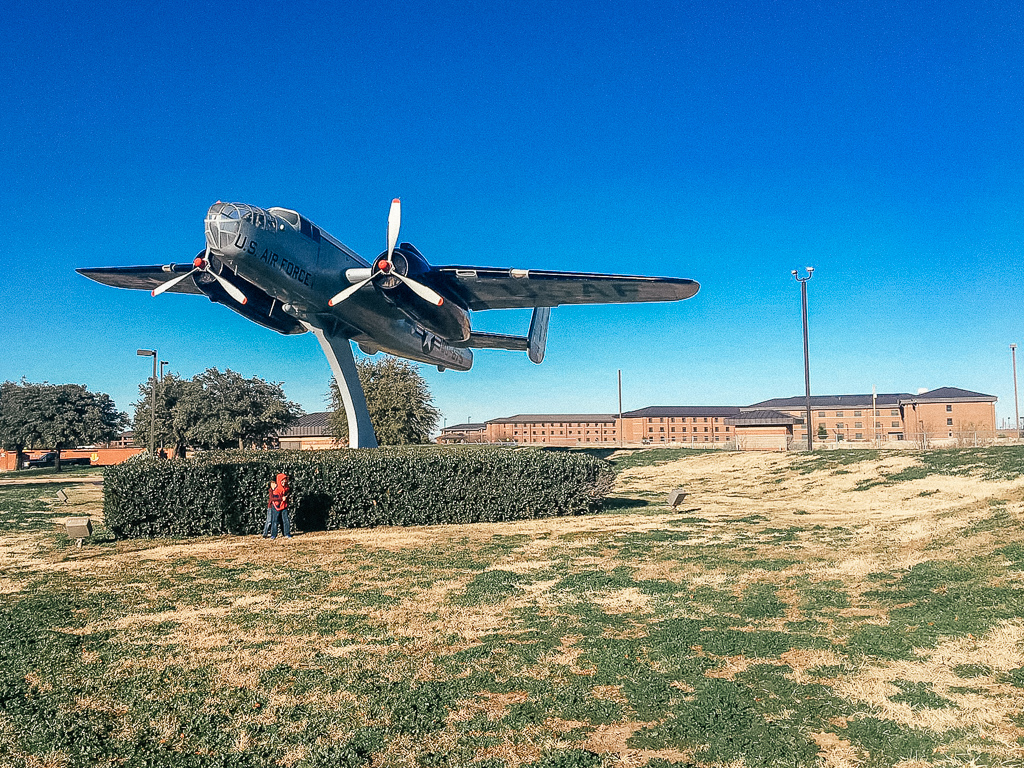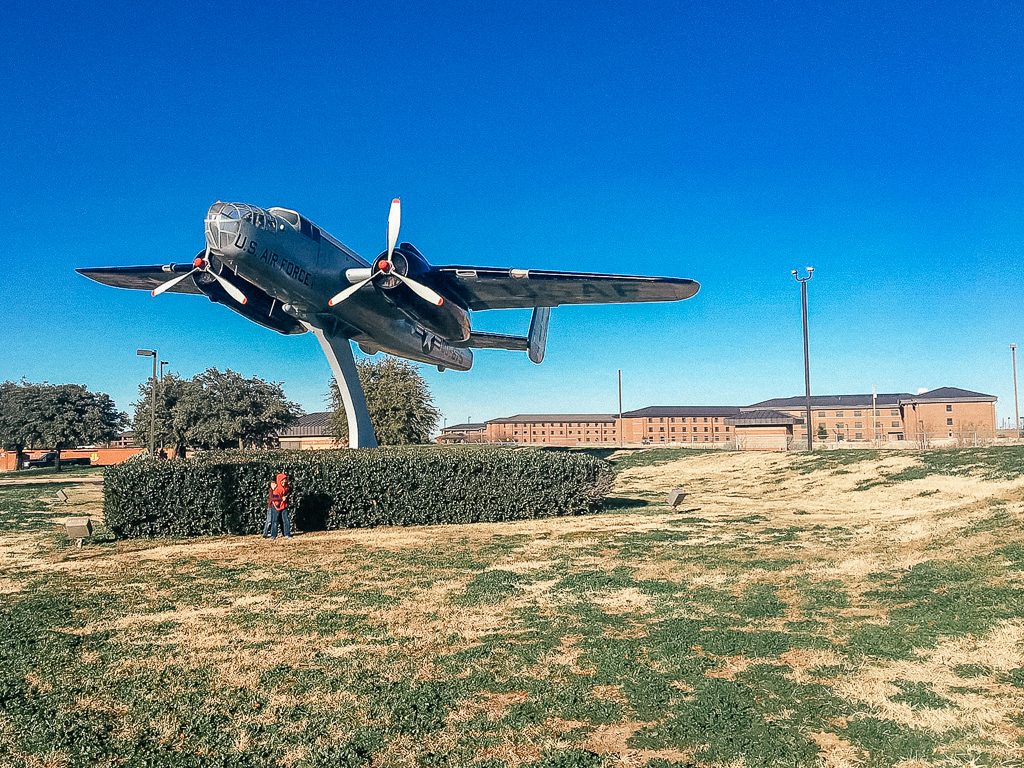 8. The Concho Pearl Icehouse
The Concho Pearl Icehouse on South Chadborne has a very Instagram-worthy front…I haven't eaten here since they remodeled…I think the last time I ate here was in 2015 but I remember their burgers being respectable…but the exterior has a lot of fun photo opps, such as these retro chairs: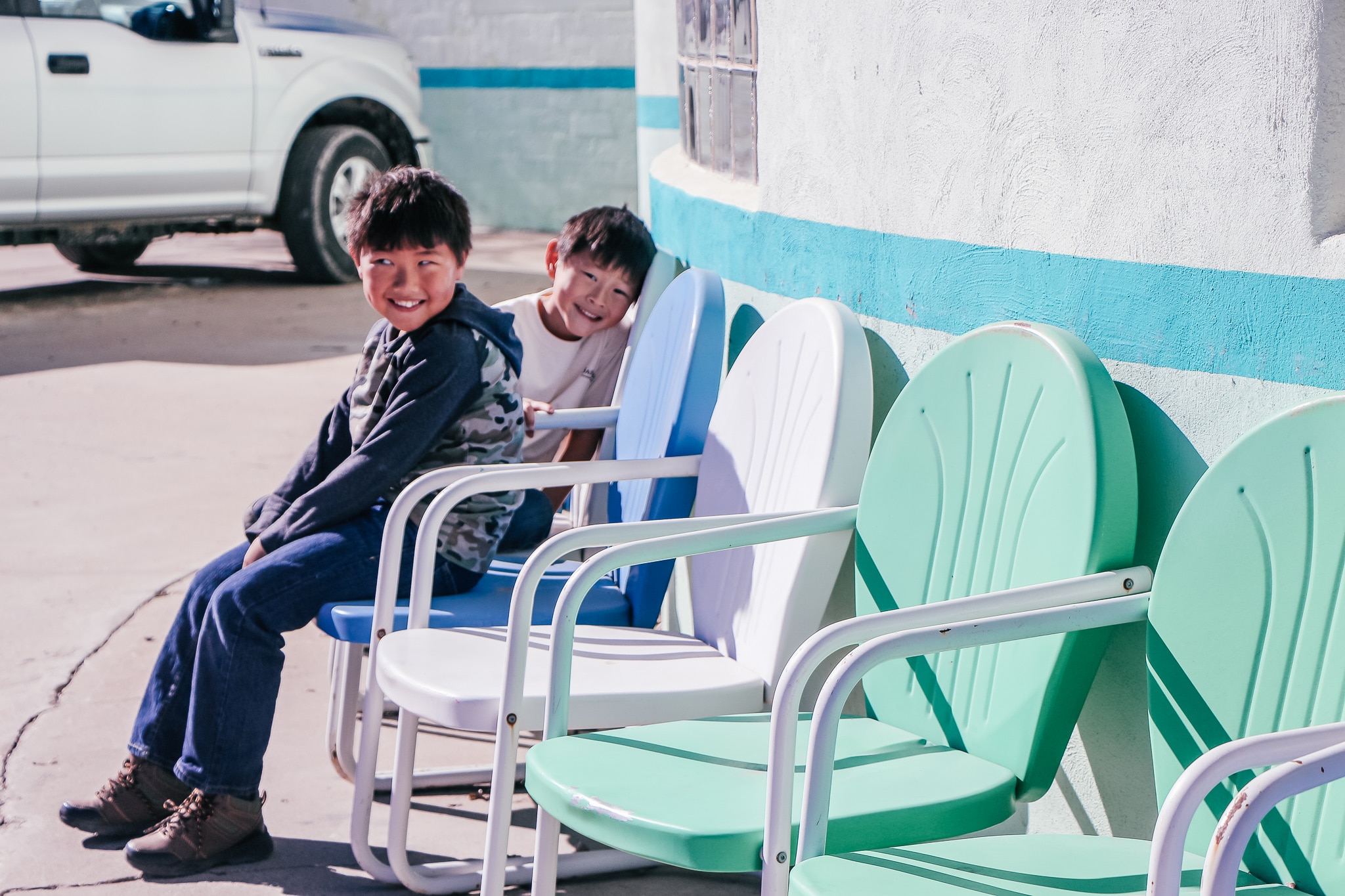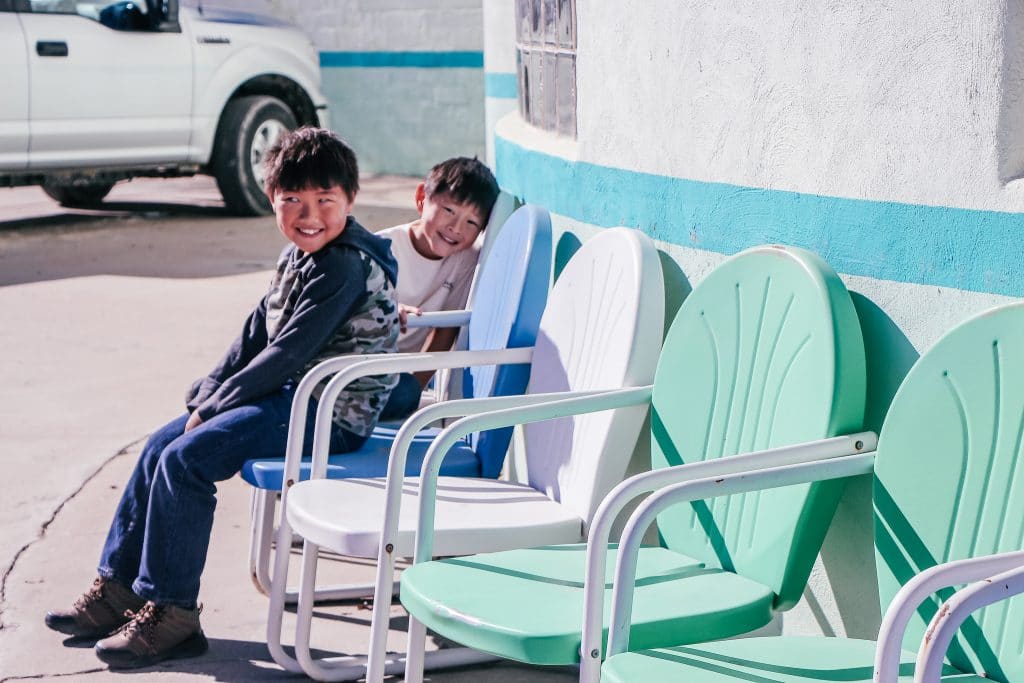 There is some additional street art/murals in the rear and on a building directly in back of The Pearl Icehouse. South Chadborne in general has a really interesting mix of texture and materials on their buildings and lots of places to park, so your perfect Instagram wall might be here.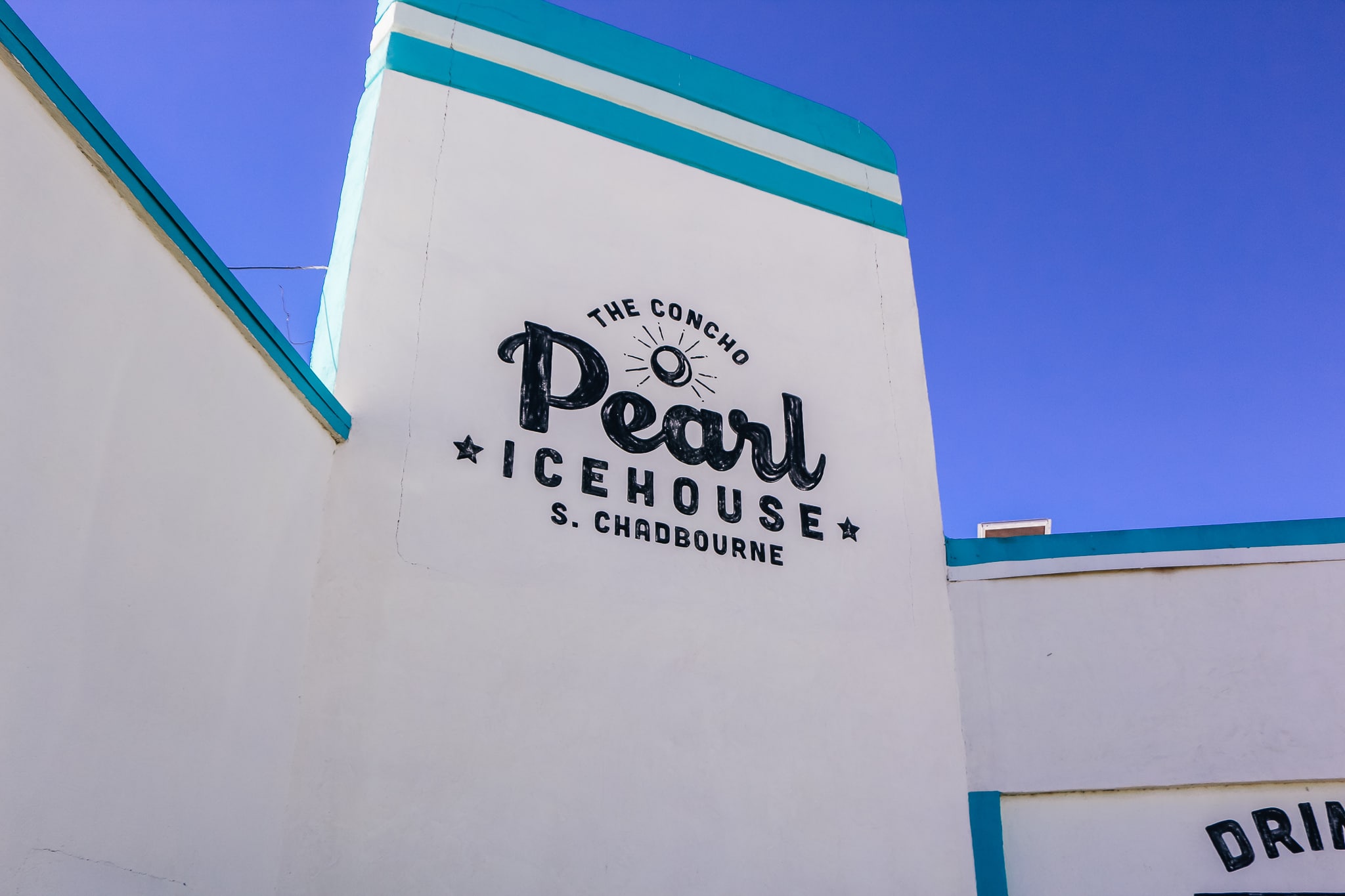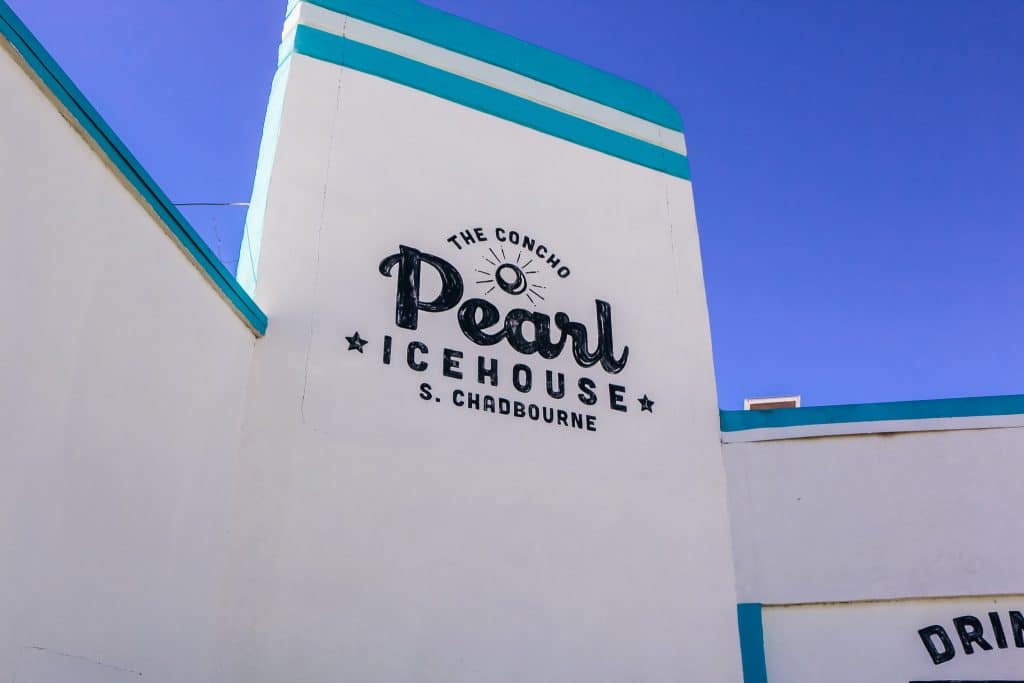 Check out The Concho Pearl Icehouse's menu here in case you want to stay awhile.
9. Kid's Kingdom Playground
As a frequent traveler, I can't say enough good things about finding a local playground and letting your kids run around, even if it's only for 20 minutes or so.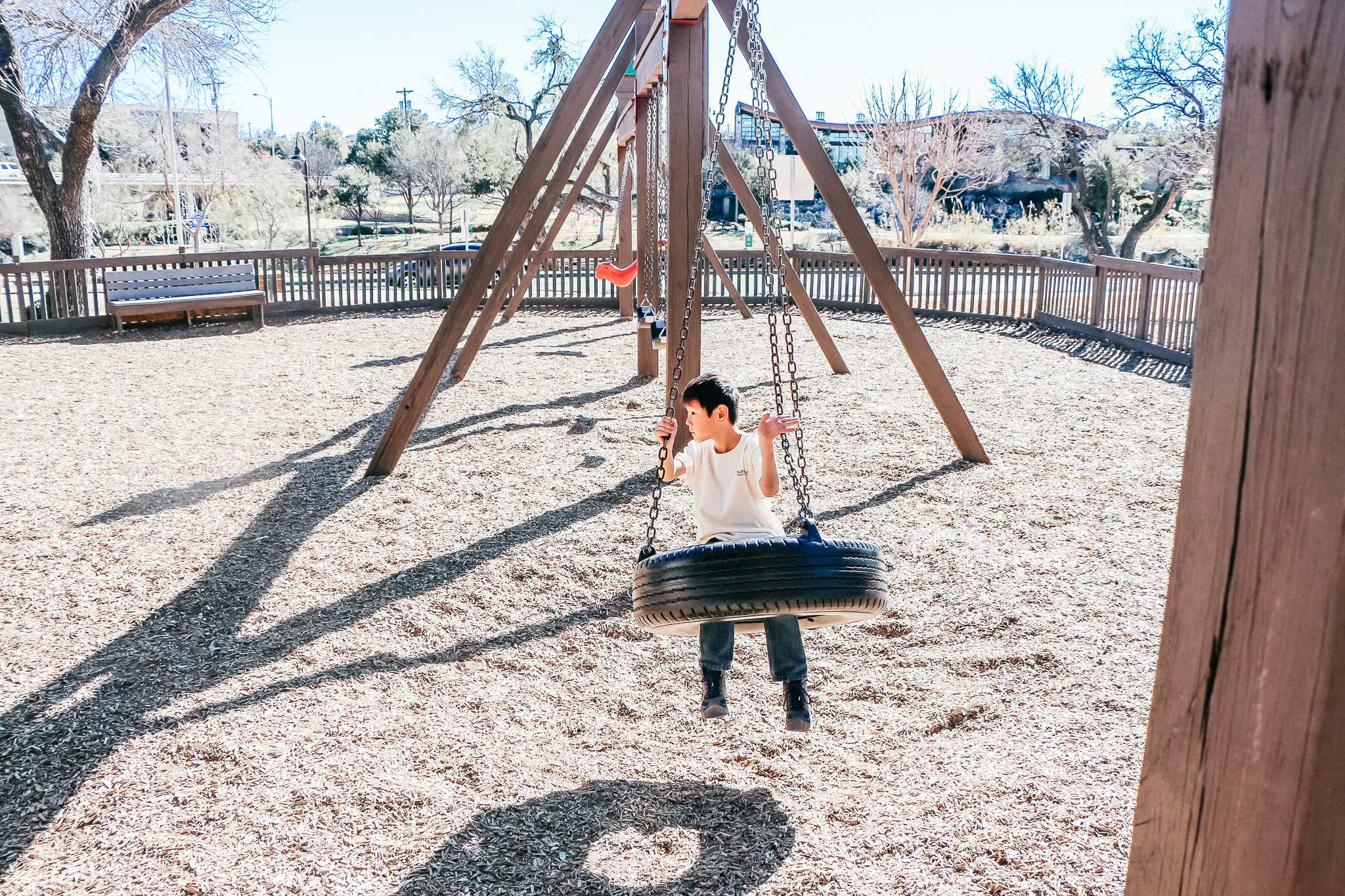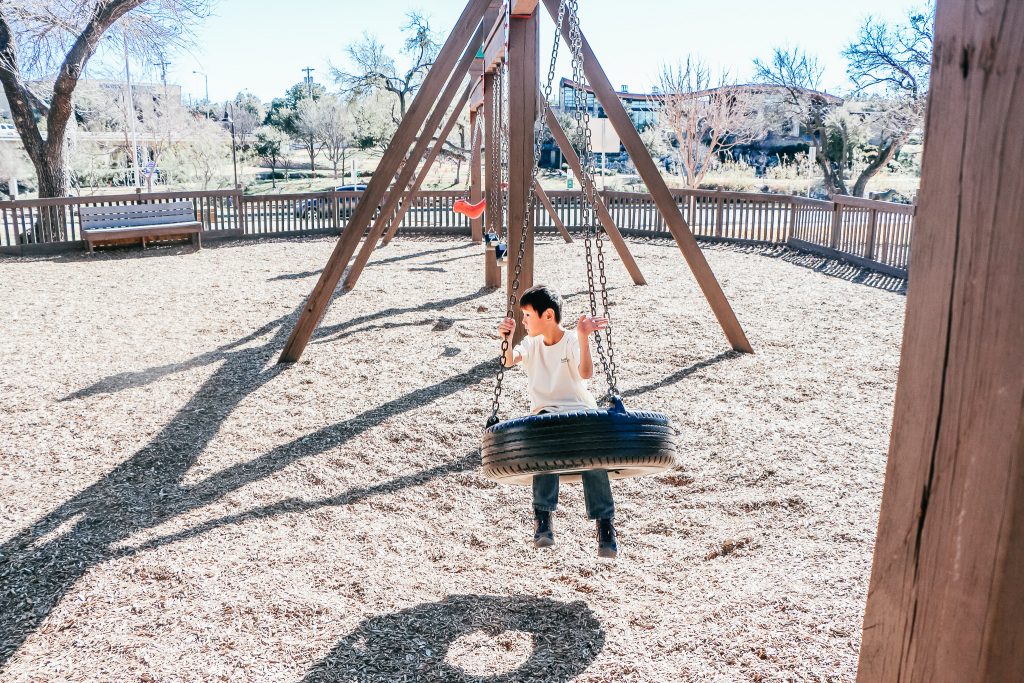 Kid's Kingdom has a few spots to take great pictures…it's a great mix of rustic wood and pops of color and the two times we've been it's never been super crowded, so it's easy to snap your kids in action without getting other people in the picture.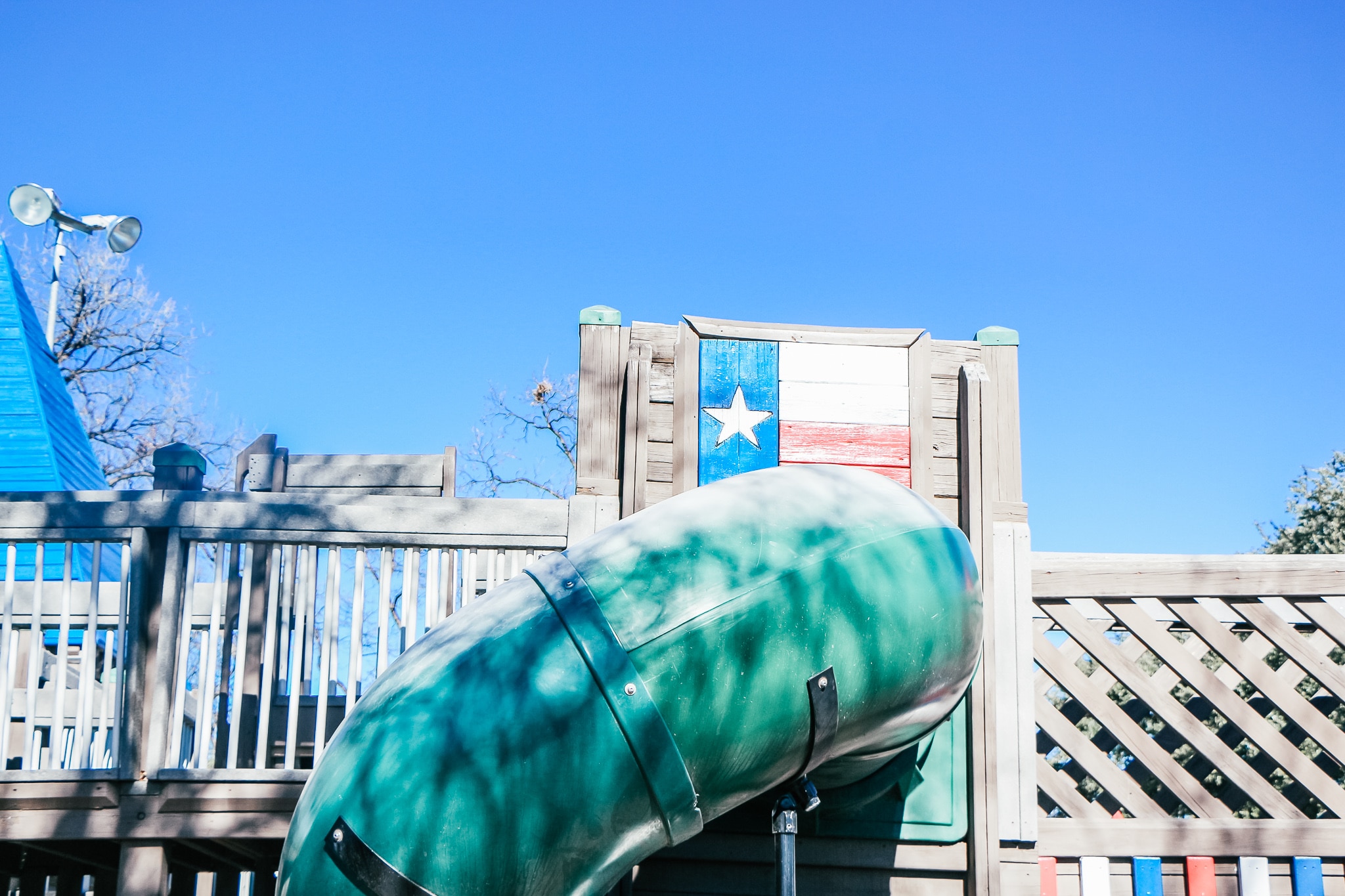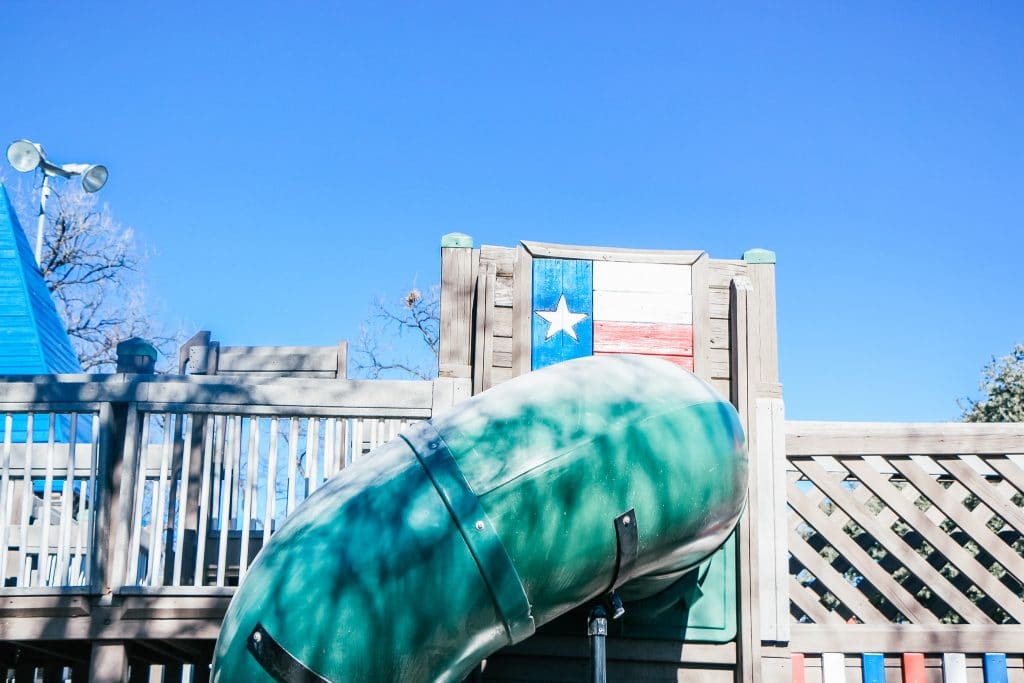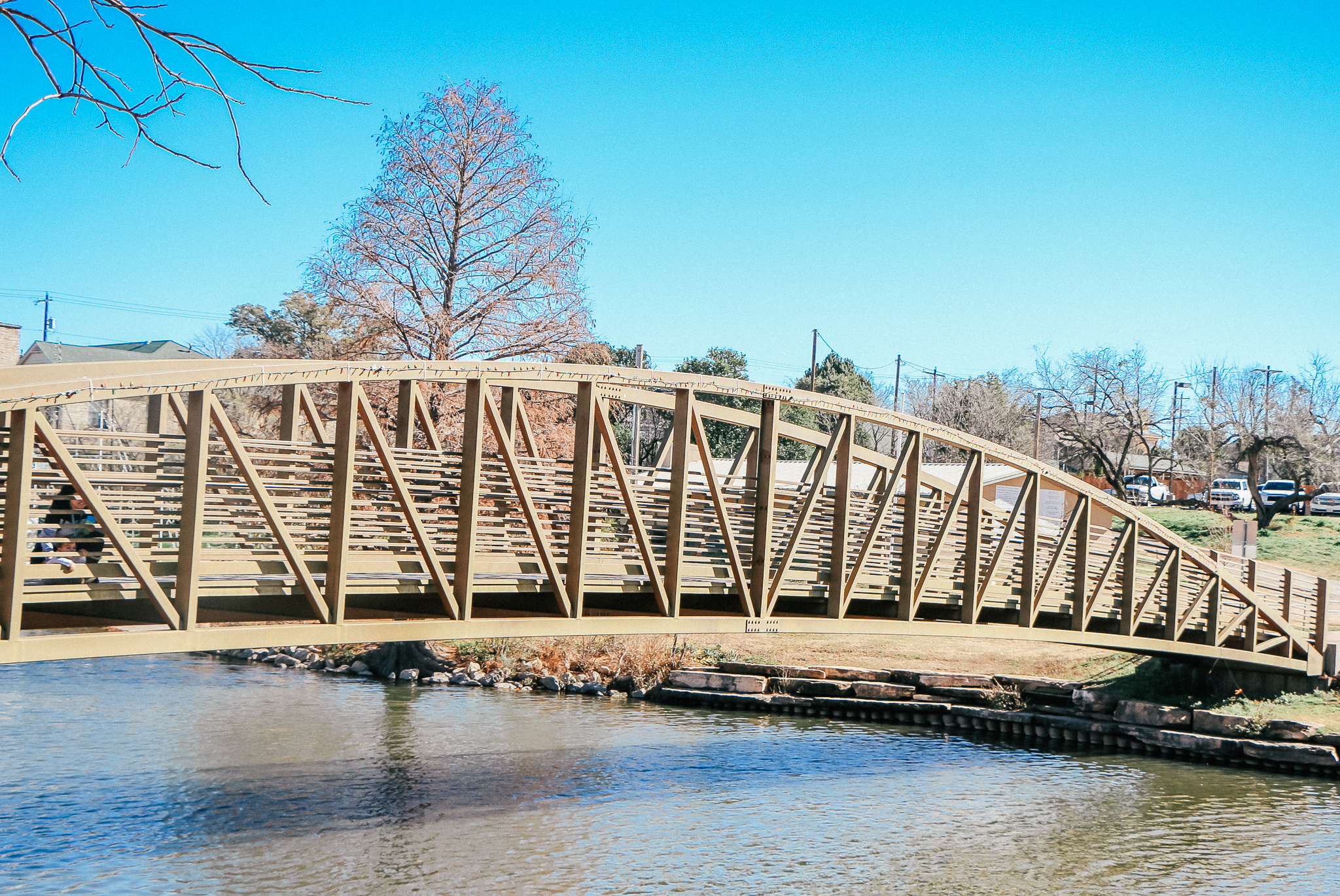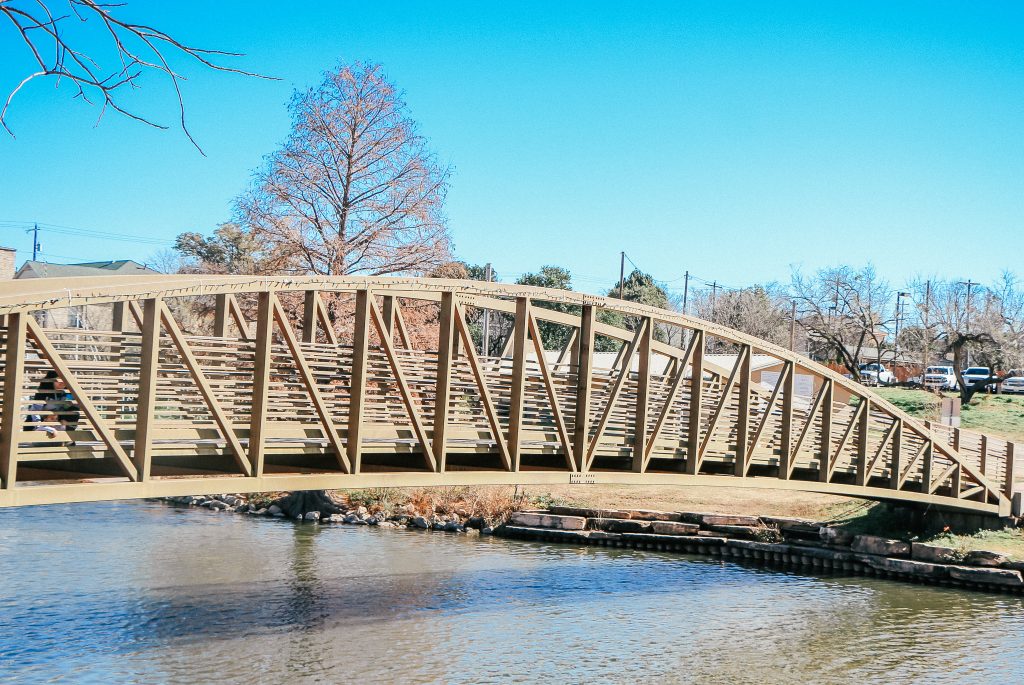 10. The Angry Cactus
I don't really explain why we all need to take a picture of this, right? And don't stop at the exterior…the food is really good. I might be guilty of ordering the chicken fried steak medallions just because they are photo-worthy.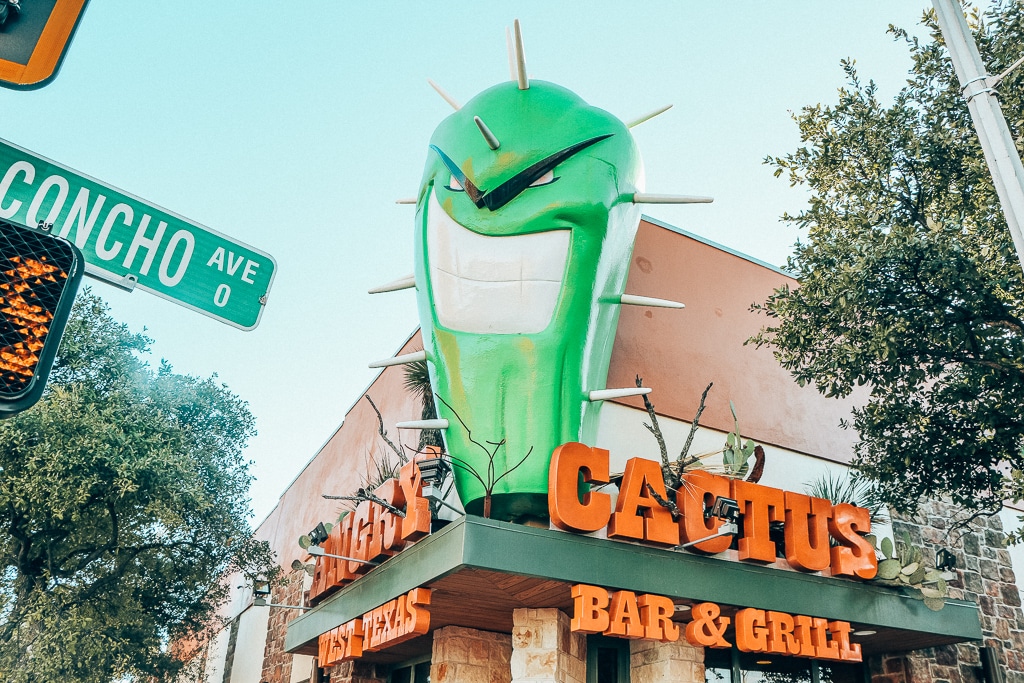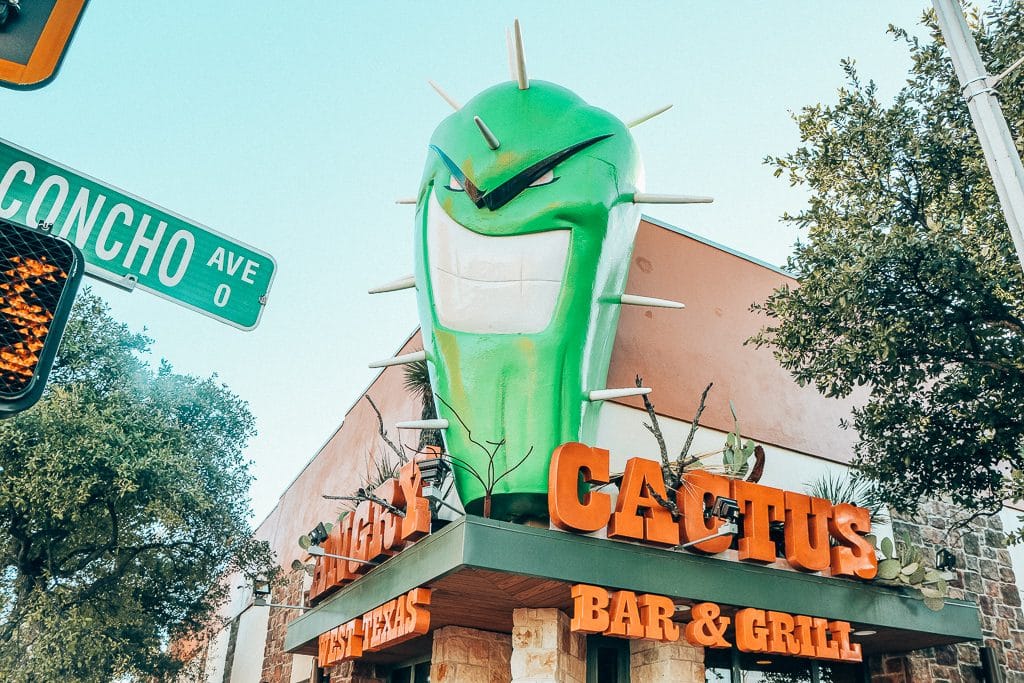 Delicious, too. The menu doesn't specify that these are medallions served on top of tiny beds of mashed potatoes…which I think makes them photograph better.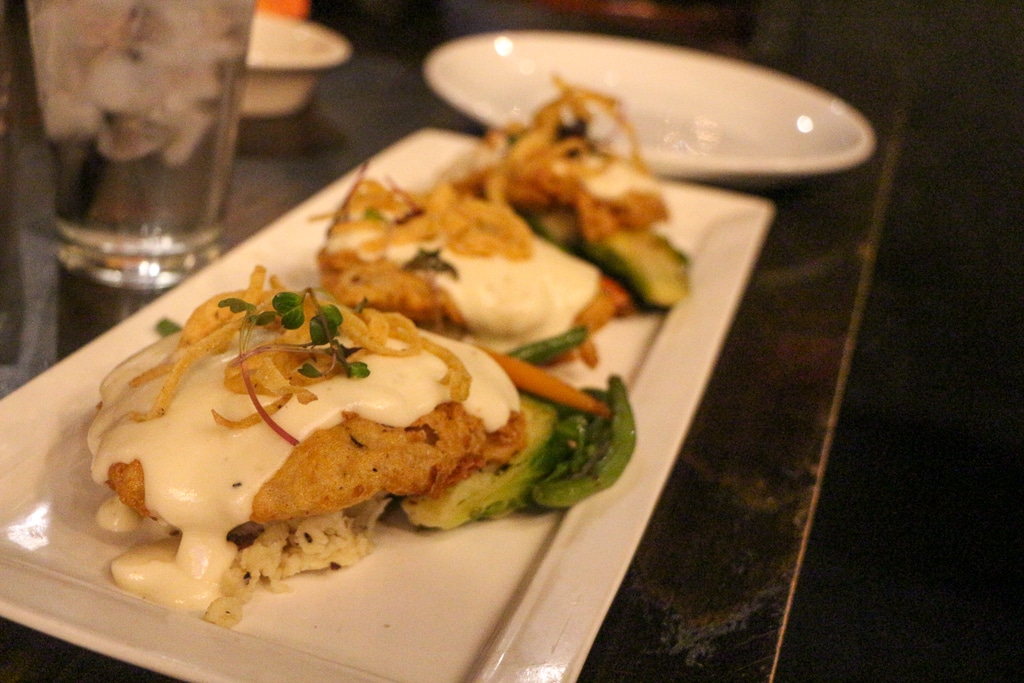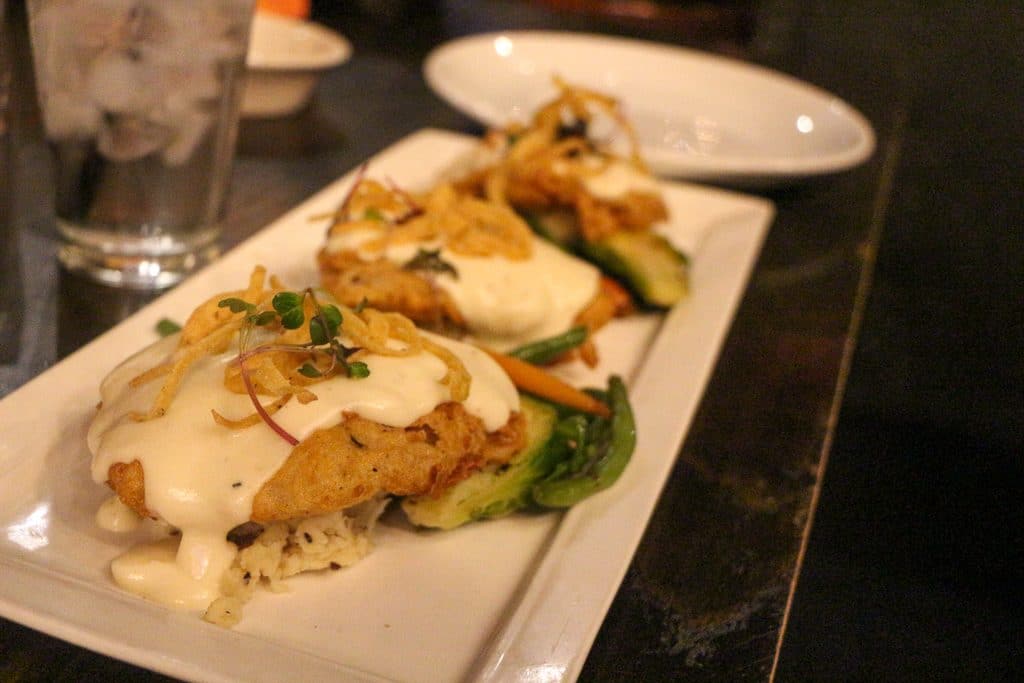 Check out The Angry Cactus on the web.
11. The San Angelo Visitor's Center
Any visitor to San Angelo should make a stop at the San Angelo Visitor's Center. Actually, that is good advice for any traveler going anywhere. A visitor's center is going to have free maps, restrooms, and friendly people and perhaps other perks, like discount coupons, hot coffee or cold water.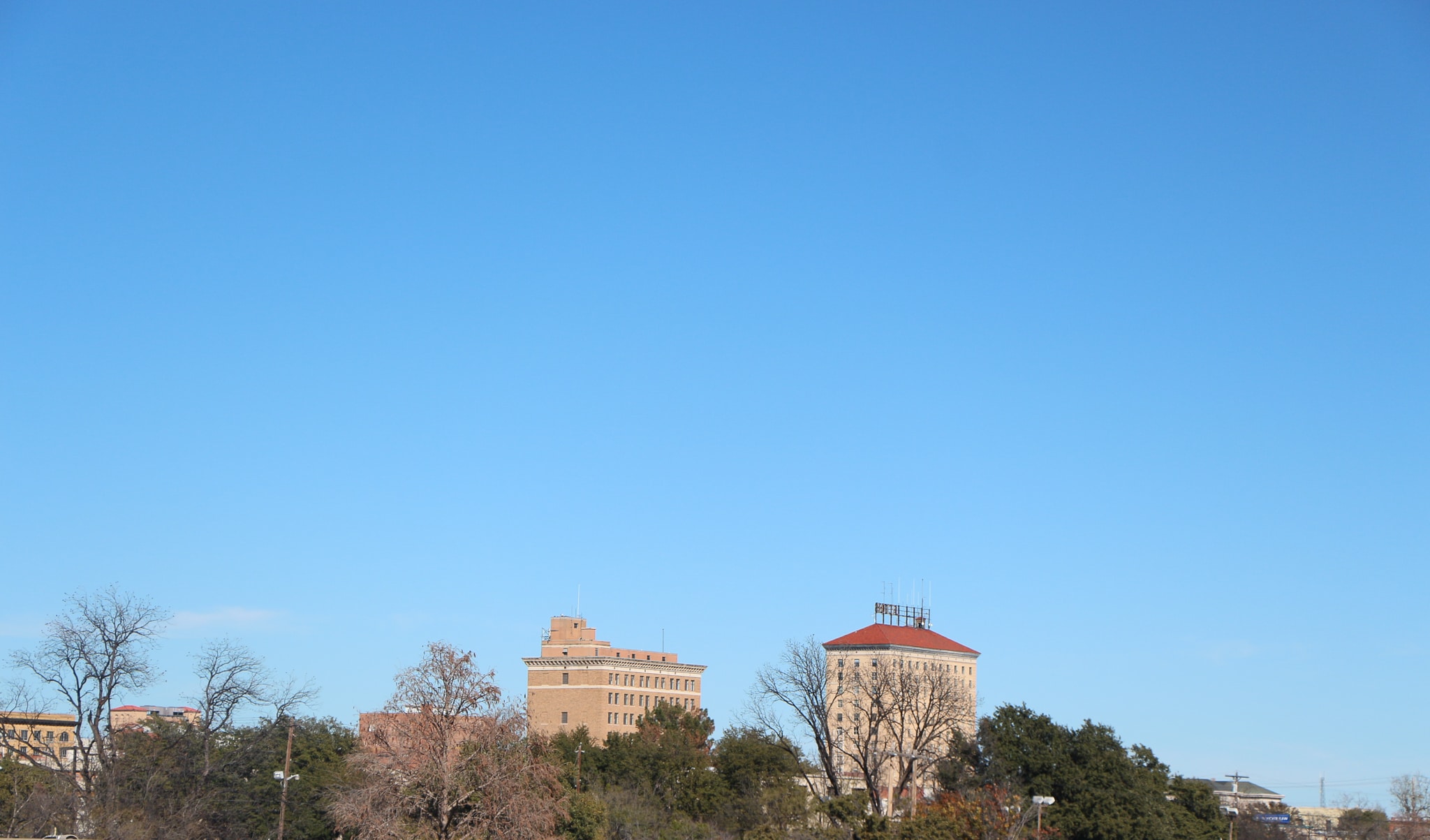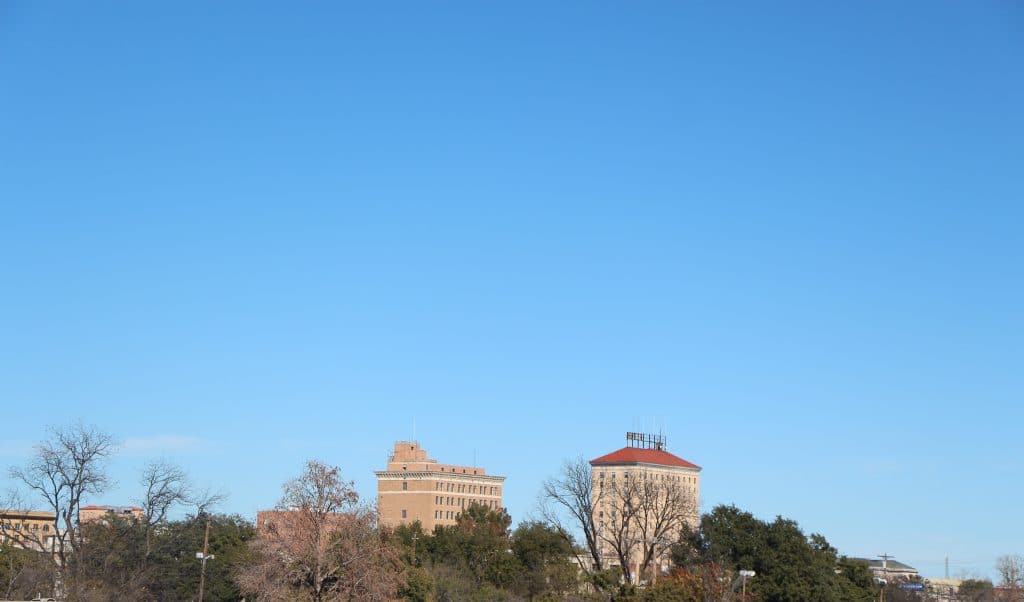 The exterior of the San Angelo Visitor's Center is definitely worth the snap but the real magic is out back. Even if you're not super into picture taking, this is a great place to check out. It's got some shaded seating, beautiful statues, and a view of the river.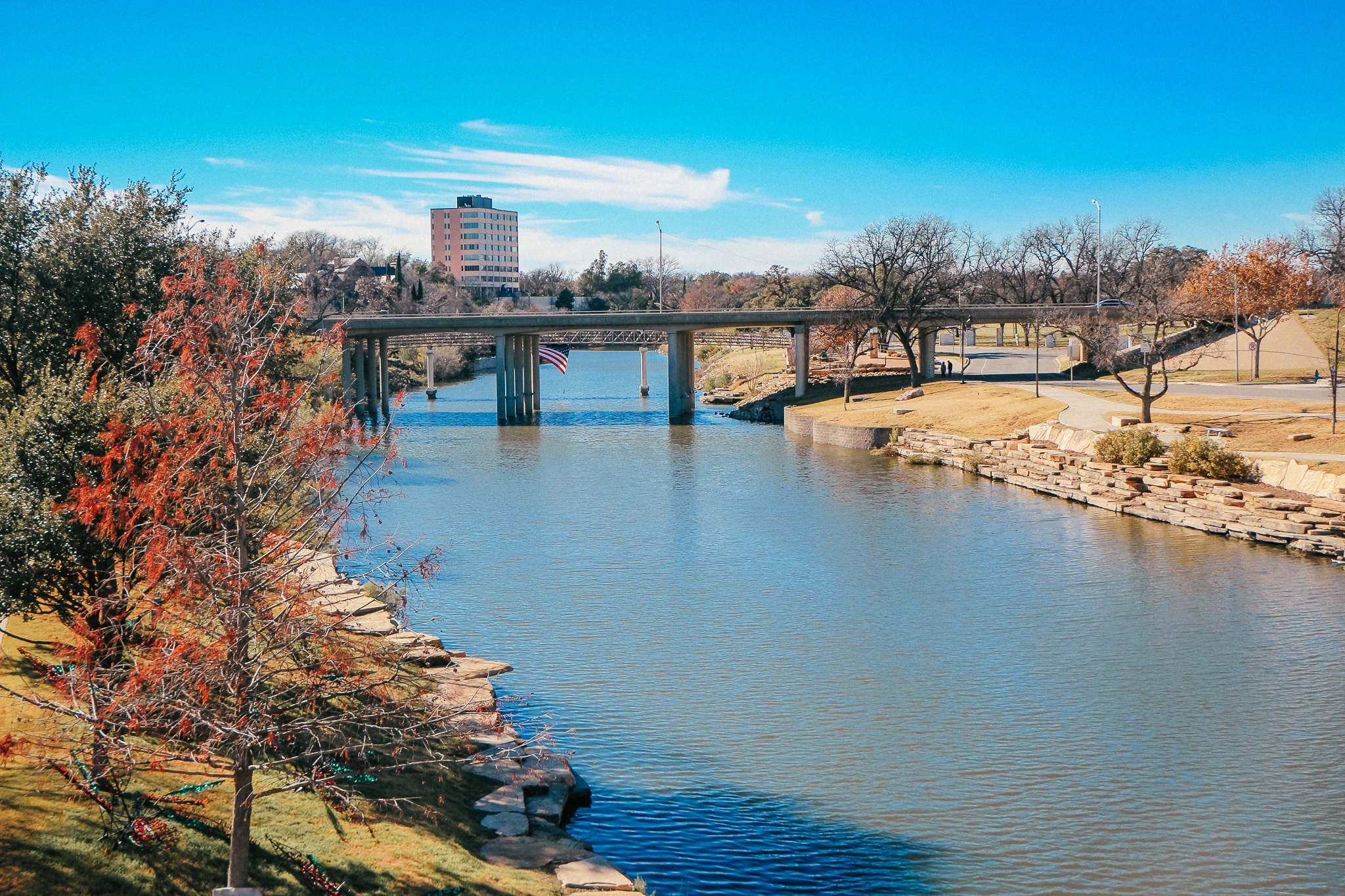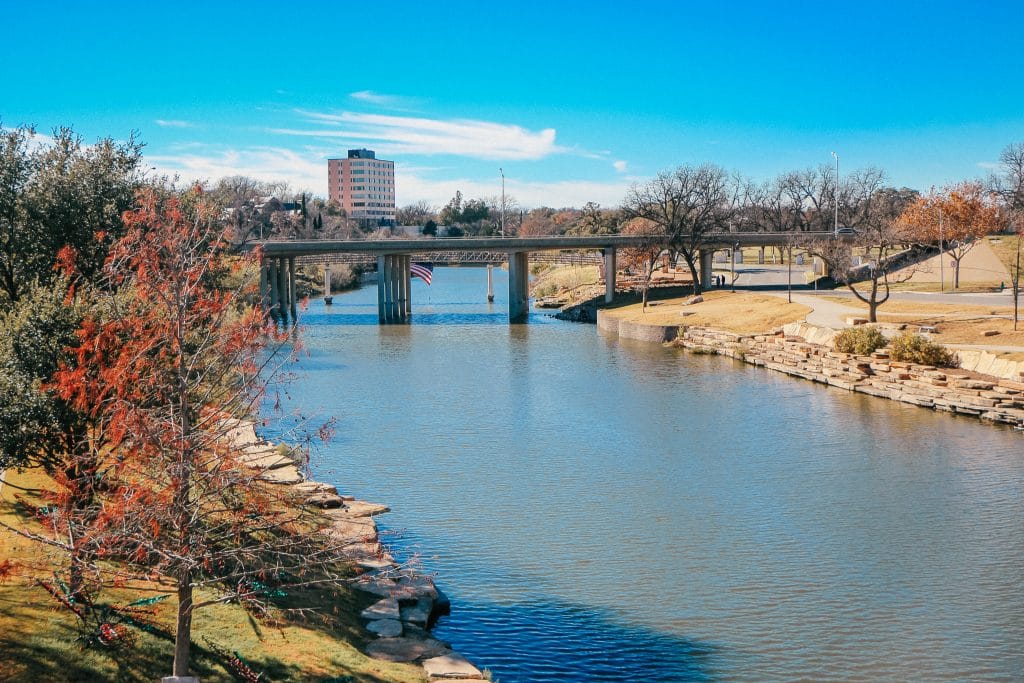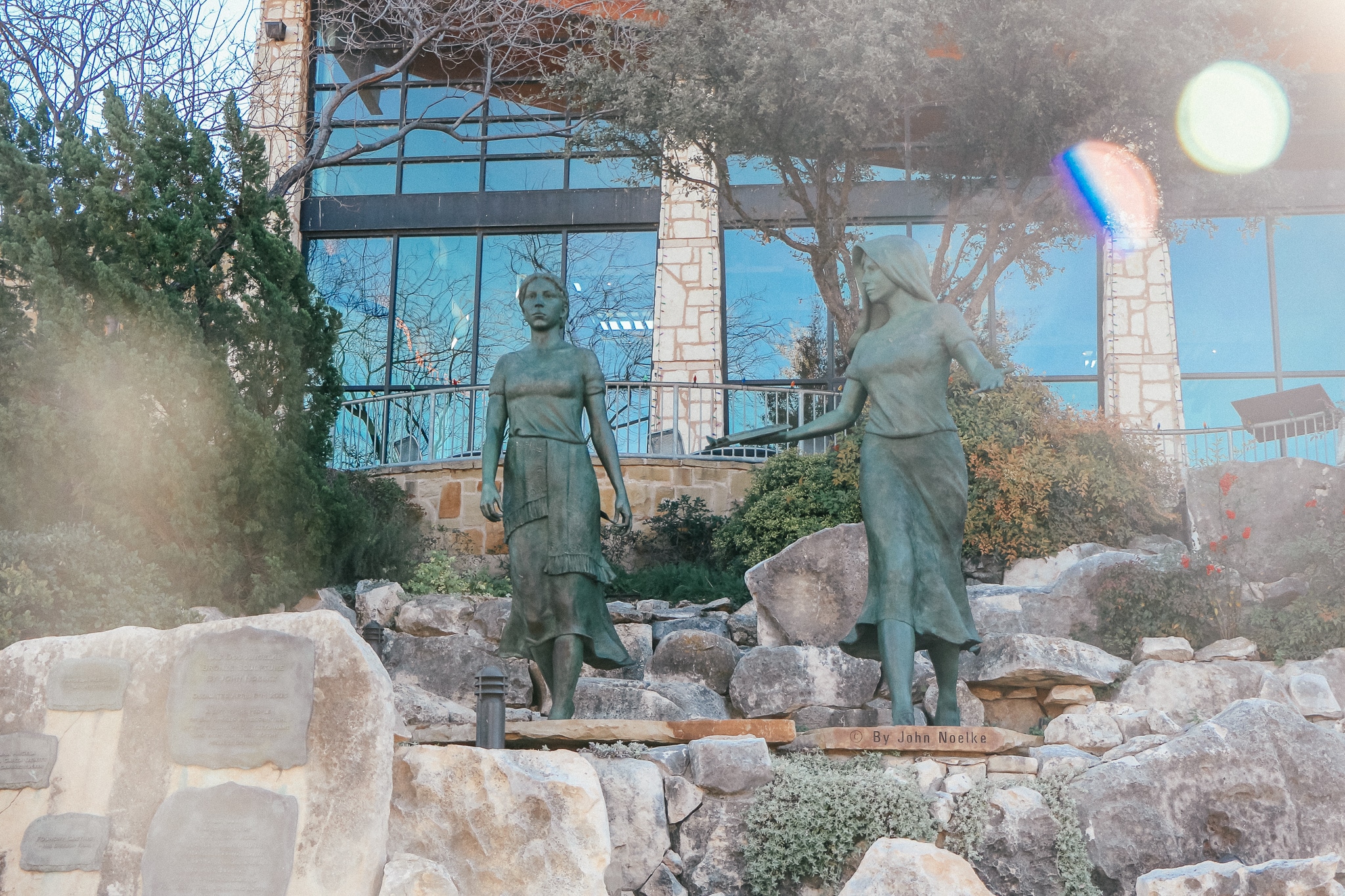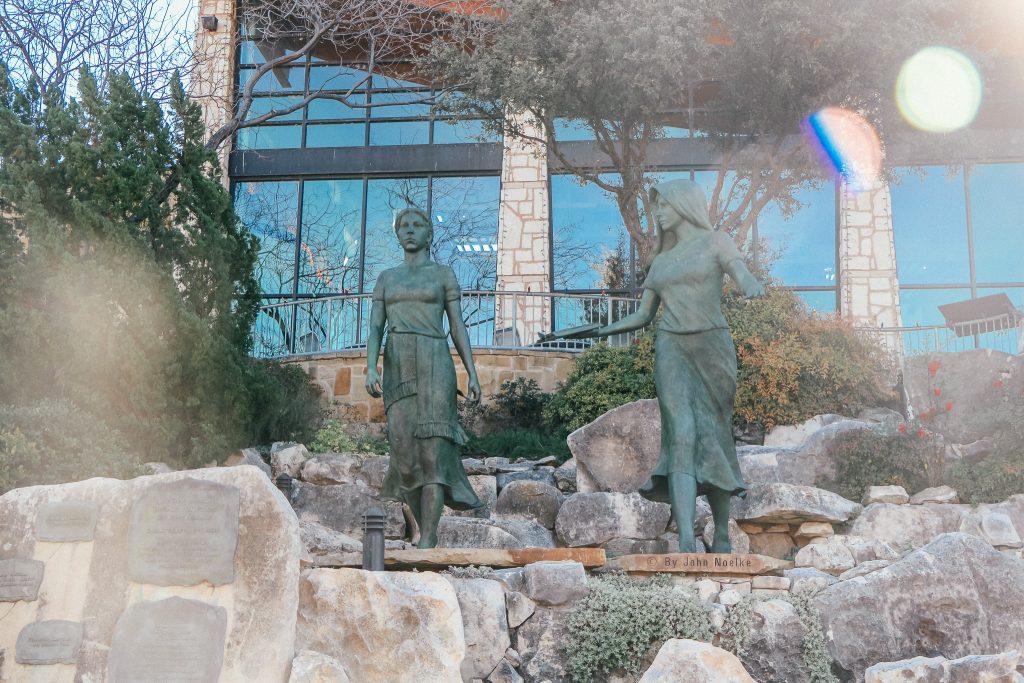 12. The Latest Scoop
San Angelo's premiere ice cream shop (they make all their ice cream on site) is some legit ice cream. You are cheating yourself if you don't stop in for a couple of scoops. And, although not terribly original, this picture is fun. If you want to take pictures inside, the walls are bright and fun.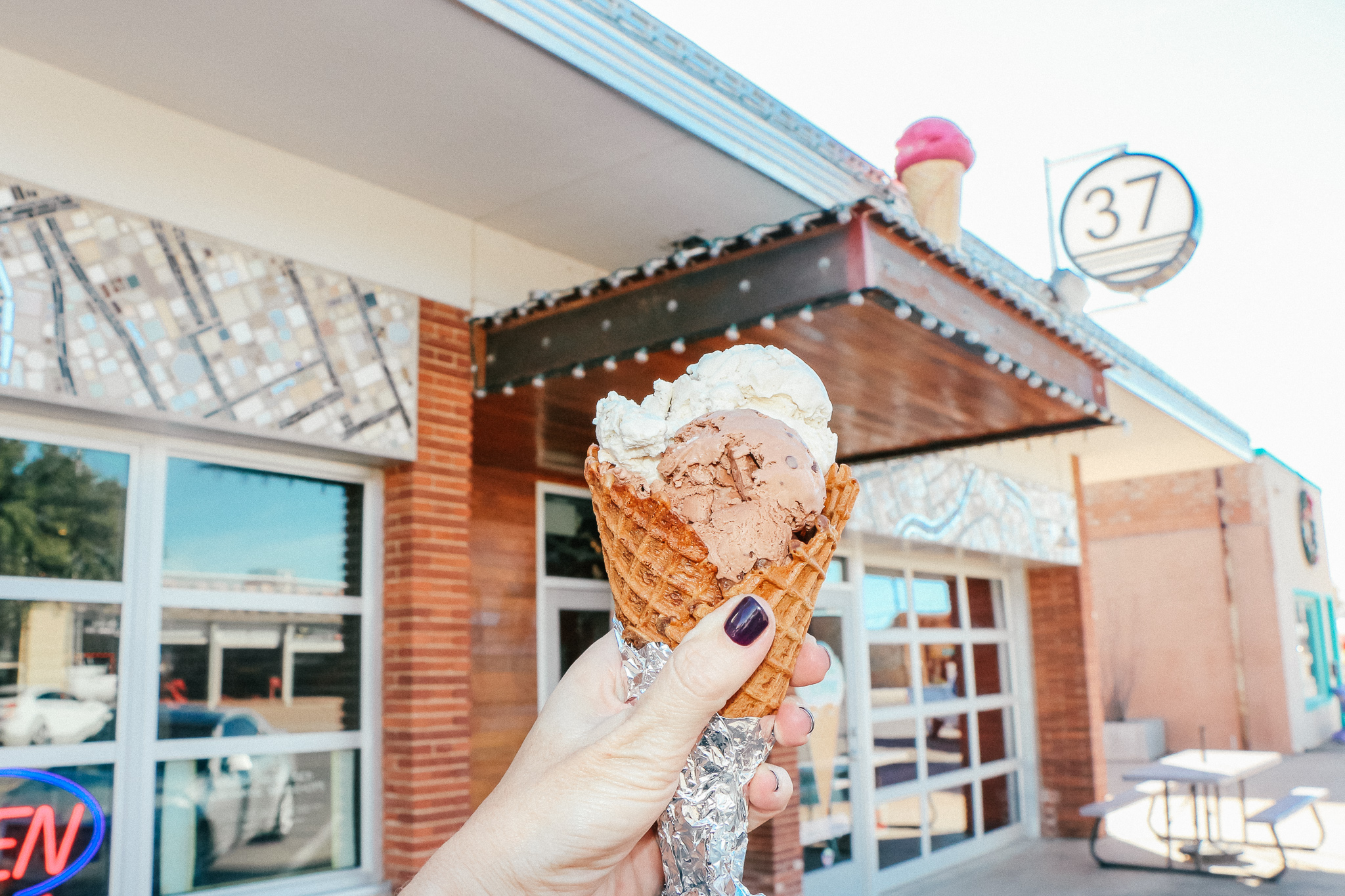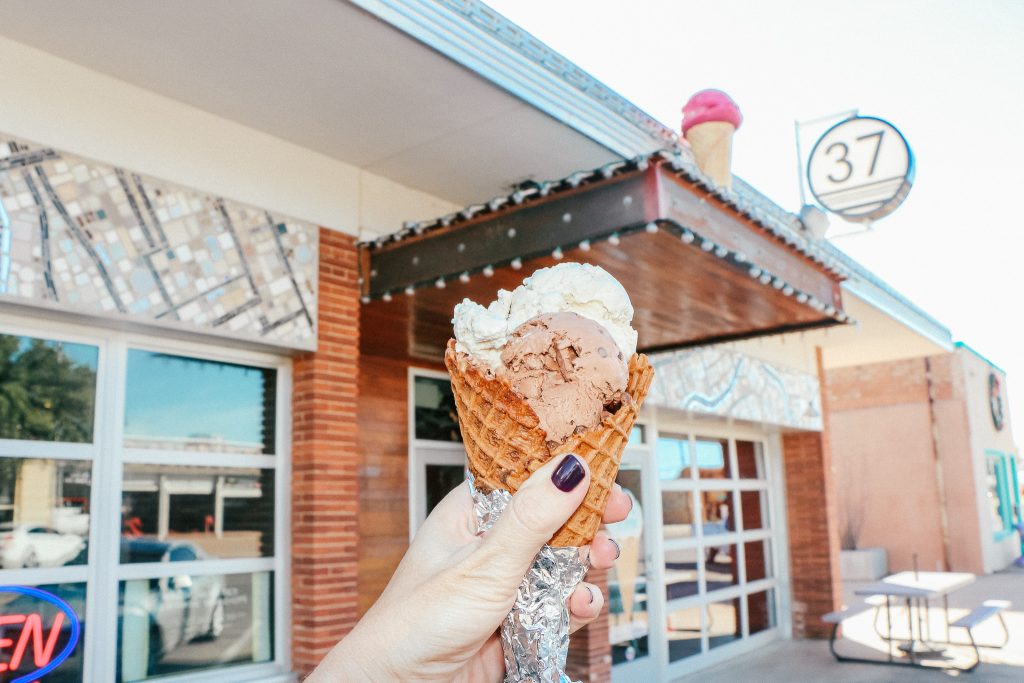 Try the Mexican vanilla and the Ghiradelli chocolate chocolate chip on a coffee flavored waffle cone. You're welcome.
13. Leddy's Boots
M.L. Leddy is a bootmaker just off downtown. You can't miss the iconic sign. There is a lovely little cowhide settee inside that would make a great picture…we didn't get the picture because it's honestly not the type of furniture I wanted my kids to crawl all over after a morning spent out in the dust. There's also an adjoining workroom where they craft their boots, but obviously, you'd have to ask to see it or photograph it.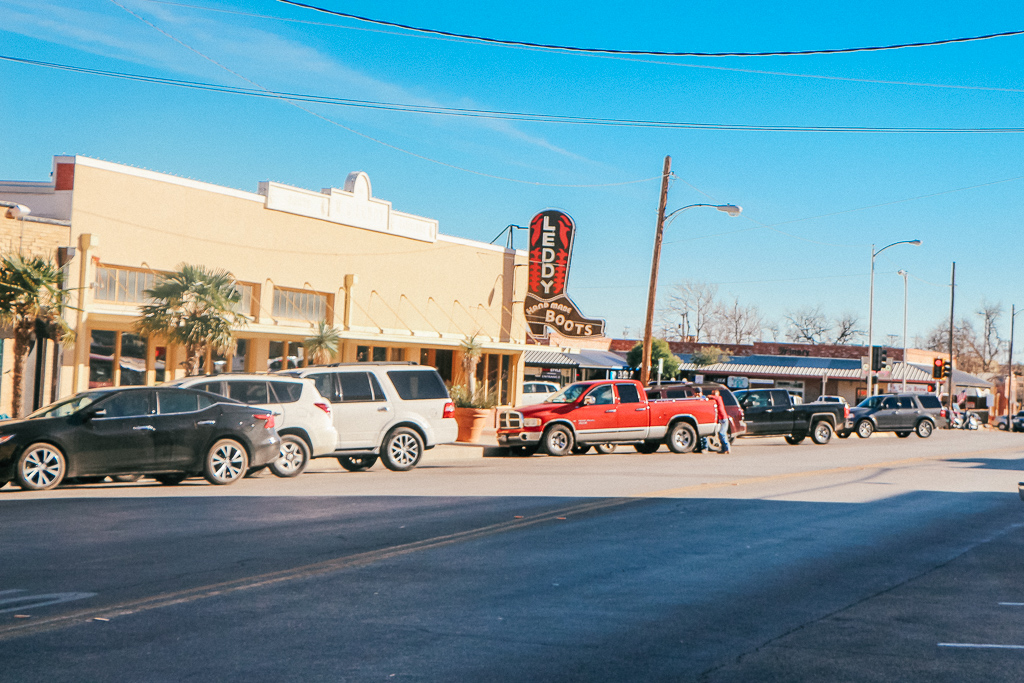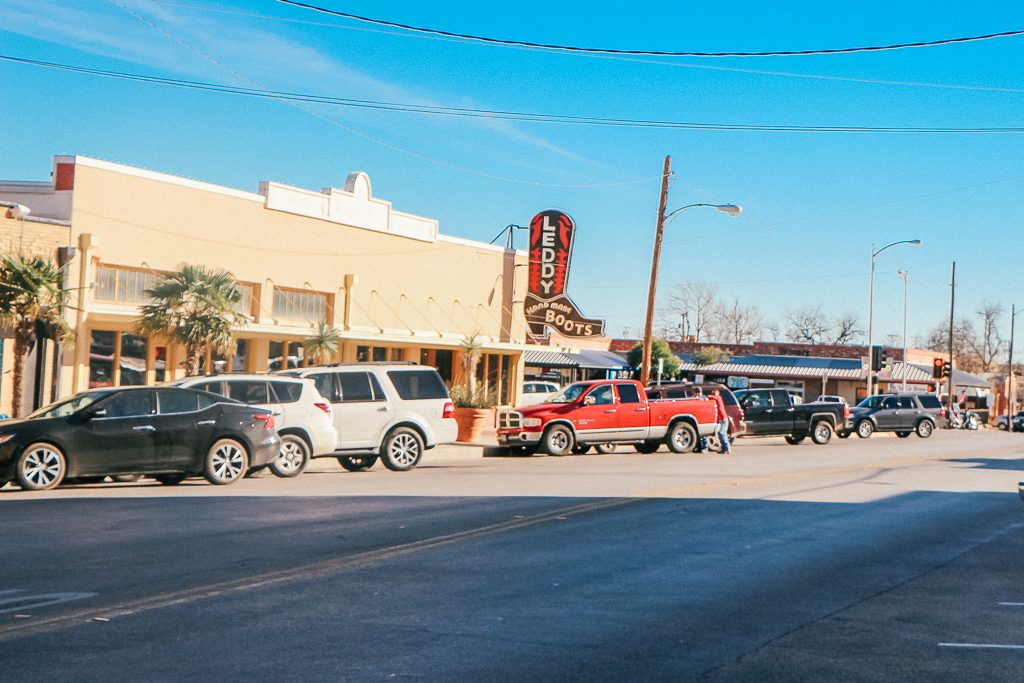 This is one place I'd definitely ask ahead of time about picture-taking, especially if you're not going in to buy boots. By the way…this place smells incredible.
Disclaimer: We are a participant in the Amazon Services LLC Associates Program, an affiliate advertising program designed to provide a means for us to earn fees by linking to Amazon.com and affiliated sites
14. Heritage Park & Hank the Cowdog
This cute little corner of shade just off downtown is something we'd missed on our first two visits to San Angelo. When exploring a new town, we tend to stick close to the town square but sometimes you can find some cool things by going one street over.
What I didn't know when we happened on Hank the Cowdog is that he's a subject of a series of kids books. Since San Angelo is West Texas ranching country, I thought he was a local icon and didn't realize until later that he's more widely known.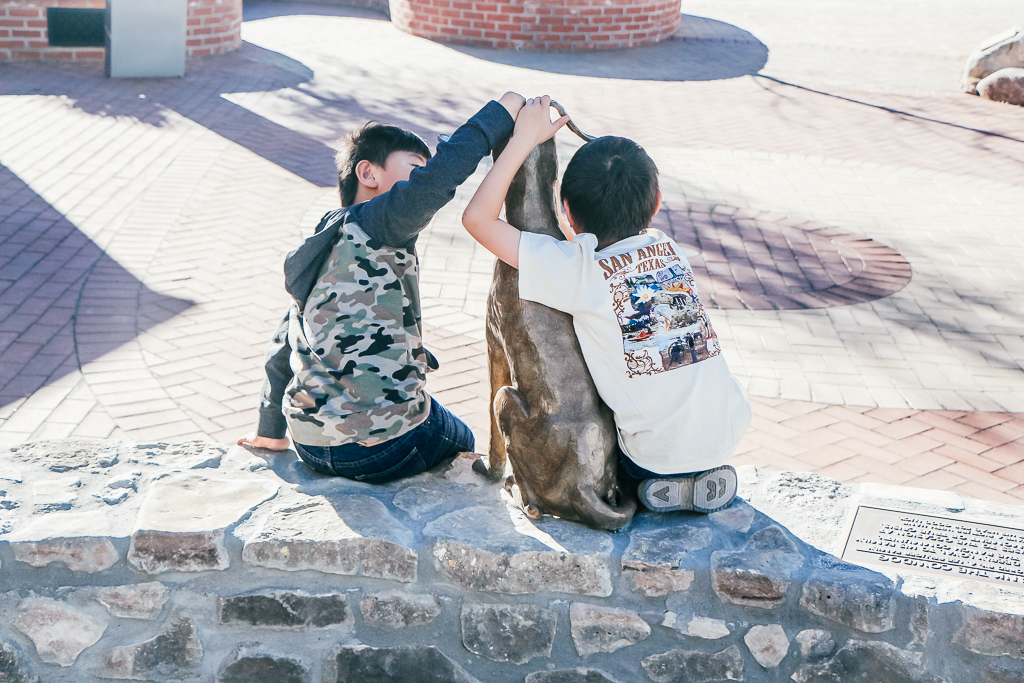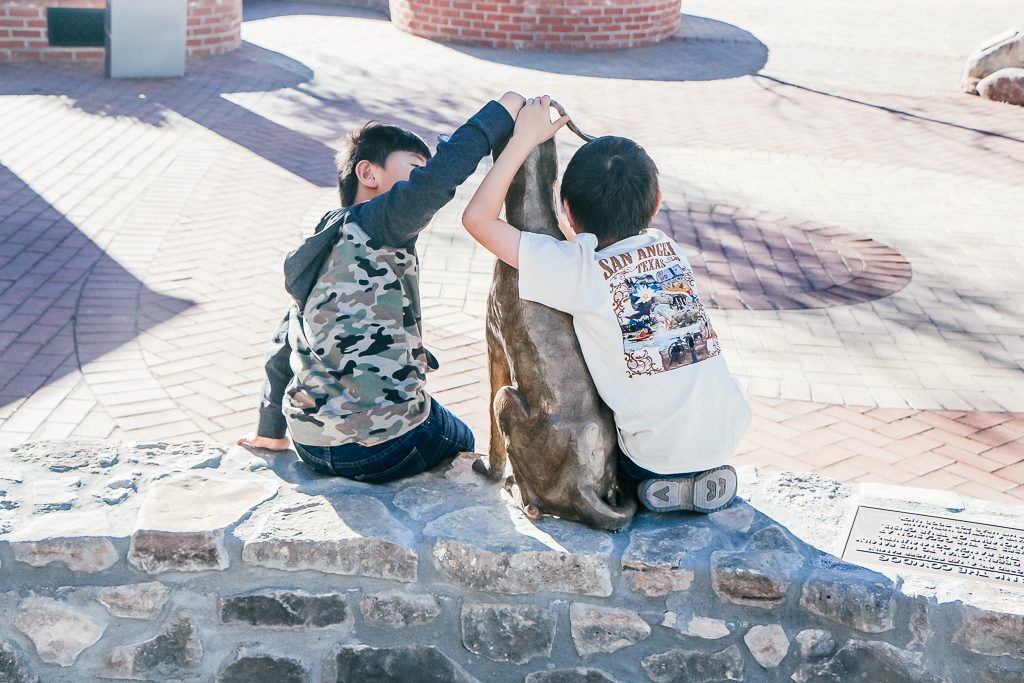 There's a plaque next to Hank that says patting Hank on the head will bring you good luck, so we all took a turn patting Hank on the head because of course we did. I'm not saying I'm superstitious, but not an hour later, one of my kids found a dollar on the street and later that evening, my other kid was an "instant winner" at the HEB Buddy Bucks machine. If you don't know what HEB Buddy Bucks is, you've obviously never grocery shopped with kids in Texas.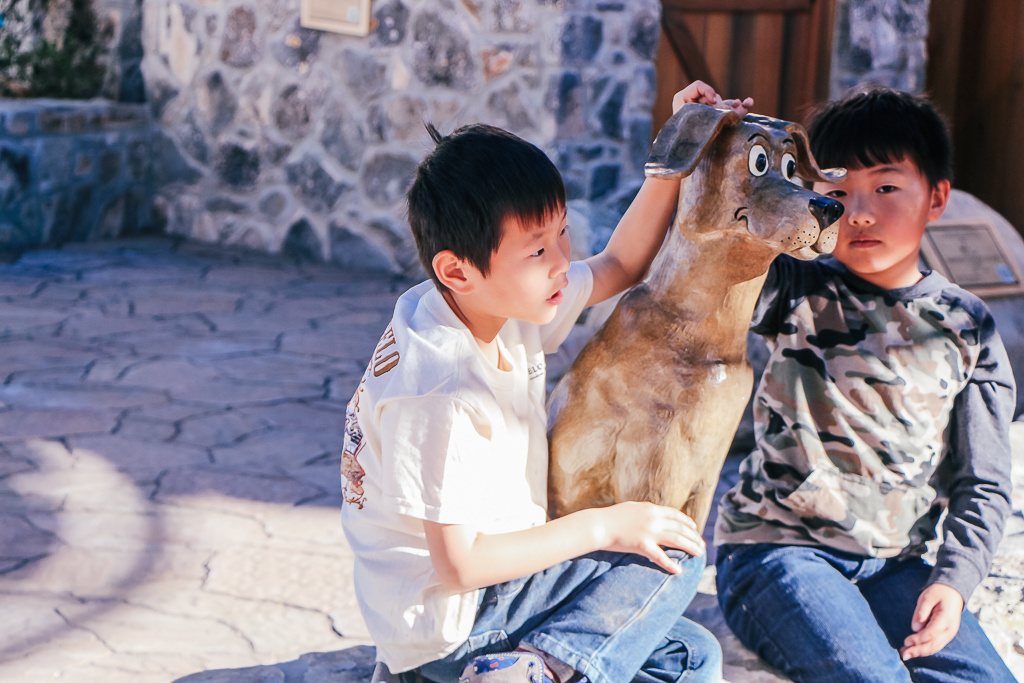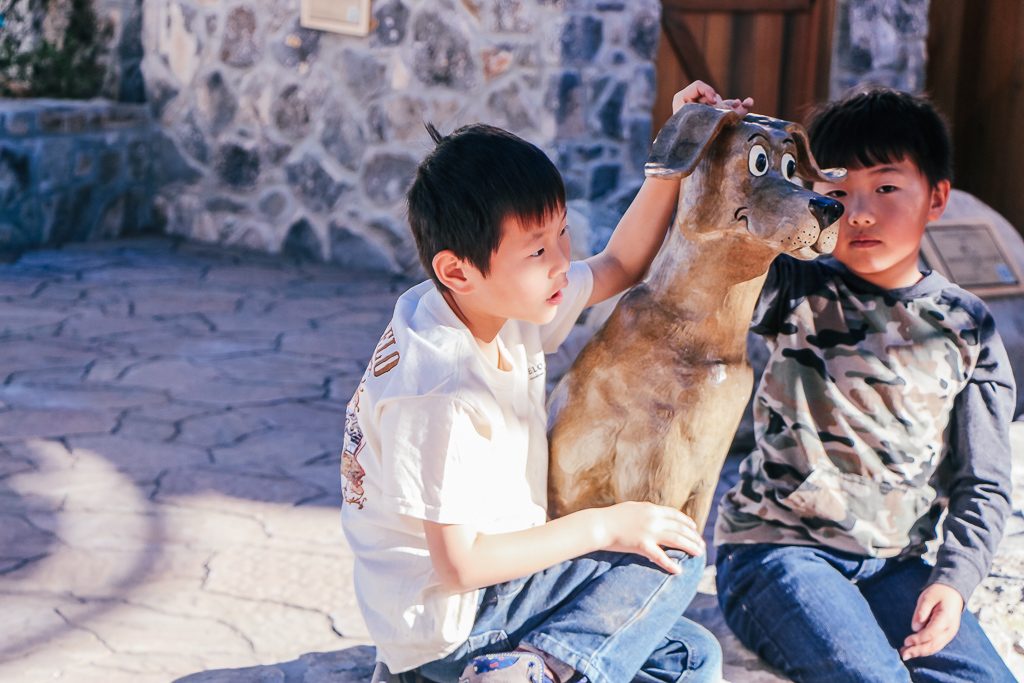 Anyhoo…I'm going to give Hank the credit on this one.
15. Railway Museum of San Angelo
We didn't go inside the Railway Museum and they appear to have very limited hours, but the real photo opps were outside, where anyone can go and take a look.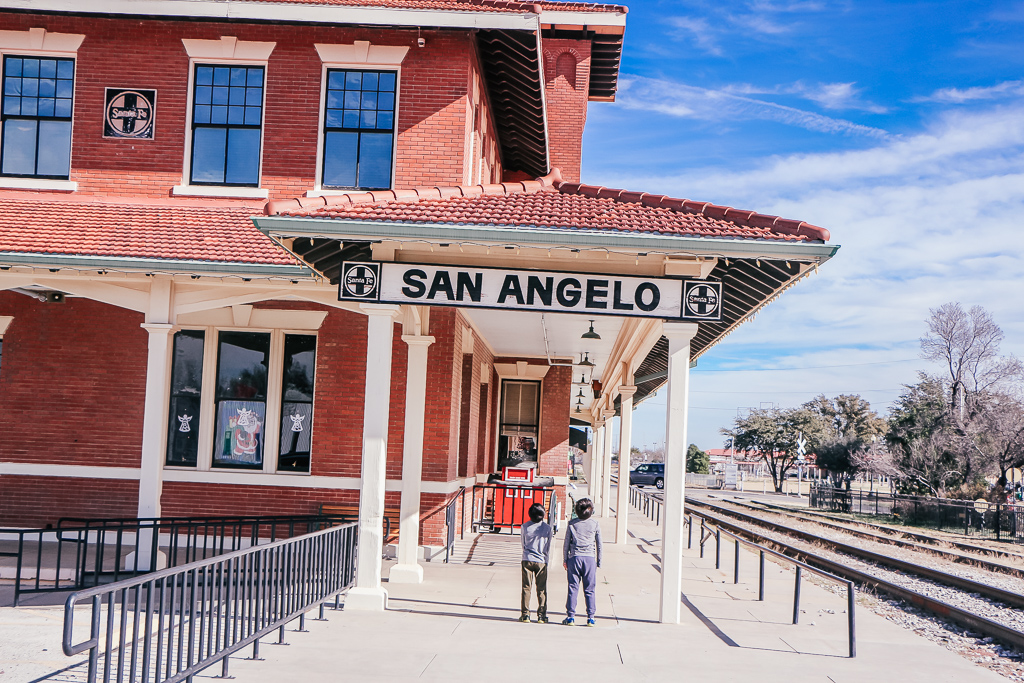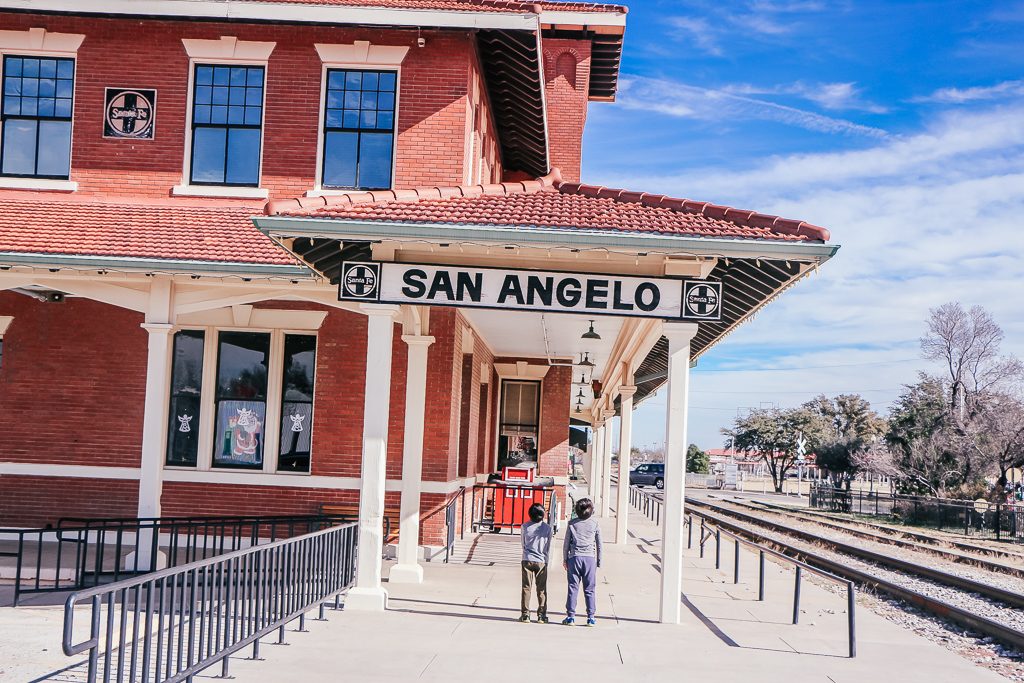 There are also some fun transportation-themed murals right across the way from the Railway Museum. If you're interested in the museum, you can read more here.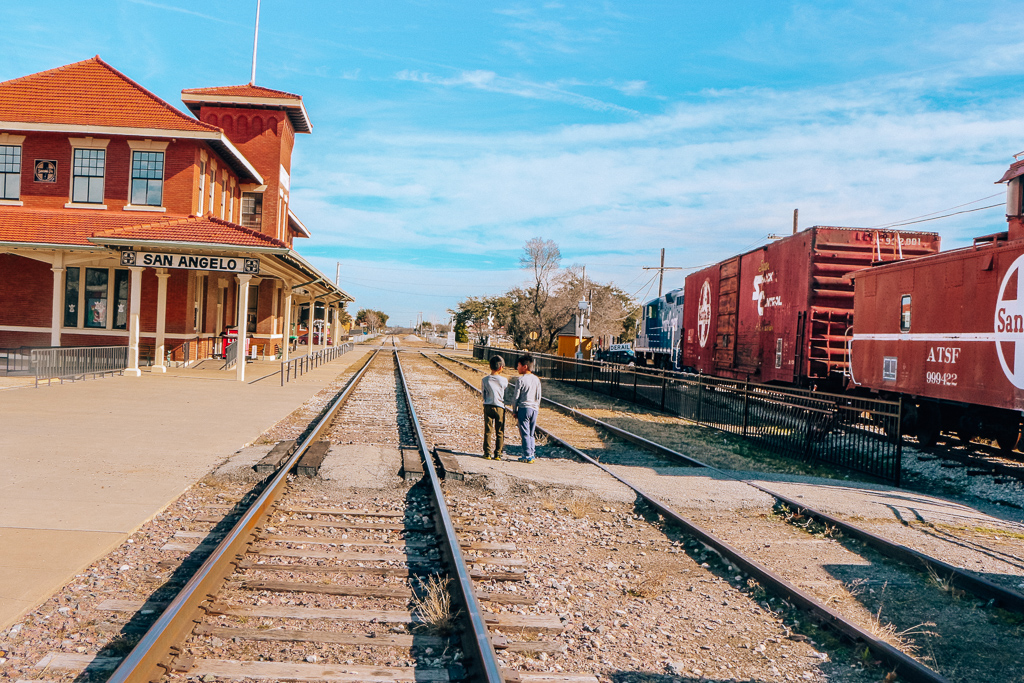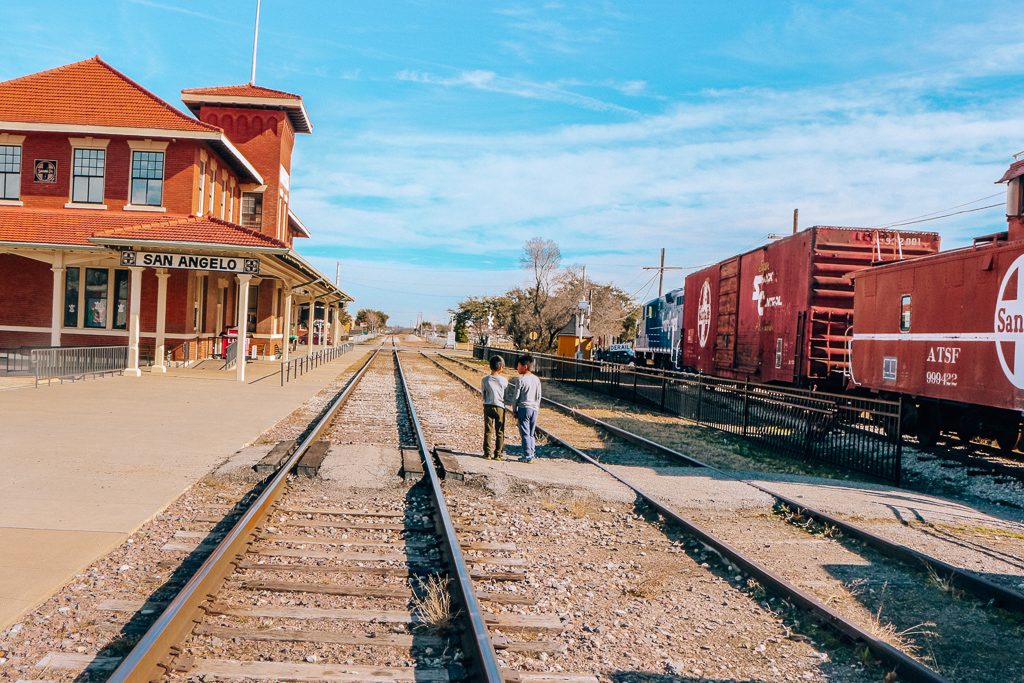 16. Mermaid Statue
This lovely mermaid welcomes visitors to San Angelo. Her official name is "Peal of the Concho" and she holds out a pearl to welcome visitors to her city.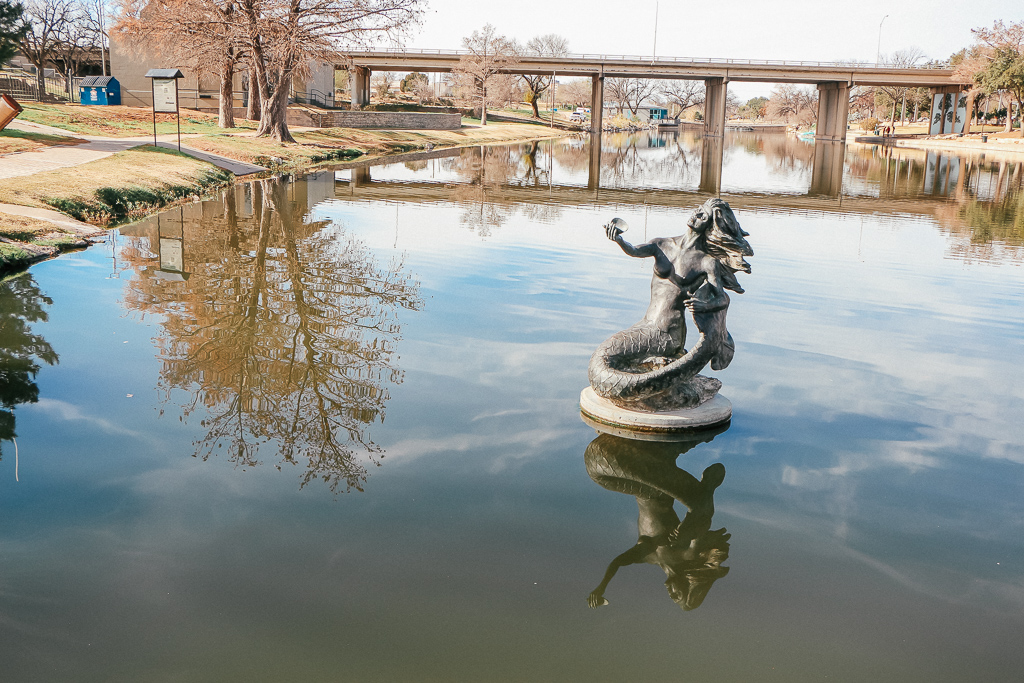 There's also a really fun pathway behind her with a hopscotch game painted on the sidewalk that's great for pictures.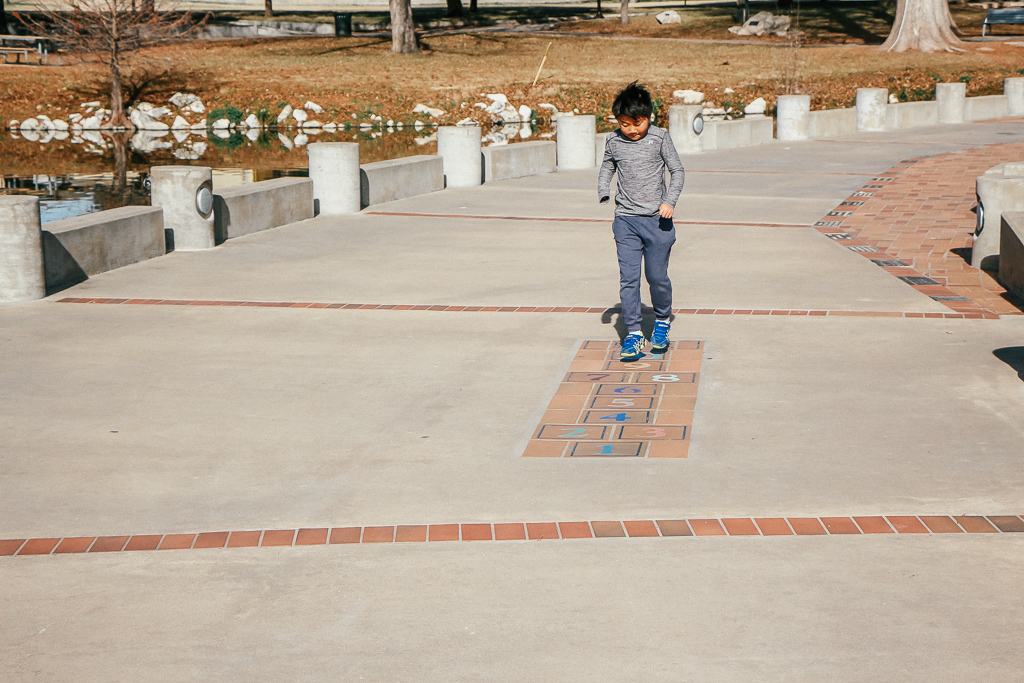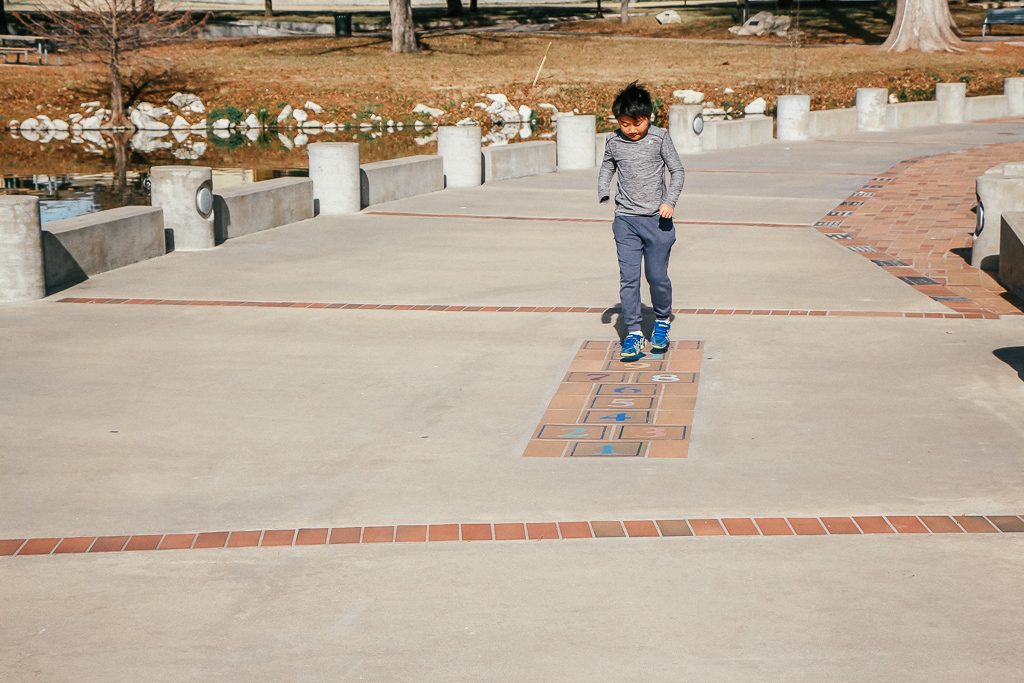 17. Water Lilly Garden
Isn't it funny that a West Texas town has the largest collection of water lilies in the world? The collection is in Civic League Park and is free to the public.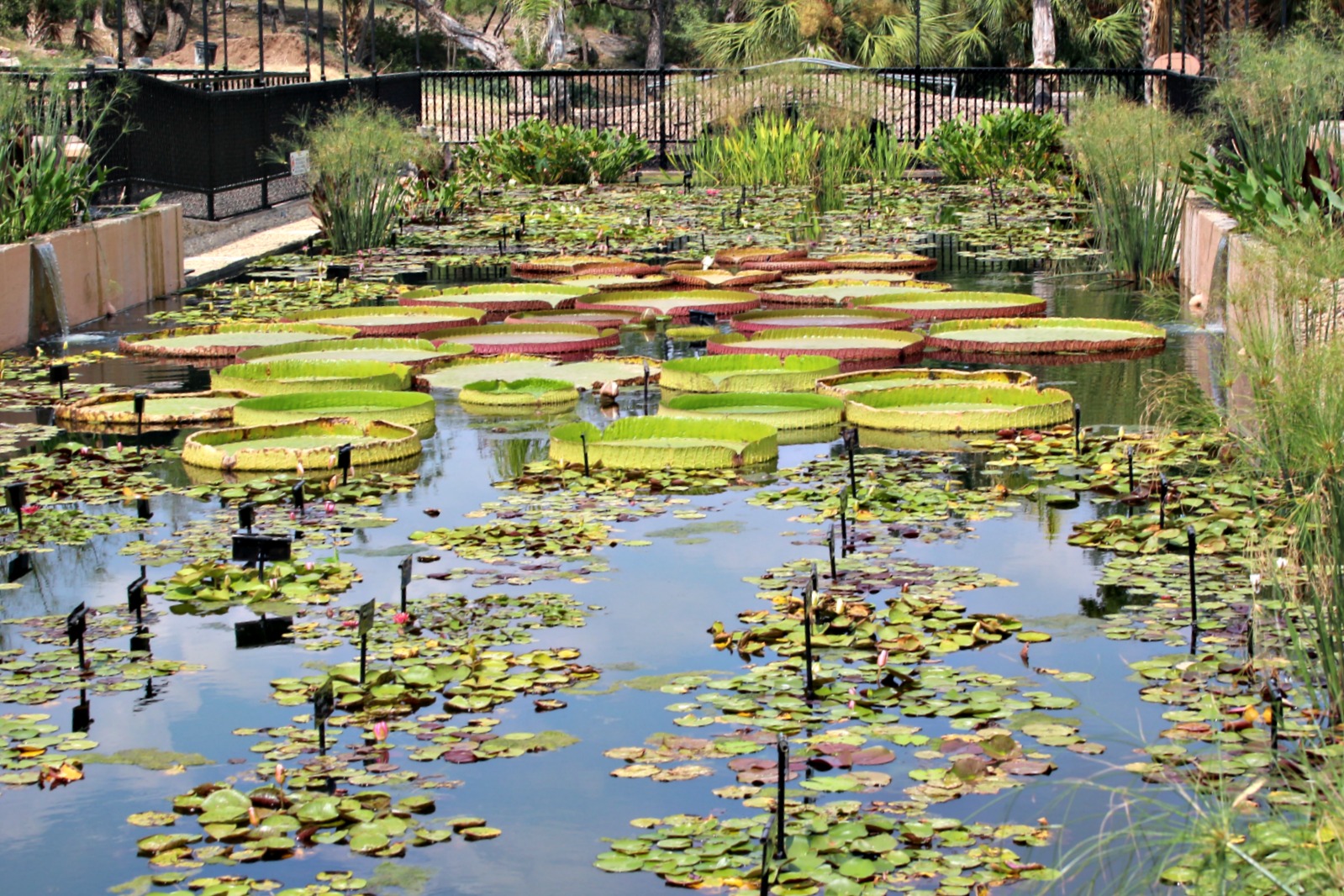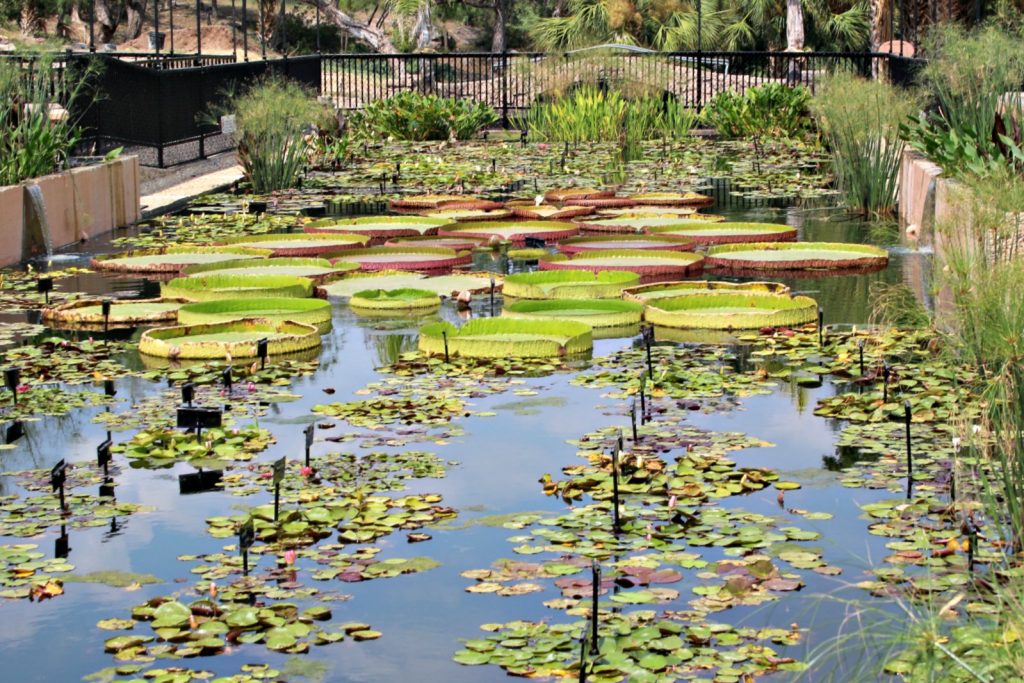 The park is open 24-hours a day, as some of the species of water lilies only bloom at night.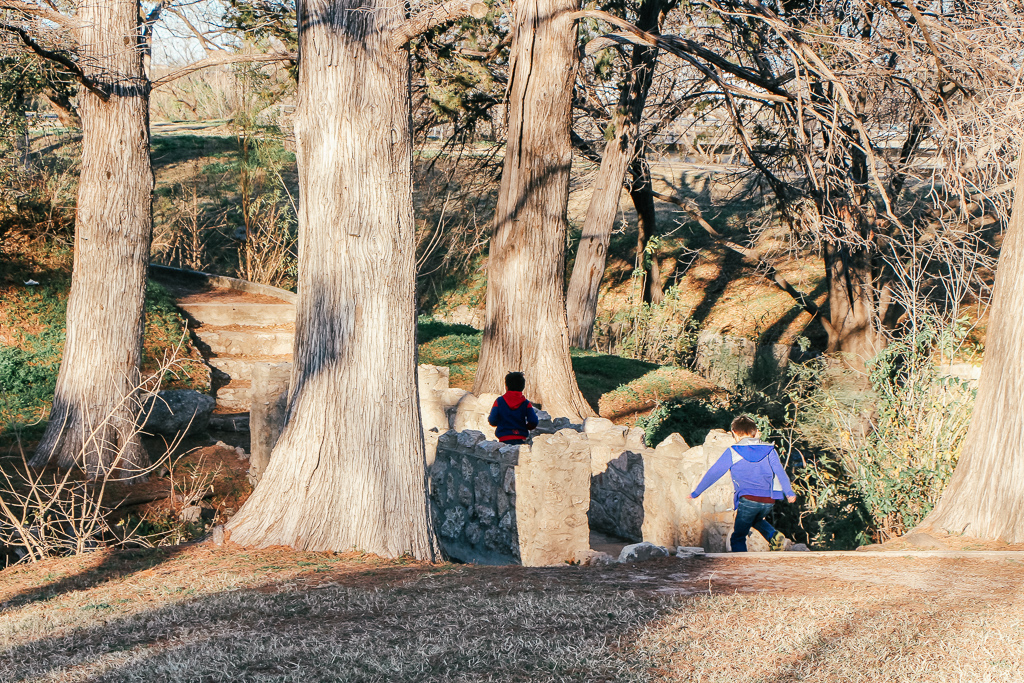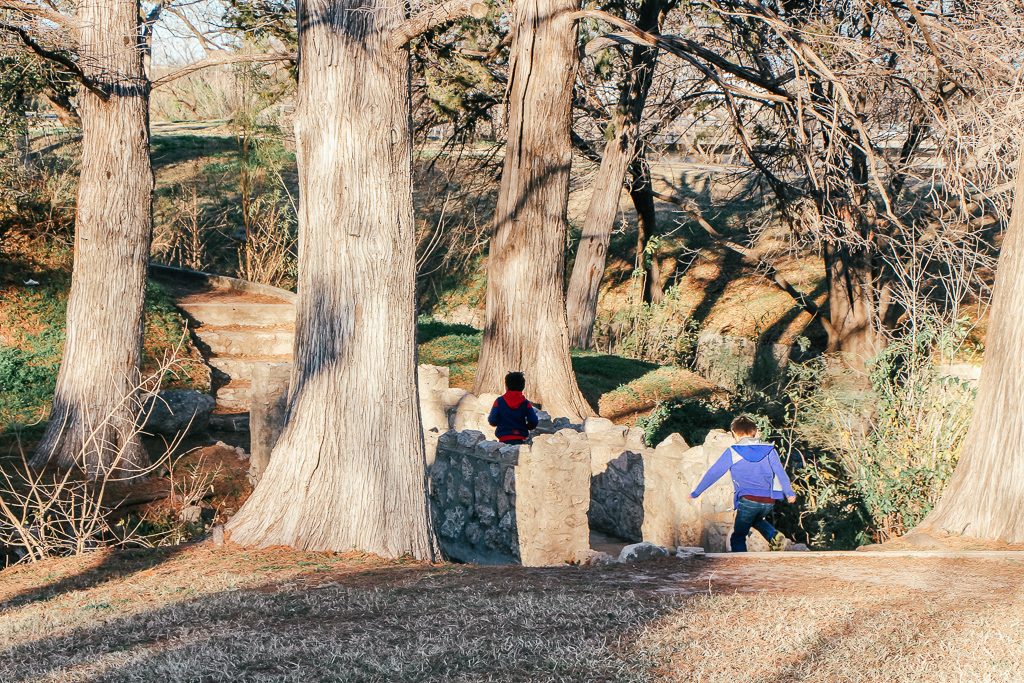 Although pictures of the water lilies are a beautiful thing, take some time to explore the park. There are so many places to take photos, including palm tree backdrops that don't look West Texas at all, to this storybook bridge all the way in the back.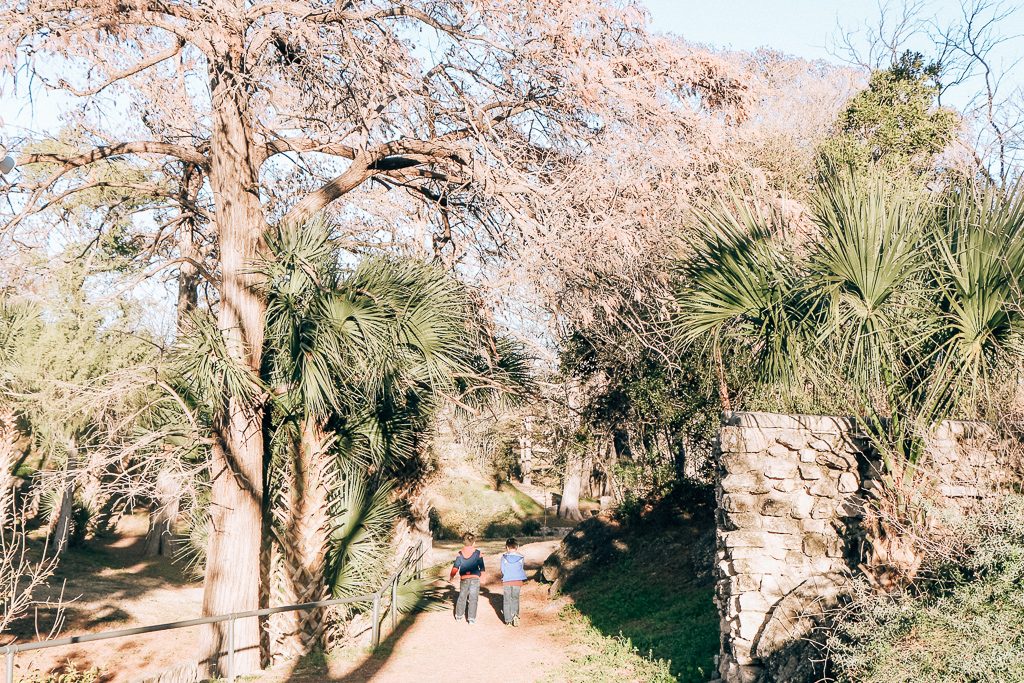 18. The exterior of J Wilde's
J Wilde's is a boutique on West Concho Street. We didn't go in but the exterior just begs for a picture. Someday, I want a room in my house to be decorated in vivid teal and burnt orange.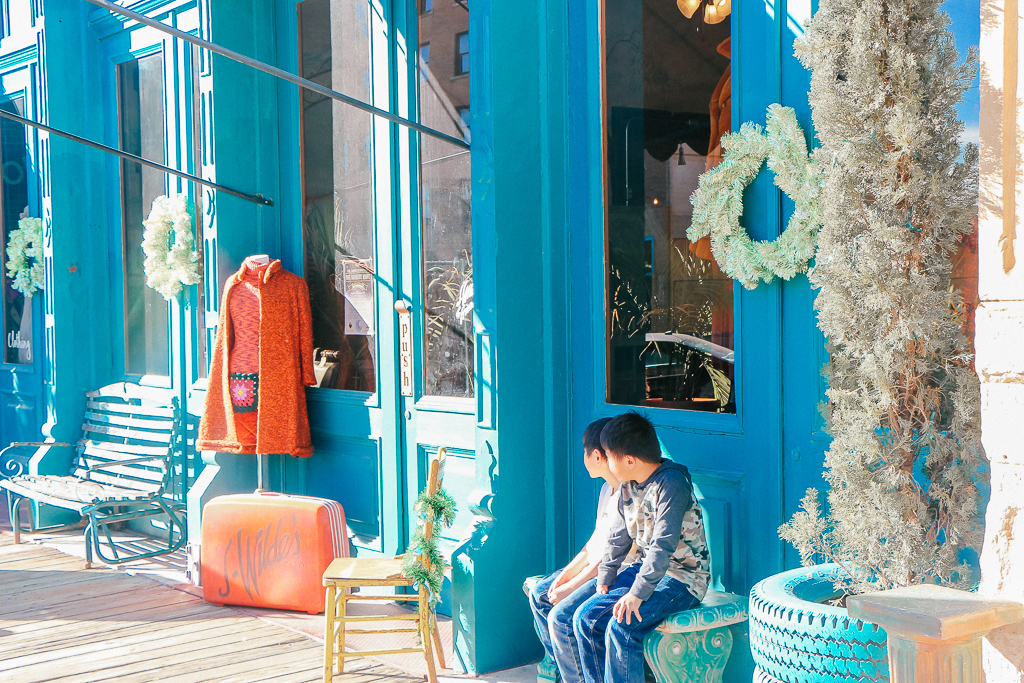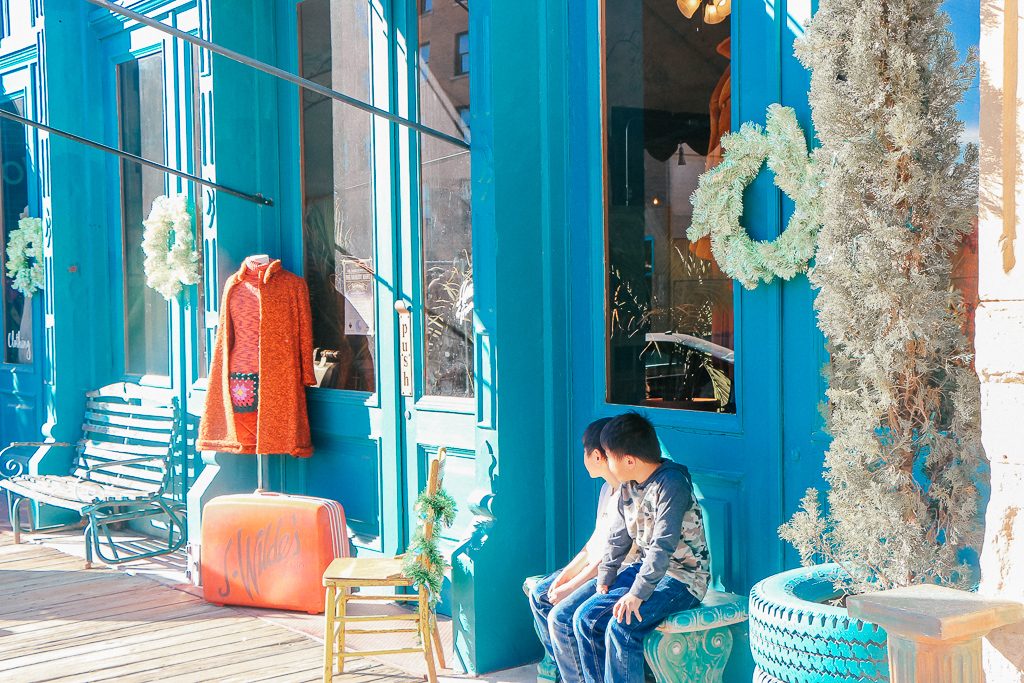 Even though this is a public street, be considerate of people actually coming in and out of the store to go shopping.
19. The Sassy Fox Boutique
Let me just say The Sassy Fox Boutique is the kind of store I could get in trouble in. They have a collection of just plain fun stuff, from tee shirts and other clothing to jewelry, coffee mugs with fun sayings. Let's just say if you want to buy me a present in the near future, anything in this store is probably guaranteed to please. There's also an old-fashioned soda fountain that's fun for pictures. The lady who worked there gave my kids these fun oversized plastic ice cream cones to hold and I think this is one of my favorites: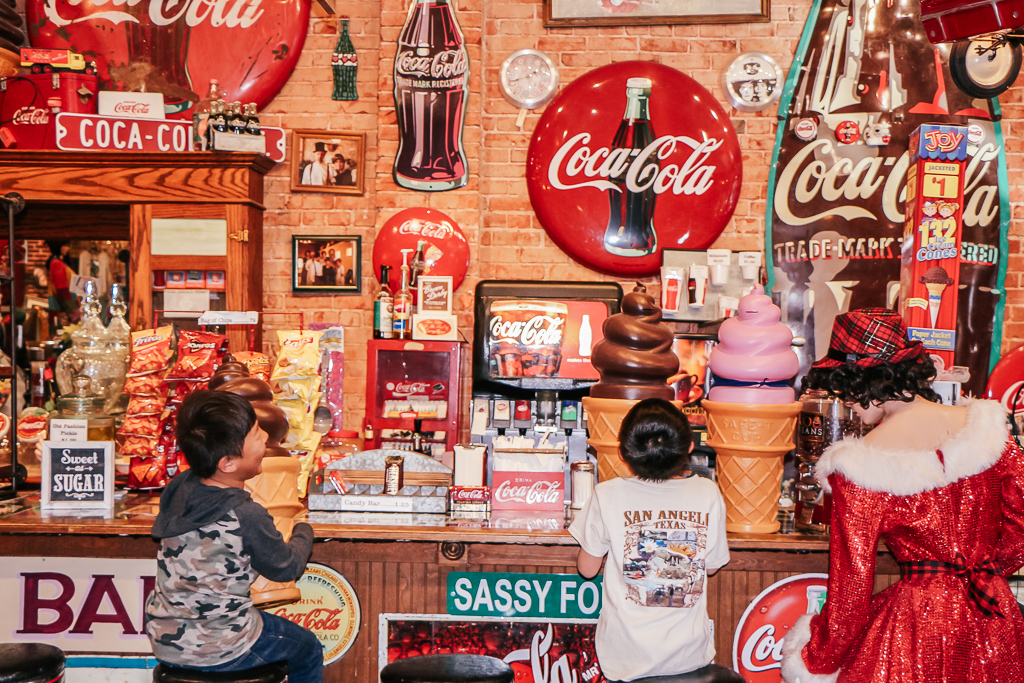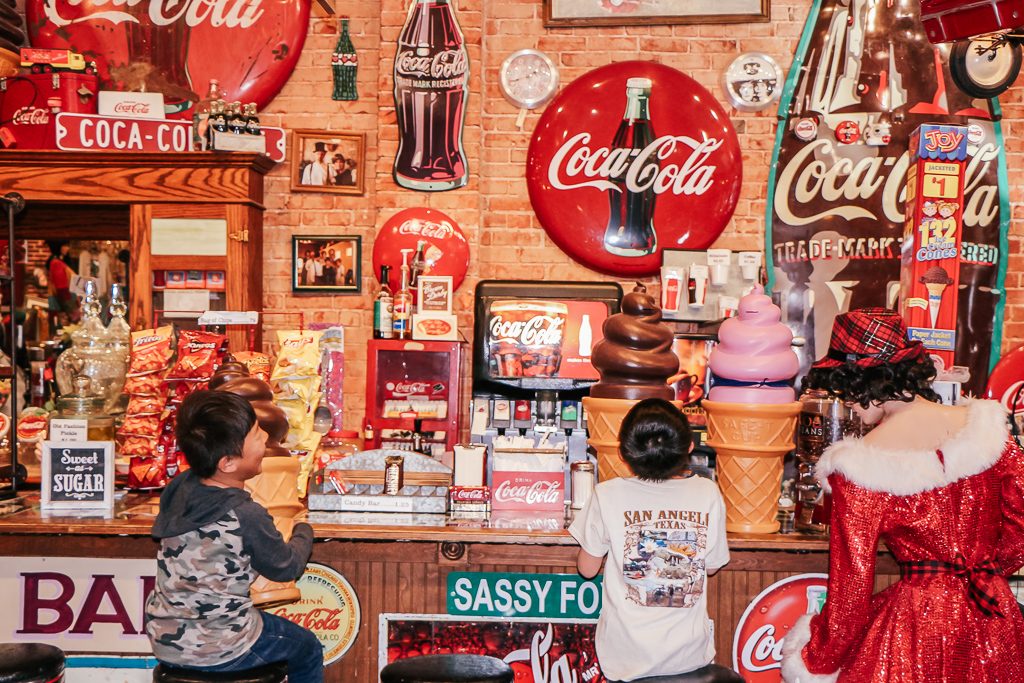 The area outside the dressing room is beautiful. I wasn't set up to do indoor pictures when we happened into the store so these don't do it justice. However, be mindful that this is an area outside a dressing room and that any extended picture taking probably needs a green light from the management. Or you know…just go in and buy all the things and they might be okay with it. And get me something, too. Any tee shirt with a snarky saying about coffee or wine will be just fine. Size large, please.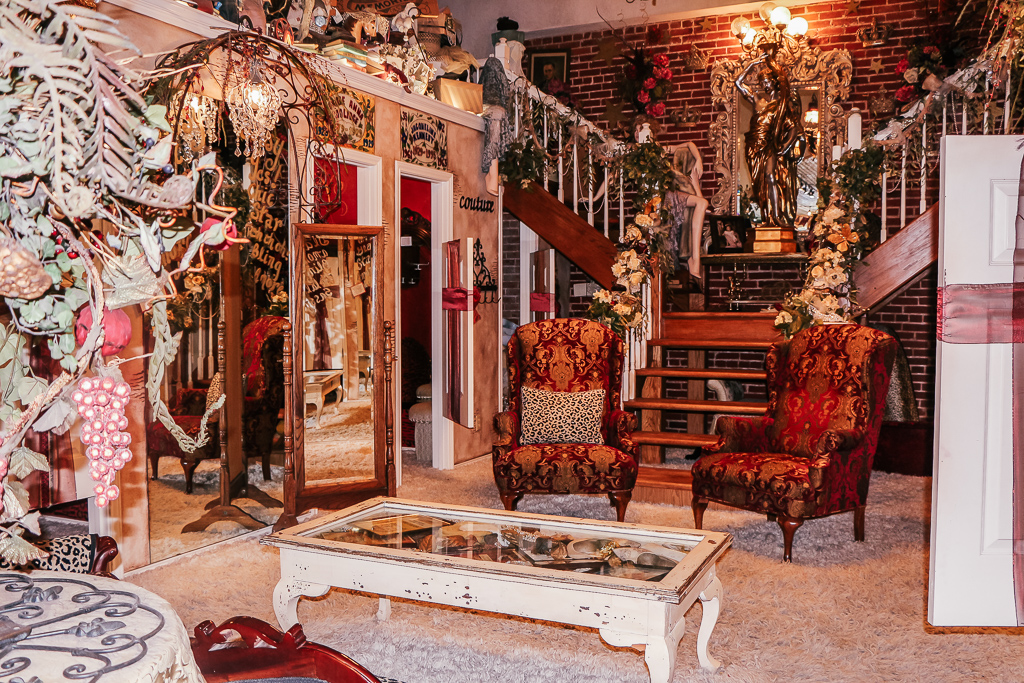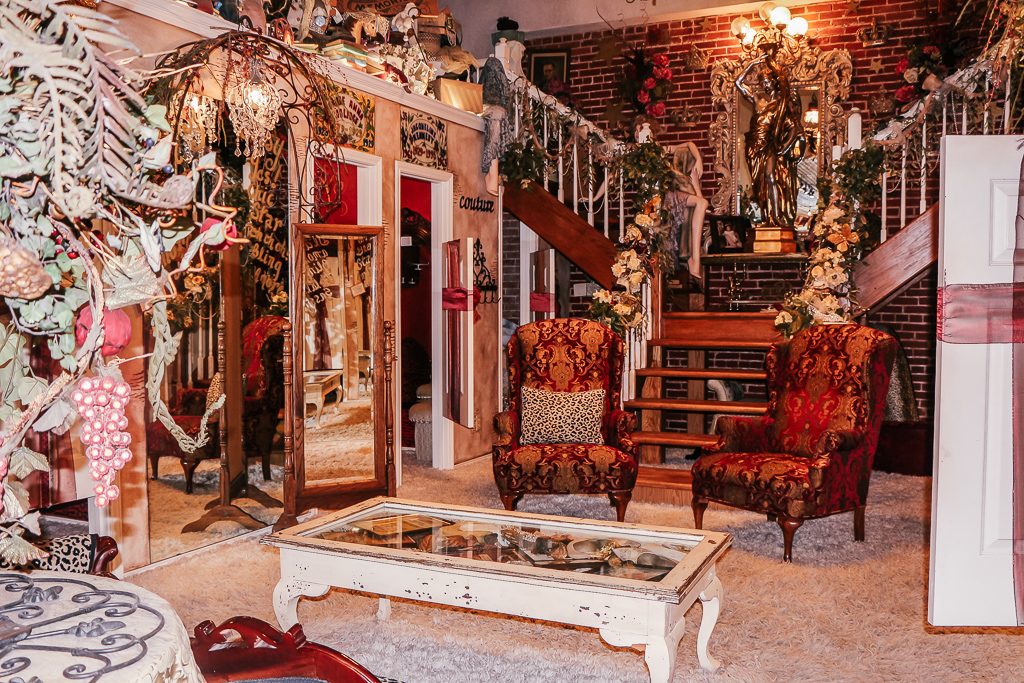 20. Fort Concho
Fort Concho is a National Historic Landmark site located in the heart of San Angelo. It served as regimental headquarters for some of the most famous frontier units like the 4th and 10th Cavalry. Notable military commanders such as Ranald Mackenzie, Benjamin Grierson, and William 'Pecos Bill' Shafter commanded here. Elements of all four regiments of the Buffalo Soldiers were stationed at the post during its active period. Today, Fort Concho National Historic Landmark encompasses most of the former army post and includes twenty-three original and restored fort structures. The old frontier army post is now a historic preservation project and museum which is owned and operated by the City of San Angelo.


Check the website before your visit to see if any special events are happening. It looks like they have a really fun Christmas time event…and unless we're having freak weather, December is a great time to enjoy the outdoors in Texas. But, you really never know with Texas weather.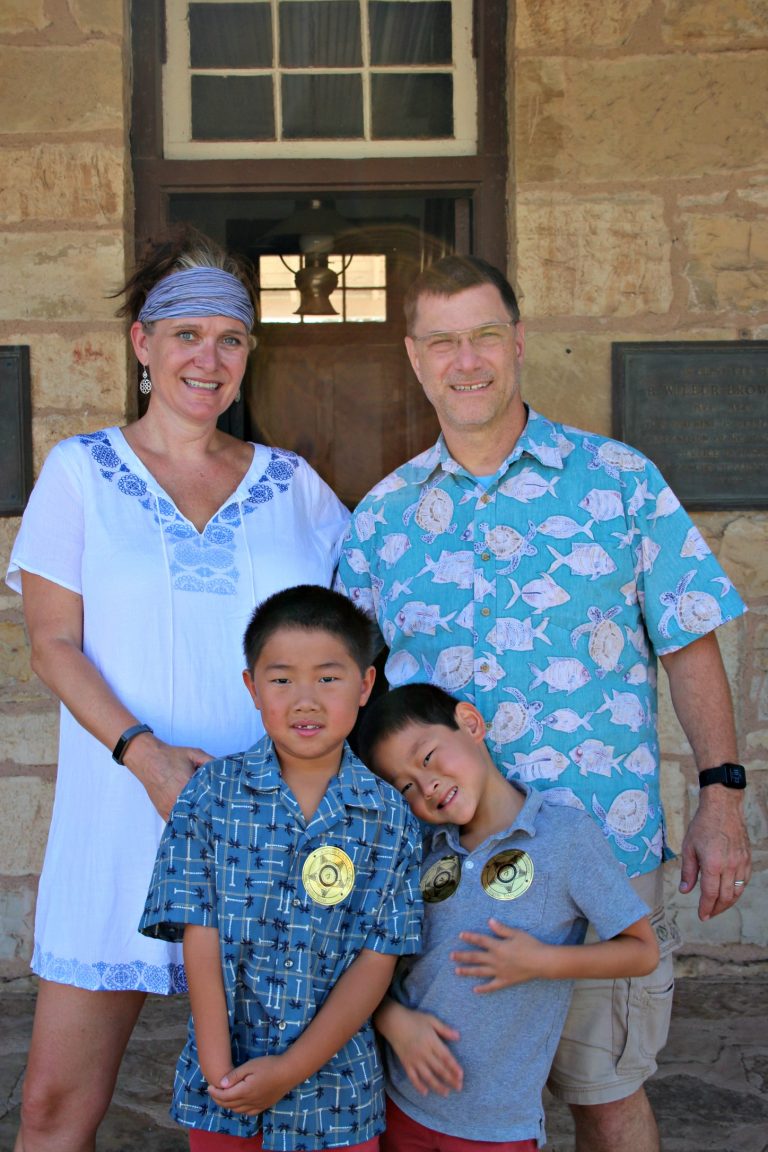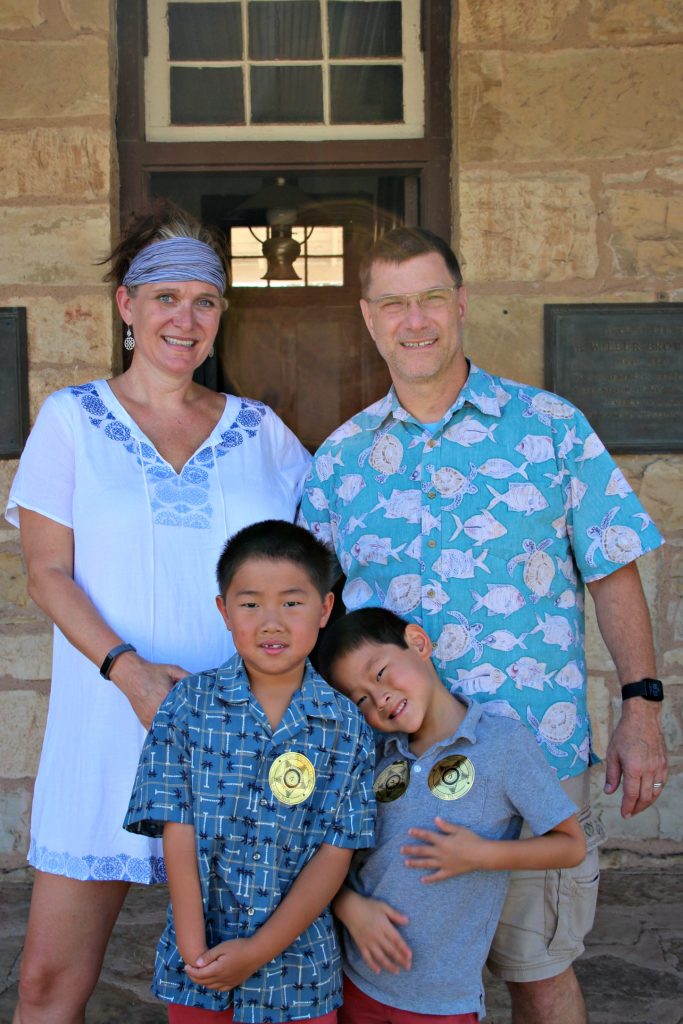 21. The San Angelo Museum of Fine Art
The entire area around this museum is a photographer's dream. It's also located just a short walk from the Pearl of the Concho (mermaid statue) so don't' miss that while you're there.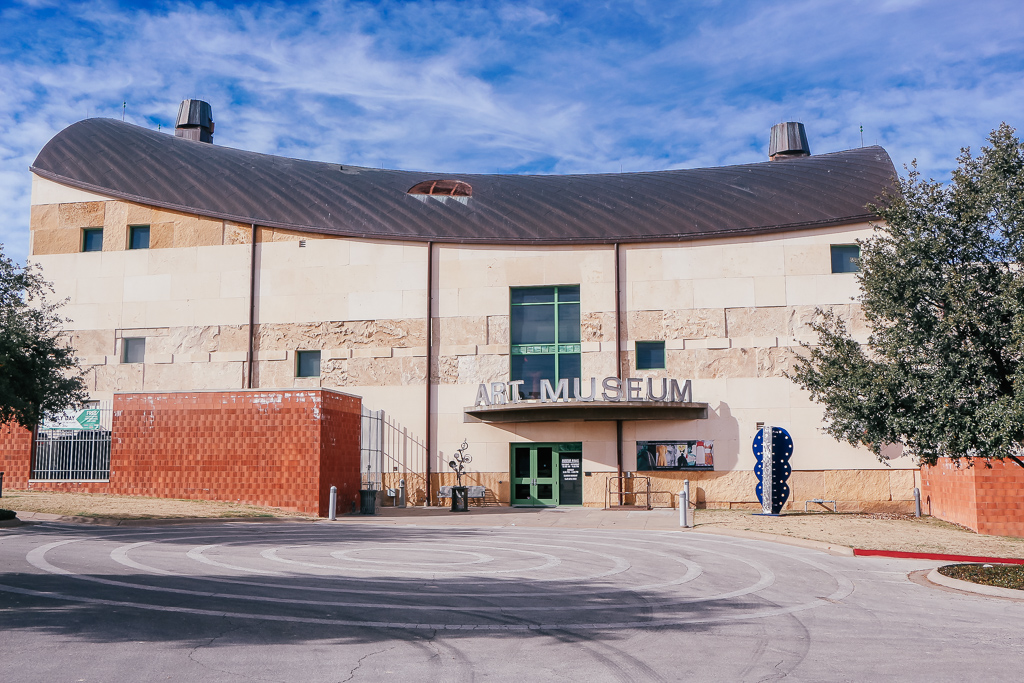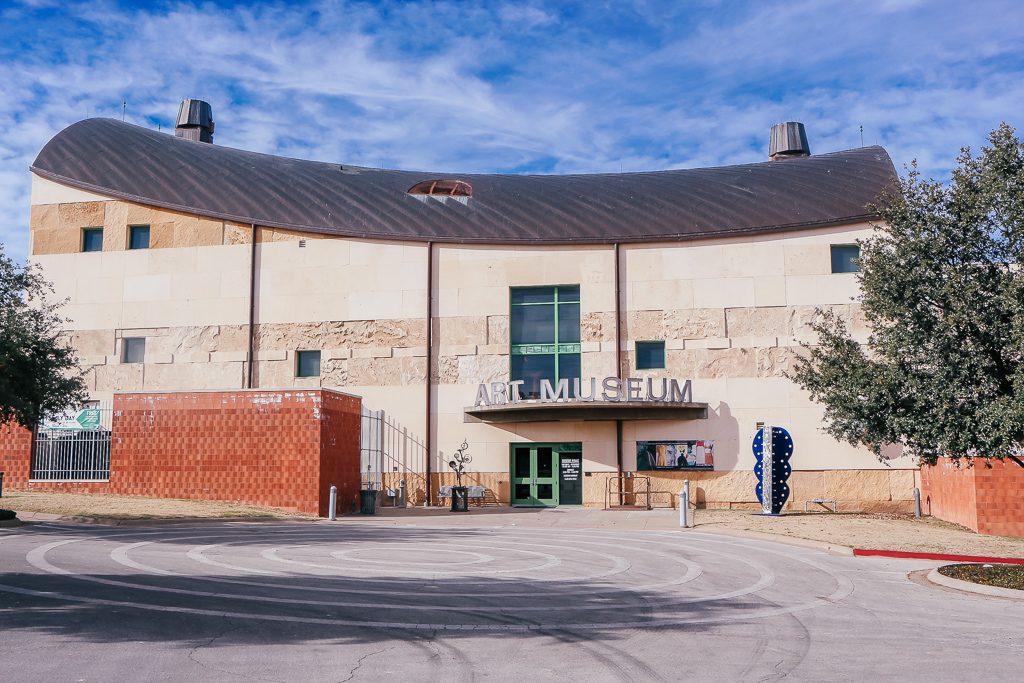 The rooftop sculpture terrace has a beautiful view of the city but there's lots of places on and around the grounds as well, to include some fun outdoor sculptures. We took our pictures during non-operating hours. If you're going to take more than a couple of shots, I'd recommend checking with to see if they have a fee. I know the art museums here in San Antonio require a photography permit if you're going to do a professional shoot.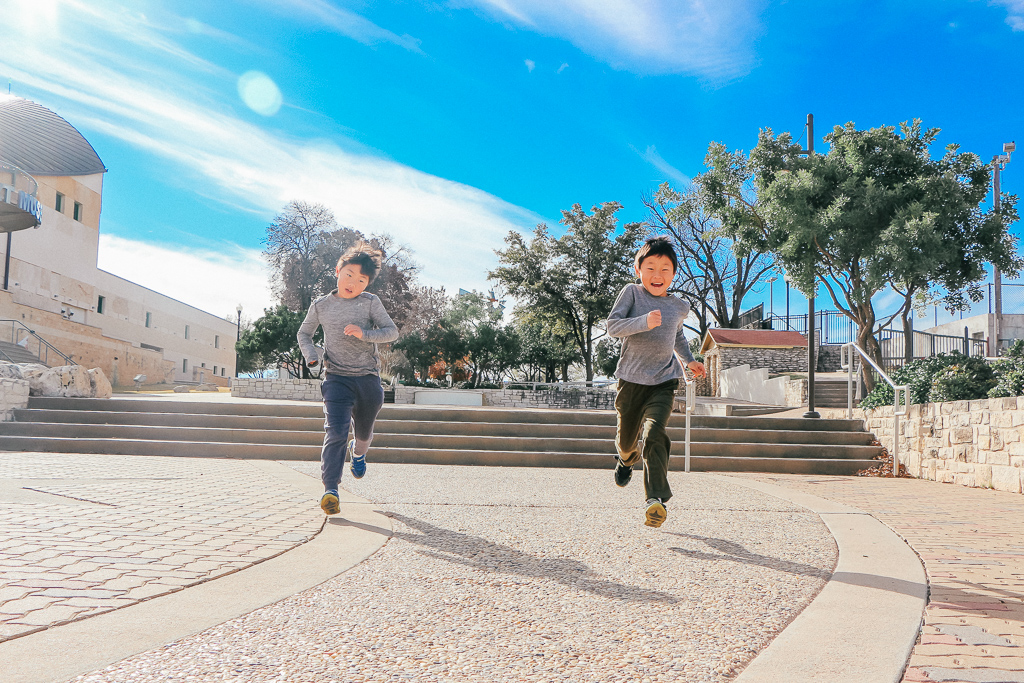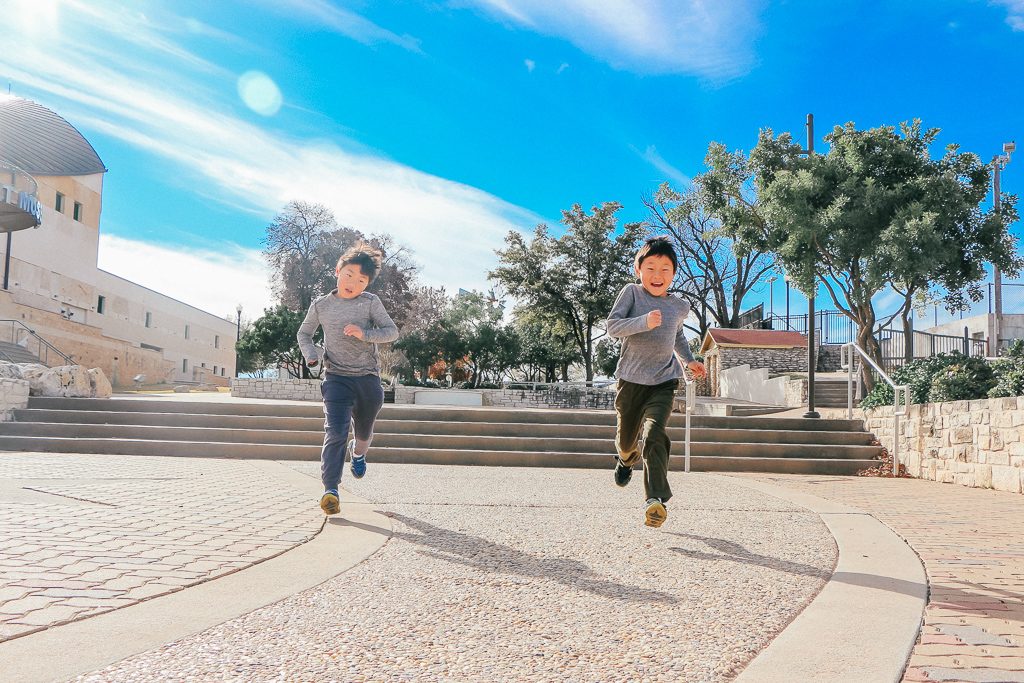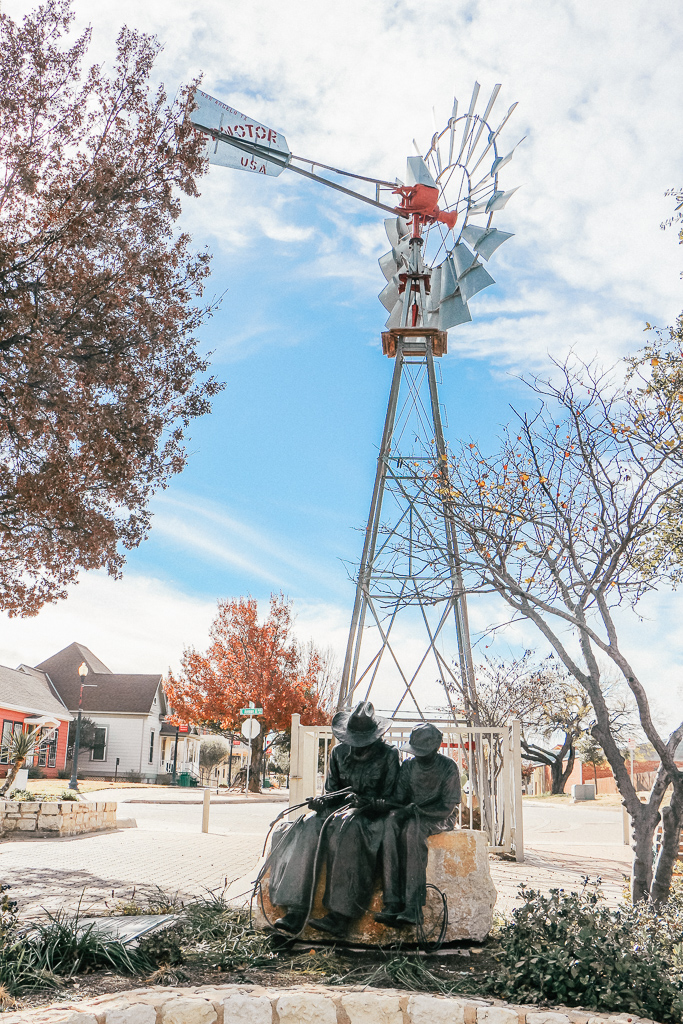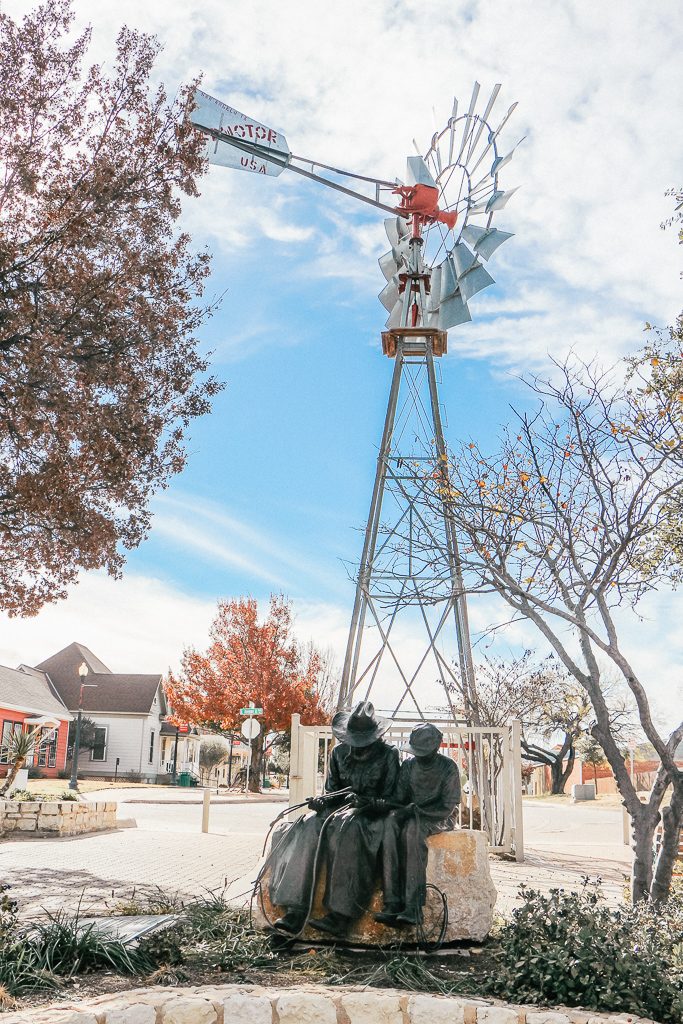 22. The Bosque on the Concho
The Bosque is a park that has loads of things for families to do. There's paddle boats available for rent, miniature golf, volleyball, and other outdoor games. There's also plenty of shaded seating for picnicking or socializing. None of the activities are very expensive and there's lots of places to take pictures…you can probably tell it's one of my favorite places because of the sheer amount of pictures we took there.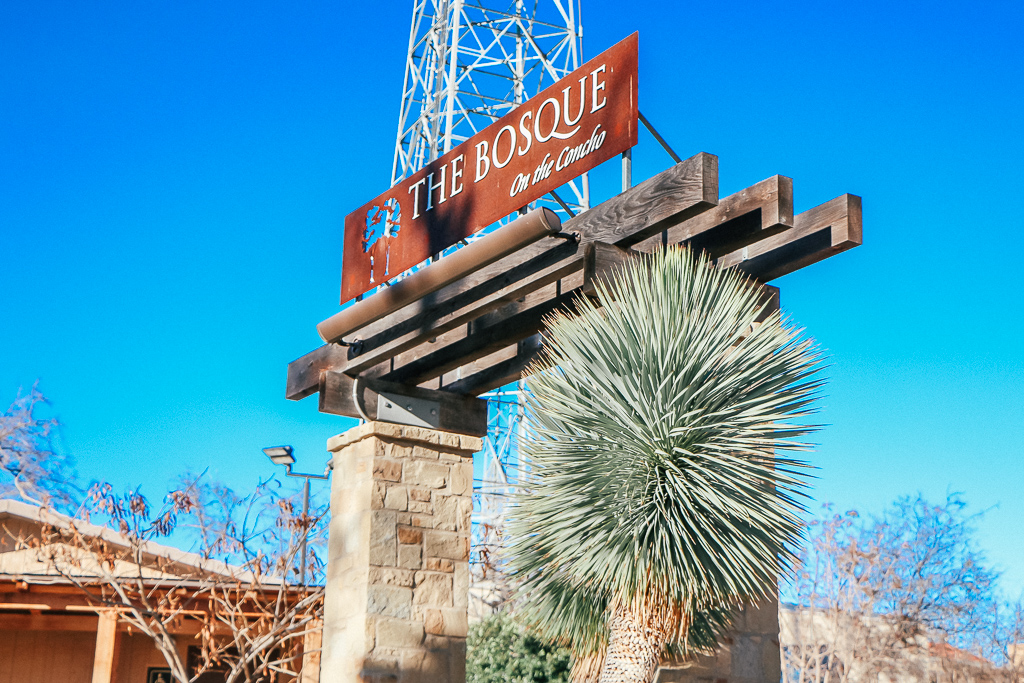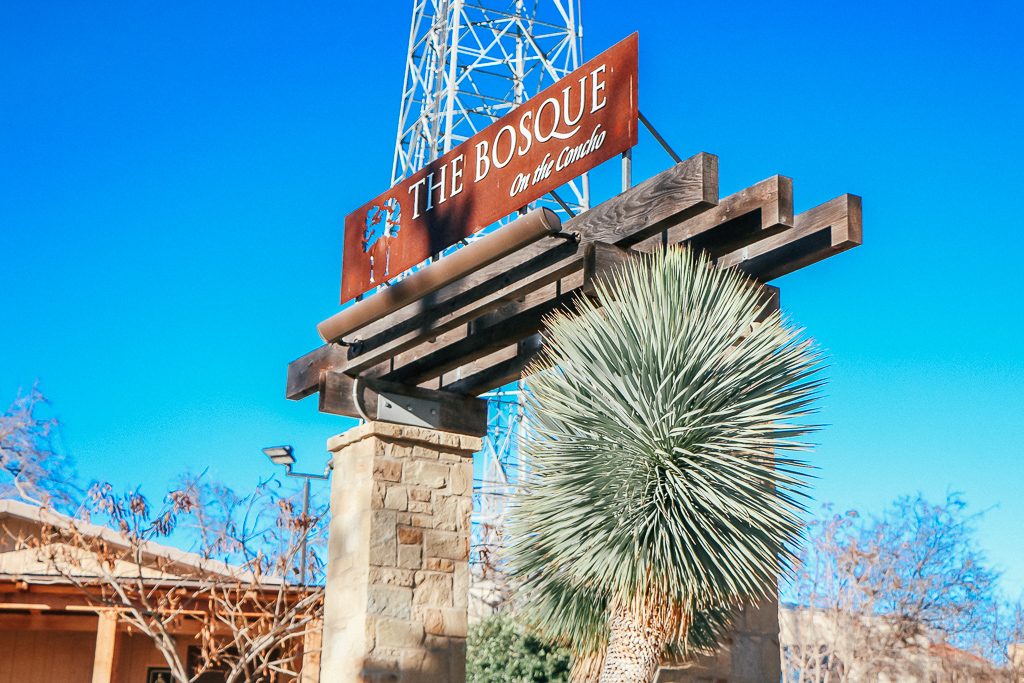 The hours of The Bosque are limited, which means the concessions, mini golf, giant chess, and other amenities aren't available. However, you can sit at the picnic tables or take pictures against the beautifully rustic backdrops. These walls are dreamy, aren't they?
There's another mural under the bridge, which I missed. I spotted it when I was taking pictures of the Pearl of the Concho from the other direction.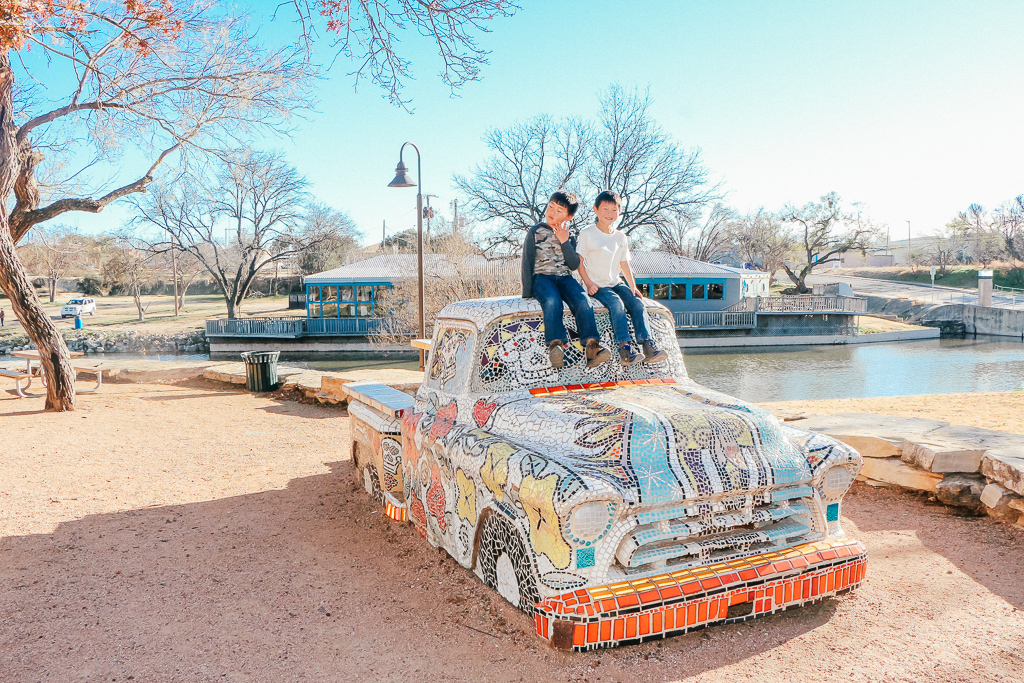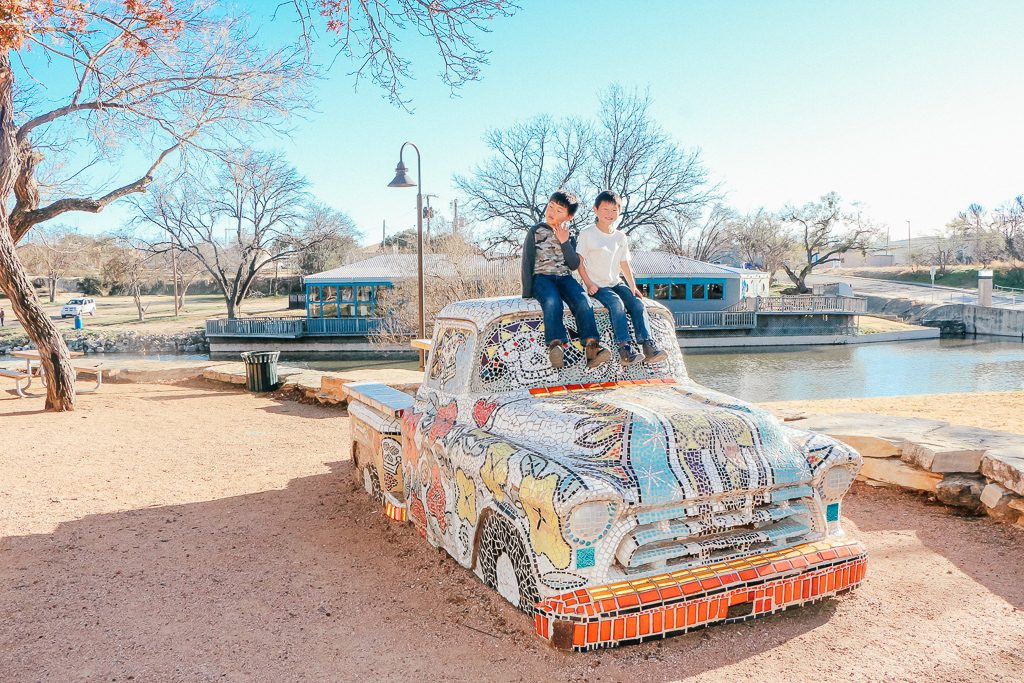 One of my kids has a really weird smile when you tell him to "say cheese." We've tried getting him to say different things that shape his mouth differently and he still looks like he's a little bit in pain when we try to pose him. If you have a kid like that, my best advice is to tell them to run toward you. See?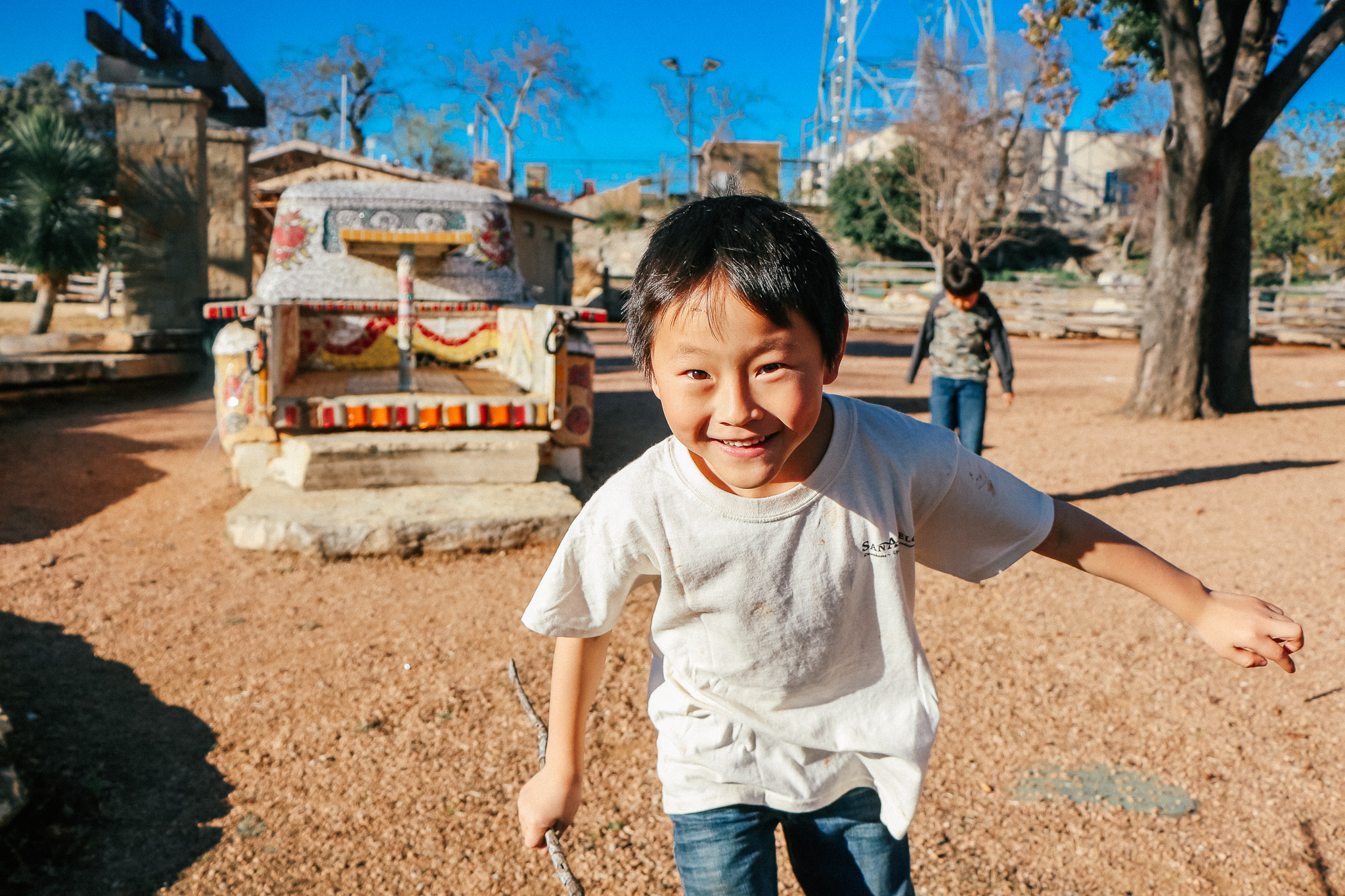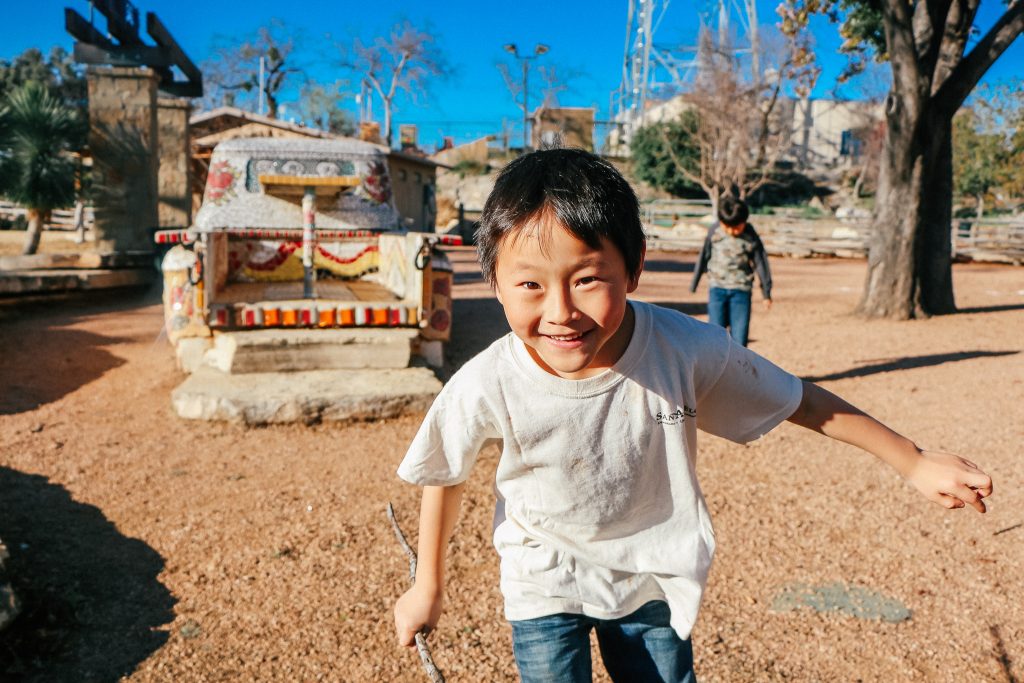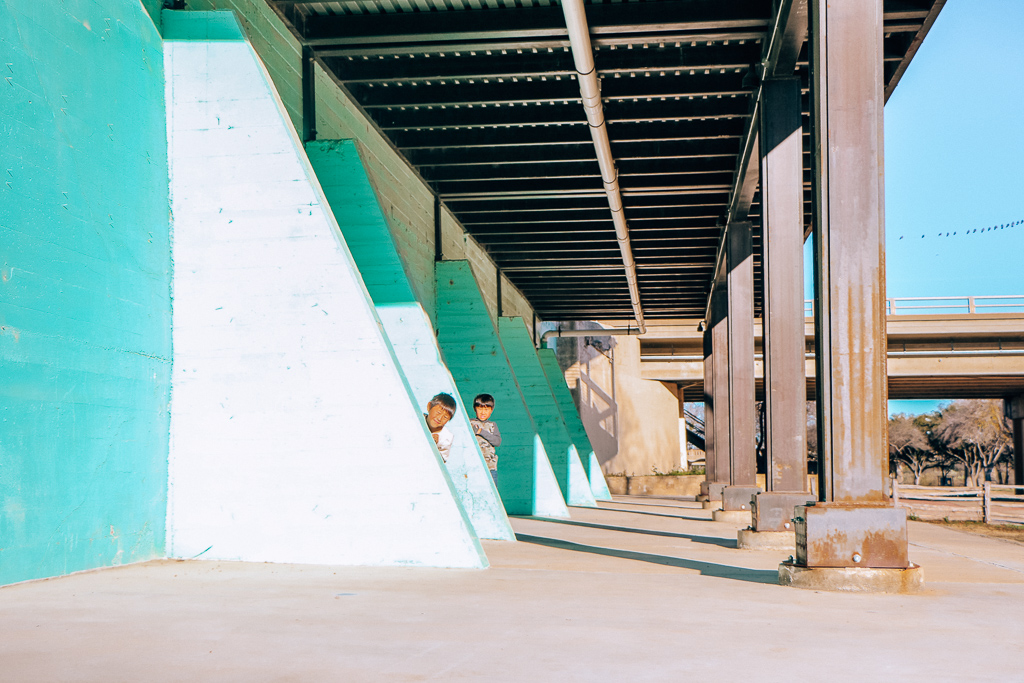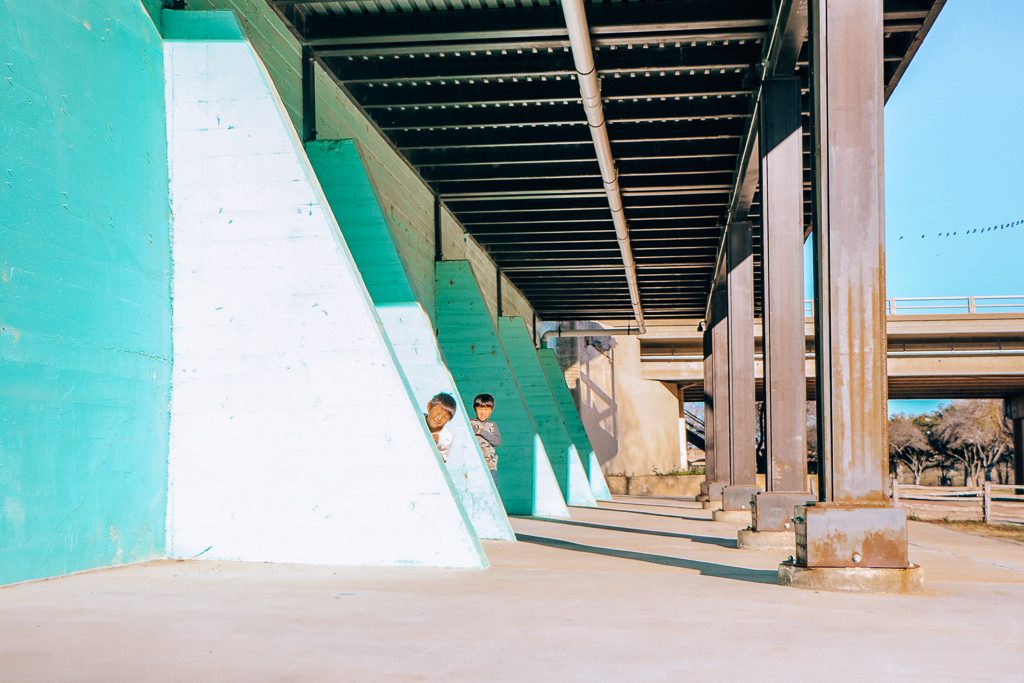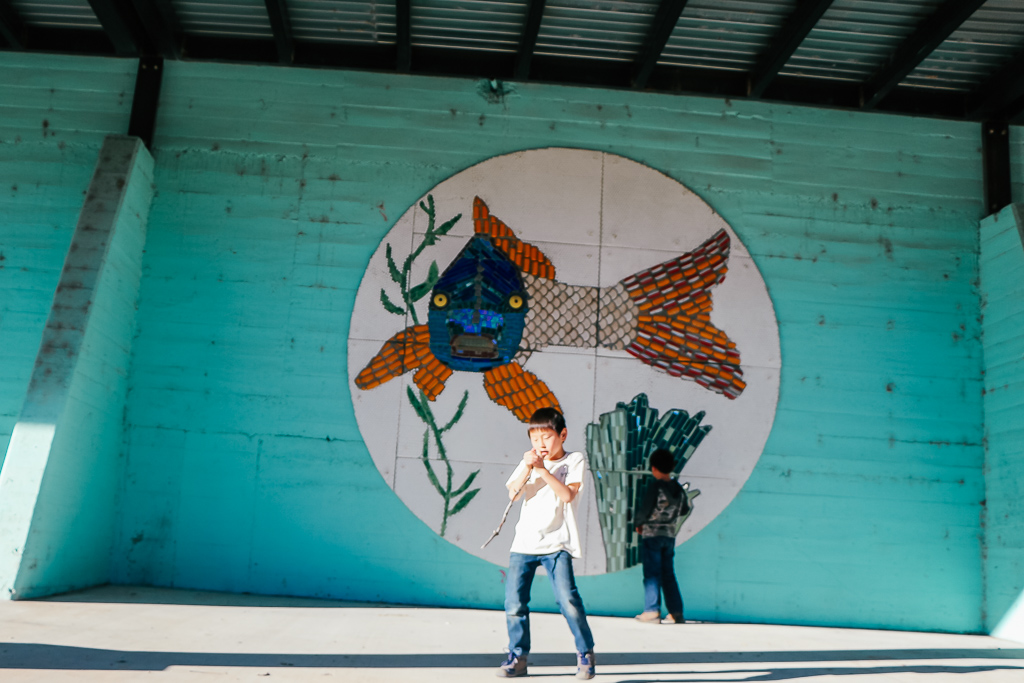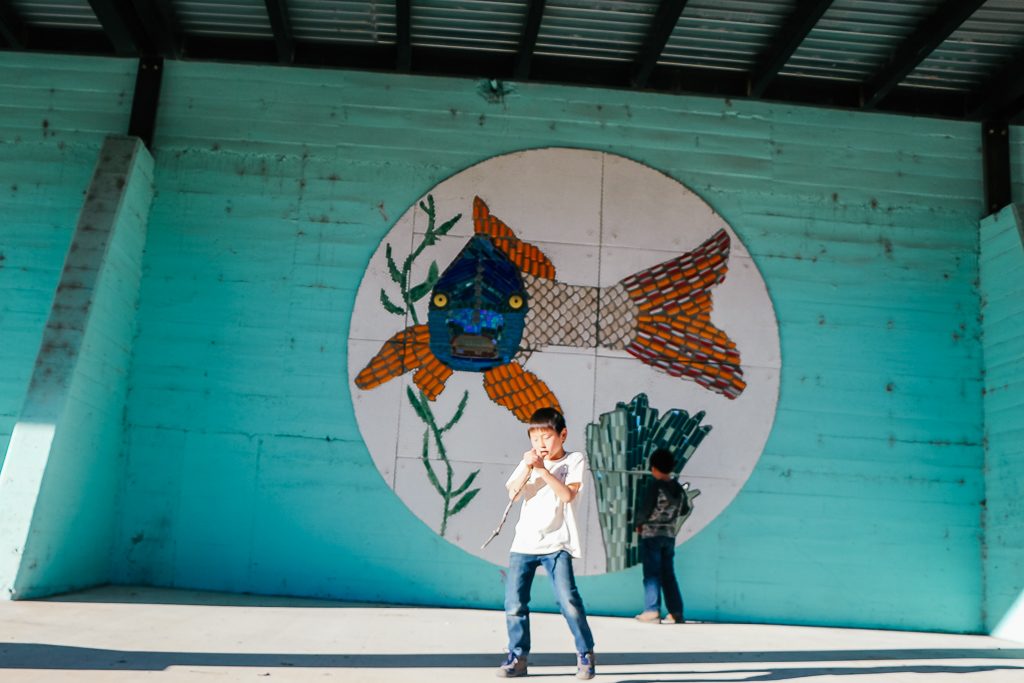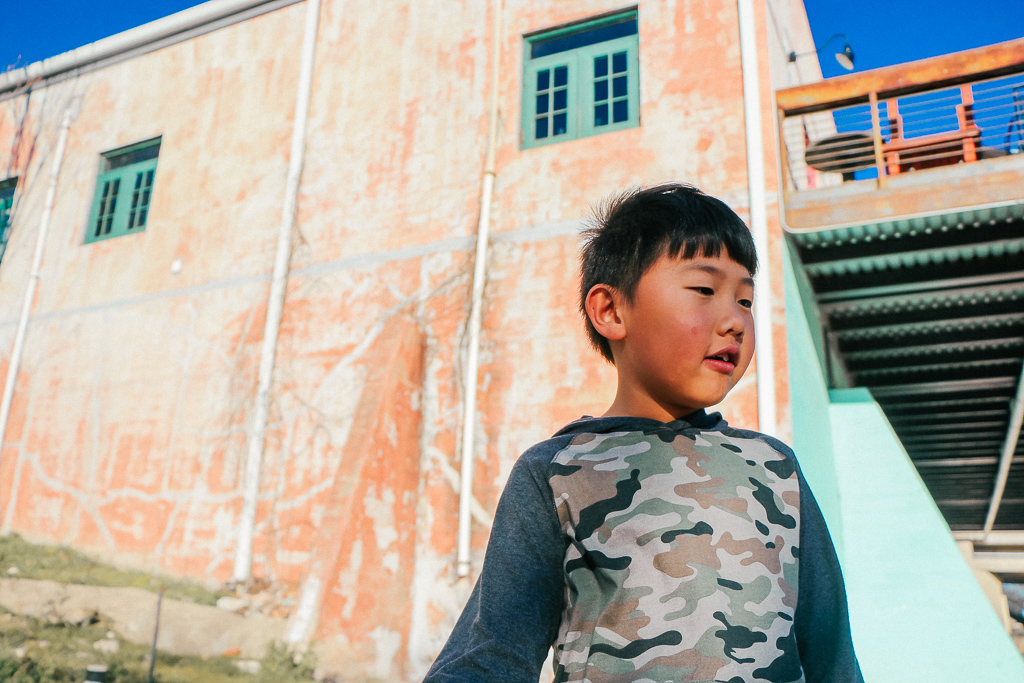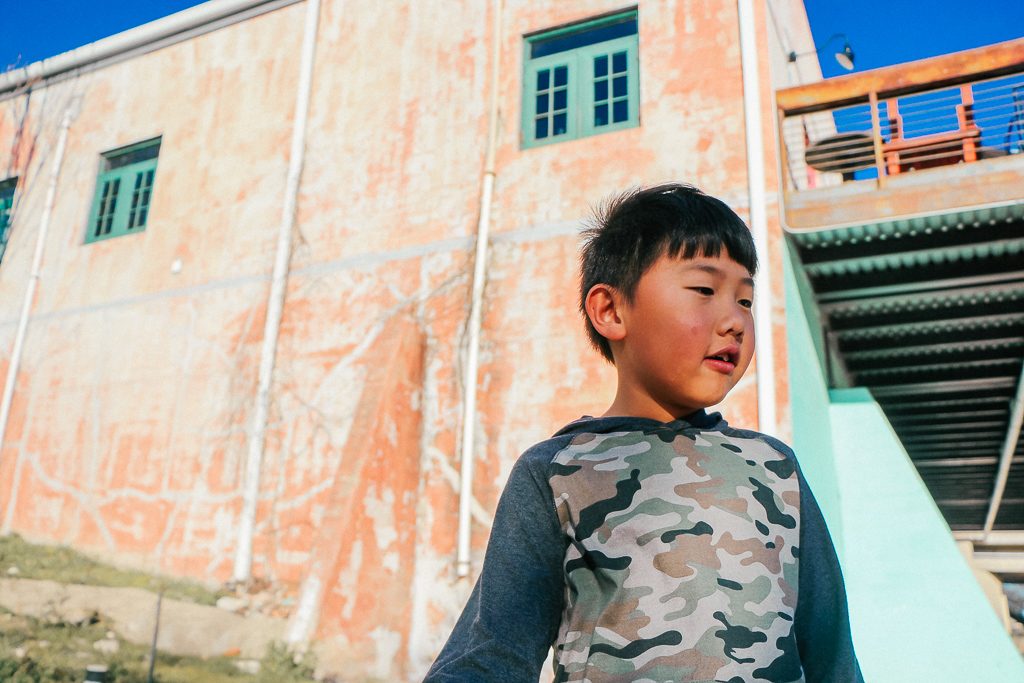 23. Art in Uncommon Places
There are so many little artsy surprises in San Angelo, but my favorites are these fun, mosaic tiled cars.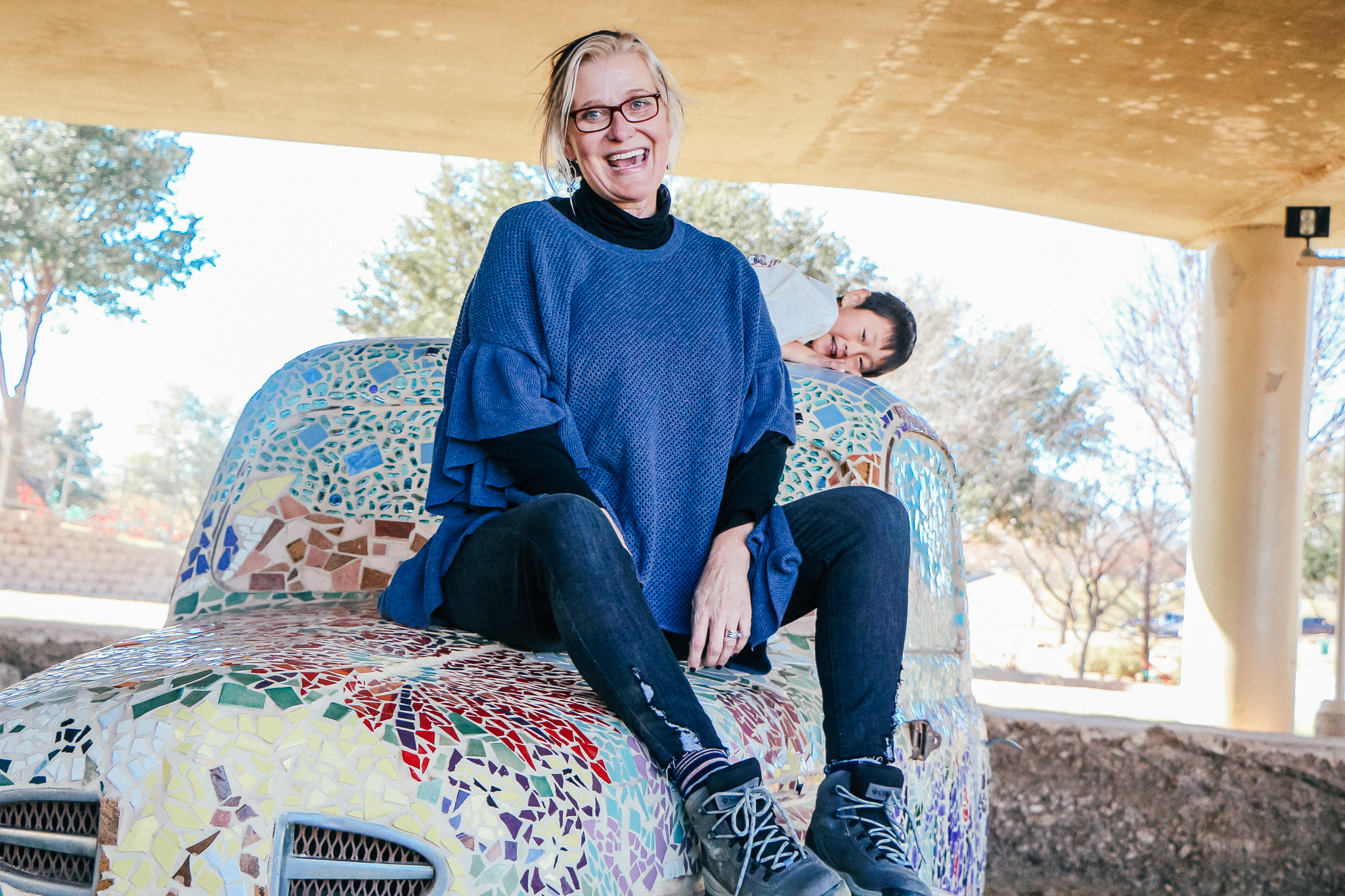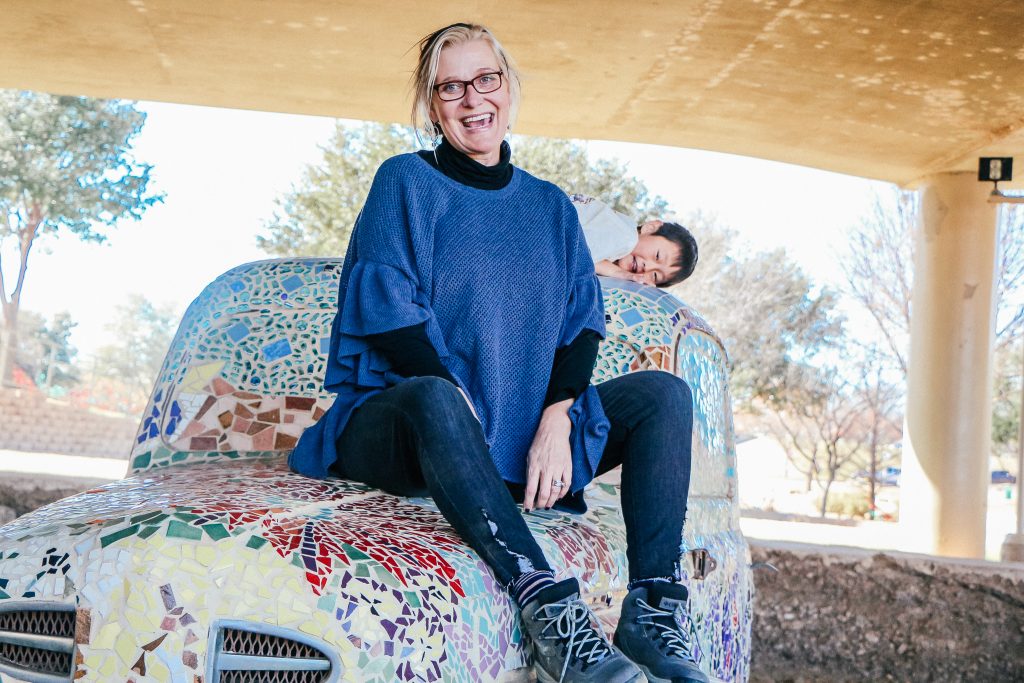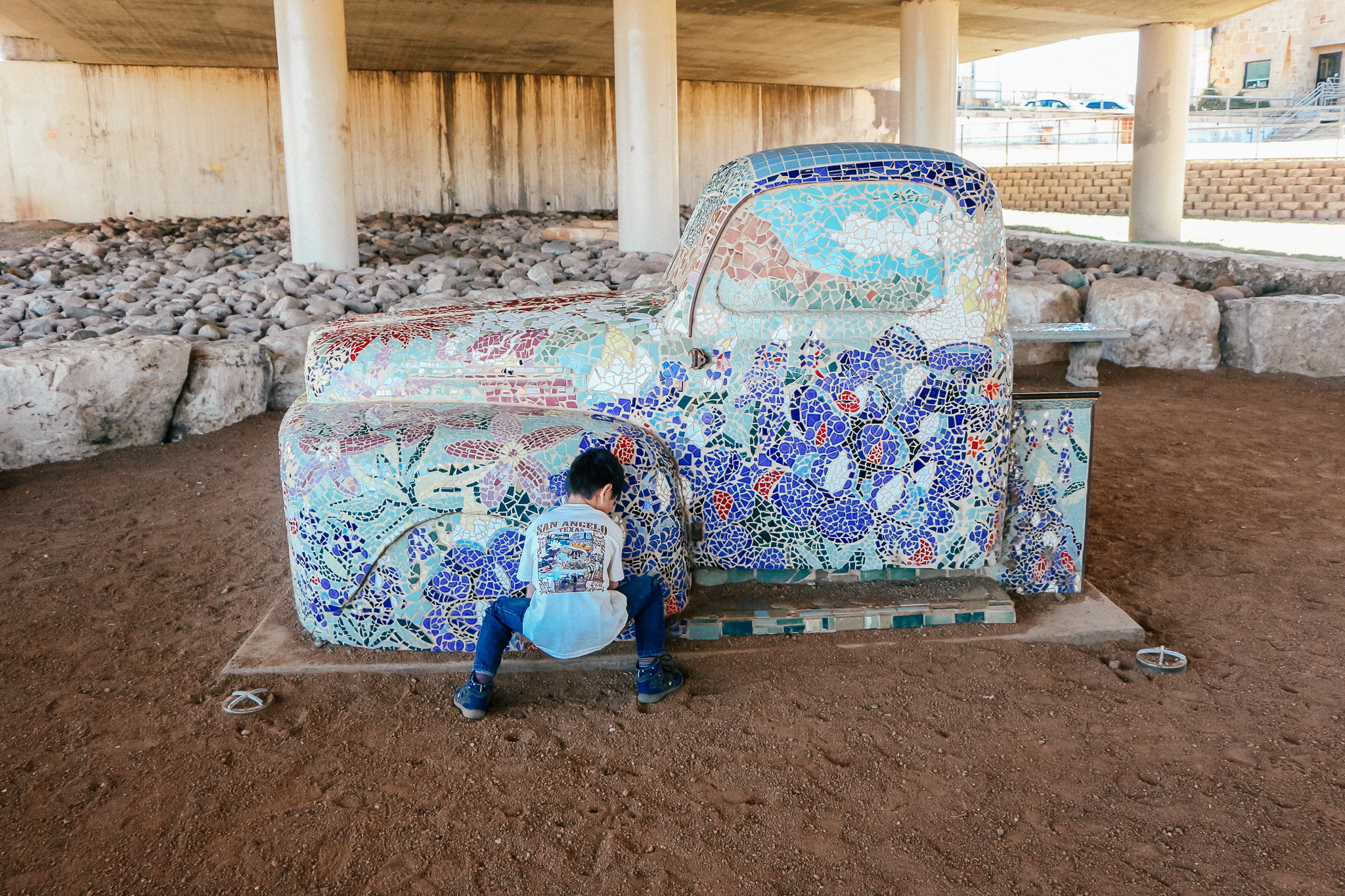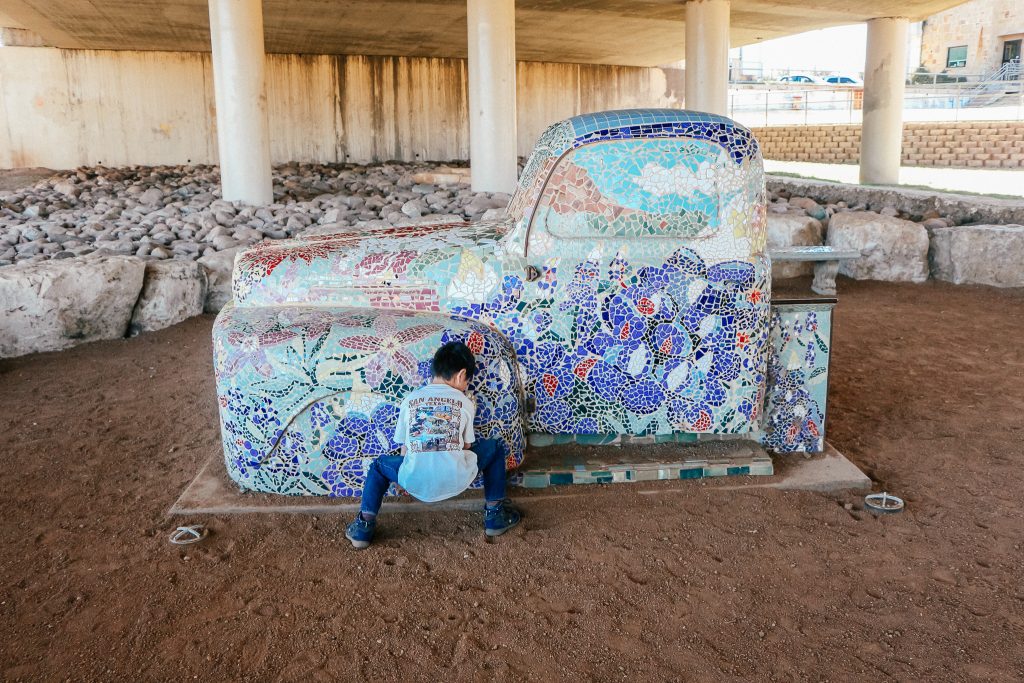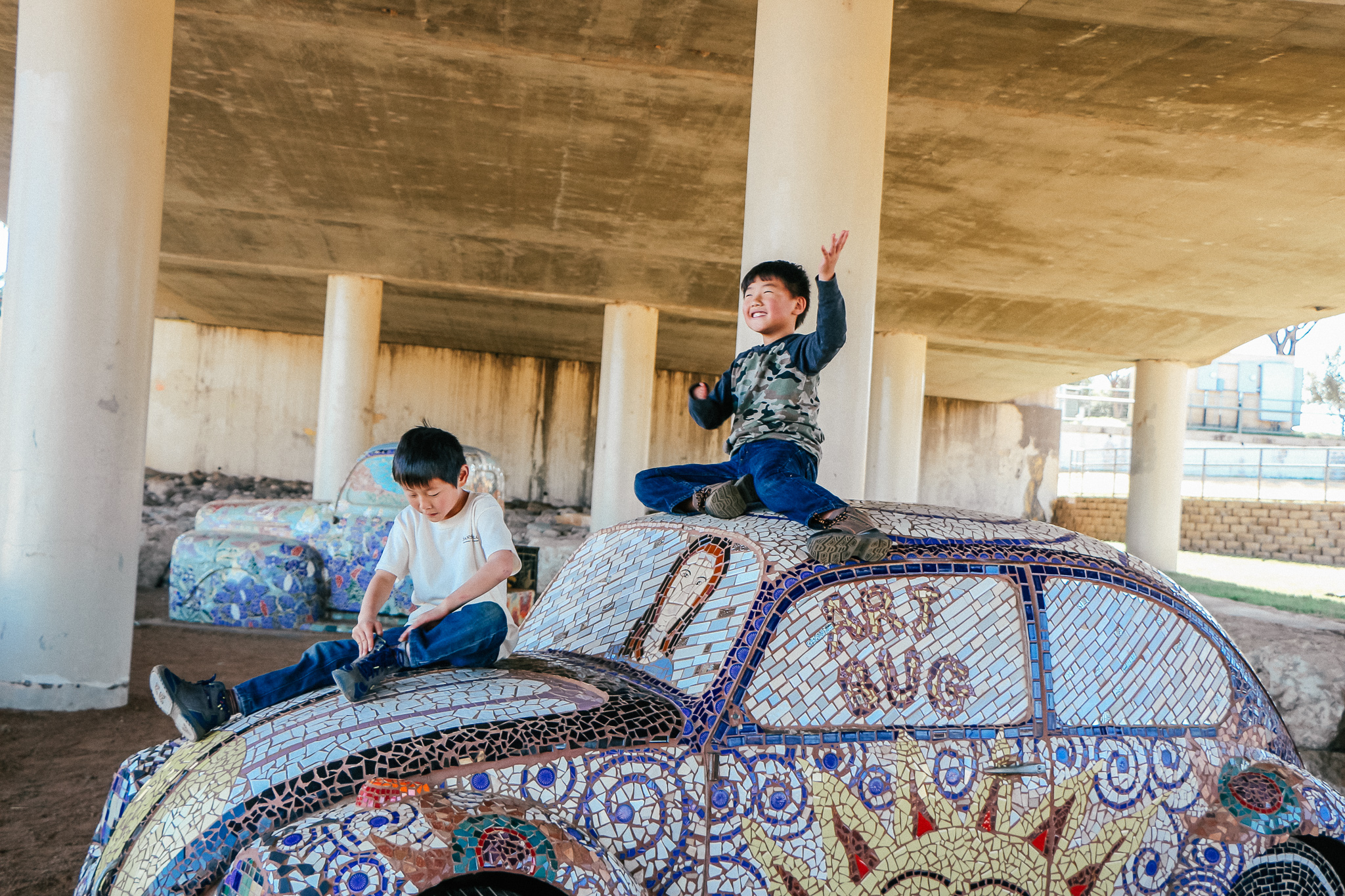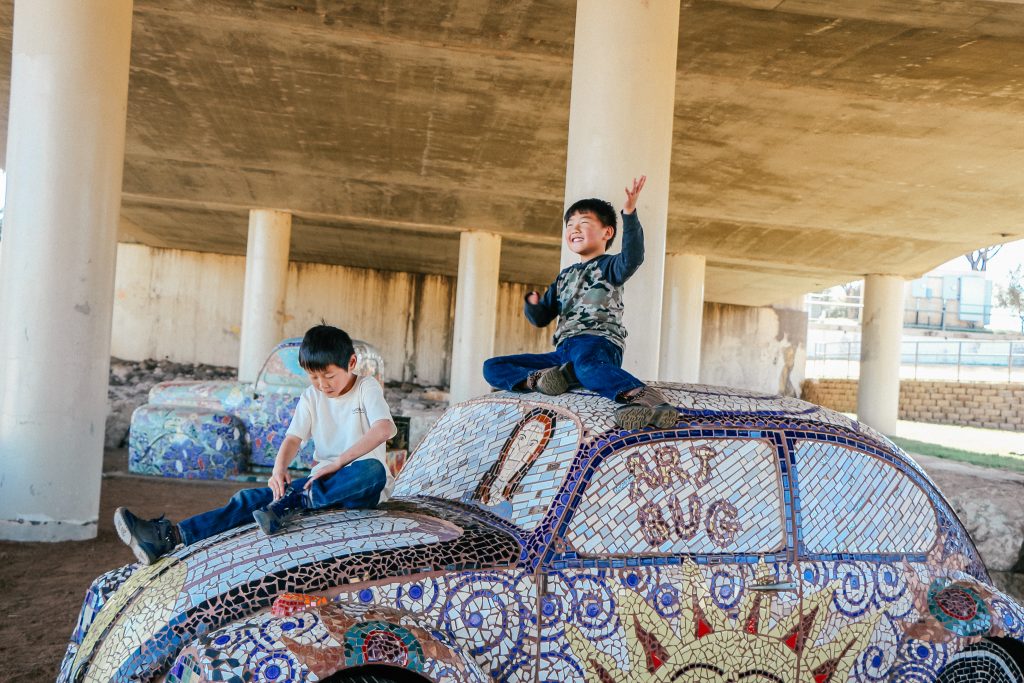 25. Angelo State University
Angelo State University offers over 100 majors and concentrations across their six colleges. We don't have any connection to the school so we just photographed the sign and moved on, but I bet the campus has it's own list of photo spots.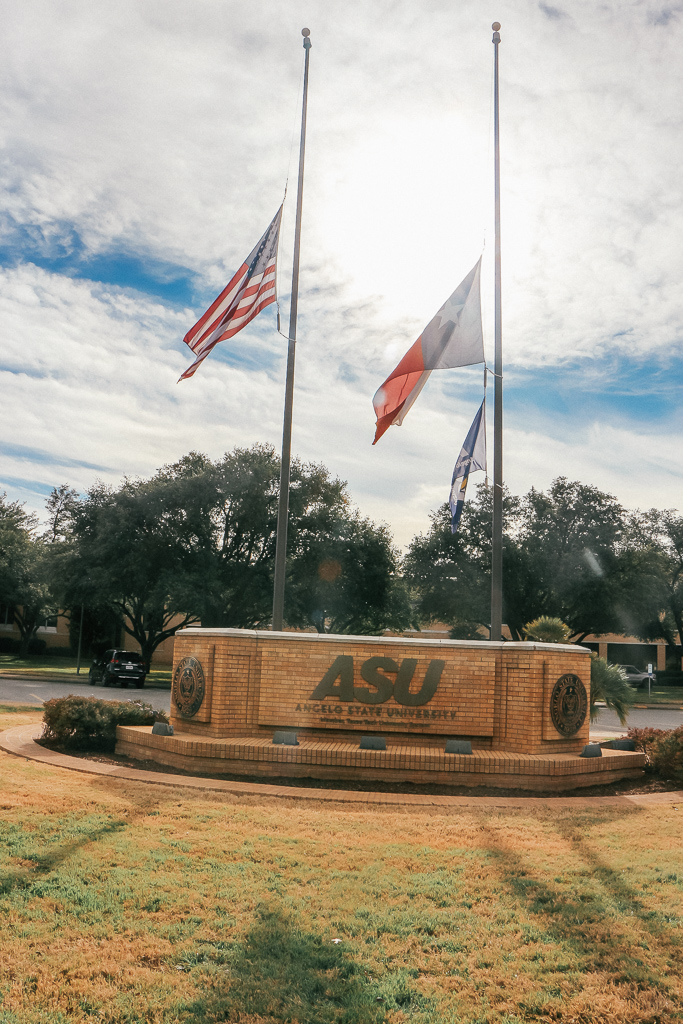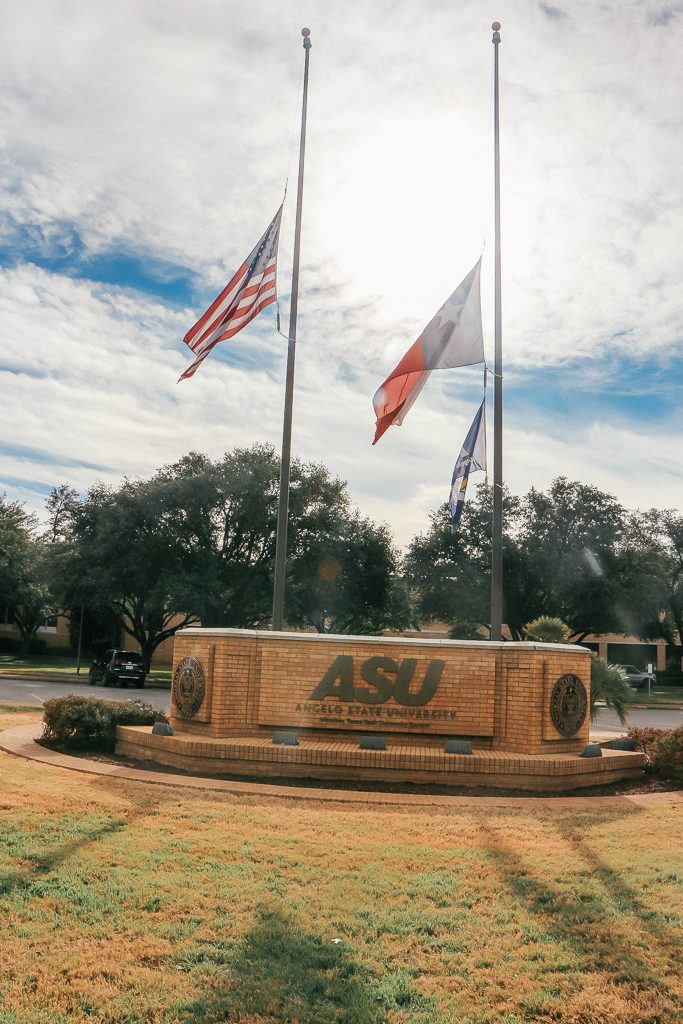 About my photography
I am an amateur (ish) photographer. I like to say I dabble just because I like taking pictures of my kids but I have done a few photography jobs here and there. My first love is wandering and writing about wandering but photography is right there at the top of the list…because you gotta capture it all, right?
Here's a little bit about my equipment used here:
I used a Canon Rebel T6 which is not the newest thing out there (and not my newest camera but what I took to San Angelo with me.) Here's a bundle on Amazon that has a good compliment of lenses and other stuff:
You can tell from the price that it's not the fanciest, latest and greatest that's out there but I just started using the Canon EOS M50 Mirrorless like this one:
and I have to say…I like my trusty Rebel a lot better.
I edit with Adobe Lightroom and I use presets from Aggie Lal. You can check out her selection here.
More reading here:
Nine reasons to visit San Angelo Texas
The Bosque – Free (and almost free) Fun in San Angelo