Open to close touring plan for Disney's Hollywood Studios
(This post may contain affiliate links. Read my full disclosure.)
Up until our most recent visit to Walt Disney World, Disney's Hollywood Studios has been the park we've spent the least amount of time in. We've either skipped it entirely or scooted by near the end of our visit as an afterthought. With the new opening of Toy Story Land, Hollywood Studios has become THE place to be, and, with Star Wars: Galaxy's Edge opening soon, I predict it will become even more popular. Duh. I'm just smart like that…ha ha ha. Anyhoo…during this most recent visit, we decided to spend a full day exploring Disney's Hollywood Studios, open to close. We were there when the park opened and shut the place down and you know what? We still didn't experience everything there was to experience but we definitely packed a lot in. If you're interested in an open to close touring plan for Disney's Hollywood Studios, here's one for your consideration. It's a long day and it wasn't planned out with the goal of being efficient as far as steps go…meaning we zigzagged the park a little more than ideal. But, we had a great time and we got a lot done, so if you're wanting to really see all there is to see (or at least most of the things) this will get you there.
Related Post: See more about the opening of Star Wars: Galaxy's Edge at Walt Disney World
Open to Close Touring Plan for Disney's Hollywood Studios
We received media tickets to Walt Disney World. All opinions are mine. This post may also contain affiliate links.
There were four people in our party: My husband and I and two eight year old boys. None of us have mobility issues or other special needs. We planned the bulk of our itinerary in advance and reserved our FastPasses and dining 60 days in advance of our visit. You can schedule FastPass+ up to 60 days in advance if you're staying in a Walt Disney World Resort Hotel but you can schedule your dining up to 180 days out…so, we were behind the power curve with dining and didn't get our first choices…just something to think about.
Related post: Say goodbye to these things at Walt Disney World in 2019
Rope Drop
Rope drop refers to getting to the park before it opens. You will go through the security checkpoints and line up at the admission area where your magic bands or tickets will be scanned. You will typically be allowed to enter the park 30-45 minutes prior to the park opening, although you'll be confined to the entrance area. You can walk down Grand Avenue but the area in front of the Chinese Theater will be roped off. You can also wander around the Echo Lake area a bit on the other side, which is awesome for taking pictures before the crowds get into the park, however, you won't be able to ride any of the rides until they drop the rope…but you'll be the first ones in line when they do.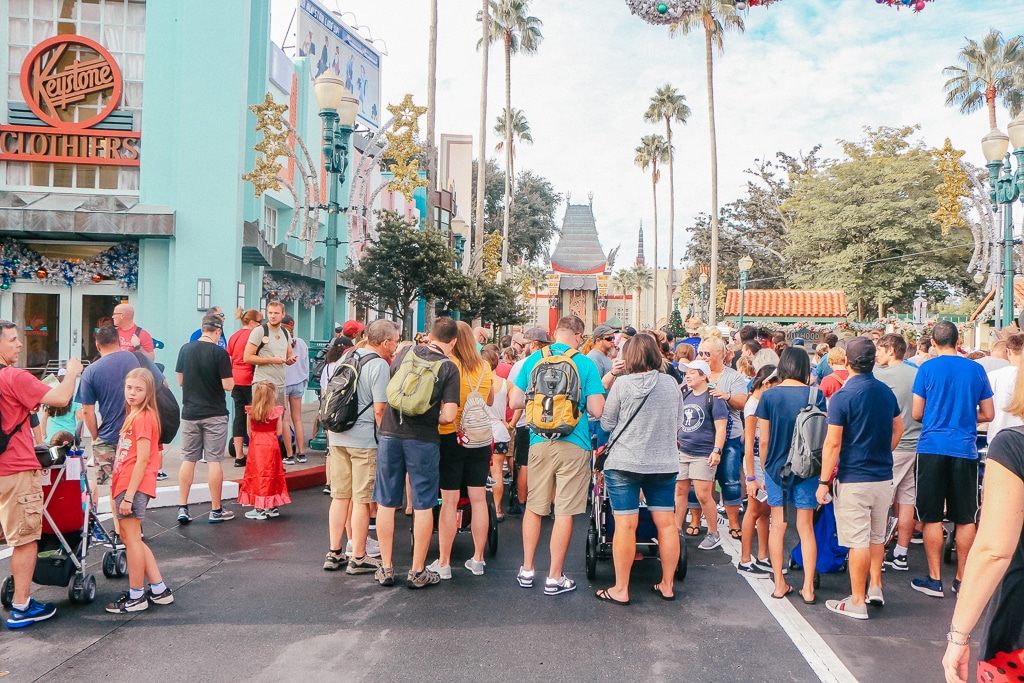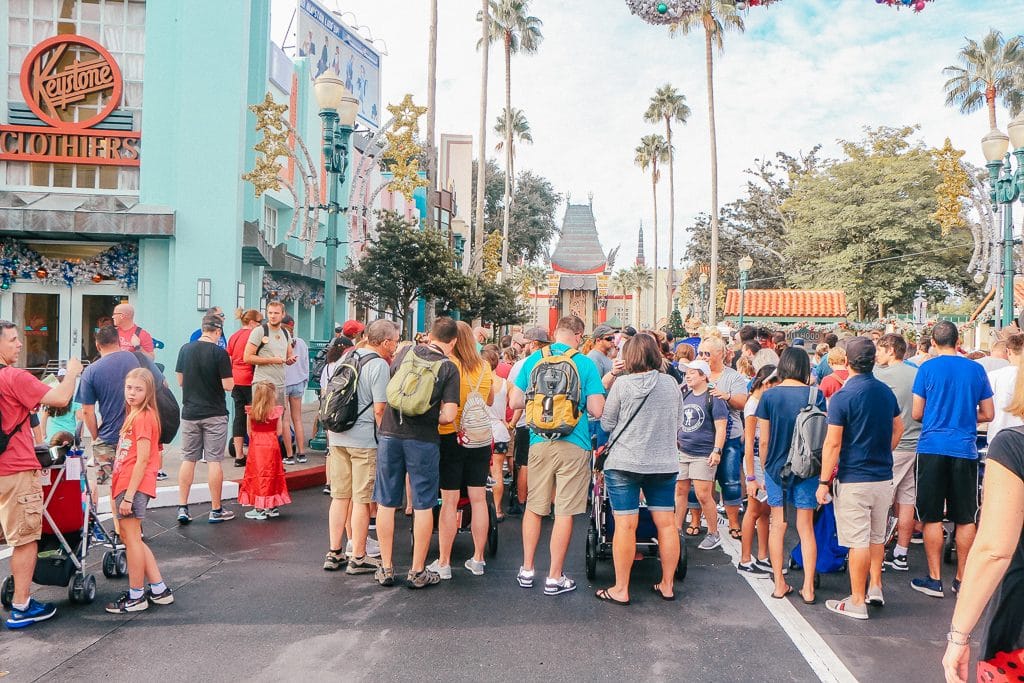 Disney's Hollywood Studios normally opens at 9:00 a.m. and we arrived at 7:50. We got to enter the park at about 8:20 and there weren't a lot of people in line ahead of us. By the way the traffic was flowing, most of them were priming to get on Slinky Dog Dash first thing. Obviously, this is going to change in a few months when Galaxy's Edge opens up.
Related post: The inside scoop on Toy Story Land at Disney's Hollywood Studios
Head to Jedi Training Academy:Trials of the Temple Sign Up
Getting our kids into the Jedi Training Academy was our main reason for arriving at the park as early as we did. If you're not interested in the Jedi Training Academy, then head straight for Toy Story Land after rope drop and get in line for Slinky Dog Dash, because that's the new hottest ride right now. Again, this is going to change when Galaxy's Edge opens and perhaps Slinky Dog Dash will be a little less of a wait.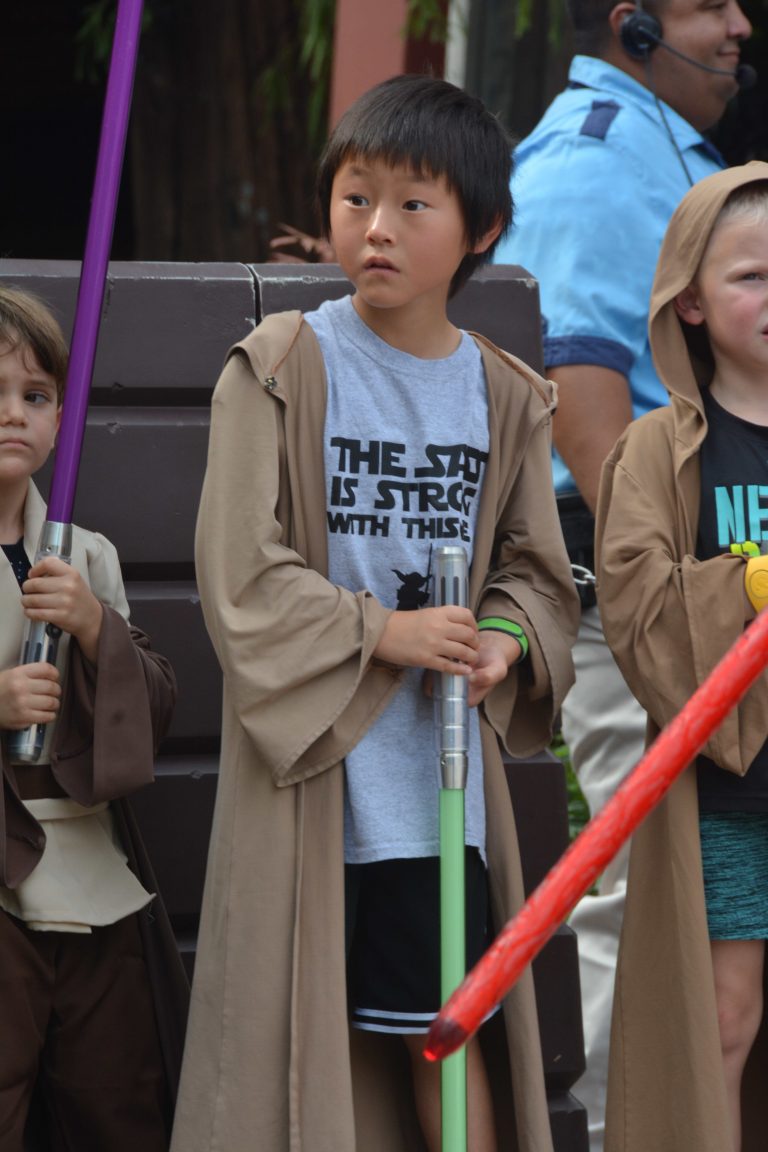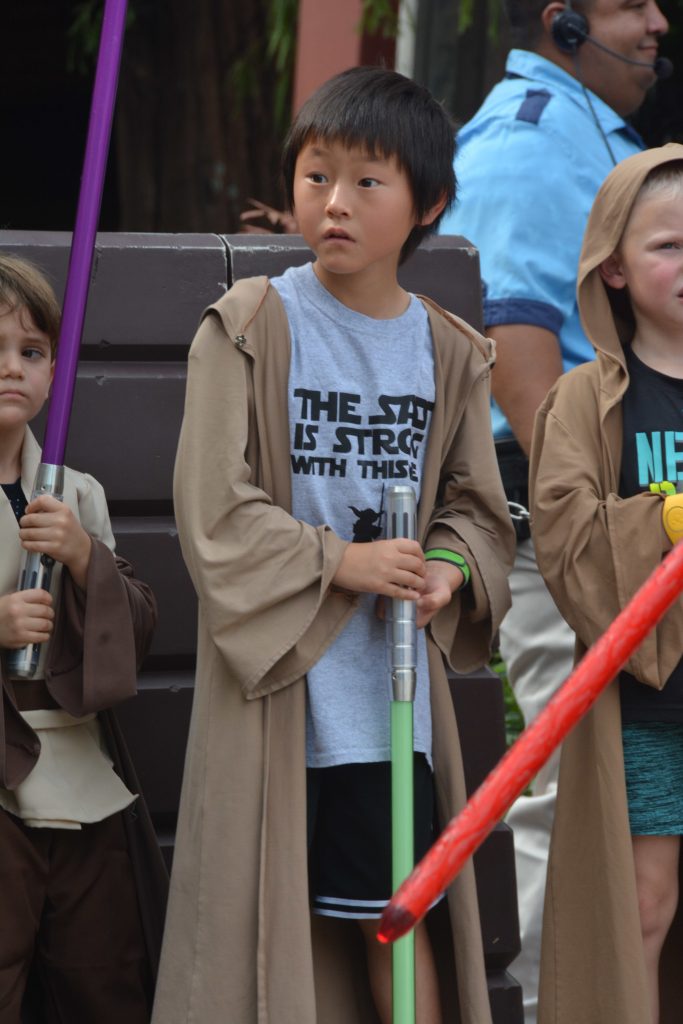 The sign-ups for the Jedi Training Academy are located adjacent behind the Indiana Jones Adventure Outpost…there will be signs. We got into line at 8:25 and they were already taking sign-ups. If you have specific questions about the Jedi Training Academy, read this post.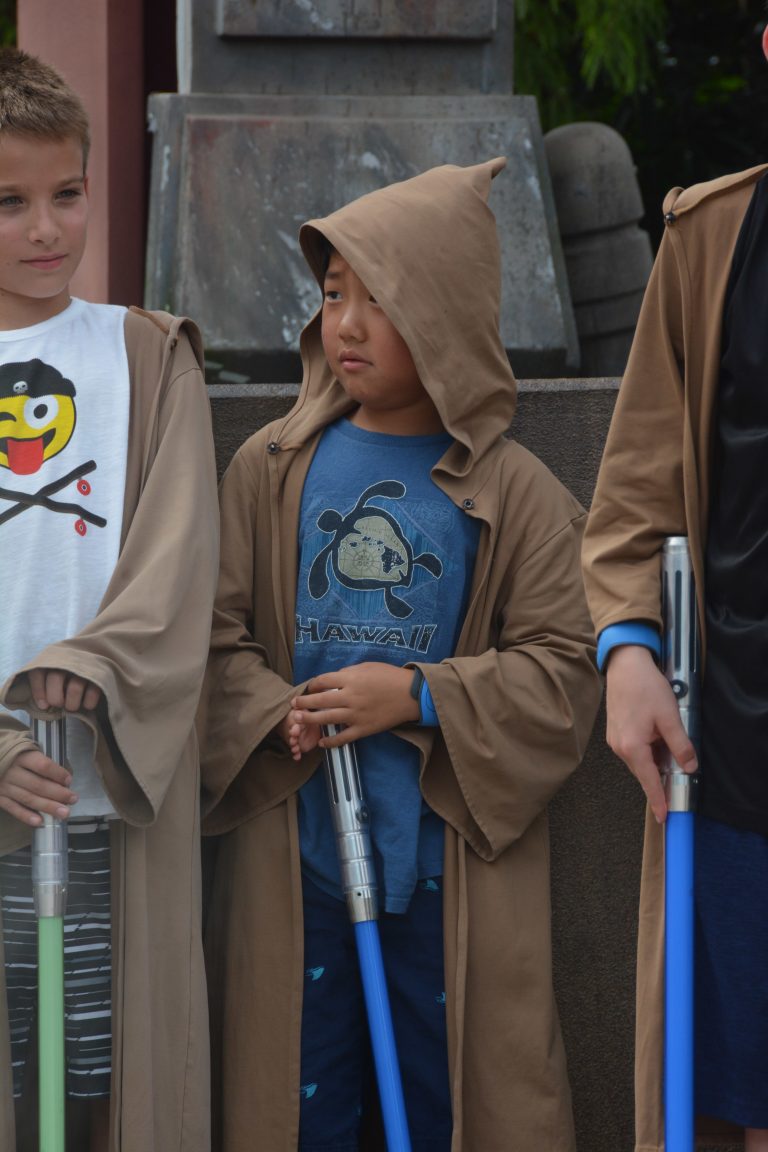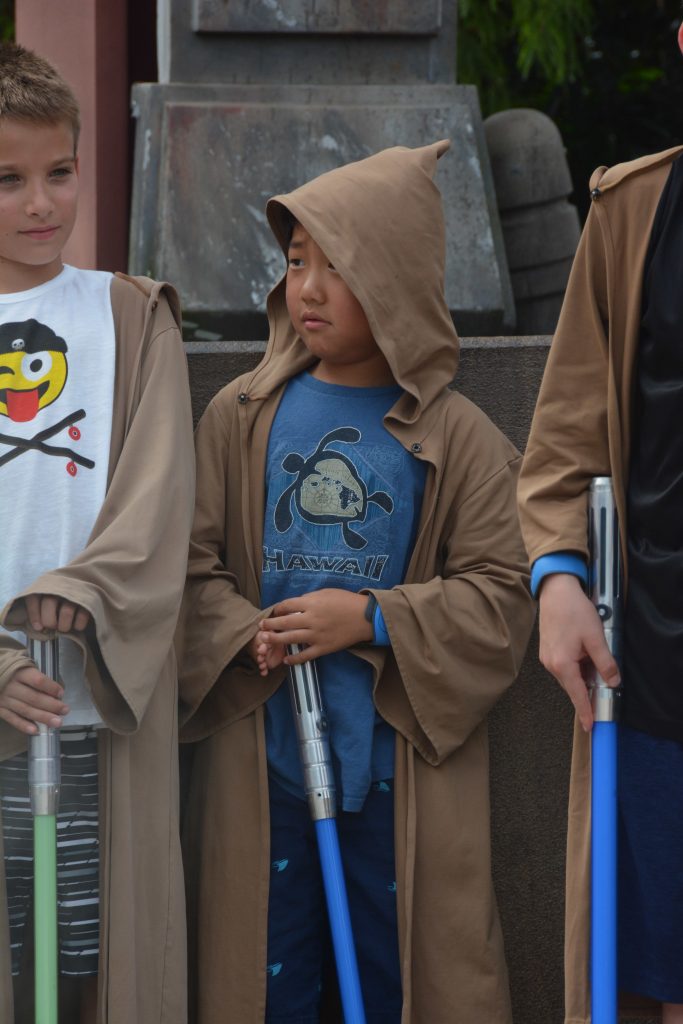 Head to Toy Story Land
Toy Story Land is the latest and greatest, so you'll want to check it out. It's really cute and so fun to see all the themeing.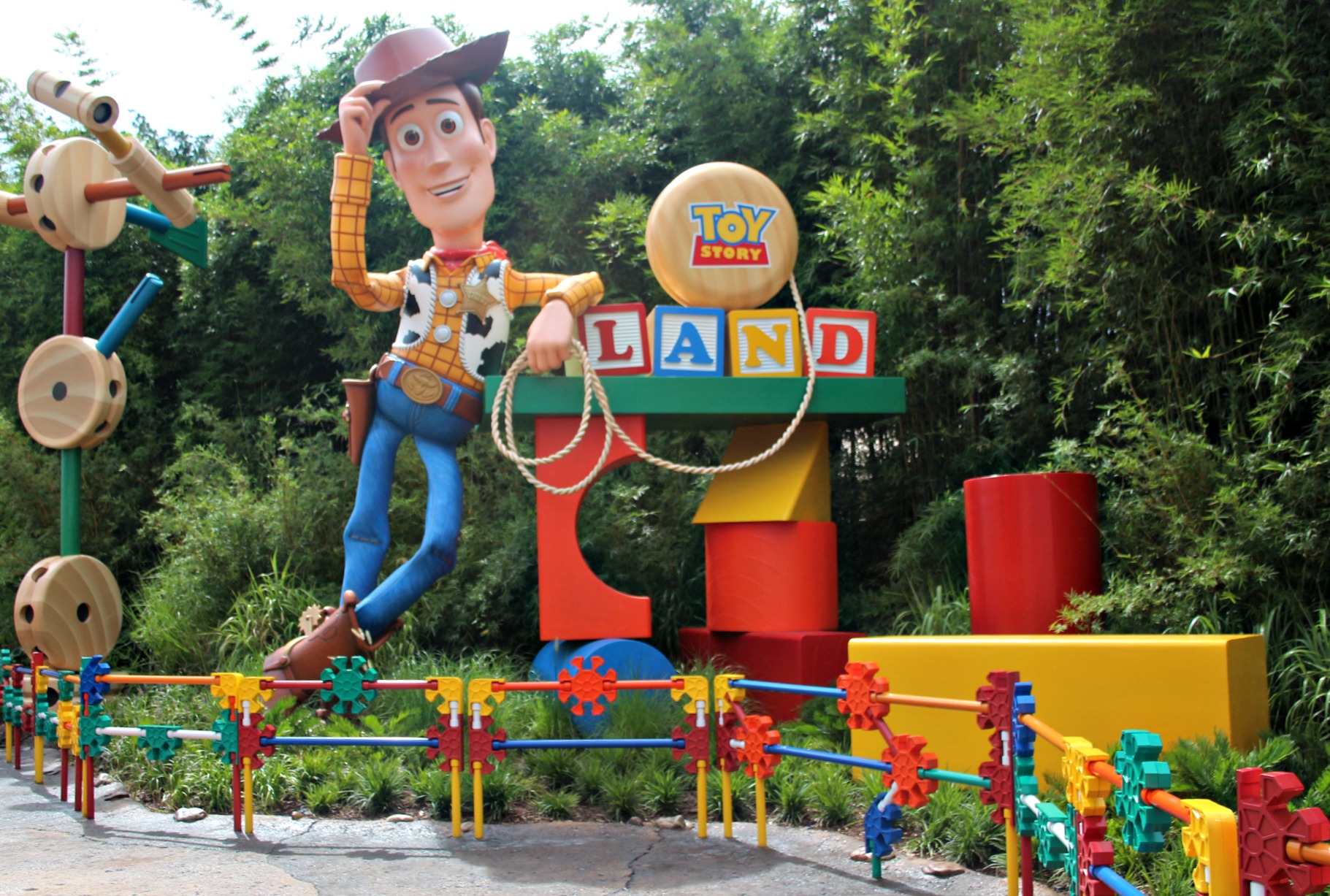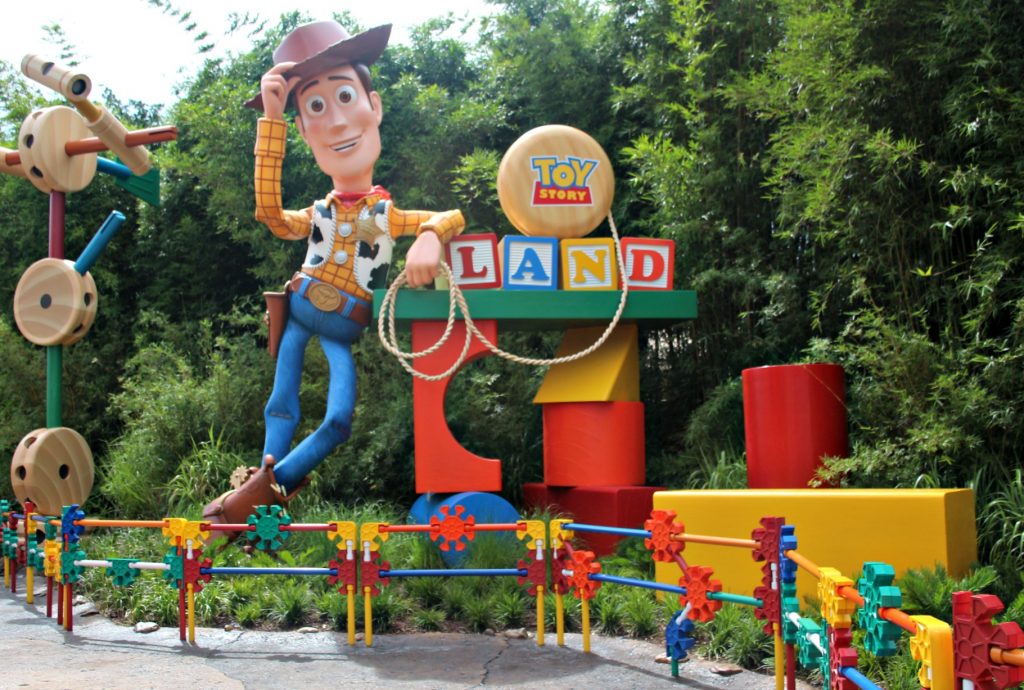 We arrived in Toy Story Land at 9:06 a.m. and the line for Slinky Dog Dash was 75 minutes. We rode Toy Story Mania (we waited about 15 minutes) and then Alien Swirling Saucers (we waited about 15 minutes here as well.) Don't miss the checkerboard wall and the popsicle stick wall on the way out of Toy Story Mania…awesome photo opportunities to be had. We decided to skip the Slinky Dog Dash for the moment because the wait was still over an hour and we'd reserved at FastPass+ for another attraction. We were also hoping maybe the wait would be shorter later in the day (it was not significantly shorter the entire day…we checked the wait times using the My Disney Experience App frequently throughout the day.)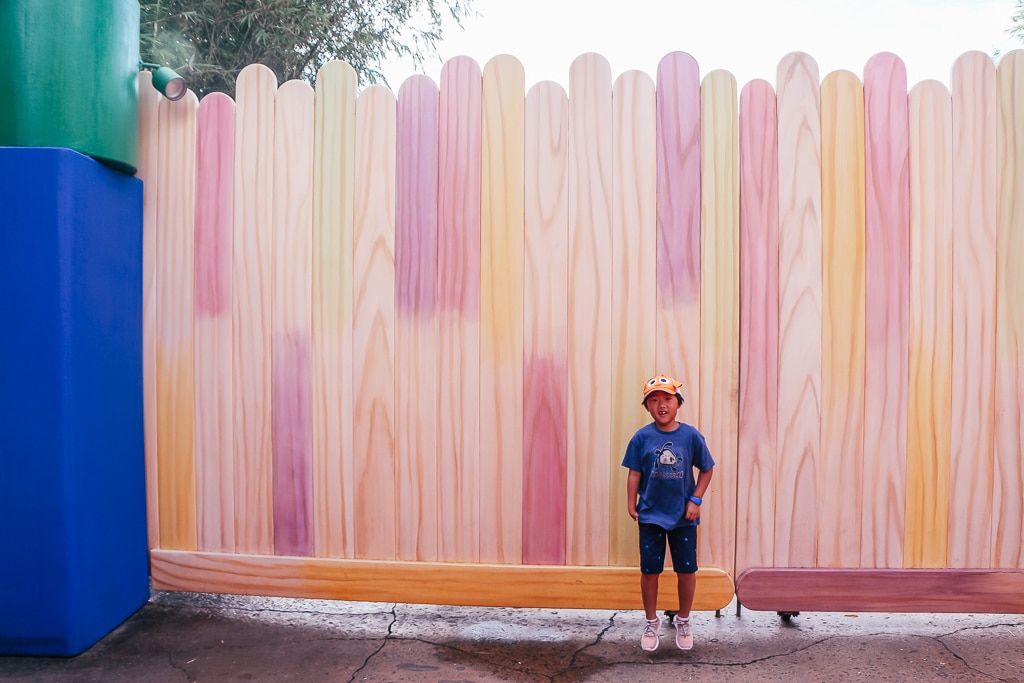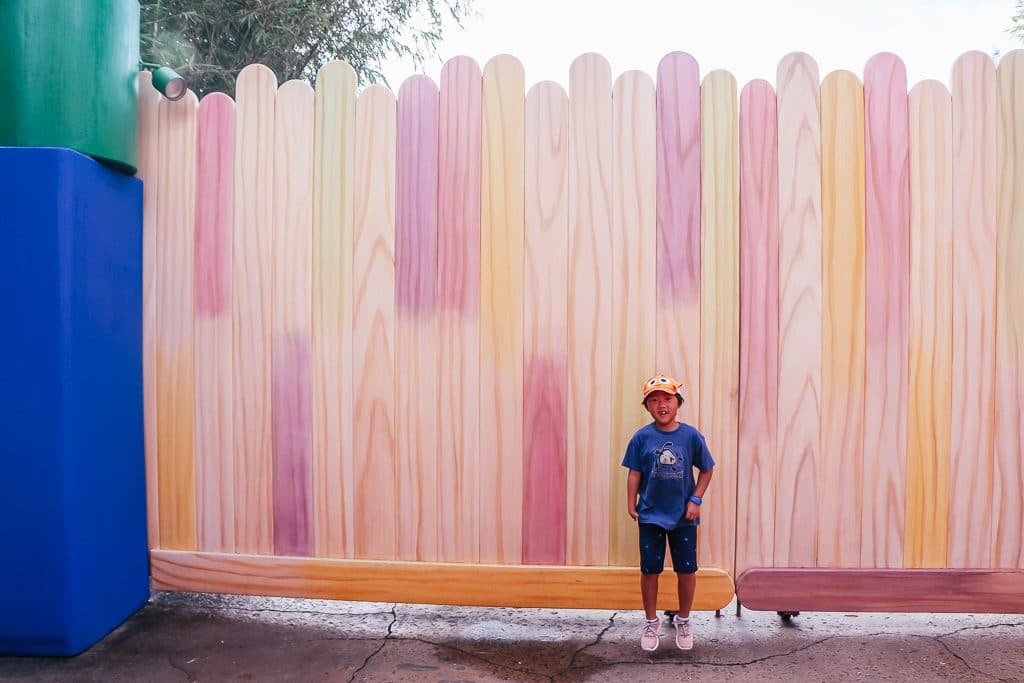 We had a quick look around and a restroom break in Toy Story Land before moving on. There is a lot to see and a lot of great spots to take pictures but we didn't linger this time…it was already very, very crowded. If you want to know more about Toy Story Land, click read this.
Head to Rock n Rollercoaster
Disclosure: we had a 10:05 a.m. FastPass+ for this one, so our wait in line was pretty minimal. The standby line was about 45 minutes at this time, which isn't bad for a popular attraction. I was on My Disney Experience at several points in the day checking standby wait times and the wait for Rock n Rollercoaster went from 20-60 minutes. I hadn't ridden this ride since 2009 and I was a little nervous about taking my kids on this one.It was their first roller coaster with a loop and over-the-shoulder style harnesses and I was a little worried that they would be too scared to get on…they both expressed some trepidation while waiting in line. However, they both LOVED it and wanted to ride again.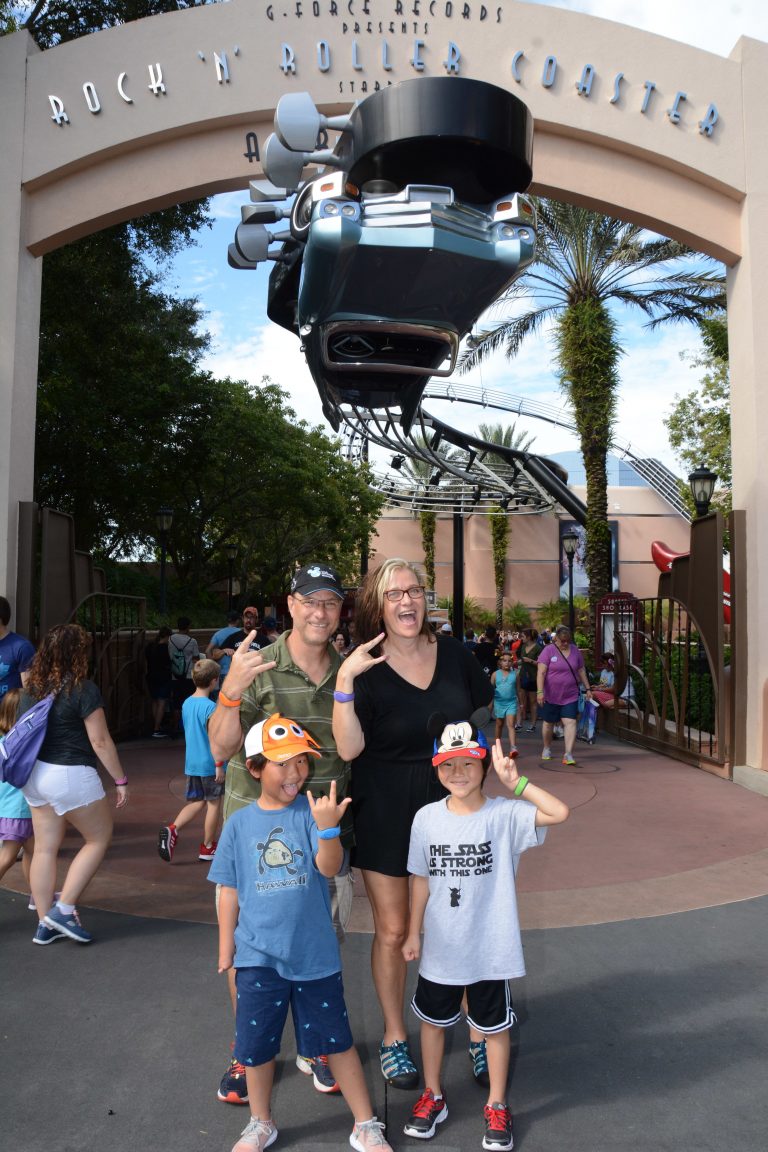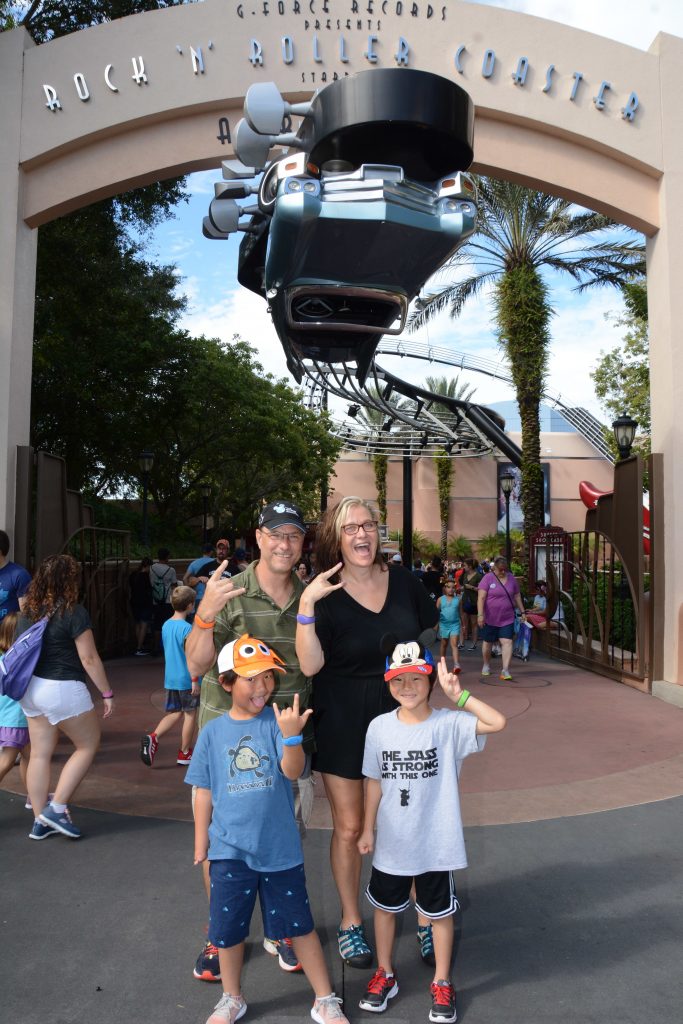 Ice Cream Break
Since we had a pre-determined time to return to the Jedi Training Academy, we didn't have enough time to do another attraction so the most reasonable thing was to eat ice cream and sit down in the shade a bit. If ever in doubt about what the most reasonable thing to do is, eat ice cream. Ice cream is never wrong.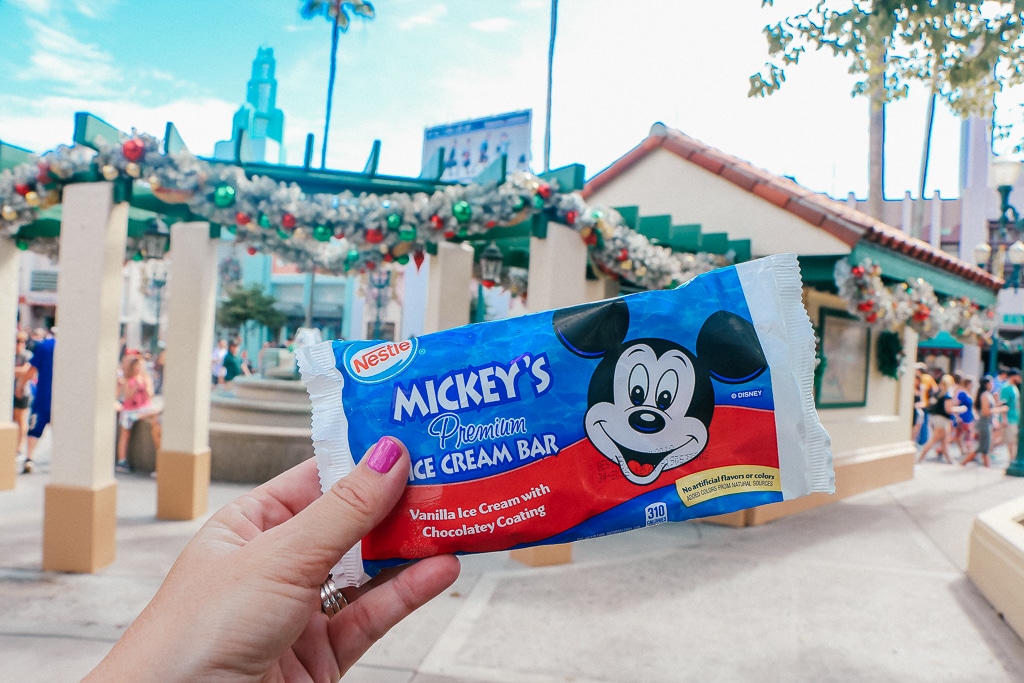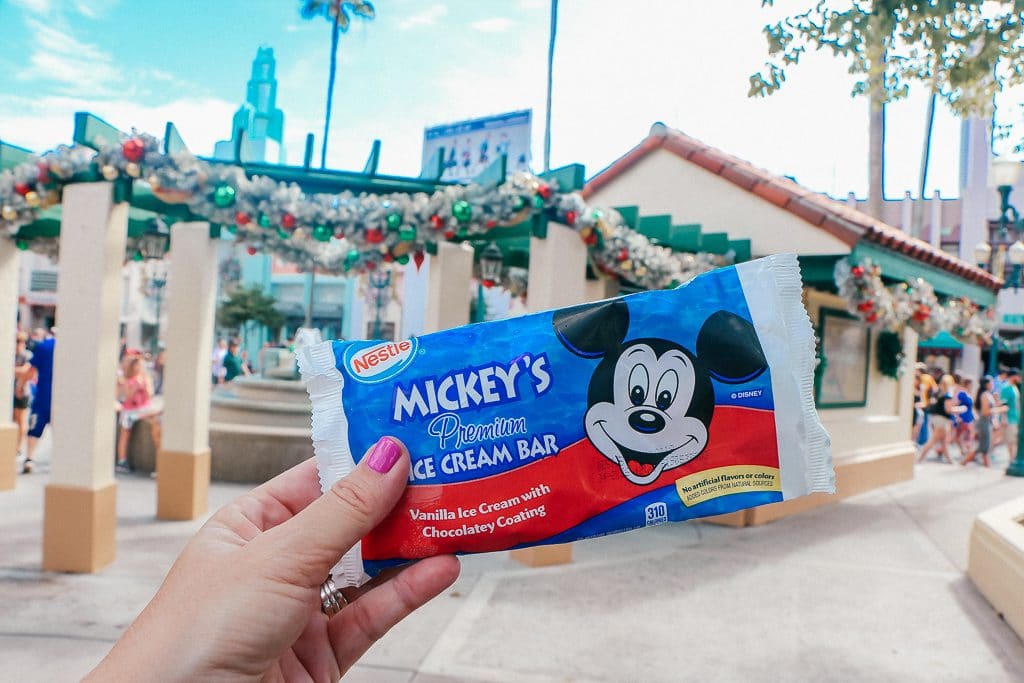 Jedi Training Academy
The Jedi Training Academy took about 35 minutes out of our day. Our kids had to get lined up, sized for robes and get their initial instructions. After that, we marched with our kids over to the place where the Trials of the Temple take place, which is right next to the Star Tours: The Adventure Continues attraction.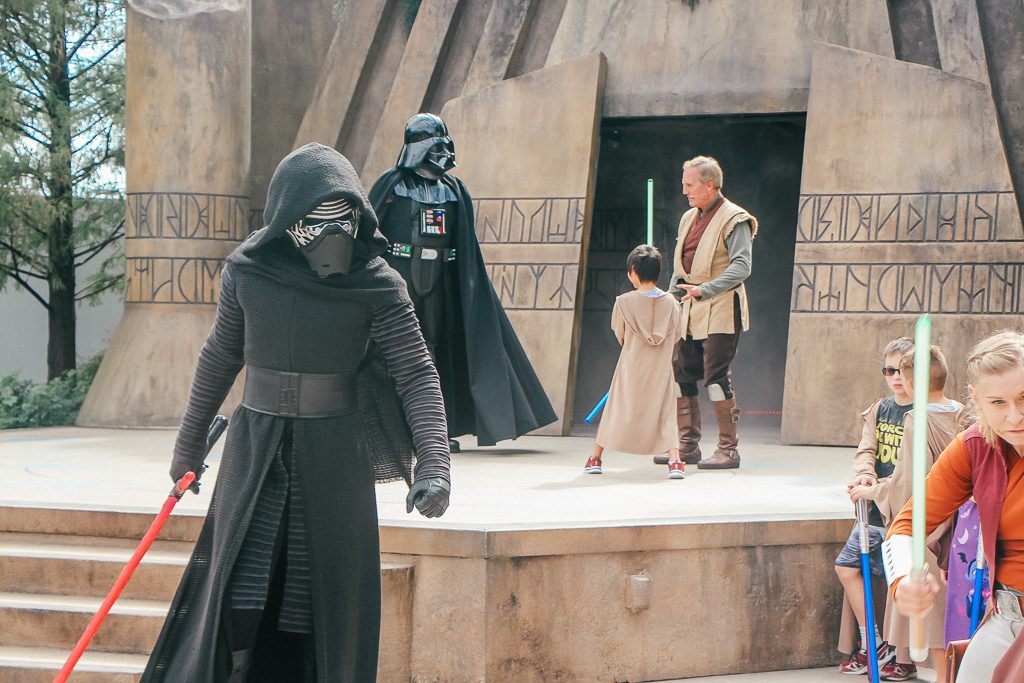 We were really excited our younglings got a chance to do this and if you have Star Wars lovers in your group, I highly recommend you try this at least once. It's totally free but you can't reserve it in advance and spaces are limited, hence getting there extra early. And no, adults can't do this one, otherwise I'd have been all up in there.
Frozen Sing a long
After the Jedi Training Academy, we headed to the Frozen Sing-A-Long. If your kids have watched Frozen 80 bazillion times like mine have, you probably think the songs are a little earwormy, but it's a cool, air-conditioned place to sit down after standing in the sun watching your little Padawans battle the Dark Side.
Related Post: The Frozen 2 Teaser Trailer has dropped and we all have questions
We scooted in about 3 minutes before the show started and the seats were close to being full. This attraction has a really cute holiday overlay…I wasn't super in the spirit of, as Olaf says, "That time of Year" in early November but I have to say, I kind of got into the spirit while watching the show. And yes, they do sing Love is an Open Door and Let it Go…and odds are, you'll be singing them for the rest of the day, too, and maybe for all eternity. It is what it is.
March of the First Order
Captain Phasma and her Stormtroopers march up Hollywood Boulevard every hour on the hour from 10:00 a.m. through 5:00 p.m., taking center stage to provide a demonstration of the First Order's daunting strength. To learn more, go here, but this is a really fun thing to see. This visit was the first time we were deliberate about catching a good view of the march instead of just getting a glimpse of it over the crowds. It doesn't take a ton of time out of your day and there's enough times offered so you can set yourself up in a prime viewing spot.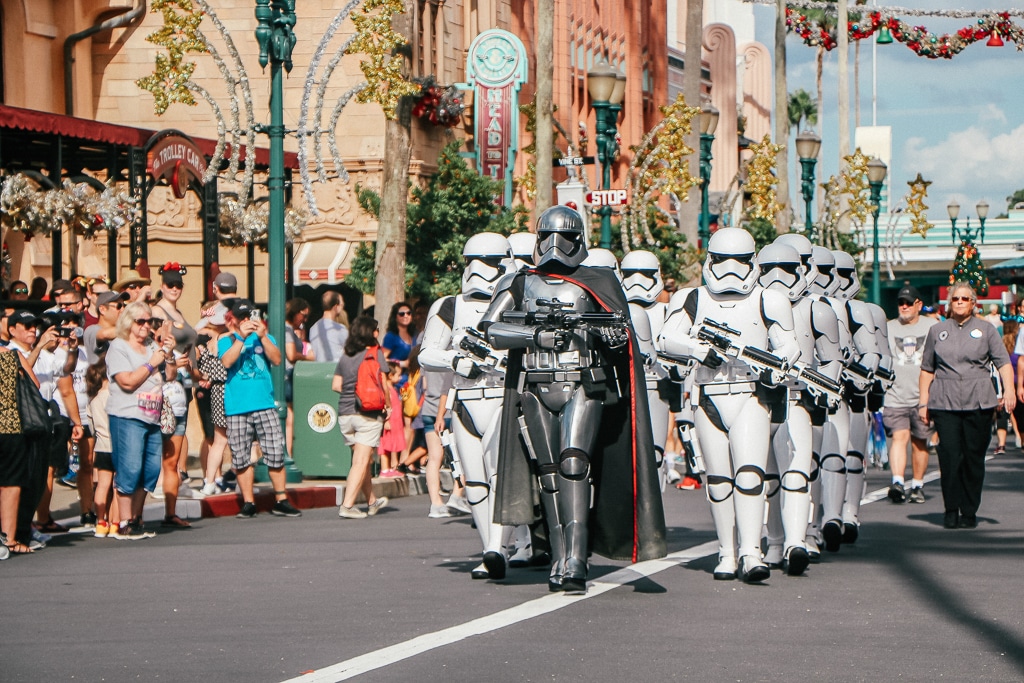 Lunch – The Hollywood Brown Derby
We made advance dining reservations for the Fantasmic Dining Package before we left home, which I highly recommend, despite the hefty price.
You have your choice of three different eateries and the Hollywood Brown Derby is the most expensive but we were a little last-minute making our reservations. The food and service are great, as you'd expect, and it's a really fun atmosphere. This is one I'm going to break down in more detail in a future post.
Beauty and the Beast Show
We had a FastPass+ for the Beauty and the Beast Show, so we headed over there right after we were done eating. I haven't seen this show since my honeymoon in 2009…it really is the tale as old as time and is always great. My kids, however, were confused by the abbreviated version and kept asking questions. I tried to explain how they had to cut some stuff out to fit a two-hour movie into a 20-minute show but they didn't really get it. They did enjoy the singing and the dancing and the lovely costumes.
Slinky Dog Dash
We'd been diligently checking the wait times all day and they kept bouncing between 60 and 75 minutes. I'd DOUBLE PROMISED my kids they could ride Slinky Dog Dash and it was kind of our now or never moment, so we headed back to Toy Story Land. My experience with the wait times quoted in the app is that they're never quite as long as the app says they are, but your mileage may vary. We waited about 45 minutes when the wait was listed as 65, so not bad. There's a lot of cute stuff to see while waiting in line and my kids were so excited to ride that they didn't really complain about waiting, which is unusual for them.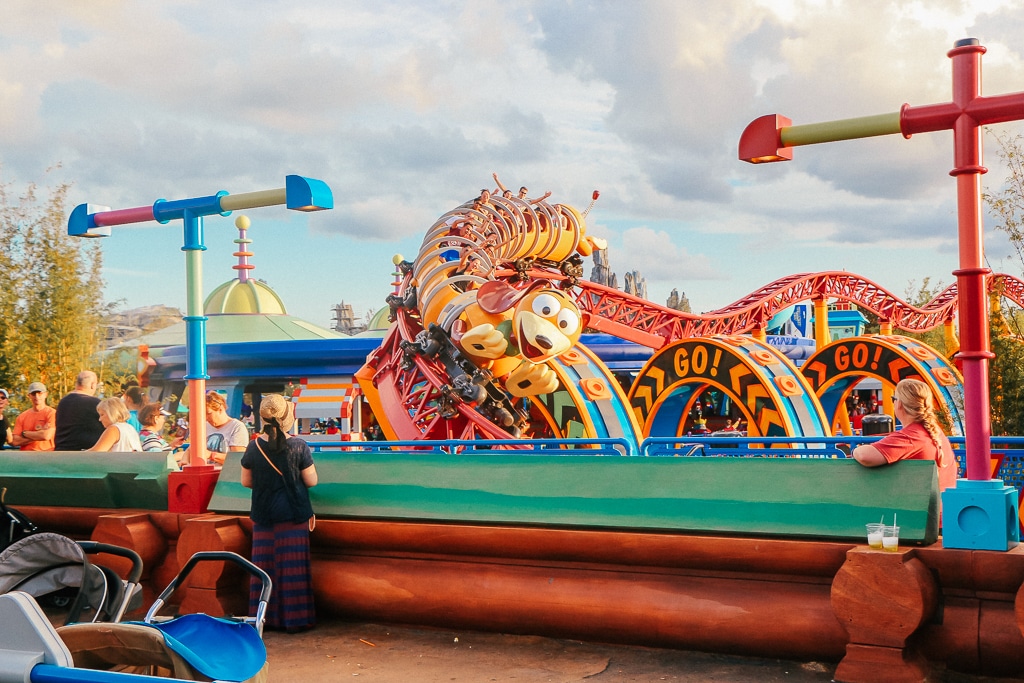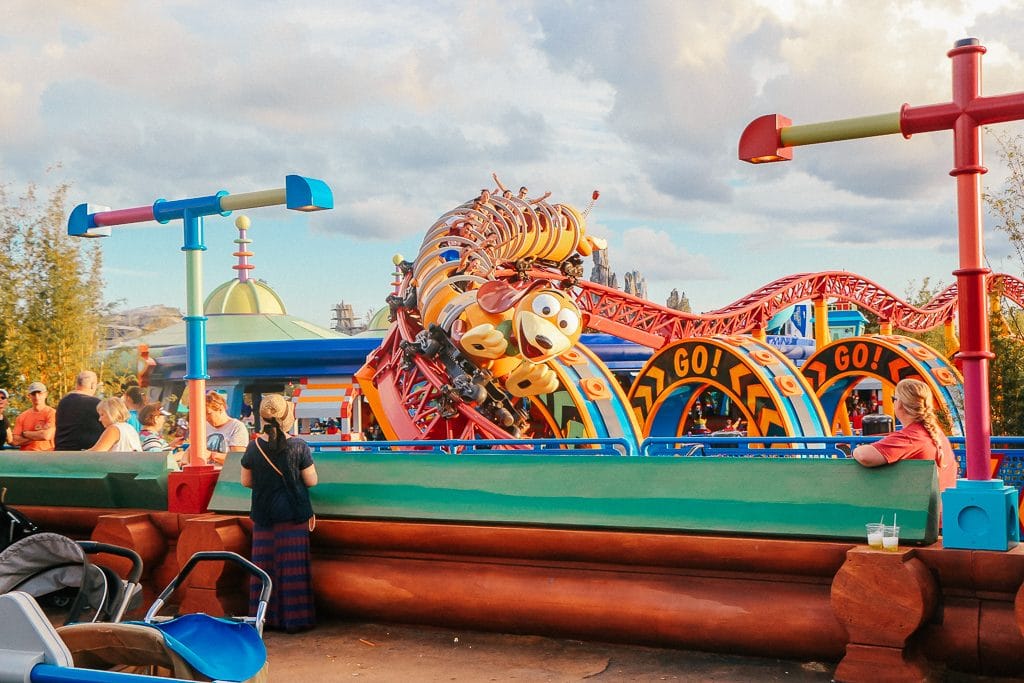 Indiana Jones Stunt Show
We'd also booked a FastPass+ for the Indiana Jones Stunt Show, so we had to make a dash for this one after we got off Slinky Dog Dash…we were just a tiny bit outside of our FastPass+ window, too, but we still got in and got great seats. The last time we saw this show was in 2009 as well, so if its been awhile since you've seen it, definitely check it out again. There have been a lot of changes. This one offers a lot of insight into how stunt scenes are performed and there's a lot of audience interaction…so don't raise your hand unless you mean it. You've been warned…but seriously, it would have been a lot of fun to participate as an "extra."
Sitting
It was after 6:00 p.m. by the time we got out of the stunt show and we were starting to lose some steam…at least my husband and I were. Our boys were still ready to party it up, so we got something to drink and people-watched while the kids danced to the music and enjoyed the general Disney vibe. We enjoyed it, too, but it more of a sedate, tired parent way.
There's usually plenty of seating behind the area where Rosie's All-American Cafe (quick service dining) and Hollywood Scoops (ice cream) sit, so we took advantage of that and just chillaxed a little bit.
Fantasmic
You have two options for nighttime entertainment at Disney's Hollywood Studios: Star Wars: A Galactic Spectacular, which takes place in front of the Chinese Theater, or Fantasmic, which is a spectacular show of lights, sounds, fireworks, and Mickey battling the villains at the Hollywood Hills Amphitheater behind the Hollywood Tower of Terror.
Since we'd purchased the Fantasmic Dining Package, this was where we went. If you purchase the package, you get designated seating, which is pretty sweet. Otherwise, the venue opens 90-minutes before the show, and I recommend coming early, grabbing a snack and relaxing. I absolutely LOVE Fantasmic…it's one of my favorite things at Walt Disney World. And, for my Disneyland loving friends, Fantasmic is different at Disney World. It's in more of a closed-off area, which I think makes the experience more dramatic and intense. And, speaking of intense, I don't recommend this for younger or timid children. I know, I know, it's Disney and it's Mickey Mouse but the some of the villain overlays are larger than life, the theater is dark and the sounds can be overwhelming for little ones who don't realize it's not real. I saw lots of parents rushing their kids out mid-show. If you're using a FastPass+, booking Fantasmic as part of a dining package, or just waiting around 90 minutes so you can get a good seat, you don't want to miss the show because your kids can't handle it, so use your best judgement when making this part of your plans. It really is a fabulous show, though, and if I had to choose between the Star Wars: A Galactic Spectacular and Fantasmic, Fantasmic is going to win every time.
As we were leaving, we did get to catch a little bit of the end of the Star Wars: A Galactic Spectacular so definitely a win-win there. We also managed to sneak in a couple of character meets on the fly…we ran into Chip n' Dale and Olaf. It was a great, long day. We don't go full throttle at Disney every time we go. We are Disney Vacation Club members so we're fortunate in that we get to go often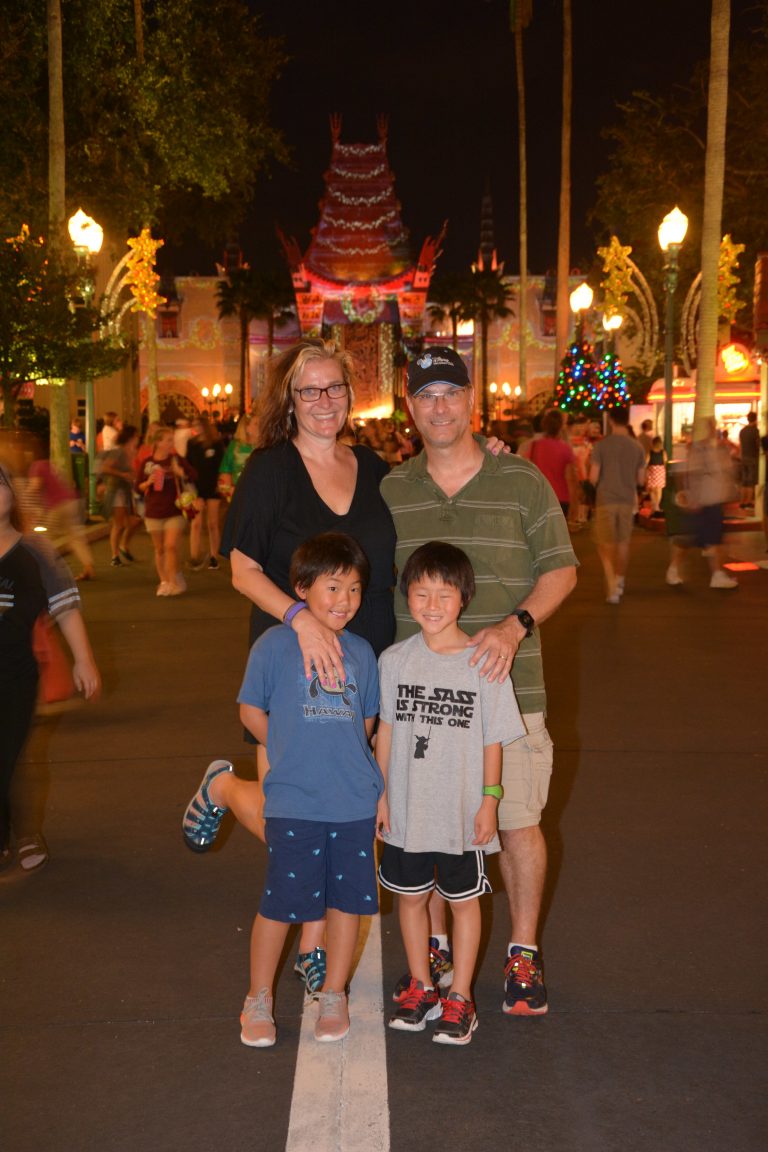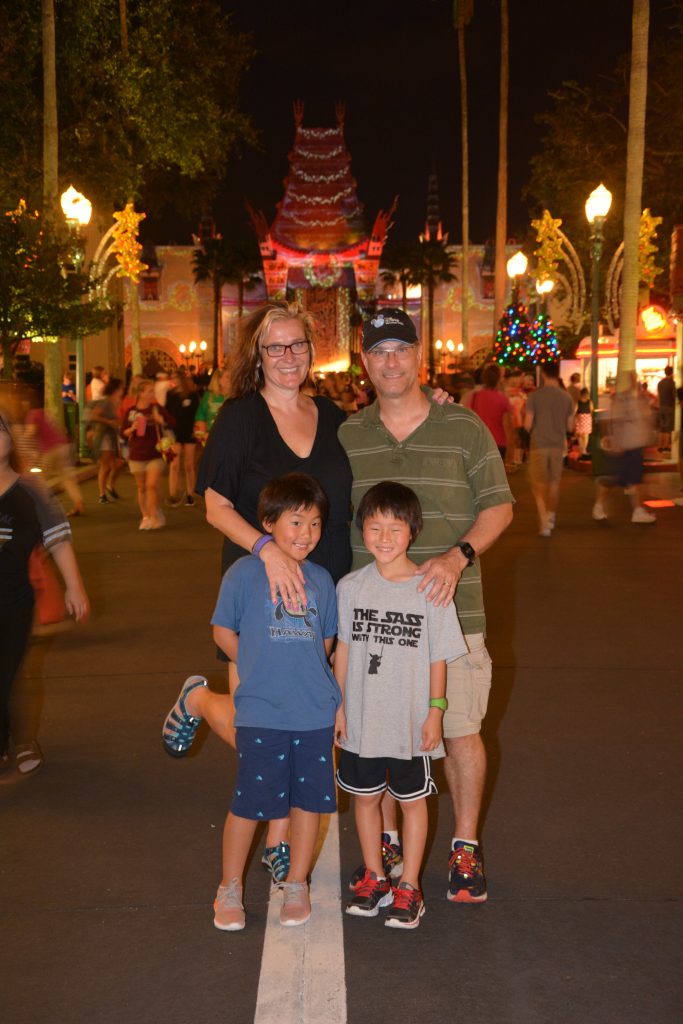 Because of the construction going on a Disney's Hollywood Studios – the new Skyliner Gondola is coming soon to connect select Walt Disney World Resort Hotels to Epcot and Hollywood Studios – you'll have a long trek back to the buses…but all in all it was a great and full day that allowed us to get in our "must do" items and keep everyone happy. The one big attraction you'll find missing on this plan is the Hollywood Tower of Terror, so if that's a "can't miss" for you, I recommend skipping one of the shows we took in or doing something quicker for lunch. You could also potentially book this one as a FastPass+ if you're staying on property and can book 60 days out. This attraction was available for FastPass+ when we booked ours but my kids won't ride this one.
Check back or subscribe to the blog to get notifications when new posts go up…I will be drilling down on some more of these experiences in the future.
You might also like:
How to plan your day at Disney's Hollywood Studios
This inside scoop on Toy Story Land
What's coming to Disney World in 2019
Walt Disney World says goodbye to these five things in 2019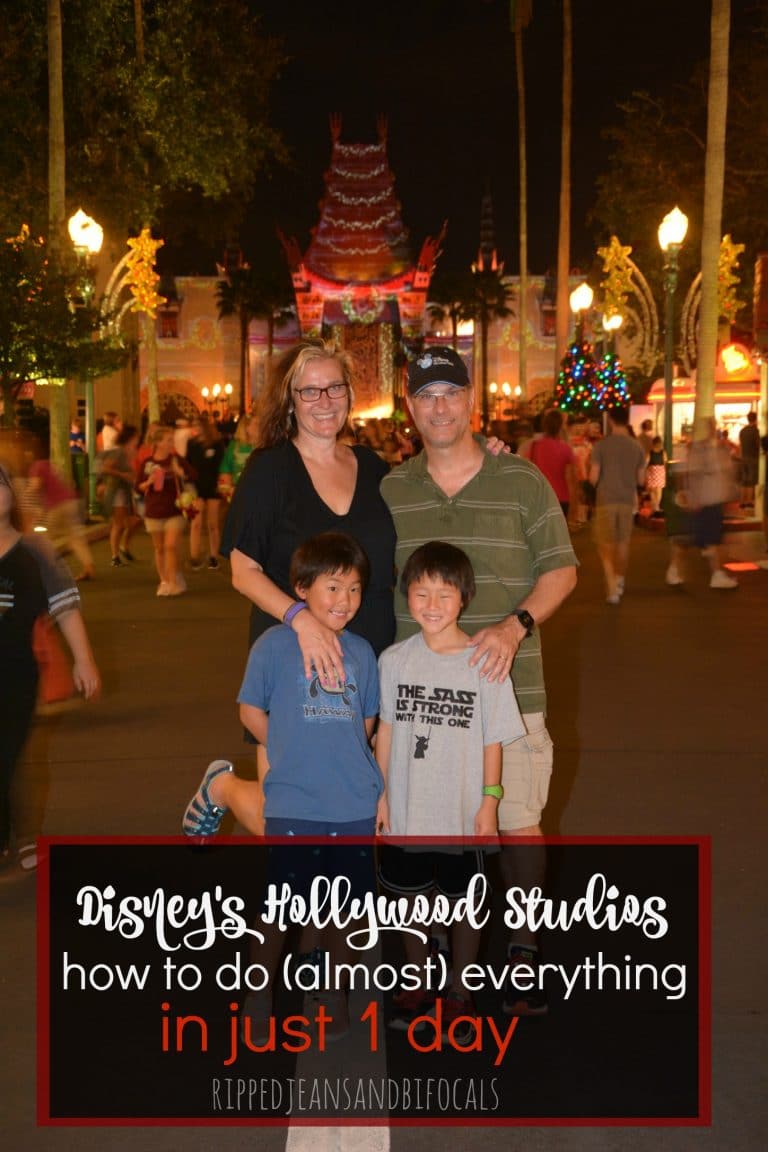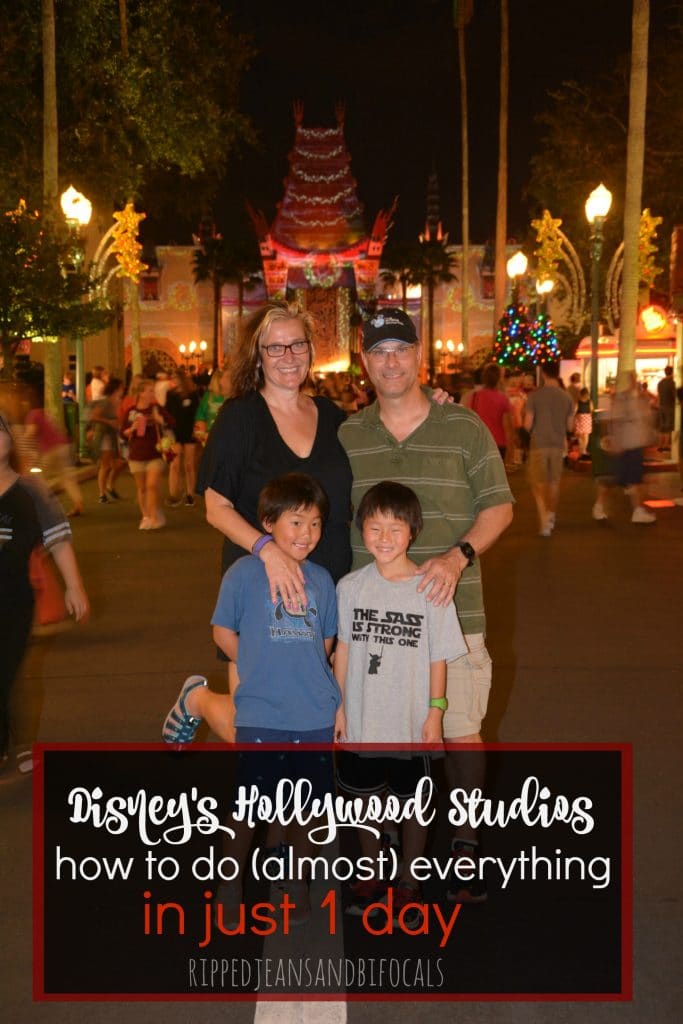 For my Disneyland loving pals:
If you're interested in a great deal on a Disneyland vacation, Disneyland tickets and more, check out the deals Get Away Today has to offer. They definitely know their stuff when it comes to planning your best Disneyland vacation ever.