Hammock Beach Resort – Six Reasons this Florida Resort is Awesome
(This post may contain affiliate links. Read my full disclosure.)
If you're looking for a Florida vacation that's not focused on theme parks, the Hammock Beach Resort needs to be at the top of your list. The Hammock Beach Resort Golf Resort and Spa is about an hour away from Jacksonville and about 20 minutes away from St. Augustine and I'm excited to share six reasons why this Florida resort is so awesome. I'm sure there are more reasons than that but here's a few to start you out as you plan your own escape.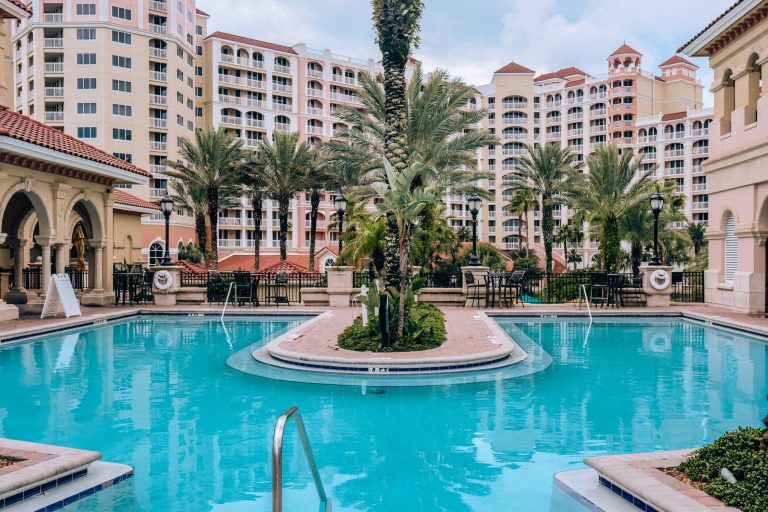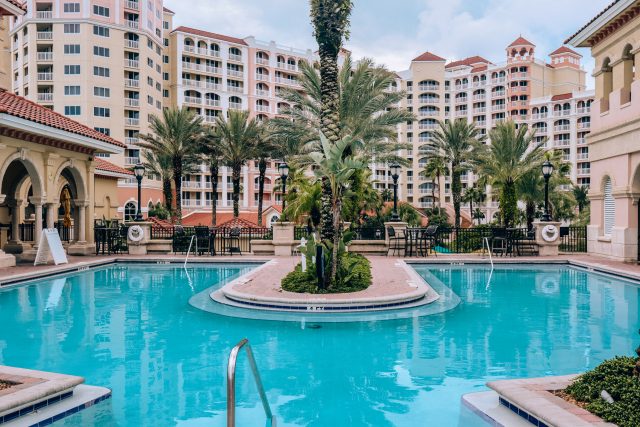 My visit to Hammock Beach Resort was part of the We Grow Retreat. I paid a conference fee to attend this event. My accommodations as well as some of my activities were provided by the resort. All opinions are mine.
Hammock Beach Resort Palm Coast – Six Reasons this Florida Resort is Awesome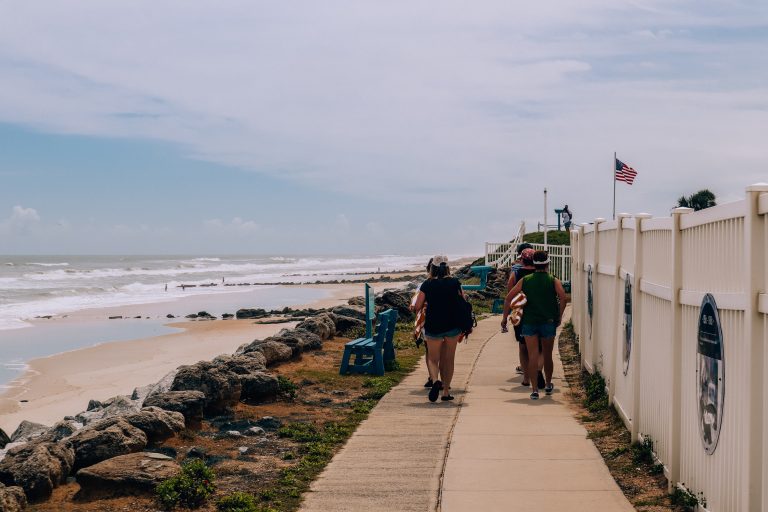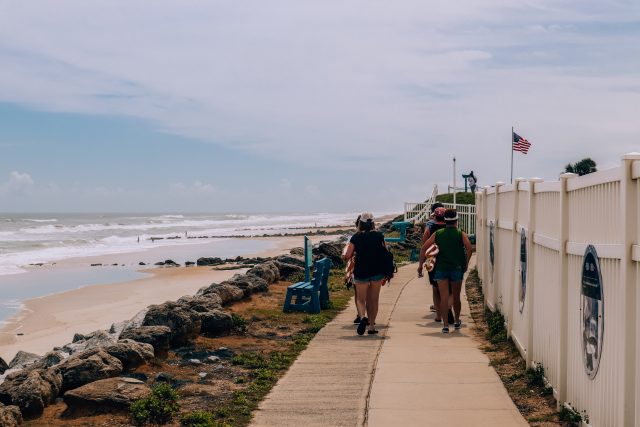 First things first: Where is Hammock Beach Resort?
Hammock Beach Resort and Spa Palm Coast is located in Palm Coast Florida, which near Jacksonville. If you're flying in, this is probably where you'll land. There's also an airport in Daytona, which is a little closer to the resort, but I found there were fewer flight options. From the Jacksonville Airport to Hammock Beach Resort took us about an hour.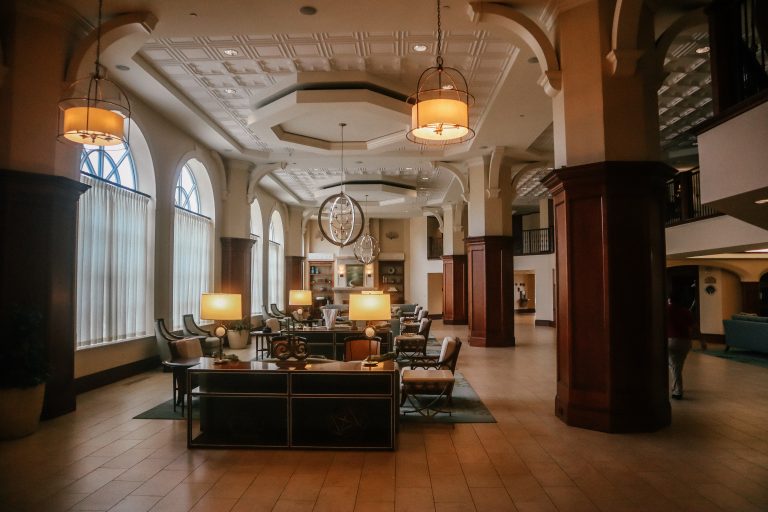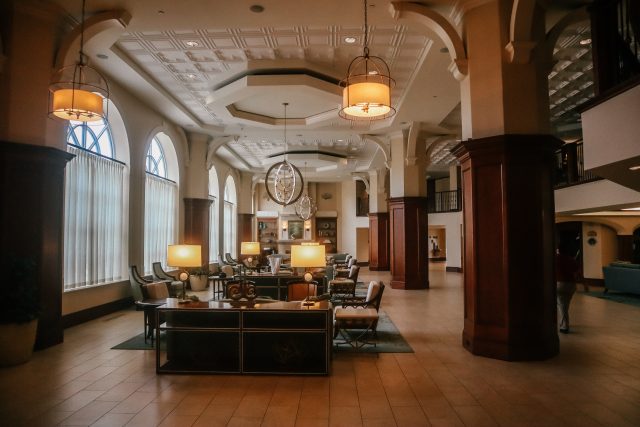 How far is Hammock Beach Resort from St. Augustine?
Nearby smaller cities: St. Augustine is about 20 minutes away and Flagler Beach (which I highly recommend taking an afternoon to explore) is about 10-15 minutes from the resort. If you're flying in, you'll want to rent a car at the airport. There's plenty of Hammock Beach Resort parking on site. Parking is included in your resort fee. If you want to splurge and add on valet parking at Hammock Beach Resort, there is a per-day fee to do that.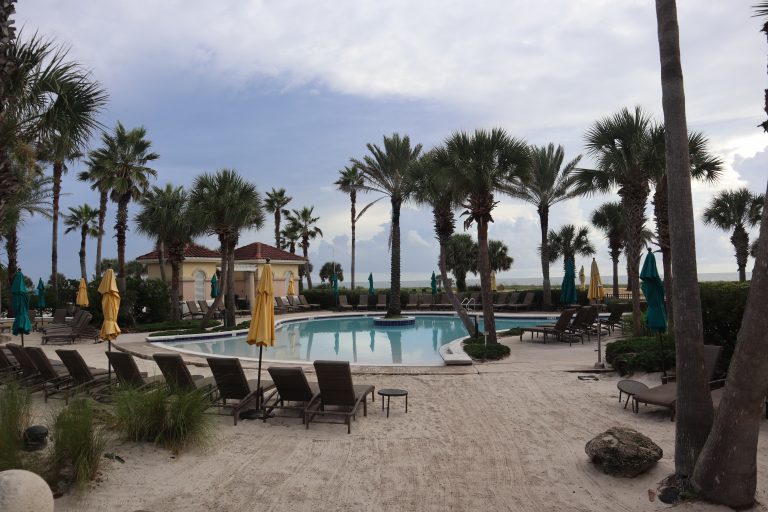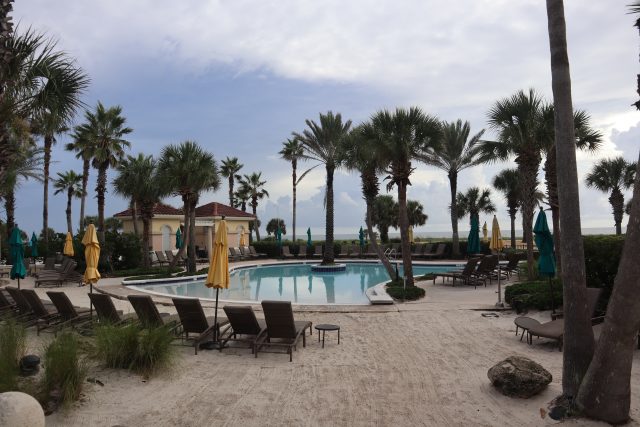 1. Lots of choices and room to spread out
As a parent who travels frequently with kids, one thing I don't like is when my family of four has to crowd into one hotel room. We stayed in a three bedroom four bathroom ocean view villa and it was truly as perfect as it sounds. Each of the three bedrooms had its own en-suite bathroom and television. There was also a television in the living room, a full kitchen, a separate laundry room and a powder room in the hallway.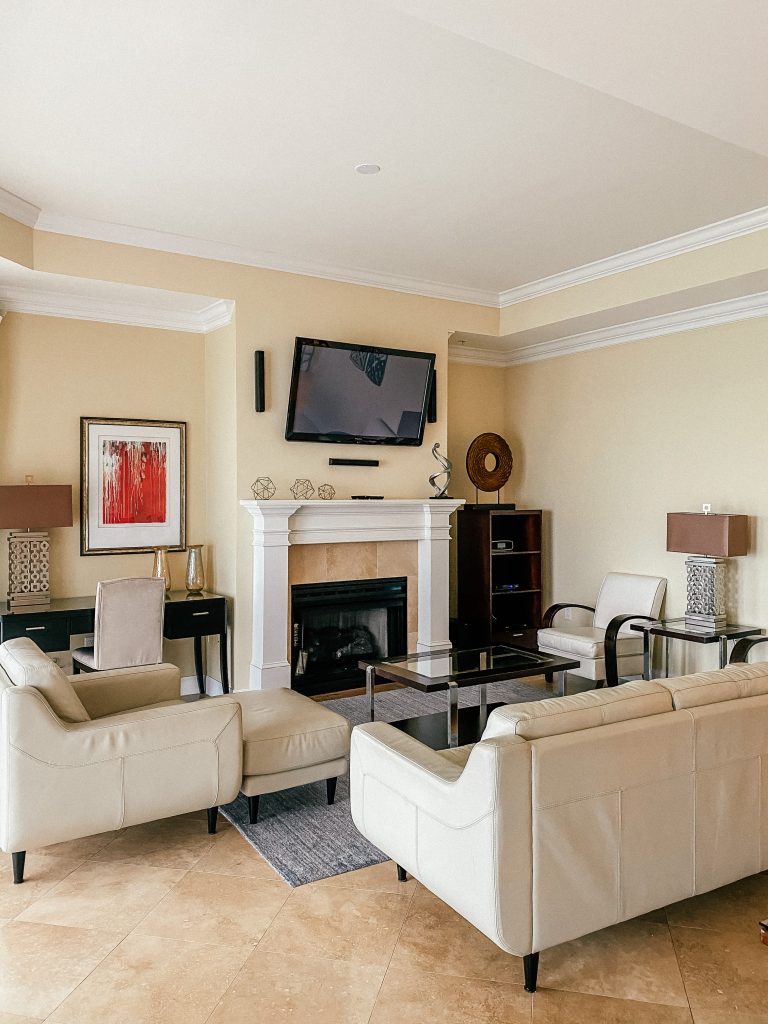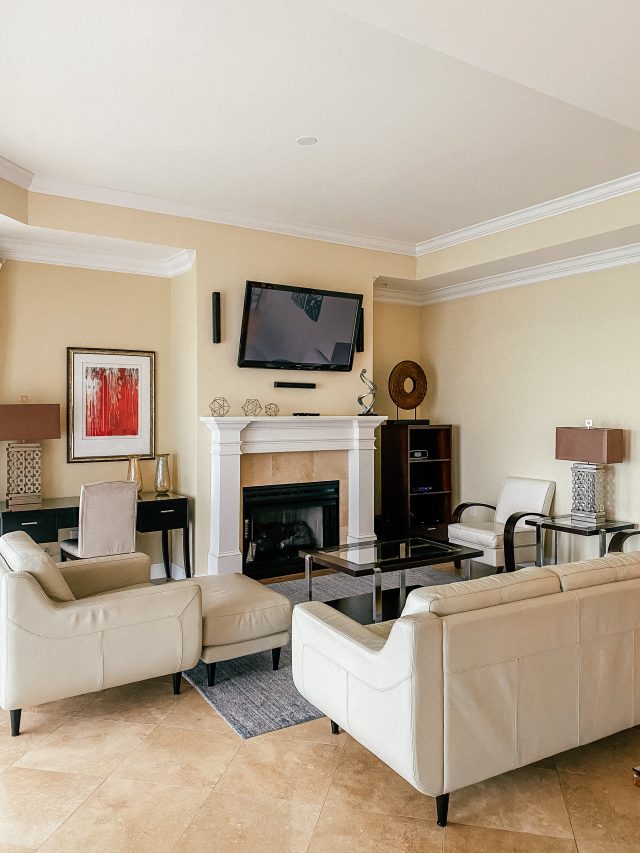 I know, no one loves the idea of doing laundry and cooking while they're on vacation but I absolutely loved having my own washer and dryer in the Hammock Beach villas. That means I can get by with packing less clothes and that no one has to travel home with a wet bathing suit in their suitcase. The kitchen is nice because it gives you an option for restaurant leftovers and quick breakfasts. Besides, it's nice to have a luxury vacation without having to budget for three meals a day in a restaurant.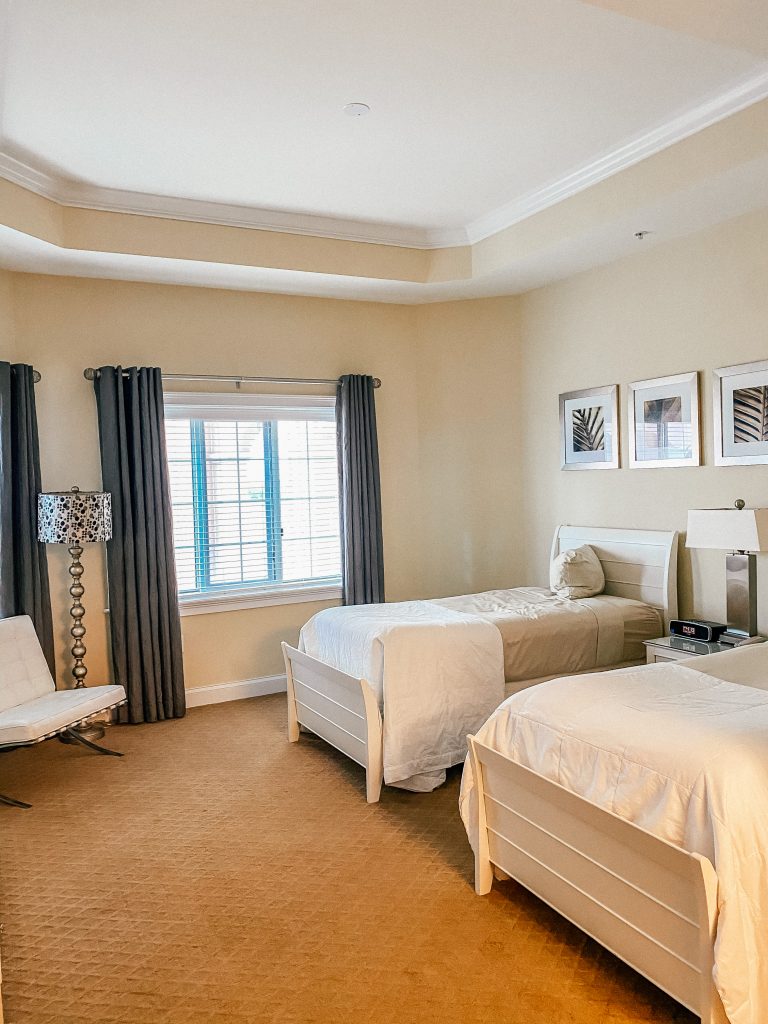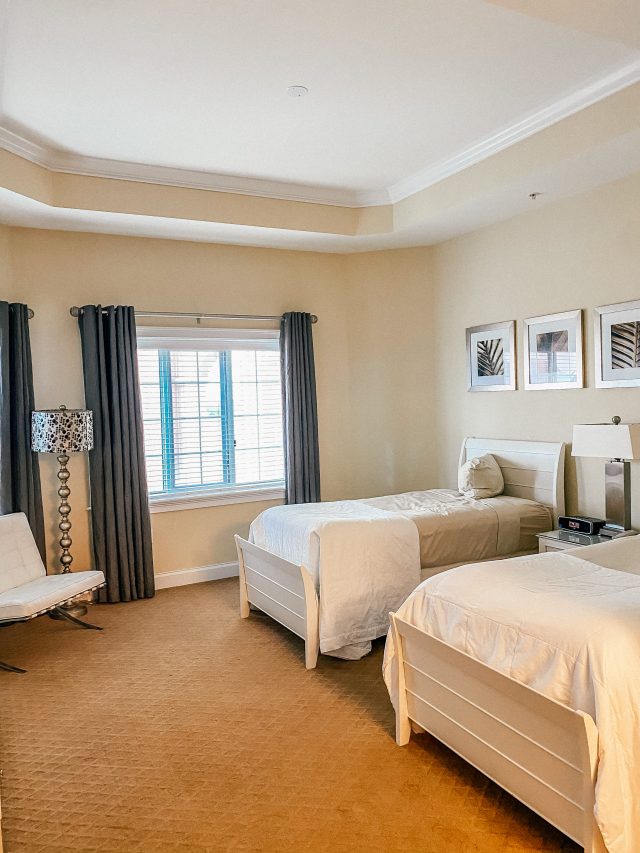 Hammock Beach Villas – Perfect for families and groups
Not everyone wants or needs the Hammock Beach villas, though. There are all types of rooms, suites, villas, and even vacation home rentals on site. There is something for every group size and something to fit most budgets. There's also a boutique hotel on property, The Lodge at Hammock Beach. It's a beautiful building that sits right on the beach and it has a very romantic vibe about it.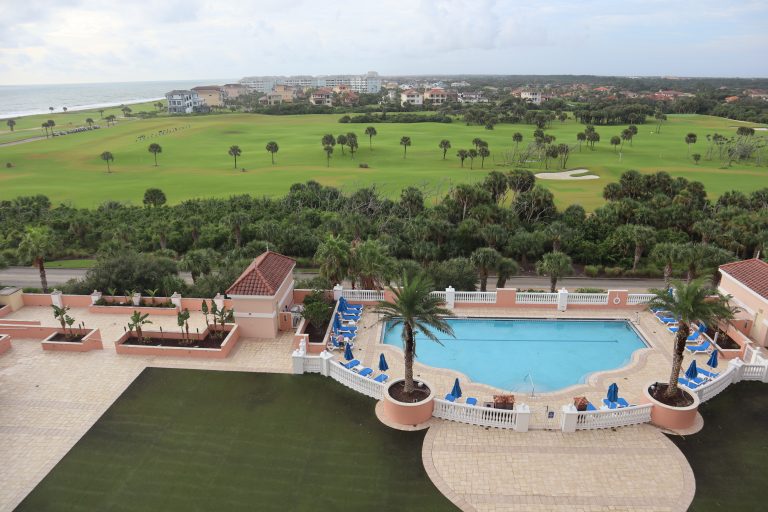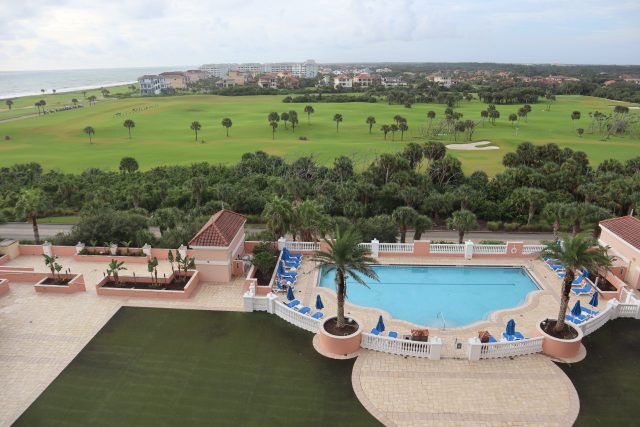 For families with tweens on up, I highly recommend the Hammock Beach villas. The spacious master bedroom with en-suite bathroom give mom and dad some privacy and space from the kids side of the villa. There's plenty of room to hang out together without being on top of each other. The Hammock Beach villas also work well for multi-family trips or group trips. I had two women from my retreat in one of the three bedroom villas with me and we all had our own privacy and our own bathrooms.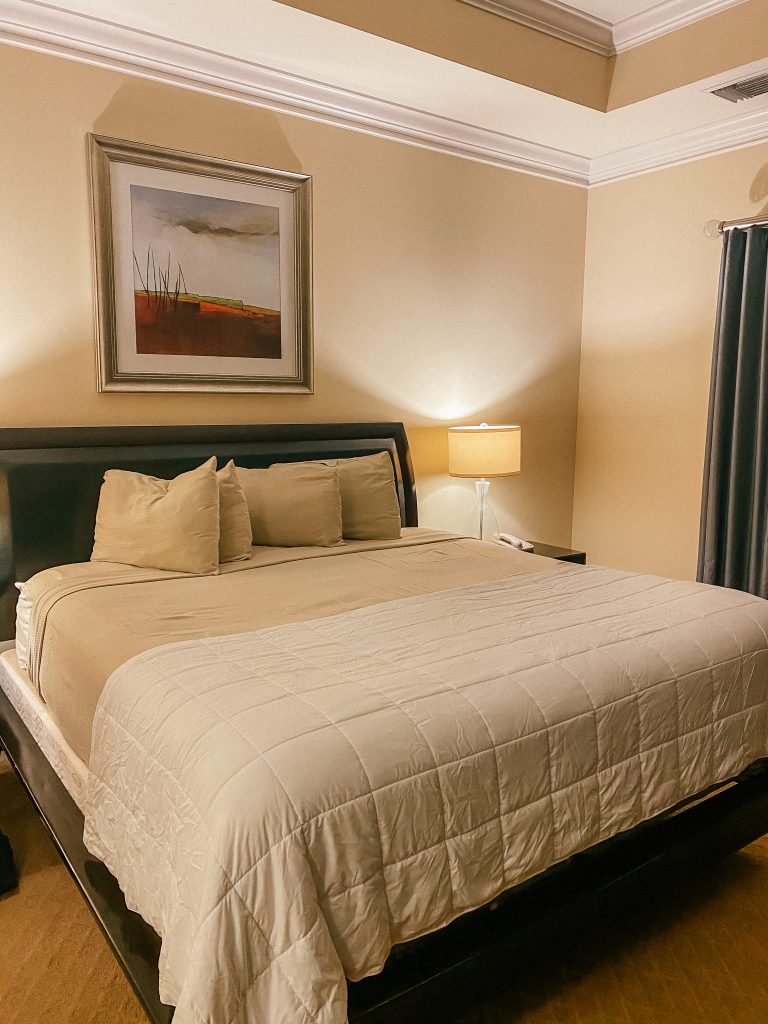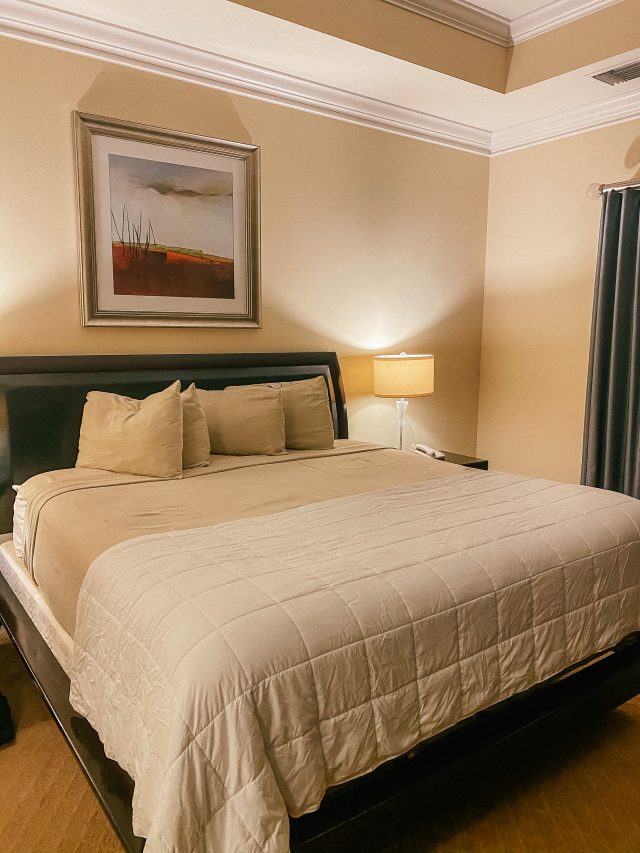 2. Nine pools
I love a good resort pool and I had my choices at Hammock Beach Resort. While I didn't get to try all of them, I made a really good effort. There's an adults only pool, which anyone traveling without kids can completely appreciate. Since my visit to Hammock Beach was kid-free, you better believe I spent most of my time at the adults-only pool.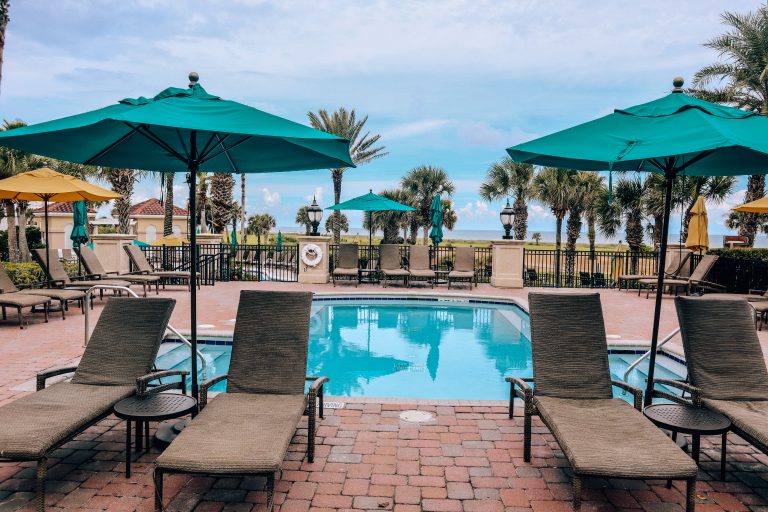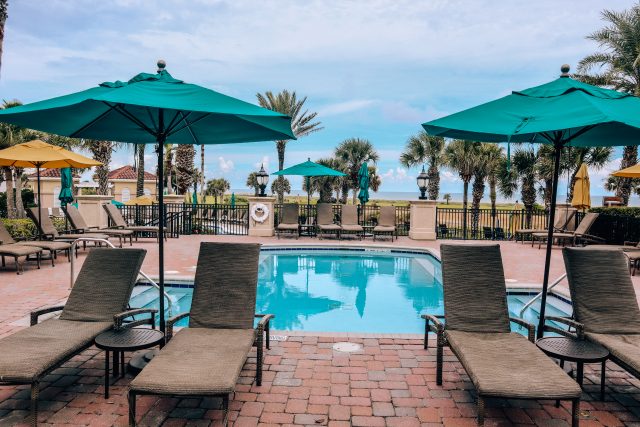 If you're bringing kids or if you're a kid at heart, you've got to try the water slide that dumps you directly into the kids/family pool. The water slide is LEGIT and really picks up speed on the final turn. There's also a lazy river (tubes are included) and the biggest hot tub I've ever seen.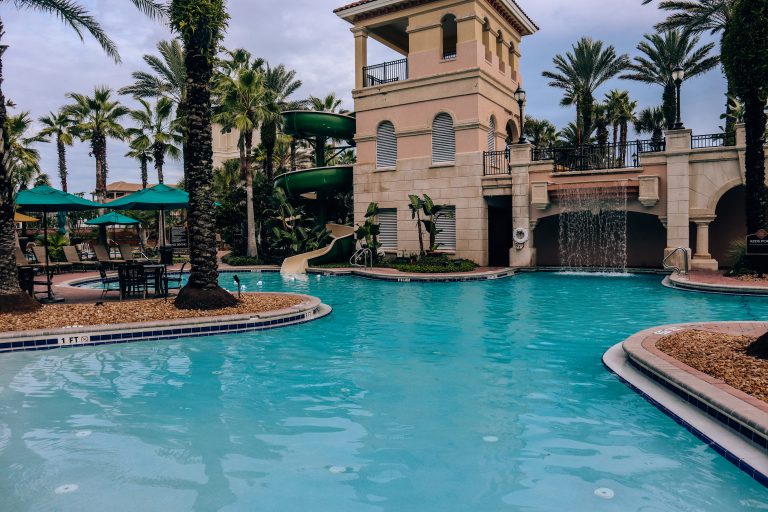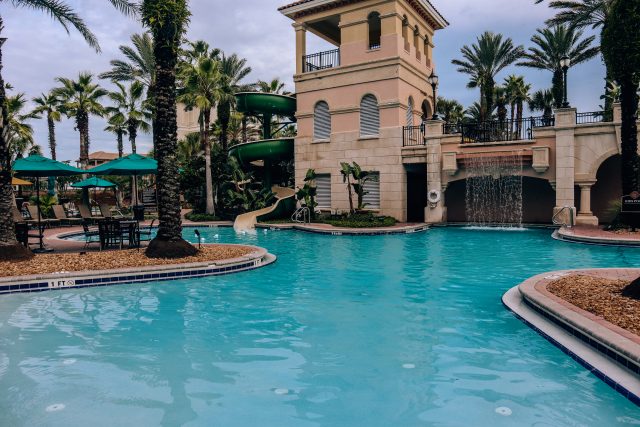 There's an indoor pool as well plus the resort has direct and private beach access. The resort provides beach chairs and there's a poolside bar that serves delicious food and any kind of beverage you might want. Being a fair-skinned gal, I appreciated that there were lots of umbrellas available for seating in the shade.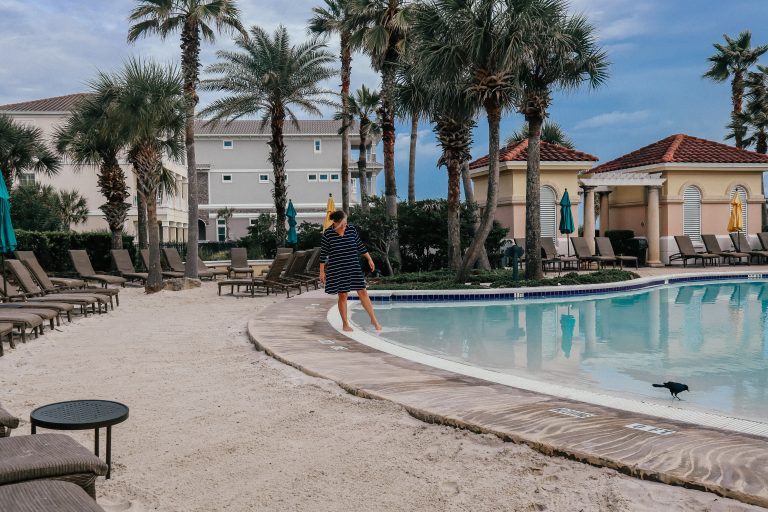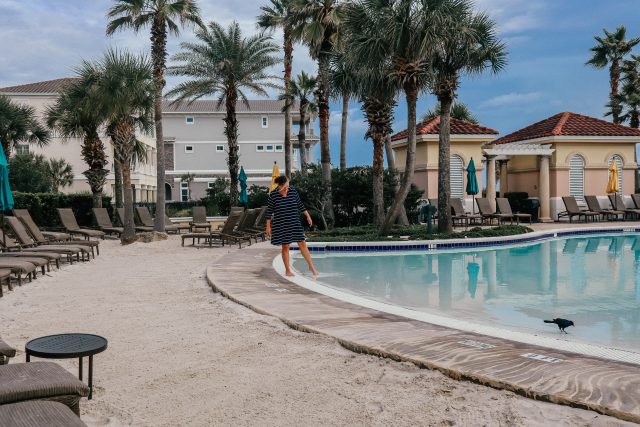 3. Delicious Food – Hammock Beach Resort Restaurants
Although I highly recommend exploring the nearby town of Flagler Beach, one of the things I loved about Hammock Beach Resort is that I didn't have to leave it. Everything you could want or need, to include lots of dining options, is on site.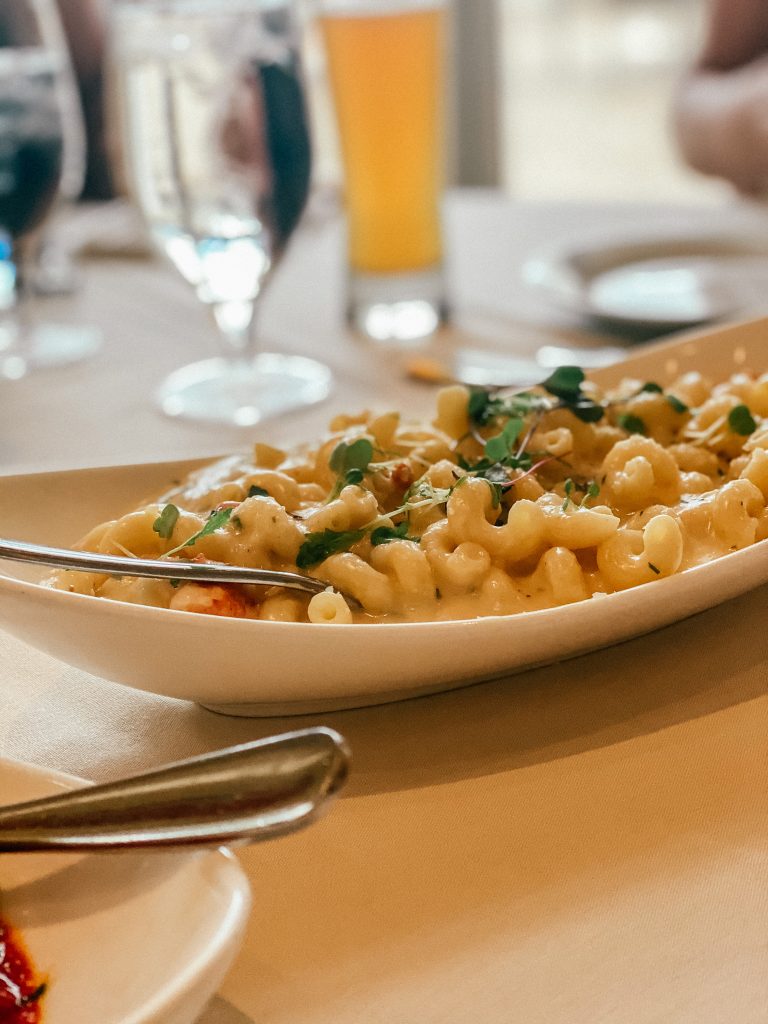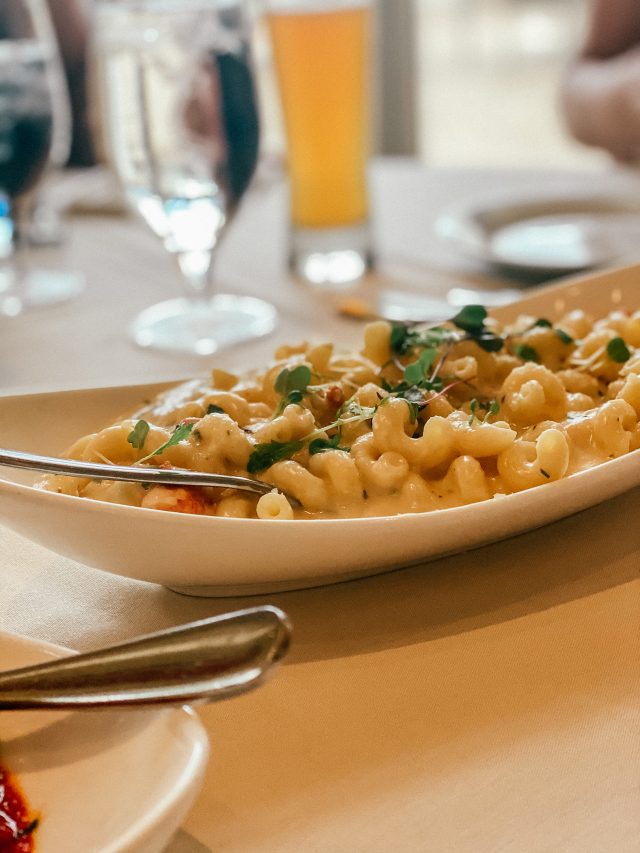 Atlantic Grille Restaurant Hammock Beach Resort
If you want stunning ocean views and an elegant "shore to table" dining experience then don't miss breakfast, lunch, or dinner at The Atlantic Grille. I recommend the Bang Bang Shrimp Appetizer, the she crab soup and the shrimp and grits. The Crispy Redfish looked really tasty as well and I almost ordered that but I will almost always order shrimp and grits, if it's offered on any menu.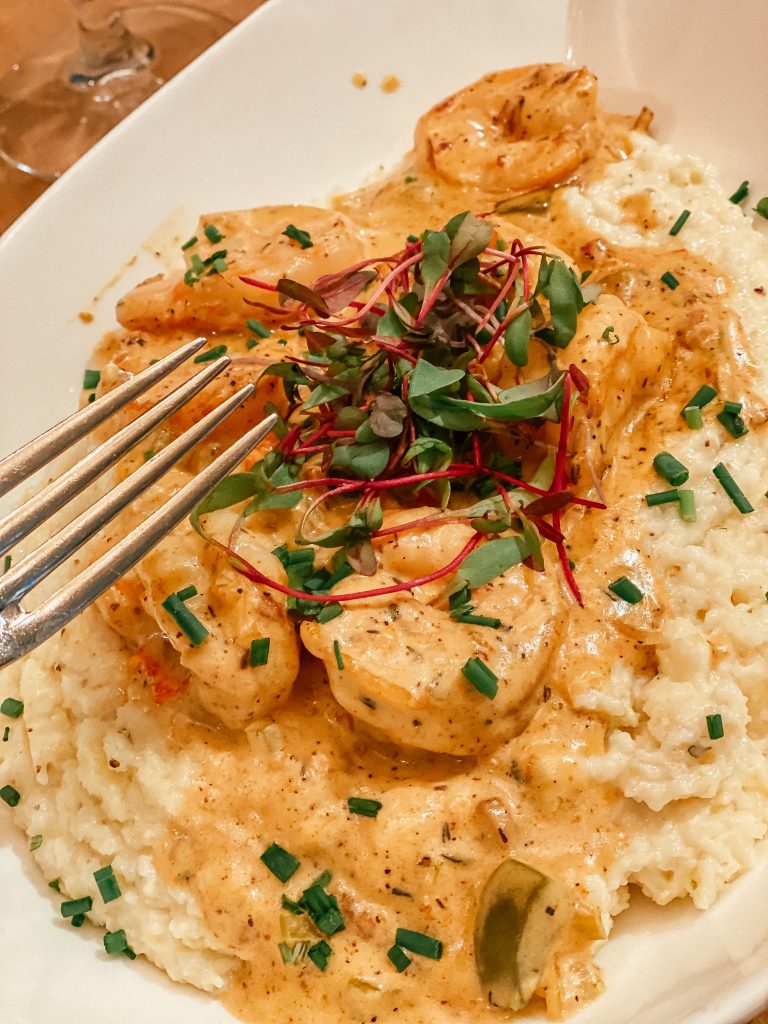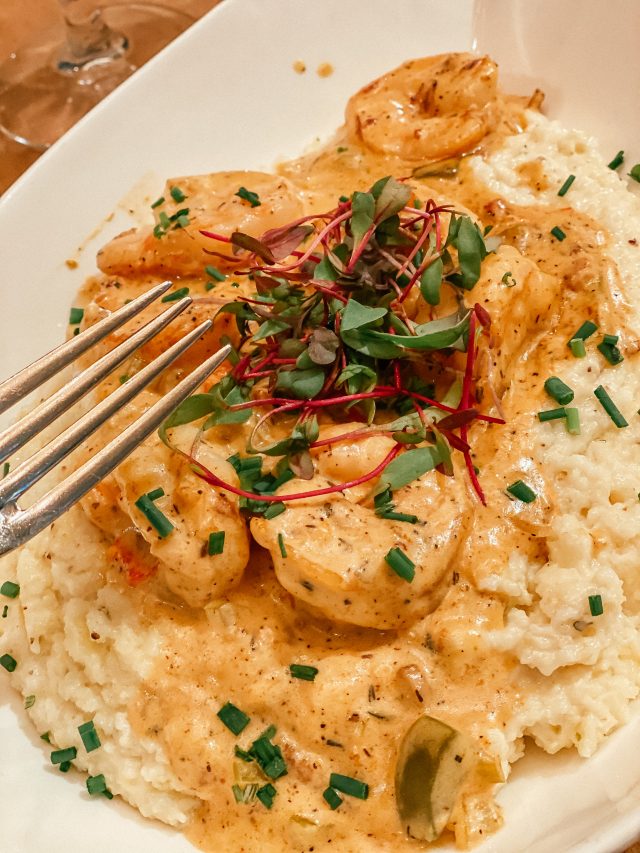 The Atlantic Grille also does a great breakfast with a variety of omelettes, pancakes and french toast. I was trying to go light and ordered the fruit and yogurt with muffins and the platter was huge – probably better suited for sharing.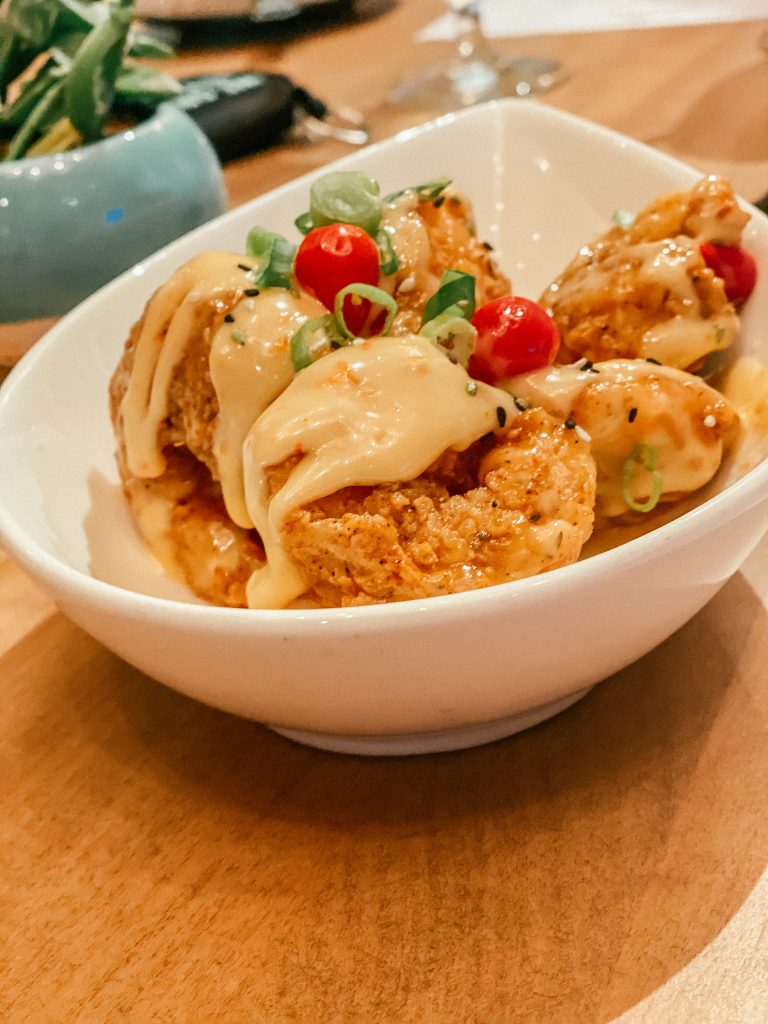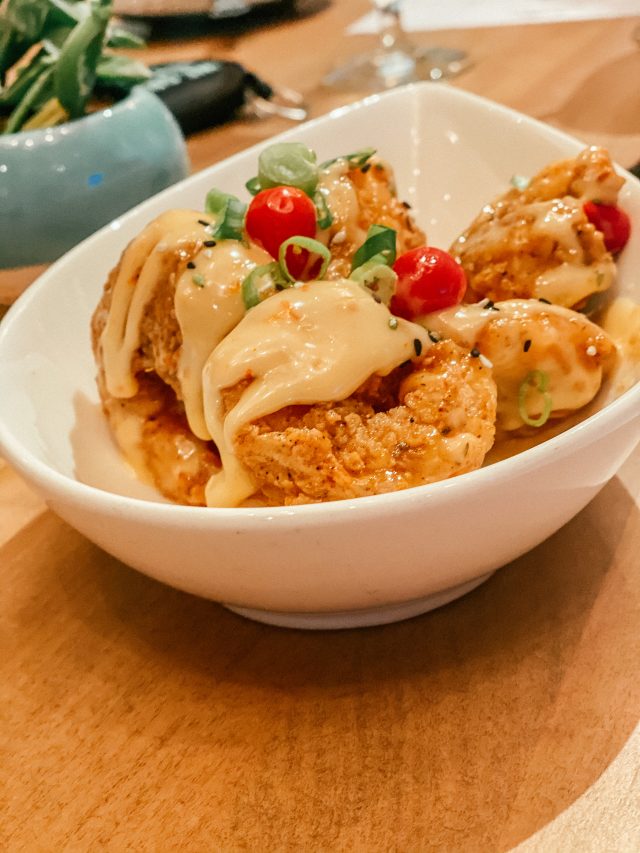 Poolside casual at the Ocean Bar and Grille
There's great poolside, casual dining at the Ocean Bar and Grille. They serve a variety of appetizers, salads and handhelds. You can also get the Bang Bang Shrimp I mentioned above out here as well as some seriously delicious looking tater tot nachos.
I went for the beef quesadilla with a side of fruit and a Pineapple Mojito. If you want to enjoy a cocktail poolside, there's quite the extensive menu.
Hammock Beach Resort Signature Dining – Delfino's Italian Chophouse
The signature dining experience at Hammock Beach Resort Palm Coast is Delfino's Italian Chophouse. They have a nice variety of pasta dishes and heartier dishes, to include several choices for steak. I had the petite filet with asparagus and mashed potatoes and it was one of the best steaks I've had in a very long time. It was very nearly fork tender. I don't eat a ton of red meat but I do enjoy a good steak every now and then and I have such fond memories of this one.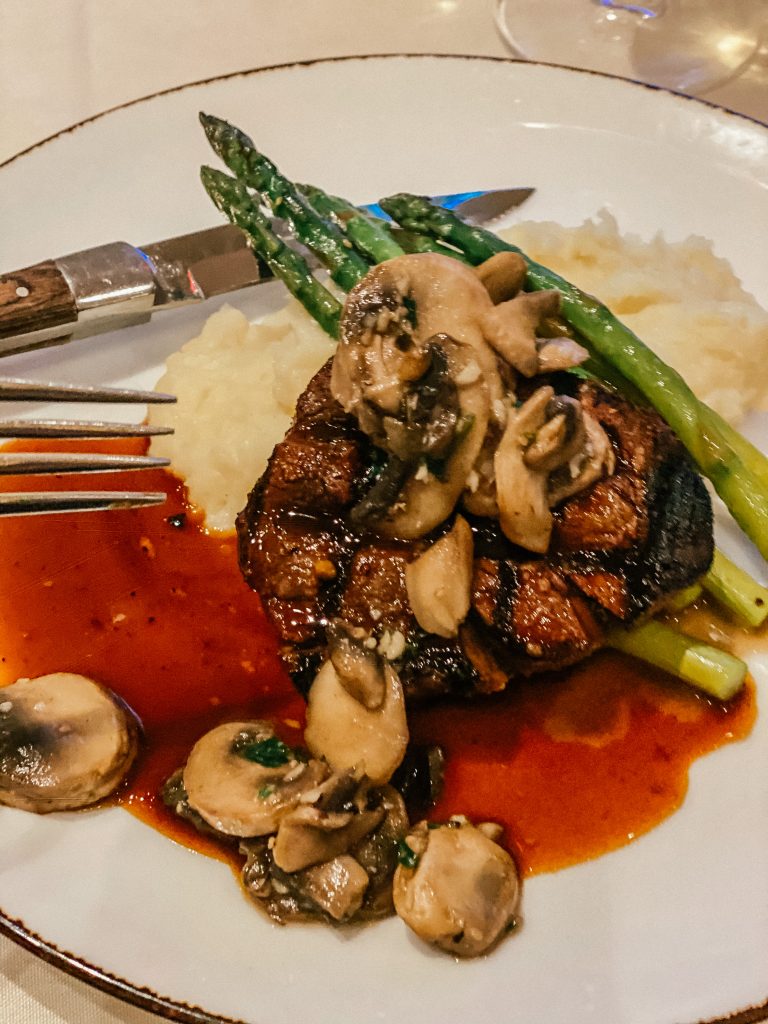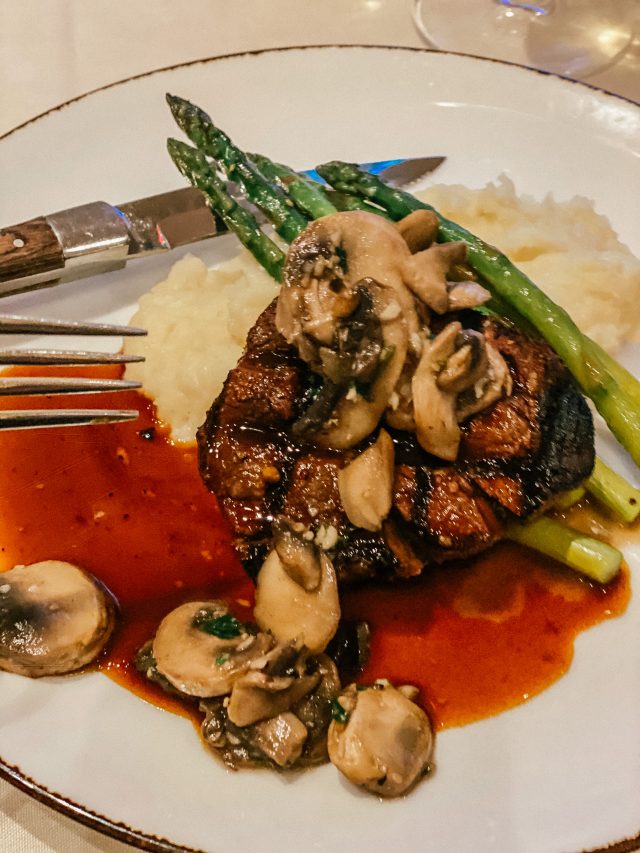 Hammock Beach Palm Coast FL also offers a sushi bar, Loggerheads, which is a gastro pub and cigar bar and a lobby bar which serves coffee and pastry in the mornings. Due to COVID-19, Loggerheads is only open on Friday and Saturday evenings and the cigar bar is closed. The sushi bar is open but it is a small space with limited seating capacity right now, so make your plans early if you want to eat sushi.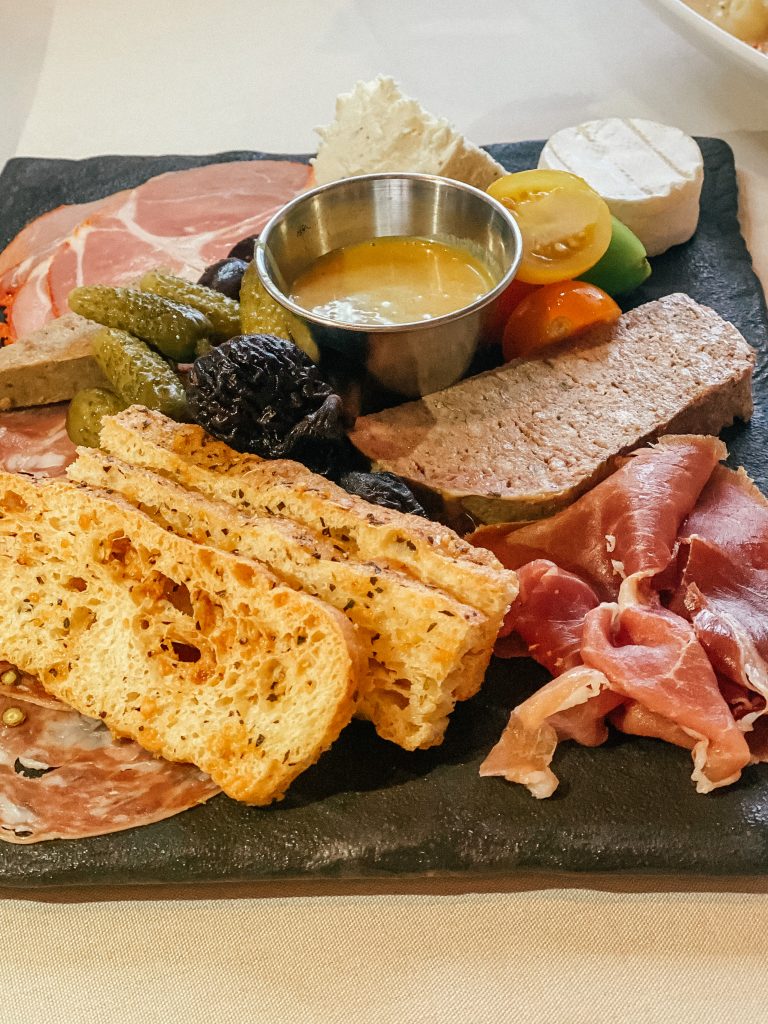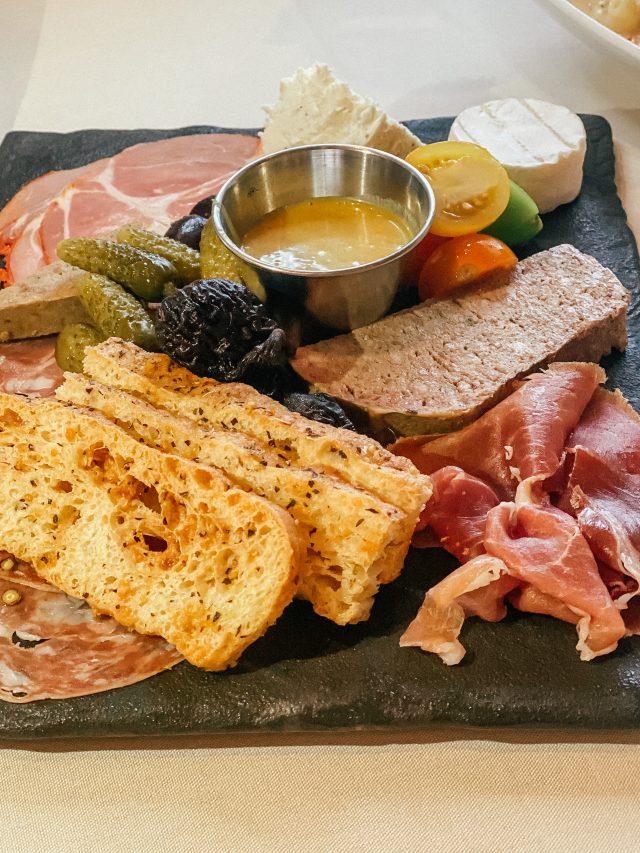 4. On Site Activities at Hammock Beach
My favorite activity at Hammock Beach Palm Coast was relaxing by the pool with my friends, laughing at silly jokes and doing a whole lot of nothing. Unless you count ordering lots of pineapple mojitos, then we were doing something. For me, Hammock Beach was the perfect spot to relax and recharge. The backdrop of the beautiful golf courses and the Atlantic Ocean were the perfect recipe for taking the stressors of regular life away for a little while.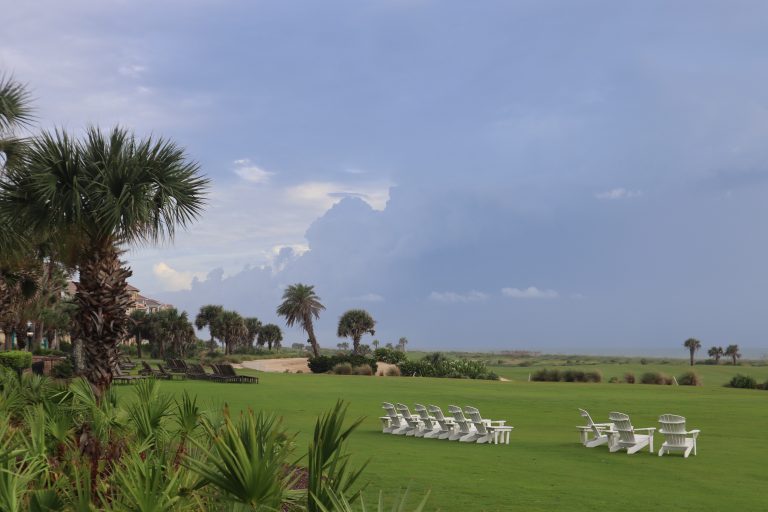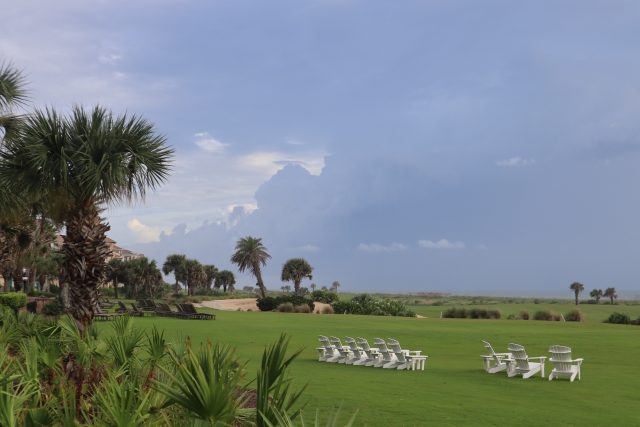 But, if you like to stay active on vacation, you can definitely do that here. As the name Hammock Beach Golf Resort and Spa suggests, there's both golf and a spa. I had a manicure at the spa and it was very well done and relaxing. My travel buddies tried a combination of massages, facials and pedicures and everyone raved about their spa treatment.
I'll cover the golf separately below. Please note that I do not golf so if my write-up doesn't give you the level of golf info you want, please check their website or call the resort for more info.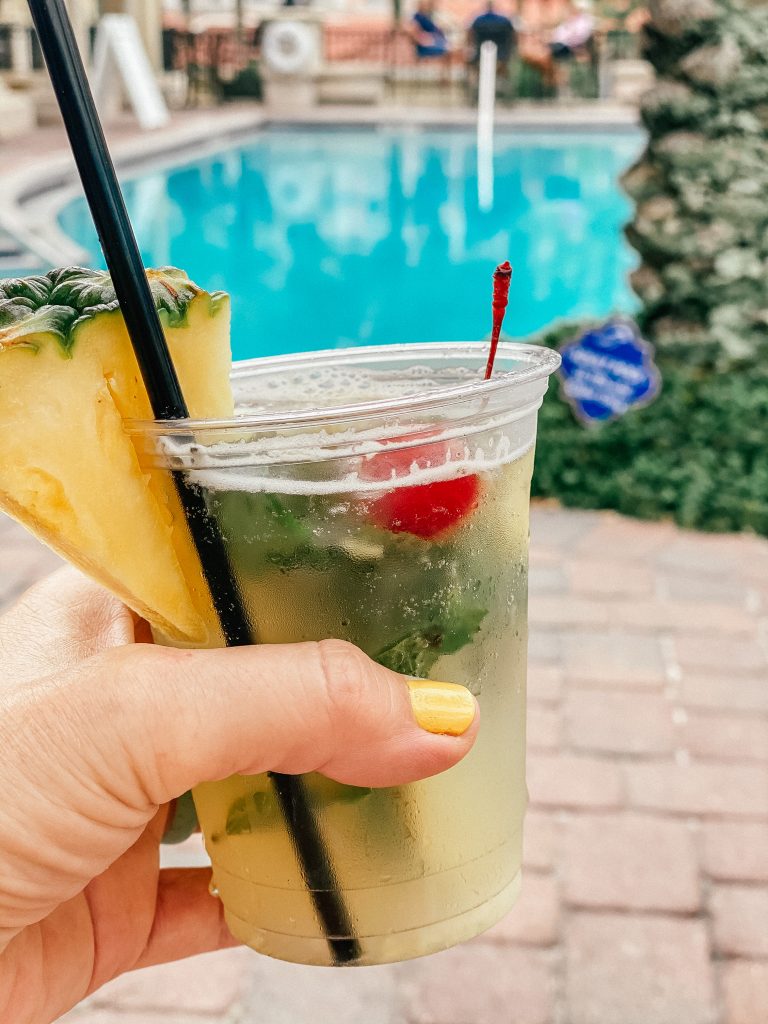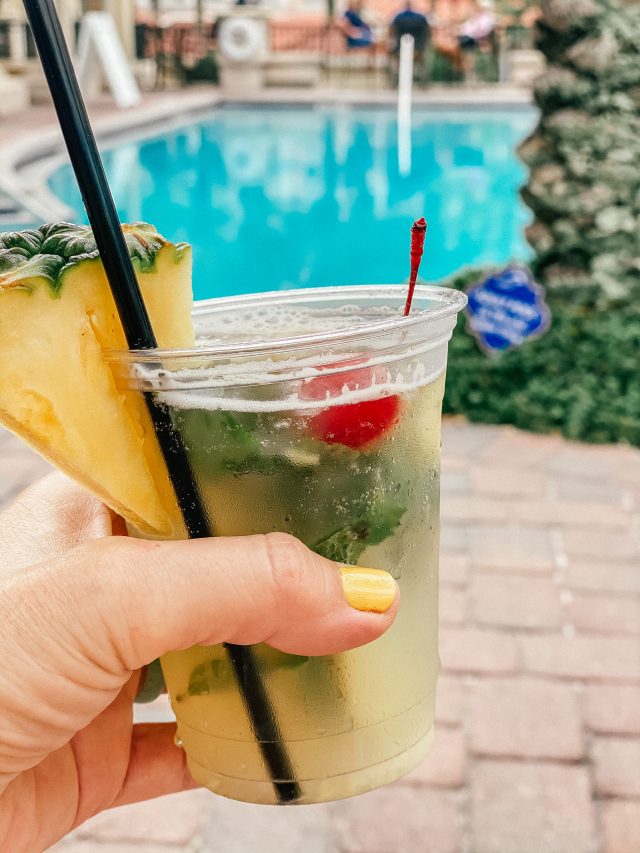 In addition to the things I've already mentioned to do at Hammock Beach Resort Florida, there is on site miniature golf that's included in your resort fee. If you want to explore the resort on wheels, you can grab one of the complimentary bikes located around the property.
There's also an onsite marina with access to the inter-coastal waterways, a tennis center and organized activities for kids. I mentioned above that the resort has direct and private beach access so if a day at the beach is your thing, you don't have to go far to enjoy that. For more specifics, review the Hammock Beach website or ask for a schedule of what's going to be available during your visit when you check in.
5. Awesome things to do near Hammock Beach Resort
One of the biggest selling points for me is that one doesn't have to leave the resort. I love resorts that offer absolutely everything you could want or need to enjoy your vacation and this is one of them. You can easily valet park your car and not get back in it again until it's time to go home.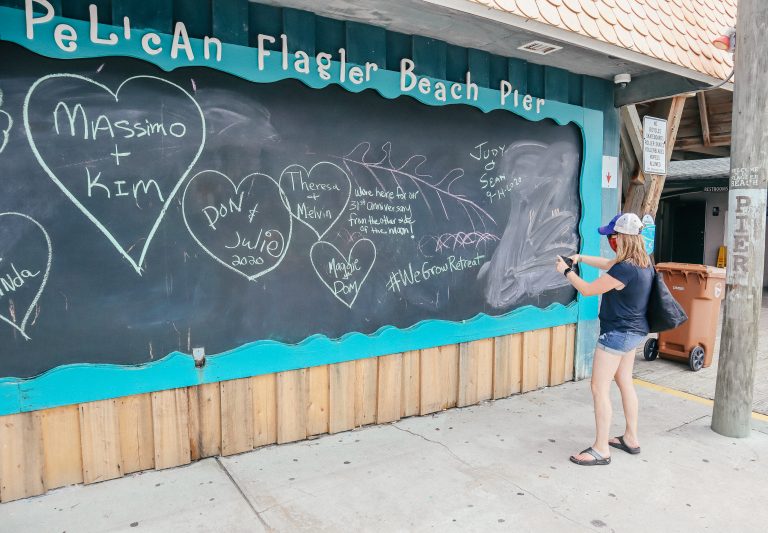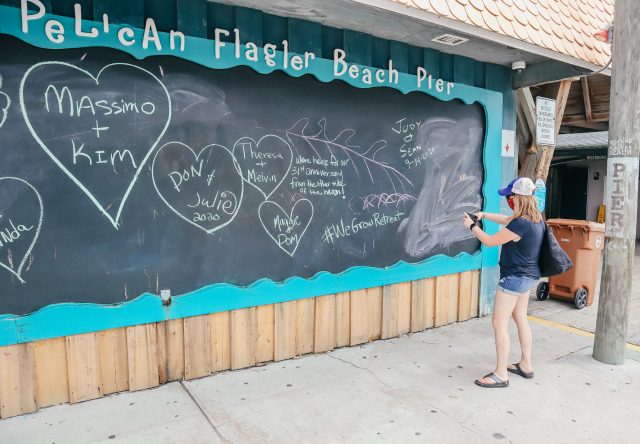 However.
There are lots of things to do near Hammock Beach Resort if you want to get out and explore this part of Florida. While I could have happily stayed at the pool, I'm glad we did venture out a couple of places.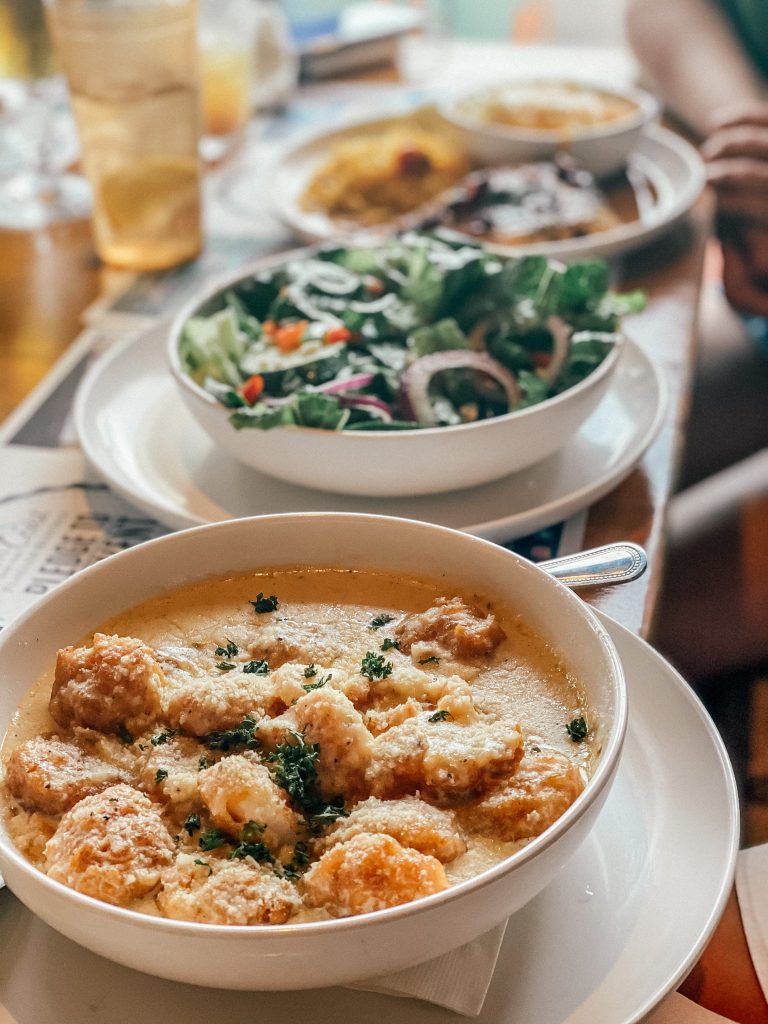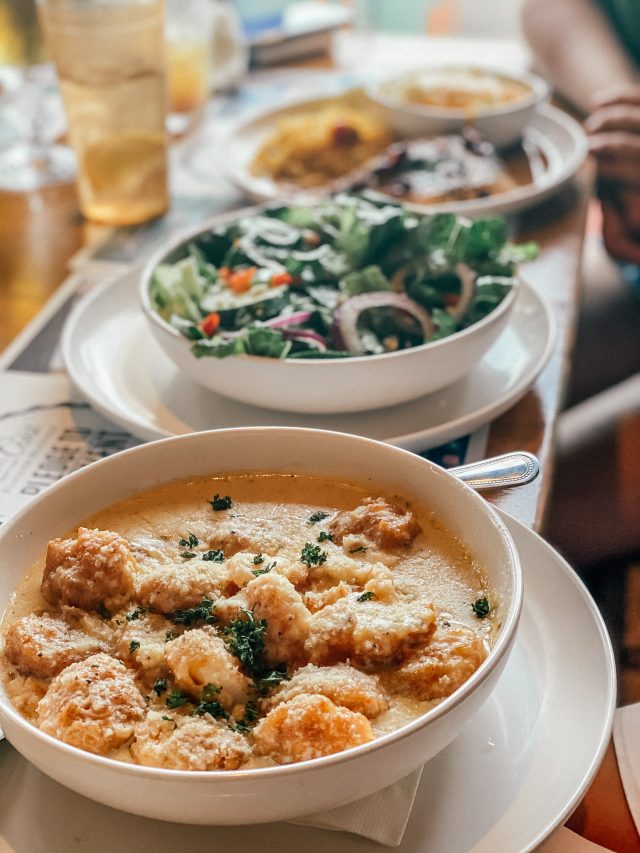 Marineland Florida
My friends and I did a Royal Swim at nearby Marineland and that was probably one of the highlights of my travel life. Not even kidding.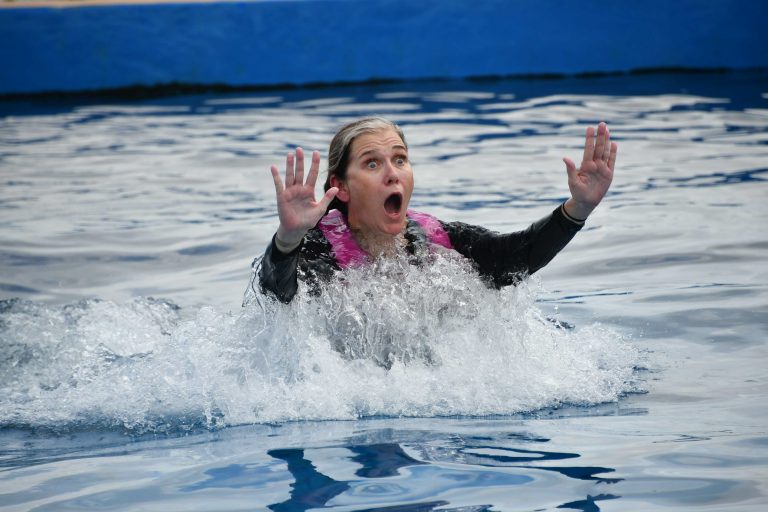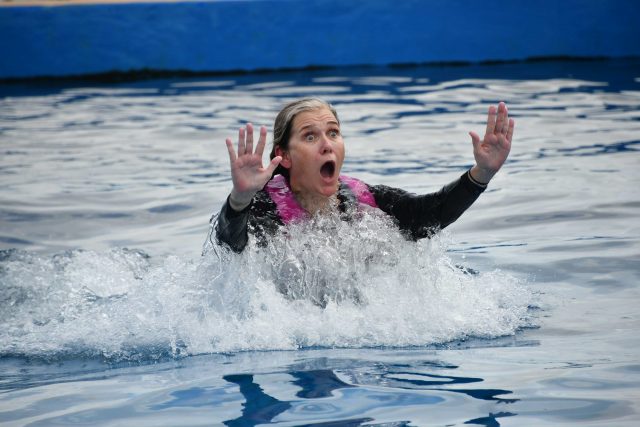 There were six of us in our Royal Swim group at Marineland and most of us had done a dolphin swim before this. We all agreed hands down that this experience was a cut above the others. The name "Royal Swim" is quite appropriate.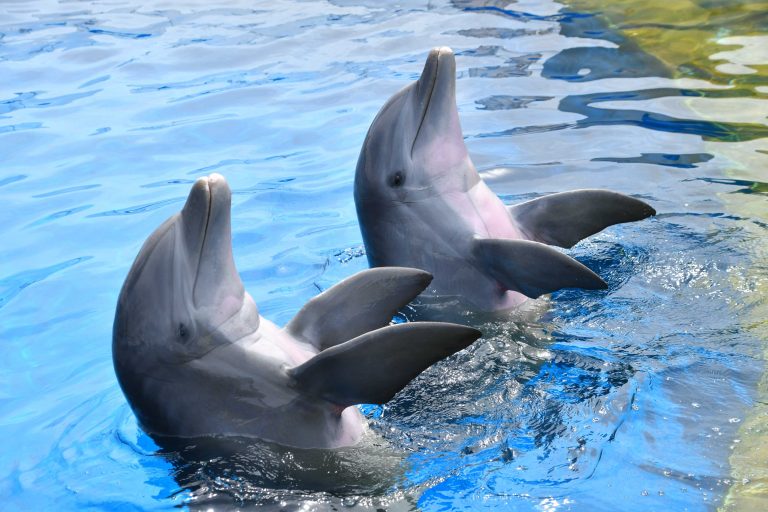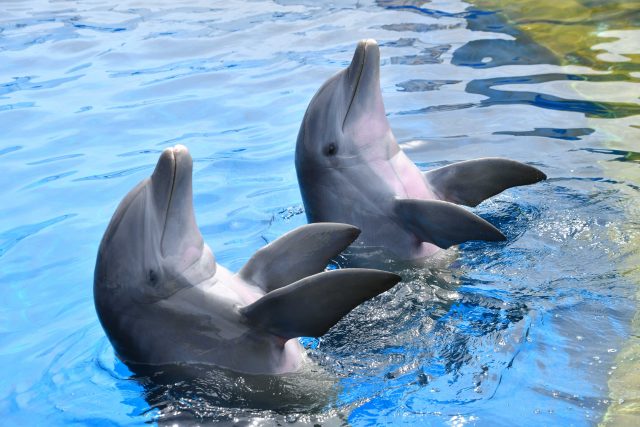 Before you get complete sticker shock and say "No way" hear me out: this is absolutely worth the splurge if you're an animal lover. It's truly a once-in-a-lifetime experience. There are other programs at Marineland at various price points.
Flagler Beach
We also visited the oh-so-cute beach town of Flagler Beach, which is a short drive from Hammock Beach resort and offers lots of shopping, dining and beach-going options. I recommend the Funky Pelican but there are lots of choices here.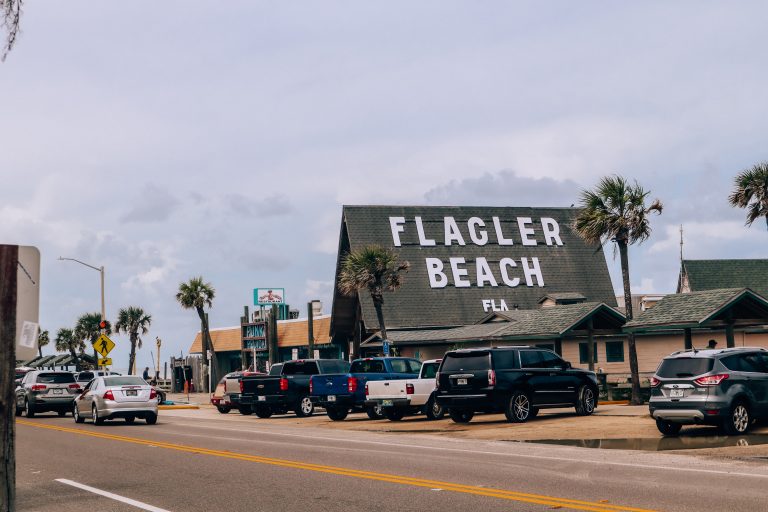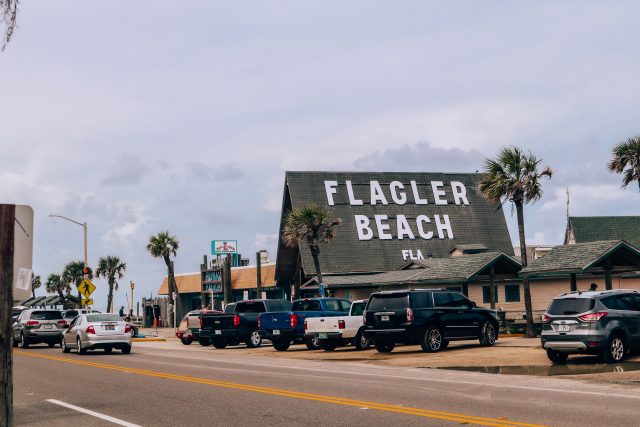 Check the "area attractions" tab of Hammock Beach Resort's website and you'll see all kinds of options from horseback riding to wineries to fast cars to an alligator farm. Whether you want to do something you know you already love or try something different, you'll have no lack of options for fun outside the resort.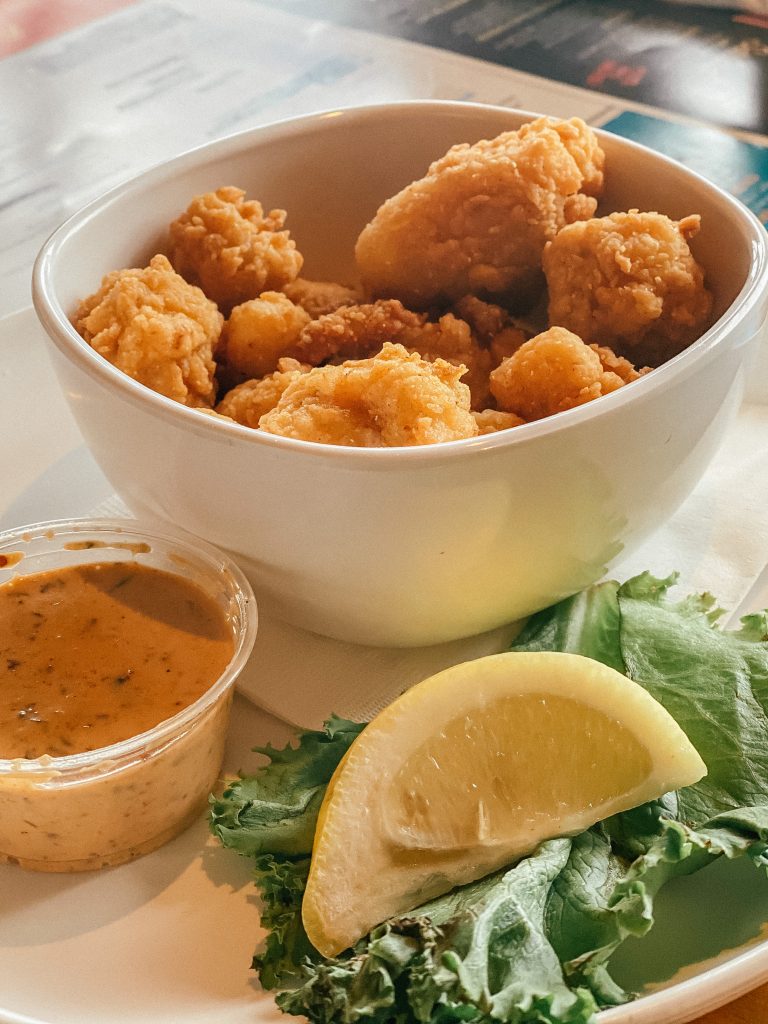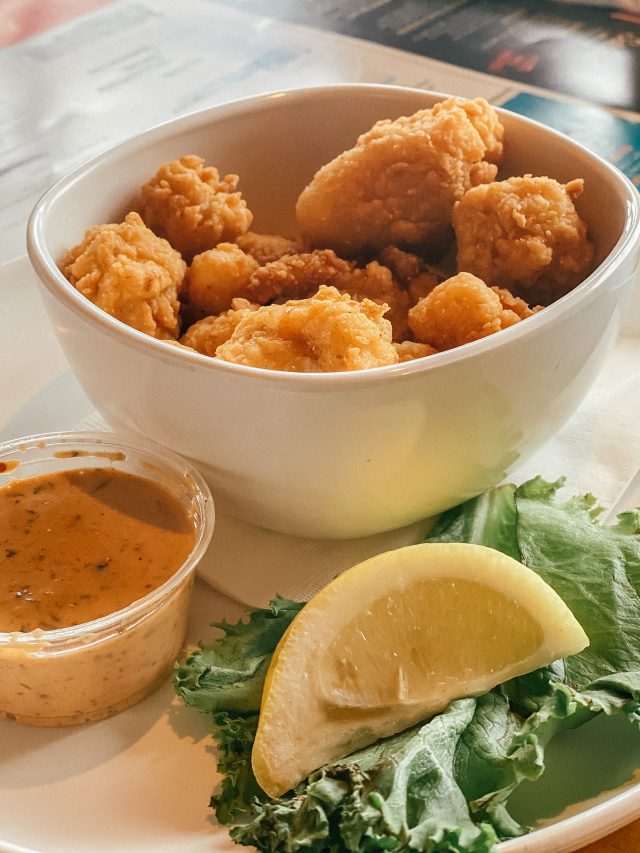 Hammock Beach Resort to St Augustine
The city of St Augustine is about 20-minutes from the resort. My biggest regret during my stay was not exploring St. Augustine and it wasn't for lack of interest but a lack of time. St. Augustine is the country's oldest city and this was as close as I've gotten. I guess this means there will have to be a next time!
6. So, it's called Hammock Beach Golf Resort and Spa for a reason…
One of the most popular activities at Hammock Beach is…wait for it…golfing. Despite the best efforts of my husband and father, I am not a golfer and have very minimal interest in hitting a little white ball into a hole in the ground or watching other people do that. However, even I can appreciate that Hammock Beach Golf Resort and Spa is a stunning backdrop for golfing.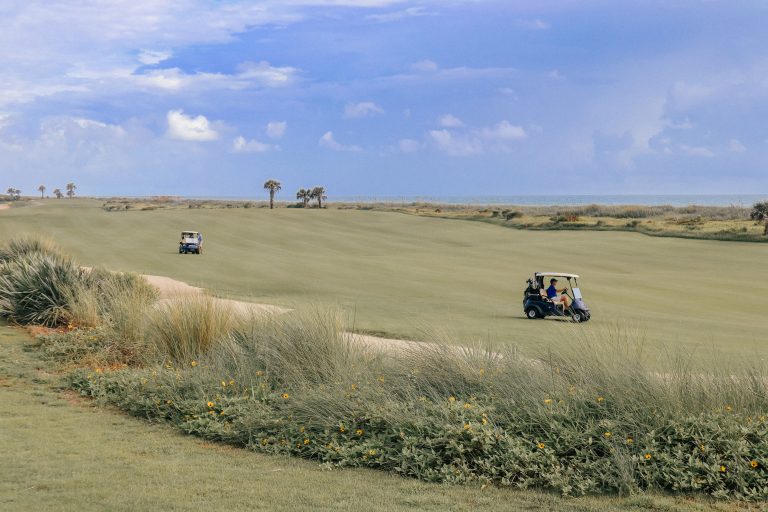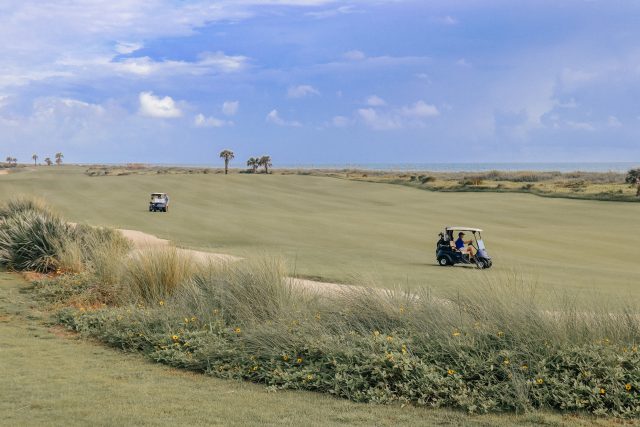 There are two golf courses on site and one was designed by Jack Nicklaus. Even I know who that is and to play on a course he designed would be a big deal. If golfing is going to be a big part of your stay, then you need to check out the Golf Packages section on Hammock Beach's home page. There's also a pro shop where you can rent golf clubs if you don't want to travel with your own clubs.
Other things to know about Hammock Beach Golf Resort and Spa
Here are a few answers to some questions people have asked about my trip to this beautiful resort. If you have other questions, feel free to reach out to me or to the resort staff at Hammock Beach Resort Florida directly.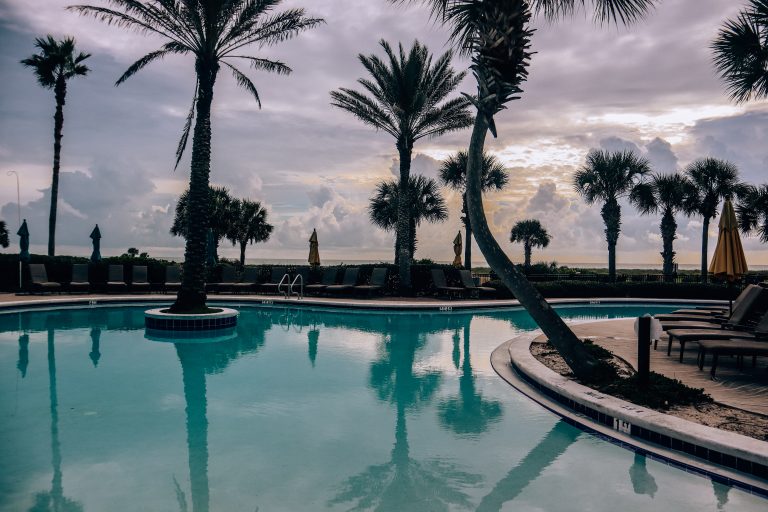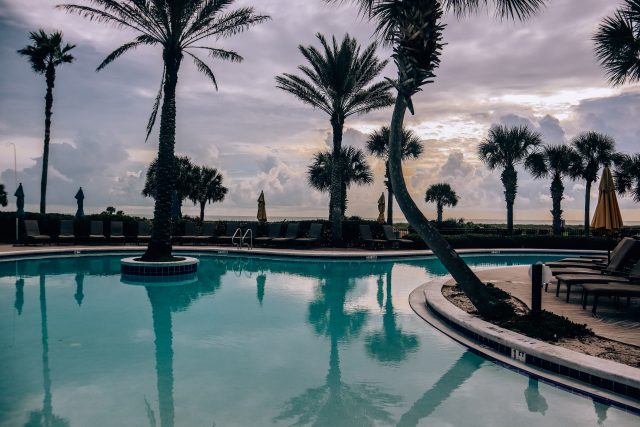 Is Hammock Beach Resort Palm Coast all inclusive?
Hammock Beach Golf Resort and Spa is not all-inclusive. There are certain things included in your resort fee, such as use of the pools, miniature golf, your first hour of bike rental to explore the property, games (the indoor pool area has ping pong and foosball tables) private beach access and access to the fitness center.
Food, drinks, spa treatments, fitness classes, and golf are not included. The resort is cashless, so you'll be asked to provide a credit card at check in to cover any charges you might incur during your stay.
Is Hammock Beach Resort pet friendly?
According to the Hammock Beach website, the resort will allow pets after Labor Day. If you travel with a pet, I recommend you contact the resort directly to see what their specific policies are.
Can I book a special event at this resort?
If you're looking to hold your special event here, Hammock Beach Resort does offer meeting space as well as wedding planning services. It would be a beautiful place to get married. My husband and I talk about vow renewal and this would sure be an awesome place to do that. A Hammock Beach Resort wedding would be an absolute dream.
How far is this from Orlando?
Although I really think a vacation to this part of Florida should be theme-park free, I get that families may want to combine a trip to Hammock Beach with a trip to Orlando to have a different kind of adventure. The drive from Hammock Beach to Orlando is about 80 minutes. If you're going to combine this trip with a Disney or Universal trip, I recommend you save Hammock Beach for last. Your theme park days will be go-go-go and this tranquil setting will offer the perfect balance to recover and relax.
Is it safe to travel to Hammock Beach Resort right now?
I feel comfortable traveling right now and I definitely felt safe and comfortable at Hammock Beach Resort. That said, travel is a very personal decision right now and there are varying degrees of what will or won't make you feel safe and comfortable.
Here's what I saw observed during my stay at Hammock Beach Resort Florida:
All employees wore masks and/or face shields indoors. All food servers and bartenders wore masks indoors and outdoors.
The cleaning protocols were posted in the lobby and I saw the extra cleaning and sanitizing in action.
Table in restaurants and chairs at the pool have been removed to allow groups to have space from each other.
The pools have capacity limits.
Hand sanitizing stations are available in high traffic areas
Restaurants are operating at 50 percent capacity
I saw most guests wearing masks indoors, unless they were sitting at a table eating or having drinks.
Here's what I learned from the Hammock Beach Resort Palm Coast website:
Reservations from international travelers are not currently being accepted
No daily housekeeping service
No room service (there are multiple food to go options available)
Kids Crew activities and drop off service are suspended
Masks are not mandatory for guests. This is in line with local directives. However, masks are strongly encouraged for guests when outside their guest rooms.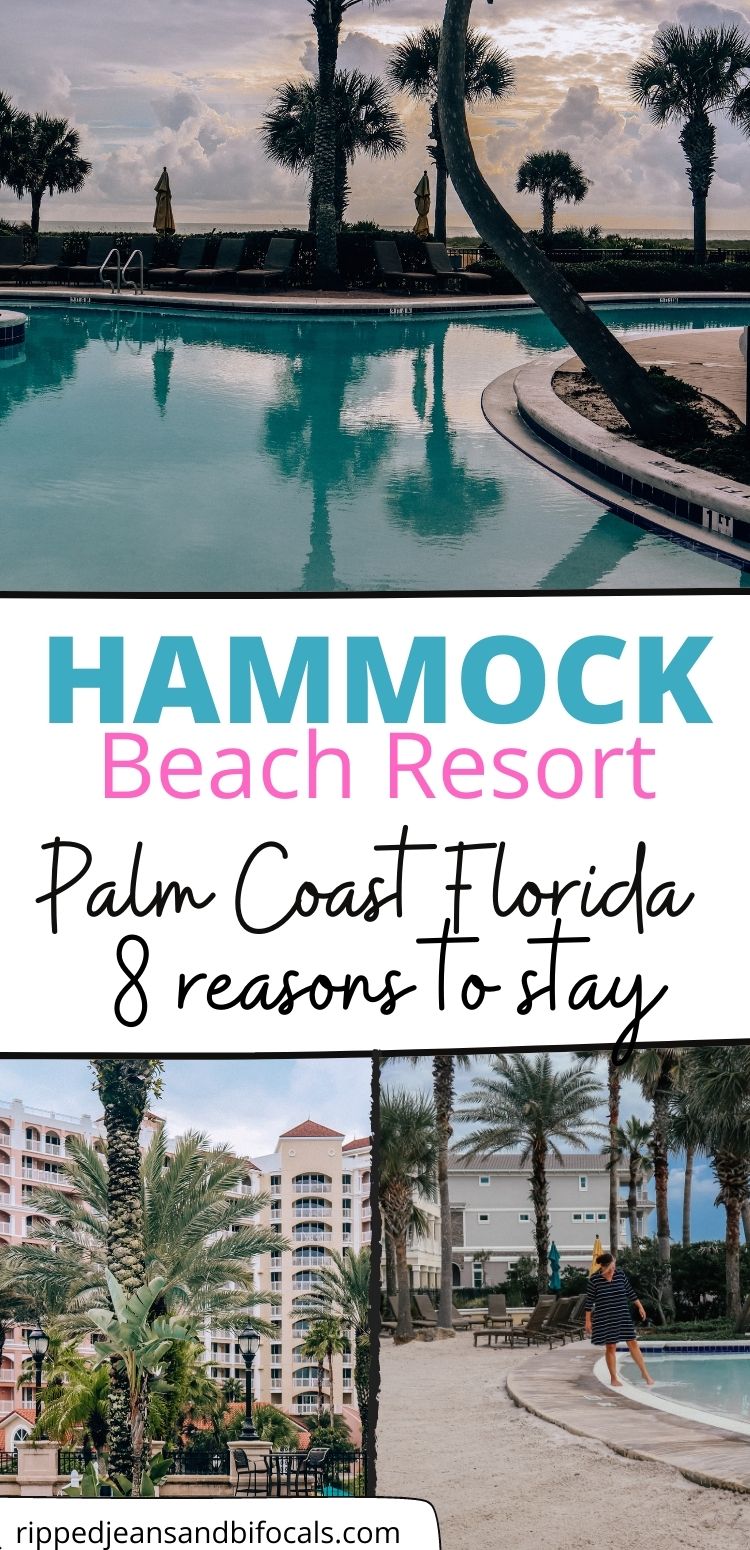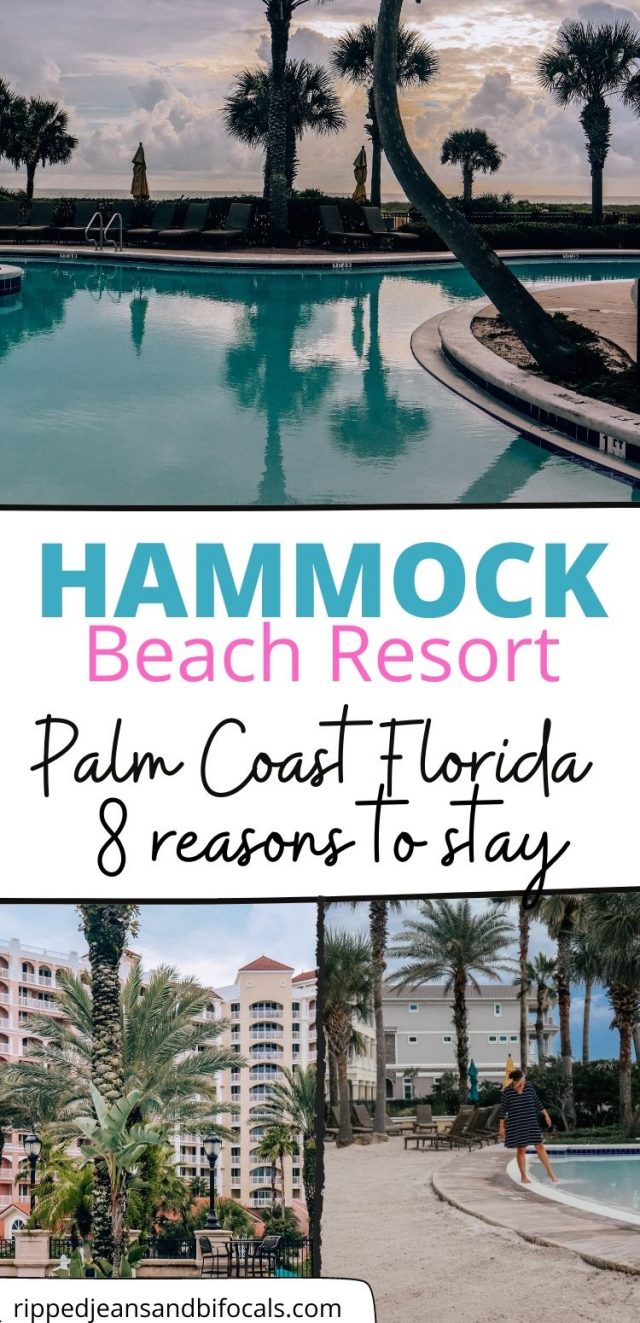 Planning to explore more of Florida?
How to plan the best trip to Destin