The Ultimate Disney Park Packing List
(This post may contain affiliate links. Read my full disclosure.)
Are you headed to Disney and wondering what you should (and should not) pack? I've got you covered with the ultimate Disney Park packing list. Packing for Disney isn't like packing for any other trip. The list of what you need to take is very specific and very tailored to your family and the exact type of trip you're planning. This easy, printable Disney packing list will help you.
You won't need everything on this list. You can save it to your computer and highlight the things you think you think you'll need and check them off as you pack them.
Click below to download the full list as a PDF. It will download as a multi-page PDF and you can edit from there.
Ripped Jeans Bifocals- Disney Park Bag Packing List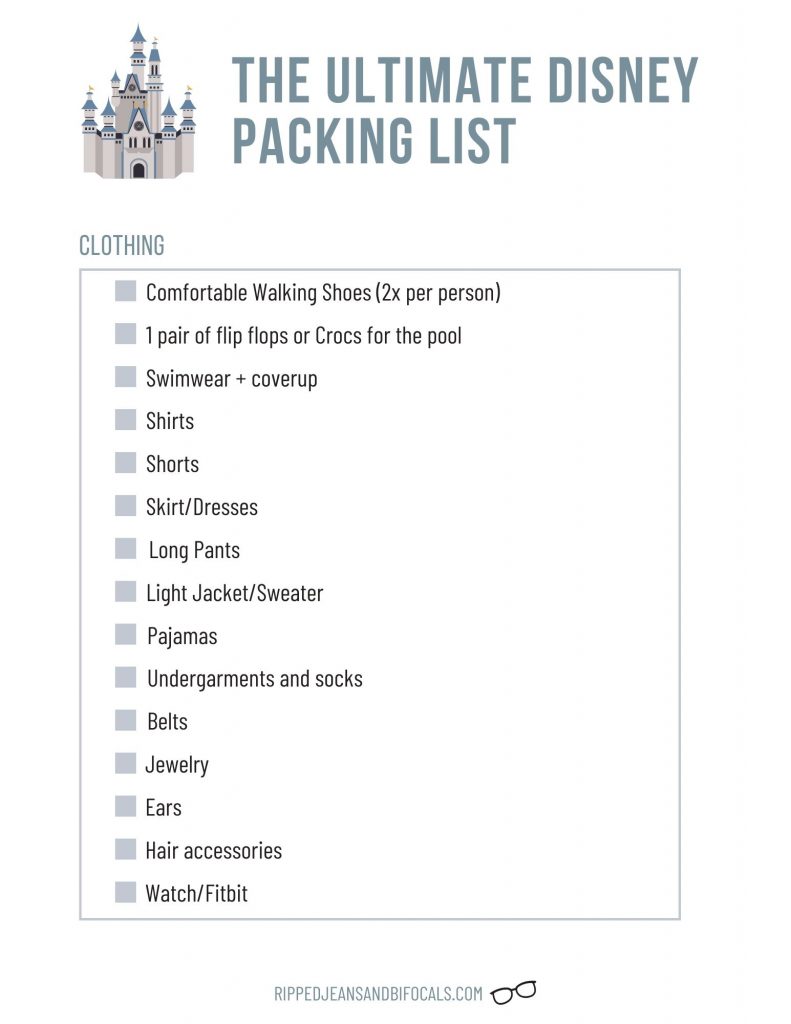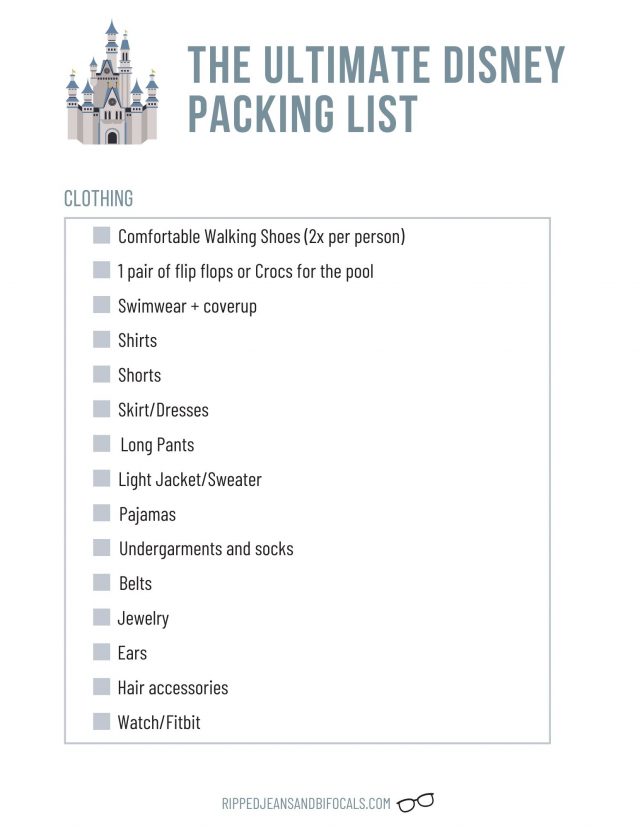 Thinking of booking your own Walt Disney World or Disneyland California vacation?
Check out my partner, Get Away Today for the best deals and white glove service.
Things to do think about when using this Disney packing list:
Who's going? Babies, kids, teens, adults-only?
How long you're staying. I'm a firm believer in packing outfits for 4-5 days. Anything longer and you probably need to scope out where you're going to do laundry.
Time of year. While there's warm, humid and sunny weather most of the year, you'll want to pack differently if you're visiting in January versus visiting in June.
How you're getting there. You'll need different things if you are flying versus driving.
You might also like: The best theme park military discounts
And, I'll throw in a few of my best Disney packing tips:
Don't over pack. Think about what you're going to be doing each day and pack outfits specifically for that. Throwing in a bunch of clothes and thinking "I'll put outfits together when I get there" is going to result in packing things you won't wear/use.
Have comfortable shoes, clothes that breathe/wick and a daypack/backpack that works for you.
When you're using this Disney packing list, I recommend you start staging/gathering items about 1-2 weeks before your trip. That will give you time to shop for anything you might be missing.
Go easy on packing snacks and diapers. With grocery delivery services like Shipt and Instacart being so accessible, it's easy and inexpensive to get essentials delivered to your room.
Invest in good luggage. We love hard-sided suitcases with roller/spinner wheels. We've found this to be the most durable and easiest to manage. Everyone but the smallest kids can wheel their own rolling suitcase through the airport.
Bring a soft duffel bag. While I am not a fan of soft-sided luggage, these don't take up much space in your suitcase. If you buy souvenirs, you'll have plenty of room to bring everything home.
Follow the Disney Parks Blog for the most up-to-date Disney Parks info.
Like my Disney packing list? Read More of my Disney content:
How to pack for Disney when you have kids
What you need to know about the Minnie Vans at Disney World