Homemade Scalloped Potatoes with Ham
(This post may contain affiliate links. Read my full disclosure.)
Warning: My homemade scalloped potato recipe is indulgent. If you're looking for recipes that cut calories, this ain't it. But it's so good.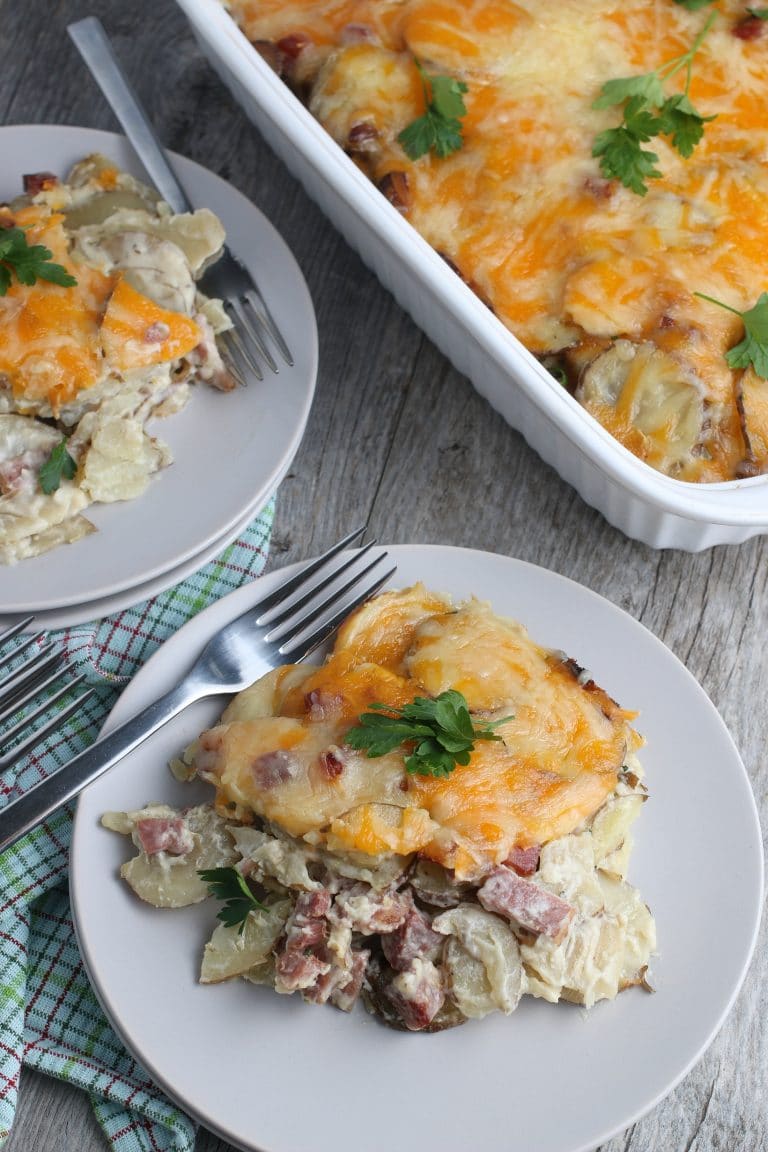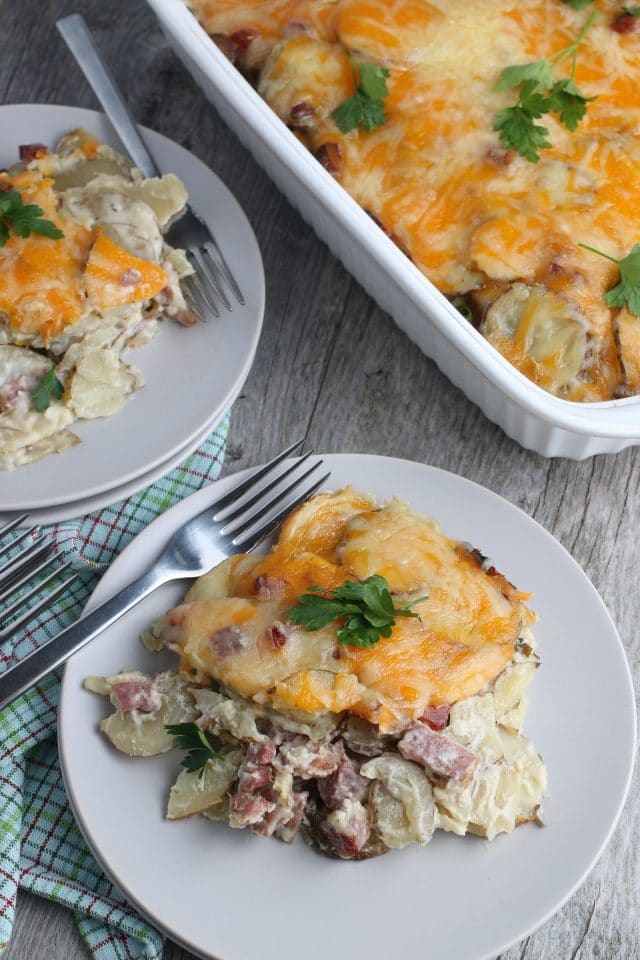 Disclaimer: We are a participant in the Amazon Services LLC Associates Program, an affiliate advertising program designed to provide a means for us to earn fees by linking to Amazon.com and affiliated sites. This post may also contain affiliate links to other sites where I will be paid a commission by the seller if you make a purchase.
Homemade Scalloped Potatoes with Ham
These easy scalloped potatoes with ham are a great way to use leftover ham or to make on those cold evenings when you're really craving comfort food.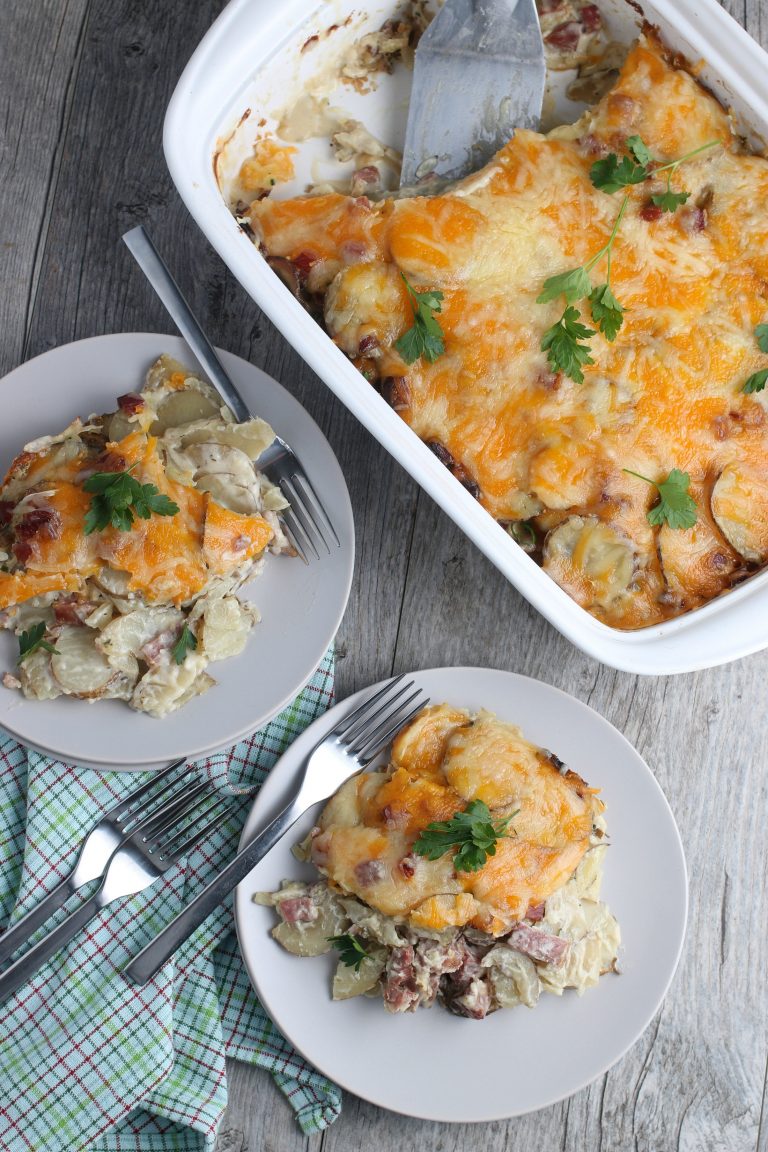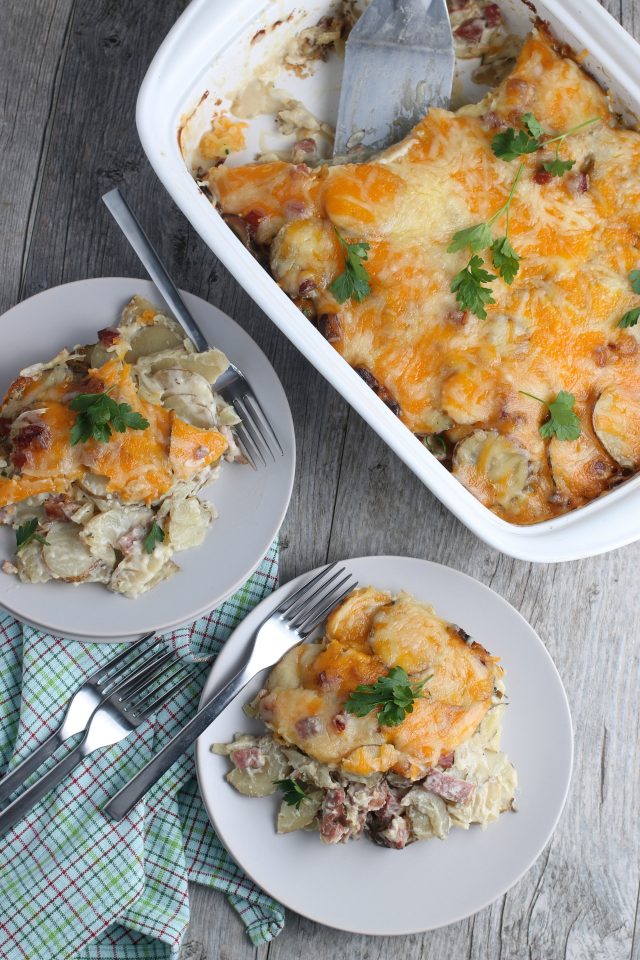 Ingredients for my easy scalloped potatoes:
The ingredients for these homemade scalloped potatoes are pretty basic. Butter, milk, flour, heavy cream, onion, chicken broth, diced ham. Oh, and CHEESE! Of course the cheese.
See the recipe card at the bottom of this post for measurements.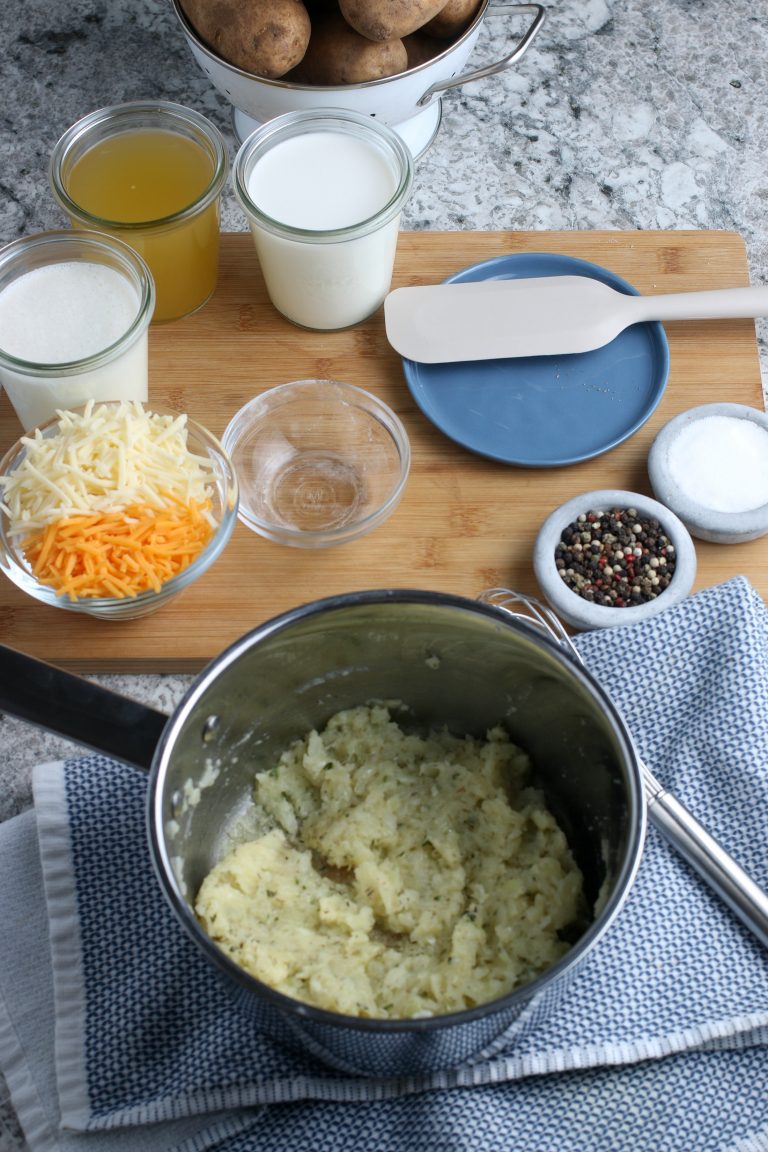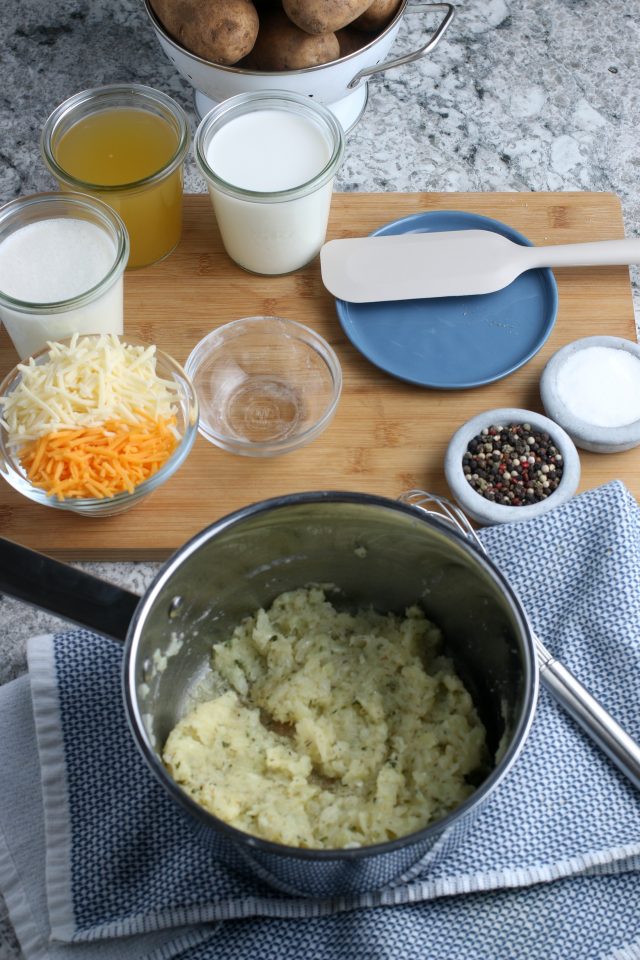 Also, you can make this scalloped potato recipe without using cheese – the cheese is added on top of the dish at the end – it is not nearly the same. There's so much other dairy in the main part of the recipe that omitting the cheese topping probably won't make any substantial difference in calorie content or how well someone who has trouble digesting dairy will tolerate it…that's not something I factor in when I make a dish like this.
Substitutions: Homemade Scalloped Potatoes with Ham
You can make pretty easy substitutions with this recipe. The original recipe calls for thyme and parsley – you can switch out spices when making homemade scalloped potatoes based on what you have or what you like. You can also sub vegetable broth or turkey broth for the chicken broth. The flavors will be different but your consistency will be the same.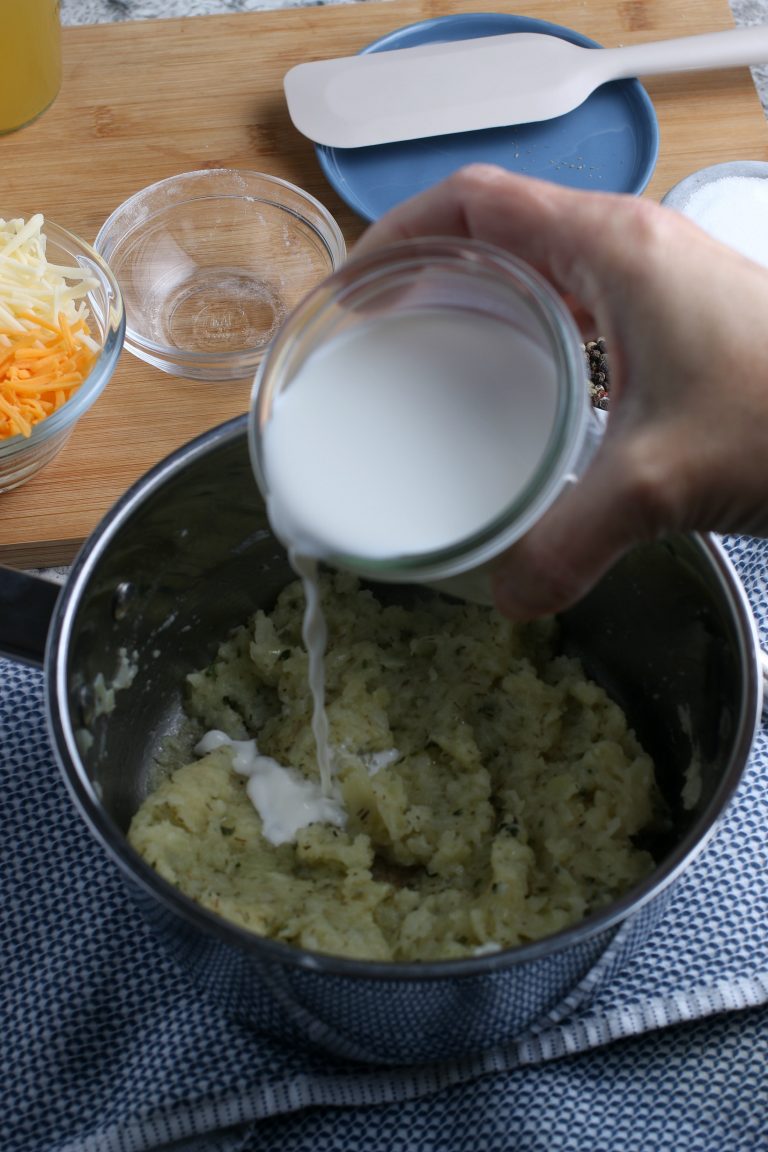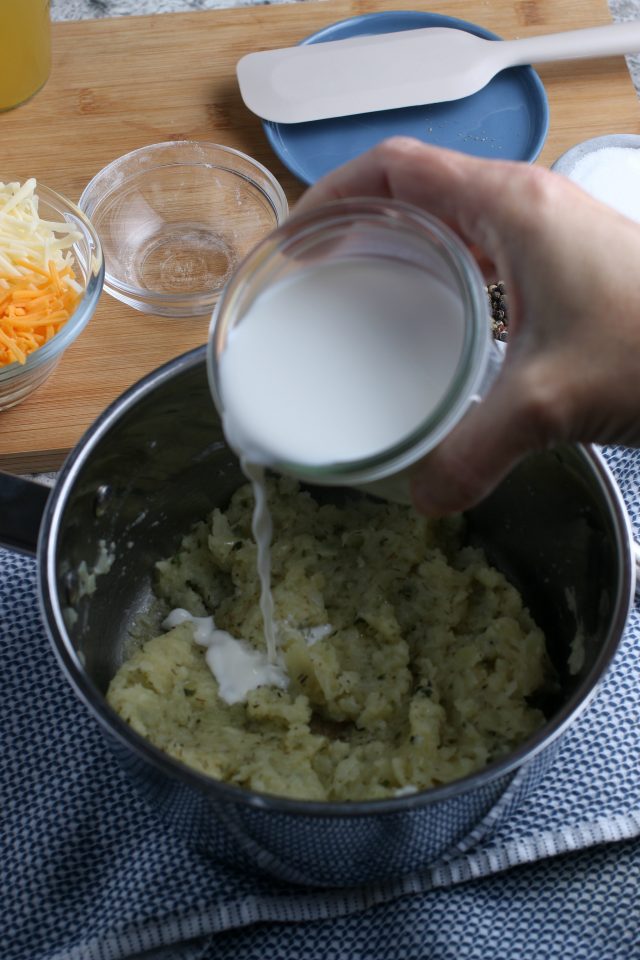 Finally, if you don't want the ham in the scalloped potatoes and ham, you could substitute cooked chicken or turkey if you like. Ham is traditional and blends so well with the creamy flavors but no reason why you can't use something else. If you want to make this easy scalloped potatoes recipe meat free, simply add extra potatoes. If you do this, you may need a bigger baking dish because the slices of potatoes can add bulk in a different way that the diced ham. Trial and error with recipe substitution is always fun for me so do what sounds good to make this recipe your own.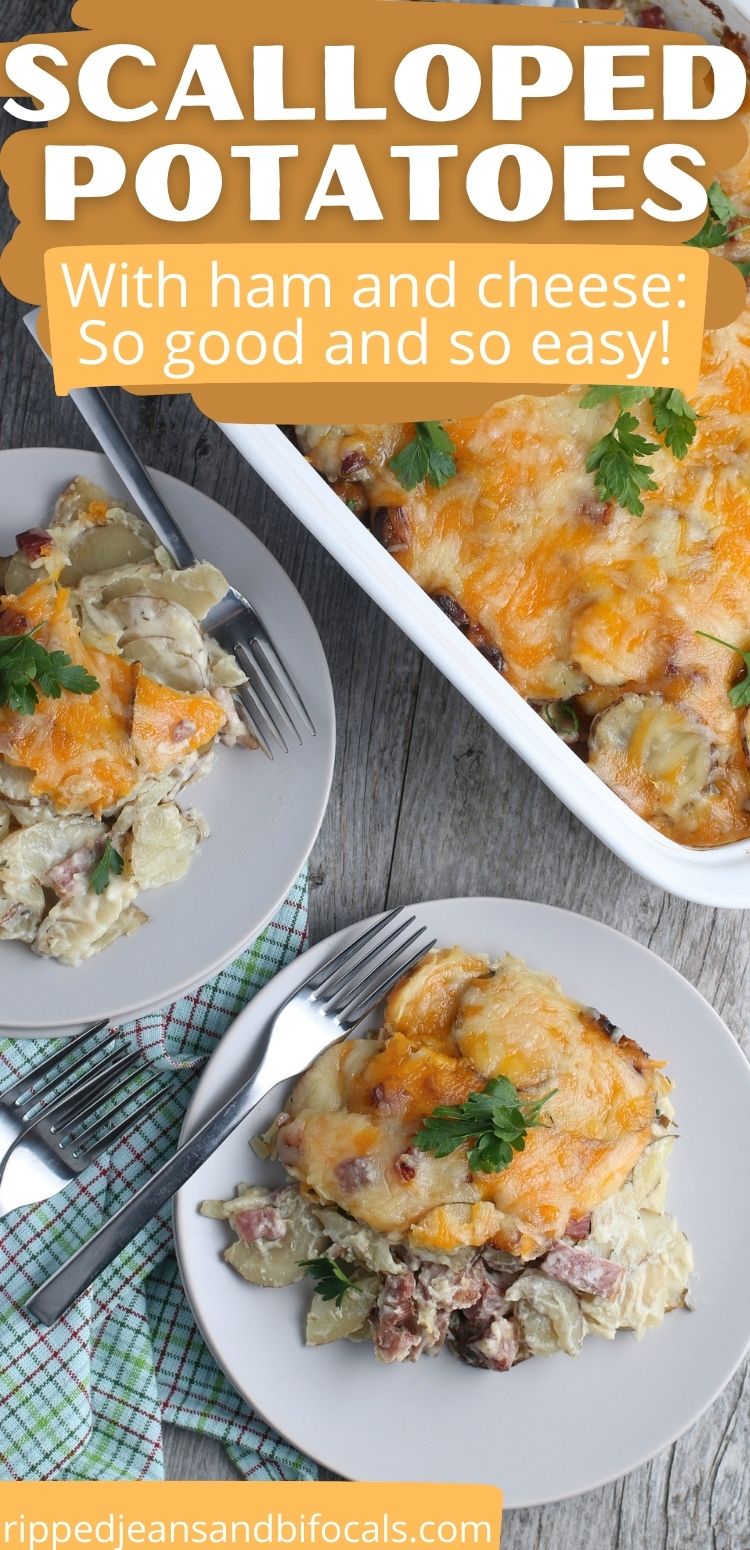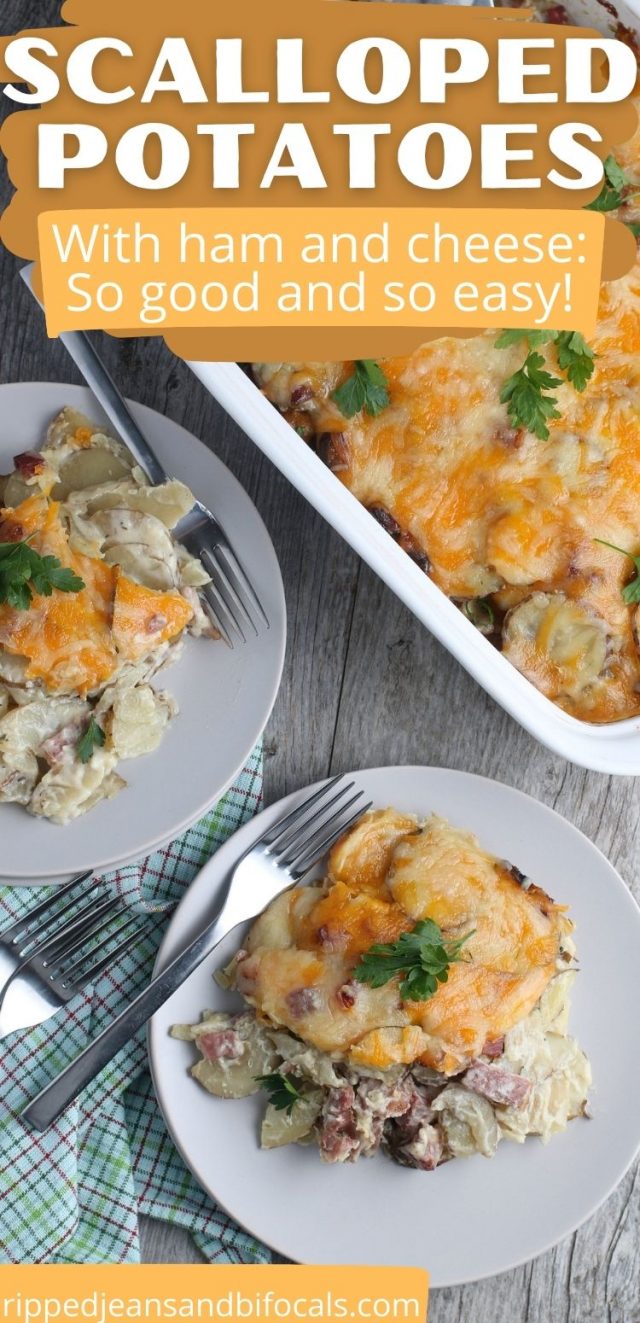 Use up leftover ham with this Easy Scalloped Potato Recipe
Or better yet, buy an extra large ham so you can make this! My family is pretty "meh" on leftover ham sandwiches but I rarely have leftovers when I make this scalloped potato recipe.
Yield: 6-8 Servingf
Homemade Scalloped Potatoes with Ham
This homemade scalloped potatoes with ham recipe is a great way to use leftover ham...to make just because. Try these easy scalloped potatoes when you need tome real comfort food!

Prep Time 25 minutes

Cook Time 1 hour 15 minutes

Total Time 1 hour 40 minutes
Ingredients
6 tablespoons butter
1 small onion (1 cup) diced
1/2 teaspoon thyme
1/2 teaspoon dried parsley
1/4 cup flour
1 cup heavy cream
1 cup half and half, or 2 cups of milk
1 cup chicken broth
Salt and pepper, to taste
3 lbs potatoes, cleaned and thinly sliced
2 cups cooked ham, diced
1 cup shredded cheddar cheese
1 cup shredded Monterrey Jack cheese
Instructions
Preheat the oven to 350 F. and grease a 13x9 baking dish.
In a medium saucepan cook onions and butter over medium heat until onions are soft and translucent.
Add in thyme, parsley, and flour; cook for 1-2 minutes. Turn heat to low and add in milk a little at a time, whisking between each addition.
Stir in chicken broth, salt and pepper and bring to a boil and cook for about 1 minute. Remove from heat and set aside.
Layer ⅓ of the potatoes on the bottom of the prepared baking dish topped with ⅔ cup of the ham and about 1 cup of the sauce. Repeat layers until the dish is full.
Cover and bake for 50 minutes. Uncover the dish and bake for an additional 20-30 minutes, or until potatoes are tender.
Add cheese to the top during the last 15 minutes. Remove from the oven and allow to cool before serving.
Want more ideas for using leftovers from your holiday meal? Check out these ideas for using turkey leftovers.