I freakin' love my crockpot…I'll just put that out there. It's the perfect dinner solution for busy families and a snap to work into any meal plan. If you're looking for something easy to make and don't like the blank, hangry stare into your fridge at dinner time, you will want to check this one out!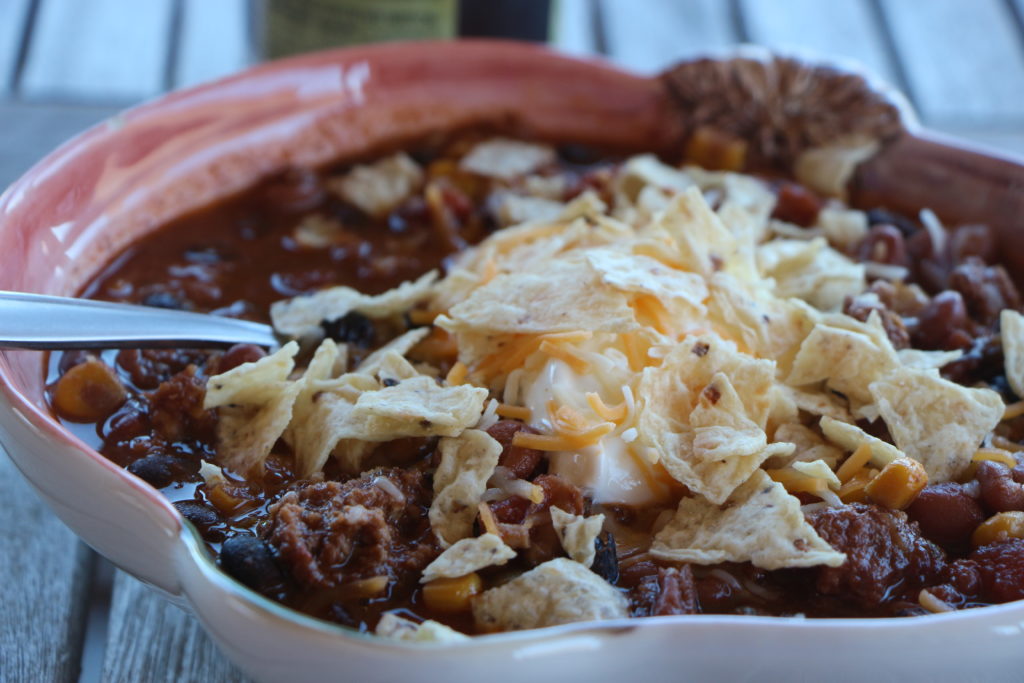 I stumbled upon this recipe by accident. I had some other dinner recipe pinned and recorded into my meal planner but I realized the night before that I had only half the ingredients. Don't ask me what the recipe was…I know it called for chicken and a red onion, neither which were present in my kitchen.
This recipe is a total improvisation. The ranch seasoning happened in the picture because I grabbed it instead of taco seasoning. I have this thingy-doo in my pantry that holds all the little seasoning envelopes – and yes, thingy-doo is totally a culinary term. I realized my mistake before I assembled the recipe and thought…why not? I think the ranch adds some extra zip and zest but you probably wouldn't be able to pick out the ranch flavor if you didn't know it was there. It's a nice layer of flavor on top of the taco seasoning.
This soup is easy, yummy, filling and relatively good for you. It's a new favorite of Zack's:
"Mommy I want to eat taco soup every day except Mondays."
Why we can't eat taco soup on Mondays? No clue…I'm just winging it.  Since I've created this recipe, we've eaten it every week…just not on Mondays.
Ingredients
1 lb. ground beef, uncooked
1 packet taco seasoning
1 packet dry ranch dressing
1 can corn, drained
1 can black beans, rinsed and drained
1 can Ranch Style Beans, not drained
2 cans RoTel tomatoes (I use mild)
1 can chicken broth
Grated cheddar
Sour cream
Crushed tortilla chips or Fritos
Salsa
Instructions
Place the first 8 ingredients in the crockpot in the order given.
Cover with water, if needed. Ingredients should be covered with liquid before cooking.
Cook on low for 8-10 hours.
Spoon taco soup into bowls, top with cheese, sour cream, crushed chips and salsa...or add other toppings as desired. Avocado slices or other veggies would probably be good, too. You can also serve over rice.
https://rippedjeansandbifocals.com/8541-2/
If you like tacos, try my recipe for homemade taco seasoning.


If you make this and like it, let me know! And…if you serve it on a Monday, that will probably be okay. If you have an "easy dinner" or crockpot board on Pinterest, here ya go:
Thank you SO MUCH for reading!  For more fun, come and follow me on Facebook and Pinterest.
Follow Ripped Jeans and Bifocals's board Crockpot Goodness on Pinterest.
A vote on Top Mommy Blogs helps my site a ton. It's super easy and besides…you know you wanna click my button.