(This post may contain affiliate links. Read my full disclosure.)
I love my crock pot. I love my Instant Pot, too, but my crock pot will always have a place in my life. The crock pot is the perfect way to make dinner for your active family and a snap to work into any meal plan. If you're looking for something easy to make and don't like the blank, hangry stare into your fridge at dinner time, you will want to check out the crock pot taco soup.
Easy Crock Pot Taco Soup!
This recipe is one of our family favorites. It's so easy to put together and it tastes like it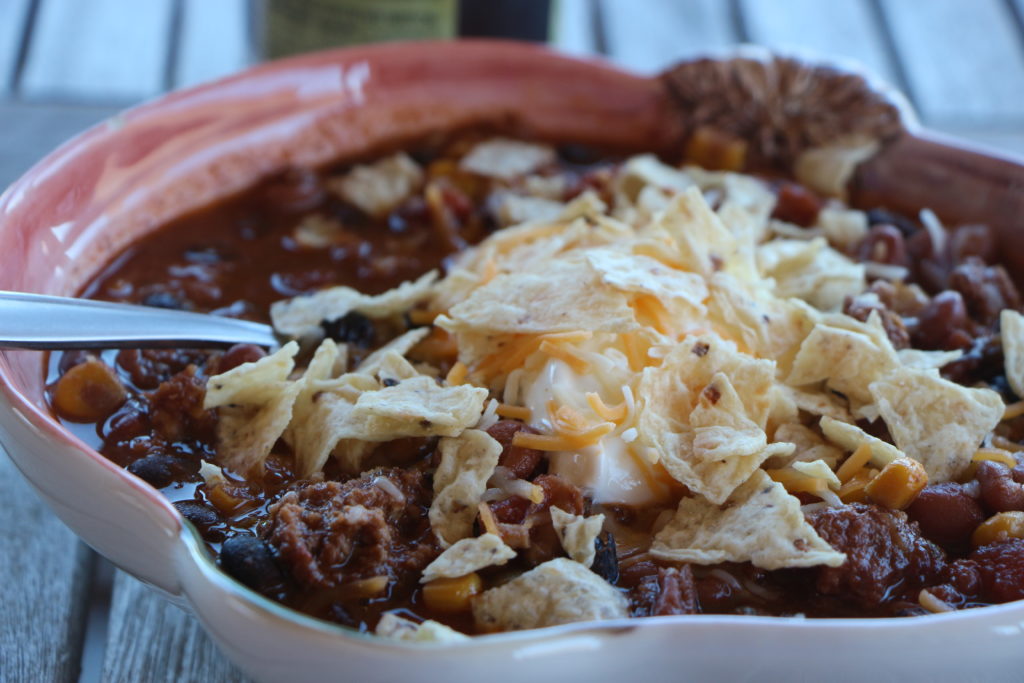 The story behind crock pot taco soup at our house
This recipe is a happy accident. I had some other dinner recipe pinned and recorded into my meal planner but I realized the night before that I had only half the ingredients. Don't ask me what the recipe was…I know it called for chicken and a red onion, neither which were present in my kitchen.
This recipe is a total improvisation. The ranch seasoning happened in the picture because I grabbed it instead of taco seasoning. I have a basket in my pantry that holds the seasoning envelopes. I realized my mistake before I assembled the recipe and thought – what the heck? The ranch adds some extra zip and zest but you probably wouldn't be able to pick out the ranch flavor if you didn't know it was there. It's a nice layer of flavor on top of the taco seasoning.
This soup is easy, yummy, filling and relatively good for you. It's a new favorite of Zack's.
"Mommy I want to eat taco soup every day except Mondays."
Why we can't eat taco soup on Mondays? No clue…I'm just winging it. Since I've created this recipe, we've eaten it every week…just not on Mondays.
Crock Pot Taco Soup
1 pound ground beef
1 cup onion, diced
1 15 oz can chicken, beef or vegetable broth
1 15 oz can Rotel tomatoes
1 can Ranch Style Beans, undrained
1 15 oz can canned corn, undrained
1 packet dry taco seasoning
1 packet dry ranch seasoning
1 cup water
Desired toppings: crushed tortilla chips or Fritos, sour cream, avocado, cheese, lime, onion, salsa, tomato, or sliced jicama
Brown ground beef with onion over medium heat. Add salt and pepper to taste. Drain excess fat from the beef mixture.

Add beef and onion mixture to crock pot

Add Rotel, corn, beans, broth and water.

Stir in ranch and taco seasonings

Cook on low for 6-8 hours or on high for 3-4 hours

Serve with desired toppings or with rice, tortillas or cornbread
Homemade Taco Seasoning is the BOMB
If you like tacos, try my recipe for homemade taco seasoning.
If you make this and like it, let me know! And…if you serve it on a Monday, that will probably be okay. But maybe don't tell Zack.