Camp Fimfo in New Braunfels Texas – Glamping fun in the Texas Hill Country
(This post may contain affiliate links. Read my full disclosure.)
If you're looking for a cool camping/glamping experience in the Texas Hill country, Camp FIMFO in New Braunfels Texas is where you need to go.
Camp Fimfo in New Braunfels Texas – Glamping fun in the Texas Hill Country
My family and I were hosted for a weekend at Camp Fimfo. All opinions are mine.
First of all, you might be wondering "What's a Fimfo?" I wish I could tell you but I haven't figured that out yet. According to my sources, FIMFO is an acronym that may reveal itself after time spent at camp. I was only there for a weekend and didn't figure it out, so that alone is a reason to go back.
Just kidding. My family and I really enjoyed our visit and do plan to go back to Camp Fimfo again but figuring out the riddle isn't our main motivator for going back. But, there are lots of other reasons.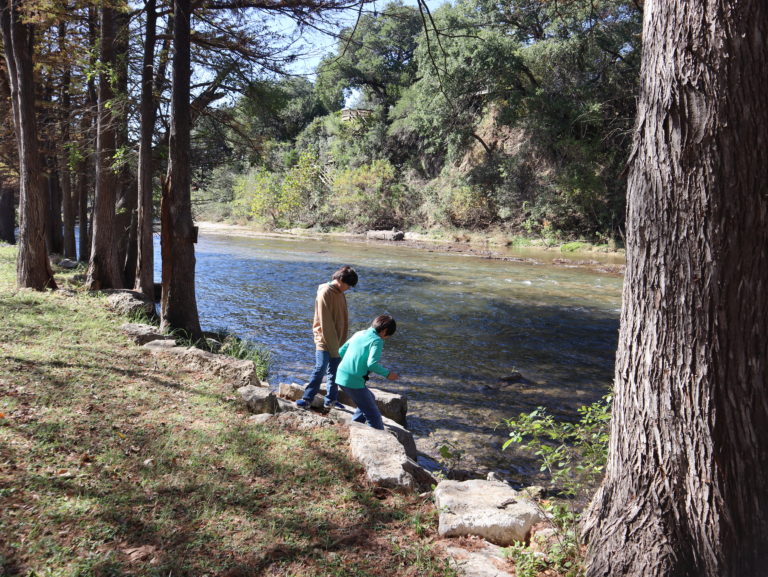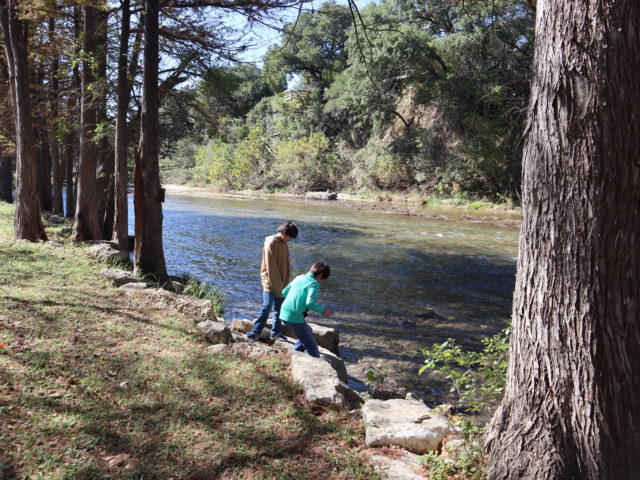 Great location for travelers coming from San Antonio and Austin
Camp Fimfo is a fun and whimsical campground and RV park with direct access to the Guadalupe River, located in New Braunfels. Located at 520 Whitewater Way, New Braunfels, TX 78132, Camp Fimfo is a very easy drive from both San Antonio and Austin, making this a convenient weekend getaway from either of these cities.
For longer stays, Camp Fimfo is about 185 miles from Houston and 245 miles from Dallas. Since check in is at 4:00 p.m. and checkout is at 11:00 a.m. you will need at least two full days to get the most out of a Camp Fimfo experience. I think this is a doable weekend trip. If you have a longer weekend, even better.
You might also like: Winemaking at New Braunfels Water2Wine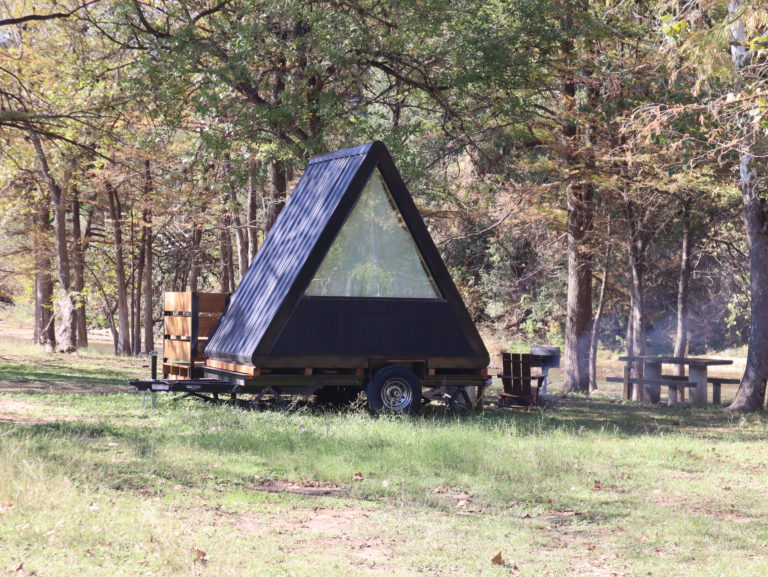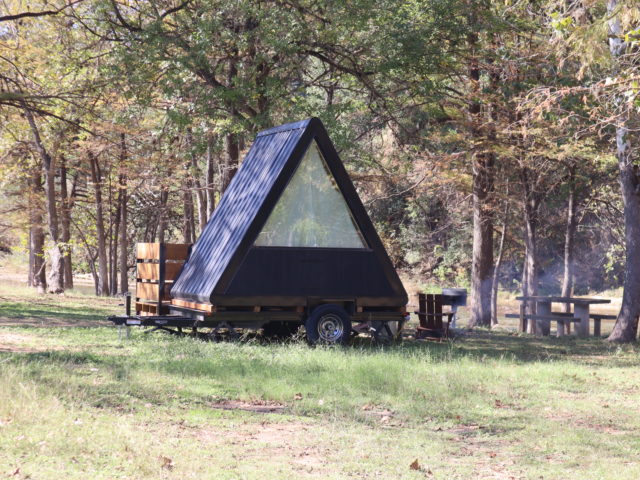 Direct access to the Guadalupe River
If you've come to New Braunfels to tube or kayak, Camp Fimfo offers direct access to the Guadalupe River. Want to wade, splash, skip rocks or fish? You can do that here, too.
Twosomes can reserve a Riverview A-Frame Cabin and enjoy incredible views and an easy walk to the Guadalupe River.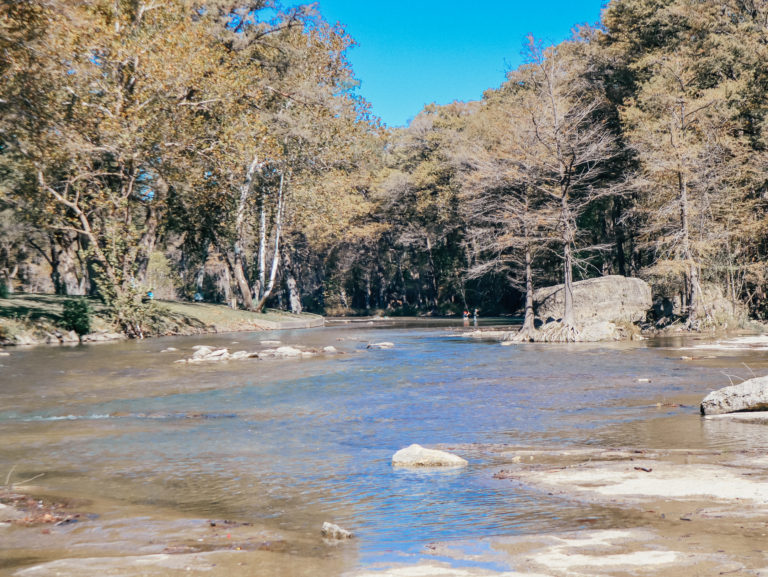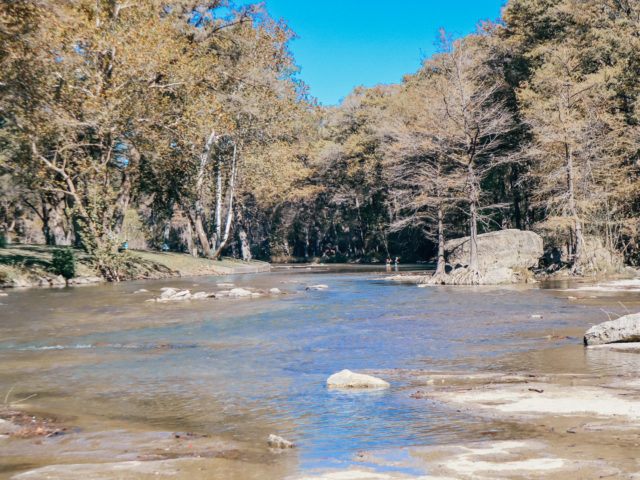 Read more: The Ultimate Cabin Camping Checklist
Lots of choices in lodging
Whether you're coming in an RV or prefer to rent a cabin, there are lots of choices for lodging at Camp Fimfo.
There are 200+ RV sites with concrete pad and full hook-ups ranging from $75-$95 per night. Prices vary based on how far away from the amenities sites are located.
If you'd rather check out cabin rentals, you've got several choices: Coyote Cabins, Bluebonnet Cabins or Riverview Cabins. My family of four stayed in a Coyote Cabin, which offers three separate bedrooms and a full kitchen.
The Bluebonnet cabins are slightly smaller and are located further away from park amenities. The Riverview Cabins are in a beautiful location – as the name suggests, you've got a view of the Guadalupe River from your tiny porch. These A frame cabins sleep two and don't have a bathroom but if you can handle having to walk a bit to use the nearby bath house, they are super cute for a couple.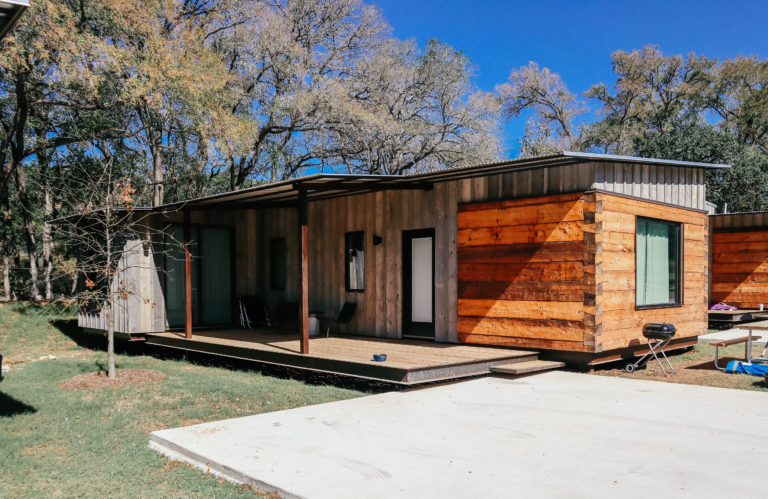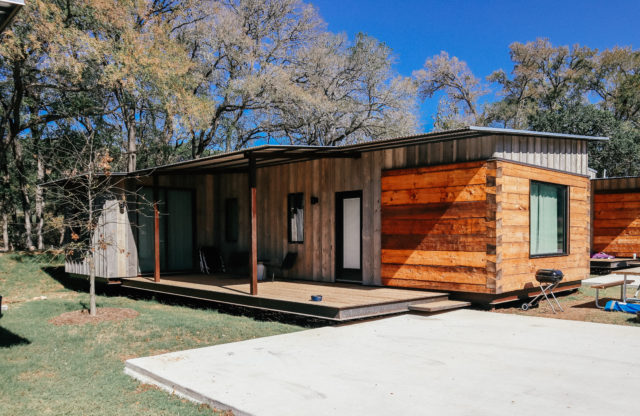 Kid-friendly activities and amenities
Most of the activities at Camp Fimfo are included in the price of your cabin or campsite rental.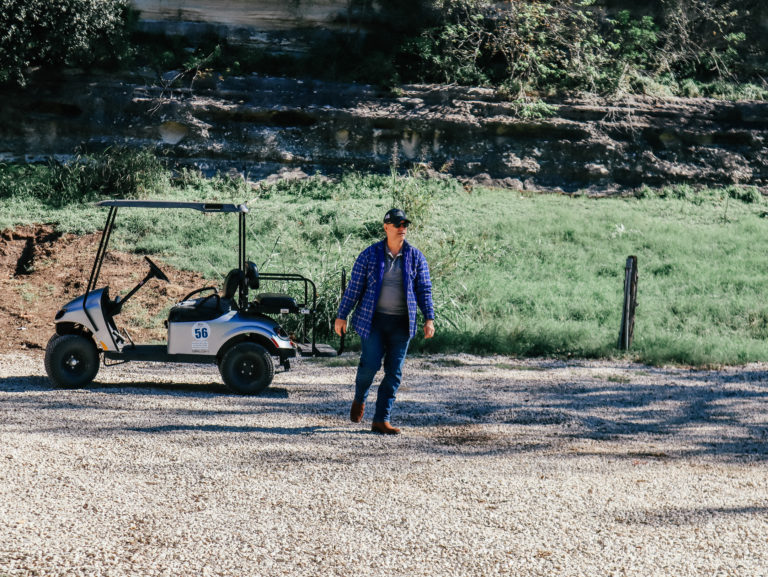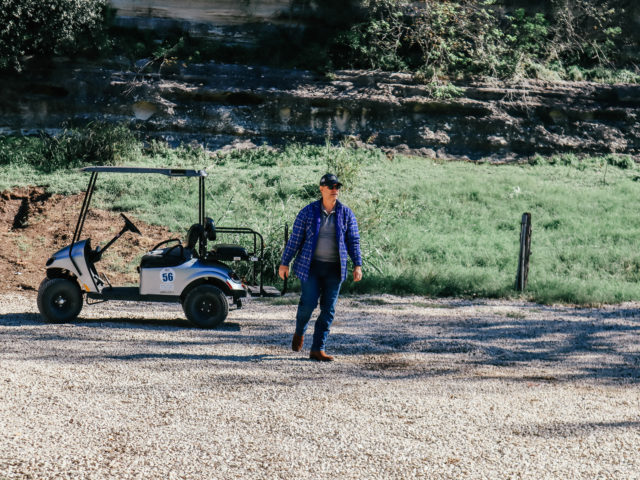 Waterpark and Pool
The heated activities pool has two large hot tubs, a volleyball net and a swim up bar. The pool is open March – November.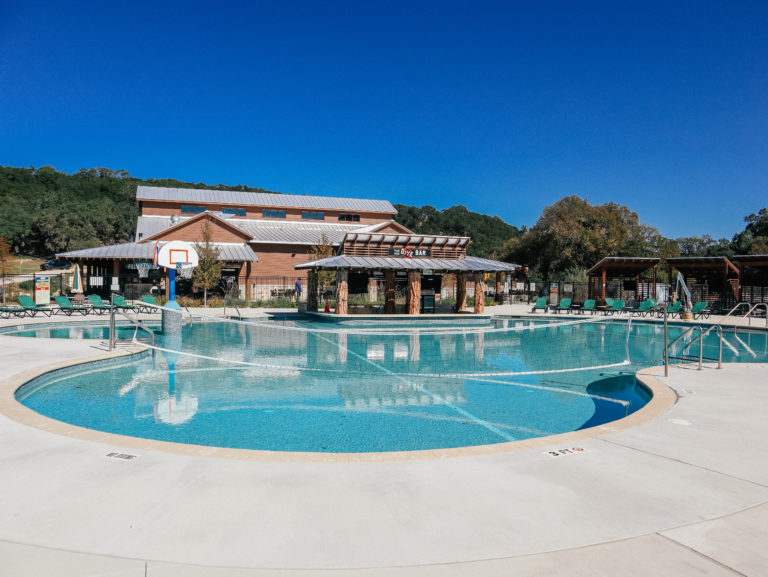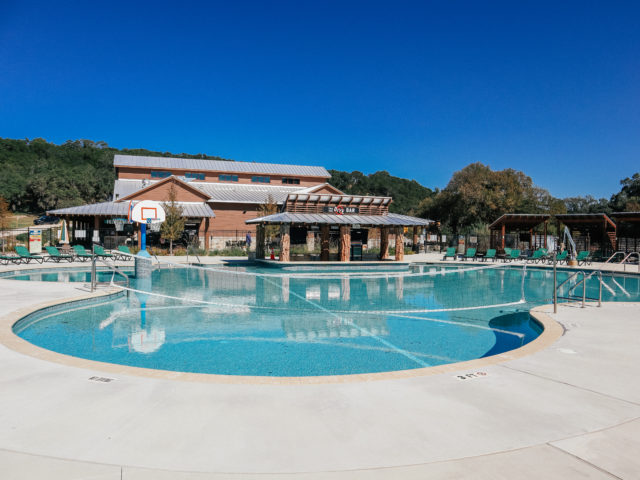 The connecting waterpark with two large water slides is open weekends during the spring and fall and daily during the summer – check the website or call in advance of your visit for exact dates.
Our kids swam in the pool during our early early November stay. Texas fall and winter weather is hit or miss but if you're comfortable getting in the water, the pool is there. Cabanas are available for an additional charge. You can book those when you make your reservation or inquire once you get there.
Golf and Games
There's an 18 hole miniature golf course on site as well as a lawn where guests can play various games that are set out. If you're traveling with kids, this is a great gathering spot to meet other families.
You'll get an activity schedule when you check in so you can see what other activities are available during your stay. We had options such as organized games and a scavenger hunt, and a movie under the stars.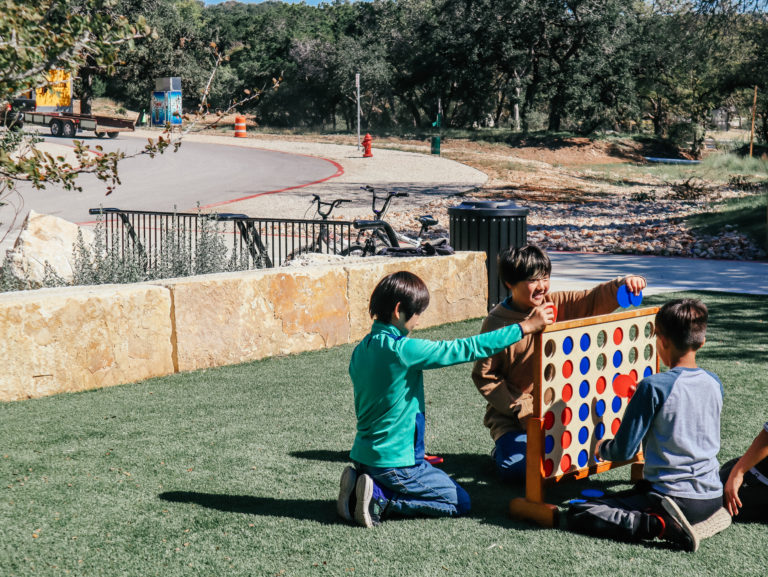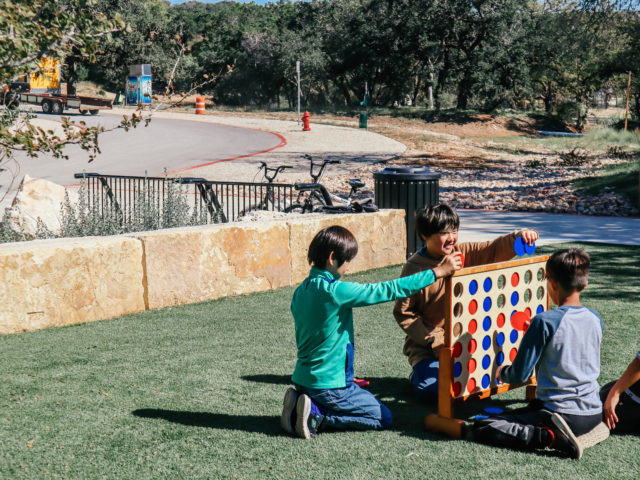 Dining and Shopping
There's a small walk-up window where you can order food (simple fare like burgers, pizza and a few appetizers) and a really cute, family friendly tavern, Squirrely's. The tavern has retro board games available on the table and when the weather is nice, they open up the garage door style windows and guests can enjoy the sunshine while they sip and play Yahtzee or Battleship.
There's a general store that sells sundries, souvenirs, and a few grocery items, to include beer and wine. There's also a small section for camping/RV supplies.
If you want brewed coffee, there's a small coffee trailer, Bandit's, that is open daily from 7:00 am to 10:00 am.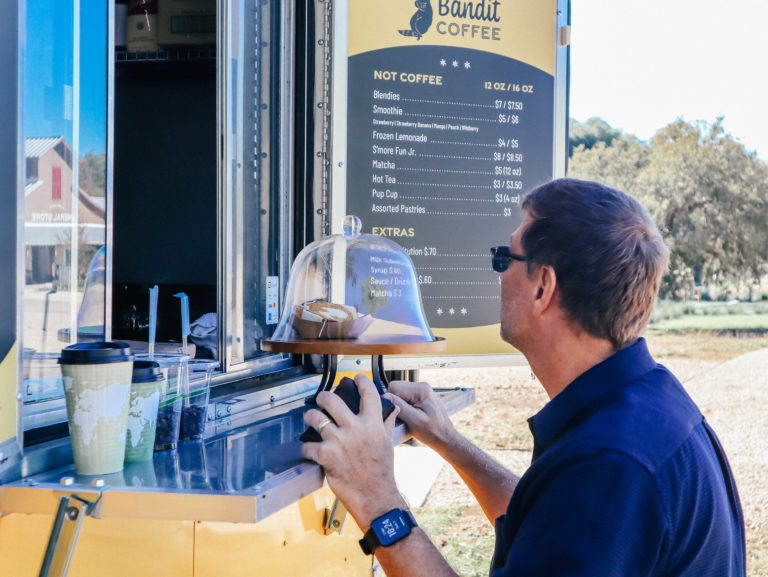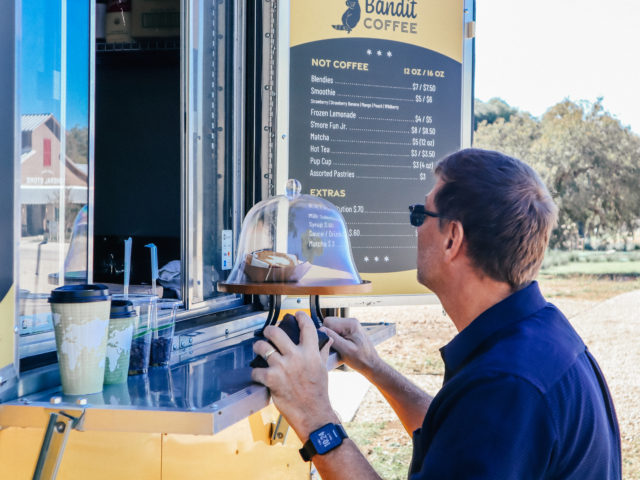 A work in progress
Camp Fimfo is very recently opened and early guests can see the expansion going on. Don't worry, that doesn't detract at all from the visitor experience but you can definitely see that there's bigger things coming. I can't wait to go back – we've done a lot of glamping spots in Texas and this is one of our new favorites.
More about Camp Fimfo|Coyote Cabin – Coming Soon
Glamping in New Braunfels|Traveling Mom