Don't forget the bug spray! The Ultimate Cabin Camping Checklist
(This post may contain affiliate links. Read my full disclosure.)
I love spending time in the great outdoors. I can spend all day discovering new trails or floating in the river and capping things with roasting a marshmallow over a campfire. BUT. When it's time to go to bed, I love the great indoors. My love of outdoor life doesn't extend to sleeping on the ground or even in a tent. Sorry not sorry. We've done several rounds of cabin camping over the past few years and I've perfected my cabin camping packing. Like most things I manage to get right, I'm good at cabin camping packing because I've gotten it wrong a few times. I'm excited to share my ultimate cabin camping checklist with you and I hope you find it helpful the next time you pack up and head out.
Disclaimer: We are a participant in the Amazon Services LLC Associates Program, an affiliate advertising program designed to provide a means for us to earn fees by linking to Amazon.com and affiliated sites. This post may also contain affiliate links to other sites where I will be paid a commission by the seller if you make a purchase.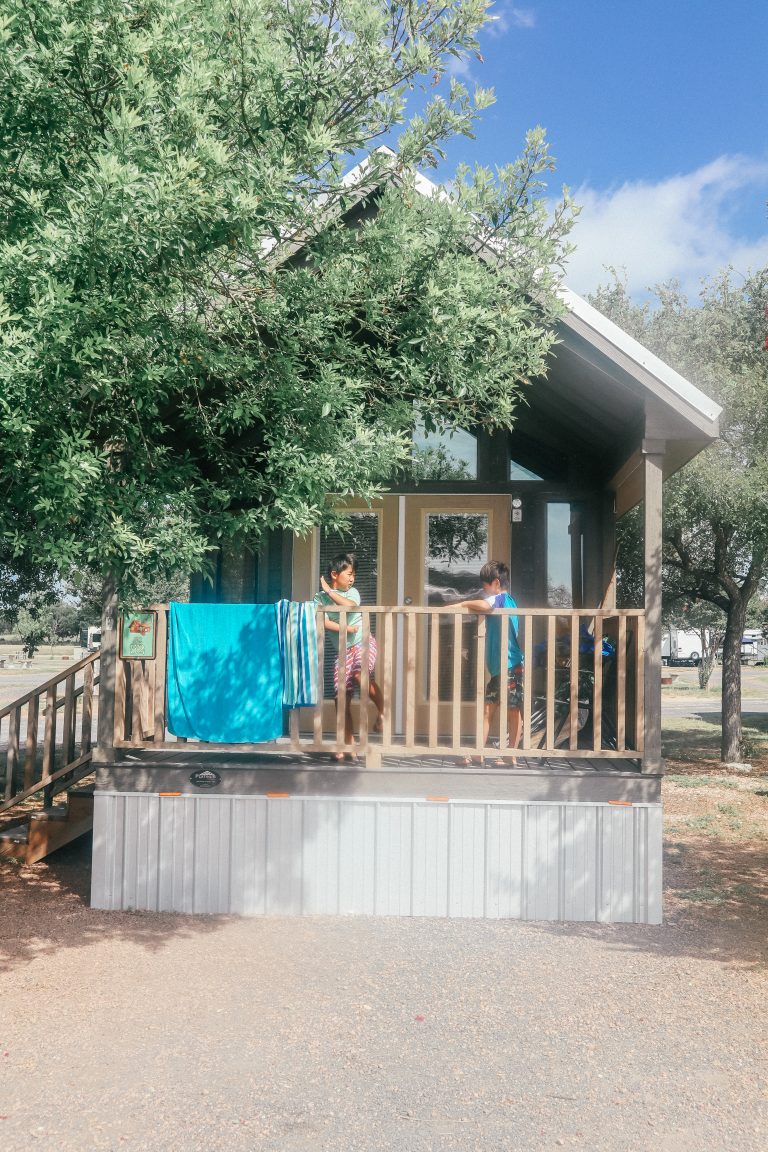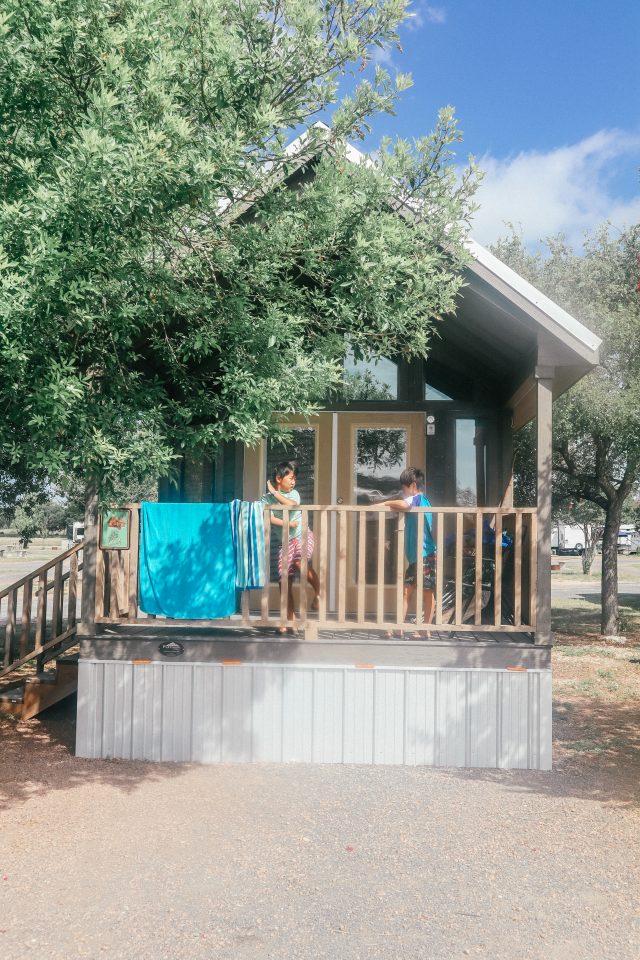 How to use this cabin camping checklist for cabin camping packing:
This is the cabin camping checklist my family uses when we're going glamping. We've road tested it several times (after a handful of trips where we found ourselves saying "Why didn't we bring XYZ?"
First, click on the link below. You can download a copy to your computer or just print it out. Cross off/line through anything you know you won't need to take. There's no one size fits all when it comes to packing and what you do and don't need will vary by location.
Ripped Jeans Bifocals- Cabin Camping Packing List
Next, write in anything you need that isn't included on my cabin camping checklist. As you stage what you're going to pack – I usually pile what we're taking in a designated area of my house or garage until we're ready to pack it or load it into the car – you can check things off. My husband and I usually run down the list together just before we leave because there's usually something we've skipped over as we're getting ready.
We are definitely not perfect and it's rare that we don't forget something but we've found this list works for us and we're always pretty satisfied with how we've prepared for a trip.
Related reading: Cabin camping at Yogi Bear's Jellystone Park Guadalupe River
Cabin camping packing advice – Read the fine print…
…and do your homework. Check the website of whoever you're renting your cabin from. There should be some type of detail of what's included in the cabin or what they recommend you bring. I also like to read reviews on blogs or sites like Trip Advisor and Yelp to see what people who've stayed recently have to say. By the way, if you're looking at reviews, look at reviews that are less than a year old. A 2015 review of a cabin or campground that you plan to stay in probably doesn't give you an accurate read on what it will be like to stay there in 2020.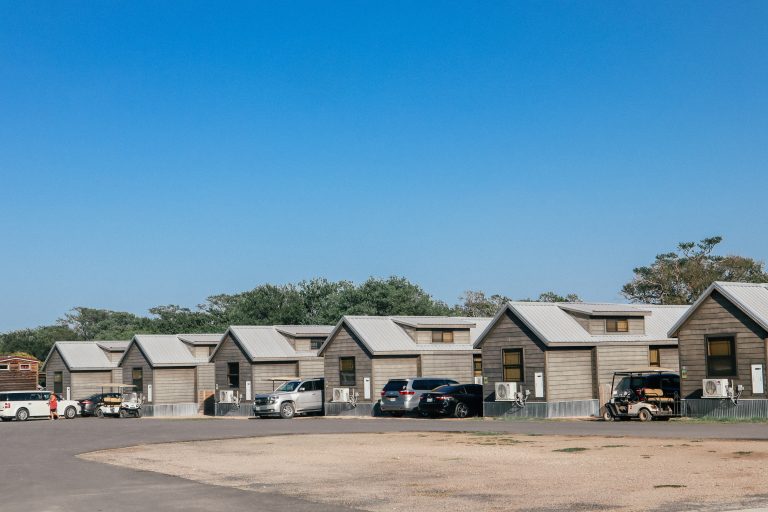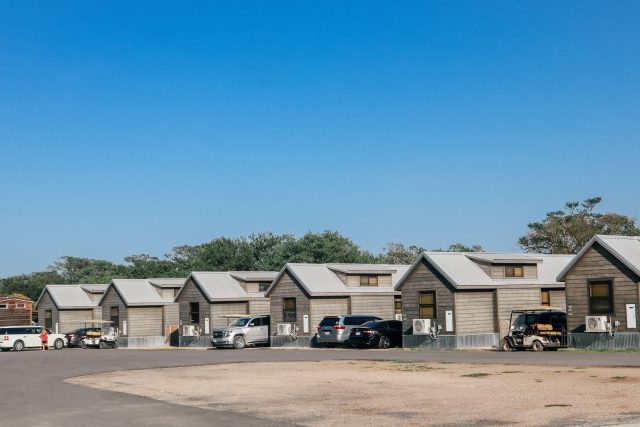 This cabin camping checklist is designed to cover your essentials that don't come with the cabin but everyone's packing needs/comfort levels are different. I also recommend checking out the availability of laundry facilities. You can pack a lot less if you know you can easily wash your clothes on a trip. I know, I know. I don't like doing laundry at any time, especially when I'm on vacation but if it's relatively easy to do a load of clothes at your campground, you can really minimize how much you need to take with you.
You might also like: Camp Fimfo in New Braunfels TX
Disclosure: I'm a minimalist
More disclosure: I really, really hate the term minimalist but I am pretty spare with what I pack when I go somewhere. That comes from lots and lots of travel and lots and lots of time spent packing and unpacking but I am not a "There's a 32-percent chance we might need XYZ so I'd better pack it" kind of traveler. I do my homework and I take what I think I'll need based on my homework. I check out the nearest store in case I forget something or if someone gets sick and if we're in a more remote location, I might pack some extras, but I've traveled and packed enough that I usually get it right. If you don't travel often or if you're a less experienced traveler, you might not be comfortable with this minimal approach.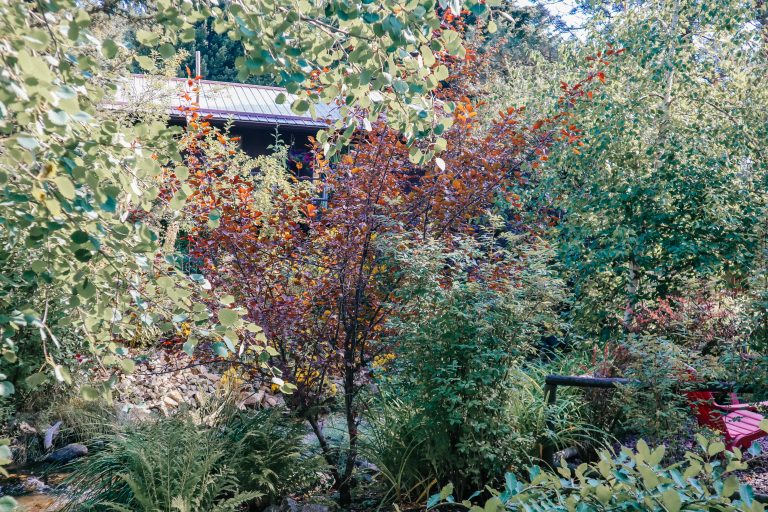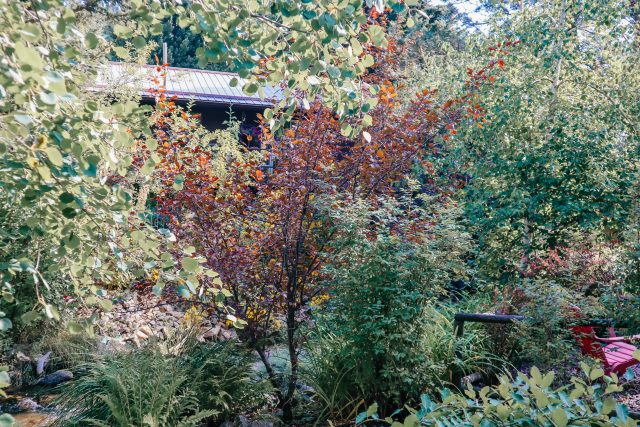 Cabin Camping Checklist Basic Essentials
Canopy
We have three portable canopies, in various sizes. We take this one to the beach and we take either this one or this one when we go camping. These fold up into compact cases and they're pretty easy to pack. If you're camping in the summer, these are pretty handy. You can set one of these up outside your cabin or at a nearby lake or river and protect yourself from the sun's rays.
Wagon
Depending on how far you have to walk to load into your cabin or to get to the pool, lake or river, these wagons can come in really handy. We have several of these and we love them. They fold up flat and they're easy to pack in your car. I've also seen a lot of folks at campgrounds with these metal gorilla carts. If you have a truck or a larger vehicle and don't need to conserve space like we do, this seems a more durable option.
Folding Chairs
This is another thing that's pretty easy to pack. If your cabin comes with chairs you can sit outside in, you might not need them, but I love these chairs because they've got the drink holder in the armrest.
Beach Towels
If you're going to swim while you're camping, you'll need beach towels. By the way, going cheap on beach towels is a bad idea. The more expensive ones are more absorbent. This is also a good time to check if your cabin comes with towels and linens. We've cabin camped at Thousand Trails and Jellystone. Thousand Trails includes linens and Jellystone offers them for an additional fee.
Tools
We usually pack a utility shovel, a rake, and a utility tool like a Leatherman. Most cabins have established fire pits so you may not need these tools but they're handy to have. This probably falls in the "just in case" category but the tool packing is in my husband's domain and we pack them.
Related reading: Cabin Camping in Texas – Two Great Options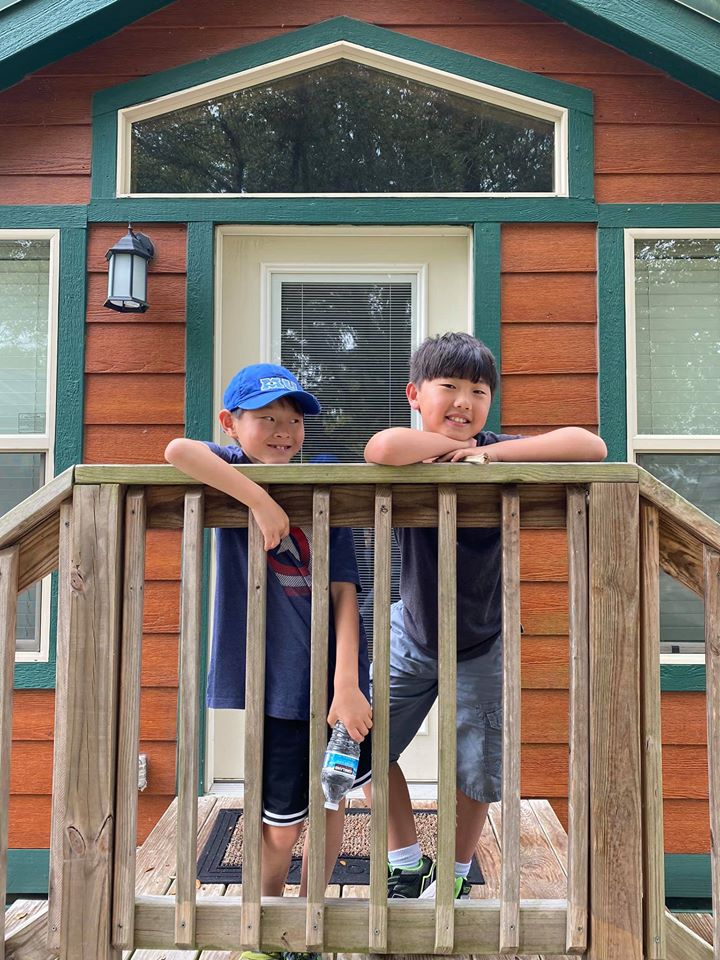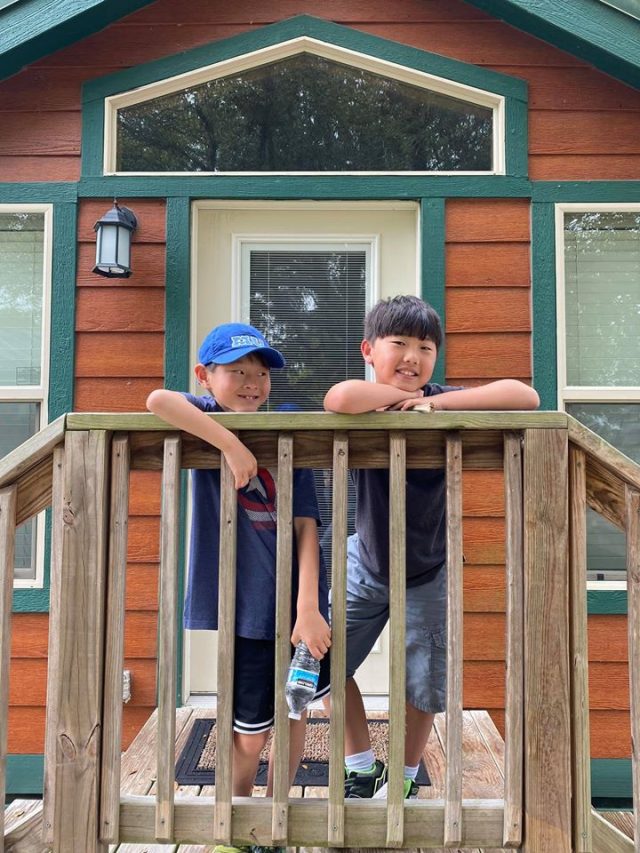 Portable grill, charcoal, firewood
You'll need to check out the fire situation before you pack these things and also check out any restrictions on bringing firewood in to a campsite. Some cabins will offer gas grills, some will offer charcoal grills and some will not have a grill. These little single-use disposable grills are pretty handy dandy. And, the matches, lighter, newspaper and fire starters seem like basic things to remember but we've forgotten them more times than I care to admit.
Sports and Entertainment Equipment
You'll obviously tailor this to what your family likes to do. We really love this portable cornhole board and washers game. They are great "go entertain yourself" tools for your kids when they tell you they're bored. Sigh.
Packing Groceries and Camp Food
How much food we pack (versus buy at a grocery store near the campground) depends on how long we're going to be driving to get where we're going. What works well for me is to plan our complete menu in advance and to bring whatever non-perishables we've got on hand, i.e. canned goods or boxed macaroni and cheese. If we can easily and cheaply buy groceries near the campsite, we do. If not, we'll take everything in a cooler. It really depends on what we've got on hand at home.
If we're taking a longer trip, we'll freeze milk and take frozen juice concentrate…they'll thaw on the way and keep the rest of your food cool. My food packing goals are to pack (or have a plan to buy) what we're going to eat when we're camping and not bring any food home.
Some of our favorite camp meals and burgers and dogs, Frito pie (corn chips with chili and cheese) and breakfast tacos. We try to keep things simple and even pre-cook some of our food (i.e. brown hamburger and slice onions) if we think it will make things easier at camp.
Related reading: How to rent an RV
Cookware and Bar Equipment
A little homework should tell you what kind of kitchen equipment your cabin will contain – most cabin rentals will come with at least basic cookware and dishes. Even if a kitchen is listed as fully equipped, I've found most cabins to be fairly spartan when it comes to pans and dishes. We always travel with a little kitchen box. We pack a good non-stick skillet and spatula – every cabin we've ever rented has come with stainless steel pans. I also recommend including a can opener, a bottle opener, a good knife and a small cutting board. We really love these small, flexible cutting boards. This is just like the set we have at home but they're super-thin and easy to pack:
We've had our set forever and they're very durable.
If you've got small children or plan on outdoor meals, pack plastic cups and plates or disposable. This plastic dinnerware set is great for kids (or adults, too) at home or outdoors:
Our little kitchen box doesn't take up much room and if we don't need it, it's easy to leave in your car.
When planning out your menu, think of the equipment you absolutely have to have to make your food and consider packing what you need.
Plastic storage bags or containers for leftovers, plastic ice cubes, cold packs and a small, lunch sized cooler or Igloo Playmate style cooler – this Pizza Planet one is adorable – are must-haves for us.
Things you might not think of packing but are a big deal if you don't have are foil, paper towels, trash bags and dish washing liquid. These are all things that are relatively small and easy to add to your pile.
Toiletries and Medications
What you need on a daily basis and what type of medications you need to be comfortable away from home is a pretty personal thing. What I've listed on this cabin camping checklist are the things I bring when my family goes glamping. I have a large clear plastic cosmetic case I carry when we go on road trips. It holds basic toiletries and any medications we might need. We keep a small first aid kit in our car that we can put into use if we need it. I also carry bandages, Neosporin, cold medicine, pain reliever and stomach medicine, just in case. While I typically don't pack a whole pharmacy, I do try to bring a enough to handle minor injuries or any illness that might pop up, knowing that a trip to the store might become necessary if someone really gets sick.
I don't typically put on makeup or do much with my hair when I'm camping – even in a cabin – but I do like to pack leave-in conditioner, and salt spray. The combination of those two things makes a pretty good "I don't want to do anything with my hair but I still want it to look kind of good" look. I put the micellar water on my list because it's something I use wherever I am…you may not want it, but I wanted to explain why it was on my list. It's a really gentle cleanser that cleans my skin without drying it. It also cleans my eyelash extensions and it's the beauty item I always have with me.
Clothing
If we're going to be somewhere we can do laundry easily and if our trip is longer than three days, I will usually plan to do laundry, just to save the amount of clothes we need to pack. I always grab a supply of quarters before we leave (although I've seen camp laundry rooms with really fancy washers and dryers that take credit cards) and put a little bit of laundry detergent in a small plastic bag. If you use liquid laundry detergent, put it in a small jar (those little jars minced garlic comes in are perfect) or any small container you can seal. You can also get single-use packages of laundry detergent in the trial and travel size aisle at Walmart or CVS, although those are a little more expensive.
Hiking Equipment
The hiking equipment I've got listed on our cabin camping checklist is pretty basic and suited to the type of hiking I usually do with my family, which is pretty moderate. I do love these adjustable trekking poles I can put in my backpack and pull out if I need them to navigate steeper grades or rocks. I also like this soft backpack cooler, especially when we're going hiking in the warmer months. We can keep our water cool and it holds other small essentials as well.
One of the things that we always do when we're hiking is to use my phone to take a picture of the trail map that's posted at the trail entrance – most of the time there is something posted. If there's a visitor's center that provides paper maps we'll grab one of those, too, but it's nice to have something in my pocket that doesn't rely on internet connection.
Camera and Electronic Equipment
As a travel writer, I probably pack more gear than the average person but even as much as we're packing up and on the go, it seems like I always forget something camera or electronic related so I've laid it out on our packing list. Cables to charge my kids' tablets, headphones (super important if your drive time is more than an hour) and extra SD cards. I take a lot of pictures and video when we go camping or hiking so I need to make sure I've got enough memory to store all my photos and videos and extra batteries for my cameras.
We don't always pack our computers and we'll usually try not to, but sometimes our trips fall in the middle of the school year where my kids need their computers to complete homework or to stay caught up with their classes. I use my laptop for photo editing and to write blog posts, and while I usually do those things back at home base, I'll pack everything up for longer trips. I like to have the list handy when we're packing to go somewhere. This is the list my family actually uses when we go somewhere. I've included everything I'm liable to forget.
I hope this cabin camping checklist helps you out as you're getting ready for your next outdoor (but sleeping indoors!) adventure. Have fun!