Winemaking at Water 2 Wine New Braunfels Texas
(This post may contain affiliate links. Read my full disclosure.)
Have you always wanted to make your own wine? In New Braunfels Texas, you can! We're sharing our experience about winemaking at Water 2 Wine New Braunfels Texas.
Winemaking at Water 2 Wine New Braunfels Texas
My husband and I have been fans of Water 2 Wine in downtown New Braunfels for a few years now. We live outside of San Antonio and with the fun (not) South Texas traffic, it's easier to go into New Braunfels than it is to San Antonio for dining, shopping, and other entertainment. San Antonio is great but we love that small town feel we get in New Braunfels.
Water 2 Wine is a boutique winery on Seguin Avenue. They do not grow their own grapes but most of their wine is made on site. They also have a small food menu and a really fun atmosphere. Whether you're interested in winemaking or not, definitely put this on your list of places to stop next time you're in New Braunfels, which is a great day trip location from San Antonio or Austin.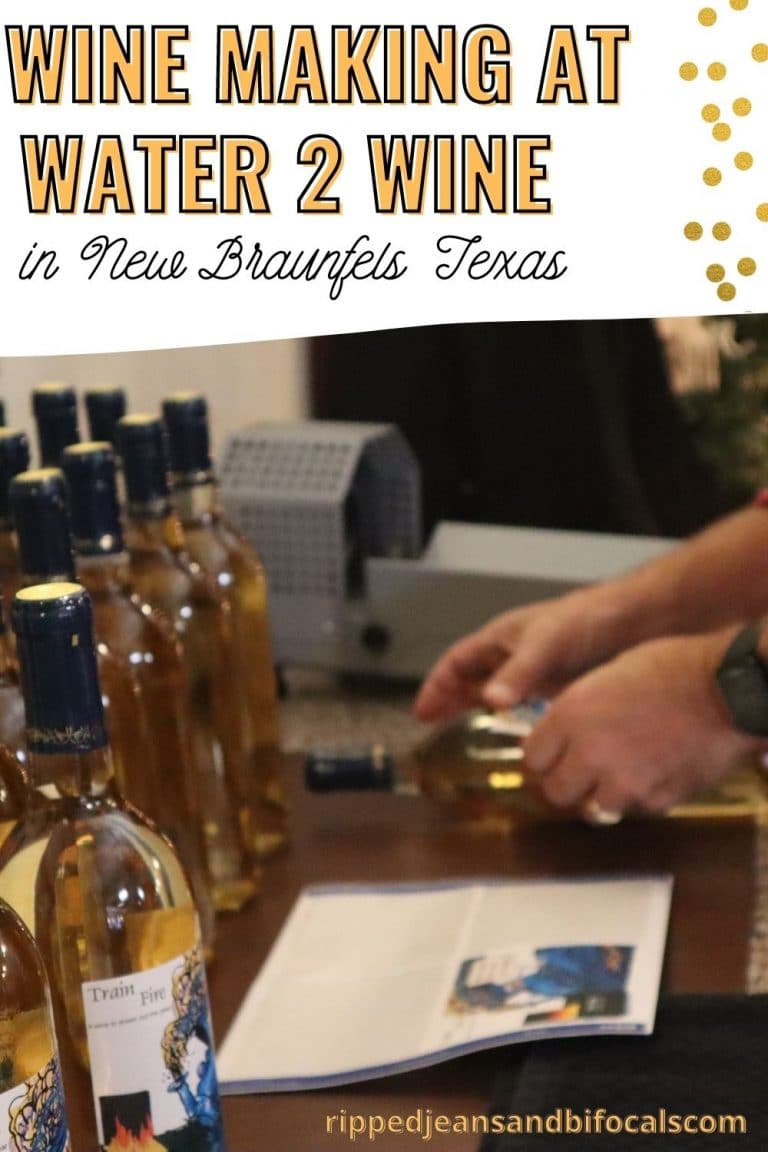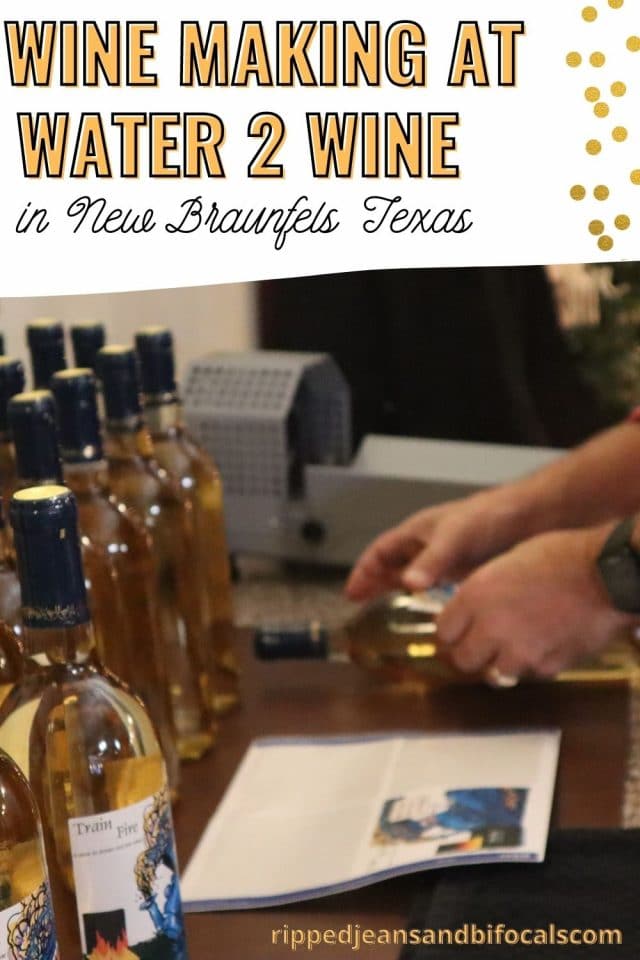 If ever there was a year to make your own wine…
…2020 was that year. Every time we go to Water 2 Wine, my husband and I have looked at and talked about the winemaking option. For one reason or another, we've always decided not to do it. Until 2020.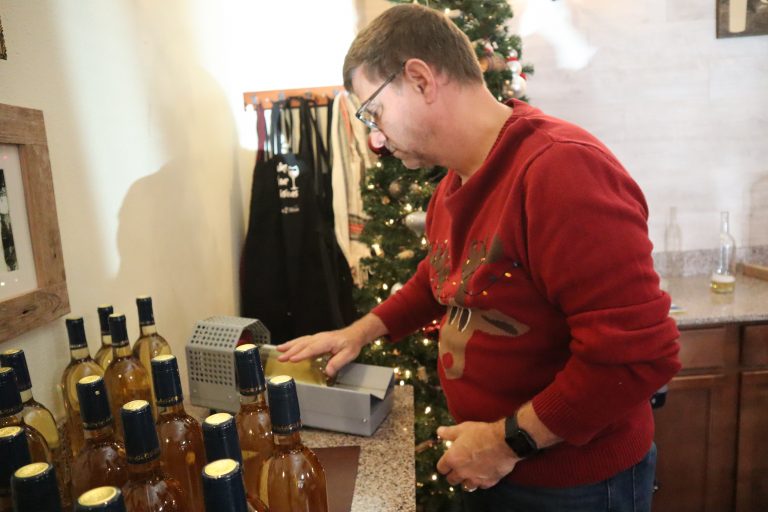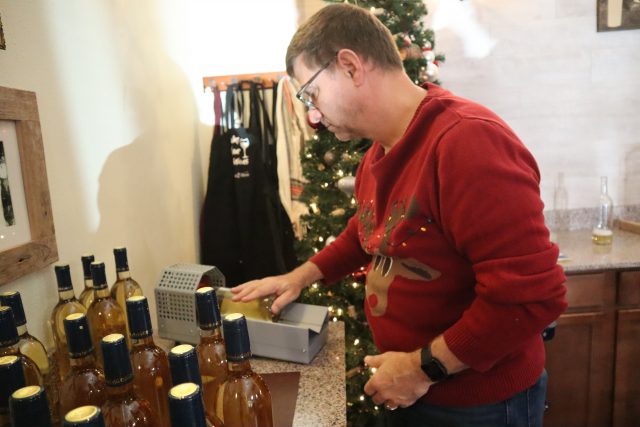 2020 was such a…um, memorable…year, we decided it deserved its own private label wine. We decided to take the leap in mid-October and brought our wine home just before Christmas.
Why would you make your own wine?
Yes, you can buy wine at the grocery store so why would you want to spend time, money and effort bottling your own stuff?
Short answer: Because its fun. And because wine.
Your batch of wine will yield 24-28 bottles. These are great wedding favors, Christmas gifts or gifts/favors/prizes to commemorate any other type of life event.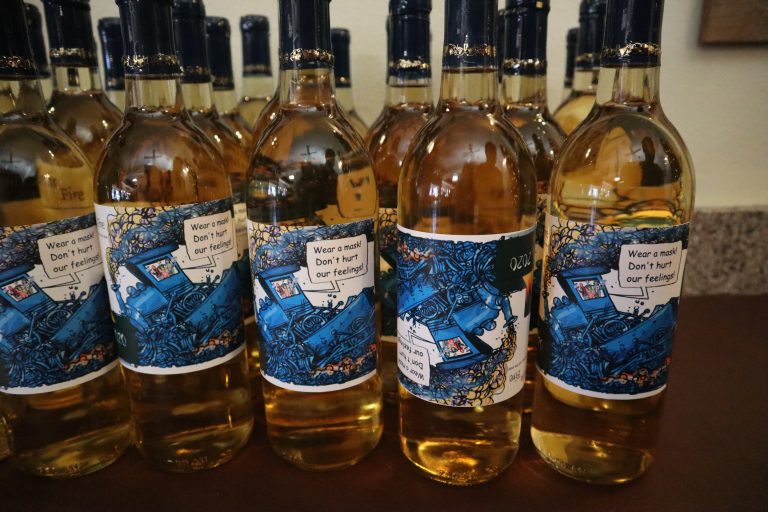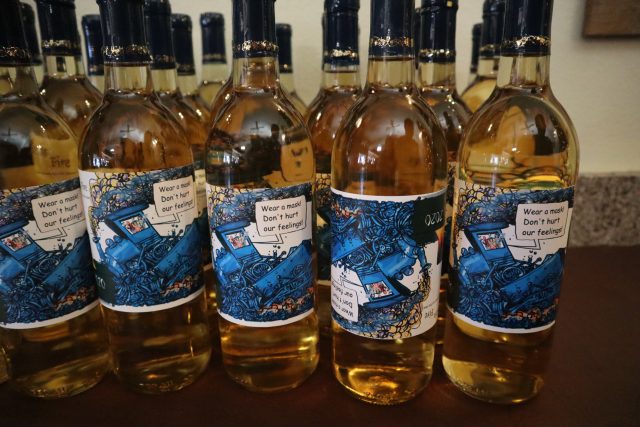 This can also be a fun team-building event for small groups or just something fun to do with your core groups of friends or favorite people. This would be really fun to do with another wine-loving couple.
We did our batch "just because" and although we've given some away as gifts, we did it just for the fun of the experience and to commemorate making it through a very hard year with our family, health and sanity (questionable) intact. That said, I can see us doing it again and I already have a working title for our 2021 vintage, although we'll have to see how the year plays out.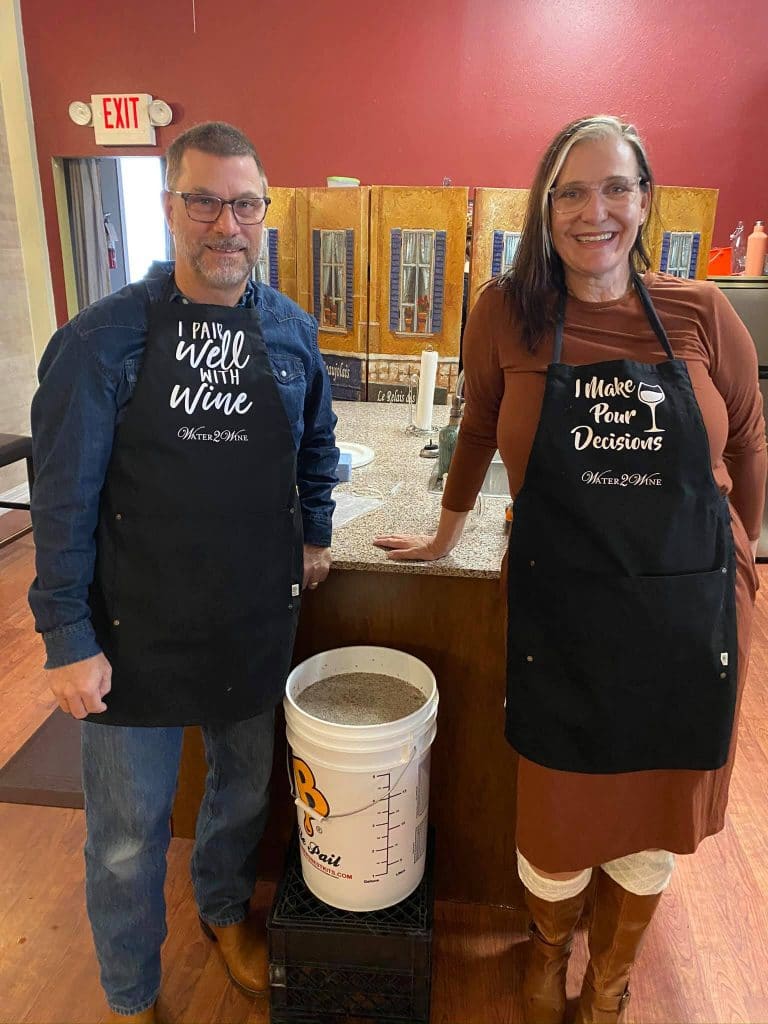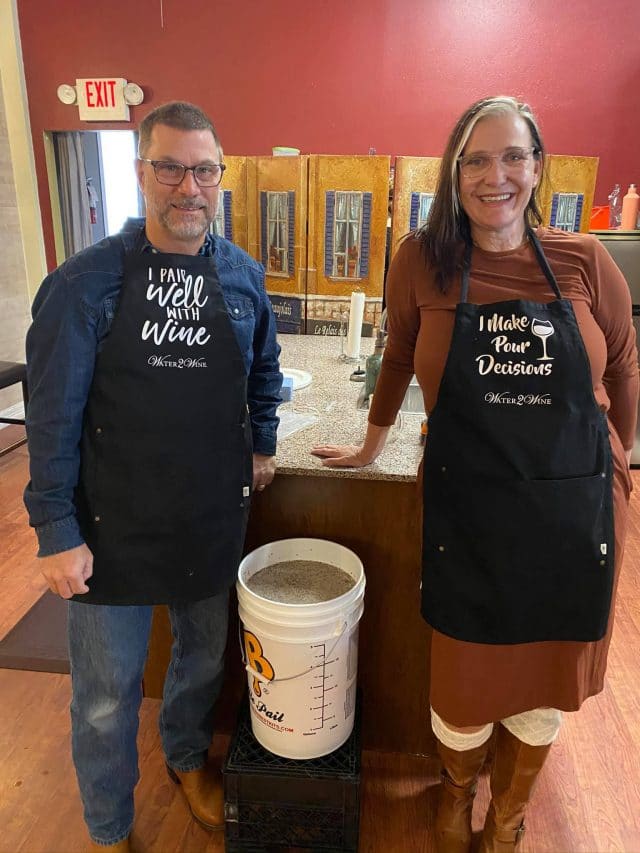 Winemaking at Water 2 Wine New Braunfels – Start to Finish
You'll want to allow at least two months between the time you make your wine and then time you need to have it ready. If you're bottling wine for a wedding or other big event, I recommend starting three months in advance, just to make sure.
Step 1:
Your first step will be to decide what kind of wine you want to make. Water 2 Wine has a large selection at various price points and you can taste different wines to see what suits your taste. After you've decided on a wine, you'll mix your wine under the guidance of one of the wine experts at Water 2 Wine.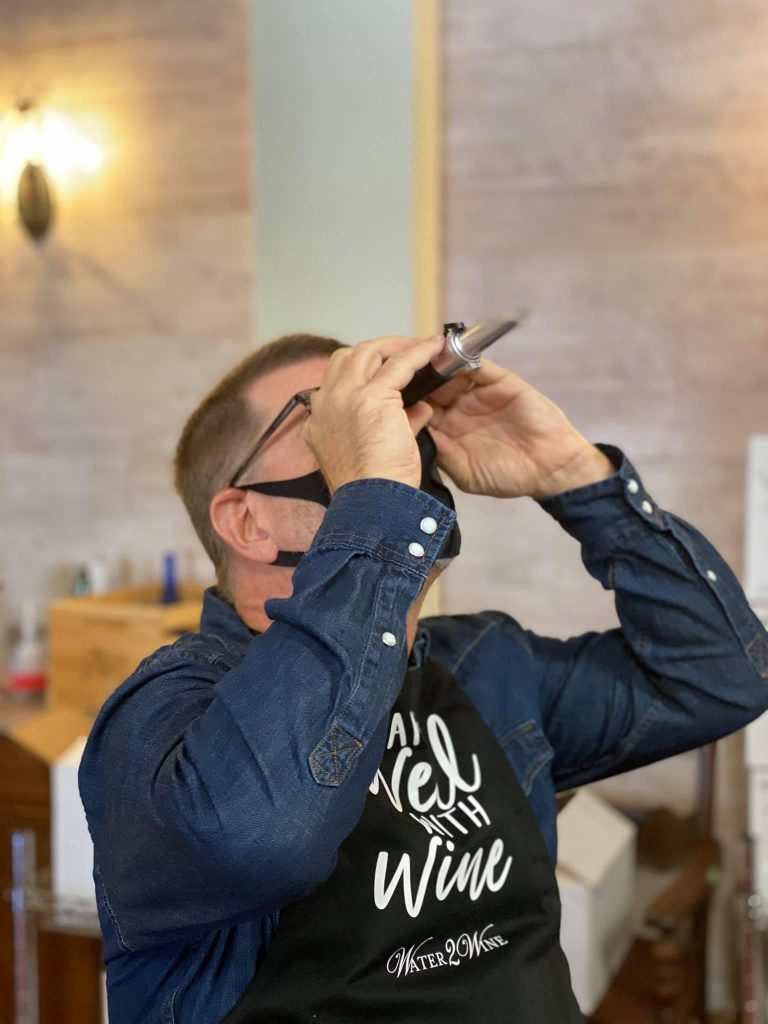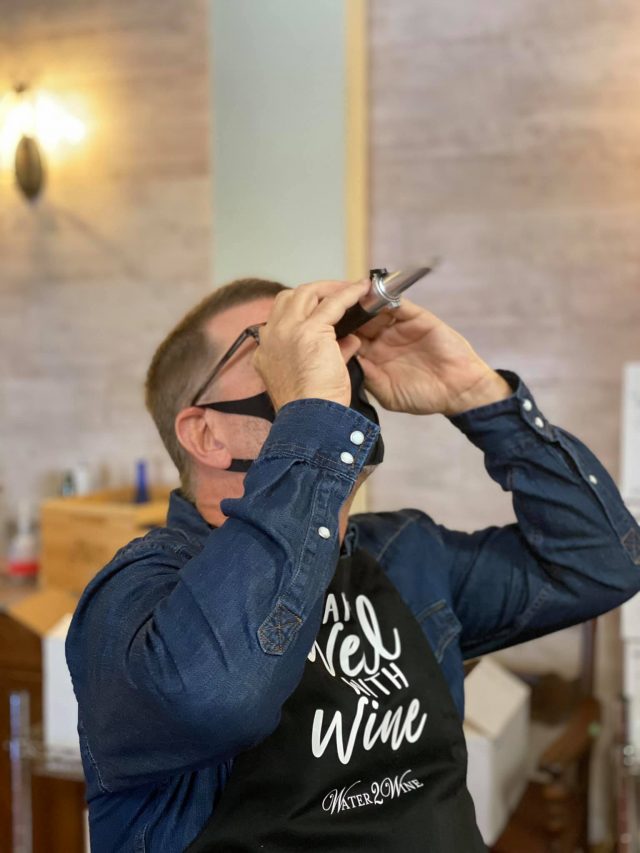 There's a lot of science behind wine making. This part of the process takes about half an hour. Your barrel of wine will be in the care of Water 2 Wine while it ferments and you'll coordinate a date for corking and bottling.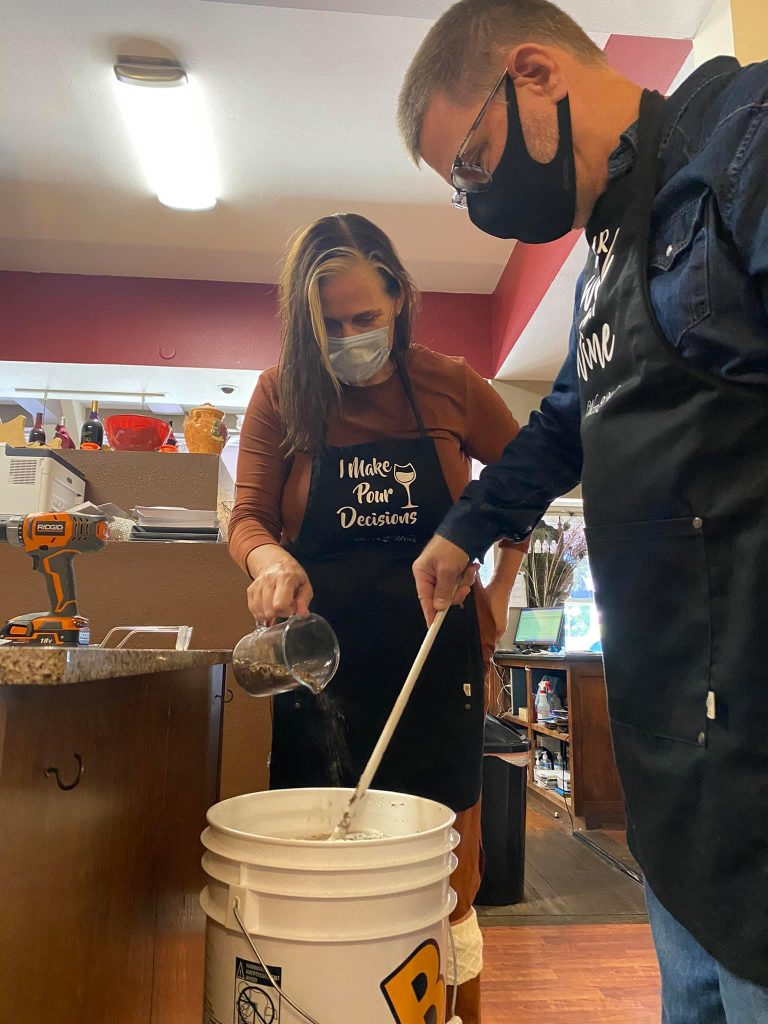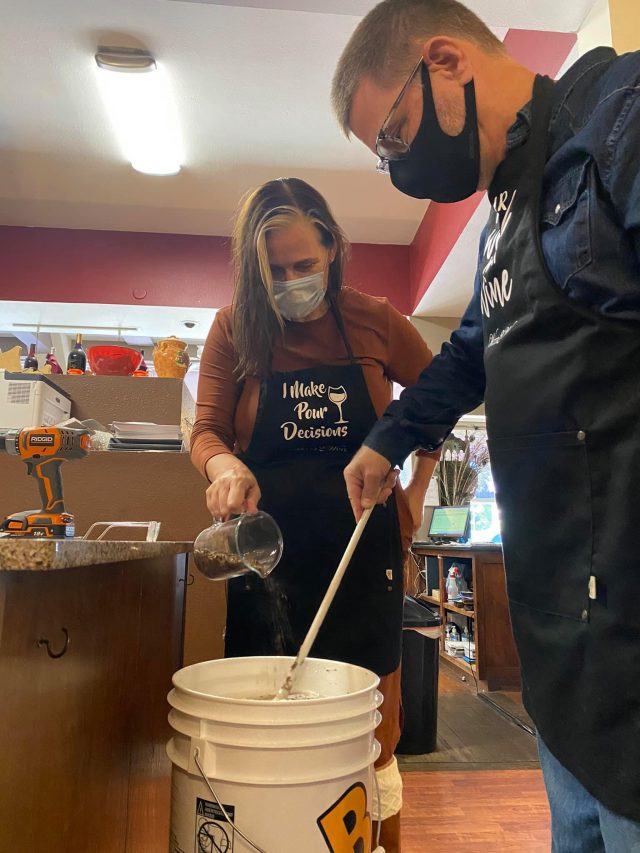 Step 2:
Design your label. We designed our label using basic photoshop and clip art. Our nod to the interesting year that was 2020 was to name our wine "Train Fire" as in a combo of dumpster fire + train wreck. Water 2 Wine printed all of our labels for us, which I thought was a nice touch since ours used a lot of printer ink.
If you need inspiration, they've got books of labels you can look at.
Do-over alert: Put your name somewhere on your label. I wish we'd have added "Made with love by Lee & Jill" and we didn't think of that until we'd already done our bottling.
Step 3:
Cork and bottle. The time between mixing our wine and corking was a little over six weeks. I went into the corking a little bit nervous. I am not very tactile and it seemed like a lot of stuff that could go wrong. This was actually my favorite part.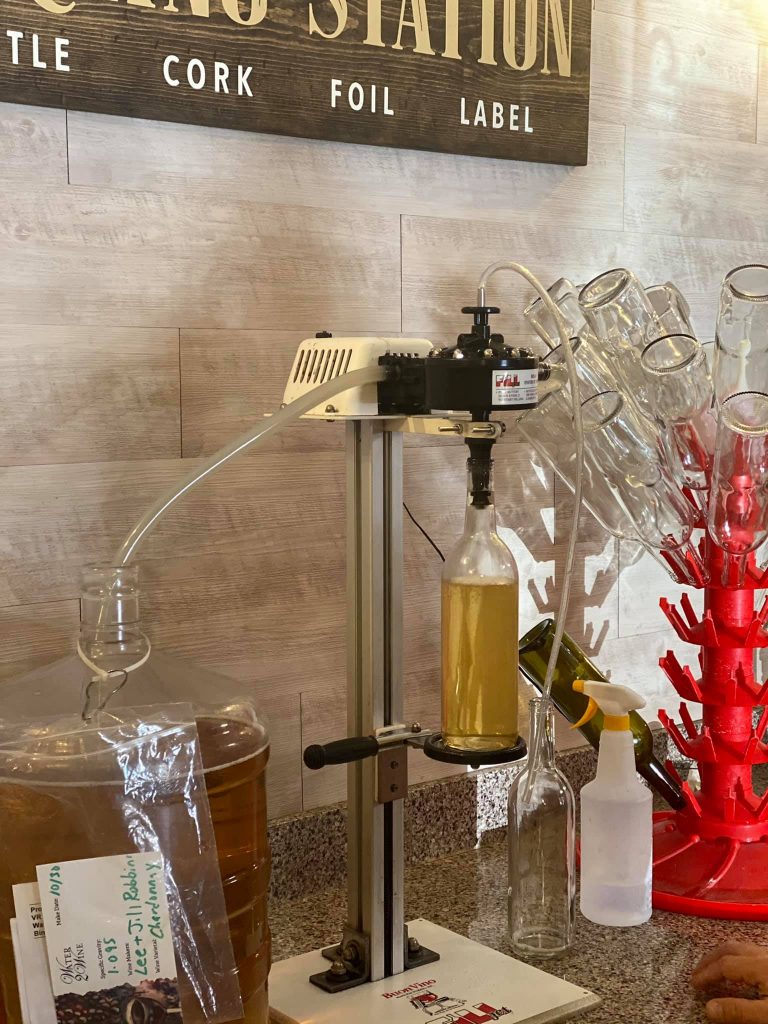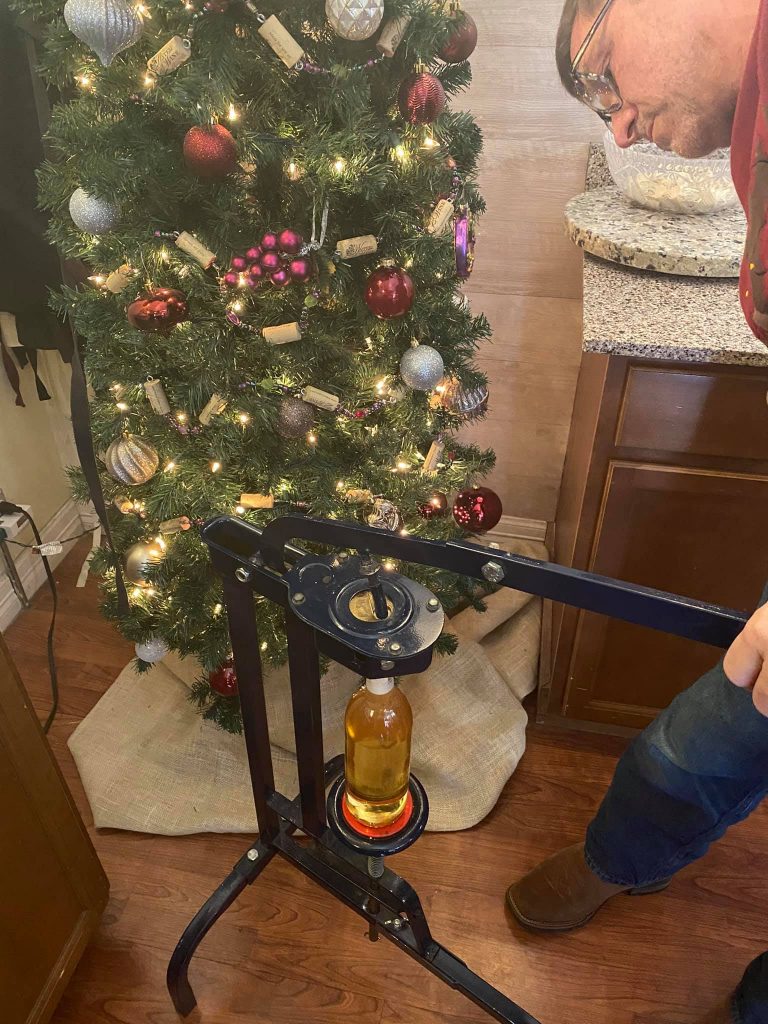 Well…drinking the wine was actually my favorite part so I guess the bottling and corking was my second favorite part. My husband and I did this as a twosome, with a couple of glasses of wine and some munchies, and it took us about an hour. You are welcome to bring more people to this part of your winemaking experience. Water 2 Wine New Braunfels recommends no more than eight.
I guess if there was a step 4, it would be to drink your wine but that's kind of implied, right? We let our wine rest for a few weeks and enjoyed a glass to celebrate the New Year.
Want to make your own wine? Get started here.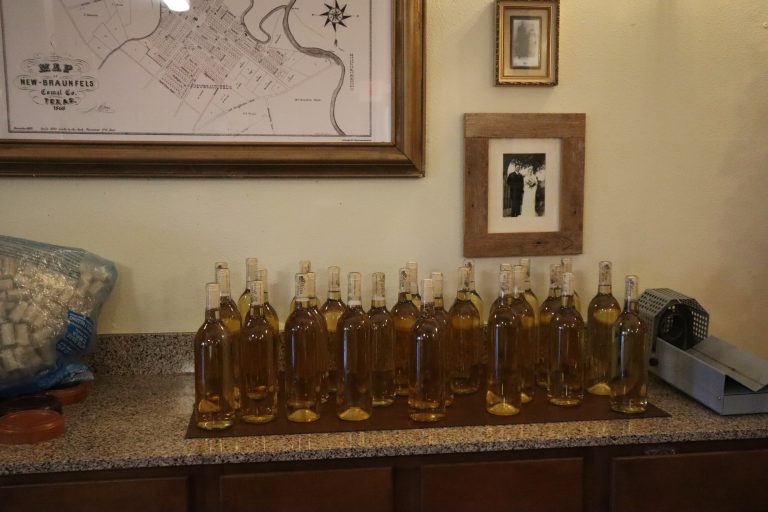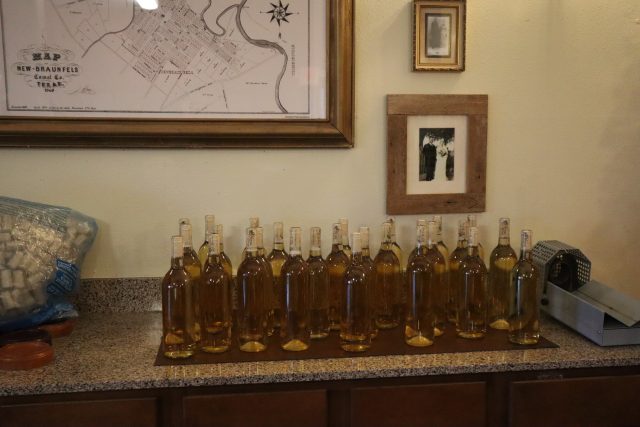 Other things to know
The cost of the wine is based on the type of wine you make. Ours cost about $300 and our batch yielded 26 bottles, which is an entirely reasonable amount when you price it per bottle.
Water 2 Wine is open for regular wine tasting and wine drinking. It's located in the heart of New Braunfels on Seguin Avenue, across from the Faust Hotel. There are lots of shops and restaurants in the area, although Water 2 Wine also has light food items available.
They also sell custom wine labels which gives you that fun custom look and personalization without going through the winemaking process.
They're open Tuesday through Saturday. Call or check their website for hours. Curbside pickup is also available.