Things to do in New Braunfels Texas
(This post may contain affiliate links. Read my full disclosure.)
New Braunfels is a charming town with lots of German heritage and more. Located in the Texas Hill Country between San Antonio and Austin, there are lots of things to do in New Braunfels Texas.
This post has been sponsored by Play In New Braunfels. All opinions are mine.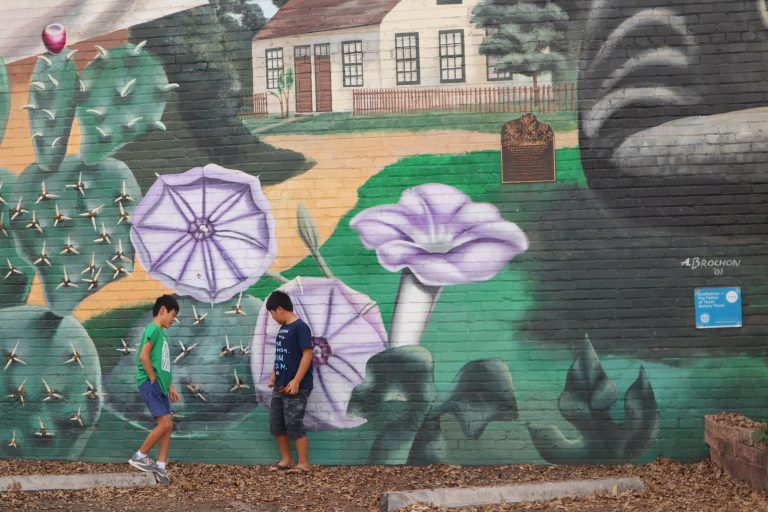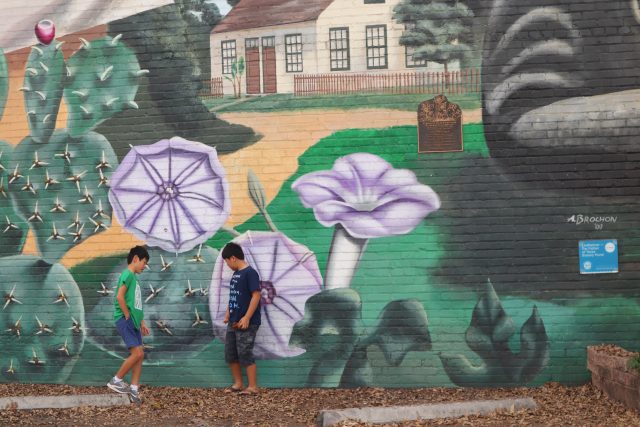 If you're visiting (or live in/near) San Antonio or Austin, you can do any of these activities as a day trip easily.
Things to do in New Braunfels Texas – With Kids!
There are lots of fun things to do in New Braunfels and I thought I had a pretty good grasp of what was available. We live about 12 miles from New Braunfels and have visited often. Turns out, we didn't know the city very well at all. Our friends at Play In New Braunfels prepared a great itinerary for us that allowed us to get a better idea of all the things to do in New Braunfels TX. I'm excited to share and also excited to follow up with our plans to explore more of this fun Texas city.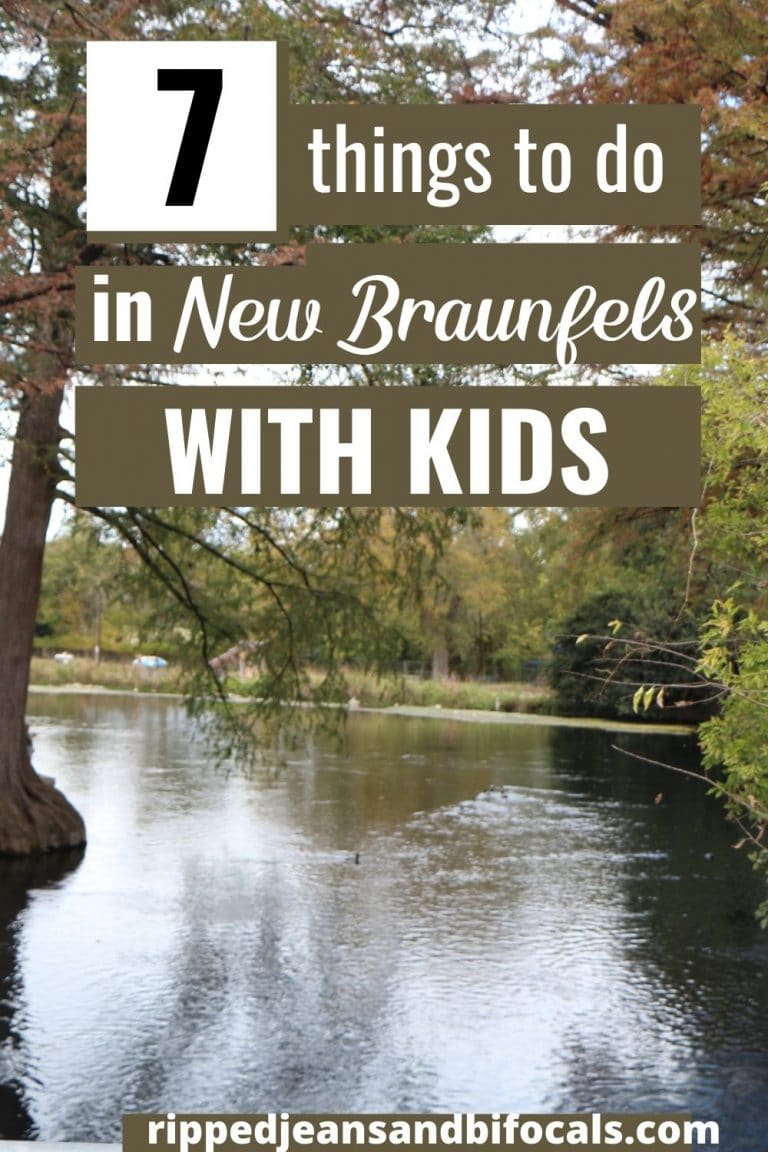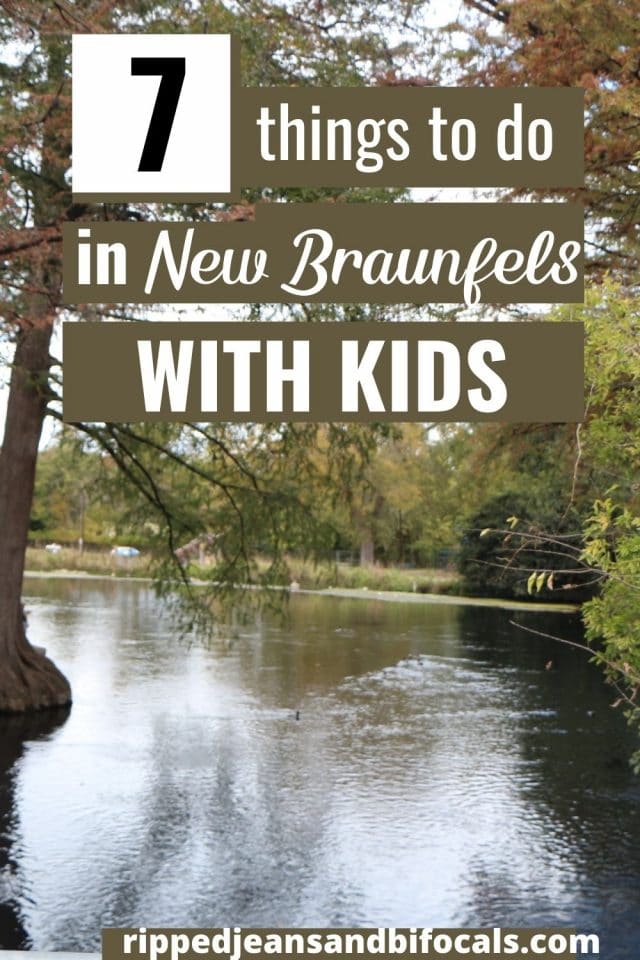 Where to stay in New Braunfels
We stayed in the historic Faust Hotel in downtown New Braunfels. We loved the beautiful lobby, the history behind the hotel, and the central location. You can walk to most places in downtown New Braunfels from the Faust Hotel. There's an attached restaurant and brewpub that serves lunch and dinner. I recommend checking this out even if you don't stay at the Faust Hotel. The food is very good and they've got some unique craft beers.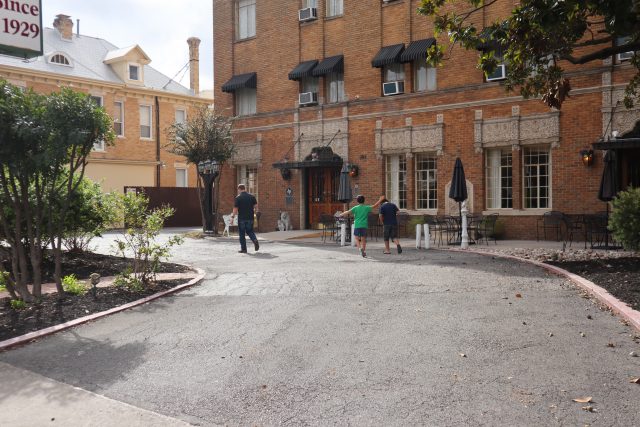 We loved the Faust and would recommend it. That said, it is a 90-year-old hotel and the rooms and the plumbing reflect that. We were not uncomfortable at all and the staff is awesome but I would hesitate to recommend it for families with younger kids unless you consider booking a suite or larger room.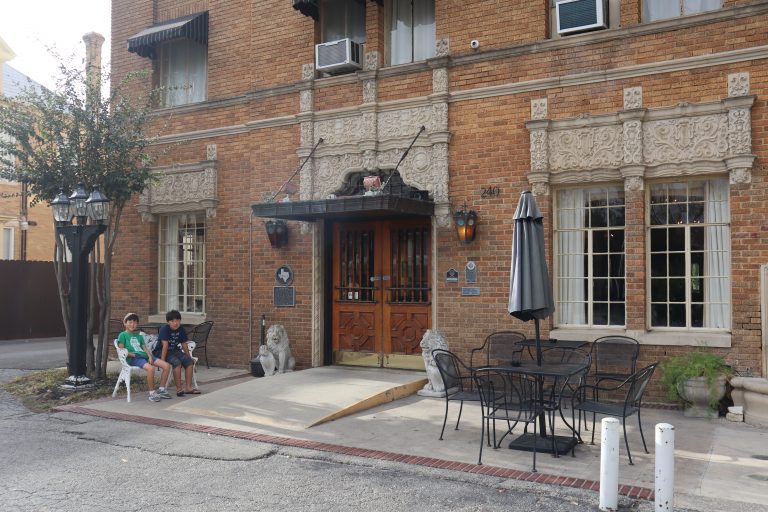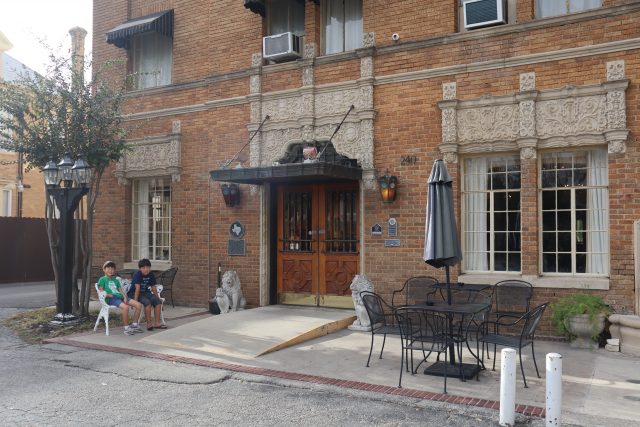 We stayed in a double queen room on the third floor which was clean and comfortable but not very spacious for four people. My kids are 10 and pretty seasoned travelers and we had full days planned so we didn't spend very much time in our room. If you plan to do more relaxing in the room, I'd definitely consider a bigger room with more amenities, whether on this property or someplace else.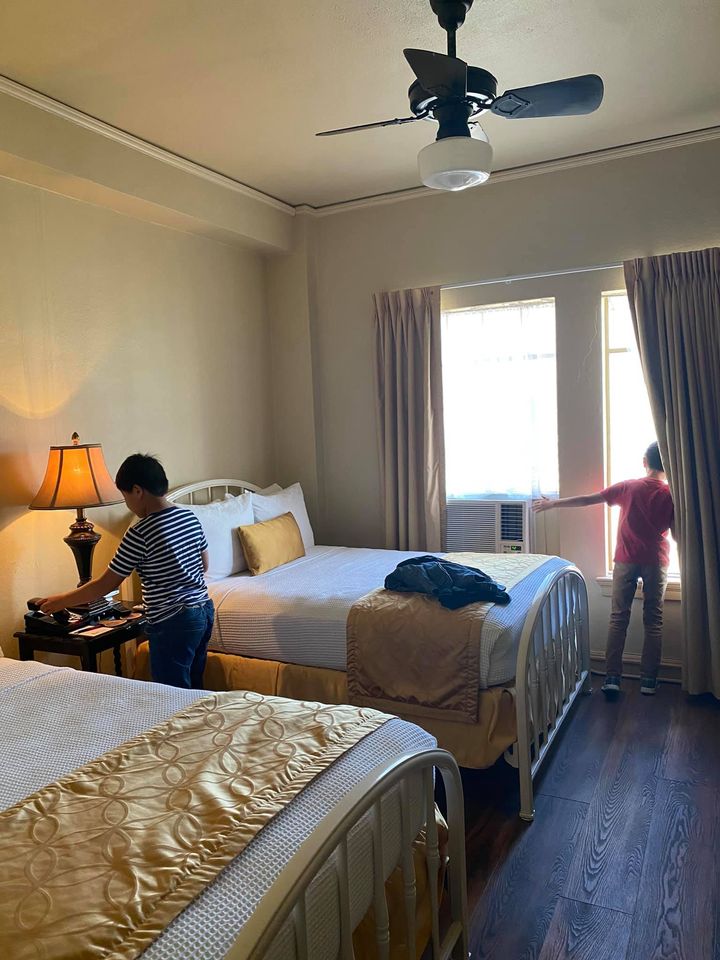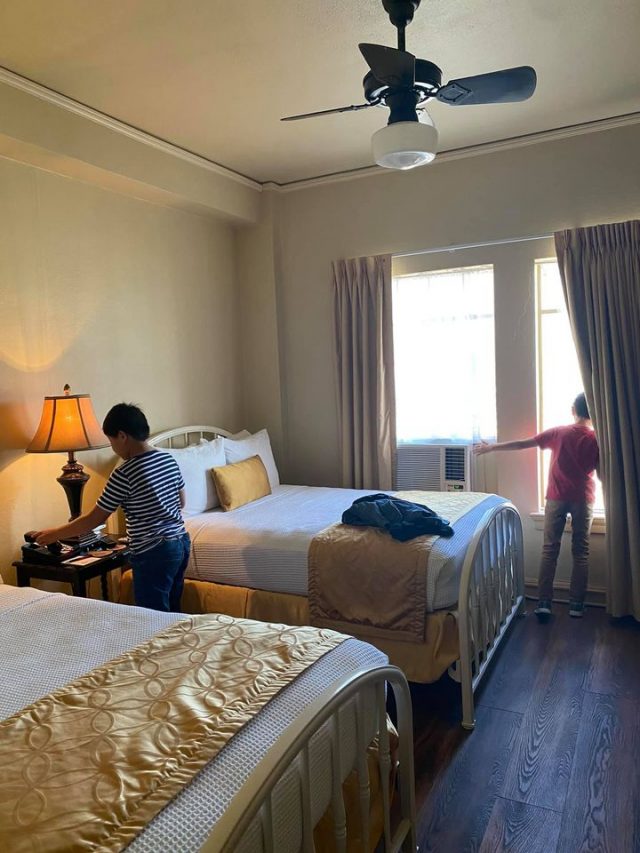 The Faust Hotel is rumored to be haunted. We did not see or hear anything but instances of paranormal sights and sounds are pretty well-documented. We didn't stay in an area of the hotel where ghosts are commonly seen or heard and we had the window air conditioner on at night so I doubt we'd have heard anything anyway. If you're curious, do a Google search. There was absolutely nothing ominous or scary about The Faust. I didn't realize it was haunted when we requested to stay here on our New Braunfels trip – my husband and I had eaten in the restaurant and admired the lobby – and I'm a weenie about those kinds of things and I was fine.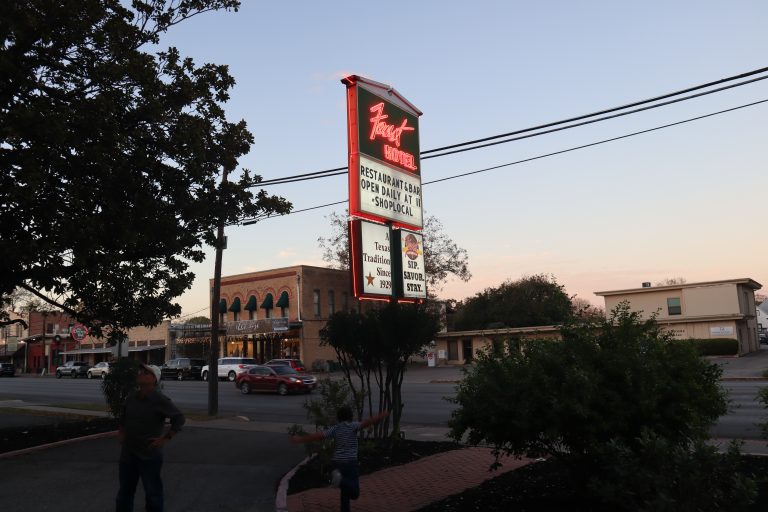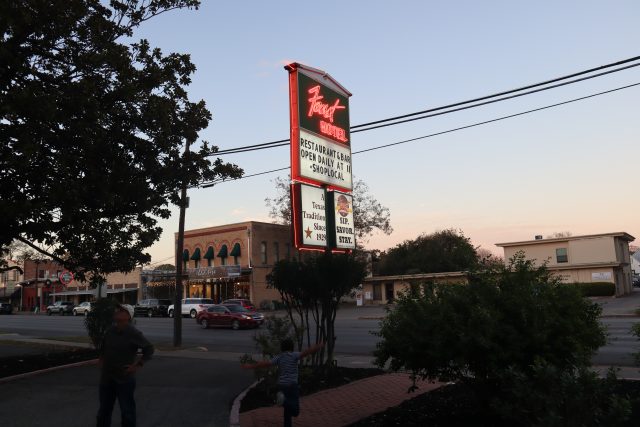 There are lots of other lodging options – just check out the Play in New Braunfels website for other suggestions.
7 Awesome Things to do in New Braunfels with Kids
1. Visit Landa Park
Landa Park is one of several parks in New Braunfels, although I think it's the best one. You'll have a lot of choices for things to do. There's the famous Landa Park Train, the aquatic complex, various play spaces, paddle boat rides, miniature golf and more. Landa Park should be high on your list when you're planning things to do in New Braunfels with kids!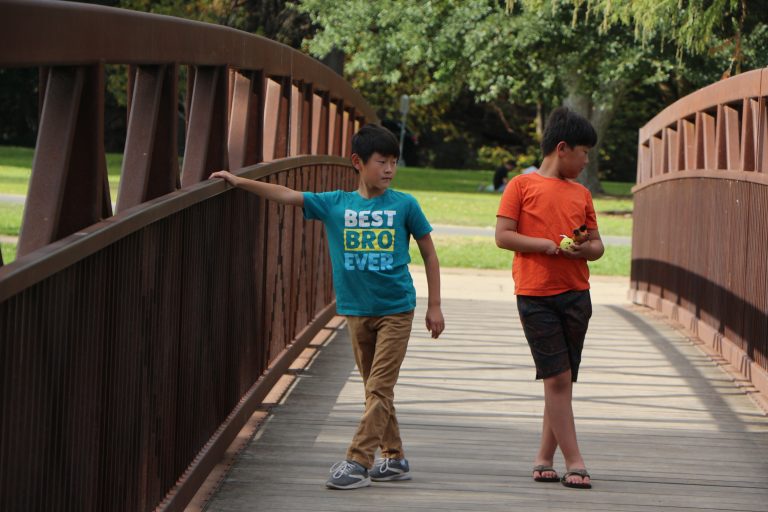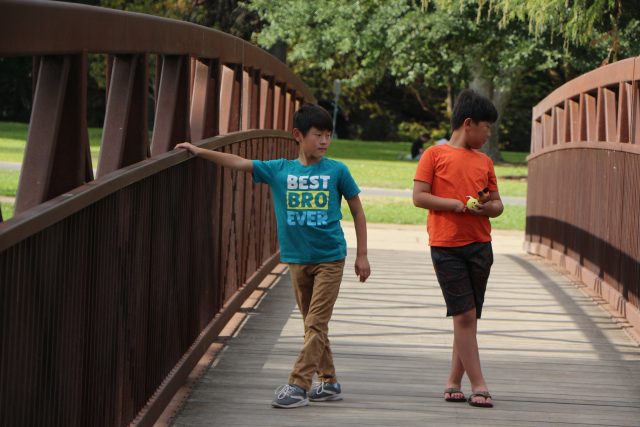 There's lots of walking/jogging paths and plenty of places to picnic or just chill. There are also statues and monuments that tell a bit about the history of New Braunfels.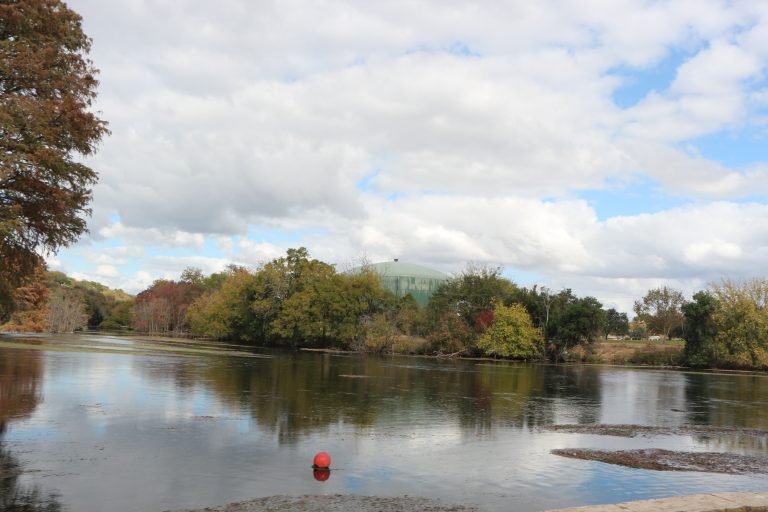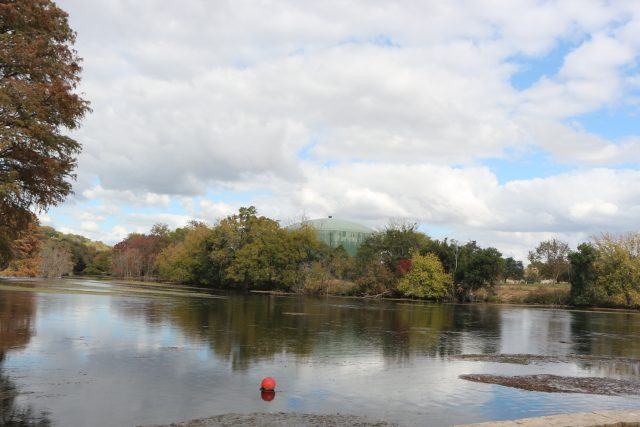 We loved riding the train. We visited Landa Park this spring and the train wasn't running so we are happy to see it back. The tickets are $4 each and the ride lasts about 15-minutes and gives you a good view of things happening in the park.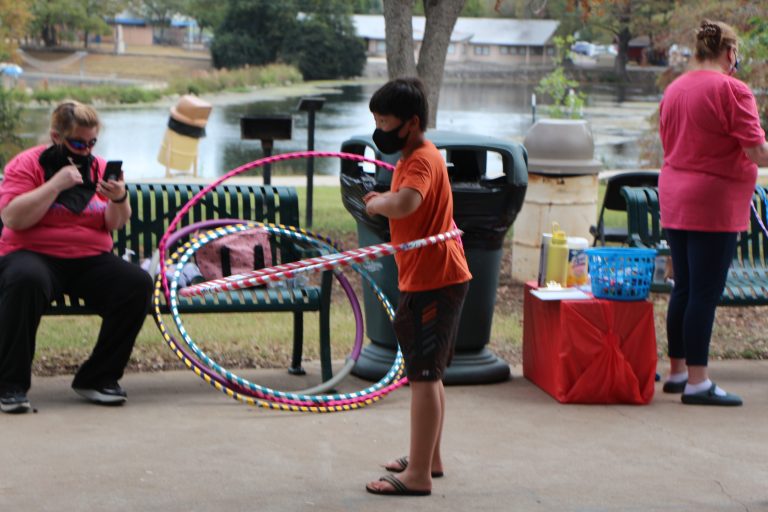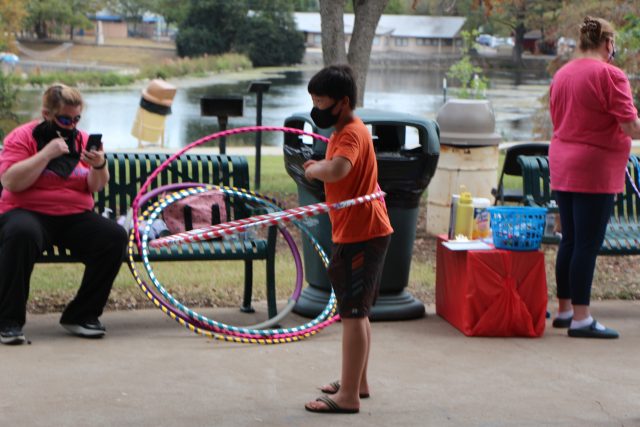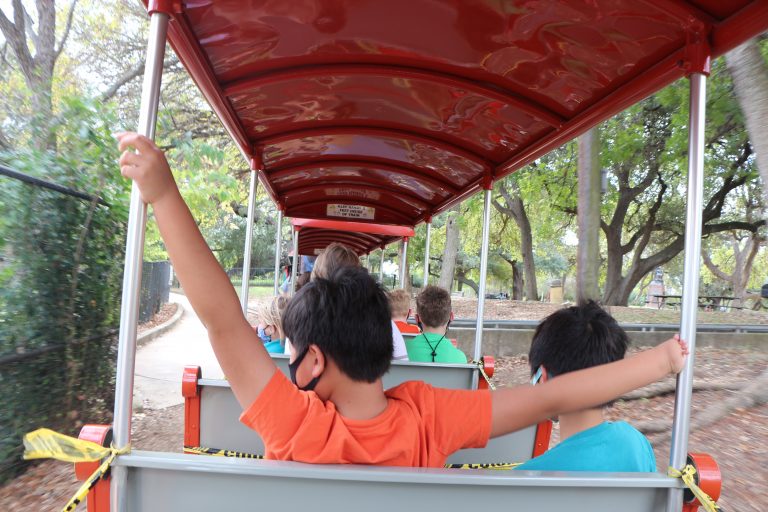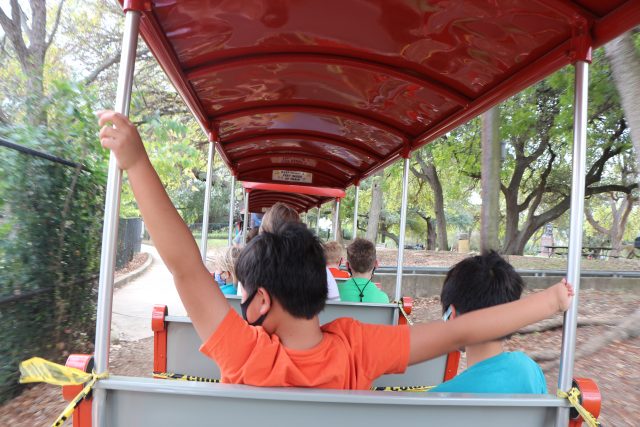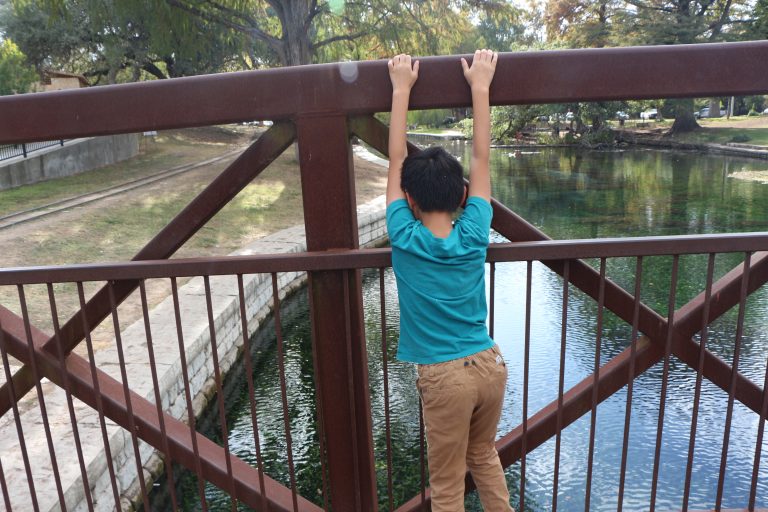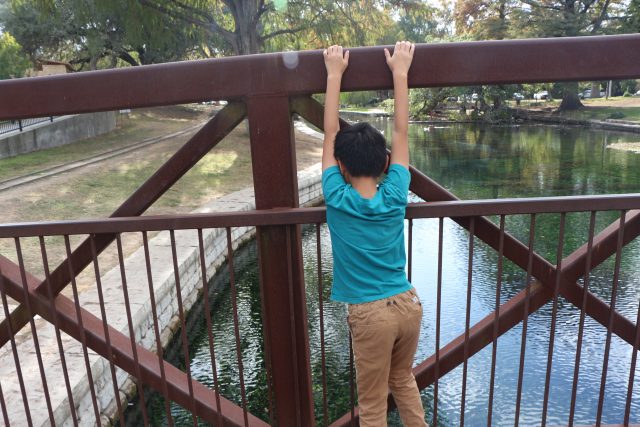 Attractions and availability of activities in Landa Park will vary by season.
You might also like: Camp Fimfo: Family camping in New Braunfels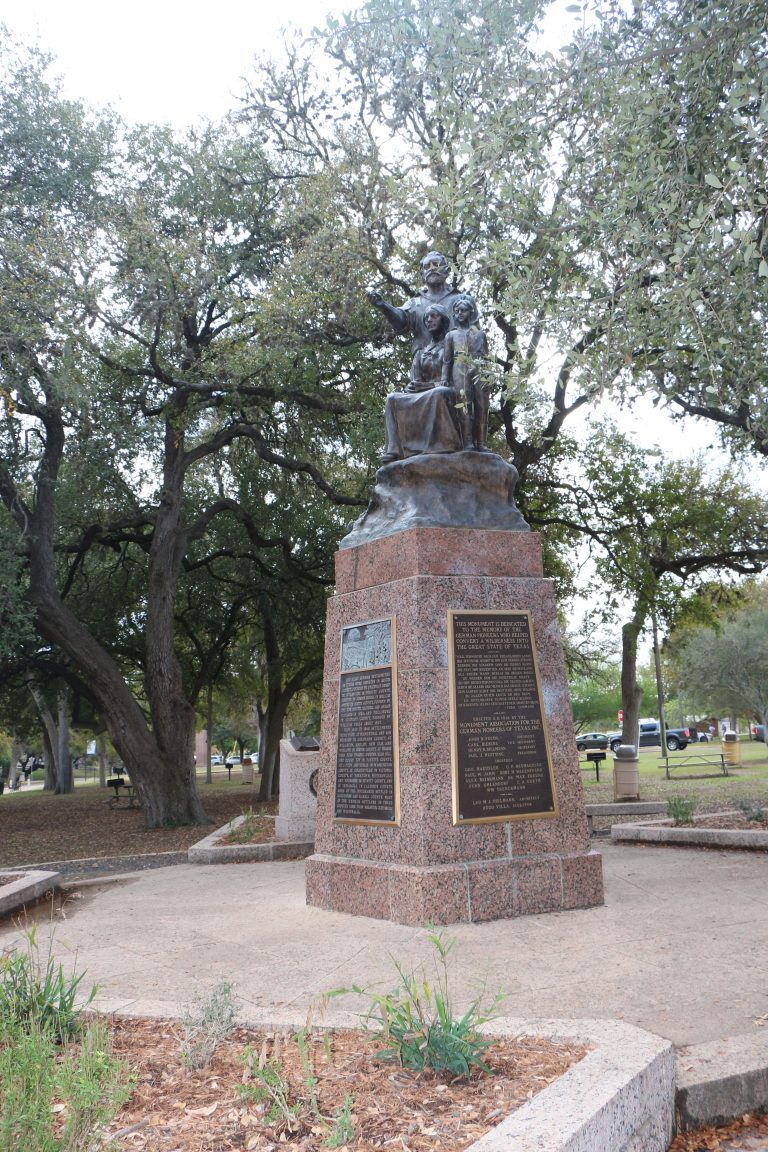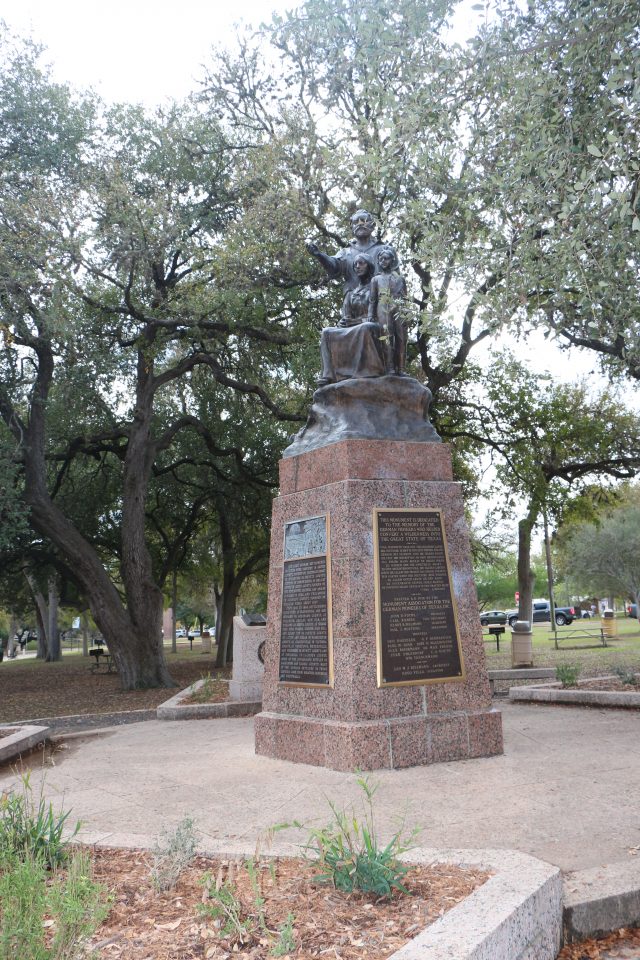 2. Natural Bridge Wildlife Ranch and Natural Bridge Caverns
Natural Bridge Wildlife Ranch
Natural Bridge Wildlife Ranch is a drive-through safari where you can see all kinds of animals. It's located near Natural Bridge Caverns but these are two separate activities. It is possible to do the Wildlife Ranch and the Caverns in one day but you'll need to purchase separate admissions.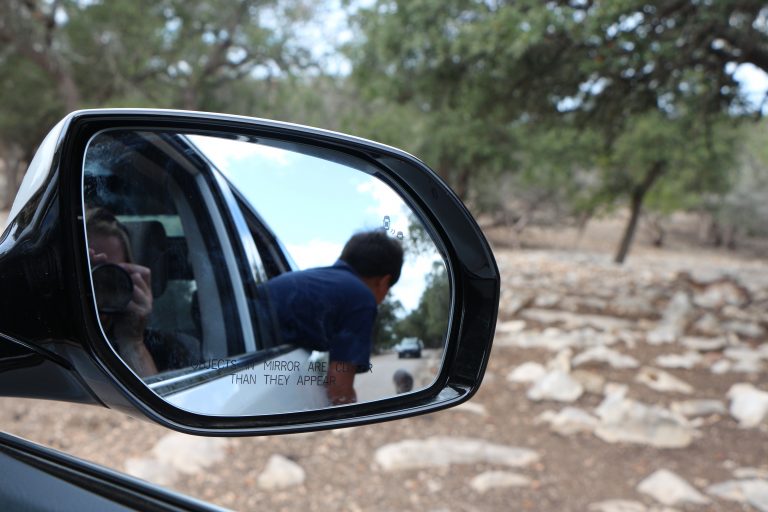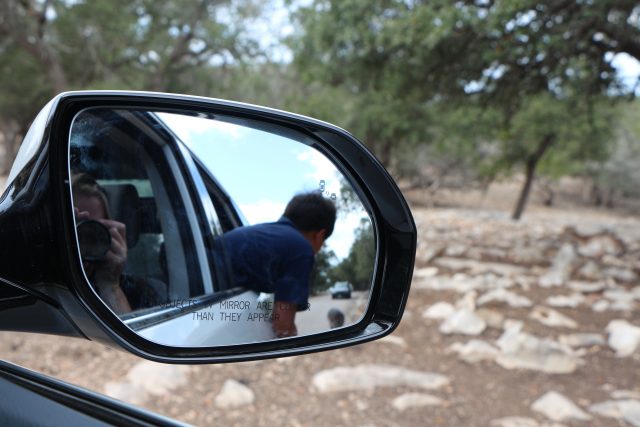 Natural Bridge Wildlife Ranch is a drive through park, so most of the viewing is done from your car. There are opportunities to get out of your car, although you don't have to do that if you don't want to.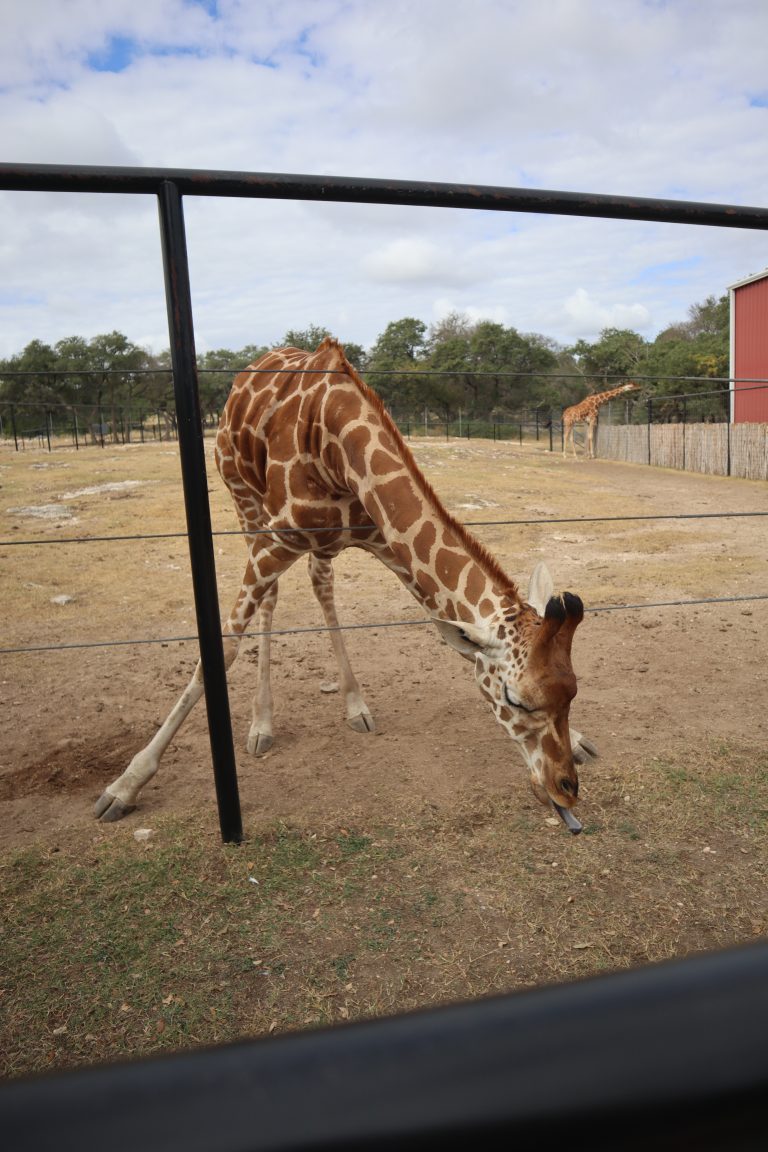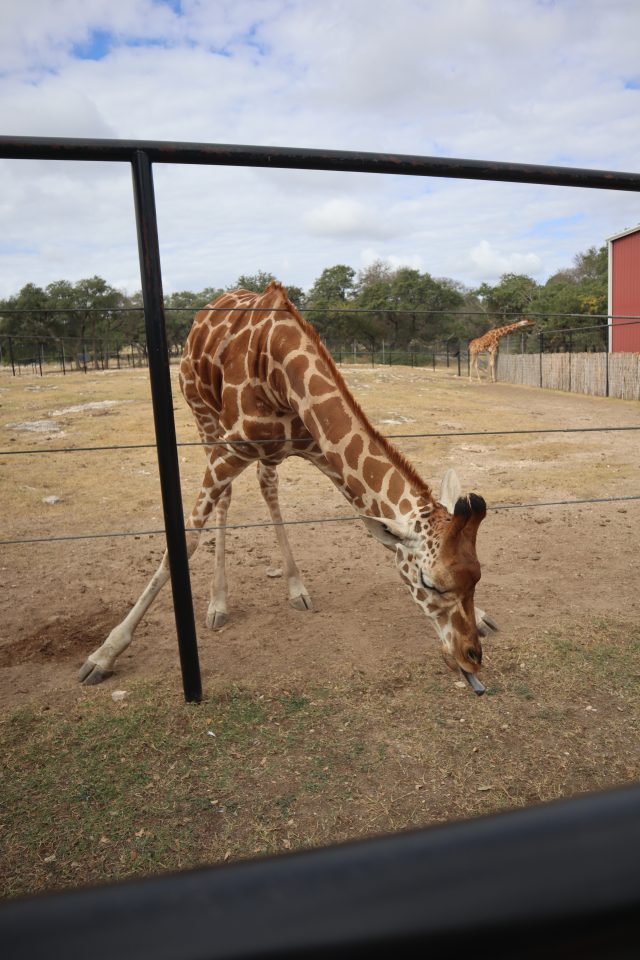 There's an area near the entrance where you can view lemurs and other types of monkey as well as the newer giraffe habitat. We visited about five years ago and this part of the ranch was still under construction so it was fun to see how it all came together.
Also in this are are restrooms, a cantina, and a gift shop.
The drive through the ranch took us about two hours and I recommend you plan for at least that. You don't control how active (or interactive) the animals are or how slow the cars in front of you are going to go so expecting to be in and out in less than two hours isn't realistic.
There's a pit stop about 3/4 of the way through where you can get out and walk around, get a treat, and take pictures at this photo opp: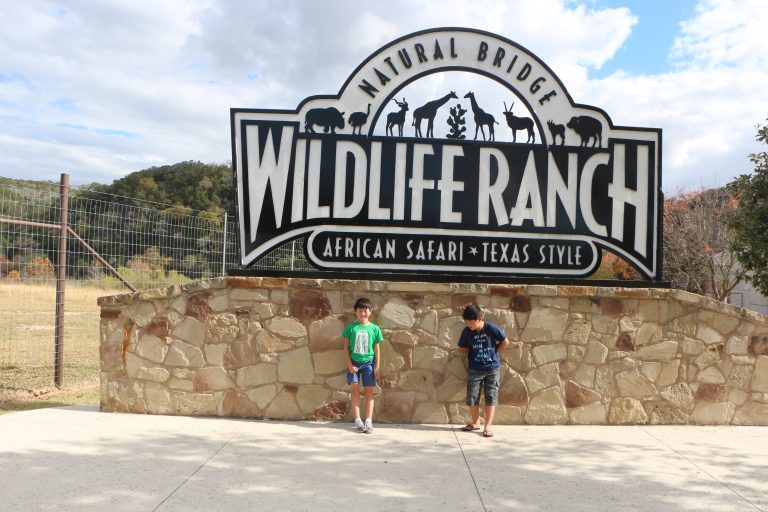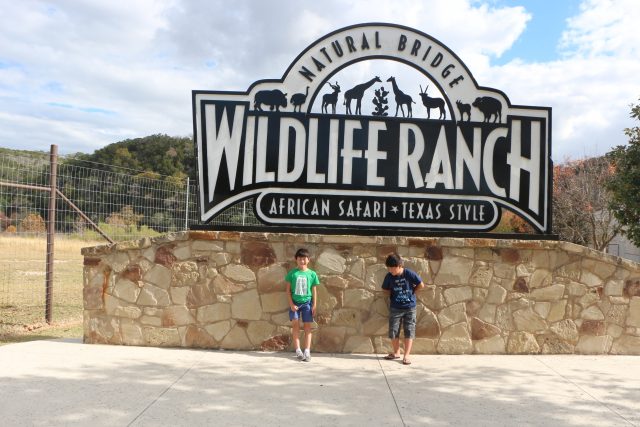 The ostriches are definitely the most fun and interactive. There were several of them at the very end who were very interested in the food we were offering, which makes this one of the best things to do in New Braunfels with kids.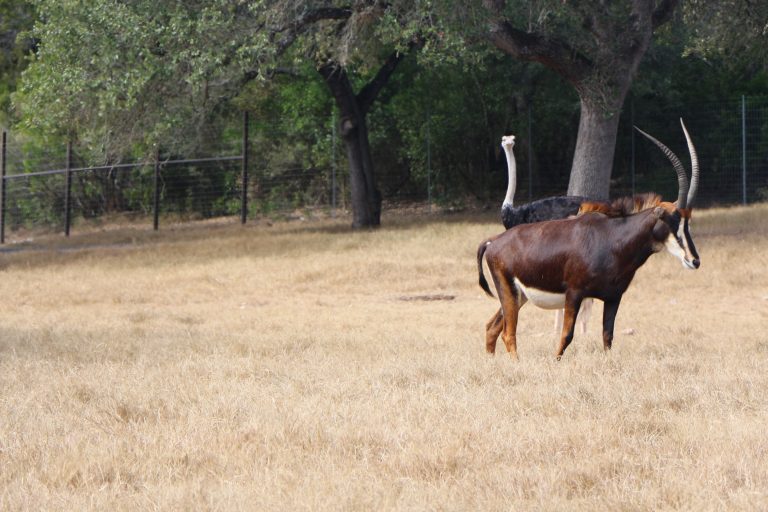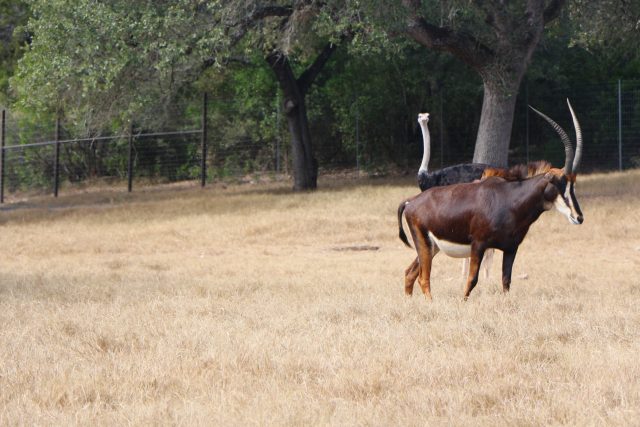 You'll also get a map of the ranch at the entry and pictures of the different wildlife that lives there. You can purchase bags of feed for $3. If you go later in the day, the animals may not be as hungry or eager to eat your food. If you're one of the first to enter the park, your odds of having the animals interested in your offerings goes way up, so if you can time your visit to coincide with opening, you'll probably encounter hungrier animals.
Natural Bridge Caverns
Natural Bridge Caverns is Natural Bridge Wildlife Ranch's next door neighbor but separate admissions are required. You could do both in one day but if you're really getting all the mileage out of your tickets, that is going to be a very long and full day. But, it is doable.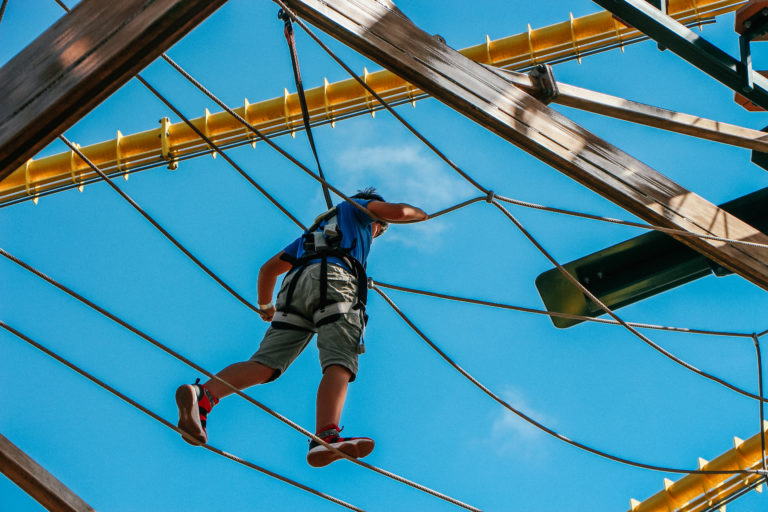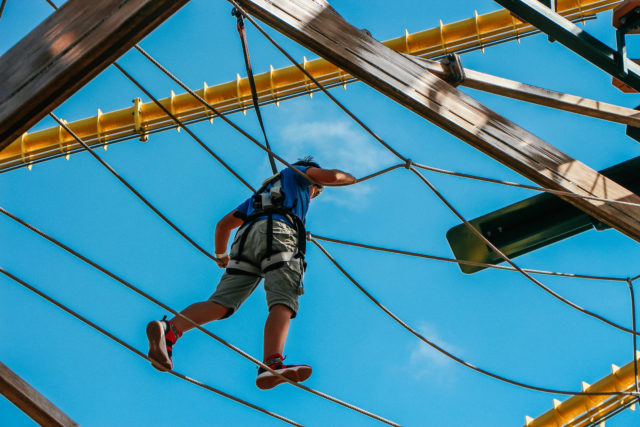 My kids and I recently did a day at Natural Bridge Caverns and we were there from 10 a.m. until about 2:30 p.m. and did most of the things that were available. There are three different cavern tours available and one of those is a combo tour. We did only the Discovery Tour, which lasted about an hour.
There is a ton of fun on the surface and that's actually where we spent the majority of our time. Check the website, know what's available and how the ticket/pricing options work.
If you're visiting during the warmer months (which in Texas is most of the months) then I recommend you do the Twisted Trails early. The cavern temperature is going to be constant no matter what the outside temperature is.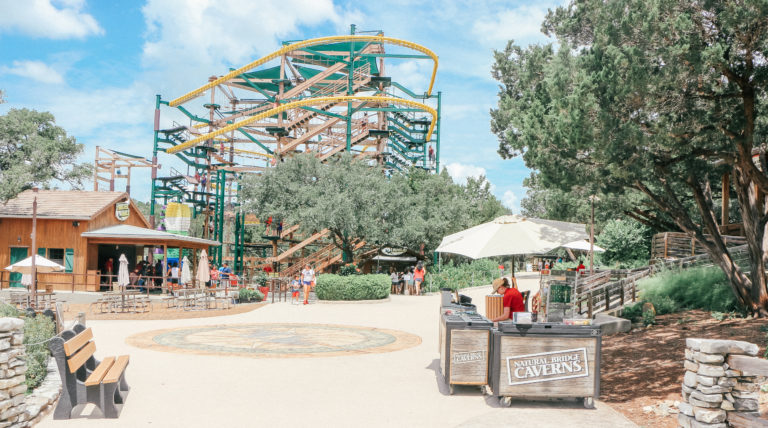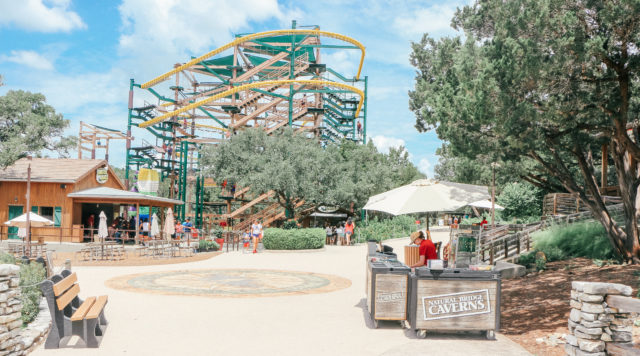 The Discovery Tour goes down into the caverns and back up again. It's only about a half mile of walking on a paved path, but there are a couple of steep inclines and dips. There are hand rails available on most of the path. The caverns maintain a year-round temperature of about 70 degrees with a whopping 99 percent humidity. Not a typo – it is very damp down there!
Make sure you wear sturdy shoes for everything at Natural Bridge Caverns.
3. Stars and Stripes Drive In
This was my kids' favorite activity in New Braunfels. I hadn't been to a drive in movie since I was younger than they are and this was truly a treat.
The weather in Texas is mild enough to where sitting outside to watch the movie is possible a good part of the year, so bring lawn chairs to sit in or pillows, blankets and an air mattress if you have a truck. If it's colder you can sit in the your car but we enjoyed sitting outside.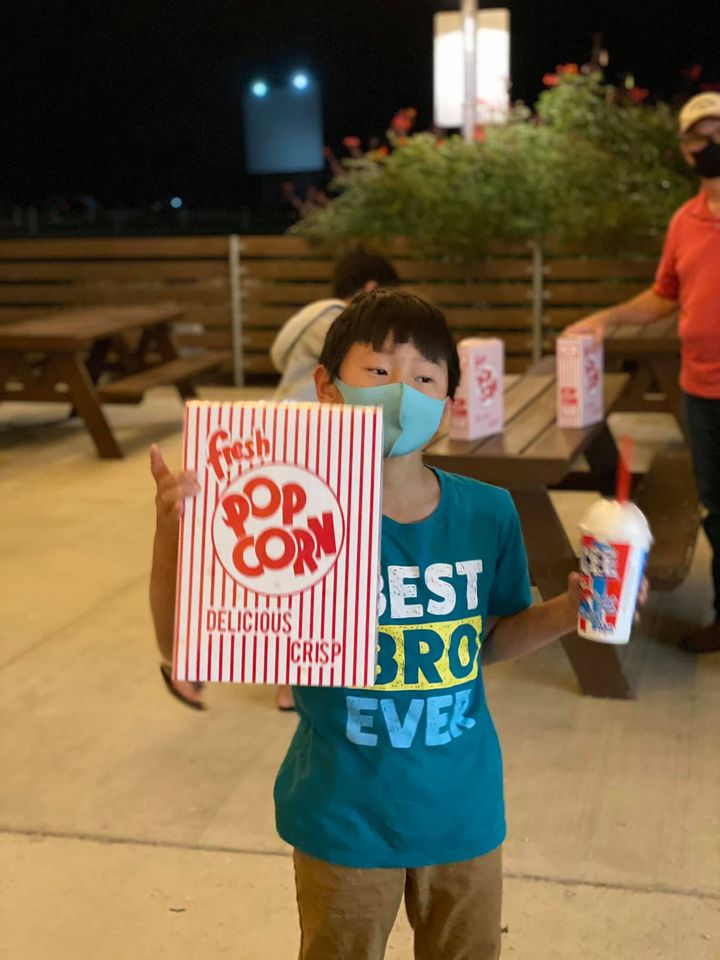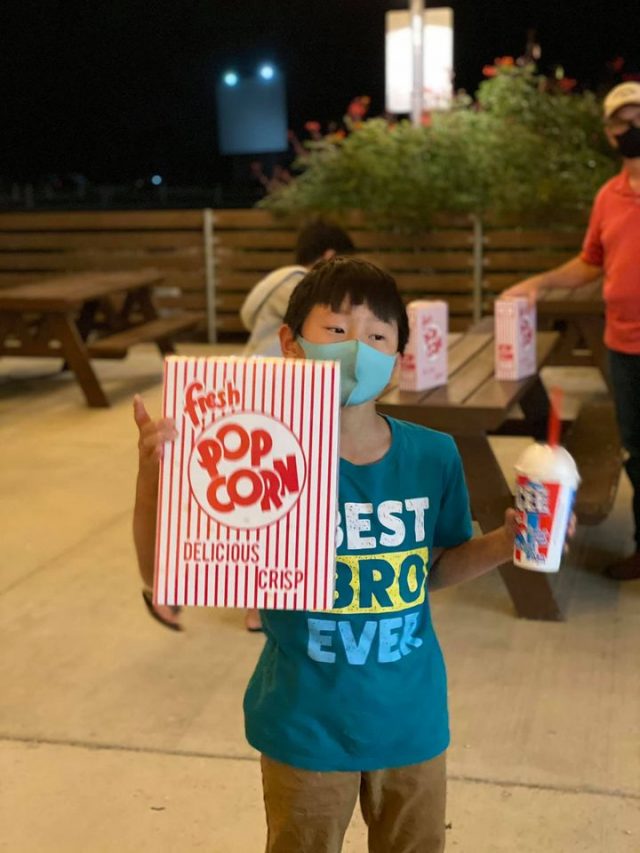 You can bring your own coolers and food in but there's also an onsite snack bar with traditional drive in movie food, like popcorn and hotdogs, as well as some other offerings if you need a full meal.
Check the theater's website for movie info.
4. New Braunfels Farmer's Market
The New Braunfels Farmer's Market is small but mighty. Located at 186 S. Castell Avenue, this market takes place year round on Saturdays from 9:00 a.m. – 1:00 p.m.
You'll find a selection of flowers, fresh produce, olive oil, jams and sauces, and more. This was my favorite activity during my time in New Braunfels. If you want to make a morning of it, go to Krause's Cafe or Two Tarts Bakery for Breakfast and then stock up on goodies from the farmer's market. This is a great way to support local merchants, makers and growers.
5. Explore the Gruene Historic District
Lots of visitors to New Braunfels flock to Gruene to dance at the famous Gruene Hall or eat at The Gristmill. Those are both great things to do but the streets around these attractions are worth exploring, too. There are lots of fun shops and other places to eat besides The Gristmill if you find the wait to be too long.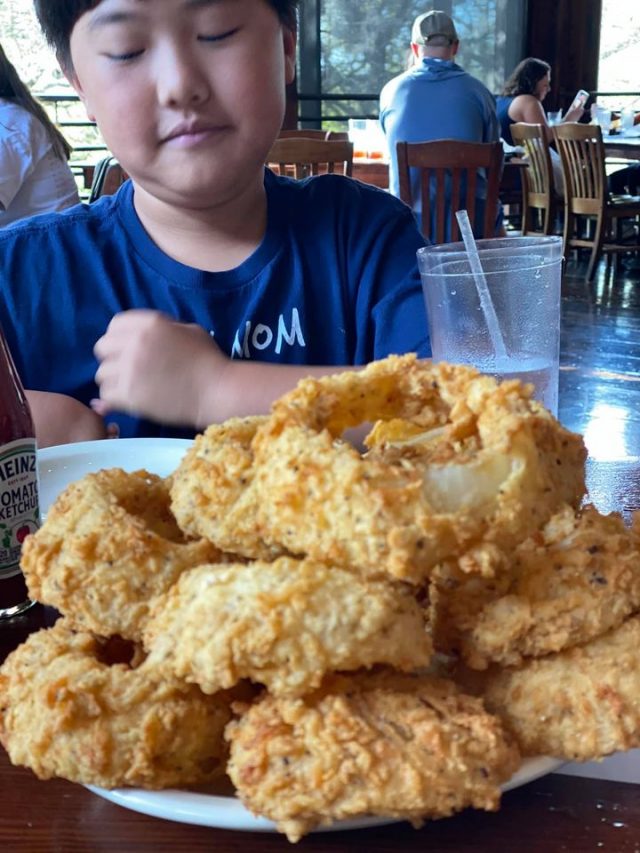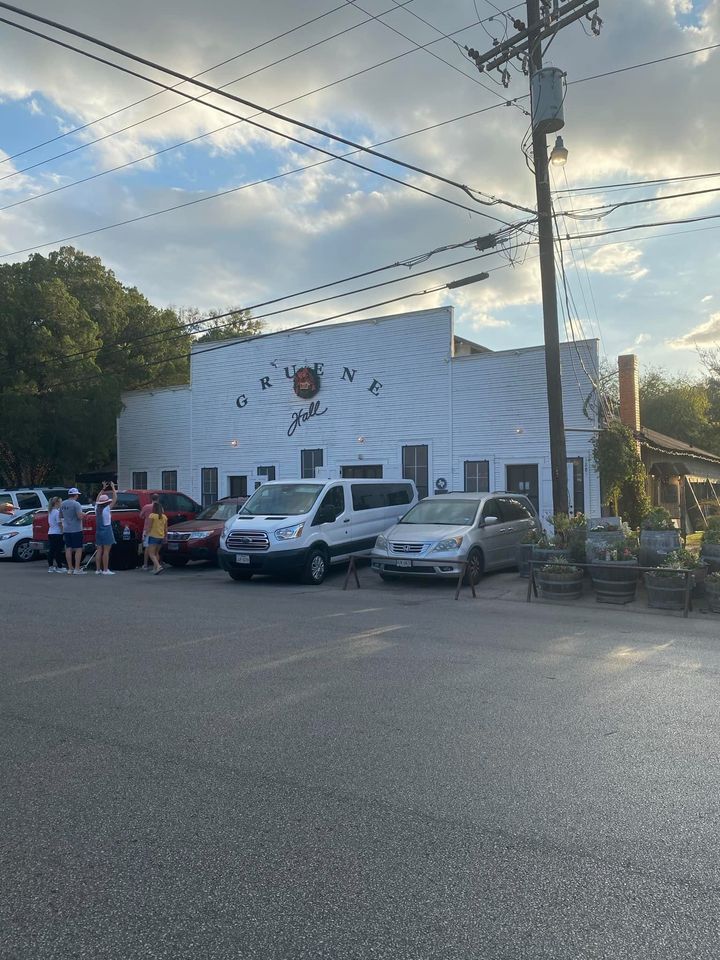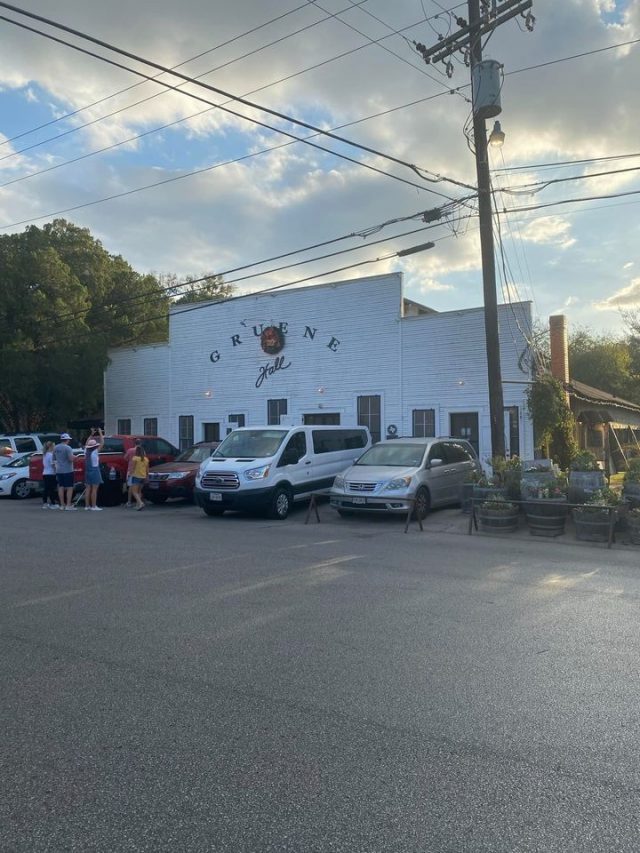 6. Schlitterbahn
Schiltterbahn New Braunfels is one of Texas' best water parks. You could spend all day at Schlitterbahn and not get to everything. They've got water fun for all ages and coolers are welcome in.
Obviously, this is a summertime only activity but if you're visiting New Braunfels in summer, this is one to put on your list. Schiltterbahn translates to "slippery road" in German.
7. Float the Guadalupe River and the Comal River
Two rivers run through New Braunfels and tubing or floating is a popular activity for locals and visitors alike. You can check out sites like Rockin' R and Comal Tubes for information on tube rental and pickup as well as any restrictions or river closures that might apply.
Where to eat with kids in New Braunfels TX
There are lots of great things to do in New Braunfels with kids but you won't go far on empty stomachs. Here are some of the best family-friendly places to refuel.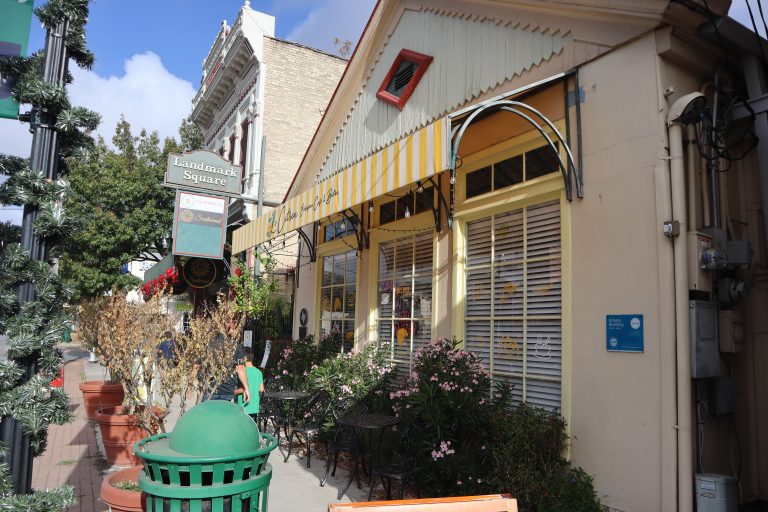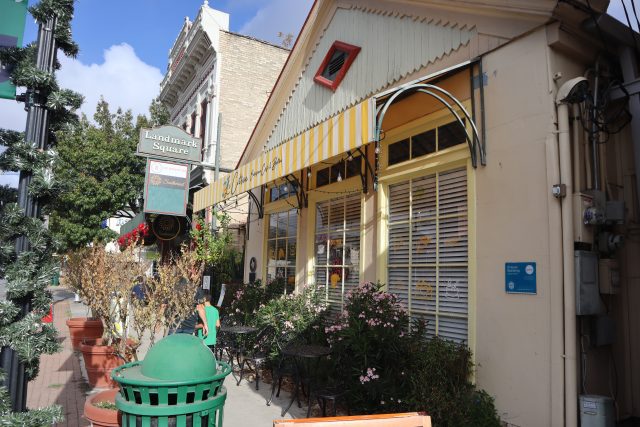 You don't have to be a guest at the hotel to eat here. They've got a respectable menu full of sandwiches, appetizers and pub grub. We really love the pretzel bites. They also have some delicious microbrews. A+ service.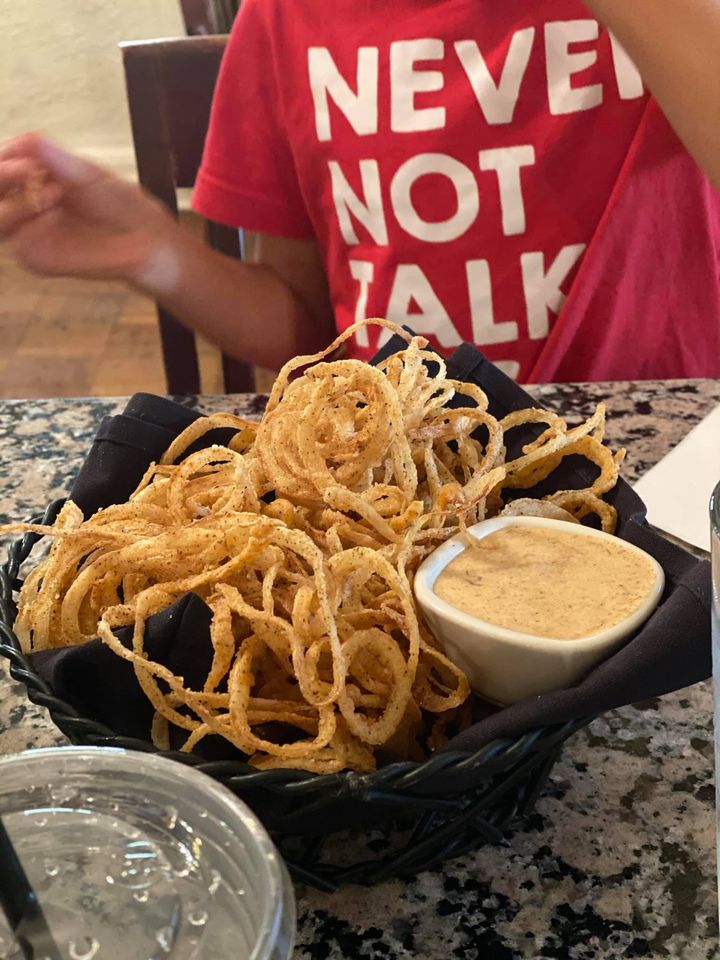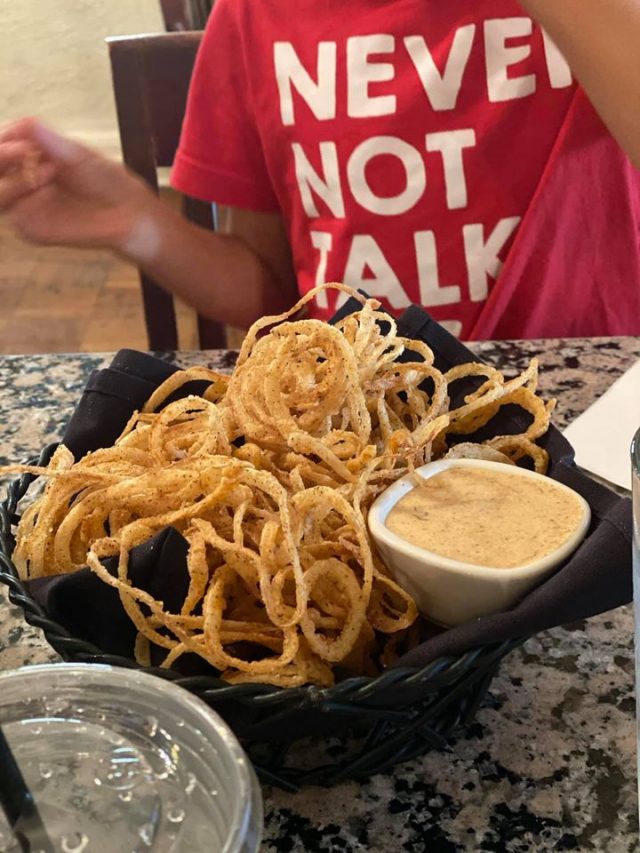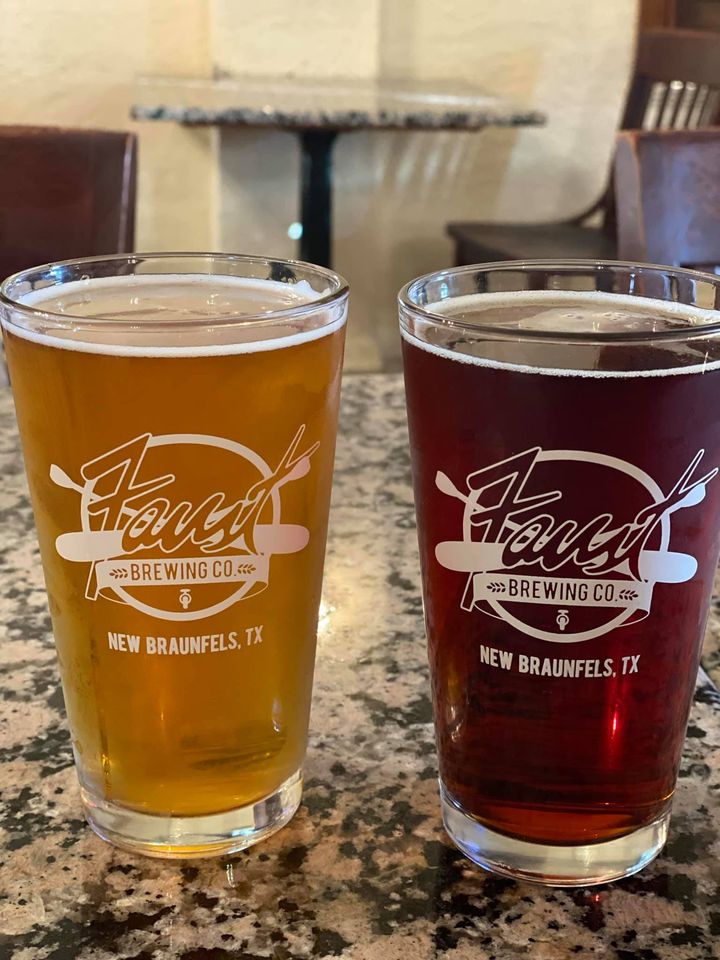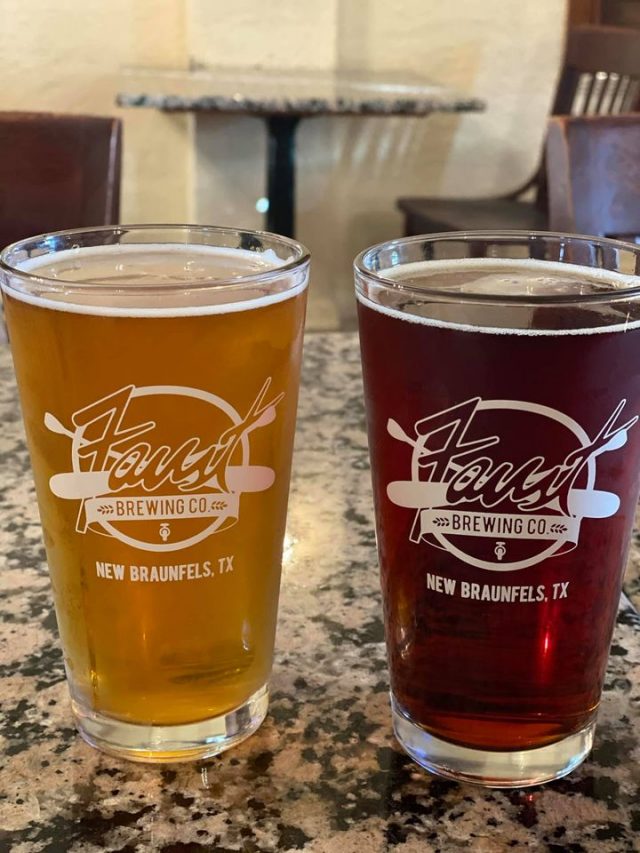 Krause's Cafe and Biergarten
Krause's serves breakfast, lunch, and dinner. They also have live music in their Biergarten (family friendly) which has a very authentic Oktoberfest vibe. I lived in Germany so I can vouch for that.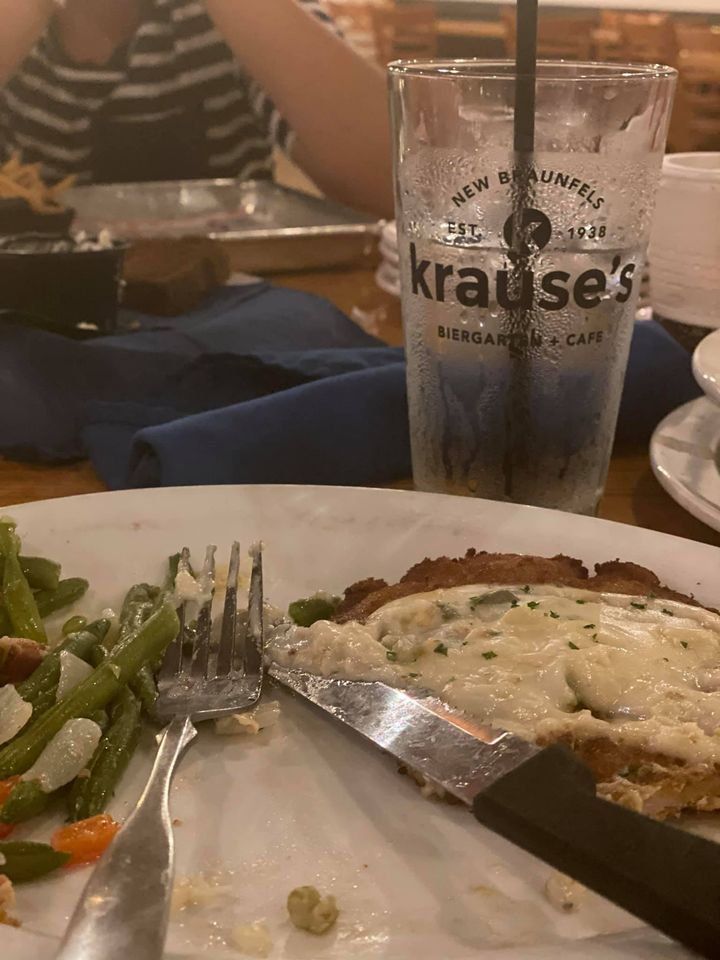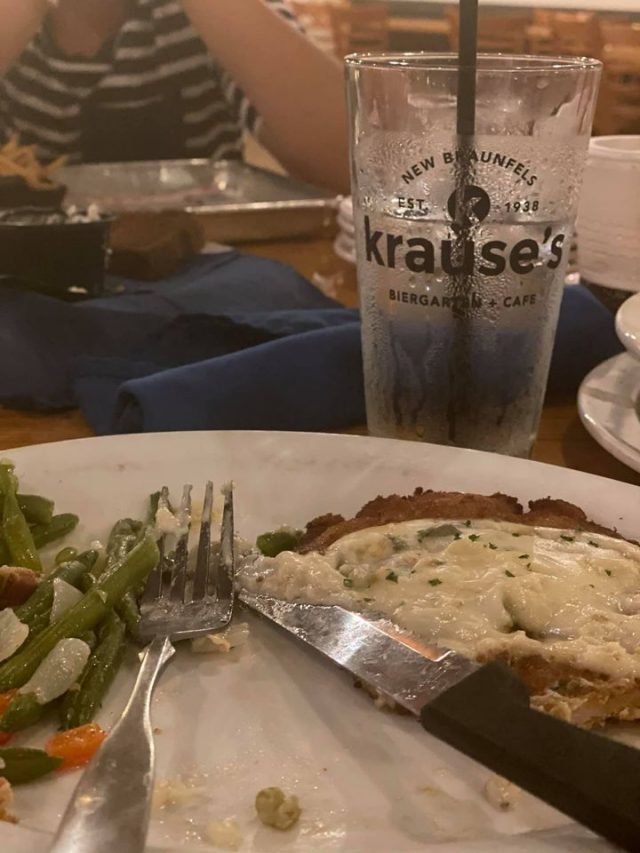 Krause's Cafe has a very extensive beer menu and a food menu that focuses heavily on German style food, although they have other items as well. We tried the Texas Schnitzel, the Jager Schnitzel, the cheeseburger and the vegan lentil soup. The latter seems like a weird thing to order in a German restaurant but it was what one of my sons wanted and they did a good job with it.
Inside and outside seating available. We sat inside and while it was nice, the Biergarten seemed to be the place to be to get the full experience. I'd like to return and try Krause's for breakfast along with a visit to the farmer's market on Saturday mornings.
Two Tarts Bakery
This is absolutely my new favorite bakery and I'll make the drive to give them my business again because they are THAT GOOD. The atmosphere is fun and whimsical and it's just an all-around happy place. For such beautiful (and tasty!) work, the prices are extremely reasonable.
We had sugar cookies, scones and some kind of delicious pumpkin cream cheese muffin thing. I do not usually like sweet stuff for breakfast but I'll make an exception for Two Tarts.
Two Tarts also sells coffees and offers a selection of gluten free and vegan items. They also do custom work.
Union Station Diner
This delightful, train-themed restaurant is a don't miss when you're in New Braunfels. Union Station Diner serves breakfast and lunch. Come early or be ready to wait for your table, especially on a weekend. This place is popular and their seating is limited.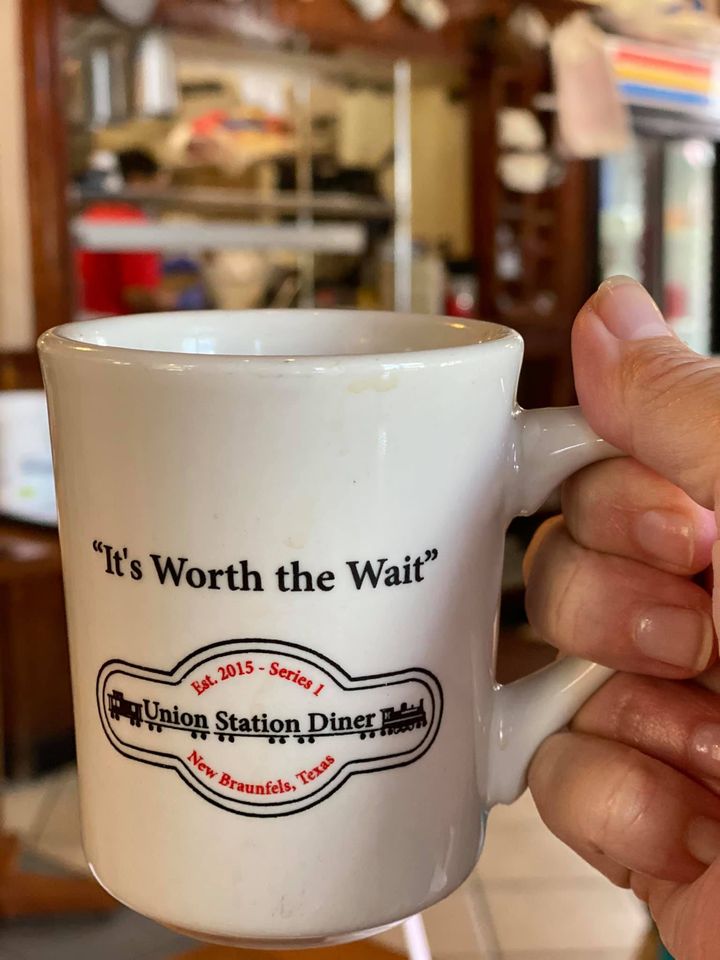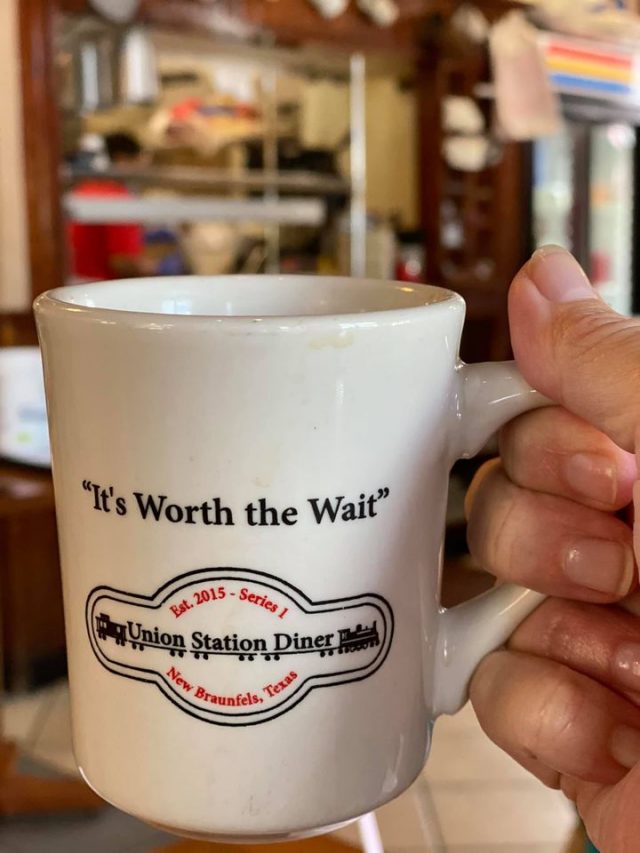 Union Station Diner does breakfast all day and has a fantastic selection of omelets. I had the Migas, which is something I will order on any menu anywhere if I see it. Migas are mexican style scrambled eggs with chilies, cheese and tortilla strips, usually served with refried beans and tortillas. We also sampled a couple of omelets, burgers, and pancakes. Everything was delicious and made to order and the service was really great. We loved our waitress, Chris.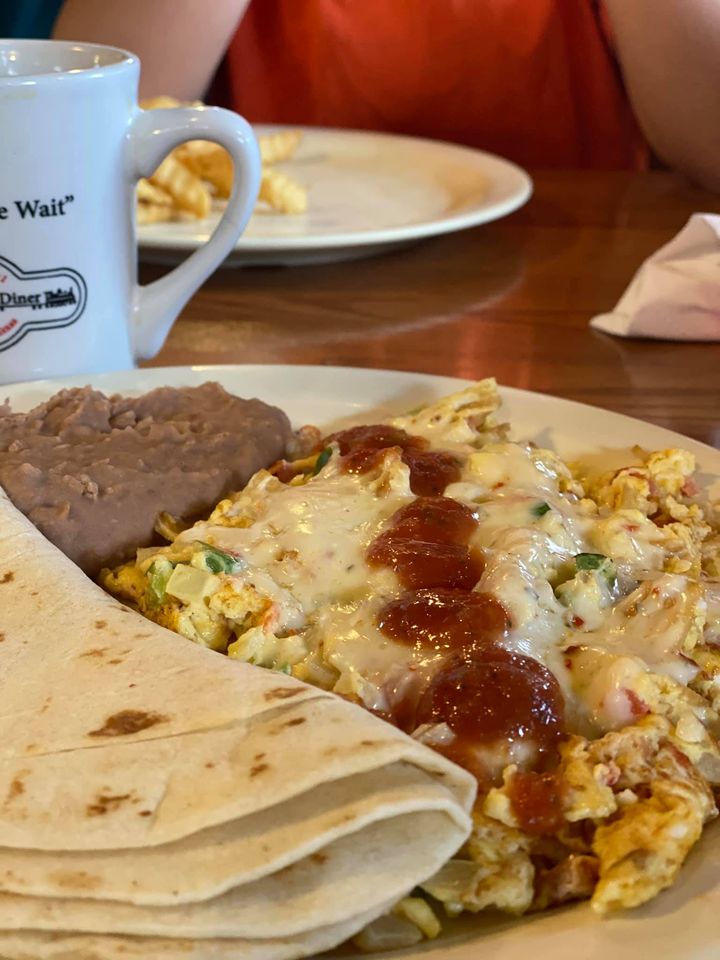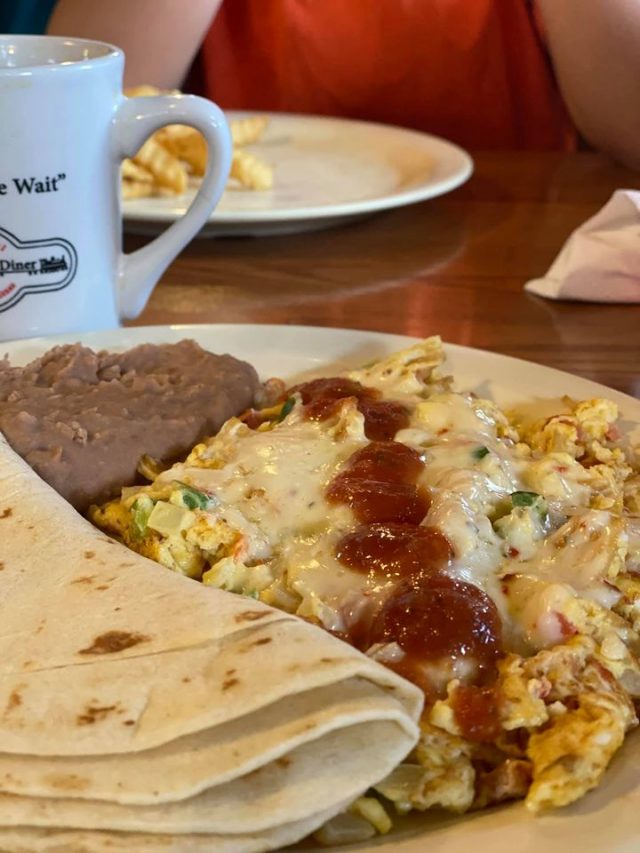 Union Station is definitely a place where the locals eat. The menu is extensive but simple. You'll definitely find something you love.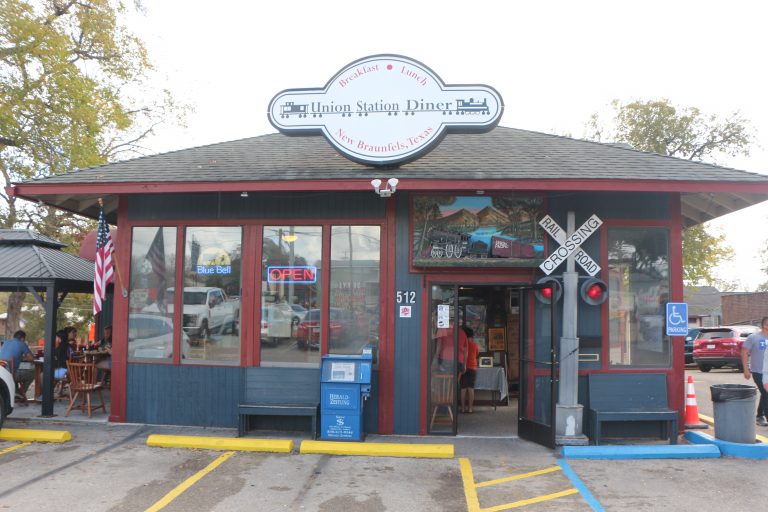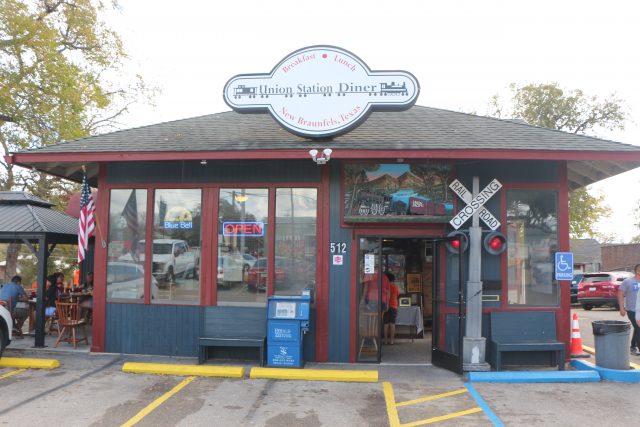 Le Citron European Cafe and Bistro
Le Citron is an absolutely delightful breakfast/brunch/lunch place in downtown New Braunfels. They have a selection of croissants, pancakes, French toast, crepes, as well as soups and sandwiches. They also serve beer and wine – we had some fun with the double mimosa – and they've got a fun little gift shop in the back.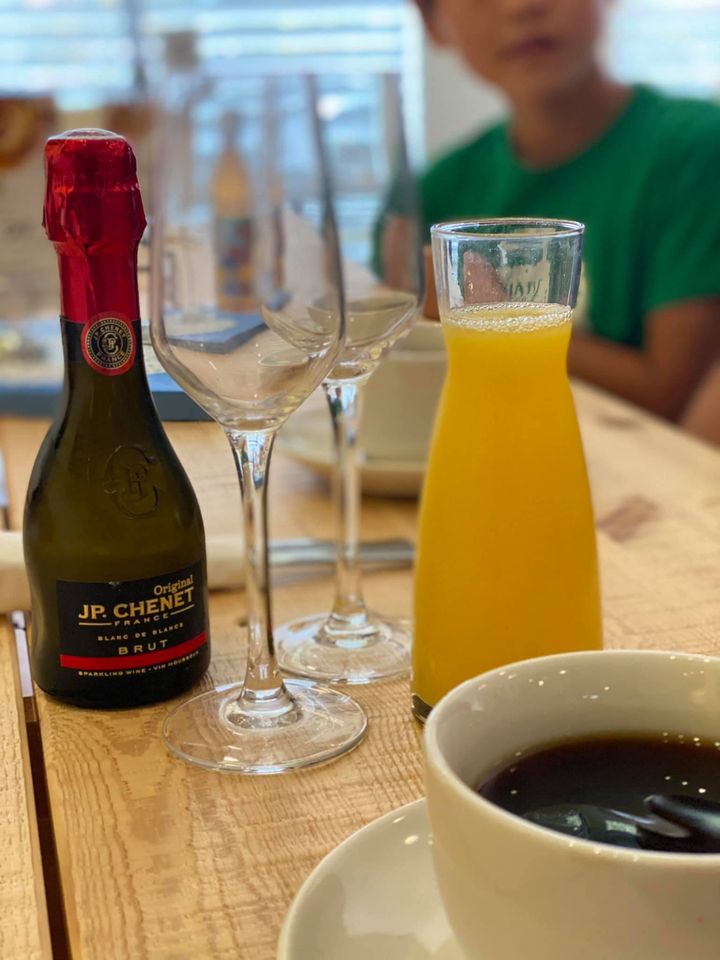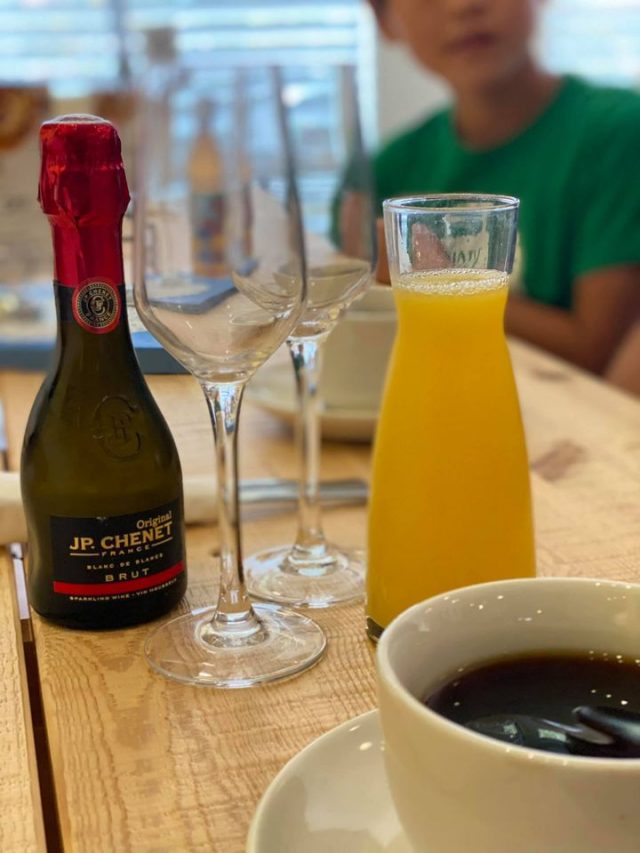 This is an absolutely delightful and whimsical place to eat. We recommend the French toast, the ham and cheese breakfast croissant and the Nutella Crepe. We can't wait to go back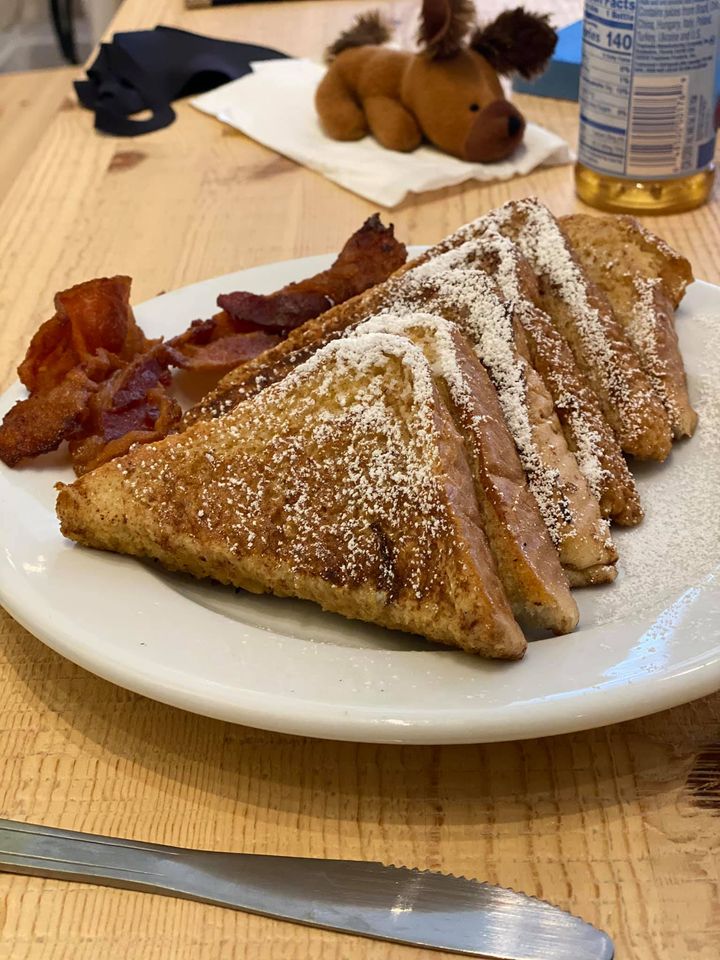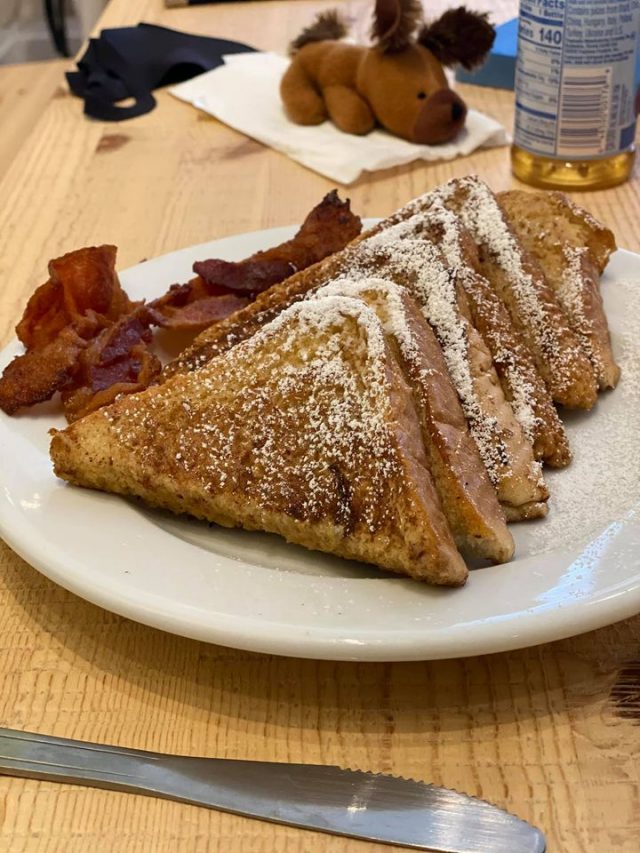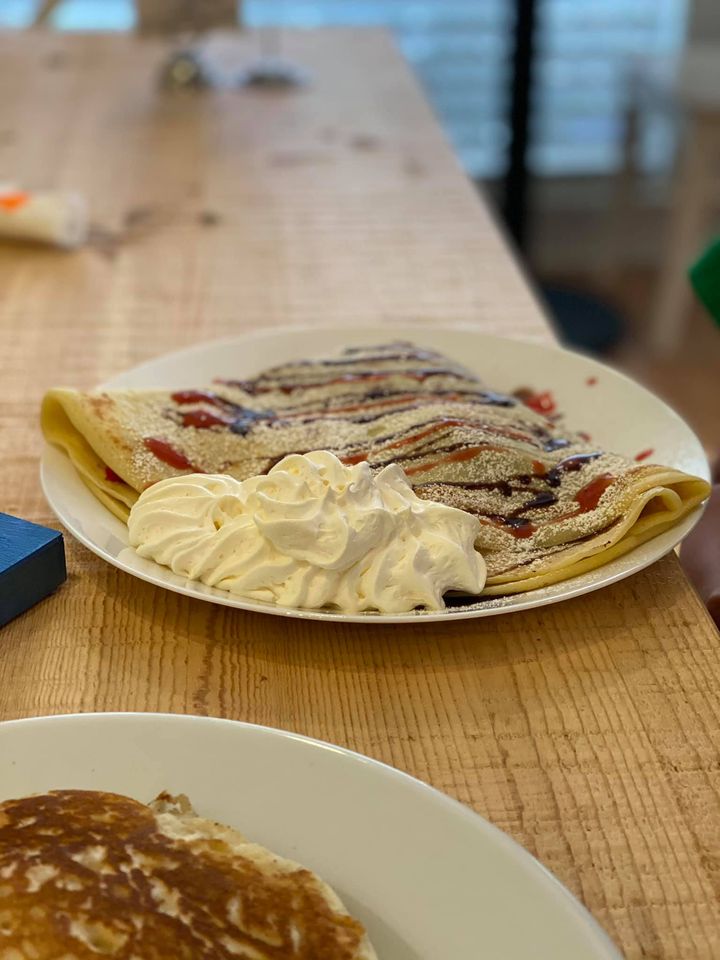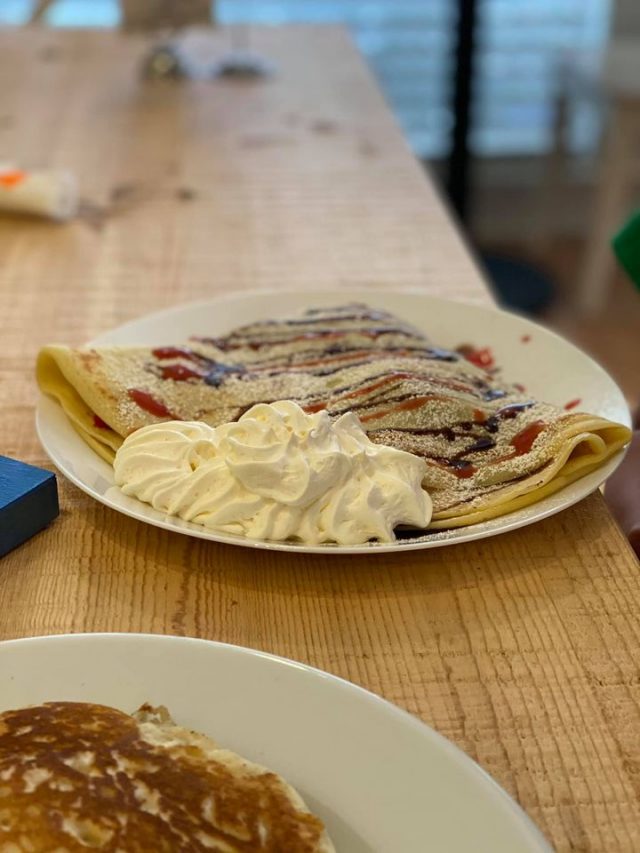 The Gristmill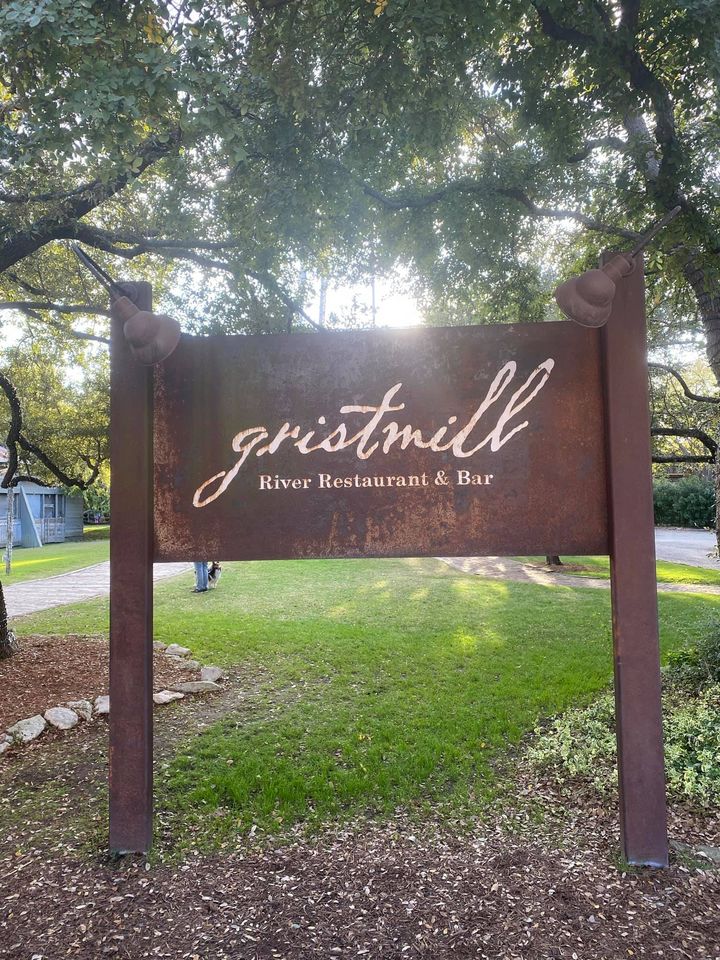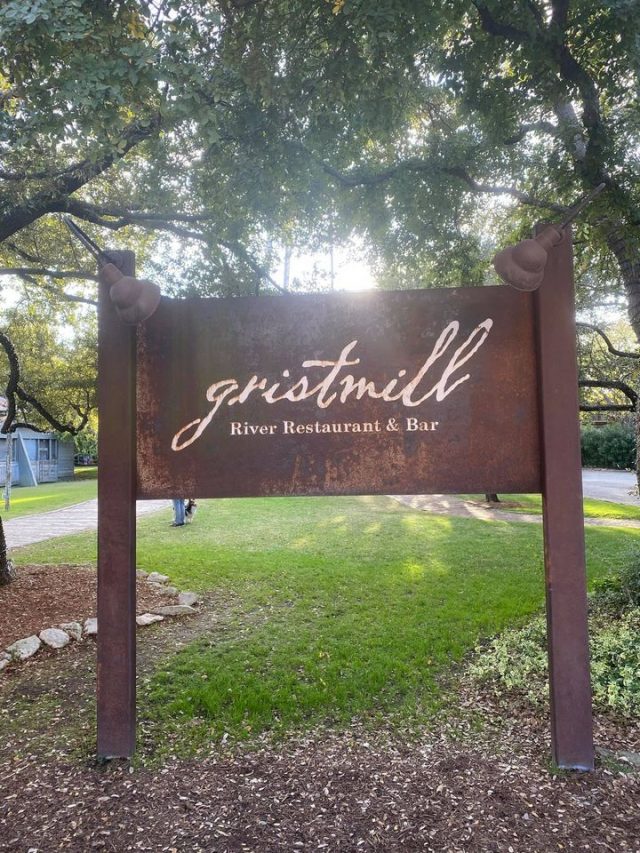 The Gristmill is probably one of the most popular places to eat in New Braunfels. Located in the Gruene Historic District, The Gristmill serves lunch and dinner. They also offer a full bar.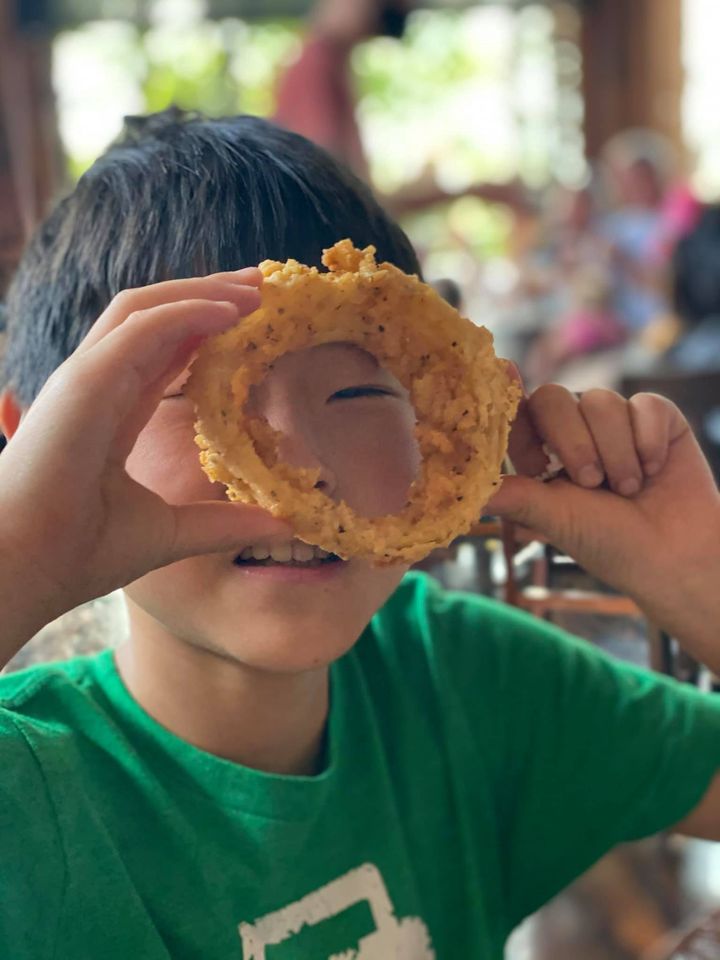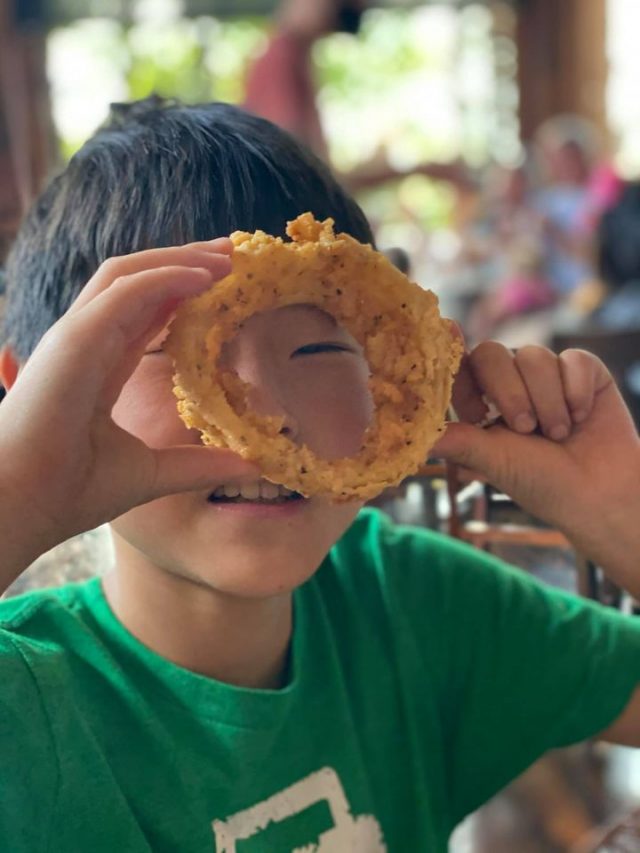 The Gristmill doesn't accept reservations so if you don't want to wait, plan to be lined up at the time they open – and even then, you might wait a bit. They have a text notification process when you sign in, so you can wander a bit while you wait. You can also sit in their outdoor bar area and get something to drink.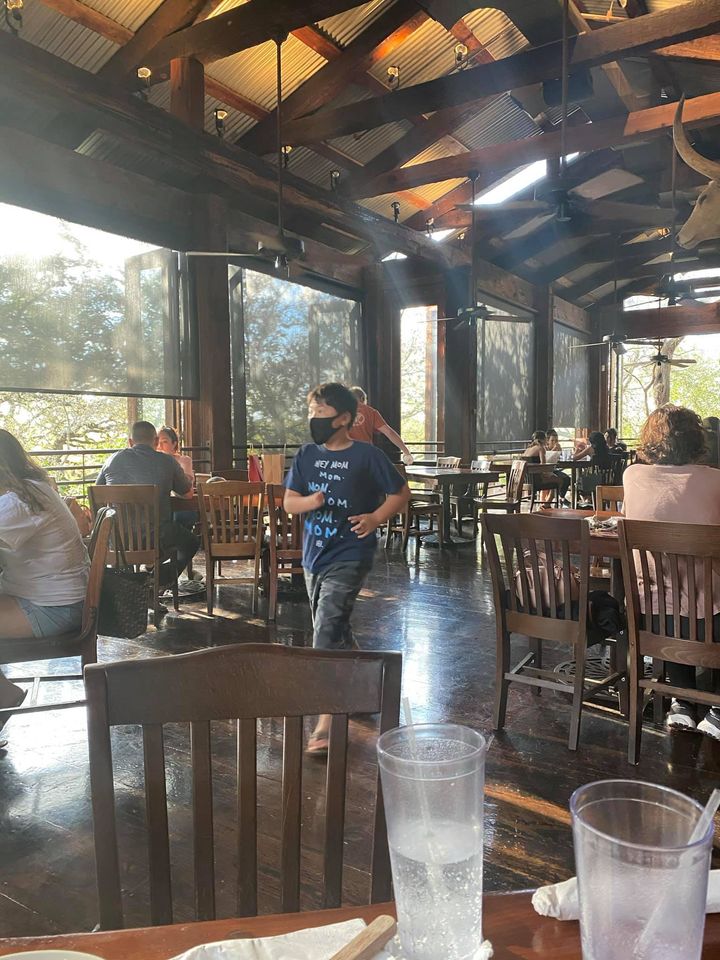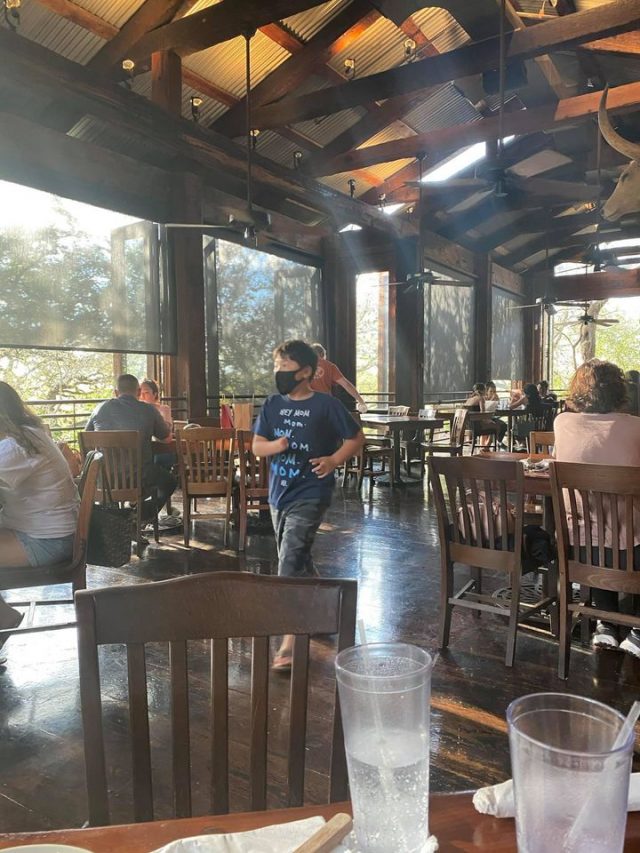 Don't be too intimidated by the quoted wait time – it will usually be less than what you're told.
The food is simple and good. We had fried shrimp, a burger, the ribeye and a grilled chicken salad. We strongly recommend the onion ring stack appetizer.
We've eaten at The Gristmill several times and have never been disappointed. If you want to branch out a bit, check out the nearby Huisache Grill (pronounced wee-satch). It's a little lesser known and maybe slightly less kid-friendly (although we have eaten here with our kids) but the food, presentation, and service is impeccable.
Water 2 Wine Winery and Dinery
Water 2 Wine is a boutique winery that serves wines made in New Braunfels – the grapes come from various places but the small-batch wine making process takes place on site.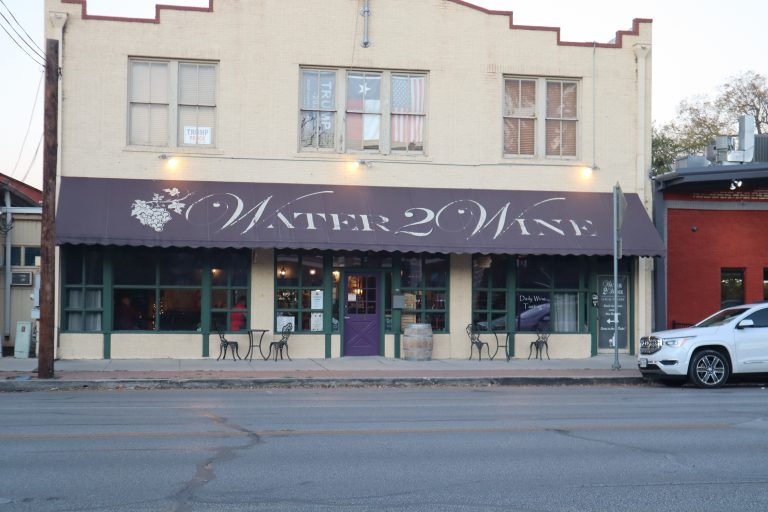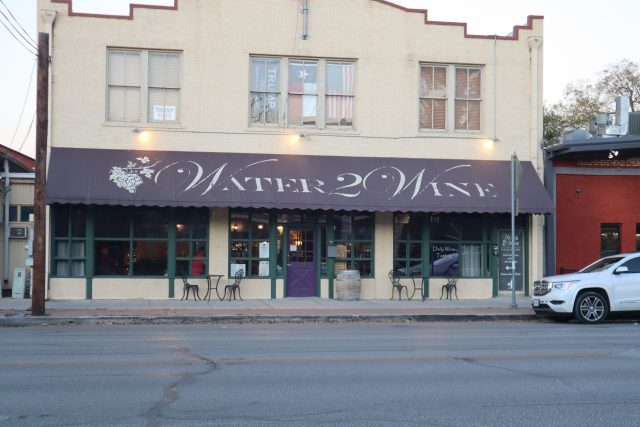 This is a kid-friendly winery and they offer sandwiches and small plates. You won't see their menu online – it's a new addition – but they've got a good selection of sandwiches and salads as well as cheese plates and hummus.
You can also make your own small batch wine.