20 Best Things To Do in San Antonio With Kids
(This post may contain affiliate links. Read my full disclosure.)
There are lots of choices for things to do in San Antonio with kids. From a world class zoo to exciting, outdoor adventures in the city limits and beyond, you'll find lots of great things to do in San Antonio with kids!
And, if you're looking for something more adulty, I've got you covered there with a list of some of the best things to do in this Texas city for grownups, Some of the things on the kids list will appeal to adults and vice versa so I recommend checking them both out.
Best Things to do in San Antonio with Kids
This bustling city is a hub for history, the arts, architecture, and more. However, if you have your kids with you, they're probably not going to be clamoring to visit the art museum or take a historic tour. However, they will be itching to try indoor skydiving, see animals at the zoo, or maybe find a ghost on a ghost tour of the city. Those are just a few of the things that kids will love in the city. There are a lot more, so let's dig in.
Disclaimer: We are a participant in the Amazon Services LLC Associates Program, an affiliate advertising program designed to provide a means for us to earn fees by linking to Amazon.com and affiliated sites.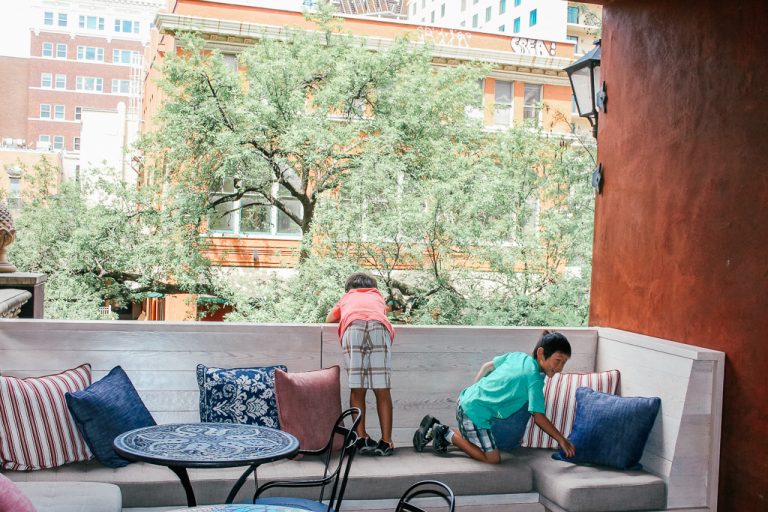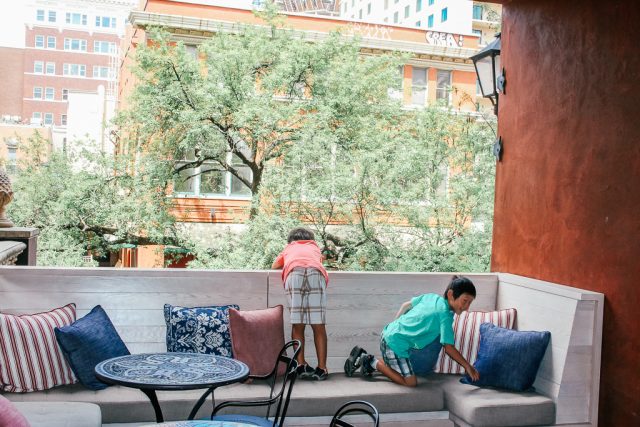 You might also like: The Ultimate Texas Bucket List
Where to stay in San Antonio with Kids
If you would like to stay on the River Walk – which is where the majority of visitors in San Antonio choose to stay because so much is in easy walking distance – I recommend the Marriott Rivercenter and the Hyatt Regency Riverwalk. I've also stayed in the Hotel Valencia, which is beautiful and has a gorgeous lobby area but I don't find the rooms as comfortable. I tend to stay loyal to Marriott and Hilton brands in general and the Hotel Valencia is more of a boutique style hotel.
There are lots of nice hotels in downtown San Antonio – use Booking.com to check out the full list and reviews.
If you would like to stay in the historic Pearl district and fancy a splurge, I recommend The Hotel Emma. While you can get a little bit of the experience by looking around their lobby or eating in one of their restaurants, staying in one of their guest rooms is an experience that is absolutely unsurpassed.
1. San Antonio Zoo
The San Antonio Zoo is a huge 35-acre facility featuring a collection of over 3,500 animals comprised of 750 species. Visitors can see animals like tigers, gibbons, hippos, and tons of other exotic animals. In addition to amazing animals and habitats, the zoo also offers educational experiences focusing on animal habitat and wildlife conservation.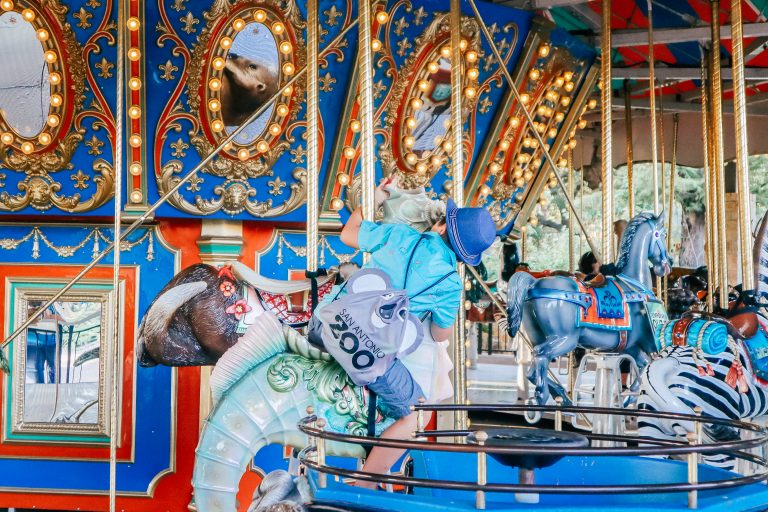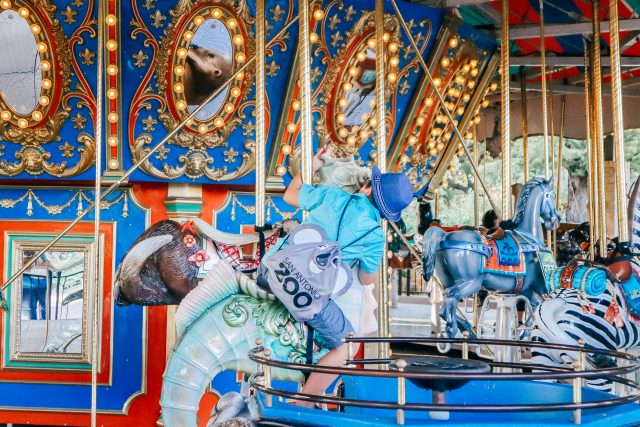 One of the things I love best about this zoo is that its always growing and changing. They do a great job with preserving the nostalgia I associate with my childhood while keeping it fresh.
2. Kiddie Park
America's oldest children's amusement park, Kiddie Park offers old-school fun for kids and adults, alike. Families will be transported back to the 1920s when they step onto the grounds. While the grounds have been updated with modern facilities, they'll experience all the original rides of the park which have been meticulously maintained.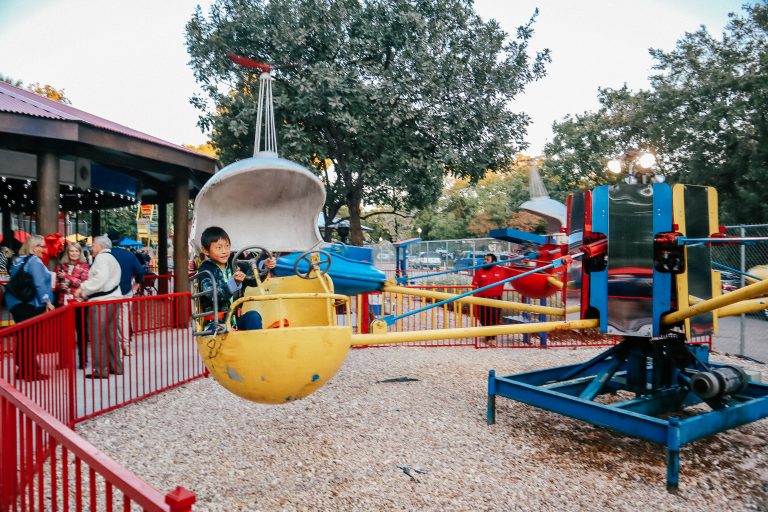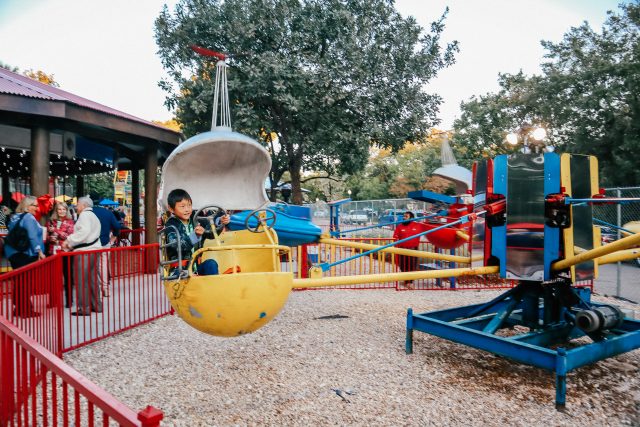 This is an easy one to combine with a visit to the San Antonio Zoo.
3. Witte Museum
Combining nature, science, and culture, the Witte Museum has something for everyone. Explore their collection of dinosaurs and exhibits that feature the history of Texas like the Kittie West Nelson Ferguson People of the Pecos Gallery which focuses on the prehistoric hunter-gatherers of Texas, dioramas of old Texas, and more.
There are also nice outdoor areas and lots of fun hands on things.
4. The DoSeum
The DoSeum makes learning and discovery fun for kids. It features interactive exhibits and programs that promote fun in learning, discovering, and get kids interested in the world around them. The museum focuses on such themes as STEM, the arts, and literacy.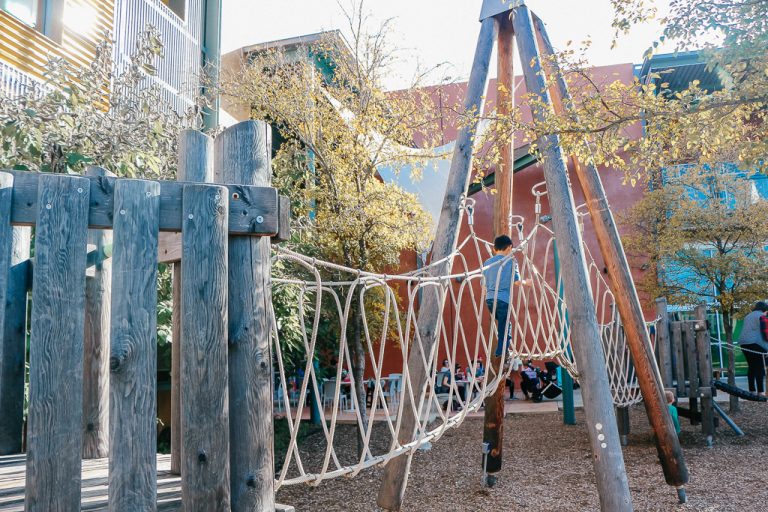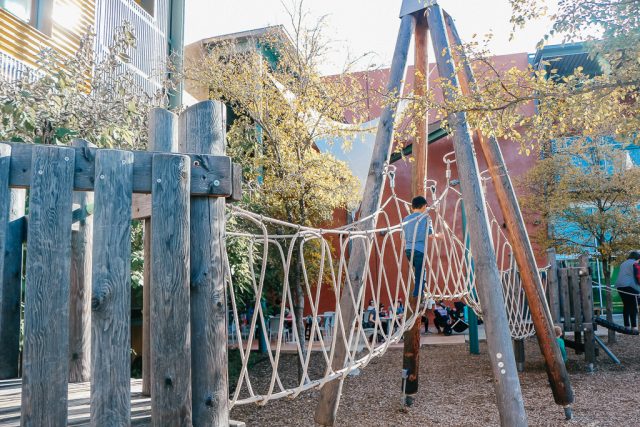 The above four activities are all located within a short distance of each other. While it is possible to do them all in a day, that would be a marathon day for sure. You can easily combine the zoo and kiddie park or both of the museums in one day, or you can mix it up and do other combinations.
The train in Brackenridge Park, adjacent to the zoo, has a stop at the Witte Museum.
5. McNay Art Museum
The McNay Art Museum is Texas' first modern art museum. Located in a converted mansion, this museum includes over 22,000 works in several different galleries, including medieval and renaissance art, sculpture, and mixed media. The entire campus is 25 acres and the outside grounds and patios are fun to explore, too.
There are static and rotating exhibits, so the San Antonio locals regularly get something new and fresh. There may be an extra charge for rotating exhibits, so check their website before you visit.
6. RJA Ghost Tours
Spooky fun and sneaky education await the kids at RJA Ghost Tours. This tour takes visitors to the most hunted sites in San Antonio. Along the way, professional paranormal investigators talk about the history of the areas, their folklore, and different types of hauntings.
7. Extreme Escape
For families with teens, Extreme Escape offers mystery and adventure to excite everyone in the family. Filled with brain-teasing puzzles, candy and treats for a sugar boost to your brain, and several challenging escape rooms, Extreme Escape offers an extreme brain-busting adventure with eight different rooms.
8. iFLY
iFLY offers a variety of indoor skydiving options for everyone from kids to adults. Get on your gear and take a flight or book an indoor skydiving party. iFLY offers custom events for kids, teens, and adults, and they have group options for parties including catering.
My husband and I did this as a date night. Pro-tip: If you have longer hair, braid it or bind it or it will get massively tangled in the wind tunnel.
9. Ripley's Believe IT or Not! San Antonio
Ripley's offers three attractions at one location, and they're all sure to be a hit with the family. Kids to adults can check out the Guinness World Records area featuring a combination of artifacts, exhibits, videos, and interactive areas. Tomb Rider 3D is a multi-million dollar special effect 3D interactive adventure ride for the entire family. Finally, families with teens can navigate the Haunted Adventure, voted #1 haunted house.
This one is a little cheesy but my kids love it.
10. The Buckhorn Saloon & Museum
Take the family for a delicious meal, and then see all the interesting sights The Buckhorn Saloon & Museum has to show off. Featuring the Buckhorn Museum and the Texas Ranger Museum, Buckhorn boasts the full Texas experience from an old west vibe, to animals on display, artifacts, and more in the Buckhorn Museum and a huge collection of Ranger memorabilia in the Texas Ranger Museum.
If you want to learn more about the Texas Rangers, there's a museum in Waco (about three hours drive from San Antonio) that has a museum dedicated to their history.
11. Battle for Texas: The Experience
Battle for Texas: The Experience makes learning fun for every member of the family. Featuring interactive and multi-sensory elements, Battle for Texas: The Experience immerses guests in this recreation of the Alamo. It showcases the world's most significant artifacts of the Alamo, multimedia re-enactments, and much more.
12. Natural Bridge Caverns
Please note, Natural Bridge Caverns and Natural Bridge Wildlife Ranch (mentioned below) are in nearby New Braunfels. New Braunfels is about 30 miles from downtown San Antonio.
As the name would suggest, you can explore two underground caverns but there's plenty of fun above ground, too.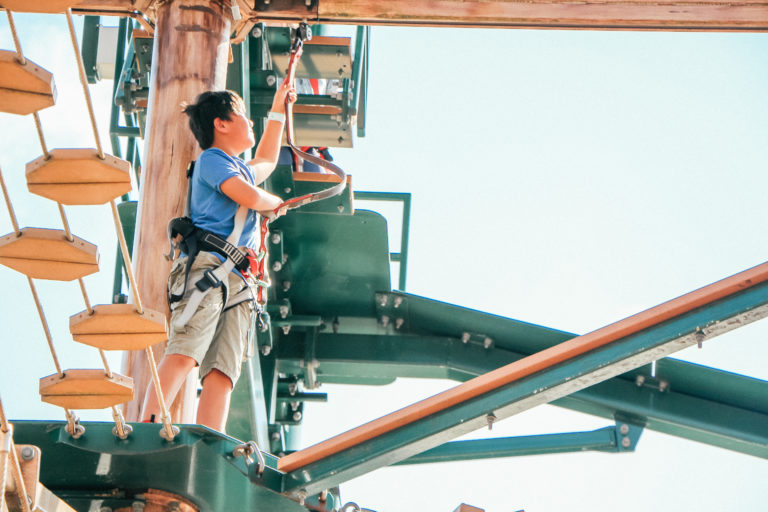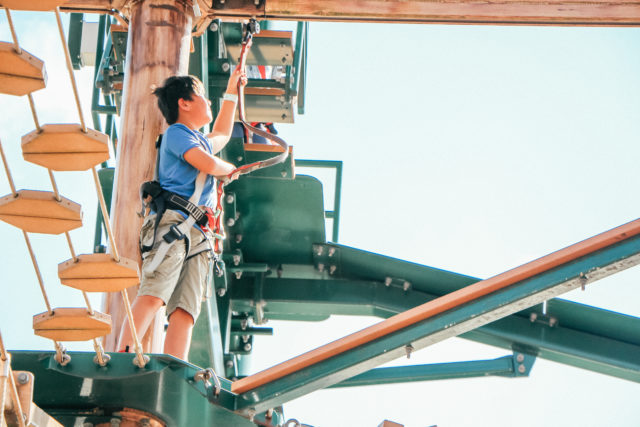 You can explore the Twisted Trails Ropes Course and Zip Rails – very similar to zip lining. You can also mine for fossils, navigate a maze, eat, and shop. Natural Bridge Caverns makes exploration and discovery fun for everyone in the family and you will find something for all ages.
13. Natural Bridge Wildlife Ranch
Take an African safari with a Texas twist at Natural Bridge Wildlife Ranch. Visitors can see over 700 animals from over 40 species from across the globe. This 450-acre ranch offers a drive-through safari, a Walk-A-Bout area featuring several bird and primate species, a Petting Barn, the Safari Camp Grill, the Safari Trading Post gift shop, and more.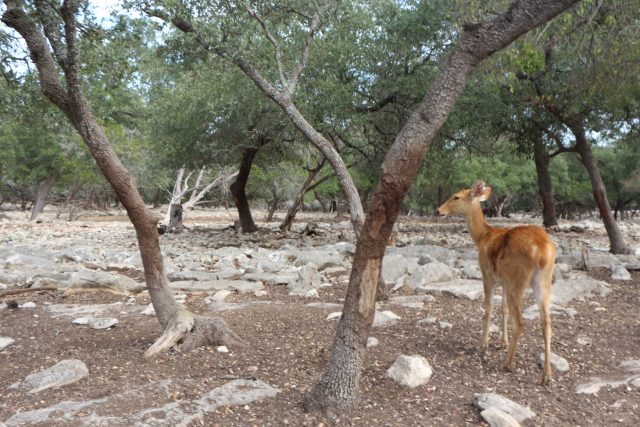 Natural Bridge Caverns and Natural Bridge Wildlife Ranch are next to door to each other but you need separate passes for each.
14. SeaWorld
At SeaWorld, families can experience up-close animal interactions, exciting rides, amazing shows, splash pad areas, and more. The park even has special events like the Christmas Fireworks Celebration, Pass Member Ornament Giveaway, and more.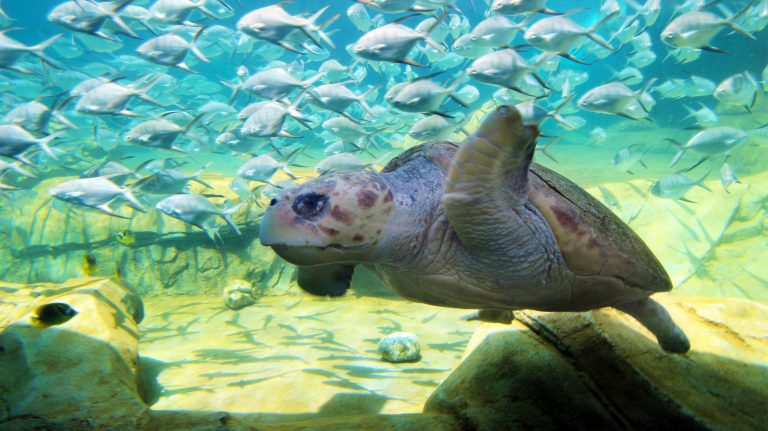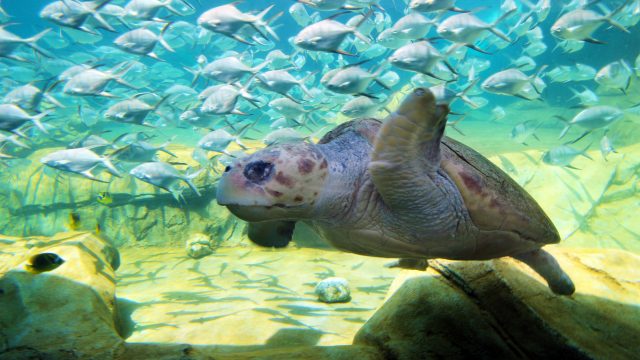 15. Aquatica San Antonio
Aquatica San Antonio is one of the best family-friendly water parks in the state. Located next to SeaWorld, Aquatica features South Seas-inspired fun like heart-pounding thrill rides, a beach, an underwater grotto with tropical fish, water fun for the littles, and more.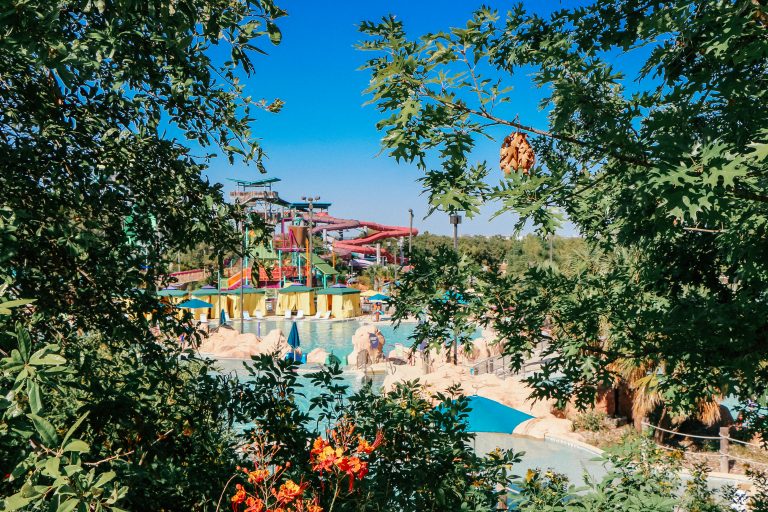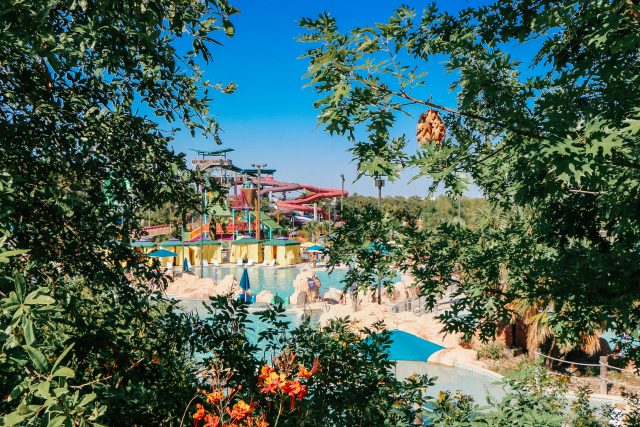 Aquatica is my favorite water park ever, by the way.
16. Six Flags Fiesta Texas
From smaller rides for the younger kids to heart-pounding coasters for older kids and adults, Six Flags Fiesta Texas has something for every member of the family. This 200-acre theme park is overflowing with rides, games, activities, performances, fireworks, and special seasonal events.
17. Morgan's Wonderland
The entire family – including special needs kids – will love Morgan's Wonderland. It's the world's first theme park designed for special needs people but built for everyone's enjoyment. All attractions are wheelchair-accessible and include such classics as a ferris wheel, off-road driving track, and wheelchair swings.
18. Splashtown
Splashtown offers 20 acres of watery fun with 40 waterslides, a half-million-gallon wave pool, a quarter-mile-long last river, the Crystal Falls activity pool with slides, the Kid's Cove featuring 16 slides just for the younger kids, water and beach volleyball, and so much more.
Looking for more Texas water parks? Here are some of the best in the state!
19. LEGOLAND Discovery Center
The ultimate LEGO indoor playground for kids from toddlers to age ten, LEGOLAND Discovery Center features the DUPLO Village, LEGO 4D Cinema, LEGO Racers: Build & Test, Earthquake Tables, The Great LEGO Race VR Experience, the LEGO store, and tons of fun events.
20. SEA LIFE San Antonio Aquarium
SEA LIFE San Antonio is a new aquarium in San Antonio that focuses on up-close-and-personal exploration. Families will love the underwater world bursting with local and international sea life and a hands-on Rockpool Experience offering guests the chance to touch anemone, sea stars, and sea urchins.
21. XFactor Paintball Park
XFactor Paintball Park offers paintball fun for the entire family. The park offers multiple fields designed for every experience level from weekend warriors and novices to tournament-level players. You'll even find a two-story reconstruction of the Alamo.
So Much Excitement and Discovery in San Antonio with Kids
Hope you enjoyed reading! I've lived here most of my life so if you have questions about anything, leave a comment, send me an email or message me on social media!
And remember: there's no rule that says you have to have kids to enjoy these activities. You'll also want to check out my companion post – Things to do in San Antonio – for more ideas. Although it wasn't written specifically for parents trying to find things to do in San Antonio with kids, I bet you'll find some ideas there, too!
From Ripley's Believe It or Not! to paintballing, museums, water parks, and more, San Antonio has so much to offer families. No matter what you're looking for, visiting San Antonio is always a good time. If you're planning a trip, make San Antonio your next destination.
If you're visiting San Antonio with kids during the fall, check out one of the area pumpkin patches!