Amazing Things to do in Gulf Shores Alabama
(This post may contain affiliate links. Read my full disclosure.)
Do you crave beautiful turquoise beaches with sugar white sand? Gulf Shores, Alabama is worth the trip. Here are some amazing things to do in Gulf Shores Alabama (besides the beaches!) that will inspire you to visit the beautiful Alabama beaches.
Living in San Antonio, our beach trips are typically to Port Aransas, along the Texas Gulf Coast. The best thing I can say about our Texas beaches is that they represent nostalgia (they're the beaches of my childhood) and that they're close by. We can be at the beach in less than three hours. They're not the prettiest but they'll do the trick if you just need your beach fix but if you can swing the extra time, I recommend Gulf Shores.
Six AMAZING things to do in Gulf Shores Alabama
I was hosted by Gulf Shores and Orange Beach Tourism. All opinions are my own. This post may also contain affiliate links which means I may earn a commission from purchase you make through my website. Thank you for supporting Ripped Jeans and Bifocals.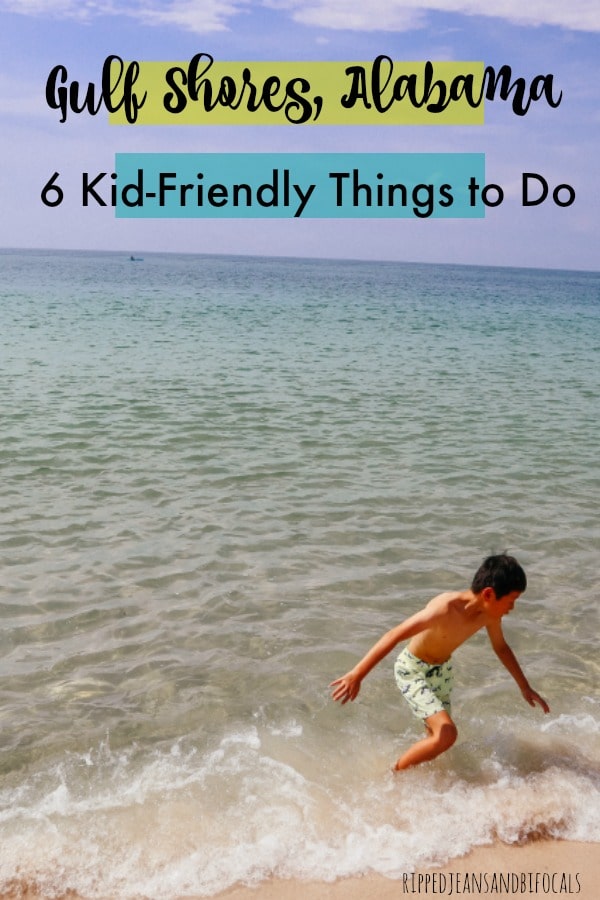 The Gulf Shores/Orange Beach area is as close as you can get to that "Caribbean Beach vibe" without leaving the United States. They are definitely better beaches than Texas Gulf Coast beaches.
If you're flying, Gulf Shores is about two hours from the Mobile airport and about three hours from the Montgomery airport. We flew in via Atlanta, which is a longer drive but our visit to Gulf Shores was paired with some additional travel in the Southeast U.S.A. so we didn't mind the extra driving.
Gulf Shores is easy to get to and you'll find a lot of people from all over the place that come to enjoy these beautiful beaches. After one visit, it feels like these are our beaches, too, and we can't wait to go back.
I hope you enjoy this list of amazing things to do in Gulf Shores Alabama.
1. Enjoy the beautiful beaches
OK, this one is kind of a DUH because the beautiful white sand beaches because I've been doing nothing except talking about how much I love these beaches.
Since there's a ton of other stuff to do and see in Gulf Shores and nearby Orange Beach, I recommend scheduling a dedicated beach day. You need one day where you have no plans except soak up the sun (or laze in the shade) swim in the crystal clear turquoise water and play in the sand.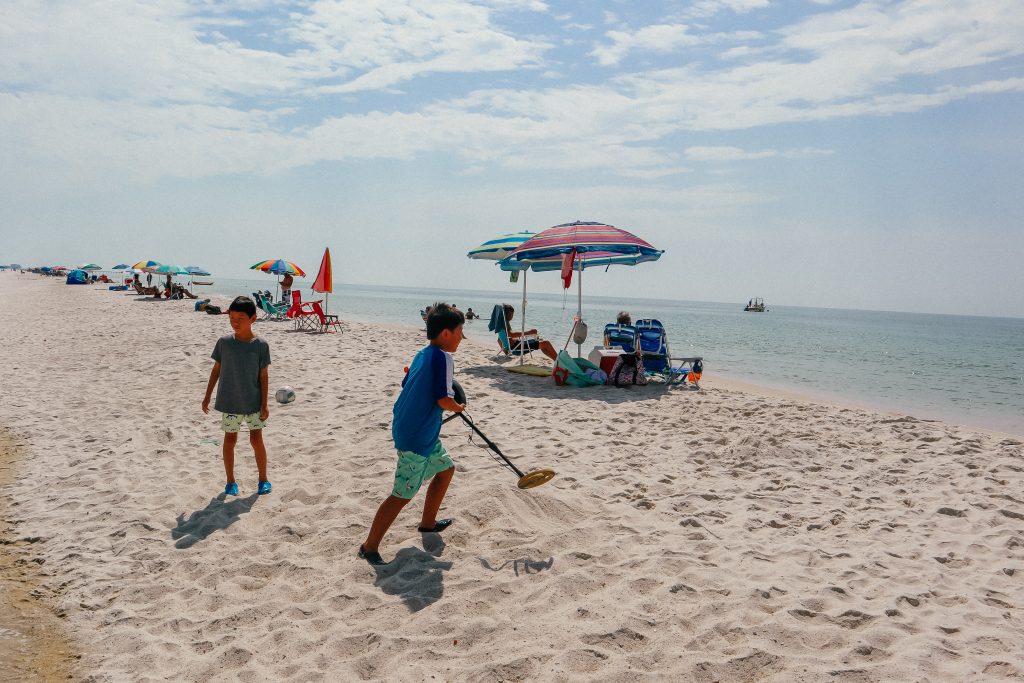 If you're driving, make sure you pack all of your beach gear – chairs, canopy, coolers, wagon, sand toys, blankets. You will also need beach towels, swim goggles, mask, or snorkel gear (the water is super clear here so you never know what you'll see.)
Don't forget sunscreen and your sun hat.
If you forget something there are multiple places in Gulf Shores and Orange Beach where you can get what you need. If you're flying and can't cart all that beach stuff around with you, there will be places you can rent chairs and umbrellas. We stayed in one of the many beachfront condos in Gulf Shores and most properties have rental services aplenty. You can rent two chairs and an umbrella for a reasonable price. If you rent for multiple days you can get a better price.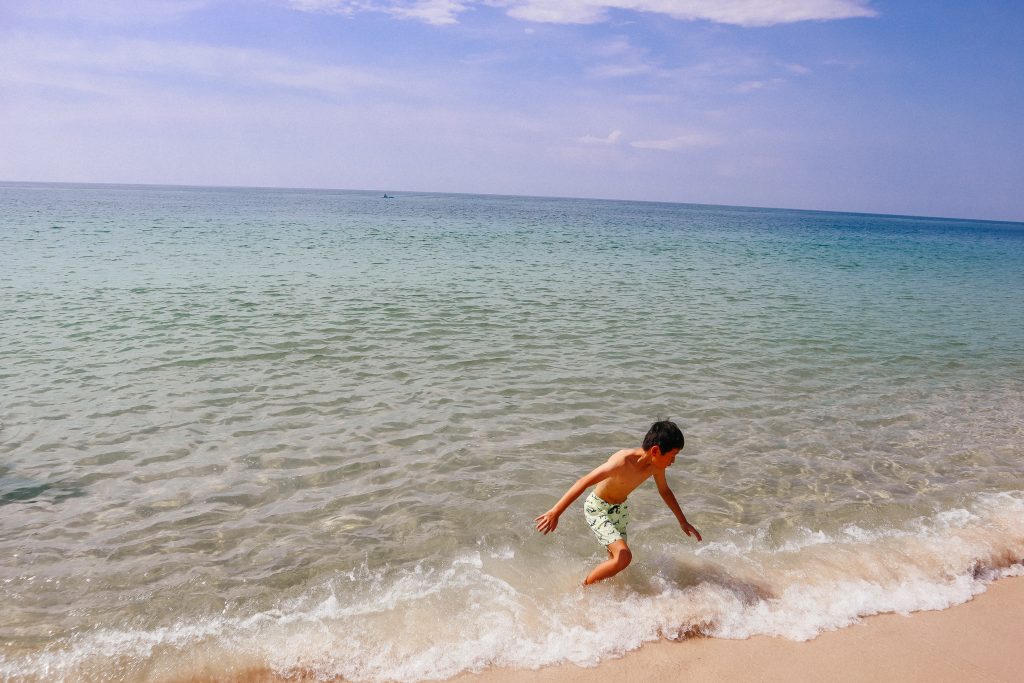 These beaches are truly beautiful and deserve your dedicated time to soak them up.
2. Sandcastle University
This was my favorite thing we did in Gulf Shores. It's really hard to have a favorite because everything we did was really fun and relaxing but learning to take my sandcastle game up a notch was the best. We had a one hour lesson with Sandcastle University and I strongly recommend you do this too, either on your dedicated beach day or any other time you can squeeze it in.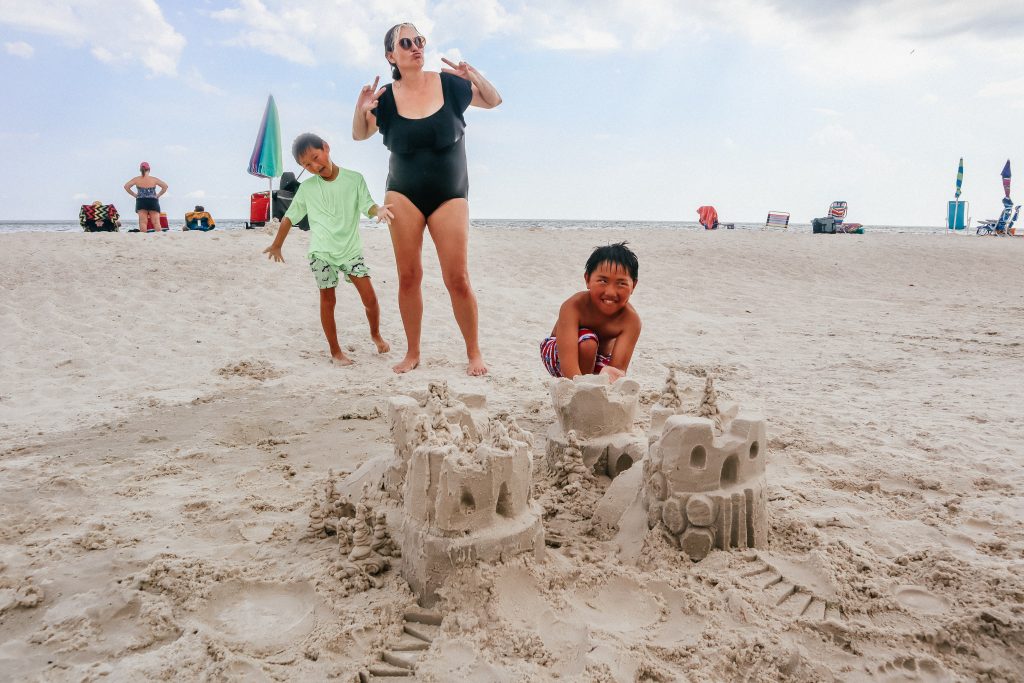 The coolest thing about this experience is that Sandcastle University comes to wherever you're staying. Our new friend Janelle met us on the beach right outside our condo. The only thing we needed to bring was ourselves, sunscreen and water. Everything else was provided for us.
It's been a couple of years since I've been to the beach with my kids. When we've visited Port Aransas, we typically take a good supple of buckets, shovels, and different molds for making sand art. Aaaaand…despite all that coupled with my very best efforts, my sand castles were sort of…embarrassing. See also looking nothing like castles.
Making a great sandcastle isn't actually that hard. Of course, Janelle made it look easier than it really is but she showed us some awesome tips on how to make an enviable sand castle using basic household items, like melon ball scoopers, paintbrushes, and straws. This was an hour well spent and we can't wait to put our Sandcastle University knowledge to the test next time we go to the beach.
For more detailed info on Sandcastle University, including a cost breakdown, read HERE.
You can watch the time lapse video of our class here:
Book your own class before you come to Gulf Shores. It's an hour very well spent and they're awesome with kids. Check out their website HERE.
3. Parasailing
I like to do things that get me out of my comfort zone. I find myself growing more timid about some things as I get older but I don't want to be that old lady mom who is afraid to get on the roller coaster or experience new things so I make myself push outside of that bubble of comfort. I'm usually glad when I do.
Parasailing is one of those things for me. It's something that I always wanted to try. As far as adventure sports go, it looked fairly mild. Much less intimidating than bungee jumping or hang gliding.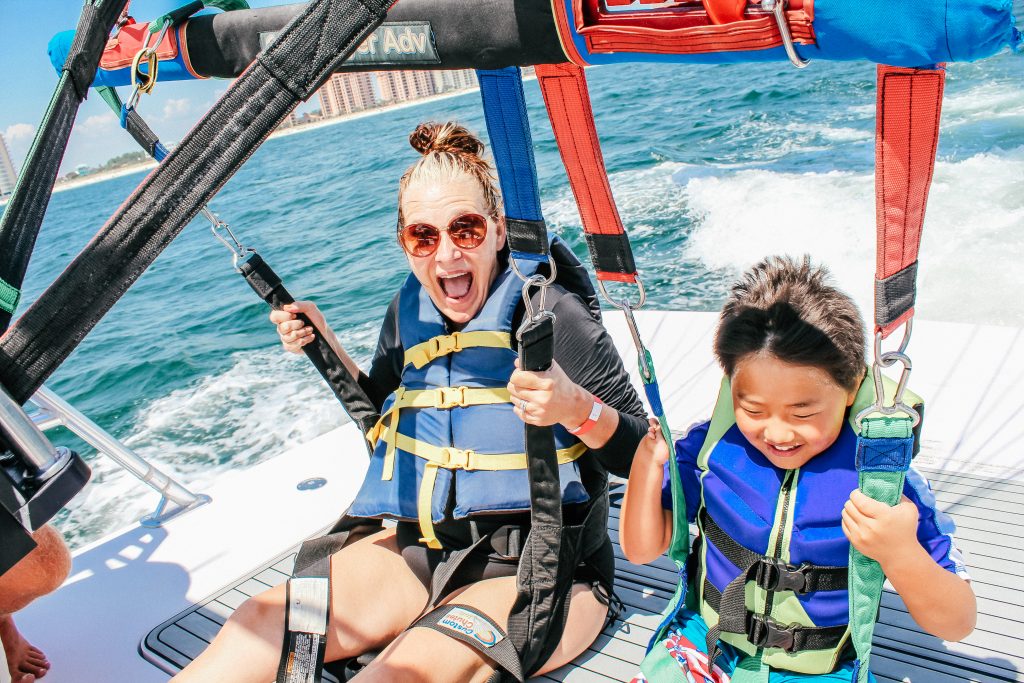 My son Zack and I did a ride with Skysurfers in Orange Beach. We went out on a 15 passenger boat with two crew members and some other fun people. My son Kyle didn't want to go up so he went on the boat as an observer (there is a small charge to do just that). The boat ride was an adventure in of itself, so he didn't feel too left out. You can parasail as a duo, as we did, or as a group of three.
We were out for a total of 90 minutes and Zack and I were up for about 10 minutes. It was an ultra peaceful feeling being up above the gulls. I'm proud of us for doing it and I completely recommend the experience.
Kids as young as four can go parasailing so this is definitely a family-friendly activity. To learn more check about Skysurfers and what they offer, visit their website HERE.
4. Dolphin Watching
Who doesn't want to get an up close look at dolphins in the wild? We went out with Cetacean Cruises on their Dolphin and Nature Sunset Cruise. Cetacean Cruises depart from The Wharf entertainment district in Orange Beach, which offers awesome shopping, dining, and other fun stuff.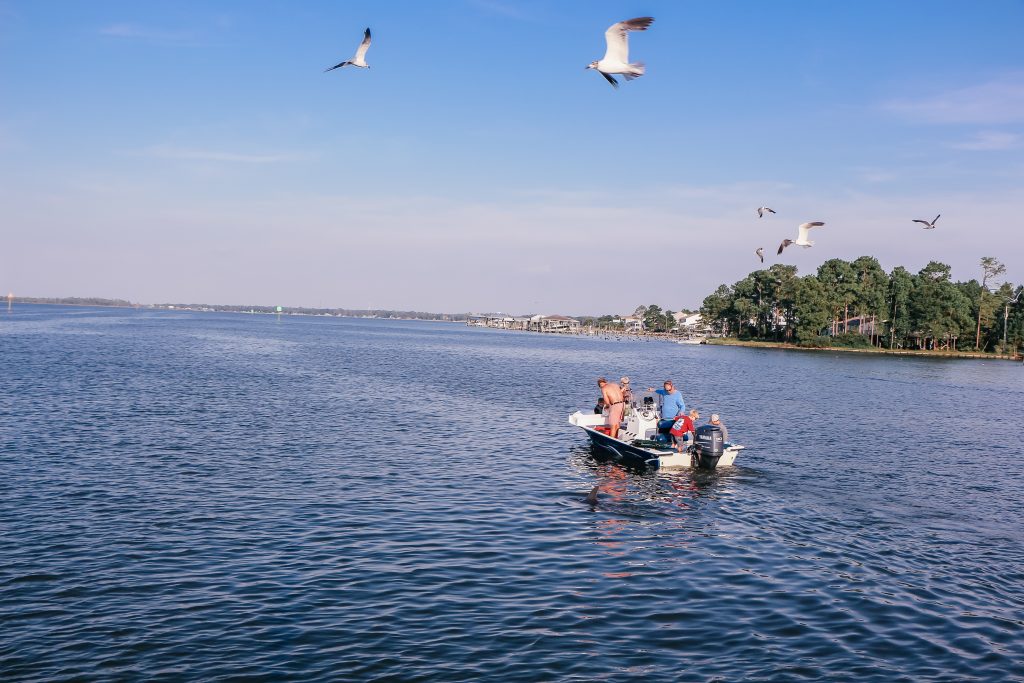 The cruise we took was on a 52 foot (very comfortable) catamaran. When you book your ticket you'll be assigned a seat, so there's no scrambling or wondering where to sit.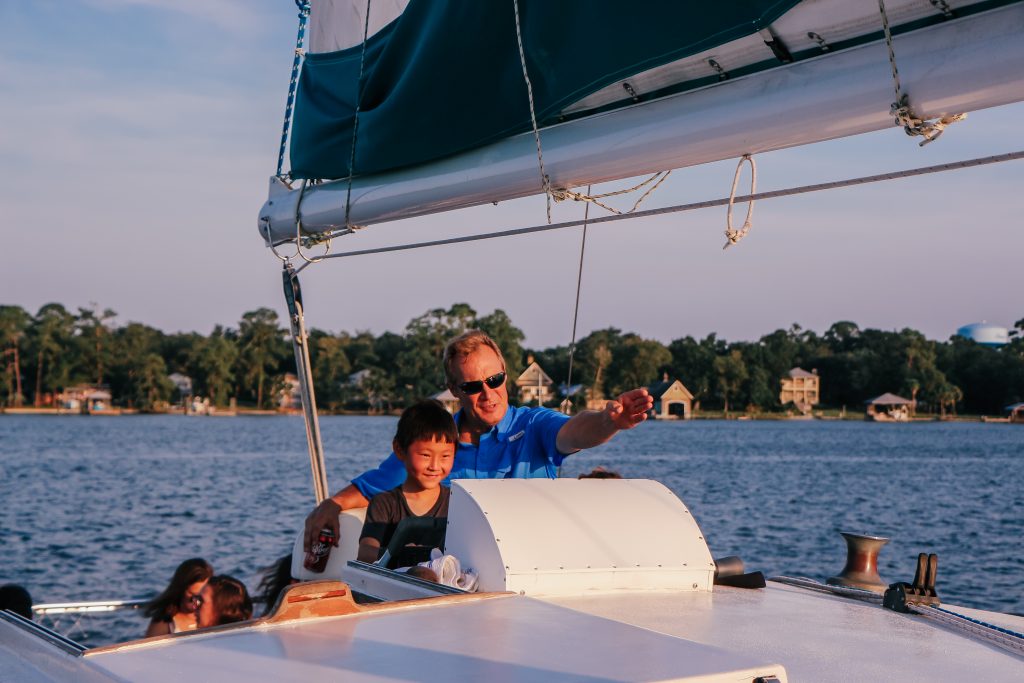 Cetacean Cruises offers snacks and a variety of alcoholic and nonalcoholic drinks for purchase while you're enjoying your sunset cruise. If you want a frozen drink, you'll have to order it before the boat leaves the dock but other than that, you can live it up on board.
And the sunset? Absolutely one of the most stunning sunsets I've ever seen.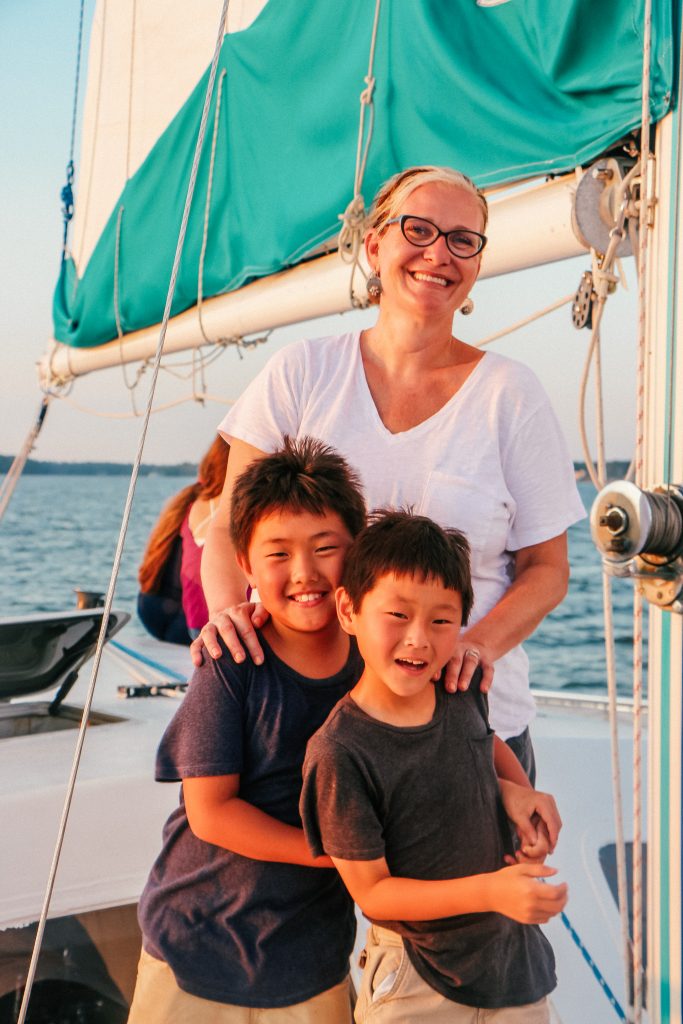 Your tickets will earn you some discounts at various eateries on The Wharf. Your Captain will give you the deets before you disembark. We ate at one of the suggested restaurants and forgot to give the server our tickets. The shrimp and grits were so good I didn't mind paying full price.
More on Cetacean Cruises HERE.
5. Find your inner artiste – Things to do in Gulf Shores Alabama
I like doing things on vacation that fall into the "I didn't know they had that there" category. I found one of the most interesting things to do in Gulf Shores Alabama at the Coastal Arts Center in Orange Beach.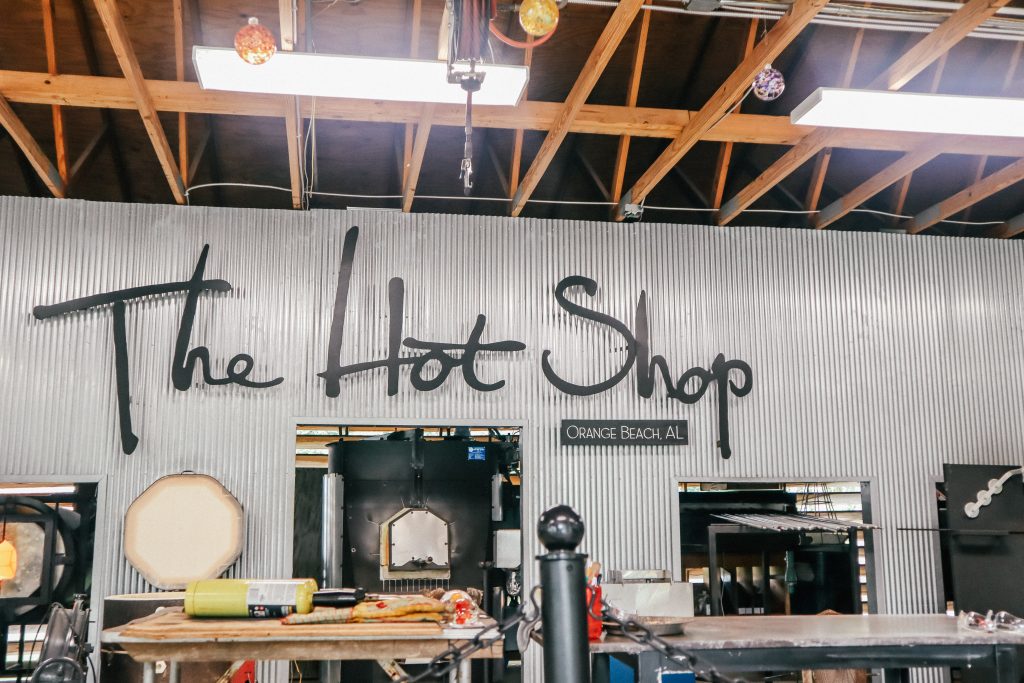 I'm a creative person but I'm more of a "creative ideas" person than a "make stuff" person. I spent a really fun morning at the Hot Shop, which is Alabama's premier glass studio. I got to work with one of the local craftsmen to make a unique project.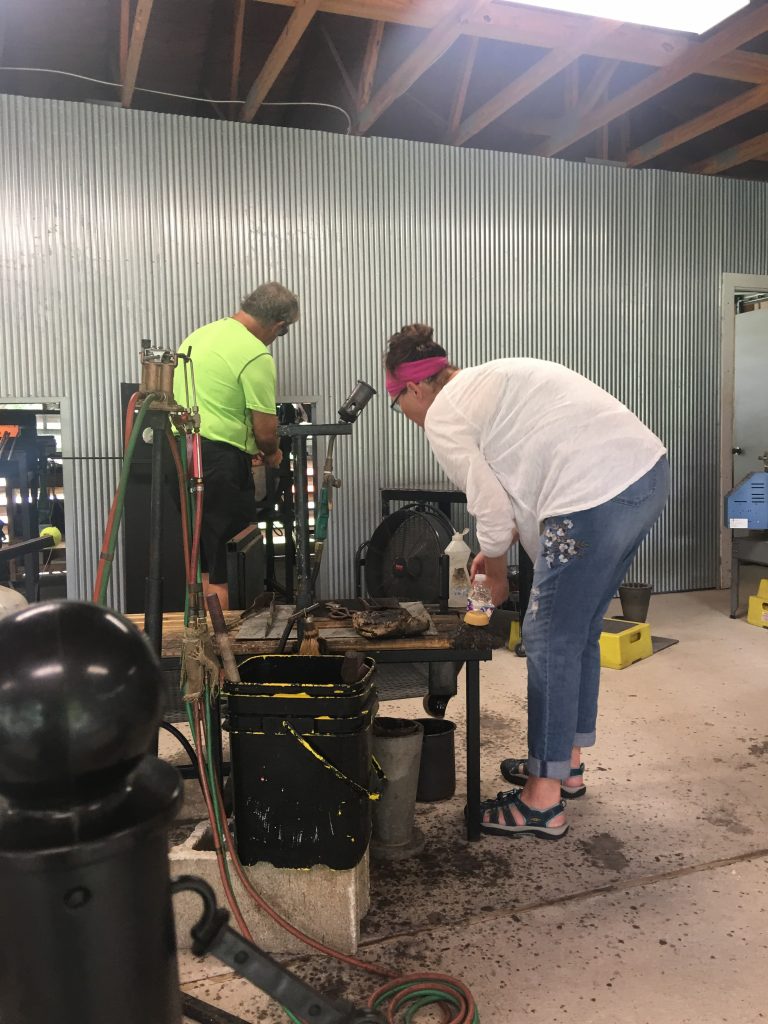 There are a variety of other classes you can take at the Coastal Arts Center and, even if you don't want to take a class, their gallery and grounds are absolutely worth exploring. This is a popular place to take wedding photos and I can absolutely see why.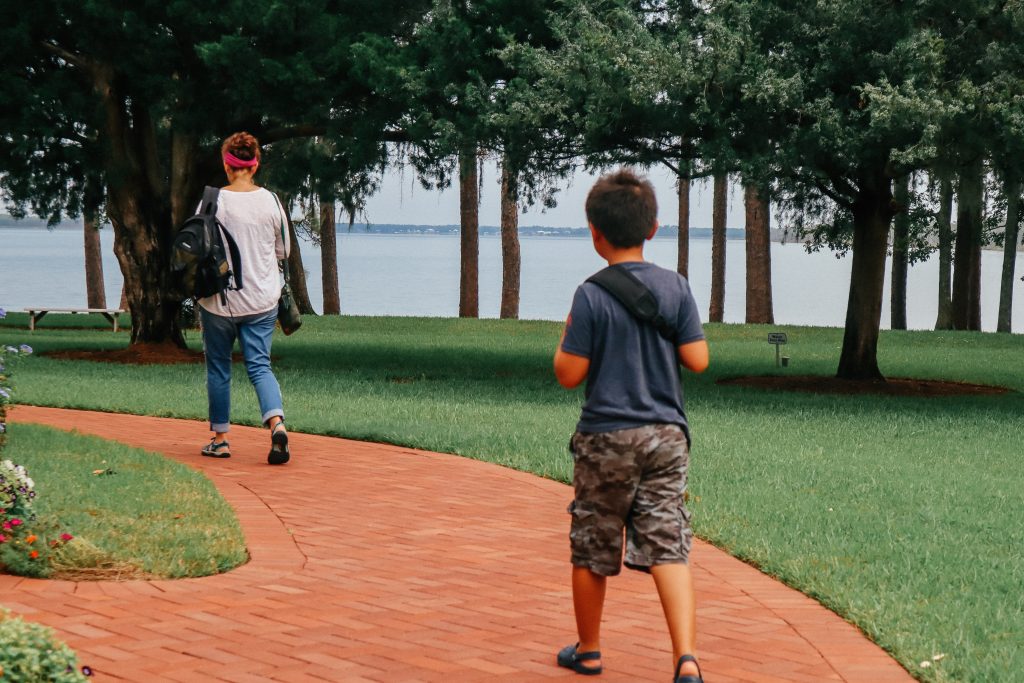 I think it's fun to get a vibe for the local area through art and artisans. The Coastal Arts Center is a great place to do that. There's some seriously great and seriously wacky creations waiting for you. I definitely have things that are "my taste" as far as art goes but I like looking at things that aren't necessarily what I'd buy. It definitely broadens the mind.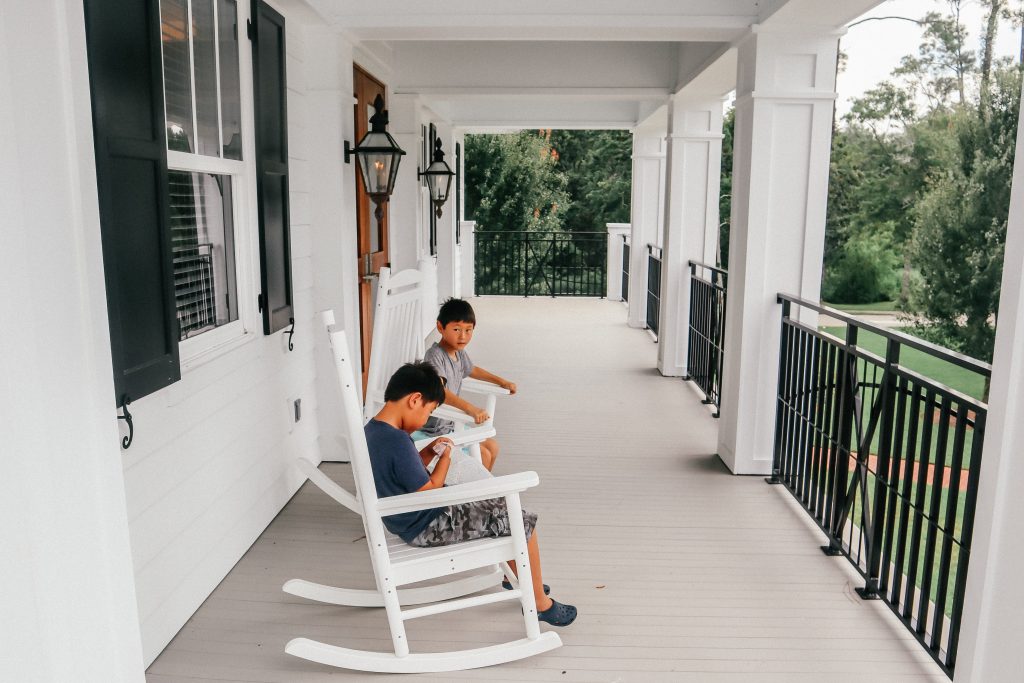 The Coastal Art Center is funded by the city to give local artists a place to showcase their work. Read more HERE.
6. EAT
Make time to enjoy the amazing food in Gulf Shores and Orange Beach. One of my favorite eateries in Gulf Shores was The Hangout. The Hangout has great food but it is so much more than a restaurant.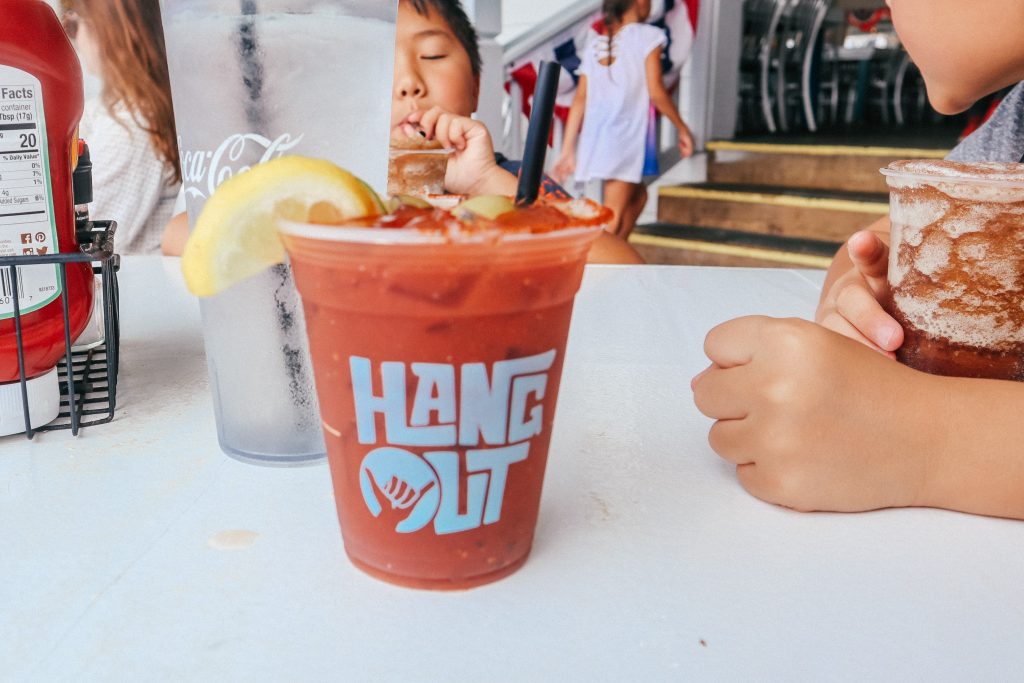 The Hangout offers inside and outdoor dining. They have great views of the beach and a fun backyard with lots of photo opps and things for the kids. And…there's an hourly foam explosion. It doesn't get much cooler than that. If you only go to one restaurant while in Gulf Shores (which would be super hard because there's so much goodness) then go here. It's got a great atmosphere and your kids won't want to leave.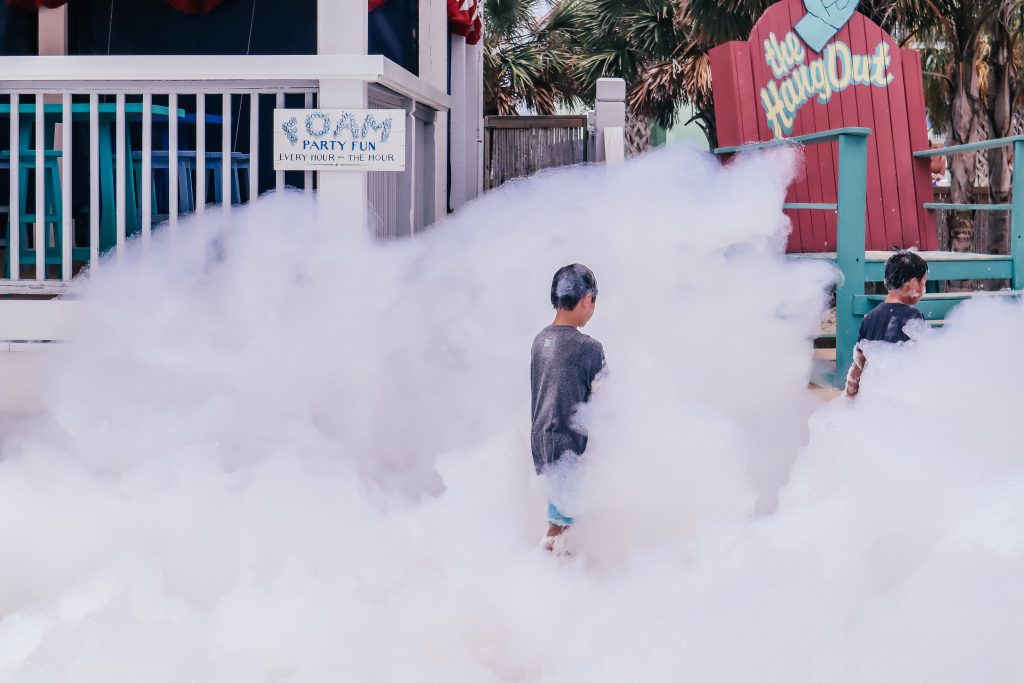 To check out the menu and to see what's happening daily at The Hangout, check out their website HERE.
P.S. I recommend the crab cake.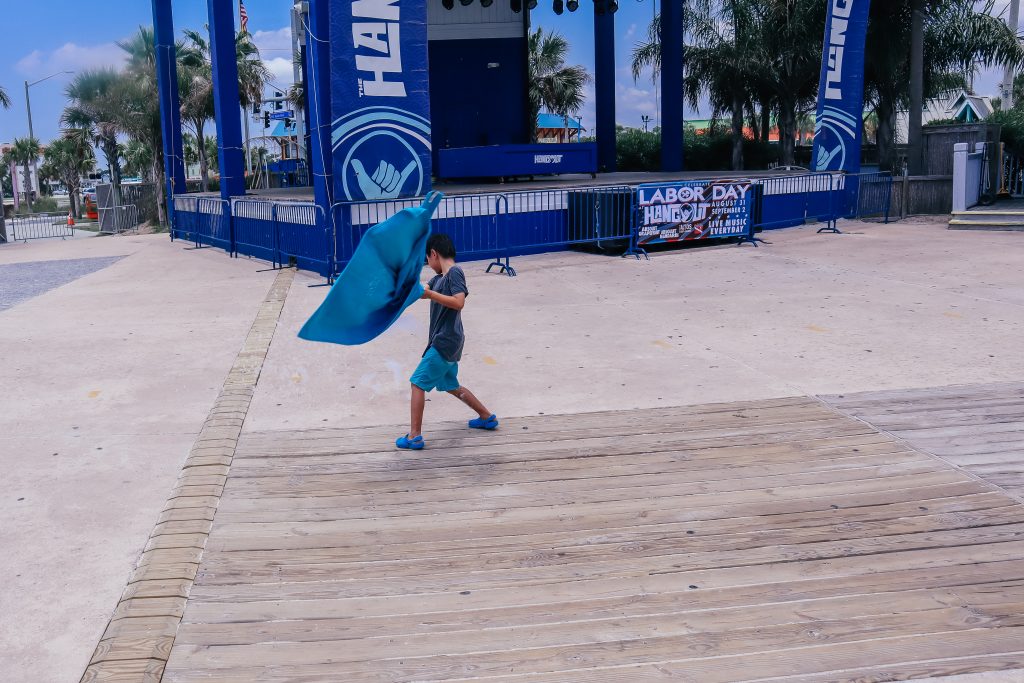 Want more ideas for planning your perfect Alabama Beach Vacation? Check out the Gulf Shores and Orange Beach Tourism website for all the details.
You might also like:
How to plan your perfect trip to Destin Florida
The Ultimate Guide to Disney's Blizzard Beach
Fun and Adventure in Gulf Shores Alabama
How to plan a summer beach trip in Alabama