The Ultimate Guide to Blizzard Beach Water Park
(This post may contain affiliate links. Read my full disclosure.)
Everyone contemplating a trip to Walt Disney World knows about the Magic Kingdom, EPCOT and the other theme parks. But what about Disney Water Parks? This ultimate guide to Blizzard Beach Water Park is the review you need to help you decide whether or not its for you.
What is Blizzard Beach Water Park?
Blizzard Beach is one of two water parks at Walt Disney World. The other is Typhoon Lagoon and it is currently not open.
Blizzard Beach is located on the Walt Disney World property (between Hollywood Studios and Animal Kingdom) and is open pretty much year round, although it will close for the occasional Orlando day when it's too cold to go swimming.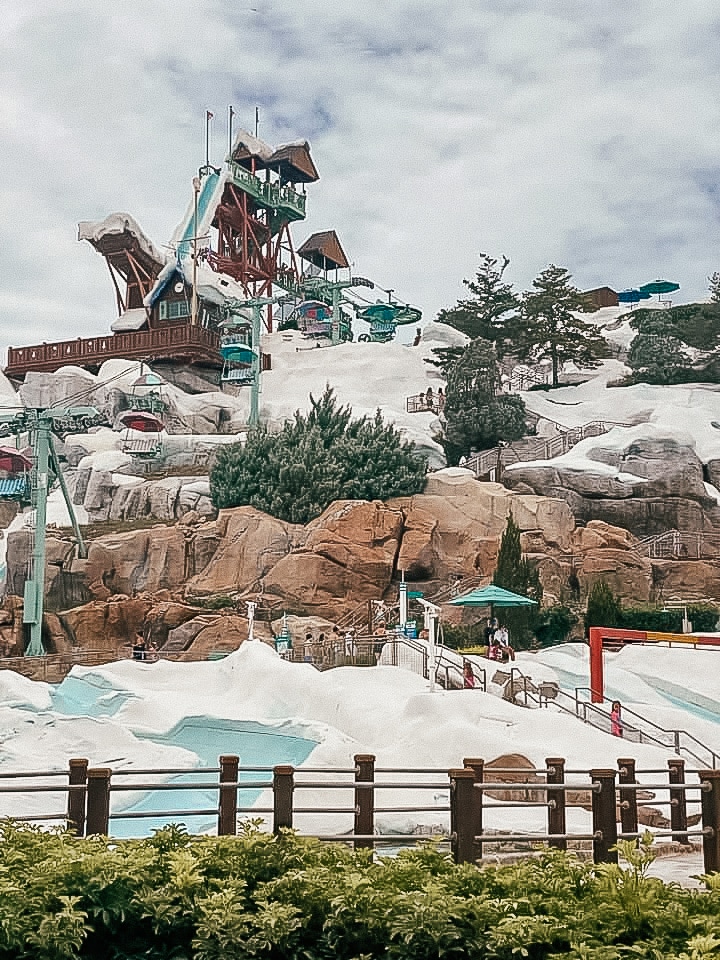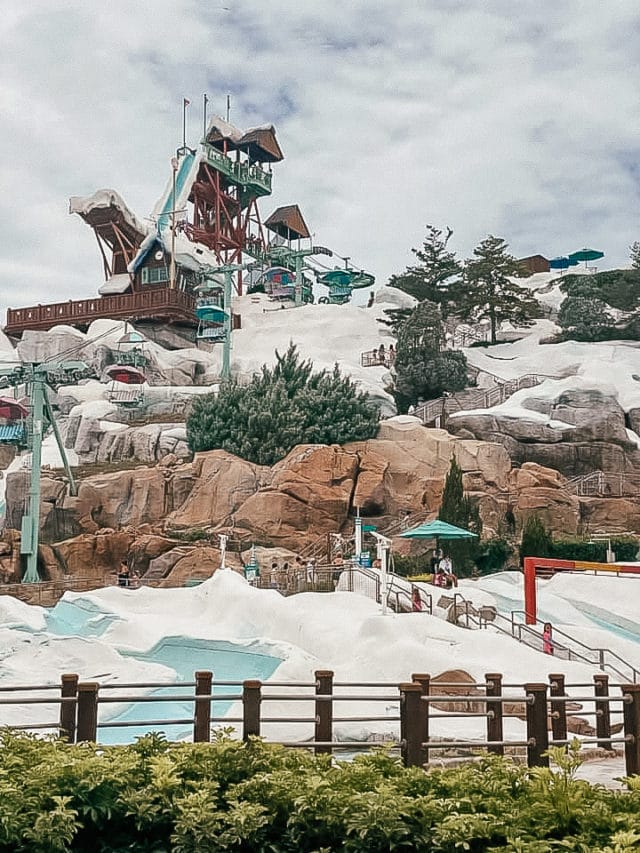 Disclaimer: We are a participant in the Amazon Services LLC Associates Program, an affiliate advertising program designed to provide a means for us to earn fees by linking to Amazin and affiliated sites. This post may also contain affiliate links to other websites. If you make a purchase from one of my links, the seller pays me a small commission.
The backstory
Don't you love a good backstory? The theming and backstory are really clever and well done at Blizzard Beach.
A freak blizzard descended on Orlando (hey, anything is possible) so naturally, some enterprising business people decided to build a ski resort. In Orlando. A little unlikely? Sure, but let's go with it.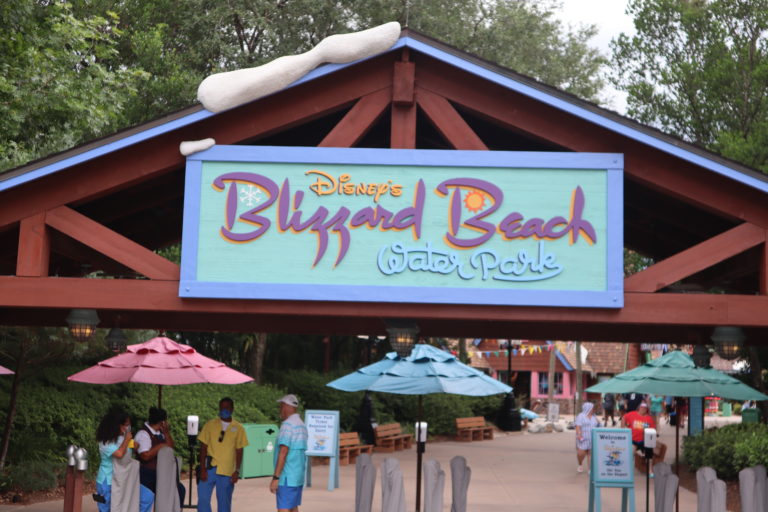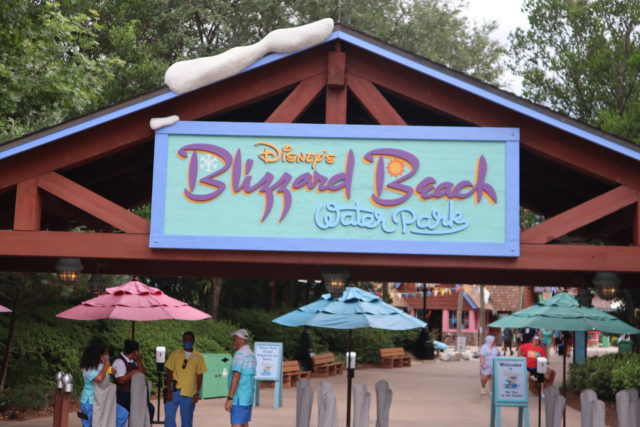 Alas, the famous Florida sunshine returned, turning the ski resort into a dripping mess of melting snow so the owners did the only sensible thing and turned it into a water park.
If you can picture a ski resort/water park combo, you've got Blizzard Beach.
Even though the whole concept of a ski resort being built during a freak snowstorm in Central Florida is a little far fetched, the theming is super well done.
Visiting Blizzard Beach Water Park – Essential Info
You can buy single day tickets to Blizzard Beach, which is what we did.
Blizzard Beach (along with Typhoon Lagoon when they reopen) are included in the purchase of the Park Hopper Plus Ticket so if you think you'll want to go to the Disney water parks, it's worth looking at Park Hopper Plus. It is also included with the Water Park and Sports Option ticket*.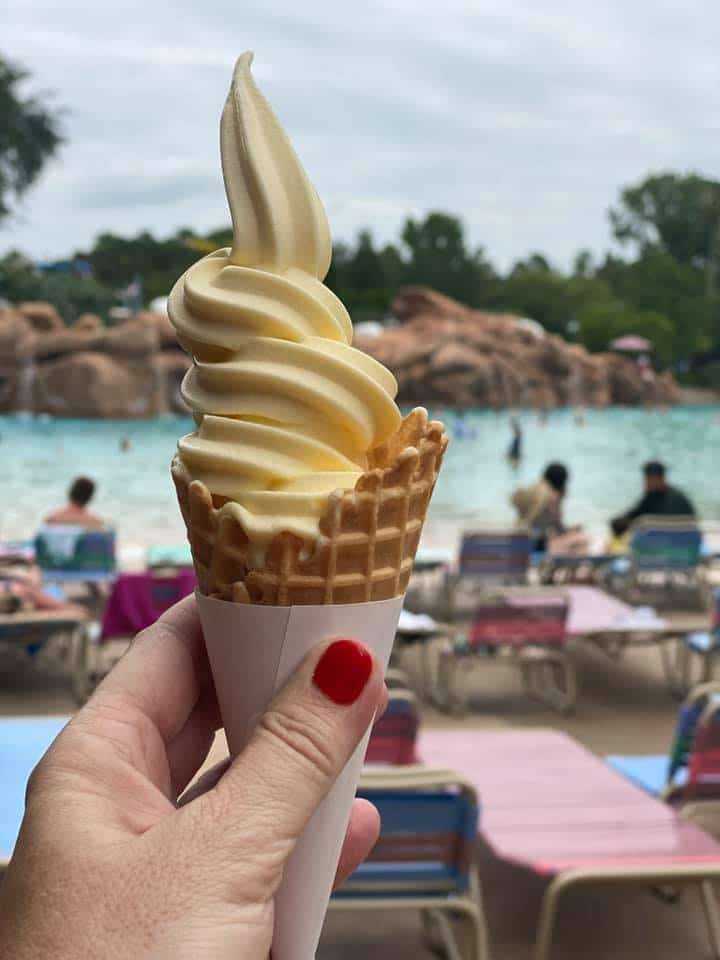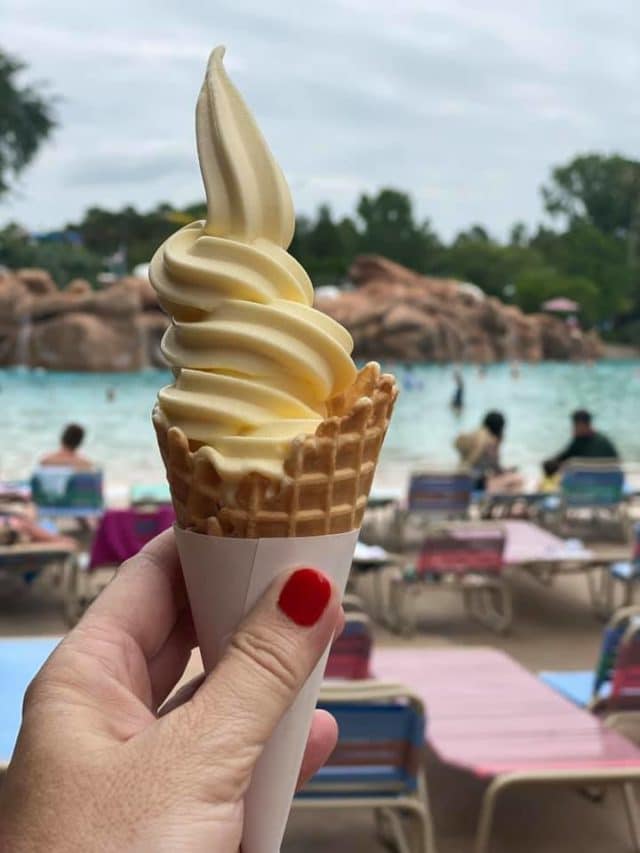 *At publication time, many of the options on this ticket category remain closed.
Single day tickets to Blizzard Beach Waterpark are currently $69 for adults and $63 for kids 3-9. If you are a Disney Vacation Club member or Annual Pass Holder, you do get a discount, unlike tickets to the rest of the Disney theme parks.
Getting to Blizzard Beach is a tiny bit cumbersome. There is no dedicated transportation to Blizzard Beach from your Walt Disney World Resort hotel. You'll have to take a bus to Animal Kingdom Lodge and transfer to another bus to get to Blizzard Beach.
You might also like: Should you have a car at Disney World?
We had great luck with the buses both there and back. I don't know if it was indeed luck or if the buses run really frequently but we didn't have to wait more than five minutes for a bus transfer to/from Blizzard Beach/Animal Kingdom.
I assumed there would be direct transportation from the Walt Disney World Resort hotels to Blizzard Beach and there is not. You have to transfer at Animal Kingdom so factor that into your plans.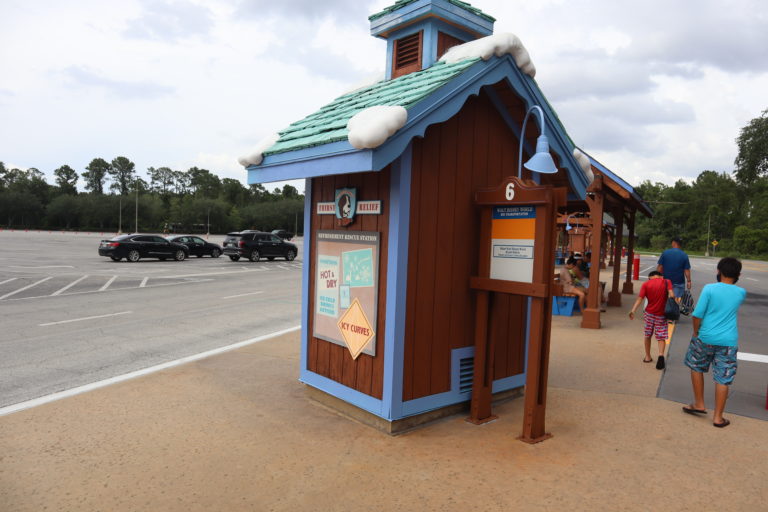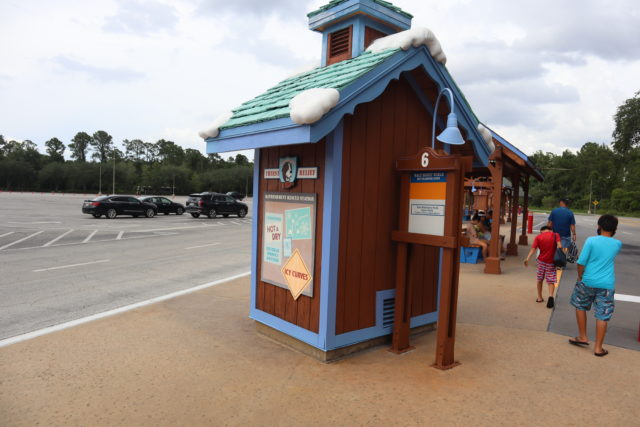 Some good news, though: If you opt to drive your car to Blizzard Beach, standard parking is complimentary. Same with Typhoon Lagoon. There's not much that is free at Walt Disney World, so this is a definite perk if you're staying off property.
Should you go to Blizzard Beach?
The short answer: If you like water parks, then yes. You should go. The theming is pretty extra and if you're a Disney loving family, I think Blizzard Beach water park is something you should experience at least one time.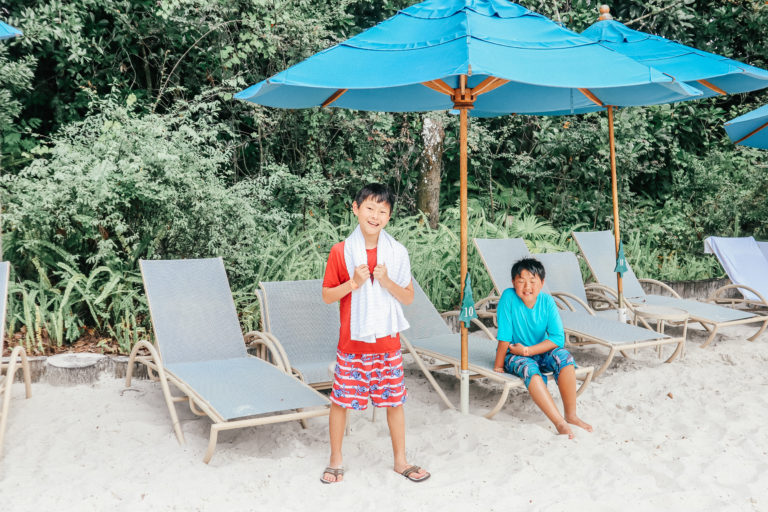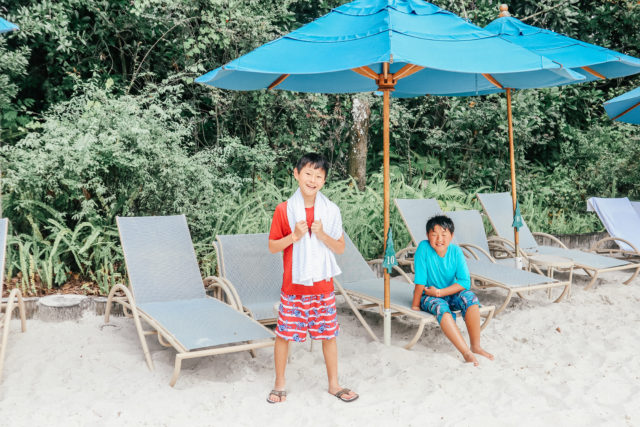 We've been going to Disney World as a family since 2009 and 2021 was our first visit to Blizzard Beach. We live in San Antonio and there are two major water parks less than an hour's drive from our house and more in the surrounding area. We always thought "Why waste our time at Walt Disney World doing something similar to what we can do almost any time at home?"
If you're going to think of it like that, then maybe not, but we finally decided to go and don't regret it.
We had some extra time during our last stay and decided we wanted to do something we'd never done before so Blizzard Beach it was. We went during June so the weather was extra hot and muggy. Water park and extra hot and muggy just go together, you know?
Now that we've been to Blizzard Beach, we're probably not going to rush right back again. We had a really fun day but for us, it was probably a one and done. We typically stay at the Deluxe level resorts that have premium pools and slides and we'd probably choose to just do a chillaxed pool day versus pack up the fam and go to a water park.
Bottom line: Yes, go! We absolutely don't regret it and can't wait to try Typhoon Lagoon one day!
What we loved about Blizzard Beach
The Theming
I know this was about the third time I've mentioned this but the theming and backstory really make this experience. From the snowy cliffs to the winter sport named tube shoots to riding a ski lift up to a water slide, it was all just so darn fun.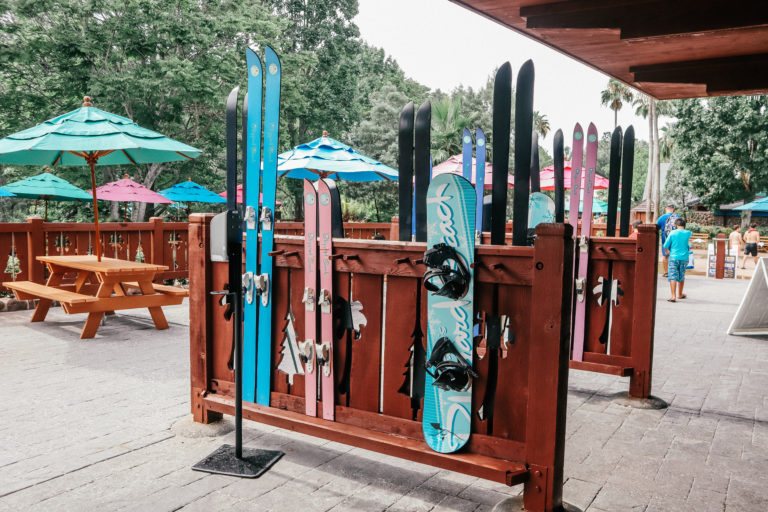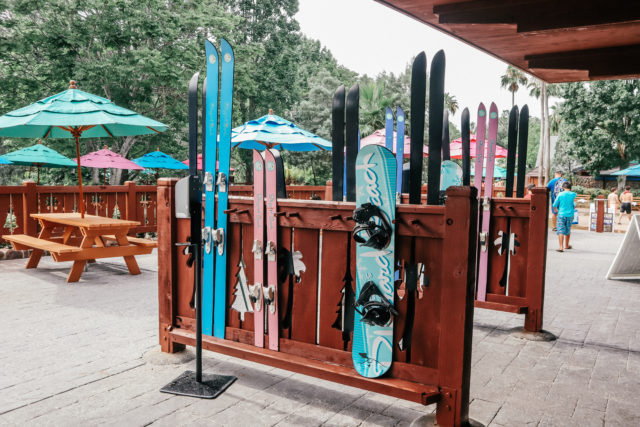 Time to chill – in more ways than one
Blizzard Beach was a super low stress outing for us. We got there at opening and while there was an initial rush into the park, we found this to be a more laid back and less intense experience than going to one of the Disney theme parks.
Short wait times to slide
There were lines but most of them went fast and were much shorter than the posted time. If a posted wait time was 20 minutes, we were on and off the slide in under 10.
I didn't ride all of the water slides but my kids rode most of them (including the one I was too chicken to ride) and everything seems the perfect balance of thrilling and family friendly. Our kids are over 48 inches and could ride everything in the park.
Great for tweens and teens
I also felt fine allowing my two 11 year olds to roam on their own a bit with periodic check ins with us. I am not quite ready to do this at one of the Disney theme parks. The crowds felt more manageable and the space overall seemed smaller and more easy to navigate.
Easy to do in a day
Finally, you can easily do everything at Blizzard Beach in a day. The park is open from 11 a.m. to 6 p.m. most days and this is ample time to experience all the pools and slide.
Favorite Attractions at Blizzard Beach
The attractions at Blizzard Beach Water Park are really fun. I think it's the perfect combination of thrills and family rides as well as things for younger kids who aren't quite up to full throttle thrill slides.
Mt Gushmore Attractions
Ride the chairlifts up Mt. Gushmore to hit three different attractions: Summit Plummet, Slush Gusher and Teamboat Springs. The first two mentioned are body slides where you must be 48″ to ride. Teamboat Springs is a family water raft ride with a fun photo opp at the end. There's no listed height limit but you have to be able to hang on to straps.
The chairlifts have a 32″ height requirement. Although not published anywhere I could find, the Cast Members enforced a rule that kids 12 and under had to ride with an adult.
If you're under 32 inches and still want to ride Teamboat Springs, there are stairs available.
Runoff Rapids
Runoff Rapids is a fun tube shoot with three options – two outside open to the air slides and one all inside chute. You'll need to collect your tube at the bottom and carry it up the stairs. It's quite a climb. The inside chute is more thrilling.
Fancy a Race?
Both the Downhill Double Dipper and the Toboggan Racers will let you make a contest of who can reach the bottom fastest. The Downhill Double Dipper is a tube race (you'll pick up your tube about 3/4 of the way up) and the Toboggan Race is done of a foam mat where you slide down on your belly.
Cross Country Creek
Cross Country Creek is the ski-themed lazy river that circles around Blizzard Beach. It's shallow and relatively slow moving attractions that's appropriate for all ages.
Cross Country Creek is nearly 3,000 feet long and there are multiple entry/exit spots. Warning: the "runoff" from the snow and ice that hits you at various points along the route are realistically cold.
Meltaway Bay
Mt. Gushmore flows into Meltaway Bay, a gigantic wave pool adjacent to white sandy beaches. I didn't find the waves here to be as rough or as intimidating as some water parks I've been to.
Tike's Peak
If you've got little ones, Blizzard Beach has a space just for you. While we didn't use Tike's Peak, this space for kids under 48″ features miniature snow-banked slides, side-by-side downhill slides, a junior inner-tube ride, snow chutes and more.
Here's a full list of all the attractions at Blizzard Beach Water Park.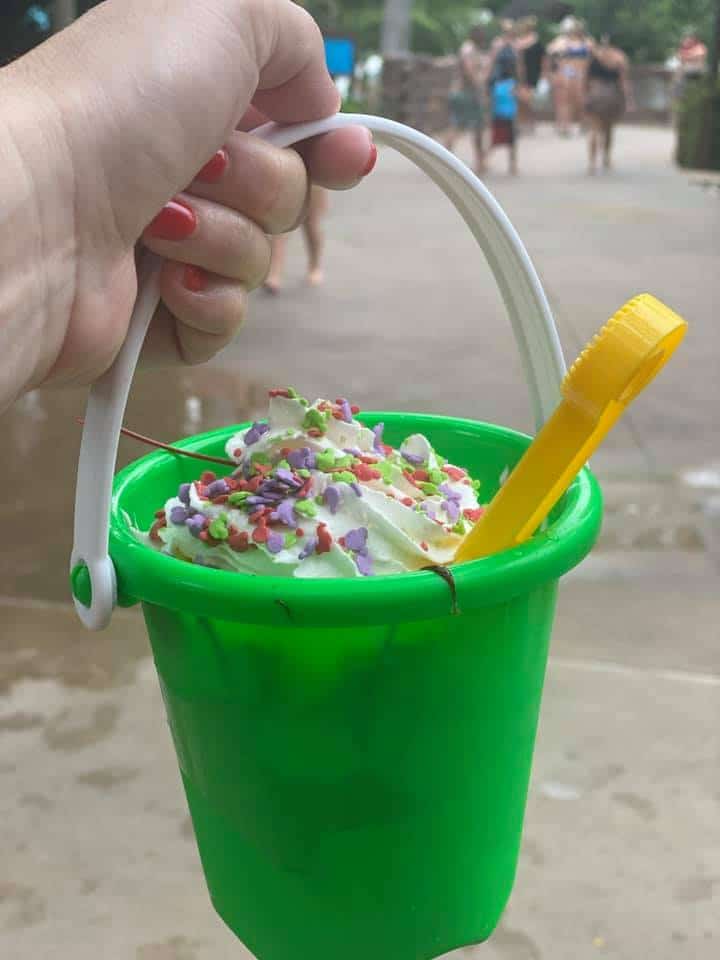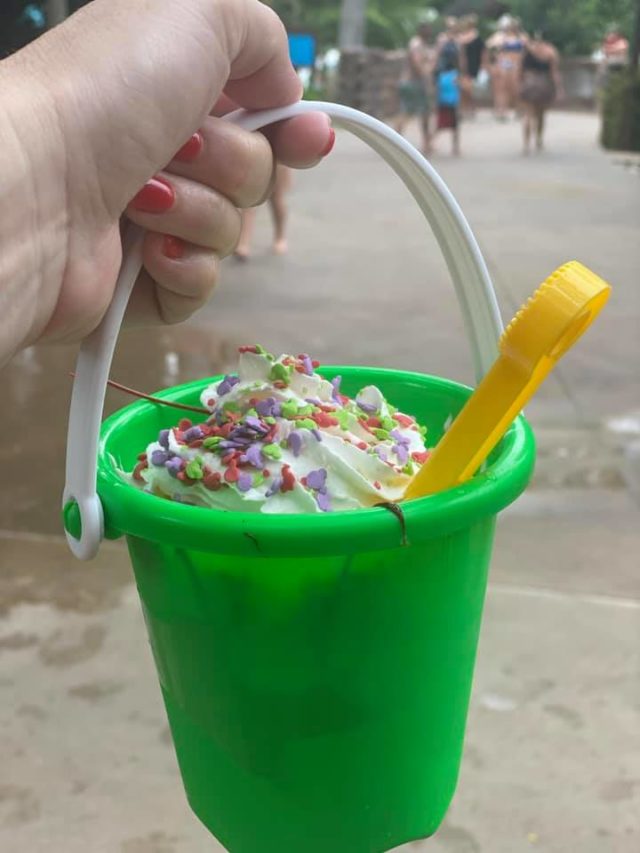 Insider Tips for the Best Day at Blizzard Beach
Get there early
Get there before Blizzard Beach Water Park opens. I recommend leaving your Walt Disney World Resort hotel about an hour before Blizzard Beach opens – remember, you'll have to switch buses at Animal Kingdom.
I talk about preferred/upgraded seating below. If you opt not to go with that, make sure you are lined up at least 15 minutes before the park opens. People will be lined up and will scramble to get seating in the shade. There is a decent amount but you are competing with other people who are wanting those coveted shady spots, too.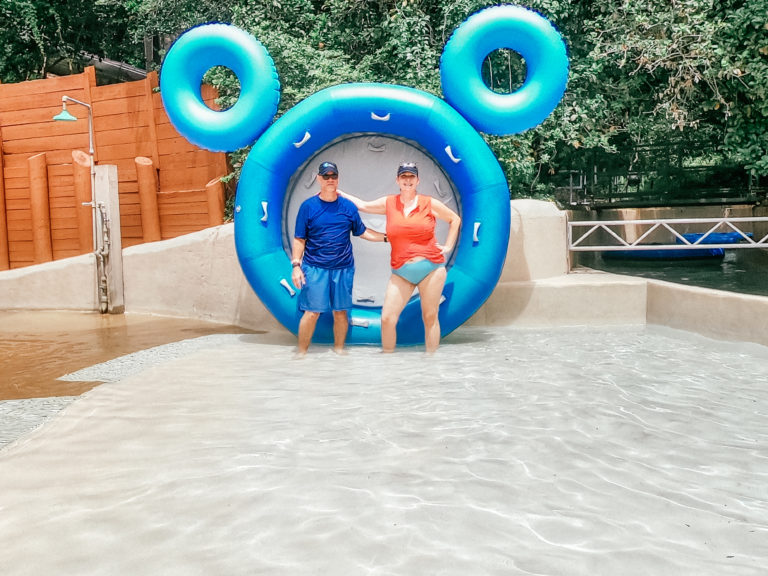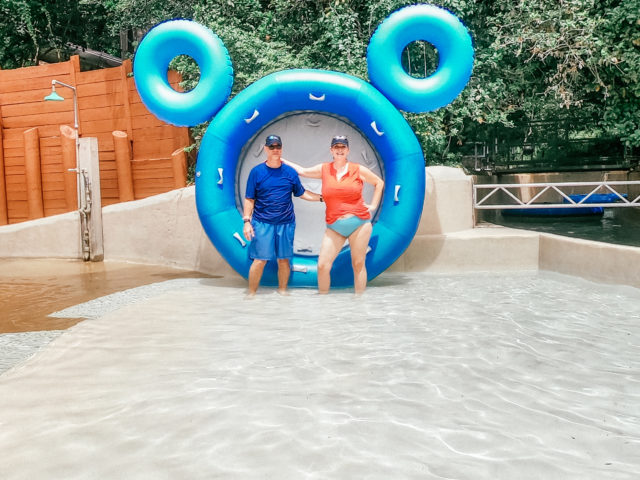 The photo opp at the exit of Teamboat Springs is a must do. Make sure you have a GoPro or a waterproof sleeve for your phone.
Preferred seating
You can book a Polar Patio or Lodge Umbrellas, which offer some guaranteed shade and other amenities while you're visiting Blizzard Beach Water Park.
I recommend getting a Lodge Umbrella. This is shaded seating in a private area. We had an umbrella, four chairs and a small table with private lazy river access. Four towels are also included. We paid about $74 for this. I felt this price was worth it to have a private (ish) place to sit and guaranteed shade. If you have a larger group than four you might want to rent more than one or move up to a Polar Patio.
We had initially planned to rent one of the Polar Patios, which is the closest thing Blizzard Beach has to a waterpark cabana. This will run you about $360 in addition to park admission. Amenities include a private deck with an umbrella, cushioned seating, towels, a locker, refillable drink mugs, and all-day ice water. Cast members are available to help with food and drink orders, although the food and drinks are not included.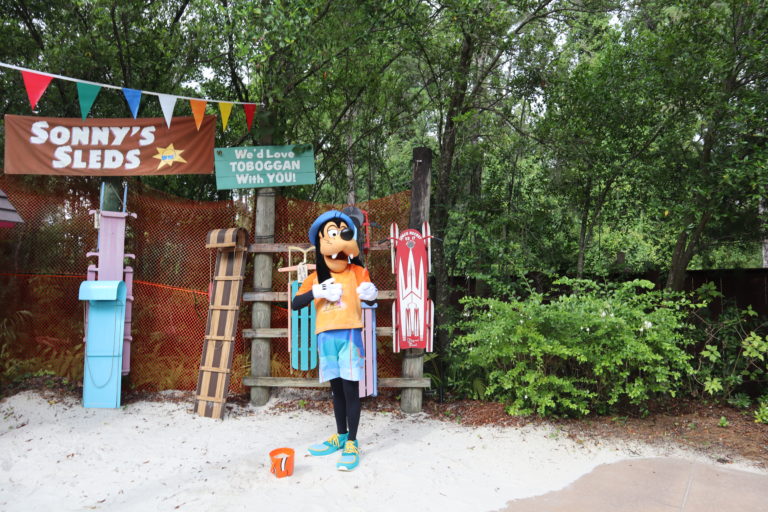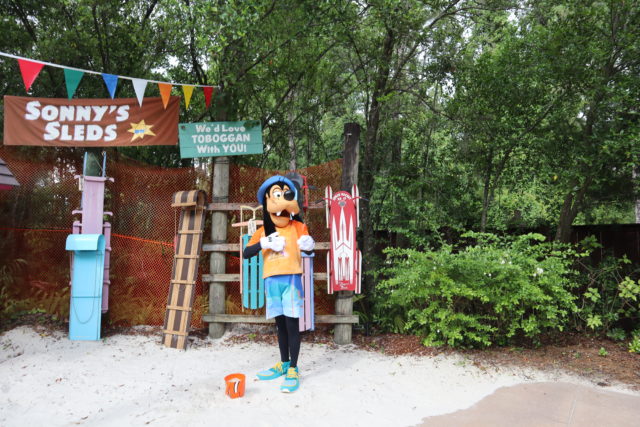 To book a Lodge Umbrella or Polar Patio in advance, call 407-WDW-PLAY. Be prepared to spend a little time on hold. No DVC or annual pass discount will apply to premium seating at Blizzard Beach, which I didn't love.
Day of rental for the premium seating described above is done at the Beach Haus, right inside the park entrance. If you don't book Lodge Umbrellas or Polar Patios in advance, I recommend getting there extra early. We got to the park about 15 minutes before they opened because we weren't aware of the transfer at Animal Kingdom and the Polar Patios were all rented out. However, we had no trouble getting a Lodge Umbrella and there were plenty left.
You might also like: Is Be Our Guest at Walt Disney World Worth the Price?
Use mobile ordering when available
Lottawatta Lodge is the main place to order food. They've got mobile ordering down pat and there's lots of shaded picnic tables.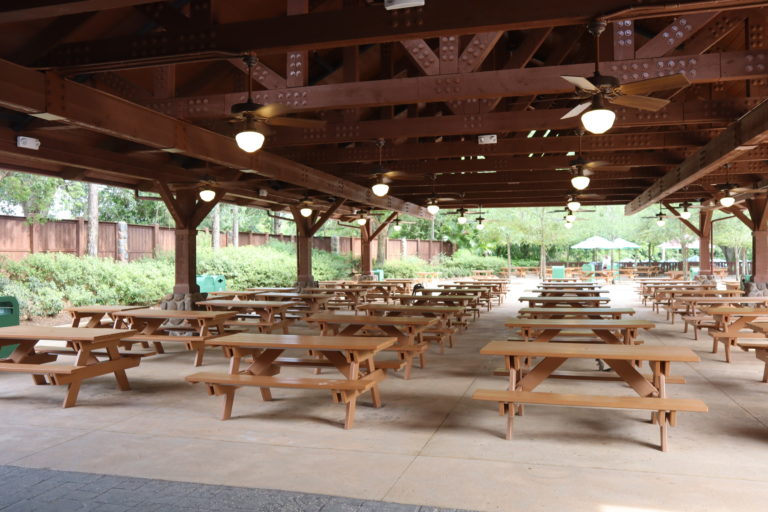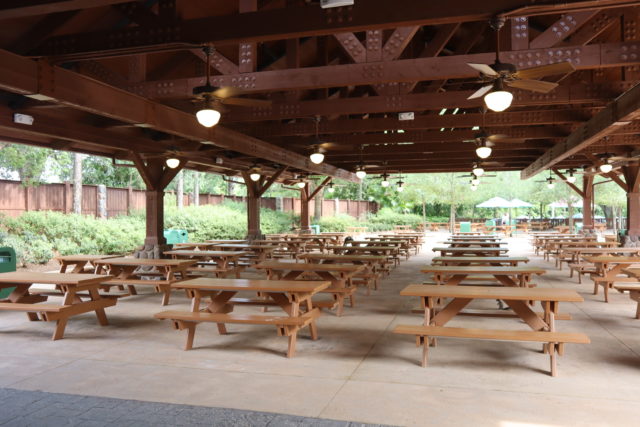 There are also different varieties of sips, bites, and snacks available at different smaller concessions throughout Blizzard Beach – not all of them have mobile ordering available but we didn't see long lines at any of them.
Know what's included and what you have to pay extra for
All of the slides, pools and attractions are included in your park ticket. There are no attractions you have to pay an additional fee for.
Life jackets are complimentary
Beach towels and lockers are available for a fee
Enjoy the food and drink offerings
Because it's a water park, dining is very casual at Blizzard Beach.
We enjoyed burgers and chicken wings at Lottawatta Lodge and had a Dole Whip at the Warming Hut. The Warming Hut is another option for lunches and they have a different food menu than Lottawatta Lodge.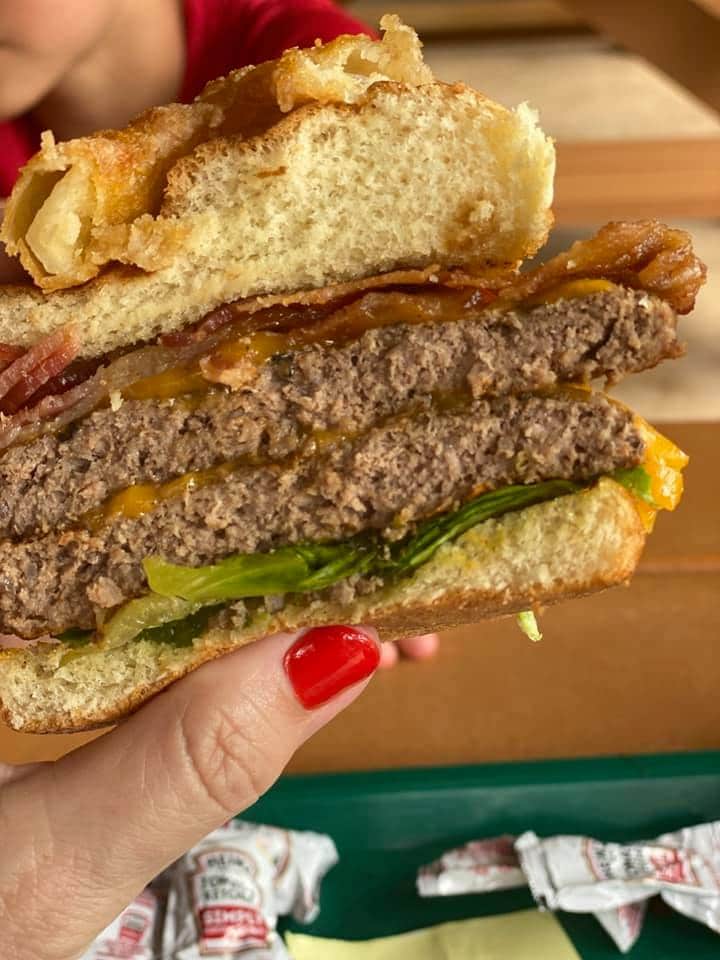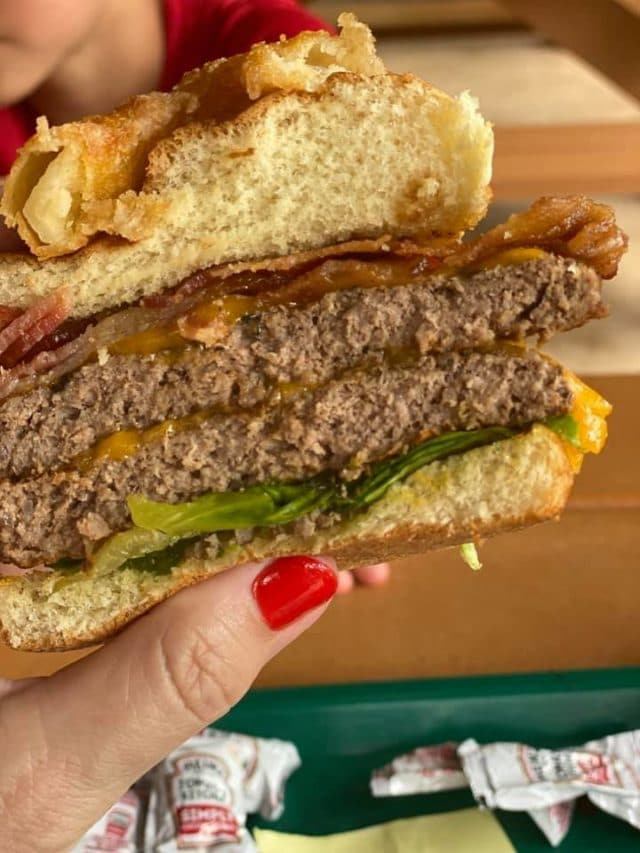 The best value we found was the Sand Pail Sundae. It's a LOT of soft serve ice cream and tons of toppings served in a sand pail (complete with shovel) that you get to keep and reuse.
You can also bring your own food/drinks in. Your cooler will be subject to inspection by Disney Cast Members for prohibited items, such as glass, loose or dry ice, and alcohol. Read here for additional guidance and check out my favorite picnic cooler here.
Things to bring to Blizzard Beach
Water shoes shoes are a must in the summer. Even though Blizzard Beach does a great job at keeping the walkways wet and cooled down, the cement is still hot.
Beach towels. Unless you're renting preferred seating, towels are not supplied and you'll have to pay a towel deposit to use one.
Rash guard. Most all of the attractions are in the full sun. I have this one from Athleta and I love that it's long. I get my kids' swim gear and rash guards from Walmart – they have some really cute ones and they're inexpensive – my boys are both growing really fast right now!
MagicBands – If you've got Disney MagicBands you can link your park tickets and form of payment for an easier day.
DVC membership card or proof of Annual Pass, if applicable. You can get a discount on any items you buy in the Beach Haus.
Feel free to ask me any questions (via comment section, email or social media) about Blizzard Beach. We had a great day together exploring this ski resort turned water park.
You might also like:
Volcano Bay at Universal Orlando Resort – Tips + 2021 Reopening Info