Easy (Practically!) Sugar-Free Peach Cobbler
(This post may contain affiliate links. Read my full disclosure.)
When I think of peaches, I think of summer. When I think of cobbler, I think of warm, gooey-ooey deserts you enjoy in the winter when it's cold outside. This easy, sugar-free peach cobbler offers the best of all seasons and you can enjoy it year-round. Good thing it's easy to make! Fruit cobblers are seriously the simplest dessert to throw together when you're short on time.
Note: If you want to try my slow cooker peach cobbler, check out the link to the recipe here. I've also given instructions on how to make the slow cooker peach cobbler with low sugar as well.
Want to try to make a peach cobbler in your pressure cooker? Check out my new Instant Pot Peach Cobbler recipe. You won't get the golden brown crust but it's very juicy and great with ice cream.
Easy sugar-free peach cobbler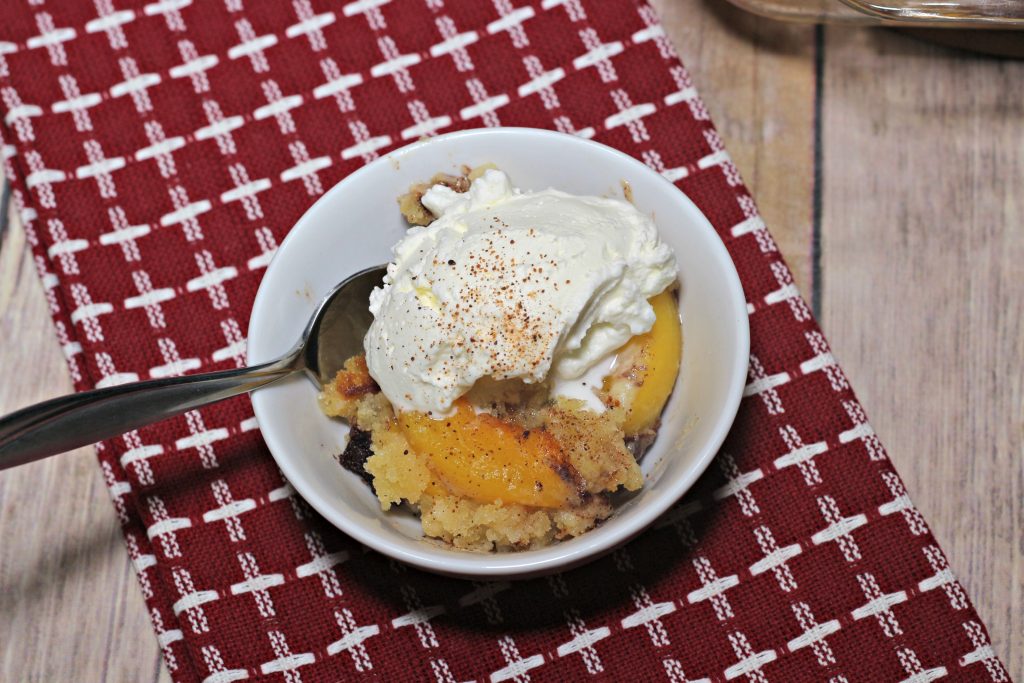 A lot of people searching for this recipe find it by looking for "diabetic peach cobbler." While no one in our family is a diabetic, this peach cobbler recipe is made with a Splenda blend so it does contain some sugar. You could try it with pure sugar or with another type of sugar substitute – I haven't done that so I can't say what the results would be. I'm pretty sure you'd achieve a similar result with pure cane sugar but if you're using another type of sugar substitute, just make sure it's one approved for baking and check any measurement differences that might apply.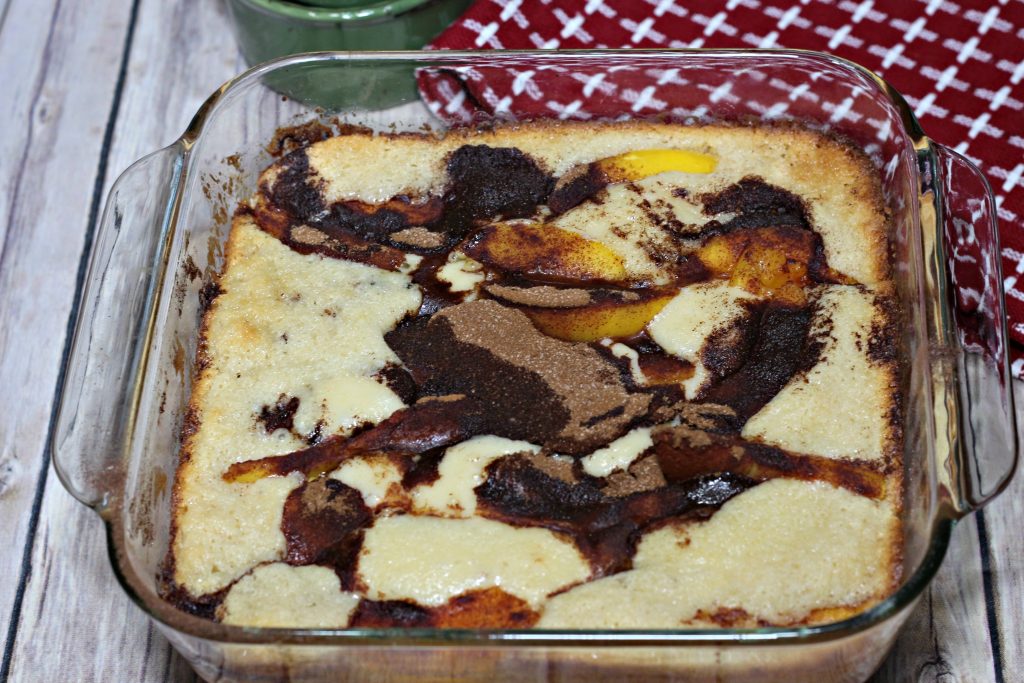 I love serving up a good-looking good tasting desert that doesn't come out of a box or from a bakery, and while I'm not gonna lie: there have been plenty of times I've smiled and nodded and allowed my guests to think something that came from a bakery came from my oven, but this one is the real deal! I promise!
Need a main dish to go with this yummy dessert? Try one of these meals to make when it's cold outside.
I make this in a Pyrex 8×8 baking dish. I've got one with a lid, making it easy to take to a party or potluck. Everyone likes this dessert.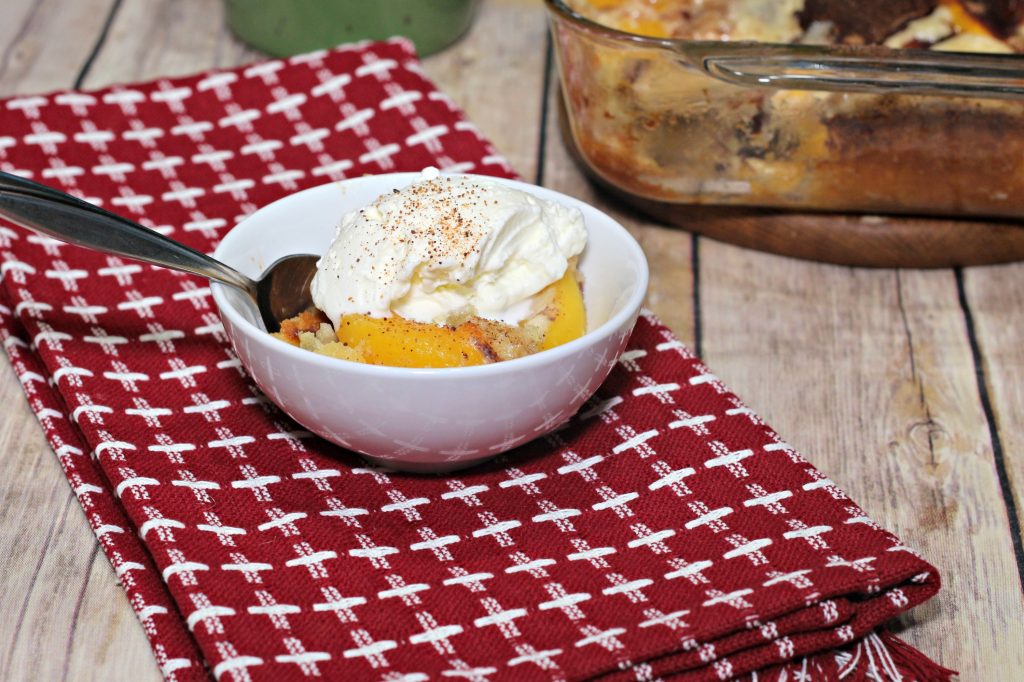 It's so easy that anyone can do it and the ingredients are pretty simple to keep on hand. This is a fun one to make during the holidays. I love traditional Thanksgiving and Christmas desserts but for me, there is such a thing as too much pumpkin pie and iced sugar cookies. This easy peach cobbler is special enough to be festive but it stands out a little bit because peach cobbler isn't normally thought of as a traditional holiday dessert.
Ingredients for a great cobbler are easy to keep on hand. Click the links below for some common ingredients: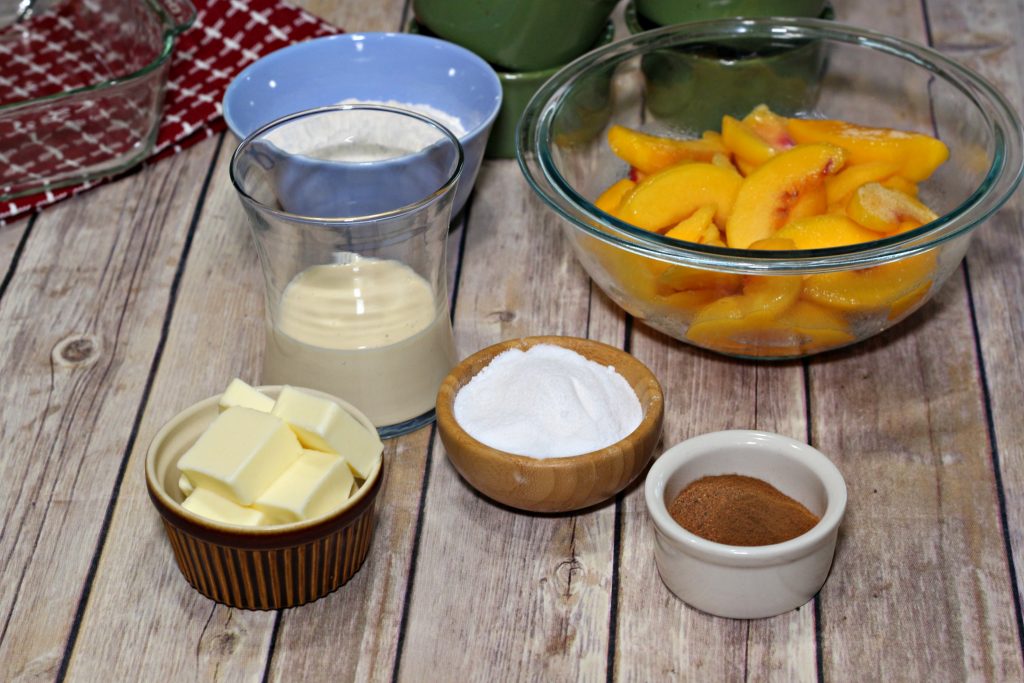 I've used both fresh and frozen sliced peaches for this (practically!) sugar-free peach cobbler recipe with similar results. Frozen peaches are pretty darn easy and shave a lot of time off.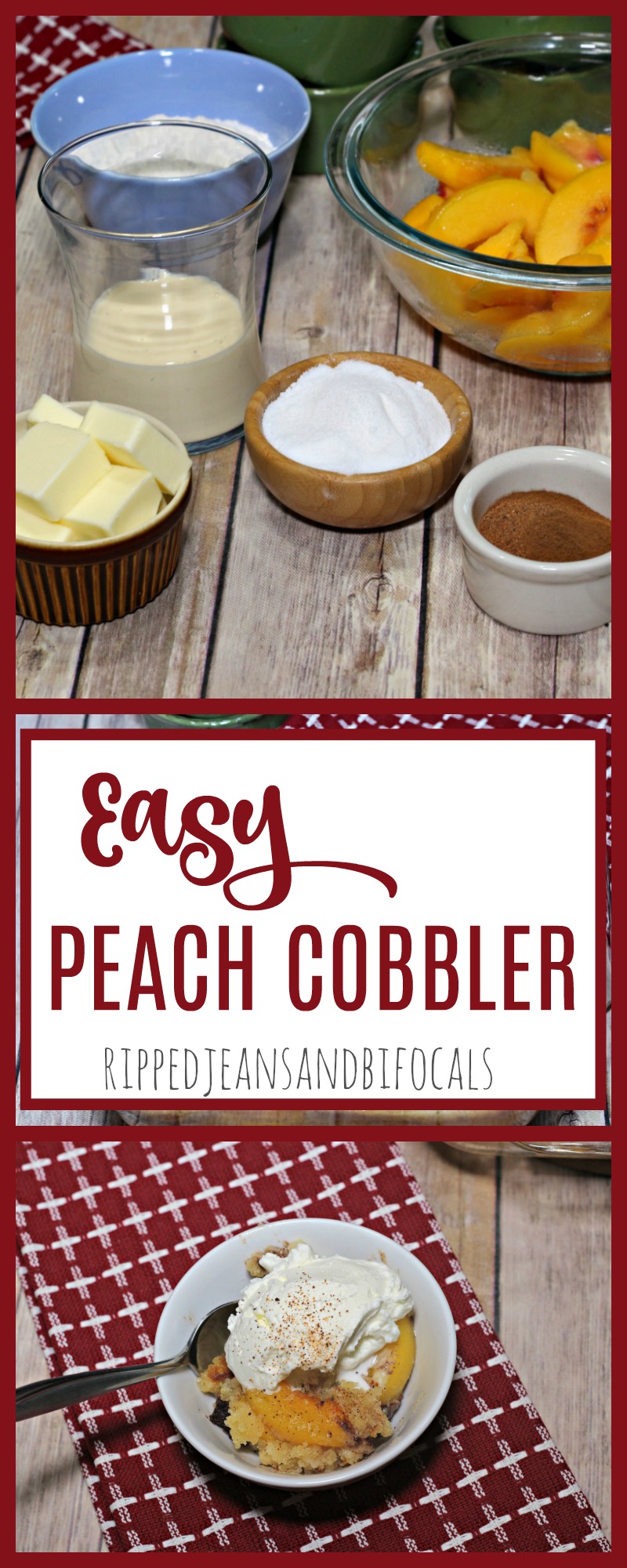 [Tweet "Try this easy, sugar-free peach cobbler!"]
To make an easy topping using SPLENDA®, combine one cup of heavy whipping cream and 1/4* cup of SPLENDA® Sugar Blend into a VERY COLD mixing bowl. I use a glass bowl that has been sitting in the freezer for about 10-15 minutes. A metal bowl would also work. Beat on high with an electric mixer until your topping is of the desired consistency…about 1 minute for creamy, pourable topping and about 2 minutes for thick, fluffy, spoonable topping.
My desert bowls are a combination of thrift store finds and old, old Ikea basics. I found these adorable dessert bowls on Amazon – I love how colorful they are.
(Practically!) Sugar Free Peach Cobbler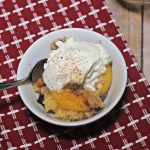 This easy peach cobbler is made with a Splenda sugar blend.
4 Cups Sliced Peaches ( (You can use fresh or frozen))
1 Cup Complete Pancake Mix
1/2 Cup (+ 1 Tbsp reserved) Splenda Sugar Blend
2 Tbsp Ground Cinnamon
Ground Nutmeg, to taste
1/2 Cup Milk ( (I use canned evaporated milk but any milk will work))
1/4 Cup Butter
Heat oven to 375.
Place butter in an 8×8 baking dish, and allow butter to melt in the oven.
Add pancake mix, Splenda, and milk. Stir to combine with melted butter. The batter will be lumpy.
Lay peach slices on top of the batter.
Combine ground cinnamon, nutmeg, and 1 tbsp reserved Splenda and sprinkle over the top of the peaches.
Bake for 30-35 minutes or until the batter in the center of the cobbler is set.
Serve with vanilla ice cream or whipped cream.
You might also like: