Slow Cooker Peach Cobbler
(This post may contain affiliate links. Read my full disclosure.)
If you're looking for a tasty, warm dessert that's basically hands-off to get ready, try my slow cooker peach cobbler. There's just something about a warm dessert that's super comforting for me and I love the set it and forget it aspect of using my crock pot to make a dessert in just a couple of hours.
If you want to jump to the recipe card, just scroll all the way to the bottom of this post.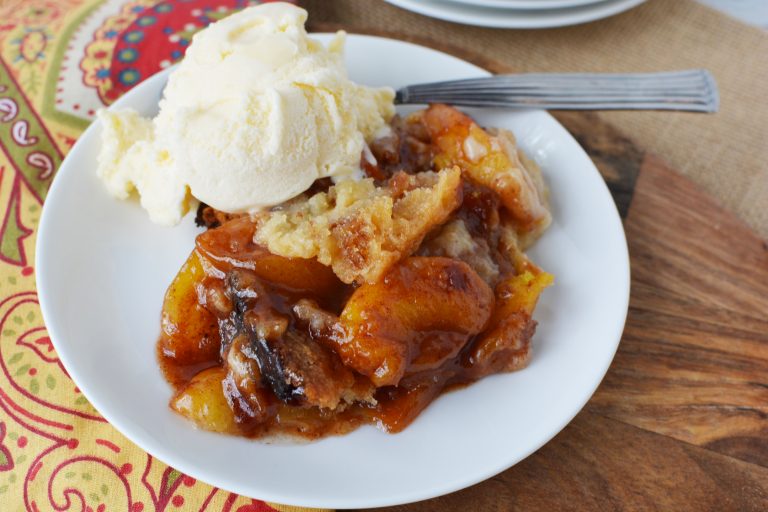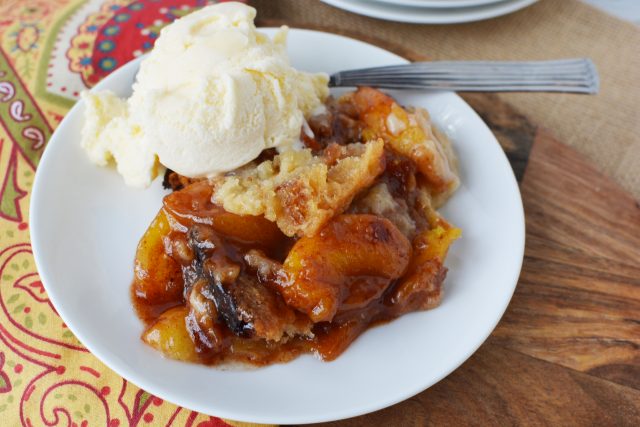 Disclaimer: We are a participant in the Amazon Services LLC Associates Program, an affiliate advertising program designed to provide a means for us to earn fees by linking to Amazon.com and affiliated sites. This post may also contain affiliate links to other sites where I will be paid a commission by the seller if you make a purchase.
Slow Cooker Peach Cobbler
One of the most popular recipes on my blog is this (practically) sugar free peach cobbler. It's not a 100 percent sugar free peach cobbler because I make it with a Splenda blend but I love baking with the blend because it reduces the amount of sugar I use, even if it's not a truly sugar free cobbler. The texture and taste are similar to pure cane sugar and you use a half cup of Splenda Blend for each cup of sugar that the recipe calls for. So, you can easily make this slow cooker peach cobbler sugar free with an easy substitution.
You might also like: Instant Pot Peach Cobbler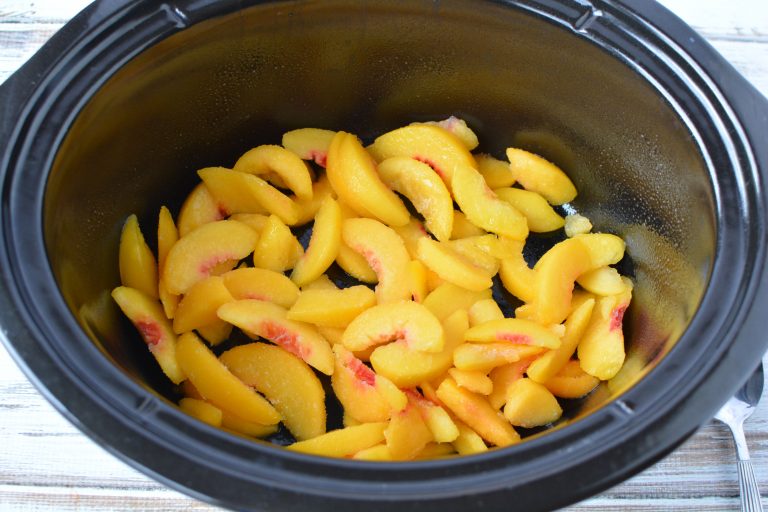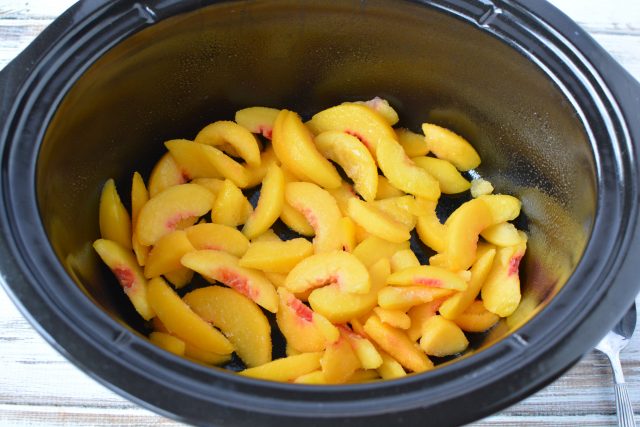 To get the top a little more crunchy and less soft, I use a paper towel under the lid and then crack the lid and remove the towel for the last thirty minutes or so. If you skip this step, it will still taste good but the top will not have that crispiness that my family likes in our cobbler topping.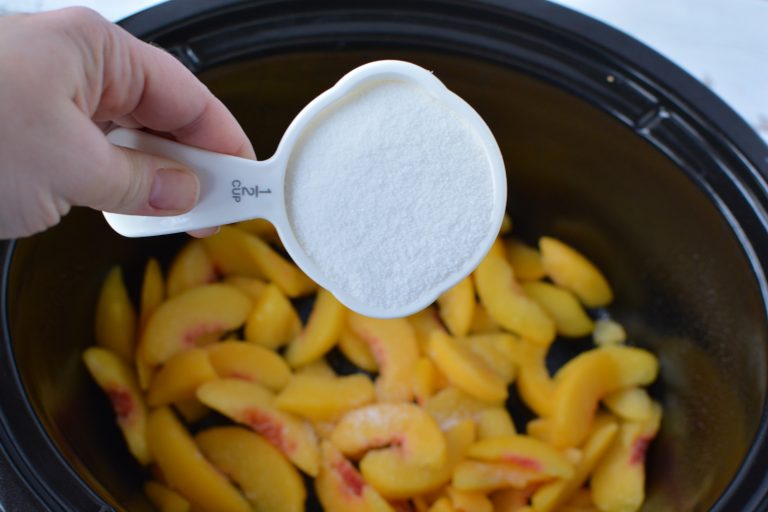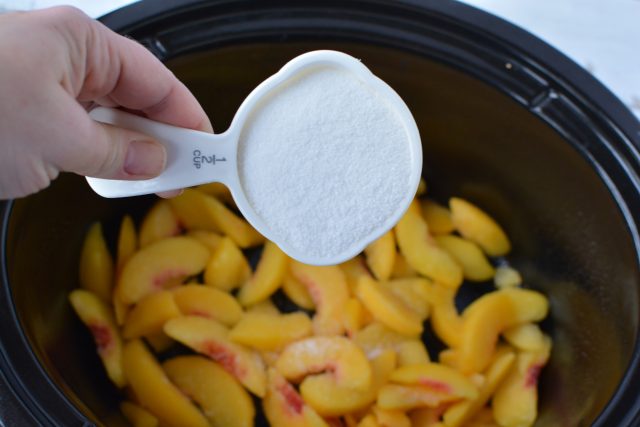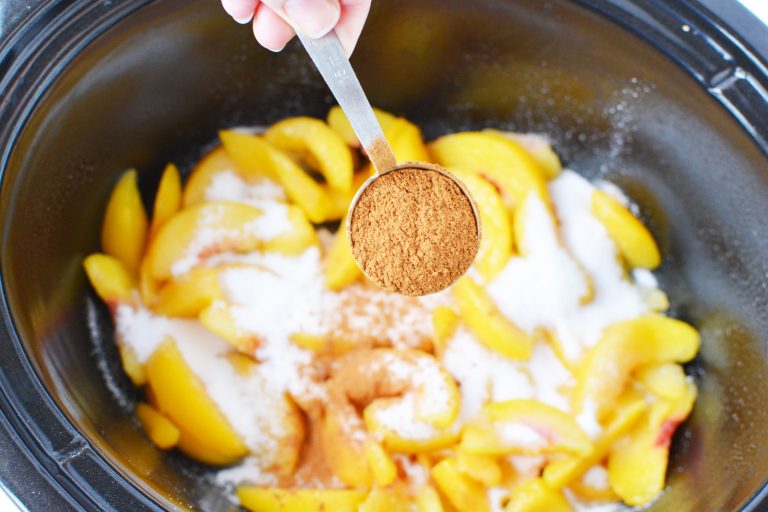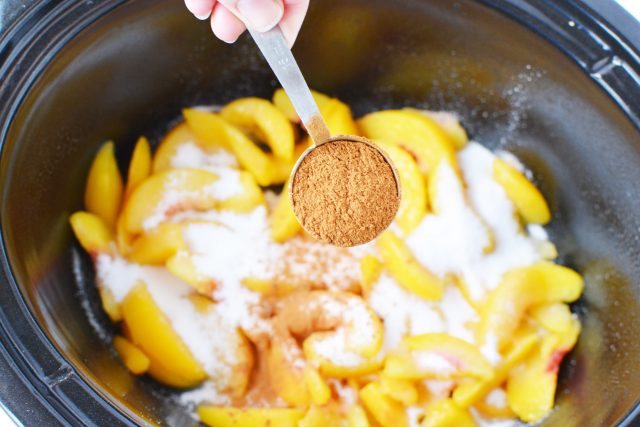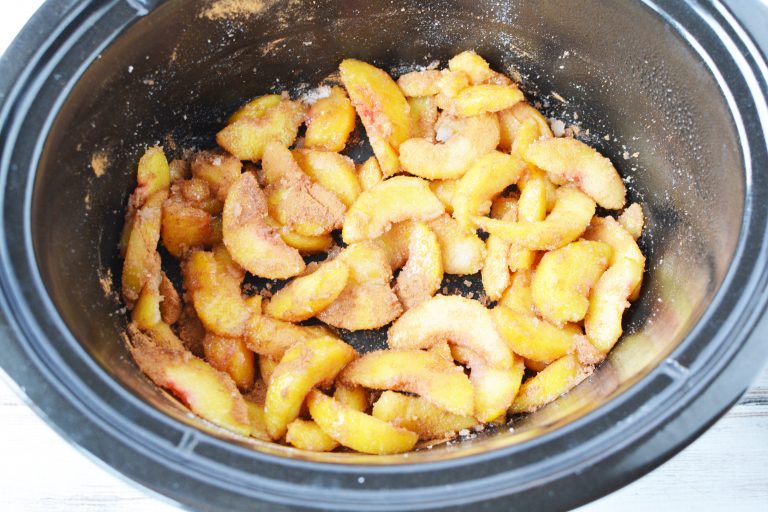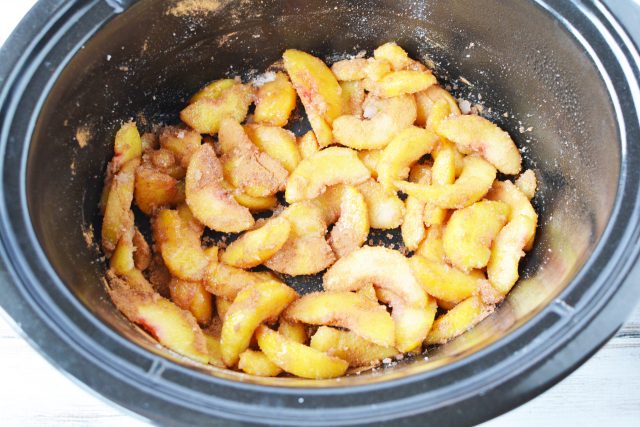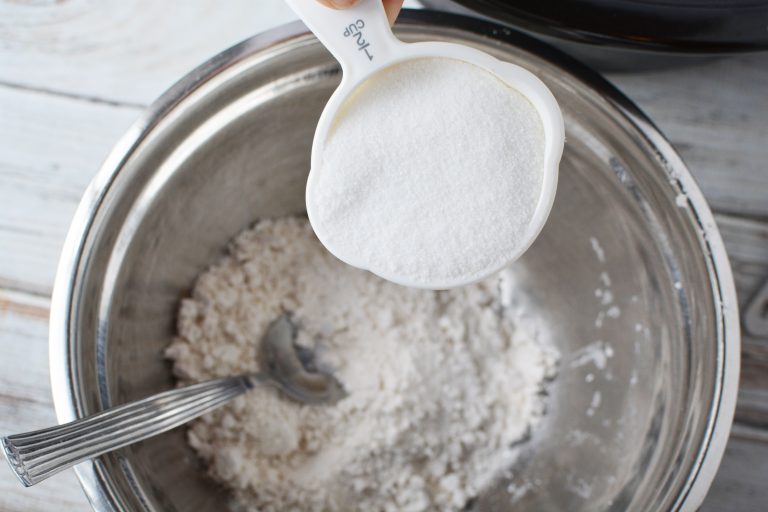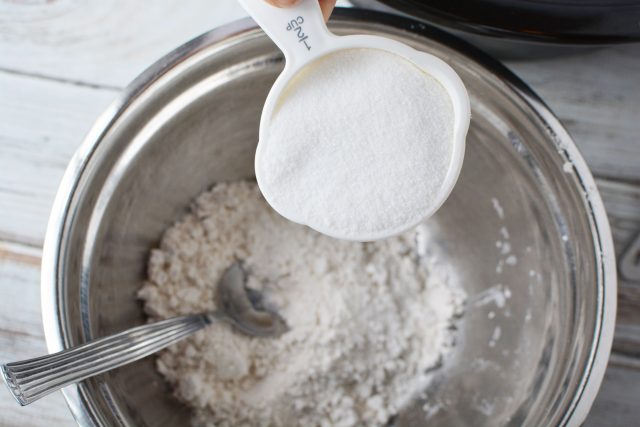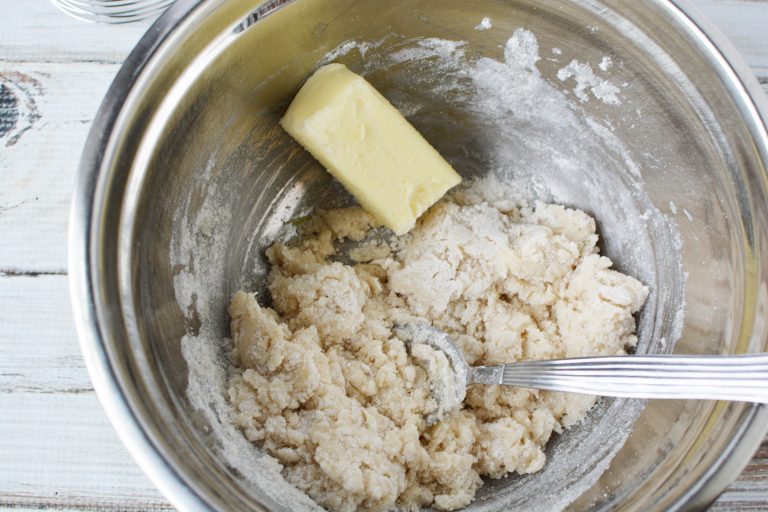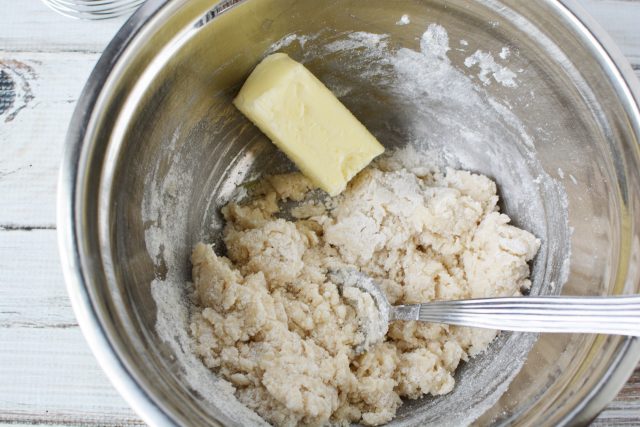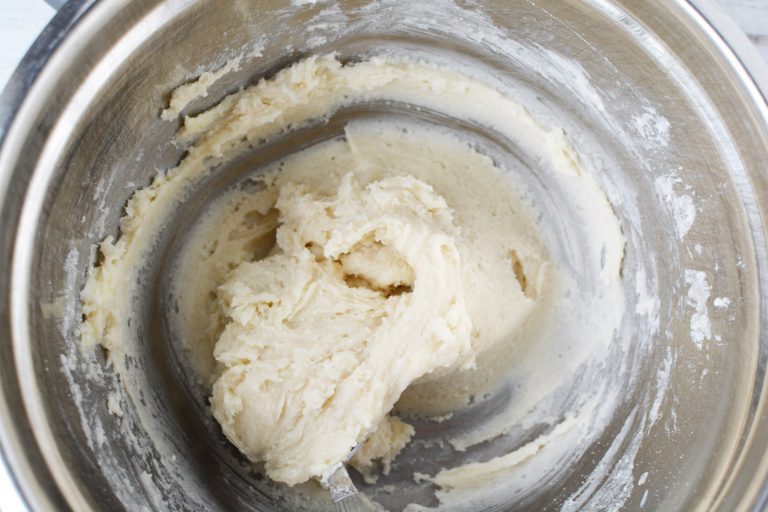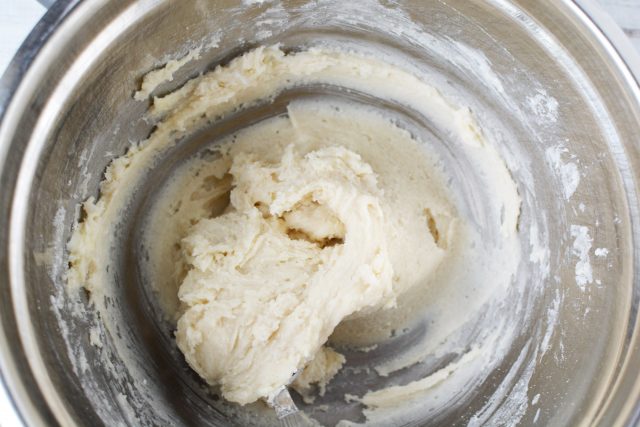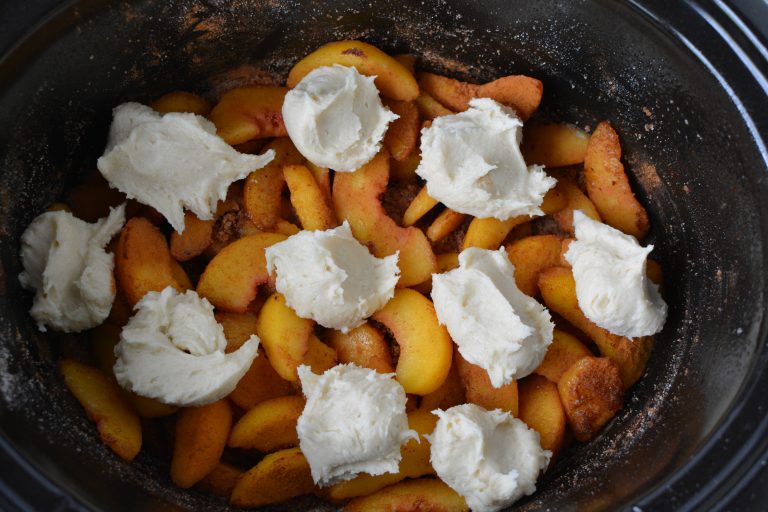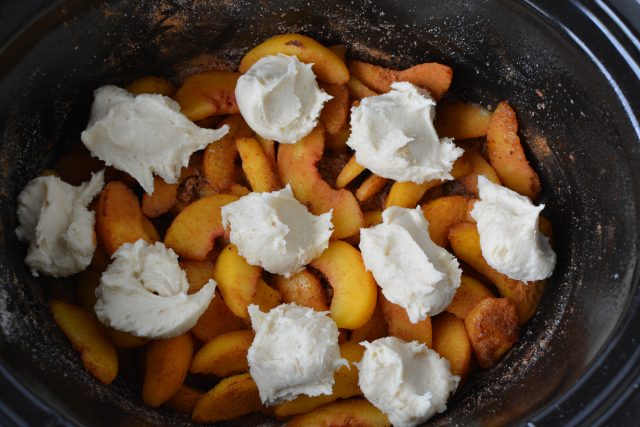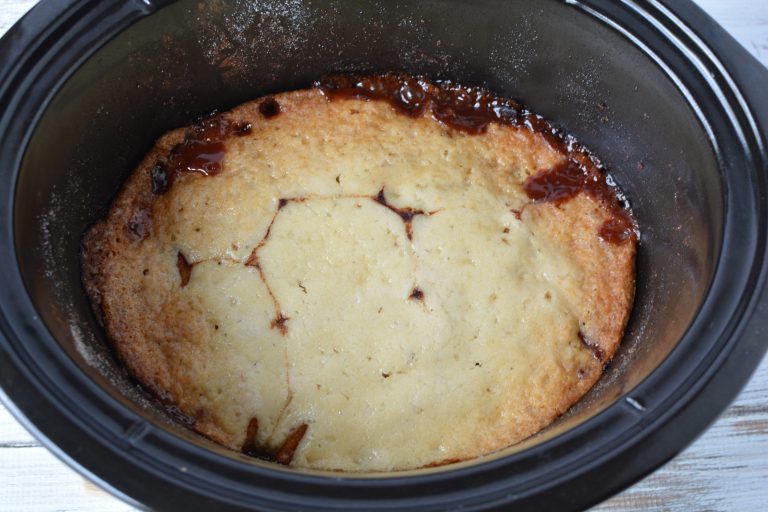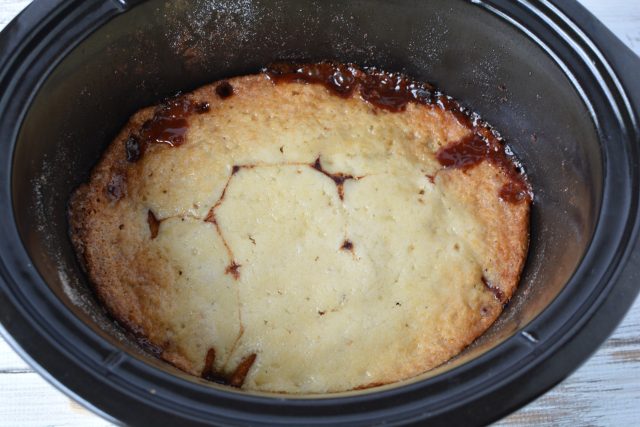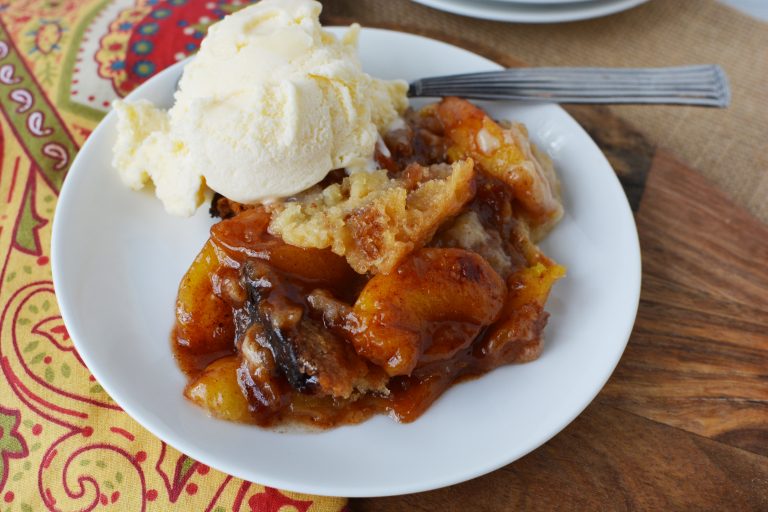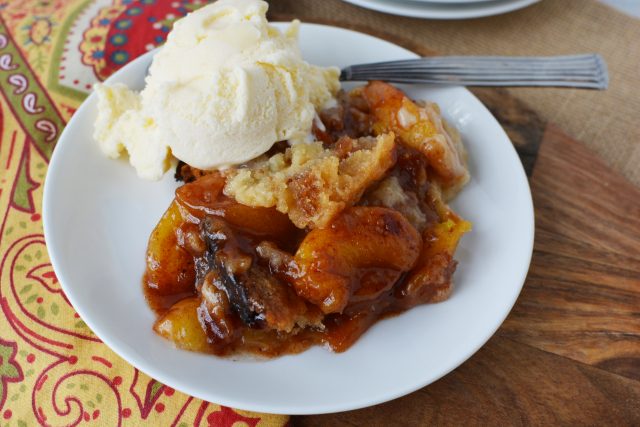 This delish peach cobbler works best in a larger slow cooker so you can spread the topping on the peaches in a thinner layer. This doesn't work as well in a taller, deeper crock pot.
I use a 7-quart crock pot similar to this one and it works great. If you want to spice up your kitchen, you can also check out this one featuring Pixar characters (so cute!) or this one decorated with Marvel characters. Taller, deeper slow cookers – like this one – work great for soups and stews but not for making cobbler because the topping needs a larger area to spread out.
Sweet, warm, and oh-so-peachy.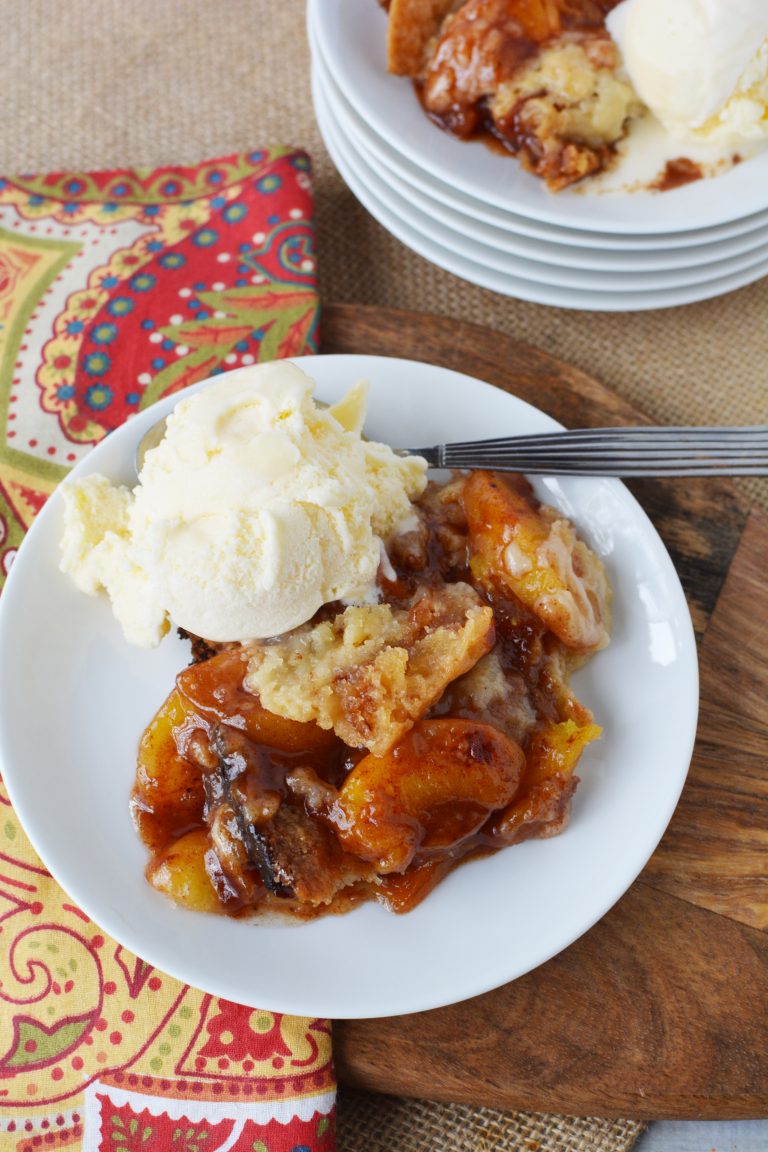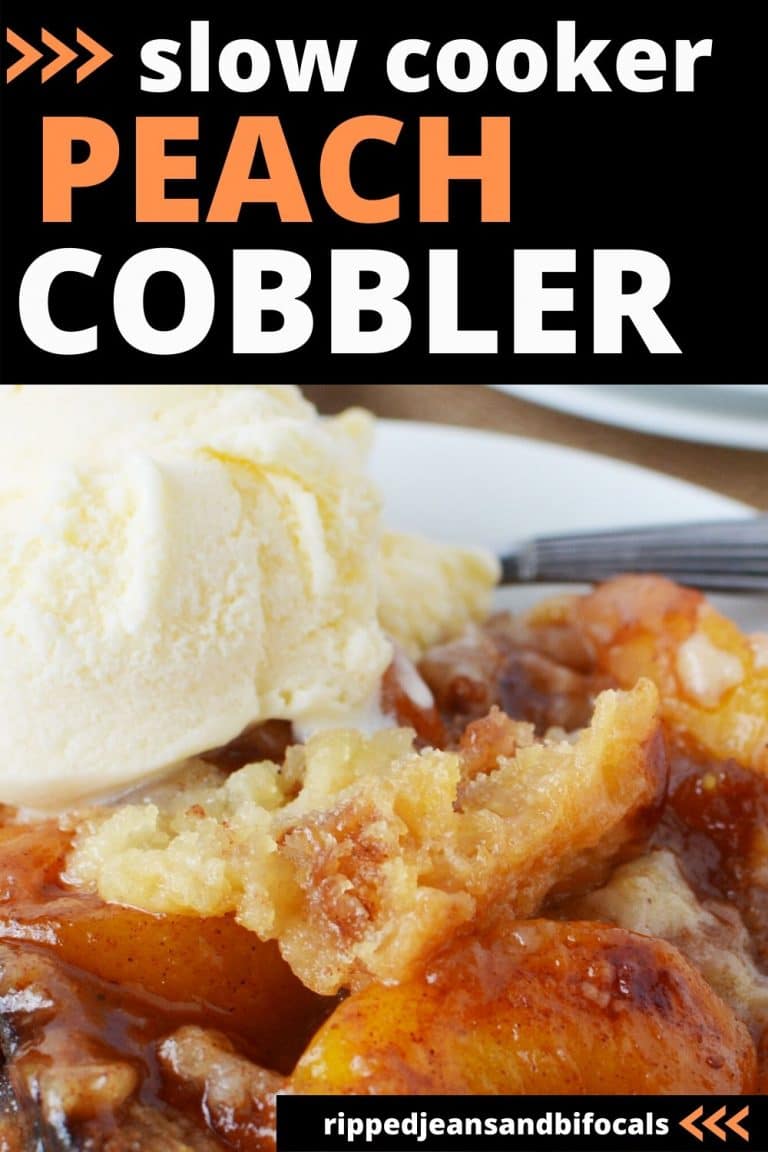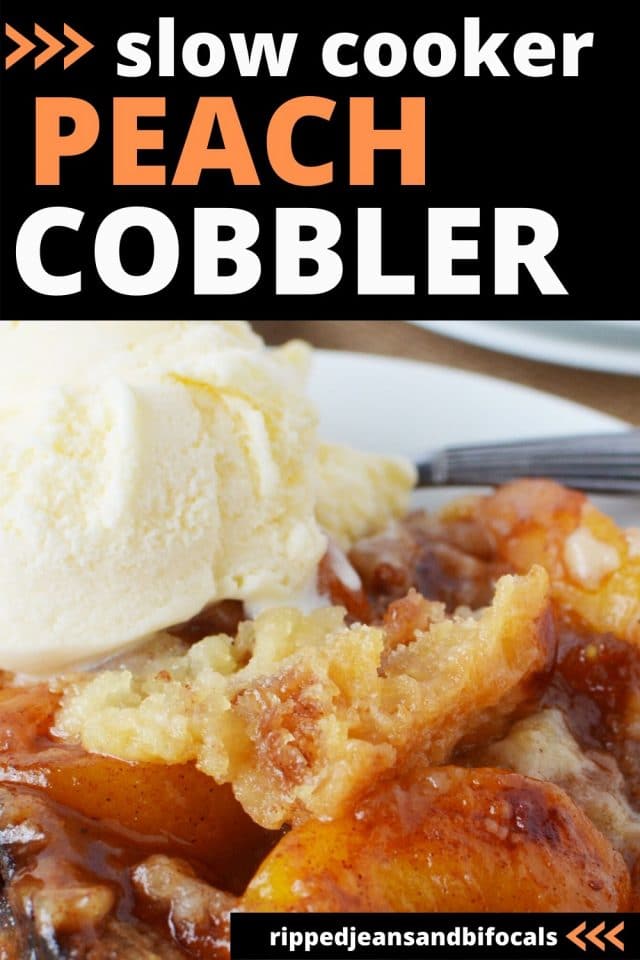 Slow Cooker Peach Cobbler
Want a hands-off dessert that tastes like you slaved all day? Try this slow cooker peach cobbler. It couldn't be easier!
1 6 oz package frozen peaches (No need to thaw!)
1 cup white sugar, divided
2 tbsps ground cinnamon
ground nutmeg, to taste
1 cup Bisquick
1/4 cup milk
1/4 cup butter, softened
ice cream for serving
Grease slow cooker with nonstick cooking spray

Add peaches, 1/2 cup white sugar, cinnamon and nutmeg to the bottom of the slow cooker. Mix well and spread peaches evenly across the bottom of the slow cooker. 

In a separate bowl, combine Bisquick and 1/2 cup of sugar and mix well. Cut in butter with a pastry blender (or 2 forks) until dough is crumbly and in small, pea size, chunk. Add milk and mix, just until combined. Spoon on top of peaches. 

Place paper towel on top of the slow cooker and place the lid onto the paper towel. 

Set the slow cooker to high and heat for 2-1/2 to 3 hours. Remove the paper towel and lid for the last 30 minutes of cooking. Let mixture cool until warm and serve with vanilla ice cream.