Yogi Bear's Jellystone Park Guadalupe River
(This post may contain affiliate links. Read my full disclosure.)
Are you more of a glamper than a camper? I definitely am! My family and I recently visited Jellystone Park on the Guadalupe River and I'm excited to share our experience with you. This was one of the best family trips we've ever taken. I hope this information helps you plan your own outdoor adventure.
I received complimentary lodging at Jellystone Park to facilitate this review. All opinions are my own.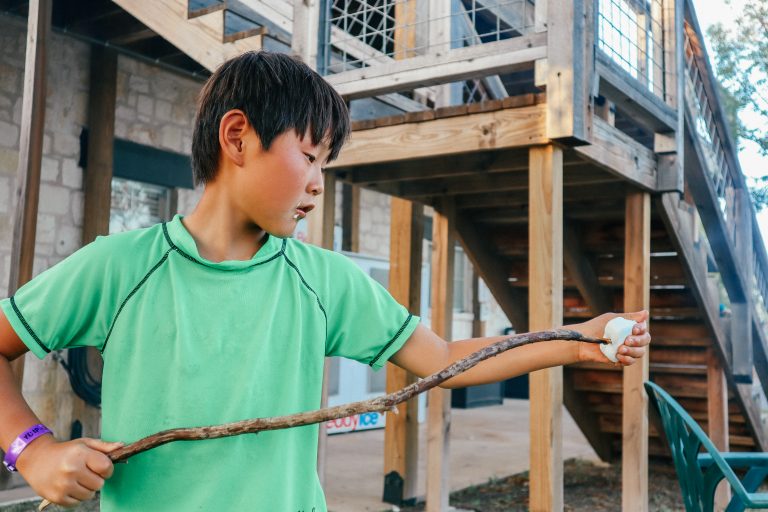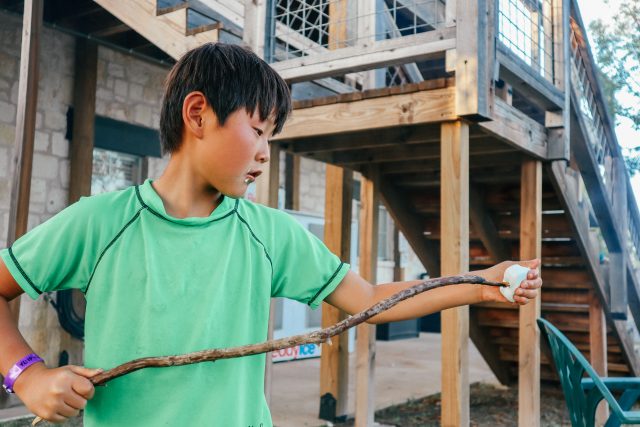 Yogi Bear's Jellystone Park Guadalupe River – What you need to know to plan your visit.
I love outdoor life, which means I love being outdoors. I love hiking, swimming in lakes and rivers, sitting on the patio with a cold drink…you get the idea. What I do not love is sleeping outdoors or sleeping in something other than a bed. Not having A/C during a Texas summer is no bueno. Ditto for no heat in the winter. I am more of a glamper than a camper. I can enjoy the great outdoors, cook my food outdoors and all that stuff. BUT. When it comes time to sleeping and showering? I like my comforts and I'd rather cabin camp. That's one of the reasons Yogi Bear's Jellystone Park Guadalupe River is the perfect backdrop for our outdoor vacation. Maybe yours, too.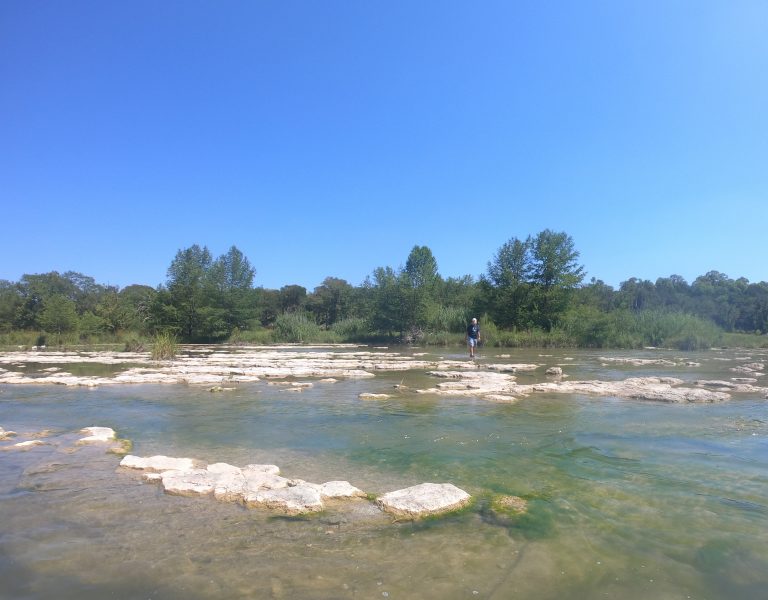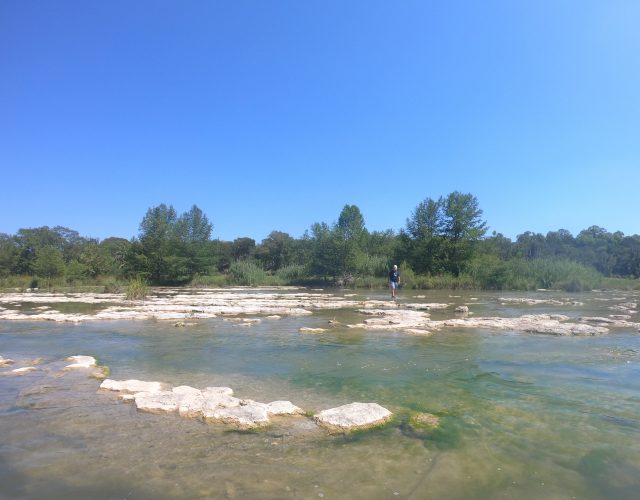 Want to know what to pack when you're going cabin camping? Check out my ultimate cabin camping packing list.
Where is Jellystone Park Guadalupe River?
Jellystone Park Guadalupe River is in Kerrville, Texas. This is about an hour and a half from my home near San Antonio, which makes it a great weekend trip option for families coming from San Antonio or Austin.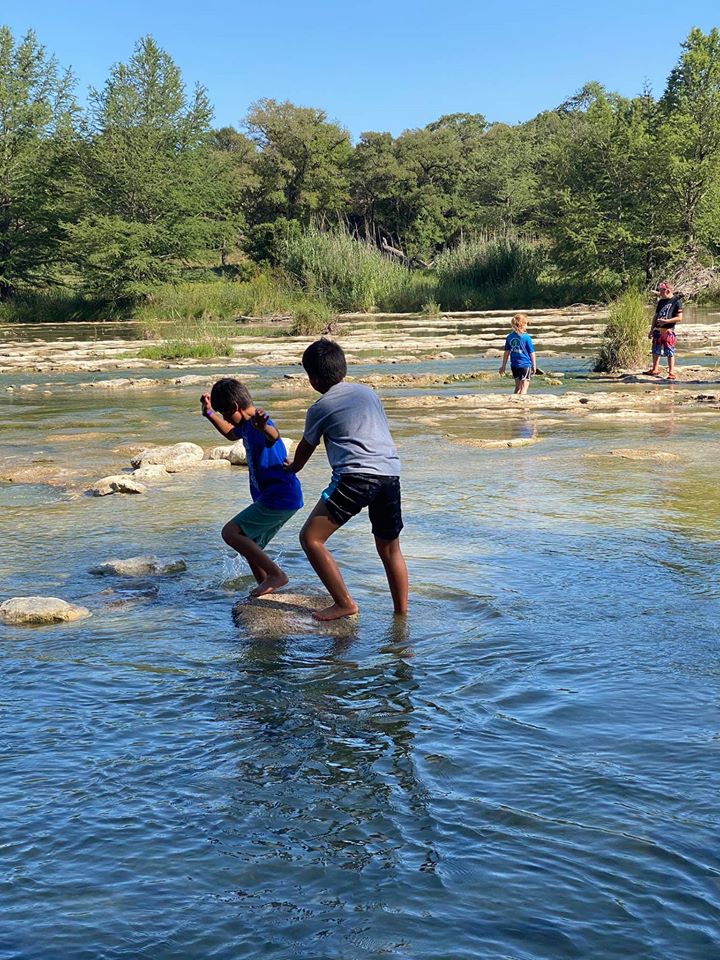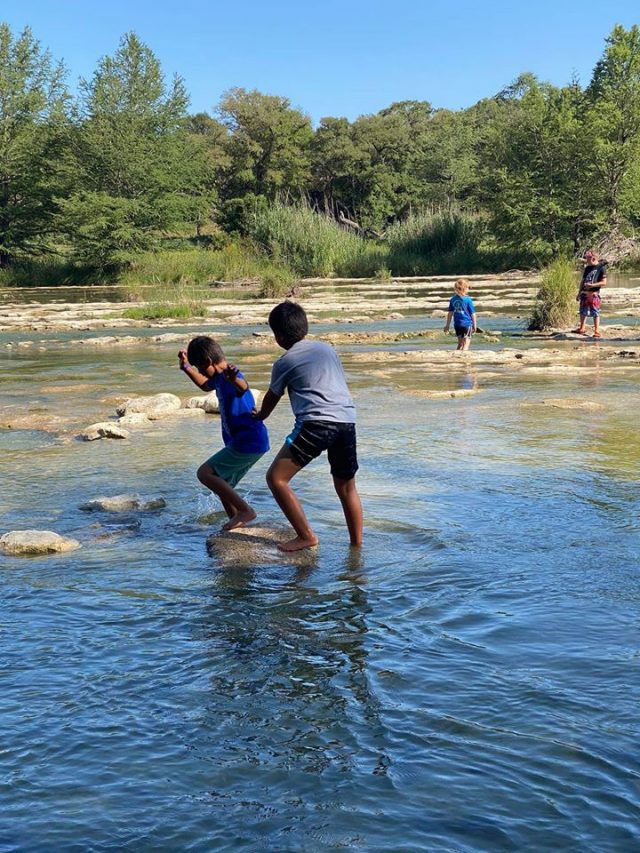 There are Jellystone Parks all over the United States, which I did not know. I've known about the ones in and around the Texas Hill Country for a while but I had no idea there were so many of them, so if the Guadalupe River location isn't near you, definitely check out their other locations.
Related post: Interested in renting an RV? Here's what you need to know!
What type of accommodations are available?
Jellystone Park Guadalupe River has a good mix of RV campsites and cabins of various sizes. Unlike a lot of campgrounds I've been to, there's about an even amount of cabins and RV spots.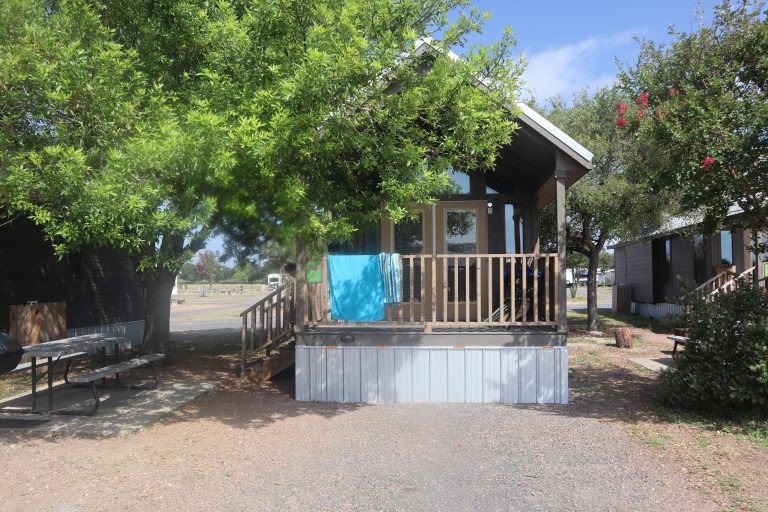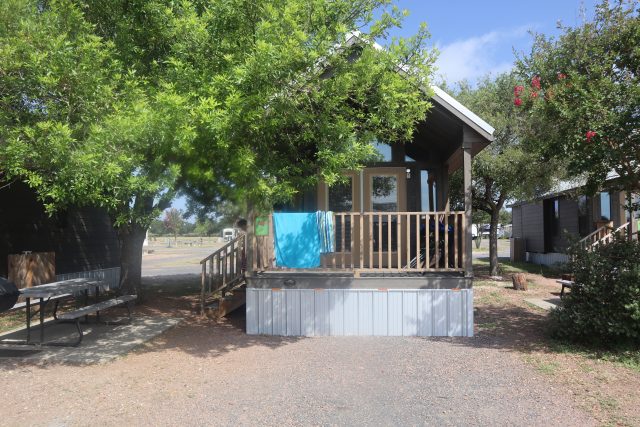 We stayed in two different units during our five-night stay. We spent three nights in one of the Hill Country Cottages and two nights in the Ranger's Retreat.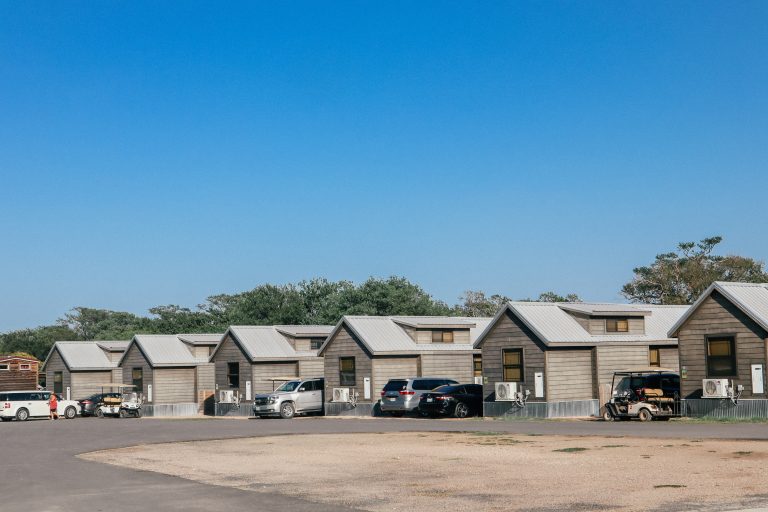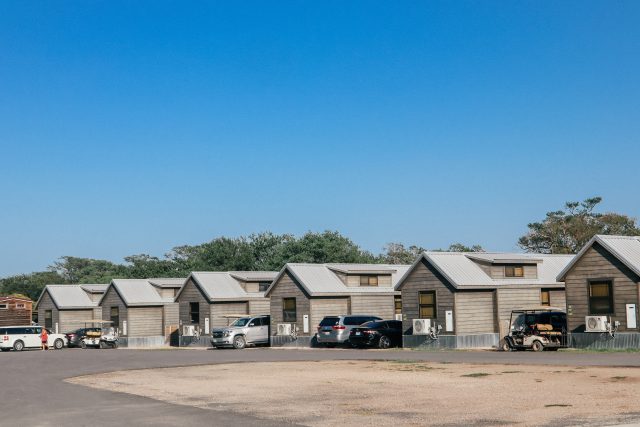 The Hill Country Cottages are converted fifth wheel RVs and if you want an idea of what kind of space you'll have in an RV, this is a good way to gauge it. We have had the RV discussion a lot lately and we've pretty much decided it isn't "if" but "when" and "what type." There are lots of choices when it comes to buying or renting an RV and setting up housekeeping in a Hill Country Cottage for a few days gave us an idea of what RV life would be like.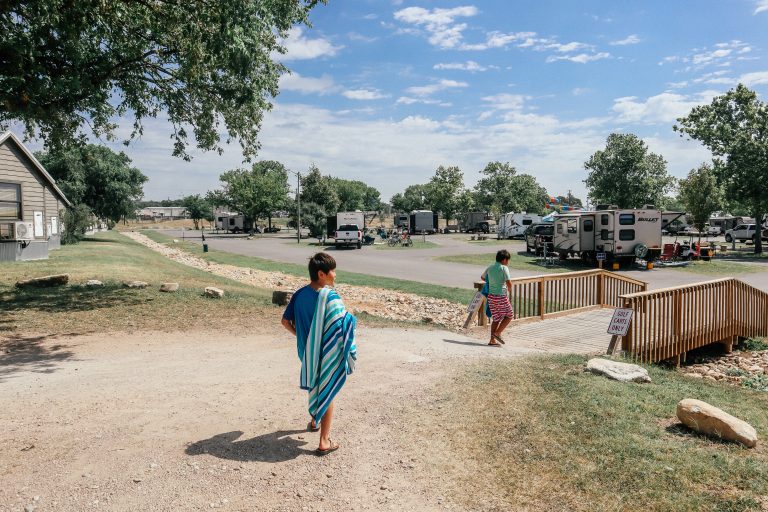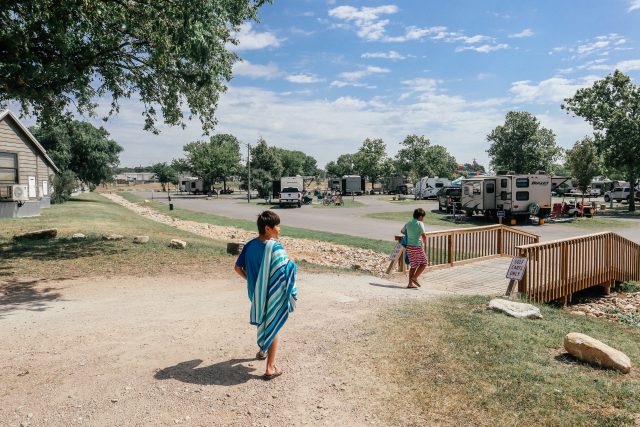 According to GoRVing, Deluxe cabins and premium cottages are also known as Park Model RVs. They are unique units that provide temporary accommodations for recreation, camping or seasonal use. Park Model RVs are designed to look like a home, but they need to be hooked up to site electricity, sewer and water like and RV. They may have a front porch, a sleeping loft, and are a great way to experience camping if you're not ready to purchase an RV or all the gear that goes with tent camping.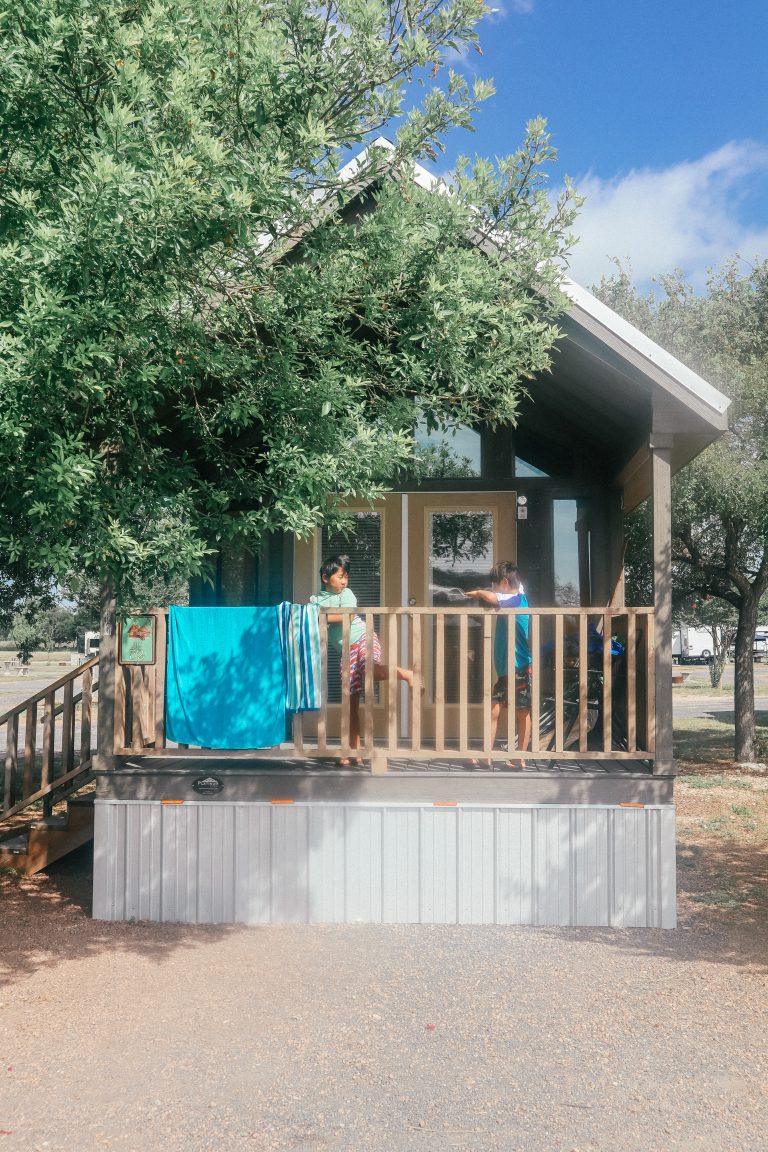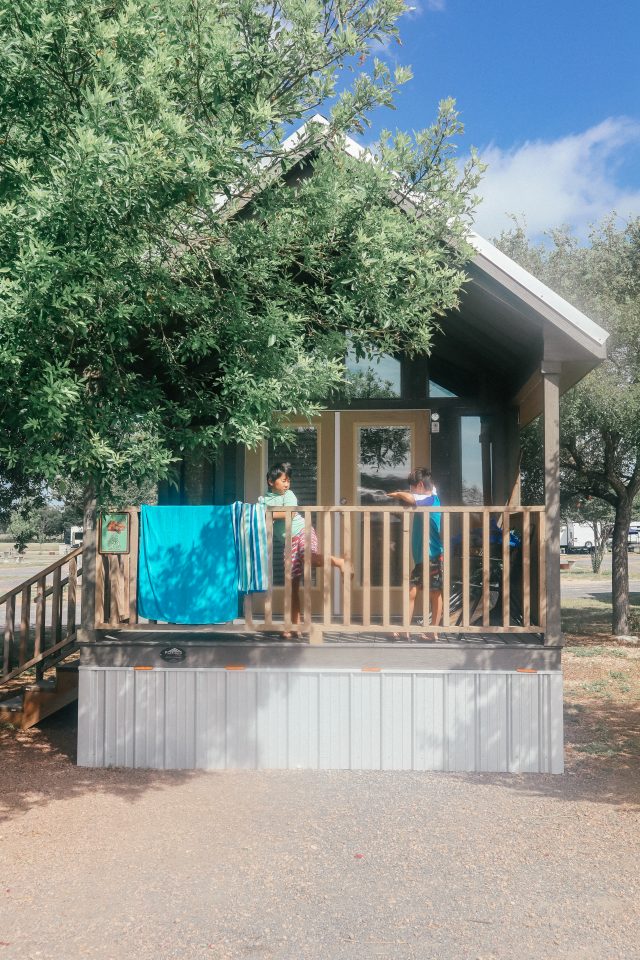 The Ranger's Retreat is a space designed for larger groups or multi families. The Ranger's Retreat is above the reception desk and sleeps 12. It's got a full kitchen, an open floor plan, lots of storage and two full bathrooms. This would be a great place to hang out in the evenings…there's enough space to have a dance party or a board game marathon in the living area. There's also a hot tub on the balcony, which was nice because there is not a hot tub at the pool.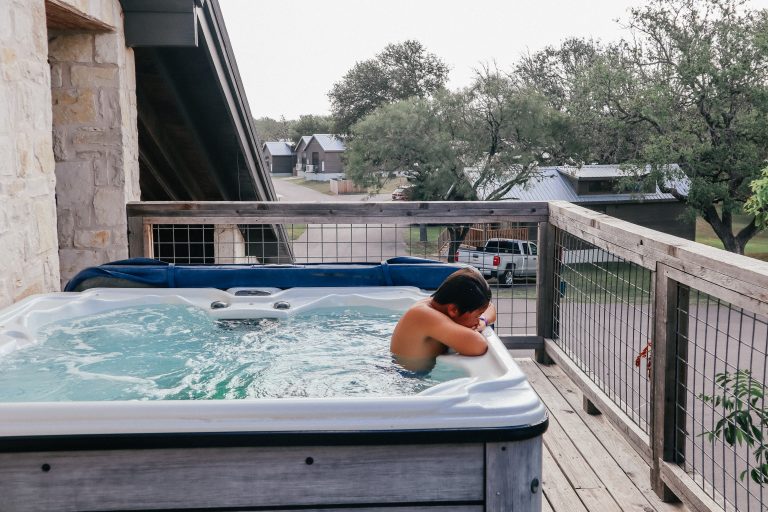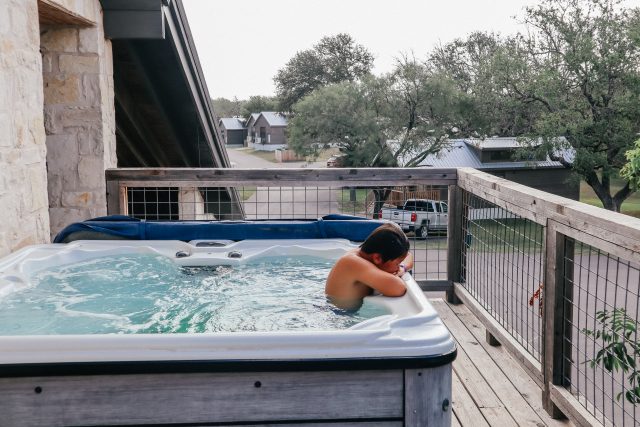 The only thing I didn't like is that it didn't feel like camping. We did have a dedicated outdoor space and fire put that was ours but the location lacked that "camping vibe" you'll get sitting by the campfire outside your Hill Country Cottage. The space is a definite trade-off, though, and it is very close to the pool and mini-golf so there's not a lot of walking involved unless you're going down to the river or to the laser tag area.
Pricing and reservations
Cabin prices will vary based on day of the week and season. Weekends and summers (AKA high season) are going to be priced higher. You can make reservations online or through their app. Play with some dates and check the website for current specials and incentives to get an idea of what prices will be like.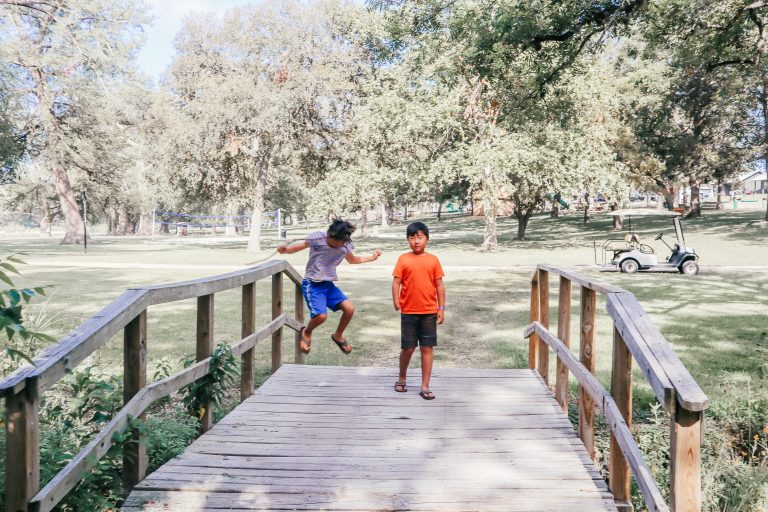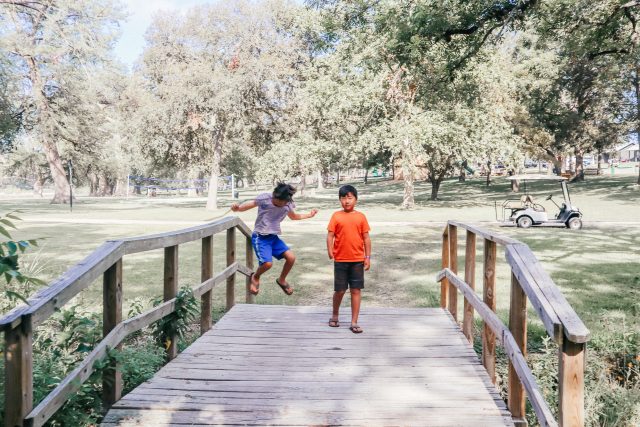 They have some really good special offers and I think they truly make vacation planning accessible and affordable for as many families as they can.
Activities and What's Included
You won't run short of things to do at Jellystone. The Guadalupe River runs right through the camp and there are several places on the property where you can access the river. The river is shallow here and relatively slow moving, so it's a good place to splash and float with your kids.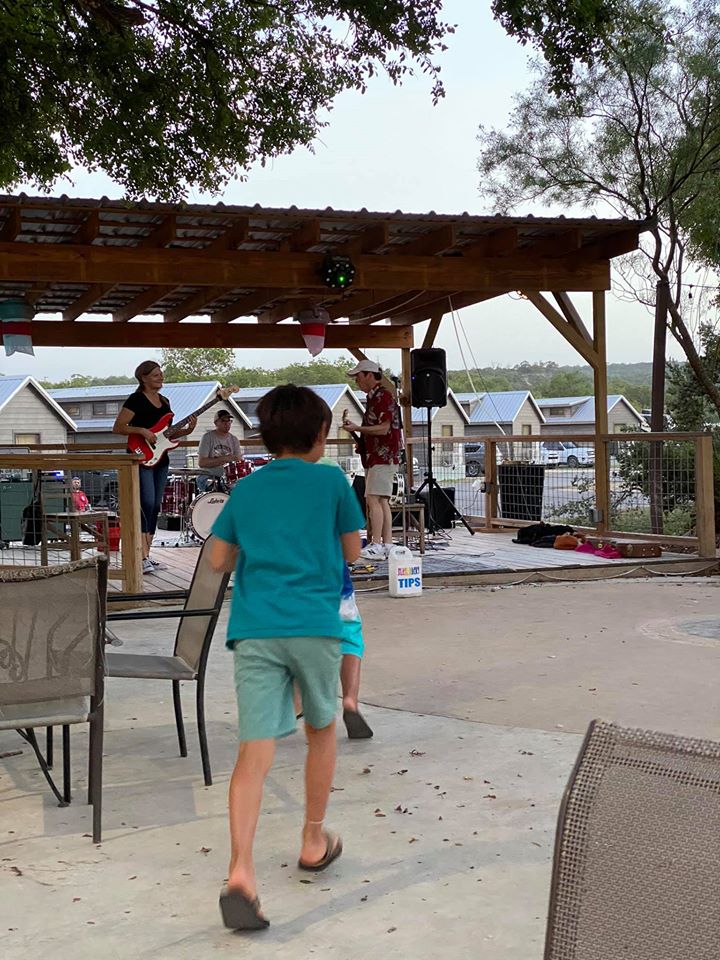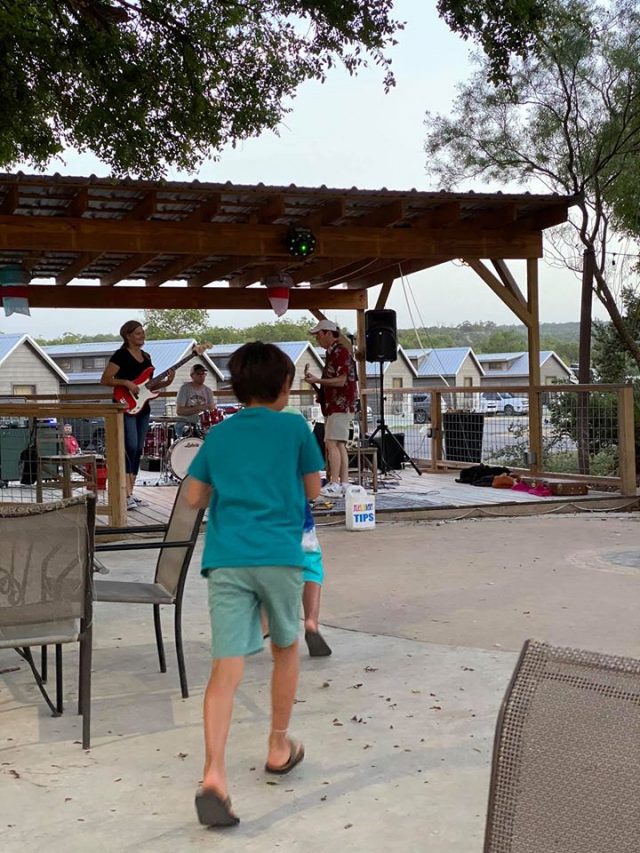 The big draw for us was the pools and water slides. There are three pools, a splash pad and four water park quality water slides at Jellystone Guadalupe River.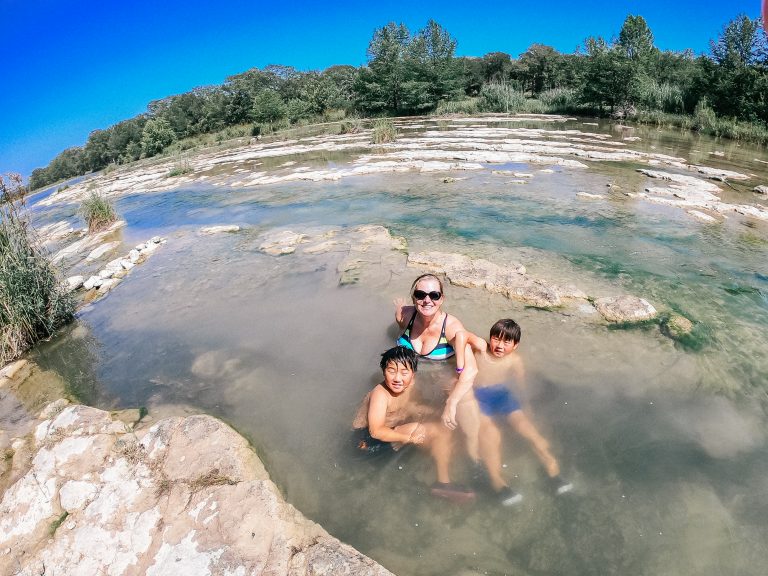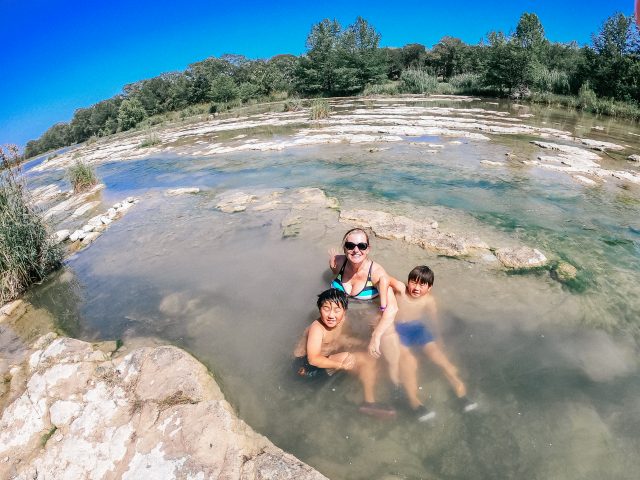 You'll get a schedule of activities when you check in. The camp offers everything from laser tag to roller skating, arts and crafts, games and more. There are also character meet and greet opportunities where your kids can meet Yogi, Boo Boo, and Cindy Bear. I didn't realize until we went that my kids were not familiar with the Yogi Bear cartoon series, so we have some catching up to do. I loved Yogi Bear and friends when I was a kid!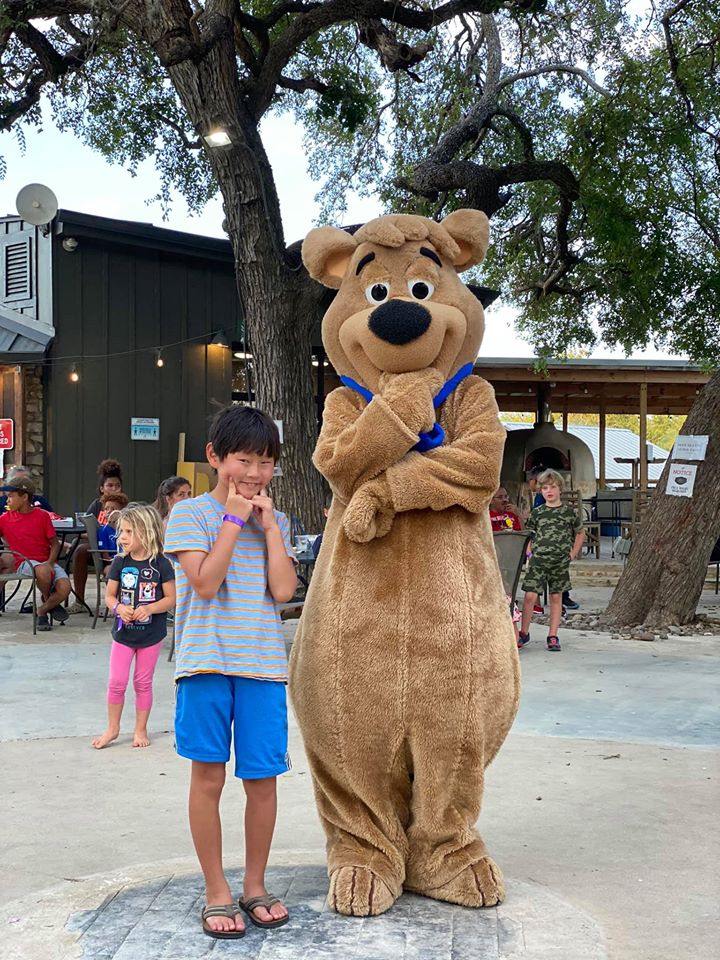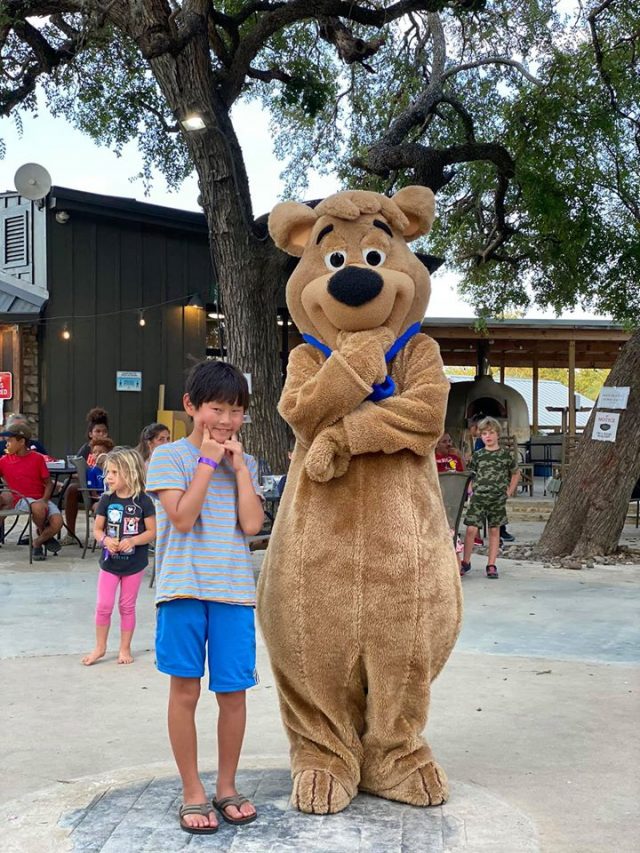 Many of the activities are included in your stay but there are a few that come with an extra charge. The schedule wasn't always clear on what cost extra and what didn't so I recommend you ask before you tell your kids they can participate. If you have a large family, one round of laser tag might be a substantial spend, so spend some time on their website and ask some questions while you're planning your trip to determine what extras are in the budget for you.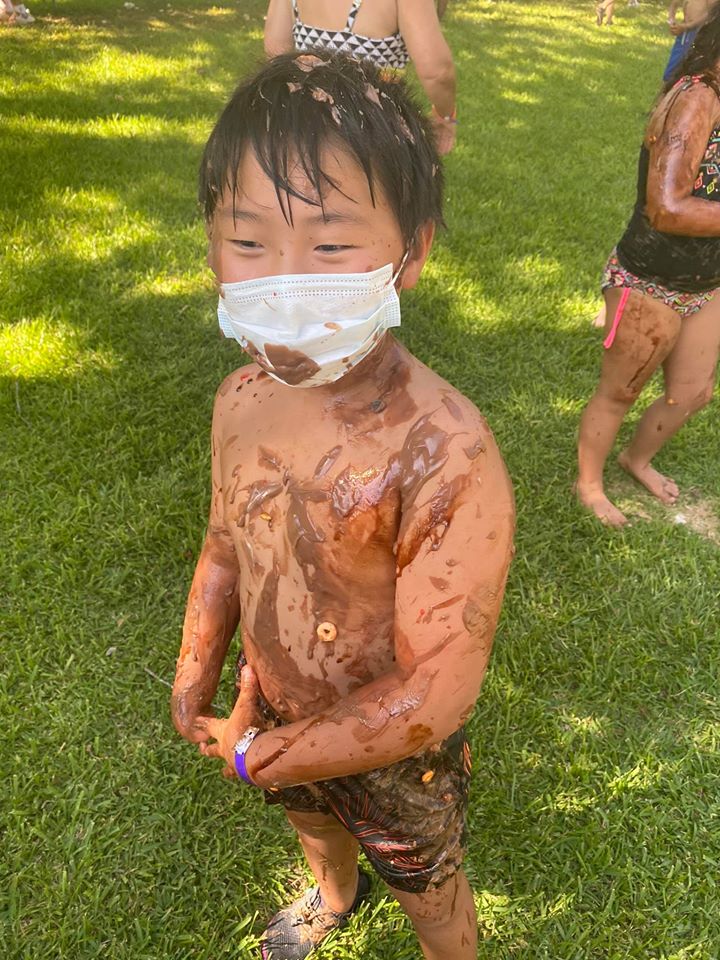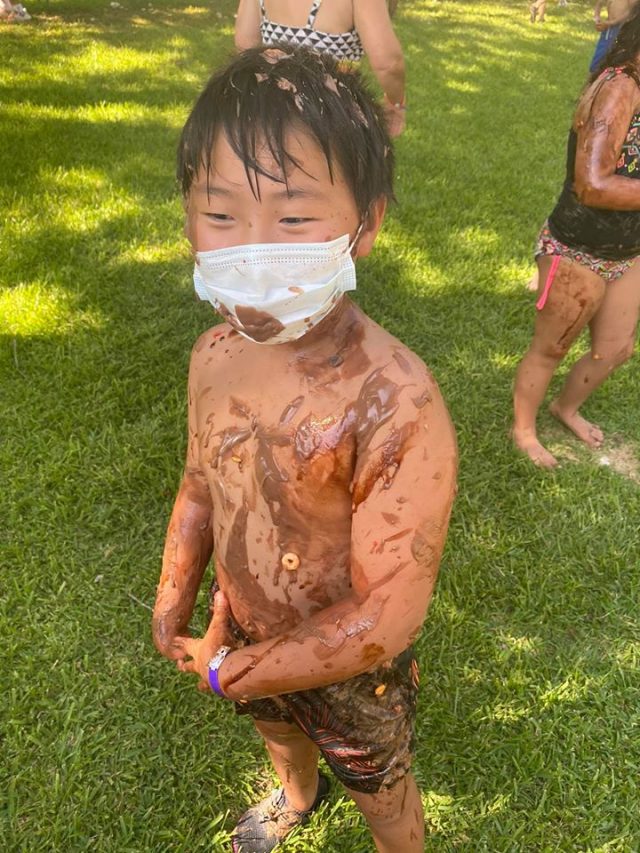 We did the glow laser tag as a family and really liked it. The cost was $10 per person and you get to play two rounds of laser tag that last about 10-15 minutes each. If you want to play laser tag, you'll need to sign up for it in advance. The games are in the evening after it gets dark and signups open when the recreation center opens at 9:00 a.m. One of the employees told me its not uncommon for them to sell out within the first 15 minutes.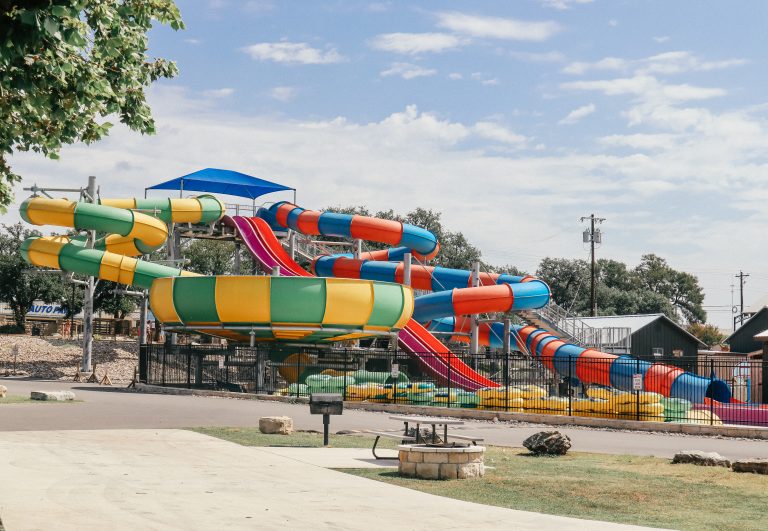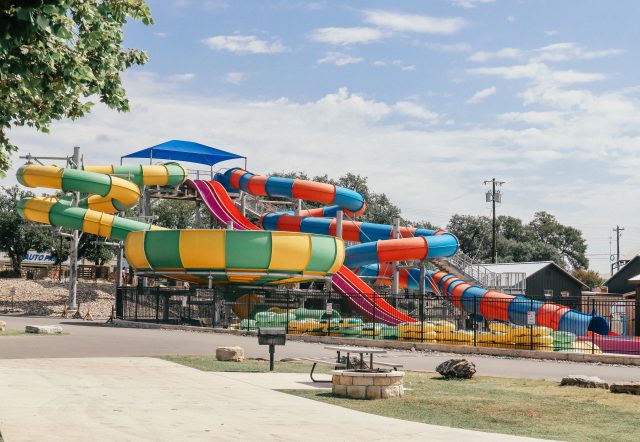 Laser tag was the only thing we paid extra for. You absolutely can have an incredible camp experience without paying for extras but if you are on a tight budget it will help to scope out what's included and what's not so you can do some expectation management with your kids.
On site amenities
It would be quite easy to roll into the campground and not leave it until it was time to go home. Jellystone definitely makes things convenient for you and I found this really relaxing. So many vacations are tiring for parents (I'm going to say it – especially moms) and this one wasn't like that at all.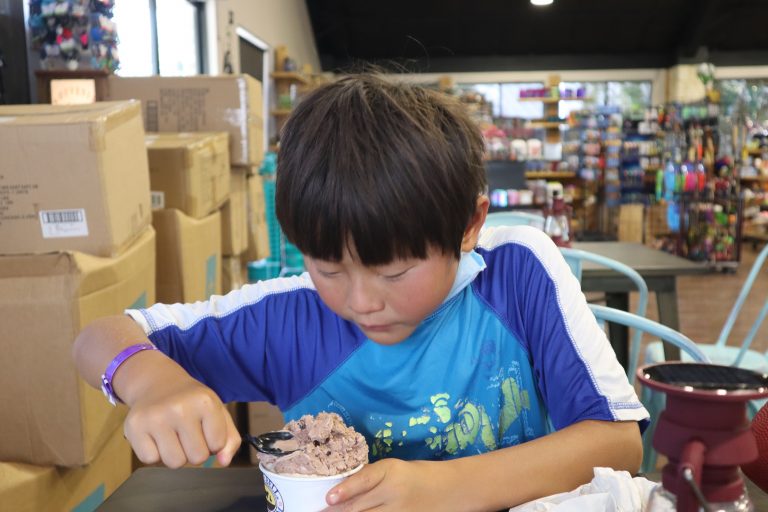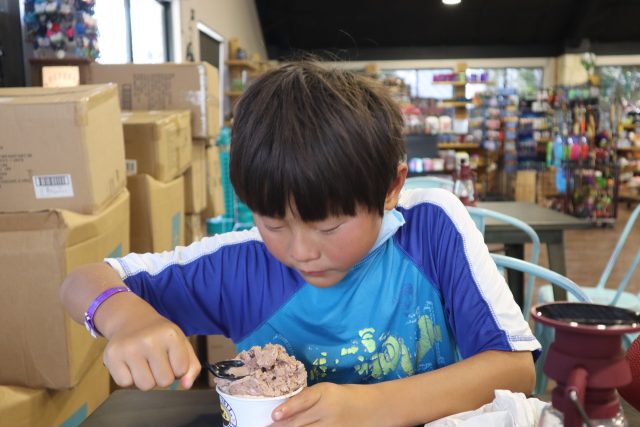 There was a camp store that sold just about everything you could want, to include ice, alcohol, grocery items, bathing suits, souvenirs and more. If you forget something, they probably sell it here. There's also an ice cream parlor that sells Blue Bell Ice Cream treats.
I didn't find the grocery prices to be terrible. Definitely more expensive than a grocery store but not excessively so. There's a Walmart just a couple of miles up the street if you need a larger store with more choices and better prices.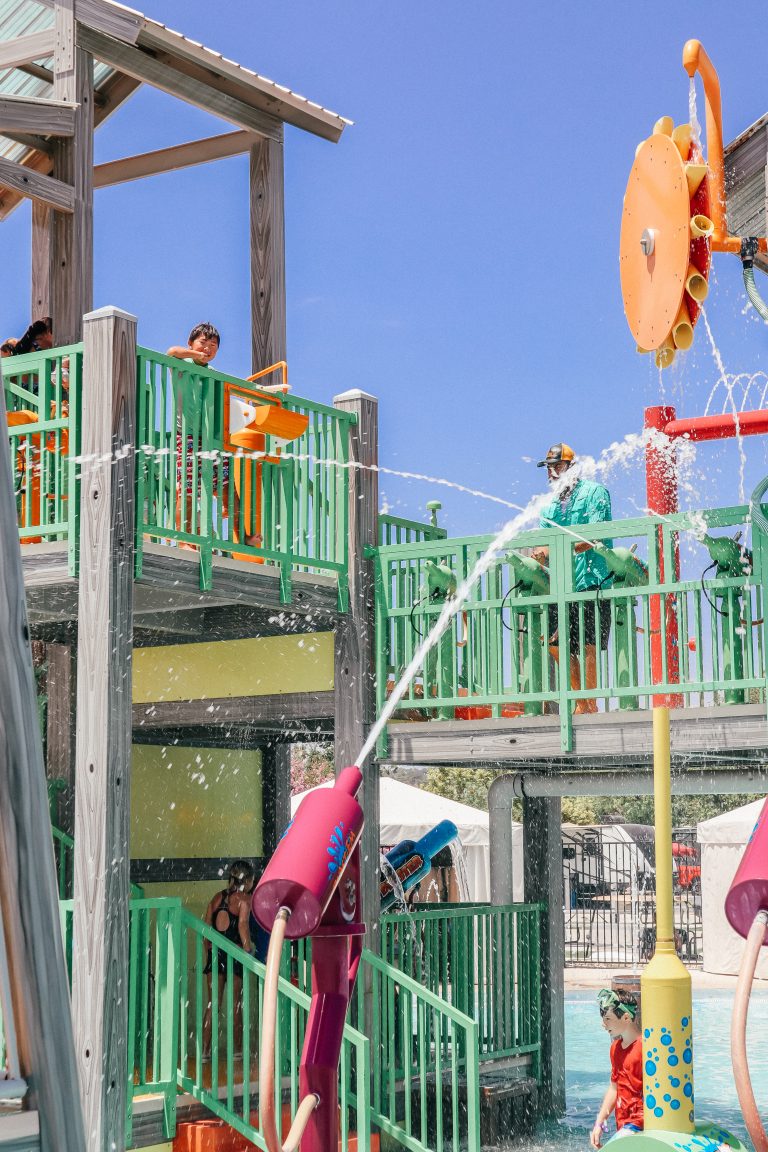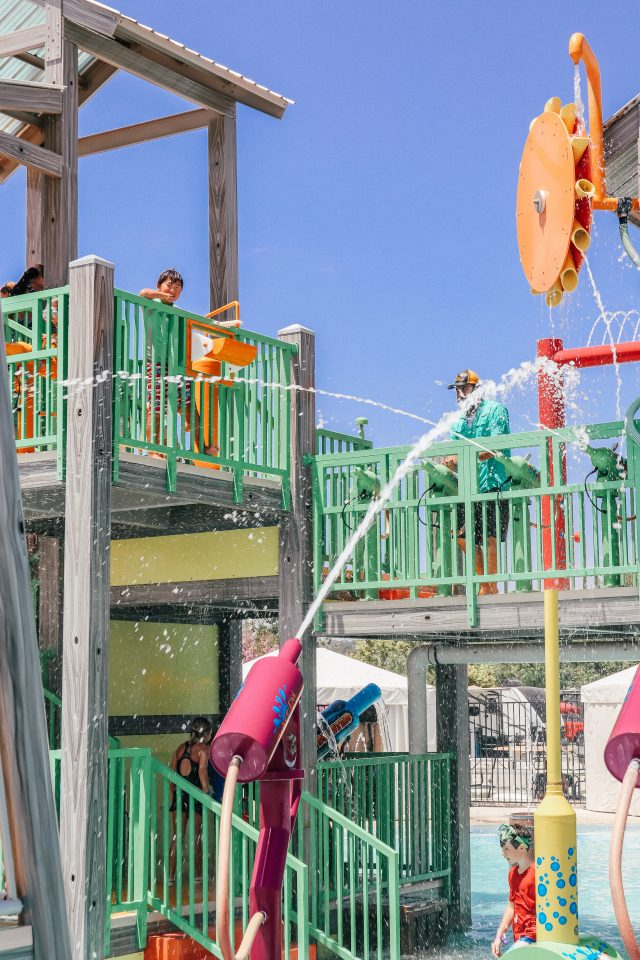 There were two eateries on property – a cafe adjacent to the pool and a pizza pub that had outdoor seating with nightly entertainment. The cafe has limited hours and has a selection of fast food and appetizers you can enjoy poolside. We ate here our last morning: they had an all-you-can-eat pancake special that was too much of a good deal to resist.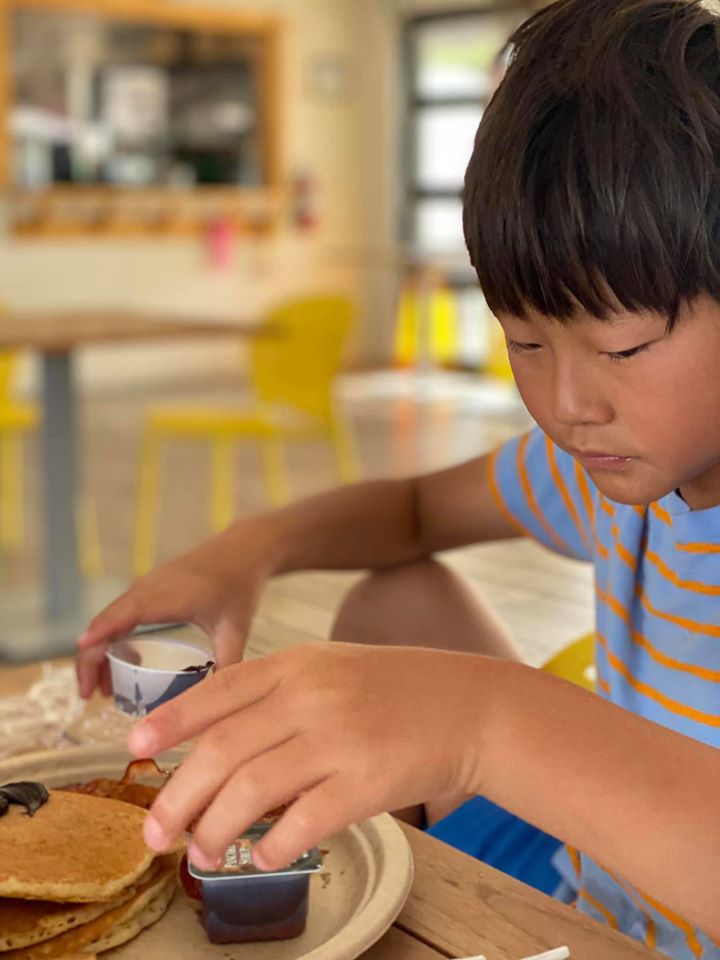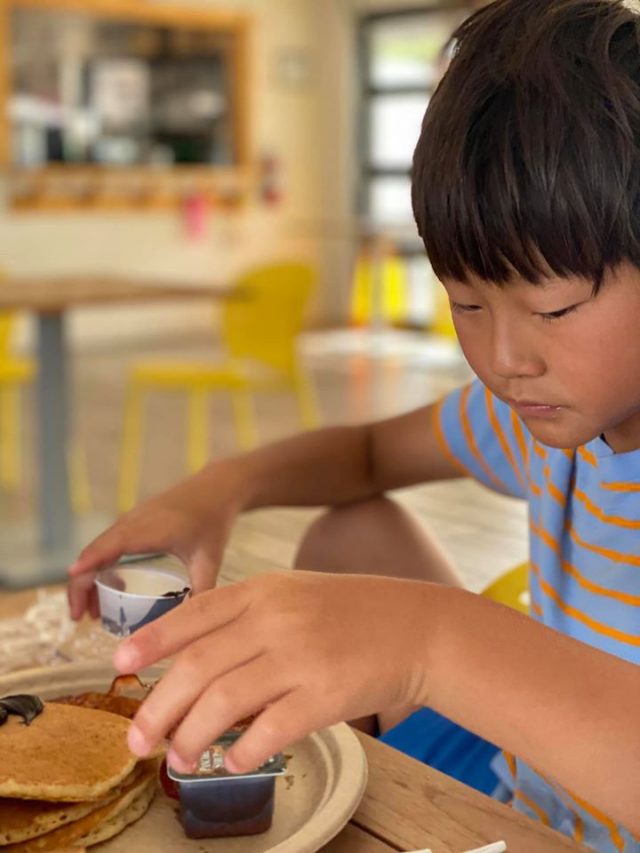 We didn't try the pizza – but it smelled good! We visited the pub twice during our five-night stay, once for karaoke and once to listen to the live band. It's very family friendly and the patio is nice. There is a kiosk that sells light-up items that your kids will want, so if you're on a tight budget, I recommend buying some dollar store light-up toys and bringing them out. They also sell snacks, like popcorn and pickles.
Golf Carts
You will see a lot of golf carts at Jellystone. They are not included in the price of your cabin or RV spot rental – although I wish they were! If you want a golf cart, you'll need to reserve in advance, especially during peak times.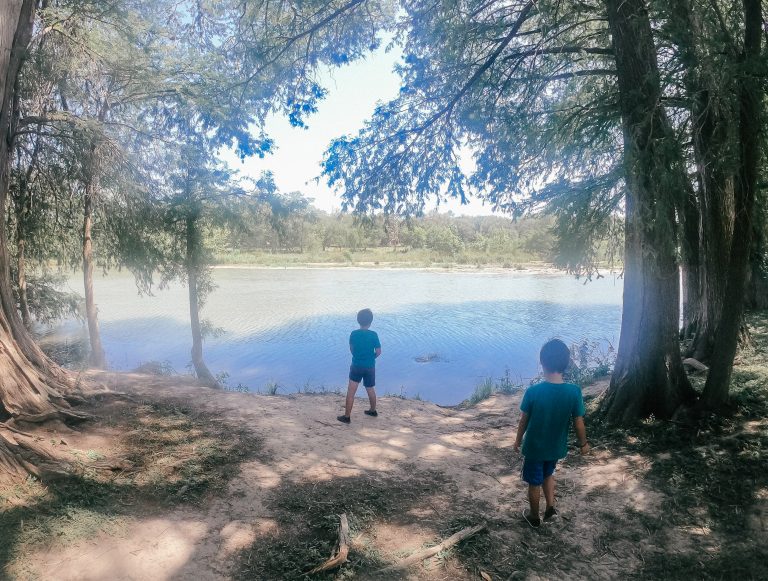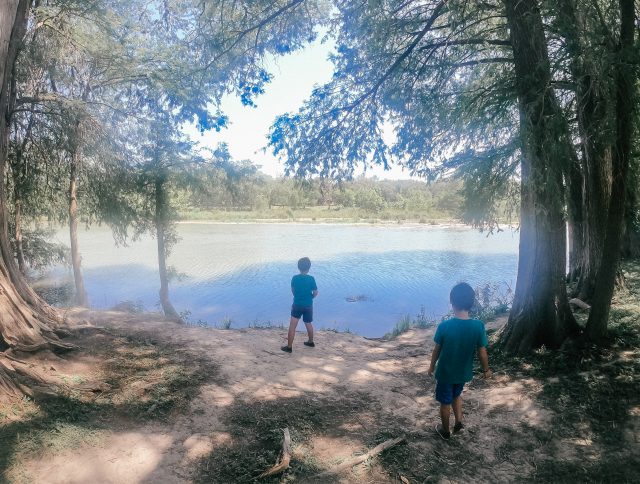 While a golf cart isn't absolutely necessary, I do recommend renting one if you can fit it into your budget. The camp is fairly sprawling and if you're there for a few days and try out all the amenities, you'll be covering a lot of ground. If you have very young children or any sort of mobility issues, the walking might get tedious.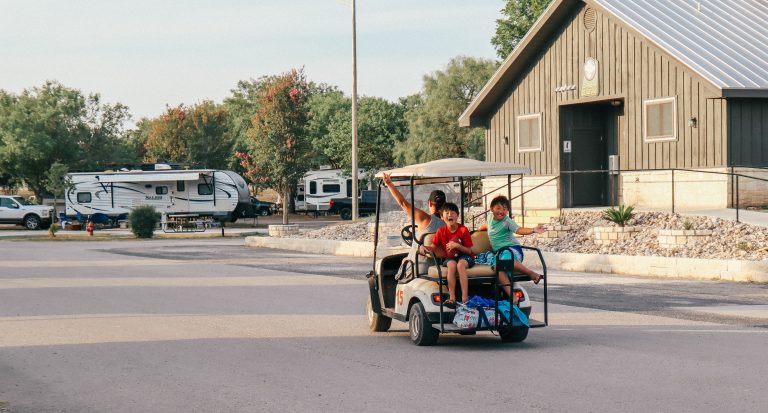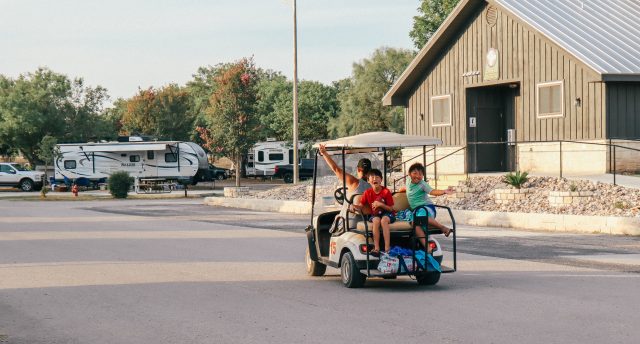 Your mileage will vary depending on where your cabin is and what you want to do, so check out a park map and get an idea of where things are situated. If your cabin is near the pool and you don't anticipate doing much besides going from the pool to the cabin and back, a golf cart might not be something that's worth the spend for you.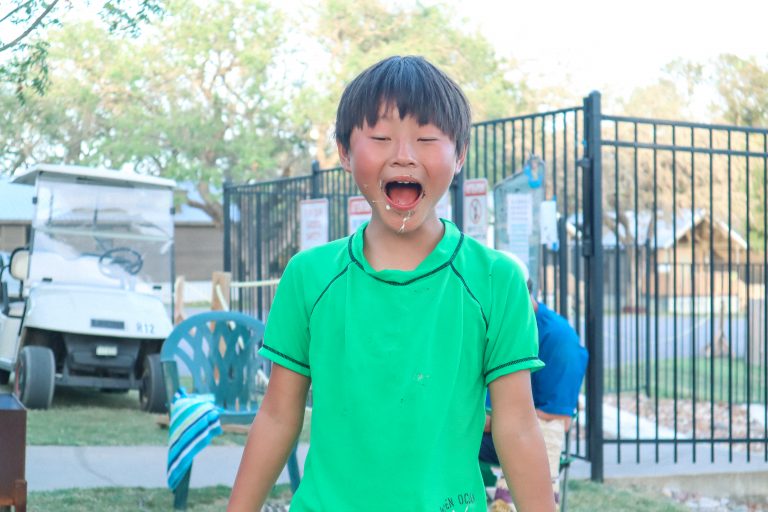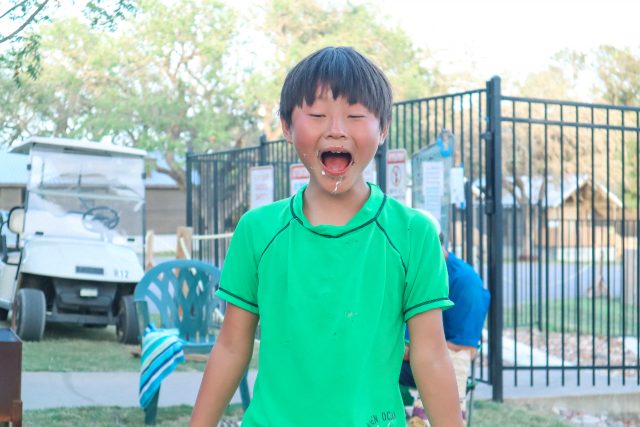 Be sure to check the specials – a few of them included discounts on golf cart rentals.
Even if you don't need a golf cart, they sure are a lot of fun!
What you need to bring
I'm going to cover this assuming you're renting one of the cabins. If you've got your own RV, you hopefully already know what to bring and if you're renting and wanting to know what to bring, well, that's a whole other conversation.
First, read lists of items that are prohibited. This is a good rule of thumb for any packing. Among the prohibited items is firewood. The park asks you not to bring firewood in, especially from out of state, as it may have bugs or pests that might harm local trees.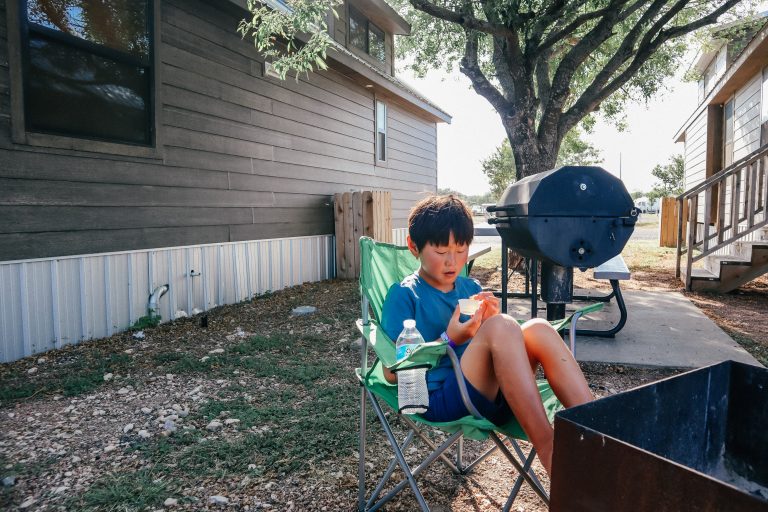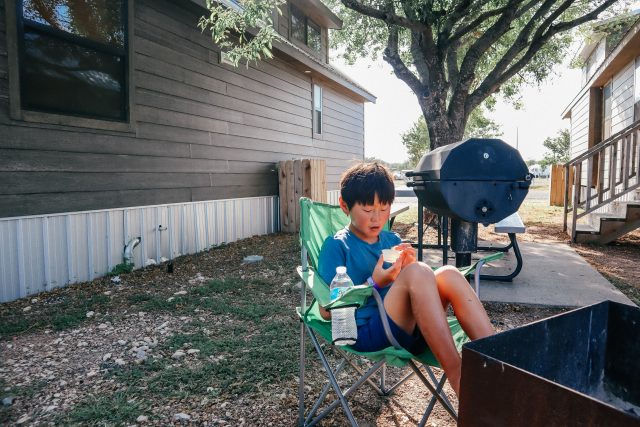 Second, repeat after me: I am going camping, not to a hotel.
While there are some similarities between the cabins at Jellystone and hotels, vacation rentals or Air Bnb, this is not the same thing. With the exception of some of your outdoor gear, such as a tent, you will need to more or less pack like you're going camping.
Linens and towels are not included in your rental but you can rent them for an extra fee. Pillows (but not pillow cases) are included. Soap and a bathmat are included but you'll need to bring everything else you need in the bathroom.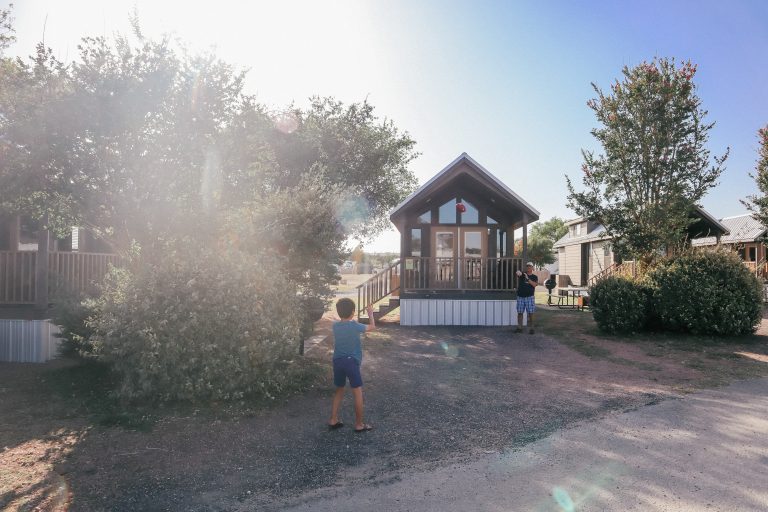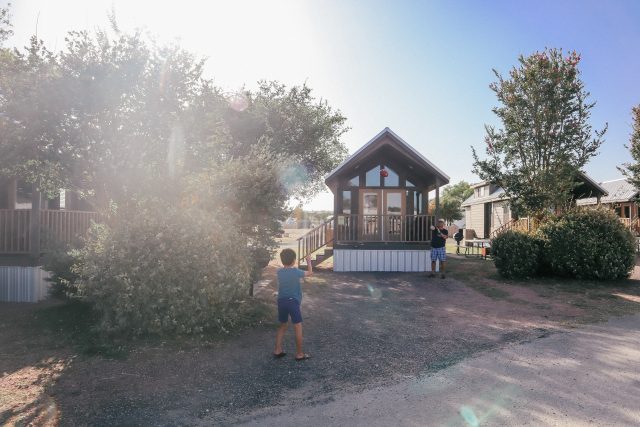 Unless you want to bring sleeping bags and use on the beds, I'd say just get the linen rental. It's not that much money and you don't have to worry about bringing the right sized sheets. If I had a do-over, I'd have opted to bring my own towels from home, though. That's an easy enough thing to pack. We probably could have gotten by with having our beach towels doing double duty. You do need to bring your own beach towels, by the way. None are provided.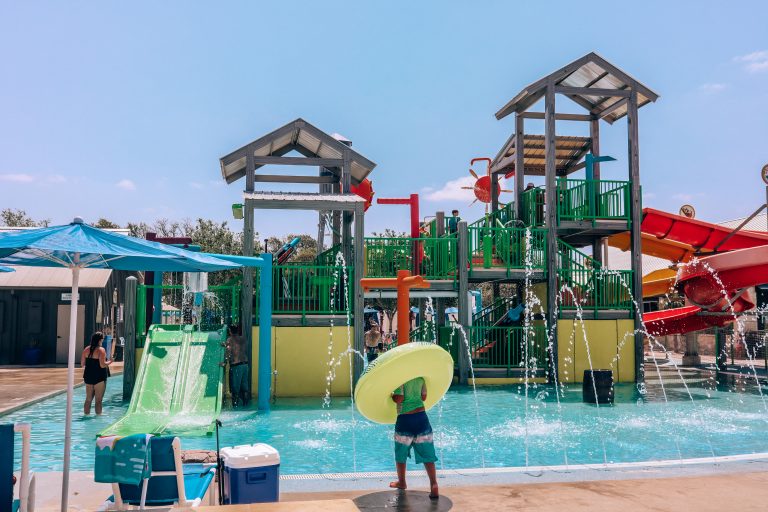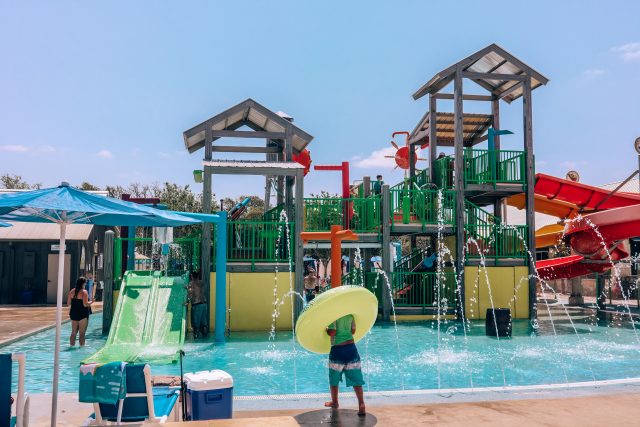 The kitchen has the bare bones basics. Our cabin had a coffee maker and a microwave. Coffee filters were included but coffee is not. Kitchen rags, dish washing liquid and a scrubber sponge are included but paper towels and pot holders were not.
There are basic dishes, cookware, utensils and kitchen tools provided. My advice is to plan your meals out in advance and consider packing any "have to have it" kitchen equipment you need to prepare your food. The pans provided were stainless steel and if you're used to cooking with nonstick, stainless can be tricky, not to mention hard to clean.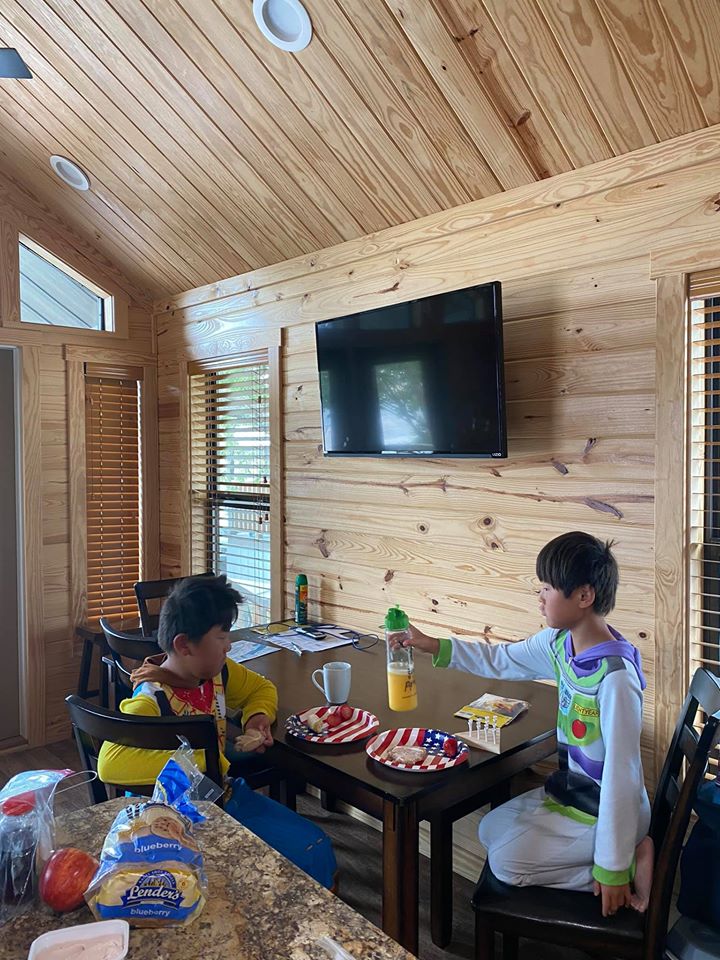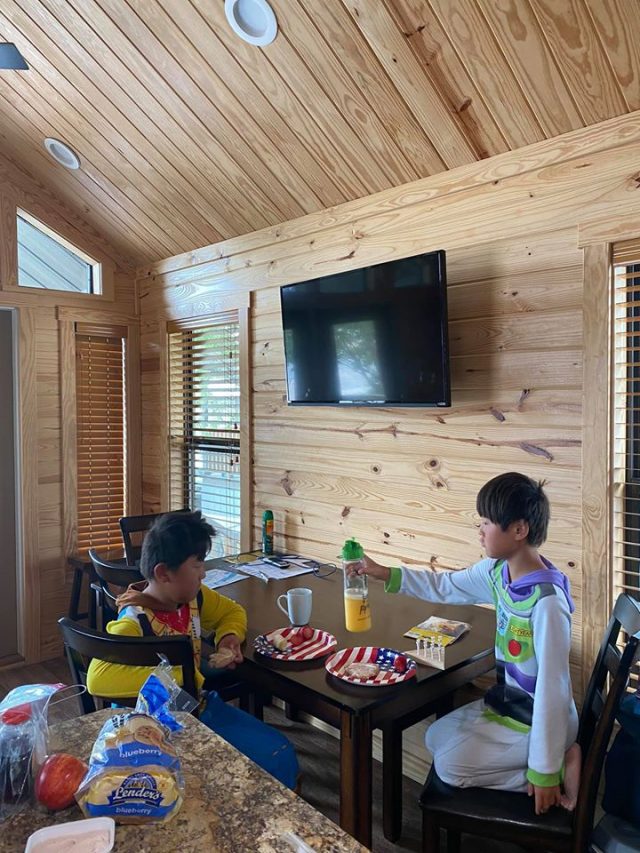 There were also no plastic cups or bowls available. If you have kids and/or want to eat outside, you'll want to bring your own plastic or disposable stuff.
We have a small kitchen box we take when we go places like this. It includes a skillet, a small cutting board, a good knife, a can opener, a spatula, tongs, pot holders and/or old kitchen towels, foil and a peeler. If our away kitchen doesn't have what we need, we can usually get by with what's in our kitchen box. It doesn't take up much space in our vehicle if we don't need to unpack it.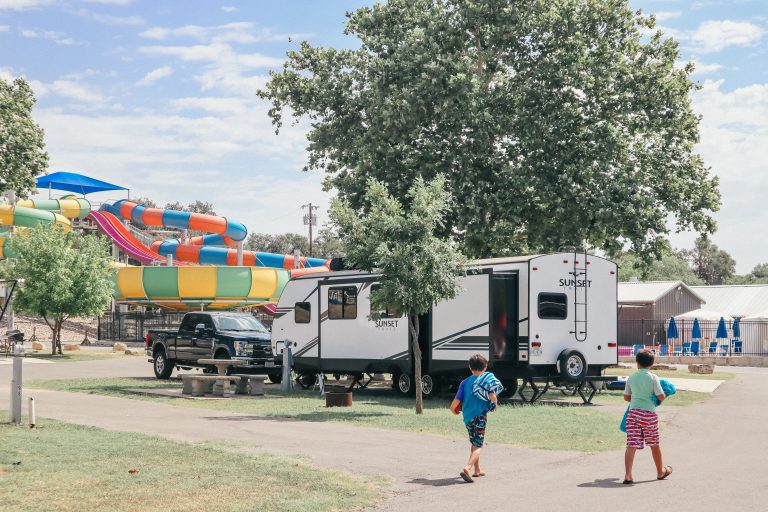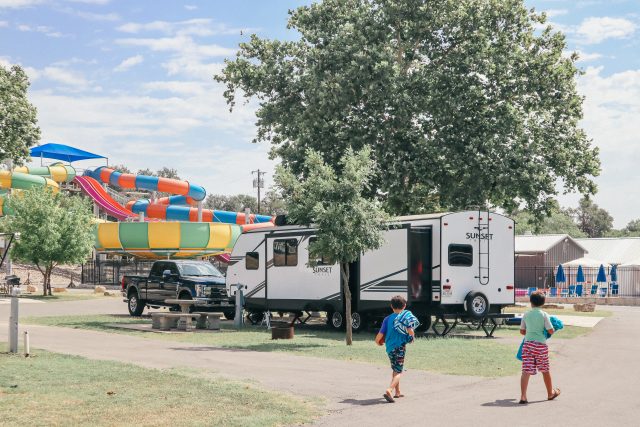 The Jellystone website does a good job at detailing what the cabins do and don't have. If you don't see it listed, assume it's not provided and bring it if you need it.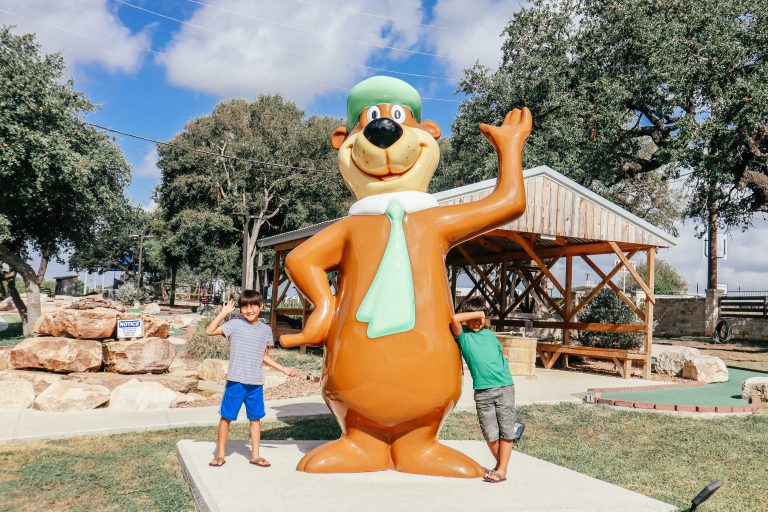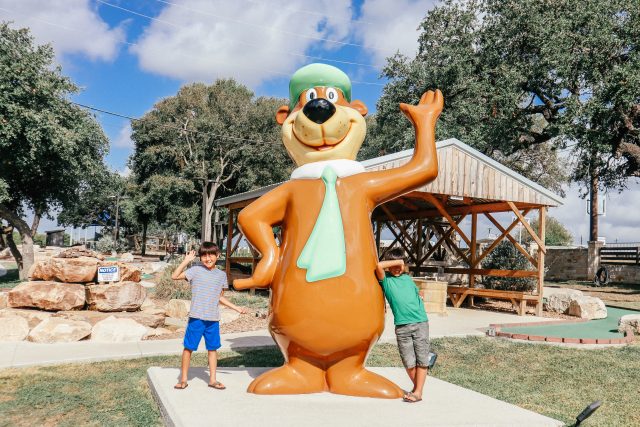 Again, if you've forgotten something or get into a pinch, the camp store probably sells what you need and if not, Walmart is a very short drive away.
Other things you need to know:
Trash pickup is provided daily. There are no dumpsters and you'll need to set your trash out in the mornings. I've never seen this at a campground before and spent a lot of time wandering around looking for the dumpsters! I thought this was a really nice touch.
BRING BIKES! We really regret not bringing bikes or scooters for our kids. There's lots of room to play and the speed limit is 5 ½ MPH so it's pretty safe for your kids to be on the roads.
There's lots of seating and lots of shade at the pool. The pool was busy each time we went but we were always able to find seats in the shade. We did talk to a regular visitor who said the pool was very uncrowded compared to normal so I'm thinking COVID-19 impacted the number of people.
Cleaning guidelines are posted in the cabins…make sure you leave things the way you're supposed to. It's very simple and it makes it easier on the camp staff, especially right now when enhanced cleaning protocols are in place.
There is free, open WiFi, however we found it to be hit or miss. We stayed in two different locations during our trip and found that where you are in the camp definitely matters as far as how strong the signal is. The camp asks that you not stream (i.e. Disney+ or Netflix) because it slows down things for everyone. We used a hotspot and streamed from that, although the cabins do have cable. My husband was "working from home" for part of our trip and he found connectivity to be a challenge and had to walk into the driveway of the next cabin to get good phone reception.
Beware of ants. We read reviews online about ant problems throughout the camp so we were very careful during our stay. We did notice more ants in the Ranger's Retreat than we did in our cabin. Plan to keep all of your opened food in the fridge. We wouldn't ordinarily put open boxes of cereal or chips in the fridge, but found we needed to do that here.
Download the free Jellystone App before you go…my phone service was iffy when we got to the park and it took my app a long time to download and load. We got a printed activity schedule upon check in and notice that some of the schedule didn't exactly line up with what the app said. I recommend verifying start times of events with camp employees if it's important to be on time, i.e. Laser Tag and arts and crafts. Some start times, etc., have shifted due to COVID-19.
The campground (and some of the cabins) are pet-friendly. However, before bringing your pet, I recommend doing some research to see if this is really a fit. We saw lots of "no dogs allowed" signs around the camp, which led me to believe pets can be on your camp site or in certain cabins but not inside buildings or in most of the common areas.
Explore the surrounding area. Both Kerville and nearby Ingram have some fun things to do and several restaurants if you want to leave the campsite. We went to Stonehenge II, which we expected to be super cheesy and it ended up being kind of a cool experience. The grounds have an art museum (currently closed but lots to see outside) and there's also an open-air theater. Fun fact: I've been to see several musicals at this theater and realized it as soon as I stepped inside. I spent a few summers in this area when I was a teenager that I'd kind of forgotten about until we visited.
COVID-19 Tips for Jellystone Park Guadalupe River
Pandemic travel is a very personal decision. If you are exhibiting symptoms, stay home. If you have a compromised immune, this may not be the place for you. While it is easy to stay isolated in your cabin or RV, most of the activities will involve being near other people. You can easily stay six feet away from other groups on the grounds, nature trails and at the river but not at the pool or most of the other activities.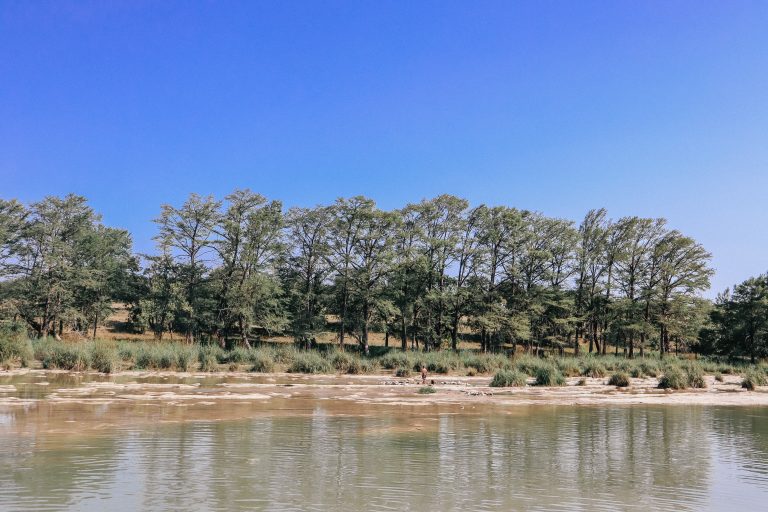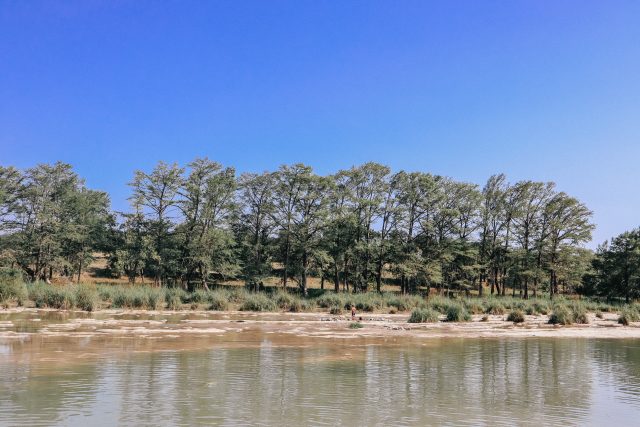 Not everyone is going to feel comfortable traveling right now and people's thoughts about traveling are going to change as we learn more about this unpredictable virus. If you don't routinely buy travel insurance or trip protection, it's probably time to change your thinking about that.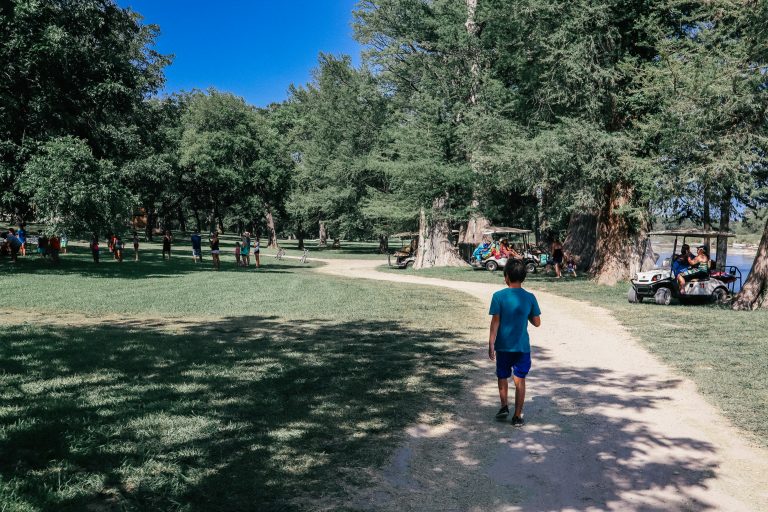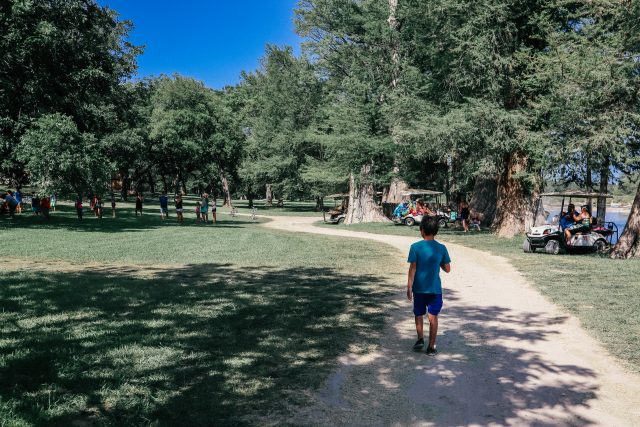 Face coverings are mandatory inside buildings. The staff did a great job at wearing their face coverings.
Some activities are modified because of COVID-19. The pudding slip and slide became a pudding food fight and the camp was kind enough to provide masks for the participants. We'd been swimming and didn't have our masks with us when we happened on the food fight. It is always a good idea to carry your family's masks everywhere you go on camp, even if you think you're not going to need them.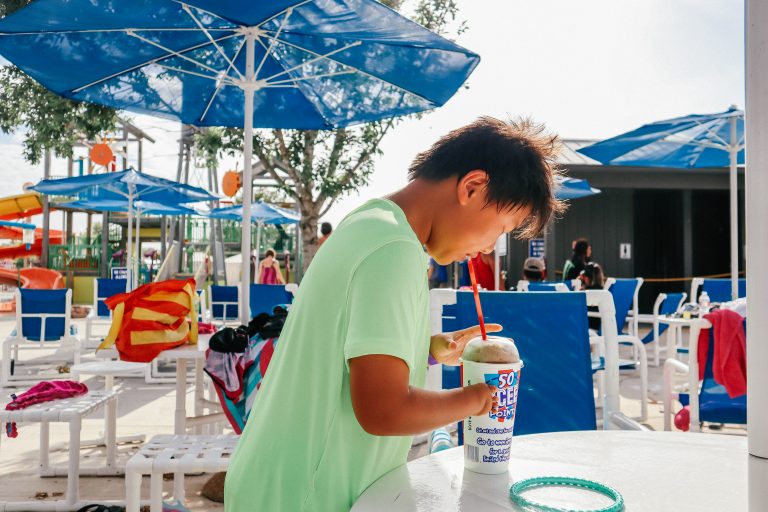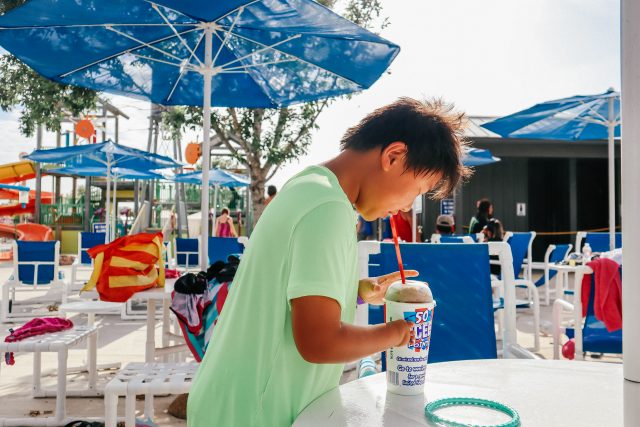 Capacity limits are enforced at the pool and they're down to a single-entry point. There are normally two entries. That said, the pools were still pretty busy, especially on the weekend. While we had no problems maintaining our distance from people while seated, there is almost no way to maintain a six-foot distance while using the pools and water slides.
Capacity limits are also enforced on the main jumping pillow. There's a second jumping pillow near the river as well as a couple of very nice playgrounds. Staff is not enforcing capacity limits on these attractions, so you'll need to monitor your kids if they use these things.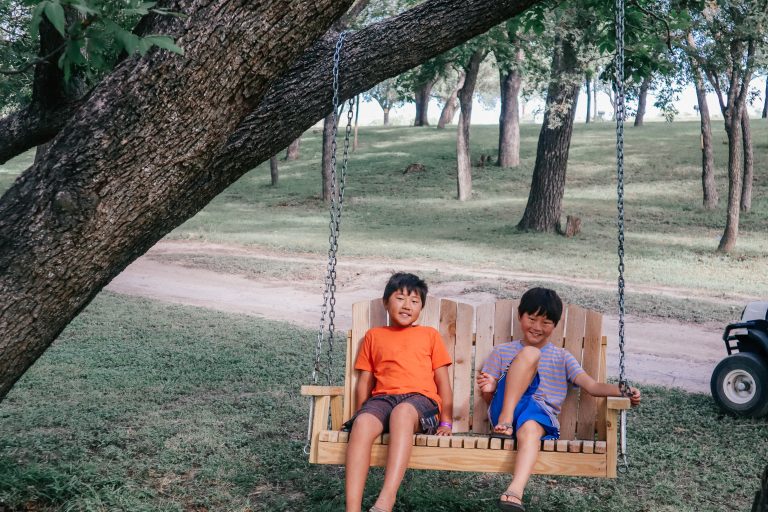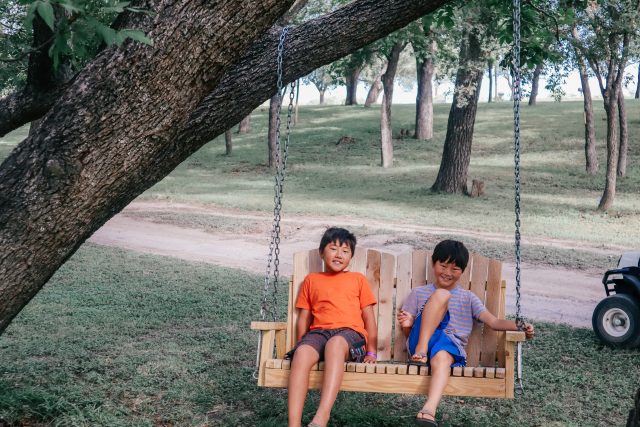 You must bring your own horseshoes, volleyballs, basketballs, etc.
Be patient and flexible. The pool closes for half an hour every two and a half hours so the hard surfaces can be fully sanitized. Refer to your schedule or the Jellystone app for opening and closing times. Just roll with it if the times are a little off. We witnessed the pool opening late and closing early one of the days we were there. While it wasn't explained and my kids were bummed, stuff like this is something you're going to have to accept as normal when traveling during a pandemic.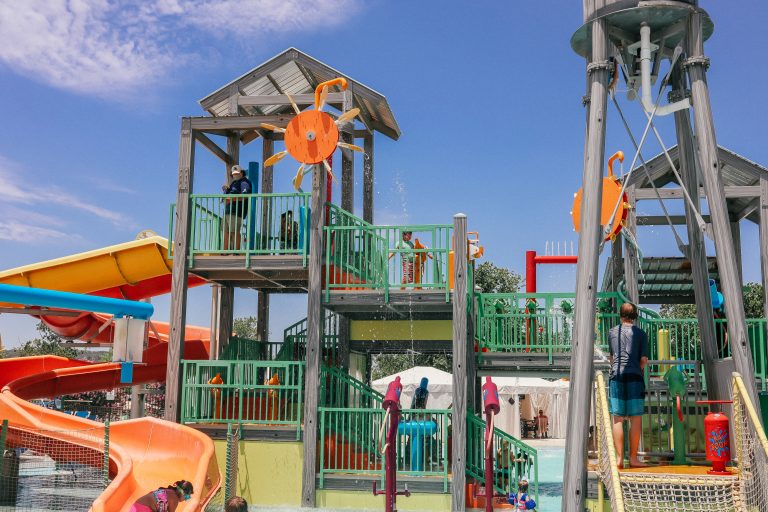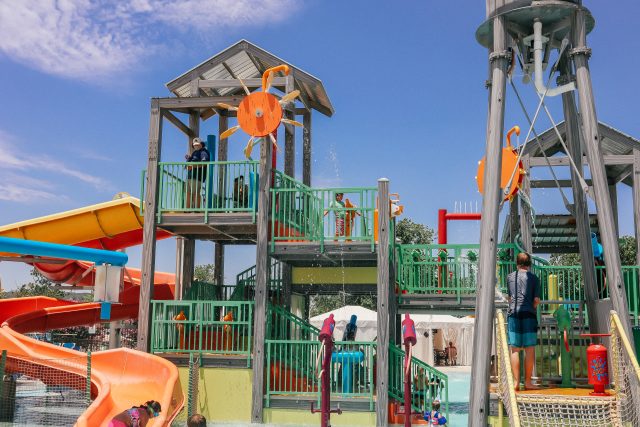 The staff is mostly high school and college-aged kids. They're are operating under a completely new set of rules made with everyone's safety in mind. Things might not happen on time. Don't be that guy who makes a big deal out of it. Everyone's doing their best. If we want to keep safe and keep these kinds of attractions open and running, some grace and flexibility is required.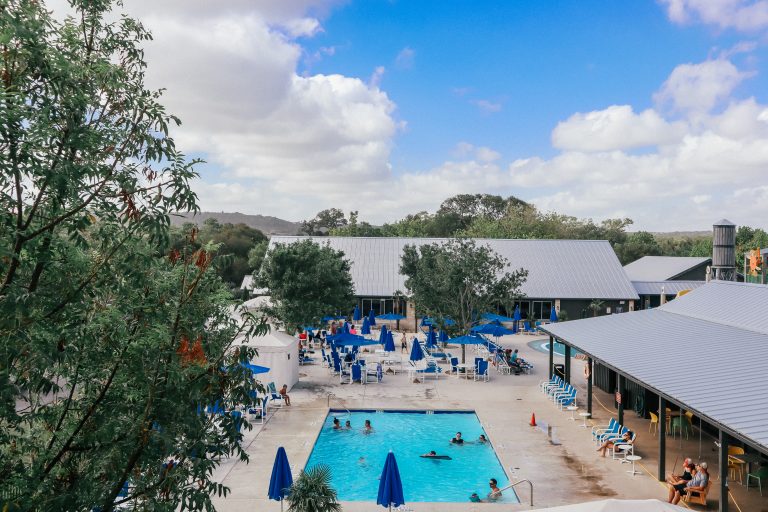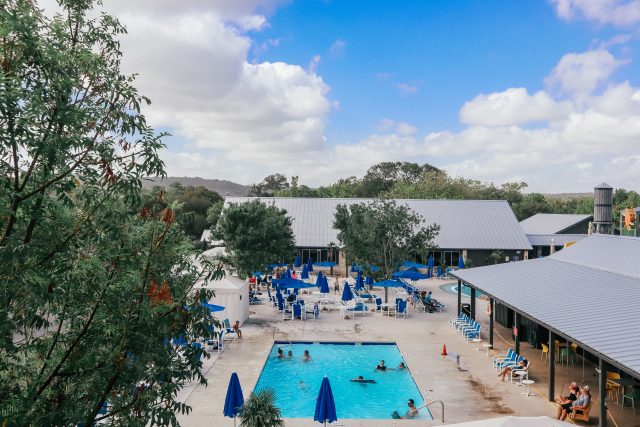 Go during the week! Not only is it cheaper, it's less crowded and I think it's safer. We arrived on a Tuesday and left on a Sunday. In my opinion, you'll have a better experience during the week.
I also recommend checking out the camp in late summer or even into the fall (which we haven't done yet but want to do.) It's still warm enough in Texas to get in the water and it's not peak crowd season.
The camp has a very robust section on their website about COVID-19 precautions and changes. I recommend checking it out while planning your trip to Jellystone Park Guadalupe River. Give it another look as you get ready to go. Just in case.
Related post: Want more options for camping in Texas? Read this!