Volcano Bay is Universal Orlando Resort's newest theme park. It opened in May 2017, joining Universal Studios Florida and Islands of Adventure. I've been to a lot of water parks and Volcano Bay completely blows them all out of the water. See what I did there? My family recently spent a day at Volcano Bay as part of the Family Forward blogger retreat. We arrived at the park before 7:00 a.m. and we didn't leave until 8:00 o'clock that night, so if you guessed we had an amazing time, you'd be right! I was absolutely stunned that we'd spent that many hours inside the park. Our time at Volcano Bay was thrilling, relaxing, and everything in between all rolled up into one fantastic and very long day. If a visit to Volcano Bay is in your future (and really, it should be) then I have you covered with these Volcano Bay Tips. I'm a firm believer in planning and research when vacationing with kids, so I'm spilling the deets on everything we learned about Volcano Bay during our visit.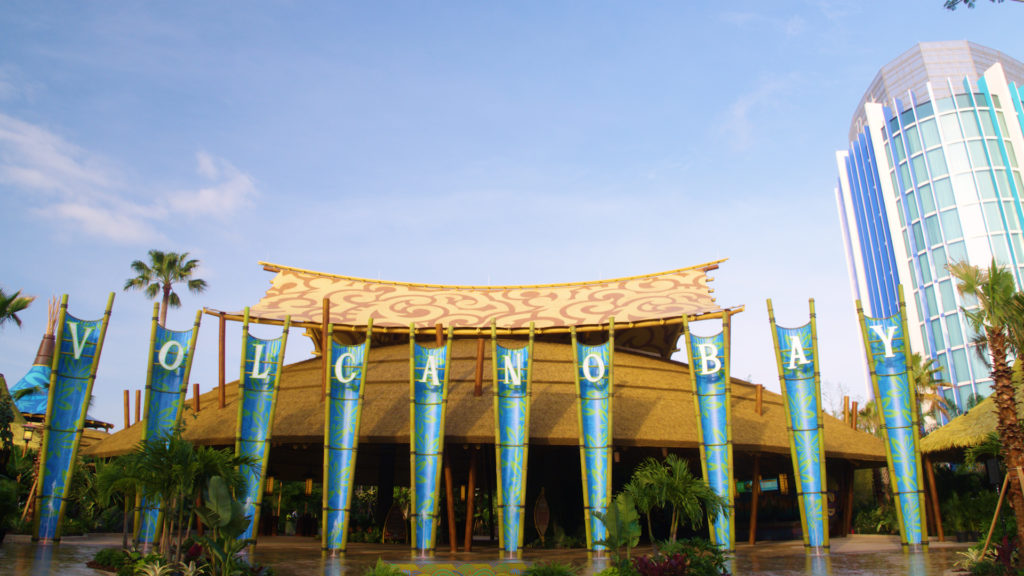 Volcano Bay Tips
My family paid a fee to attend Family Forward. We received discounts and other perks. All opinions in this post about Volcano Bay tips are 100% mine. 
Universal Orlando has really outdone themselves in the theming department – the park is based on the culture of the Waturi people and everything in the park reflects their simple philosophy: Water is Life. Life is Joy. Here, check it out:
The aesthetic of Volcano Bay falls in line perfectly with the story and the overall theme. It all works together so perfectly and the little details really come together…you'll notice as soon as you step inside.
Here are all the things you need to know before you go:
Tip 1 – Get to the park early
Like really super-duper early. If you're staying at one of the Universal Orlando Resort hotels, you'll be allowed early admission to the park. At the time of our visit, Volcano Bay was allowing resort guests in an hour before the park's official opening. The Family Forward group was granted extra early access, and let me tell you, waking my kids up before 6:00 a.m. to go to a water park was kind of surreal experience.
If you're a resort guest, check with the concierge for details on early opening but plan to be in line well before opening time because there will be a line.
You might be wondering what the rush is and the answer is not just to snag a good seat (although that's important) but to ensure you actually get into the park. Volcano Bay stops admitting guests when the park is at full capacity and because it's a new attraction, it can fill to capacity very quickly. You might have a ticket and a packed beach bag but if the park already has reached it's limit of how many humans can be inside, you won't be allowed in until there's space. Ditto for leaving the park and coming back. You can come and go on your one-day ticket but if the park fills to capacity while you're taking a break, Volcano Bay may deny you re-entry. The fact that you were already in once that day won't help you if the park is at capacity, so keep that in mind when you're planning how your day will play out.
Tip 2 – Set up cashless payment before you enter the park
You'll need to download the Universal Orlando App and connect your credit card. You won't have to worry about cash or credit cards and you can use your Tapu Tapu wearable wrist band (more about that in a minute) to pay for food and drinks, merchandise in the park, locker and towel rental and more.  This is super easy to set up and I loved not having to worry about keeping track of my wallet or worry about a plastic baggie with my money in it floating down the lazy river without me – that actually happened to me once and I learned my lesson.
Tip 3 – Reserve premium seating or cabanas early
Volcano Bay has plenty of seating but much of it is in the full sun, which is a no-no for pasty white girls like me. If you want premium seating (essentially a lounge chair with a canopy and a safe for your valuables, eliminating the need for a locker rental) or if you're looking to do the big splurge on a cabana, you'll want to book at least two weeks in advance…a month is probably even better. Volcano Bay is newly opened and I believe they're still working some of the kinks out with their seating reservations system, so give yourself plenty of time and keep checking back if the seating you want isn't available. It might just be that reservations haven't opened for the day you're visiting at the time you called.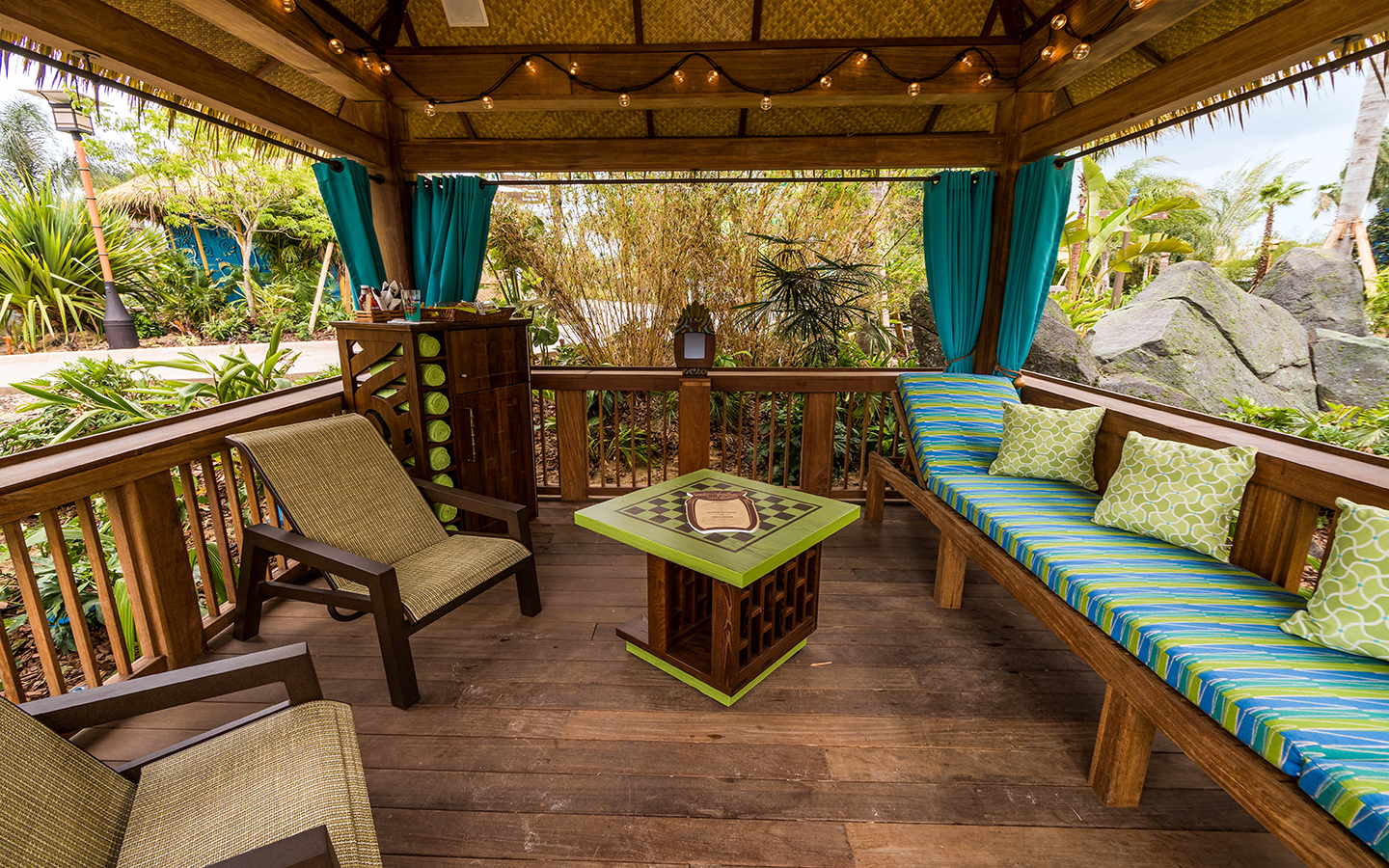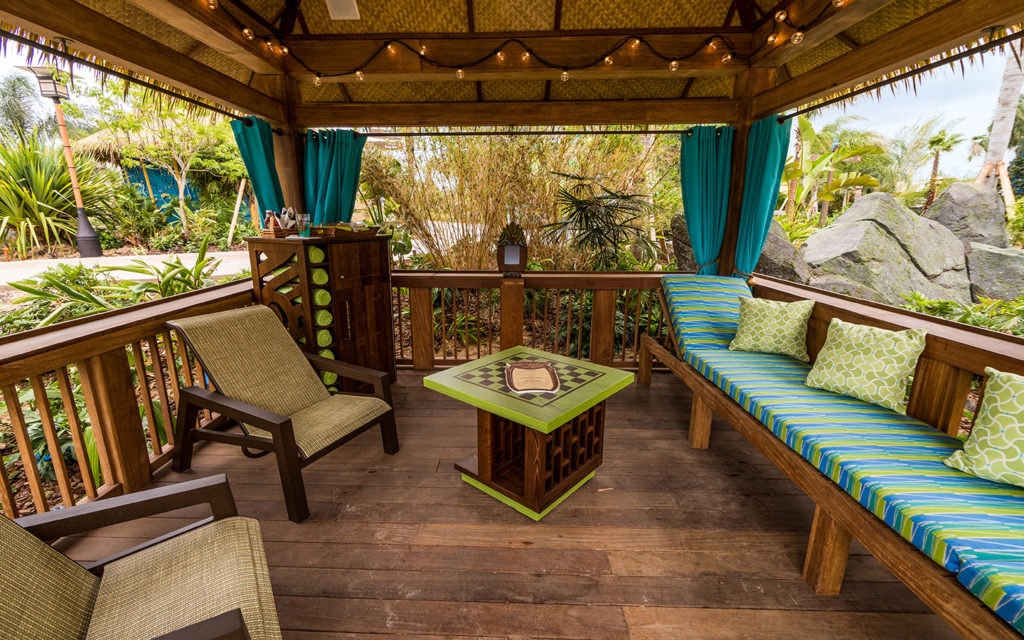 Call (877) 489-8068 to reserve seating. We did splurge on the cabana and it was GLORIOUS! I'll detail the cabana amenities in a separate post, so watch for that, or better yet, subscribe to the blog to make sure you don't miss new posts!
Tip 4 – Get your seats and lockers early
If you're not doing premium seating, you're going to want to hustle to snag your seats and lockers as soon as you get through the gates. The seats in the shade and the larger lockers will go quickly, so make sure you make getting a place to sit and stow your belongings a priority. Trust me, you're going to be tempted to look around and ooh and ahh over the beautiful and lush scenery but there will be time for that later.
Tip 5 – Do your research beforehand
Nothing can put a damper on a vacation or any family outing like not being prepared to deal with the unexpected or taking valuable time to learn how things flow. No matter where you're going or what you're doing, a few minutes of research are always going to be well-spent. Here are some things you'll want to know before you head to Volcano Bay. These Volcano Bay tips may spark other questions you might have about the park, so  my best advice is not to leave questions unanswered.
The fact that you've read this far indicates you're researching your trip so you're already ahead of the game!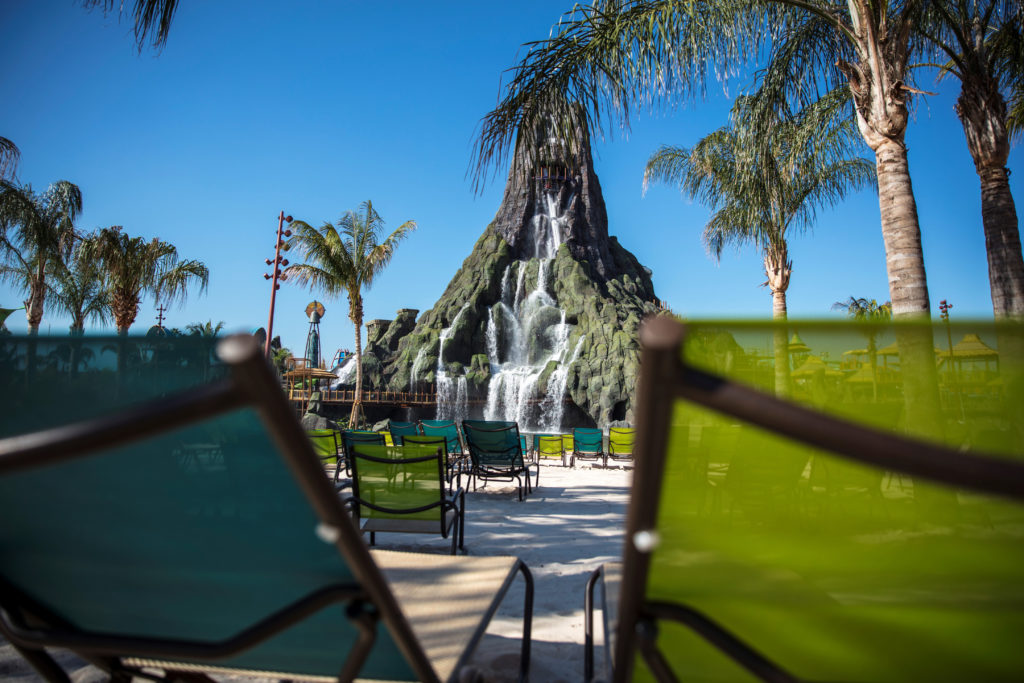 Know the height requirements for the attractions
The height requirements for all the slides and attractions as well as a brief description is listed in the app, so make sure you download that early and spend some time poking around. The app is really easy to navigate. You can also download a fact sheet on Volcano Bay HERE for more info. Most of the slides have a 42 inch to 48 inch height requirement scale. Kids who are at least 42 inches tall can ride a good amount of the slides and attractions, such as the Krakatau Water Coaster (our favorite!), TeAwa the Fearless River, Hona ika Moana, and more. See below for a complete list. Kids who are 48 inches or more can ride most of the attractions at Volcano Bay.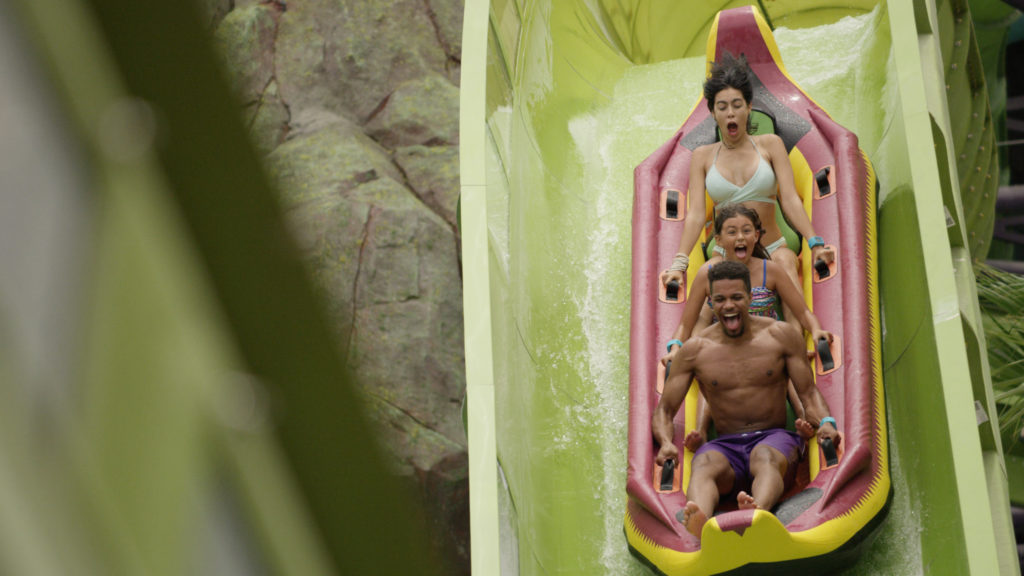 Some of the attractions, such as the Fearless River (kind of like a lazy river but not lazy – another one of our favorites) and the wave pool, require kids under 48 inches to wear a life jacket and be advised, the staff at Volcano Bay heavily enforces this. One of our kids is exactly 48 inches without shoes and he was called out by lifeguards twice for not having a life jacket on in the wave pool. It didn't go over well at all with my 48-inch son but I appreciated the focus on safety.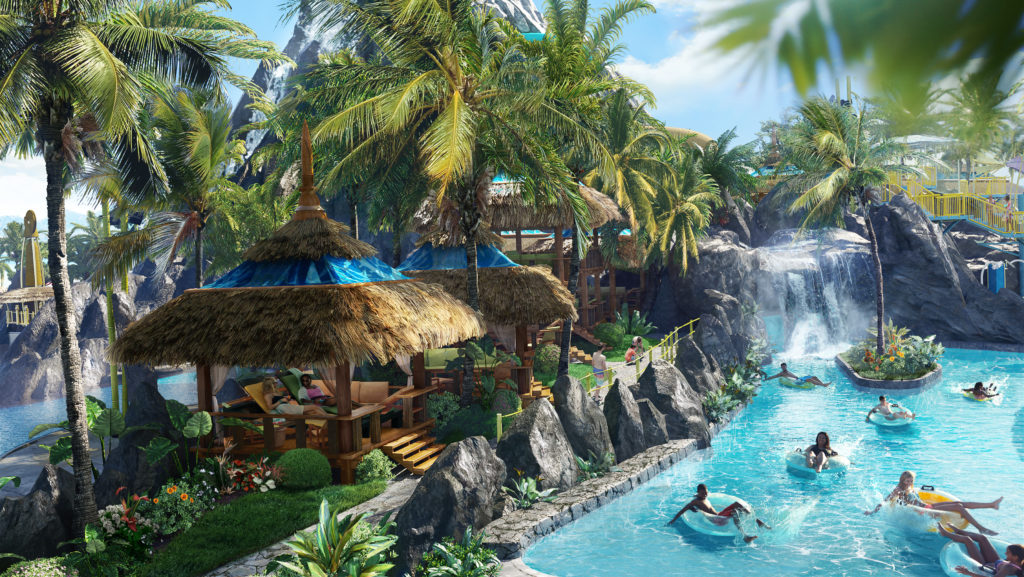 Scope out the menus
Information on food and drink offerings within Volcano Bay can be found online, in the app, or via the fact sheet. There's a good mix of interesting eats and traditional fare you'd expect to see in a water park at the six different dining locations. The prices were typical "theme park" prices…certainly not cheap but not so outrageous that you can't manage lunch and snacks in the park with a little planning. You can also leave Volcano Bay for lunch – Cabana Bay Beach Resort is adjacent to Volcano Bay and the Bayliner Diner has an extensive menu and a casual dining atmosphere. Remember what I said about taking a risk when leaving Volcano Bay with the intent to re-enter, though. I found the prices at the Bayliner Diner to be pretty much on par with the food prices within Volcano Bay, so unless you really want a break from the park, I recommend being prepared to spend a little money on food within the water park.
I also saw many people with coolers of snacks they'd brought in, so it's probably safe to assume you can bring your own food in if you want to.
Get to know Tapu Tapu
Tapu Tapu (is that fun to say, or what?) is the wearable wristband that all visitors to Volcano Bay receive upon entrance. It looks like this: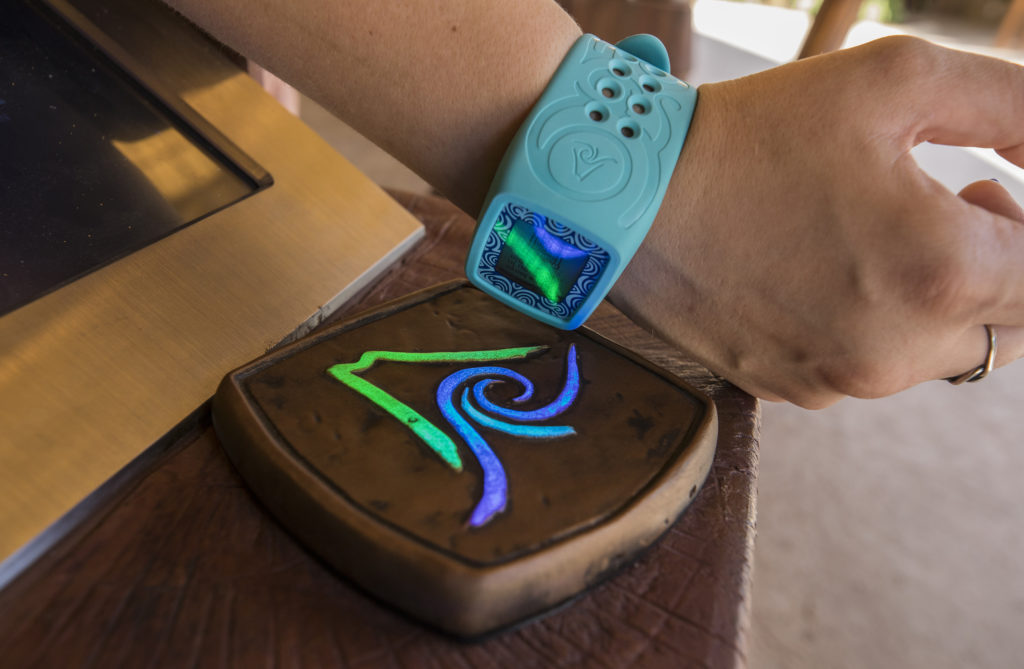 If you connect your Tapu Tapu to your credit card (which I strongly recommend doing) you can use it to purchase things inside the park, which is super convenient. The main purpose of Tapu Tapu is to eliminate the need to stand in line for the attractions by allowing you to select what you want to ride next and putting you in a virtual line.
Each ride has a Tapu Tapu symbol attached to a post near the ride's entrance that will tell you what the current wait time for that ride is. If you want to get in the virtual line, place your Tapu Tapu against the icon and it reserves your place in line. Your wearable will show you how much time you have to wait (which we found to often be shorter than the posted times) and will continue to identify you in five minute increments. When it's time to ride, you'll get a notification that says "ride now." How easy is that? Let me tell you, it's pretty darn easy. I'd honestly expected some kinks in the Tapu Tapu system because it's a new park and new technology but we found that it worked pretty much seamlessly*.
You have one hour from the time you're notified to check in at the ride. Once you check in, be prepared to wait in another line, although your wait will typically not be very long. We visited on a busy Friday and the most we had to wait in a physical line was about 25 minutes. The virtual wait for the Krakatau Water Coaster, however, was as long as 200 minutes at peak.
You can do all kinds of things while you're waiting in the virtual line, such as enjoy and of the pools, the Kopiko Wai Winding River (lazy river) or the TeAwa the Fearless River. You can also ride any ride that has a posted time of "ride now." You cannot be in more than one virtual line, but if you change your mind, you can use your Tapu Tapu to get out of one line and join another.
Make sure your Tapu Tapu is firmly fastened to your wrist. One of my kids lost his Tapu Tapu on a ride. If this happens to you, head to one of the concierge huts with your park ticket and they'll replace it. Based on the reaction we got, lost Tapu Tapu's are pretty commonplace. I had a near miss with my own – I happened to look down at my arm as I was exiting the pool and my wristband was completely unfastened.
*The only issue we experienced is one of our kids' Tapu Tapu not updating as quickly as the rest of our family. We all tapped in at the same times to ride the rides but Zack's still showed a 20-minute wait when everyone else's said "ride now." This happened a handful of times and we had zero trouble getting him checked in to actually ride the ride. I'm sure the concierge hut would have replaced it if we'd asked.
Your Tapu Tapu also does other cool stuff – if you see the symbol anywhere in the park, tap and see what happens. No spoiler alerts but your kids will have a blast with this!
Make a plan for what/when you'll ride
I recommend riding your most coveted ride first thing in the morning while the waits are the shortest. Based on wait times (and my kids' enthusiastic reactions) I would say the Krakatau Water Coaster is the most popular and in-demand, so consider riding that one first. Before tapping in to a ride with a really long wait, check out the wait times for the other rides. Do you want to wait more than two hours to re-ride the Krakatau Water Coaster or do you want to ride three slides with shorter waits?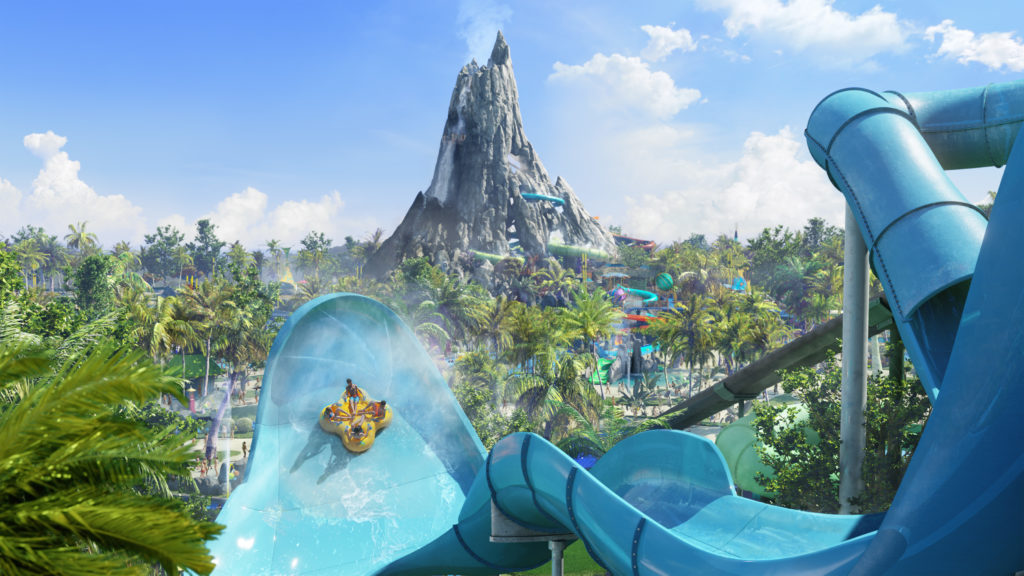 We worked our way through all of the rides that our kids were tall enough to ride and then re-rode our favorites. We got in line to re-ride Krakatau just before lunch, since we'd planned on a leisurely lunch and a rest.
Bring your own towels
The towel service at Volcano Bay is $5.00. Towels are available at the concierge huts. If you're staying on the Universal Orlando property, you're not allowed to bring the towels from your room into Volcano Bay. I found the whole charging for towels thing to be a little nickel and dime-y. The pools at Universal Orlando resort hotels have lovely beach towels available for free. I hope they change this in the future. If you're driving, it's no big deal to pack your own towel but four beach towels take up needed space in a suitcase for families who fly to Orlando.
Other miscellaneous stuff
Water shoes are not allowed on all the water rides but there are plenty of places to stow your shoes
There are constant streams of water flowing on to the pavement via jets alongside the walkways. This keeps the common walking areas nice and cool.
There is a TON of sand at Volcano Bay. I know some kids with sensory issues have problems with sand. I don't see any good way to really avoid sand at Volcano Bay.
You won't see anyone schlepping their tubes or rafts around Volcano Bay. The park employs the very latest technology and all of the tubes and rafts are sent back to the top of the slide/ride via electronic means. You don't have to worry about finding a tube in order to ride the ride you want to ride. The only place I saw a scarcity of tubes is on the TeAwa The Fearless River. If you go to the left side of the pool to find a tube, your experience will be somewhat similar to that of the tributes scrambling for supplies at the cornucopia but if you go to the right, there are tubes aplenty. You're welcome.
It rains almost daily in Central Florida. Don't go scampering for the exits just because of a few raindrops. Wait it out (you're already wet, right?) and keep riding and sliding, provided there's no lightning nearby. And, just smile and wave at the people who are forming a mass exodus at the first signs of a rain shower. That only means shorter lines for you, right?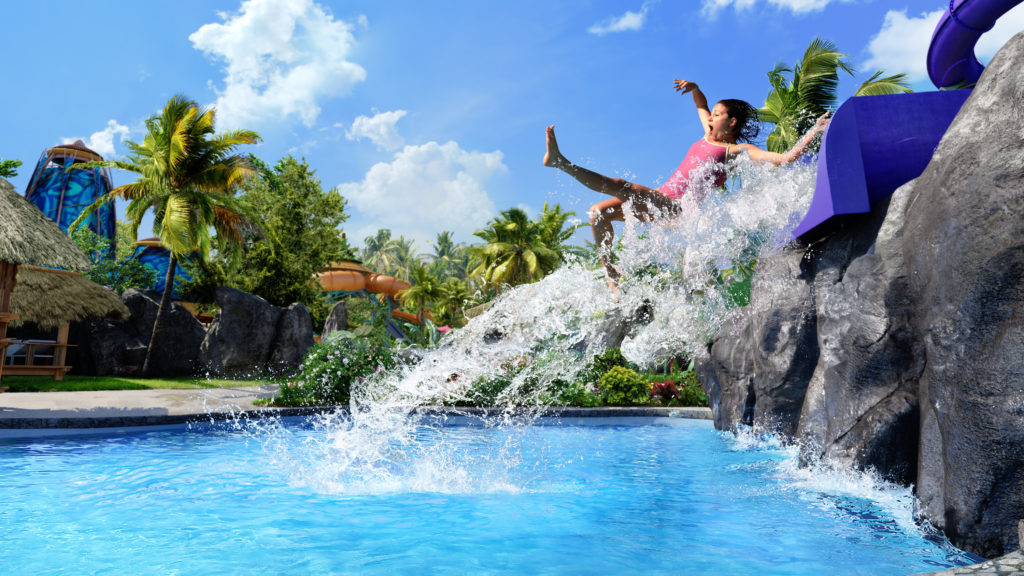 It's worth sticking around to check out Volcano Bay after dark. The volcano lights up and changes colors.
Volcano Bay is right next to Cabana Bay Beach Resort. Cabana Bay has super-easy walking access to Volcano Bay. If you're staying at one of the other Universal Orlando resorts, you'll have to take a bus to Volcano Bay. Cabana Bay is a value resort and does not come with the free Express Pass, as some of the Premium Resorts do (Hard Rock, Portofino Bay, and Royal Pacific) but if you're going to spend a substantial amount of your vacation at Volcano Bay, you might want to check into staying at Cabana Bay.
I found the emphasis to be heavy on thrills at Volcano Bay. The slides were several notches above what I've seen at any other water park and even the tamer ones were still pretty thrilling. If the majority of your kiddos are under 42 inches, there won't be much they can ride. The kid's areas, the beaches and pools are absolutely breathtaking but if your goal is to slide, slide, slide your day away, your shorter humans won't be able to do as much.
To check out ticket options, go here.
Rides for guests under 48 inches (please note all the rides listed below have a minimum height of 42 inches):
ika Moana of Honu ika Moana™ (guests 42-48 inches must be accompanied by a supervising companion)
Krakatau™ Aqua Coaster (guests 42-48 inches must be accompanied by a supervising companion)
Maku Puihi Round Raft Rides™ (guests 42-48 inches must be accompanied by a supervising companion)
Punga Racers™ (guests 42-48 inches must be accompanied by a supervising companion)
Taniwha Tubes™ (guests 42-48 inches must be accompanied by a supervising companion)
TeAwa The Fearless River™ (guests 42-48 inches must be accompanied by a supervising companion)
The following rides have a 48 inch minimum height:
Honu of Honu ika Moana™
Kala and Tai Nui Serpentine Body Slides™
Ko'okiri Body Plunge™
Ohyah and Ohno Drop Slides™
For more detailed info, check out the Rider's Guide.
We really loved our day at Volcano Bay and would jump at the chance to go again. Since it's the newest (and easily the coolest) water park in the Orlando area, expect it to be busy and crowded and plan your adventure accordingly. I hope my Volcano Bay tips have helped you out – if you have a question or if you visit the park and have an update, shoot me a message!
You might also like: