The four important things I learned from a solo parent family vacation
(This post may contain affiliate links. Read my full disclosure.)
My kids and I just returned from our spring break trip. We traveled from San Antonio, Texas to Conroe, Texas…just the three of us. My husband didn't have enough vacation days to do the week with us so I decided to dip my toes into the waters of solo parent family vacations.
This post was written in partnership with Toyota and Thousand Trails. All opinions are mine.
Our trip was golden. My kids were crazy well-behaved. We didn't get lost…well, just a little lost, but it was pretty easy to correct. It didn't rain. Nothing broke down. It was an amazing, precious time with my boys that I'll cherish forever.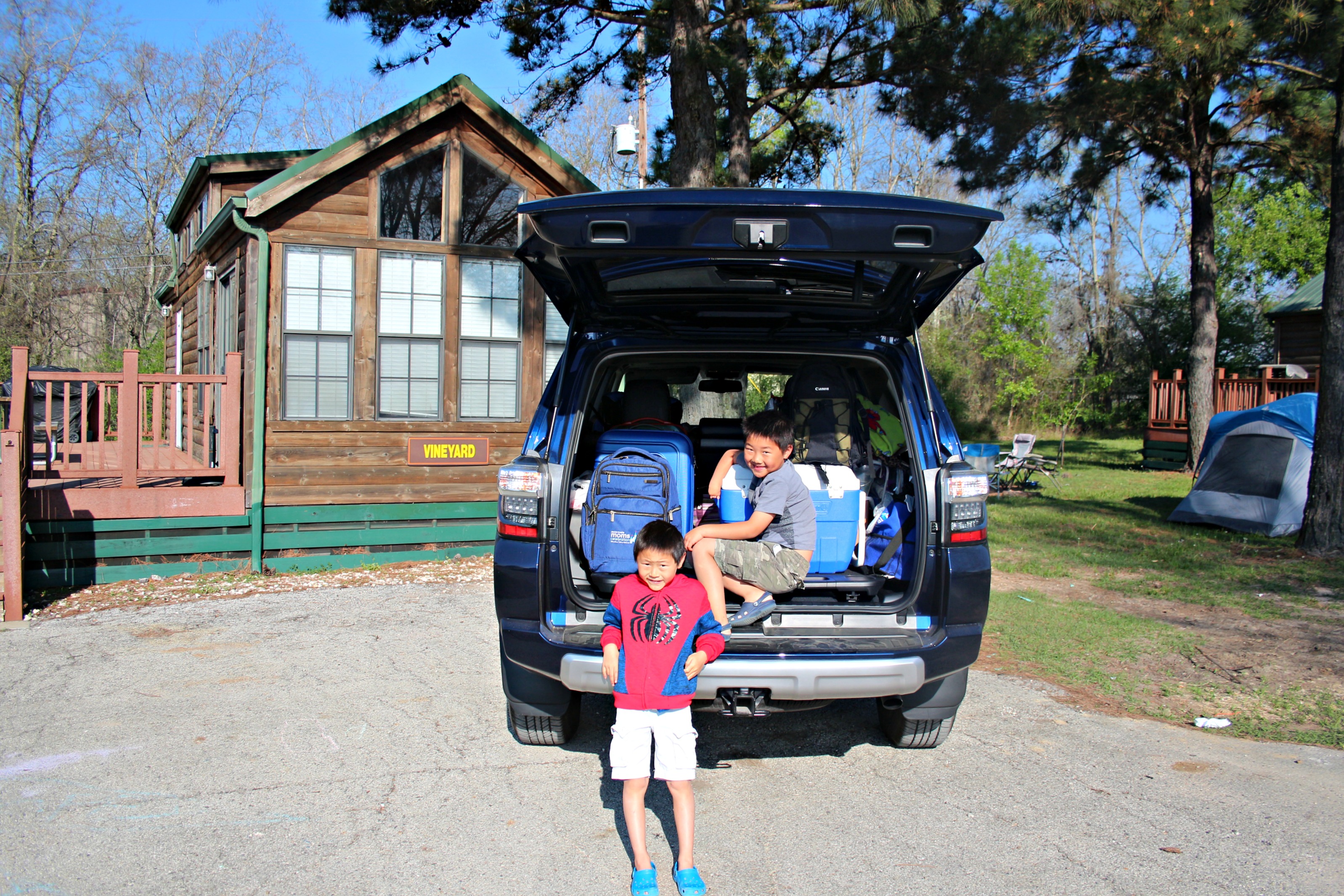 Here is what I learned from taking a solo vacation with my kids.
[Tweet "What I learned from taking a solo parent family vacation @ThousandTrails"]
Four important things I learned from taking a solo vacation with my kids
1. It's good to be unstructured
Our family is pretty structured, as a rule. We get up at a certain time, eat at a certain time, go to sleep at a certain time, and so on. On our trip to Thousand Trails RV & Camping Resort at Lake Conroe, Texas, we slept when we were tired and woke up when we weren't tired.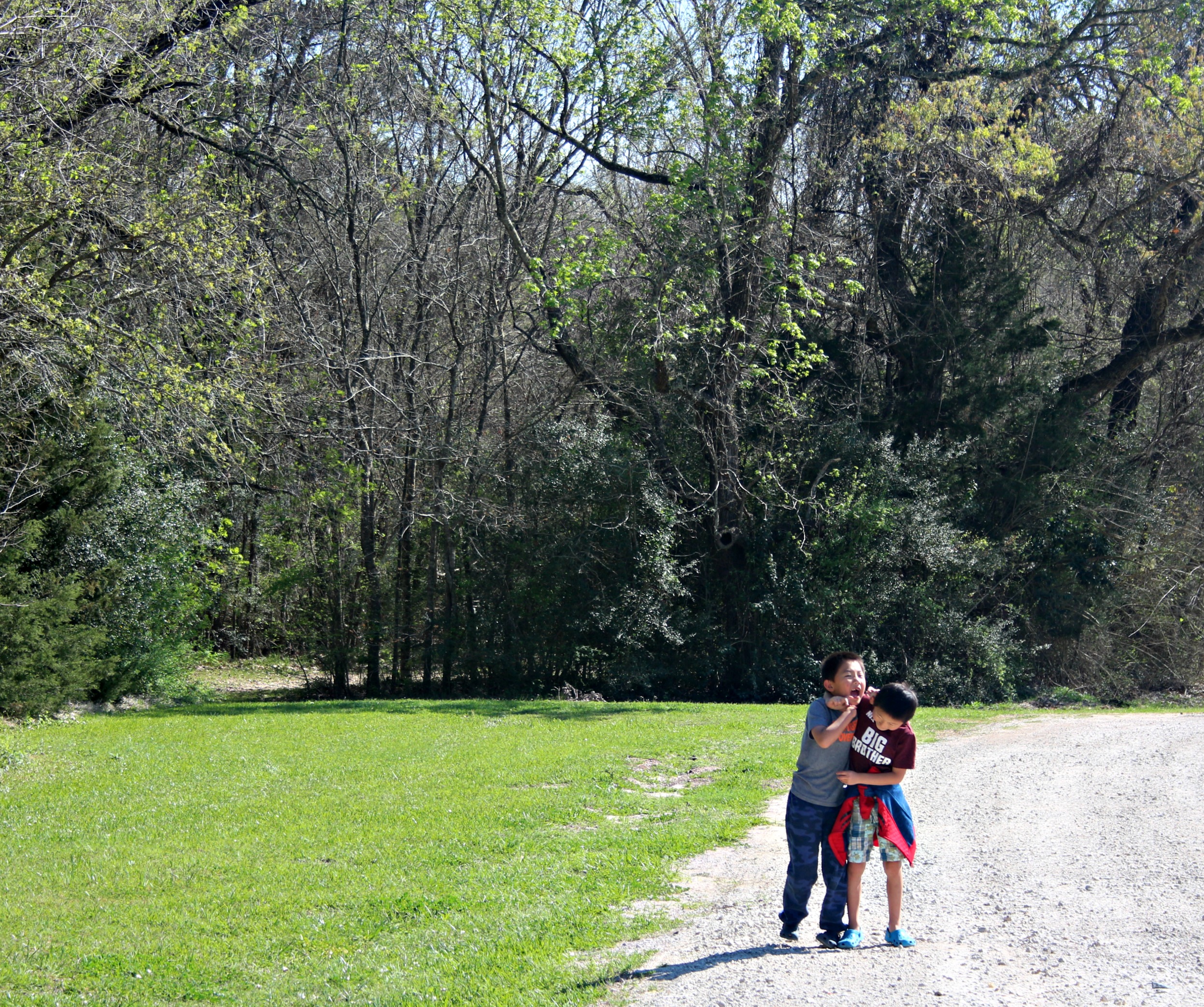 No, we don't have an RV and no, I did not technically camp with my kids. We had a cabin and it was awesome. If you want that campground experience without doing hardcore camping, I heartily recommend Thousand Trails. They have resorts in several locations around the United States and some really fun and unique cabins and houses you can stay in…even yurts in some locations.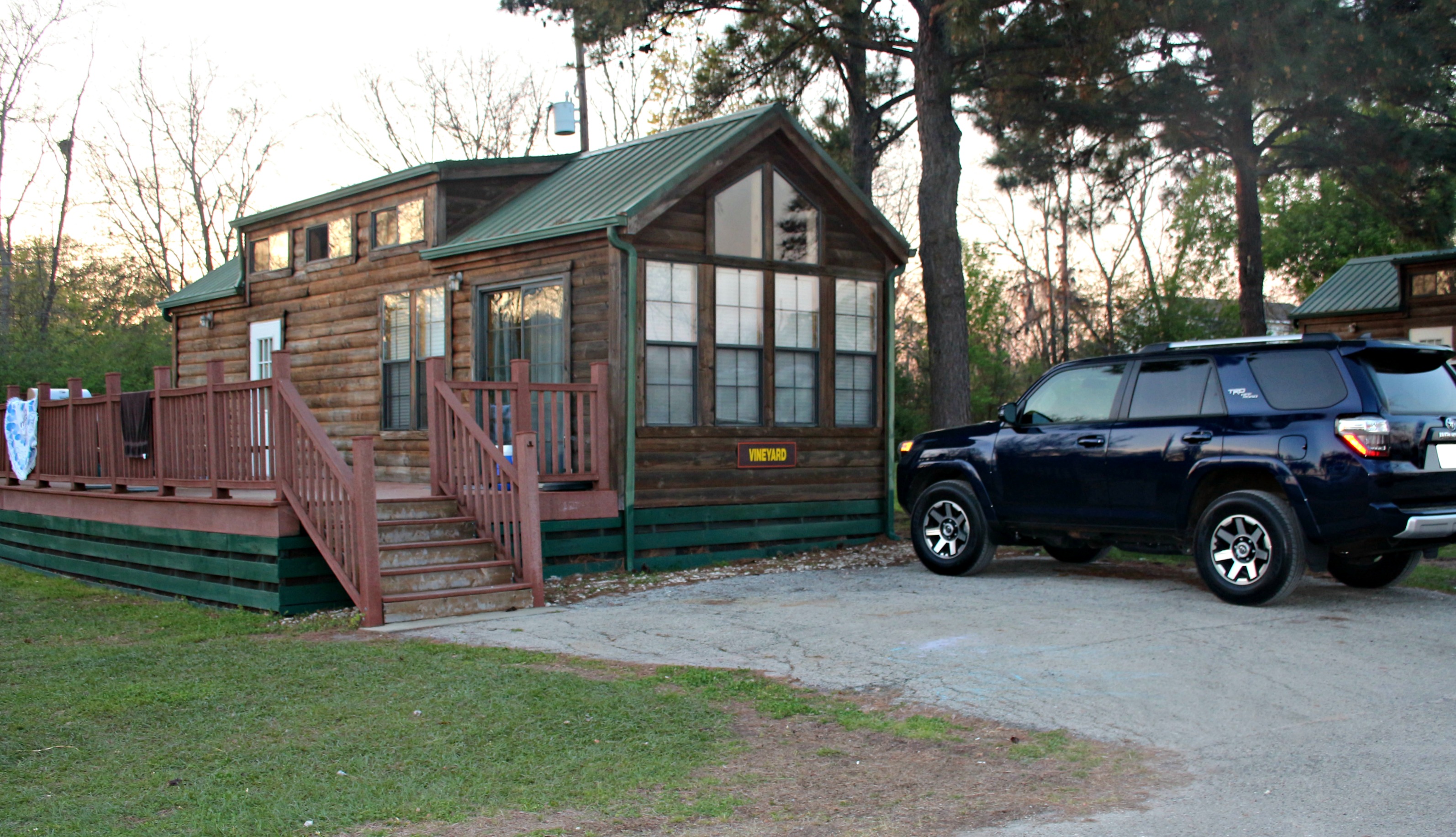 We had popcorn for dinner, cheese and crackers for lunch and one time, we had hot dogs and hamburgers for breakfast…because my kids asked. I didn't see a reason to say no.
Relaxing the regular rules was pretty cool. We wore the same tee-shirts for days in a row and showers? Well, they happened. Just not as much as they do at home. And, that was okay.
It was good for my kids to see me relax the rules…just as much as it was good for me to let go of expectations a little bit.
2. It's good to let my kids see me doing things their dad usually does
I consider myself a pretty fierce, independent female. However, my roles within my marriage are pretty traditional. That's just the way it's worked and it does work.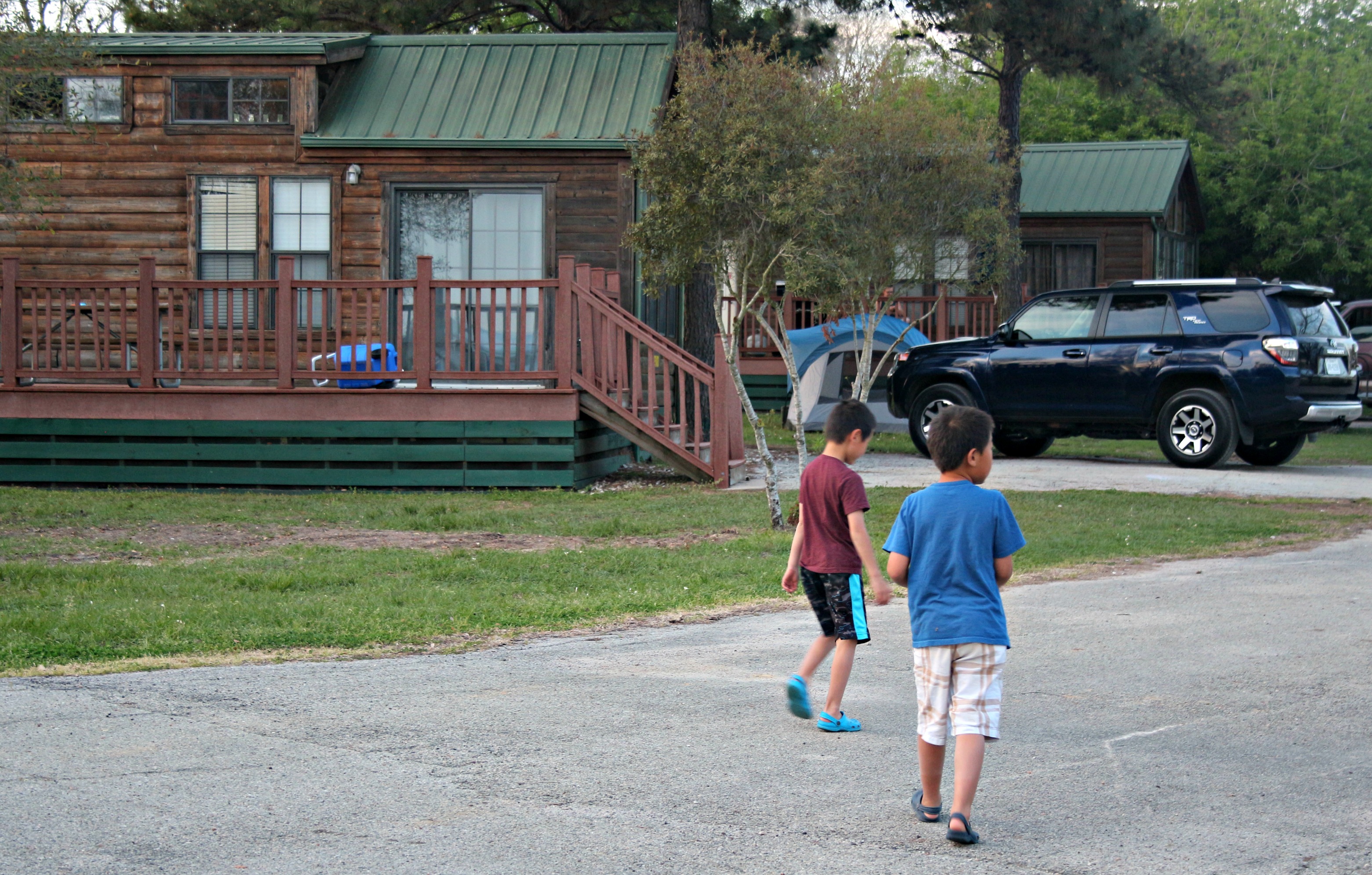 But this trip, my kids got to see me read a map, cook things outside, make the load plan for our vehicle and more. Although I'm certainly capable of doing those things, my kids have only seen their dad do those things. I remember the dubious looks on their faces when I lifted the cover from our propane grill and declared "I will figure this thing out."
Which I did. Boom.
3. It's good to ditch the ideal of picture perfect
My life is not picture perfect. My family is not picture perfect. So…why should the pictures we post on social media attempt perfection?
I consider myself to be fairly transparent on social media. My life is messy. My kids are messy. My hair is usually messy and I'm usually late for something or the one saying "Crap, was that today?"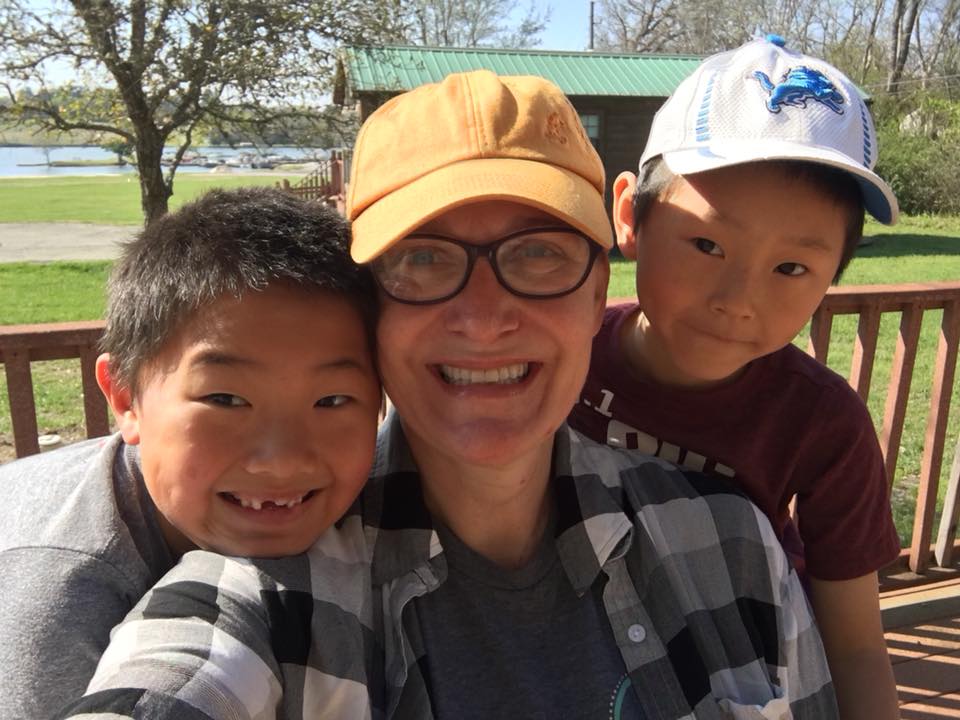 I won't bore you with details but I've lately gotten to wrapped up in my "online aesthetic." Are my pictures pretty enough? Centered enough? Is my family wearing coordinating outfits yet looking super-natural and not posed?
The answers are "probably not" and "who even cares?"
This is my reality:
I'm taking a selfie because I'm too awkward to ask someone else to take our picture. See also that I'm too much of a control freak to let them take the picture I envision.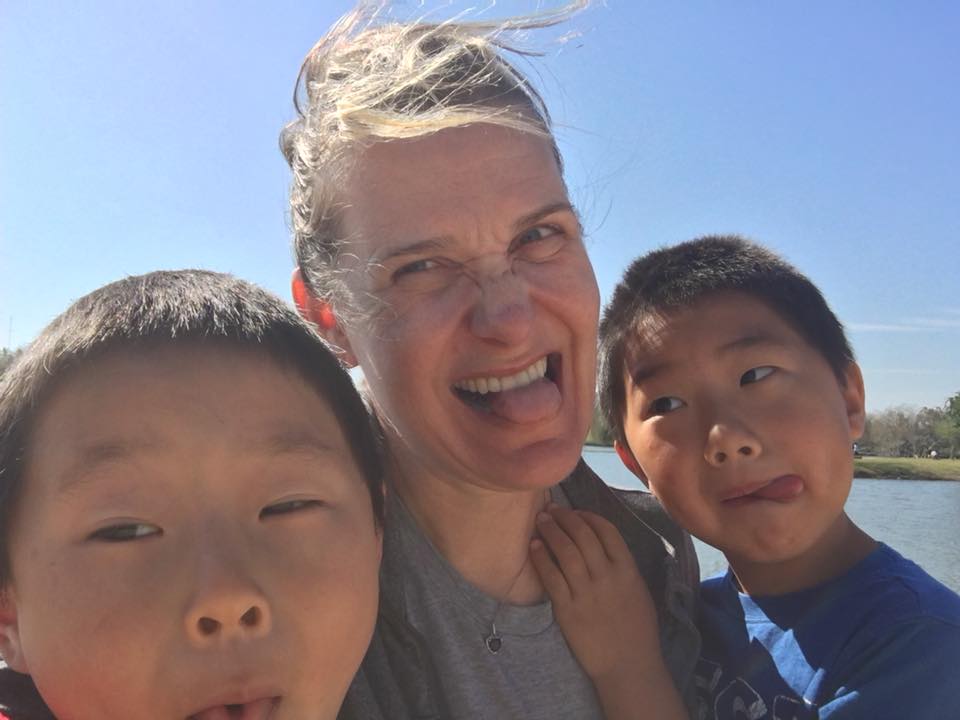 My hair looks like crap (mostly because it hasn't been washed or brushed in three days.)
We are happy and having fun and I'm done with trying to take that "Instagram worthy" photo of my family. These are REAL photos of a real family enjoying real life.
4. My kids are more capable than I knew and they are just not going to be this little for much longer
Maybe the absence of their dad spurred my kids into high gear but they were super helpful during the week we spent a the cabin. They took out trash, kept track of my keys (yes, I gave two eight-year-olds my keys to guard…I like to live dangerously) and helped me put our simple meals together.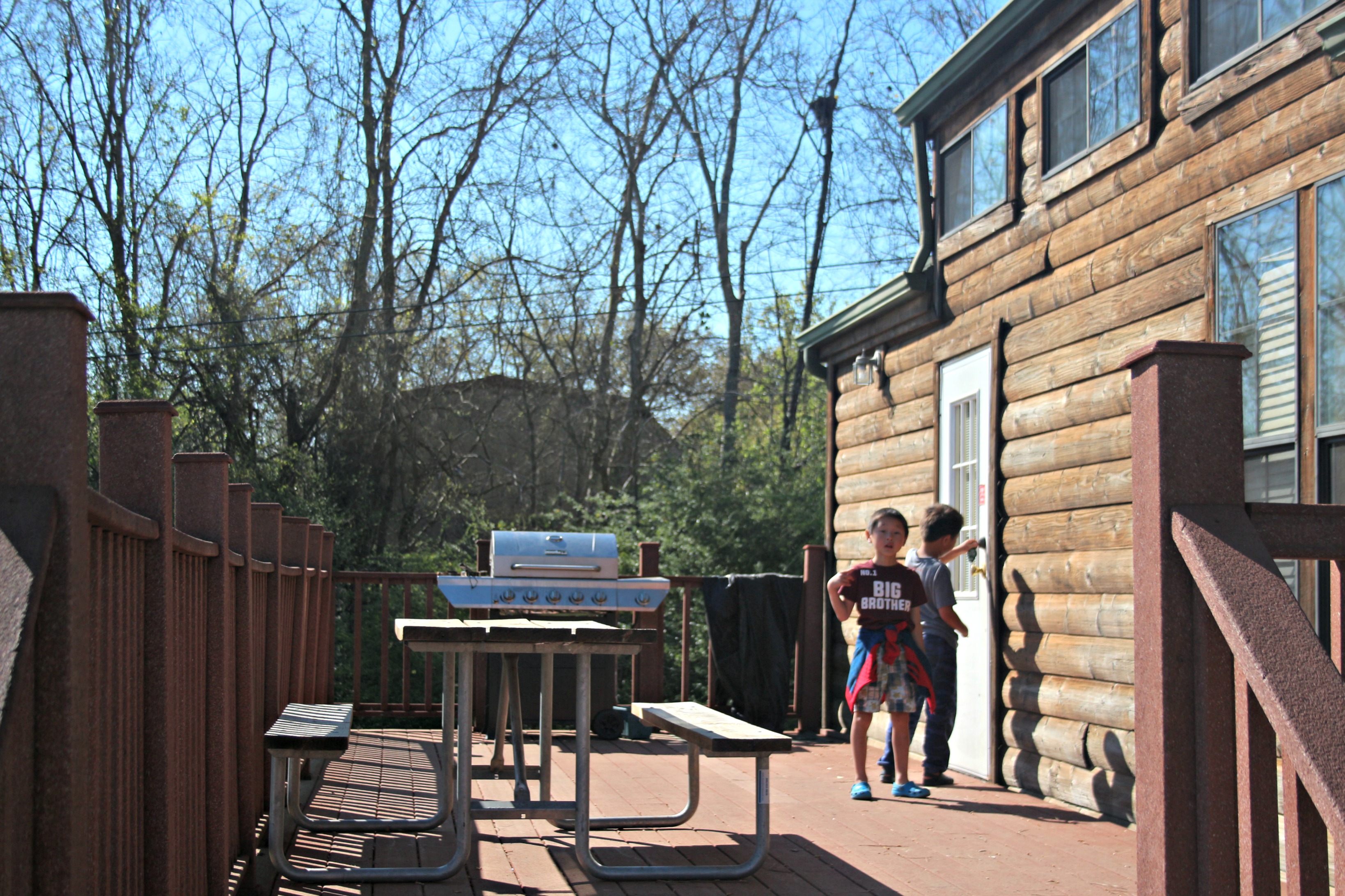 I'm not sure how much time we have until these boys decide I'm not cool or that they don't want their friends to see them holding my hand. I can see the little men they are becoming and sometimes, it feels like they're growing up right before my eyes. Mostly because they are.
If you're interested in my stay at the Thousand Trails Campground in Cottonwood Arizona, that post is here. To read more about the Colorado River RV Campground (very near the campground I talked about in this post, read here.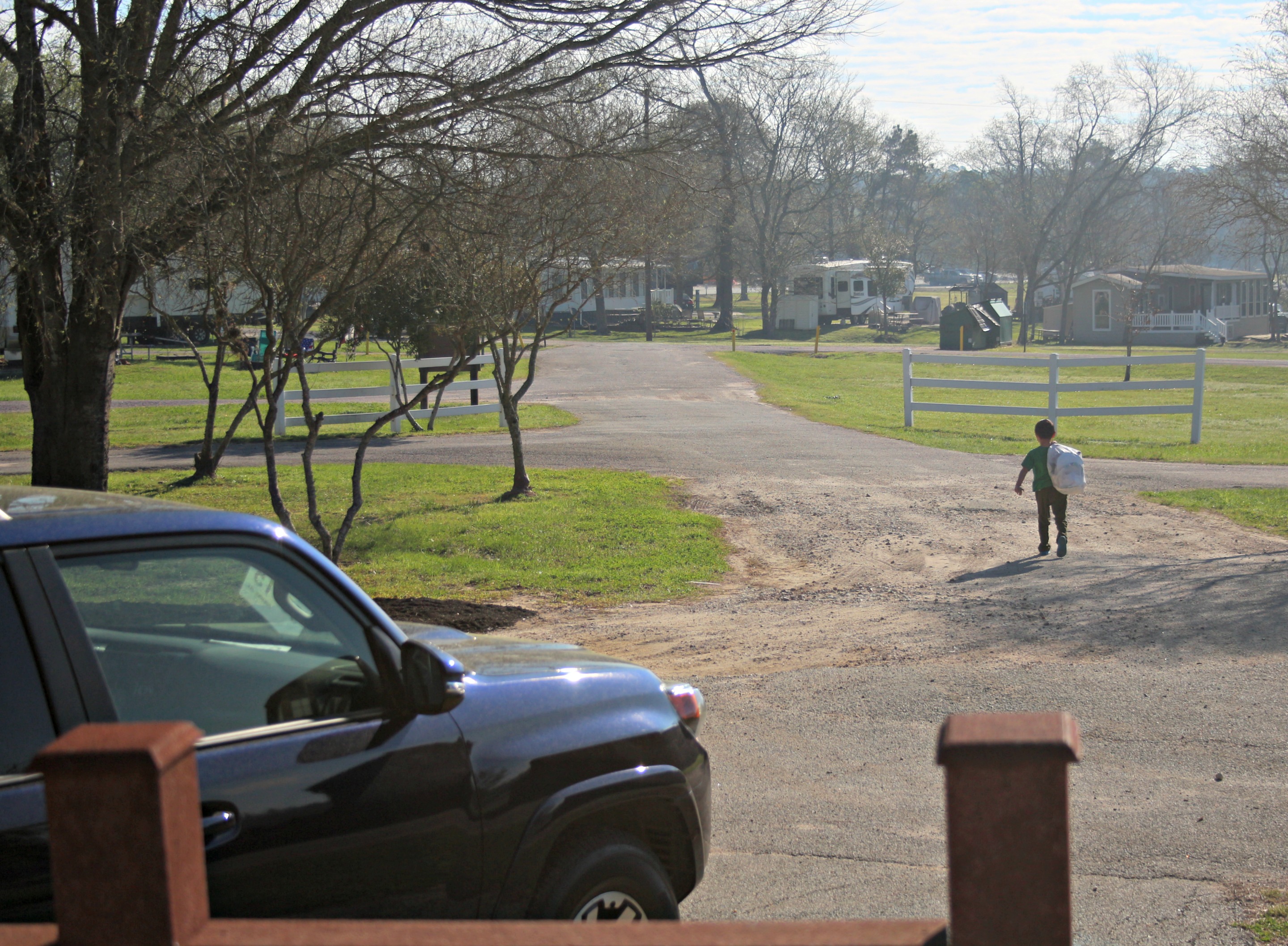 About our ride:
We took the 2018 Toyota 4Runner to Lake Conroe. While we (sadly) didn't get the chance to off-road in this vehicle, it was amazing and rugged and handled all of the back roads with ease. Surprisingly, the 4Runner did AMAZING on the highway. It was very comfortable and way smoother than I thought it would be.
[Tweet "The @ToyotaUSA #4Runner is the perfect, rugged road trip car"]
The model we drove was the TRD Off-Road, which has a beginning sticker price of $37,785 and is one of six available 4Runner models.
One feature I really loved was this sliding rear cargo deck: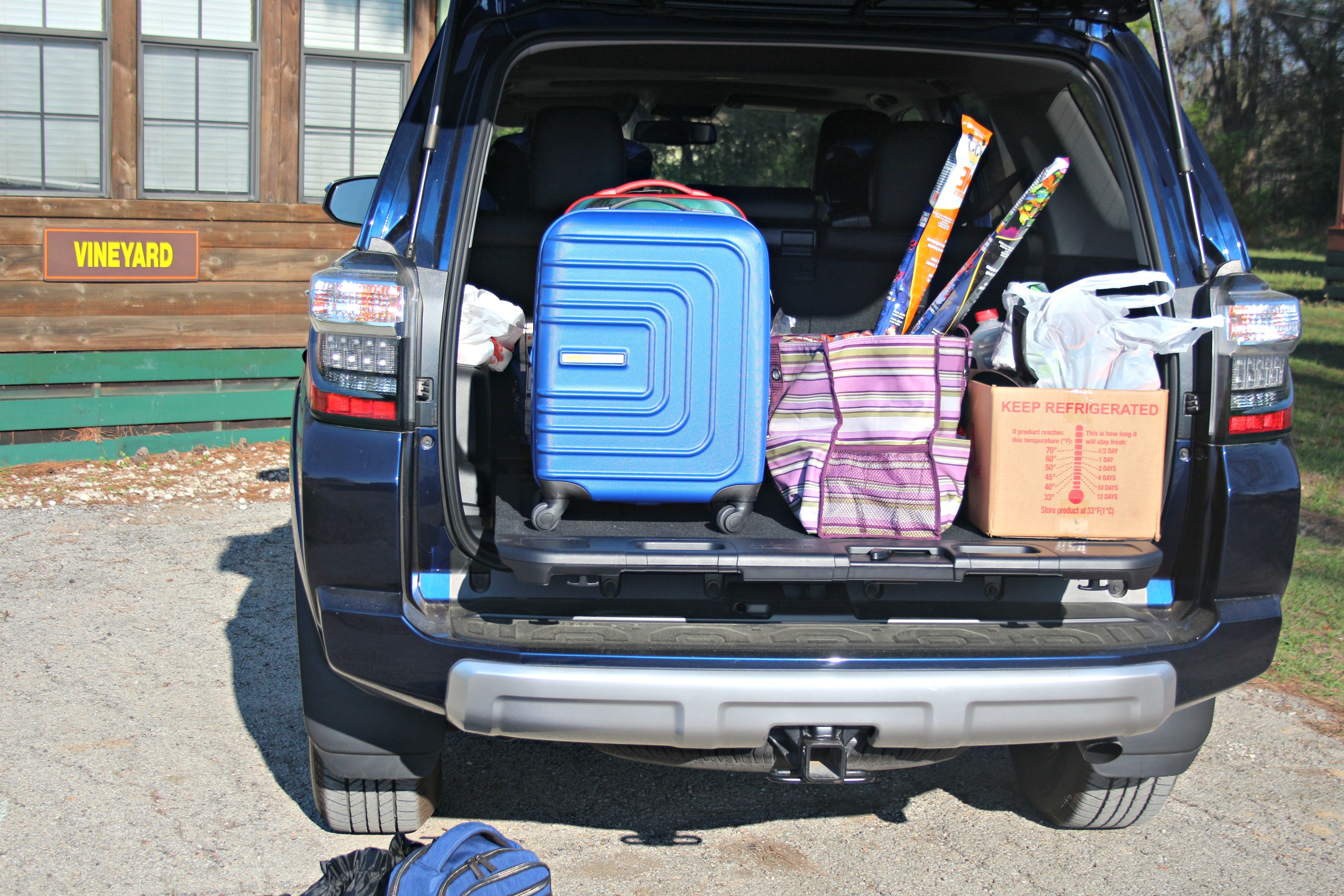 This give you easy access to your gear and make loading and unloading the 4Runner a snap. Interior features include a 6.1 touch-screen display and available heated and ventilated front seats. We don't get much need for heated seats here in Texas but the ventilated seats do come in handy in our hot climate. Wherever your travels take you, the 4Runner is a rugged vehicle that lets you ride in comfort.
This color is called "Nautical Metallic Blue" and I love it. I know…I shouldn't base my opinion on a vehicle based on a color but I did like this color a lot. It comes in seven other colors as well.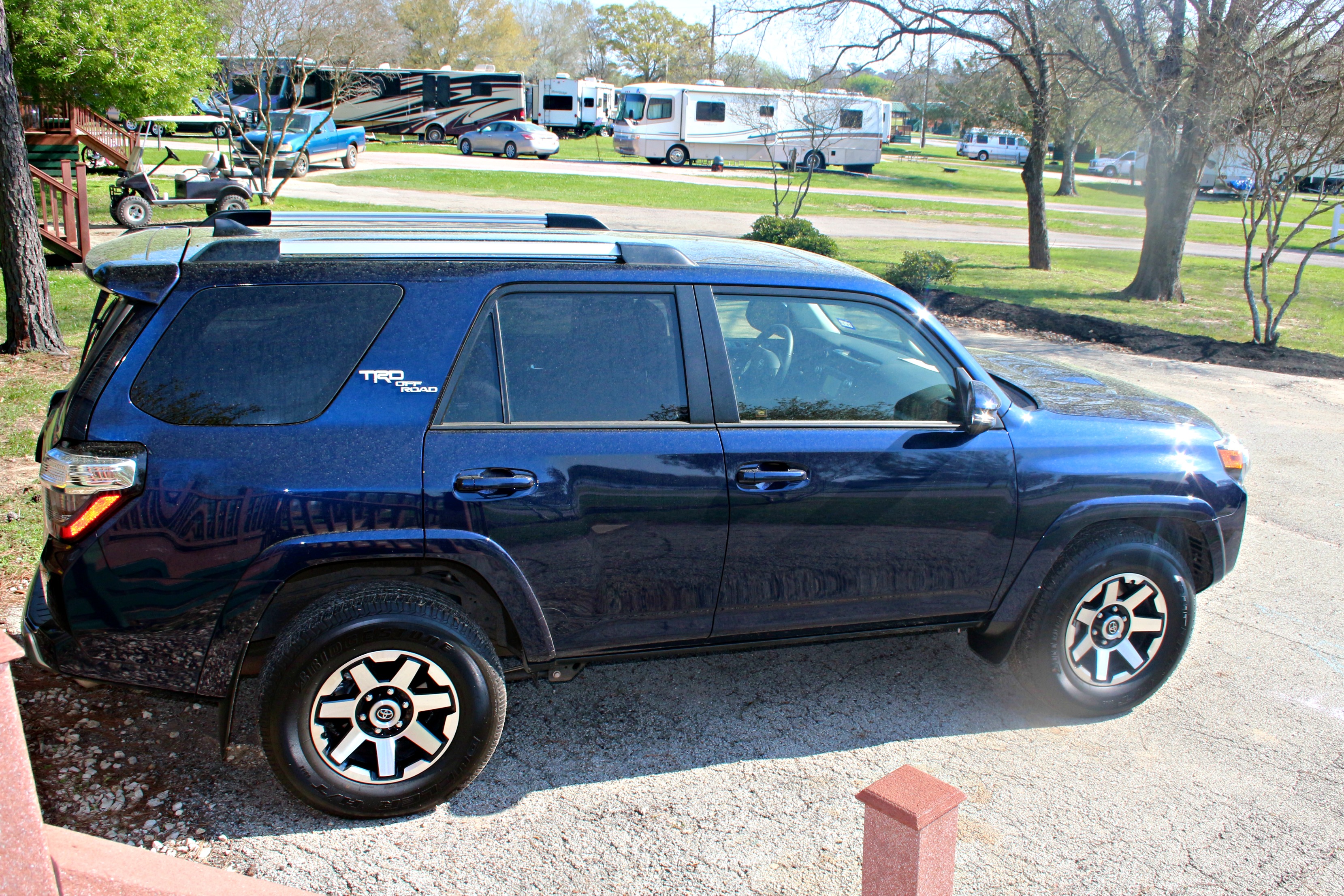 The only negative I have to say is that I had to give it back after a week. I'd love to explore more rugged terrain in this beauty and it also makes a great everyday vehicle. Thank you, Toyota, for letting the 4Runner be a part of our trip. I was scoping out the RAV4 HARD at this year's Houston Auto Show, which probably better meets my needs for an everyday ride, but I LOVE the 4Runner. Toyota has a nice lineup of SUVs, if you want to check them out here. My dad swears by his Highlander.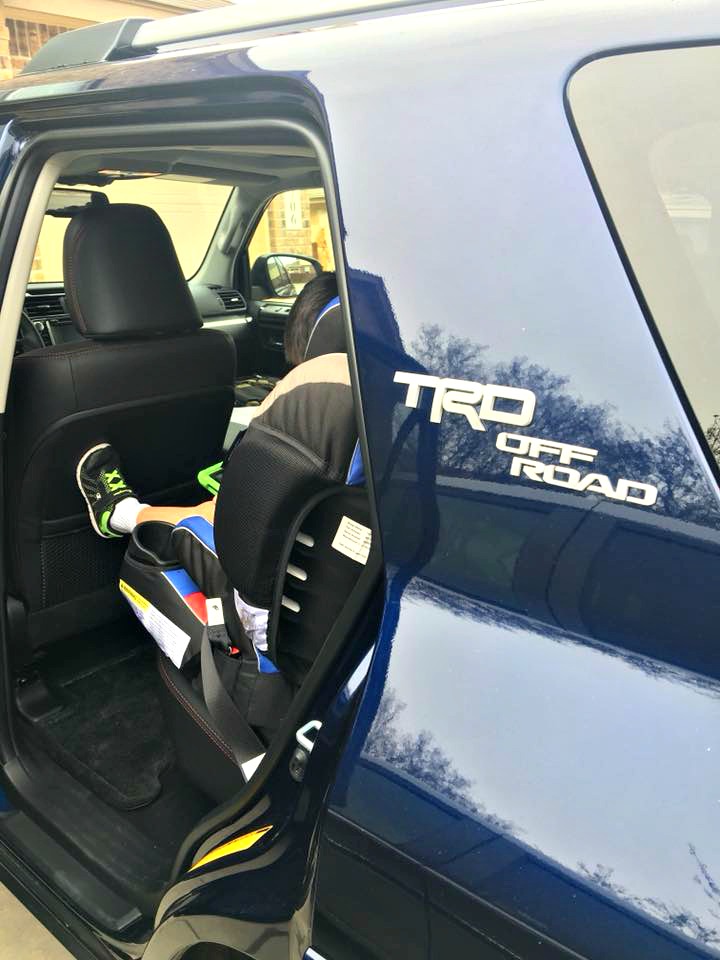 About where we stayed:
We stayed at Thousand Trails RV Park and Resort on Lake Conroe, Texas. This is about three hours away from where we live but the landscape could not have been more different than the San Antonio area. Conroe, Texas and Panorama City, Texas boast beautiful, tall pine trees and lush green landscapes. I loved the change of scenery and it was a great reminder of how varied the landscape is in my beautiful home state.
Thousand Trails has RV and tent sites as well as cabins and cottages available for rent. You can also tent camp or purchase one of their small cottages. There were some really cute neighborhoods made up of tiny houses and it looks like a lot of people live here year 'round. I can definitely see the appeal. It's very peaceful here.
We stayed in a cabin called The Vineyard in an area of Thousand Trails called "Getaway Village." The Vineyard was the perfect place for the boys and I to stay. The Vineyard had a fully equipped kitchen, living area, private master bedroom area and loft sleeping space. The has a toilet, sink, and shower. Towels, toilet paper, and soap were included, as were dish soap, paper towels and trash bags. We had plenty for a week-long stay but if you plan a longer visit, you will need to bring your own basic supplies.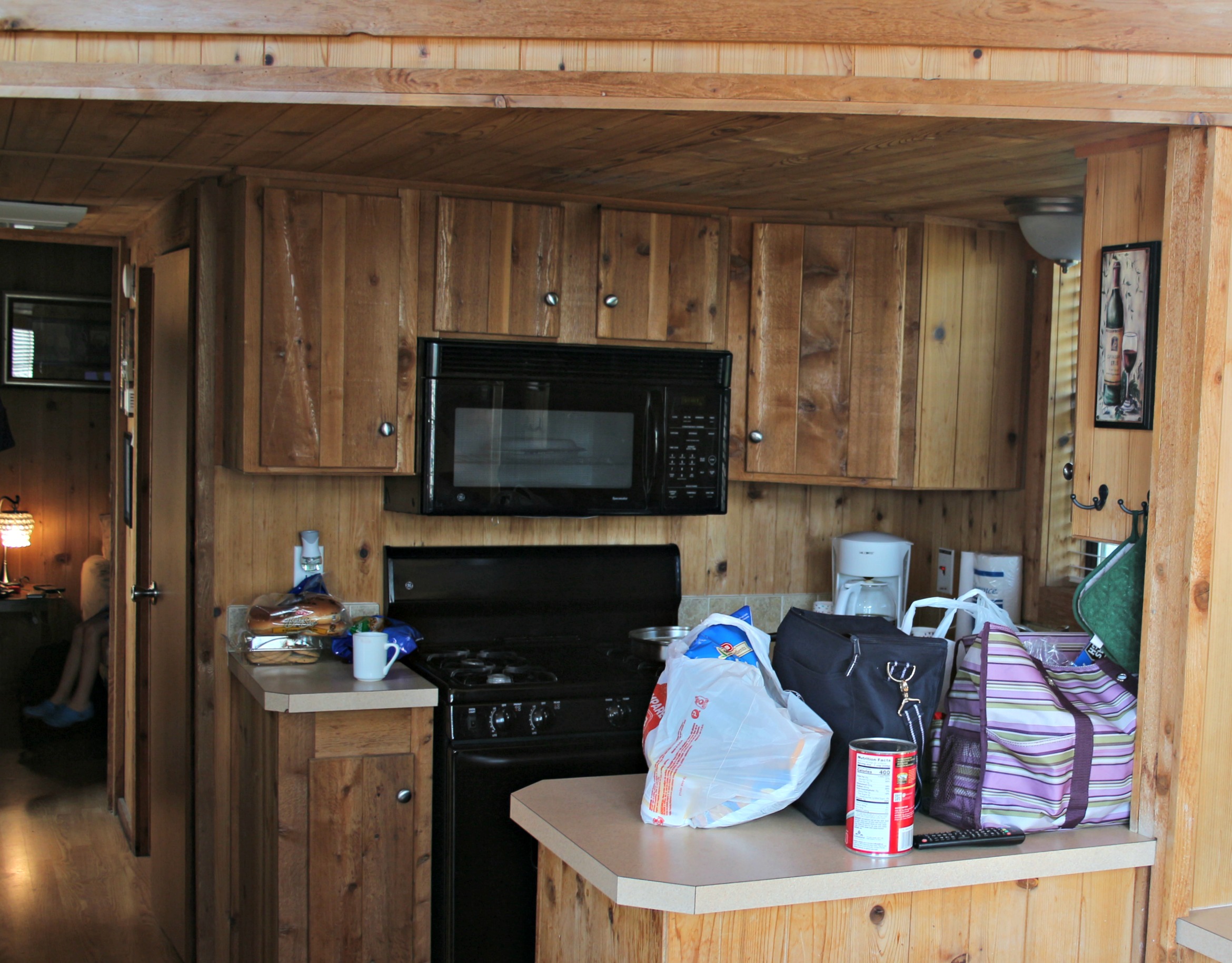 The Vineyard had air conditioning and heating but we stayed during that lovely Texas time of year where we needed neither. We opened the windows every afternoon to let the fresh air in and the mornings were pretty chilly…we needed shoes on the cold laminate floor…but we were super comfortable.
Amenities also included a nice deck with a picnic table and gas grill as well as cable TV in both the living area and the master bedroom. My AT&T service worked great everywhere on property. There was free WiFi at the activities center that was pretty decent. If you'd like WiFi in your cabin, there's a nominal charge. If your WiFi needs are minimal, I'd recommend using the free in the activities center. It's very comfortable and there's free coffee.
The coolest thing? One kid asked for WiFi one time during the whole week – that's it.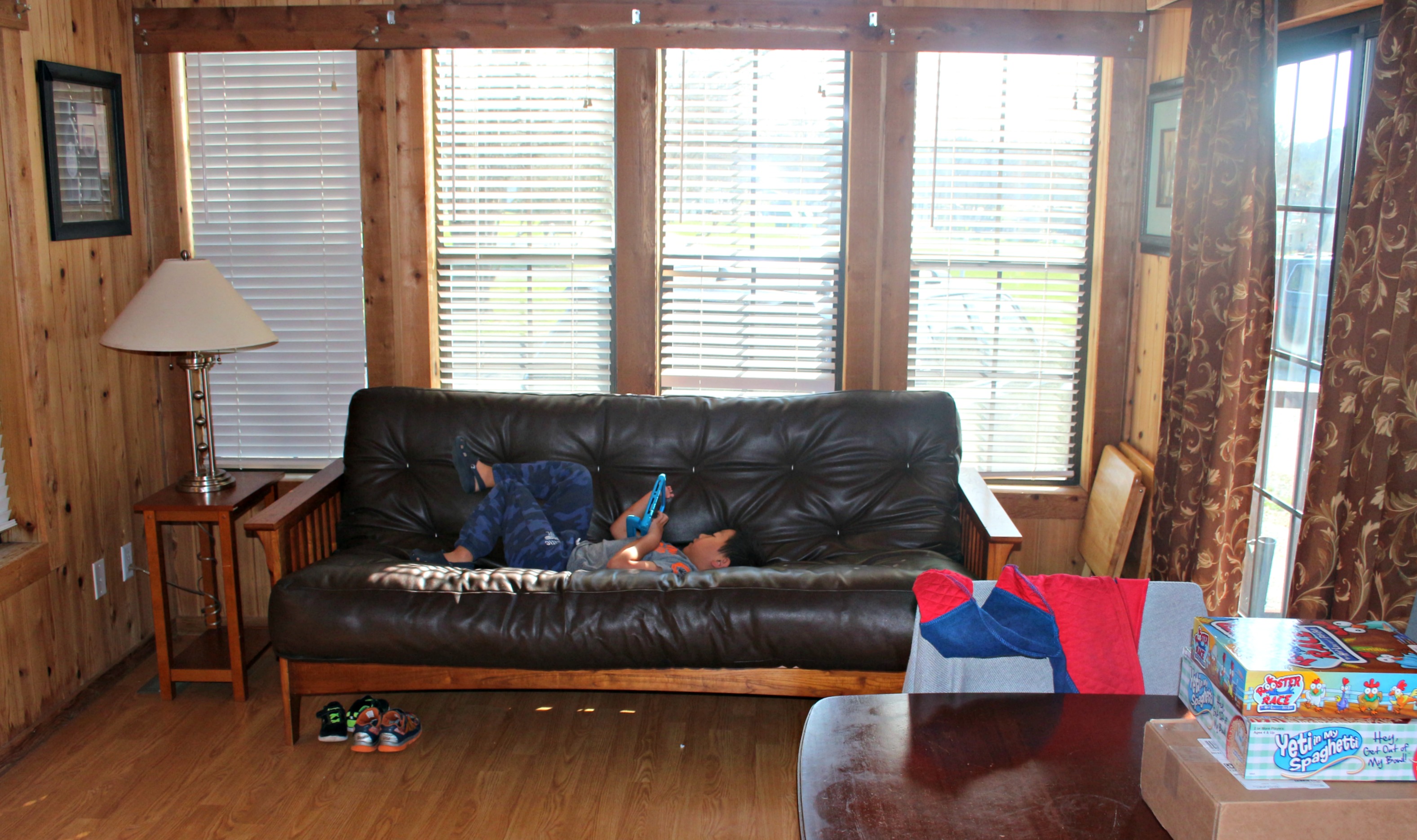 There's plenty to do at Thousand Trails. Lake Conroe offers a ton in terms of boating and fishing but we didn't do any of that…although my kids are dying to go fishing…next time! Thousand Trails has a miniature golf course, a tennis court, pickle ball courts (I am still unclear as to what this is…it looks to be a cross between tennis and ping pong), basketball courts, shuffleboard, cornhole, ping pong tables, and more. Everything is really well-maintained and there were plenty of rackets, balls, golf clubs, and so on.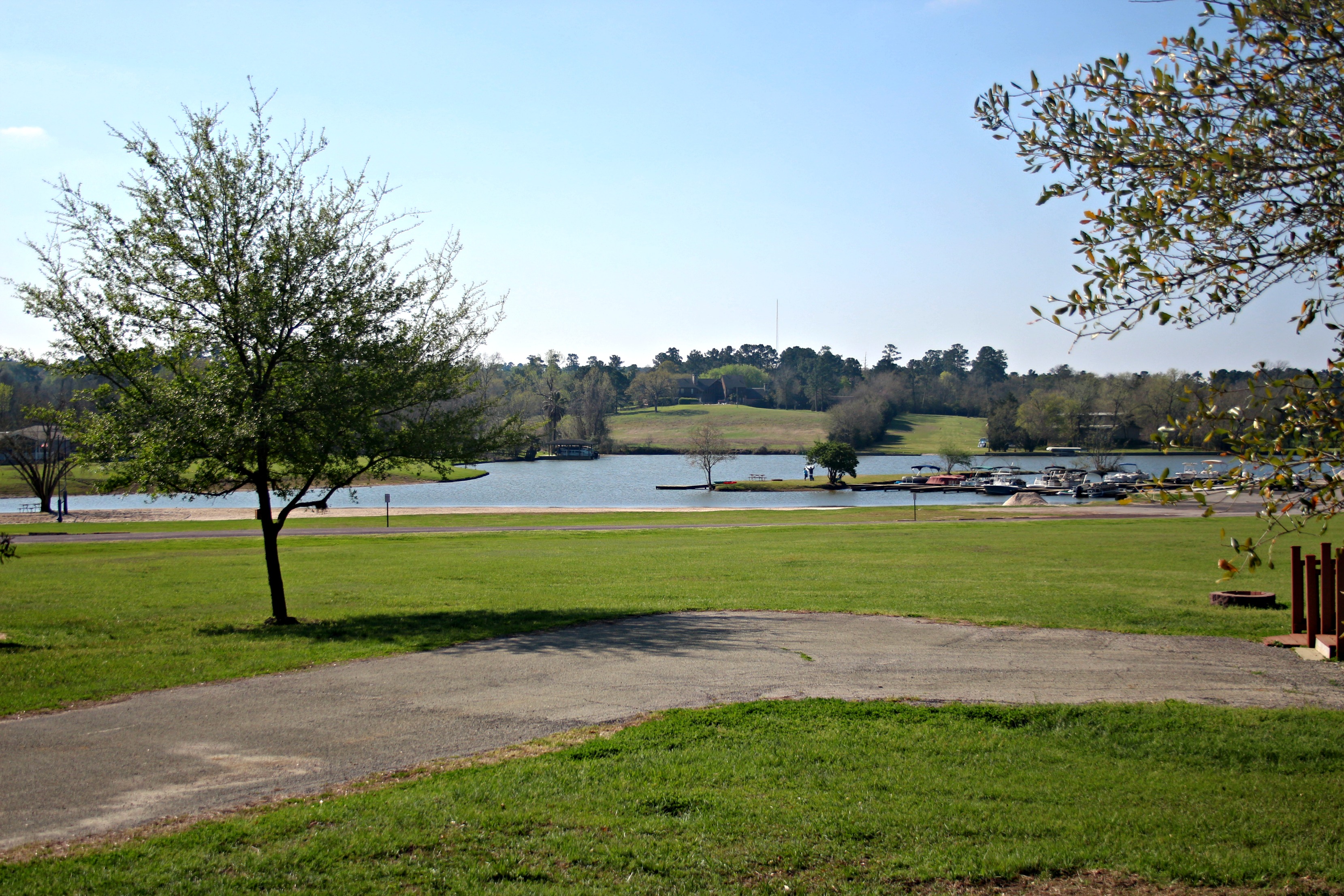 This property has a lovely pool. The weather was just a few degrees shy of ideal swimming weather, but Zack took a quick dip and made some friends. There are also some organized activities, such as kids crafts and bingo. Everyone we met was super-friendly.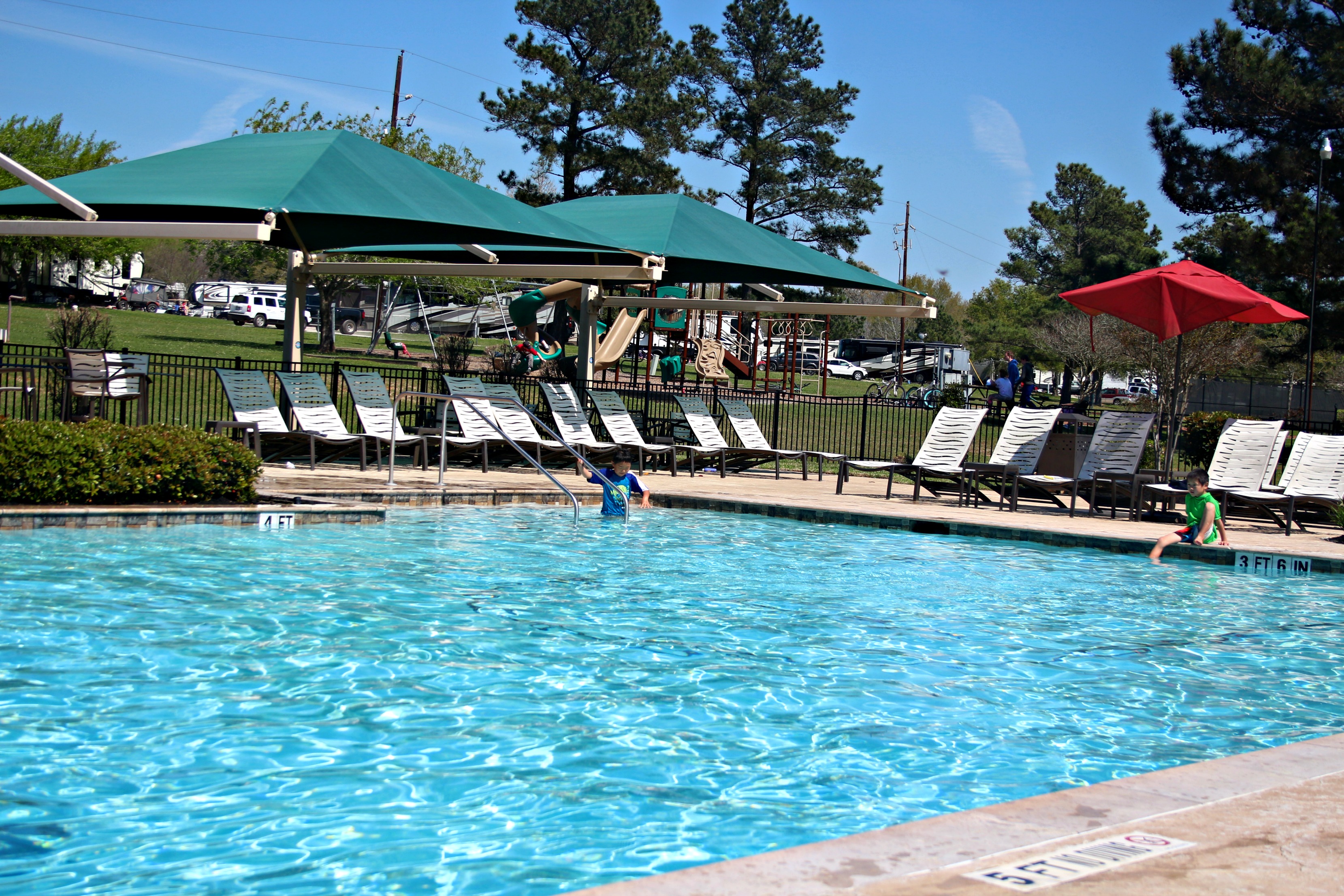 There are plenty of shopping and dining options within a very short drive of Thousand Trails. Houston is less than an hour away and The Woodlands is less than half an hour away. If you want to sightsee or check out restaurants and museums, Thousand Trails is a great base camp. We were happy to stay put but loved that there was a Walmart and a Kroger within in easy 10-minute drive.
We ate all of our meals in our cabin because we'd planned it out like that but if we'd have wanted to go out to eat, it would have been an easy option. There was also the ShyKatz Cafe on property, which serves breakfast and lunch. We did not eat there but we did scope out some of the menu items (AKA staring at the food on other people's plates) and it looked and smelled super yummy.
I recommend Thousand Trails at Lake Conroe if you're looking for an un-fussy, un-structured vacation in a mostly temperate climate. It's reasonably priced, there was plenty to do, and I felt safe, which as a solo-parent traveler, was important.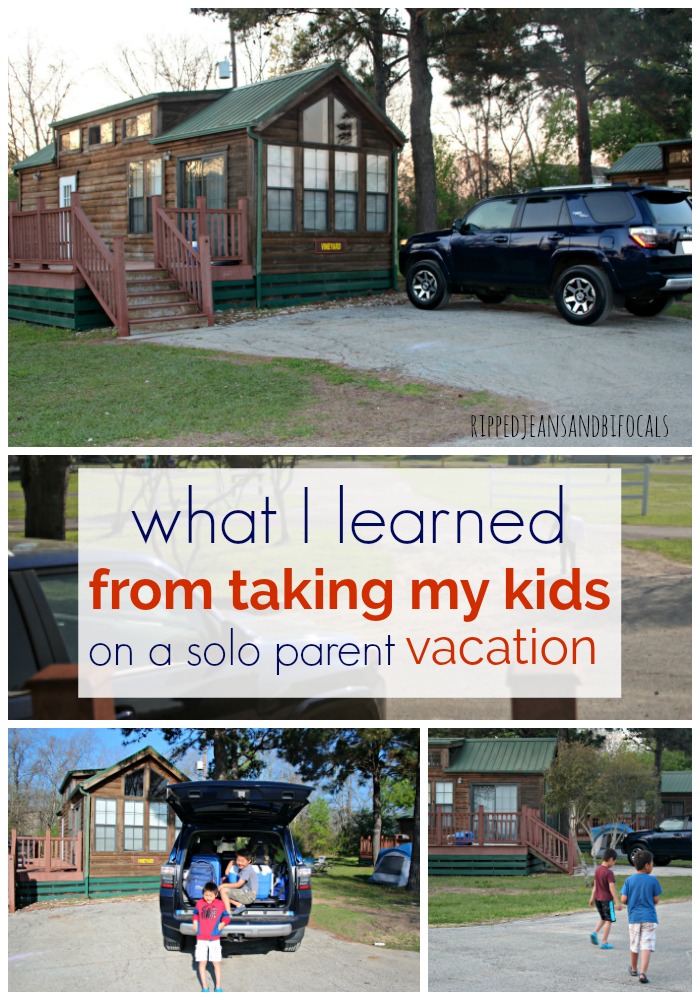 Check out the Thousand Trails website for their different locations across the country. Next time you are planning travel, consider staying Thousand Trails as a stop. It's definitely not like being in a five-star hotel but cabin life was definitely not roughing it and it was the exact vacation we needed to be on. My kids have asked when we can go back to the cabin just about every day since we've come home, so I'm calling that a win!
Maybe next time we can take my husband…but traveling solo with my kids was an awesome experience that I'll look forward to repeating.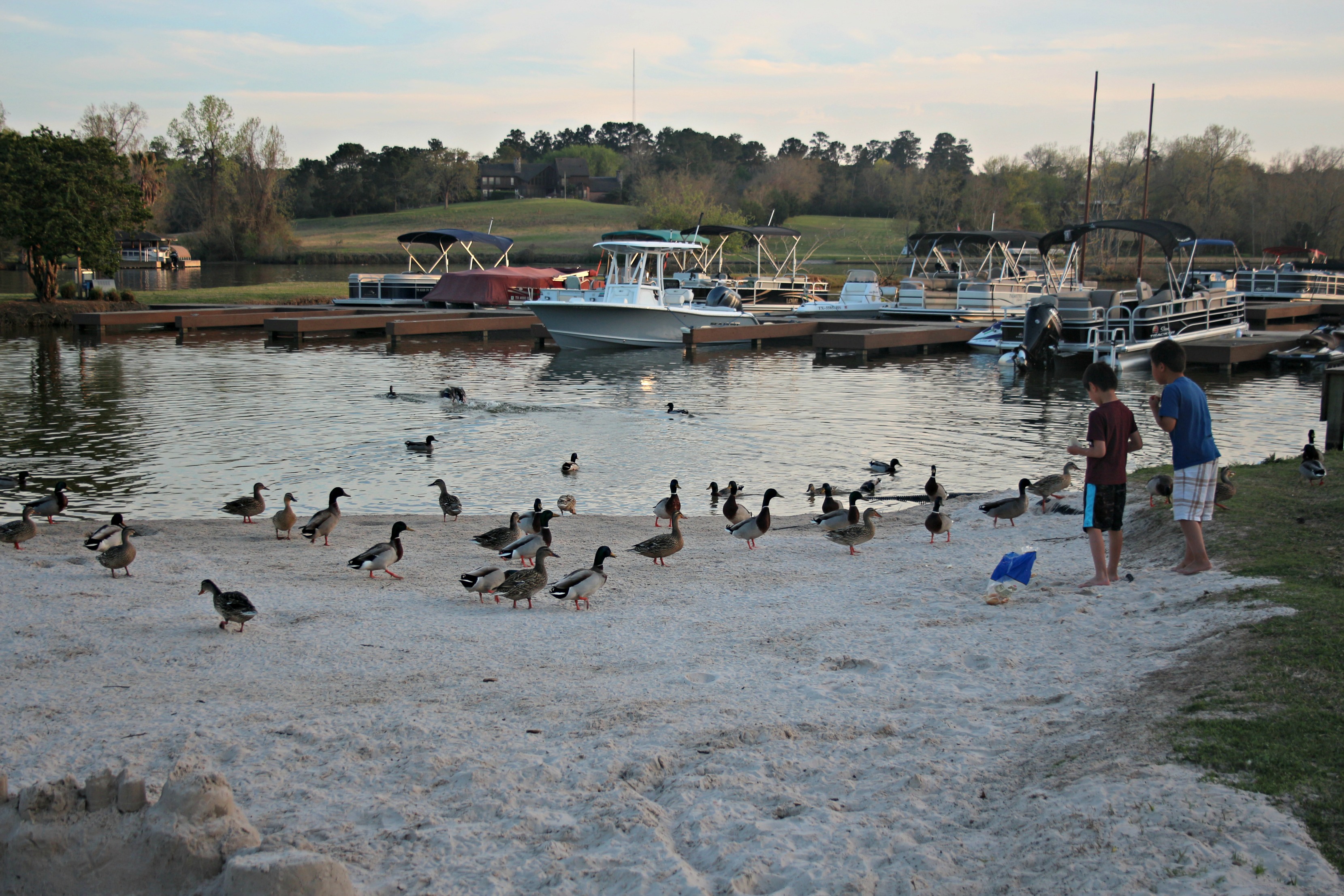 You might also like: