It's time for my latest Stitch Fix review!
If this looks like something you'd like to try, please use my code when you order. I'll get some pennies knocked off my next fix and you will get my undying love. Who doesn't want my undying love?
If you're interested in seeing why a non-fashionista posts about her fashion subscription box, please see my Stitch Fix landing page. It tells a little bit of the story behind these posts and lets you see what I've gotten in past fixes. Also, the page Stitch Fix Reviews shared my most recent Stitch Fix review. If you're a fashion lover or Stitch Fix lover, you will want to check them out!
So, back to this fix.
I asked for a "birthday fix" for this box. I knew the box's arrival would coincide with my fiftieth birthday – eek! You guys! Can you believe I'm FIFTY?  The only good answer here is no, you look fabulous, Jill. So, so young.
But seriously, I specified that I wanted some fun dresses and maybe a little bit of bling or even some shoes. Stitch Fix has been offering shoes for several months and I've asked my stylist to send me some and yet still, I wait. Speaking of my Stitch Fix Stylist, I'm still dealing with the revolving door. I had a consistent stylist way back before I started reviewing the fixes on my blog and I ended up not being too happy with the service and almost quitting. You can read about it HERE. My fixes have been awesome since I've started making a little bit of effort but it's starting to bug me that a different stylist chooses my clothes each time.
Is it me?
My fix consisted of three dresses, a cardigan and a necklace.
Montana Metal Starburst Necklace by Romolo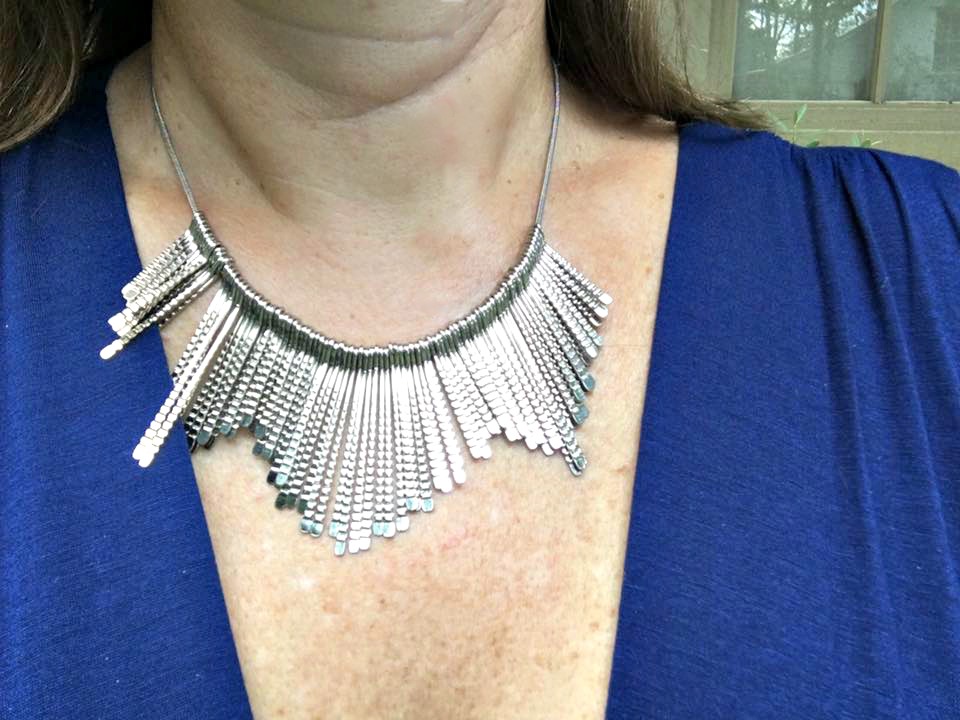 I loved the necklace. I'm kind of finicky when it comes to Stitch Fix jewelry. I like quirky and original enough to be different from the stuff I see for sale locally but I don't like it to break the bank. Or look cheap. I don't have anything like this and every girl likes a little bling on her birthday, so…KEEPER!
Jessi Knit Maxi Dress by Gilli
This dress is cut exactly like a formal gown I have and love. This is made of a more casual, jersey fabric but it's super flexible. I could throw my wet hair up in a ponytail and slip on some flip flops and wear this to the corner store to get my Sunday morning newspaper and doughnuts. I could throw on some sparkly accessories and dress it up a little bit like I did here: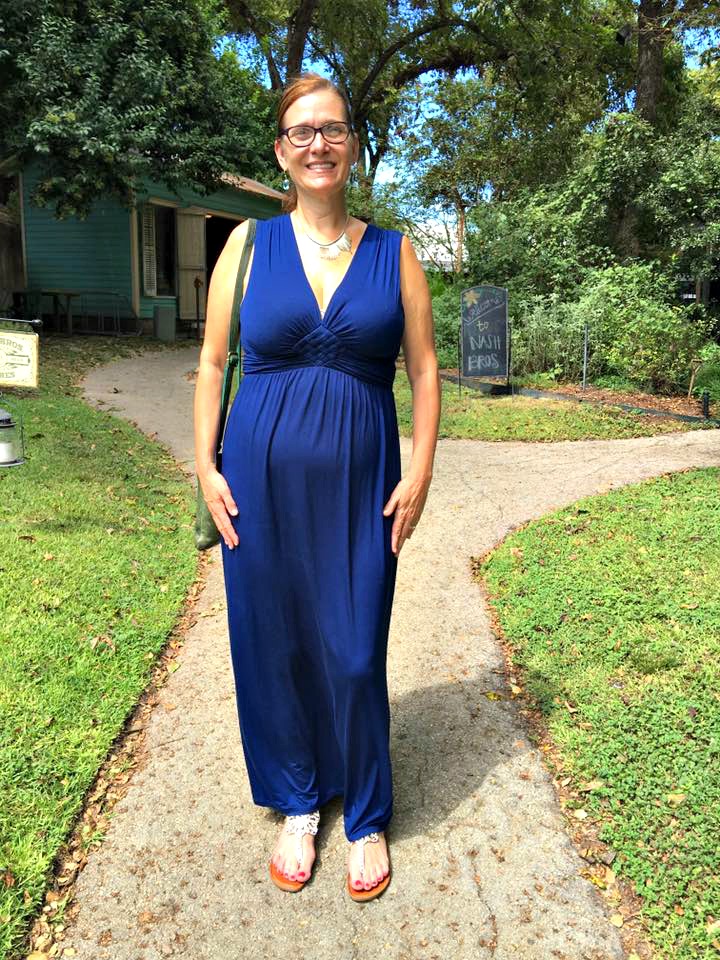 This was actually taken on my birthday, out to lunch at a nice restaurant. The dress is very long, though. I'm 5'11 and I wore this dress with flat sandals and it was almost too long. My husband surprised me inviting some out-of-town friends I haven't seen in a long time and it turned into quite the long, wine-filled night. I ended up knotting the hem of the dress which I recall looking kind of cute but…wine. I'll have to try that again next time I wear this dress.
Rhiannon Ponte Dress by RD Style
I love this dress. The fit and flare is the style that suits my body the best. It plays up what I like about myself (chest and legs) and hides my problem stomach and my butt. I love the stretch of this fabric and that this could be dressed up or down.
But.
It just didn't fit right. You can't really tell in the pictures, but the fabric at the bust line bunched. If this would have been a Target clearance rack priced dress, I'd have kept it but it was on the pricier end of what I'd pay for a dress so back into the prepaid envelope it went.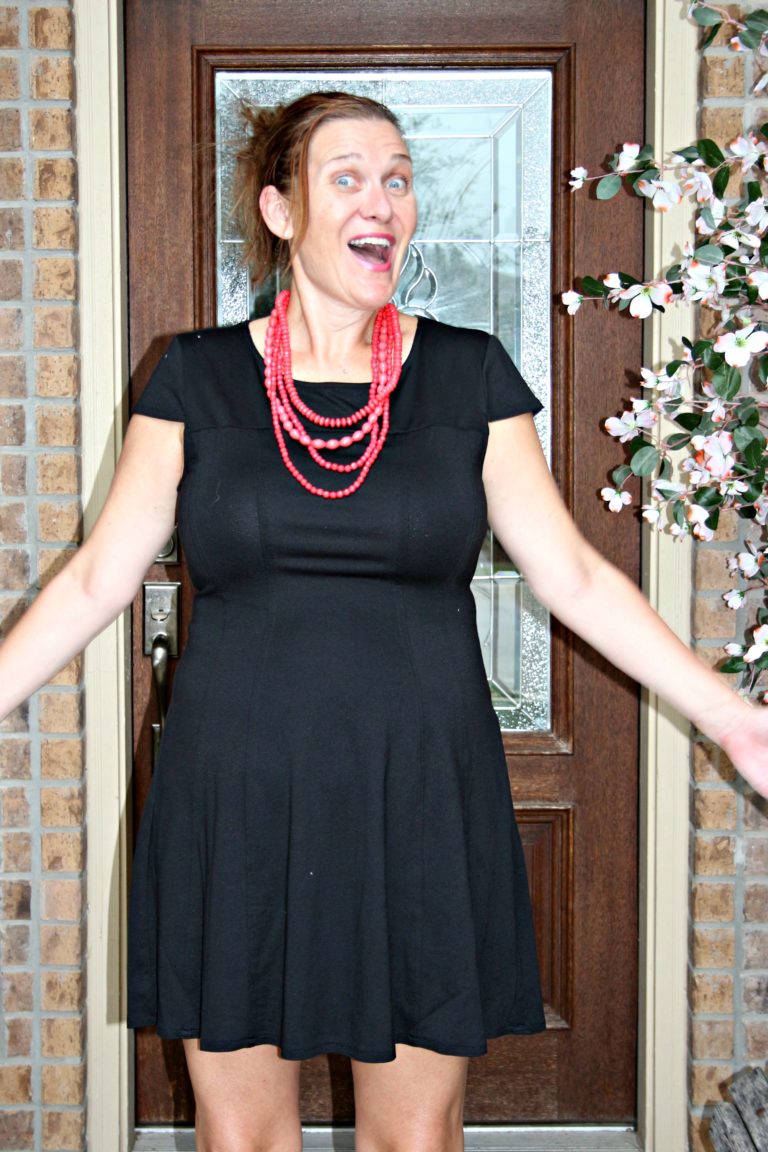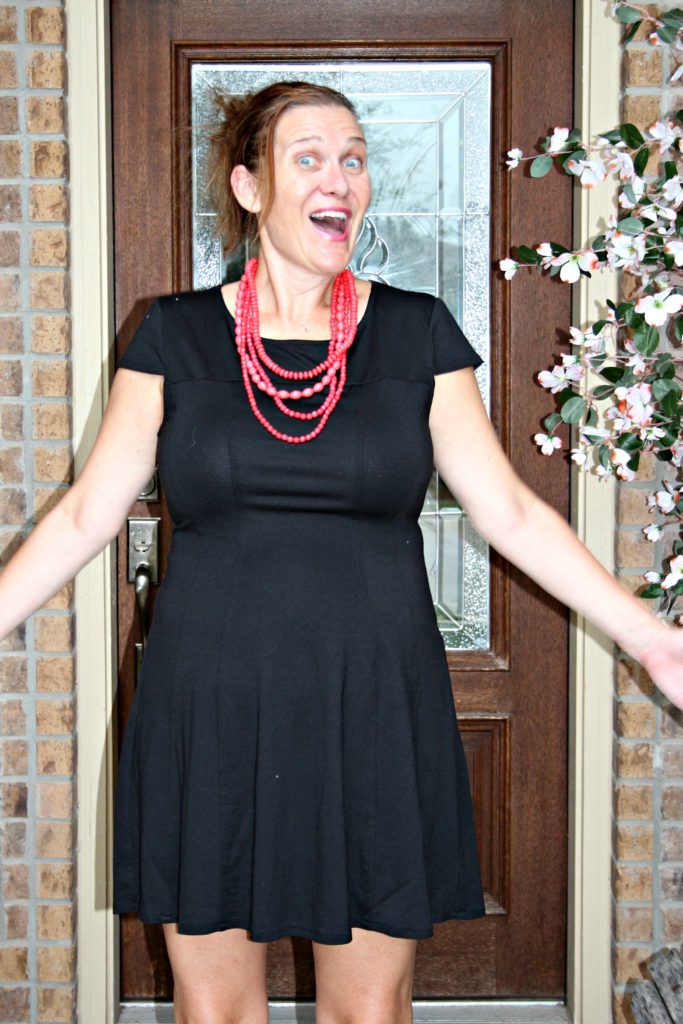 That's how Stitch Fix works, by the way. You get a prepaid envelope in every box and you just pop what you don't want to keep inside and drop it off at the post office. It's really that easy.
Sera Faux Wrap Sweater Dress by 41Hawthorn
When I saw this one on the preview (yes, I peeked again…you know I did) my reaction was "hmmm…interesting." I mean…right? It's an interesting print. One of the things I like so much about Stitch Fix is that I get the opportunity to have someone else choose clothes for me and often, my stylist chooses things I'd never pick out for myself. I love a nice wrap dress or faux wrap dress and was curious to see what this looked like on.
Ugh.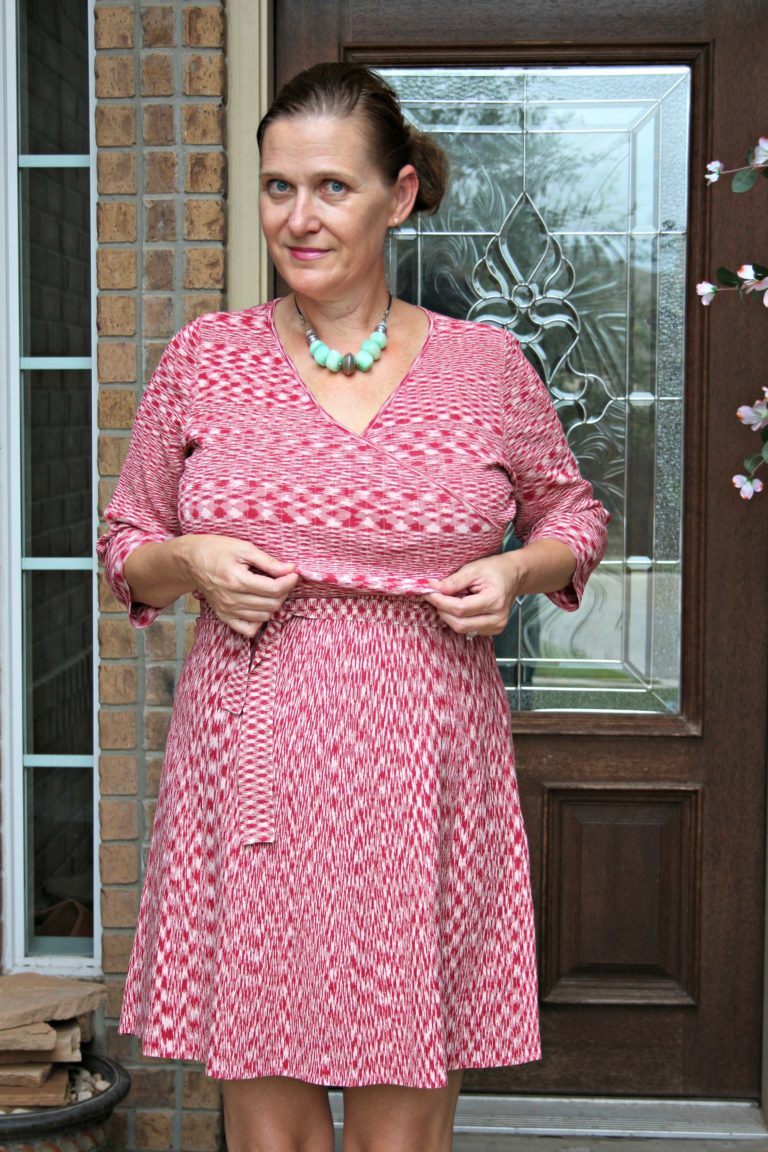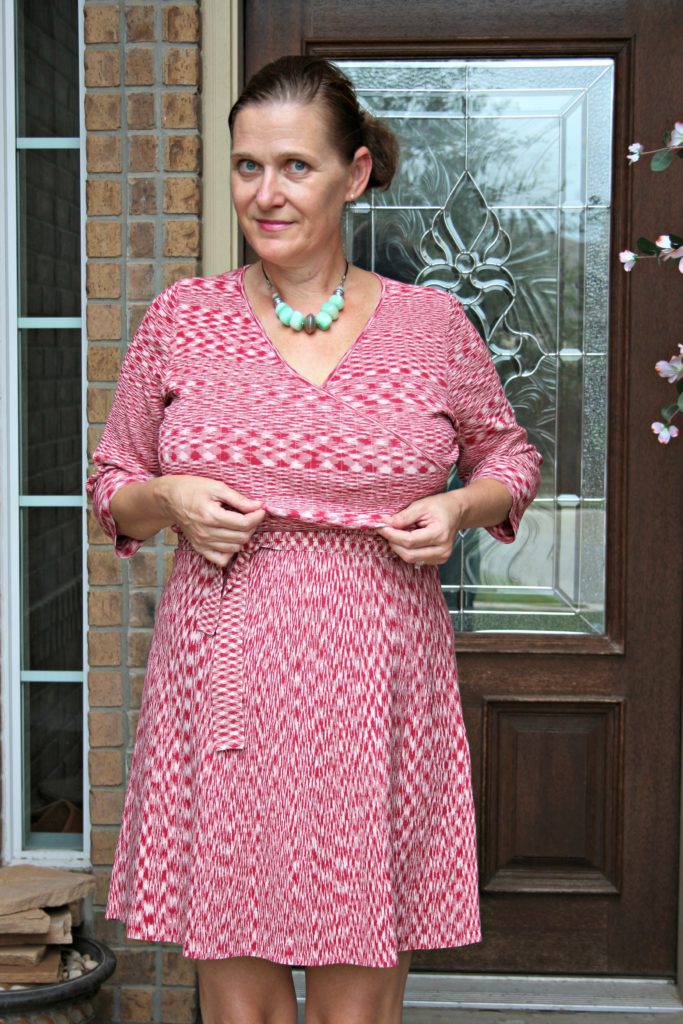 I'm a pretty chesty woman and this dress had so much extra fabric on top. The girls could have been twice as big as they are (no thank you) and this dress could have accommodated them. It fit well through the torso, although the knit fabric wasn't very forgiving but this extra bunchy material on top was just not cute. I have to be honest with you – I really just did not love this print or the feel of the fabric. It was interesting and fun and quirky but even if it had fit like a glove I can see myself sending this one back.
Jeanne Printed Cardigan by Absolutely
When I saw "print cardigan" listed on my incomings, I kind of cringed because I had images of a floral sweater and that just doesn't sound like me. When I saw it was some nice, neutral stripey pattern, I relaxed a little. According to my stylist's note, this cardigan was recommended for wear with the blue maxi but by the time we took these pictures, I'd already worn the blue maxi and it was in the laundry hamper. I did try this cardigan with the blue maxi and I didn't like it but I posed for some pictures wearing it with the black just to show you.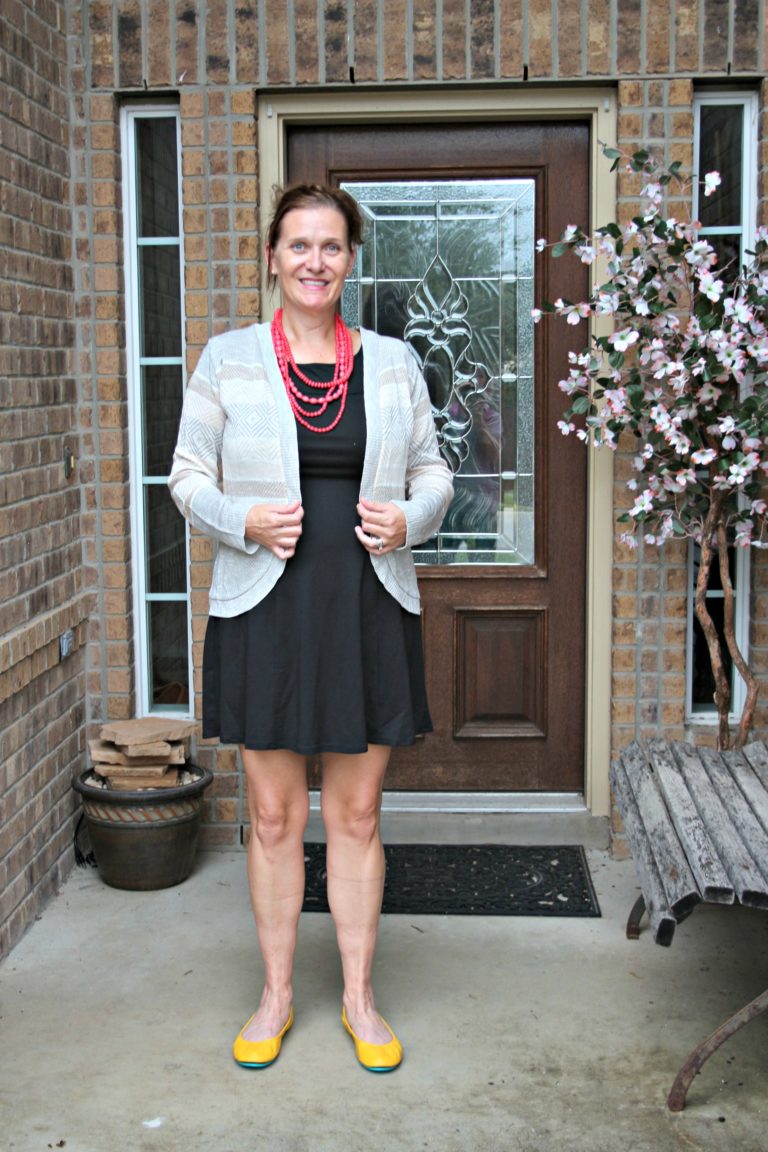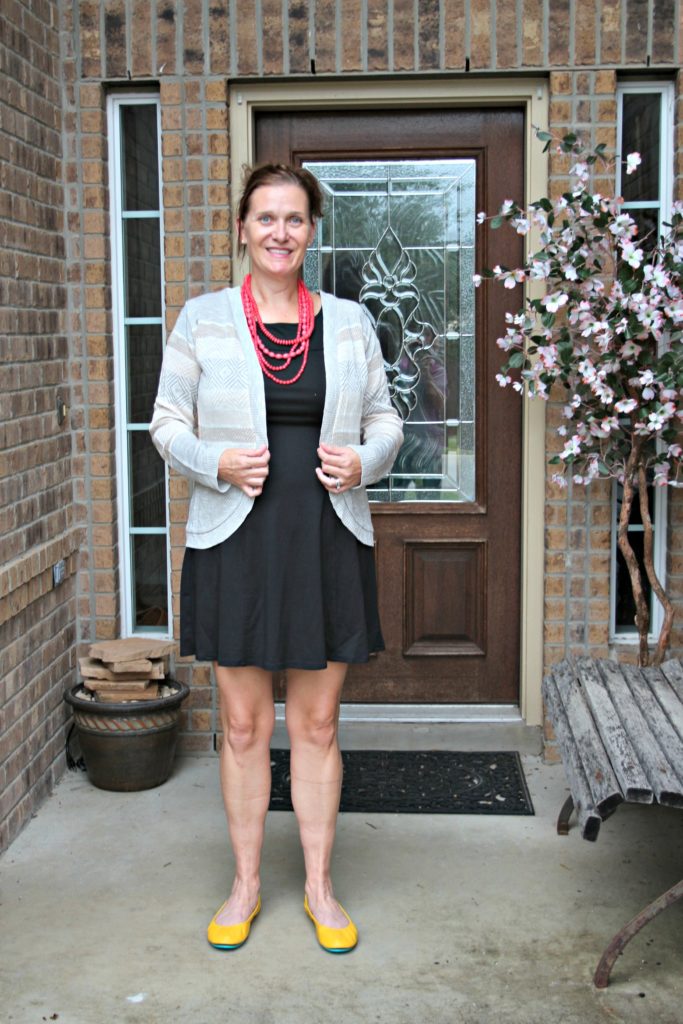 I just didn't like anything about this one. I didn't like the pattern. It seemed "too mature" for me. I didn't like the button-less cut and the slightly "bolero" style. The sleeves were also too long but since I usually push my sleeves up that wasn't a big deal. I just didn't like it. It seemed frumpy. I'm kind of striking out with cardigans. My last fix contained one I didn't care for and sent back as well but I have been wearing the nice gray one from Fix #2 quite a bit.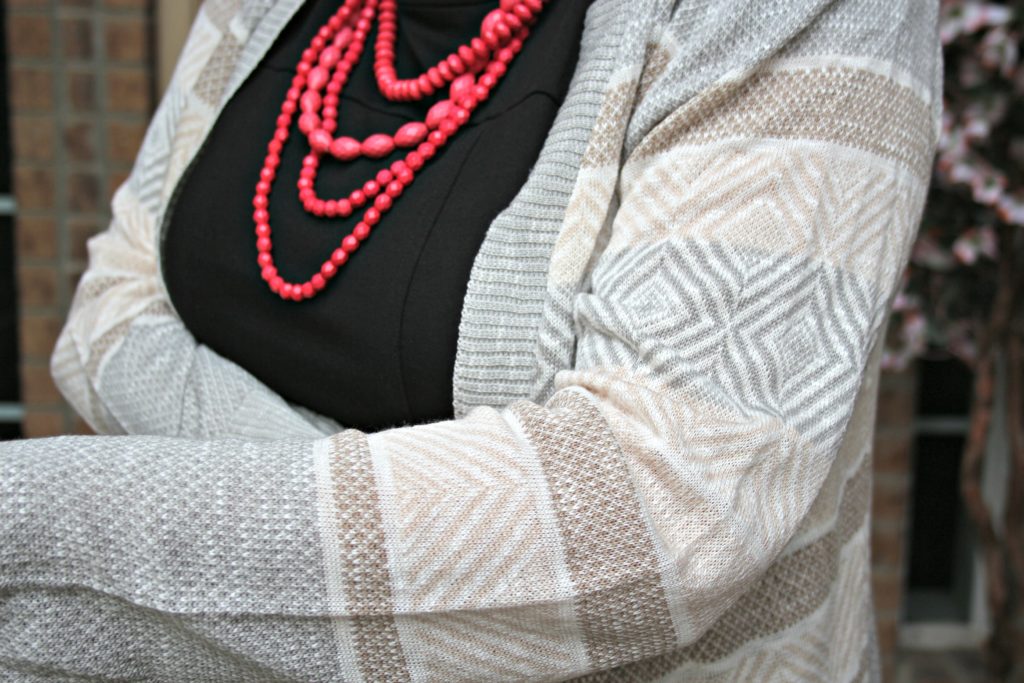 I consider the fix a win – I got a new dress I'll get a lot of wear out of and some fun new bling. The two dresses I sent back were in the ballpark of what I like. I don't know what to say about the sweater, though. My stylists really seem to be striking out in the sweater department but I'm happy for them to keep trying. As we go toward the season that passes for fall in Texas, cardis are something I get a ton of wear out of so we'll see what they come up with next.
If you loved this post, please consider pinning to your style board. And, if Stitch Fix looks like something you'd like to try out, please use my code. I don't get compensation from Stitch Fix for writing these reviews but I do get some credit toward my next order if you sign up.



A vote on Top Mommy Blogs helps my site a ton. It's super easy & one click helps me to be able to continue to bring you great content. Totally non-spammy…I promise!