Slow Cooker Tex Mex Meatball Soup
(This post may contain affiliate links. Read my full disclosure.)
I use my slow cooker all year around. Even though soups in a slow cooker or crock pot are great during colder months – and "colder months" here in Texas might not meet your threshold of wintry weather – I like making my slow cooker Tex Mex Meatball Soup in the warmer month, too, because I don't have to heat the house with my oven or stove. And, warmer months are pretty much all the months. Unless it's cold. What can I say? Texas weather is weird. But trust me when I say you'll love this soup.
This slow cooker Tex Mex Meatball soup is a great dish to change up your taco Tuesday. It's really taco-y and it's just different enough to get you out of any kind of taco rut you're in. I mean…if it's even possible to be in a taco rut and if it were, I don't think that would be a bad thing. But, you get what I'm saying…hopefully.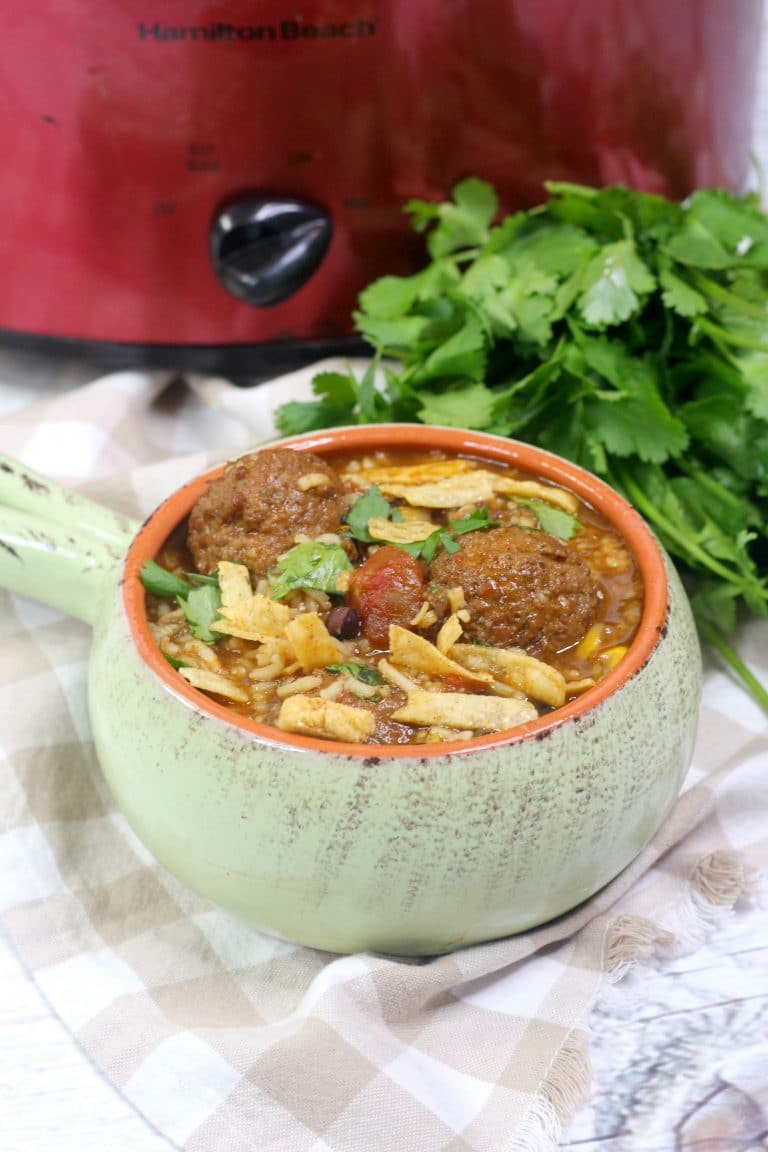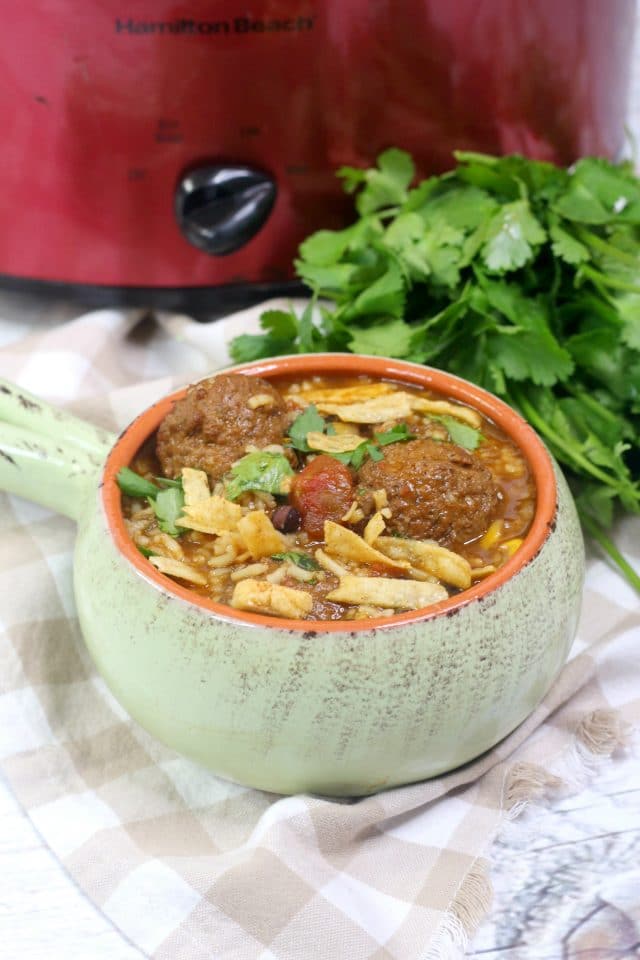 Disclaimer: We are a participant in the Amazon Services LLC Associates Program, an affiliate advertising program designed to provide a means for us to earn fees by linking to Amazon.com and affiliated sites. This post may also contain affiliate links to other sites where I will be paid a commission by the seller if you make a purchase.
If you want to jump straight to the recipe card, simply scroll to the bottom of this post.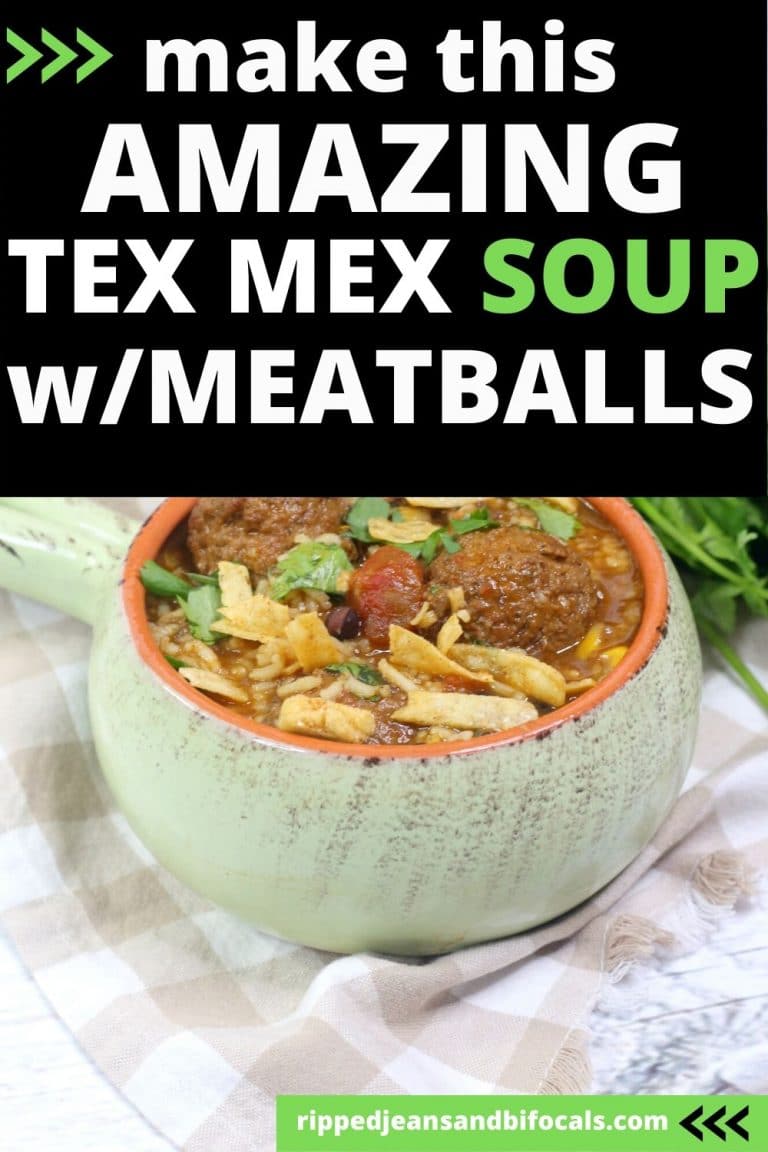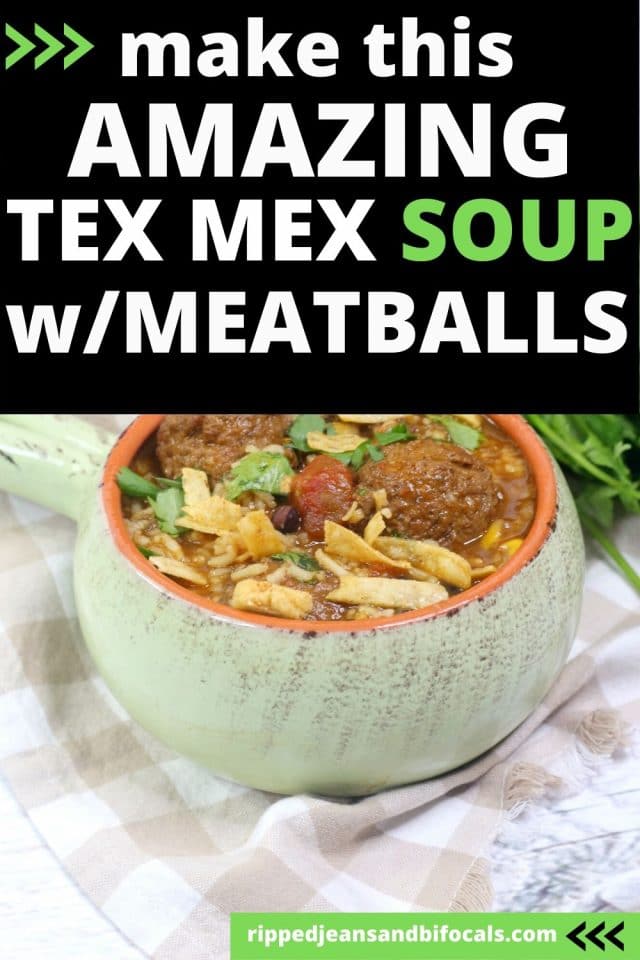 Related: Slow Cooker Chicken Tortilla Soup
Slow Cooker Tex Mex Meatball Soup
Try this Slow Cooker Tex Mex Meatball Soup – doesn't even have to be on a Tuesday – and let me know what you think! With a quick prep time – under 30 minutes – and four hours in your crock pot or slow cooker, this is a hands-off dinner that doesn't taste like it was easy.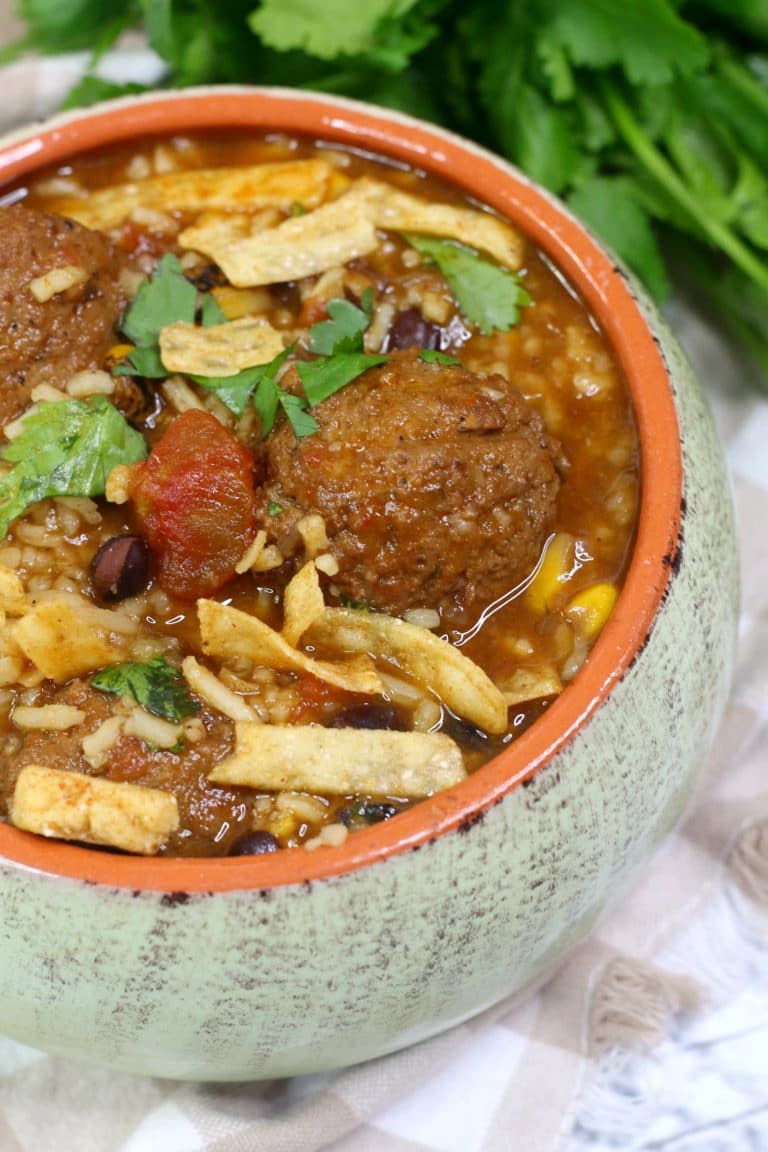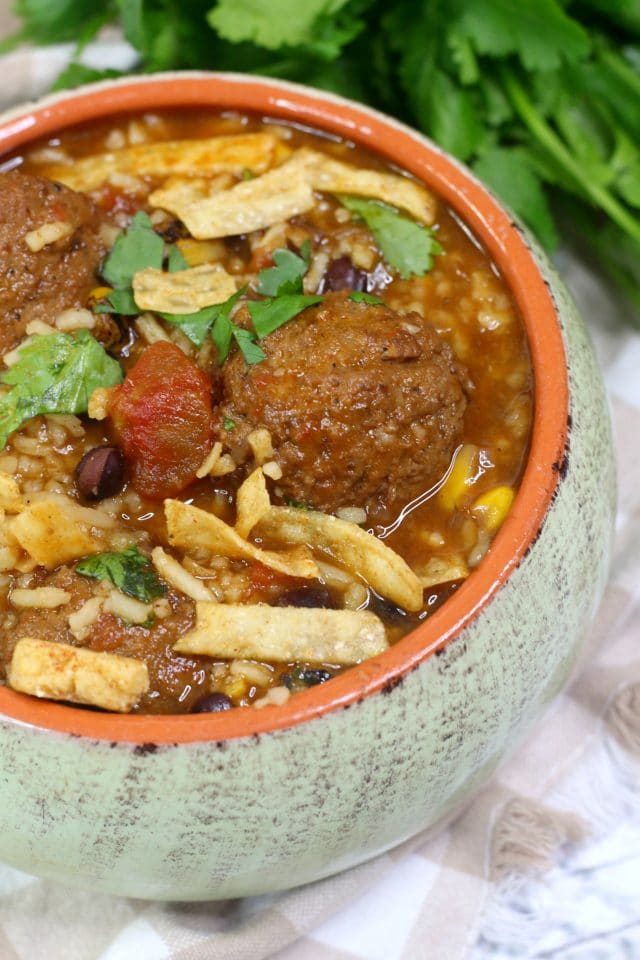 Although this soup calls for Basmati rice, any type of rice will do. Regular long grain rice or brown rice can easily be subbed.
I'm a firm believer that a spicy soup deserves a spicy crockpot. I use a 7-quart crock pot similar to this one and it works great. If you want to spice up your kitchen, you can also check out this one featuring Pixar characters (so cute!) or this one decorated with Marvel characters.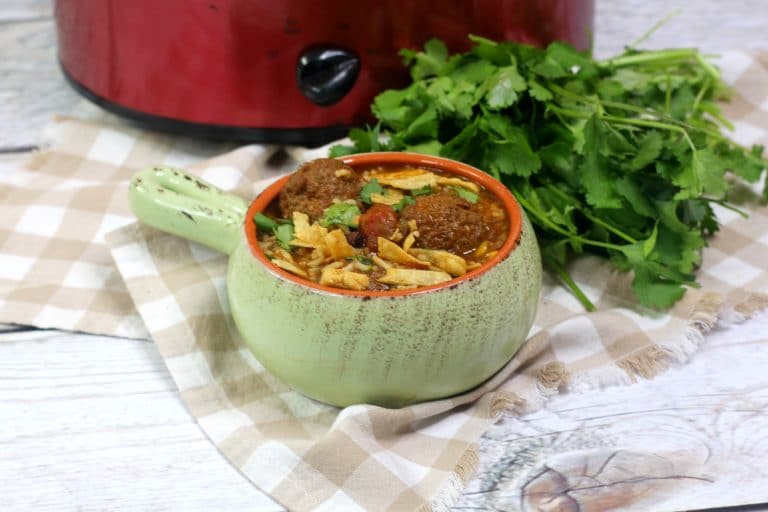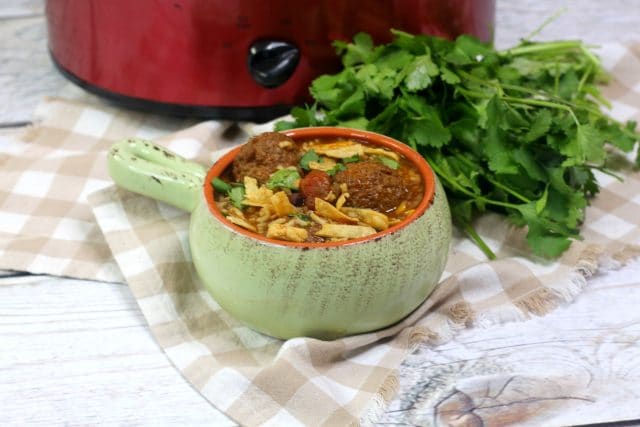 I think cilantro and tortilla chips make the perfect topping for this zesty soup. However, cilantro isn't your thing, feel free to skip. You can also top with cheese, sour cream, avocado or fresh veggies like jicama slices, tomatoes or onion, or even a squeeze of lime.
I love crockery style soup bowls with handles. I buy most of my dinner ware – especially the stuff that appears in photographs – at Goodwill. I found these on Amazon that have the same vibe. You can also go with the traditional french onion crocks to serve up any soups, stews, or chili.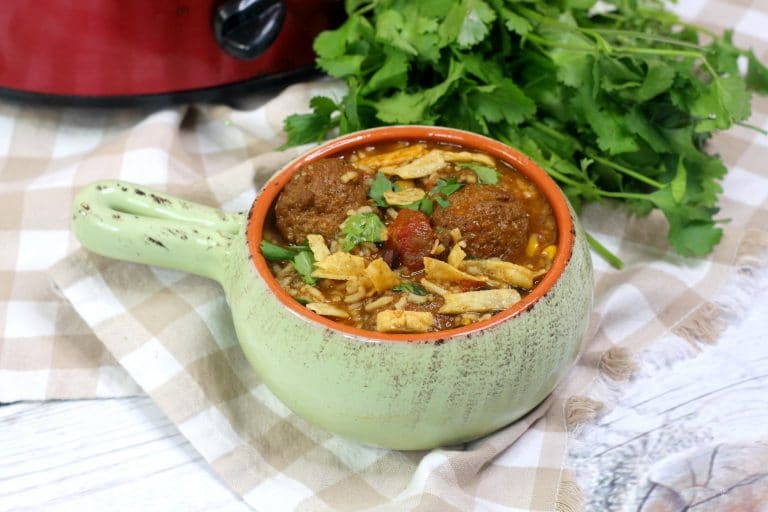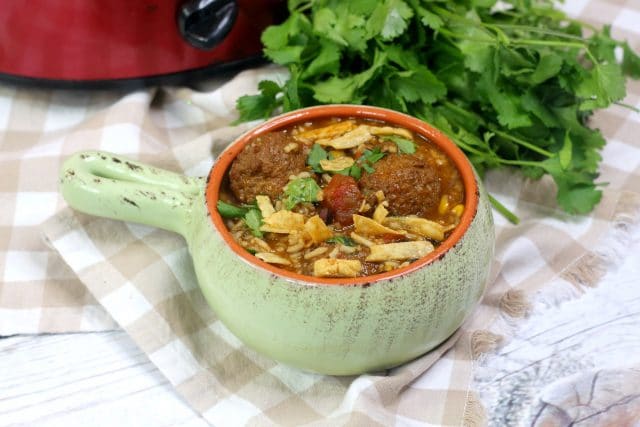 Other recipes you might love:
If you want more traditional tacos for your Taco Tuesday table, try my baked chicken tacos accompanied by homemade refried beans or a side of bean dip. My skillet enchilada dinner is a great meatless option.
Dessert in a crock pot? YES. This peach cobbler is super-easy to make and SO hands off. Try it!
Slow Cooker Tex Mex Meatball Soup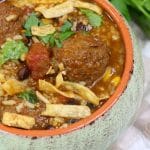 A fun way to shake up "Taco Tuesday" or any other meal.
2 tsp olive oil
1 bag frozen beef meatballs
1/2 cup onion, diced
1/2 cup red peppers, diced
1/2 cup green peppers, diced
1 tsp minced garlic
1 can black beans, drained
1 can corn, drained
2 cups cooked Basmati rice
6 cups beef broth
2 cans diced tomatoes do not drain
1 can tomato sauce
1/2 tsp ground cumin
1/2 tsp dried oregano
1/2 tsp dried ancho chili
1/2 cup cilantro leaves, chopped
salt and pepper to taste
In a small saute pan add your olive oil, onions, and peppers, cook until translucent.

In a 6 quart slow cooker, add the meatballs, onions mixture, beef broth, black beans, can corn, roasted tomatoes, tomato sauce, garlic and spices.

stir to combine

Cover and cook on low for 6-7 hours or high for 4 hours

Stir in the cooked rice

Serve hot with choice of toppings