Comfort Food – VIP Corn Casserole
(This post may contain affiliate links. Read my full disclosure.)
For those of you who've read my blog for awhile, you know I post a recipe every now and then.  I usually do tacos.  If you're expecting a taco recipe, I'm going to disappoint you, but feel free to keep checking back.  This is a good one, though, but you have to read a story first.  Or just scroll down to the recipe.  I'm easy.  Don't tell everyone.
My family is a little bit displaced right now.  We moved out of our house in England in early September and in to a temporary apartment on the other side of the Atlantic.  We carted our traveling circus family to London for a two-day visit on our way out of the country.  We stayed with my parents for two weeks and now, six weeks later, we're tucked in to another temporary apartment (this time in the land of the 24-hour drive through and Target) while we wait for our "real house" to be ready.  And OMG, when I type Target, I can hear the angels singing, can't you?  I love Target.  Anyhoo.
[Tweet "OMG when I type Target, I can hear the angels singing, can't you?"]
My kids are resilient.  They've been living out of suitcases, eating takeout, and rolling with the flow despite time, temperature and culture change, not to mention their mom's moving-induced mood swings. My two youngest boys are four.  As much as we try to explain things to them, for all they know, each temporary place we park their suitcase is the elusive "new house."  By the way, here's some moving advice:  don't tell your kids about "the new house" months before the actual move unless you want them to ask "when we go to new house" 11 times a day.  If that's cool with you, then totally tell them early.  But it all seriousness, they've been rock stars during this move.  Me, not so much.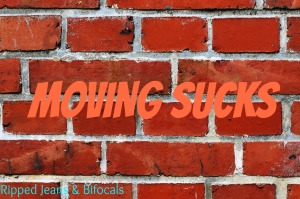 [Tweet "My kids have been rock stars during our move. Me, not so much."]
The place we're staying in has a kitchen.  It's not a great kitchen as far as equipment goes, but it's got the basics.  Until tonight, we've limited ourselves to such gourmet offerings as Ramen and frozen pizza.  Food is a source of comfort for me, and I don't mean in a binge-eating kind of way.  I wanted something that reminded me of my own kitchen.  I wanted my family to eat something I actually cooked versus something I just heated up.
Tonight's table fare was crockpot barbeque chicken, mashed potatoes and VIP Corn Casserole.  The crockpot chicken is a complex mingling of chicken tenders, a bottle of generic sauce and ten hours on low heat and the potatoes are instant.  But the corn casserole was the real deal. The recipe I'm sharing with you is a holiday favorite.  I rarely make it outside of Thanksgiving or Christmas, although I don't know why:  it's super easy.
The VIP Corn Casserole is my own recipe.  Most of my holiday recipes are offshoots from stuff my mom used to make, but this one is something I started making about 10 years ago.  I had a similar side dish in a fancy pants restaurant somewhere and I played around with the recipe until I was satisfied.
Ingredients:
1 small red bell pepper*
1 small green bell pepper*
1 12oz bag of frozen corn*
4 oz cream cheese, cubed
1 tbsp. spice of your choice (optional).  Onion or garlic powder, cumin, curry powder, or paprika are all good.
French fried onions of seasoned bread crumbs (optional).
I always thaw the corn for about half hour before I put the dish together…I'm not sure if it makes a huge difference.
Dice and seed the bell peppers.  Mix with the corn in a baking dish.  I know, this is hard, right?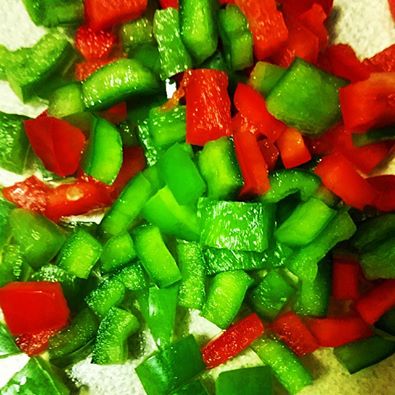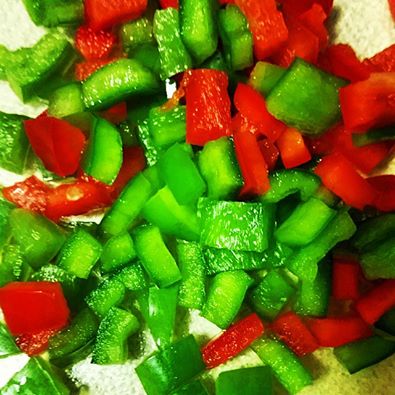 Mix in the cubed cream cheese and the spice.  Bake in a preheated 400 degree oven for 30 minutes.  Remove from oven and stir to blend the cream cheese.  If you're adding the French-fried onions or bread crumbs, now's the time.  That's it!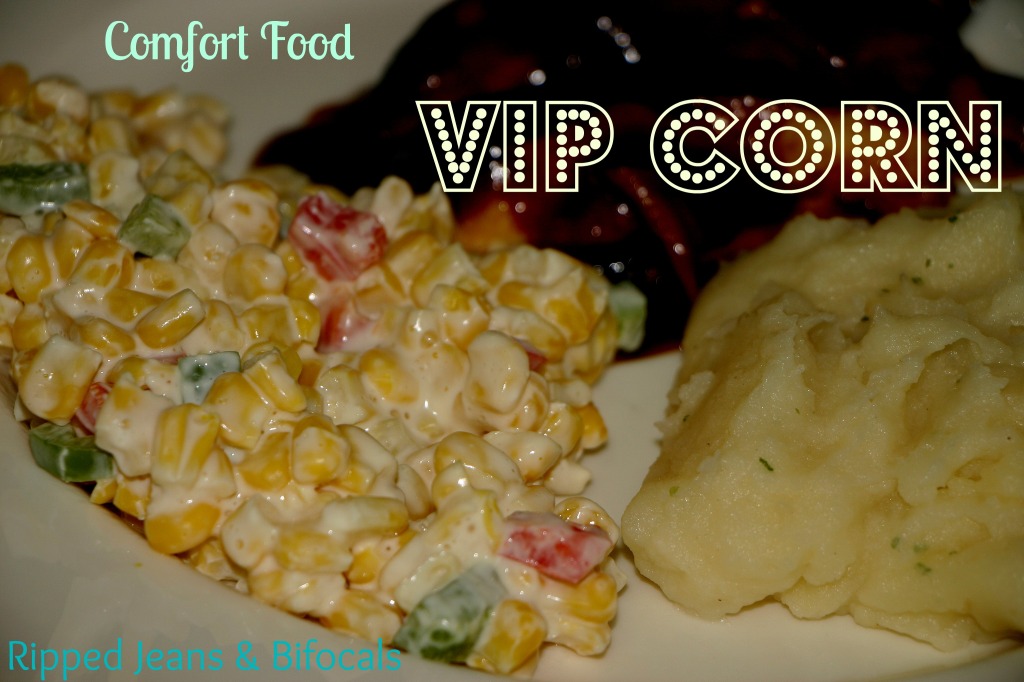 *To save time, I've used frozen bell pepper strips with the same result (I cut them with kitchen shears.)  However, the recipe doesn't taste the same if you used canned corn versus frozen.
Food is a powerful thing.  This was a good and familiar meal that filled our bellies.  And, I feel a tiny bit less displaced. I know we'll be having this for Thanksgiving in a few weeks…but I might not wait that long.
What's your favorite comfort food?
If you've enjoyed reading this post, please take a sec and click on the links below. Following me on Bloglovin or clicking my Top Mommy Blog button helps boost my blog ratings. It'll only take a minute. And it won't hurt. I promise!